Oregon is a stunning state that boasts an abundance of breathtaking destinations to explore. Its diverse landscapes offer endless opportunities for adventure, making it a challenge to narrow down a list of must-see attractions during your visit. Although we cannot possibly cover them all, we have curated a selection of the top places to visit in Oregon. From immersive experiences that can take weeks to fully appreciate to condensed weekend trips, there's something on this list for every type of traveler.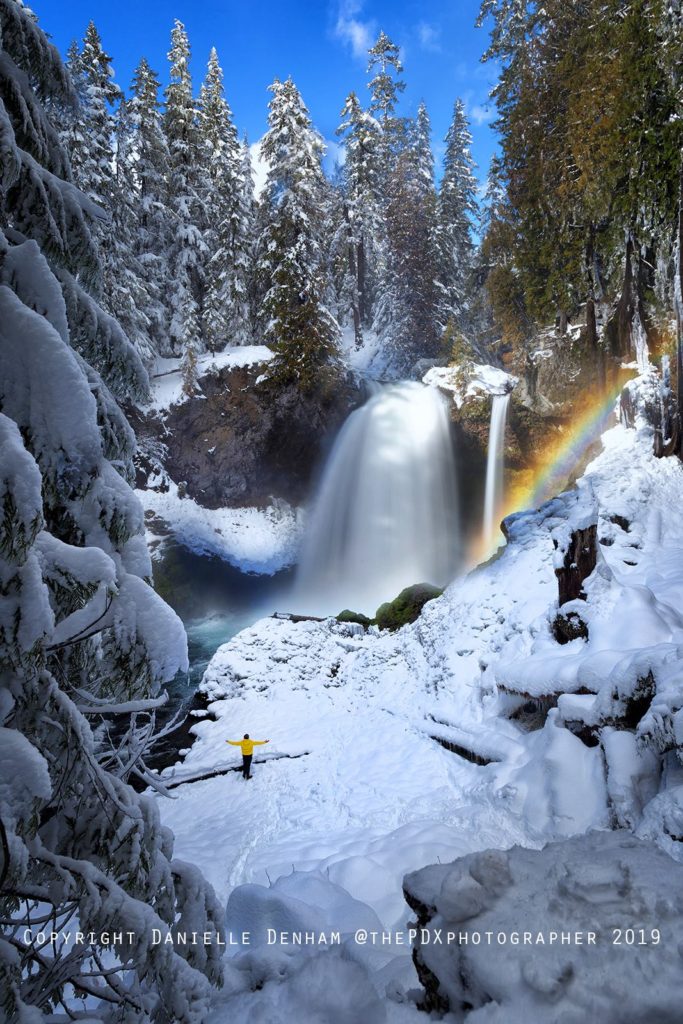 No matter what your interests are, you'll never run out of things to do in Oregon. Whether you have a few days or a few weeks to explore the state, you are sure to be captivated by its natural beauty, rich culture, and adventurous spirit.
Things to Do in Oregon are Endless
---
Oregon is a state that has something for everyone, whether you're an outdoor enthusiast, a history buff, or a lover of art and culture. Nature lovers are sure to be delighted, as the natural beauty of the state is one of its biggest draws, with diverse landscapes that range from the rugged coastline of the Oregon Coast to the snowy peaks of the Cascade Mountains in Central Oregon. Some of the most popular outdoor activities in Oregon include hiking, camping, skiing, and surfing.
RELATED: The Best Camping in Oregon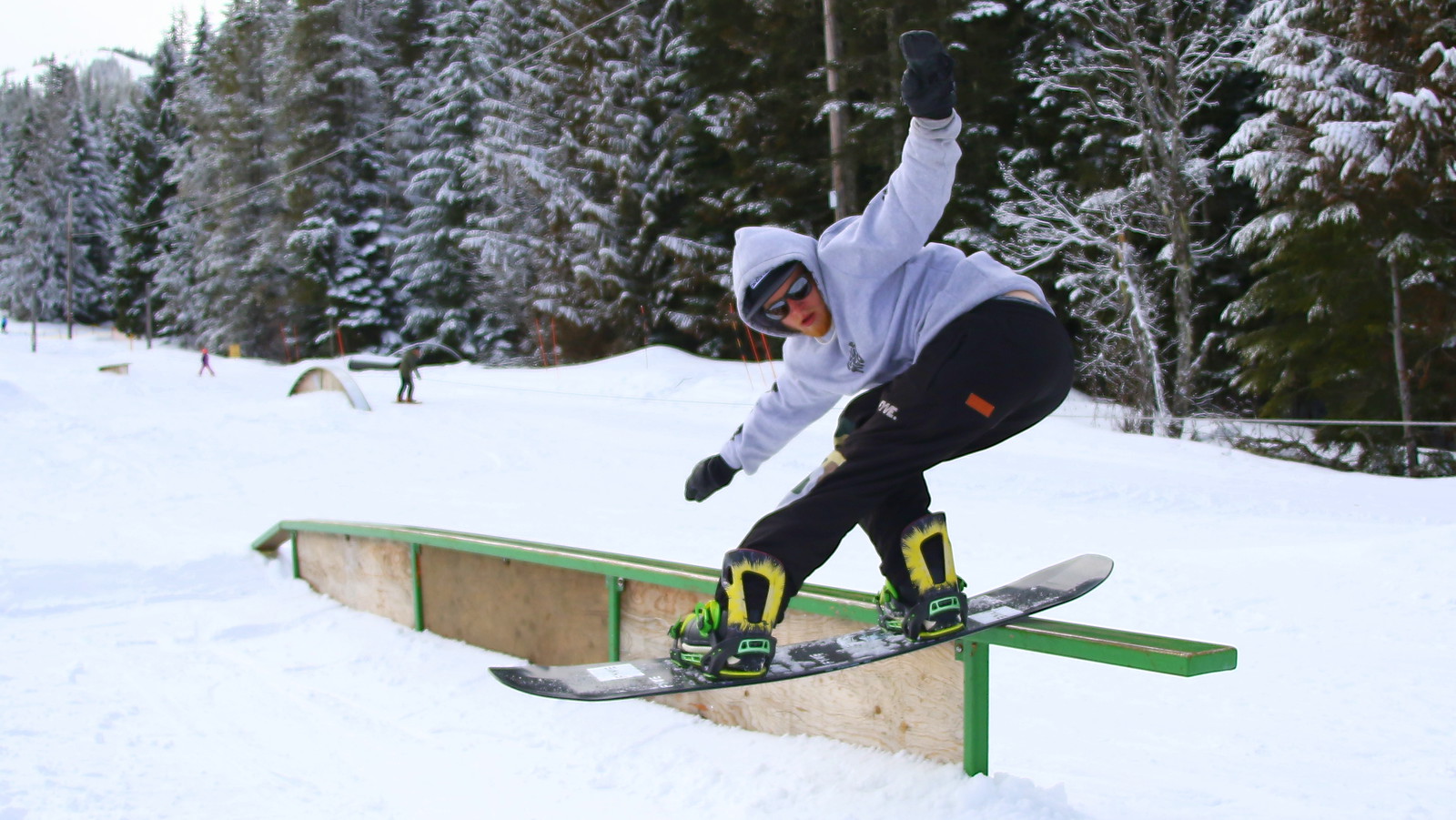 In addition to its natural beauty, Oregon also has a rich history and culture that is worth exploring. You can visit historic sites such as the Oregon Trail Interpretive Center near Baker City, which tells the story of the pioneers who traveled westward in the mid-1800s. You can also explore Portland, the state's largest city, which is known for its vibrant arts scene, craft beer, and unique neighborhoods.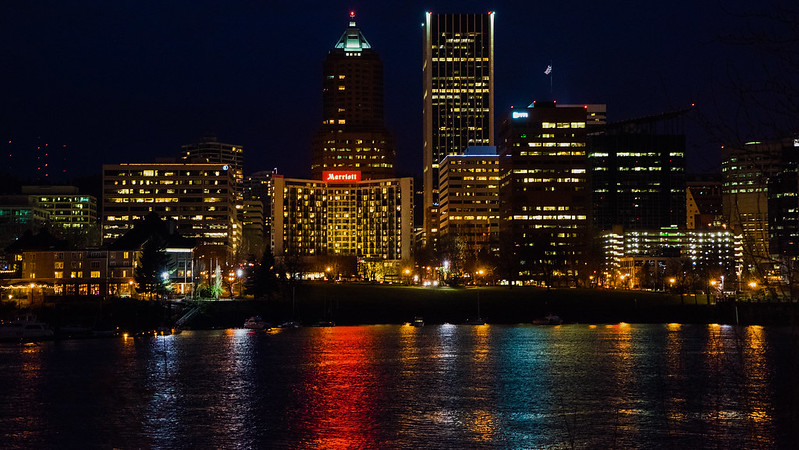 If you're looking for adventure, there's no shortage of things to do in Oregon. Some of the must-see attractions in the state include Crater Lake National Park, Columbia River Gorge, Cascade Lakes Scenic Byway, Mount Hood, Silver Falls State Park, and the numerous State Parks. These destinations offer stunning scenery and endless opportunities for outdoor activities.
Let's break down just a few.
1. Take a Drive to Mount Hood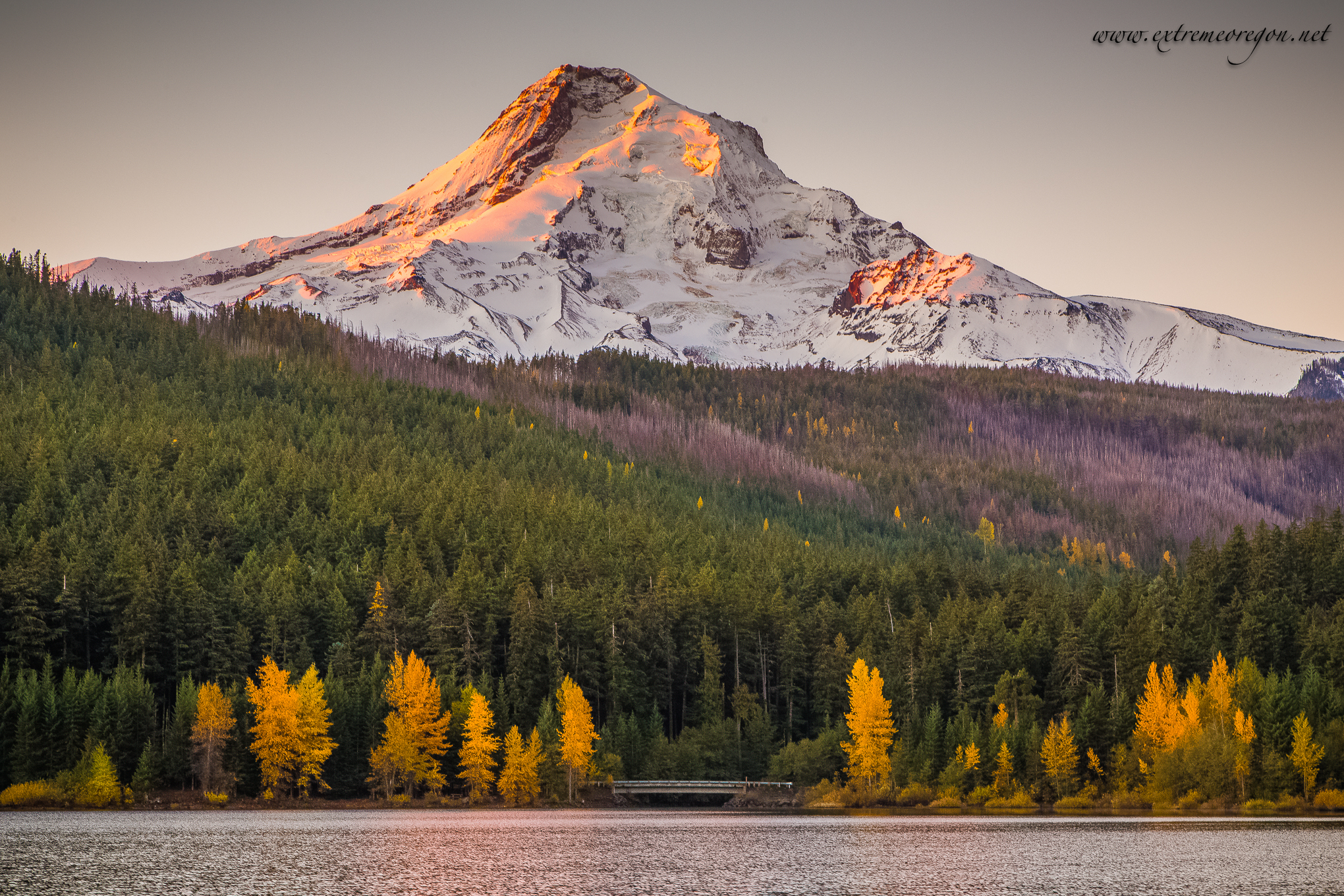 When people think of ski resorts in Oregon, they often think of Timberline Lodge and Mt Hood Meadows, but few people realize just how much Mt. Hood has to offer year-round. Sure, you can't ski or snowboard in warm weather, but in the summer there's an adventure park with over 20 attractions, including zip lines, bungee jumps, obstacle courses, rock walls, go-carts, mountain biking, hiking trails, mini golf, disc golf, batting cages, and a tree top ropes course to name a few. In the winter the adventure park features cosmic night tubing.
Let's also not forget about visiting Trillium Lake and hiking throughout the pristine Mt. Hood Wilderness area and National Forest.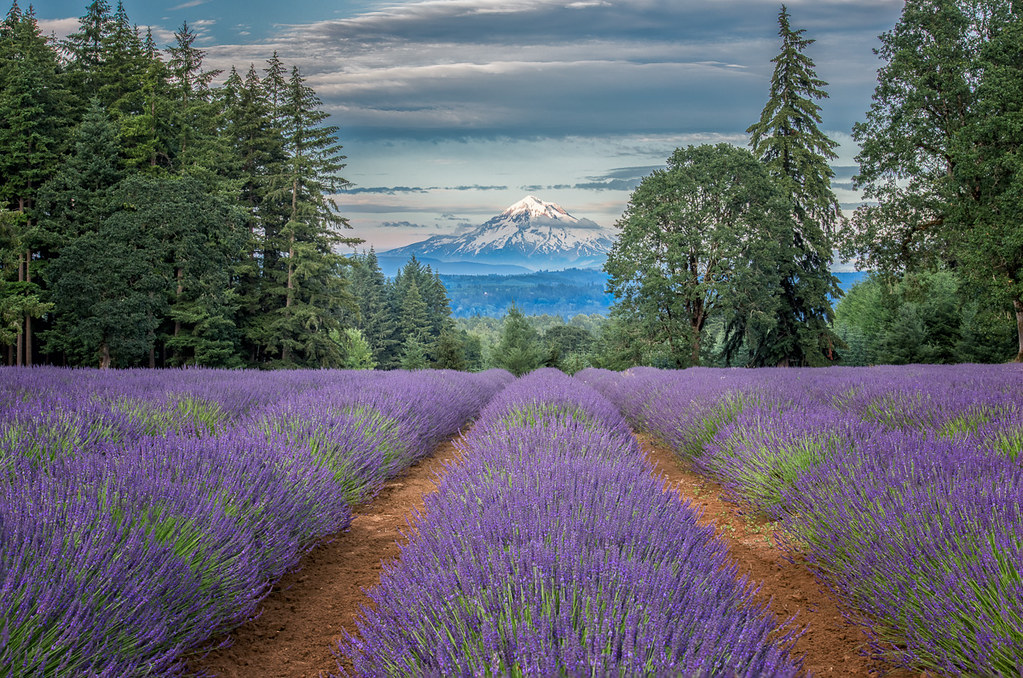 Throughout the spring months and into the fall, drive down off the mountain to Hood River, Oregon. You'll be in the famous "Fruit Loop" country where growers keep the countryside beautiful with apple, pear, and stonefruit trees all year.
It's especially gorgeous when in full blossom, with stunning views of Mt. Hood over the orchards. During the harvest, Hood River roadside stands and local farms sell their bounty in the form of fresh fruit, jams, preserves, and fresh apple cider off the press.
READ MORE: Mt. Hood, Oregon – A Travel Guide
2. Get Up Close and Personal With the Animals
Wildlife Safari by Wes Dickinson via Flickr
Wildlife Safari
The Wildlife Safari in Winston, Oregon is an amazing place to visit whether you're an adult or taking your family.  This place isn't just a zoo, it's a safari experience.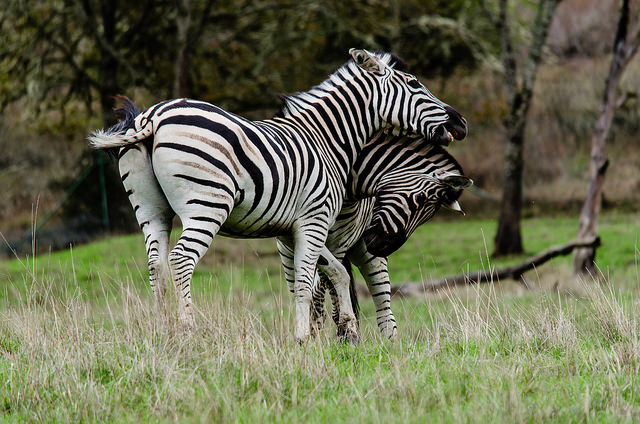 Instead of animals cooped up in cages, you'll find wildlife free-roaming over acres and acres of Southern Oregon oak savannah, forest, and meadows. A drive-through usually takes a couple of hours, with admission allowing for as many trips as you can fit in.
Wildlife Safari is world-renowned for its cheetah breeding program, helping this endangered species to grow and thrive in numbers.
More info: Exploring The 600-Acre Oregon Wildlife Safari Park
The Oregon Zoo
If you're in the Portland Metro area and want an amazing zoo experience, check out the Oregon Zoo in Portland's Washington Park.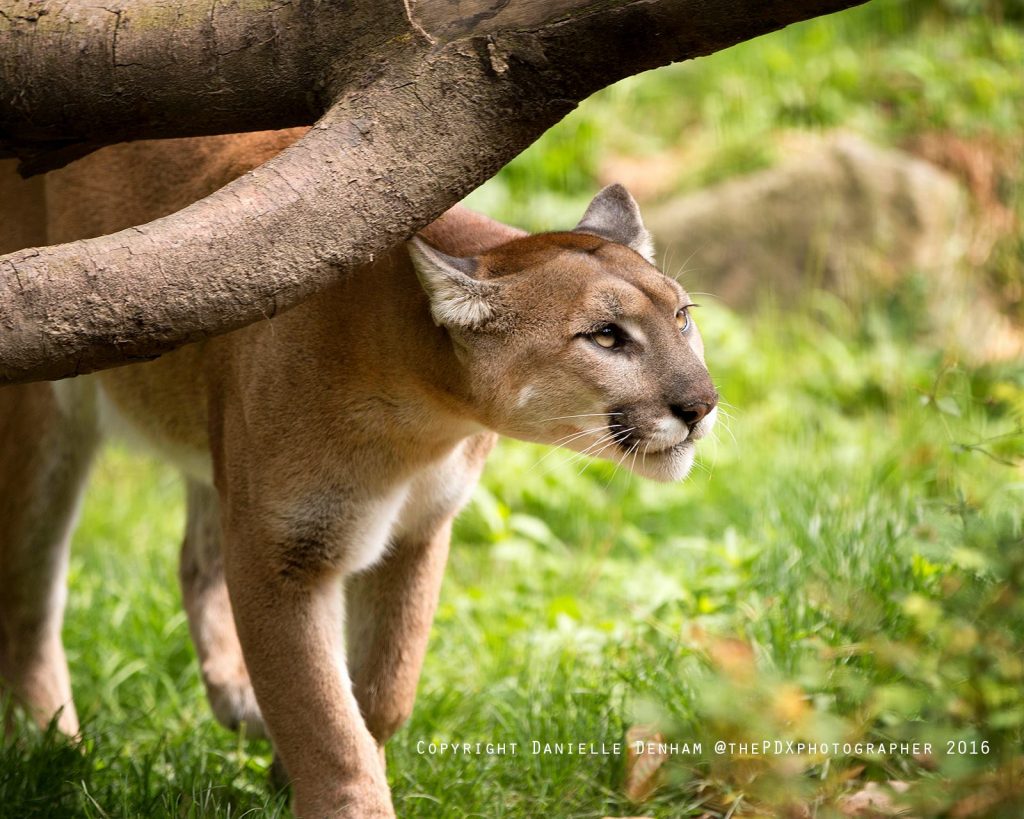 The Oregon Zoo connects communities to the wonder of wildlife to create a better future for all. Nestled on 64 forested acres just minutes from Portland city center, the zoo is a hub for science, conservation, education, and animal well-being. You'll find over 165 species here (20 that are endangered or threatened), all with environments that offer the highest possible enrichment and care for them.
Oregon Coast Aquarium
There is so much to do and see on a vacation on the Oregon coast, but your vacation wouldn't be complete without stopping by the Oregon Coast Aquarium in Newport. After all, where else can you get kissed by a sea lion, shake hands with an octopus, or sleep with sharks?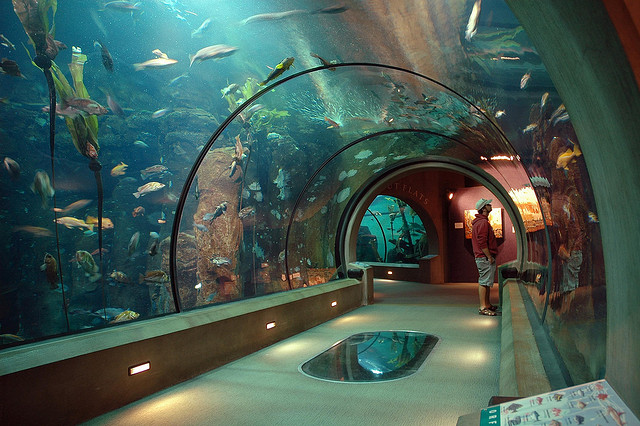 The aquarium has many interesting and educational exhibits but also offers behind the scene tours and programs aimed to give children ages eight through adult a hands-on experience. Be sure to check out their page to plan your visit, check schedules of behind the scene tours, and see the pricing of the different programs.
If you're in the Newport area, the Hatfield Marine Science Center is another great attraction right next to the Aquarium. This marine lab is operated by Oregon State University, offering exhibits, tours, education, and activities that are sure to delight everyone in the family.
RELATED: Oregon's Top 12 Zoos and Aquariums: Uncover the Wonders of Wildlife
The Sea Lion Caves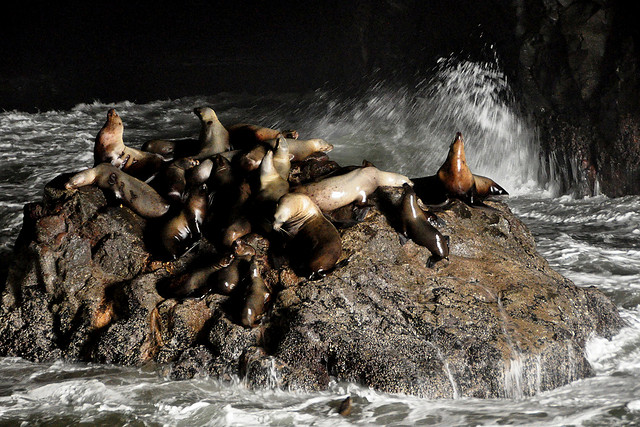 Not many people know that Oregon is home to America's largest Sea Cave and that this hulking cavern is home to hundreds of wild sea lions. The Sea Lion Caves near Florence, Oregon is truly a magical experience any time of year. If you want to visit, check out their page to see prices, learn interesting information, and discover the history of the caves.
Read about Oregon's Top 12 Zoos and Aquariums here.
3. Spend the Week in Oregon's Most Historic City
Astoria, Oregon has so much to do and experience that one trip to this charming seaside city is never enough.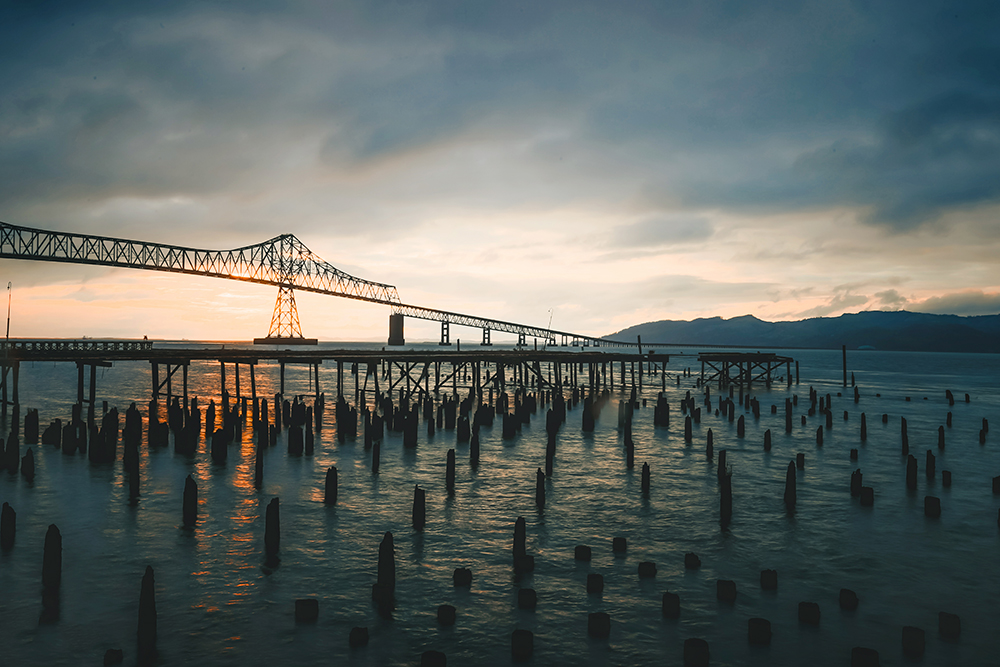 Part northern Oregon Coast town, part river city, Astoria was the first permanent white settlement in the Pacific Northwest. Established in 1811 by fur trappers, the history here reaches far back into Native American occupation and legend. Lewis and Clark spent the winter of 1805-1806 just south of modern-day Astoria in the small log structure of Fort Clatsop.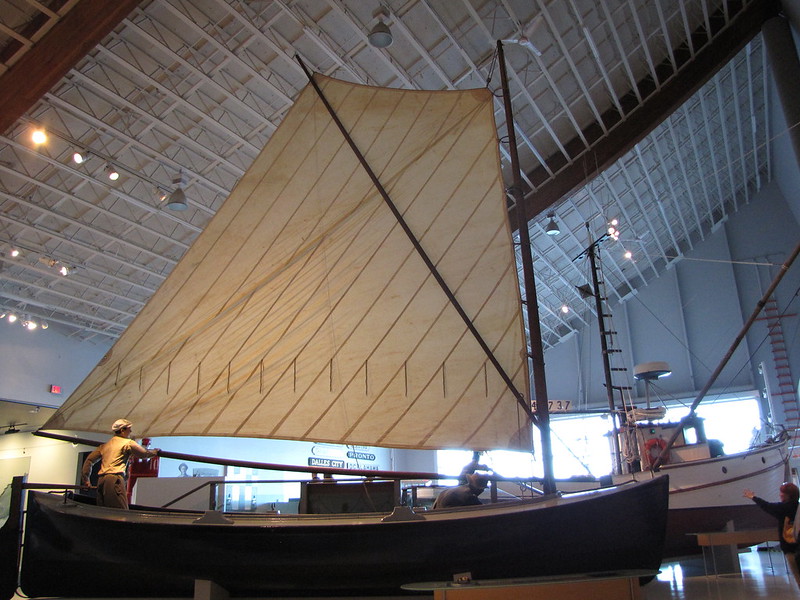 Today, visitors can visit Oregon's most famous shipwreck, the Peter Iredale, in Fort Stevens State Park, before embarking on one of the many hiking trails like the Oregon Coast Trail. Ride the vintage trolley on a tour through the historic downtown before checking out the Columbia River Maritime Museum. Movie buffs will find much to delight them here; take a tour of The Goonies filming locations, or visit the school where Arnold Schwarzenegger filmed Kindergarten Cop.
You can spend the night in an old cannery, and order fish 'n' chips from a boat in the middle of town. For a thrill with amazing views of the town and the Astoria-Megler Bridge over the Columbia River to Washington, climb the historic Astoria Column.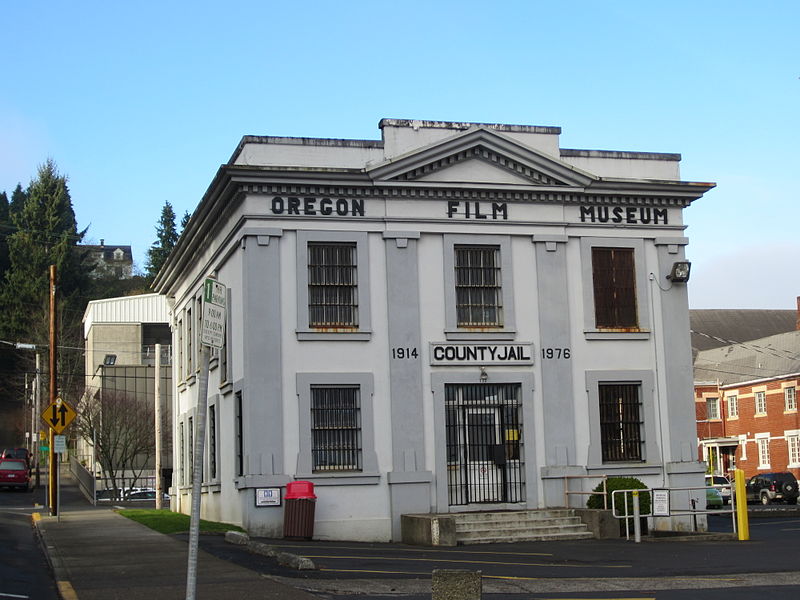 Visitors will love the Oregon Film Museum, The Flavel House Museum, the Astoria Saturday Market, the many delicious restaurants, and gorgeous bed and breakfasts.  Check out our list of things to do in Astoria Oregon here.
4. Take in the Incomparable Beauty of Crater Lake National Park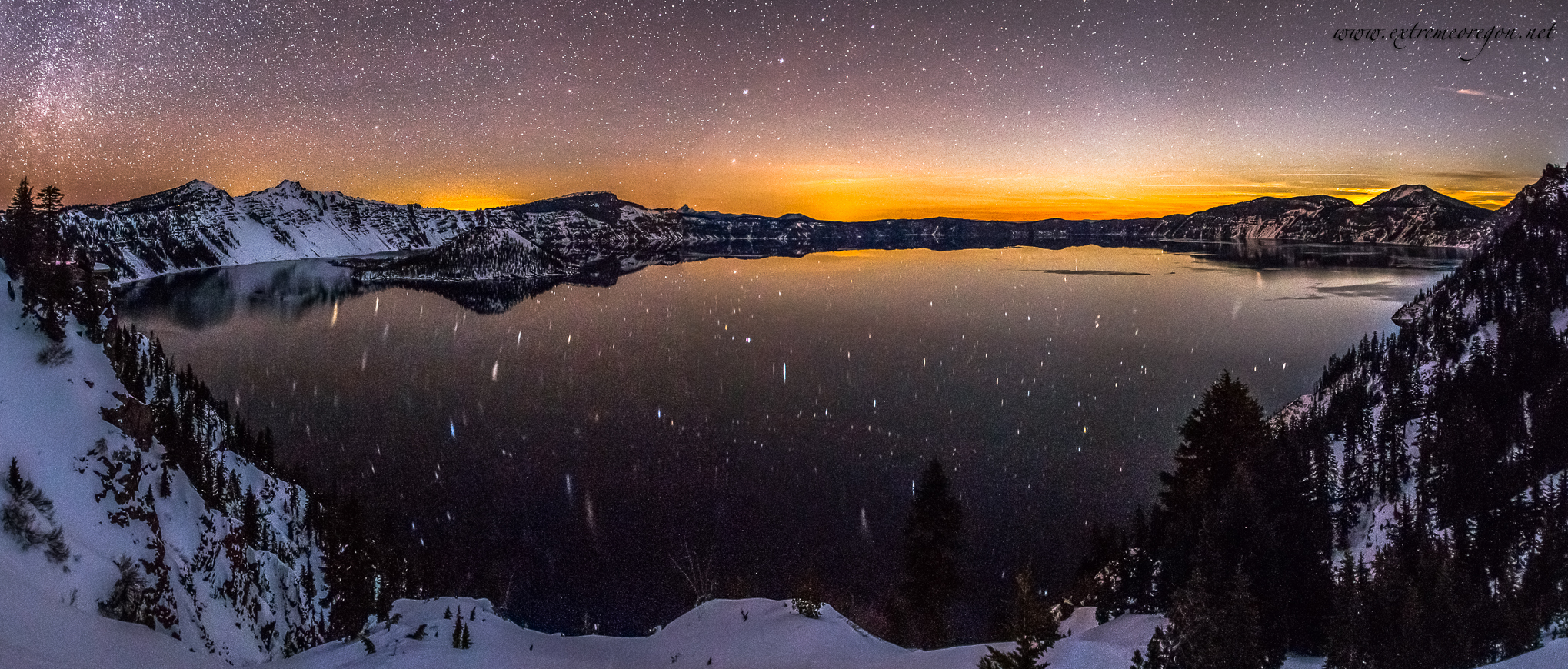 When people across the US think about Oregon, they think of the Oregon Trail and Crater Lake. In fact, many thousands of visitors from other states and countries come to Oregon every year just to visit Crater Lake National Park and take in the stunning vistas.
A lot of people take a leisurely drive around the Rim Drive in summer but don't realize how much there actually is to do inside Crater Lake National Park. There are waterfalls to see, trails to hike, fishing and camping opportunities, and interpretive visitor centers. Don't forget to visit The Pinnacles and search for the Old Man of the Lake, then perhaps stay a night or two at the Crater Lake Resort.
If you want to stay for a few days, you can branch out your exploration to the nearby Union Creek and Diamond Lake areas, or take a drive along the Rogue-Umpqua Scenic byway to view dozens of beautiful waterfalls. Be sure to grab a slice of pie at Beckie's.
The city of Klamath Falls is only a short drive away, with lots to do and explore.
5. Hike Silver Falls State Park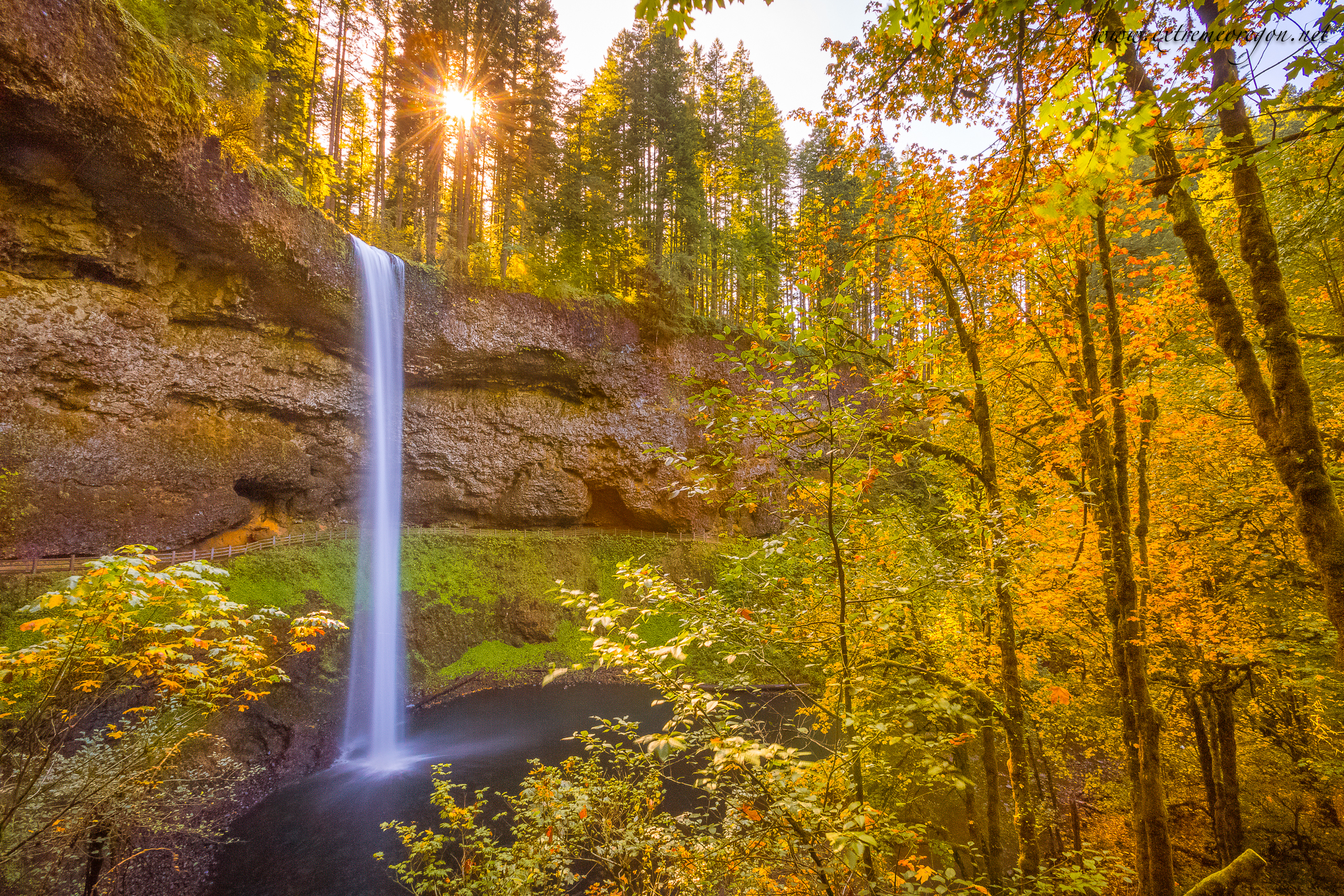 Nestled in the heart of the verdant Willamette Valley lies a natural wonderland that captivates visitors with its breathtaking beauty - the Silver Falls State Park. This idyllic park covers over 9,000 acres and boasts a stunning array of waterfalls, hiking trails, and outdoor activities that appeal to nature lovers, families, and adventure seekers alike.
If you've never been to Silver Falls State Park then you're missing out.  Maybe you just don't want to walk behind a 177-foot waterfall, enjoy the lush forested scenery, or swim in blissfully cool waters.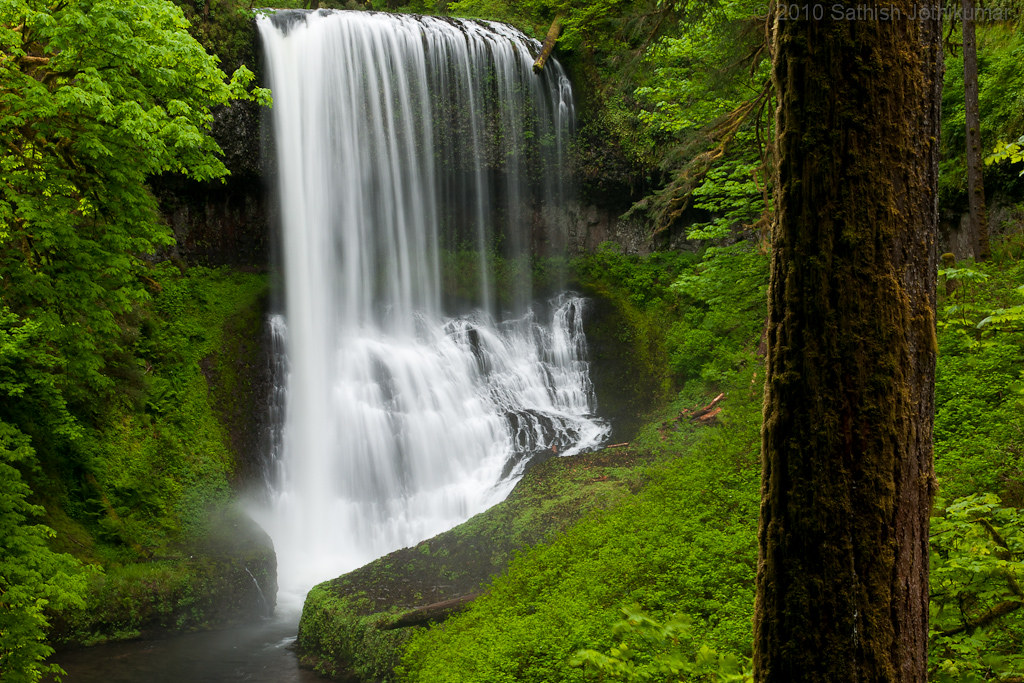 The park's crown jewel is undoubtedly the Trail of Ten Falls, a spectacular 8.7-mile loop that winds through lush forests, rocky canyons, and misty waterfalls. Along the way, visitors can marvel at ten distinct waterfalls that cascade over rocky cliffs and plunge into crystal-clear pools below. The trail is accessible year-round and is suitable for hikers of all skill levels, with ample opportunities to pause, rest, and soak in the beauty of the natural surroundings.
In addition to the Trail of Ten Falls, Silver Falls State Park offers a wide range of other outdoor activities for visitors to enjoy. The park boasts over 35 miles of hiking and biking trails that traverse a diverse range of terrain, from the steep and rocky canyons of the falls to the gentle meadows and forested slopes of the surrounding hills. Visitors can also swim, fish, and paddle in the park's many creeks and streams, or relax and picnic in one of its many designated picnic areas.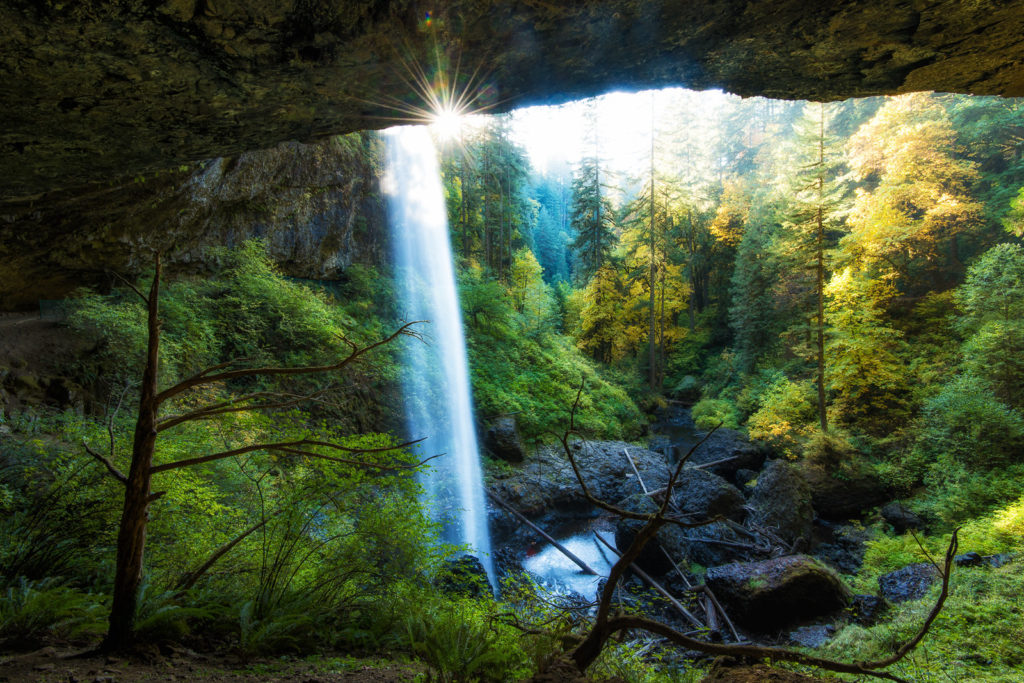 The park's natural beauty is complemented by its rich cultural history, with evidence of human habitation dating back thousands of years. Native American tribes such as the Kalapuya and Molalla once called the region home, and their descendants continue to maintain strong cultural connections to the land. The park was also a hub of activity during the early years of European settlement in the Pacific Northwest, with homesteaders and loggers using its abundant natural resources to build new lives for themselves and their families.
If you're in the area and looking for a good place to stay outside the park, Camp Dakota is like a summer camp for adults with paintballing, zip lines, tomahawk throwing, a warrior challenge course, yurts, and more. Camp Dakota is about 35 minutes away from Silver Falls State Park.
6. Make Waves at the Evergreen Aviation And Space Museum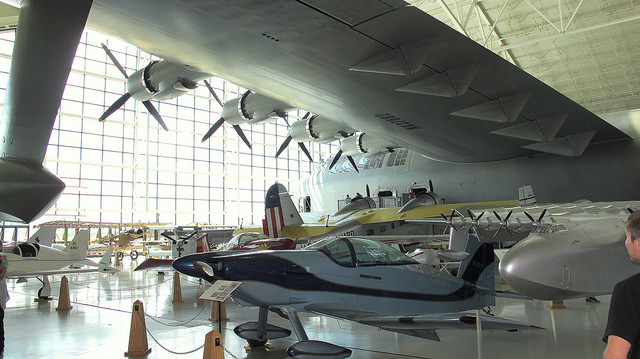 Have you ever heard of the Spruce Goose, the largest wooden airplane ever made that flies? I bet you didn't know this historical plane (also the subject of the movie The Aviator) resides at the Evergreen Aviation and Space Museum in McMinnville Oregon.
This Oregon museum also features its own water park! Visitors can literally jump out of a Boeing 747 jet plane on the roof that's been converted into a massive waterslide.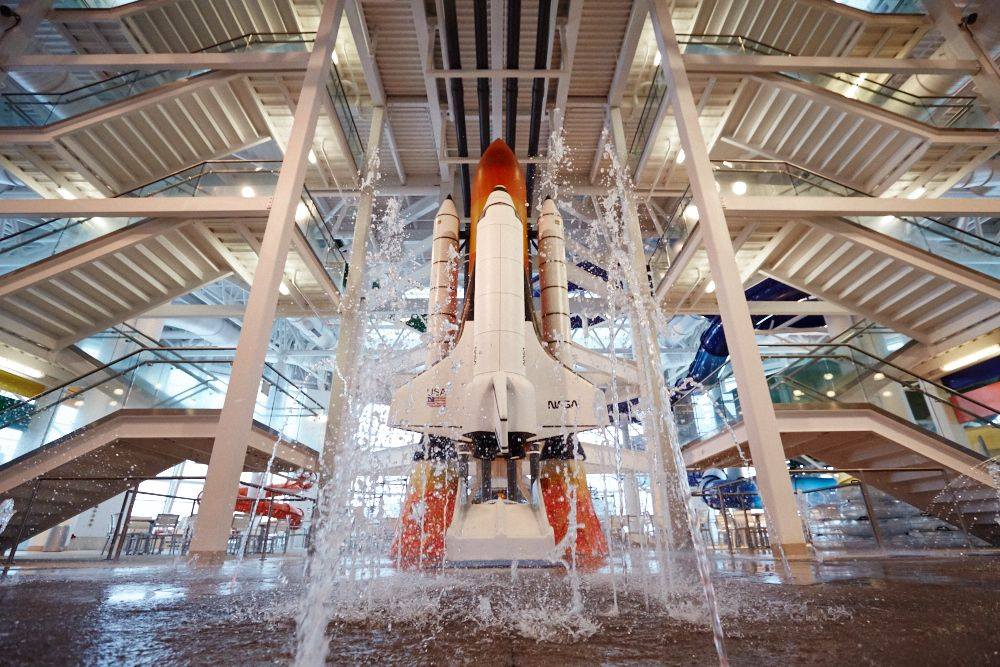 The Wings And Waves Waterpark in McMinnville Oregon is a one-of-a-kind waterpark with four awesome waterslides, splashdown pools, and play areas for the very little ones. Bonus: it's right next door to the Evergreen Aviation and Space Museum.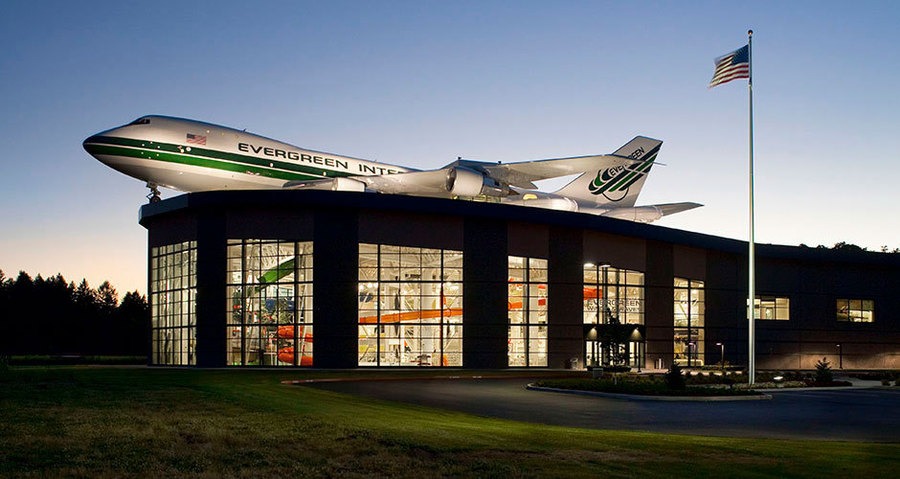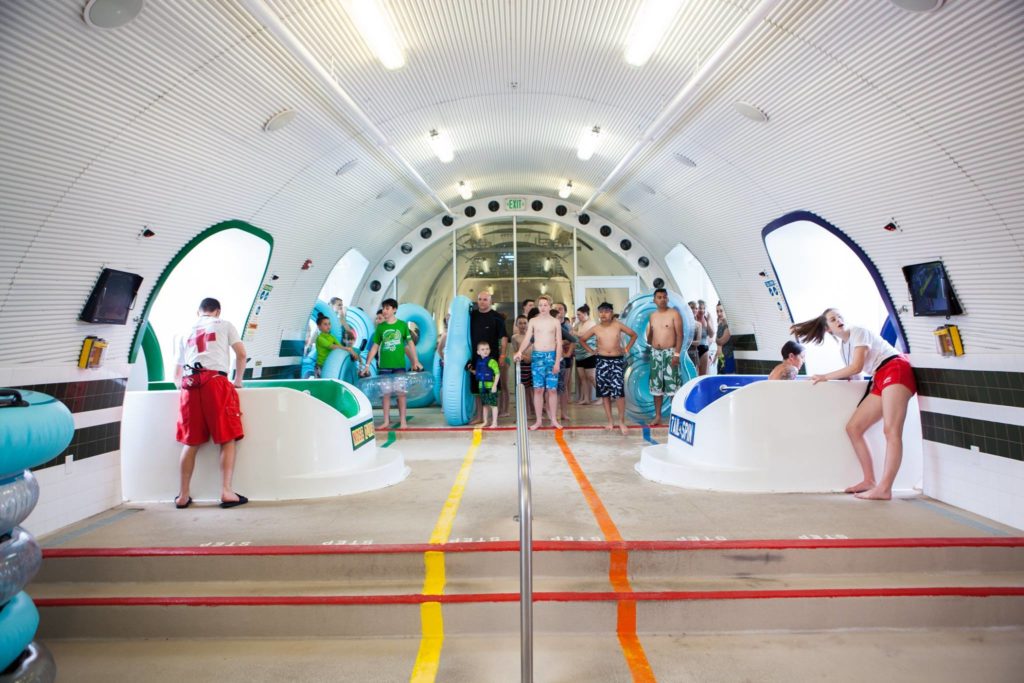 This is one of the coolest museum experiences in Oregon and you're sure to have a great time. If you're on the coast, you may also want to consider checking out the equally cool Tillamook Air Museum. Or if you really love airplanes and want to see both museums in one day, they are only an hour and a half drive from each other.
This Oregon museum is also only a short drive from the Willamette River and sits in the heart of Oregon's Willamette Valley Wine Country. See which vineyards made our 2023 list of top wineries in Oregon.
RELATED: The Tillamook Cheese Factory
7. Explore the Multitude of Waterfalls in the Columbia River Gorge
Note: In 2017, the Eagle Creek Fire burned over 50,000 acres of this forested landscape. The land will be in recovery for years to come, but many trails have reopened. Please check for closures before planning your route.
The Columbia River Gorge is a natural wonderland that boasts breathtaking landscapes and awe-inspiring vistas that are sure to leave you mesmerized. Located in the heart of the Pacific Northwest, this 80-mile-long canyon spans the border between Oregon and Washington and is known for its multitude of waterfalls, towering cliffs, and vibrant greenery. Taking a peaceful drive through The Gorge is one of my favorite things to do in Oregon.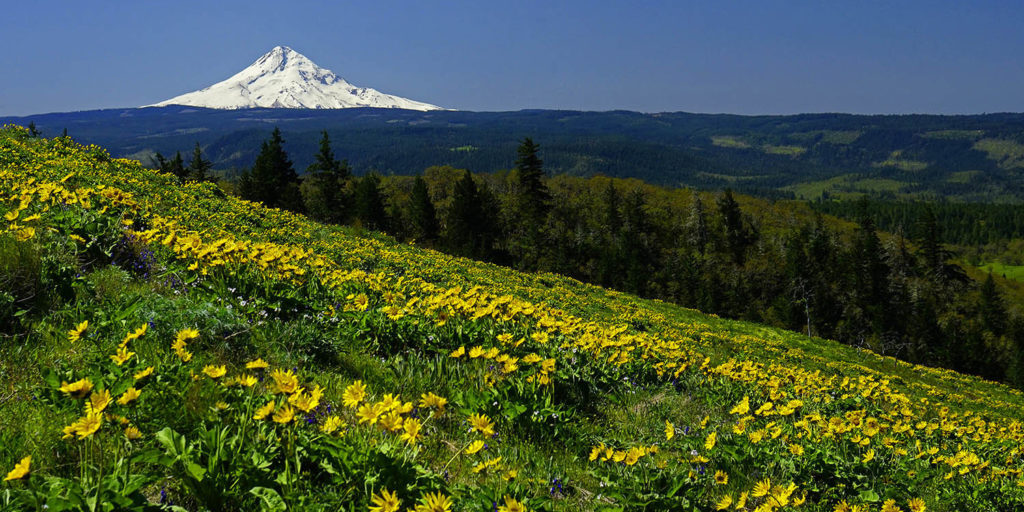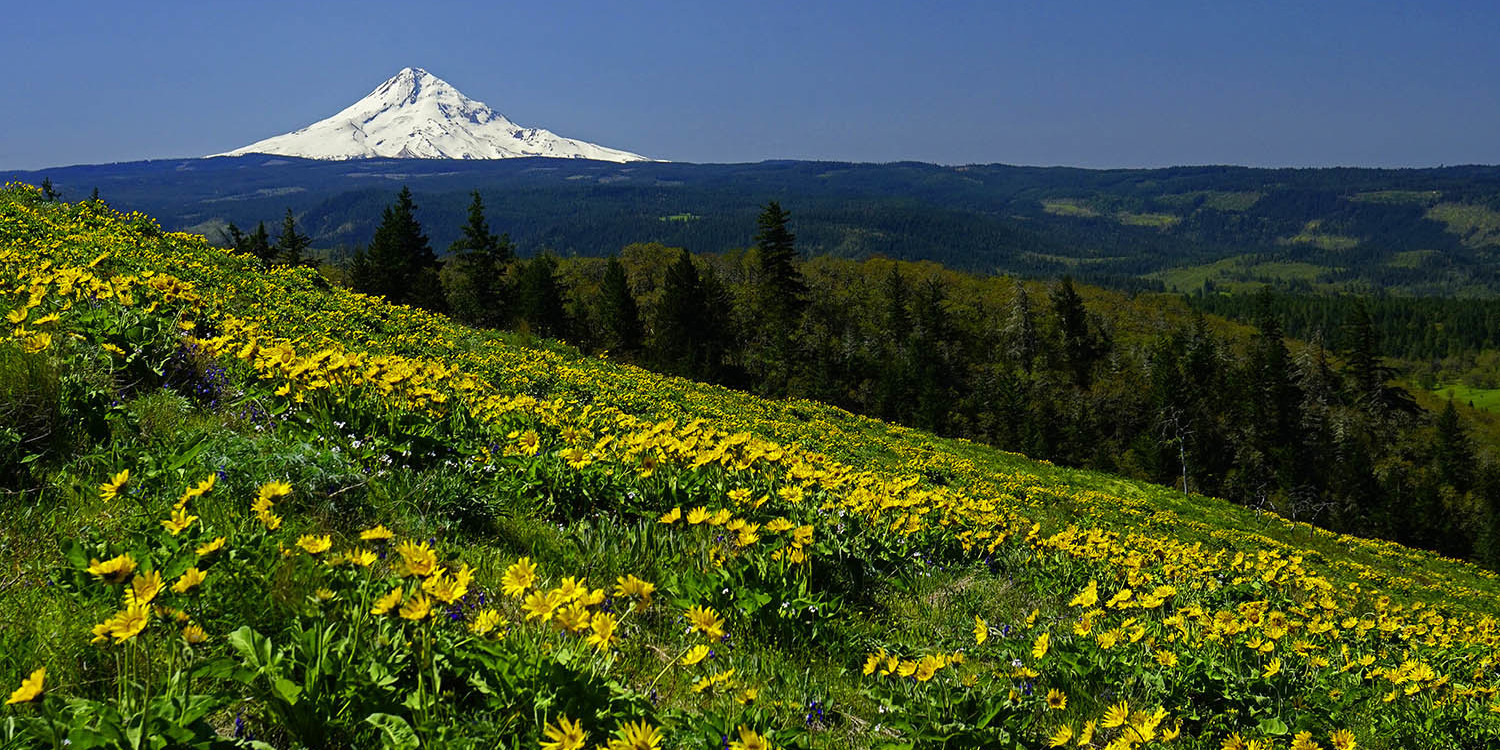 One of the most remarkable features of the Columbia River Gorge is its collection of waterfalls. These cascades of water tumble down the cliffsides, creating a magical atmosphere that is both serene and exhilarating. One of the most popular waterfalls is Multnomah Falls, which is the tallest waterfall in Oregon and one of the most photographed landmarks in the state. At a towering height of 620 feet, this stunning natural wonder is a sight to behold, especially when viewed from the Benson Bridge that spans the falls' lower tier.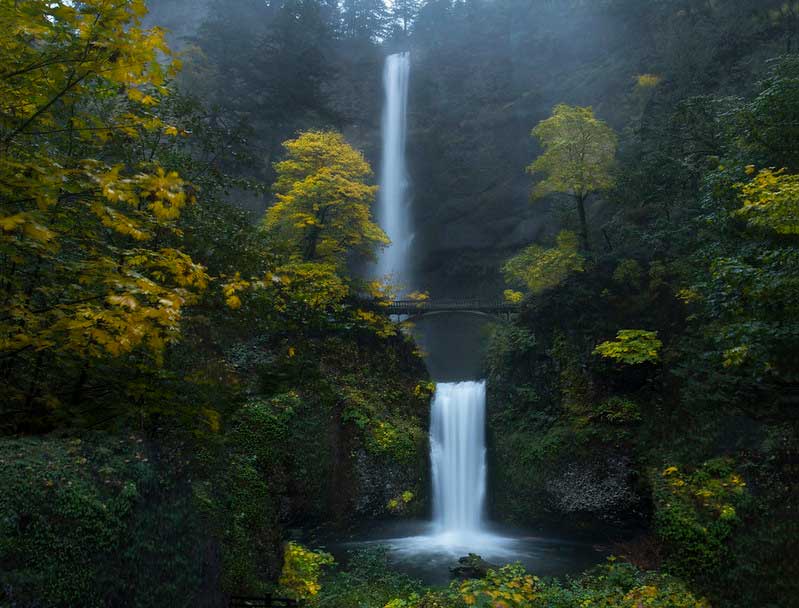 The Columbia River Gorge is also a mecca for hikers and outdoor enthusiasts, with numerous trails that wind through the canyon's lush forests and along its rocky cliffs. The trails take hikers on a journey through the canyon's diverse ecosystems, from lush rainforests to arid highlands, and offer opportunities to spot local wildlife such as bald eagles and elk.
For those who prefer a more leisurely pace, the Columbia River Gorge offers a variety of scenic drives that allow you to soak in the beauty of the region from the comfort of your car. The Historic Columbia River Highway is easily one of the most picturesque drives in the country, with winding roads that take you past some of the most iconic landmarks in the gorge, including Multnomah Falls and the Vista House at Crown Point.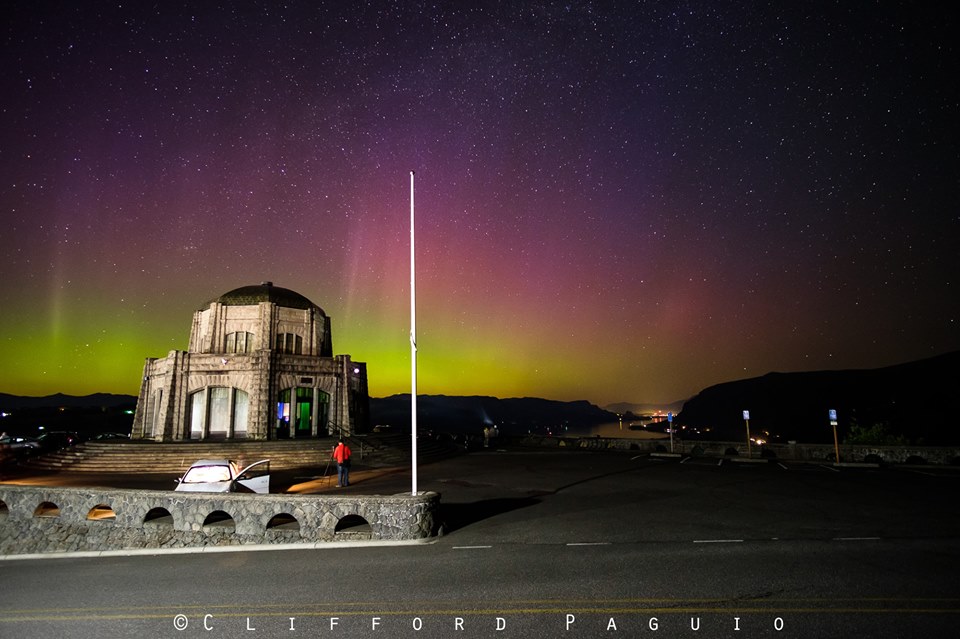 In addition to its natural beauty, the Columbia River Gorge is also home to a rich history and culture that is worth exploring. The area was once home to numerous Native American tribes, and the gorge's ancient rock formations and petroglyphs offer a glimpse into the region's fascinating past. The gorge is also home to several charming towns and villages, such as Hood River, which is known for its world-class windsurfing and charming downtown area.
Please remember that a permit is now required for the Columbia Gorge's Waterfall Corridor. Find all the information here.
8. Have a Family Outing at OMSI
The Oregon Museum Of Science And Industry (OMSI for short) is an awesome interactive museum for kids located in Portland. The exhibits change several times a year so it's absolutely worth going back every few months to see what's new.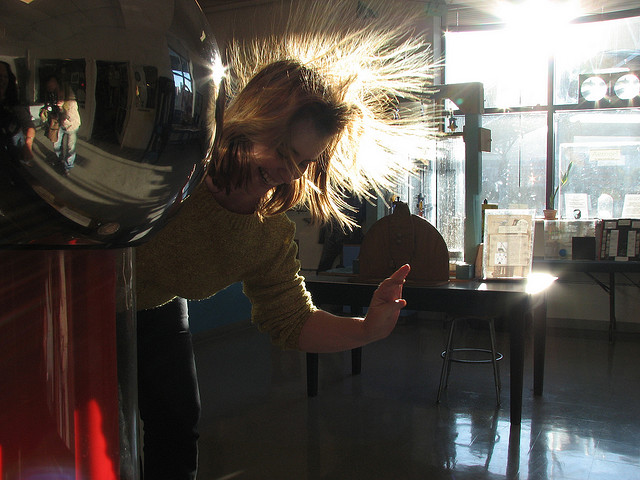 From the physics of skateboarding to the miracle of birth, and exhibits that allow you to create your own invention, this is sure to be a hit with your entire family. On each visit, my family is never able to make it through OMSI in one day; it's so big and there is so much to do and see.
Your best bet is to visit the Oregon Museum Of Science And Industry on a weekday and avoid weekends as it can get crowded.
9. Make Memories at Our Favorite Oregon Coast State Parks
Ecola State Park
This idyllic park covers over 1,000 acres and boasts breathtaking views of the Pacific Ocean, rocky cliffs, and lush forests. Visitors can explore miles of hiking trails that wind through the park, offering panoramic vistas of the coastline and glimpses of the wildlife that call this pristine wilderness home. Scenes from Point Break, one of Keanu Reeve's first movies were filmed here, as were scenes from The Goonies.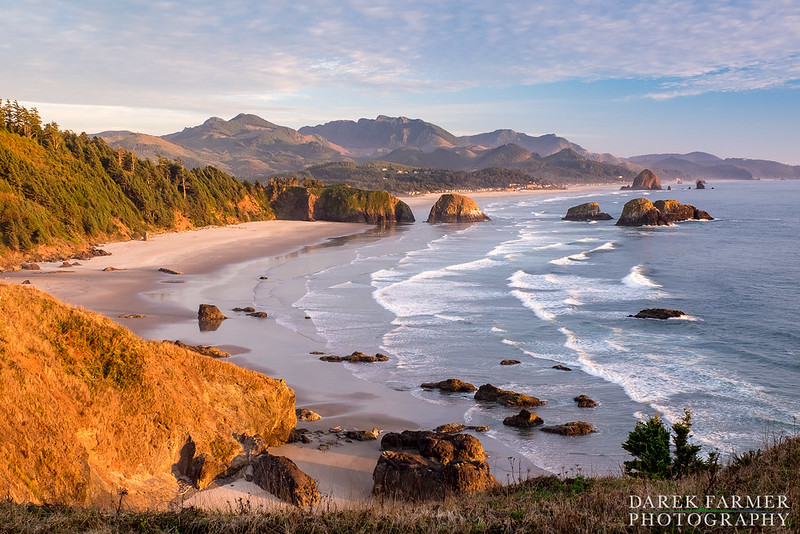 Ecola State Park is also close to the popular ocean community of Cannon Beach and its iconic Haystack Rock.
Jessie M. Honeyman Memorial State Park
The picturesque Jesse M. Honeyman State Park covers over 500 acres and boasts a stunning array of freshwater lakes, sand dunes, and towering forests that provide a haven for wildlife and outdoor enthusiasts alike. Visitors can swim, fish, and boat in the park's many lakes, or explore miles of biking trails that wind through the surrounding wilderness.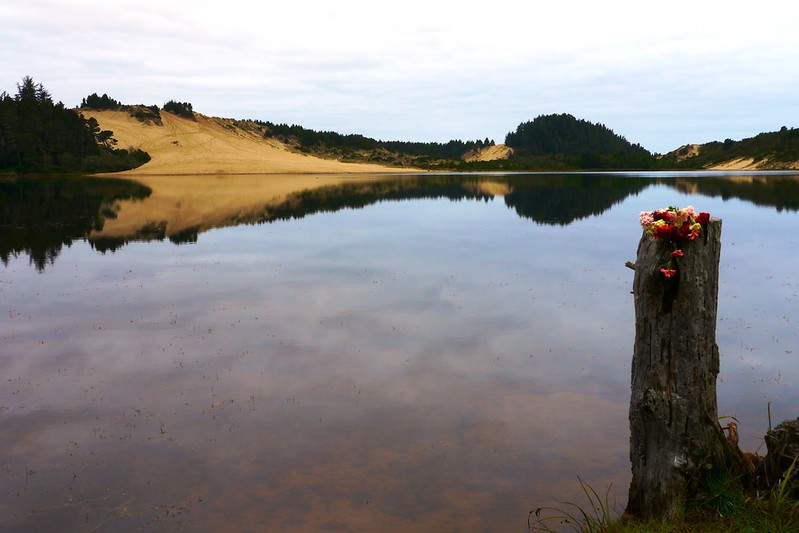 A fun side trip from Honeyman is Sand Master Park in north Florence, Oregon. This is the world's first park specifically for sandboarding right here in the Oregon Dunes.
Speaking of dunes, Florence is the gateway to the Oregon Dunes National Recreation Area, a 31,500-acre portion of the Siuslaw National Forest where you can bring your off-highway vehicle or ATV for the best time in the sand dunes you'll ever have.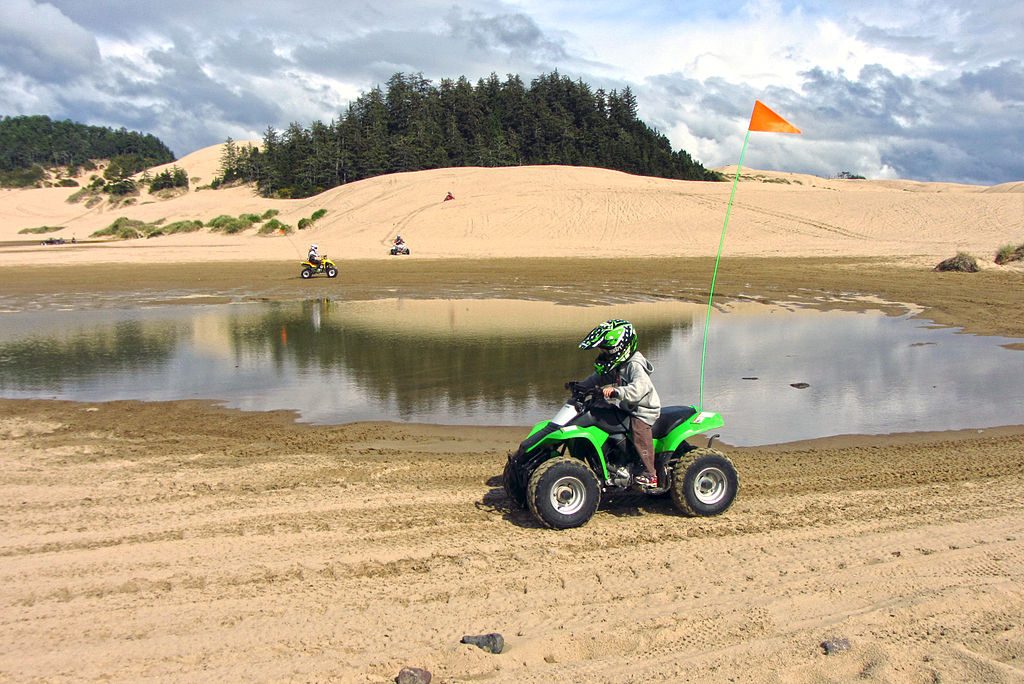 Shore Acres State Park
Perched atop a rugged bluff overlooking the magnificent Pacific Ocean lies a hidden oasis of tranquility and beauty - Shore Acres State Park. This enchanting park covers over 700 acres and boasts stunning views of the ocean, rocky cliffs, and lush gardens that provide a haven for wildlife and visitors alike. Visitors can explore the park's many hiking trails or marvel at the park's manicured gardens, which burst with color and fragrance in every season. Come during December for the annual light display.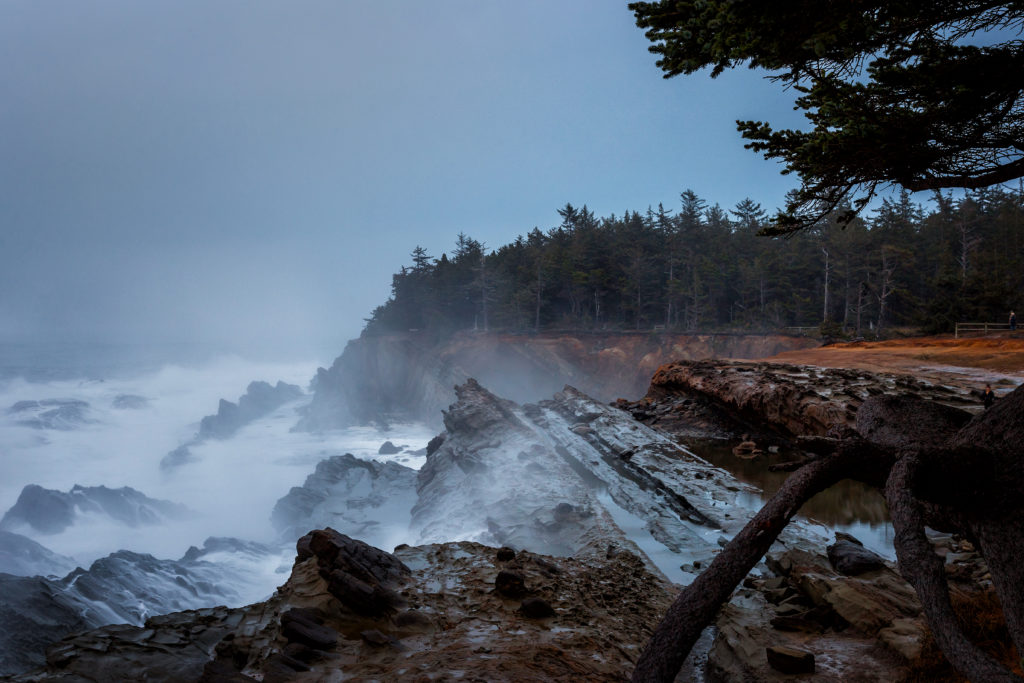 This is one of the top spots in the state of Oregon for storm watching and experiencing the awesome force of our King Tides from a safe vantage point.
RELATED: 13 Top Oregon State Parks You Didn't Know Existed
Samuel Boardman State Scenic Corridor
This breathtaking park covers over 12 miles of the Oregon coast and boasts a mesmerizing array of sea stacks, hidden coves, and rocky cliffs that have been carved by centuries of wind and waves. Visitors can explore the park's many hiking trails that wind through the surrounding wilderness, or simply marvel at the raw power and beauty of the Pacific Ocean.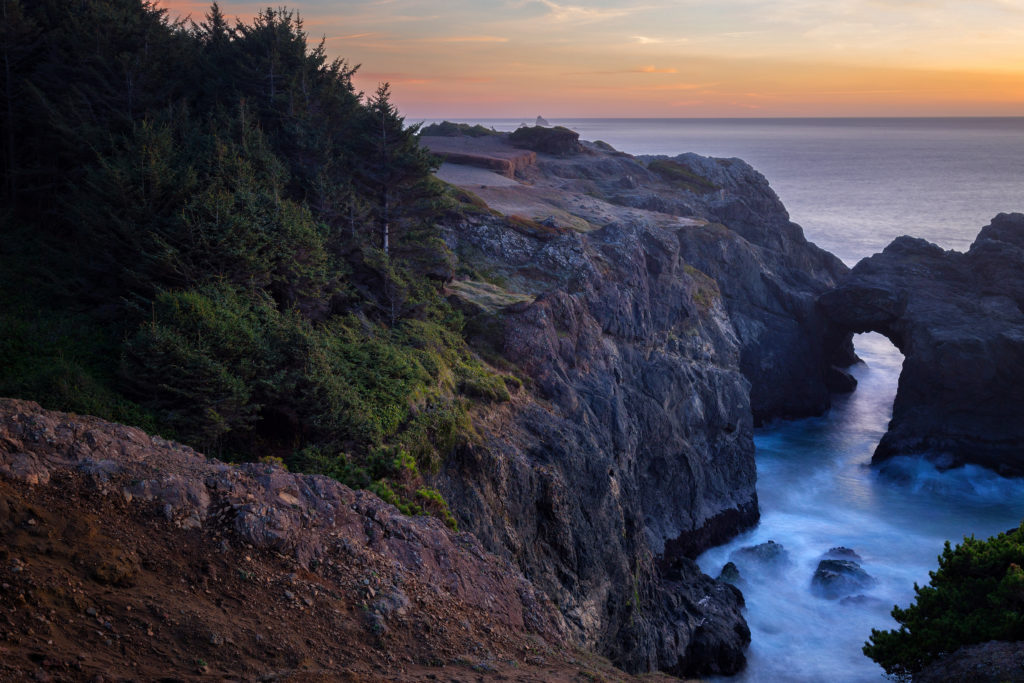 The Samuel Boardman State Scenic Corridor is a true testament to the majesty of nature, offering visitors a rare glimpse into a world untouched by human hands. With its untamed landscapes, hidden treasures, and unparalleled views, it is a must-see destination for anyone with a love of the great outdoors. Whether you're seeking a moment of solitude or an adventure to remember, the Samuel Boardman State Scenic Corridor is sure to take your breath away and leave you with memories that will last a lifetime.
Harris Beach State Park
With its unparalleled beauty, diverse wildlife, and endless opportunities for outdoor recreation, Harris Beach State Park is a must-see destination for anyone looking to experience the beauty of the Oregon Coast. There are over 1,000 acres of relaxing, sandy beach here, perfect for kicking back to dip your toes in the sand.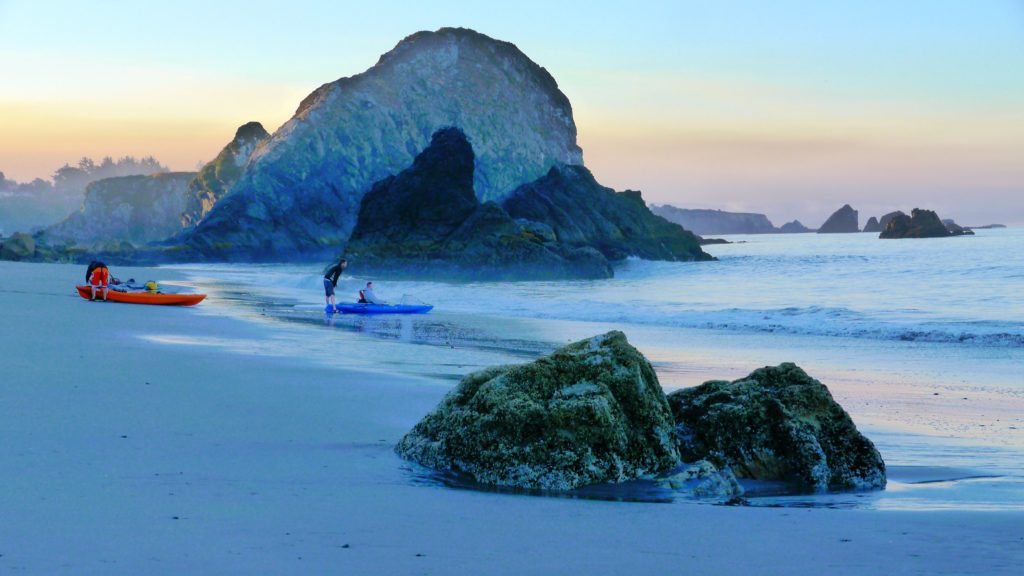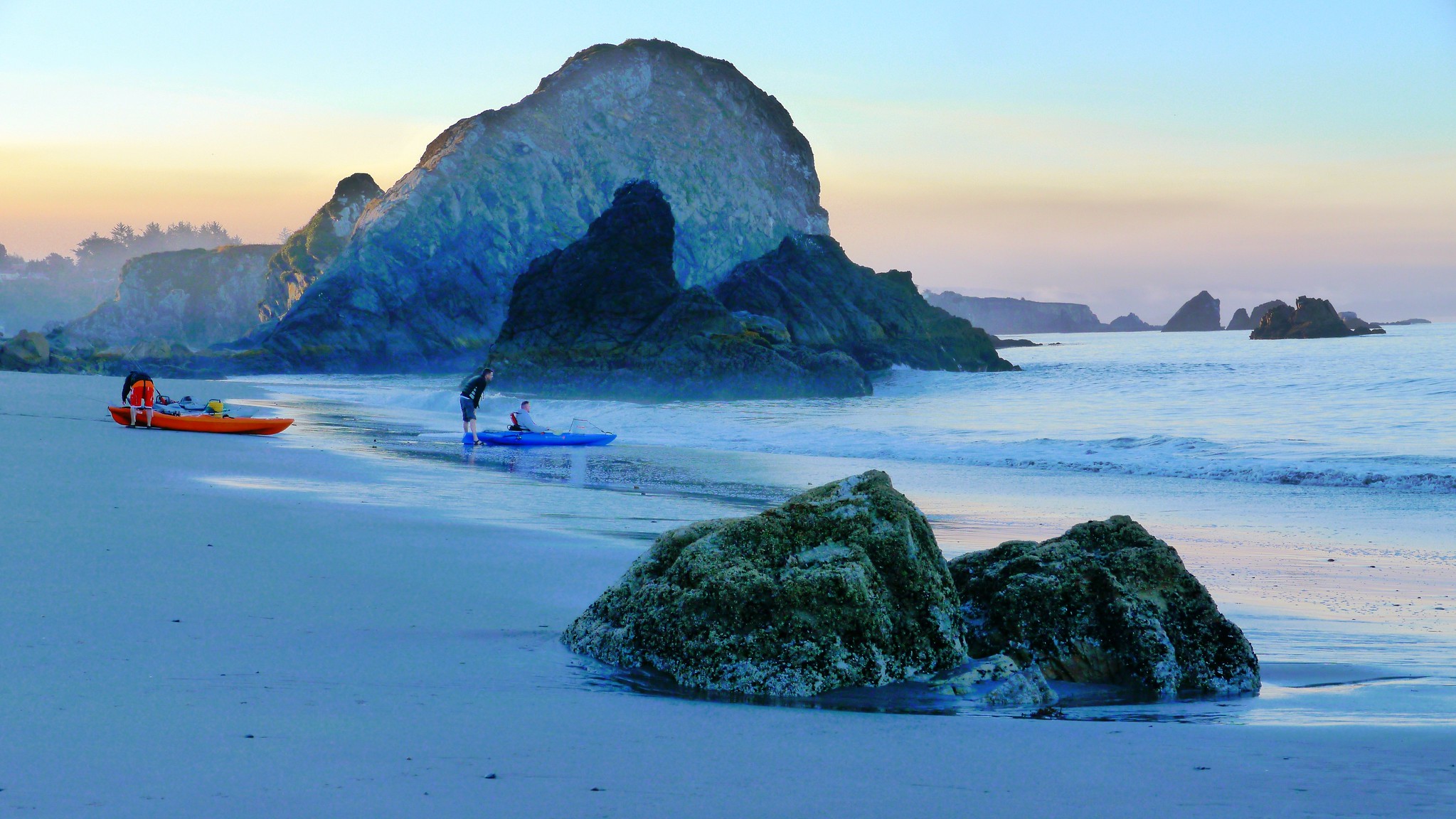 While you're close to Brookings, set aside some time to take a stroll through Oregon's gorgeous Giant Redwood Trees.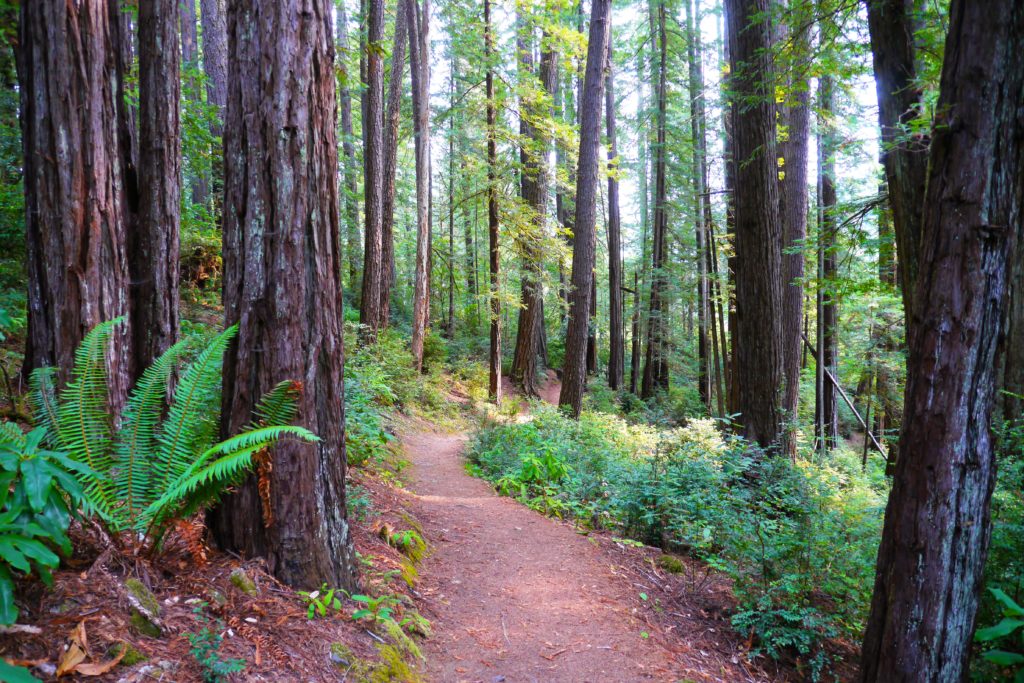 When people think of towering redwoods, they think of California. You might not have realized that Oregon has its own gorgeous redwood trees along the southern Oregon coast. You can check out these beautiful 800-year-old redwood trees in Oregon here.
10. Travel Back in Time At the John Day Fossil Beds National Monument
Nestled in the rolling hills of eastern Oregon lies a hidden gem that time has preserved for millions of years - the John Day Fossil Beds National Monument. This geological wonderland spans over 14,000 acres and is renowned for its exquisitely preserved fossils that provide a glimpse into the prehistoric past. The monument is divided into three distinct units - the Sheep Rock, Painted Hills, and Clarno Units - each offering a unique perspective on the region's geological history.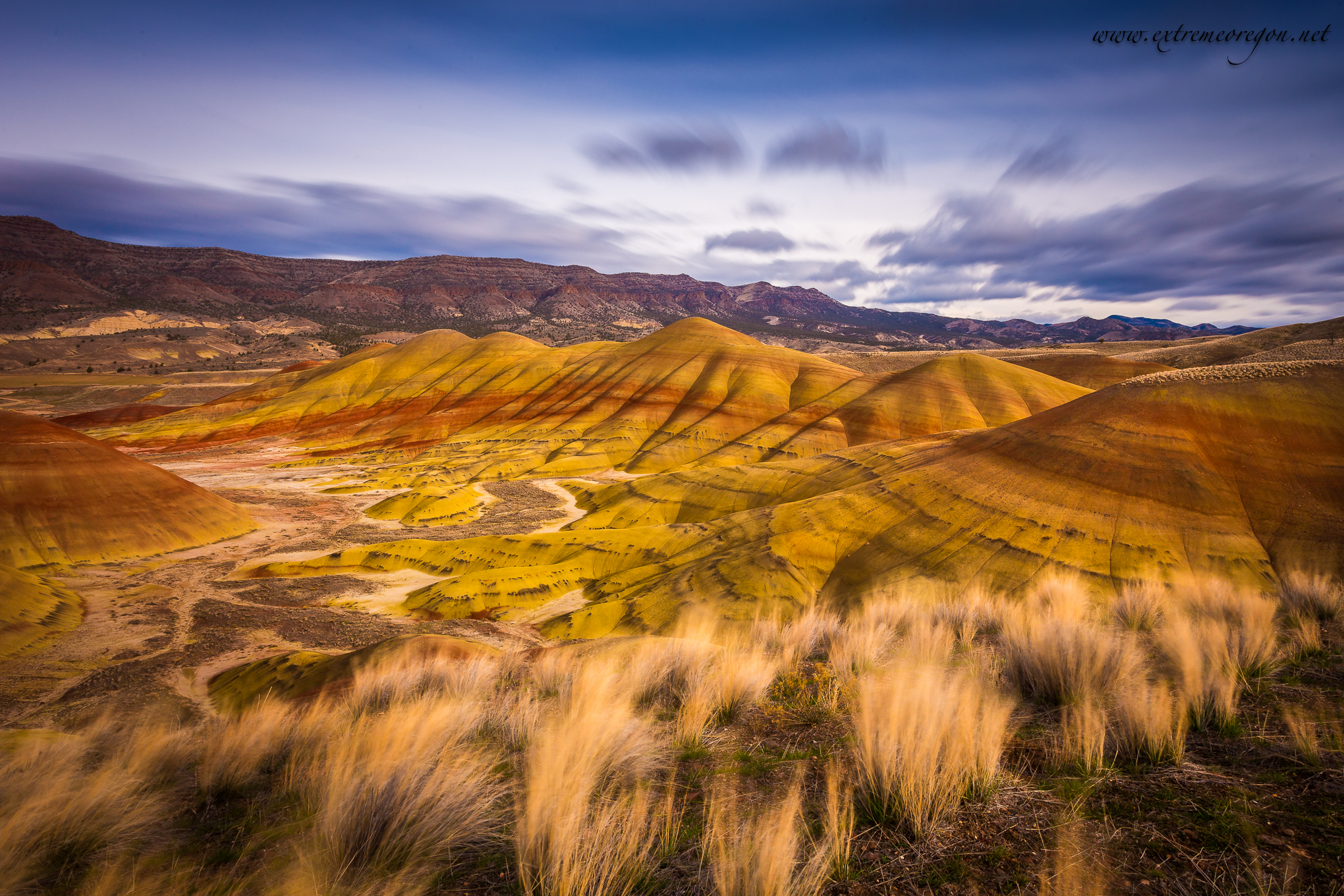 The Painted Hills Unit
The Painted Hills Unit is named for the vibrant hues of the hills, which range from deep reds and oranges to soft pastels and earthy browns. The hills are composed of layers of volcanic ash and clay that have been sculpted by wind and water, creating a stunning and otherworldly landscape. Visitors can follow a network of trails that wind through the hills, offering panoramic views of the surrounding countryside and glimpses of the fossils that lie buried beneath the surface.
The Sheep Rock Unit
The Sheep Rock Unit is the largest and most diverse of the three, boasting a colorful palette of rock formations that have been shaped over millions of years by volcanic activity, erosion, and shifting tectonic plates. The unit is home to the Thomas Condon Paleontology Center, which serves as the visitor center and houses an impressive collection of fossils, including the remains of ancient horses, rhinoceroses, camels, and other mammals that once roamed the region.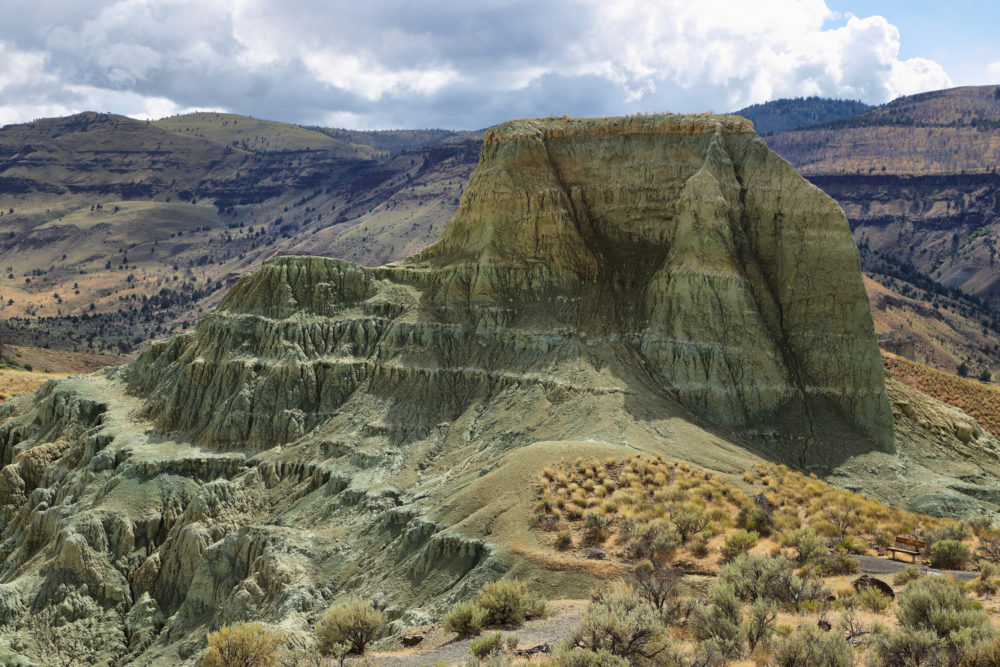 The Clarno Unit
The Clarno Unit is the smallest of the three National Monument units and is situated on its western edge. The unit is home to a diverse array of rock formations, including towering cliffs, hoodoos, and petrified wood, that tells the story of a time when this area was covered by lush forests and teeming with wildlife. Visitors can hike through the rugged terrain, exploring the many hidden nooks and crannies that dot the landscape and marveling at the sheer scale and beauty of the rock formations.
11. Hike the Incredible Smith Rock State Park
Smith Rock State Park is one of those Oregon gems you really should visit at least once.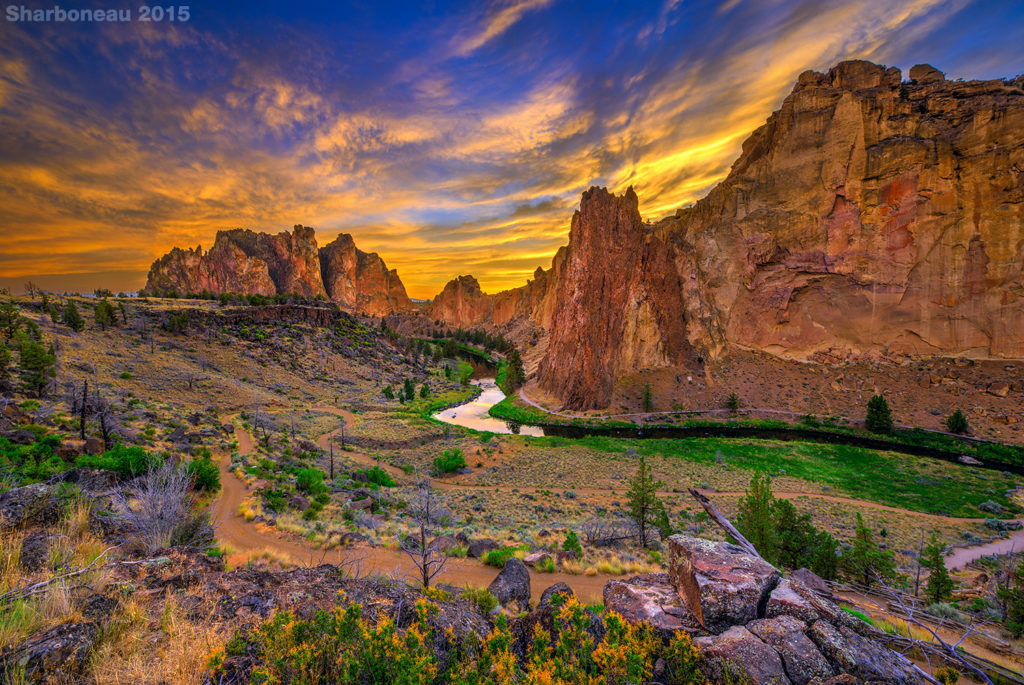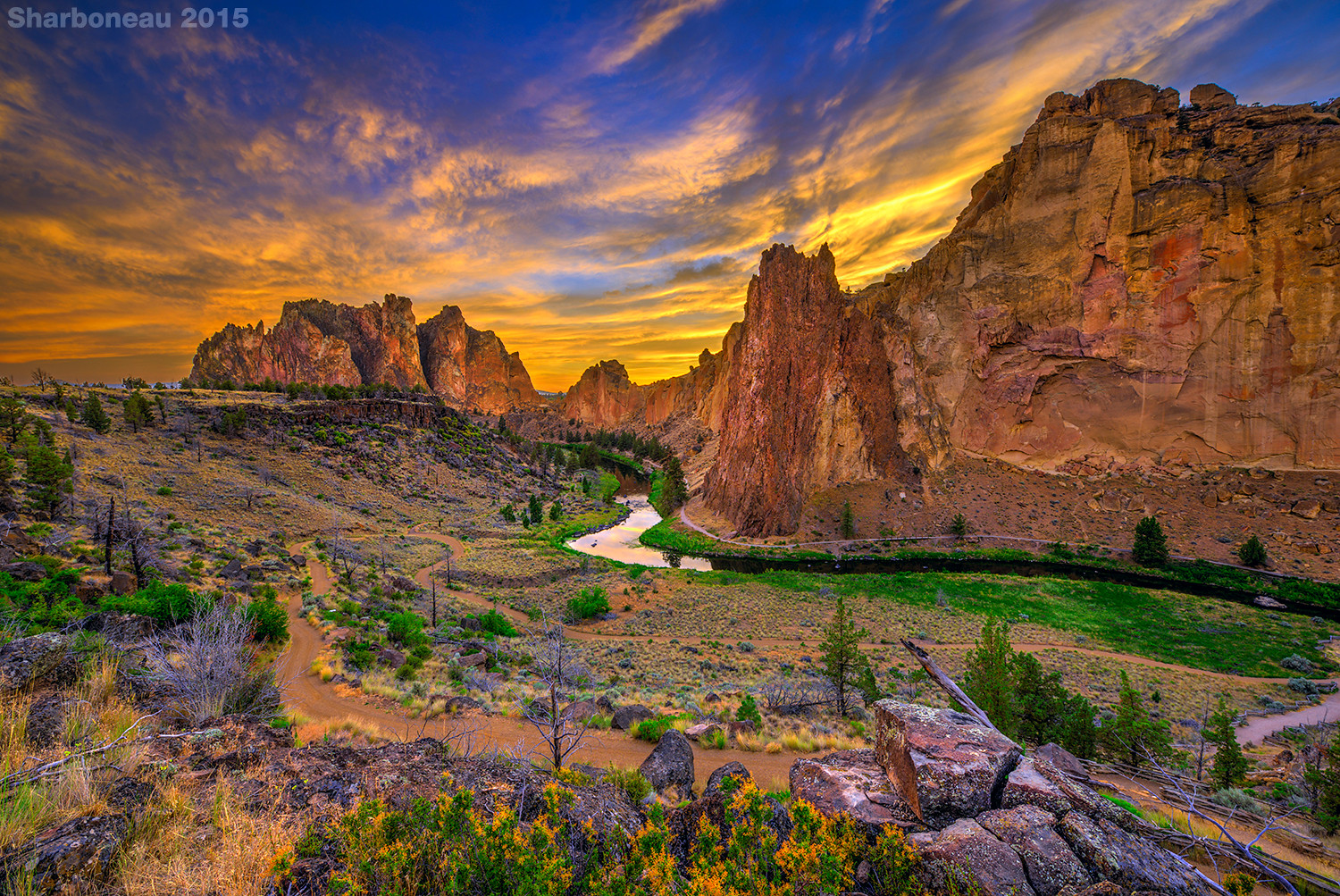 This rugged and awe-inspiring park covers over 650 acres and is renowned for its towering rock formations, challenging hiking trails, and world-class rock-climbing routes that draw thrill-seekers from around the world.
At the heart of the park lies the iconic Smith Rock, a towering rock pinnacle that rises over 550 feet above the surrounding landscape. The park's many hiking trails wind through the surrounding canyons and cliffs, offering breathtaking views of the rock formations and the cascading Deschutes River below. For those seeking an even greater challenge, the park's many rock-climbing routes offer a test of strength and endurance that few can match. Be sure to check out our Guide to Smith Rock State Park.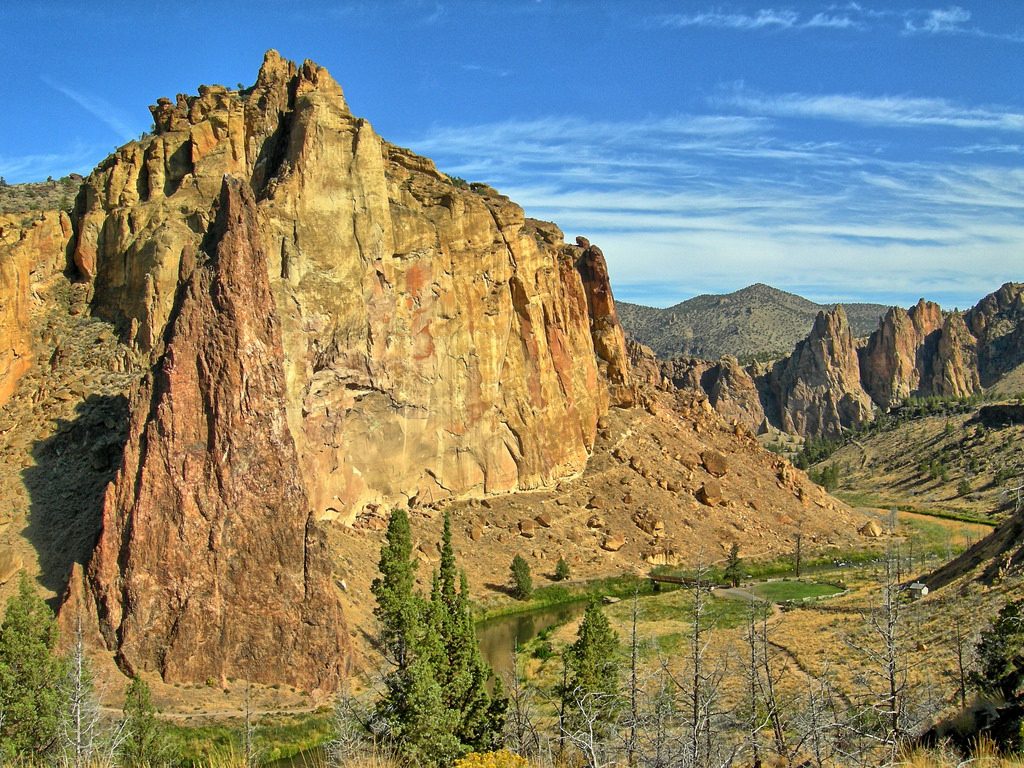 But the adventure doesn't end with hiking and rock climbing. Smith Rock State Park also boasts a wide range of outdoor activities, including mountain biking, horseback riding, and fishing. Visitors can explore the park's many trails on foot or bike or cast a line in the river and try their luck at catching a trophy trout or steelhead.
Visitors will enjoy seeing steep river canyons, deer and bald eagles, while rock climbers will love the more than a thousand bolted climbing routes.
12. Go Surfing (?!) in Bend, Oregon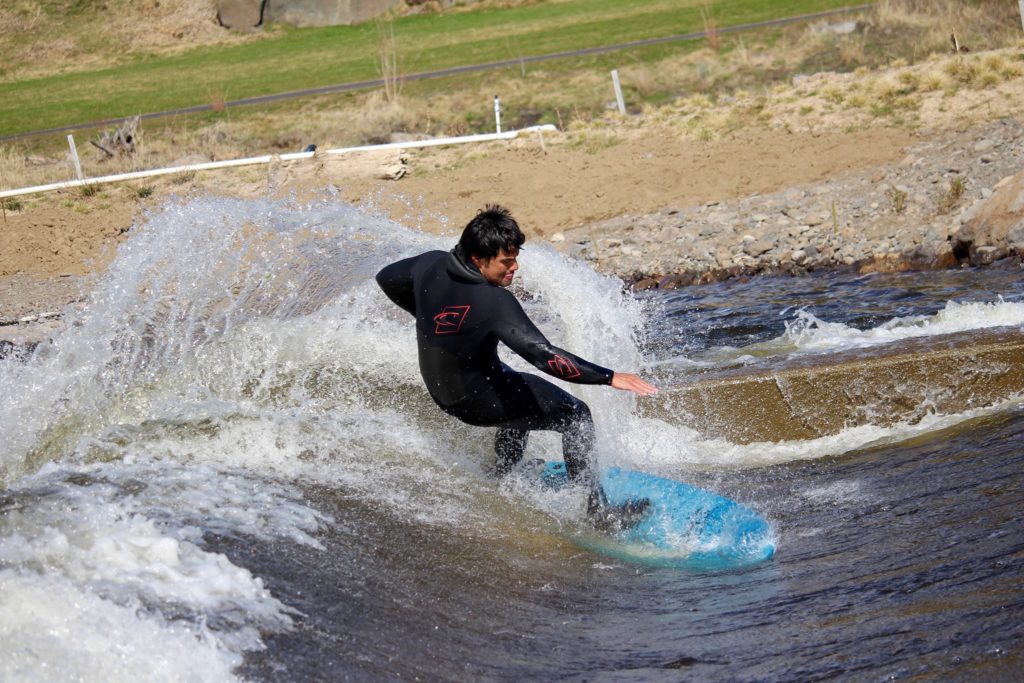 Bend and Sunriver, Oregon are gorgeous high desert towns with a lot of outdoor activities. Because Bend is located so far inland from the Pacific Ocean, you wouldn't think it to be a surf destination, however, the Bend Whitewater Park has become a unique spot that draws in surfers from all over the US.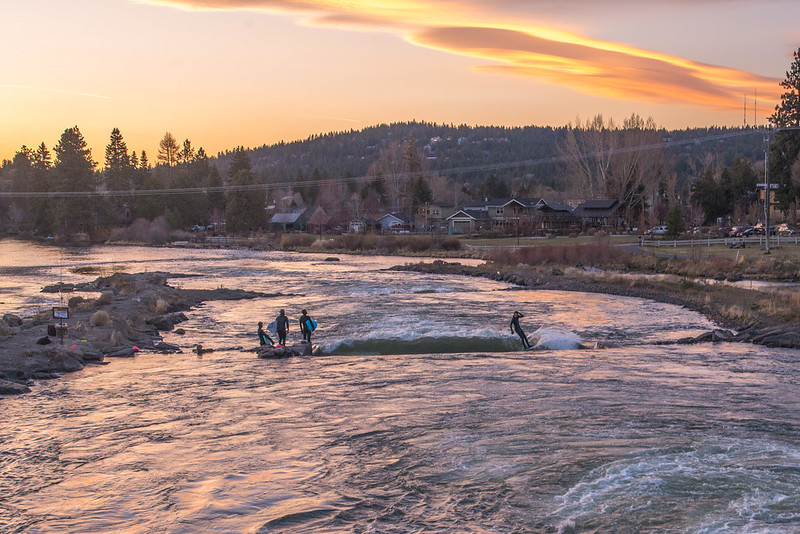 These manmade waves in the middle of the river can be used for tube floating, whitewater kayaking, river surfing, river bodyboarding, or whitewater paddleboarding.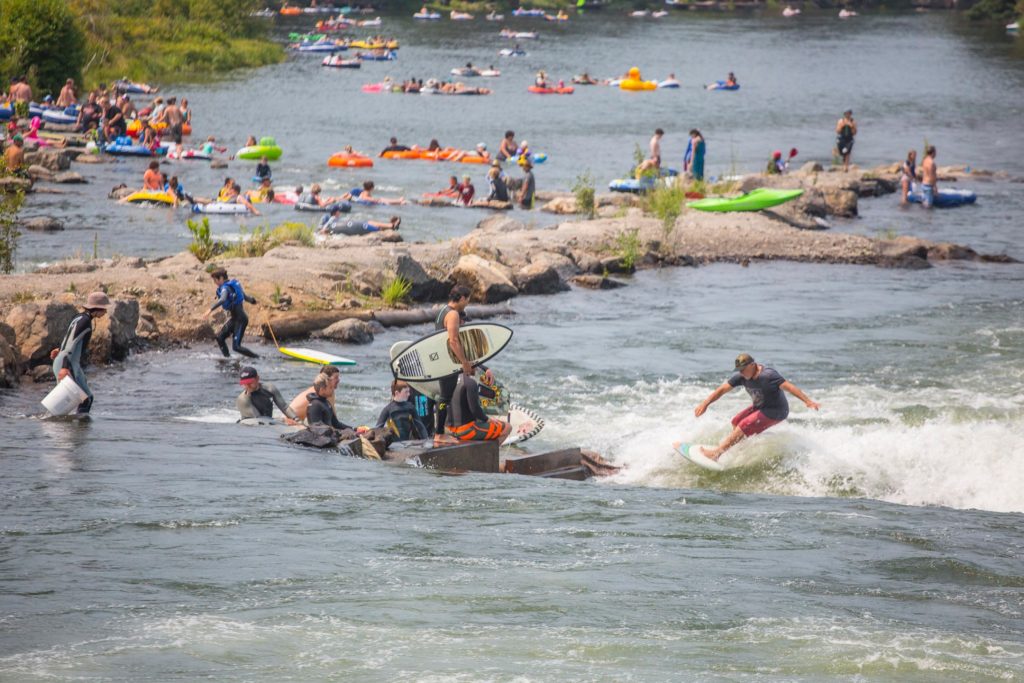 While in Bend, make a worthwhile trip over to the fantastic High Desert Museum, tour the stunning Cascade Lakes Scenic Byway, or take some time to go camping. We have your full guide to hikes Near Bend, Oregon right here.
RELATED: Camping Near Bend, Oregon: Our Top Picks For 2023
13. Visit Beautiful Southeast Oregon
Southeast Oregon is remote, stunning, and beautiful. Many people think of Oregon as a lush, green forested state, though not many realize that two-thirds of Oregon is aridly incredible high desert.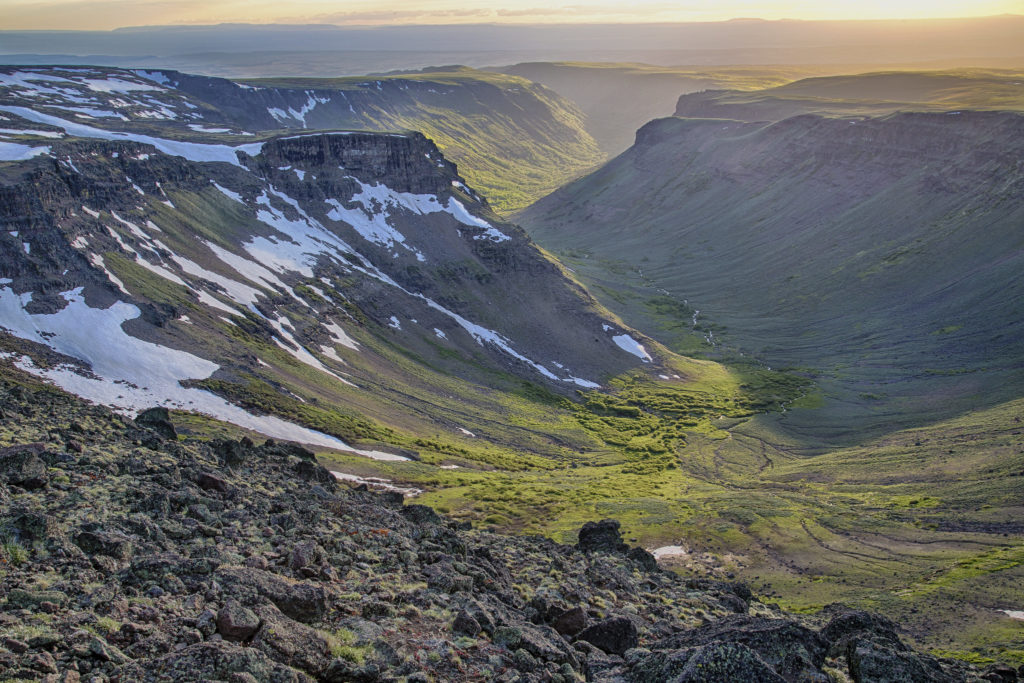 Southeast Oregon is sparsely populated and the perfect place to get away from city crowds for a while. Go exploring the Steens Mountains, or disappear for a while into the Owyhee Canyonlands. The Alvord Desert offers a dry landscape found nowhere else in Oregon, while Hart Mountain offers an entirely different, otherworldly experience.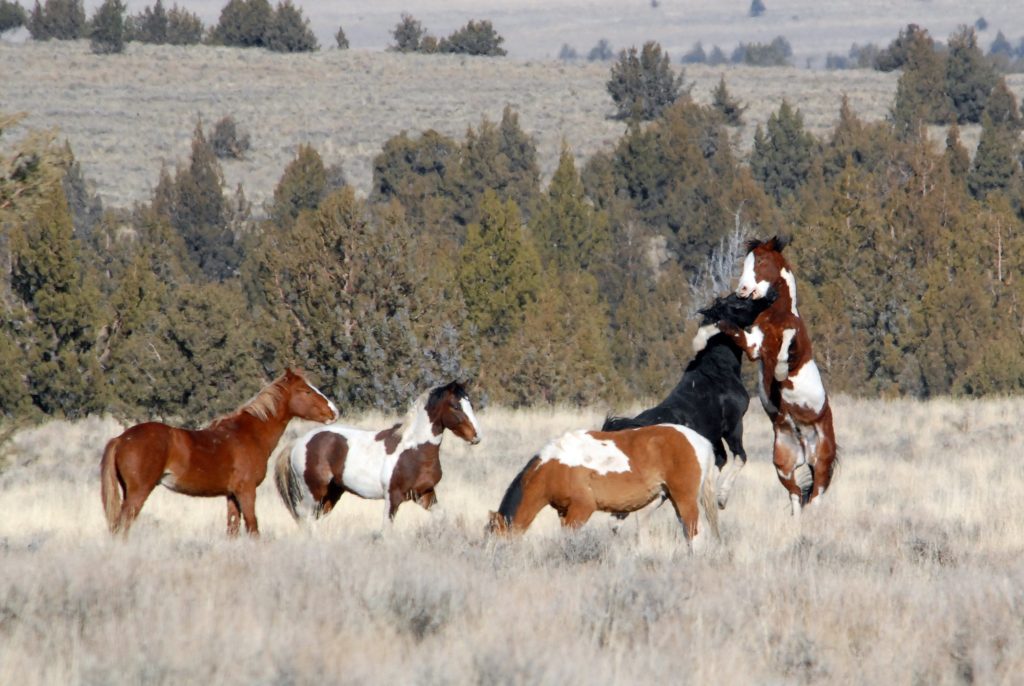 From collecting sunstones to viewing wild horses and soaking in incredible hot springs, Southeast Oregon is a treasure most people don't even realize is the perfect place to explore.  Check out our list of the top 10 reasons you should visit Southeast Oregon.
14. Check Out All There Is To Do In Northeast Oregon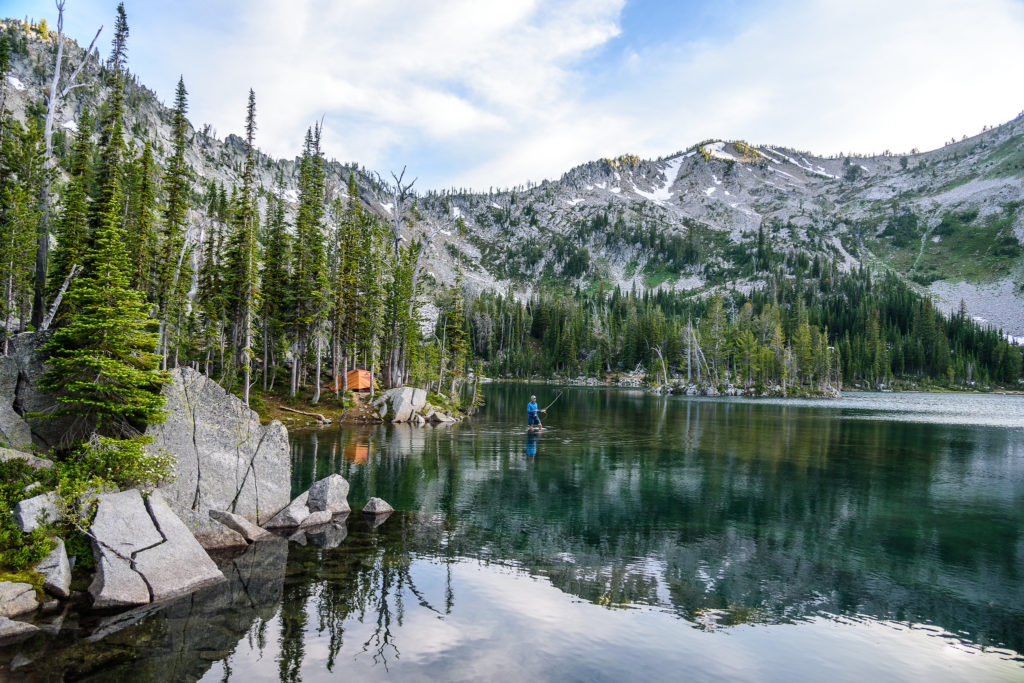 Northeast Oregon is another stunning and remote area of Oregon that many people neglect to visit when they think about exploring our beautiful state.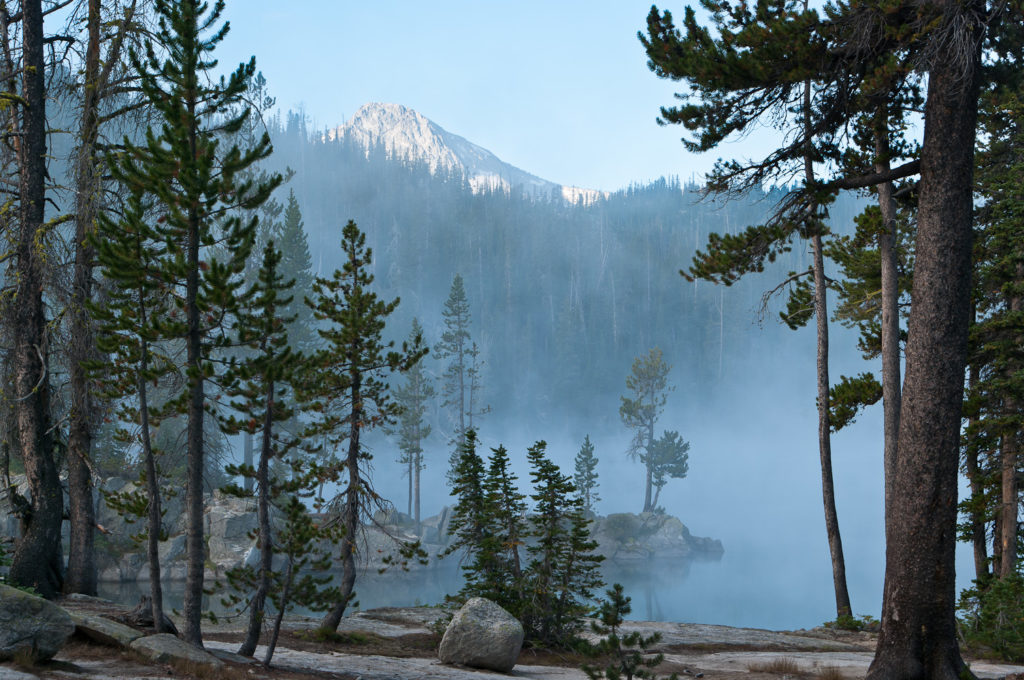 Northeast Oregon is home to deep river canyons like Hell's Canyon, the deepest canyon in the US (yes, even deeper than the Grand Canyon), as well as ghost towns, stunning wilderness areas with pristine lakes, and some of the best backpacking in the state.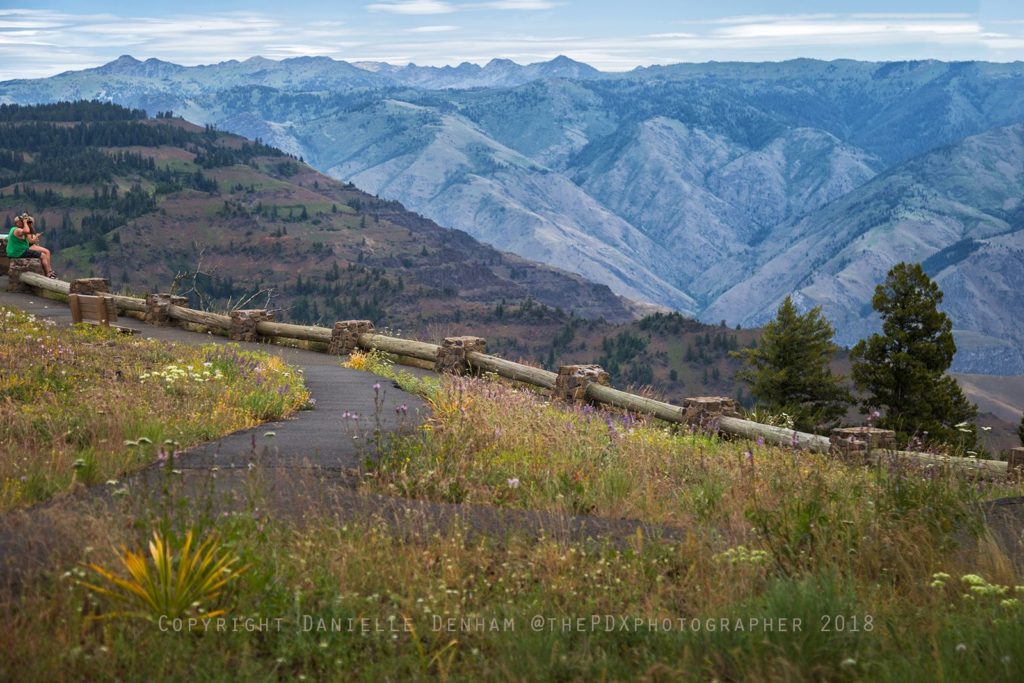 Wallowa Lake, located in the Wallowa Whitman National Forest, is one of Oregon's most beautiful places; perfect for almost any outdoor activity you can think of. Quaint, historic towns like Baker City and Joseph offer relaxing getaways, while tucked away in the mountains are old mining ghost towns, begging to be explored.
Check out our list of the 10 best spots to visit in Northeast Oregon here.
15. Explore the Gorgeous and Vast Willamette National Forest
Step out of your comfort zone in the heart of the Pacific Northwest, where the Willamette National Forest beckons you to explore its beauty. Covering over 1.6 million acres of pristine wilderness, this stunning, enchanted forest land is home to towering mountains, cascading waterfalls, and sprawling meadows that provide endless opportunities for outdoor adventure and natural wonder.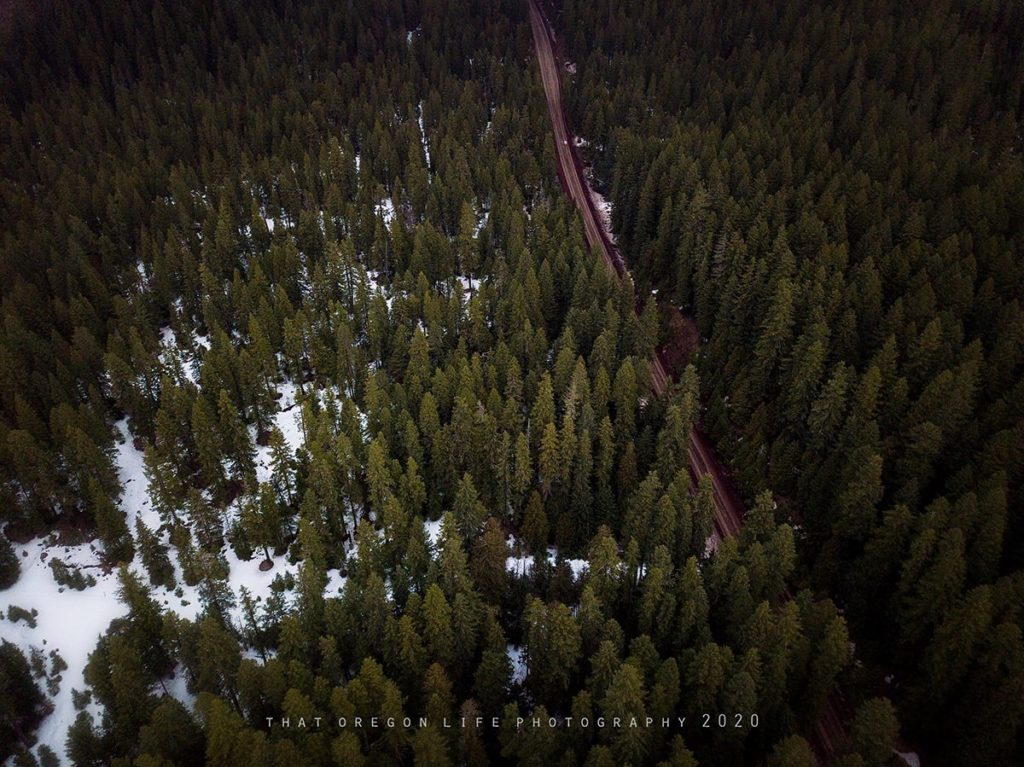 Hiking enthusiasts can explore the park's many trails that wind through ancient forests and up towering peaks, offering breathtaking views of the surrounding landscape and the wildlife that call it home. From the misty forests of the Cascade Range to the sweeping vistas of the McKenzie River Valley, the Willamette National Forest offers a true test of endurance and a chance to immerse yourself in the raw power and beauty of nature.
Some of Oregon's best-known and most photogenic waterfalls reside here: Salt Creek, Sahalie, Proxy, and Koosah, to name a few.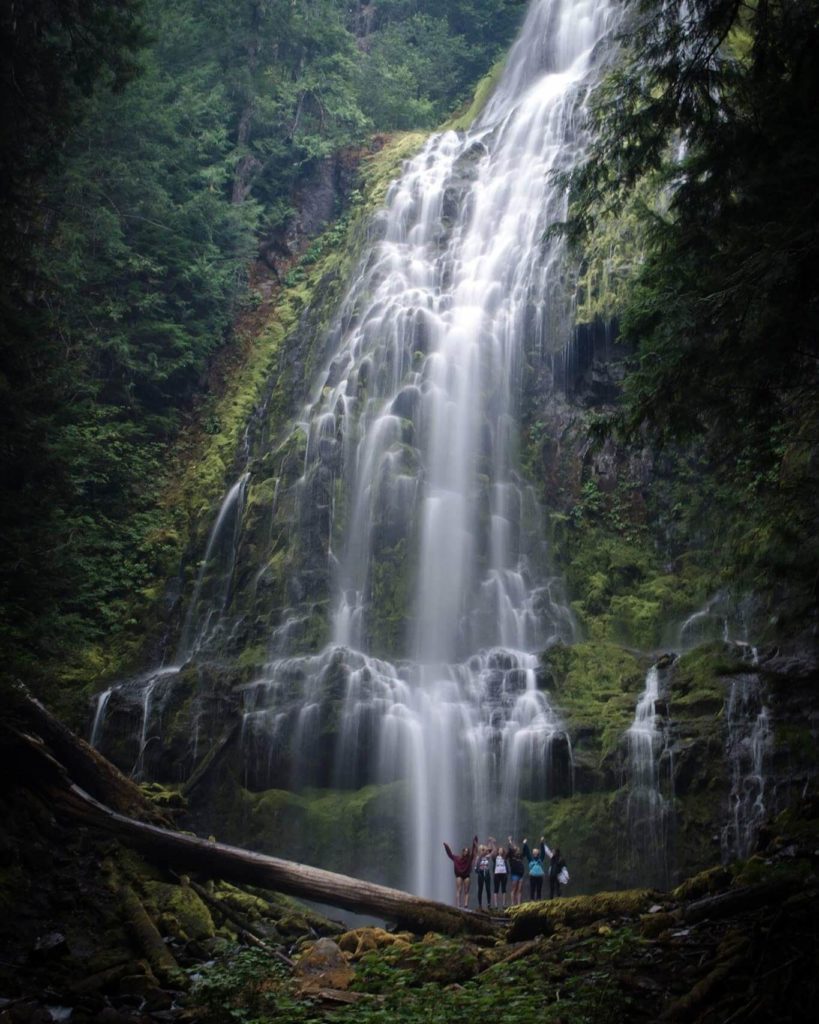 The adventure doesn't end with hiking. The Willamette National Forest is also home to world-class fishing, mountain biking, kayaking, and skiing, making it a year-round playground for thrill-seekers and outdoor enthusiasts of all stripes. Whether you're casting a line in the crystal-clear waters of a mountain stream or carving through fresh powder on a snow-covered slope, the magic of the Willamette National Forest is sure to leave you breathless and inspired.
RELATED: McKenzie River Trail: Hiking, Biking, Camping & More
16. Experience Christmas In Oregon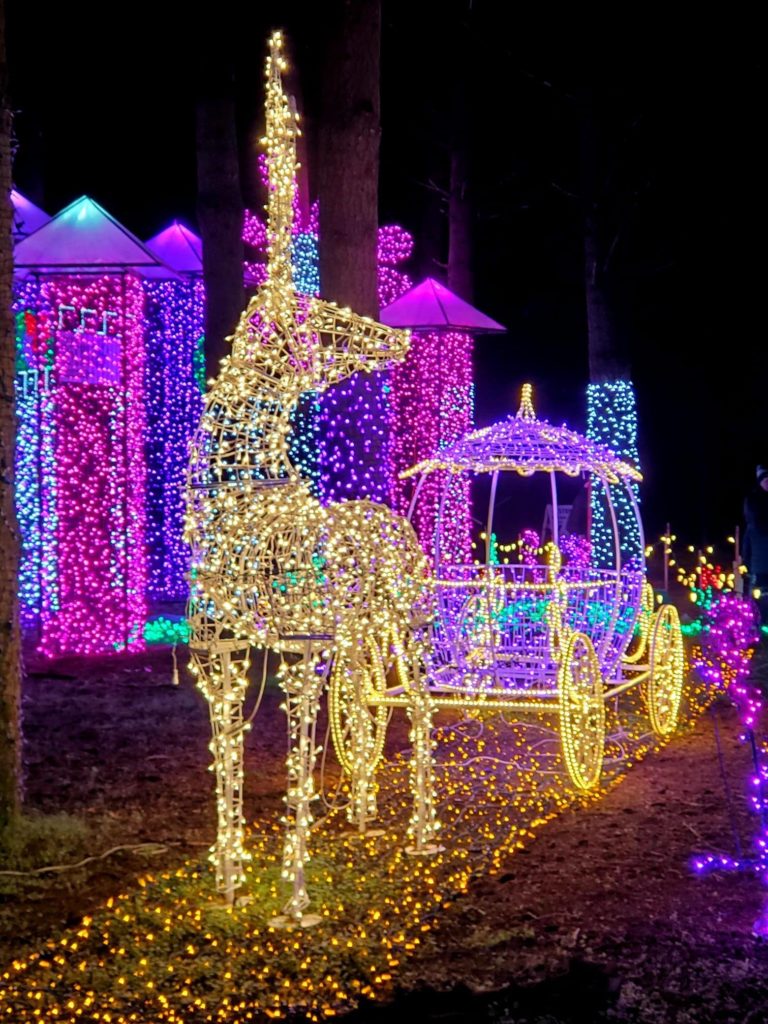 Oregon goes all out for Christmas. Here are some of our favorite Christmas activities in Oregon.
Sleigh Rides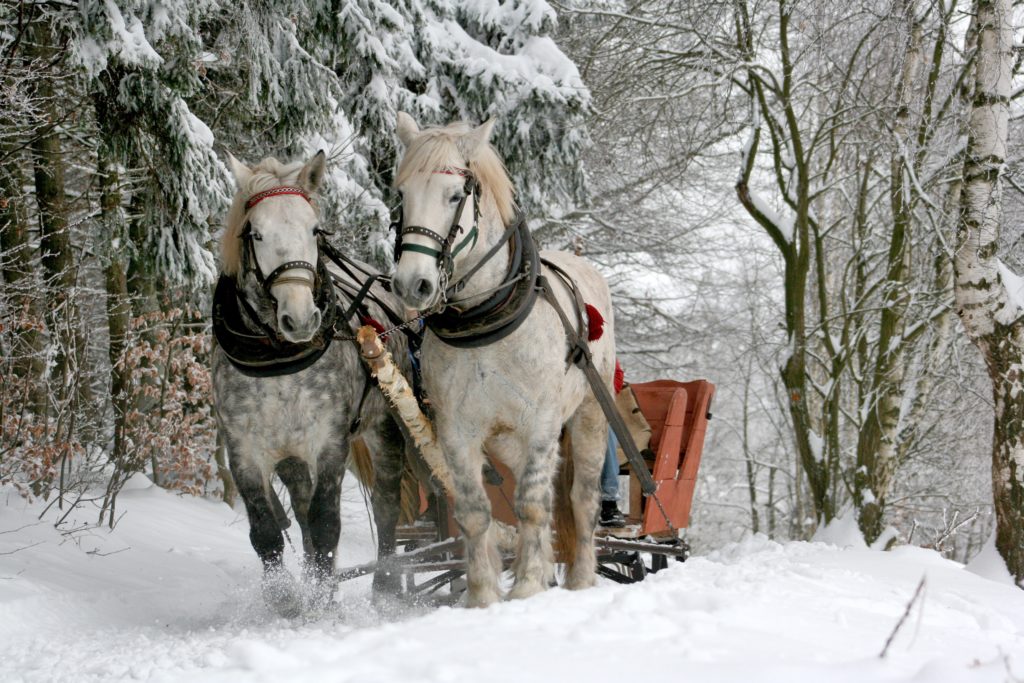 Take a sleigh ride at Odell Lake, or a sleigh ride on Mount Hood.
Christmas Light Events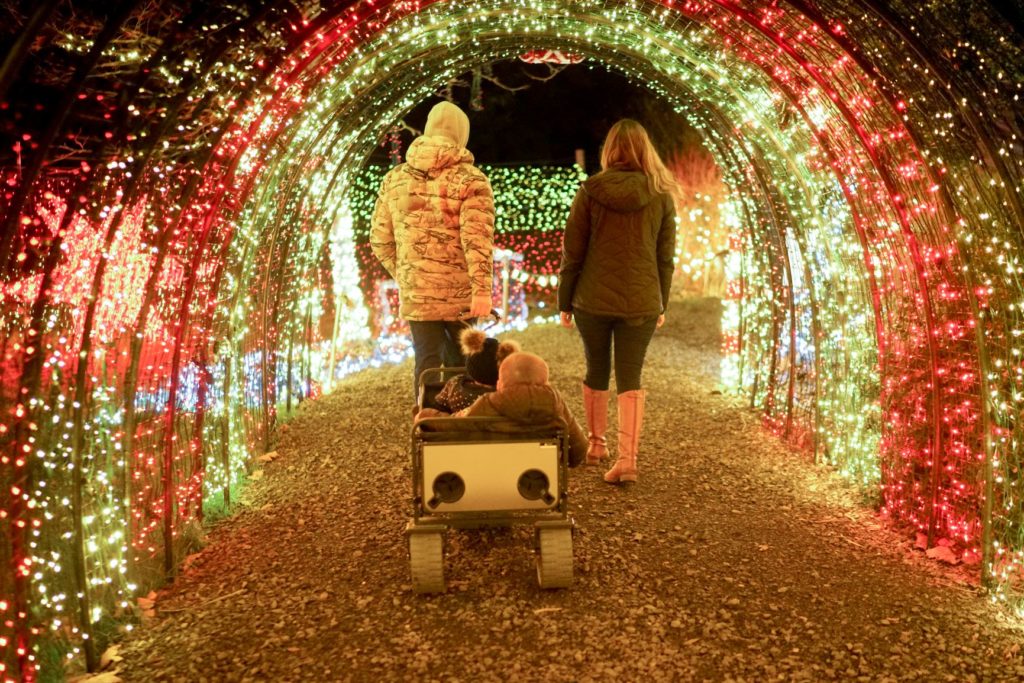 Silverton Christmas Market
If you're looking for a great place to see Christmas lights, we highly recommend heading to the Silverton Christmas Market for millions of Christmas lights, good food, hot drinks, and family fun. This is one of my favorite Christmas experiences.
Another place to see lights is at the yearly Oregon Zoo Lights event. If you're in Portland you'll also want to watch the Christmas Ship Parade.
Holiday Train Rides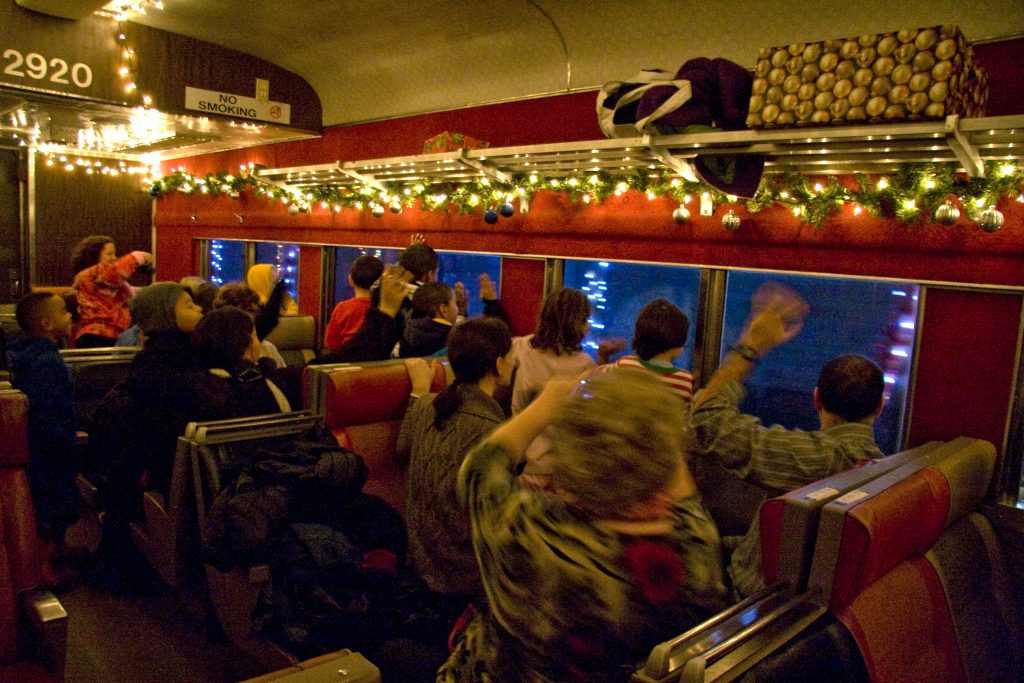 Hood River's Train to Christmas Town. By Devon D'Ewart via Flickr. CC2.
Many people wait all year to take one of these holiday train rides. Many railroads across Oregon offer this unique Christmas experience every year.
Christmas Gift Shops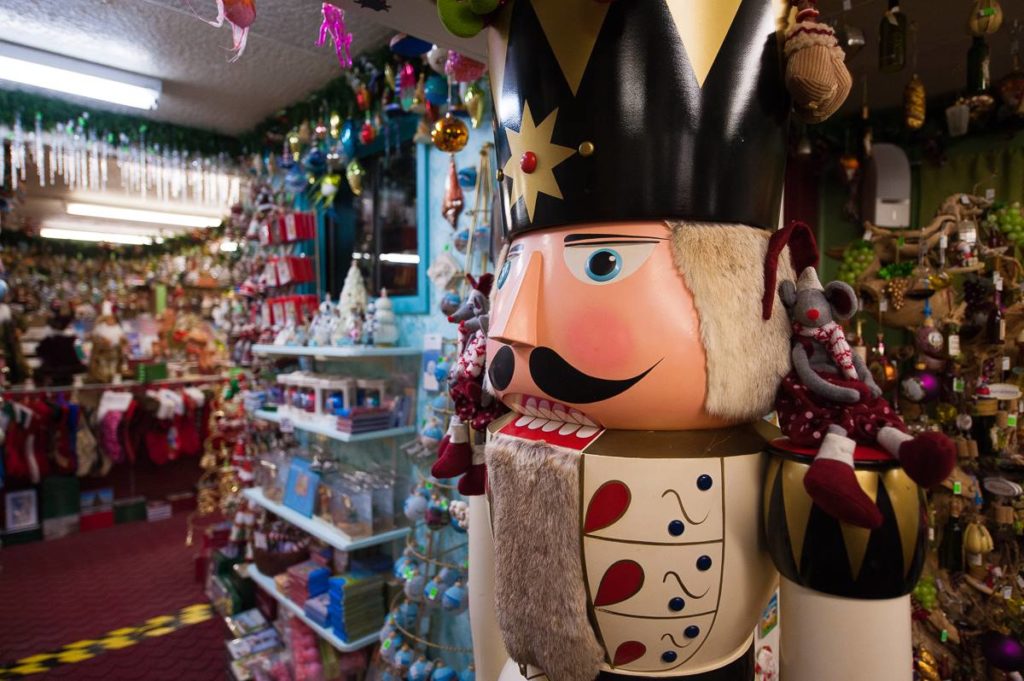 To get a little holiday shopping done, head to Sleighbells, a cute Christmas shop surrounded by a Christmas tree farm. Or you could check out the Christmas Cottage, a unique Christmas shop on the Oregon coast that's open year-round.
17. Zip Through The Trees Or Have A Tree-To-Tree Aerial Adventure
Crater Lake Zip Lines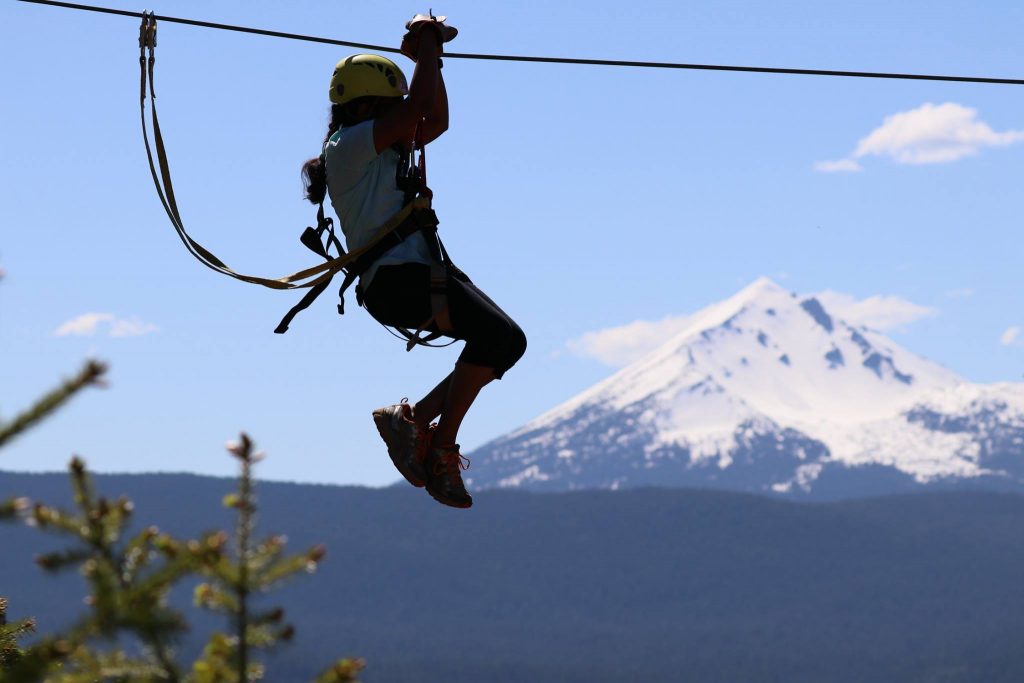 Crater Lake Zip Lines isn't actually at Crater Lake, Oregon's only National Park, but it's close. This forested park offers a 2-4 hour zipline tour for those who love adventure, and a kid's zipline course for children who are just getting started on ziplines or who aren't yet old enough to go on a full zip line tour.
Salishan Aerial Park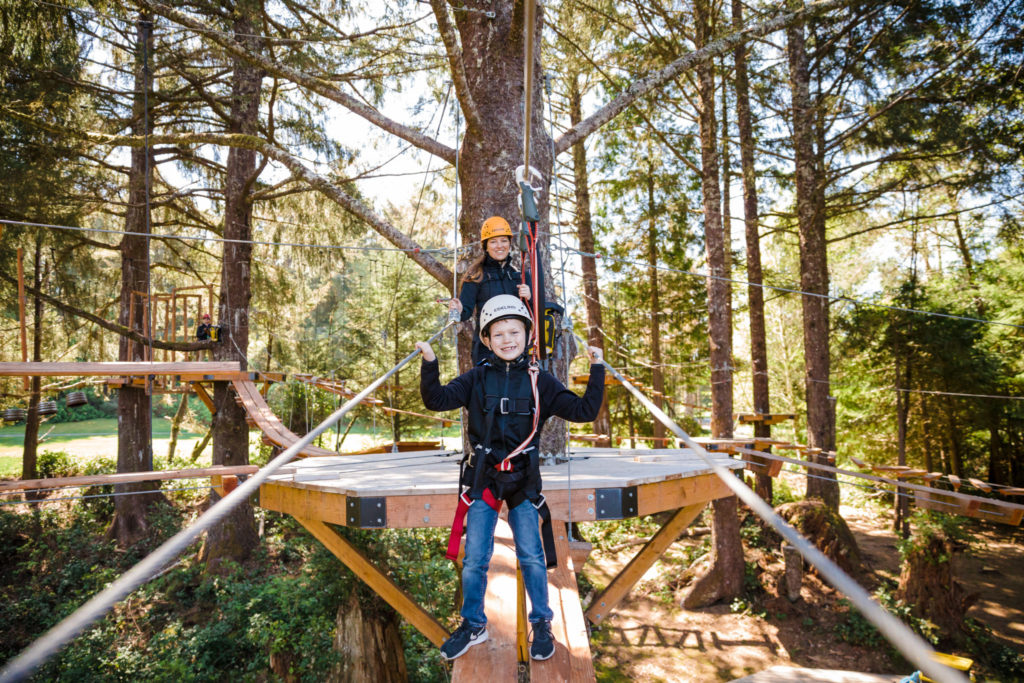 One of the many things we love to do at Salishan on the Oregon coast is the adventure park, which gets families and friends off the ground and into the trees for an at-your-own-pace adventure.
Rogue Valley Zipline Adventure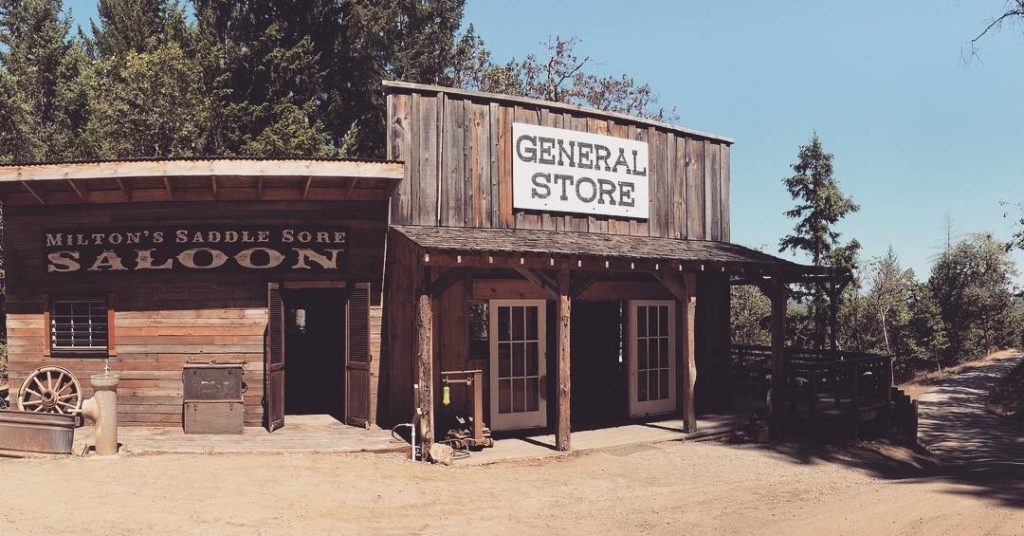 One of the things that make Rogue Valley Ziplines different from others in Oregon is the replica gold mining town where you start your adventure. From there you'll head out on a three-hour zipline tour in this gorgeous setting.
High Life Adventure Park
Located on Highway 101 near Seaside, Oregon, High Life offers fun for the whole family you can read about right here.
Tree To Tree Adventure Park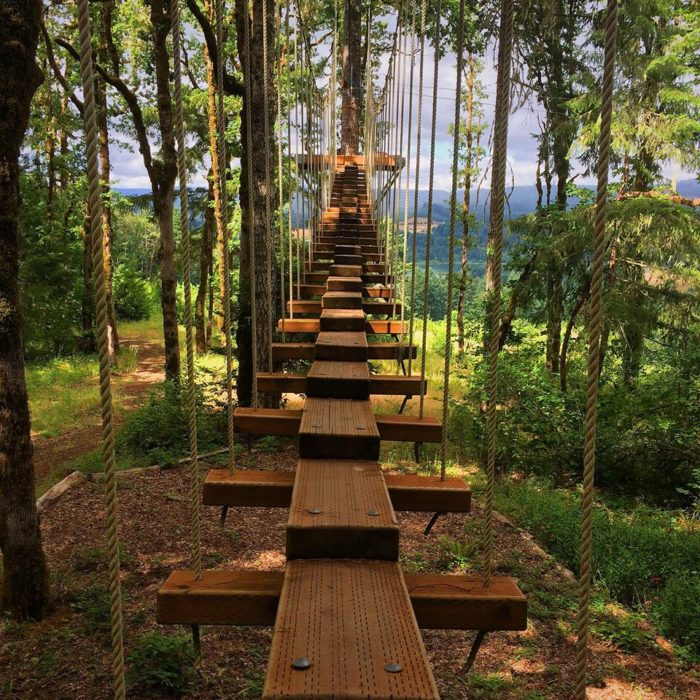 Tree To Tree Adventure Park is focused on giving people an awesome aerial park experience.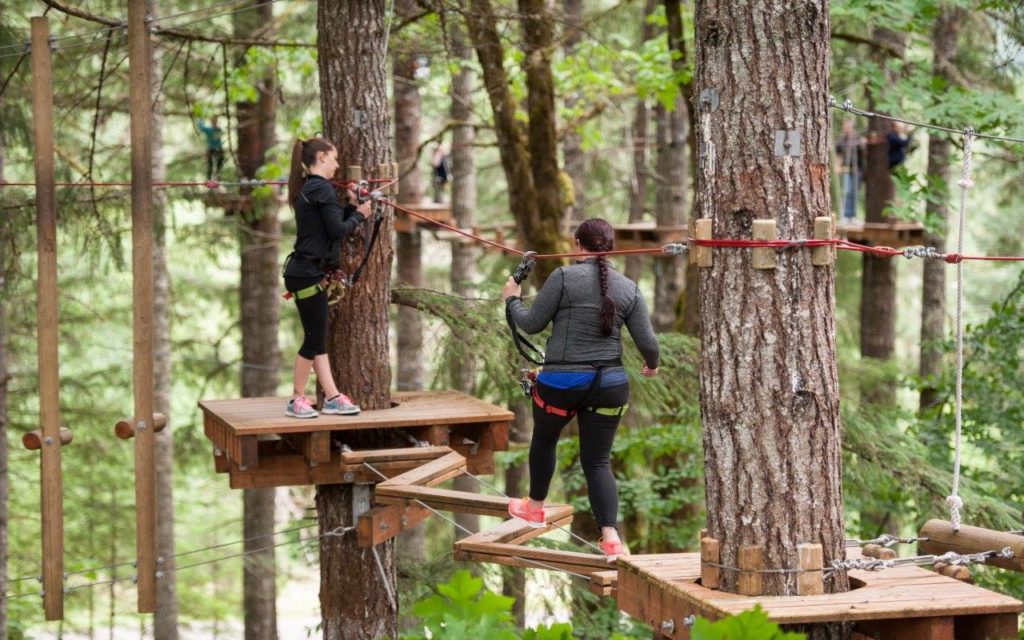 While they do have a zip line tour, one of our favorite things about Tree To Tree is the aerial course.
18. Spend The Night In A One-Of-A-Kind Treehouse Resort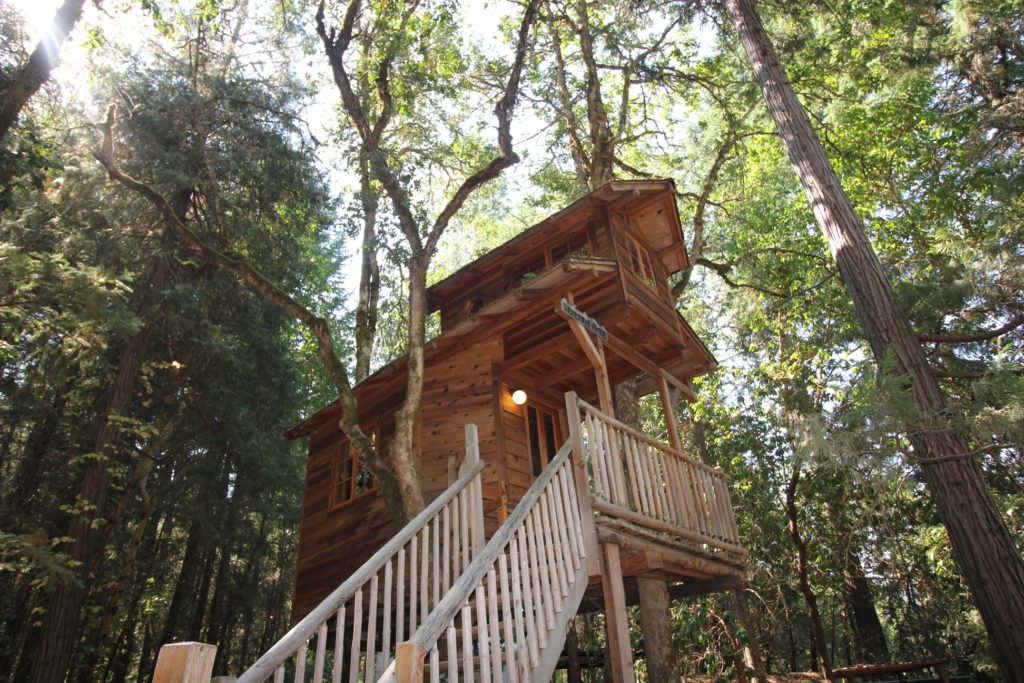 Because so much of Oregon is forested, trees are on our minds a lot. One of the more unique places you can stay in Oregon is at a one-of-a-kind tree resort. Out'N'About Treesort will bring out your inner child as you choose a treehouse to call your very own for a night.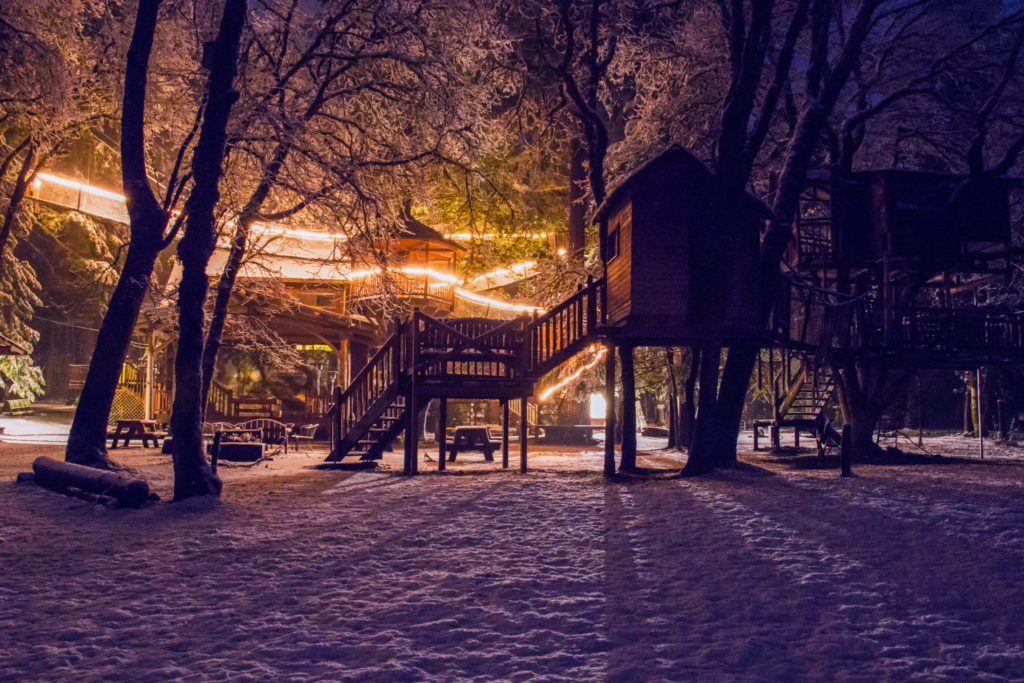 These aren't your average treehouses. Some are close to the ground, and others are 47 feet up in the air, like the Magistree, a masterpiece accessed via stairs and two suspension bridges.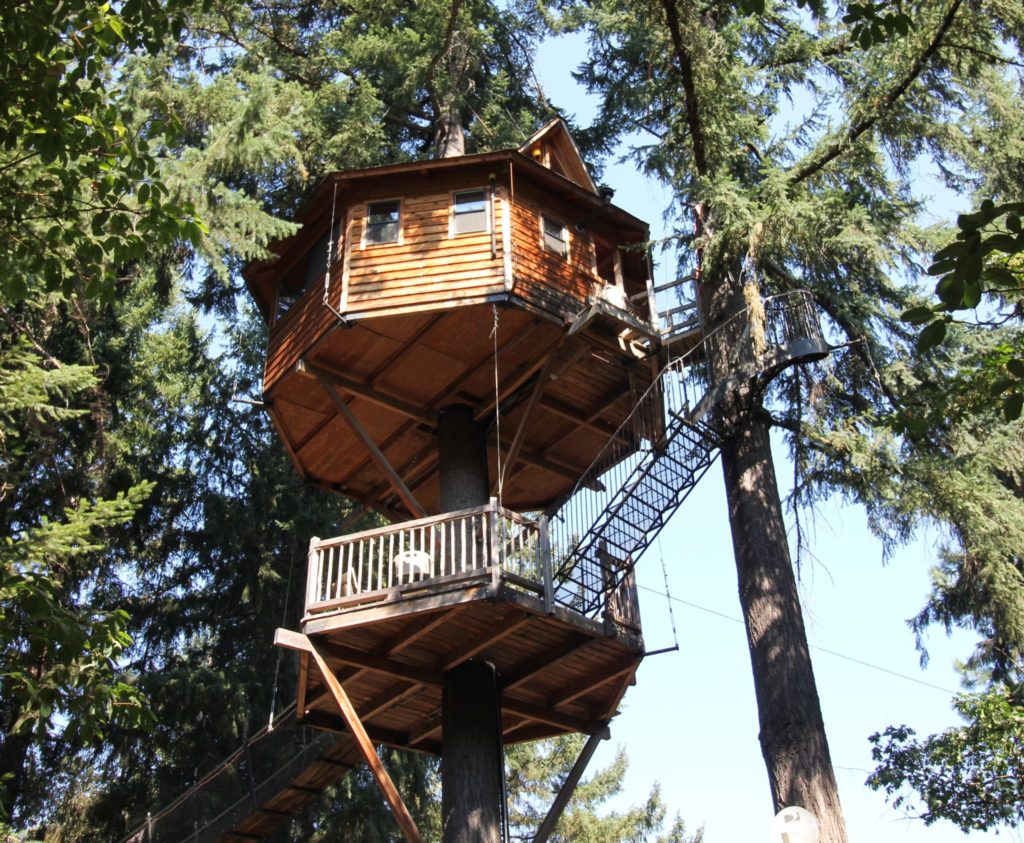 This is an awesome place to spend a weekend with kids or as a romantic getaway.
19. Relax In Oregon's Premier Vacation Town In The Cascade Mountains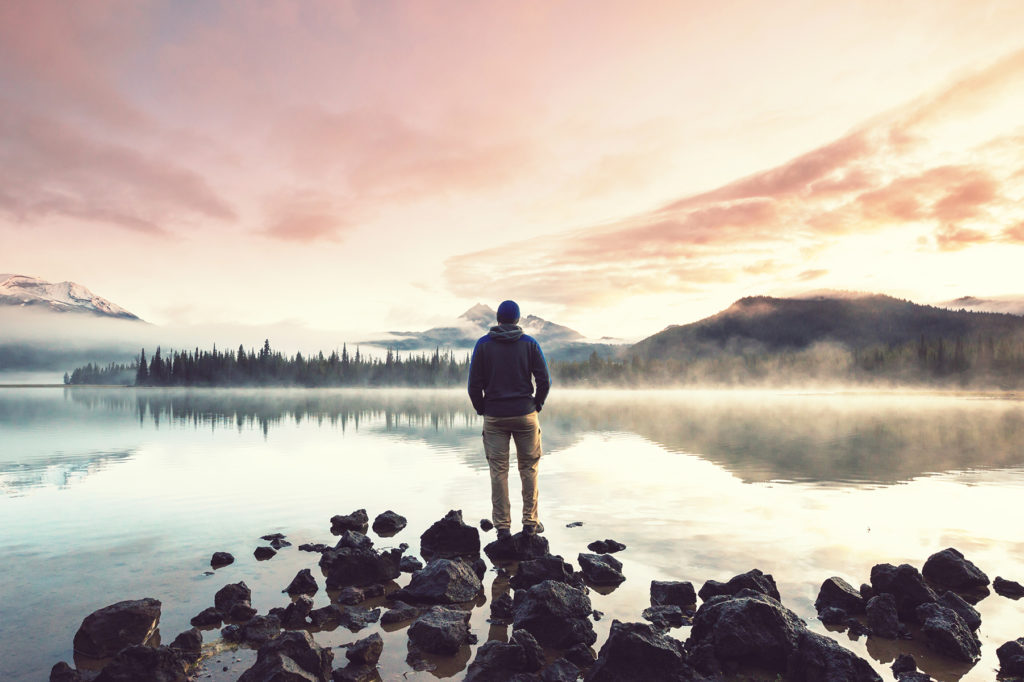 If you're looking for adventure, relaxation, or just time away from the big city, Sunriver Oregon has you covered.
Sunriver is the perfect base camp for an adventure in the Cascades or the high desert of Eastern Oregon. In the summer activities include hundreds of miles of hiking and biking trails, mountain lakes to explore, and horseback riding.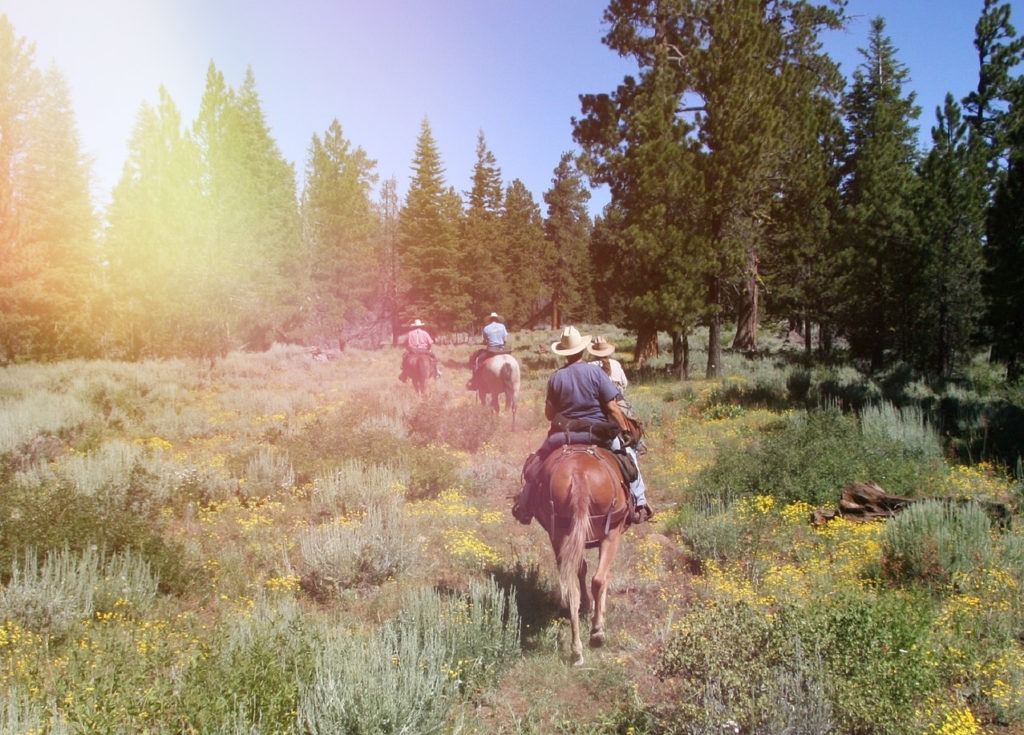 Go on a family horseback ride at the Sunriver Stables.
In the winter Sunriver serves as the primary location people stay when skiing and snowboarding on Mount Bachelor, one of Oregon's best mountains for snow sports.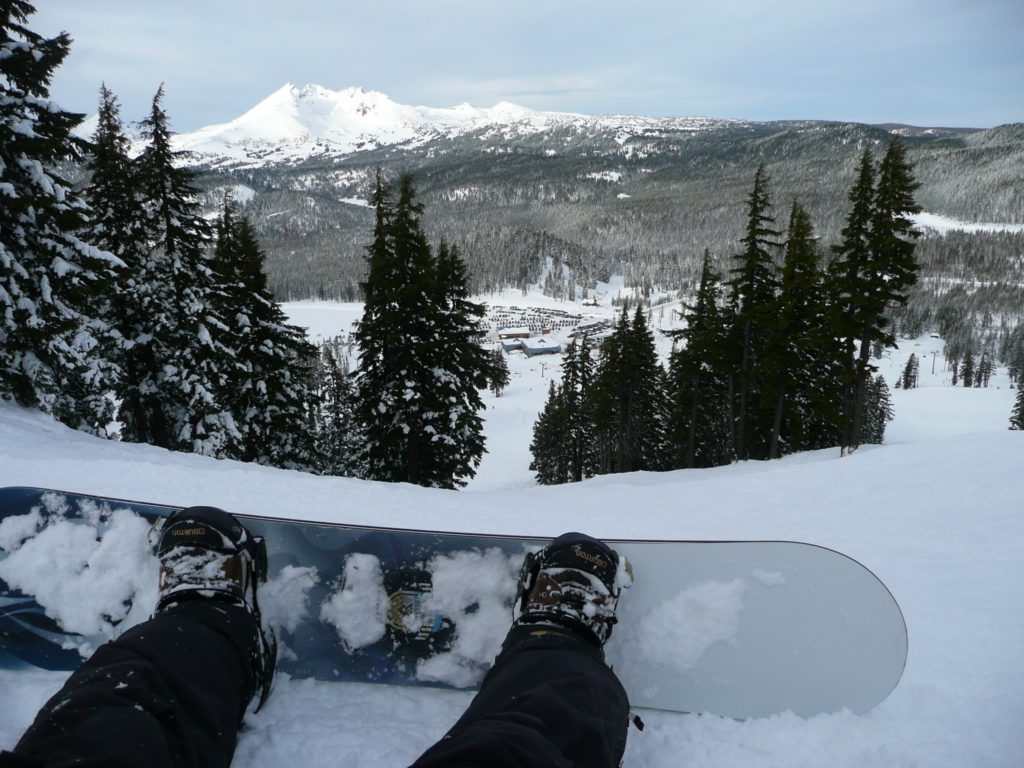 The town of Sunriver also has many delicious restaurants, a waterpark, hundreds of gorgeous cabins to rent, shopping, and other things to do.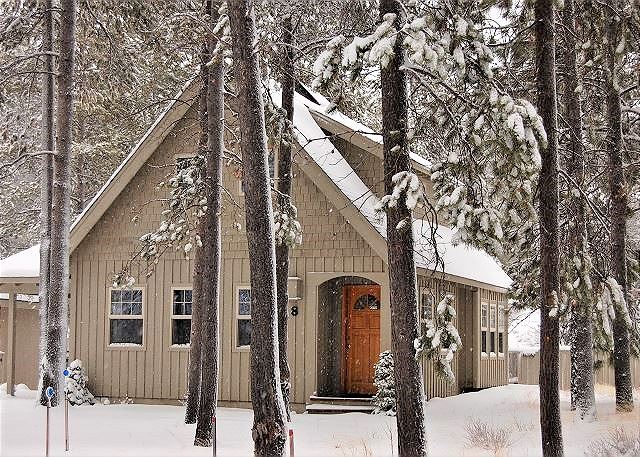 Check out our blueprint for the perfect Sunriver Oregon getaway here.
20. Soak In One Of Oregon's Amazing Hot Springs
Oregon is home to a plethora of natural hot springs, each with its own unique charm and healing properties. Whether you're seeking a relaxing soak or a rejuvenating soak after a day of outdoor adventure, Oregon's hot springs are a must-visit destination for anyone looking to experience the healing power of nature.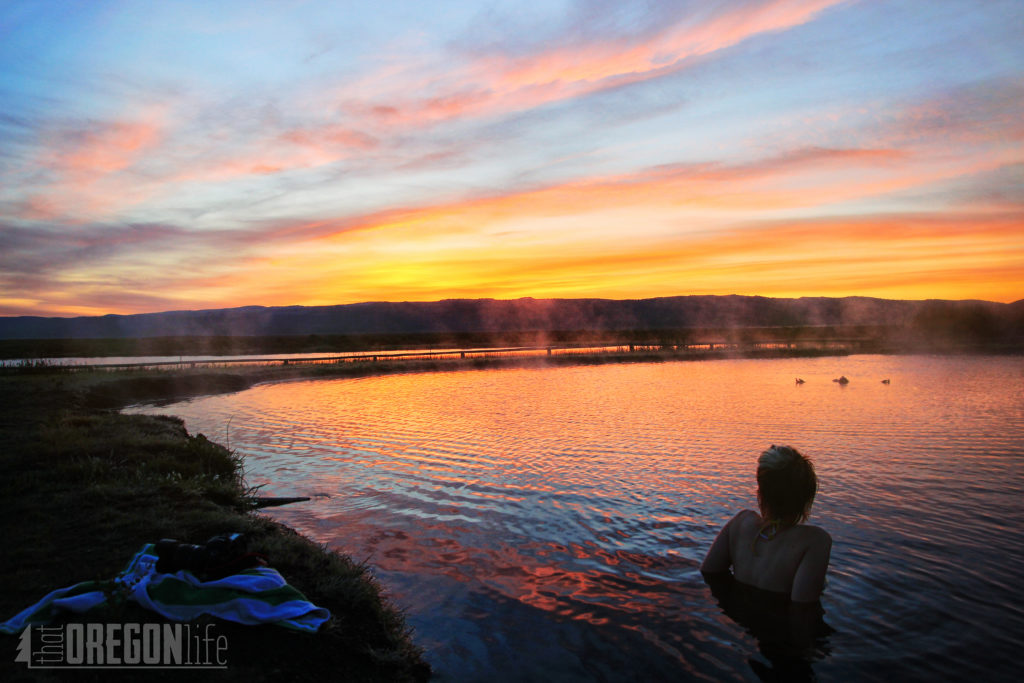 Some of the most popular hot springs in Oregon include the Bagby Hot Springs, which feature rustic, hand-built soaking tubs nestled in a lush forest, and the Alvord Hot Springs, which offer sweeping views of the surrounding desert landscape. Additionally, the Umpqua Hot Springs, located in the Umpqua National Forest, features a series of cascading pools that offer a serene and tranquil soaking experience. With so many options to choose from, Oregon's hot springs are the perfect way to unwind and connect with the natural beauty of the Pacific Northwest.
The Crane Hot Springs are one of our personal favorite spots.  You'll also want to check out Belknap Hot Springs Resort, and the historic (and possibly haunted) Hot Lake Hotel.
Oregon does have some springs that are far too hot to soak in, so be sure to do your research before touching the water at natural hot springs.
RELATED: Oregon Hot Springs: Nature's Soothing Remedies for Mind, Body, and Soul
21. Go Spelunking in Some of Oregon's Many Cave Systems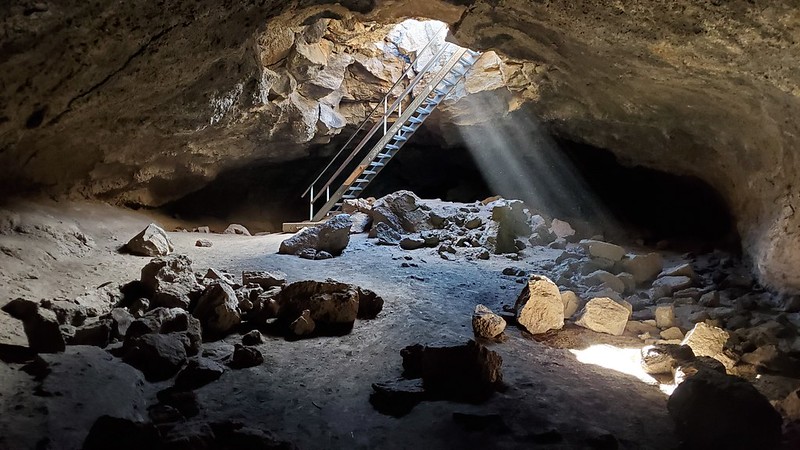 Oregon is home to a number of breathtaking caves that offer a unique and unforgettable glimpse into the subterranean world. One of the most famous is the Oregon Caves National Monument, located in the Siskiyou Mountains of southwestern Oregon. Visitors can take guided tours of the cave, marveling at the otherworldly rock formations and learning about the diverse flora and fauna that call this underground wonderland home.
Another popular cave system in Oregon is the Lava River Cave, located near Bend in Central Oregon. This ancient lava tube is one of the longest in the state, stretching over a mile underground, and offers a fascinating look at the geological history of the region. Visitors can explore the cave on foot, marveling at the eerie silence and the unique rock formations that have been sculpted by centuries of volcanic activity.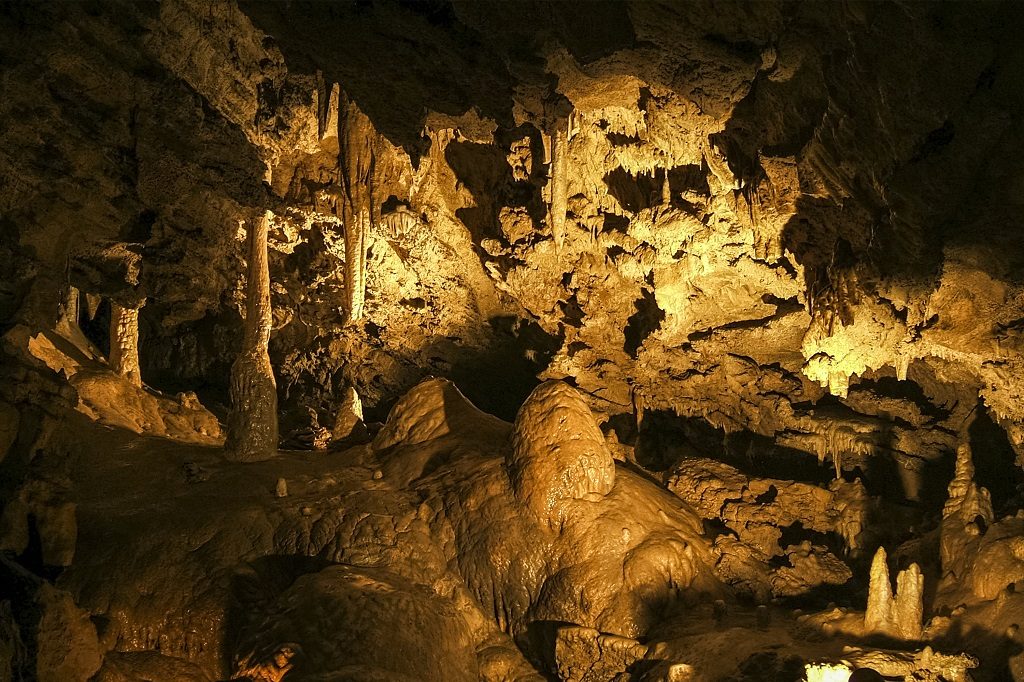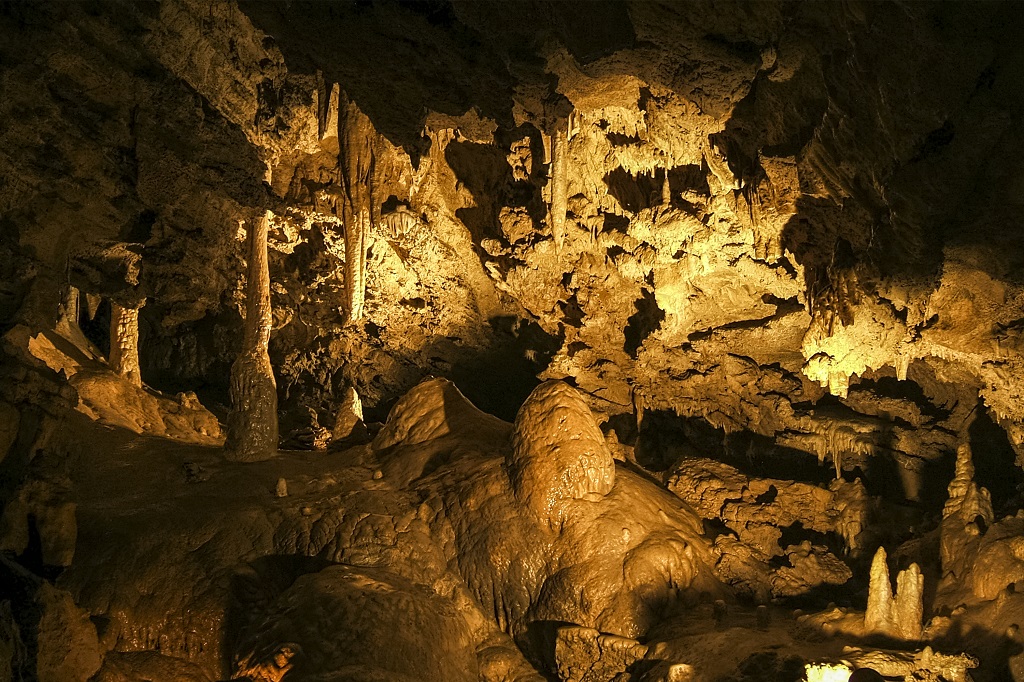 Not far from the airport in Redmond, Oregon is the aptly named Redmond Caves. These five caverns can be accessed from a parking lot just next to the highway, and are easy ones to explore with kids. Just don't forget your flashlight!
Less of a cave to explore, and more about a journey through time, Oregon's high desert Fort Rock Cave is open by appointment. Take a tour via the National Park Service and learn about thousands of years of human prehistory and archaeology in this fascinating area.
Check out the list of our favorite Oregon caves to explore here.
22. Visit The Stunning Portland Japanese Garden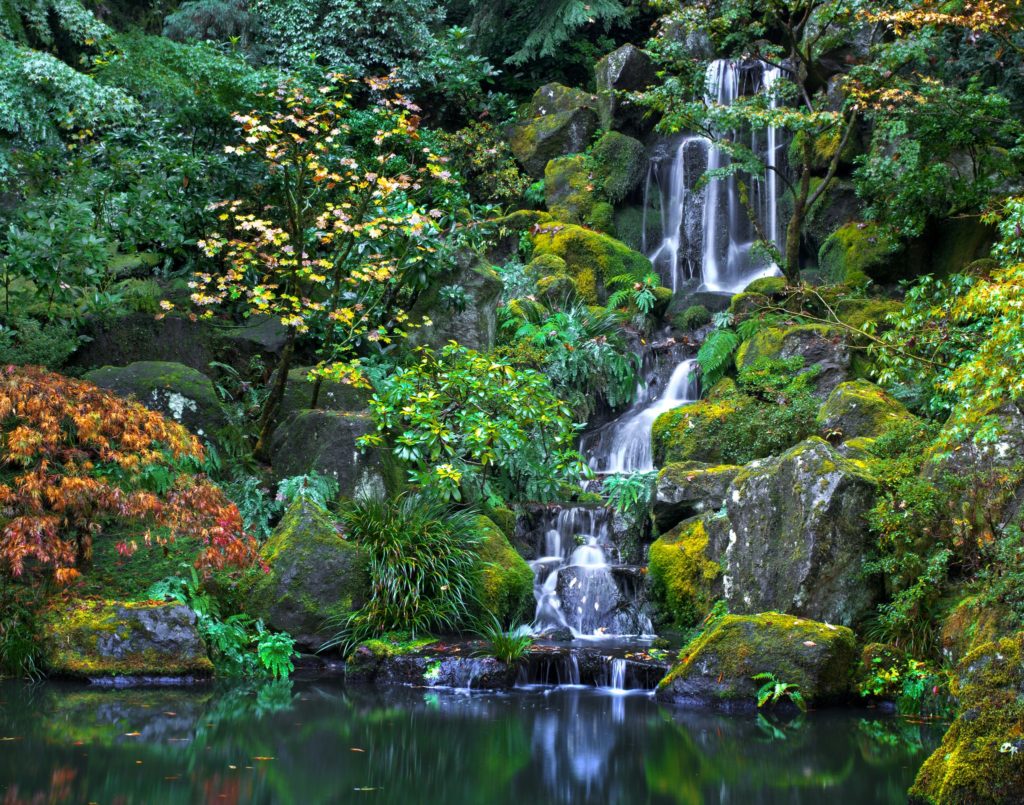 The Portland Japanese Garden is an enchanting escape that we simply cannot praise enough. Nestled in the rolling hills of Washington Park, this idyllic oasis beckons visitors to wander through its exquisite gardens, each step imbued with a sense of serenity and calm.
Originally intended to bridge the cultural gap left in the wake of WWII, the Portland Japanese Garden has since become a cherished Oregonian treasure, loved by all who have had the pleasure of visiting. Come explore this verdant sanctuary throughout the year and bear witness to the seasonal shifts that paint its scenery, from the autumnal splendor of blazing reds and oranges to the resplendent greens of summer and the magnificent blooms of spring.
And should you find yourself yearning for even more natural beauty, look no further than the Oregon Gardens. Nestled near Silverton, Oregon, this captivating garden is a destination in its own right, a wonderland of flora and fauna that must be seen to be believed. With the Portland Japanese Garden and the Oregon Gardens just a stone's throw apart, you can easily experience the majesty of both in a single weekend.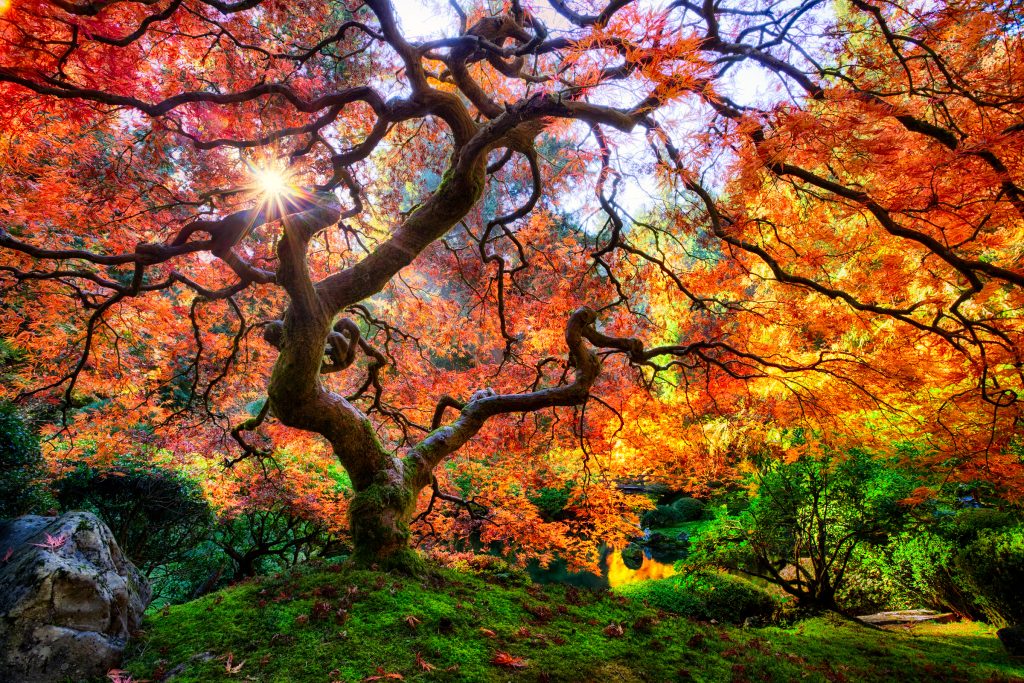 23. Take in Southern Oregon's Amazing Beauty and History
Kick off your adventure in Ashland, known for its lively arts scene and the world-renowned Oregon Shakespeare Festival. Wander through the picturesque Lithia Park, indulge in some retail therapy at the eclectic boutiques downtown, or relax at the Bloomsbury Bookstore. And for wine enthusiasts, Ashland's wineries offer a delightful variety of vintages to sample.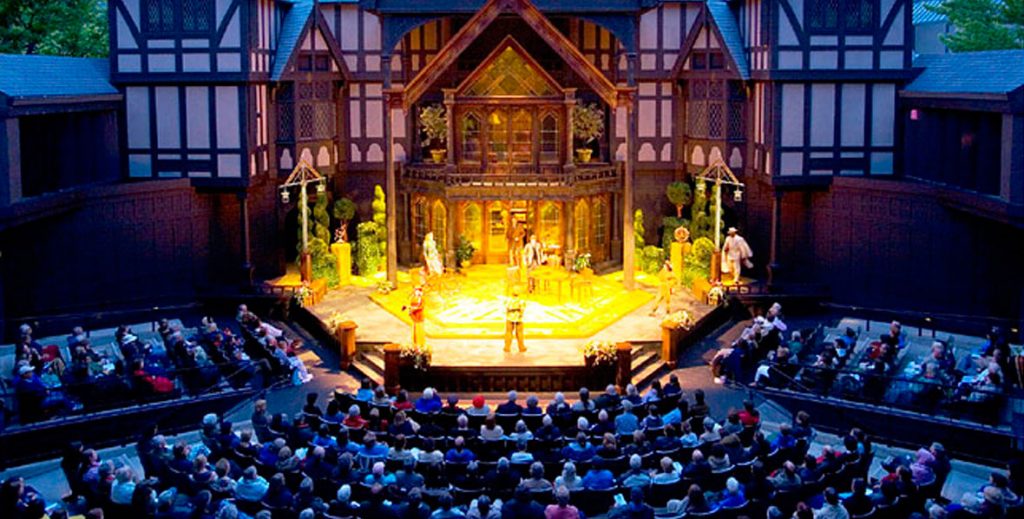 From Ashland, venture to the historic gold-mining town of Jacksonville, where the Wild West era comes to life. Take in the vintage buildings lining the streets, explore the local art galleries, and catch a show at the iconic Britt Festival.
RELATED: The 2023 Guide to Jacksonville Oregon: Charm & Adventure Await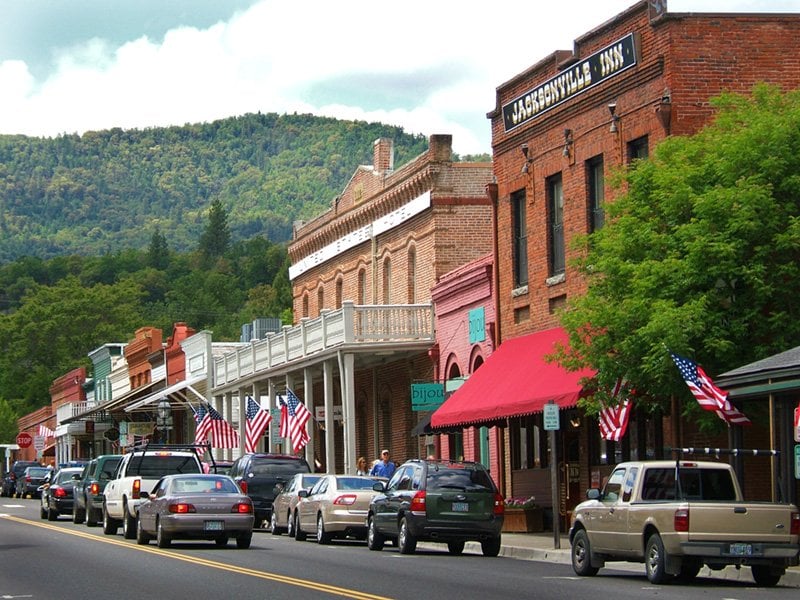 Next, head to the bustling city of Medford, the hub of all things Southern Oregon. Shop to your heart's content at the Rogue Valley Mall, wander through the lush Alba Park or delve into the region's history at the local museums. And for the adventurous at heart, the Rogue River and its tributaries offer unparalleled whitewater rafting experiences.
In the welcoming town of Grants Pass, take a leisurely hike through the stunning Rogue River Canyon, wander through Riverside Park, or browse through the unique shops in the historic downtown.
Last but not least, discover the serene beauty of Roseburg, nestled in the heart of the Umpqua Valley. Take a scenic drive through the stunning countryside, explore the historic downtown, or visit the numerous vineyards and wineries that produce some of Oregon's best wines.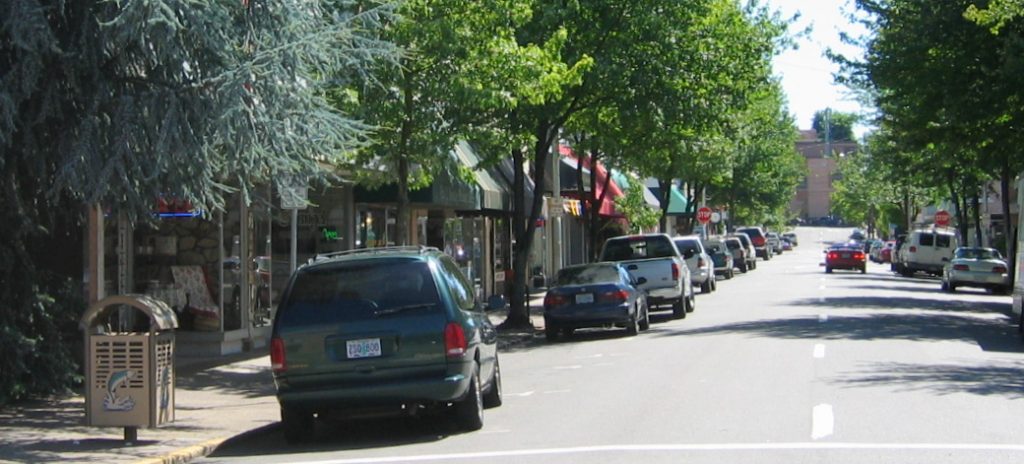 One of our favorite areas to explore in Southern Oregon are the forested roads from the historic (and haunted) Wolf Creek Inn to the small ghost town of Golden. This is a great place to take in the stunning scenery of the Siskiyou mountains and get out of the city for some fresh air. Along the way, you can visit nearby lakes, campgrounds, and other recreation spots to enjoy even more views. The entire drive should take about 2 hours if you don't make any stops!
How many of these places have you been to? What would you include on your own personal top ten list of things to do in Oregon? Let us know in a comment or on Facebook.
We hope this article helped inspire you to check out the best things to do in Oregon.