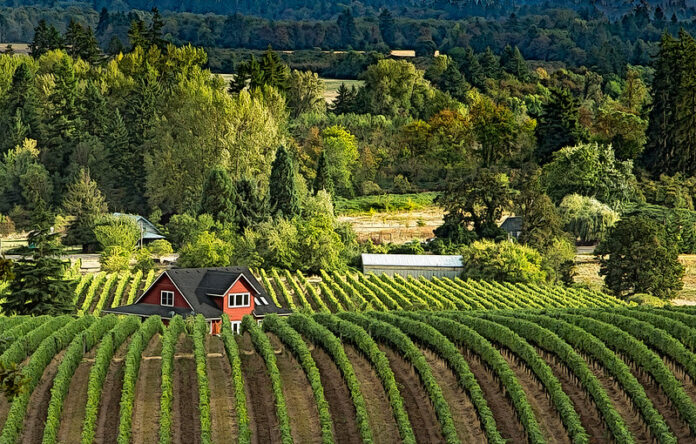 Welcome to Oregon, where the wine flows as abundantly as the stunning landscapes!
Once known mainly for its pristine beaches, historic trails, and breathtaking waterfalls, Oregon has emerged as a true wine lover's paradise. In fact, Time Magazine just recently added Willamette Valley to its 2023 list of world's greatest places. The list hailed the Willamette Valley as "the new Napa," lauding its remarkable and vast array of wineries.
With a history dating back to the 1840s, when settlers on the Oregon Trail planted the first vines, the state's wine industry has come a long way.
Now boasting 725 wineries and over 1,000 vineyards growing 72 varieties of grapes, Oregon has truly made a name for itself in the world of wine.
And with 52% of Oregon wine made from estate-grown fruit, you know you're in for a genuine, homegrown experience.
So, let's raise a glass and discover the best wineries in Oregon, an unforgettable journey through this beautiful state's finest vineyards!
11 Best Wineries in Oregon
1. Argyle Winery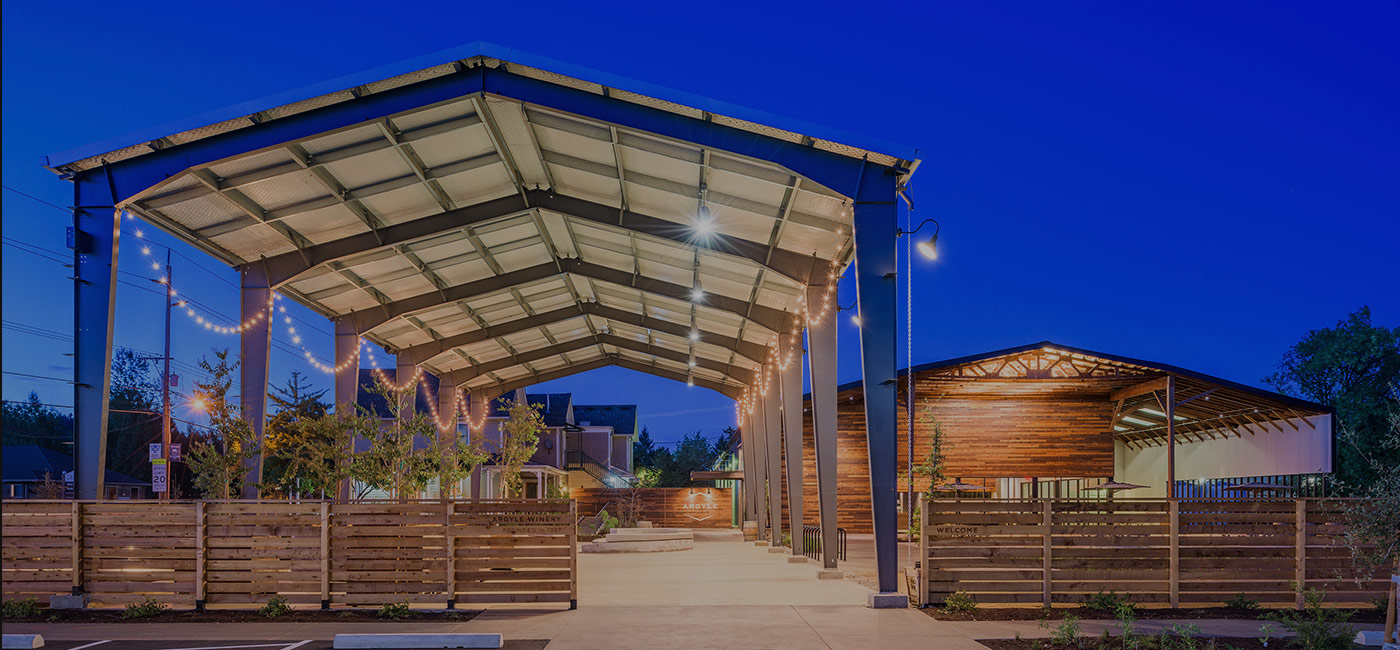 Nestled in the picturesque town of Dundee, Northwestern Oregon, you'll find the celebrated Argyle Winery. With 400 acres of lush hillside spread across three vineyards, this winery gem has made a name for itself in crafting exceptional Pinot Noir, Chardonnay, and sparkling wines.
A visit to Argyle's historical tasting house lets you sip Chardonnay while soaking in the region's rich history. For a more contemporary experience, the winery's new tasting house features modern design elements and a selection of outstanding Pinot Noir.
Their outdoor patio is the perfect spot if you fancy savoring your wine amid the verdant vineyards. Argyle Winery is a treat for your taste buds and a steward of the environment, employing sustainable farming and harvesting techniques.
With a 4.3 rating from 260 Google reviews, this winery is undoubtedly one of the best wineries in Oregon for any wine enthusiast to explore.
2. Archery Summit Winery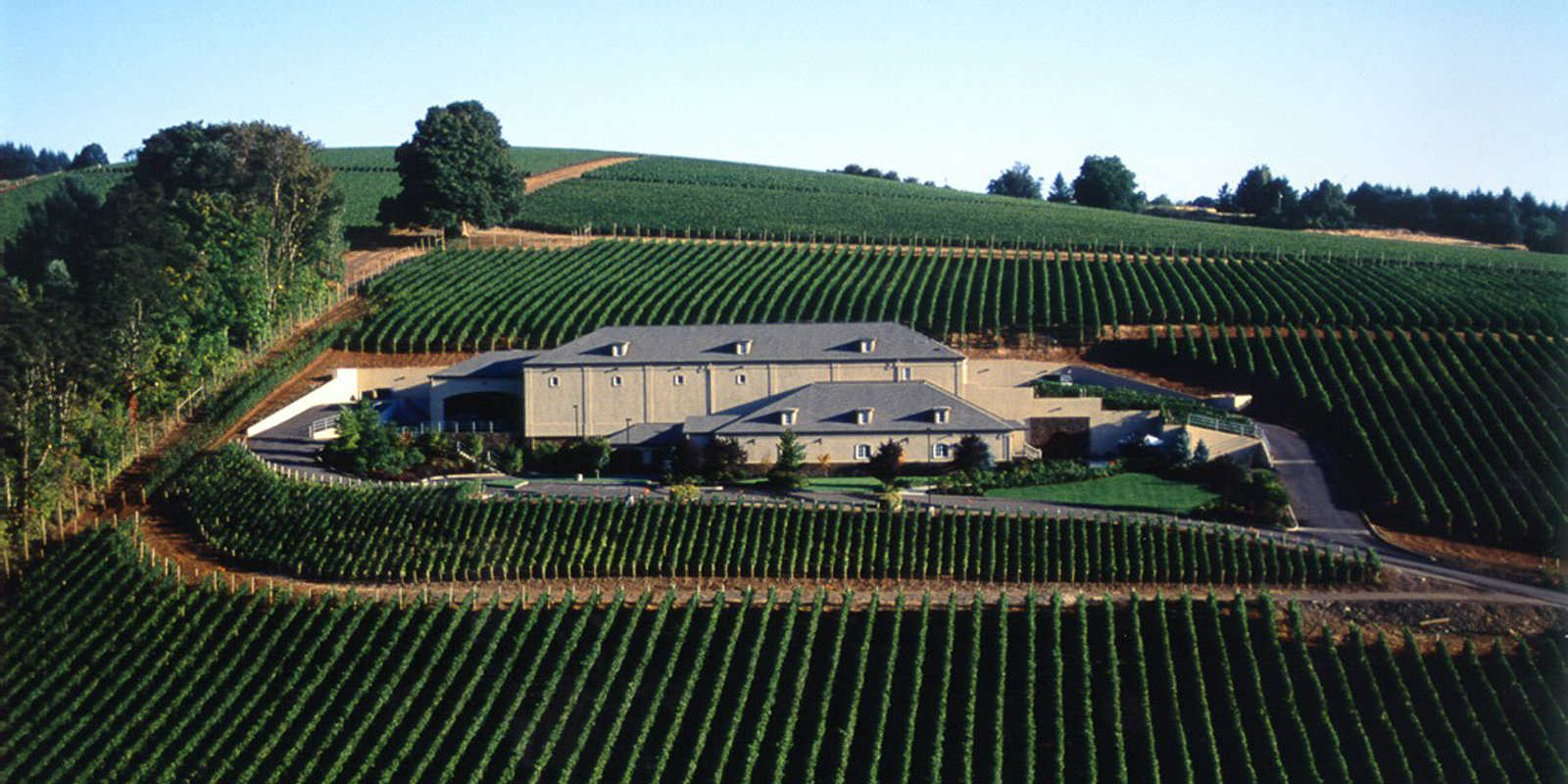 Tucked away in the verdant hills of northwestern Oregon, Archery Summit Winery in Dayton is a must-visit destination for any Pinot Noir fan. With over 20 years of expertise in growing and perfecting Pinot Noir grapes, this winery combines skillful winemaking and environmentally conscious practices.
At Archery Summit, grapes are hand-picked and harvested using cutting-edge techniques, including the innovative gravity-flow process. This method lets gravity, rather than machinery, move the wine during production, resulting in a sweeter, smoother taste without the bitterness of tannins.
While building a gravity-flow winery may be more expensive, the exceptional quality of the wine makes it a worthwhile investment. Be sure to reserve your spot at Archery Summit's gorgeous tasting area, where you can savor their exquisite Pinot Noir amidst the stunning backdrop of Willamette Valley.
With a 4.6 rating from 98 Google reviews, Archery Summit Winery is undeniably among the best wineries in Oregon, offering an unforgettable experience for wine enthusiasts.
3. Adelsheim Vineyard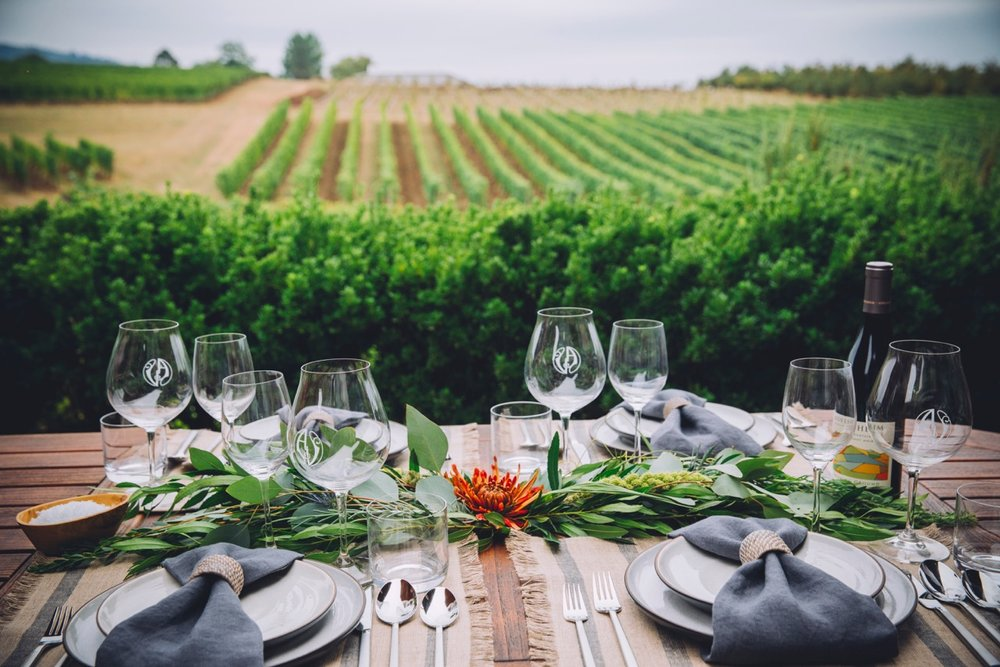 Adelsheim Vineyard, established in 1971, envisioned creating world-class wines in an undiscovered wine region, the Chehalem Mountains of Oregon's Willamette Valley. David and Ginny Adelsheim purchased their first 19 acres outside Newberg, Oregon, and planted their first rows of Pinot Noir, leading to the establishment of the Chehalem Mountains' first winery in 1978.
Today, Adelsheim produces an exquisite range of wines, including Chardonnay, Pinot Noir, Pinot Blanc, Pinot Noir Magnum, and sparkling wines. Adelsheim has played an integral role in shaping the Oregon wine story as a founding winery of the Willamette Valley and the Chehalem Mountains. They have a LIVE certification, demonstrating their commitment to sustainability, and have been recognized as a Wine & Spirits Top 100 Winery seven times.
Experience their diverse estate vineyards and unique soil types by visiting Adelsheim Vineyard. With a rating of 4.5 from over 132 Google reviews, a visit to Adelsheim Vineyard promises an unforgettable experience.
4. King Estate Winery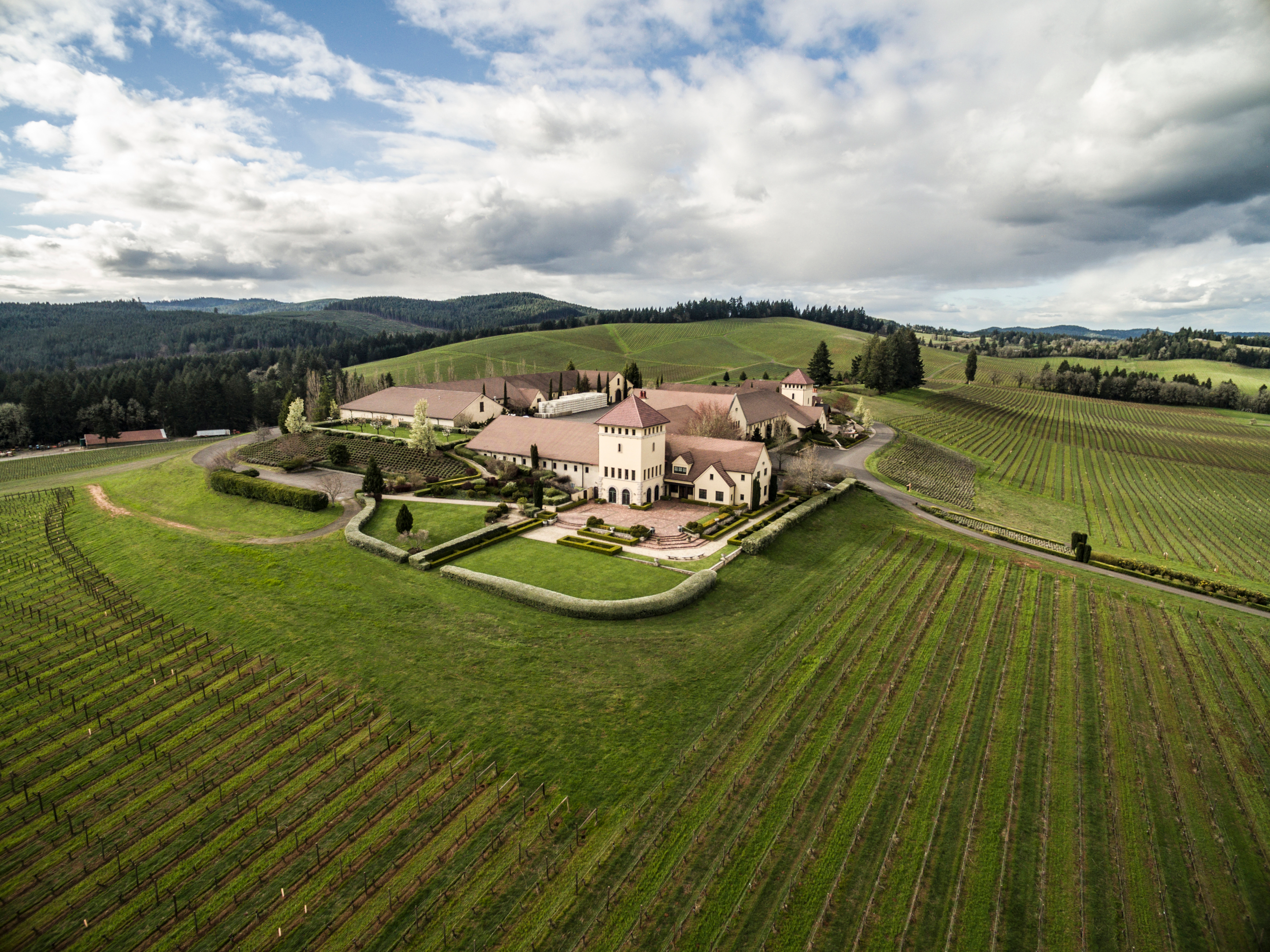 Journey to the southern reaches of Willamette Valley near Eugene, Oregon, and you'll find the impressive King Estate Winery. Spanning over 1,000 acres of meticulously cultivated land, this winery is renowned for its Pinot Noir, Pinot Gris, Muscat, and Gewurztraminer.
As the country's leading producer of Pinot Gris, King Estate dedicates 314 acres to the growth and cultivation of this delightful grape variety. Moreover, King Estate holds the distinction of being the largest certified Biodynamic vineyard in North America, reflecting their commitment to organic grape production.
But the indulgence doesn't stop with their wines - King Estate also boasts a gourmet restaurant, serving exquisite meals made from ingredients sourced from their own gardens and beehives. You won't want to miss their incredible charcuterie boards, which pair perfectly with a refreshing glass of Pinot Gris wine.
Rated 4.4 with over 255 Google reviews, a visit to King Estate Winery offers an unparalleled experience, solidifying its place among the best wineries in Oregon.
5. Domaine Serene Winery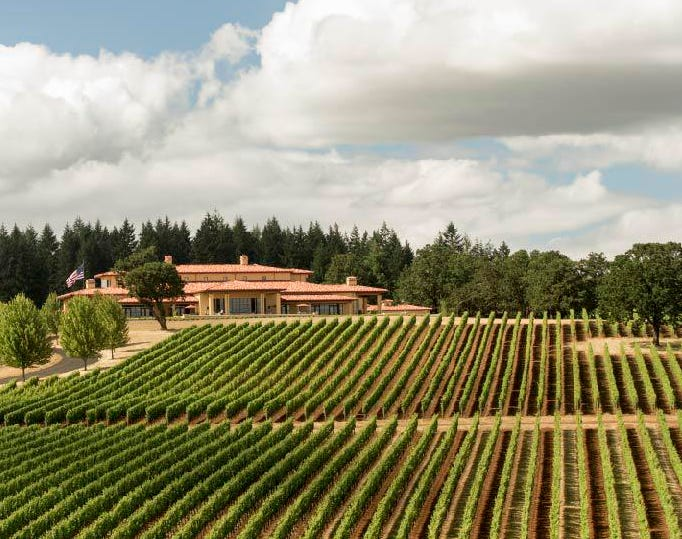 Prepare to be captivated by the enchanting Domaine Serene Winery in Dayton, Oregon. This elegant, Mediterranean-style winery and tasting room boasts a stunning Tuscan villa-inspired setting and award-winning wines that consistently impress critics and enthusiasts.
With scores of 90-plus, their wines have earned a well-deserved reputation for excellence. As you explore the winery, you'll be enchanted by the scenic vineyard views, informative cellar tours, and the striking woolly mammoth sculpture crafted from weathered steel and adorned with bronze tusks, adding a unique touch to the atmosphere.
With a 4.5 rating from 285 Google reviews and a matching 4.5 from 627 TripAdvisor reviews, Domaine Serene Winery offers an unforgettable experience that positions it among the best wineries in Oregon. Don't miss the chance to immerse yourself in the exquisite world of Domaine Serene and its exceptional wines.
6. Elk Cove Vineyards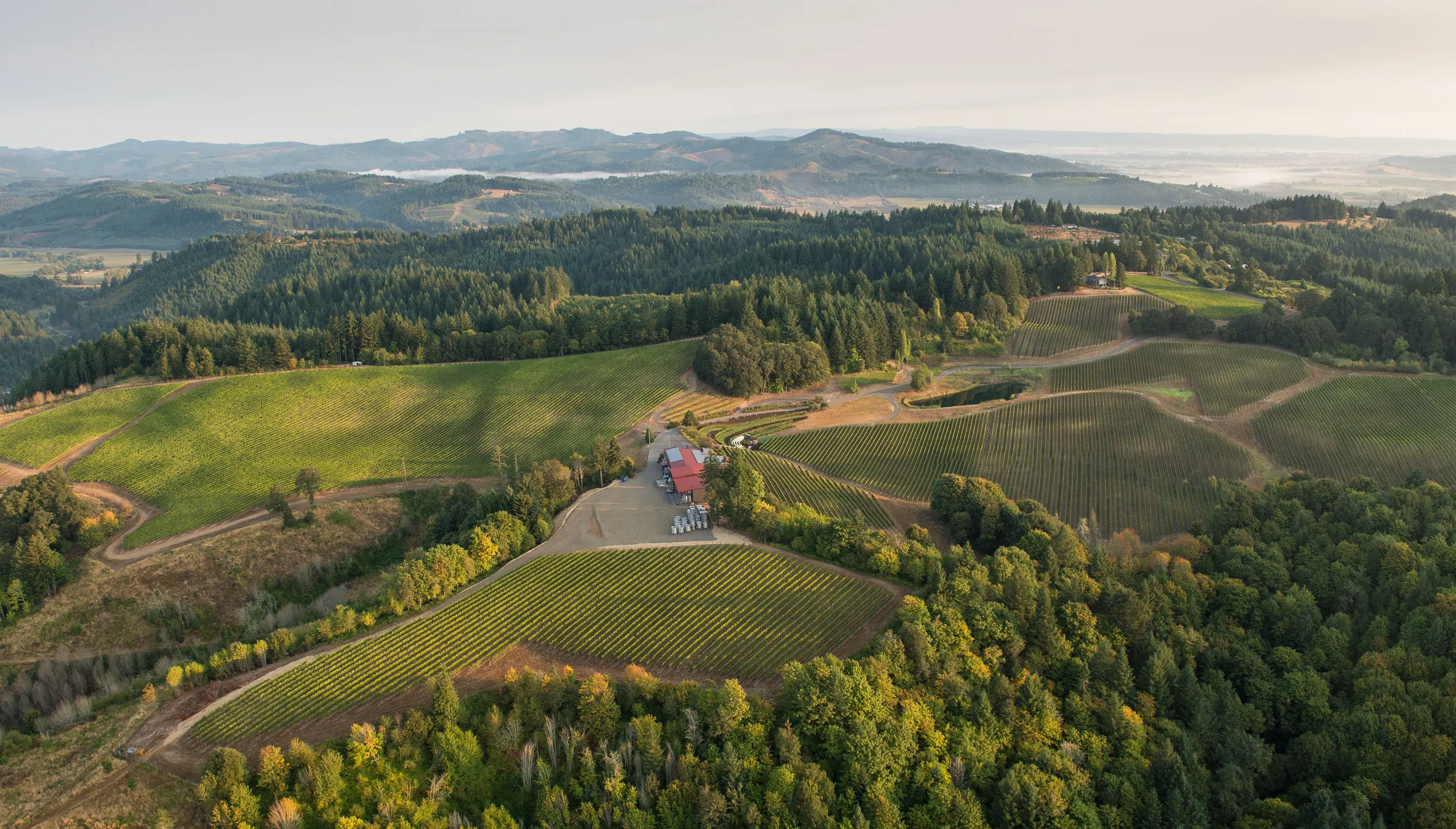 Get ready to be amazed by Elk Cove Vineyards, a true gem among Oregon's wineries! Founded way back in 1974 by Pat and Joe Campbell, this family-owned winery has grown into a seriously respected player in the wine scene. With over 380 acres spread across six unique sites in the northern Willamette Valley, the vineyards have the right conditions to produce top-notch wine grapes.
In 1995, Adam Campbell joined his folks to make the urban winery at Elk Cove a family affair, bringing his love for wine and a massive respect for the land along with him. And let me tell you, their wines have racked up some pretty impressive accolades! From their famous Pinot "trilogy" (Pinot Noir, Pinot Gris, and Pinot Blanc) to Riesling and even lesser-known varieties like Muscat Ottonel, there's something for everyone. They were named Winery of the Year by Wine & Spirits in 2013 and Pacific Northwest Winery of the Year by Wine Press Northwest in 2007!
And as if the great wines weren't enough, the views from Elk Cove's tasting room are absolutely stunning. With an excellent 4.8 rating from over 143 Google reviews, Elk Cove Vineyards is the perfect spot for anyone looking to experience the best wineries in Oregon. Trust me; you won't be disappointed!
7. De Ponte Cellars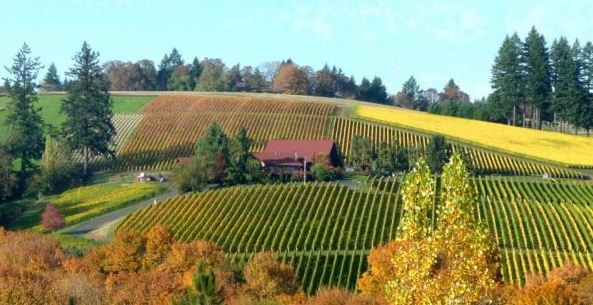 Get ready to be wowed by De Ponte Cellars in the Dundee Hills of Dayton, Oregon. As one of the oldest vineyards in the state, this incredible winery is known for its Pinot noir grapes and the rare Melon grape, typically found in France. Can you believe it? They're producing these amazing Melon grapes right here in the US!
Because De Ponte Cellars grows this super rare grape, it's become a popular and unique spot for locals and travelers alike. The Melon grape gives us a delightful white wine in high demand. And let me tell you, this special white wine is their claim to fame! In a region dominated by Pinot noir grapes, De Ponte Cellars truly stands out with their Melon grapes.
You'll need a reservation to enjoy their tasting room, but trust me; it's worth it! Don't miss out on the chance to savor rare wine (even by Oregon standards!) and indulge in some fantastic Oregonian cheese. It's just heavenly! With a 4.8 rating from over 71 Google reviews, De Ponte Cellars is an unforgettable stop on your journey through the best wineries in Oregon.
8. Ponzi Vineyards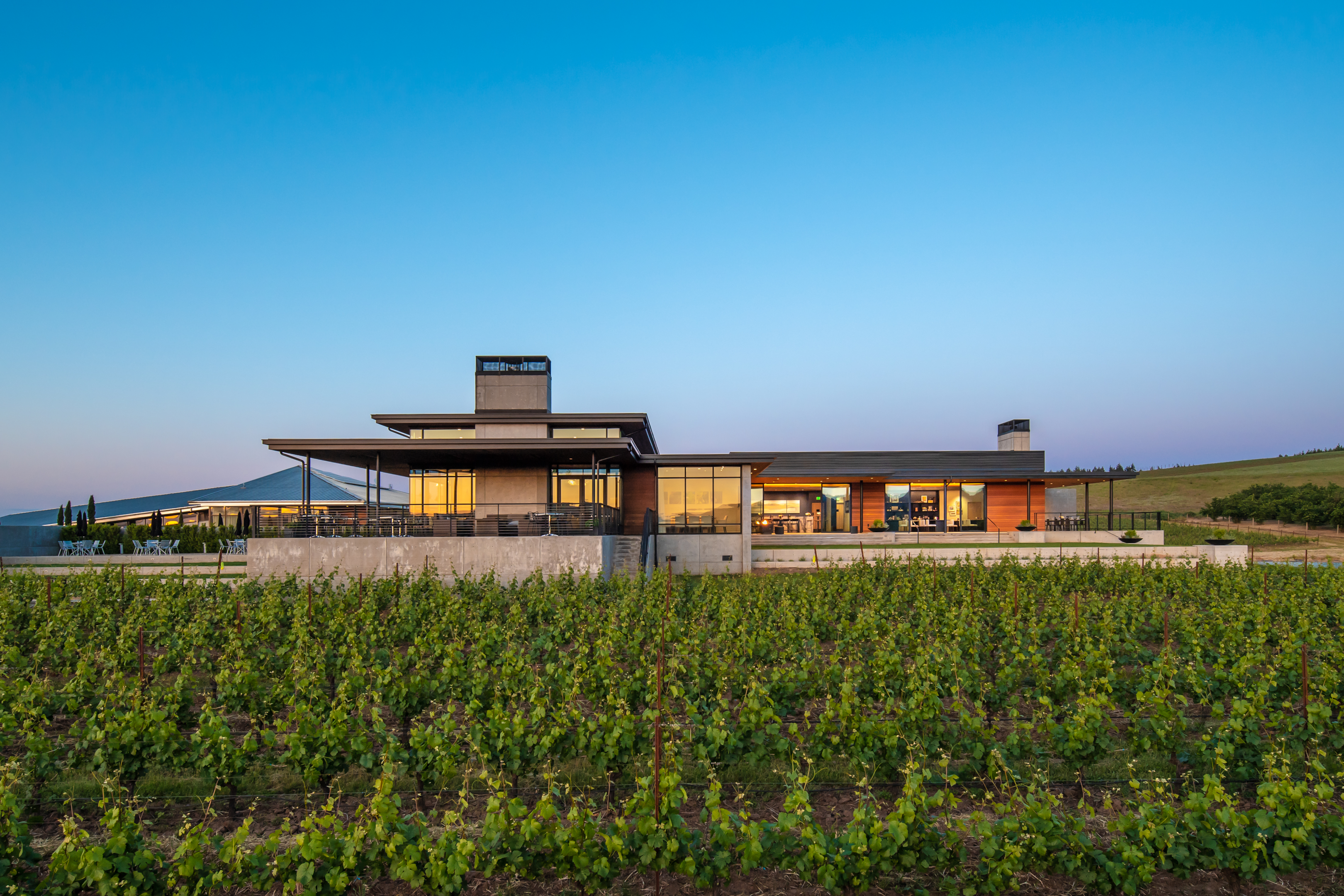 Prepare to be swept off your feet by Ponzi Vineyards in the charming town of Sherwood, Oregon. Established in 1970, this trailblazing winery played a massive role in turning the former Willamette Valley vineyards into the world-class wine region we know today. Let me tell you, their modern tasting room is nothing short of spectacular, with cozy fireside seating, a covered terrace, and even bocce ball courts!
Imagine this: you're experiencing an exclusive tableside tasting, taking in panoramic views of Avellana vineyard and the gorgeous surrounding valley. Sounds amazing, right? The tasting room is open for indoor and outdoor seated wine tastings by reservation, so you can make that dream a reality. They're so excited to have you back!
Treat yourself to a seasonal flight, a weekend Chef Pairing or a lovely glass pour with your friends, up to 8 guests, at this stylish hilltop tasting room just a 40-minute drive from Portland. Open daily from 11 am to 5:30 pm; reservations are recommended. With a solid 4.1 rating from over 217 Google reviews, Ponzi Vineyards is a must-visit destination on your journey through the best wineries in Oregon.
9. Bergstrom Wines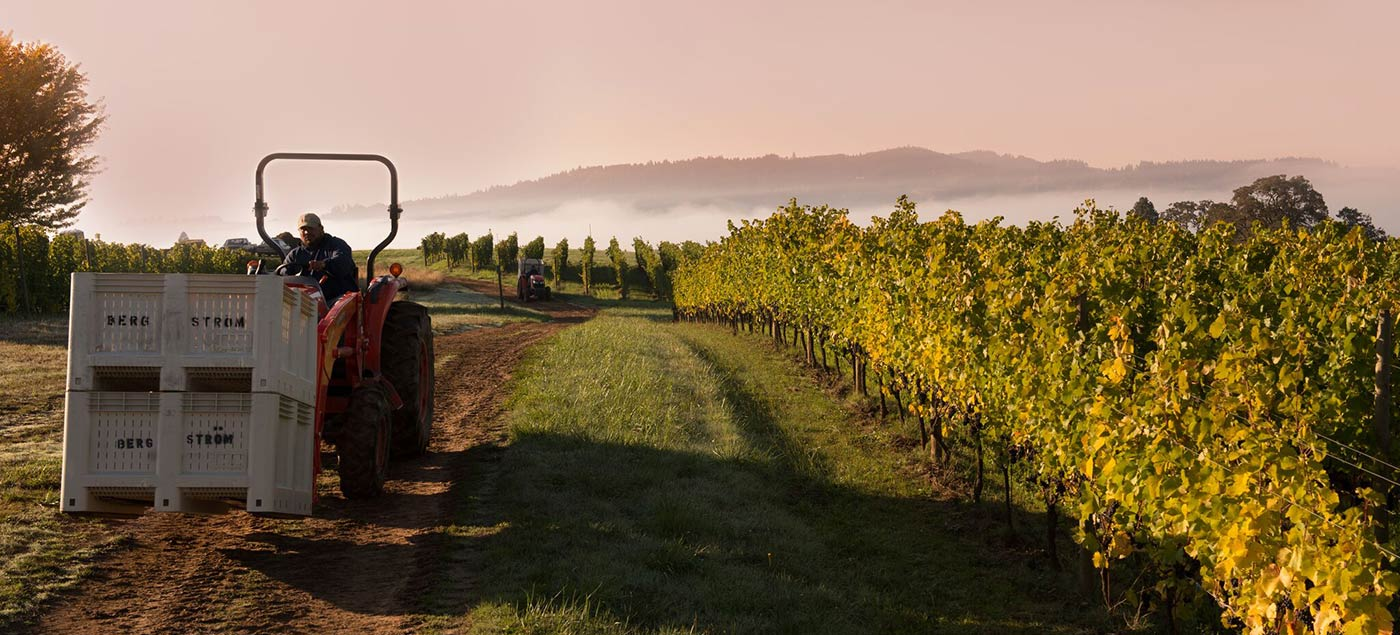 Discover the enchanting Bergstrom Wines, nestled in the Dundee Hills of the Willamette Valley. You'll immerse yourself in a fairytale-like setting as the vineyard shares its land with vibrant violets, lush chamomile, and brilliant red poppies. Though smaller in scale than other vineyards on this list, Bergstrom Wines refuses to compromise on taste and quality.
Producing around 10,000 cases annually, the winery specializes in Chardonnay and Pinot Noir. For an extra-special experience, you can reserve a private wine tasting – perfect for a memorable date or outing with a loved one. If you are captivated by Bergstrom Wines' magic, consider joining their exclusive wine club to make this delightful spot a regular indulgence.
Imagine yourself in their cozy tasting room, gazing through the window at the mesmerizing views of brilliant red poppies, bold violets, and chamomile fields. With an impressive 4.9 rating from over 58 Google reviews, Bergstrom Wines stands out among the best wineries in Oregon.
10. Utopia Vineyard & Winery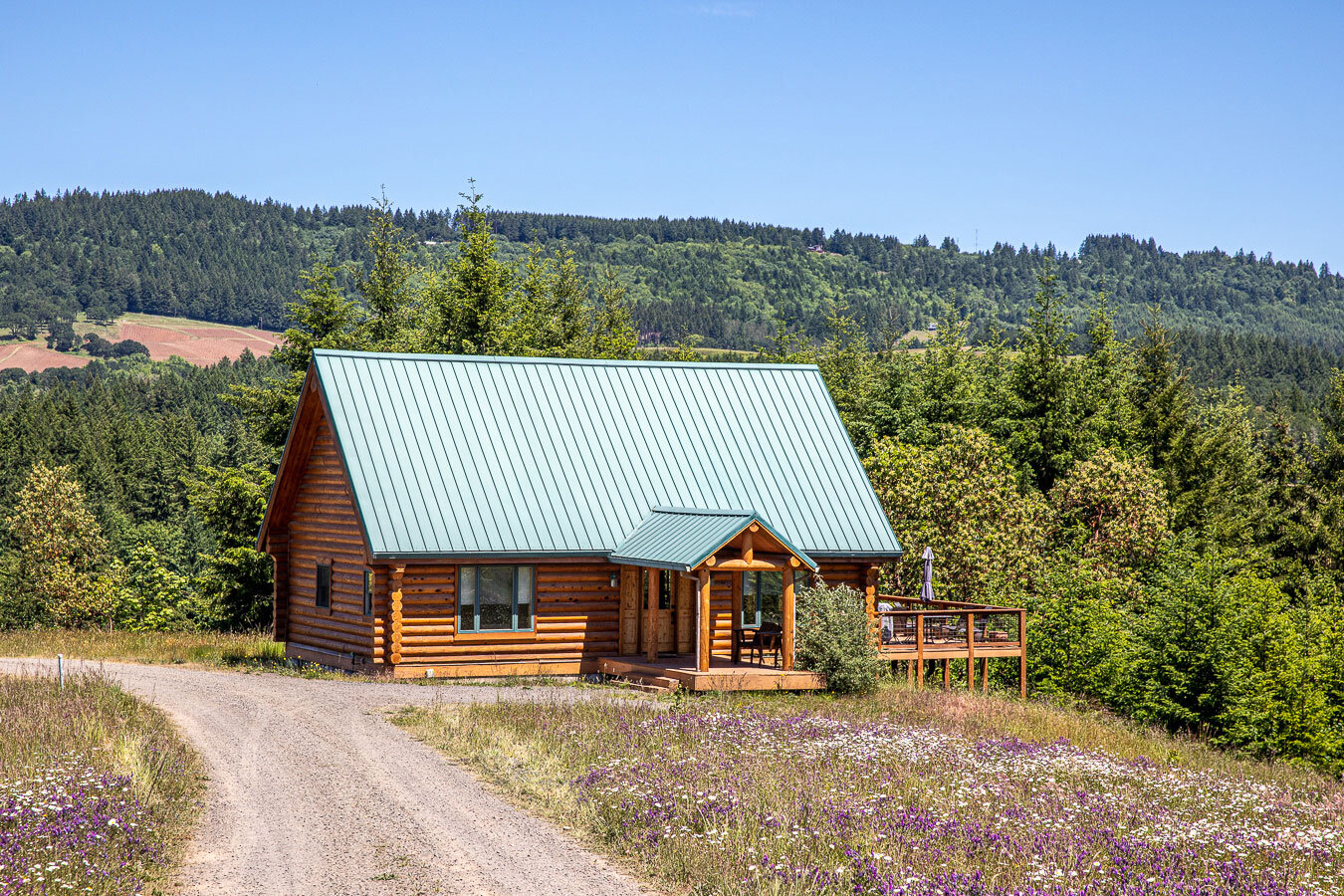 Welcome to Utopia, a wonderful paradise located in the Oregon wine region. Since their inception, Utopia Vineyard and Winery has been producing Pinot noir that has won awards, giving them a reputation for producing superior wines of the highest caliber.
You'll be enchanted by their outstanding Pinot Noir, Pinot Blanc, and Chardonnay in Newberg, Oregon, in the lovely Ribbon Ridge area. The grapes at Utopia are attentively cared for using a technique called "dry farming," which offers a harmonic fusion of robust flavors without compromising sustainability.
Dan Warnshuis, the proprietor of Utopia Vineyard and Winery, will personally meet you upon your arrival. He takes pleasure in interacting with new visitors in the tasting area, watching their reactions, and responding to their inquiries. Visitors keep coming back to Utopia because of its kind and welcoming atmosphere. Don't be surprised if you, too, find yourself longing to return for another delightful glass of Pinot Noir or Chardonnay. Be sure to pencil Utopia into your itinerary – with a 4.8 rating from over 59 Google reviews; this gem is not to be missed among the best pinot noir wineries in Oregon.
11. Domaine Drouhin Oregon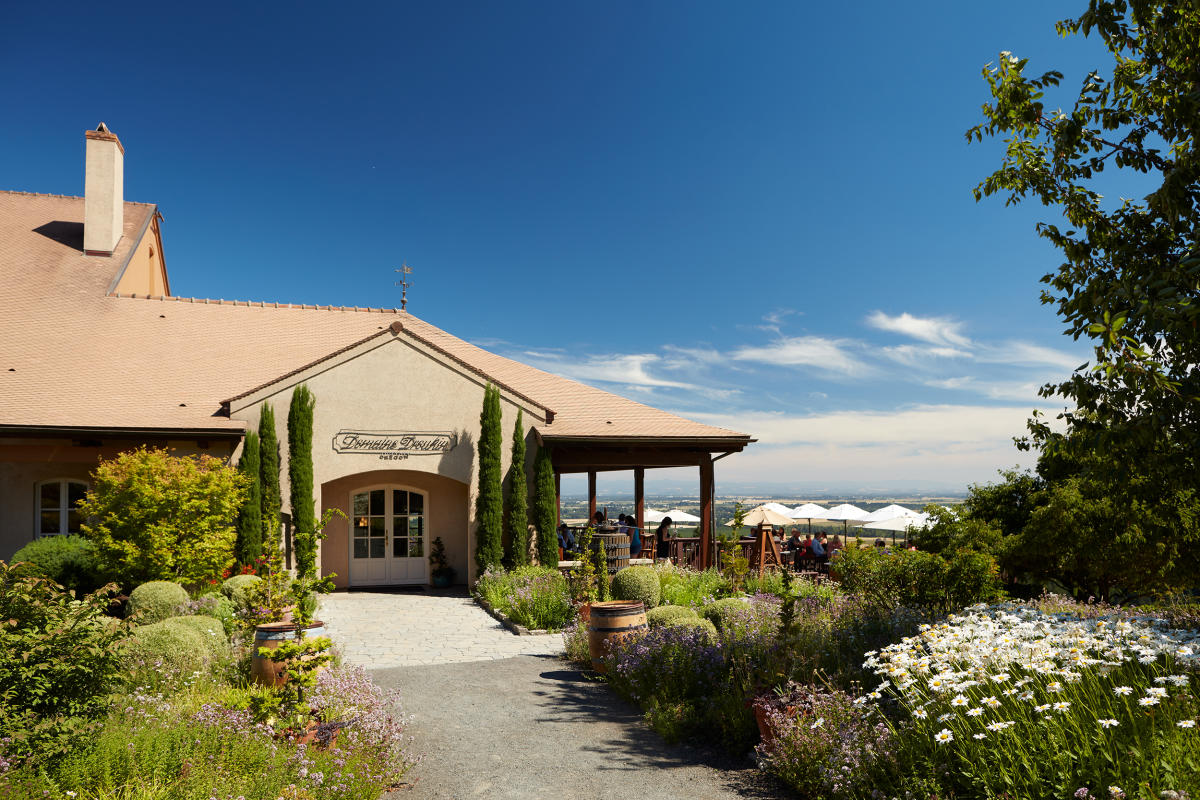 Discover the elegance of Domaine Drouhin, a remarkable winery nestled in the picturesque Dayton, Oregon. Established in 1988 by the renowned Burgundy producer Maison Joseph Drouhin, Domaine Drouhin has consistently garnered international acclaim for its exceptional Pinot Noir and Chardonnay wines. Fourth-generation winemaker Véronique Drouhin-Boss expertly handcrafts these exquisite offerings, showcasing what Oregon has to offer.
Domaine Drouhin's commitment to excellence has not gone unnoticed – in November 2012; The Oregonian named it the Best Winery for Tastings in Oregon. The winery and its estate vineyard have earned LIVE Certification, a testament to their dedication to sustainable and responsible winemaking practices. With a 4.7 rating from over 179 Google reviews, Domaine Drouhin is an unmissable destination for wine enthusiasts seeking the finest wineries in Oregon.
Conclusion
Oregon's Willamette Valley is a treasure trove for wine enthusiasts, boasting an incredible array of wineries offering the best terroir of the region. From the historic Argyle Winery, known for its exceptional Pinot Noir, Chardonnay, and sparkling wine, to the enchanting Domaine Serene with its picturesque Tuscan villa-style setting, Oregon wineries promise an unforgettable experience for all who visit.
As you explore the best wineries in Oregon, you'll be captivated by the diverse array of wines that grace the region, including the famed Oregon Pinot Noir and various other varietals. Whether you're a seasoned wine lover or a casual enthusiast, Oregon's Willamette Valley is the perfect destination to discover these remarkable wineries' unique charm and flavors.
So, raise a glass and toast to the vibrant world of Oregon's wine country – your journey is just beginning.
FAQs
What is the best wine region in Oregon?
The Willamette Valley, which is renowned for its distinct terroir, cool climate, and ideal growing conditions for many grape varietals, is the best wine region in Oregon.
What wine is famous in Oregon?
Due to the great growing circumstances in the area and the skill of the regional winemakers, Oregon is well known for its Pinot Noir, which is regarded as one of the best in the world.
Why is Oregon wine so expensive?
Due to characteristics including its small output, premium grapes, and exacting winemaking methods, Oregon wine can be pricey. The cost of land, labor, and equipment in the area can also affect how much wine costs overall.
What is the largest winery in Oregon?
The largest winery in Oregon is King Estate Winery, which is also the largest certified Biodynamic vineyard in North America and the nation's top producer of Pinot Gris.
Why is Pinot Noir so popular in Oregon?
Pinot Noir is so popular in Oregon because the region's cool climate and diverse terroir provide the perfect growing conditions for this delicate grape variety. The combination of these factors results in Oregon Pinot Noir wines that are uniquely expressive and highly regarded.
What other types of wine are produced in Oregon besides Pinot Noir?
Oregon is also known for producing Pinot Gris, Chardonnay, Riesling, Syrah, and Tempranillo, among others.