Are you ready to experience the awe-inspiring beauty of the southern Oregon coast? Look no further than the Samuel H Boardman State Scenic Corridor. This stunning 12-mile stretch of coastline boasts some of the most breathtaking vistas in the Pacific Northwest and the entire Oregon coast. From a rugged coastline to secluded coves, there's no shortage of natural wonders to explore.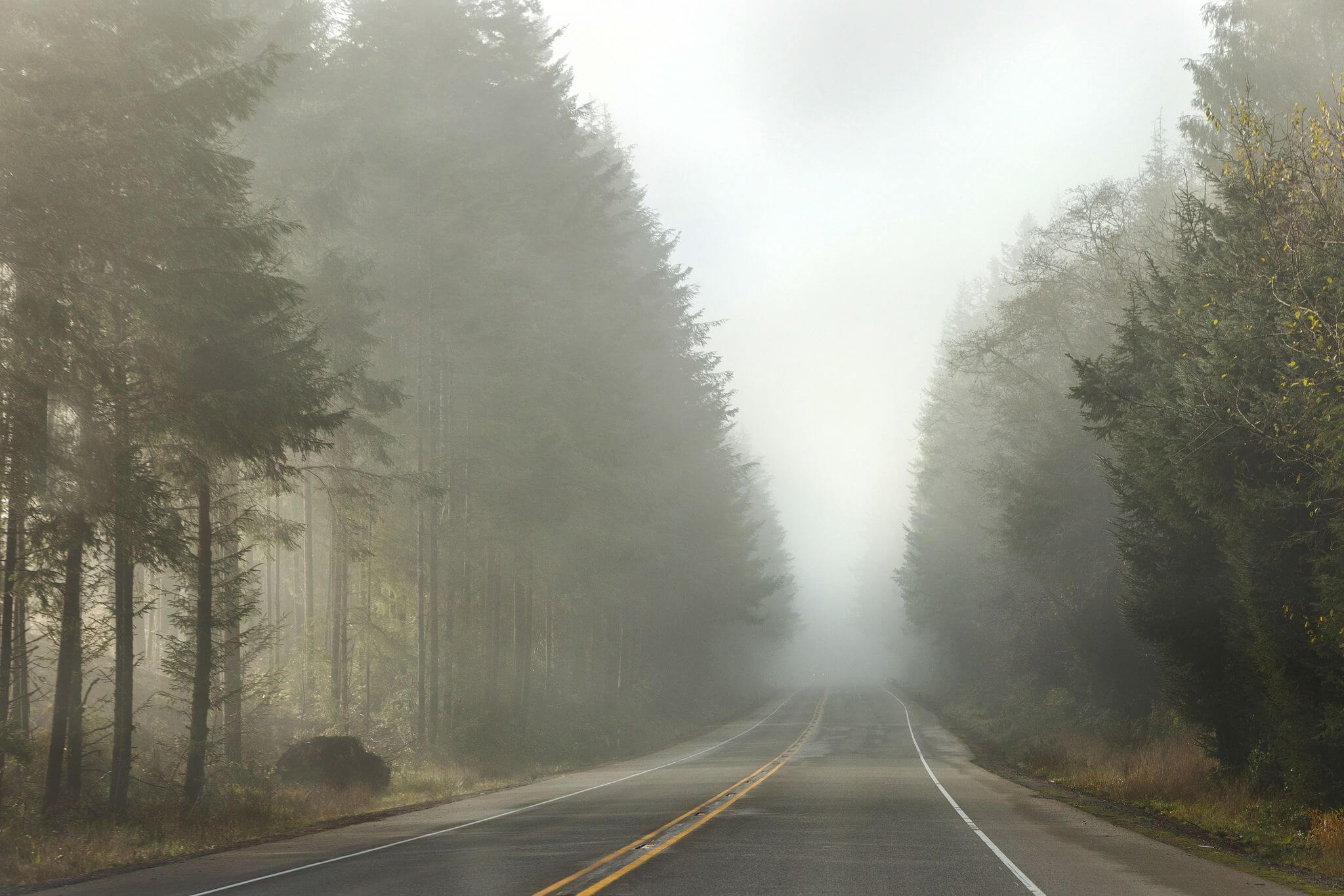 If you're planning a trip to the stunning Pacific coastline in southern Oregon, be sure to follow these tips to stay safe and protect the fragile ecosystem:
Always stay on designated trails, as unmarked trails can be unsafe and damage sensitive cliffside ecosystems.
Avoid climbing on natural bridges, sea stacks, and other rock formations, as they can be extremely dangerous.
Be aware of changing tides while you're on the beach, so you don't get stranded. Never turn your back to the ocean, as sneaker waves are common in this area. Avoid logs and small coves or caves that don't provide quick escapes to higher ground.
Park only in designated spaces in the several parking lots situated throughout the corridor. This helps to prevent damage to the fragile ecosystem.
Pack out all garbage and pet waste. This ensures that the coastline remains pristine and beautiful for generations to come.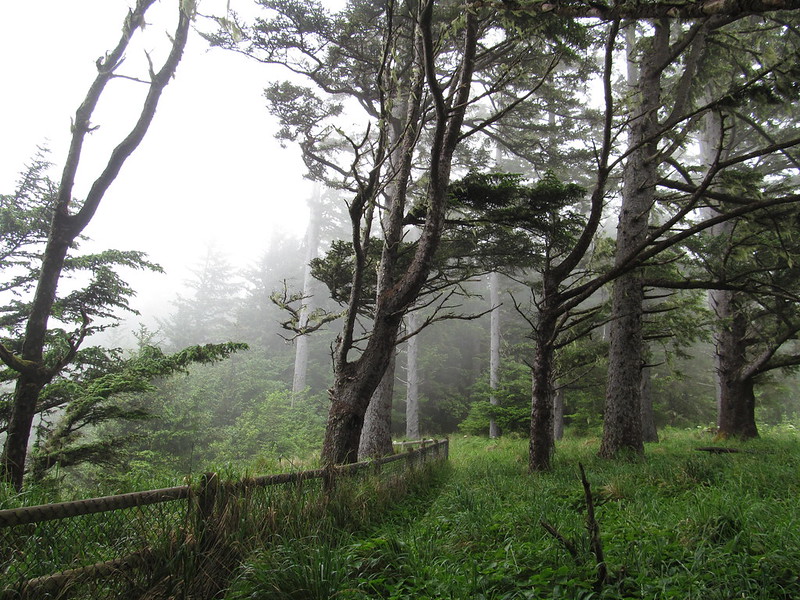 Regardless of whether you choose to traverse the entire 18-mile trail or just a quarter-mile stretch, it's important to take a pause and contemplate the countless individuals who have trodden this well-worn path for centuries.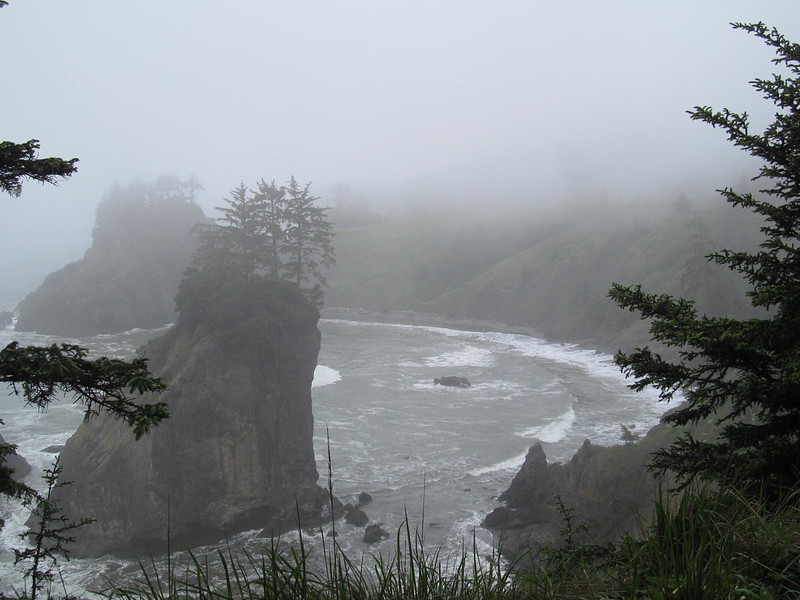 From Native Americans to early explorers, gold miners, and settlers, this trail has witnessed the footsteps of many different peoples throughout history. By walking in their footsteps, you can gain a deeper understanding of their experiences and the challenges they faced, which can be a humbling and thought-provoking experience.
So whether you're a seasoned hiker or a casual stroller, be sure to pay homage to the trail's rich history as you make your way along its route.
Sign up for monthly emails full of local travel inspiration and fun trip ideas. In each newsletter we'll share upcoming events, new things to do, hot dining spots and great travel ideas.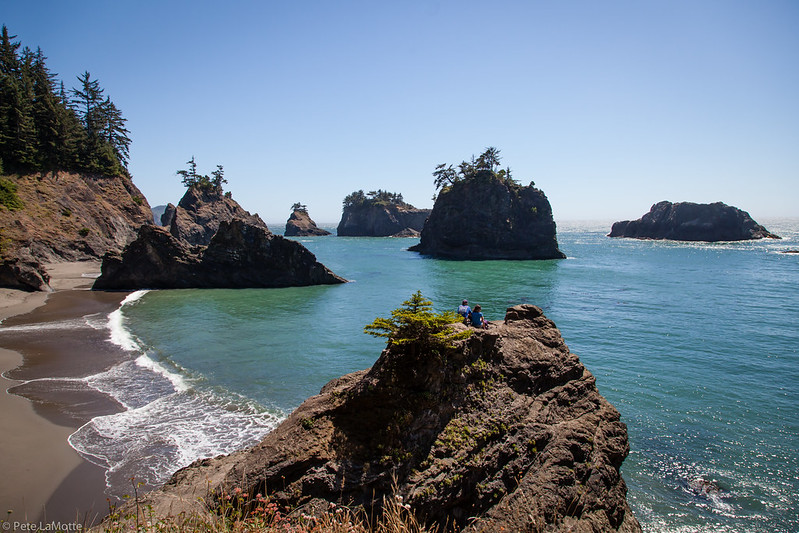 Places to See at Samuel H Boardman – Viewpoints
Whether you're a seasoned hiker or just looking for a peaceful place to unwind, this state park has something for everyone. So grab your hiking boots and camera, and get ready to be dazzled by the unparalleled beauty of this awe-inspiring area.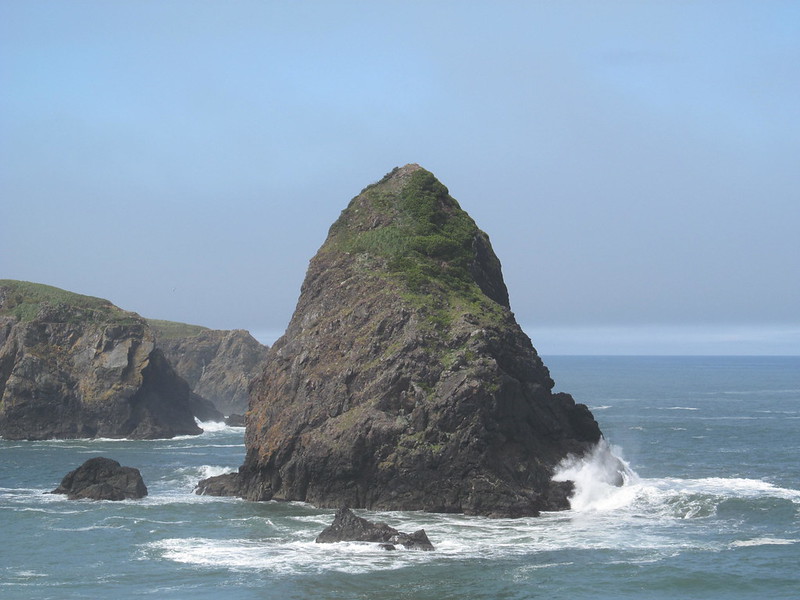 ---
RELATED: 13 Best Oregon Coast Hikes (6 With Waterfalls!)
---
Viewpoints And Best Hikes At Samuel H Boardman
Whaleshead Beach Hike
Path Length: 2.9 miles in a loop
Altitude Variation: 793 ft
Complexity Level: Moderate
Embark on an invigorating adventure along the Thomas Creek to Whaleshead Beach trail, and immerse yourself in stunning coastal vistas and a serene forested environment. Alternatively, if you're seeking a briefer excursion, you can stroll down to the beach from either the picnic area or the Whaleshead Viewpoint.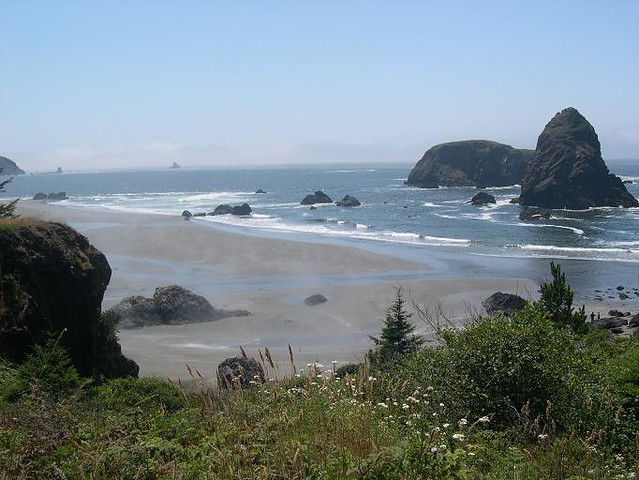 The highlight of this hike is Whaleshead Beach, a stunning destination that can be explored during a low tide loop hike. The trail provides breathtaking views of the beach, including the offshore Whalehead Island and three big stacks.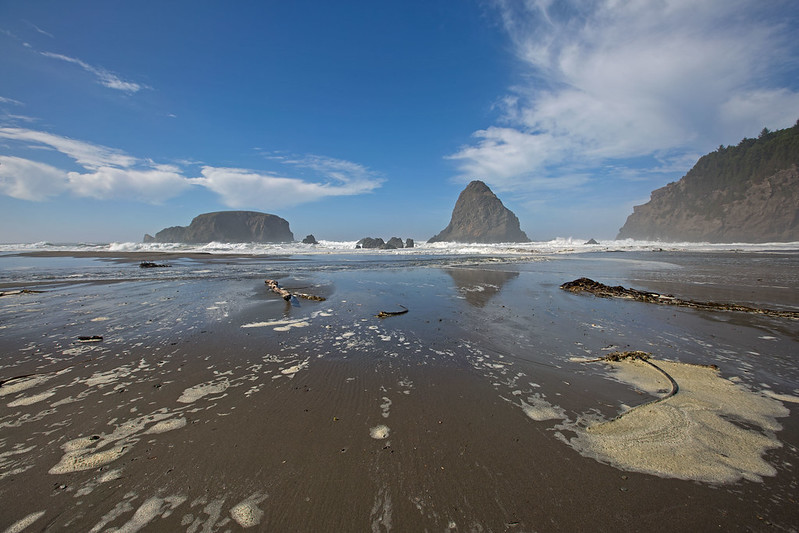 Hikers can enjoy the view from both above and below during the low tide. The trail meanders through a tumbling creek with waterfalls, a grassy headland with a slightly challenging trail, and House Rock, which looks like a house on a rock from this beach. Don't forget to check the tide tables before embarking on the hike, as parts of beach can be covered during high tide.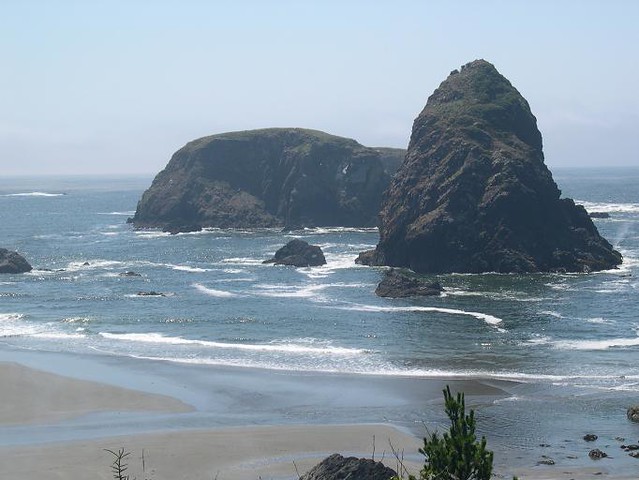 The Oregon Coast Trail begins by descending through the salal on the north side of the House Rock Trailhead. Hikers will come across a dense spruce forest and two footbridges that cross the creek. Then, they'll encounter six switchbacks leading to a view of the surf around rocks below. A four-switchback descent follows, along with a footbridge and a junction with a "Trail" sign. Continue to the right.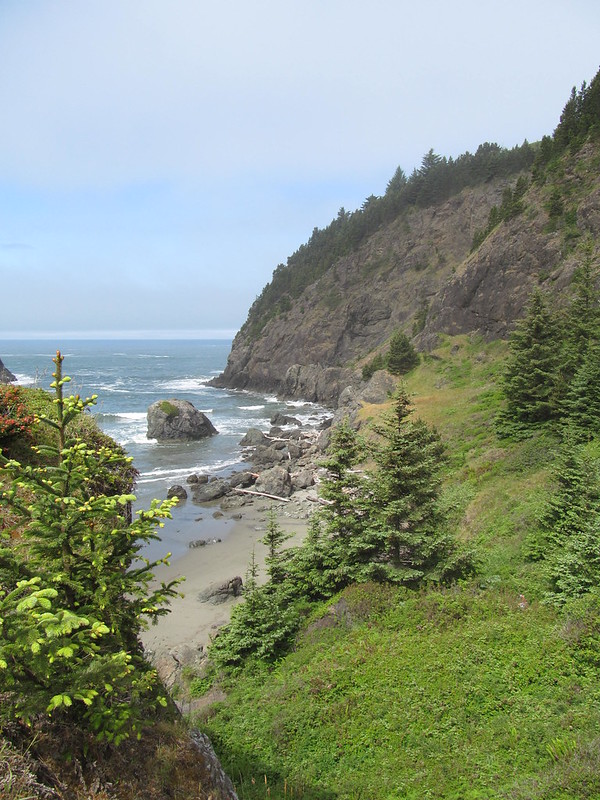 After hiking on level ground through a salmonberry thicket, the trail reaches Highway 101. Follow the trail next to the highway for about 40 yards before entering the spruce forest again. Here, the trail remains above a steep slope colonized by alders. You'll cross a small creek before being next to the highway again briefly. Next, drop steeply and step over a spring to get a view of the sea stacks off the beach. Pass a parking pullout and hike next to the highway for 75 yards before dropping to a junction.
The loop takes you to a waterfall carrying Bowman Creek down a jagged rock face. Back on the main trail, you'll come across another spur that leads to a tumbling cascade view on a Bowman Creek tributary. An open bluff with coyote bush and sword fern provides a vista over Whaleshead Beach to two flat-topped stacks and Whalehead Island. The Whaleshead Viewpoint Trailhead marks the end of this segment.
From the parking area, a trail leads down through coyote bush to beach access. To use the facilities, turn right along the beach and cross Coon Creek. A gravel trail leads through a Sitka spruce grove and up Whalehead Creek, lined with alder, salmonberry, and sedges. This trail ends at a restroom building and the parking area at the Whaleshead Beach Trailhead.
To complete the loop back to House Rock, head south along the beach, cross streams, and enjoy stunning views of the sea stacks. At the south end of the beach, ascend the grassy headland, with increasingly stunning views of the length of Whaleshead Beach and of House Rock to the south.
The trail enters the spruce woods and makes a short, steep, switchbacking ascent. Parts of the tread here may be slumping down the slope. When you reach the Oregon Coast-Whaleshead Beach Trail Junction, turn right to get back to the House Rock Trailhead, less than a mile away.
---
RELATED: 13 Top Oregon State Parks You Didn't Know Existed
---
Oregon Coast Trail
The expansive Oregon Coast Trail winds its way through the entire state, but if you're searching for a stunning section, look no further than Samuel H. Boardman. Here, you can hike an awe-inspiring 27-mile stretch of the trail.
If you're looking to push yourself even further, this section provides a gateway to sandy beaches, breathtaking coastlines, and some of the most magnificent forests the region has to offer. While much of the route follows the coastline and beach, you'll also wind through scenic state parks, public lands, and even take some shortcuts through the generosity of private landowners.
And, with so much of the trail following the beach, you can even take a break from hiking and cool off with a refreshing dip in the ocean.
---
RELATED: Oregon Coast | Towns, Things To Do, Best Beaches, Coastal Maps
---
Indian Sands Trail
A natural wonder awaits at Indian Sands, where sand is formed not from the ocean but from sandstone, making it a truly unique phenomenon. And, if you're looking to add some mileage to your hike, consider continuing on to China Beach from Indian Sands to make it a breathtaking 7-mile roundtrip journey.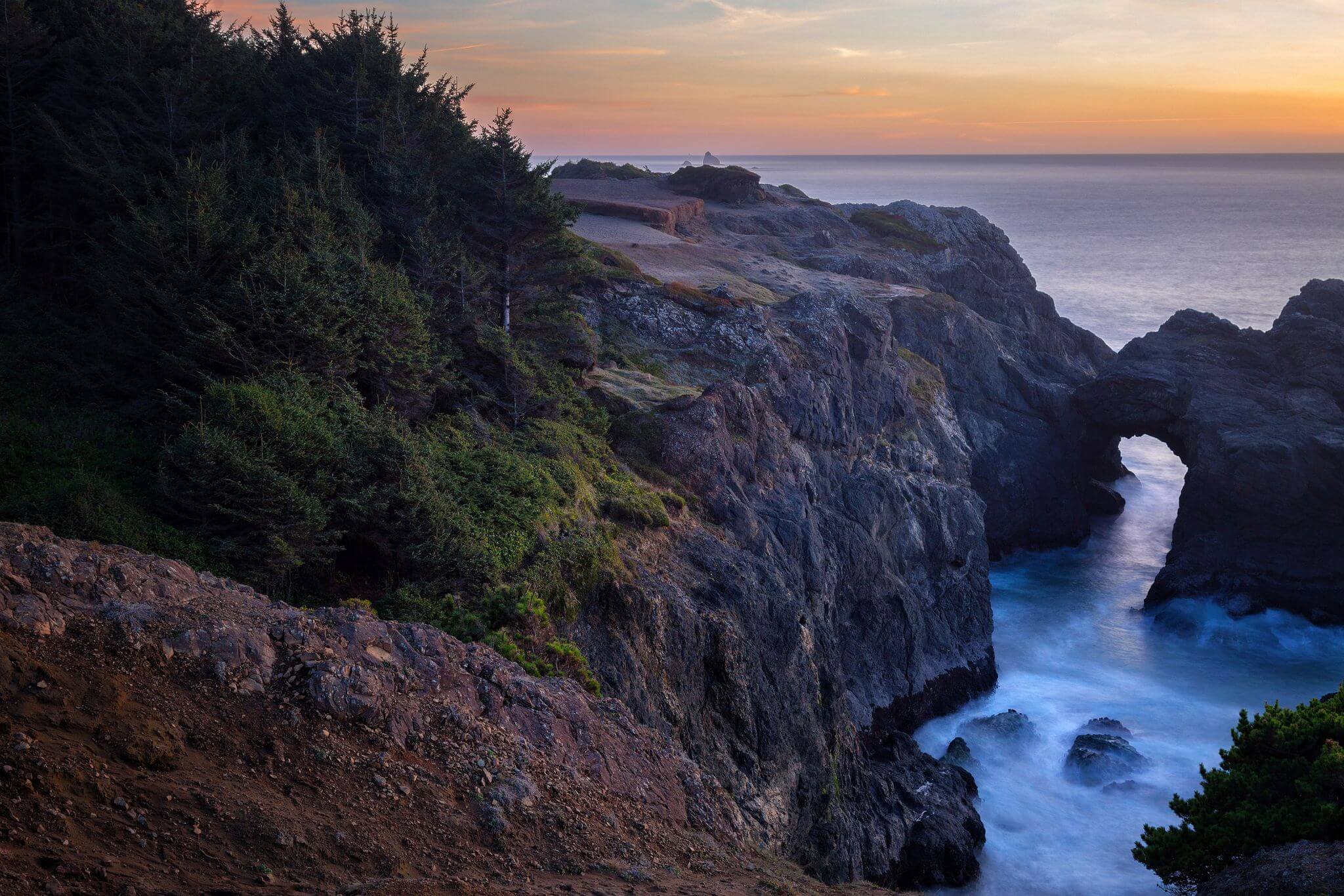 As you venture along the trail, you'll discover the true beauty of nature, with stunning coastal vistas, towering cliffs, and the serene sounds of the ocean. And, as you make your way to China Beach, the experience only becomes more awe-inspiring, with stunning views around every turn.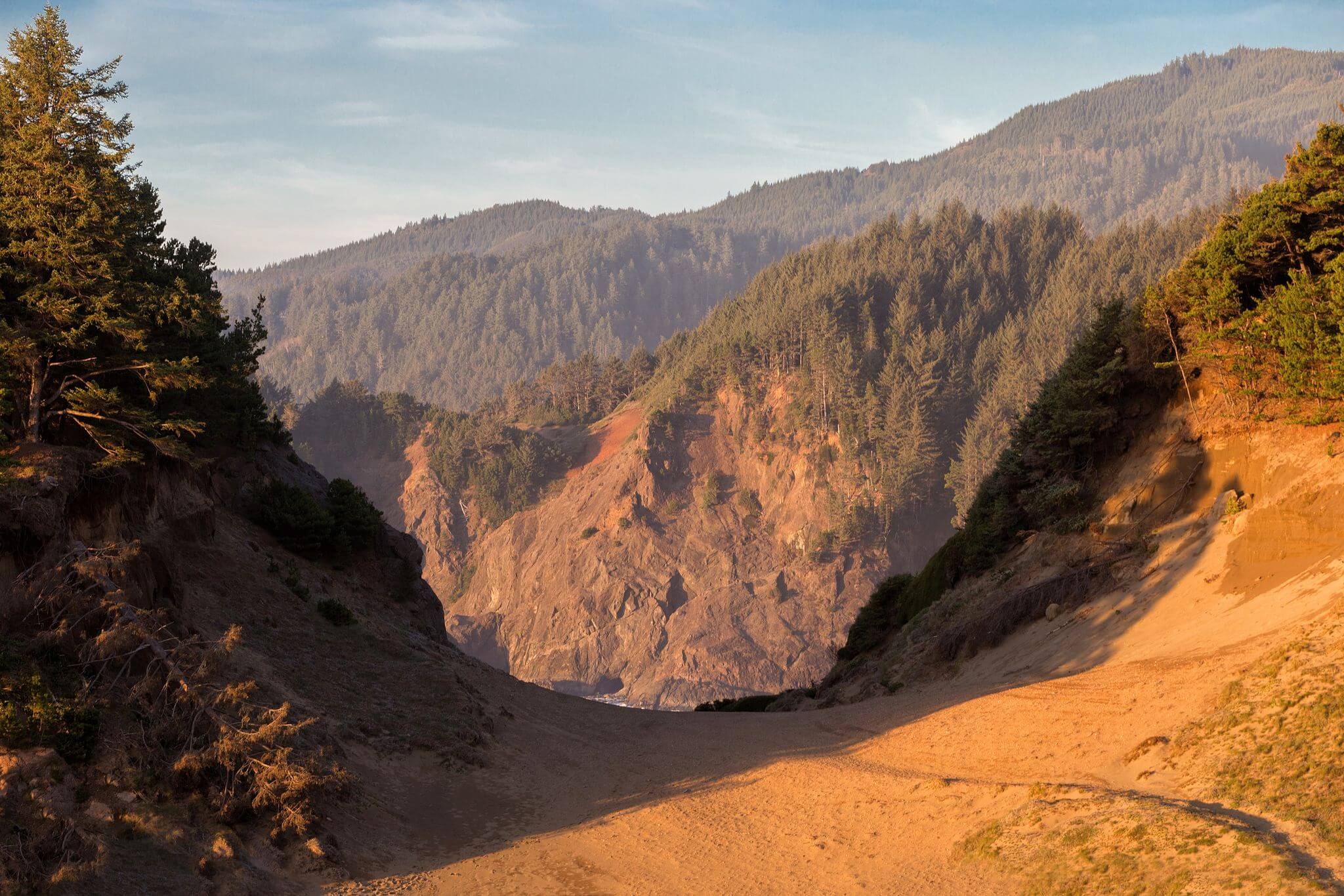 Whether you're a seasoned hiker or just looking to explore the beauty of the outdoors, this hike offers a unique and unforgettable experience that you won't want to miss. So come and see for yourself why Indian Sands and China Beach are a must-visit destination on any Oregon Coast adventure.
Arch Rock Point
Path Length: 0.9 miles in a loop
Altitude Variation: 3830 ft
Complexity Level: Easy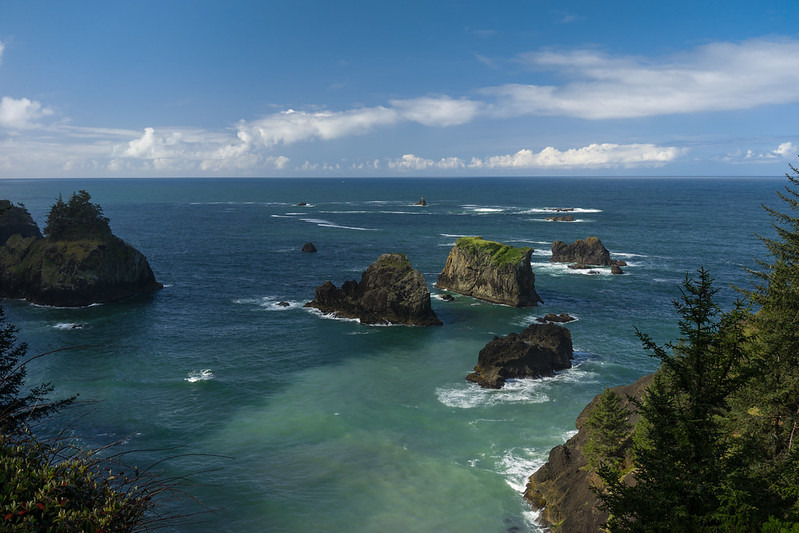 A brief walk from the asphalt parking area will take you to an observation point with a stunning view of offshore sea stacks and islands to one of the most iconic and easy-to-tackle trails - the Arch Rock Point and Spruce Island Viewpoints Trail.
This 0.2-mile loop offers breathtaking views of the coastline, taking you on a journey through lush forests and ending with stunning vistas overlooking Arch Rock. With a meager 29-foot elevation change, this trail is perfect for hikers of all skill levels, and it's the ideal opportunity to discover hidden and secluded spots along the way.
Secret Beach
Path Length: 0.2 miles
Altitude Variation: 364 ft
Complexity Level: Easy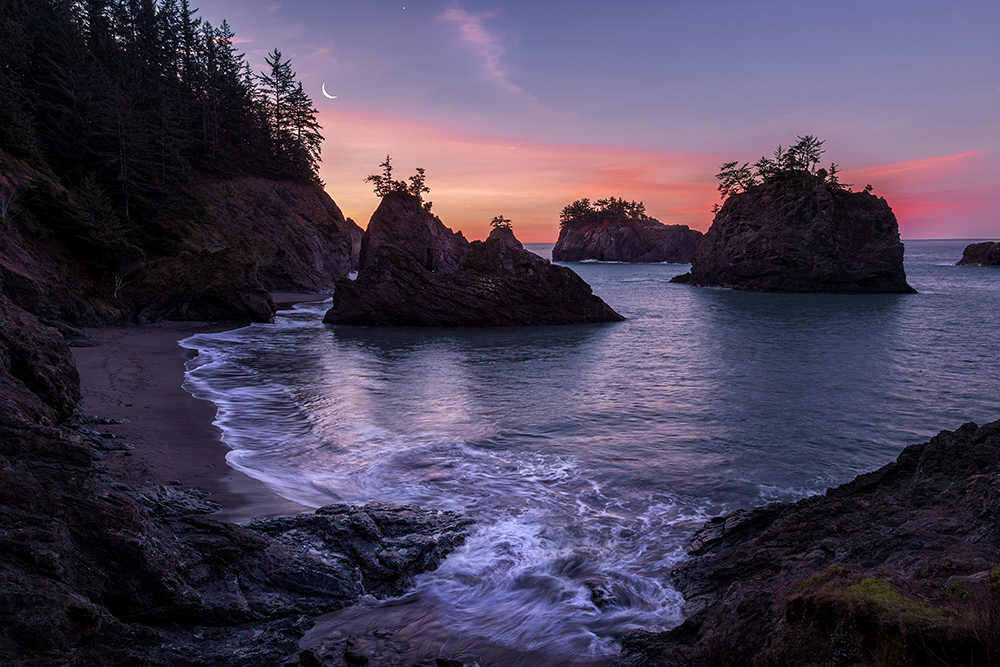 Oregon's Secret Beach is maybe one of our worst kept secrets, and is an absolutely breathtaking and picturesque destination on the coast, with a plethora of activities to offer. It was the magnificent scenery that first drew me to explore this hidden gem.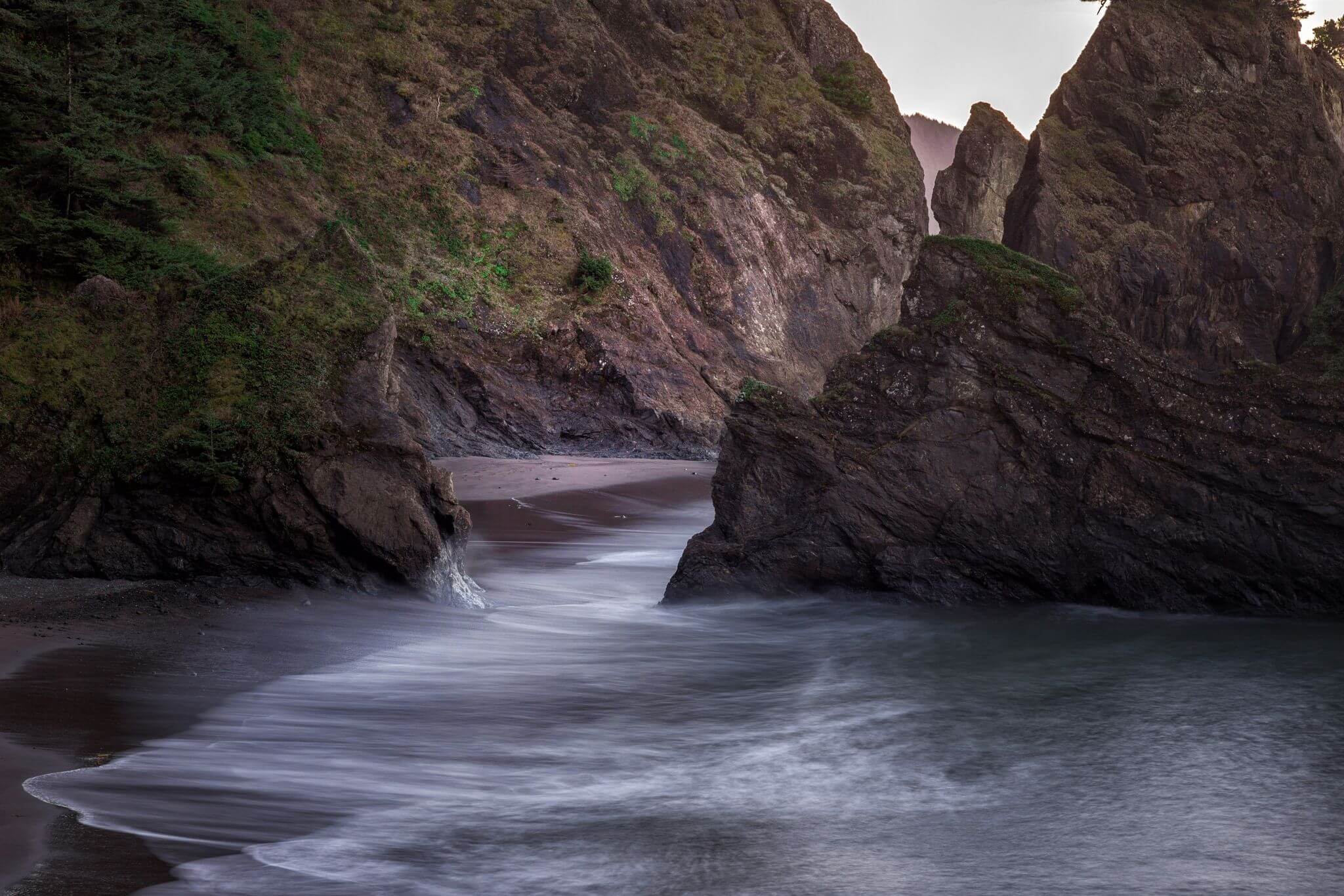 Natural Bridges to North Island Viewpoint
Path Length: 0.5 mile
Altitude Variation: 160 ft
Difficulty: Easy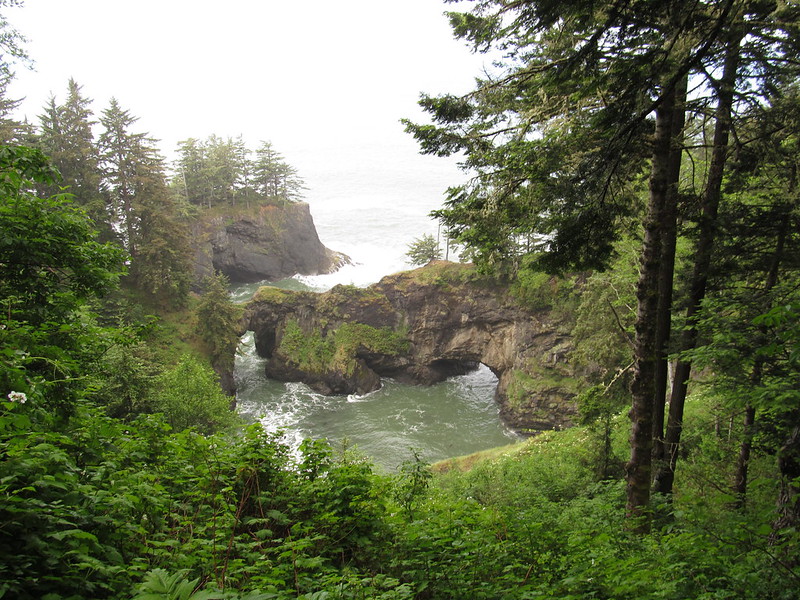 There are few natural formations as awe-inspiring as arch rocks. Among these magnificent structures, Seven iconic arch rocks stand out as particularly remarkable. These seven arch rocks are not only beautiful but also hold significant cultural and historical importance.
From ancient times to modern-day, people have been drawn to these natural wonders, and they continue to inspire and captivate visitors to this day. Whether you are a nature enthusiast or a history buff, the Seven iconic arch rocks are sure to leave a lasting impression on you.
NOTE: This is a very dangerous area, as many people have been seriously hurt or killed here trying to cross the bridge on foot.
READ MORE: Landscape Photographer Dies Falling From 300-Foot Cliff in Oregon
House Rock Viewpoint - Cape Ferrelo Trail
Path Length: 1 mile loop
Altitude Variation: 298 ft
Complexity Level: Easy
Meanwhile, at House Rock Viewpoint, a touching memorial stands to honor Samuel H. Boardman, the first superintendent of Oregon State Parks and the park's namesake. But the area offers more than just history - a 4-mile trail between Cape Ferrelo and House Rock provides access to many side trails leading to secluded beaches and scenic overlooks.
History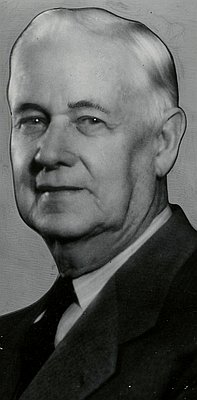 The park's history is as fascinating as its natural beauty. Between 1949 and 1957, the state purchased the majority of the land from private owners and the U.S. Bureau of Land Management, with some tracts still allowing for timber removal and sheep grazing. In 1950, Borax Consolidated, Ltd., generously donated over 300 acres for the park, and an additional 62.90 acres for the Oregon Coast Highway right-of-way.
The visionary behind this breathtaking coastal park was Samuel H. Boardman, the first Oregon State Parks superintendent who served from 1929 to 1950. Boardman tirelessly worked to acquire the land and even proposed an extensive National Park along the Curry County coastline in the 1940s. Though his vision never came to fruition, this state park is a testament to his dedication and was named in his honor upon his retirement.
On August 7, 1970, a commemorative monument was unveiled at House Rock View Point, cementing Boardman's legacy as the founding father of this stunning natural wonder.
Frequently Asked Questions
When is the best time to visit the Samuel H Boardman State Scenic Corridor?
Late spring to fall is the best time to visit the park. The weather is typically drier and sunnier compared to other parts of Oregon, making it a great destination year-round. Even if it rains, it gives the park a moody, atmospheric feel. However, be aware that winter brings more rain, and some lodges and restaurants may have limited hours or be closed.
Do I need a park pass to visit the Samuel H Boardman State Scenic Corridor?
No, a park pass is not needed to visit the park. Admission is free for all visitors.
Are there any tide restrictions when exploring the Samuel H Boardman State Scenic Corridor?
Yes, it's important to check the tides before exploring the park. Many areas cannot be accessed during high tide, so plan your visit accordingly. Also, be cautious when swimming in the Pacific Ocean, as it can be very powerful and dangerous.
Are there any facilities at the Samuel H Boardman State Scenic Corridor?
Yes, there are restrooms and picnic tables available at Lone Ranch, Whaleshead Beach, and Arch Rock.
What should I pack for my visit to the Samuel H Boardman State Scenic Corridor?
It's always a good idea to be prepared for the weather conditions. We recommend packing rain and waterproof gear to stay dry and comfortable during your visit.
Camping Nearby
One of the best camping options near the park is the Harris Beach State Park Campground. This campground on the Oregon Coast is located just 10 miles north of Samuel H. Boardman State Park and offers several campsites equipped with electric and water hookups, picnic tables, and fire pits.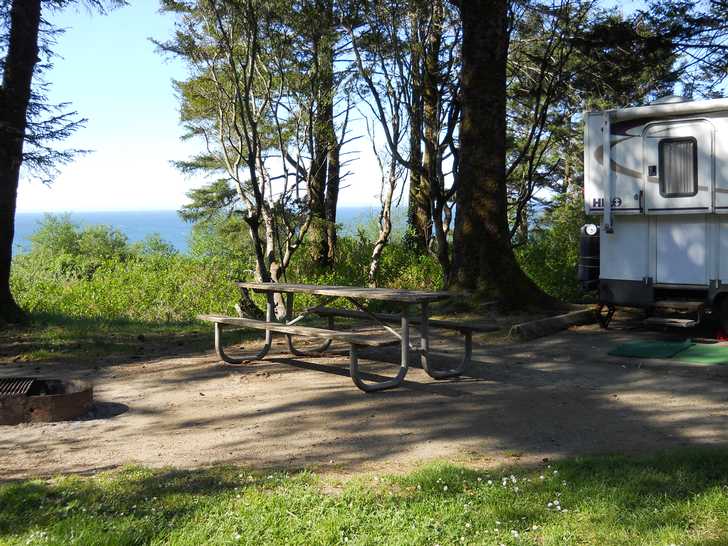 The campground is well-maintained and features several amenities, including clean restrooms, hot showers, and a camp store. Whether you're looking to hike the trails, explore the coast, or simply relax by the beach, Harris Beach State Park Campground is a great choice for your camping needs nearby.
---
RELATED: 19 Best RV Parks On The Oregon Coast
---
How to Get to Here
You will find this beautiful park located between Brookings and Gold Beach along Highway 101.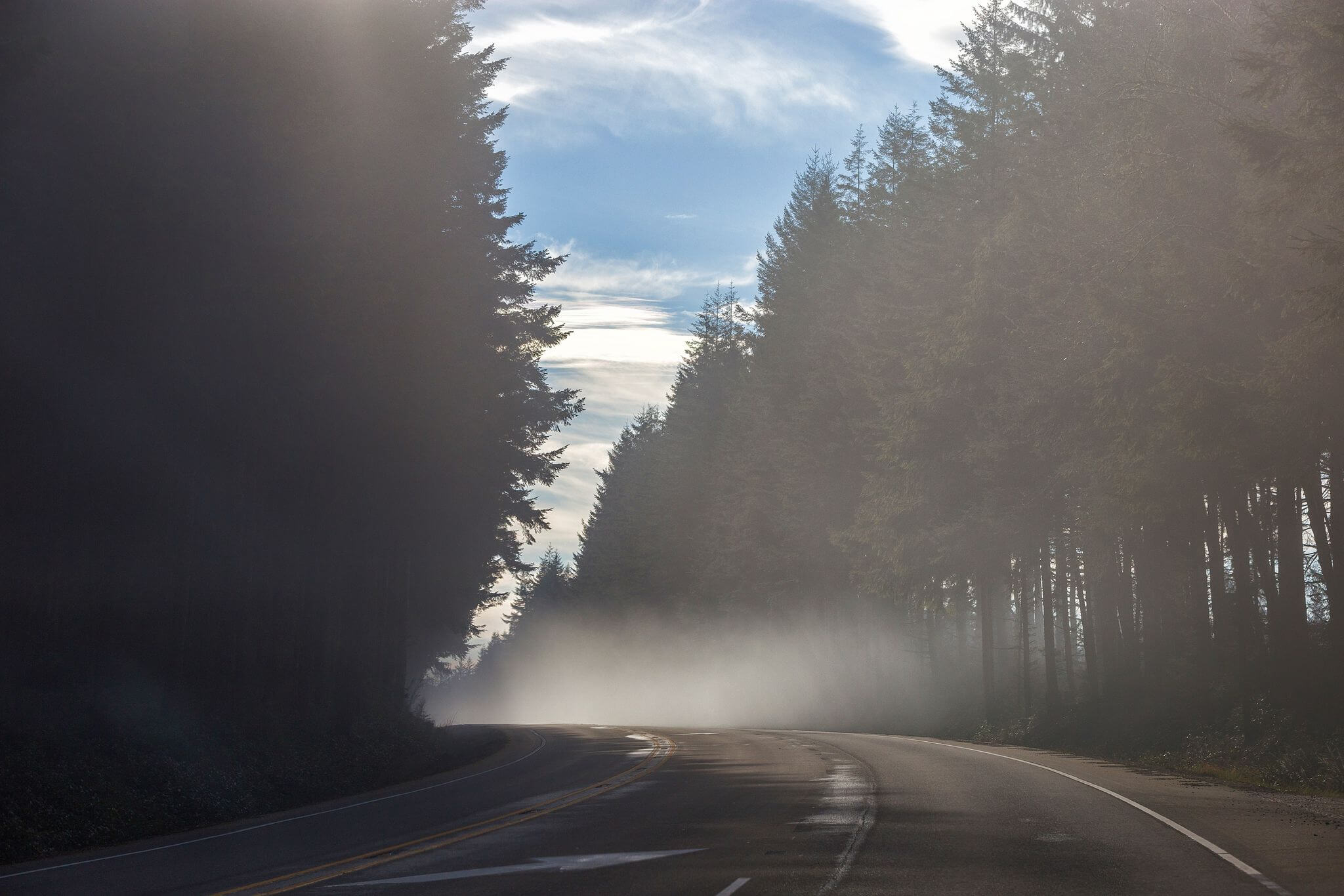 If you are coming from Portland, begin your journey by driving south on I-5 towards Salem, then take OR-224 E/US-26 E/Mount Hood Hwy to reach the scenic corridor. Along the way, you'll pass through charming towns and winding roads, as you immerse yourself in the natural beauty of the region.
Samuel H Boardman State Scenic Corridor Map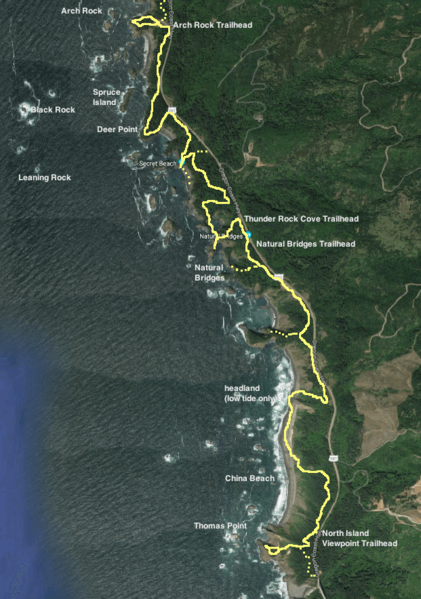 Where To Stay
Welcome to the sunny shores of Gold Beach, where finding the perfect place to stay is as easy as riding the waves. The Pacific Reef Hotel boasts rooms with stunning ocean views and an Outdoor Adventure Theater for a family-friendly movie night.
For a more serene and upscale stay, head 8 miles up the Rogue River to Tu Tu' Tun Lodge, where you can indulge in spa services, dine at a stellar restaurant, and rest your head in elegantly appointed accommodations.
Looking for a more contemporary vibe? The Beachfront Inn in Brookings offers rooms with picturesque views of the town's boat basin. But if camping is more your style, don't worry - there are plenty of options in the area, including the Whaleshead Beach RV Resort nestled in the Boardman Corridor, Harris Beach State Park, and Indian Creek RV Park. So whether you're looking for luxury or roughing it in the great outdoors, Gold Beach has you covered.
Nearby Attractions