Looking for an unforgettable beach camping experience on the Oregon Coast? With its rugged coastal shores, wild cliffs, and ancient forests, camping on the Oregon Coast is a wonderful way for families and adventurers alike to connect with nature. In this guide, you'll learn how to get started with beach camping on the Oregon Coast.
Camping On The Oregon Coast
The Oregon Coast offers a variety of stunning campsites to choose from. When planning your beach camping trip, make sure you research different types of campsites (public, private, RV, tent) and then narrow down your search by location. Most campgrounds offer online booking so that you can reserve in advance. Remember to always read the description and check the amenities before making your reservation. Also consider nearby attractions such as wildlife centers, nearby trails, and scenic overlooks.
Sign up for monthly emails full of local travel inspiration and fun trip ideas. In each newsletter we'll share upcoming events, new things to do, hot dining spots and great travel ideas.
Find the Perfect Campsite
Oregon beach camping is all about soaking up the peace and serenity of the coastline. Don't forget to bring a few extra layers as temperatures tend to change quickly on the coast. And, don't forget your trusty flashlight!
Long days and dark nights are common in Oregon so having a bright light source will help ensure you have a memorable experience. Looking for tips? Oregon State Parks offers comprehensive guides that feature recommendations for filling your cooler, what items to pack, and how to get around while at the coast. With these essential tips, you'll be ready to dive into an adventure full of campfires, brilliant stars, and warm ocean breezes.
If you're camping in Oregon and looking for that perfect spot, possibly with an ocean view,  there is no shortage of campsites to choose from. The Oregon Coast is truly a magical place – perfect for more traditional camping if you want to pitch a tent, go glamping, or hook up your RV.
What is glamping you ask? Glamping is a portmanteau of "glamorous" and "camping", and describes a style of camping with amenities and, in some cases, resort-style services not usually associated with "traditional" camping. So whether camping or glamping is your flavor, we have you covered in the Beaver State for your next outdoor vacation.
With historical lighthouses dotting the coastline, endless places to explore, quirky little shops, beautiful beaches, amazing seafood, and of course plenty of places to camp, we are here to help better guide you on the best of what the coast has to offer. A lot of these campgrounds have plenty of things to do, from fishing to nearby shops on the Oregon Coast to explore.
The Best Oregon Coast Campgrounds
---
Click on the map above to find all of the Oregon Coast campgrounds in this article.
Camping is especially popular on the Oregon Coast. Whether you're an Oregon local looking for a new place to camp or you're traveling from far away, we've curated some of our favorite places to camp so you can spend more time enjoying your trip and less time figuring out where to stay.
With that in mind, let's dive right into some of the best Oregon Coast campgrounds you can find on the Oregon Coast. We have categorized all camping sites by different areas of the coast:
Southern Oregon Coast Campgrounds
1. Loon Lake Campground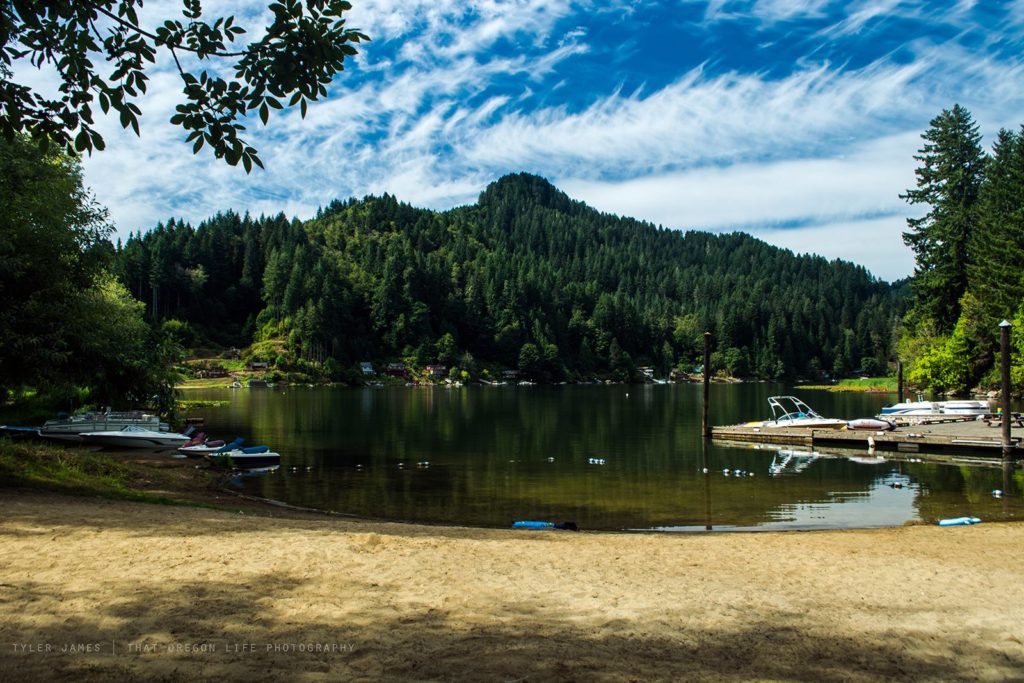 Look Lake is special to me, as this is a place I have been camping at since I was around 6 years old. As a father of 2 children myself today, both of my kids now enjoy this pristine lake as well on our many camping trips. Loon Lake has everything to offer and is a prime campground on the coast for family camping. Loon Lake offers tent camping and RV hookups as well. There is a lodge nearby that offers snacks, beverages, ice and anything else you may need in the case you run out. We do recommend coming prepared, as this lodge can be rather expensive. The closest town is Reedsport, which is a good drive and will take at least 45 minutes to get to. The last time we camped here, we even enjoyed some live music on the dock right off the lake!
More Information: Website
2. Sunset Bay State Park Campground
Sunset Bay State Park is a state park in the U.S. state of Oregon, administered by the Oregon Parks and Recreation Department. Less than a mile south of Cape Arago Lighthouse, and 2.5 miles outside the town of Charleston on Coos Bay you will find beautiful sandy beaches protected by towering sea cliffs. Just a short walk from the beach, the park offers a crescent-shaped beach, tide pools, hiking trails, and a year-round campground.
Sunset Bay State Park offers 30 full-hookup sites, 35 electrical sites with water, and more than 65 tent sites with water nearby. Three campsites and three yurts are accessible to campers with disabilities.
More Information: Website
3. Harris Beach State Park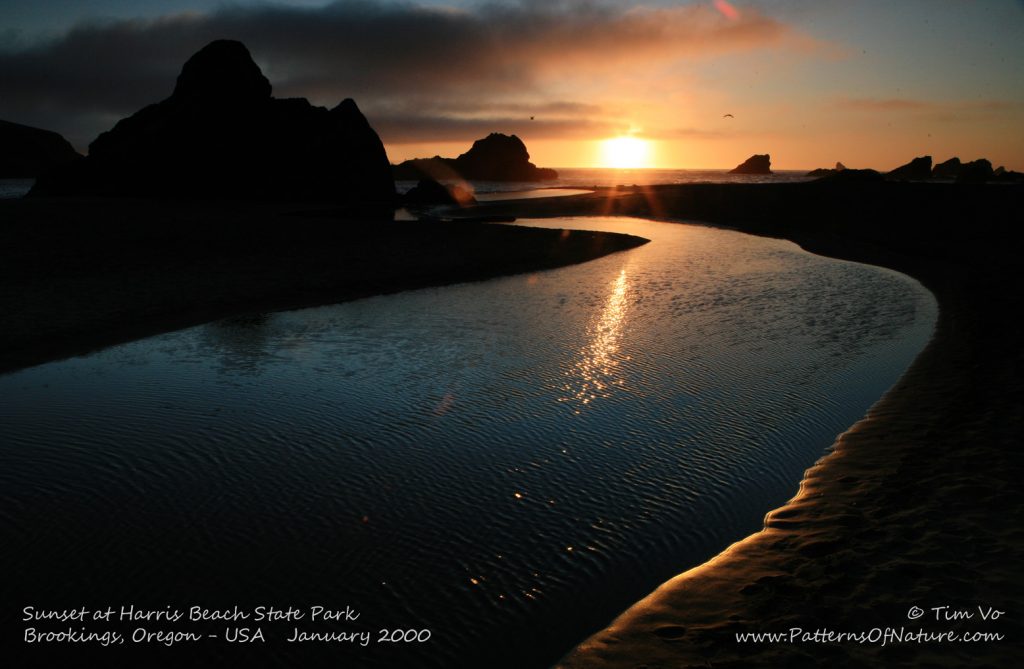 You will find this gorgeous campground in a grove of spruce and just north of Brookings. The park is owned and operated by the State of Oregon. Harris Beach State Park is the southernmost coastal campground in the Oregon State Park System. It is located 2 miles north of Brookings, Oregon, and just 7 miles north of the California/Oregon border. It is also pleasantly situated on a bluff above the ocean.
There is a paved road from the campground down to the day use area at the ocean's edge. Once at the ocean, there are dozens of potential activities including tide pooling, long beach walks, wildlife viewing, and benches to sit on to simply enjoy the view. Watch for gray whales on their winter and spring migrations, Harbor seals, and California sea lions. Just offshore is the largest island on the coast of Oregon.
It has been named Bird Island (also called Goat Island) and it is a National Wildlife Sanctuary and breeding site for such rare birds as the tufted puffin. Within the campground are flush toilets, hot showers, firewood, and several camp hosts. The campground is suitable for both tent camping and RV camping. Open year-round. Reservations are available. The nearest restaurants, grocery shopping, and services are available in Brookings, less than 2 miles south of Harris Beach State Park.
"Had a great two nights here, quiet, even near the road. Near beach, easy access. Great photo opportunities. Hiking trails, camping and close to Brookings" (Review from Tripadvisor.com)
More Information: Website
---
RELATED: 19 Best RV Parks On The Oregon Coast
---
4. Cape Blanco State Park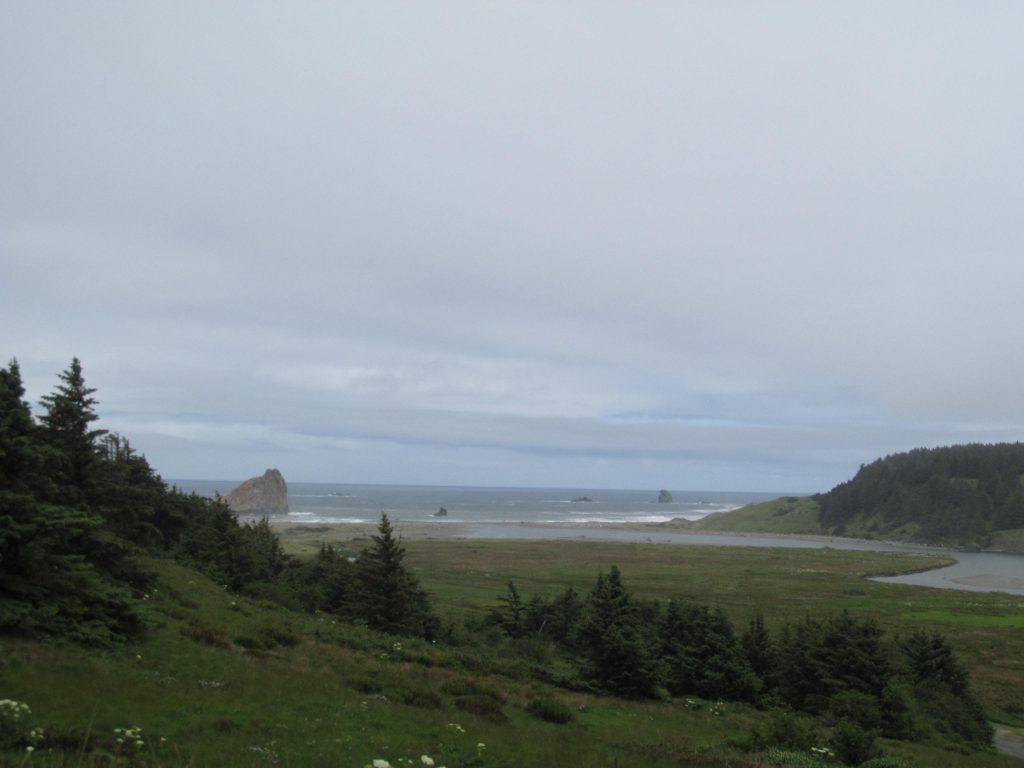 A beautiful and often-blustery campground at the state's westernmost point, just north of Port Orford and Humbug Mountain. Campground trails lead down to the beach and to the nearby lighthouse.
"It is a great little park. You get water and electric 50 amp for $22.00. It has slot of sites over 40 Ft. This is always a windy area but the trees cut a lot of the wind. The lighthouse and Port Orford make it worth the stop. Beware the dump station is closed !!! There will be no satellite or phone service." (Review From TripAdvisor.com)
More information: Website
5. Sunset Bay State Park
Sunset Bay State Park is a state park administered by the Oregon Parks and Recreation Department and offers one of the most scenic areas on the Oregon coast. It is located about 0.4 miles south of Cape Arago Lighthouse, and 2.5 miles outside the town of Charleston on Coos Bay, and is a hop and a skip away from the beach.
The park offers a crescent-shaped beach, tide pools, hiking trails, and a year-round campground. Sunset Bay offers sites with tent camping and RV's, as well as yurts.
6. Alfred A. Loeb State Park
Alfred A. Loeb State Park, known as "Loeb" by the locals, is a state park on the banks of the Chetco River near Brookings, Oregon. The park offers camping, hiking, fishing, swimming, and rafting opportunities.
In the parks, boundaries are 3 rental cabins, 53 camping sites, a launch area for drift boats, a day use area, and the trailhead of a .75 mile trail that the official Web site says leads to the northernmost redwood grove in the United States.
More Information: Website
7. Bullards Beach State Park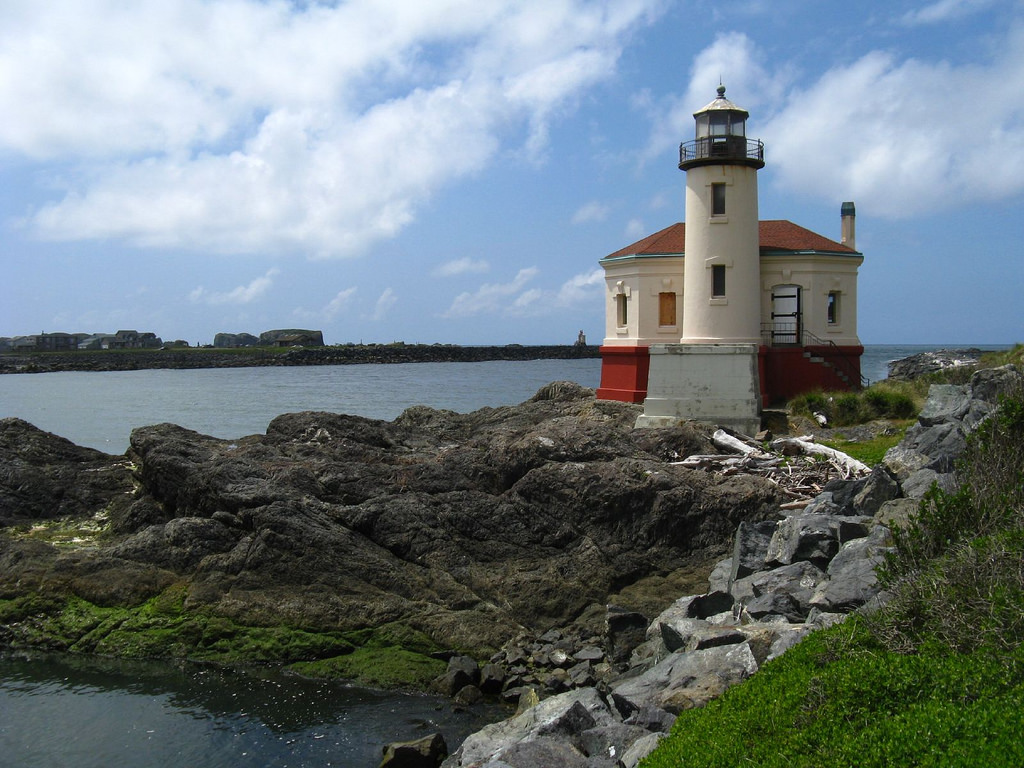 This large family-friendly campground is located just two miles north of Bandon. This wonderful campsite offers beach access, 185 tent sites, and 103 full hook-up RV sites. In addition to campsites, Bullard's offers 13 yurts, making this place a great choice for year-round camping. As an extra bonus, the magnificent historic Coquille River Lighthouse is just at the end of the beach access road in the park.
Visit a variety of shops, galleries, and restaurants in the town that is called "The Cranberry Capital of the World," as well as the "The Storm Watching Capitol of the World." Full hookup campsites are $28 per night at this year-round park.
More Information: Website
---
RELATED: 10 Awesome Oregon Coast Yurt Rentals For Less Than $60
---
8. Tillicum Beach Campground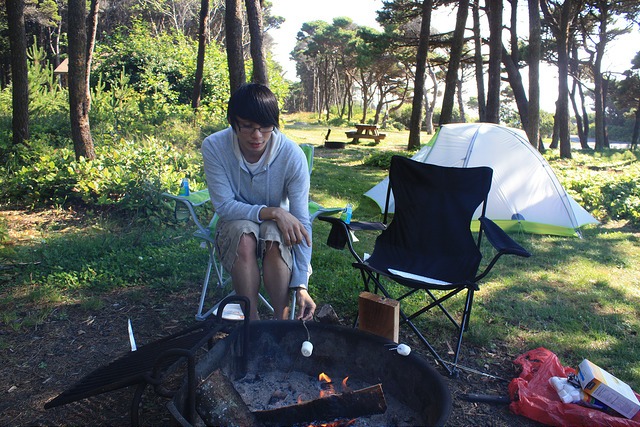 Smack dab between Waldport and Yachats you will find this popular campground on the coast. Tillicum Beach Campground is a great place to enjoy the beach, whether it's cold, warm, sunny, rainy or any combination. The campground has sites that overlook the beach and we have some electric hookup sites.
You will find here miles and miles of endless sand and access to a well-kept manmade walkway with metal railings. Watch the sunset from your campsite, and access the beach from 2 different stairways leading from the campground. The campground includes 59 campsites, RV spots and even has a small amphitheater that comes complete with an electrical system and a large outdoor movie screen helps make this one of the coolest Forest Service campgrounds in existence.
More Information: Website
9. Harbor Vista County Park
This campground is well located on the middle coast in Florence, Oregon with sweeping ocean views and easy beach access. Facilities include 15 acres (6 ha) of tent and RV camping year-round. Features bathrooms with coin showers, on-site care-taker, RV hook-ups, picnic tables, kid's playground, and nearby hiking. Reservations are available.
One review from Facebook:
I absolutely recommend this park. They had hookups and the sites were very private. We could walk to the beach. The restrooms and showers were free and clean.
More information: Website
---
RELATED: 12 Best Seafood Restaurants on the Oregon Coast
---
Northern Oregon Coast Campgrounds
Looking for Oregon Coast campgrounds up north? Here are a few we think you might like.
10. Hares Canyon Horse Camp
Only 34 miles from Portland with over 1,500 acres providing an extensive network of horseback riding trails, you will find this spot located in L.L. Stub Stewart State Park – a newer addition to the Oregon State Parks system.
You will need to plan in advance as camping here is open only between March 1 and November 1, with reservations filling quickly. There are 15 full hookup sites that include horse stalls, with electricity and water. There are also manure bins provided in addition to toilets and hot showers.
More Information: Website
11. Jones Creek Campground
Located not far from Tillamook State Forest in Northwest Oregon, you will find Jones Creek Campground. With plenty of recreation to keep you busy nearby, this is a very nice campground. Sites at Jones Creek will set you back around $15-20 per night (as of 2020). Walk-in sites cost $15 and drive-up sites are $20.
Moderate in size, the campsites also offer a fair amount of privacy with plenty of shade and underbrush. The Jones Creek Campground has 42 campsites currently. Although Jones Creek is typically open May through September, the site was closed in 2020 due to the virus. It would be a good idea to contact the ranger station prior to your trip to check on the campground status.
Campsites include a table and fire pit. Potable water, bathrooms, and garbage are available at this well-kept campground. If you need firewood, a camp host nearby sells it when it's available. Small RVs would be okay for camping here, however, RV hookups are not available.
Coordinates: 45.5884628, -123.5594711
More Information: Website
12. Keenig Creek Campground
Right off the Wilson River Highway, 18 miles east of Tillamook, Oregon you will find Keenig Creek Campground. This rustic site is located above the Wilson River, adjacent to Keenig Creek. The campground includes 12 small walk-in tent sites, two day-use picnicking sites and a trailhead to access the Wilson River Trail, along with fishing and plenty of swim holes. Campsites at Keenig Creek include a tent pad, picnic table and a fire grate. If you're in the mood for a challenging hike, the Wilson River Trail is a 21-mile scenic route extending from Keenig Creek to Elk Creek Trailheads. This trail can be accessed from different points including the Keenig Creek Trailhead.
More Information: Website
13. Barview Jetty County Park Campground
Another great campground near Tillamook is the Barview Jetty County Park Campground. Thie coastal campsite features 242 tent sites and 73 sites with full hook-ups and space for RVs, trailers, and tents. Reservations are available year-round for all campsites. Reservations are available 9 months in advance of the arrival date. A few sites are first-come, first-served. Campsite reservations are complex.
More Information: Website
14. Cape Lookout State Park Campground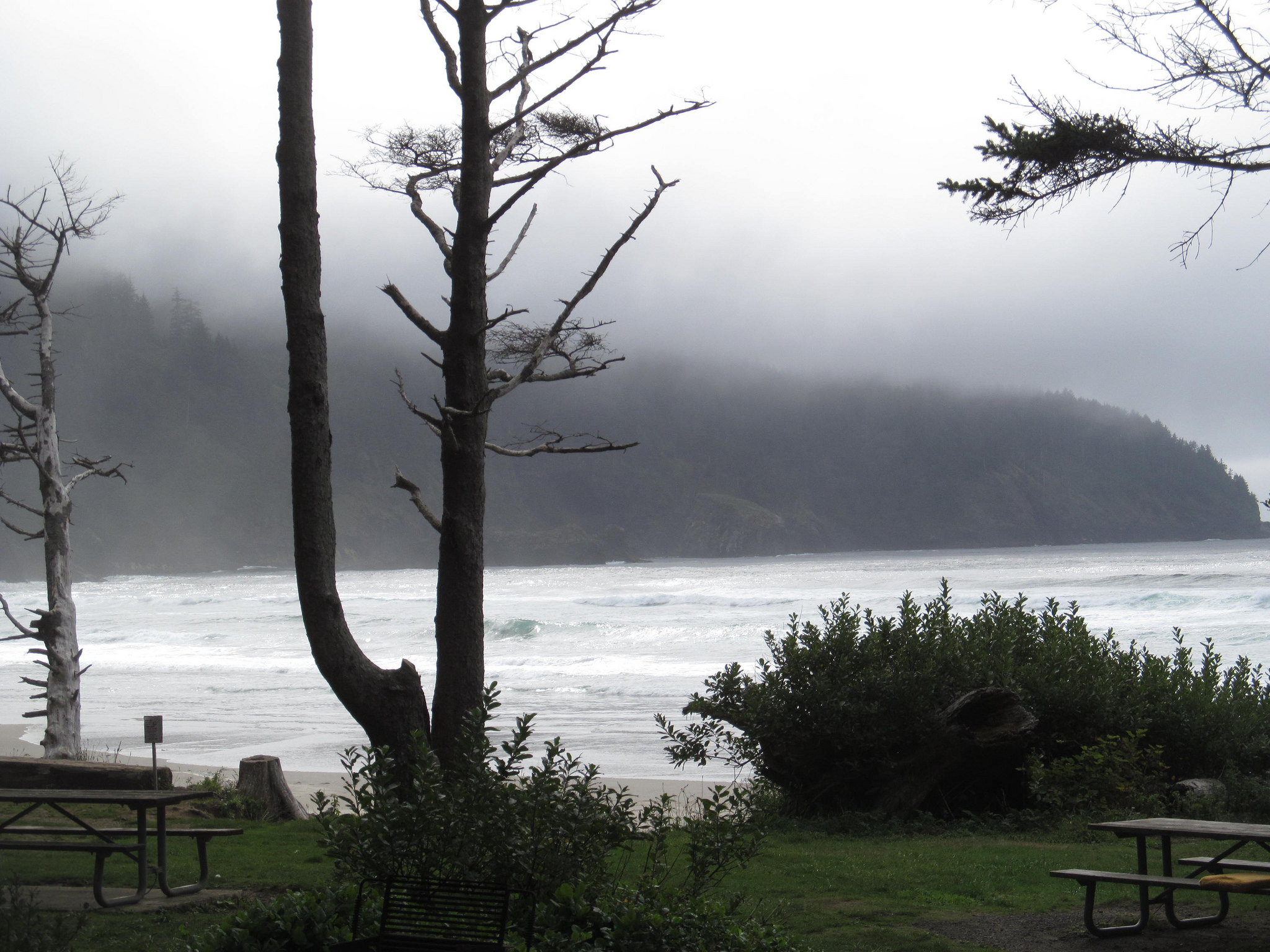 Where Whiskey Creek Road becomes Cape Lookout, is a monster campground with 170 tent sites and 35 full-hookup sites. You will find Cape Lookout State Park by traveling an hour and a half west of Portland, through the gorgeous Wilson River pass. Along your travels, you can stop for waterfalls, incredible views, and also some great fishing along the pass.
Cape Lookout offers easy access to the beach and a perfect view of the ocean. If you love to hike, you will find eight miles of hiking and walking trails through a lush old-growth forest. The campground also offers 13 yurts, six deluxe cabins, 2 group tent camping sites, hot showers and toilets, and one electrical site with water. If you need firewood they do offer it here for sale also.
Two campsites and one cabin are accessible to campers with disabilities. Nine yurts and one cabin have ramp access but are not ADA-compliant.
More Information: Website
15. Nehalem Bay State Park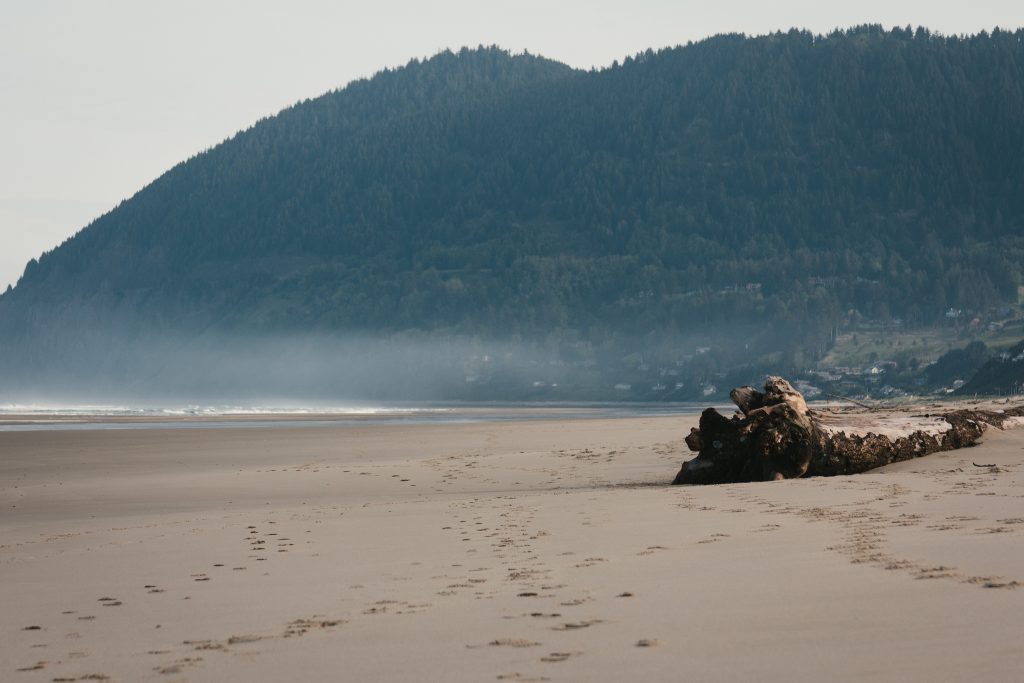 Nestled between the ocean and the bay, Nehalem Bay State Park is situated on a 4 mile long sand spit. Located 86 miles west of Portland along the north Oregon Coast, Nehalem Bay State Park features a campground, two day-use areas and a variety of activities for the whole family.
Situated among a sea of shore pines, the campground borders rolling dunes that separate the campground from the beach. A walk over the dunes and you're at the beach building sandcastles, flying a kite or relaxing to the sound of the ocean. Beach-combing can produce special rewards – treasures that include agates, shells, and occasionally glass floats. End the day with a sunset over the ocean in the shadow of Neah-kah-nie Mountain.
More Information: Website
---
RELATED: 9 Free Oregon Campgrounds Worth Checking Out
---
16. Cape Lookout State Park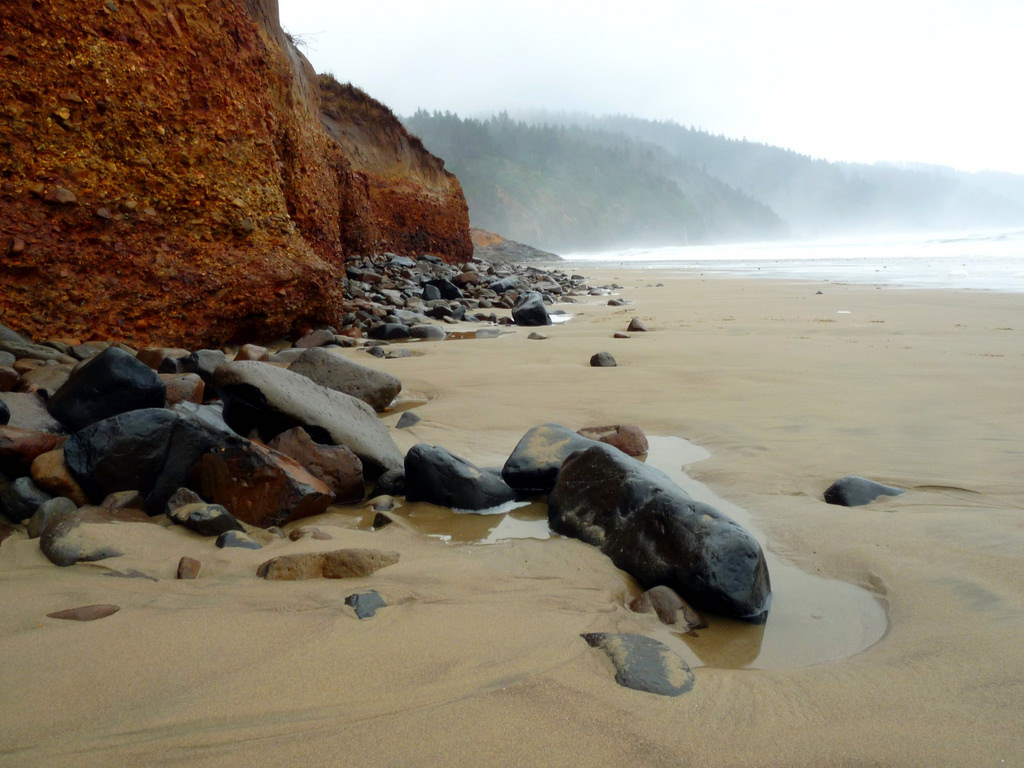 Cape Lookout State Park can be reached by traveling an hour and a half west of Portland through the scenic Wilson River pass. Along the way stop and enjoy waterfalls, scenic views, and some great fishing.
A popular campground and day-use area, Cape Lookout is located on a sand spit between Netarts Bay and the ocean, giving you a terrific view of the ocean with easy access to the beach. Beachcombing is popular here, and the park is reputedly a good place to find glass floats. More than eight miles of hiking and walking trails wind through a lush old-growth forest. The Cape Lookout trail follows the headland for more than two miles. A bench is located at the end of the trail. Enjoy the view! You might see a whale or two along with other wildlife.
More Information: Website
17. Saddle Mountain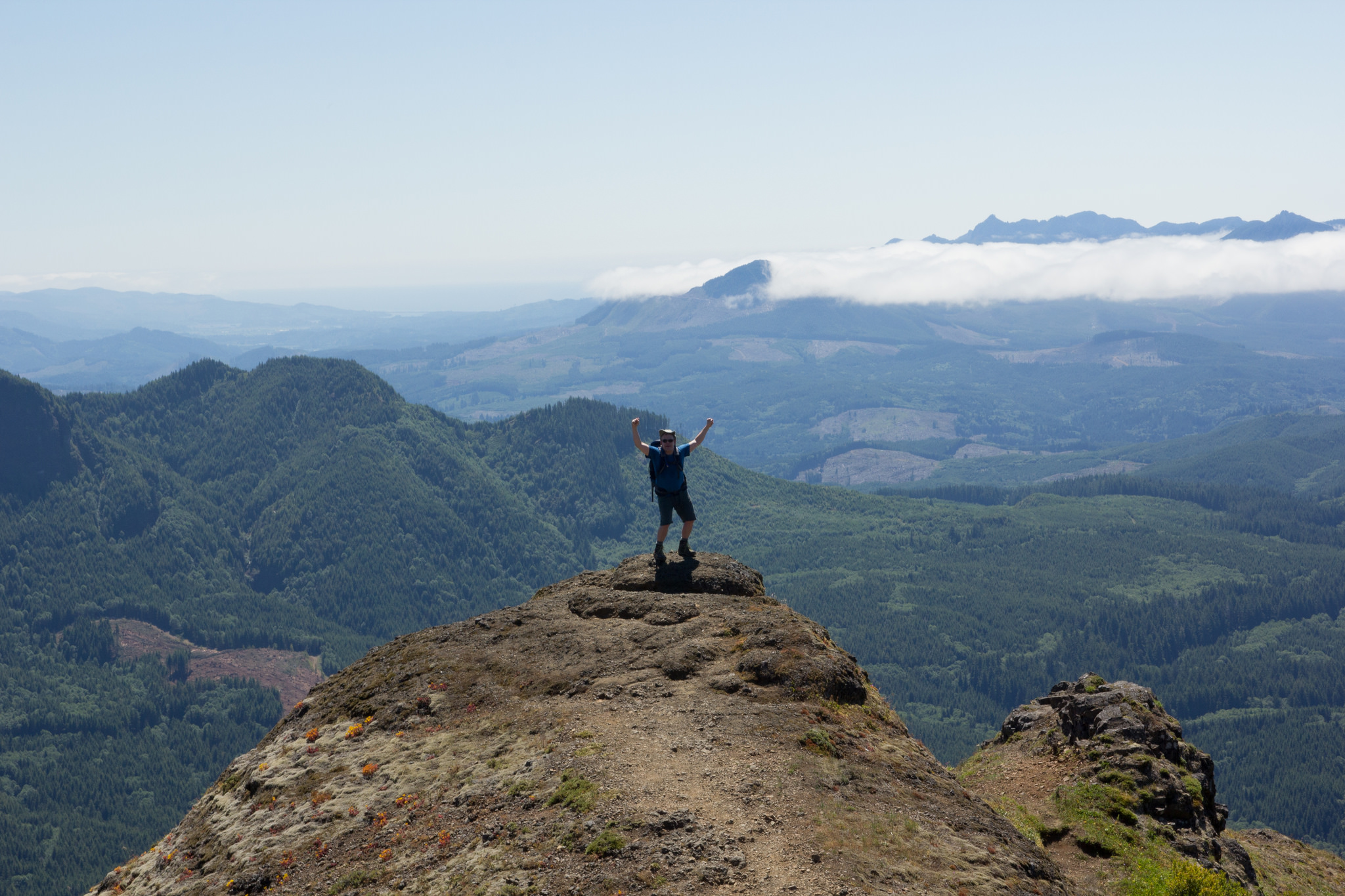 Saddle Mountain State Natural Area is a wonderful area known for its hiking trails, wildflowers, and breathtaking views. Saddle Mountain includes 10 primitive walk in tent sides and a day-use picnic area. On a clear day, visitors will be able to see the sweep of the Columbia River as it enters the sea, miles of Pacific shoreline- and on the eastern horizon, the Cascade Mountains in Oregon and Washington.
More Information: Website
---
RELATED: Saddle Mountain Hike Near Seaside, Oregon Offers Breathtaking Views
---
Central Oregon Coast Campgrounds
18. Jack Morgan Park
You will find this eleven-acre parcel located along both sides of State Hwy 229, at mile marker 17.5. On the west side of the highway, there is a concrete boat ramp into the Siletz River, concrete vault restrooms, and a picnic area with tables. Kayaking, drifting, fishing, and swimming are very popular during the summertime here. Drop your lure for a chance to catch some delicious Chinook and Steelhead. The west side of the park is day-use only with no fee.
The private campground, surrounded by spruce trees is on the east side of the Highway along Hough Creek. There are 17 campsites here that include a picnic table, and a fireplace/barbeque pit. Guests can get potable water nearby. Jack Morgan Park Campground is open year-round for all-season camping. It may be reserved nine months in advance.
More Information: Website
19. Barview Jetty County Park
On the edge of beautiful Tillamook Bay, you will find around 293 campsites on the edge of town, overlooking both the ocean and the bay. Barview Jetty offers 219 tent sites as well as 69 RV sites. RV hookups, bathrooms, showers and much more are included.
At first glance, Barview may seem like just a small community with some homes and a couple of businesses, but the park reveals a long slightly alien-looking beach that wraps around the bay mouth and oceanfront. You will even have access to the jetty at this prime camping spot on the Oregon Coast.
More Information: Website
20. Devil's Lake Campground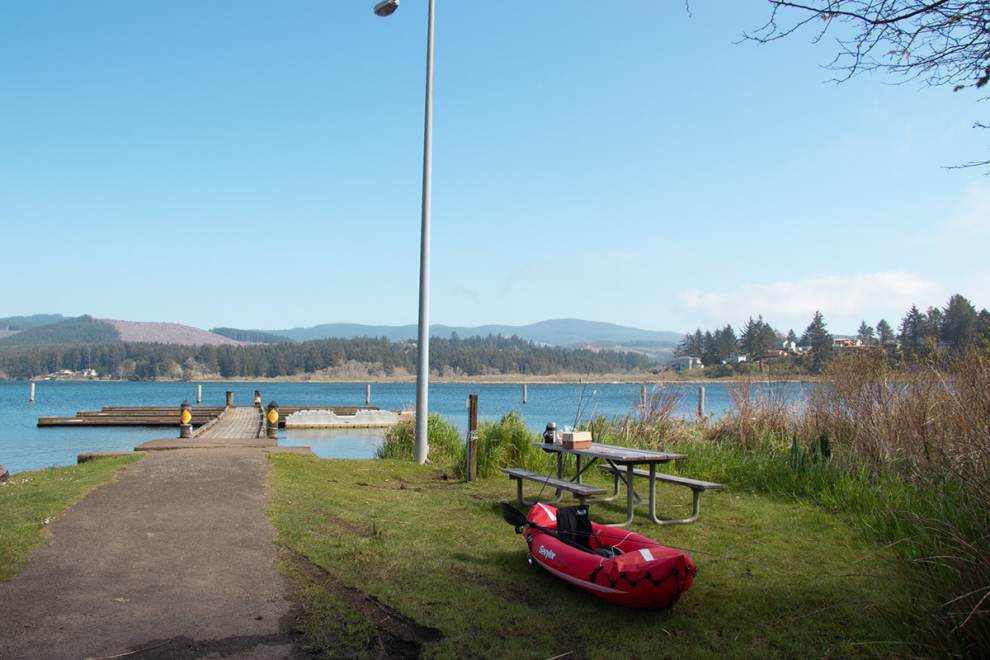 This hidden little gem is said to be the only Oregon Coast campground within a city. You will find once you arrive, it does not feel like you are close to town at all, with tall trees and luscious greens surrounding you. The campground is not directly on the lake beautiful Devils Lake, however, there is a paved path nearby. You can pitch a tent or even rent a yurt. Kayaking is also very popular here. Sites fill up 6 months in advance with annual trips and repeat visitors who cannot wait to return.
More Information: Website
21. Fort Stevens State Park
By far, one of my favorite all-around places to camp as a family. Located on the northwest tip of Oregon in Warrenton, Oregon, Fort Stevens state park is one of Oregon's largest campgrounds and parks. More than half of the recreational area is a converted military base. Follow the paved bike paths throughout Fort Stevens and find yourself biking past old military bunkers and bases. Growing up, we would drive out and just explore the bases and play hide and go seek in them. Aside from the military bases, you can also bike a few miles further out to the beautiful Jetty at the mouth of the Columbia River.
Here you can climb the viewing platform and watch the waves crash against the rocks or just sit and watch boats travel through the mouth of the river. If you ever visit here in the winter, the waves get MASSIVE and when they hit the rocks, they spray up onto the viewing tower. Close-by is also the Military Museum and last but not least every camper needs to visit the remains of the Peter Iredale shipwreck on the beach.
There is not as much left, but it still makes for great pictures. You can see the original ship wreak photos at the museum. Close to the main camping area is also Coffenbury Lake. Here you can enjoy a day of relaxing by the water, fishing or bring a canoe or paddleboard and travel out on the lake. Keep in mind, there is a 5 knot speed limit on the lake, so no jet skis or wake boats. The lake is stocked every year with rainbow trout, so there is always something to catch. Fort Stevens has more than 500 camping sites that are accessed through two massive loops. Each site is within walking range to a bathroom and there is water on tap near all the sites. Typically you will need to book a spot a year out as it is popular and very busy.
More Information: Website
22. Lincoln City KOA
The Lincoln City KOA is a very family-friendly campground that sits just outside the city limits. While still secluded, you are close enough to the beach to enjoy whale watching. Both RV and tent camping is available, with access to 50 amp service.
More Information: Website
---
RELATED: The Neskowin Ghost Forest of Oregon is Incredible
---
23. Jessie M. Honeyman State Park
Originally known as Camp Woahink, Jessie M. Honeyman Memorial State Park is located three miles south of Florence, on Highway 101 in Lincoln City, Oregon. This spot is commonly referred to as Honeyman State Park and is extremely popular. With over 200 campsites, all-terrain vehicle access, swimming, fishing, and sandboarding, you are guaranteed to have a great time here. The 27,212 acres Oregon Dunes National Recreation Area adjoins the park to the west.
You will want to book up to 6 months in advance to ensure your spot. Camping here includes 47 full-hookup sites, 121 electrical sites with water, 187 tent sites with water nearby, and 10 yurts. You can find firewood for sale, as well as bathrooms with hot showers.
More Information: Website
24. Beverly Beach State Park
If you're lucky enough to get it, you can reserve one spot here that overlooks the ocean! There's a well-known walkway that goes under the highway and emerges to the long expanse of sandy beach extending from Yaquina Head (you can see the lighthouse from here) to the headlands of Otter Rock.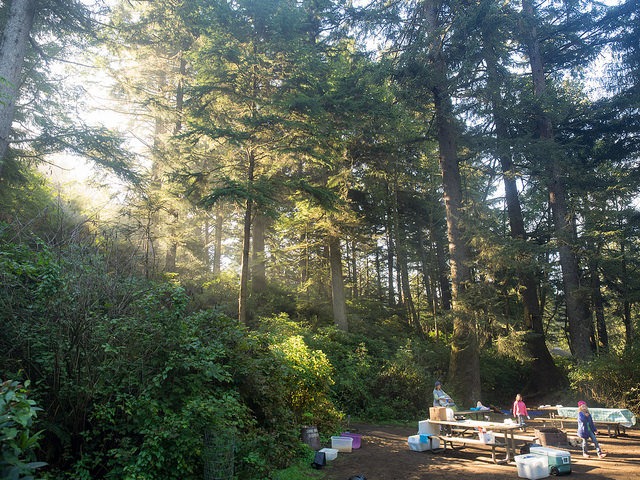 Beverly Beach State Park is a nice campground hidden in a forest between Cape Foulweather and Yaquina Head. These great sites and the park's day-use area are only steps away from the ocean beach. Whale watching viewpoints, tidepools teeming with sea life, and the Oregon Coast Aquarium are just a few things you can look forward to here. With Newport right here, all the shops and restaurants are close by too.
Beverly Beach includes 21 rustic yurts, 53 full hookups, 128 tent sites, and 75 electrical sites. With each individual campsite, you get one vehicle and expect to be charged an extra fee for each additional vehicle. The max number of vehicles per site is two, including a tow vehicle.
More Information: Website
25. South Beach State Park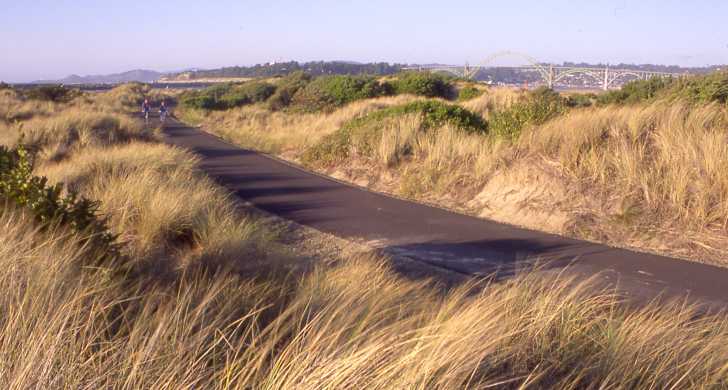 Situated next to the Yaquina Bay Bridge, South Beach State Park begins in south Newport and stretches several miles down the Oregon coast. This large campground has easy access to the beach. Lucky folks who sign up early and pay a few bucks extra can join a guided paddle trip up the nearby Beaver Creek estuary. The paved jetty trail provides a perfect place to jog or ride a bicycle. Forgot your bike? The Hospitality Center rents out bikes daily during the summer months.
More Information: Website
26. Carl G. Washburne State Park
Washburne is located on the east side of Highway 101 with a buffer of native plants and trees between you and the highway. The campsites are spacious and are available on a first come first served basis except for the two yurts which are reservable. There are several trails of varying difficulty leading from the campsites to the beach, wildlife viewing areas, and second-growth forests.
A walking trail leads you under the highway to a five-mile sandy beach and a day-use area, where you'll find space to watch whales, hunt agates, beachcomb, and picnic. Another trail connects you to the Heceta Head trail, which you can use to reach the historic Heceta Head lighthouse.
In the campground at night, you can hear the pounding surf. There is a creek running through the campground, and elk have been known to wander through. Wild rhododendrons bloom in spring.
More Information: Website