There really is no place in the world like the Oregon Coast. It's truly one of the most relaxed, amazing experiences anyone can have in Oregon. Not only is it a great place to walk on the beach, but there are plenty of tasty Seafood Restaurants on the Oregon Coast offering fresh fish, amazing burgers, and incredible beachfront views.
Best Seafood Restaurants in Oregon
We asked you our readers what YOUR favorite seafood restaurants on the Oregon Coast are, and here are a handful of your unanimous responses. The best beaches, best seafood, best clam chowder, and best ocean views.
1. Clearwater Restaurant, Newport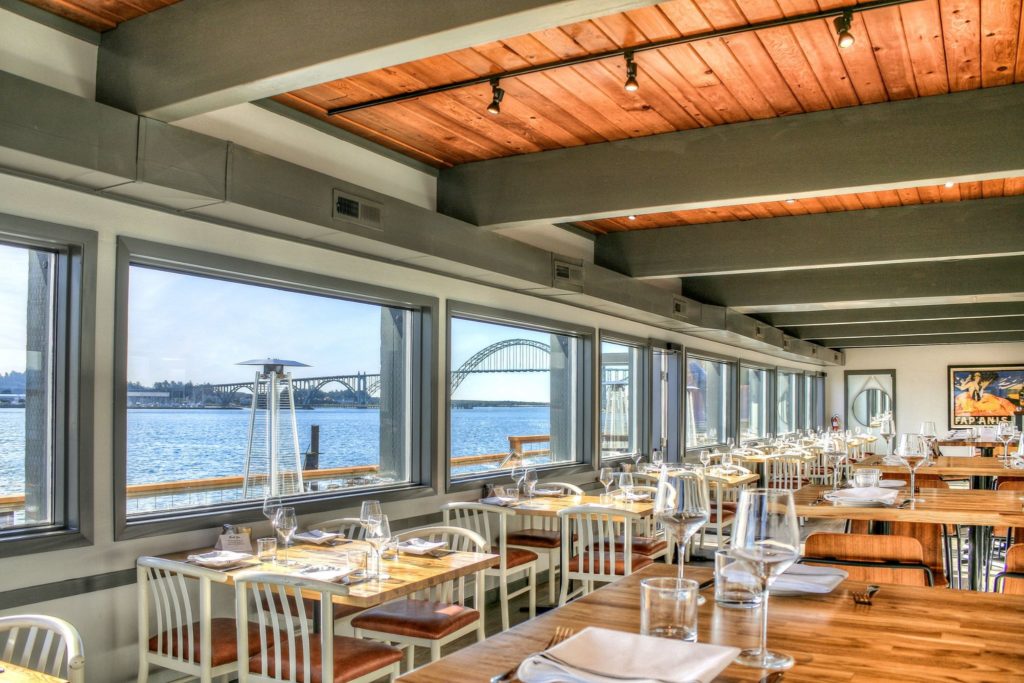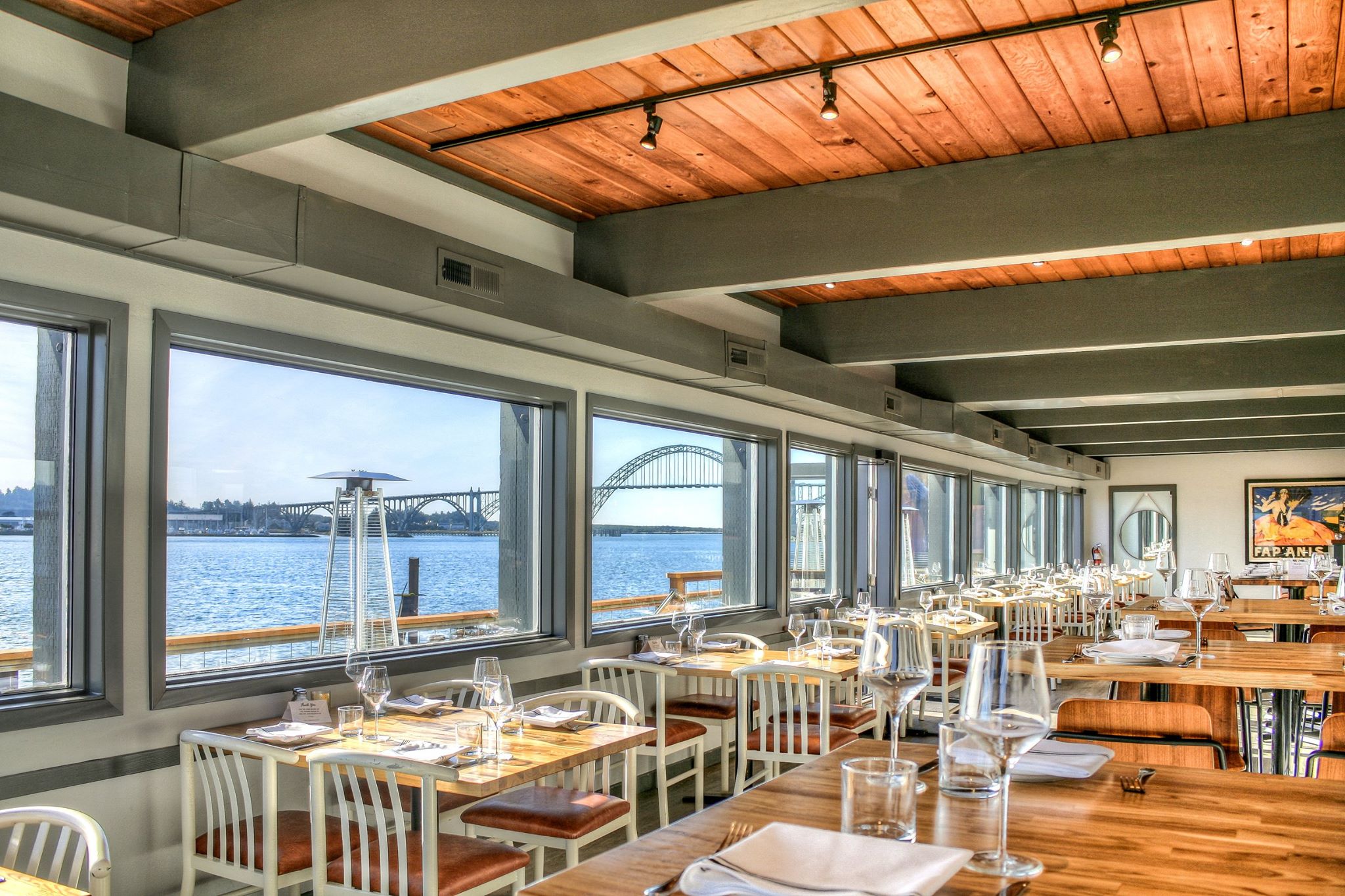 The glorious food, incredible view of the ocean with the sea lions at bay, and the atmosphere make it easy to see how Clearwater continuously wins Best of Newport awards year after year. Expansive views of the McCullough/Yaquina Bay Bridge from two dining rooms make a person just want to stay and relax.
Clearwater's Chef, Doublas Soriano, has 20 years of experience in gourmet restaurants and his dishes are a feast to the eyes as well as the palate. Some of our favorite dishes here are the heavenly Pink Shrimp & Crab Melt, Miso Chicken Skewers, and the creamy Avocado Fries. Quinoa-crusted and served with house-made chipotle ranch, these thick "fries" are amazingly crispy on the outside and rich avocado inside. Divine.
Clearwater Restaurant
Where to Find Them:
325 SW Bay Blvd, Newport, Oregon, 97365
Phone for Reservations: 541-272-5550
--------------------
2. Redfish, Port Orford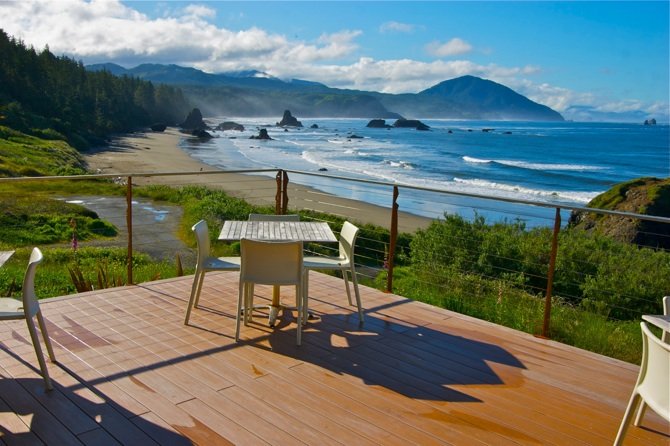 Opened in Summer 2010, Redfish offers affordable French-inspired coastal cuisine and drink in a modern, casual, and original setting with one of the most spectacular views of the Pacific Ocean on the Coast. Redfish serves only the highest quality product, and they source only from local farmers and fishermen wherever possible. Chef Paul regularly seeks out local and regional partnerships with family producers and artisan purveyors to ensure fresh, unprocessed foods that pay respect to the environment, their providers, and guests. Vegan and vegetarian options are always available as well!
Redfish Restaurant
Where to Find Them:
517 Jefferson St, Port Orford, OR 97465
Phone for Reservations: 541-366-2200
-------------------
3. Kyllo's Seafood & Grill, Lincoln City

Kyllo's is a family-owned business that has been serving only the freshest locally sourced seafood for over 25 years. They offer fresh oysters and clams from Willapa Bay, Dungeness crab, halibut, salmon, lingcod, sole, and Oregon pink shrimp. Also available are their fresh-cut grass-fed steaks, burgers, artisan salads, and some of the best (made from scratch daily) clam chowder. Their bar offers an amazing happy hour alongside custom handcrafted cocktails. Kyllo's takes great pride in making their own house dressings & sauces, as well as hand-cutting their fish and steaks daily in order to provide the freshest meal possible.
Wait times at Kyllo's can be on the long side, but fortunately, they have a remedy for that. Enjoy a tasty adult beverage on the bar deck while you wait, and take in that stunning view.
Kyllo's Seafood and Grill
Where to Find Them:
1110 NW 1st Ct, Lincoln City, Oregon, OR 97367
Phone: 541-994-3179
Web: kyllosseafoodandgrill.com
--------------------
4. Tidal Raves, Depoe Bay

Since owners Jon and MaryLynne Hamlin opened their doors in 1990, Tidal Raves has been committed to bringing an outstanding dining experience to your table. Jon is a graduate of The Culinary Institute of America in HydePark, NY, and he utilizes over 30 years of experience in leading the Tidal Raves staff.
Try the Seahawk Bread, a fresh baguette with smoked salmon, cream cheese, havarti, shrimp, and red onion. Other personal favorites of ours are the Gnocchi with Grilled Chicken, Red Curry BBQ Shrimp, and of course the Dungeness Crab Cakes.
Tidal Raves
Where to Find Them:
279 US-101, Depoe Bay, OR 97341
Phone: 541-765-2995
Web: tidalraves.com
--------------------
5. Pelican Pub and Brewery, Pacific City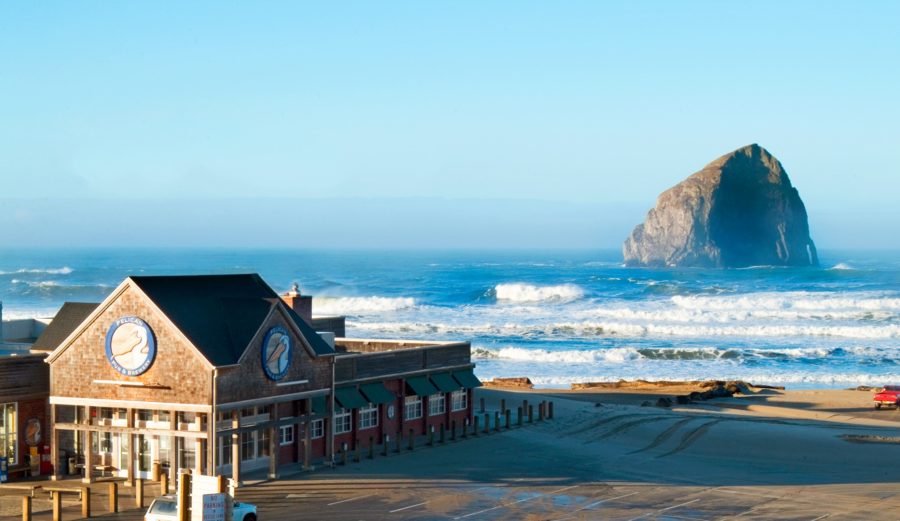 Incredible beer, good food and killer views of Cape Kiwanda make Pelican Brewing a must-visit during your trip to the Oregon coast. If you're into award-winning beer, beer-inspired food, and want a front-row seat to a sunset over the Pacific, then add Pelican Brewing to your Oregon coast bucket list. The company itself worn in a run-down oceanside building in 1996 when "three enthusiastic young folks whose thirst for great beer overshadowed their understanding of what it would take to build a brewery". We're glad they took the plunge and did it anyway.
Pair one of their original brews (I LOVE the Kiwanda Cream Ale) with a seriously good Roasted Pepper and Bleu Burger or their signature Dungeness Crab Mac & Cheese.
Pelican Brewing also has locations in Cannon Beach, Tillamook, and is coming soon to Siletz Bay in Lincoln City.
Pelican Brewing Pacific City Brewpub

Where to Find Them:
33180 Cape Kiwanda Dr, Pacific City, OR 97135
Phone: 503-965-7007
Web: pelicanbrewing.com
--------------------
6. Georgie's Beachside Grill, Newport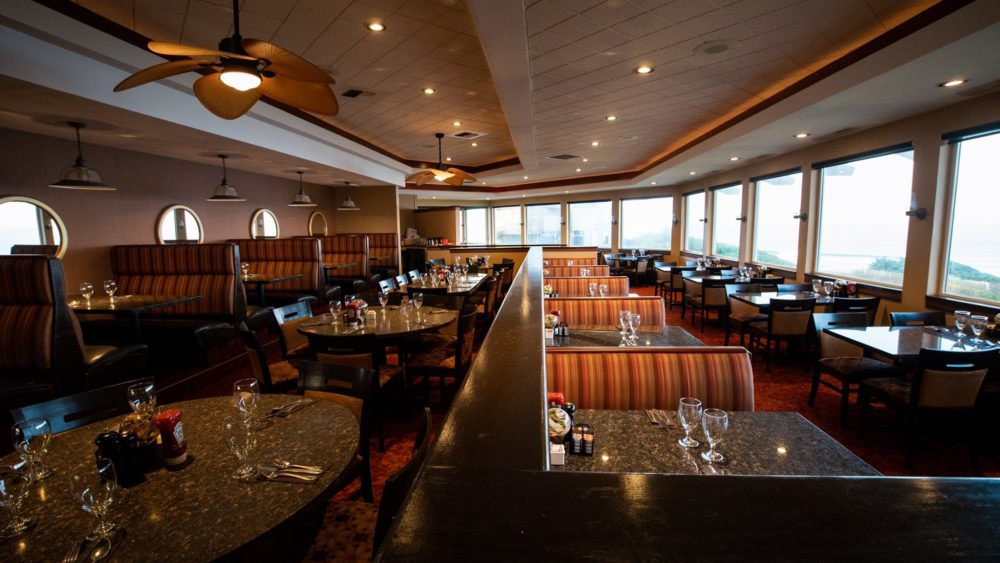 Hands down, Georgies has some of the best Clam Chowder to be found on the Oregon Coast.
You enter the restaurant and the first thing you notice is the view. The Pacific Ocean unfolds from tableside windows and sets the scene for a remarkable dining experience. Then you notice a few other things. Servers greet guests with a warm smile. Bartenders create crafted cocktails without a side order of arrogance. And kids are actually… happy to be here. It's no wonder this restaurant is a favorite with both visitors and locals alike.
The menu reads like it's for a place where the jackets required are more of the polar fleece kind. There's no Foie Gras to be found or small portions that leave you longing for more. It's just plenty of mouthwatering authentic Northwest favorites with an emphasis on seafood. From expertly prepared halibut, salmon, Yaquina Bay Oysters, Dungeness crab and more to inventive dishes like the locals' favorite, Diablo Seafood Pasta, every appetite will be satisfied. There's even a delectable kids menu, vegetarian and gluten-free fare as well.
Georgie's Beachside Grill
Where to Find Them:
744 SW Elizabeth St, Newport, OR 97365
Phone: 541-265-9800
Web: georgiesbeachsidegrill.com
--------------------
7. The Wayfarer, Cannon Beach

Since 1977, The Wayfarer has been showcasing its classic coastal seafood roots, with a menu focused on high quality, local, and seasonal ingredients: troll-caught salmon out of nearby Astoria, Dungeness crab with wild chanterelles, and fresh, local oysters. Grilled steaks and pan-iron chicken balance surf with the turf. Craft cocktails, Northwest beers on tap, and a whiskey bar accompany the beautiful ocean view. Breakfast and lunch are perfect for families, with favorites like cinnamon roll French toast, eggs Benedict four ways, a children's menu, and a relaxed, sunny vibe.
While you're here, make a stop at the Wayfarer Whiskey Lounge where celebrated mixologist Nathan Gerdes, winner of the nation's "Most Imaginative Bartender" by the US Bartender's Guild, will be mixing up sea-and-shore inspired concoctions.
The Wayfarer
Where to Find Them:
1190 Pacific Drive, Cannon Beach, OR 97110
Phone: 503-436-1108
--------------------
8. Restaurant Beck, Depoe Bay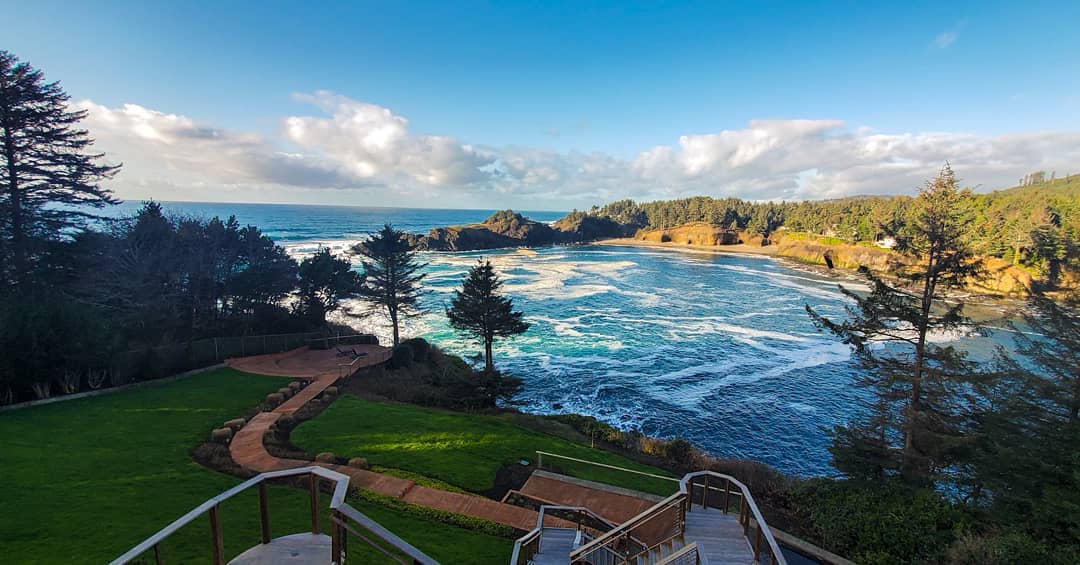 Restaurant Beck is truly an experience to remember, with views overlooking the stunning Whale Cove, and award-winning chef and owner Justin Wills (the venue is named after his son, Becker). His wife and co-owner Stormee is the General Manager and Sommelier.
This is a four-star establishment, so if you're looking for a fine dining experience on the Oregon Coast, Restaurant Beck may just be for you. Menus here are updated every Friday, so check their website for what's currently offered. This week it may be an American Wagyu Beef Bavette with Fire-roasted Padron, cherry tomato, almond, compressed green tomato, and shallot cream. Next week you may find Wild Halibut with local huckleberries, sunflower seeds, shaved fennel, fennel frond, and house-made yogurt.
Restaurant Beck and Whale Cove Inn
Where to Find Them:
2345 US-101, Depoe Bay, OR 97341
Phone: 541-765-3220
Web: restaurantbeck.com
--------------------
9. Edgewaters, Bandon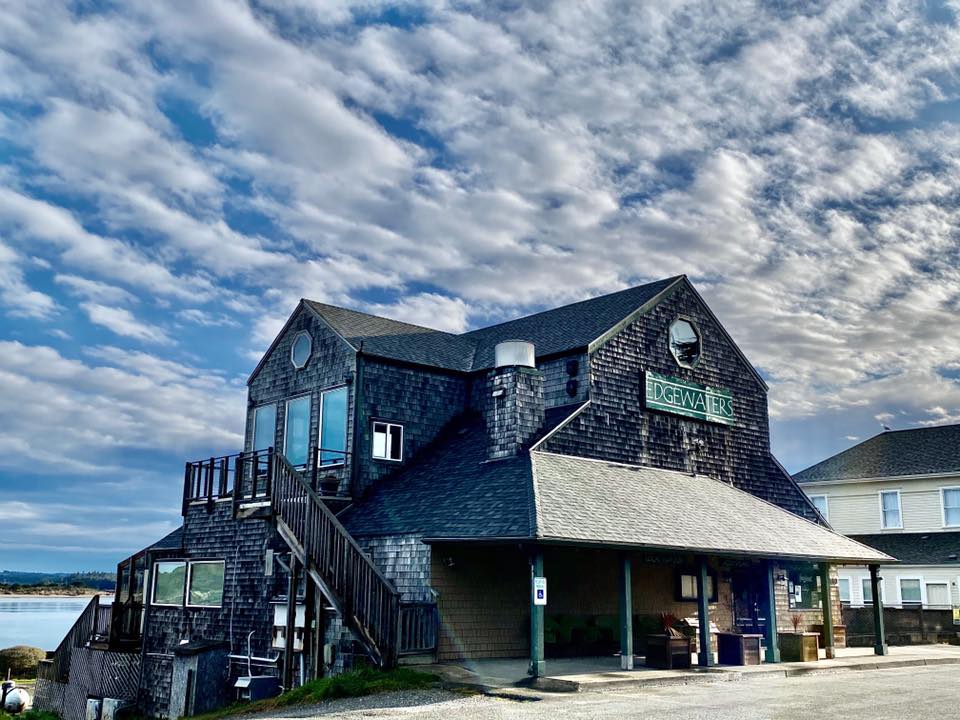 Edgewaters is an independent family-owned restaurant serving up hand-cut aged steaks, seafood, and pasta since 2012. Some of the best views of the Coquille River can be had here too. Chef Bob has been cooking up delicious culinary creations for over 30 years, and it shows in everything from Edgewaters' menu to their staff. His philosophy is easy: use simple fresh ingredients that create bold flavors. Their dress code is simple too; wear what you want, dress up or come in straight off the beach. Here, you're family.
Edgewaters Restaurant
Where to Find Them:
480 1st Street SW, Bandon, OR 97411
Phone: 541-347-8500
Web: edgewaters.net
--------------------
10. The Port Hole Cafe & Tap House, Gold Beach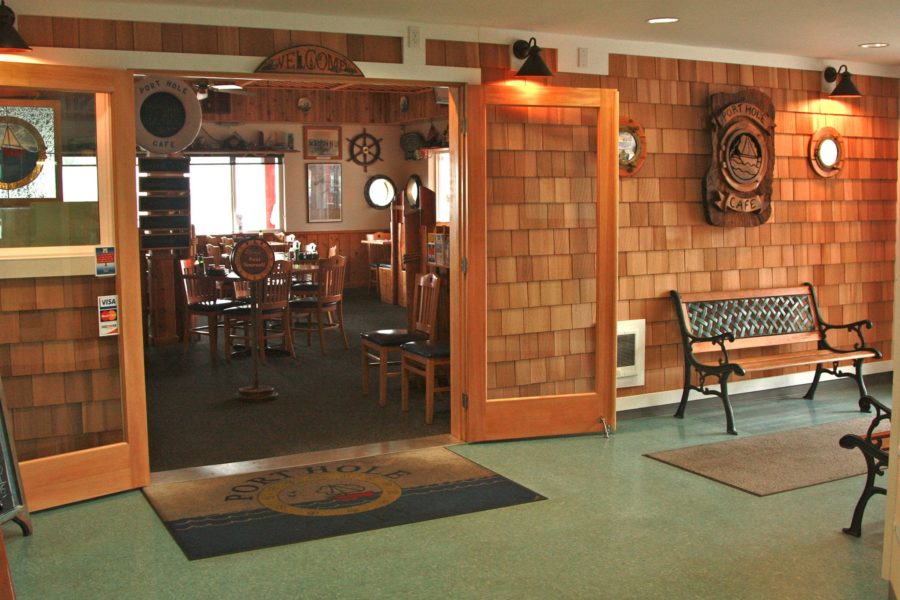 The Port Hole Cafe has been family-owned and operated for over 36 years, was born in an old cannery building, and remains a local favorite to this day.
Using only the freshest ingredients and in-season local seafood, you'll find that the Port Hole's burgers are NEVER FROZEN, and the menu has something for everyone. Home-style food like clam chowder, fish & chips, huge salads, and fresh home-baked pies in a clean, family-style setting.
Instead of ocean views, you'll find some of the best views of the mouth of the Rogue River here.
The Port Hole Cafe
Where to Find Them:
29975 Harbor Way, Gold Beach, OR 97444
Phone: 541-247-7411
Web: portholecafe.com
--------------------
11. The Waterfront Depot, Florence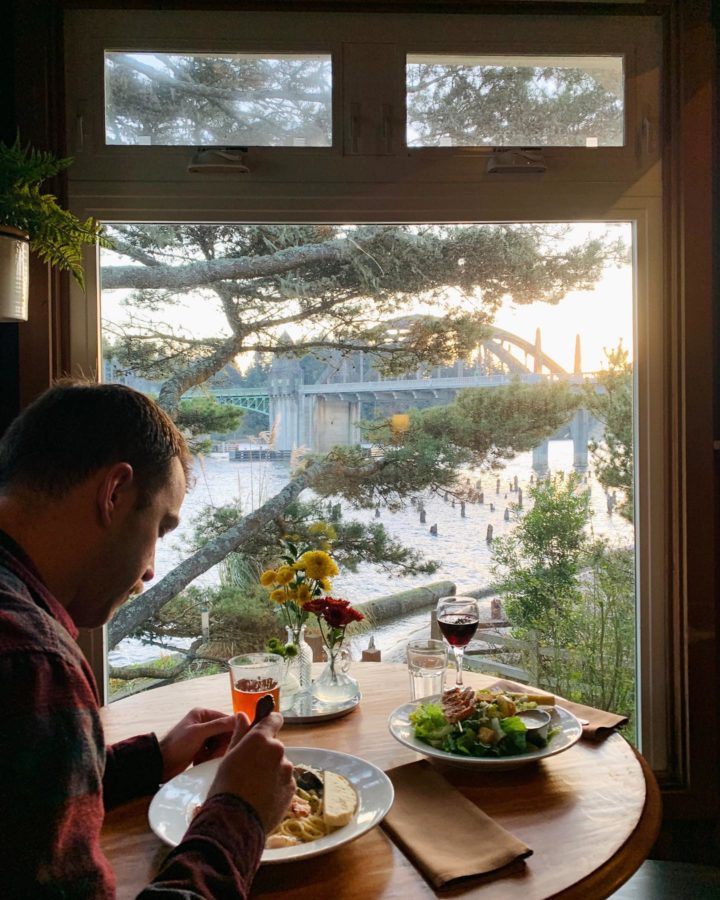 The Waterfront Depot is a beautiful little restaurant in one of my favorite places on the coast, Florence. Located right on the water near the mouth of the Siuslaw River, this amazing restaurant only serves dishes made from local, organic ingredients. Best of all, if you're a history junkie, the restaurant really IS inside the historic Florence railroad depot building.
They offer a full-service bar with a variety of regional and international wines as well as a selection of exciting martinis and specialty drinks, like Bill's Flaming Spanish Coffee, to compliment your meal. From the sophistication of one house favorite, Crab Encrusted Halibut, to the cozy warm satisfaction of our burger and fries, you're sure to find a dish to fit your desires at The Waterfront Depot.
They use only the best local, organic beef and free-range chicken in our entrees. The skilled culinary staff prepares all of the menu items daily, guaranteeing you the freshest, most flavorful experience on the Central Oregon Coast.
The Waterfront Depot
Where to Find Them:
1252 Bay St, Florence, OR 97439
Phone: 541-902-9100
--------------------
12. Newport Chowder Bowl, Nye Beach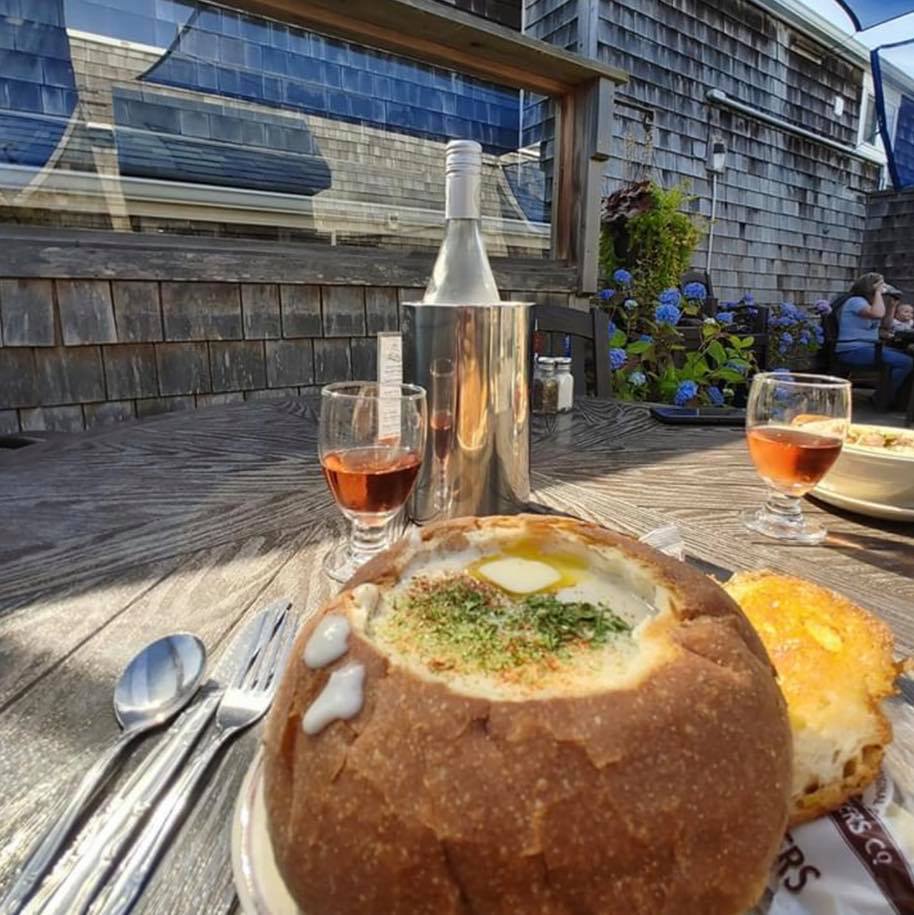 Just 100 yards separates you from The Chowder Bowl's front door and a leisurely walk on the historic Nye Beach. And it's not just chowder here. Fabulous seafood entrees, Certified Angus burgers, sumptuous salads and homemade desserts await you.
The Chowder Bowl itself has been around since 1980, but the surrounding area has become a quaint village (full of food and retail outlets), with preserved architecture and history of the 1920s and '30s. The picturesque streets are fun to stroll down and window shop before stopping for a heaping bowl of hot clam chowder served in a cannonball bread bowl.
The Chowder Bowl
Where to Find Them:
728 NW Beach Dr, Newport, OR 97365
Phone: 541-265-7477
Find more of our favorite spots to eat on the scenic Oregon coast here.
What's your personal favorite Seafood Restaurant on the Oregon Coast? Let us know about the hidden gems we may have missed.