It's not a forest like you may imagine on the Oregon Coast, mostly because it's really on the coast—in the water actually at Neskowin, Oregon.
Two thousand years ago, a powerful earthquake shifted part of an ancient sitka spruce forest into the tidal zone along the Oregon Coast.
To this day, the remains of these trees are visible, when conditions are right, in the sand and surf near Neskowin, Oregon. Local residents call it the "Ghost Forest"…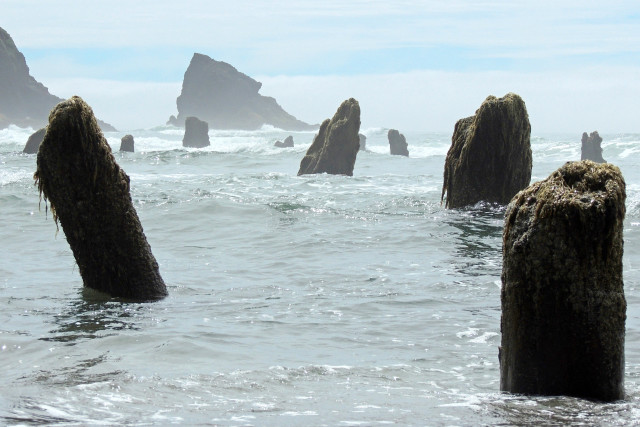 Some stumps are as young as the 1700 Cascadia earthquake . The ghost forest is near Proposal Rock. It is part of the Neskowin Beach State Recreation Site and was unearthed when tides swept away the sand over the winter of 1997–1998. The stumps are only rarely visible, and low tide in winter is the best time to see them. The stumps of the Ghost Forest have been estimated at approximately 2000 years old, and when they were alive, the trees are thought to have stood 150-200 feet high.
And scientists actually know when the last big earthquake hit Oregon
January 26, 1700 at approximately 9 p.m. Pacific Standard Time, to be exact. The earthquake was said to be a magnitude 8 or 9 which occured on the Cascadia Subduction Zone, a 600-mile stretch between Vancouver Island, British Columbia and Cape Mendocino, California.
How could scientists be sure of this?
From opb.org:
American researchers used carbon dating on the spruce, peat and fossilized plants. Sitka spruce as far apart as southern Washington and Northern California died from the high waters during the same few decades — some time between 1695 and 1720. Their rings were wide right up through the last ring, proving that a sudden event rather than slow sea level rise was the culprit. 
And if that's not incredible enough, they even know the exact hour the quake took place. Hit the link here to read more at opb.org on that subject.
So how do you get to the Neskowin Ghost Forest?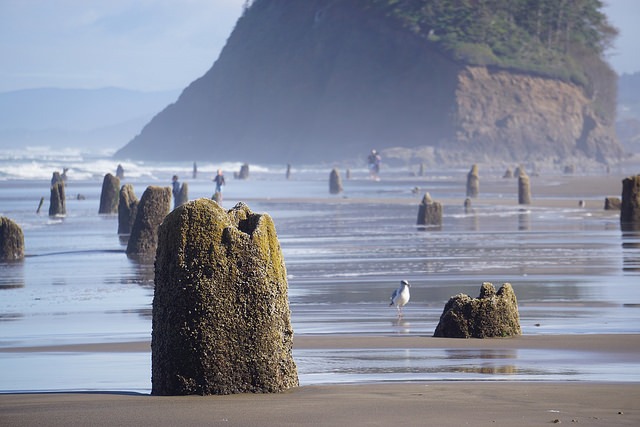 This mysterious area is fairly easy to access and can be seen year around. Only 15 miles north of Lincoln City on Hwy 101, at milepost 98 you will find the quiet community of Neskowin.
The properties on the dunes to the east of the Ghost Forest are all private, so the best way to get to the forest is by parking in the public lot at the Neskowin turnoff and entering onto the pristine beach directly in front of Proposal Rock. If the timing is right, you will be able to see the stumps to the south of you, beyond Slab Creek, which runs through the beach towards Proposal Rock and dumps into the ocean. You will need to navigate across the creek (it is shallow, but cold) to reach this southern portion of coastline. (courtesy of traveloregon.com)
More Links