Last updated on January 12th, 2022 at 10:12 am
If you've already visited the sea lions and eaten your fish and chips, maybe it's time to hike a trail on the Oregon Coast? The coast has incredible trails everywhere, and the following is a list of some of the most popular spots you can find to hike on the coast. You will most certainly not be disappointed, let us know in the comments if you have any hike to add to the list!
The Best Oregon Coast Hikes With Waterfalls
1. Kentucky Falls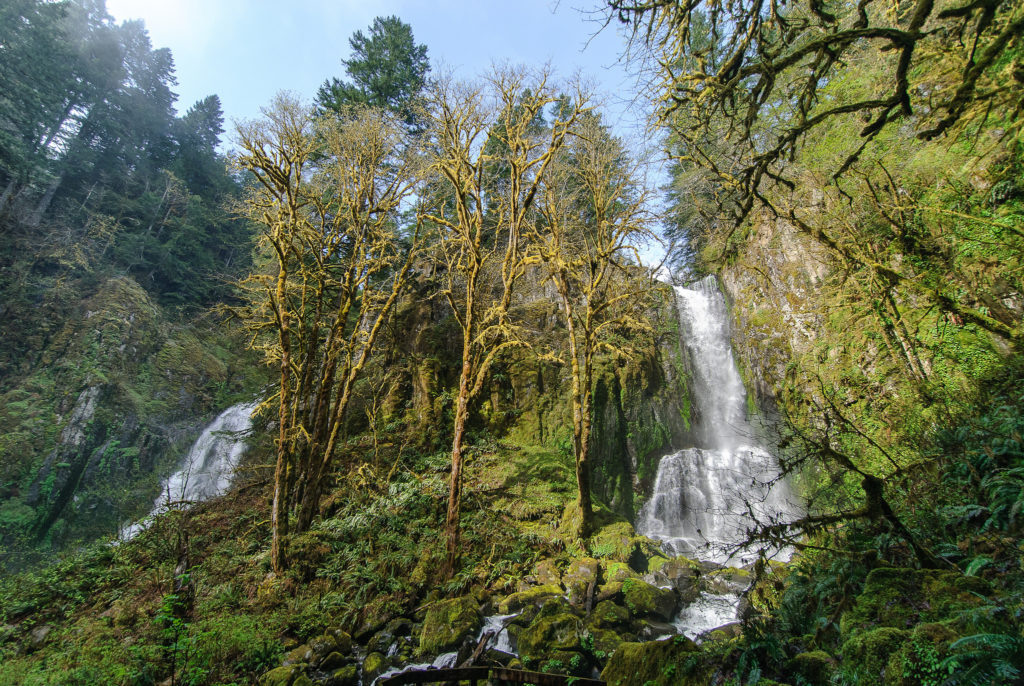 Near Mapleton, you will find this 3.3 mile moderately trafficked trail. The trail is dog-friendly but of course will require your furry friends be on a leash. There's even a fun swimming hole here to cool off when the temperature rises.
As you hike down you will pass by Upper Kentucky Falls then down to the twin falls of Lower Kentucky Falls and North Fork Falls, where there is a nice wooden viewpoint. At the top of the hill you will make your way down, making it uphill for the second half of the hike.
How to get to Kentucky Falls
Off Hwy 126, at the Whittaker Creek Recreation Area between mileposts 26 & 27 (east of Mapleton), drive south onto Siuslaw River Rd (Forest Service Road 4390). After 1.6 miles (2.57 km) turn right at the Whittaker Creek sign and cross the bridge. Follow the road for 1.5 miles (2.4 km), then turn left uphill onto Dunn Ridge Road. Continue for 7 miles (11.26 km) to a T-shaped junction at the end of the pavement. Turn left on Knowles Creek Road and continue for 2.7 miles (4.34 km). Turn right onto Forest Service Road #23. After 1.6 miles (2.57 km), turn right onto Forest Service Road 919. After 2.8 miles (4.5 km), turn right into parking area. Follow signs to the trailhead.
2. Drift Creek Falls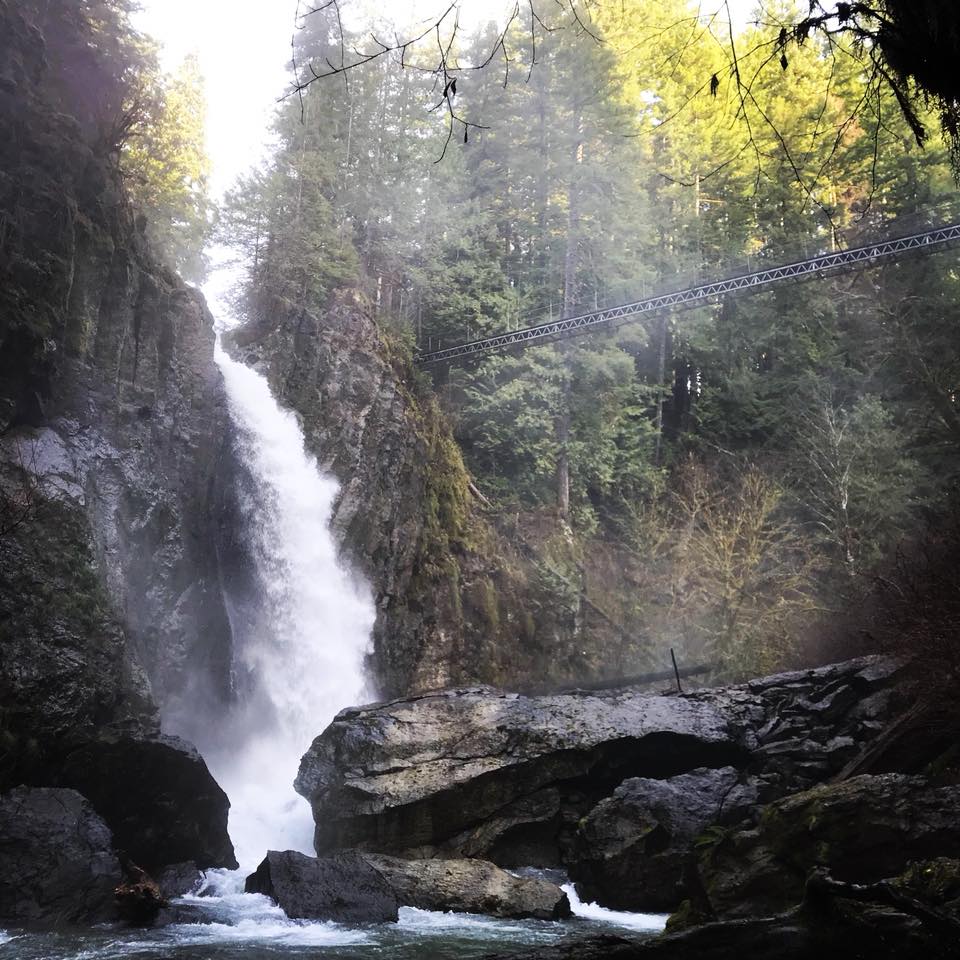 I was finally able to hike this beautiful spot myself recently, after the long winding road in. It was muddy, it was raining, and it was awesome. The hike to the bridge was around a mile and a half or so, and the bridge itself is as incredible as shown in the photos. Read more about this hike here.
READ MORE: 11 Hikes in Oregon Perfect for Rainy Days
How to get to Drift Creek Falls
Hwy 101 entry: Off Highway 101 south of Lincoln City, north of Salishan. Travel east on Drift Creek Road, right on South Drift Creek Road mile. Turn left onto Forest Service Road 17. Stay on Forest Service Road 17 to the trailhead, approximately, 10 miles. Hwy 101/Highway 18 entry: At Hwy 101/18 junction travel east 4.5 miles on Hwy 18. Travel south on Bear Creek County Road 3.5 miles. Continue straight 7 miles on Forest Service Road 17 to the trailhead.
3. University Falls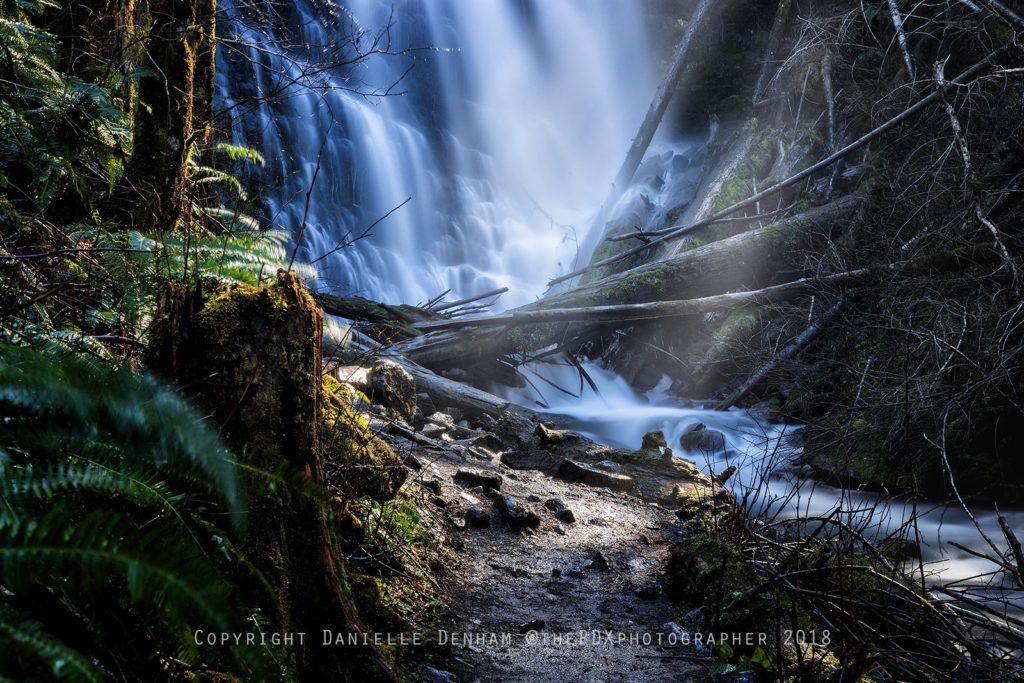 University Falls can be reached by a short trail down into a ravine. The trails in the Tillamook State Forest are designated for a variety of uses, from off-road motorized use to horses, mountain bikes and hikers. Usually, it's pretty easy to keep track of the type of trail you're on.
How to get to University Falls
Drive Highway 26 west from Beaverton for about 15 miles and bear left for Highway 6, Banks, and Tillamook.
Drive 19.1 miles on Highway 6 before turning left at the summit for Rogers Camp Trailhead and Browns Camp.
Immediately come to the junction for Rogers Camp and bear right on gravel Saddle Mountain Road for Browns Camp, University Falls Trailhead, and Stagecoach Horse Camp.
After 0.7 miles on the gravel road, bear right at a signposted junction for the University Falls Trailhead.
In 0.4 miles, after passing the Deyoe Creek Trailhead bear right again for University Falls.
Keep right at a second junction and cross a wooden bridge, driving for 1.6 miles on University Falls Road to another junction.
Go right here and, in 0.6 miles, pull into the small parking area at the clearly signed University Falls Trailhead.
4. Sweet Creek Falls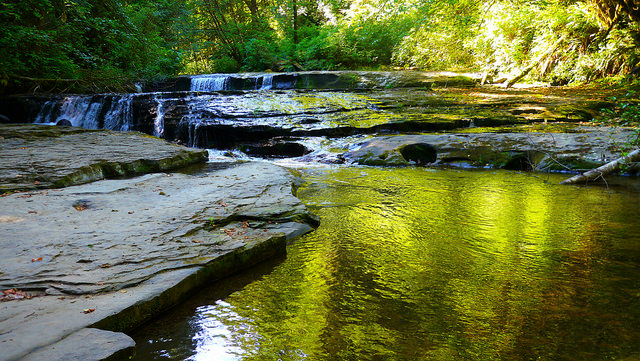 No matter what the season, Sweet Creek Falls is easily one of my favorite hikes in Oregon. There are so many gorgeous waterfalls here, and it's definitely a much easier trek than a lot of these hikes – making it much easier for the little ones.
READ MORE: Sweet Creek Falls is One Of Oregon's Most Stunning Coast Hikes
How to get to Sweet Creek Falls
At Siuslaw Bridge in Mapleton, leave Hwy 126 and drive south on Sweet Creek Rd for 11 miles
5. Niagara Falls Trail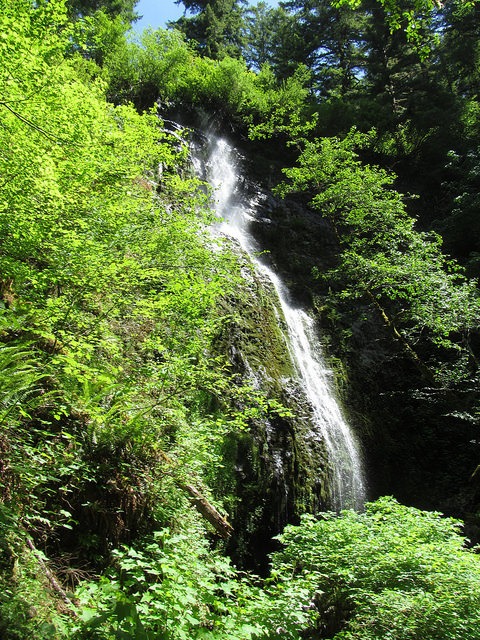 That's right, Niagara Falls is also in Oregon. This beautiful hike is located in the Coast range, and is a simple 1 mile hike through a predominantly Douglas-Fir forest to a beautiful view of two 100+ foot waterfalls. You will come across several wooden bridges through the lush foliage, and also discover Pheasant Creek Falls along the way.
How to get to Niagara Falls Trail
From Highway 101 in Beaver:
Travel east on Blaine Road for 6 miles. At Blaine Junction go east on Upper Nestucca River Road for 5.8 miles to Forest Road 8533. Go south 4.3 miles to Forest Road 8533-131. Turn right at the junction and travel 0.7 miles to trailhead parking.
6. Hug Point Hike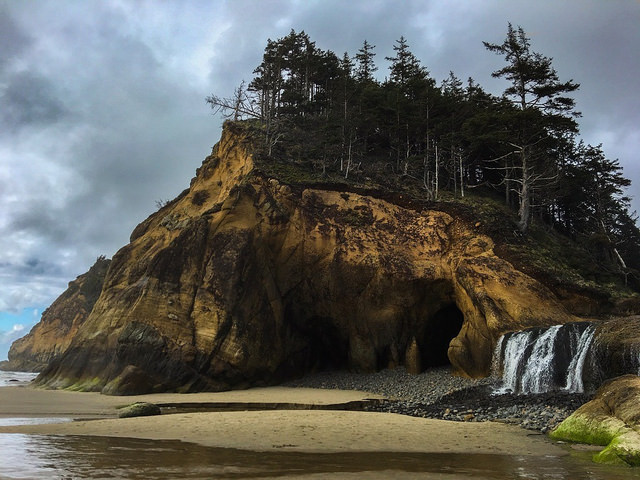 If you're looking to escape the crowds of Cannon Beach, just head 5 miles south to Hug Point along HWY 101 for a quick and easy hike. This serene little spot proves there is never a shortage of places to visit on the beautiful Oregon Coast. This beautiful waterfall right there on the beach is not the only thing to see, as you will find caves to explore carved out by the waves, sandstone cliffs, and colorful tide pools. Read more here.
How to get to Hug Point Hike
Hug Point Falls is found in Hug Point State Park, which is found a little less than 5 1/2 miles south of Cannon Beach and the turn off for Ecola State Park. From the parking area, follow the stairs down to the beach, then head right towards the headland jutting into the crashing tide. If the tide is high, the ocean will lap up against the headland, preventing access to the falls. When the tide is low, simply walk around the headland to the falls.
READ MORE: Hug Point On The Oregon Coast (Easy Hike To Waterfall)
More Oregon Coast Hikes Worth Mentioning
7. God's Thumb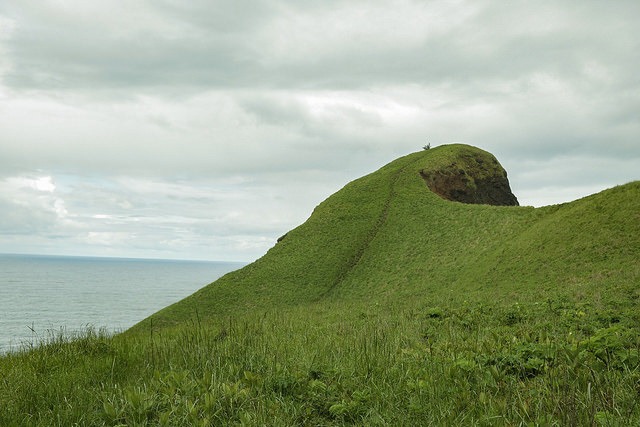 God's Thumb is super close access as it's at the end of the road just past "Roads End State Park" on the northern end of Lincoln City, and offers an incredible 360 degree view.  It's a little tricky to find the trailhead as it doesn't really formally exist.  You will need to park down the hill from the dead end, and then access the trailhead by walking down the western-most road with a large gate. The trail itself is fairly rugged, with many rocks and roots to maneuver around, but it's not necessarily difficult either. Climbing the actual thumb isn't too hard, as there are plenty of footholds.
How to get to God's Thumb
From Road's End State Park, map your way to the end of NE Port Street and park on a pull off next to the described gate: on your right you'll see the gate with three skinny trees to the right of it. You'll want to park as close to this gate as possible, this will be in between some houses on a hill and the only gate around.
Walk behind the gate up an old, steep, overgrown road until you hit the first junction, take a right here. To your left, if you so choose, you can walk a few hundred yards to a lower viewpoint overlooking Lincoln City, Oregon and the Pacific Ocean.
8. Valley of the Giants
On the western edge of Polk County, you will discover the impressive Valley of the Giants. This luscious forest, full of douglas-firs and a few large western hemlocks as well, is said to be one of the last groves of virgin timber in the Oregon Coast Range. Many of these trees are said to approach 500 years in age, and is easily one of the best and most popular Oregon Coast hikes.
How to get to Valley of the Giants
To Falls City from Portland:
Drive I-5 south to Exit 260A for Highway 99E Business and the Salem Parkway.
Go 4.7 miles, following the Salem Parkway towards the City Center.
At a traffic light, continue straight for Highway 22W. In 0.2 miles, go right on Marion Street for West Salem, Dallas, and Highway 22W.
After 0.4 miles, keep left on the Willamette River Bridge for the Oregon Coast and Dallas.
Go 9.7 miles on Highway 22, and turn left for Highway 223 and Dallas.
Go 4.1 miles and turn left on Main Street for the City Center and Kings Valley.
After 0.8 miles, go right on Washington Street for Falls City and Kings Valley.
In 0.4 miles, bear left on Fairview Avenue for Falls City, Pedee, and Kings Valley.
Drive 5.3 miles and turn right onto Falls City Road for Falls City.
Drive 4.4 miles to the bridge over the Little Luckiamute River in Falls City.
To the waterfall in Falls City:
Turn right after the bridge onto Parry Street and go 0.1 miles to pull out on the right near the fenced viewpoint area.
9. Neahkahnie Mountain Trail
The view from Neahkahnie Mountain is incredible (as seen in the photo above).  This 2.8 mile out and back hike will take you to the top of a coastal peak and features awesome views of the Pacific.  The trailhead is near Nehalem Oregon and at the right time of year will take you through beautiful wildflowers.  The trail is marked as moderate and sees heavy usage.  Get more information on the trail here.
10. Neatarts Spit Trail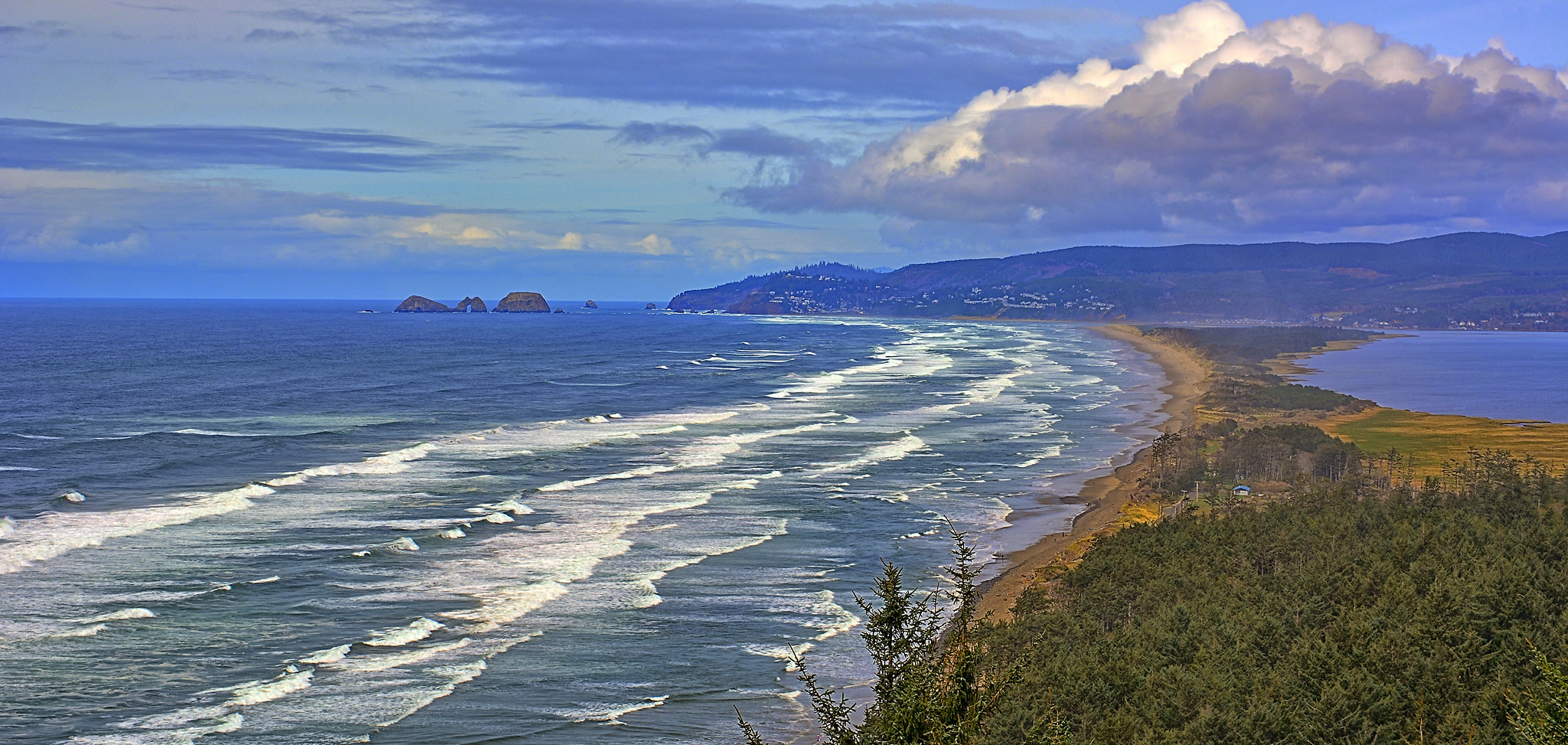 This trail near Tillamook Oregon is good for all skill levels.  The 10.5 mile out and back trail doesn't see much traffic and offers great scenic views.  Be aware of the tides and what time they come in and don't lose track of the time so you don't get trapped by the water.  This is an amazing place to take a long calming walk on the beach without the crowds.  Get more information on the trail here.
11. Golden And Silver Falls Near North Bend Oregon
Not many Oregonians know about these two beautiful falls in the mountains near North Bend Oregon, or about the history of the trail that you can take to get to them.  Check out this short video about the hike and the falls.
The trail is a 1.4 mile out and back trail which is good for all skill levels.  The giant old-growth firs and cedars are amazing to hike through.  Get more info here.
12. Tillamook Head National Recreation Trail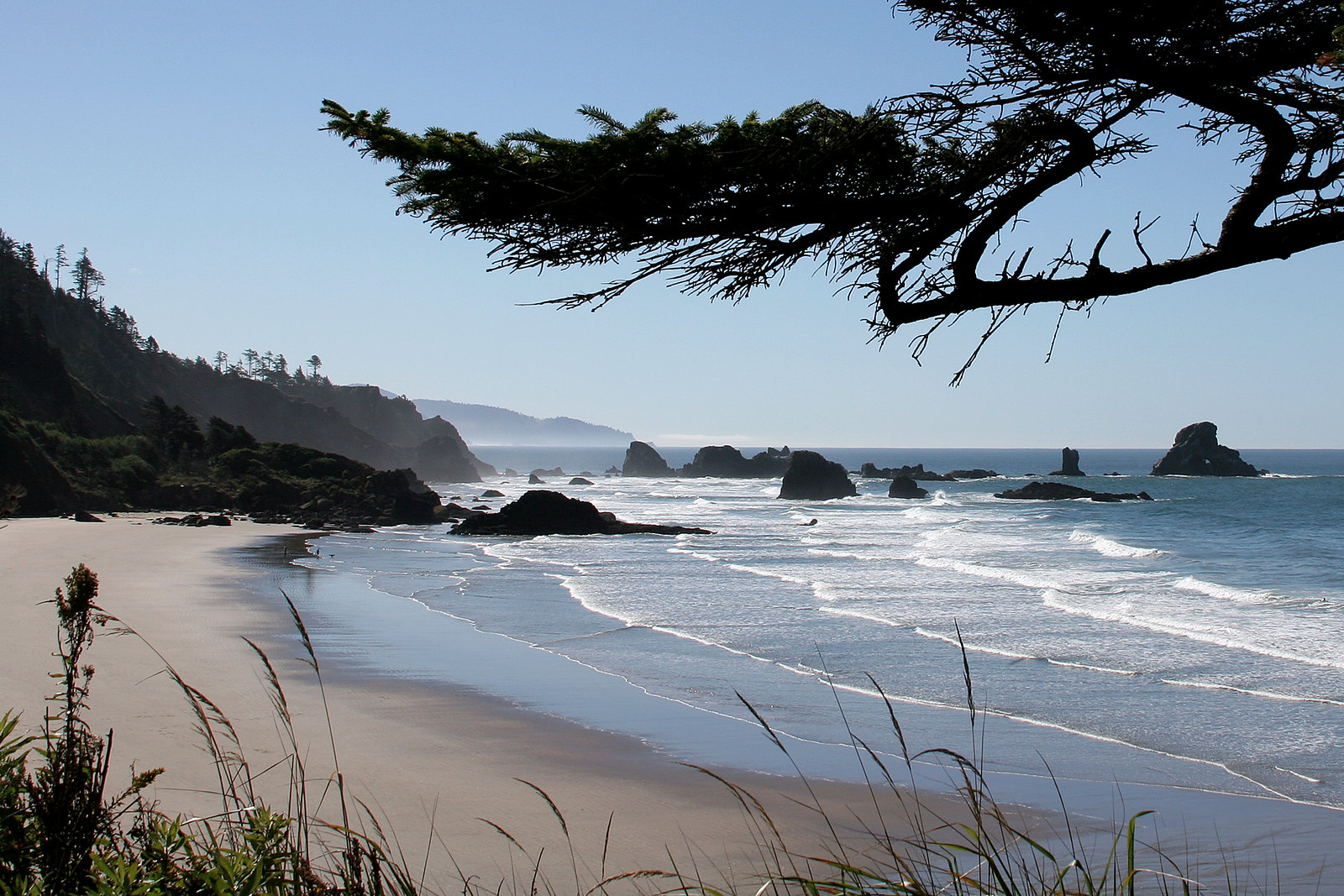 This 9.9 mile out and back trail can see heavy traffic.  It's located near Cannon Beach Oregon and is a moderate skill level trail.  Get info on the trail here.
Note: Be sure before you go that the road into the area and the park itself is open before you set out to hike.  Mud slides can cause the road and the park to close.
13. Saddle Mountain Trail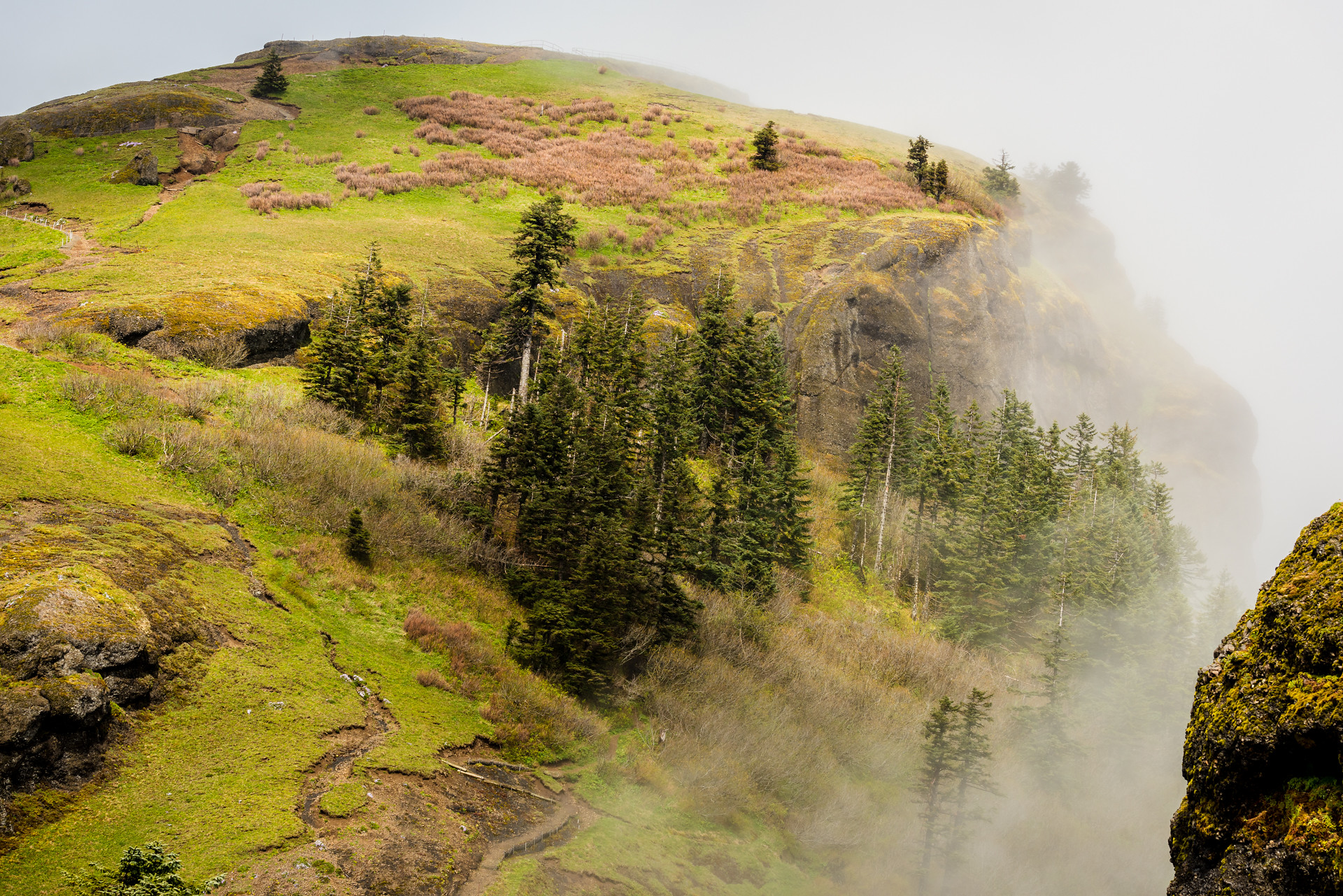 The 4.5 mile out and back trail up Saddle Mountain leads to an incredible view of the Oregon wilderness.  The trail is near Seaside Oregon and can see heavy traffic.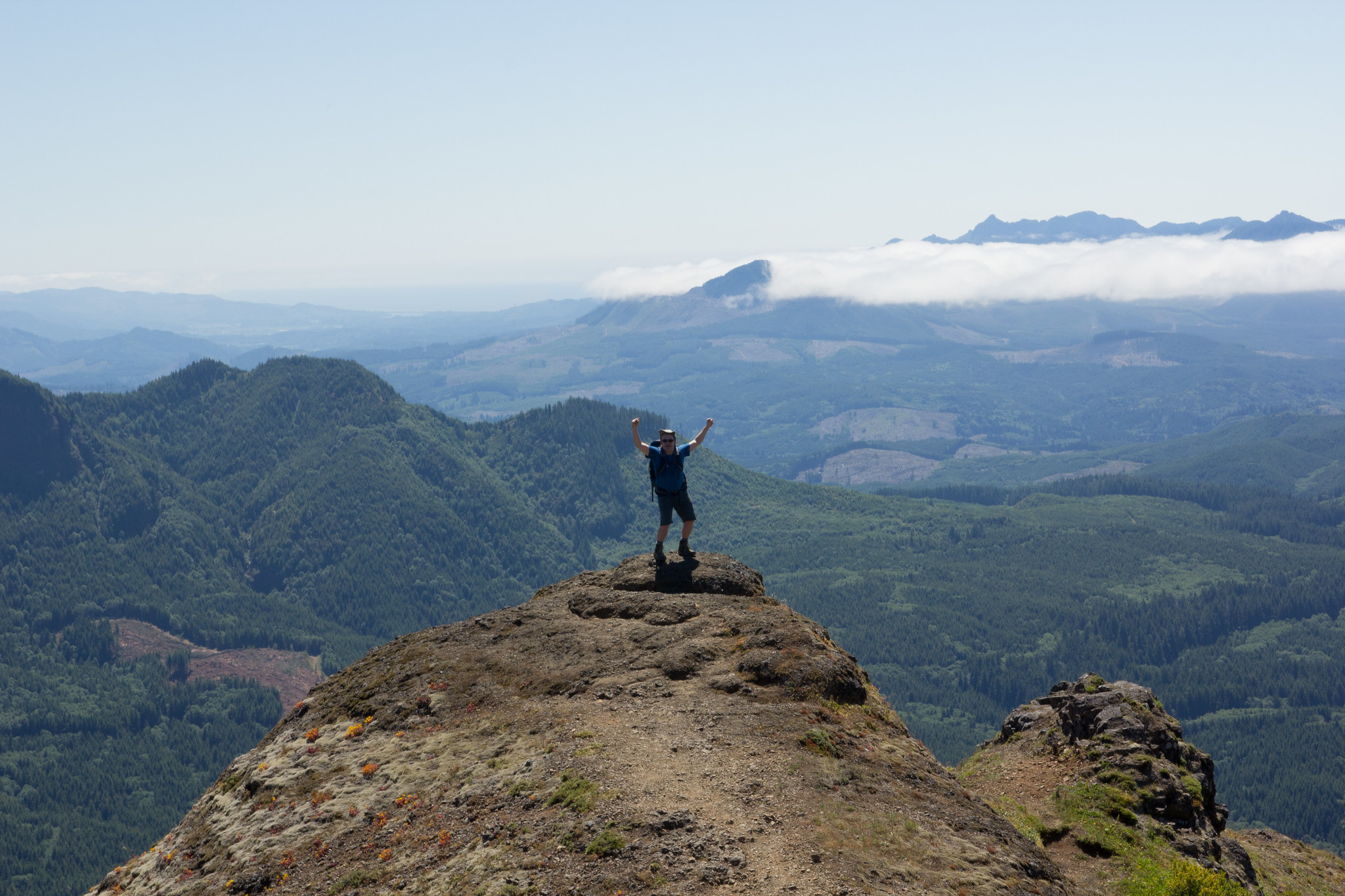 The Saddle Mountain trail is rated as difficult as some areas can be steep.  Be sure not to hike beyond your skill level.  Wildflowers are a feature of this trail if you go in May and June.  Get more information about the trail here.