After you've explored the vibrant sea life, indulged in local cuisine, and enjoyed the thrill of the waves, there's nothing quite like discovering the natural wonders of the Oregon coast. This rugged and picturesque coastline is home to an abundance of wildlife, including whales, sea otters, and bald eagles. So why should you trust moi? Well because I'm a native Oregonian of course, and Oregon coast hikes are my specialty! We take pride in the fact our site is derived of only Oregonians, through and through.
With pristine beaches, towering cliffs, and lush forests, there's a wealth of diverse ecosystems waiting to be explored. From the iconic Haystack Rock to the hidden gems of Samuel H. Boardman State Scenic Corridor on the southern Oregon coast, the Oregon coast offers a diverse range of natural attractions. Take a leisurely stroll along the beach or venture into the woods for a more challenging hike. Whatever your preference, you're sure to find a hike that suits your style.
As you embark on your Oregon coast adventure, be sure to pack your camera, as the region's natural beauty is truly breathtaking. Capture stunning sunsets, majestic wildlife, and panoramic ocean views that will leave you in awe. And don't forget to take some time to simply soak in the tranquil atmosphere of this stunning coastline.
The Best Oregon Coast Hikes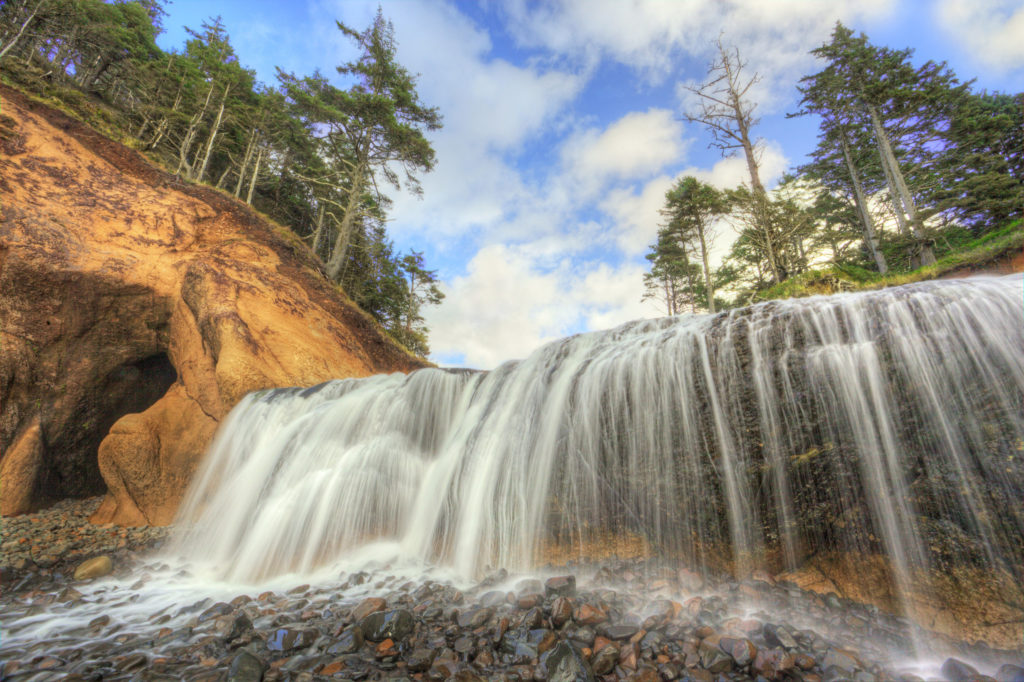 From the Oregon Coast Trail to the Oregon Dunes, the scenic Samuel H. Boardman State Scenic Corridor, secluded beaches like Short Sand Beach, gorgeous rock formations just off shore, and dense coastal forest locations that border the Pacific Ocean, there's a lot to appreciate about the Oregon coast.
RELATED: Uncovering the Secrets of Samuel H Boardman State Scenic Corridor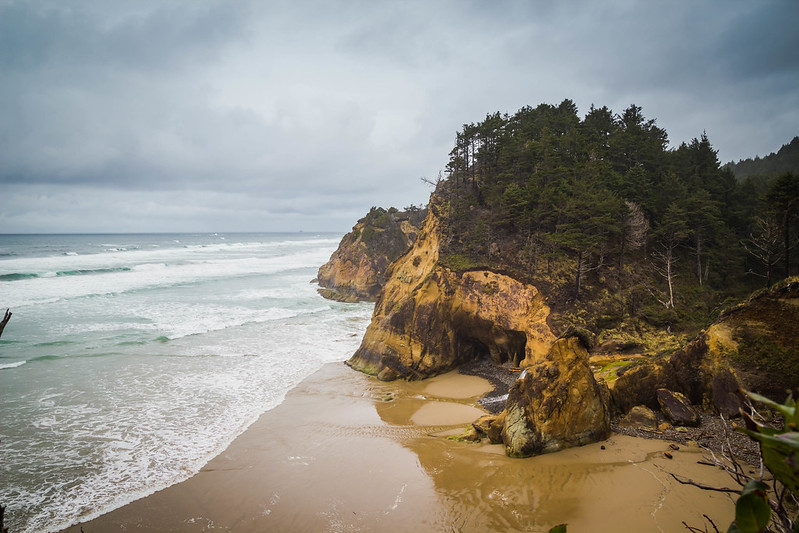 One of our favorite ways to experience nature on the Oregon coast is to get out hiking.
We have some of the best hiking trails on the Oregon coast lined up for your next coastal adventure.
1. Kentucky Falls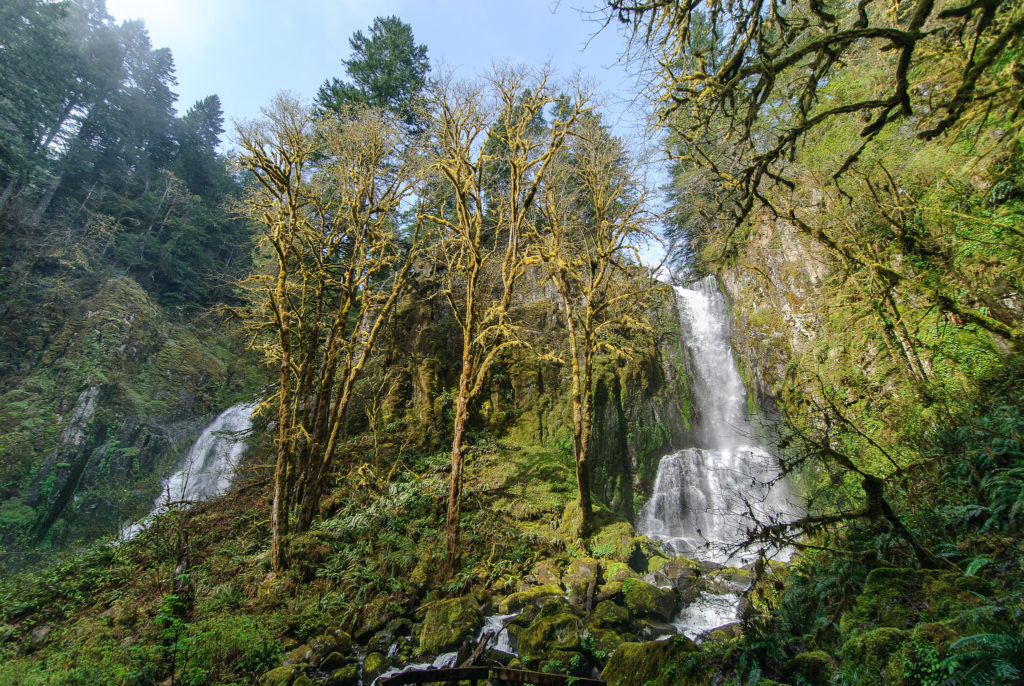 Two falls on the same trail? Awesome. Near Mapleton is where you'll find this 3.3 mile moderately trafficked trail. While not directly on the Oregon coast, this is a great stop on your way to Florence or the Oregon Dunes. The hike is dog-friendly but of course will require your furry friends be on a leash. This trail has a 987 foot elevation gain.
There's even a fun swimming hole here to cool off when the temperature rises (which is honestly one of the best thing about coast hikes).
As you hike down through this coastal forest you will pass by Upper Kentucky Falls then down to the twin falls of Lower Kentucky Falls and North Fork Falls, where there is a nice viewpoint.
This truly is a stunning hike, from the old growth forests to the waterfall at the end of the trail. Check out the view of the waterfall here. As far as coastal hikes go, this is one of the best in the state.
Get more information about Kentucky Falls here.
How to get to Kentucky Falls Near The Central Oregon Coast
Off Hwy 126, at the Whittaker Creek Recreation Area between mileposts 26 & 27 (east of Mapleton), drive south onto Siuslaw River Rd (Forest Service Road 4390). After 1.6 miles (2.57 km) turn right at the Whittaker Creek sign and cross the bridge.
Follow the road for 1.5 miles (2.4 km), then turn left uphill onto Dunn Ridge Road. Continue for 7 miles (11.26 km) to a T-shaped junction at the end of the pavement. Turn left on Knowles Creek Road and continue for 2.7 miles (4.34 km).
Turn right onto Forest Service Road #23. After 1.6 miles (2.57 km), turn right onto Forest Service Road 919. After 2.8 miles (4.5 km), turn right into parking area. Follow signs to the trailhead where the trail begins.
RELATED: 23 Must See Waterfall Hikes Oregon You Can't Miss
2. Drift Creek Falls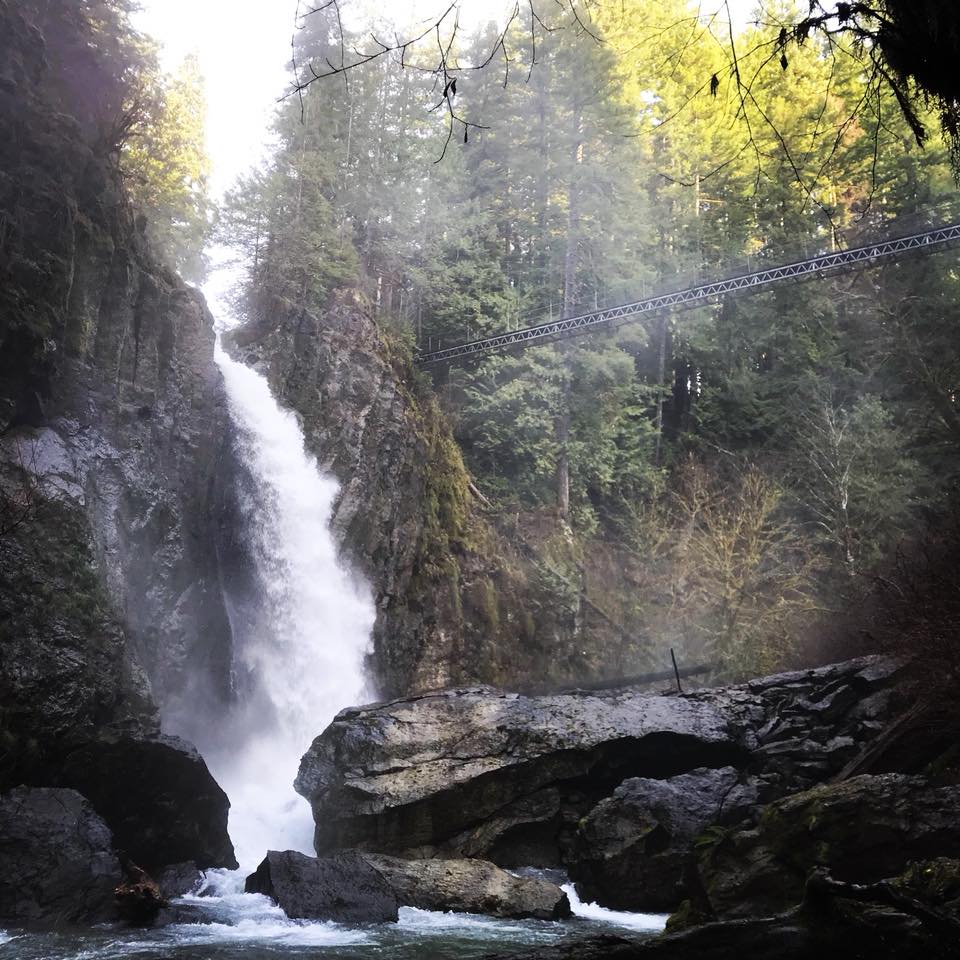 Drift Creek Falls is a 2.6-mile out-and-back trail with an elevation gain of 462 feet. This easy-to-moderate hike is perfect for families and offers stunning views of the surrounding forest. Visitors can experience the beauty of one of the tallest waterfalls in the Pacific Northwest, which stands at around 80 feet. Along the trail, hikers can also enjoy breathtaking views of the Oregon Coast Range and the lush temperate rainforest.
While the drive to the trailhead can be slow-going due to the narrow road, the hike to the waterfall is well-graded and straightforward. However, keep in mind that the elevation gain is backward, meaning that you will walk down to the waterfall and then climb back out. It's also important to note that during particularly cold periods, the drive to the trailhead may encounter snow, so it's best to avoid the area unless you have a car with all-wheel drive and tire chains.
Overall, Drift Creek Falls is an amazing destination for hikers looking for an easy-to-moderate trail with stunning views of the Oregon Coast Range and the temperate rainforest. Visitors can bask in the beauty of one of the tallest waterfalls in the Pacific Northwest and immerse themselves in the natural wonders of the region.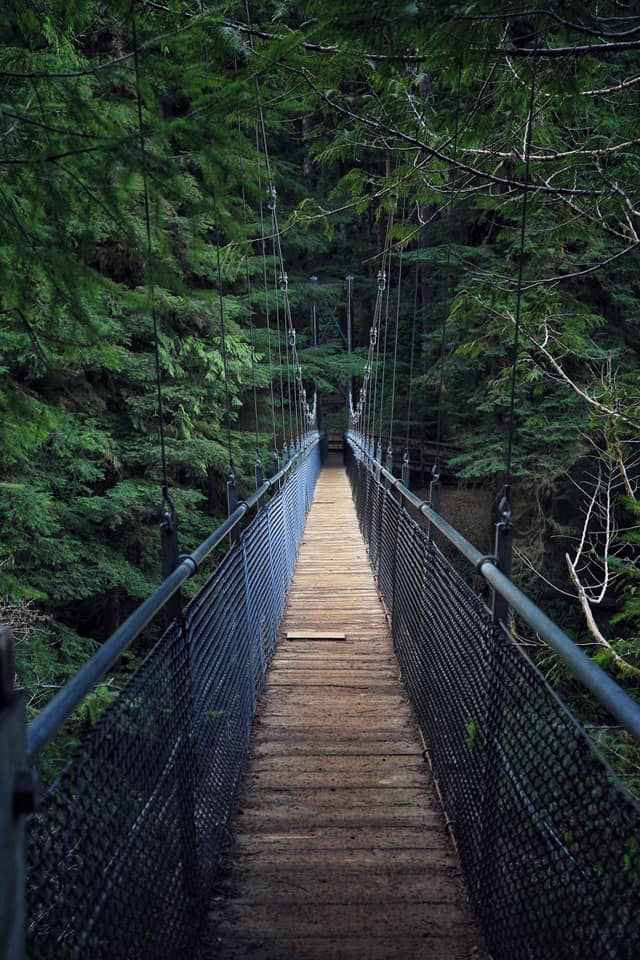 The hike to the bridge was around a mile and a half or so, and the bridge itself is as incredible as shown in the photos. Be aware that after a good rain this trail can be extremely muddy.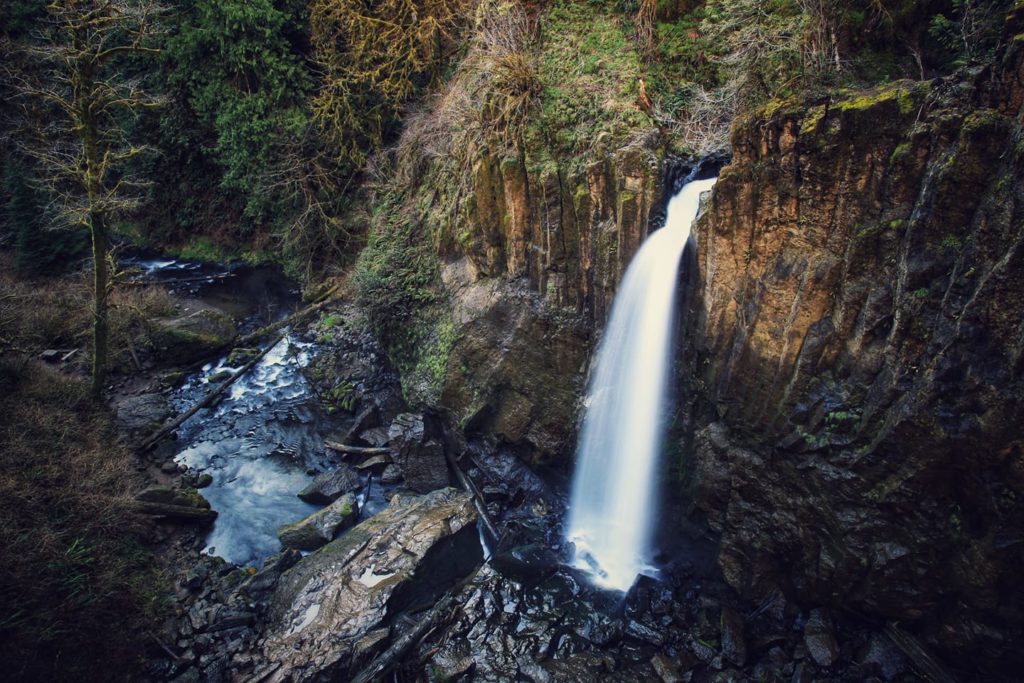 How to get here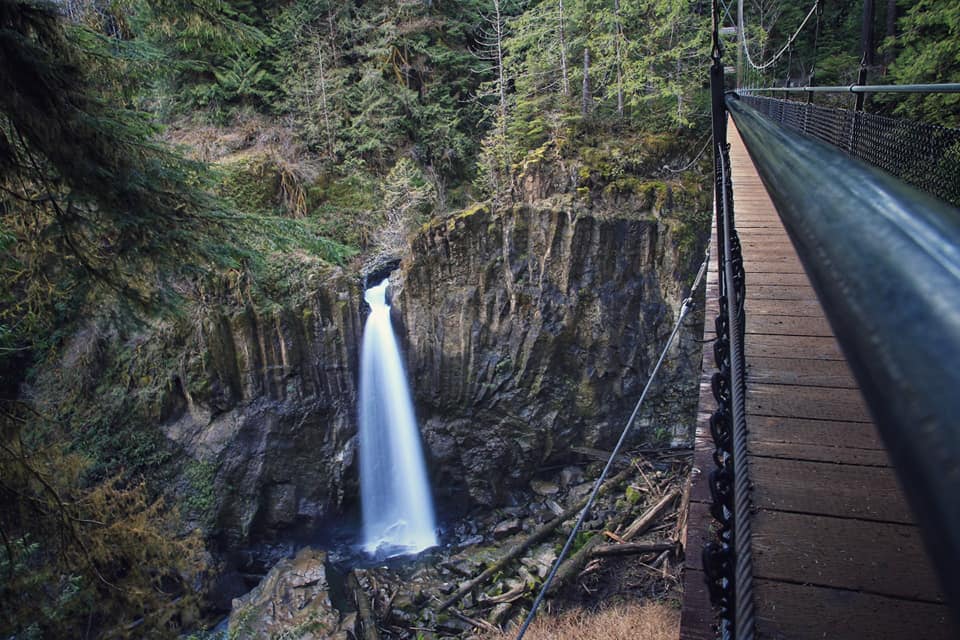 Hwy 101 entry: Off Highway 101 south of Lincoln City, north of Salishan. Travel east on Drift Creek Road, right on South Drift Creek Road mile. Turn left onto Forest Service Road 17.
Stay on Forest Service Road 17 to the trailhead, approximately, 10 miles. Hwy 101/Highway 18 entry: At Hwy 101/18 junction travel east 4.5 miles on Hwy 18.
Travel south on Bear Creek County Road 3.5 miles. Continue straight 7 miles on Forest Service Road 17 to the trailhead.
READ MORE: Hiking the Suspended Bridge at Drift Creek Falls, Oregon
3. University Falls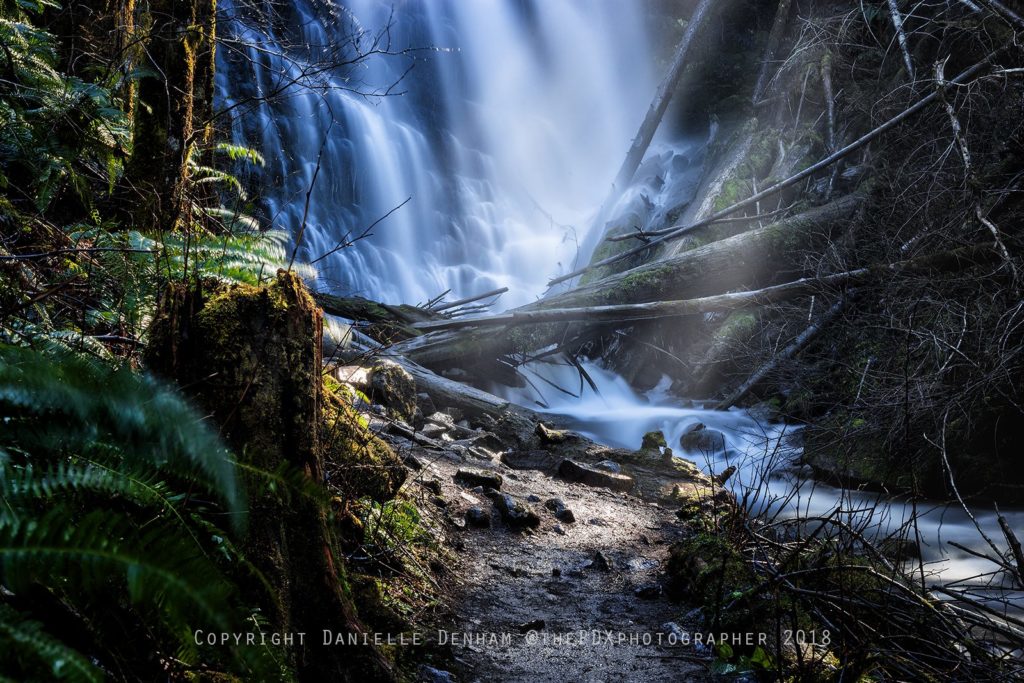 University Falls can be reached by a short trail down into a ravine.
The trails in the Tillamook State Forest are designated for a variety of uses, from off-road motorized use to horses, mountain bikes and hikers.
Usually, it's pretty easy to keep track of the type of trail you're on.
How to get to University Falls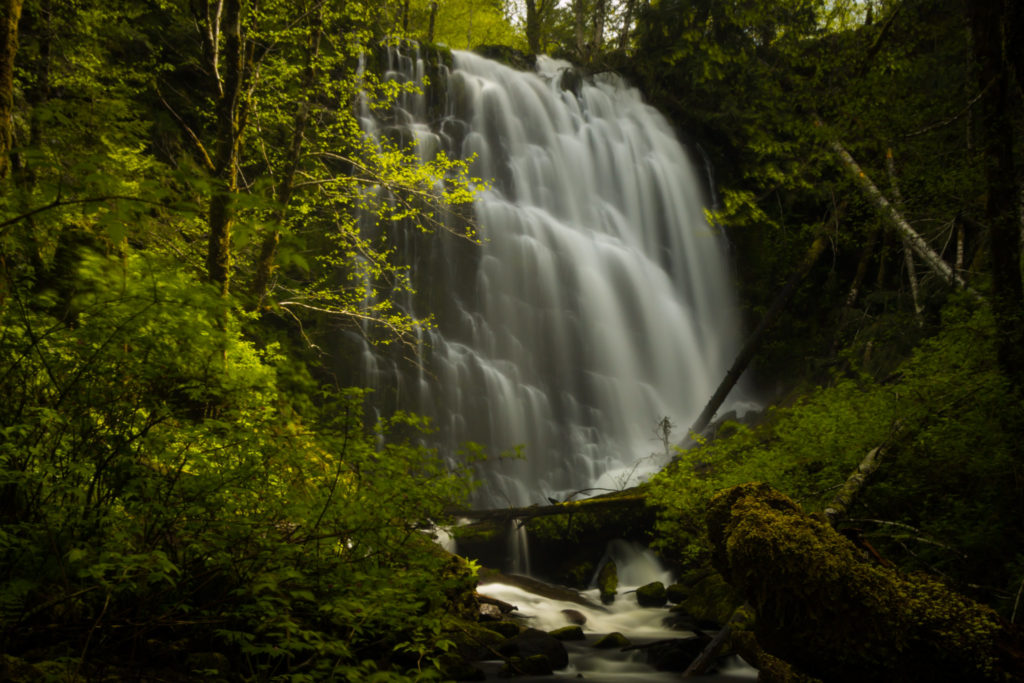 Drive Highway 26 west from Beaverton for about 15 miles and bear left for Highway 6, Banks, and Tillamook.
Drive 19.1 miles on Highway 6 before turning left at the summit for Rogers Camp Trailhead and Browns Camp.
Immediately come to the junction for Rogers Camp and bear right on gravel Saddle Mountain Road for Browns Camp, University Falls Trailhead, and Stagecoach Horse Camp.
After 0.7 miles on the gravel road, bear right at a signposted junction for the University Falls Trailhead.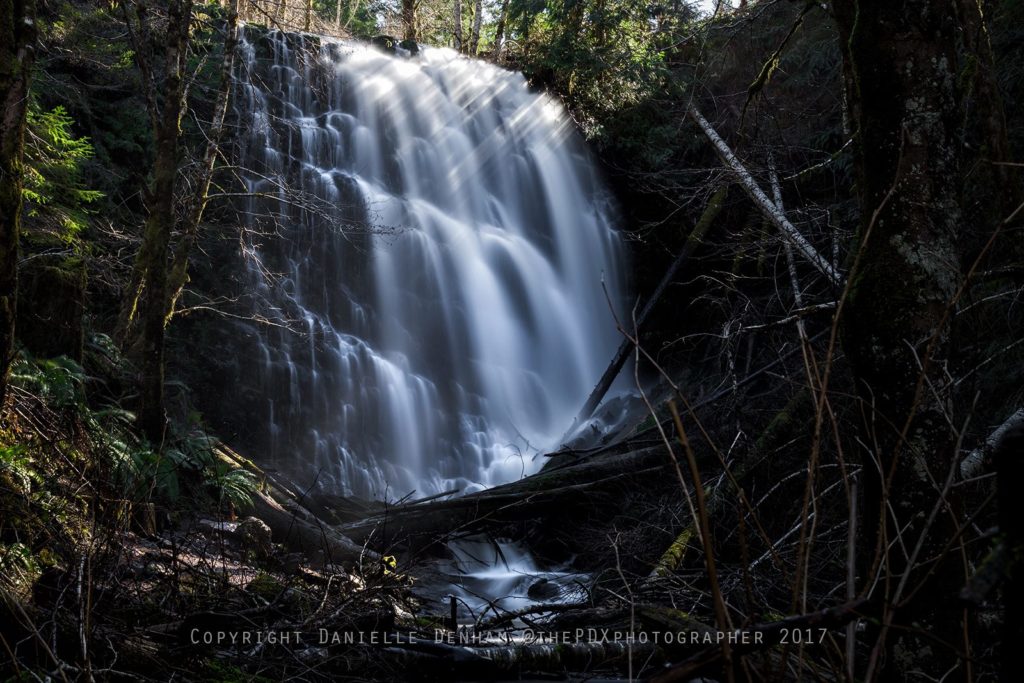 In 0.4 miles, after passing the Deyoe Creek Trailhead bear right again for University Falls.
Keep right at a second junction and cross a wooden bridge, driving for 1.6 miles on University Falls Road to another junction.
Go right here and, in 0.6 miles, pull into the small parking area at the clearly signed University Falls Trailhead.
4. Sweet Creek Falls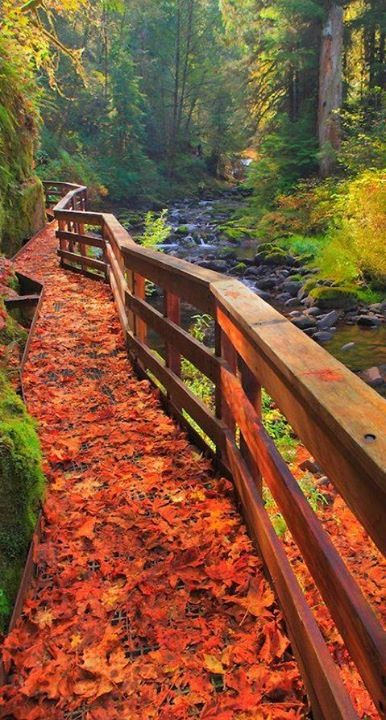 No matter what the season, Sweet Creek Falls is easily one of my favorite hiking trails in Oregon. Tucked away along the breathtaking Oregon Coast, a secret wonder never ceases to amaze me during each visit. A mere hour's drive west from Eugene, 10 miles south of Mapleton, and just a stone's throw east of Florence, the Sweet Creek Falls trail within the Siuslaw National Forest provides an unparalleled hiking adventure. If you haven't yet explored this scenic haven, it's high time to include it in your Best Oregon Coast Hikes list, as it guarantees an unforgettable journey you'll cherish forever.
There are so many gorgeous waterfalls here, and it's definitely a much easier trek than a lot of these hikes - making it much easier for the little ones.
How to get to Sweet Creek Falls
At Siuslaw Bridge in Mapleton, leave Hwy 126 and drive south on Sweet Creek Rd for 11 miles.
READ MORE: Sweet Creek Falls is One Of Oregon's Most Stunning Coast Hikes
5. Niagara Falls Trail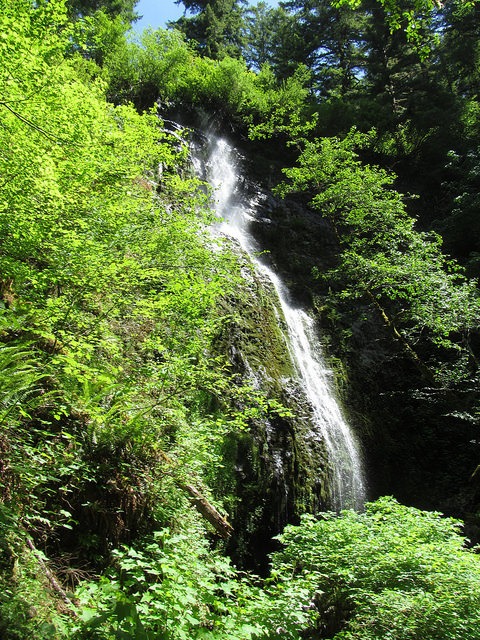 Doug Kerr / Flickr
That's right, Niagara Falls is also in Oregon.
The Niagra Falls Trail, located in the stunning Oregon Coast range, offers a breathtaking hike that leads to a spectacular view of not just one, but two 100+ foot waterfalls. The trail is an easy, one-mile trek through a predominantly Douglas Fir forest, with lush foliage lining the path. As you traverse the trail, you'll come across several picturesque wooden bridges that add to the trail's charm.
Along the way, you'll also discover the mesmerizing Pheasant Creek Falls, which adds to the trail's allure. The falls cascade down in a stunning display of nature's beauty, offering a unique experience to hikers. This hike is perfect for anyone looking to immerse themselves in the natural wonders of Oregon, with stunning waterfalls and lush greenery at every turn. Don't miss out on the opportunity to explore the Niagra Falls Trail and all that it has to offer.
Oregon Hikers has a great guide to this spot!
How to get to Niagara Falls Trail
From Highway 101 in Beaver:
Travel east on Blaine Road for 6 miles. At Blaine Junction go east on Upper Nestucca River Road for 5.8 miles to Forest Road 8533. Go south 4.3 miles to Forest Road 8533-131. Turn right at the junction and travel 0.7 miles to trailhead parking.
6. Hug Point Hiking Trails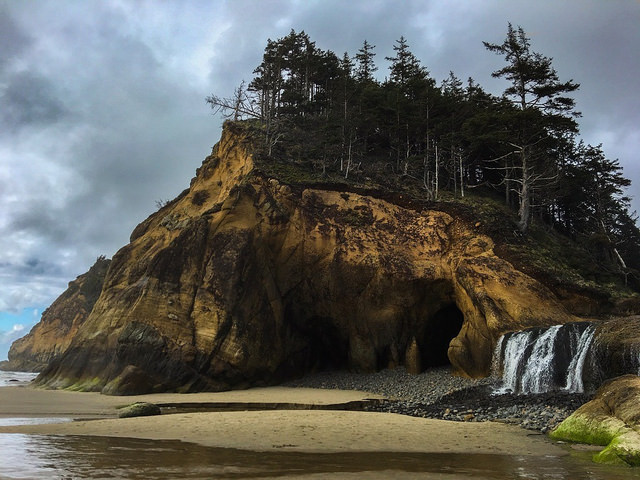 If you're looking to escape the crowds of Cannon Beach, just head 5 miles south to Hug Point along HWY 101 for a quick and easy hike.
This serene little spot proves there is never a shortage of places to visit on the beautiful Oregon Coast.
This beautiful waterfall right there on the beach is not the only thing to see, as you will find caves to explore carved out by the waves, sandstone cliffs, and colorful tide pools. Read more here.
How to get to Hug Point On The Oregon Coast
Hug Point Falls is found in Hug Point State Park, which is found a little less than 5 1/2 miles south of Cannon Beach and the turn off for Ecola State Park.
From the parking area, follow the stairs down to the beach, then head right towards the headland jutting into the crashing tide. If the tide is high, the ocean will lap up against the headland, preventing access to the falls. At low tide, simply walk around the headland to the falls. Always be aware of when the tide is coming in so you don't get stuck.
Read more about Ecola State Park here.
READ MORE: Hug Point On The Oregon Coast (Easy Hike To Waterfall)
7. Tillamook Rock Lighthouse Loop
Discover a quick and easy Oregon Coast hike perfect for a family-friendly stroll at the Tillamook Rock Lighthouse just a stone's throw away from Cannon Beach, Oregon. The 0.6-mile loop trail can be completed in around 15 minutes and is a popular spot for walking, but can also offer some peaceful moments during off-peak times.
Not only does the trail offer picturesque views, but it also has a historic significance. The park was constructed on top of unstable coastal rock formations and active landslides back in the 1930s when the geology of the area was not fully understood. Due to this, the park can experience geological emergencies and may be closed periodically for repairs. For more information about the park and its history, visit our Guide To Ecola State Park.
8. Cape Falcon Trail
The Cape Falcon Trail is a must-visit hiking trail on the Oregon Coast, offering stunning views, diverse terrain, and access to Short Sand Beach. The moderate 4.6-mile trail has an elevation gain of 623 feet, and hikers can enjoy views of Neahkahnie Mountain and the beautiful scenery of the forest, seaside, rocks, and ocean. The park provides amenities such as restrooms, picnic tables, and a parking area. Remember to wear sturdy boots with good tread to prepare for the muddy trail.
Additionally, it's important to note that the trail is an excellent year-round hiking option. Whether you're exploring the trail on a sunny day or in the rain, the views are always breathtaking. And if you're looking for more hiking options, Neahkahnie Mountain is also worth a visit for its great hiking trails.
The trail is conveniently located just a 13-minute drive south of Cannon Beach, Oregon, making it easily accessible for hikers staying in the area. With its stunning views and varied terrain, the trail is a must-see destination for any hiker looking to explore the beauty of the Oregon Coast.
READ MORE: Hiking Guide to Oregon's Cape Falcon Trail
9. God's Thumb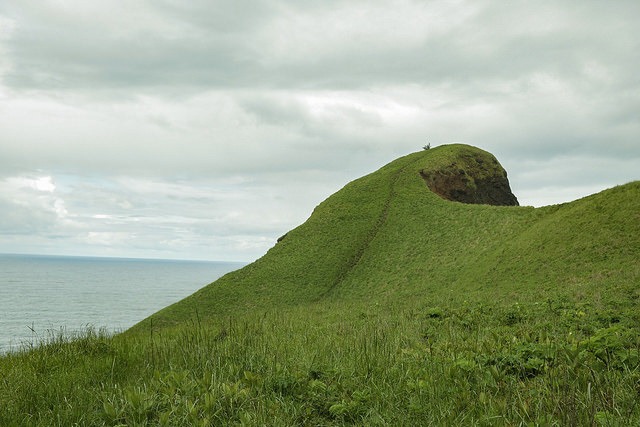 God's Thumb is super close access as it's at the end of the road just past "Roads End State Park" on the northern end of Lincoln City, and the trail leads to an incredible 360 degree view.
The trail itself is fairly rugged, with many rocks and roots to maneuver around, but it's not necessarily difficult either.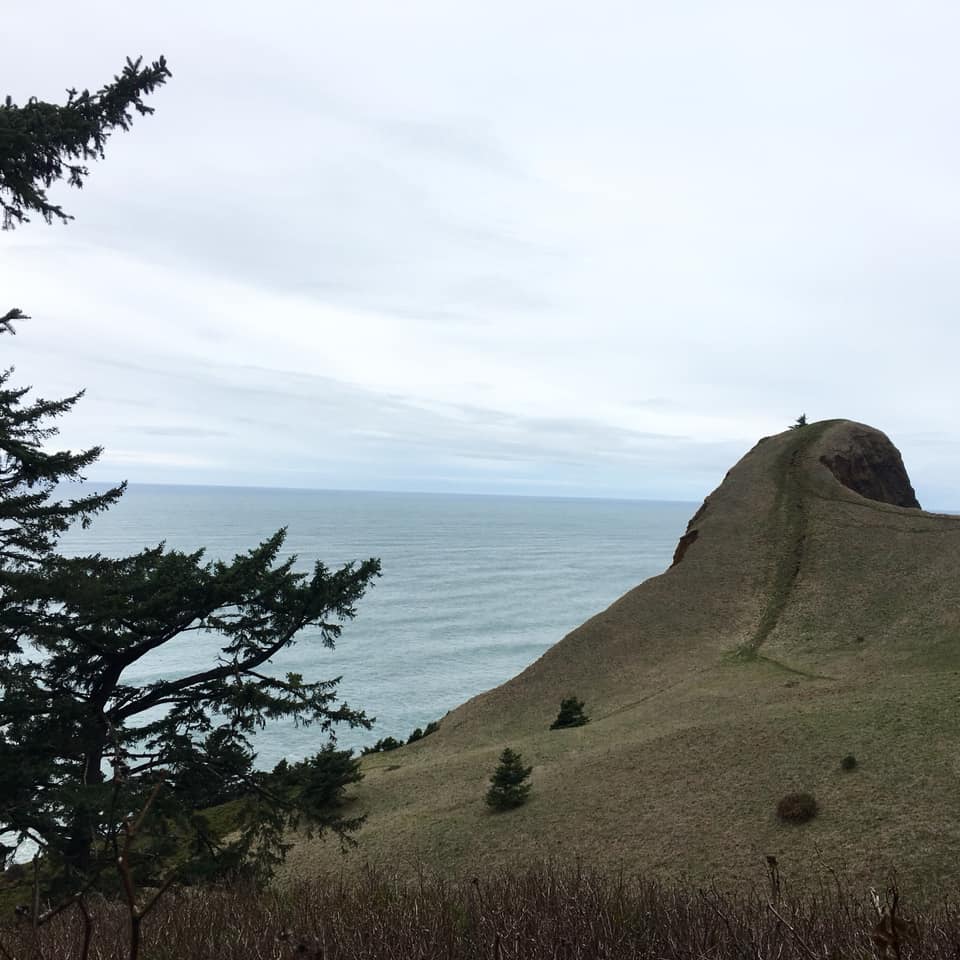 READ MORE: God's Thumb: A Breathtaking Hiking Trail in Lincoln City
Read more about Lincoln City here. You should also checkout the nearby hike to Cascade Head. The Cascade Head Trail has stunning views and is a great hike through the forest. While there's a 1,310 foot elevation gain, the view at the end of the Cascade Head Trail is worth it. Get more info here.
How to get to God's Thumb On The Oregon Coast
From Road's End State Park, map your way to the end of NE Port Street and park on a pull off next to the described gate: on your right you'll see the gate with three skinny trees to the right of it. You'll want to park as close to this gate as possible, this will be in between some houses on a hill and the only gate around.
Walk behind the gate up an old, steep, overgrown road until you hit the first junction, take a right here. To your left, if you so choose, you can walk a few hundred yards to a lower viewpoint overlooking Lincoln City, Oregon and the Pacific Ocean.
10. Valley Of The Giants
On the western edge of Polk County, you will discover the impressive Valley of the Giants. Many of these trees are said to approach 500 years in age, and is easily one of the best and most popular Oregon Coast hikes. The Valley of the Giants, an oasis of natural splendor, stands in stark contrast to its heavily logged surroundings in the Oregon Coast Range. This ancient forest, teeming with trees aged 400-450 years, was spared from logging due to its designation as an Outstanding Natural Area by the BLM in 1976 and as a Heritage Tree Grove in 2008. Encompassing 51 acres, the grove is home to trees with a staggering 20-foot girth. The most colossal tree in the grove boasts a 35-foot circumference, stands 230 feet tall, and is over 600 years old. To put this in context, many of these trees began their lives around 1568, a full 39 years before the establishment of Jamestown, America's first colony, in 1607.
How to get to Valley of the Giants
To Falls City from Portland:
Drive I-5 south to Exit 260A for Highway 99E Business and the Salem Parkway.
Go 4.7 miles, following the Salem Parkway towards the City Center.
At a traffic light, continue straight for Highway 22W. In 0.2 miles, go right on Marion Street for West Salem, Dallas, and Highway 22W.
After 0.4 miles, keep left on the Willamette River Bridge for the Oregon Coast and Dallas.
Go 9.7 miles on Highway 22, and turn left for Highway 223 and Dallas.
Go 4.1 miles and turn left on Main Street for the City Center and Kings Valley.
After 0.8 miles, go right on Washington Street for Falls City and Kings Valley.
In 0.4 miles, bear left on Fairview Avenue for Falls City, Pedee, and Kings Valley.
Drive 5.3 miles and turn right onto Falls City Road for Falls City.
Drive 4.4 miles to the bridge over the Little Luckiamute River in Falls City.
To the waterfall in Falls City:
Turn right after the bridge onto Parry Street and go 0.1 miles to pull out on the right near the fenced viewpoint area.
READ MORE: Valley Of The Giants Is A Must See in Oregon
11. Neahkahnie Mountain Trail At Oswald West State Park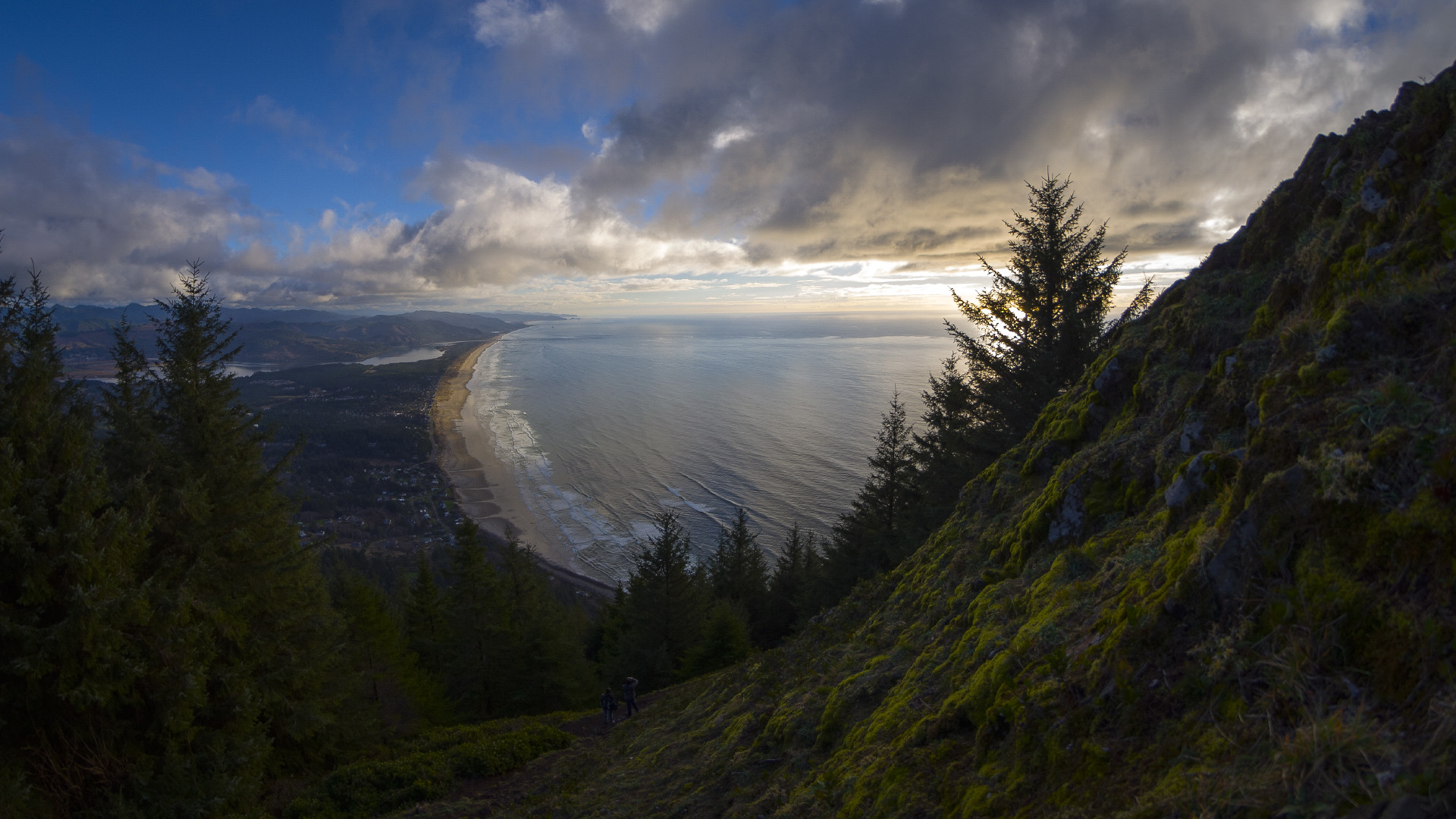 Neahkahnie Mountain. Photo by Thomas Shahan via Flickr CC2.
If you're at Oswald West State Park, you'll want to be sure to check out the Neahkahnie Mountain Trail. The view from the Neahkahnie Mountain Trail is incredible and gives awesome views of the state park.
This 2.8 mile out and back hike will take you to the top of Neahkahnie Mountain and features awesome views of the Pacific.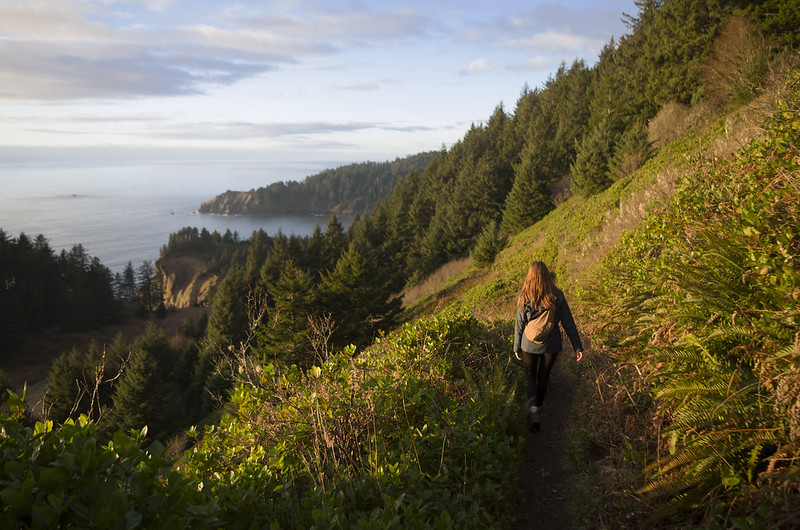 Neahkanie Mountain Trail. Photo by Thomas Shahan via Flickr CC2.
The trailhead is near Nehalem Oregon and at the right time of year will take you through beautiful wildflowers.
This state park trail is marked as moderate and sees heavy usage. Get more information on the trail here.
Neahkahnie Mountain Trail Distance: 2.8 miles.
information on the trail here.
12. Neatarts Spit Trail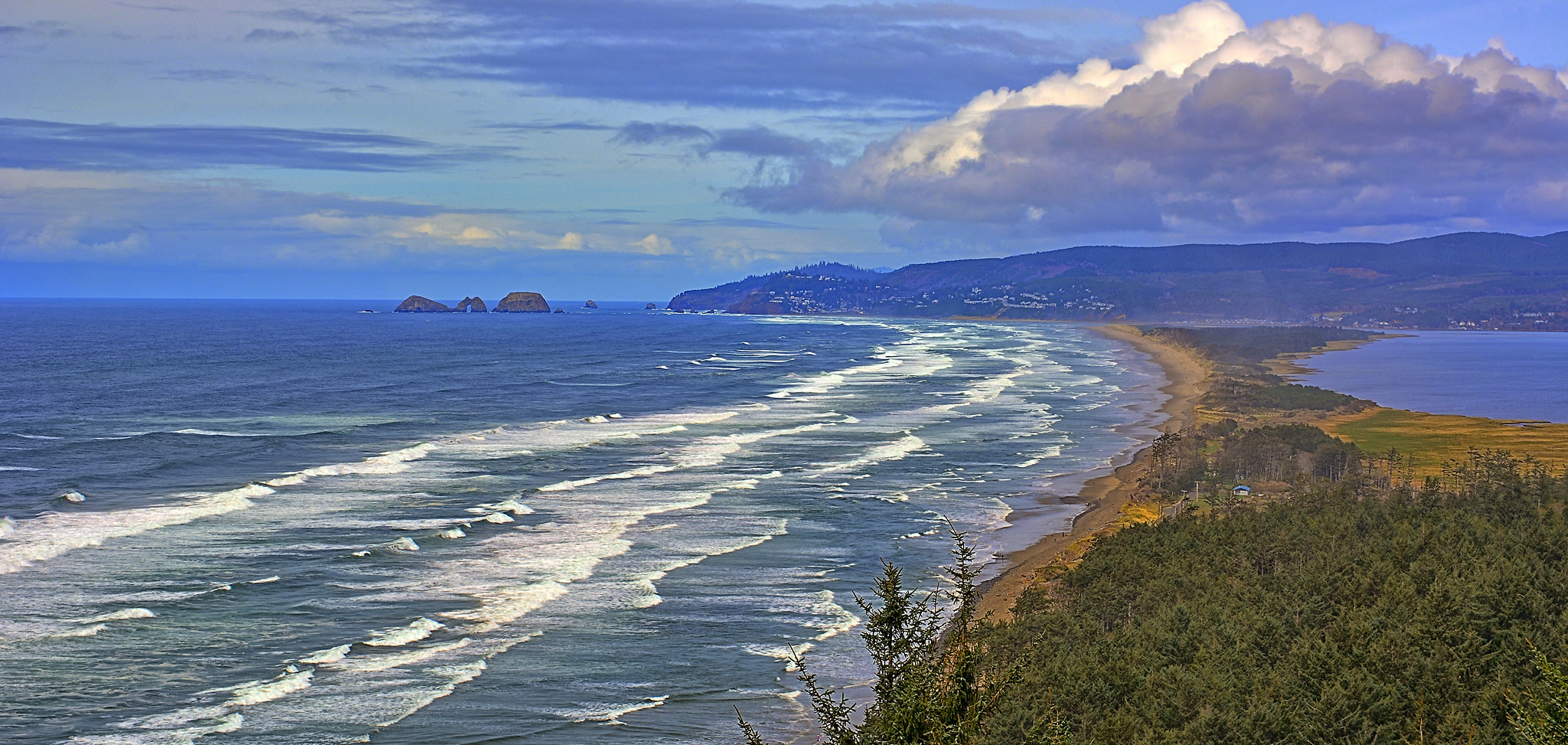 About an hour north of Lincoln City, this trail near Tillamook Oregon is good for all skill levels.
The 10.5 mile out and back trail doesn't see much traffic and offers great scenic views.
Be aware of high tide and low tide and what time they come in and don't lose track of the time so you don't get trapped by the water.
This is an amazing place to take a long calming walk on the beach without the crowds. Get more information on the trail here and see where the trail begins.
13. Golden And Silver Falls Near North Bend Oregon
Not many Oregonians know about these two beautiful falls in the mountains near North Bend Oregon, or about the history of the trail that you can take to get to them.
Check out this short video about the hike and the falls.
The trail not far from the Oregon coast is a 1.4 mile out and back trail which is good for all skill levels. The giant old-growth firs and cedars are amazing to hike through. Get more info here.
For more great hiking in southern Oregon on the coast, we suggest Floras Lake State Park. Not only can you learn to kiteboard and windsurf on this pretty little coastal lake, but many enjoy the hike from Floras Lake to Blacklock Point which you can read about here. Floras Lake State Park is about an hour south of North Bend.
14. Tillamook Head National Recreation Trail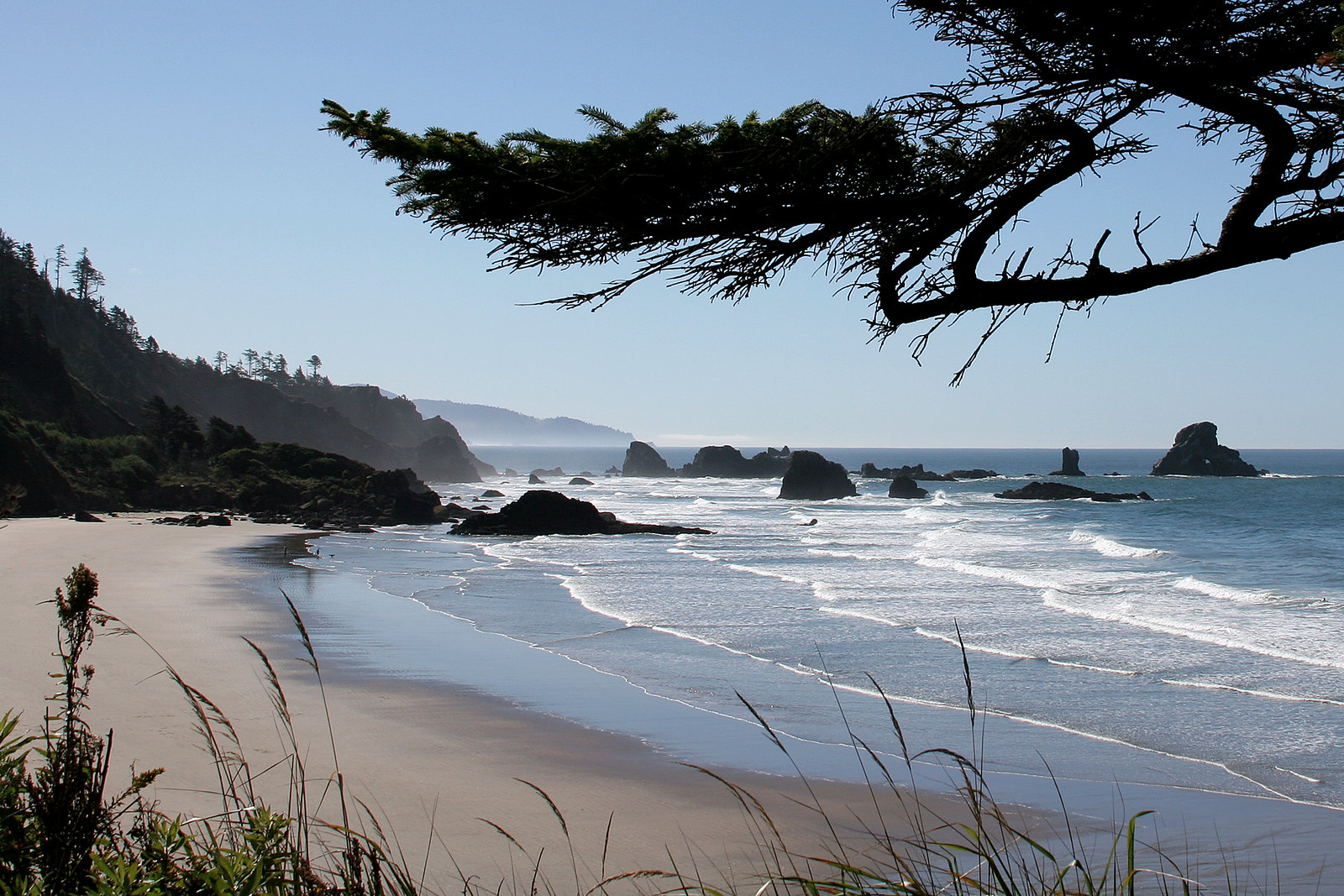 This 9.9 mile out and back trail can see heavy traffic. It's located near Cannon Beac, Oregon and is a moderate skill level trail. Get info on the trail here.
Note: Be sure before you go that the road into the area and the park itself is open before you set out to hike. Mud slides can cause the road and the park to close.
15. Saddle Mountain Trail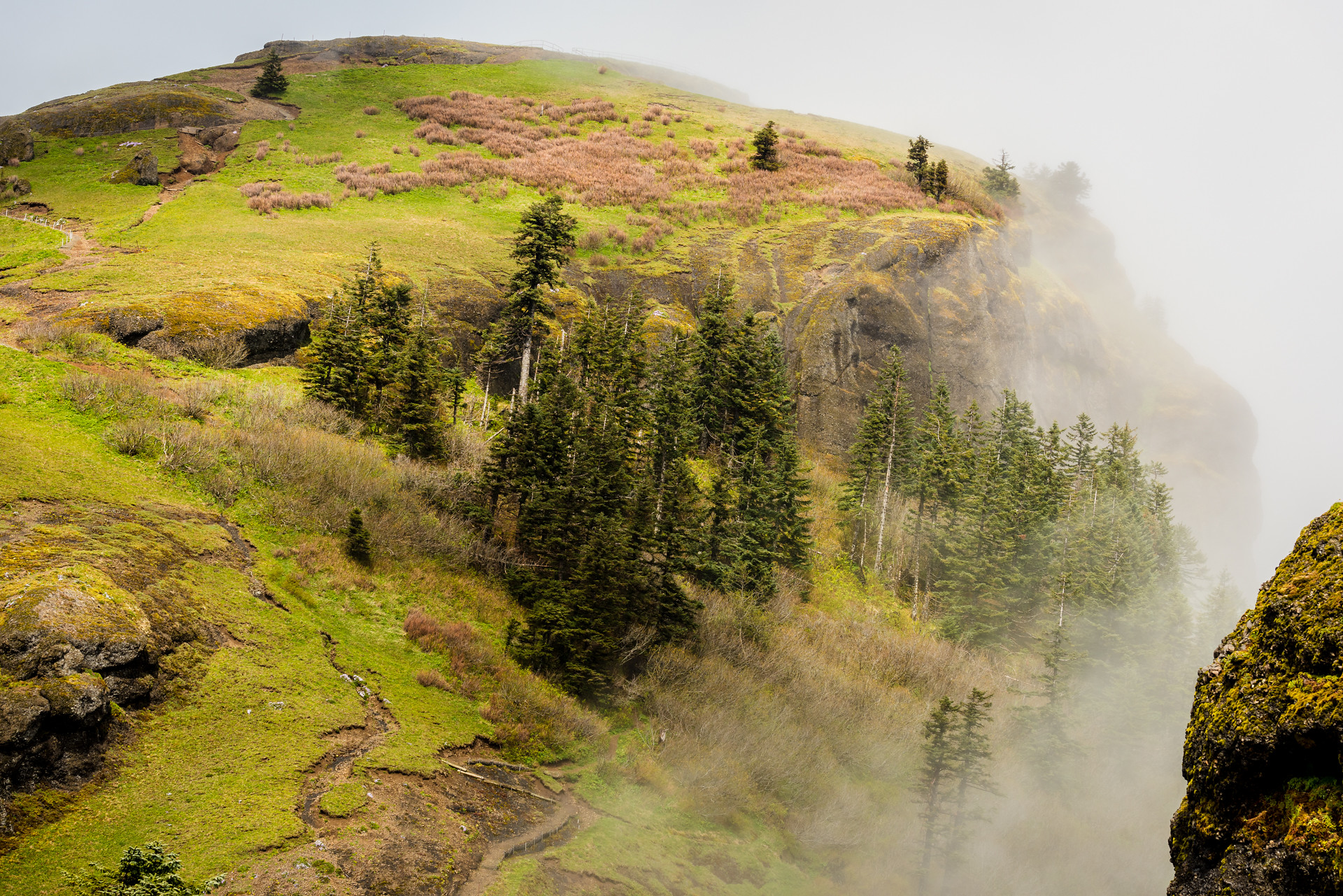 Saddle Mountain State Natural Area is renowned for its unique wildflowers and the breathtaking viewpoint at its 3,290-foot peak.
Starting from a picnic area, the primary trail weaves through a mature old-growth forest before ascending the grassy slopes to reach the rocky summit. On clear days, the sweeping vista features the Columbia River flowing into the ocean and vast stretches of Pacific coastline to the west; to the east, the Oregon and Washington Cascade Mountains shape the skyline.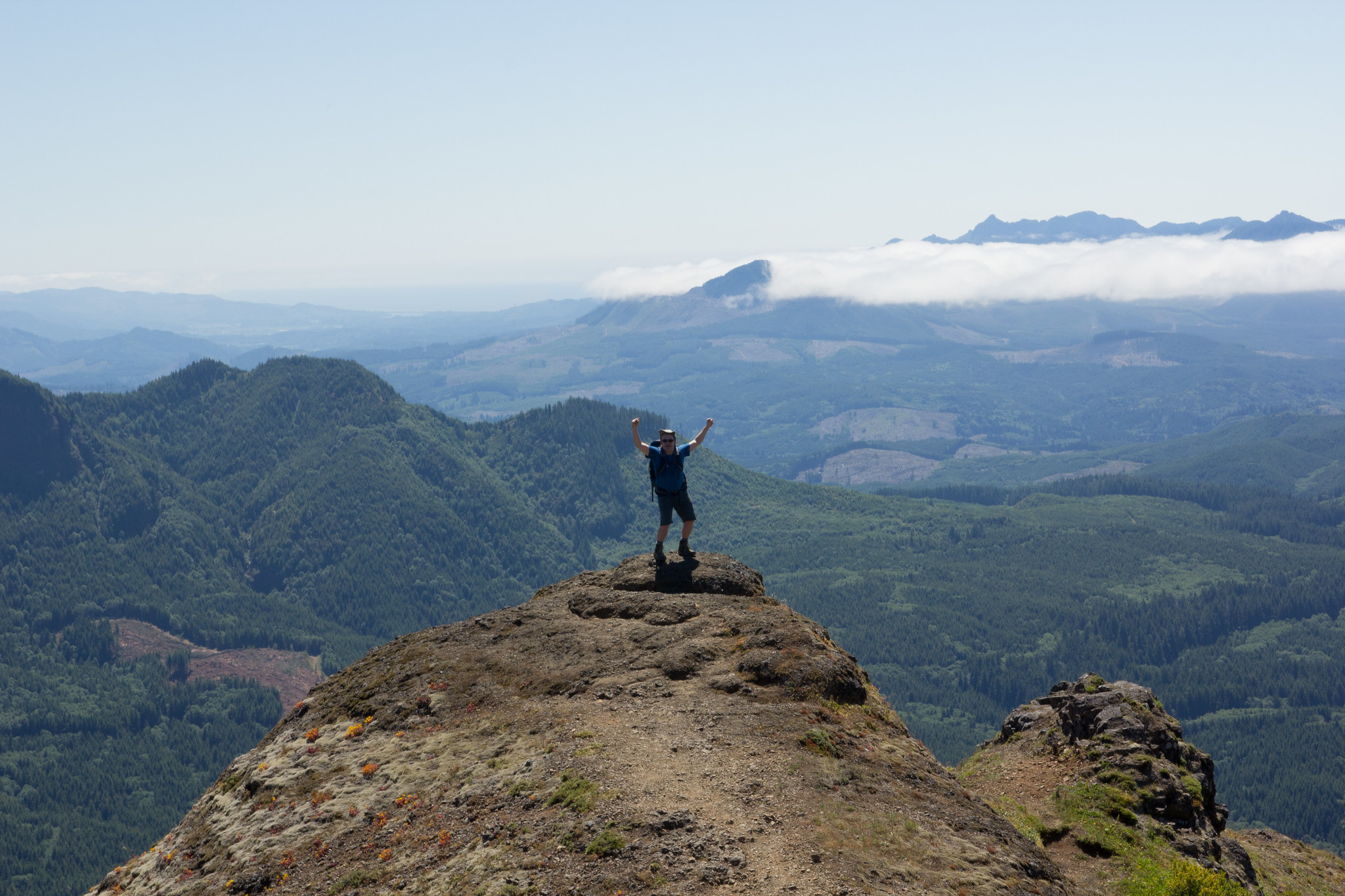 The main trail is steep and challenging in some sections, gaining 1,640 feet in elevation over 2.5 miles. Consult our trail map for specifics. This hike is best suited for seasoned hikers equipped with appropriate footwear and attire. Weather conditions can shift suddenly, bringing wind, rain, and even snow in the winter months. Some trail sections may become slippery in wet conditions.
For those not prepared for the strenuous climb, the Humbug Mountain Viewpoint trail offers a shorter, 10-minute alternative, branching off from the main trail just a quarter mile from the trailhead. To ensure your dog's safety and to respect other hikers, please keep your dog on a leash no longer than 6 feet.
The Saddle Mountain trail is rated as difficult as some areas can be steep. Get more information about the trail here.
16. Oregon Coast Trail
Looking to hike at a state park? The Oregon Coast Trail will take you through several.
We can't talk about hiking the Oregon coast without talking about the gorgeous Oregon Coast Trail, which stretches the entire 362 miles along the coastline.
Also known as the OCT, the Oregon Coast Trail leads hikers through old growth forests, along rugged cliffs overlooking the Pacific Ocean, to tide pools, and across sandy beaches.
While most of the Oregon Coast Trail is on the beach itself, some segments take hikers through public lands and private property.
There are 10 sections of the Oregon Coast Trail, which you can read about and get maps for here.
17.

Cape Sebastian Trail
Embark on a moderate 2.7-mile out-and-back hike on the Cape Sebastian Trail, located south of Gold Beach, Oregon. While the top of the headland offers stunning views, the real adventure begins as you hike down to the cape's point. The trail is mostly downhill on the way there, but be prepared for a 718-foot elevation gain on the way back.
As you traverse the trail, you'll be treated to breathtaking ocean views and may encounter different types of wildlife. Once you reach the trail's end, a steep descent leads to the beach. However, there's a helpful rope to guide you down and back up. The beach also boasts an abundance of life in its tide pools.
For an even more unforgettable experience, consider spending an entire day exploring the nearby Samuel H Boardman Scenic Corridor. With its stunning coastal vistas and hiking opportunities, this area is a must-see for any nature lover.
RELATED: Your Guide To Gold Beach, Oregon – Things To Do, History, And More
Tips For Hiking The Oregon Coast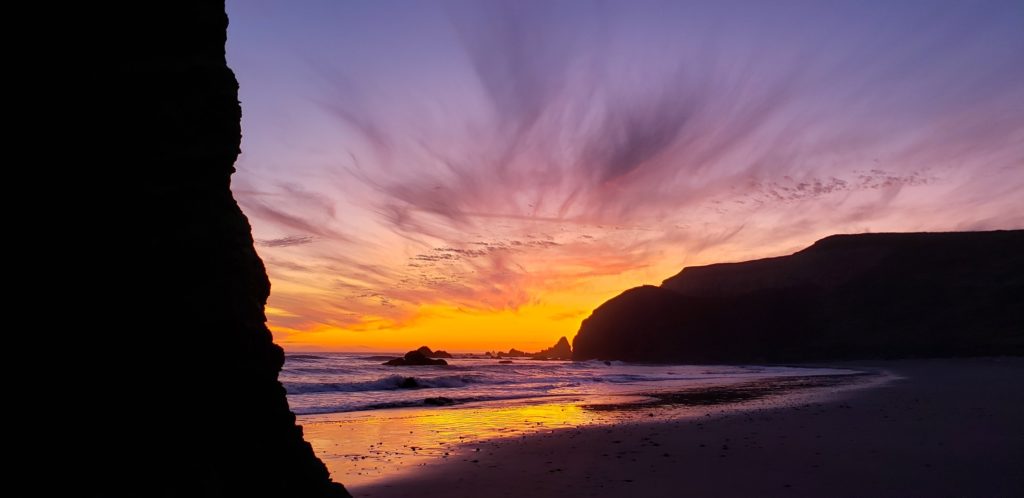 Please follow the seven easy principles of Leave No Trace while out hiking in Oregon's wilds. This helps keep the Oregon coast beautiful and keeps trails open for future generations.

Never hike beyond your ability or skill level.

Hike with a friend. Tell someone where you're going and when you plan to return.

Be aware of trail closures. Always check that the trail you want to hike is open before you go.

Before your trip to the Oregon coast check the weather, and plan for inclement weather during your trip. Bring rain gear and layers. Even in the summer, weather on the coast can be unpredictable.

Take enough water, food, and snacks to get you through your hike.

Bring an extra pair of socks (especially if you'll be hiking around water, in the rain, or after a rain. My socks always get soaked when I'm hiking the Oregon coast after a big rain because I end up brushing past wet bushes. Having a nice dry pair of socks waiting in the car or back at camp to change into is super important.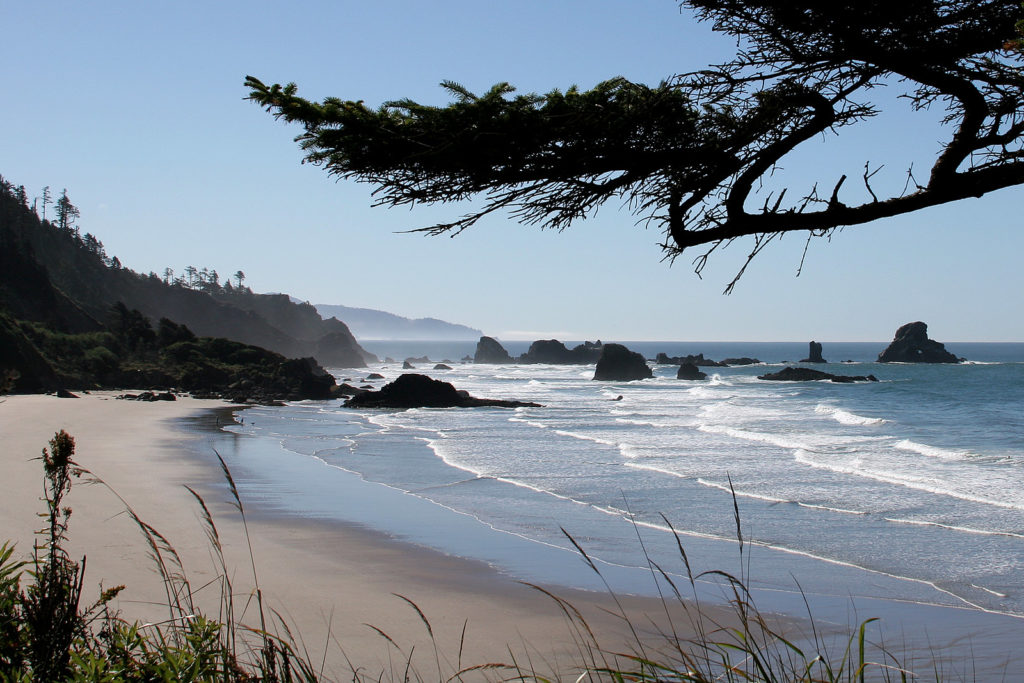 Looking for another Oregon coast hike? We think you may also like the Indian Beach Trail which starts at the Indian Beach Trailhead, and Crescent Beach Trail, which you can read about at Ecola State Park.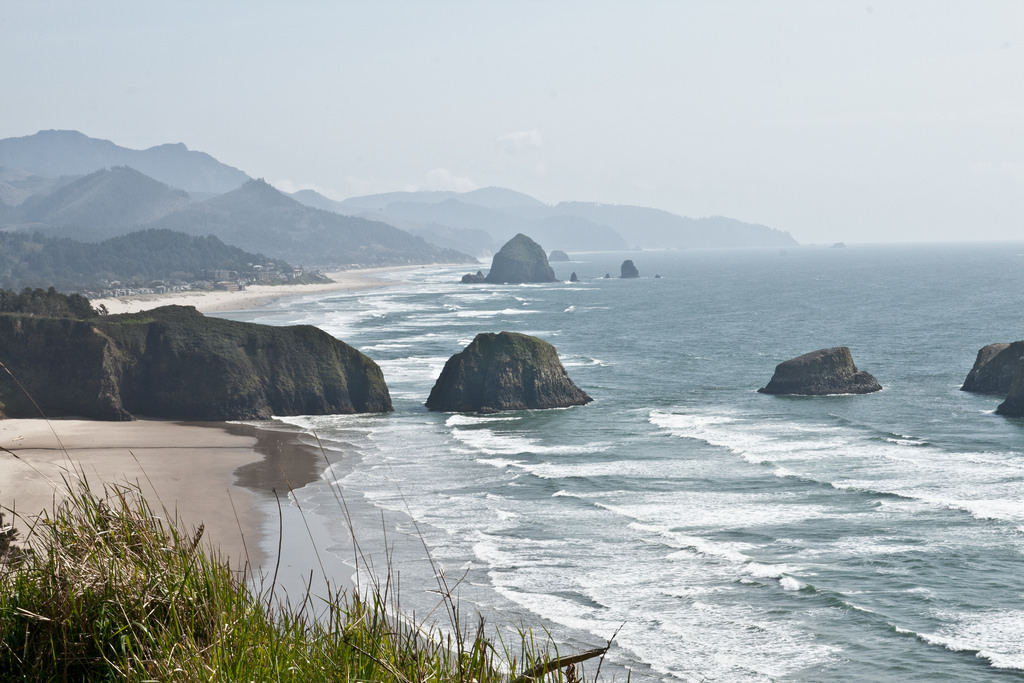 While exploring the captivating Oregon Coast hikes, don't miss the chance to learn more about the iconic Heceta Head Lighthouse, which you can read about on our website. The Heceta Head Lighthouse is a popular destination due to the Lightkeepers cottage, which was turned into an AirBNB. Another great option for exploring the coast is the Samuel H. Boardman State Scenic Corridor.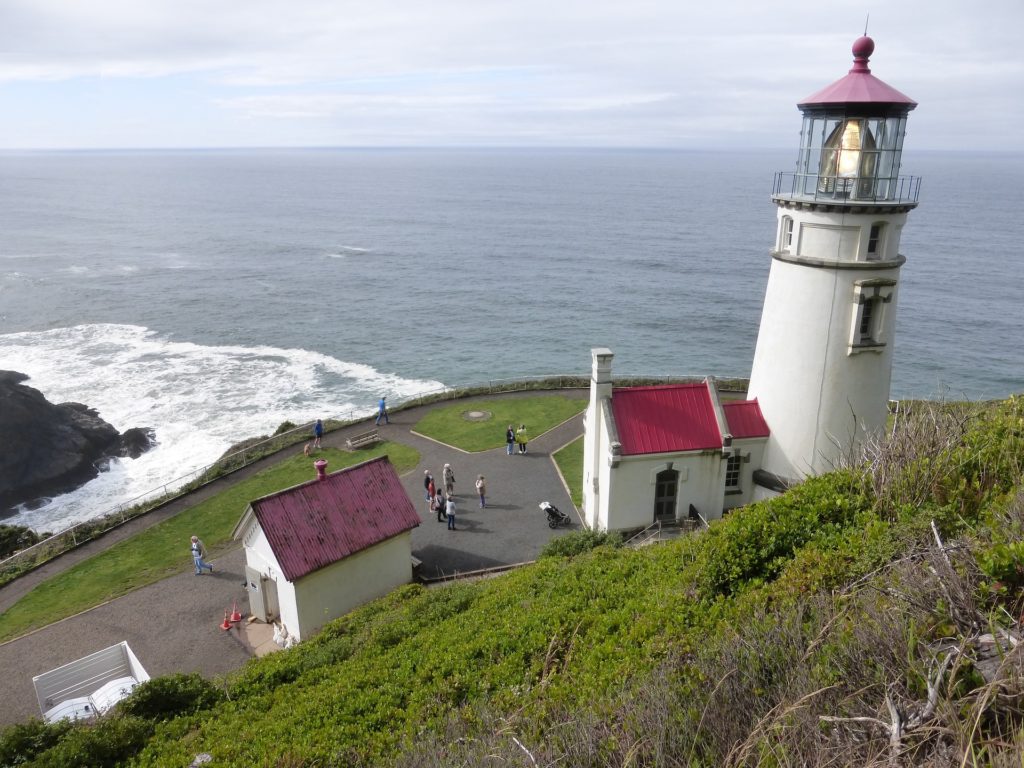 Have you ever hiked the Oregon Coast Trail? Ever discovered a hidden beach on the shore via one of the many secluded beach trails? What's your favorite Oregon coast hike? Let us know and tag the friends and family you want to go on an Oregon coast hike with!