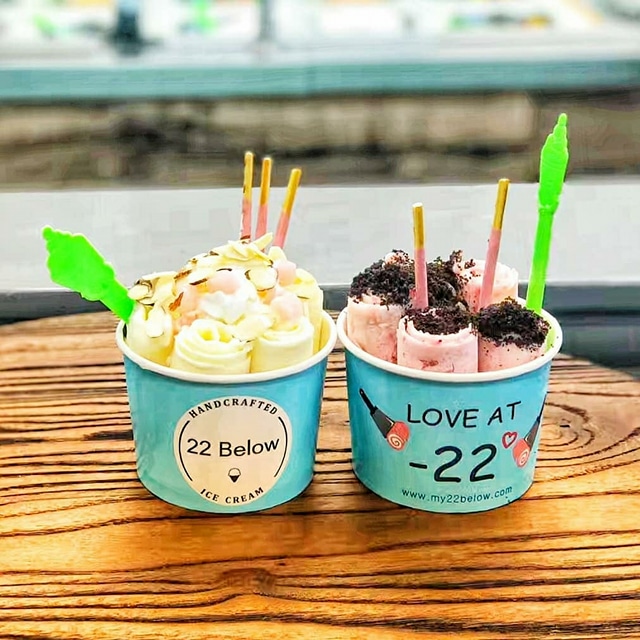 I'm going to be completely honest, I have never heard of Thai Rolled Ice Cream until I came across an article recently at The Oregonian. In fact, the latest ice cream craze apparently is taking over U.S. cities. And best believe, now that I know it's available in Eugene, where I live, I'm definitely dropping in for a cold treat.
It's known as 22 Below, and they pride themselves on lactose-free, gluten-free liquid base ice cream made from coconut milk. The product is then poured onto a metal surface, and cooled to negative 22 degrees. Then of course, comes the best part – the toppings and flavors are added to the delicious treat, and spread out thinly to freeze.
20-year-old Kady Chen and her husband Yao Zhang opened the doors to their first location in Eugene, this last year in April after getting married. Chen did so while attending the University of Oregon, and raising her daughter.
"We wanted to bring back something that wasn't here and was never here before," Chen told The Oregonian. Five months later, the young couple opened their second shop in Salem next to Chen's hometown.
And the flavors offered here sound incredible. Everything from Campfire, which is basically a smore with chocolate ice cream, to New York Style cheesecake, Mangonada, Popping Soda, Banana Cream Pie, Vegan Dog Ice Cream and more. Oh, did we mention the rolled ice cream sandwich?
While their family doubted their plan to open up an ice cream shop, the couple gave it their best and proved it to be a huge success in Oregon. And as of March 9, with students already flooding in to her third location, their Portland location has been a huge hit. The couple also reportedly will be opening their 4th location in Beaverton sometime in the future.
If you are thinking about stopping by, a cup of rolled ice cream will set you back about $6.85. Their menu also includes tasty bubble teas and other specialty drinks.
Where can you find 22 Below?
1728 SW Jefferson St, Portland
4155 Rickey St. SE, Salem
501 Valley River Center, Eugene
Head over to my22below.com for more information.