Hug Point State Recreation Site may be small in size, but it packs a big punch when it comes to outdoor adventure. This hidden gem, just a stone's throw away from Cannon Beach, boasts not only a spectacular coastline but also a fascinating glimpse into local history. This serene little spot proves there is never a shortage of places to visit on the beautiful Oregon Coast.
Take a stroll through the forested picnic areas, catch a glimpse of the seasonal waterfall and explore the sandstone caves that have been carved out by the tides over time. The beach itself is a stunning oasis, surrounded by lush salal, ferns, and sitka spruce. This beach is flat and makes for an easy hike — perfectly fit for all ages.
Hug Point State Recreation Site
If you're looking for a coastal gem to add to your Oregon bucket list, make sure to check out Hug Point! This stunning state recreation site was once a stagecoach road, which had to "hug" the coastline to avoid getting swept away by the tide – talk about an adrenaline-pumping commute! Today, visitors can enjoy a day exploring the area's natural beauty or make a pitstop along the famous Highway 101. Trust us, Hug Point is definitely worth giving a hug to!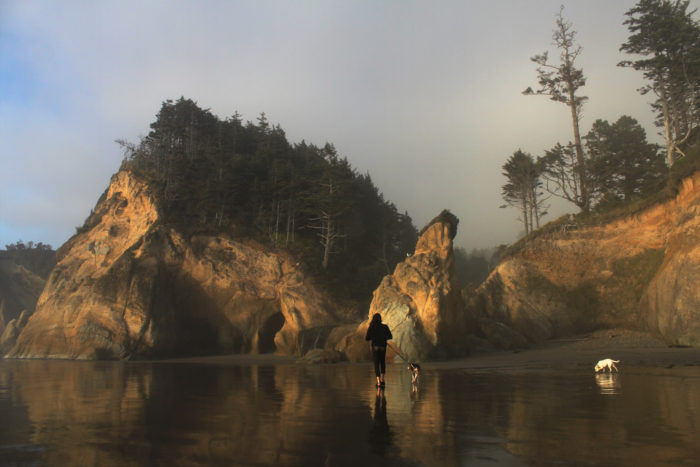 Exploring Hug Point Beach
Come play in the sand and bask in the beauty of Hug Point State Recreation Site! Take a stroll on the beach and let your eyes feast on the stunning cliffs that carry conifers on their tips. Wander along the shorelines and bask in the magnificence of rocky ridges, sea caves, and tide pools that are crawling with marine life.
Make sure to hit up the seasonal waterfall and engage in some pursuit of happiness. And don't forget to keep an eye out for the one and only Haystack Rock in the distance! Not too shabby for a day by the coast.
---
RELATED: 13 Top Oregon State Parks You Didn't Know Existed
---
If you want to explore the surrounding area, you will find a beautiful forest on one side of the beach. Here is a beautiful misty morning shot from Eli Duke at Hug Point.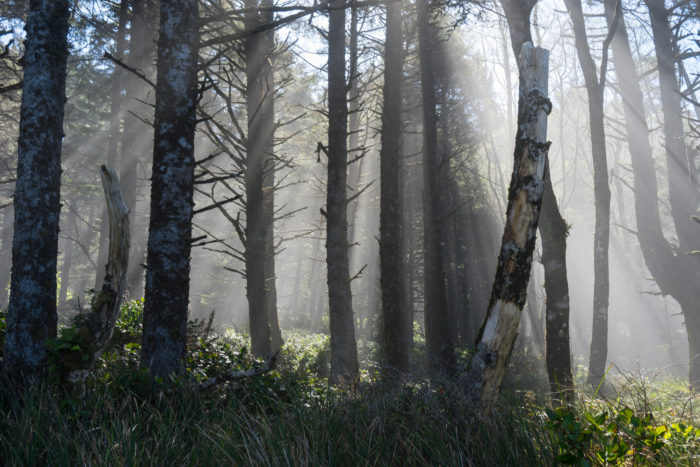 Does Hung Point have tide pools?
Nestled between Austin Point towards the south and Hug Point towards the north, lies a serene destination that is bound to captivate your senses.
Take a leisurely stroll towards the north and discover a hidden seasonal waterfall, awe-inspiring caves carved intricately into sandstone cliffs, and mesmerizing tide pools accessible during low tide.
The unique geological formations that have been sculpted by the ocean over the years are a sight to behold and make this destination an absolute must-visit.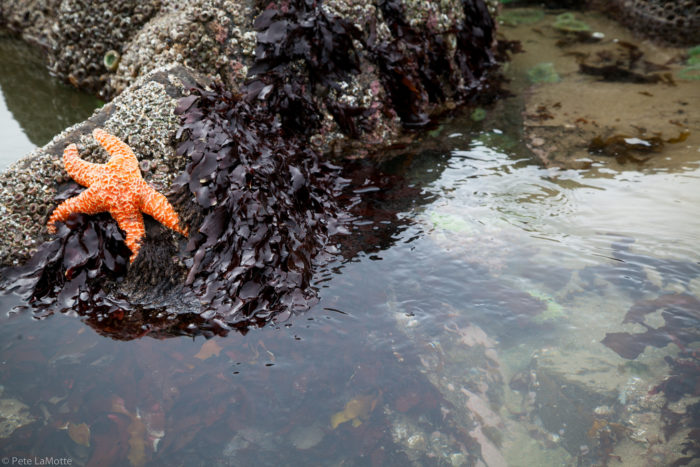 If you time your visit just right, you'll have the chance to discover the hidden treasures of the tide pools. Hug Point State Recreation Site truly has something for everyone, and is the perfect destination for a day trip or a weekend getaway.
Facilities and Services Available at Hug Point State Recreation Site
With just the essentials – restrooms, picnic tables, and a parking lot – you'll have everything you need for a peaceful day by the water. But don't be fooled by its humble appearance, as the beach is just a short stroll away, offering breathtaking views that will leave you feeling refreshed and rejuvenated. Just be sure to arrive early to secure your spot in the parking lot – this quaint hideaway has been gaining popularity lately!
When to See the Hug Point Waterfall
The best time to see the waterfall is during the wetter seasons such as fall, as during the summer there isn't quite as much water. Typically, the Oregon coast experiences a relatively dry summer, resulting in the waterfall at Hug Point being reduced to a mere trickle.
However, once the rainy season kicks in, the same waterfall transforms into a steady stream of water.
What is the History of Hug Point Oregon?
The name Hug Point has an interesting history, as stagecoaches would travel along the beach, hugging the point as they rode by.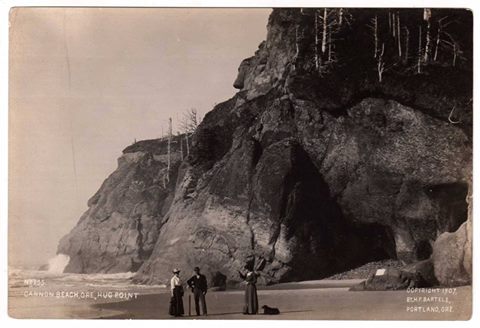 The original trail traveled by early settlers is still here to this day just north of the parking lot. Before the highway was built, the beach was the only way to travel along this stretch of coast.
How to Get to Hug Point
To reach the Hug Point State Recreation Site, simply continue driving south on Highway 101, which is also known as Oregon's coastal route, from Cannon Beach. The distance is just under 5 miles and you will notice clear signs indicating the Hug Point State Recreation Site.
From the parking lot, you will head north to find the waterfall on the beach. The lovely sandy cove beach just off the park is backed by hills vegetated by salal, ferns and sitka spruce.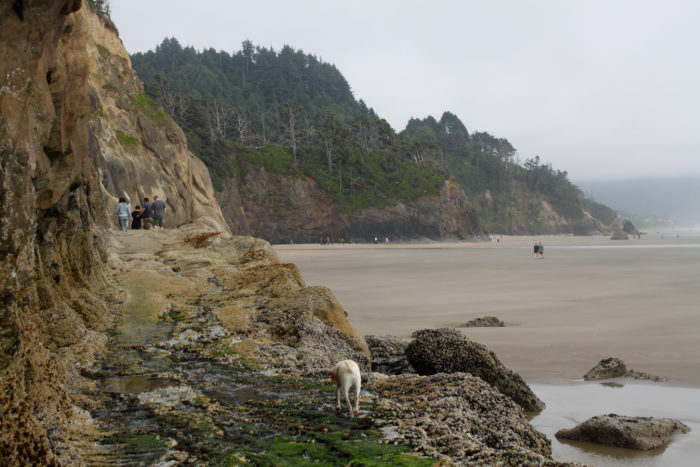 Beware of the Tides at Hug Point Beach
Don't get caught between a rock and a wet place! For your own safety and ultimate enjoyment, schedule your Hug Point exploration during low tide. The Point's impressive attractions are definitely worth seeing, but you don't want to get stranded by the incoming tide – trust us on this one.
Check out the tide schedule in the area here and make sure you're ready to ride those waves safely.
Exploring caves, beaches and waterfalls is an at-your-own-risk activity. Stay safe and use good judgment. Obey all posted signs and rules. Never turn your back on the powerful Pacific Ocean as sneaker waves and logs can come up behind you without your notice.
As always, make sure and pack out whatever you are packing in! It is always our duty to respect nature and keep these beautiful places in Oregon as clean as possible. If you are looking for another beautiful place to hike on the Oregon Coast, don't miss this article here.
Attractions Near Hug Point
While Hug Point is captivating, nearby destinations offer unique activities worth exploring. We have compiled a list of the most exhilarating adventures to leave a lasting impression on your memory. With so much to see and do, make the most of your visit by experiencing everything that this region has to offer.