Gorgeous Cannon Beach, Oregon has always been one of my favorite places to visit in Oregon. The beach was named after a naval cannon that washed up after a shipwreck way back in the 1840's, and is a pretty famous place in the world.
Not only was one of my favorite childhood classic movies The Goonies filmed here, but to no surprise, it was also listed in 2017 as one of the 21 Best Beaches In The World by National Geographic.
You will begin to understand why we adore this stretch of the Oregon Coast as you walk along our sandy beach, which is crowned by the Oregon icon Haystack Rock.
Probably one of the most photographed places on the Oregon Coast is the iconic Haystack Rock, and this eye candy alone is enough reason to make the trip here.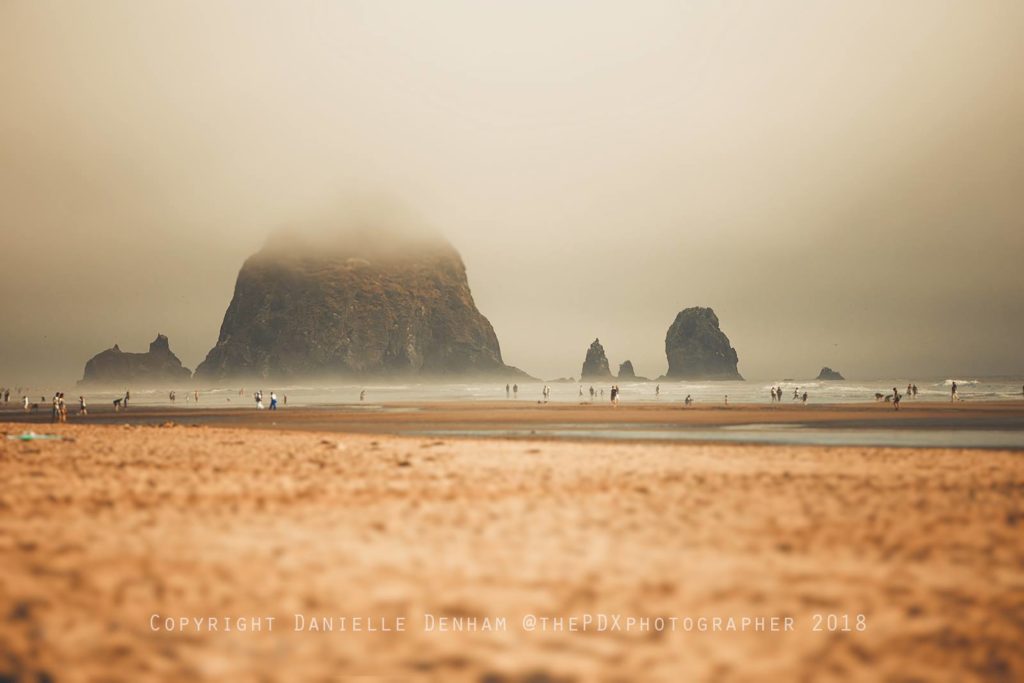 Cannon Beach Oregon Travel Guide
---
This 235-foot sea stack has taken the prize for one of the tallest intertidal sea stacks in the world. When the tide is low enough, you can walk right up to the base. Between October and May, the pace of coastal tourism decreases dramatically, and it's one of the best times to visit for wildlife lovers, outdoor enthusiasts, and for anyone just looking to get away for the weekend to enjoy some small-town charm.
Where is Cannon Beach?
You will find Cannon Beach in Oregon just 90 minutes west of Portland and around four hours southwest of Seattle, Washington. The town itself is a part of Clatsop County, just four miles south of the US-26 junction along Pacific Coast Highway. (US-101)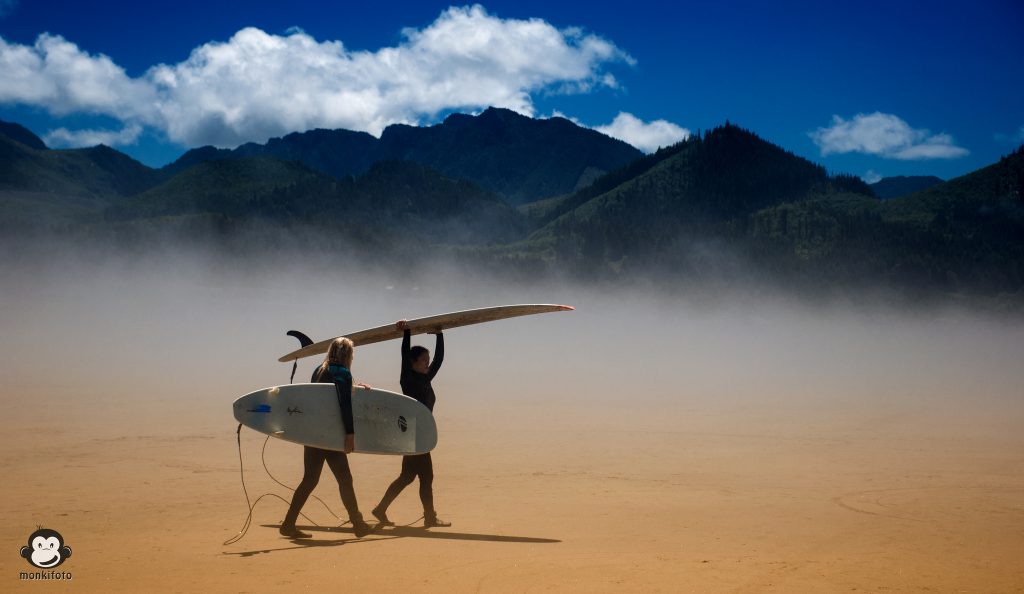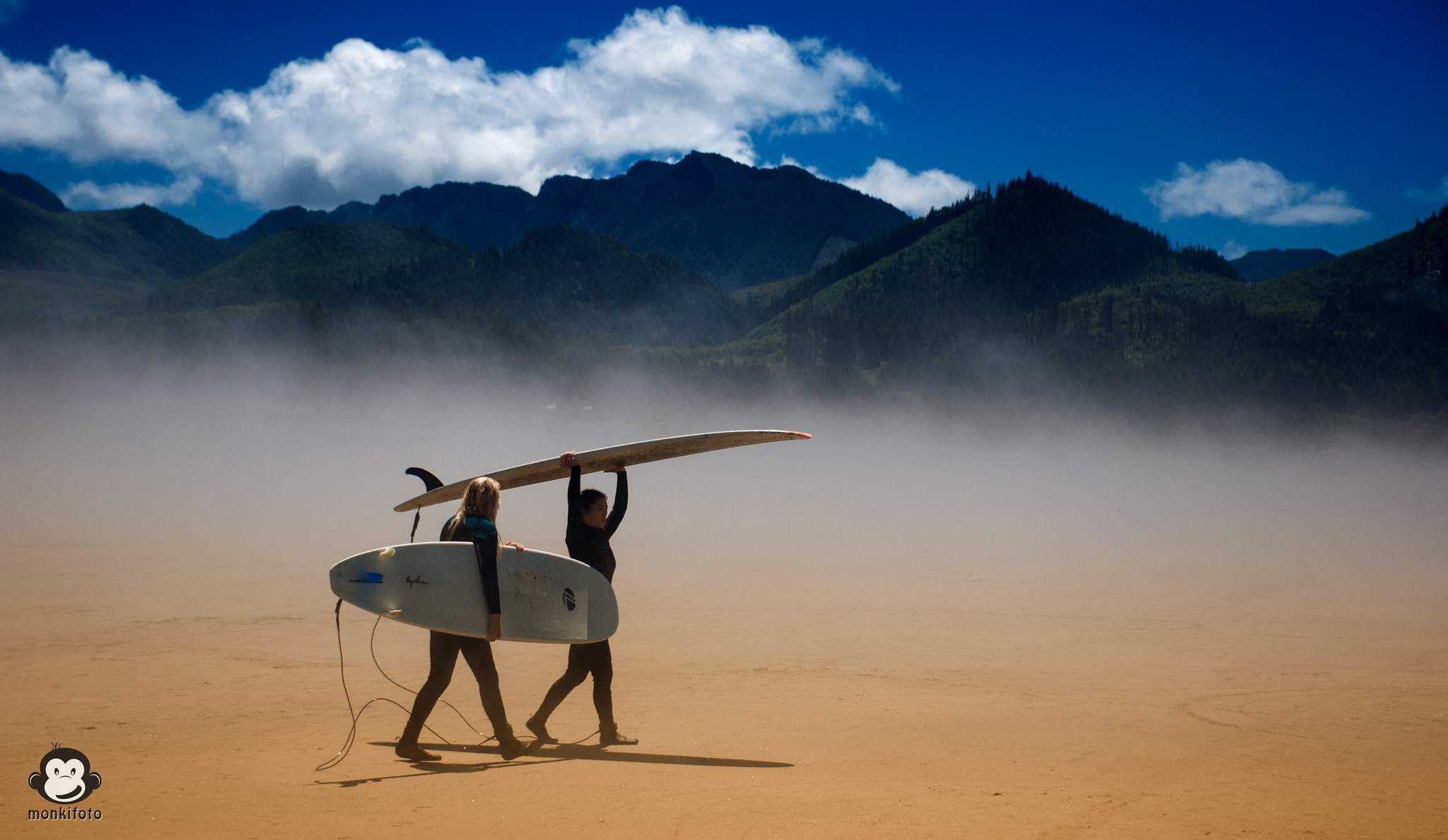 Things to Do at Cannon Beach
There are plenty of festivals at Cannon Beach — the sandcastle building contest, the Stormy Weather Arts Festival, and the glorious Fourth Of July parade are just a few.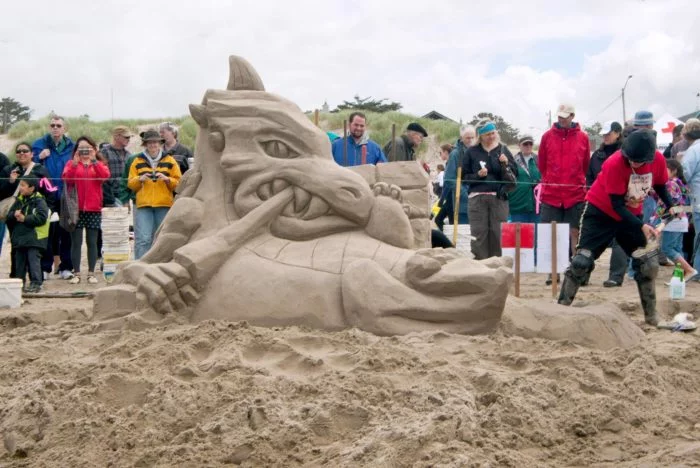 Coastal Theater Playhouse
Cannon Beach Arts Association
CBAA is a 501(c)3 nonprofit located in Cannon Beach that supports artists and the arts in the north coast region through exhibits, events, and education. Part of their vision is a community where people are supported to create, learn about, and show art to a diverse community of people including full-time, seasonal, and tourist communities. CBAA's programs include art exhibits, a retail art gallery, a summer art camp program, art workshops and demonstrations, a music festival, scholarships, and artist grants. Enjoy receptions, performances, or art classes at their location on S. Hemlock Street.
1064 S. Hemlock Street Cannon Beach, Oregon 97110
503-436-0744
Small town charm in Cannon Beach
The small town of Cannon Beach has strict regulations in place, limiting the infiltration of large chain stores or restaurants, allowing it to retain its small-town charm.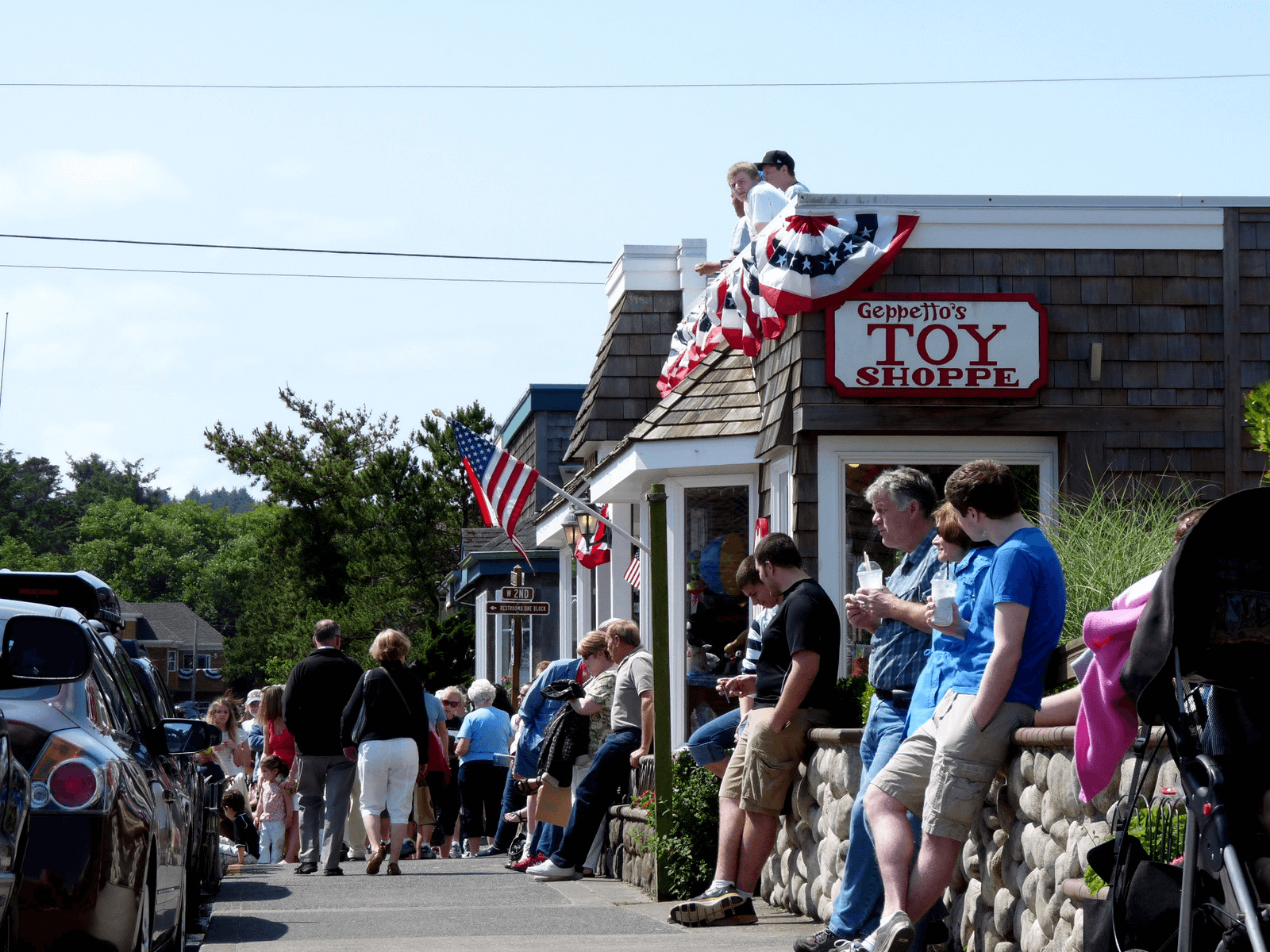 Visit Seaside
Located just 15 minutes north of Cannon Beach, Seaside boasts a charming oceanfront promenade that is perfect for strolling.
This resort town offers plenty of shops and restaurants, and is a great destination for outdoor activities such as hiking, biking, kayaking, and clamming.
With its lively atmosphere, Seaside is a must-visit for those looking to experience the best of the Oregon Coast.
Explore Hugpoint
If you're looking for a unique natural wonder, head just 10 minutes south of town to Hug Point. At this State Recreation Point, you'll find a beach with a cave and a waterfall located right next to the ocean.
The best part? The beach is just a short walk from the parking lot, making it an easy and accessible destination. Don't miss out on the opportunity to see this stunning waterfall right beside the ocean – it's well worth the stop.
Ecola State Park
To fully experience Cannon Beach, a visit to Ecola State Park is a must. Follow Ecola Park Road through the old-growth rainforest to reach the park's entrance.
Once inside the park, take advantage of the paved walking trails to get panoramic views of the rock formations, capes, and headlands miles away.

Don't forget to check out the famous Tillamook Rock Lighthouse, located just offshore on a lone rock in the Pacific.
For a change of scenery, drive to the other side of the park to visit Indian Beach, a popular spot for surfers.
However, there are four parks in this city: Haystack Hill State Park, Les Shirley Park, John Yeon State Natural Site (which is closed to the public), and Tolovana Beach State Recreation Site.
Awesome shops
Looking to do some shopping while visiting the coast?
---
RELATED: Stephanie Inn, One of the Most Luxurious Hotels in the Country
---
Indian Beach
Just north of the town of Cannon Beach, Indian Beach, Ecola Park is worth a visit too.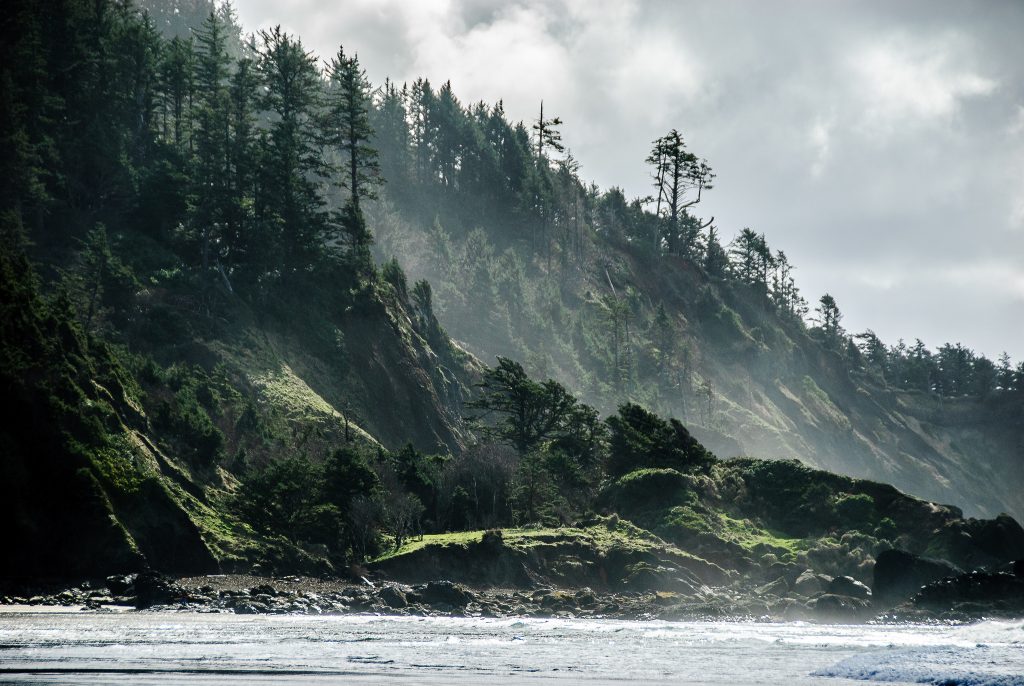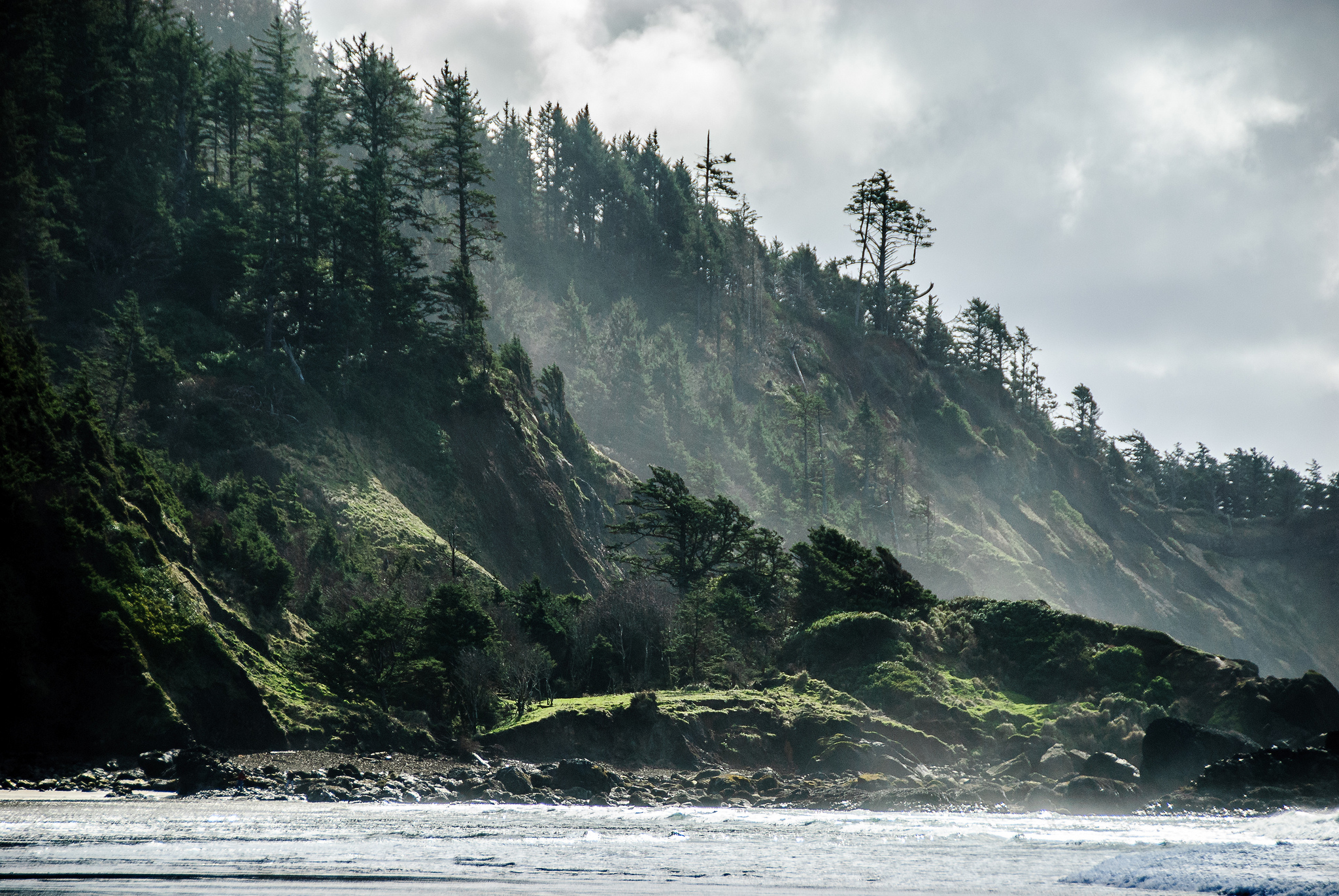 When you're done enjoying the delicious food and browsing the local art galleries and boutiques in town, you'll definitely want to check out all the amazing places to explore in the area. There's so much beauty here in the lush green hills that the experience on the trails is sure to give you and your friends or loved ones an unforgettable experience.
Best Public Transportation
Yes, there are local bus routes and shuttle services provided by Sunset Empire Transportation District, available daily with additional services during the summer.
The North West Point bus service also offers daily transportation between Portland and Cannon Beach. These services can be a convenient and affordable way to explore the area without the hassle of driving and parking.
When should I visit Cannon Beach?
When planning your trip to Cannon Beach, it's important to consider the weather and what type of experience you're looking for.
The best time to visit Cannon Beach and the surrounding area for sunny skies is from July to September. However, keep in mind that even in the summer, the weather can be unpredictable and it's always a good idea to bring warm layers.
In the summer, temperatures at Cannon Beach range from the low 50s to the high 60s, and in the winter, they range from the high 30s to the mid 50s.
If you don't mind a bit of rain and fog, consider visiting in the winter and springtime. The Pacific Northwest's dramatic scenery is at its best in overcast weather, and the coastline never gets too chilly. Plus, you'll be able to avoid the crowds and high prices of the summer season.
Where to Stay in Cannon Beach
One of The Most Grand Hotels In The Country
This beautiful oceanfront hotel in Cannon Beach is known as the Stephanie Inn and recently was named the 5th best hotel in the United States by Trip Advisor. From the minute walk into the lobby, you will see this gorgeous hotel is absolutely jaw-dropping.
There are rooms with a view of the ocean, gas fireplaces, kitchens, free Wi-Fi, decks, easy beach access, and an indoor pool and spa.
You'll surely not want to miss this secluded paradise near Cannon Beach. Hit the link here to learn more. Let us know in the comments about your trip to the Oregon Coast!
Where to Eat and Drink in Cannon Beach
Ecola Seafoods Restaurant & Market:
For an unforgettable seafood experience, visit the store. Located right on the shoreline at Cannon Beach South, this popular joint is famous for its succulent crab cakes made with fresh-caught Dungeness crab.
Enjoy your meal on their spacious patio while taking in views of Haystack Rock out in the distance.
Insomnia Coffee: This coffee spot is loved by both locals and tourists. They have great coffee and are conveniently located in the town.
Driftwood Restaurant & Lounge :
This local restaurant has been serving up top-notch steaks and seafood for over 75 years.
Expect friendly service and a warm atmosphere, whether you choose to dine inside or on the dog-friendly deck.
The food is made from locally sourced ingredients and pairs perfectly with a local beer.
If you're not sure where to eat in Cannon Beach, just ask around – locals will tell you Driftwood is one of the best.
Cannon Beach Smokehouse
Discover something unique – and delicious – at Cannon Beach Smokehouse! Located one block away from the beach, this small tavern serves up local brews alongside their signature in-house smoked meats.
From apps to sandwiches, plates to boards – they've got it all plus specialty cocktails too! With limited seating capacity, you'll want to be sure that a visit here is on your list while exploring the area's restaurants. So why not give them a try today?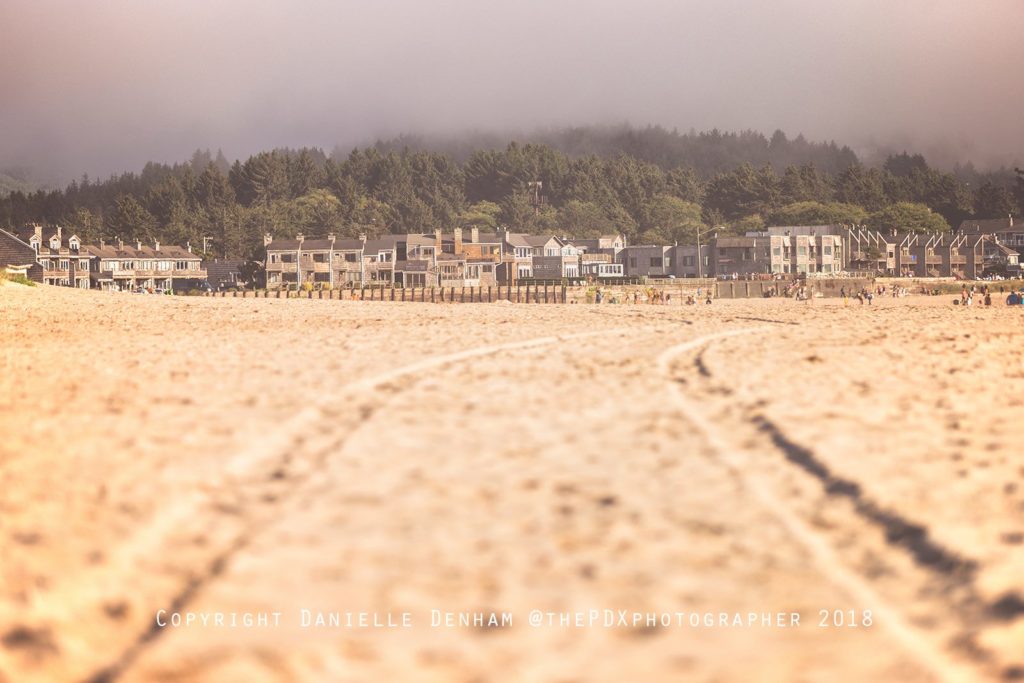 Before You Go
Can I drive onto Cannon Beach?
Even though you can do this on some Oregon beaches, but you cannot drive on the Cannon beach.
Is Cannon Beach dog friendly?
Dogs are allowed on the beach, as long as they are on a leash or under voice control of the owner. It is the owner's responsibility to ensure that the dog is physically controlled.