In Oregon, we take the scenic route, through forest sanctuaries, past coastal vistas, and across rivers and desert plains. We cherish our long drives, which is why the Three Capes Scenic Route is such a vital part of the state's experience. This 40-mile car tour gives us a full view of the marvel that is western Oregon.
Three Capes Scenic Route (An Unofficial Guide)
With 40 miles of natural bliss and plenty to see and do along the way, the Three Capes Scenic Route is perfect for both casual and serious adventurers. There are quaint towns for pit stops and shopping, miles of hiking trails and forest, and three enormous rock promontories: Cape Meares, Cape Lookout, and Cape Kiwanda–all breathtakingly beautiful and ripe for exploration.
Sign up for monthly emails full of local travel inspiration and fun trip ideas. In each newsletter we'll share upcoming events, new things to do, hot dining spots and great travel ideas.
The route is short. It can be completed in less than a day, even if you're coming from Portland metro. But if you really want the full experience, you're going to want to stop, hike, and eat. Maybe spend a night camping, or enjoy a relaxing evening in a nearby hotel.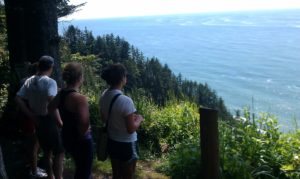 Where to Start
The road begins in Tillamook, where you'll find idyllic pastoral settings, green hills, and rows of vineyards. There's much to see in this tiny town, including a cheese factory named after the city's famous brand of Tillamook dairy products. It's interesting to see the way their products are made, and there's a gift shop along with an ice creamery. But cheesemaking gives off a horrific smell, and the real destinations are closer to the coast.
You can start by heading west on Highway 131 (3rd street), where the countryside falls away and the woods thicken until they become a dark, almost impenetrable boundary on all sides. On cold days, the mist comes wafting out from between the trees, hovering above the road. You definitely feel like you're entering the wild, but it won't last long. Pretty soon, the trees will turn to shrubs and succulents, and the smell of pine and moss will be replaced by sea salt and ocean air.
Netarts
Netarts is the first coastal city on the Three Capes Scenic Route. Its name means 'near the water'. It was established at the site of the earliest known settlement of the Tillamook tribe. Today it's a small town with barely 700 people, known for its thin stretch of sandy coastline, called Netarts Spit.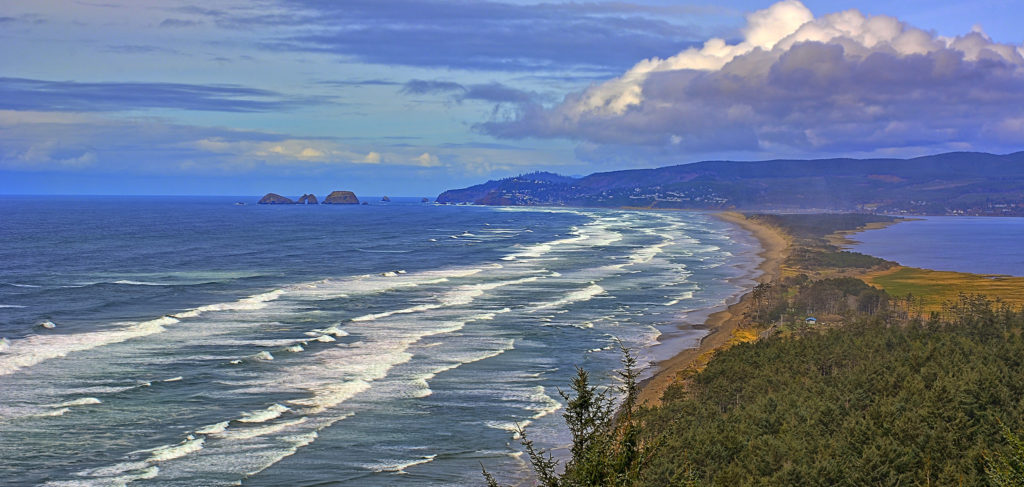 When you reach Netarts, you will come to a fork in the road, where signs for the Three Capes Scenic Route point to the left and also straight ahead. Go straight, towards Cape Meares, or cross it off your list and turn left to head south towards Cape Lookout.
On that same corner, you'll find a boat-to-table restaurant called The Schooner. Their mix of salty, fresh-caught seafood and locally sourced produce will have your mouth watering for hours, even after you're finished. It's places like this that make people travel across the country just to sample a taste of our coastline.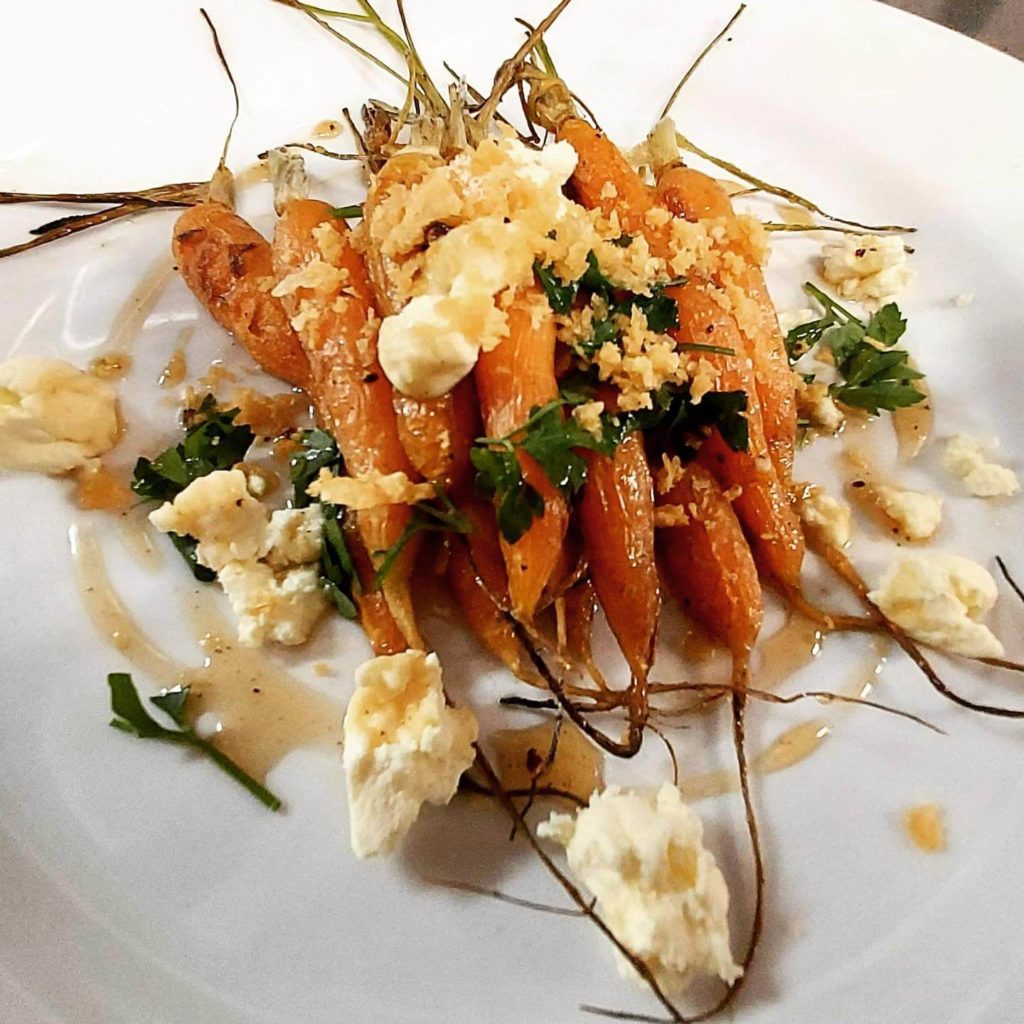 Oceanside
When you follow Highway 131 north, you will come to the small coastal town of Oceanside. With a population of only a few hundred, this community is centered around its main beach. It's a popular place for surfing, tide pooling, and agate hunting. There's also a small series of islands off the coast called the Three Arch Rocks Wildlife Refuge, set up to preserve the local seabird population.
If you have kids, or you need to take a break, this beach is for you. If not, you might want to skip it and head further north towards Cape Meares.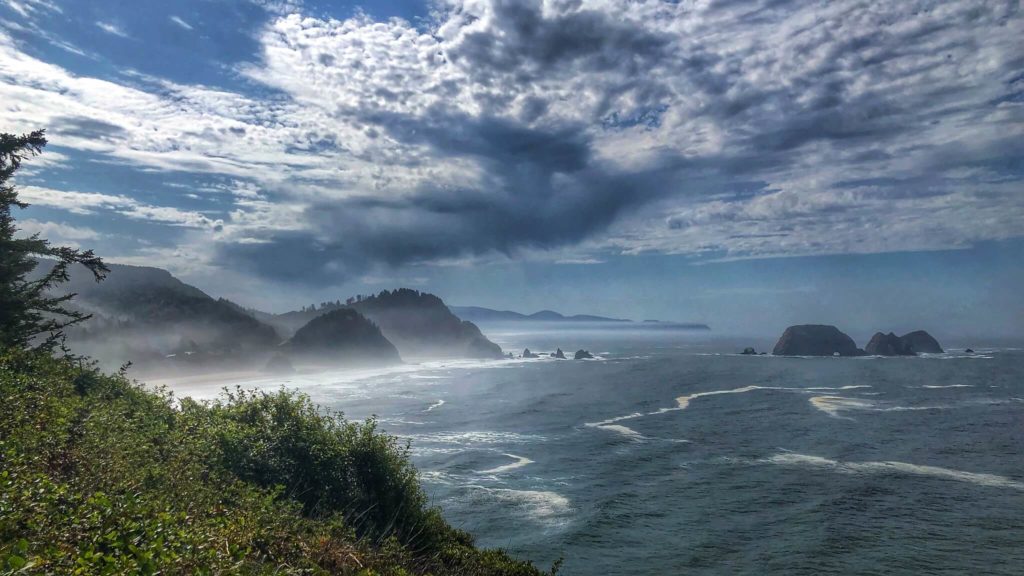 Cape Meares
The road to Cape Meares twists and turns through lush hills and forests. At times it straddles the coast, offering views that would make any camera drool. It is magical. There are crests of seafoam grappling against cliff rock, and hills of Sitka spruce stretching into the clouds. Sometimes, if you come on a sunny day, the water becomes a radiant, crystal blue, so clear you can see the ripples in the sand beneath.
It's tempting to look, but part of the allure comes from navigating the curves precisely, showing off your driving skills while taking in the sea air. There are plenty of chances to savor the view when you reach the cape.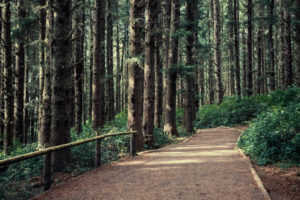 Cape Meares is home to one of the last stands of old-growth forest on the Oregon coast. Trails snake through darkened woods, where ancient spruce stand tall against winds reaching up to 100 mph. Branches and trunks inevitably break away, leaving rotting behemoths scattered across the forest floor.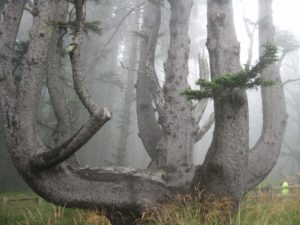 When you first arrive at the main entrance to the park, you'll see a short path leading to what is known as the Octopus Tree. Named for its sprawling limbs resembling tentacles, this Sitka spruce seems to have taken on a shape that's not found in nature. Check out our guide to this amazing tree here.
Another Sitka has made quite a name for itself on Cape Meares. Known as the Big Spruce, this behemoth is believed to be the largest of its species in the state. At over 100 feet tall and 48 feet in circumference, it's estimated to be more than 700 years old. The roots themselves tower up to fifteen feet above the ground.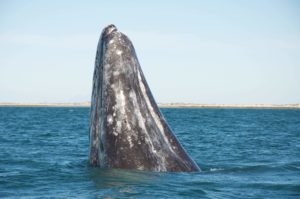 When you're hiking near the cliffs, keep an eye on the ocean, especially during late March to early June. Gray whales make their annual migration to Alaska during this time. It's not uncommon to see them spraying mist into the air or popping their heads up to greet onlookers. If you're lucky, you might even see a belly flop. Keep your phone in hand. You never know when they'll make an appearance. If you're interested in learning more, check out our whale spotting guide.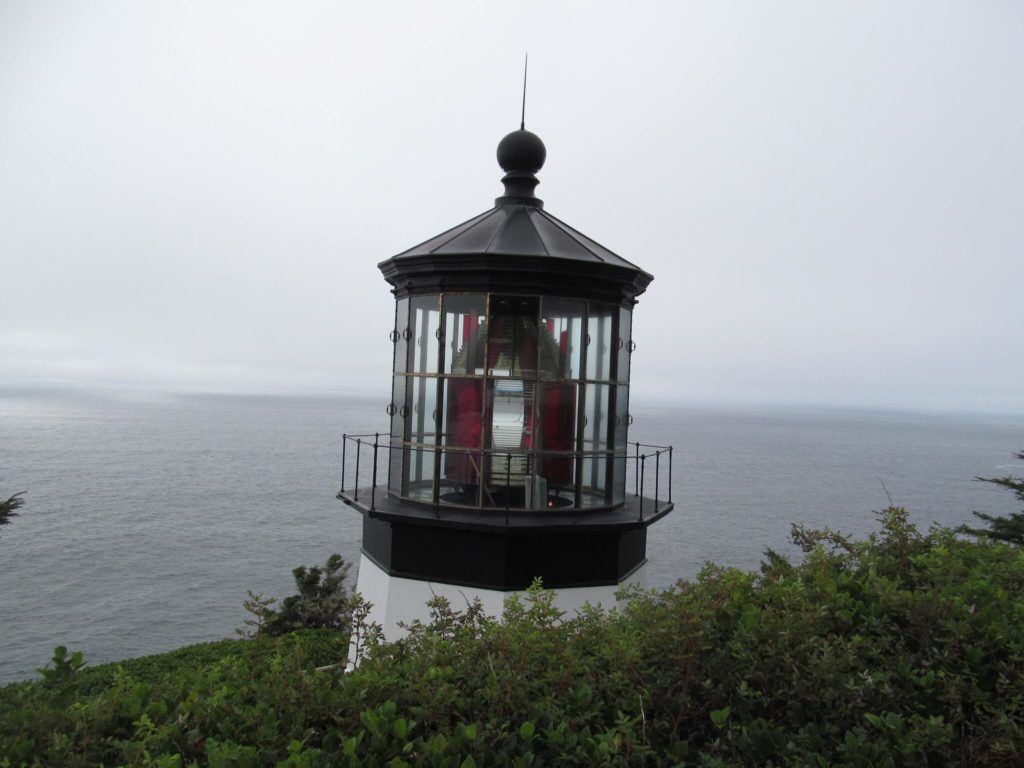 Cape Meares Lighthouse seems stunted, especially when compared to the towers we've grown accustomed to seeing, but its height puts it at a great advantage. It was built well below the fog line, and it boasts an impressive kerosene lens, visible from more than 20 miles offshore.
The hike to the lighthouse is short but eventful. You'll walk a quarter-mile from the parking lot, which used to be the location of the lightkeeper's residence, to the edge of the cliffs at the very tip of the cape. Dolphins, porpoises, and sea lions are known to show up from time to time. Birdwatchers come from far and wide, hoping to catch a glimpse of the many species that make the cliffs their home, including Brandt's cormorants and peregrine falcons.
Unfortunately, the lighthouse has had issues with rockslides and erosion, making it inaccessible for long periods of time–years even. There have been improvements on the roadways, but it's best to check ahead to be sure. Also, if weather conditions are harsh, it would probably be best to skip this cape and move on to the next one.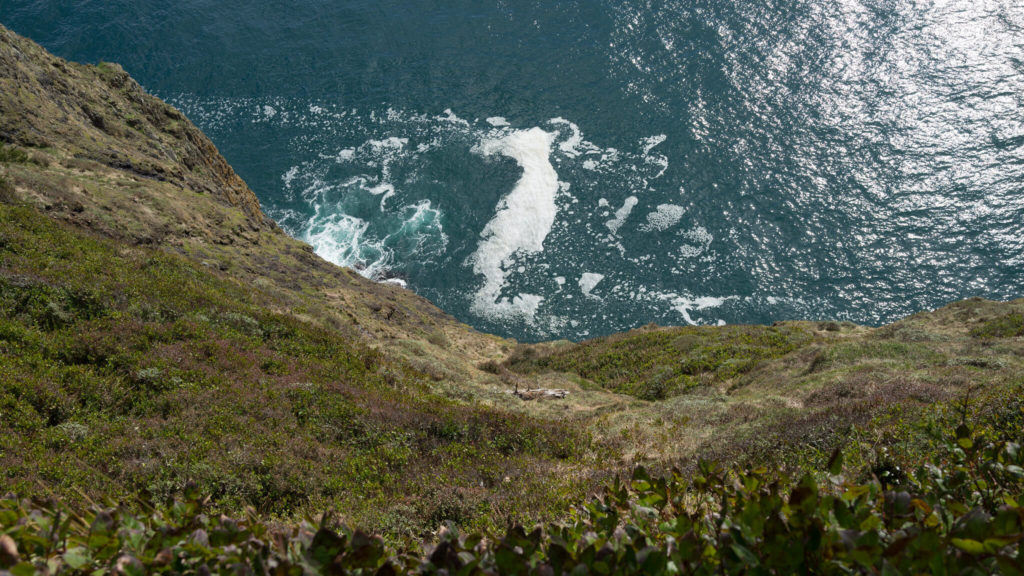 Cape Lookout
There's nothing more exhilarating than standing at the top of a 400-foot cliff and staring down at the waves, especially after a long trek through the woods. Cape Lookout is a thrill, meant to be treasured. It's a theme park for Oregonians. It has everything we love, and it's only a short drive from Cape Meares. Backtrack along the coast to Netarts, where you'll make a right on Netart Bay Drive.
You'll travel parallel to the bay, along clear, shallow waters interrupted by streaks of sand and patches of grass. The spit looms in the distance, holding back the sea. Berry brambles and pastures stretch for miles on your left until the road begins to veer east, over rivers and into the forest, never straying far from the coast.
When the trees start to thin, you'll see signs for Cape Lookout State Park. The park encompasses more than just the cape itself. It includes Netarts Spit, the area south of the spit, and the peninsula that branches out into the promontory. There is a day-use area roughly 2.5 miles down the road where you can get closer to the cape, but it would be a shame to miss what the park has to offer.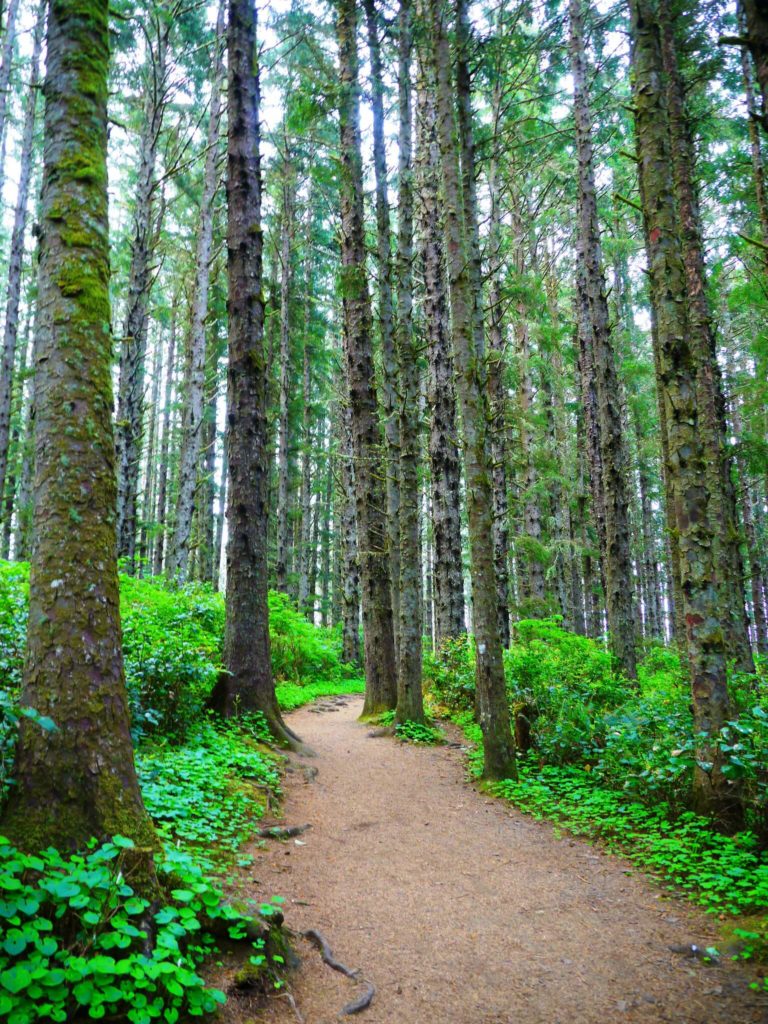 Cape Lookout State Park
Cape Lookout State Park is an amazing experience. There are beaches, camping, and hiking–plenty of chances to forest bathe, let your kids run around, or get your feet wet in the water. There's so much, and it's all so magnificent. If you make one stop on the Three Capes Scenic Route, this should be the one, even for just a moment.
The park features a 5-mile loop known as the Cape Trail. It stretches down along the coast and across the peninsula to the tip of the promontory. It then loops back to the main camping area where it started. The trail takes several hours to complete, and it's really not for children unless you go during the summertime when the mud is dry, but experienced hikers will find it easy enough. The path runs along cliffs–far enough away to ensure your safety, but close enough to get your adrenaline pumping–and the views from the northern and southern coasts will take your breath away, especially when skies are clear.
The forest trek is just as rewarding. There's moss-laden spruce and hemlock, surrounded by primeval fern. The trail is notorious for whale watching. It's more intimate than Cape Meares, where groups of people sometimes gather. On Cape Trail, you can scan the water alone and catch that one short glimpse, without having to share it with anyone. It's beautiful.
The trail can be slippery and muddy. It's not always flat, so make sure you use ferns and rocks as handholds. It's best to wear durable, waterproof boots. You're also going to encounter large puddles of water, so think about bringing along a pair of hiking poles. But it is well worth it. Once you reach the edge of the cape, and you see the view from 400 feet, you won't believe your eyes. It's like hovering over the ocean: nothing but you, the sky, and the sea.
For those who would prefer a more casual, family-friendly hike, the North Trail is relatively substantial and also easy to complete. It covers much of the same ground and begins at the day-use area, south of the state park entrance. It's 2.3 miles–roughly half the length of the Cape Trail–and it extends westwards to the edge of the promontory.
Sometimes the trails are closed for various reasons. Erosion and high-force winds can cause trouble. Look for closures on the park's website. Also, try to avoid hazardous weather. The coast isn't known for being the most hospitable environment. Extreme cold, wind, and rain can cause more than discomfort.
It would take days to see the entire park, and it's such an amazing environment. Camping is highly recommended. Luckily there are a variety of options available. The park offers cabins, yurts, and campsites, as well as hot showers and flush toilets, among other amenities.
Parking is $5 per vehicle. There are day-use parking permits available on-site, as well as year-round permits online. This rule also applies to the day-use parking area at Cape Lookout. For more information on camping, parking, amenities, closures, or to make a reservation, check out the State Parks website. You'll also find amazing photos of the park and an explanation of the trails.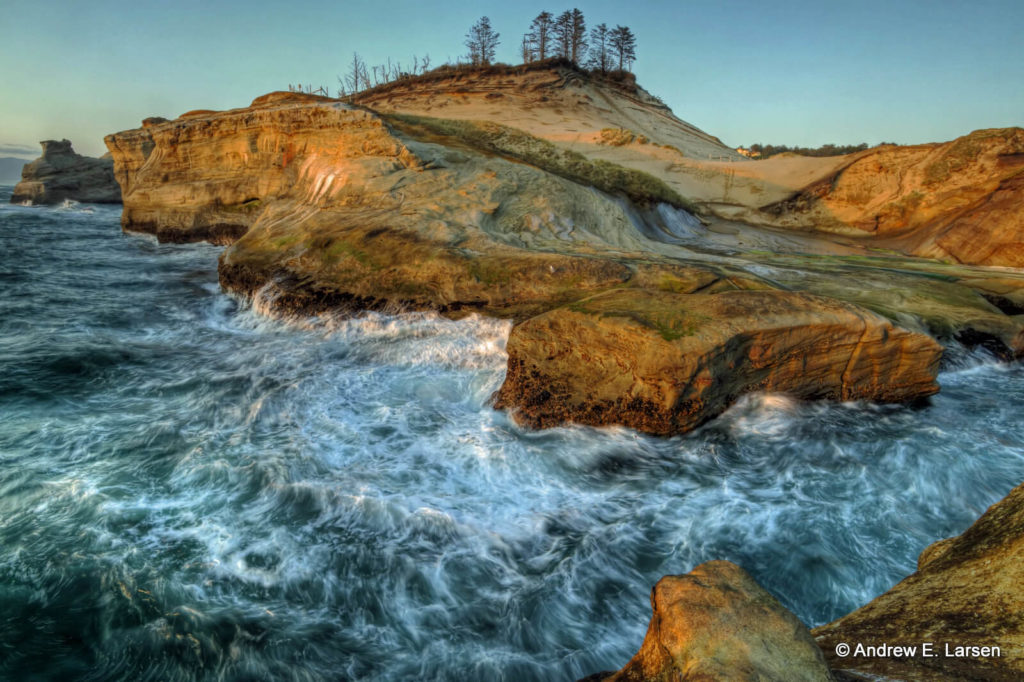 Cape Kiwanda
Cape Kiwanda is the smallest cape on our tour, but it is considered to be the most picturesque, and it is definitely the most popular. Located just north of Pacific City, the last stop on the scenic route, the cliff face is comprised of contoured sandstone, sculpted by one of the strongest surfs on the Oregon coast. The only thing protecting it from crumbling into the sea is Haystack Rock, a 300-foot basalt formation, designated as a wildlife refuge for seabirds and marine mammals.
Cape Kiwanda is a reminder of the power of the ocean. It is constantly eroding and growing smaller before our eyes. The hike to the top is steep and bare, almost like entering a small desert, though a few trees and swatches of grass have managed to cling to the cliffside; this is Oregon after all.
Since this is the last stop, try to make the climb at sunset, when the sun is hovering over the water, and the sandstone glows bright orange. When twilight takes hold, have a walk on the beach, a popular area for surfers and dory fishing boats. Cars used to be able to drive up onto the sand, but it became too dangerous for pedestrians. Now beachgoers have to hike, which means it's less crowded.
Cape Kiwanda is part of a greater recreational area that bears the same name. There are trails through the dunes, kayaking, and plenty of other activities. If you'd like, you can stay the night at the Inn at Cape Kiwanda or grab a beer at the oceanfront Pelican Brewing Company. There's also shopping and dining.
If you'd rather make the journey back home, and finish the last leg of the Three Capes Scenic route, take Cape Kiwanda Drive south. Make a right on Pacific Avenue, then a right on Brooten Road. Take Brooten all the way to Highway 101. If you follow the highway north, 25 miles, through lush hills and thin forests, you'll reach your starting point, Tillamook, or you could embark on another coastal adventure and take the highway south to Lincoln City. The choice is yours.