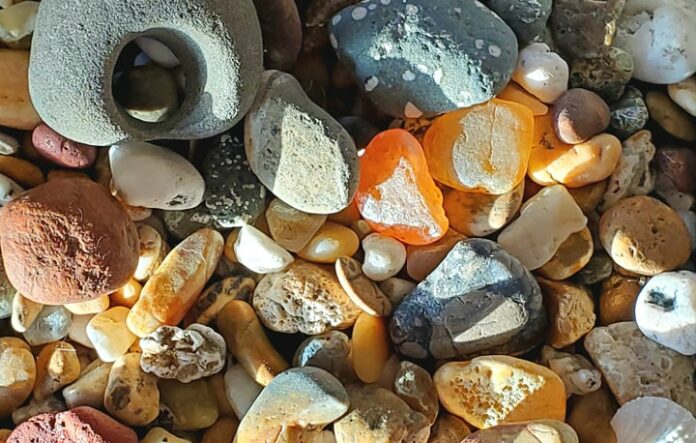 Welcome to the Pacific Northwest's gorgeous coastline, where you can explore some of the most scenic beaches in the United States. Oregon's section of Pacific Ocean beaches is home to some of the most unique and beautiful rocks in the world, including the highly coveted agates. In fact, Oregon boasts 363 miles of free and public coastline, so your chances of finding agates on the beach are excellent.
How and Where To Find Agates on the Beach in Oregon
In this guide, we will take you through everything you need to know to find the best agates on the Oregon coast.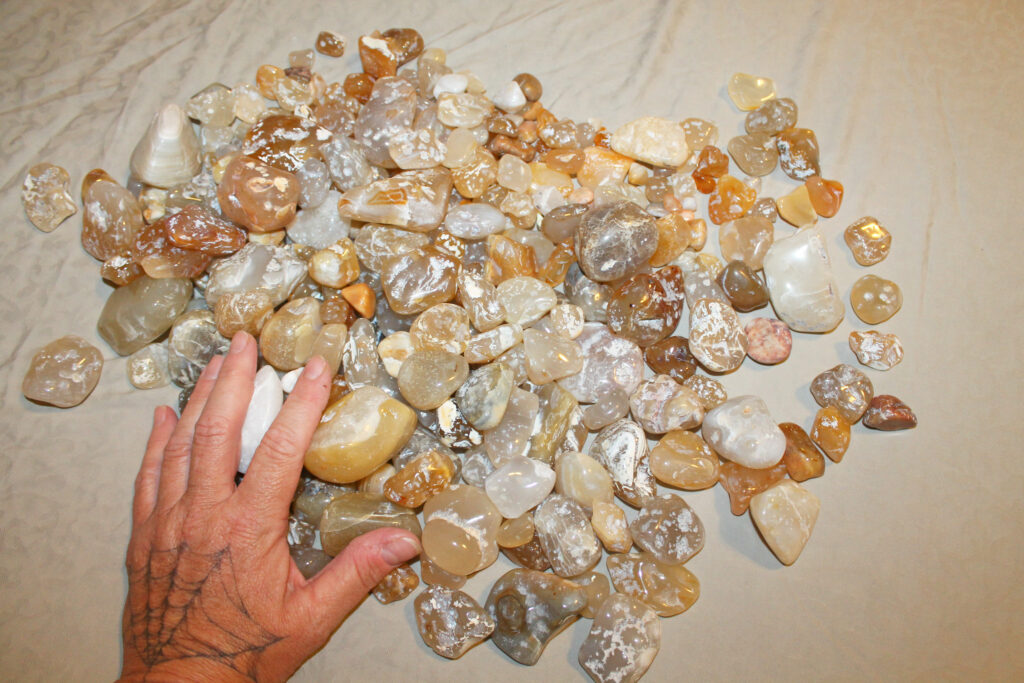 What Are Agates?
Before you set out on your adventure, let's start with the basics. Agates are a semi-precious form of chalcedony that forms in volcanic rocks. They come in a wide range of colors and patterns, from white to black, and everything in between. The most highly prized of these beach finds are translucent, in colors from deep reds and grays to yellow, all the way to almost clear and transparent.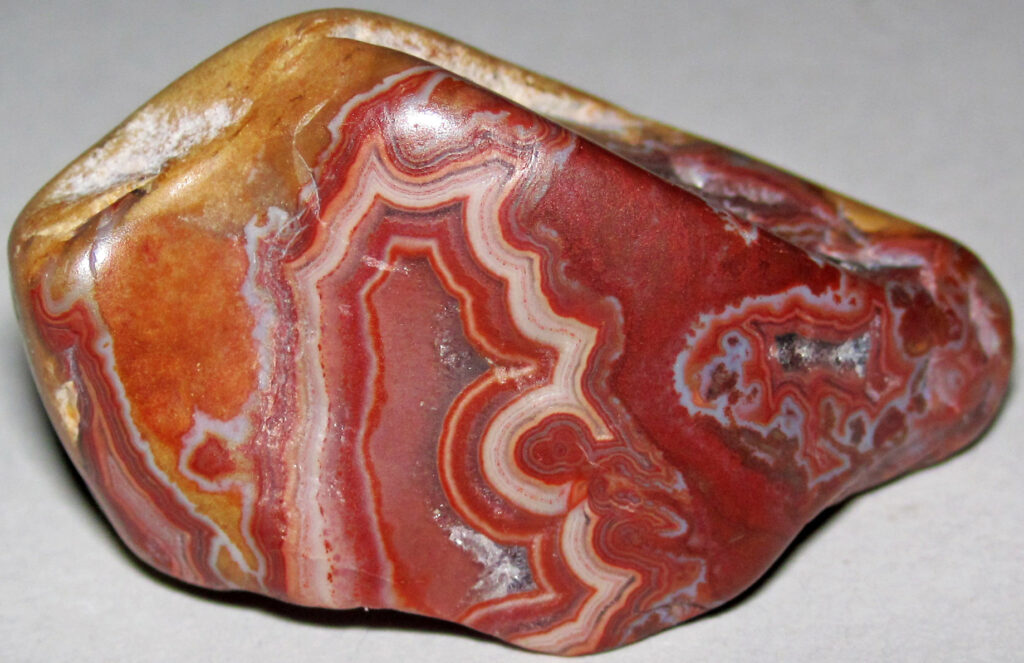 Other gemstones to be found near the ocean are Jasper, Oregon Jade, Bloodstone, Carnelian, and Petrified Wood. I personally have also uncovered marine fossils in the gravel beds, usually mollusks.
Getting Started Hunting Oregon Beach Agates: Tips and Tricks
When you're searching for agates, it's important to know what you're looking for. Agates are often small and can be easily missed if you're not paying close attention. Look for rocks with distinctive patterns and colors, as this is a good indication that you may have found an agate.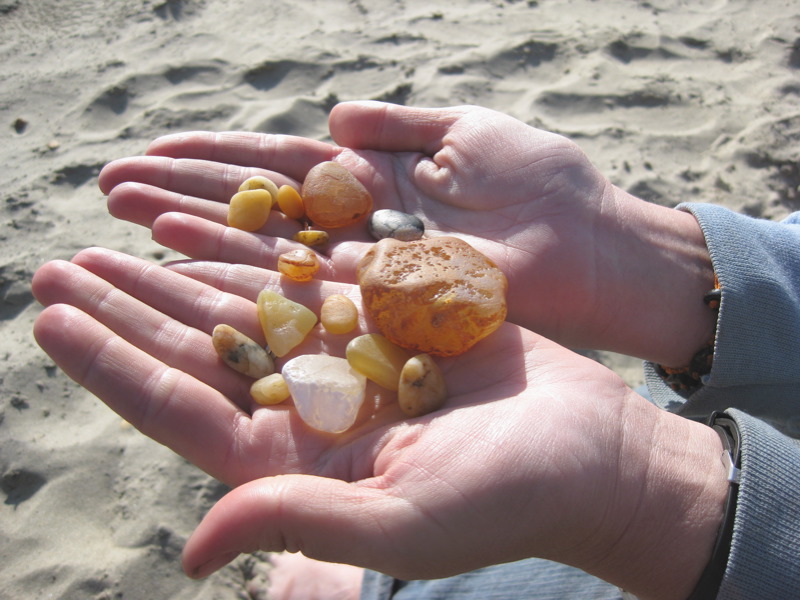 When is the best time to find agates?
The best time to hunt for agates is during low tide when the beach's rocky areas are exposed. Since these beautiful stones form on beach cliffs, natural erosion washes them down into gravel bars where they're churned and polished by the sand and ocean. Generally, high tide is the worst time to go on a beachcombing adventure.
Hunt For Oregon Coast Agates In The Winter
The best time of year to find Oregon agates is winter into early spring when storms have stirred up the rock beds and intertidal sand.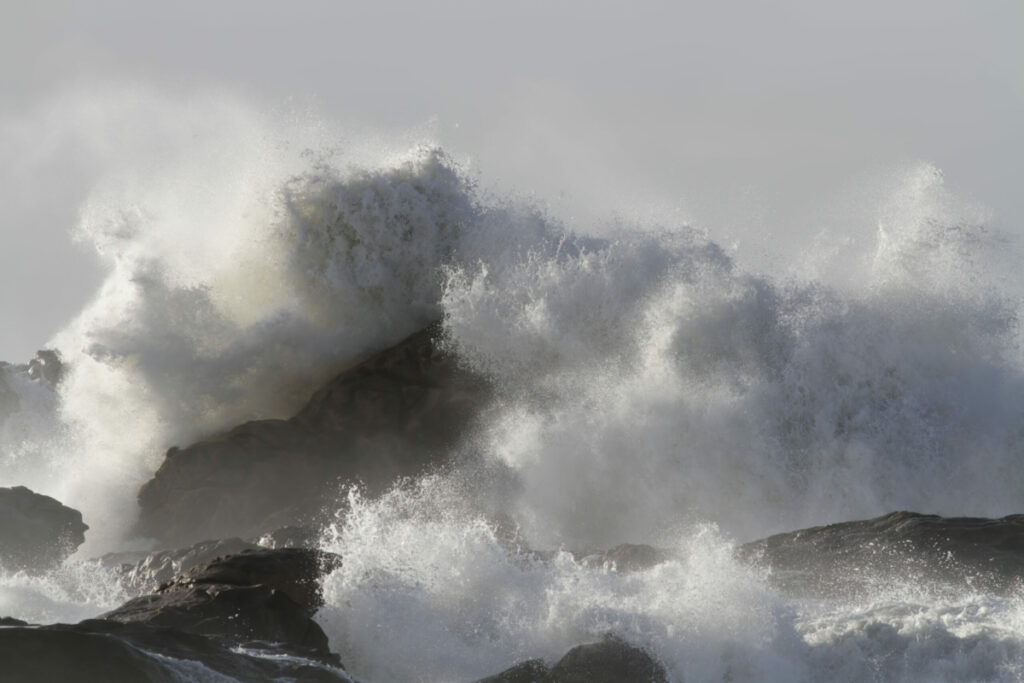 Look For Beaches That Have Exposed Gravel Beds
It goes without saying that more stones present on the beach equals better conditions for collecting agates.
What do Agates Look Like?
Examine the stone you've just picked up. Is it shiny or waxy-looking on the surface? Agates, jasper, and gemstones stand out from common sandstone and basalt by their luster. They may be a solid color, have bands of minerals, or even crystals. These beautiful stones also become much more vibrant when wet, and thus easier to spot.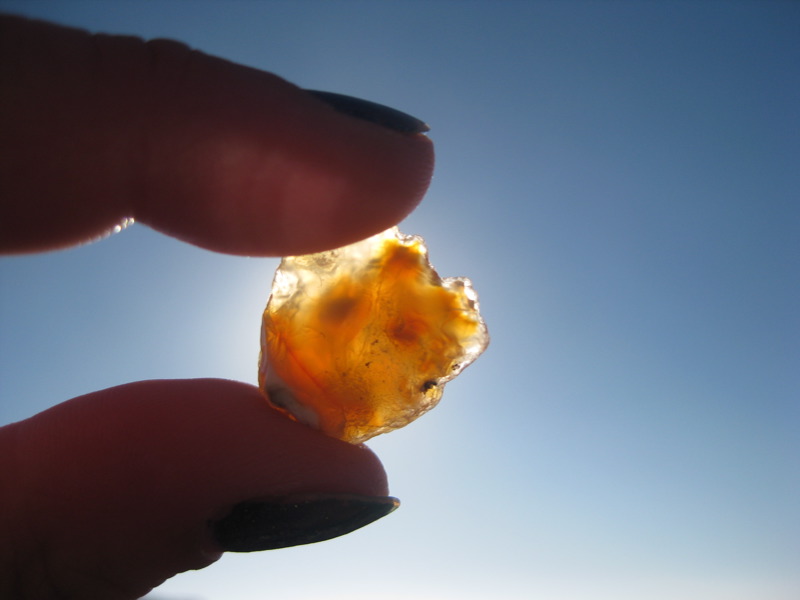 Hunt For Agates With The Sun Behind You
All of those translucent beauties light up in the sun's glow, making them easier to spot amongst the wet rocks.
Agates are Less Dense Than Other Minerals Found on Oregon Beaches
This means that searching at the water line where waves have just been will often yield good results. Agates will tend to go rolling up with the waves instead of sitting stationary in the sand like the heavier basalts.
Be Courteous of Your Fellow Agate Hunters
From hardcore collectors to the casual beachcomber, you can bet there will be other folks out searching our beautiful beaches, especially at low tide. Pick a spot to stick to, or walk the shore scanning for treasures, the choice is yours.
Stay Safe and Watch The Oregon Coast Tides While Rockhounding
Incoming tides and sneaker waves are always a threat while walking Oregon's coast. The most important thing to remember is this mantra: NEVER TURN YOUR BACK ON THE OCEAN.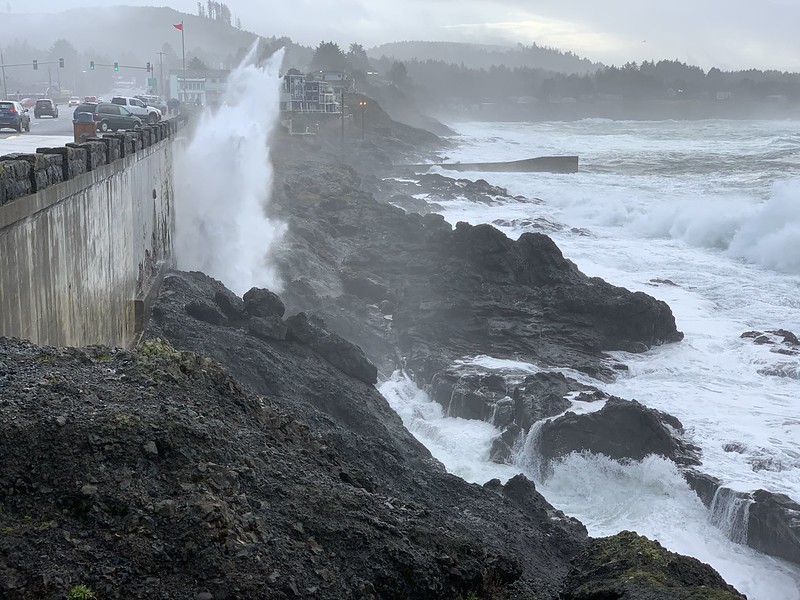 Bring the Right Agate Hunting Gear
Although no special equipment is required, you'll want to remember to bring a bag for your treasures (pockets fill up quickly, trust me). Some folks like to bring homemade, long-handled scoops and sifters, as these can help to save your back and knees from the inevitable aches of stooping over.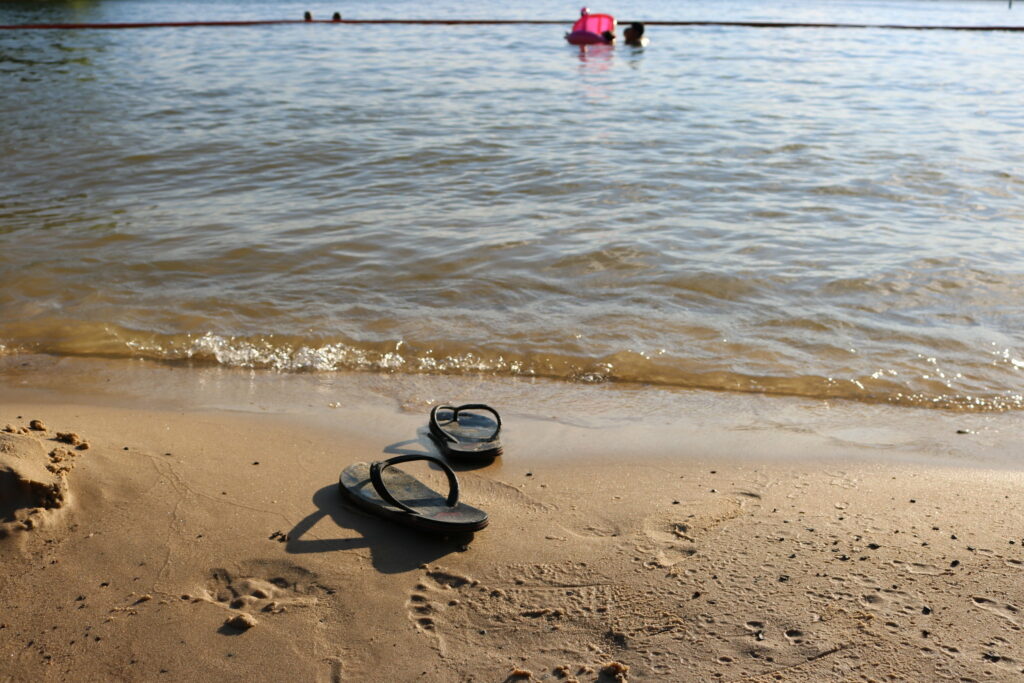 A good-fitting pair of shoes or sandals is handy too. Flip flops can slide around and get swept away while going barefoot can be a literal pain to the soles of your feet.
Where to Find Oregon Agates on the Coast
The Oregon coastline is full of fantastic beaches (and even rivers) for agate hunting. Some of the best spots to search for agates are:
---
Related: The 16 Best Beaches in Oregon
---
Northern Coast Oregon Beaches
1. Manzanita
Manzanita is a charming coastal town located in Tillamook County that offers seven miles of beautiful beach to comb for Oregon agates.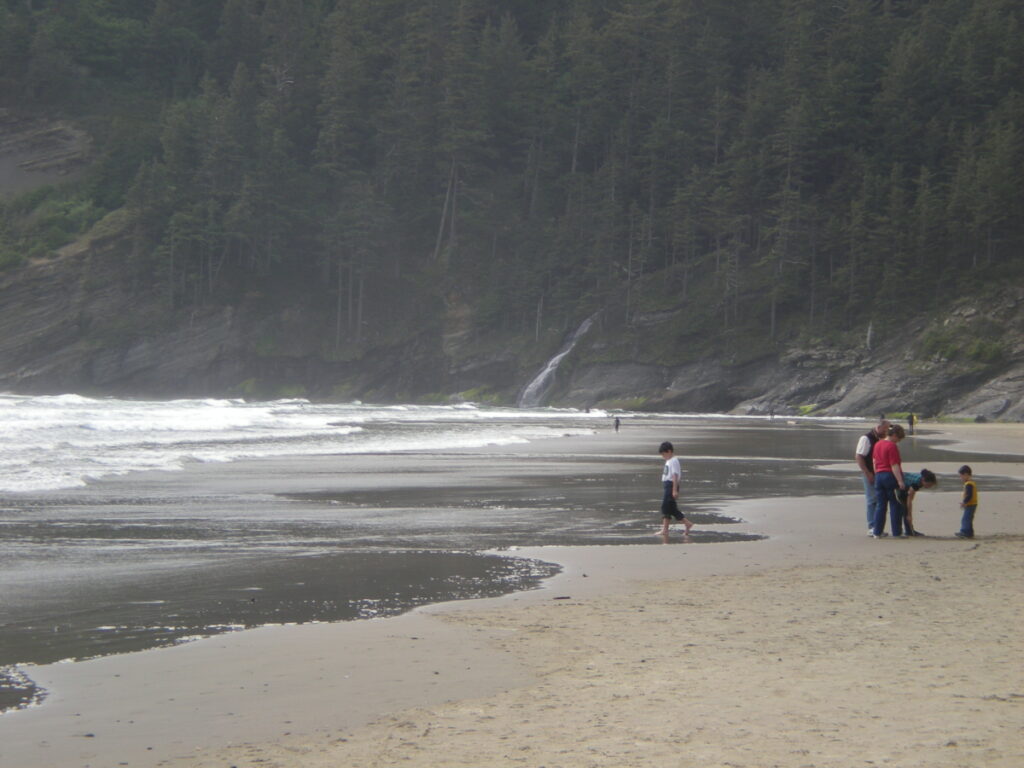 The town's main street, Laneda Avenue, is also a popular destination for visitors, offering a variety of boutique shops, art galleries, and restaurants.
Bonus: Manzanita is just northwest of the Nehalem River, where carnelian agate can be plentiful. Trading the coast for the river isn't always a bad idea, especially during the summer if you're looking to swim and the ocean is just too cold.
2. Oceanside
This small community has one of my favorite Oregon Coast beaches, Short Beach. The beach is home to the famous Three Arch Rocks National Wildlife Refuge, which is a sanctuary for over 200,000 seabirds, including tufted puffins, common murres, and cormorants. As a plus, it's on the Three Capes Scenic Route, a road I'll never get tired of driving. I've always had good luck finding agates in this area.
3. Rockaway Beach
Rockaway Beach is a small town in Oregon with big character. With seven miles of beaches, this is a great destination for not only agates, but taking in the sights, sounds, and awesome food. It's also a perfect town for families and outdoor enthusiasts looking for a fun and relaxing coastal vacation.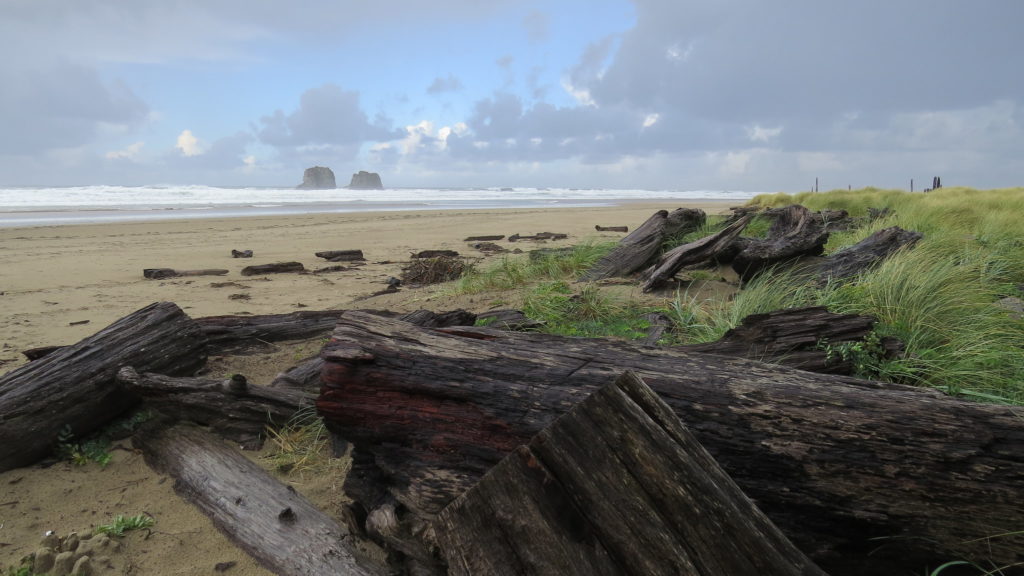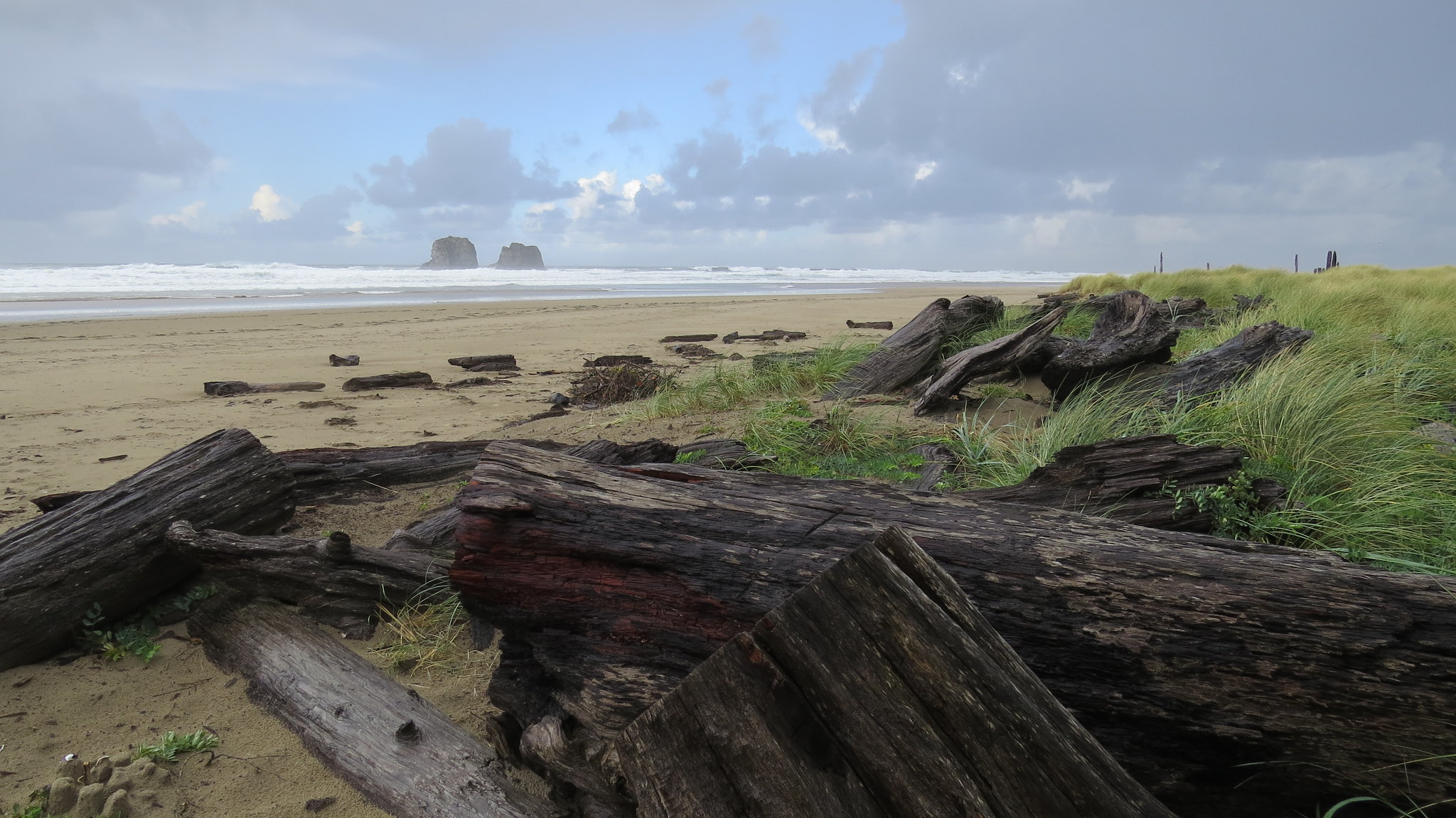 Other nearby attractions include the Tillamook Cheese Factory, which offers tours and tastings of its famous cheese, and the Tillamook Air Museum, which features a collection of vintage aircraft and exhibits.
4. Cannon Beach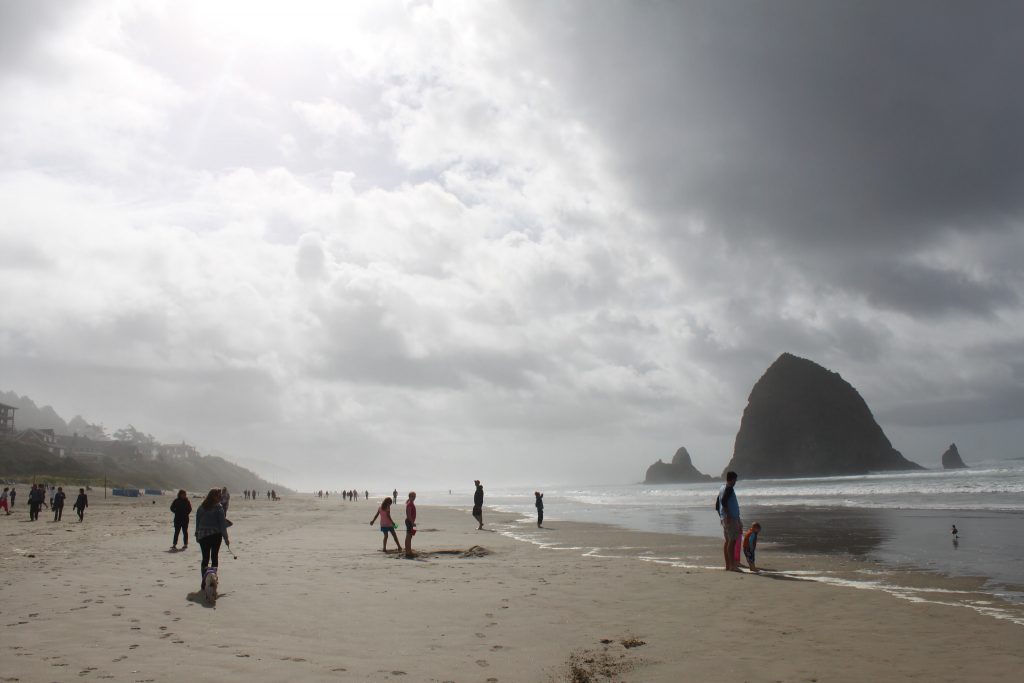 Cannon Beach is a picturesque coastal town in Oregon that also happens to be a great spot to find agates. Be sure to explore the areas around Haystack Rock, as this is a prime spot for agates. Always be mindful of wildlife when beachcombing.
To hunt for agates in Cannon Beach, visitors should first check the tide tables and plan their trip when the tide is out and more of the beach is exposed. The Pacific Ocean can be beautiful, but also rough and dangerous, especially during King Tides and winter storms.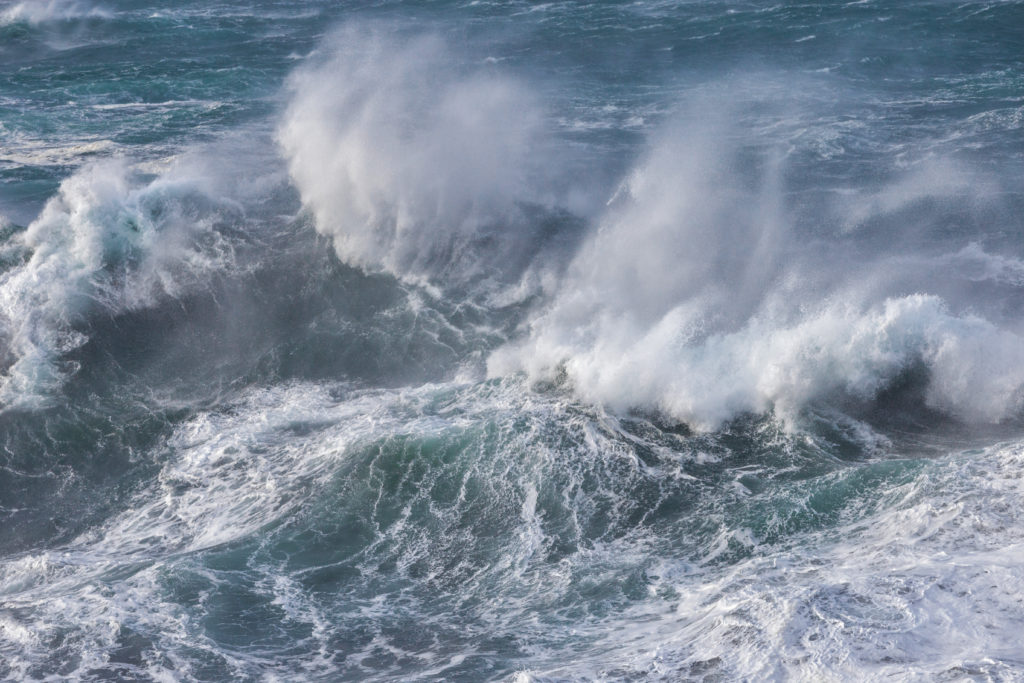 Central Coast Oregon Beaches
Oregon's Central Coast is one of my favorite places in the Pacific Northwest to find agates. Not only does it have beautiful beaches, but there's so much to do and see that you could stay busy for weeks on end.
5. Lincoln City, Fogarty Beach, and Depoe Bay
Lincoln City is another popular beach town on the Oregon coast and is known for its great agate hunting. When you're searching for agates here, look for areas where the waves are actively washing over the rocks. Agates are often found in areas where the water meets the rocks, although all of the Lincoln City beaches are ripe for hunting, from Road's End to Taft.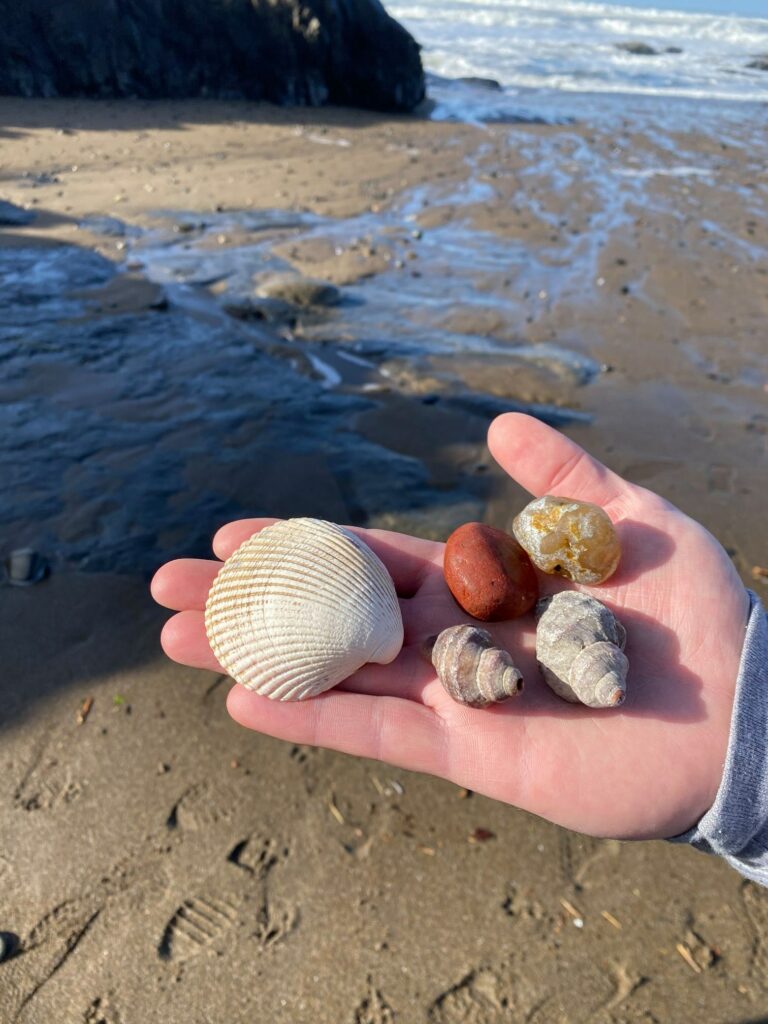 Just south of town is Fogarty Creek State Recreation Area, a lovely secluded spot with lots of small gravel to sift through.
Any of the beach access around Depoe Bay can yield Oregon agates. Bonus: it's a whale-watching mecca!
6. Newport Area: Otter Rock, Beverly Beach State Park, Moolack Beach, and Ona Beach
Newport is a popular beach destination on the Central Oregon Coast and a fantastic spot to search for agates. The beaches here have a lot of exposed rocky areas, which means you'll have plenty of opportunities to find agates, especially in the winter. Look for areas where the waves crash against the rocks, where the agates are most likely to be found.
Although one of the beaches in Newport is literally called "Agate Beach", this spot has been picked over for many years, making the name a misnomer and agates scarce here.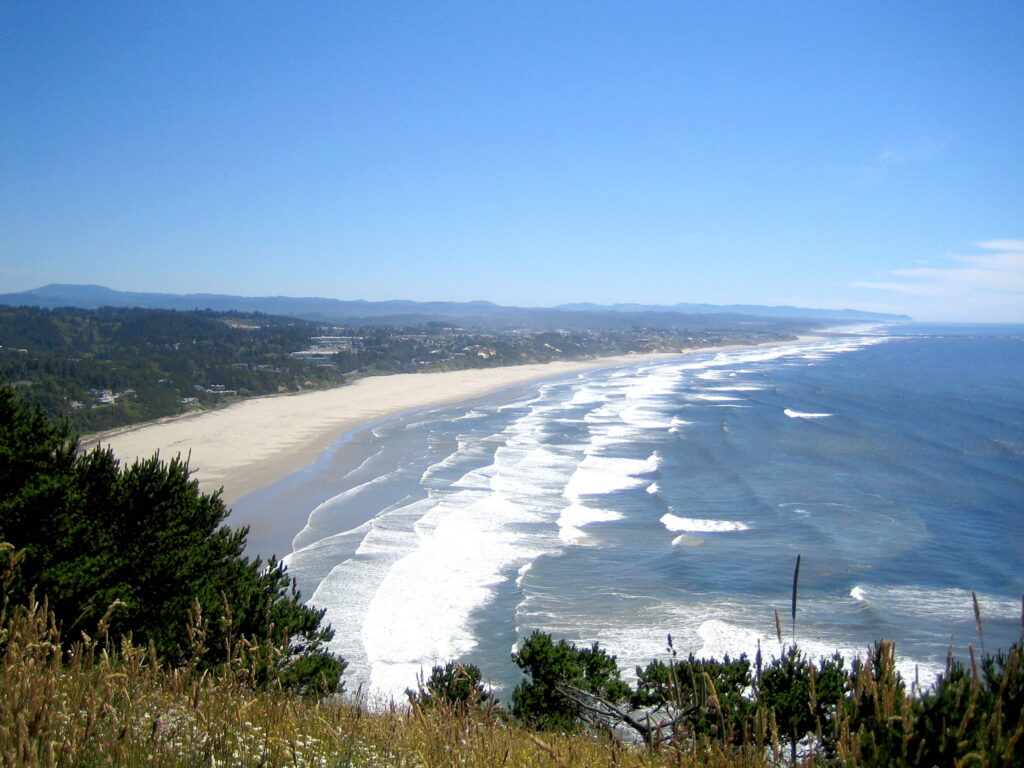 Otter Rock is a designated Oregon Marine Reserve, which means that in addition to beautiful agates, it's a great place to see tide pools, ocean mammals, sea cliffs, Otter Crest Beach, and the majesty of Devil's Punch Bowl here.
Beverly Beach State Park is a beautiful, secluded beach just north of Newport that's perfect for agate hunting. This beach is often less crowded than some of the more popular beaches in Oregon, which means you'll have more room to search for agates.
Be sure to explore the tide pools and rocky areas at Beverly Beach for the best chances of finding agates, but always be mindful of wildlife. Never disturb their natural habitat, and watch for the incoming tide.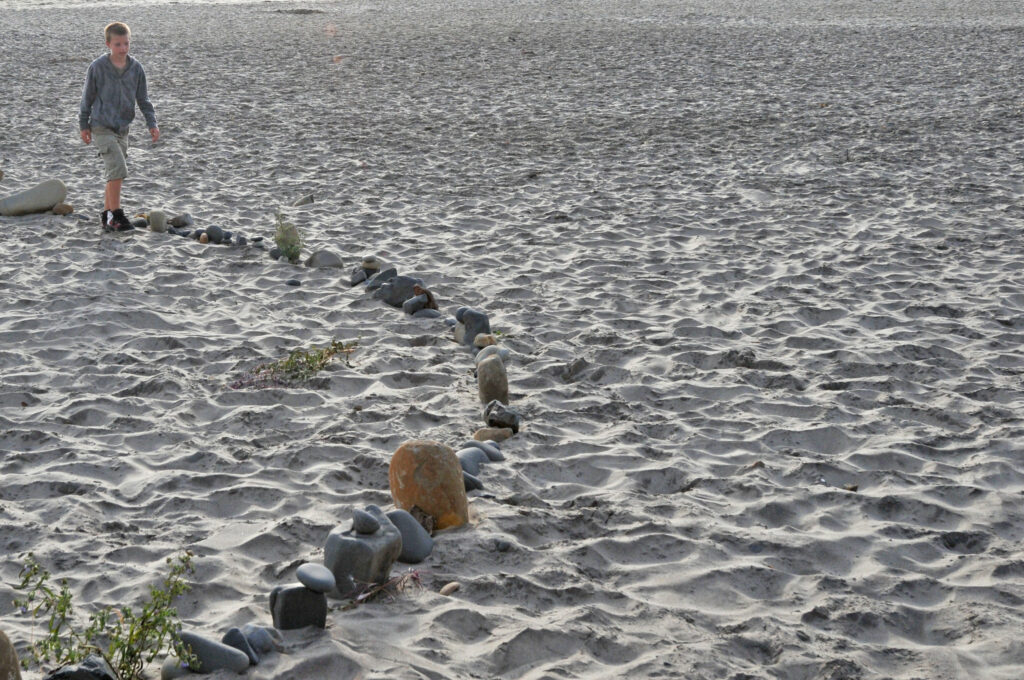 Moolack Beach stretches from Spencer Creek at the south end of Beverly Beach to Yaquina Head Outstanding Natural Area. Visitors to Moolack Beach, Oregon can enjoy a range of activities, including beachcombing, birdwatching, surfing, and fishing.
Before leaving Newport, be sure to check out the Oregon Coast Aquarium and Hatfield Marine Science Center, two of the best family attractions on the Central Oregon coast.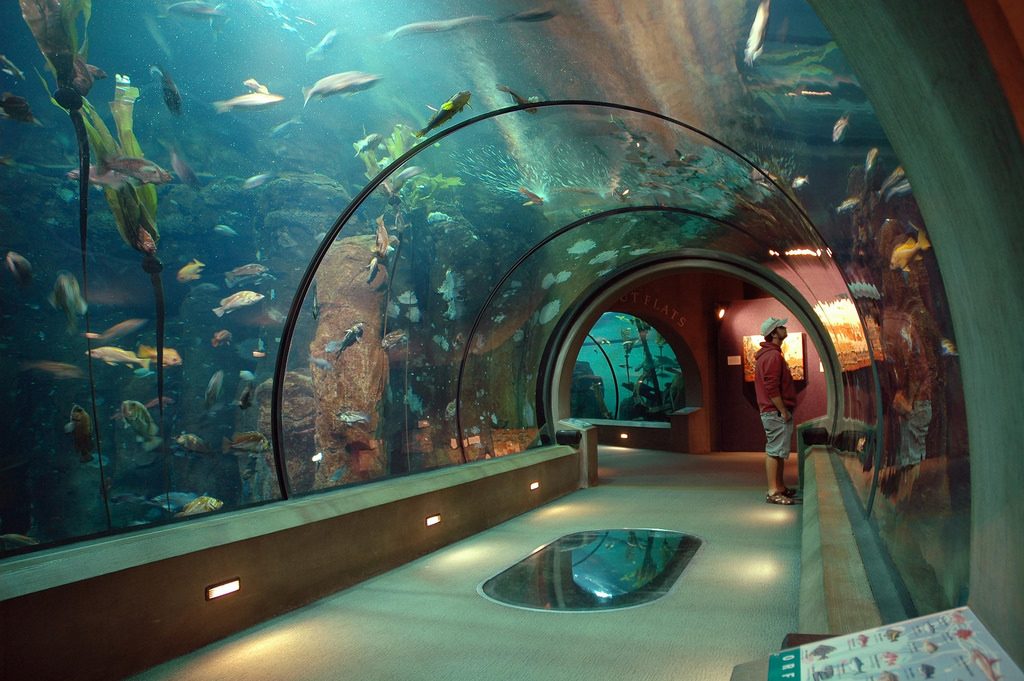 Ona Beach State Park is about four miles south of Newport. Here you'll find beautiful views, hiking trails, and if you're lucky, beautiful agates. Part of the beach is made up of unique rock formations to walk and climb over. Most of the year they're covered in a green, slippery algae sludge, so be careful here as it's easy to end up on your behind.
Southern Oregon Coast Beaches
7. Yachats Area: Cummins Creek, Strawberry Hill, and Bob Creek
You won't find any agates on Yachats beaches, as they're rocky and treacherous (but beautiful and great for whale-watching). Not the kind of rocky that's good for agate picking, but the kind that is constantly slammed by the rushing tide. It's no matter though; Yachats still hosts an annual festival just for agates that's well worth attending on your way to collect your own specimens.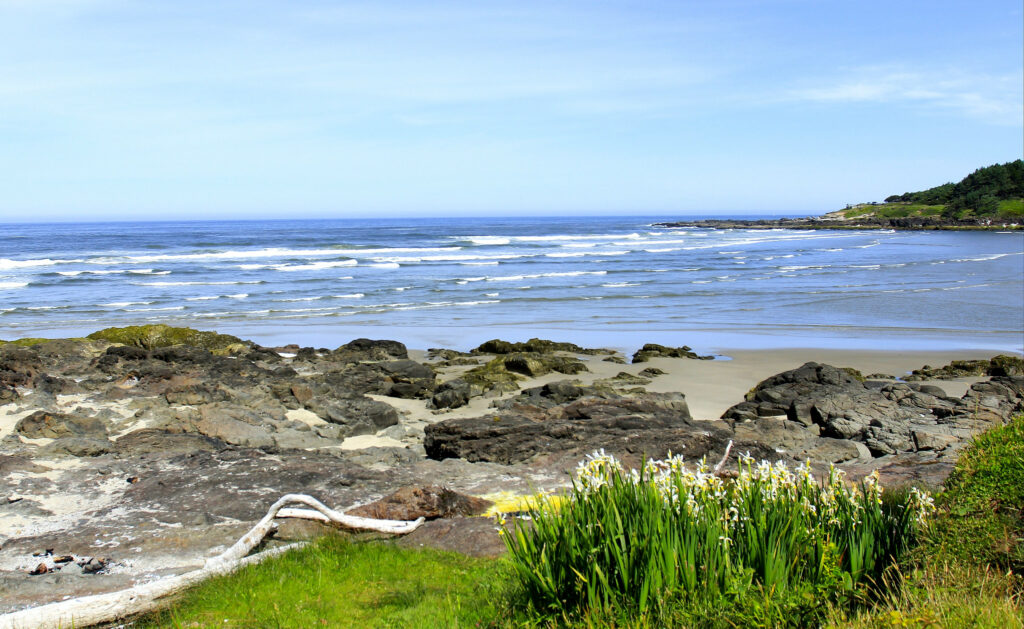 Cummins Creek spills out of the Siuslaw National Forest south of Yachats, Oregon, and into the Pacific Ocean. Walking its rocky shore you may discover agates, petrified wood, and other semi-precious gemstones. Park at Neptune State Scenic Viewpoint and walk the expanse of Neptune Beach to the creek, taking in the sights along your way. Visit in late fall through winter and early spring.
Just down the road from Neptune is Strawberry Hill Wayside, a great place to find agates due to the rocky nature of the beach here. It's also a very popular spot among experienced agate hunters, so don't be surprised to find at least a few other folks combing the beach.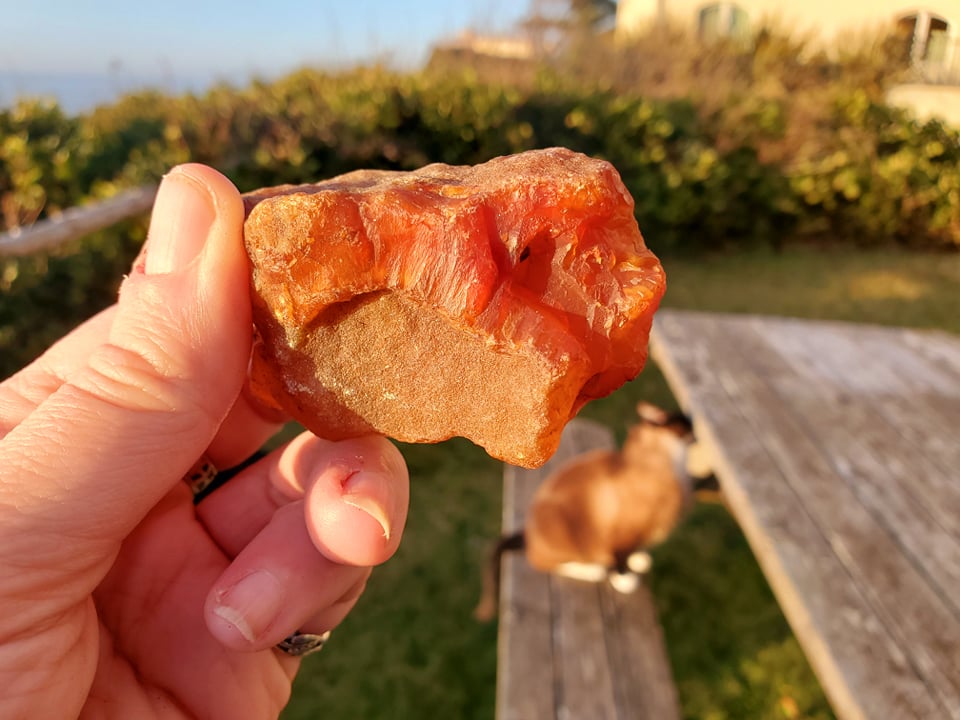 Bob Creek is another few miles down Highway 101 from Strawberry Hill, and if you're bringing your kids along they're going to love it here. There are really amazing tide pools at Bob's where they can spot hermit crabs, mussels, anemones, and the occasional sea star. You can almost always find an agate while searching through the stones on the rocky shore.
8. Gold Beach
Gold Beach is a picturesque coastal town located in Curry County, on the southern coast of Oregon. It's situated at the mouth of the Rogue River, which is one of the most popular destinations for fishing, boating, and other recreational activities.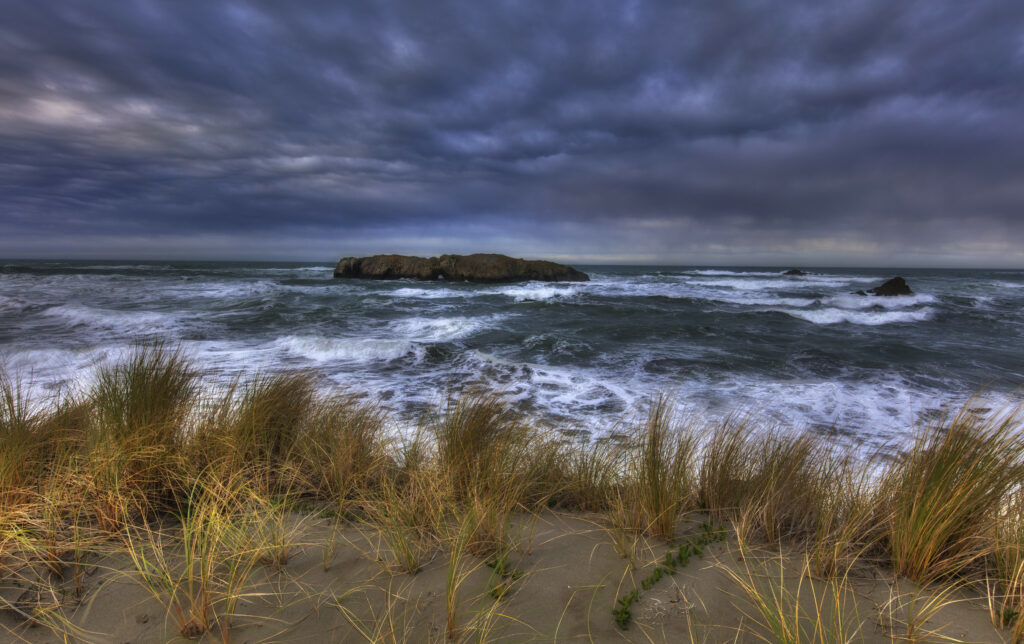 Agate hunting is a popular activity in the area, with many beautiful specimens found on the beaches and in the surrounding hills. The nearby Otter Point State Recreation Site and Cape Sebastian State Scenic Corridor are great places to start.
Gold Beach is home to the Rogue River Jet Boat Tours, offering scenic tours of the river and its wildlife.
---
The Oregon Coast Isn't the Only Place to Find Agate in the State
In fact, Oregon is a rock-hounding paradise, especially Eastern Oregon. All kinds of amazing rocks and minerals from Thunder Eggs to Sunstone can be found around the state. Be sure to check out our guide here: That Oregon Life | All the Best Public Rockhounding Sites, Eastern Oregon, and beyond.