Rockaway Beach is an awesome little town to visit when visiting the Oregon coast. Families have visited this northern Oregon Coast spot since the 1920s, arriving by train before highways were even established.
From all the local attractions to the famous Twin Rocks and finest seafood, this beach town is by far one of our personal favorite Oregon coast destinations to explore.
Getting To Rockaway Beach, Oregon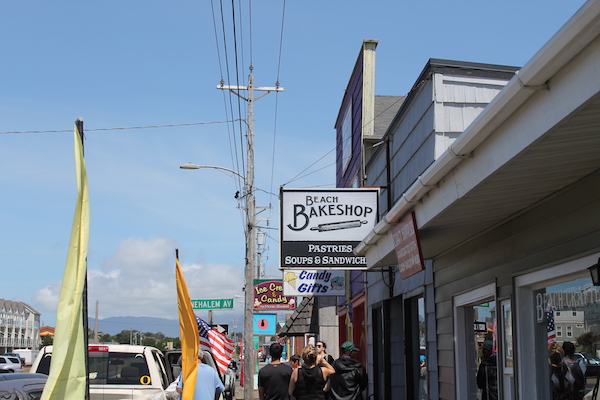 Rockaway Beach is a popular coastal destination if you're in the Portland Metro area. It lies about an hour and forty minutes west of Portland and is easy to get to. From Portland take Highway 26 out through North Plains, then get onto Highway 6 headed west. Once you get to Tillamook, turn north on Highway 101, which will take you straight through Rockaway Beach.
If you're coming from Salem (about an hour and 50 minutes away), you'll take Highway 22 West, and then turn north on Highway 101.
Coming from McMinnville, you can take Highway 18 West to Highway 22. Then take Highway 22 West, and then turn north on Highway 101.
Things to Do in Rockaway Beach, OR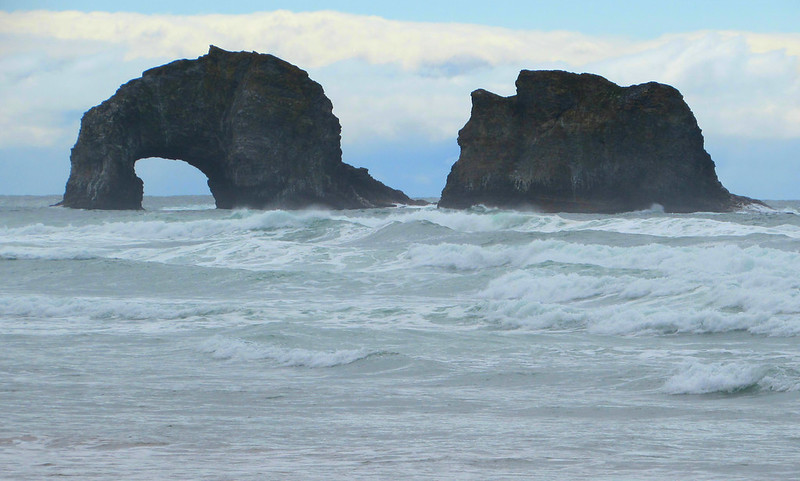 Behold the Famous Twin Rocks of Rockaway Beach
You have to check out the Iconic Twin Rocks of Rockaway Beach on your trip to this coastal city in Oregon. It's one of the most recognizable rock formations on the Oregon Coast.
To get the best view, head to the Minnehaha Street Access, which offers the closest view of the rocks. These majestic rocks were formed by time, pressure, and pounding waves, resulting in their magnificent structure.
Play Mini Golf
Do you want to do something fun and unique that both young and old people will enjoy?
Located north of Highway 101, this quirky and funky park known as Troxel's Rock Garden offers a delightful experience for all ages.
Here, you can go rockhounding, play mini-golf, and rent a bike to explore the area. With its quirky charm and wonderful roadside attraction, Troxel's is the perfect spot to spend your day filled with fun!
---
RELATED: The 16 Best Oregon Beaches to Dip Your Toes in The Sand
---
Enjoy Fishing, Crabbing, and Boating at Kelly's Brighton Marina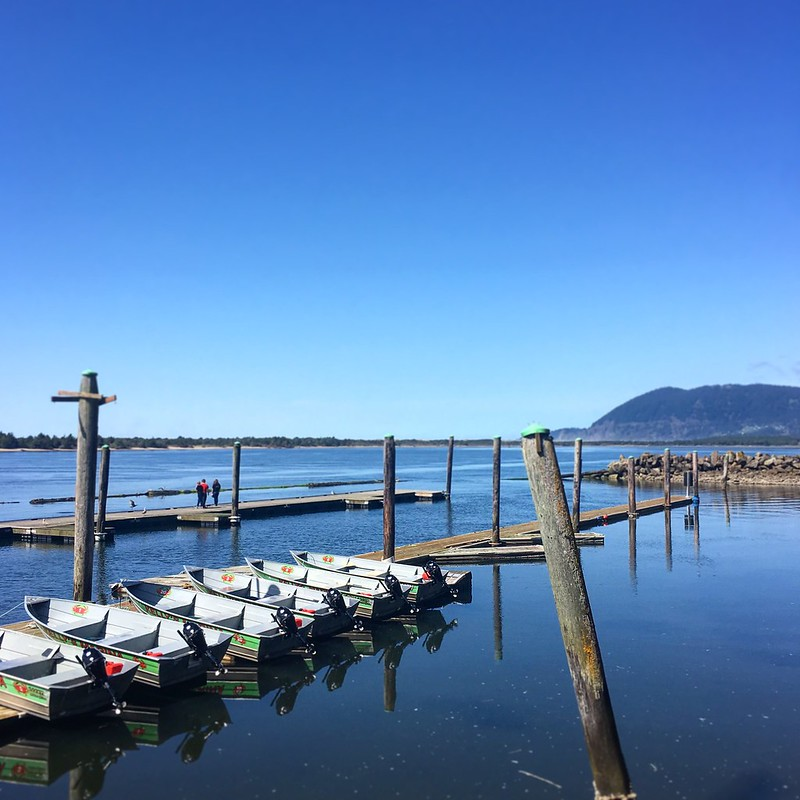 Make your trip to the coast even more exciting by trying out the fun adventures offered at Kelly's Brighton Marina.
Situated in a prime location along US-101, the marina offers exciting activities such as crabbing and boating to catch fresh crabs for a scrumptious feast. They provide a 2-hour boat rental with a trained guide and three baited crab rings to help you fill your buckets with fresh catch.
Additionally, enjoy mouth-watering seafood delicacies like crabs, clams, and oysters in their beautiful marina picnic area.
---
RELATED: Sport Fishing License, Tag, and Permit Fees in Oregon
---
Scenic Train Rides
Looking To Take A Scenic Ride? Love trains? You can ride the famous Oregon Coast Scenic Railroad. The historic trains on the scenic railroad run regularly through Rockaway Beach and Garibaldi.
Riding the train to Rockaway Beach has been a tradition for families since the 1920s. The train was once the only way to get here, and it would bring families over the mountain to enjoy a summer on the coast.
The trip begins south of Rockaway Beach in Garibaldi and stops at the Wayside several times each weekend.
Go On A Kayaking Adventure In The Area
Kayaking is a great way to experience the beauty around Rockaway Beach, and it is loved by adults and kids alike. Whether you are a beginner or an advanced paddler, everyone can enjoy kayaking. You can head to Lake Lytle County Boat Ramp in Rockaway Beach if you are new to paddling or more experienced.
Just north is Nehalem Bay, known for its calm and shallow waters, perfect for practicing skills. Paddle the Nehalem Bay estuaries and enjoy the incredible beauty.
Kayaks are available for rental at Wheeler Marina on Nehalem Bay.
For the best experience contact an experienced guide service like Kayak Tillamook and see the area from a local's viewpoint and find out the best kayaking spots.
Enjoy Indoor Exhibits at a Local Museum
This place is special for the rainy season. Don't stop having fun because it's raining. There are a lot of indoor places to go in Rockaway Beach and the nearby towns that are good for rainy days.
It's my recommendation to check out the International Police Museum near Cedar Wetlands Preserve to learn about the past of police work, which goes back to local "watchmen" who did their jobs for free.
Some of the things on display are outfits from around the world, stories about women in law enforcement, and guns from different times.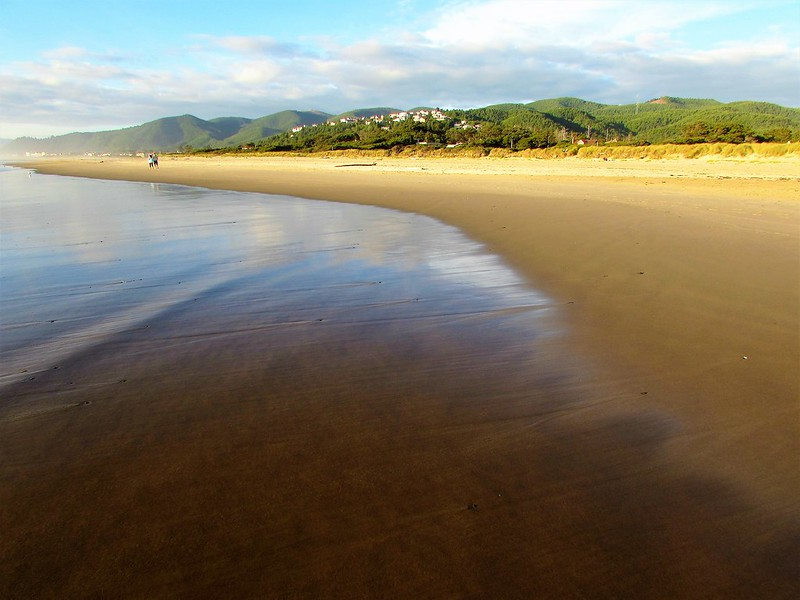 Rockaway Beach History
Rockaway is a coastal community in Oregon, originally established as a seaside resort in 1909. The city was named after Rockaway Beach in Queens, New York and its post office was established in 1911.
Pronto Pup, a popular corn dog brand, was invented in Rockaway in the late 1930s.
Today, Rockaway Beach remains a family-friendly vacation destination with 7 miles of sandy Oregon beaches, distinctive local shops and restaurants, vacation rental homes, and hotels.
You can enjoy beach activities like beachcombing and kite flying, and even take a steam engine train for a scenic view of the area.
Campgrounds & RV Parks near Oregon, Rockaway Beach
Stay, Play, and Relax in Rockaway Beach RV Park
Make your Rockaway Beach vacation unforgettable by staying at Rockaway Beach RV Park!
As the only RV park in the heart of the city, this family-owned park offers full-service hook-ups, restroom facilities with showers, and an on-site laundry room.
You can enjoy the convenience of being just two blocks away from the beach, where you can swim, fish, boat, or simply relax on the seven miles of ocean beaches. You can explore the downtown shops, restaurants, and markets all within walking distance.
From Crabbing to Clamming: Jetty Fishery Marina & RV Park Has it All
This park is one of my favorites in this area; the Laviolette family has operated Jetty Fishery since 1979, expanding the facility from an RV park to include live seafood and rental cabins.
The park has been featured in publications such as the New York Times, Sunset Magazine, and The Oregonian as one of the best destinations for crabbing, picnicking, hiking, camping, clamming, fishing, birding, and eating fresh seafood.
While staying at the Jetty Fishery, you'll have access to a variety of amenities, including pet-friendly areas, laundry facilities, a fireplace, and a continental breakfast.
More Info: Jetty Fishery Marina & RV Park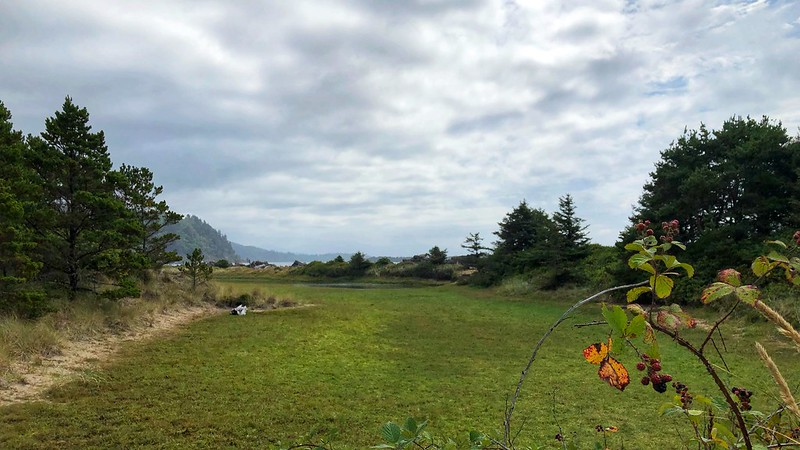 Group Accommodations Made Easy at Barview Jetty County Campground
Barview Jetty County Campground located at the mouth of Tillamook Bay is a convenient base for park visitors to access the beach, fish from the jetty, surf, scuba dive, and watch birds. The campground features 242 tent sites and 73 full hook-up sites that can accommodate RVs, trailers, and tents.
---
RELATED: Top 26 Oregon Coast Campgrounds
---
Some sites are pull-throughs, and 20 hiker/biker campsites are also available. Groups can arrange for accommodations, and WiFi is available for $4 per day.
Prices and amenities vary depending on the site, season, and add-ons, such as extra tents or vehicles (if space permits).
More Info: Barview Jetty County Campground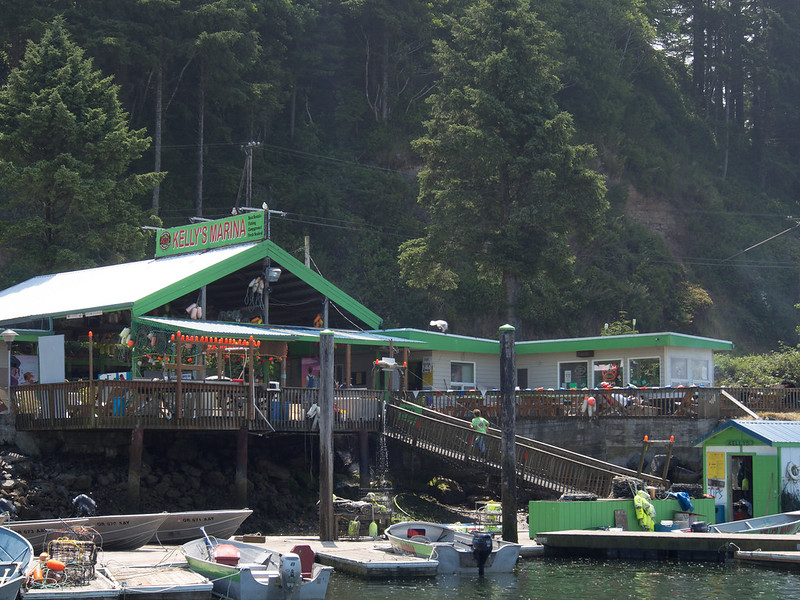 Catch, Camp, and Chow Down in Kelly's Brighton Marina
This park is situated on the beautiful Nehalem Bay, providing tourists with an opportunity to experience the splendor of the North Oregon Coast. The marina is the premier spot for crabbing, fishing, camping, and indulging in fresh seafood.
During your stay, you can enjoy various amenities such as pet-friendly facilities, laundry services, fireplaces, and a full continental breakfast.
More Info: Kelly's Brighton Marina
Horseback Riding, Kayaking, and More in Nehalem Bay State Park
Located on a four-mile-long sand spit just south of Manzanita, the park offers a ton of amenities for both day trippers and overnight campers. You'll find two day-use areas right by the beach, a cycling path, and even an airport with fly-in campsites.
If you're into equestrian camping, Nehalem Bay State Park is a popular spot for horseback riding. You can rent horses through a local outfitter or bring your own and utilize the horse campsite.
During my own stay, I enjoyed crabbing, clamming, fishing, and kayaking. Seasonal boat docks are available for those who need them.
More Info: Nehalem Bay State Park
Featured hiking Spots in and Near Rockaway Beach
Old Growth Cedar Preserve
This wooden boardwalk is part of a 1.1-mile loop trail located near Rockaway Beach, Oregon. The trail is easy to navigate and takes an average of 21 minutes to complete.
As you walk along the boardwalk, you'll be able to choose between two forks. The left fork leads to an observation deck, while the right fork takes you on a loop around the Big Cedar.
If you take the left fork, you'll also find a dirt trail offshoot that connects with another long trail. This trail is popular among runners and walkers, but you can still find some peaceful moments during quieter times of the day.
---
RELATED: The Ultimate Guide to the Top 13 Oregon Coast Hikes
---
Barview Jetty Beach Walk
Experience a scenic 6-mile trail near Rockaway Beach, Oregon. It's an easy route that takes around an hour and a half to complete.
I recommend this trail for hiking or walking. This hidden gem offers a tranquil escape from the bustling city life, and the best part? You won't be elbowing your way through a sea of people. Instead, you'll be free to wander through the lush greenery and take in the stunning vistas without encountering hordes of other hikers.
Nehalem Spit Trail
This area is ideal for hiking. With the trail being just over 4 miles, it should take just under an hour and a half to finish. Although it's considered moderately challenging, it's best for birding, hiking, and walking. It's a popular trail, but you can still find quiet times to enjoy the scenery.
Usually, the best months to visit are from March to November, and remember to leave your furry friends at home since dogs aren't allowed on the trail.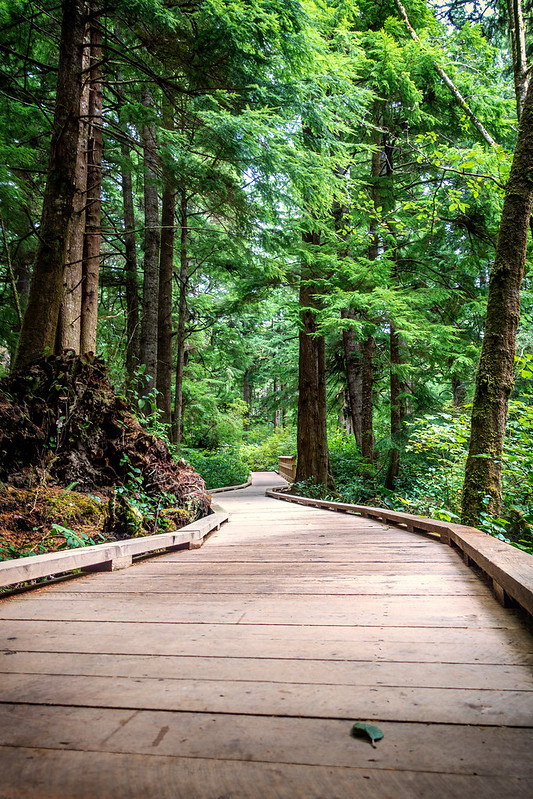 Rockaway Big Tree Boardwalk
The Rockaway Big Tree Boardwalk is a short and easy 1.1-mile loop trail located near Rockaway Beach, Oregon.
It's a great trail for running or walking and offers a peaceful and quiet atmosphere during certain times of the day. The boardwalk portion of the trail is level, paved, and very easy to access, even for wheelchairs.
Along the way, visitors can stop and rest at picnic tables and benches around the halfway point, where they can take in the beautiful scenery.
Additionally, a paid parking lot can hold up to 10 cars and an ADA toilet is available for public use.
Where to Eat: The Best Restaurants In Rockaway Beach
Taste The Finest Seafood At Old Oregon Smoke House
You cannot miss the Old Oregon Smoke House when you're in Rockaway Beach. You'll bb hit with the mouthwatering smell of delicious smoked seafood when you step into the wood-paneled interior.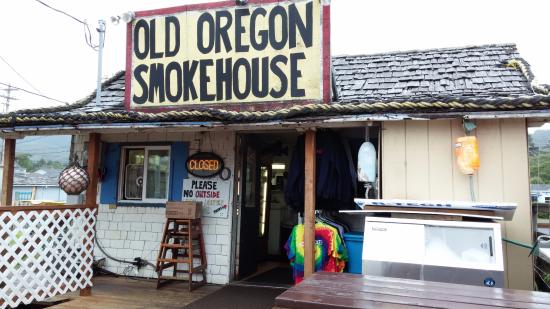 The line might be long, but it's worth the wait. The fish and chips are crispy and perfectly seasoned, and the chowder has just the right creaminess.
Address: 120 US-101, Rockaway Beach, OR 97136
Pronto Pup - The Original Corndog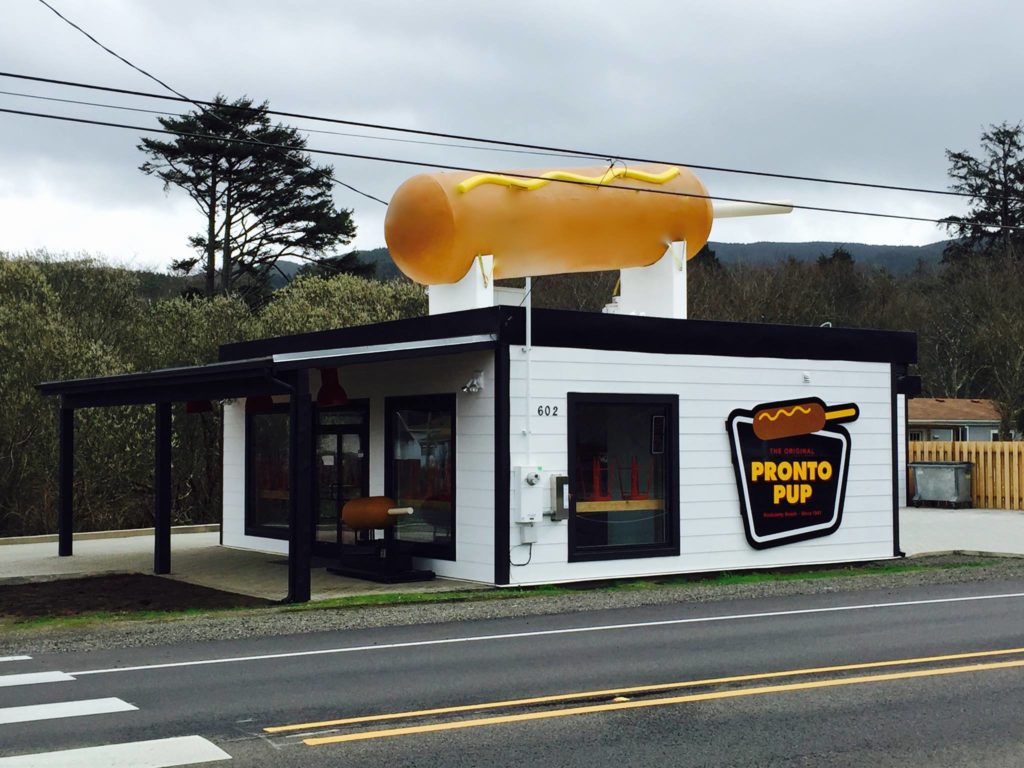 If you love corn dogs, be sure to stop in at Pronto Pup, the original creator of the corn dog, invented in the 1930s. This little roadside stand is well worth the stop when in Rockaway Beach. On top of the excellent corn dogs, Pronto Pup serves up ice cream, tater tots, and fries. Read more about Pronto Pup here.
Where to Stay In Rockaway Beach
Stay A Night Or Two In A Room At The Surfside Resort
Surfside Resort is a great oceanfront hotel on Rockaway Beach that offers guests comfortable accommodations and a range of amenities. The hotel has an indoor heated pool, and guests can enjoy free WiFi in their rooms.
The location is perfect for beach lovers as Manhattan Beach State Park is less than a mile away, and the hotel provides easy access to the beach.
The hotel rooms are well-equipped with a kitchenette, complete with dinnerware, pans, and utensils, which is great for guests looking to save a little money by cooking their meals.
Relax And Recharge At Tradewinds Motel On The Oceanfront
This is an oceanfront property situated just 50 feet from a 7-mile sandy beach. Guests can enjoy spacious, clean rooms with private balconies and free WiFi. The motel is conveniently located just 4 miles from Nehalem Bay State Park.
The staff is friendly and attentive, ensuring guests have an excellent experience.
Paradise Cove RV Resort & Marina
Along Route 101, this resort is located in Nehalem Bay and is renowned for its full-service marina. Guests can enjoy various amenities, including free WiFi, two seasonal outdoor pools, and a hot tub.
This peaceful and scenic location provides an excellent atmosphere for relaxation and outdoor activities. Additionally, the resort's proximity to the river makes it an ideal location for spending time with family.
---
RELATED: 19 Best RV Parks On The Oregon Coast
---
Rockaway Beach, Oregon Is Well Worth The Visit
Rockaway Beach is a charming small town on the Northern Oregon coast. Despite its small size, there are plenty of fun and exciting activities to enjoy during a beach vacation. If you're planning to visit Rockaway Beach, bookmark this list to ensure that your itinerary is packed with thrilling things to do!
Have you visited Rockaway Beach, Oregon? What's your favorite thing to do there? Share this with the friends and family you want to go with!
Sign up for our free email newsletter to get updates to your inbox weekly.
More coastal towns to visit in Oregon