If you are headed to the coast, Newport, Oregon may already be on your radar. If it's not, it probably should be! Beautiful beaches, historic charming downtown, breweries, unique shops, and mouthwatering seafood are only a few things that come to mind. Newport attracts visitors year-round with its temperate weather and spectacular beauty.
The small coastal town has been a part of Lincoln County, Oregon since 1952, and was incorporated in 1882. Lincoln City, Oregon is another popular spot to visit, about 25 miles north of Newport. We have written a travel guide here if you are interested in visiting the neighboring coastal town.
Sign up for monthly emails full of local travel inspiration and fun trip ideas. In each newsletter we'll share upcoming events, new things to do, hot dining spots and great travel ideas.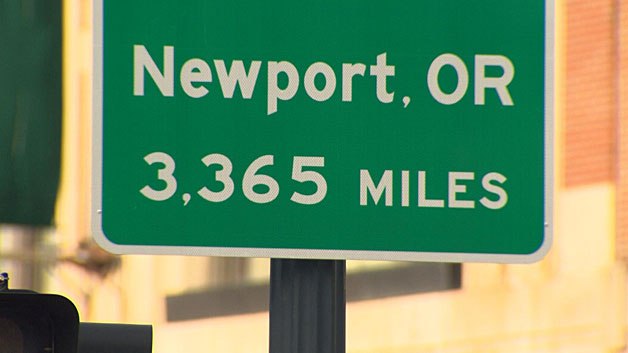 The nation's longest continuous stretch of asphalt starts in Newport, OR and ends 3,365 miles away in Boston, MA for one heck of a road trip. Stretching from the Pacific Ocean, US Route 20 extends through 12 states before nearly touching the shores of the Atlantic in Boston's Kenmore Square.
---
READ MORE: America's Longest Highway Starts in Oregon
---
Where is Newport, Oregon
Newport is off the Pacific Ocean, located on the Oregon Coast, about an hour from the Eugene Airport and 2 ½ hours from the Portland International Airport.
Ultimate Travel Guide to Newport, Oregon
---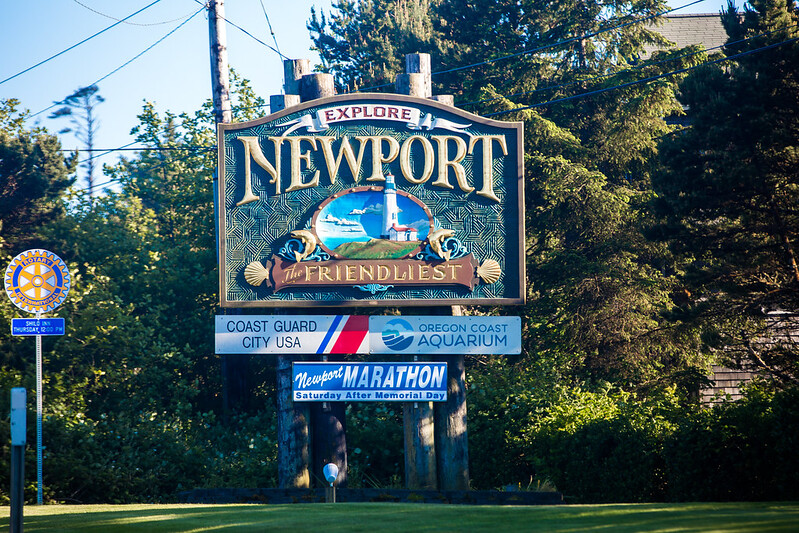 Whether you're picnicking, hiking on the Oregon Coast, soaking up the sun or watching a stunning sunset, make sure your trip to Newport is a safe one. Visit this article to learn about the dangers of sneaker waves. Before any trip to the coast, we encourage you to check the tide times as well.
Things To Do in Newport
Newport offers a variety of things to do when visiting, and is a great coastal town off the 101 for ultimate relaxation. Here are a few things we hope you find interesting.
Historic Bayfront
Head down to the historic bayfront for all the fish, barking sea lions, beautiful seagulls and the charming shops and restaurants.
Devil's Punch Bowl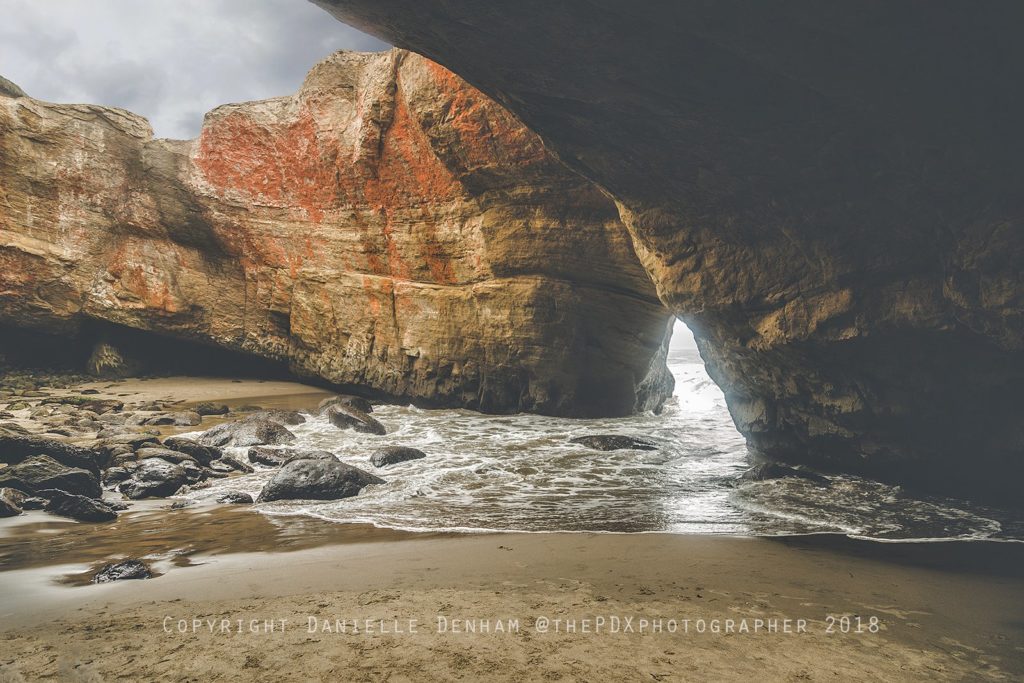 Devils Punchbowl is one of the most mesmerizing attractions when visiting the Oregon Coast, drawing in countless visitors from all over the world. This natural sandstone cauldron that has been sculpted by the power of the Pacific Ocean over the course of thousands of years and tops our list of favorite things to do in Newport.
---
READ MORE: Your Guide to Devils Punchbowl State Natural Area in Oregon
---
Kayaking Newport
Kayaking is a hugely popular activity on the water in Oregon, and in newport you will find a lot of companies that offer guided tours of the bay. There are also plenty of places that offer kayak rentals if you don't own one.
Beaver Creek – Guided kayak tours are available on Beaver Creek, offering a great alternative place to paddle. You can launch at Ona Beach State Park which is 5-miles south of South Beach, before winding through coastal wetland and keeping an eye out for some of the local wildlife.
Yaquina Head Lighthouse, Newport, Oregon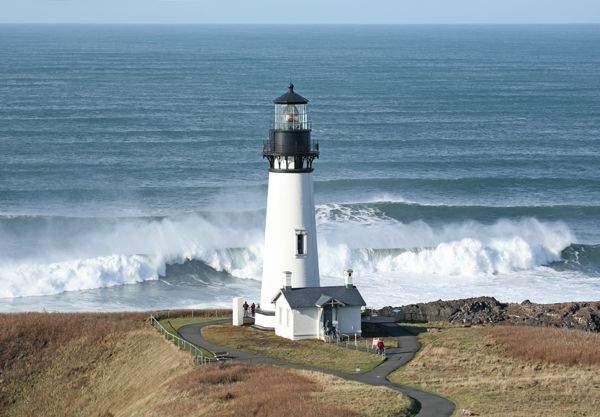 The Yaquina (ya -KWIN- eh) Head Lighthouse in Newport, not to be confused with Yaquina Bay Lighthouse, is a spectacular place to visit. The 93 foot tower is located on a narrow point of land jutting due west, nearly 1 mile into the Pacific Ocean north of Newport, at Yaquina Head Outstanding Natural Area.
Directions: Yaquina Head is located about 3 miles north of Newport in the Agate Beach area. Turn at the Yaquina Head Outstanding Natural Area and continue about a mile to the lighthouse.
Due to the global health threat, at this time the Yaquina Bay Lighthouse is temporarily closed with tours being suspended.
Ripley's Believe it or Not Museum
Newport's Ripley's Believe it or Not Museum is one of my favorites as I went here quite often as a kid. As a bonus, they even remodeled the place in recent times. A great place for the whole family to visit, you will find a museum with some pretty bizarre and a bit creepy exhibits, as well as learning some crazy facts.
You will also find the Wax Works connected to Ripley's, which includes life-size wax replicas of some of your favorite celebrities, like Johnny Depp. Ripley's and Wax Works are definitely fun, and worth a visit.
Address: 250 SW Bay Blvd. #4535, Newport, OR 97365
Whale Watching And When You Can See Them
When can you see Whales in Oregon?
This is an exhilarating activity people enjoy year-round, but especially during the winter and spring whale migrations, where up to 25,000 gray whales pass the Oregon Coast. A great time to view these magnificent mammals is from December to January and late March to June, when thousands of gray whales migrate north towards Alaska.
Newport is a prime spot to do so. The best whale watching in Oregon is along the central coast, but whales can pop up just about anywhere. Also we suggest heading to Depoe Bay, just north of Newport for a very good place for whale watching as well.
---
READ MORE: Your Guide to Whale Watching in Oregon
---
The Embarcadero in Newport
Tucked away in Newport's Historic Bayfront, The Embarcadero Resort offers amazing accommodations featuring balconies with oceanfront viewing and access to countless Newport, Oregon activities such as whale watching, hikes, shopping, boat rentals, and so much more.
Here are a few other onshire places that are spectacular for whale watching near Newport, Oregon.
Sea Lion Caves
Yaquina Head
Depoe Bay
Oregon Coast Aquarium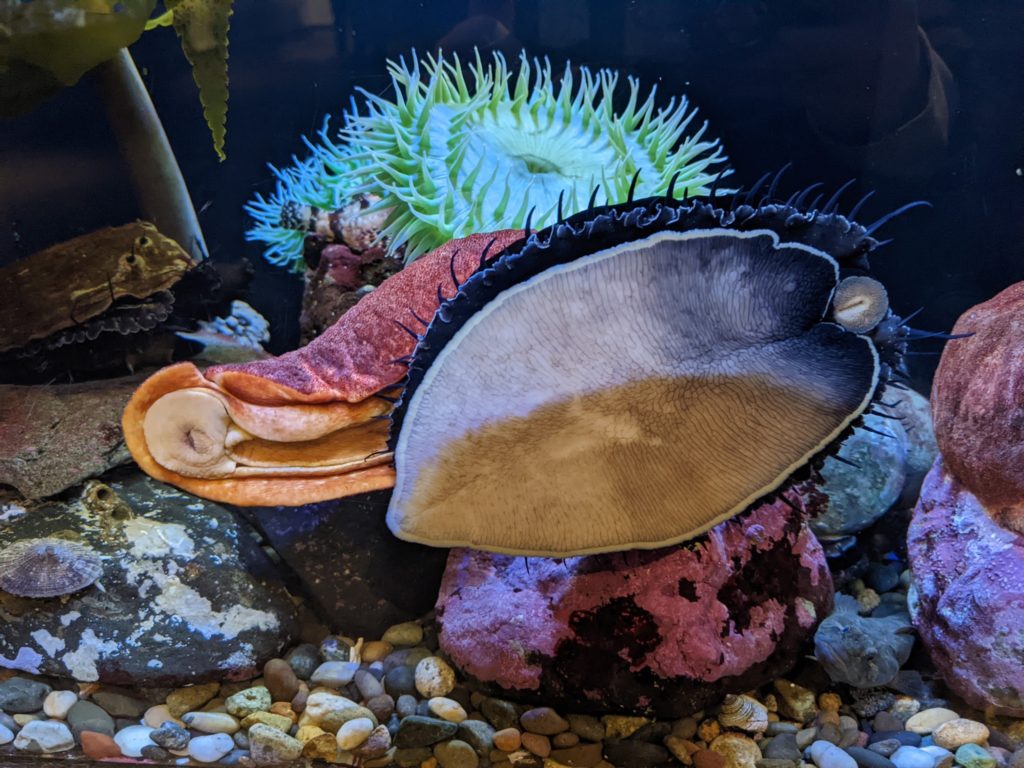 This aquarium in Newport was opened in 1992, and sits on 23 acres along Yaquina Bay. The Oregon Coast Aquarium is an awesome place for viewing and learning about the many facets of aquatic life and features exhibits including Open Sea, Seabird Aviary, Giant Pacific Octopus, Sea Otters, and many more! Did you know Keiko, the famous killer whale, once lived here? Keiko was featured in the popular 90s flick, Free Willy.
Address: 2820 SE Ferry Slip Rd, Newport, OR 97365
Hatfield Marine Science Center
If you are a science nerd like me, the Hatfield Marine Science Center is a great place to start. Head here for some family fun and check out the most cutting-edge research currently being done in the Pacific Ocean. Their exhibits cover everything from wildlife, marine stuff, coastal geology and other exhibits that promise to stimulate your mind. They are also home to the world-famous whale research of Bruce Mate's work. Upon entering the establishment you will have a chance to meet their octopus sitting in a tank at the very front of the facility.
You will find this fun place in South Beach, just across the bay from Newport.
Address: 2030 SE Marine Science Dr, Newport, OR 97365
Phone: 541-867-0100 ext 2
Jambo World Crafts
I recently turned 40 and I've been coming to this spot on the bayfront since I was a teenager. Jambos is a bit hippity dippity. Definitely worth a mention as they offer a variety of fun things to purchase. Black light posters, tie dye tees, smoking devices, tapestries, sage, crystals, incense, pureses, and awesome jewerly are just a few things you can find at Jambos.
Chinook Winds Casino Resort

While not technically in Newport, you're looking at maybe a half-hour or so drive to get to the popular Chinook Winds Casino Resort, which is north of Newport in Lincoln City. Located right on the beach, this beautiful casino offers Friday Night Seafood Buffet ensuring you will leave with a belly full of delicious crab legs. The casino features standard slots and table games, as well as a killer Bingo Night that draws locals and tourists alike. On the top floor, the Rogue River Steakhouse has beautiful 180-degree views of the Pacific Ocean. The nearby Chinook Winds Golf Course offers an additional restaurant and world-class 18-hole links, while the Play Palace and Games Galore Arcade give the kiddos a safe and supervised spot to hang out. Looking for more Casinos in Oregon? Click here.
Address: 1777 NW 44th St, Lincoln City, OR 97367
Website: Here
Best Beaches in Newport, Oregon
Beverly Beach State Park

This park is in a forest, hidden between a Cape Foulweather and Yaquinaa Head, and very close to the ocean with great beach access. Beverly Beach includes 21 rustic yurts, 53 full hookups, 128 tent sites, and 75 electrical sites. With each individual campsite, you get one vehicle and expect to be charged an extra fee for each additional vehicle. The max number of vehicles per site is two, including a tow vehicle.
---
Related: 26 Prime Oregon Coast Campgrounds
---
Agate Beach
Nestled between the new and old highway 101 you will find Agate Beach Wayside You can't miss the large parking lot with room for trailer parking. The beach access trail consists of a tunnel that goes underneath the old highway 101 to a wonderful sandy beach.
Nye Beach
View this post on Instagram
Nye Beach at one point was actually a separate resort town, connected to Newport. Just a hop and a skip away from Newport, this is one of the most popular beaches you can visit here. Nye Beach is home to shops, hotels and cafes, restaurants, and a sandy beach that goes from Yaquina BBay all the way to Yaquina Head. You will also find the Newport Performing and Visual Arts Centers here.
Cobble Beach
Just below Yaquina Head you will find Cobble Beach. And plenty of cobble stones you will indeed find at this wonderful spot. Make sure to go during low tide so you can hear the waves as they move across the cobble stones.
Moolack Beach
Love searching for sea glass, agates, and fossils? Moolack Beach may be one of the best spots in Newport. This 5 mile stretch of beautiful beach is bordered to the south by Yaquina Head, and to the north its sand meshes with Beverly Beach. Moolack Beach is around 5 miles north of central Newport along Highway 101. There are plenty of small parking areas that allow access to the beach, with the main parking area next to the Moolack Sholes Inn.
Starfish Cove
Head north of Newport to find Starfish Cove. This exotic spot is carved into the north base of Yaquina Head, and at low tide (better for exploring the tide pools) is a great spot for tide-pooling in Oregon.
Hiking in Newport, Oregon
There are plenty of places to hike in the Newport area. For an extensive guide on hiking, we wrote an article that covers trails near Lincoln City, which is very close to Newport.
Seal Rock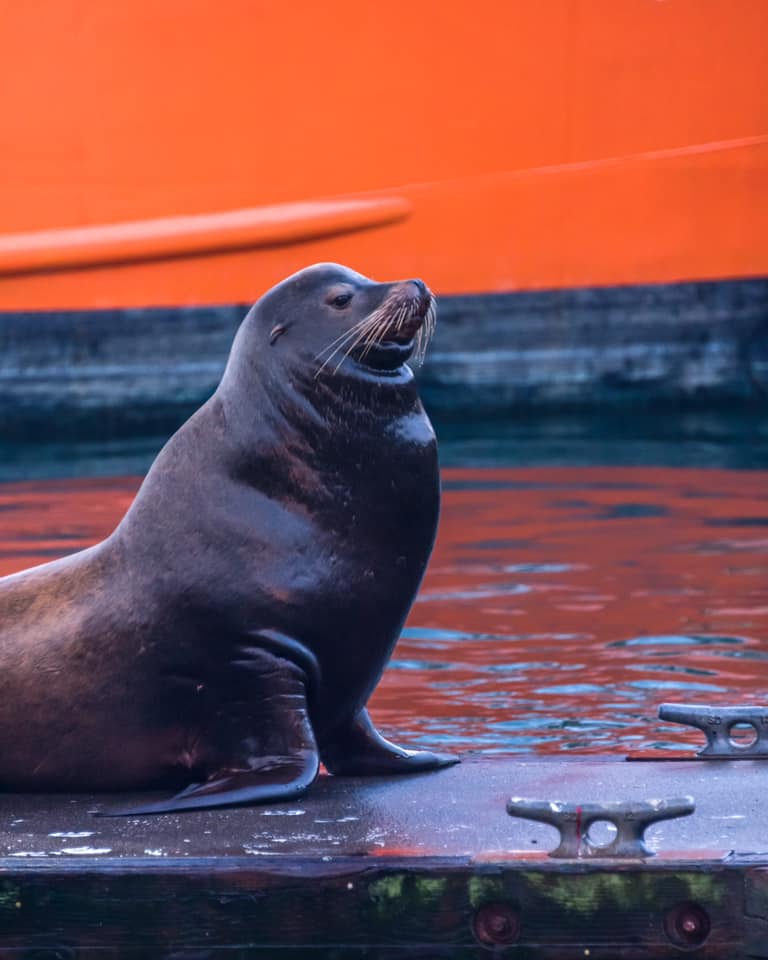 This 0.4 little hike at Seal Rock State Rereational Area Trail offers some fantastic views. You will often find seals, sea lions, sea birds, and other marine life here.
Brian Booth State Park
This park is made up of Ona Beach and Beaver Creek State Natural Area. The five miles of trail leads through the upland forest and the marsh, which supports beavers, many species of birds, and river otters. This hike is an easy to moderate loop, offering incredible views of the ocean.
---
RELATED: 12 Beautiful Oregon State Parks You Might Not Know Existed
---
Oregon Coast Trail
50 years in the making, numerous volunteers, thousands of hours (over 2,500 a year!), and permission from generous private landowners; this is what went into the making of the C2C. The non-profit "Corvallis-to-the-Sea Trail" is a 60-mile journey through beautiful verdant forest, from the heart of the Willamette Valley to Ona Beach State Park.
READ MORE: Trek From Corvallis All the Way to the Ocean On This New Oregon Hiking Trail
Drift Creek Falls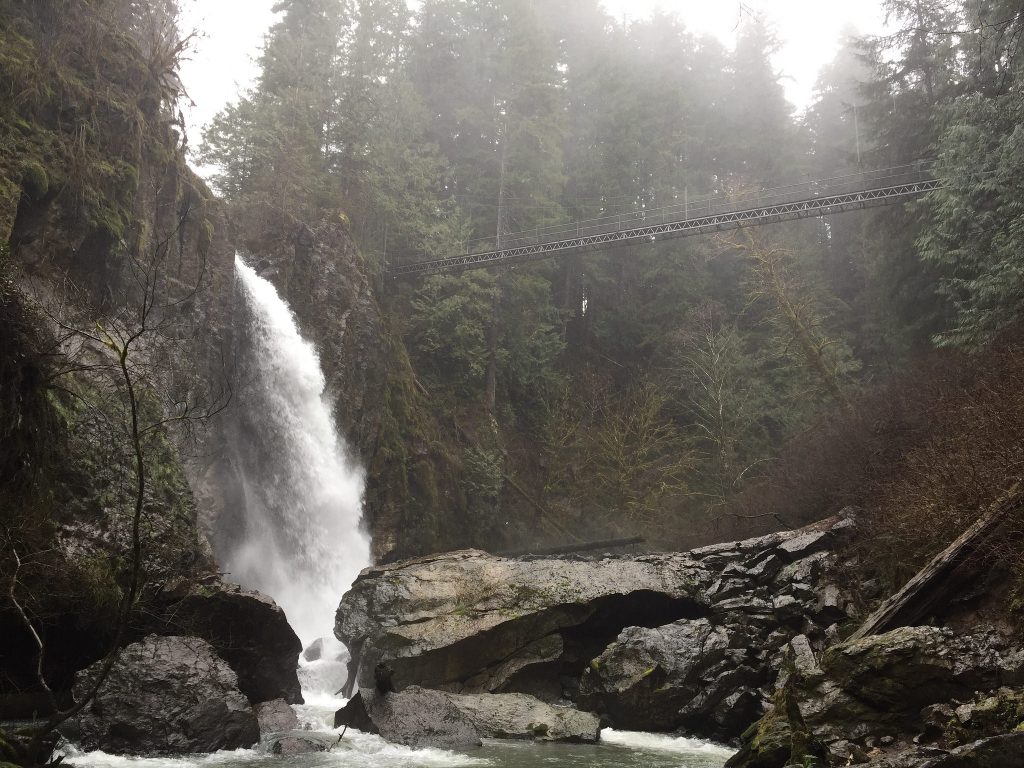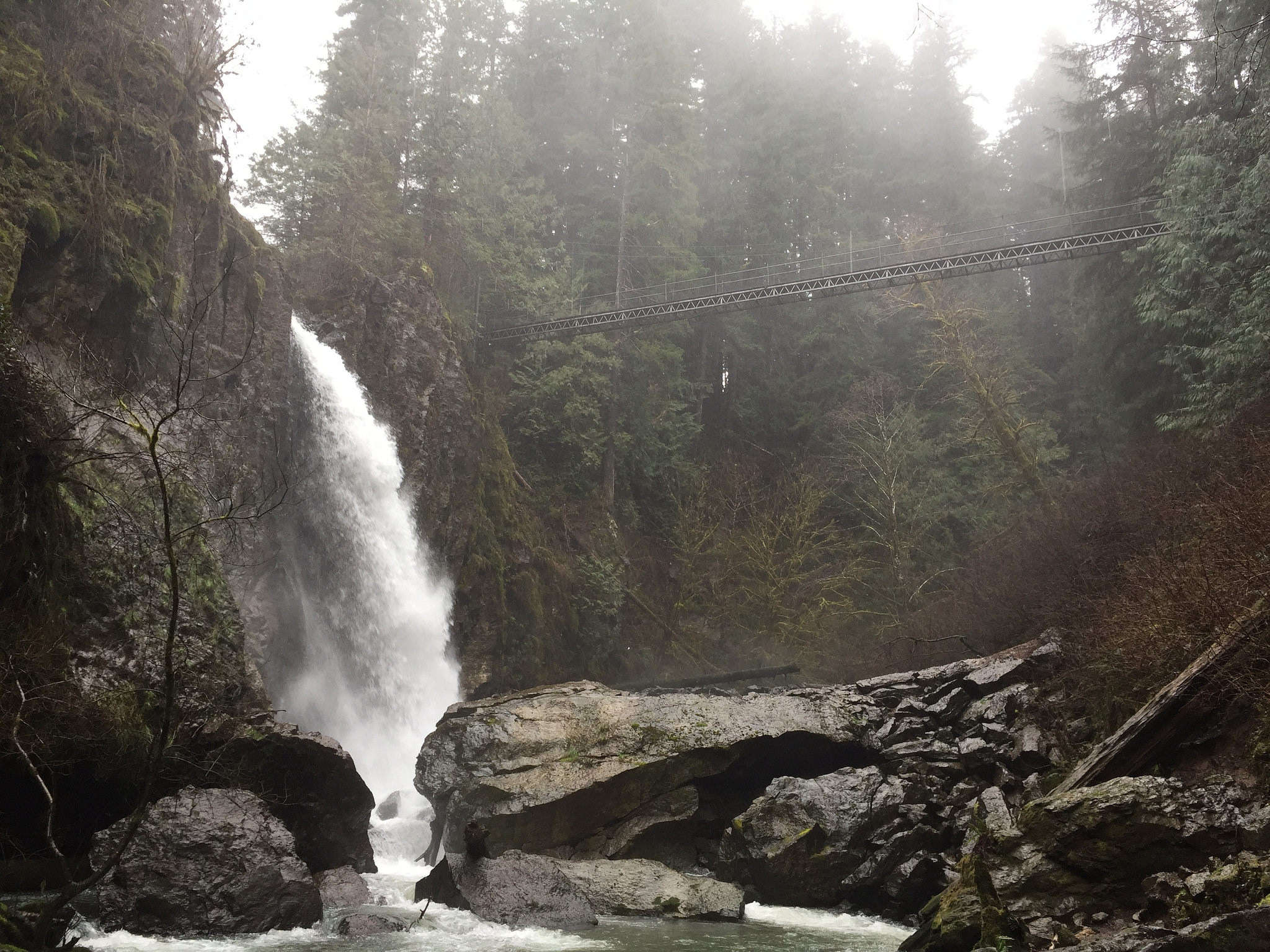 An amazing hike with a waterfall and a suspension bridge, nearby Newport and closer to Lincoln City.
Hit the link here to read more on Drift Creek Falls.
Weather in Newport, Oregon
The summers are cool, dry, and mostly clear in Newport. Expect winters to be cold, wet, windy, and mostly cloudy. Over the course of the year, the temperature typically varies from 41°F to 65°F and is rarely below 32°F or above 72°F. It's very rare we see snow here, but at the time of writing this in 2022 we were amazed to get a little bit for a change. This website can give you a more in depth answer to what to expect for weather in Newport.
Where to Eat in Newport, Oregon
Clearwater Restaurant
Rogue Brewer's on the Bay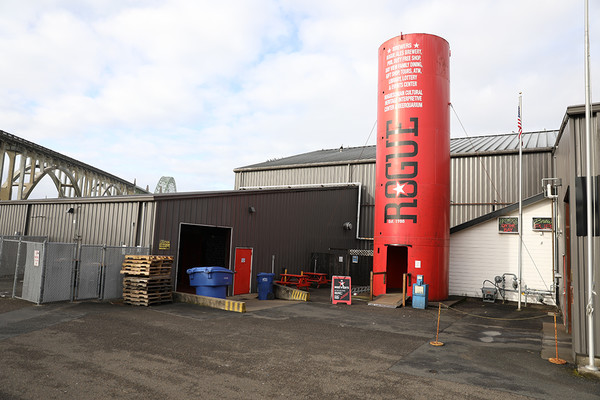 Located inside Rogue World Headquarters, our two-story brewpub looks out on the Yaquina Bay and picturesque marina and is one of the top destinations along the Oregon coast. Grab some food with the family or saddle up to the bar and try one of their 40 Rogue ales and lagers on tap, including specialty brews only available at Brewer's on the Bay. Brewery tours are suspended for the time being.
Chowder Bowl
Established in 1980, the Newp[ort Chowder Bowl has been one of the most popular spots on Nye Beach. You can't go wrong with their creamy clam chowder, fish and chiops, and everything else you'd expect to see at a seafood restaurant on the Oregon Coast. They have decent prices, great food and you are in walking distance from the beautiful beach when you're ready to work off that appetite.
Nana's Irish Pub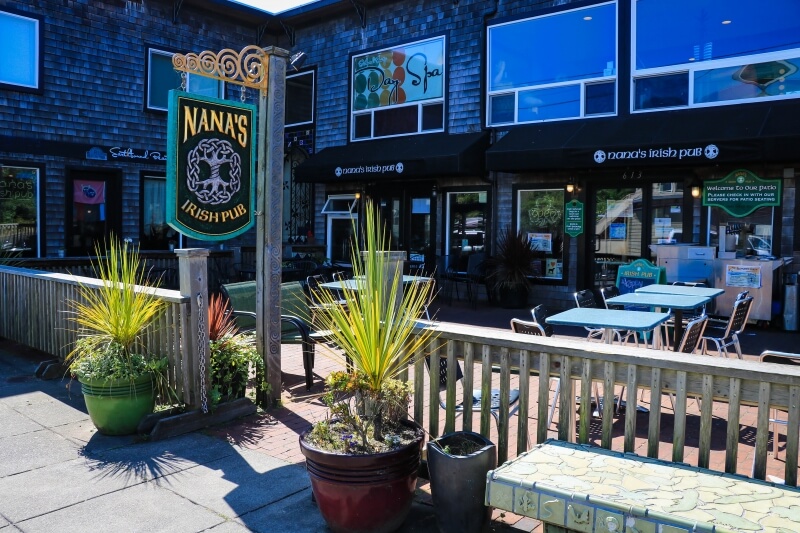 One of our personal favorites. An easygoing Irish pub offering a pot pie–centric tavern menu & pints of Guinness. If your timing is right you may even catch some live music. The service is on point and their food is phenominal. Go with an appetite as they specialize in comfort food.
Hit the link here to read more about Nana's Irish Pub.
Address: 613 NW 3rd St, Newport, OR 97365
The Chalet Restaurant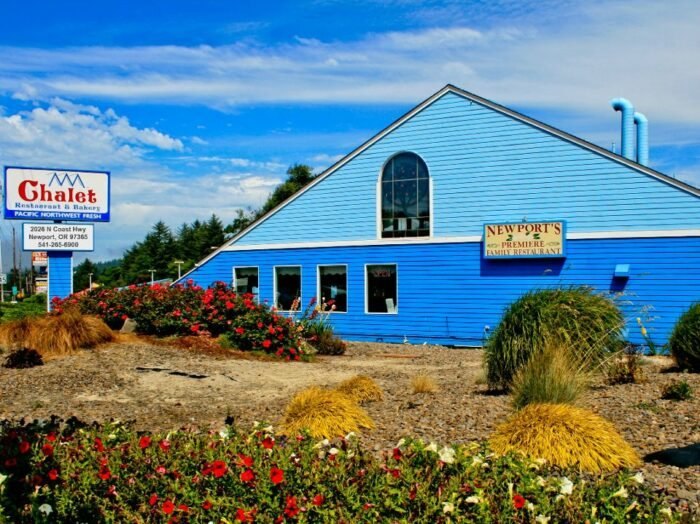 The Chalet Restaurant And Bakery has been a local favorite for over 30 years. They serve delicious breakfasts all day, and have mouth watering home baked deserts you'll want to come back again and again for.
---
READ MORE: The Chalet Restaurant In Newport Is A Local Favorite For Comfort Food
---
South Beach Fish Market
This old school seafood shack offers ocean-sourced far, from live & steam crabs to mouthwatering fish and chips.
Address: 3640 S Coast Hwy, South Beach, OR 97366
The Hill Buffet and Grill
Sadly, one of our favorite buffets, Izzy's Pizza, went out of business in Oregon recently. Since they have left, The Hill Buffet & Grill moved in, and it looks like they have basically kept the same food which is a win for us as I especially love their pizza. The view here over the ocean is quite nice too.
Address: 5251 N Coast Hwy, Newport, OR 97365
Gracie's Sea Hag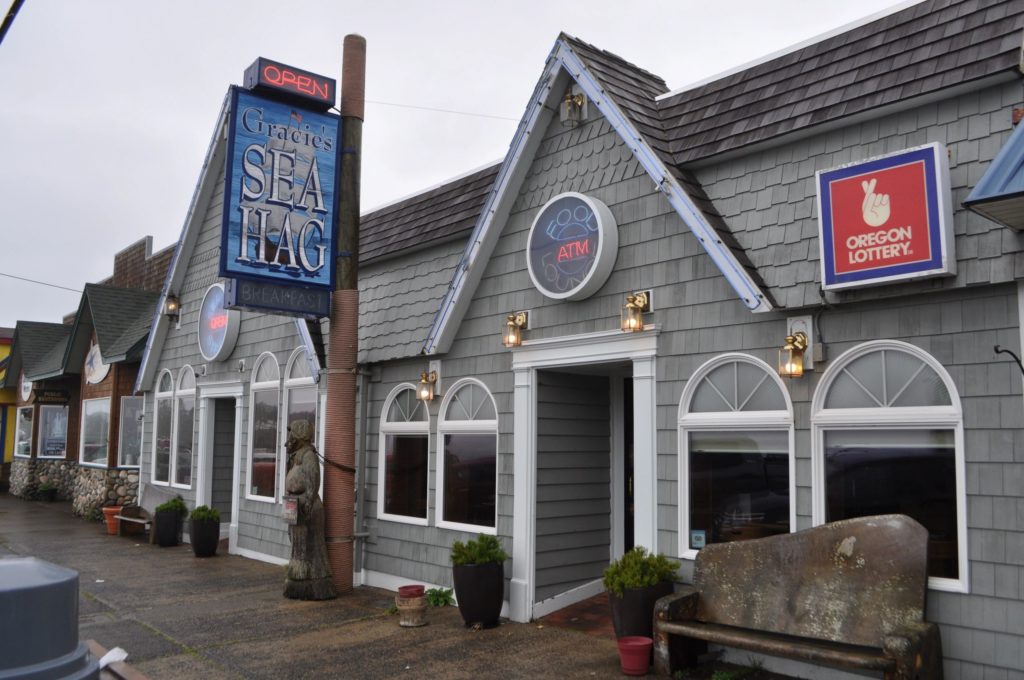 This wonderful place is not technically in Newport, but is nearby in Depoe City. Gracie Strom established the restaurant in 1963. The front of Gracie's Sea Hag overlooks one of Oregon coast's most spectacular views of the Pacific Ocean. Beautiful views, a spouting horn, and the "World's Smallest Natural Harbor" featured in the Oscar-winning movie One Flew Over The Cuckoos Nest, also Jack Nicholson's first Oscar-winning role for Best Actor, make Depoe Bay a gem of the Oregon Coast.
More places to eat
Where to Stay in Newport, Oregon
Moolack Sholes Inn
Moolack Shores Inn is ideally located on 101 North Coast Highway, mere steps from the Pacific Ocean. Newport boasts some of Oregon's best craft breweries, restaurants, and beaches, and attracts visitors year-round with its temperate weather and spectacular beauty. Newport is located approximately an hour from the Eugene Airport and 2 ½ hours from the Portland International Airport.
Sylvia Beach Hotel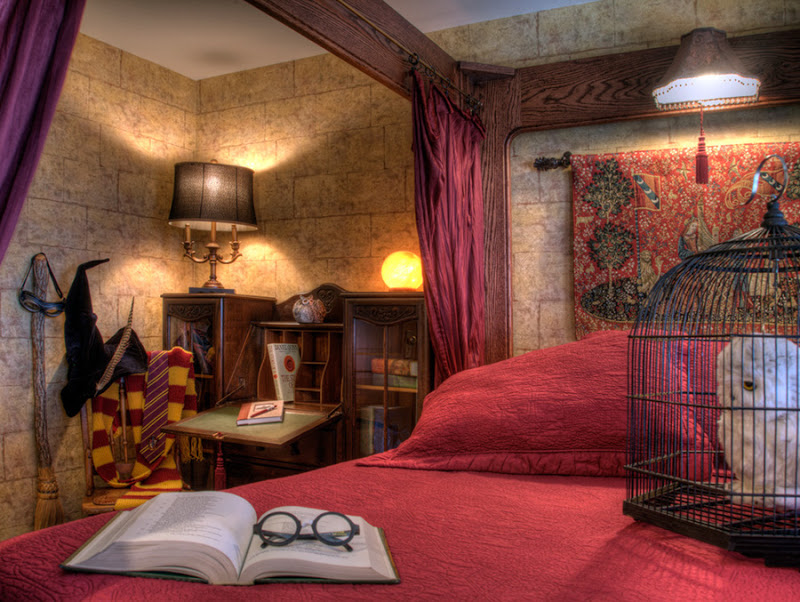 If you love reading books, and you can't get enough of the Oregon Coast, then this is the hotel for you. It's known as the Sylvia Beach Hotel, and it's located in beautiful Newport, Oregon. This cozy literacy-themed hotel features 20 rooms all inspired by some of the world's greatest authors known to man.
Address: 267 NW Cliff St, Newport, OR 97365
---
READ MORE: The Charming Sylvia Beach Hotel is Designed For Book Lovers
---
Hallmark Resort Newport
Located on the oceanfront, this Oregon coast resort features a salt water pool and spa. An ocean view and free Wi-Fi are provided in every room.
When is the best time to visit Newport?
The Oregon Coast, and Newport included, is generally more popular during the summer. But don't let that discourage you. We live on the coast, and while the colder months over here may not be for everyone, we love it. The weather can be quite exhilarating, especially with king tide waves in Oregon.
Nearby Newport, Oregon
Thor's Well
Thor's Well is one of many midnblowing plays to see along the Oregon Coast. The "Drainpipe of the Pacific" is definitely a must see if you have time. Not far from Newport you will find this maraclous natural wonder sitting on the edge of the Pacific Ocean. Thor's Well is especially awesome during stormy weather.
Read more: Everything You Need To Know About Thor's Well
More Oregon Coast Towns To Visit
Before you go, you may want to check the best time for low tide in Newport. Check out our Oregon Coast Tide Tables which covers not only Newport, but many other popular towns on the Oregon Coast.