The Best Beaches on the Oregon Coast
From the mouth of the Columbia River on the Pacific Ocean, on down through Cannon Beach, Rockaway Beach, Pacific City, the Oregon Dunes, Heceta Head Lighthouse, and the Samuel H. Boardman State Scenic Corridor, these are the best Oregon beaches to find your happy place.
The Best Oregon Beaches: Northern Oregon Coast
---
1. Fort Stevens State Park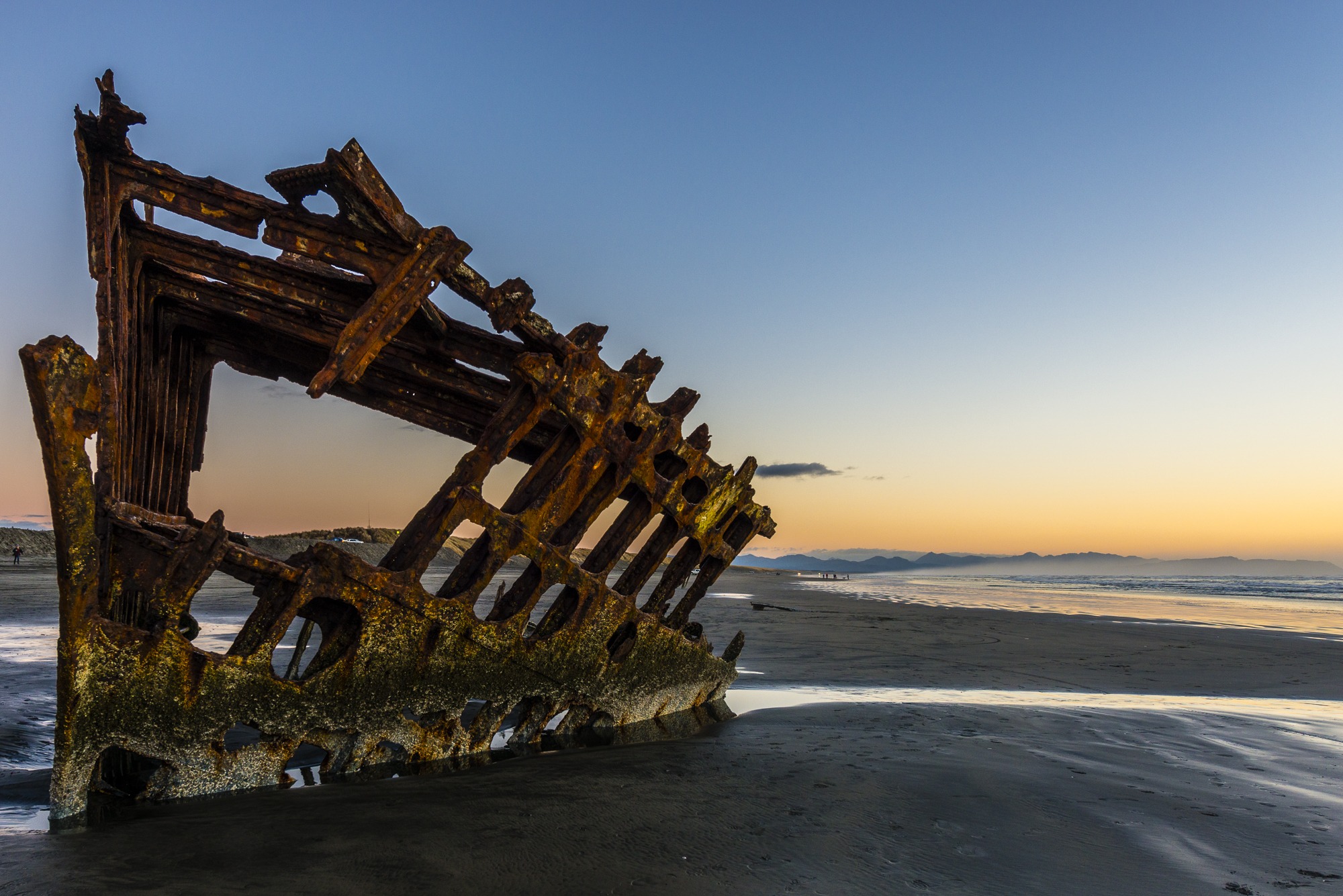 Fort Stevens State Park is a popular summer getaway for families in the Portland Metro area because of the large variety of things to do. Camping, beachcombing, and viewing the historic shipwreck of the Peter Iredale are just the tip of the iceberg. Families will enjoy exploring the five Oregon beaches at Fort Stevens, swimming and fishing in the freshwater lakes in the park, playing in the sand, and flying kites.
Those interested in history will love taking tours of the historic Fort Stevens military base. There are also nine miles of paved bicycle trails and six miles of hiking trails that will lead you through forests, wetlands, sand dunes, and along the shore. Wildlife viewing at Fort Stevens is also popular.
Fort Stevens State Park isn't far from Astoria, so it makes for the perfect opportunity to visit this quaint, northern Oregon coast town. Located where the Columbia River meets the ocean, Astoria is part beach town, part river port, making it one of the best places to visit on the entire Oregon coast.
2. Cannon Beach
Growing up in the Tualatin Valley, I visited Cannon Beach quite often.
Cannon Beach is a charming and well-known coastal town that has earned many accolades. It has been recognized as the "best beach in Oregon," one of the top art towns in America, the coziest US towns, and one of the world's most beautiful places.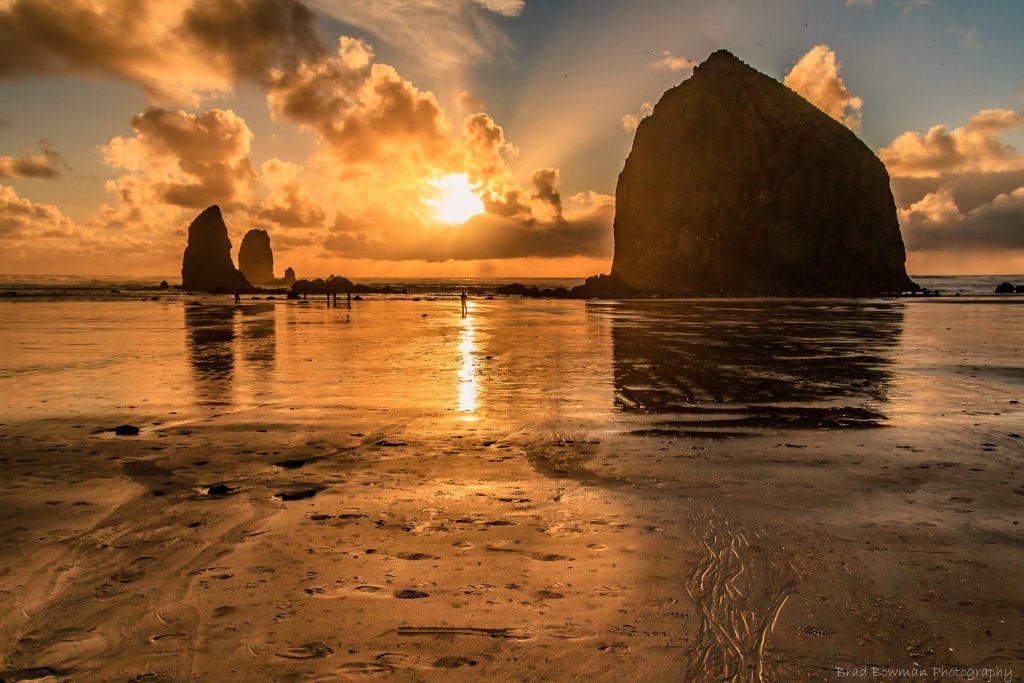 With a rich history that dates back to the 1840s, when a naval cannon washed up on the shore after a shipwreck, Cannon Beach has a unique character that sets it apart. Haystack Rock, an imposing and towering rock formation off the coast, is surrounded by stunning stone "needles," vibrant tidepools, and a diverse collection of seabirds. Nearby, Ecola State Park offers awe-inspiring coastal vistas, scenic picnic areas, and an extensive network of hiking trails that provide visitors with a wide range of outdoor recreational activities.
Cannon Beach is renowned as one of the Northwest's premier Oregon coast art towns, featuring numerous art galleries, specialty shops, cafes, and fine dining restaurants.
3. Hug Point State Recreation Site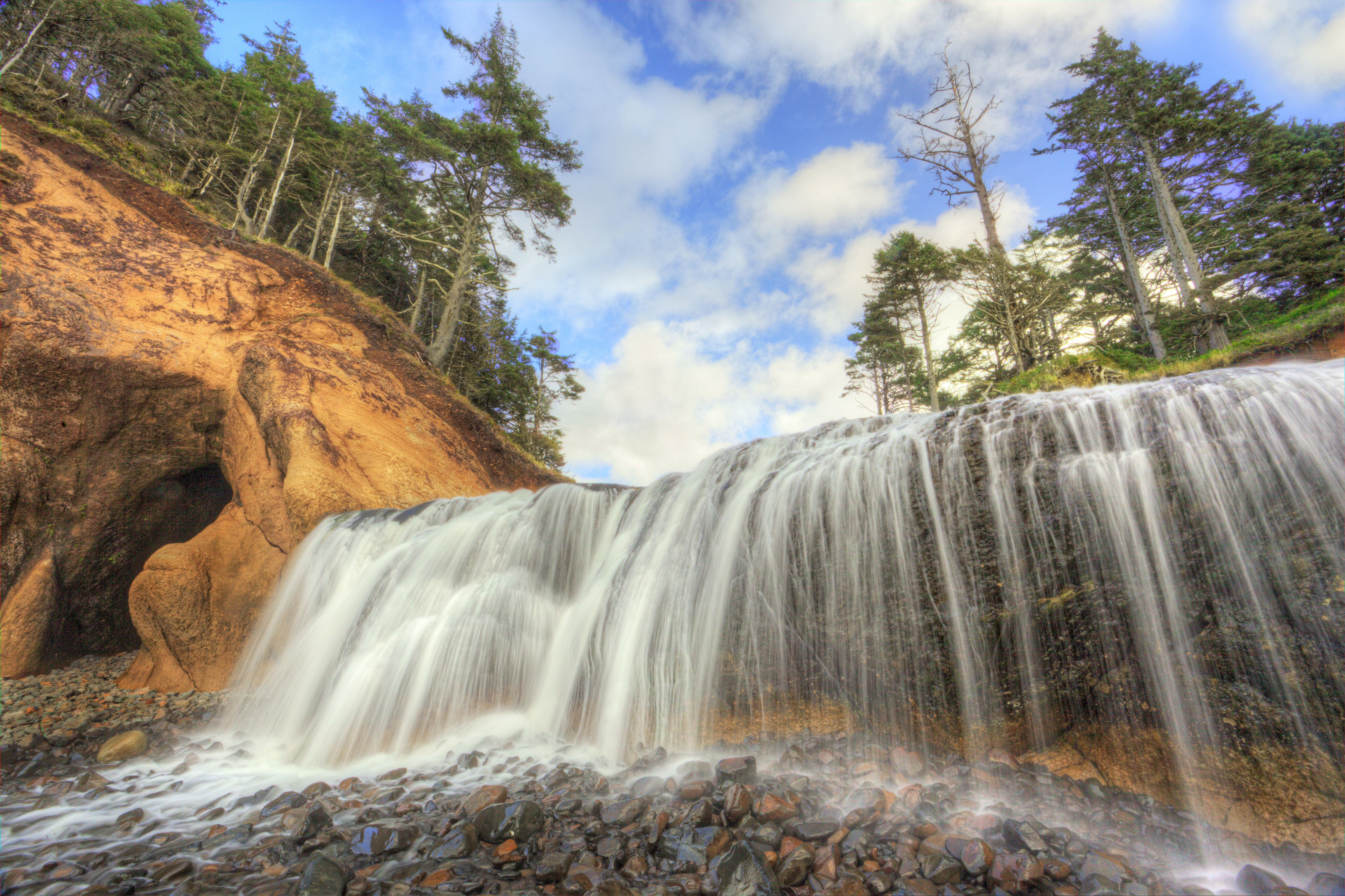 Hug Point is and is a common family destination of Oregon coast beaches while being a hot spot for beach bums looking for an inexpensive getaway.
If you're planning on exploring the beach and headlands, please be mindful of the tides. As the tide and sand conditions change with the seasons, it's crucial to keep an eye on the incoming tide to avoid getting stranded on the point. If you're unsure, remember, it's better to be safe than sorry.
The beautiful sandy beach adjacent to the park is surrounded by hills covered in salal, ferns, and Sitka spruce. Nestled between Austin Point to the south and Hug Point to the north, just a short walk northward will take you to a seasonal waterfall, sandstone cliffs with carved caves, and tide pools.
It's hard to imagine, but this stunning beach was the only way to travel along this stretch of coast before the highway was built. The original stagecoach road, still bearing the wheel ruts carved into the rock, can be seen north of the parking area at low tide. Pioneers had to carefully hug the point while traveling around the headland, which is why the point and the park are named Hug Point.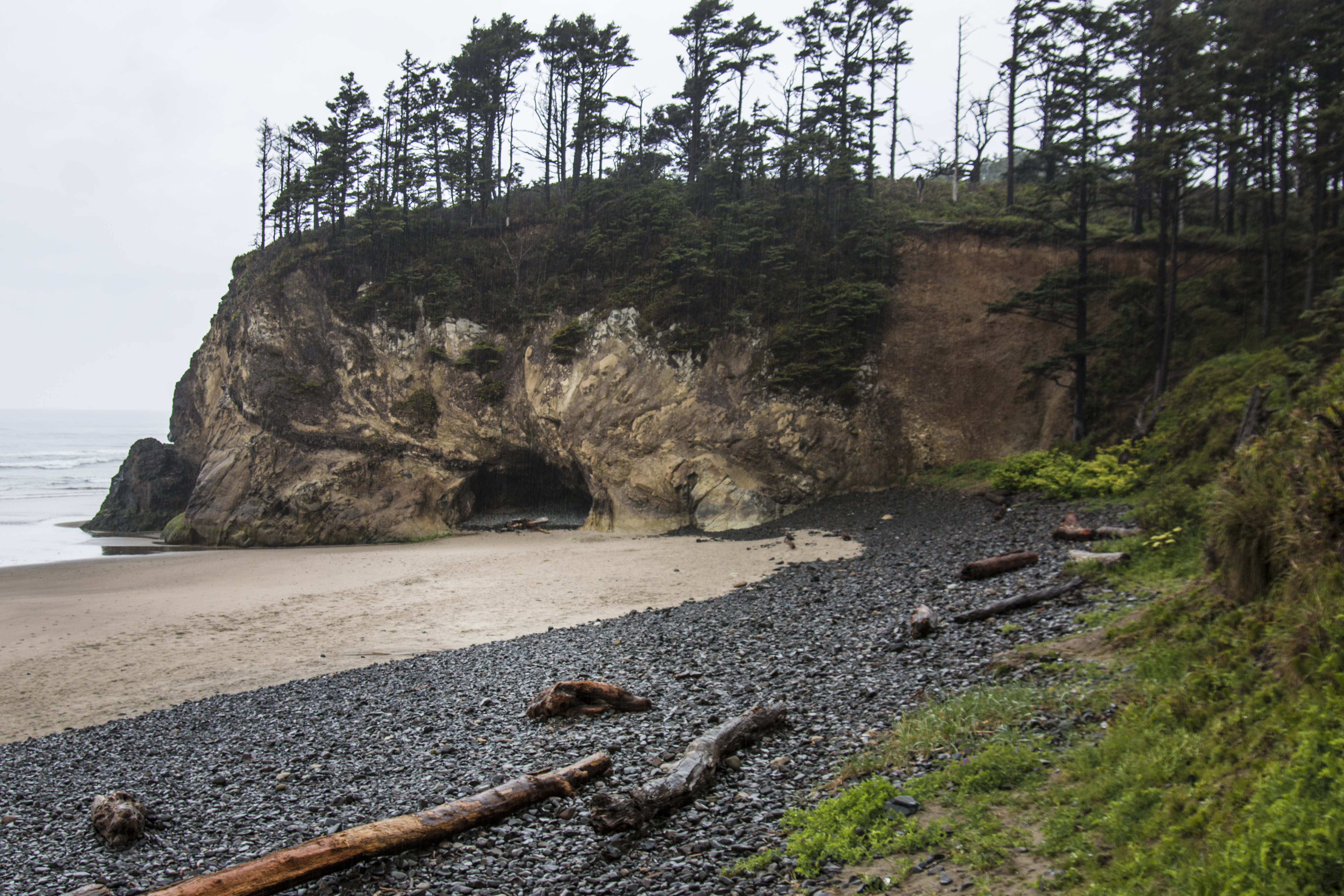 ---
RELATED: 13 Best Oregon Coast Hikes (6 With Waterfalls!)
---
4. Oswald West State Park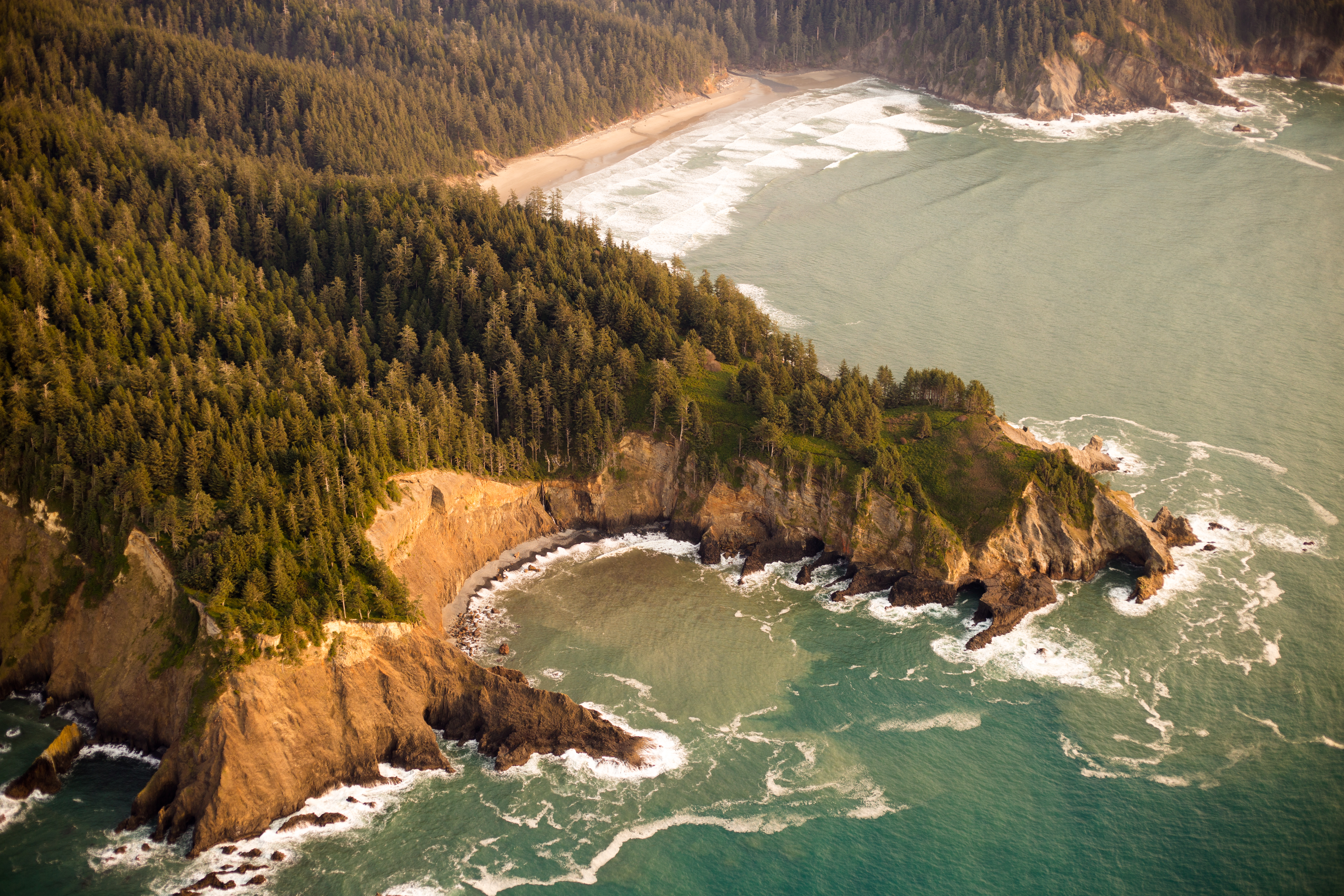 Take a leisurely half-mile walk through the forest down to Short Sand Beach when you visit the scenic Oswald West State Park.
One of Oregon's best beaches for surfing and boogie boarding is Short Sand Beach, also referred to as "Short Sands" or "Shorty's." The protected Smugglers Cove ensures consistent breaks even during inclement weather. But even if surfing isn't your thing, Short Sand Beach is a beautiful spot to spend an afternoon.
The park itself was named after the beach when it was established in 1931 and only later renamed after Governor Oswald West in 1958. During the peak summer months, this northern coast beach can get very crowded, so try visiting on weekdays or during the winter for a quieter experience. To reach the beach, follow the trail from the main parking lot of Oswald West State Park through the Sitka Spruce old-growth forest alongside Short Sand Creek.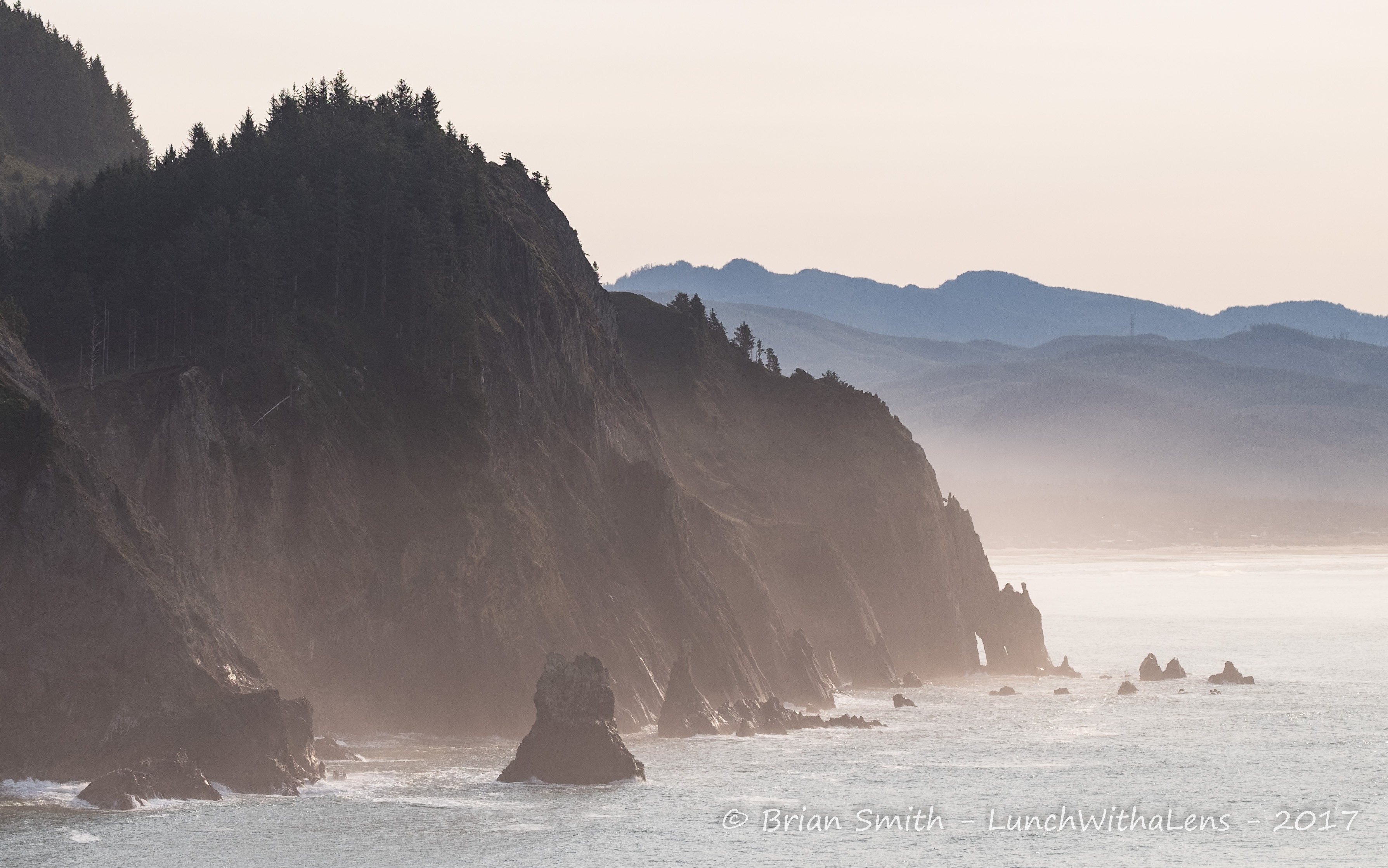 Don't forget to visit Blumenthal Falls, take in the natural beauty of Cape Falcon and Neahkahnie Mountain, and hike the five trails that wind their way through the park's forests and up its mountainsides. Nehalem Bay State Park is also a must-visit.
5. Rockaway Beach
This beautiful Oregon coast beach features seven miles of sand with over 30 easy beach access points. The vast expanse of sandy coast makes Rockaway Beach generally uncrowded, even during the busy summer months.
Even before a highway system was established on the Oregon coast, trains brought families to Rockaway for vacation. You can still experience a piece of Rockaway Beach's history by hopping on a steam engine train that takes curious travelers on a picturesque route showcasing stunning views of Tillamook Bay, the ocean, and tide pools. The Oregon Coast Scenic Railroad not only offers an unforgettable adventure but also preserves the town's heritage.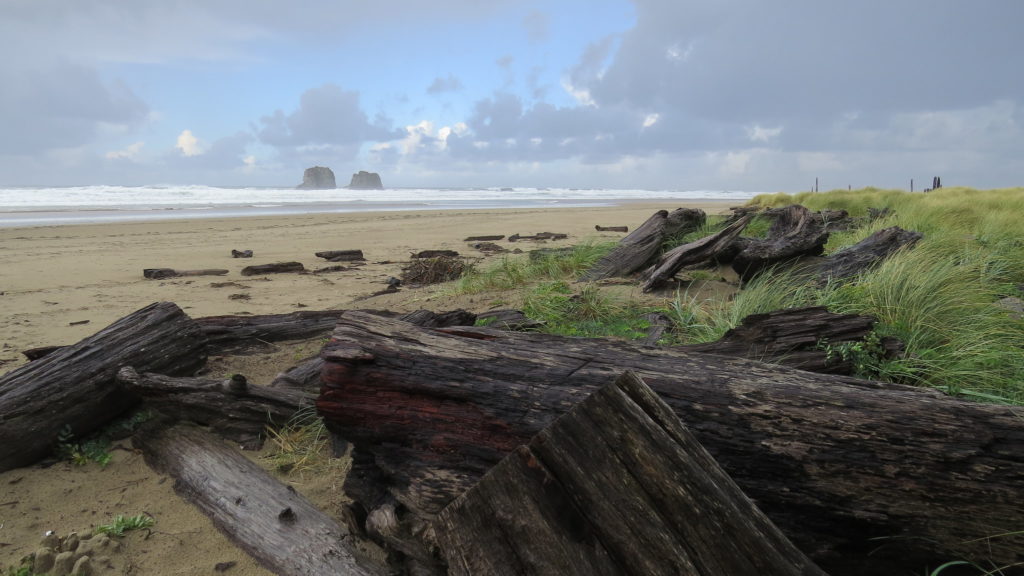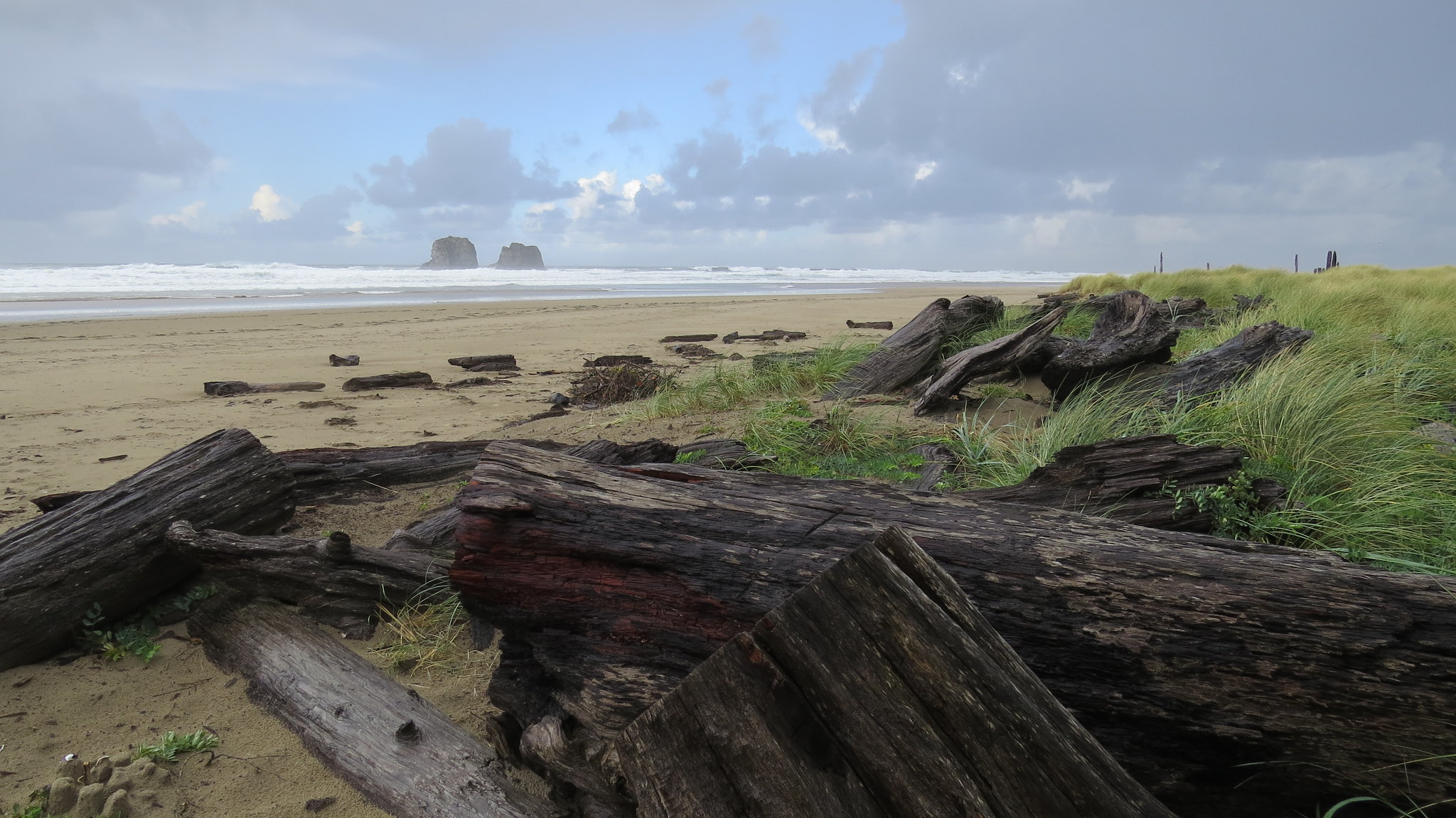 Accessing the sandy Diamond Beach near Minnehaha Ave. will give visitors the best view of Twin Rocks, one of the Oregon coast beaches' natural wonders and most recognizable sea stacks.
This Rockaway Beach stretch of highway 101 is often referred to as the "Coney Island of the Oregon Coast", due to all the little shops and attractions that line the roadway. You'll find some amazing restaurants sprinkled in, so even if you're just commuting through Rockaway Beach, this is a great place to stop in for a bite.
If you're in the mood for a casual family lunch in nature, Manhattan Beach State Park in the northern part of town offers picnic tables located in small areas sheltered by native shore pines. After enjoying your meal, look for the access trail for the short stroll to Manhattan Beach.
If you're heading north, check out Neahkahnie Mountain for moderate to challenging hiking trails with picturesque views of the coast and valley. You may even find some legendary buried treasure.
---
Related: The Awe-Inspiring Three Capes Scenic Route on the Oregon Coast
---
6. Cape Kiwanda State Natural Area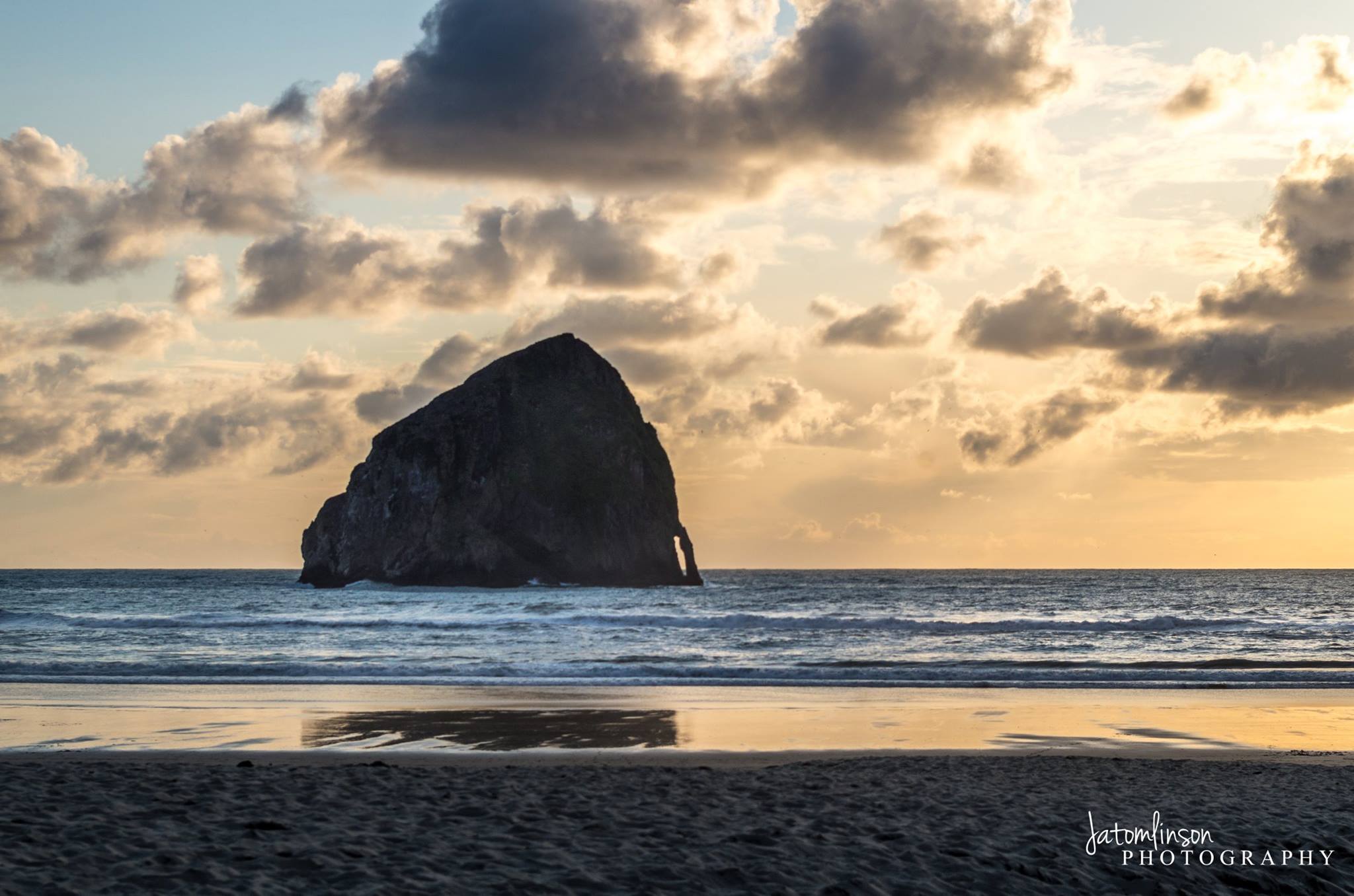 I've lost count of the number of times I've visited Pacific City over the years as it's one of my favorite beaches on the Oregon coast.
Pristine beaches, fishing, surfing, sandboarding, hang gliding, kite flying, and bonfires on the beach. Cape Kiwanda and its miles of beaches and sea cliffs are the perfect places to spend a relaxing day or to get an adrenaline rush. Visit at sunset for a relaxing walk down the peaceful west coast shoreline.
Oregon's second Haystack Rock rises out of the Pacific Ocean at Cape Kiwanda, making a picturesque backdrop for selfies and family photos.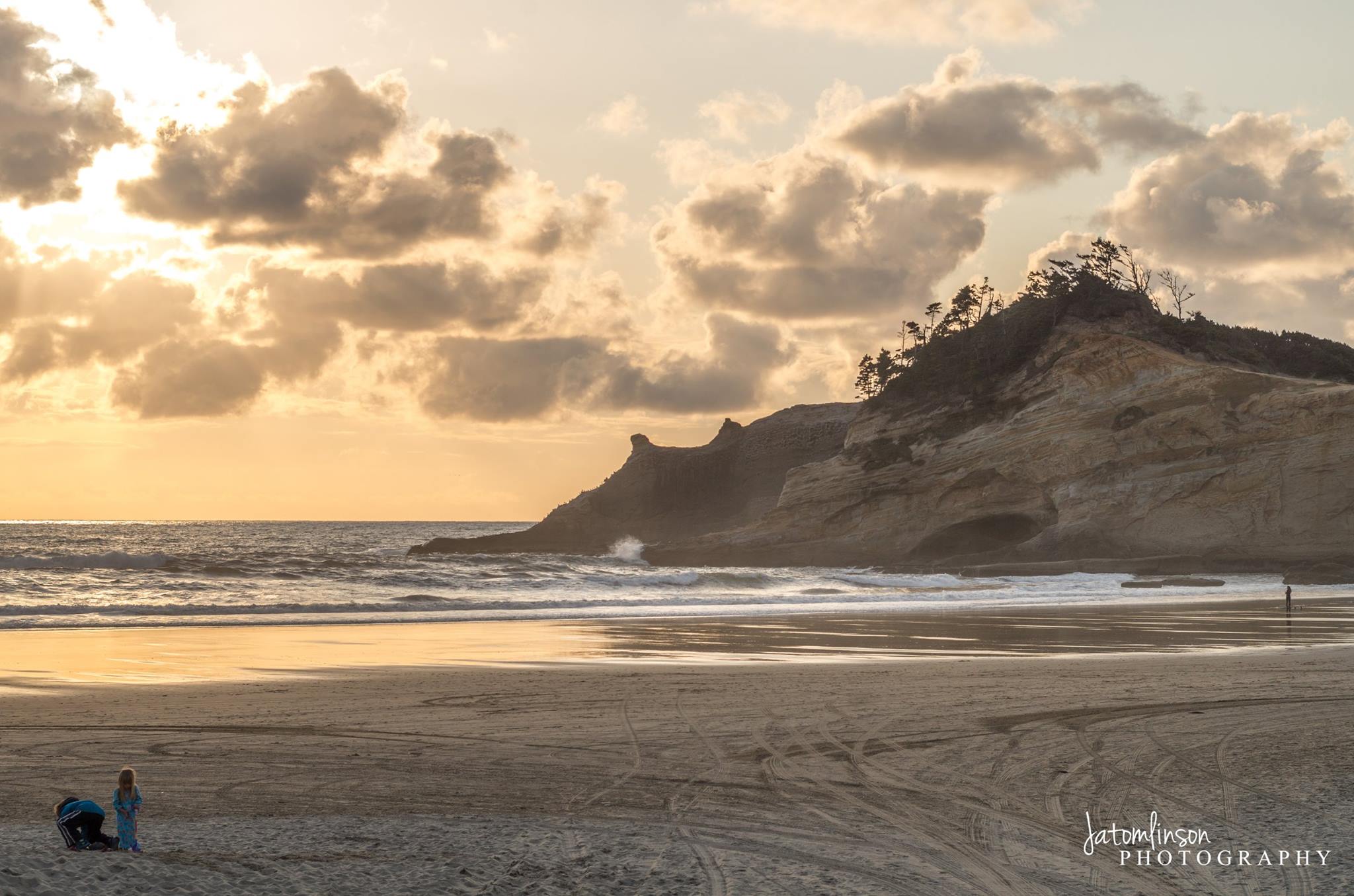 ---
READ MORE: Your Guide to Cape Kiwanda
---
Honorable Mention: Arcadia Beach
Located just south of Cannon Beach, Arcadia Beach regularly tops lists of Best Oregon Beaches.
Nestled in a shady grove just off the highway and steps from the sandy Pacific ocean beach, Arcadia State Recreation Site awaits a leisurely lunch break or a full day of beach exploration. Spread out your blanket, kick off your shoes, and feel the waves lapping at your ankles. Keep a watchful eye on the tide and tidepool areas, and be mindful of the ocean's power.
The Best Oregon Beaches: Central Oregon Coast
---
7. Lincoln City
We may be just a tad biased, but Lincoln City is definitely one of the best Oregon beaches for so many reasons.
From Road's End in the north to Taft in the south, there are a whopping 7.5 miles of sandy beaches in Lincoln City, one of which visitors are allowed to drive onto (the access point for vehicles is at NW 15th Street).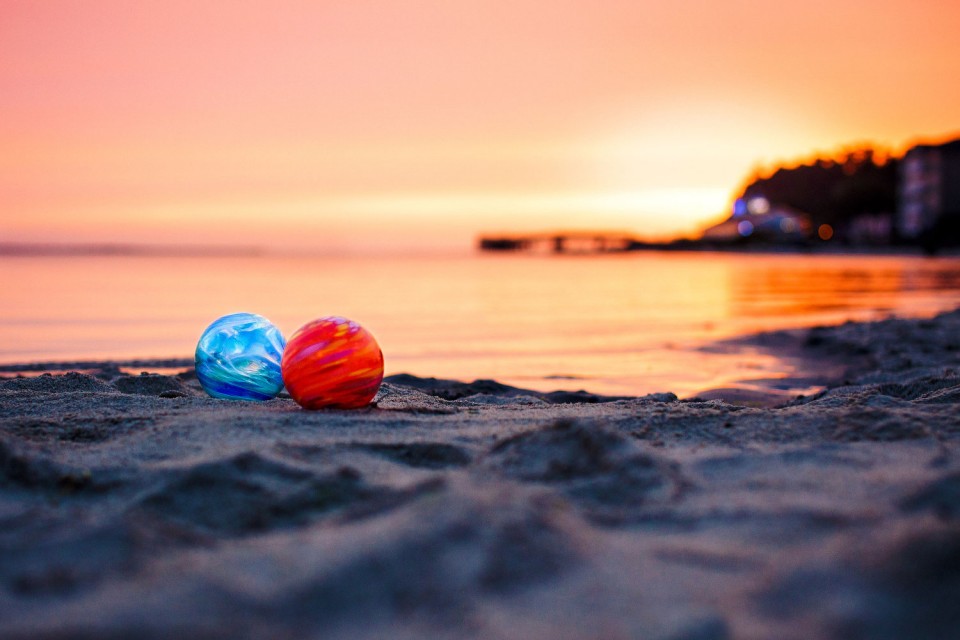 Lincoln City is a charming destination formed by the fusion of five communities, each with its own unique vibe and delightful surprises to discover. The town hosts a spectacular annual kite festival that draws large crowds in the summertime. Local artisans blow stunning glass floats that "float fairies" hide along the shore for lucky beachcombers to discover. These floats are inspired by the vintage Japanese glass net floats that used to wash up on Oregon coast beaches.
Nature lovers will appreciate the picturesque coastal forests surrounding Lincoln City, which offer a plethora of incredible hikes. One such hike leads to the stunning Drift Creek Falls, which features a 100-foot high suspension bridge over a 75-foot waterfall with Drift Creek flowing underneath. The trails at Cascade Head provide sweeping vistas of Lincoln City's coast, Devil's Lake, and Cape Foulweather. Meanwhile, Devil's Lake and Siletz Bay are popular spots for fishing, swimming, and water sports.
8. Beverly Beach State Park
Nestled within a forested area between Cape Foulweather and Yaquina Head, lies Beverly Beach State Park's stunning creekside campground - one of the largest in Oregon. The park's day-use area and some campsites are just a few steps away from miles of pristine ocean beach, stretching from Yaquina Head to Otter Rock. The park is strategically located near excellent viewpoints for whale watching, tidepools brimming with sea life, the Oregon Coast Aquarium, and the charming shops and restaurants in Newport.
Immerse yourself in nature as you set up camp just a stone's throw away from the ocean in the forest-sheltered campground. You'll be surrounded by massive, wind-sculpted trees and nurse logs, with campsites situated along the pebbly Spencer Creek.
---
Related: The Best RV Parks on the Oregon Coast
---
9. Neptune State Scenic Viewpoint
Neptune State Scenic Viewpoint features four pull-offs along Highway 101, each with its own unique offerings and beautiful beach.
The first pull-off, located near Gwynn Creek, is nameless but offers visitors access to a secluded beach and ample grassy areas for picnicking.
The next pull-off, labeled Neptune, boasts cliffside benches that provide sweeping views of Cummins Creek, local wildlife, and the impressive crashing waves. Visitors can often spot whales, diverse bird species, sea lions, and even deer in the creek. For those interested in agate hunting, low tide provides an opportunity to explore tidepools and a nearby natural cave.
---
Related: Oregon is a Rockhounding Paradise
---
Continuing south, visitors will find Strawberry Hill, which offers breathtaking ocean views and a staircase leading to sandy beaches and fantastic tidepools. If the weather is favorable, visitors can also catch a glimpse of harbor seals basking in the sun on rocks just offshore.
The final stop at Neptune State Scenic Viewpoint is Bob Creek, which offers beach access and a prime location for agate hunting.
Nestled in the cliffs near Cape Perpetua along Highway 101, Cape Cove beach offers breathtaking views of volcanic-rock formations and fine-grained sand. While it may not be the best spot for family activities due to its rocky shoreline, it's perfect for hikers and adventurers seeking a short but rewarding trail. And with nearby attractions like the Cape Perpetua Visitor Center, Thor's Well, and Neptune State Park, this secluded place on the Oregon coast is the ultimate destination for a day full of natural wonders.
10. Jessie M. Honeyman State Park

If you're looking for really sandy beaches in Oregon, Honeyman State Park is one of those places for which many Oregonians have a special place in their heart. This Oregon coast state park features coastal dunes, two lakes, and campgrounds. People enjoy walking on the beach, but they also enjoy sandboarding down the dunes that surround Lake Cleawox, as well as swimming, kayaking, and canoeing in the clean lake.
Many families make a yearly pilgrimage to Honeyman. Florence Oregon is just a short drive away, and people enjoy visiting the Heceta Head Lighthouse and Sea Lion Caves. The Oregon Dunes National Recreation Area is also nearby.
11. Heceta Beach
Get ready to bask in the sun, because Heceta Beach is a sandy slice of paradise just north of Florence, Oregon where towering sand dunes await. You can choose between two main entrances, both located by the Driftwood Shores Resort. If you're feeling the North entrance, you'll be pleased to know there's a shaded picnic area and sunny benches.
Once you're on this Oregon coast beach, there's plenty of sand to play around in. However, be aware of the wind - it can get a bit breezy out there. If you venture south, you can find a wetlands area where it's usually quieter and less crowded. On the other hand, if you're heading to Heceta Beach South, you won't have to worry about any parking fees.
A short, five-minute walk from the beach sits Heceta Beach RV Park, a favorite of campers and families alike.
This is the gateway to the Oregon Dunes National Recreation Area, where ATVs and sandrails play all day.
Honorable Mention: Yaquina Head Outstanding Natural Area

---
RELATED: Road Trip To All 11 Oregon Lighthouses
---
This truly beautiful place features tide pools to explore at Cobble Beach and Quarry Cove, the Yaquina Head Lighthouse, as well as whale watching, an interpretive center, and several easy scenic trails to follow. Gray whales can be seen year-round through spring and you'll also spot seals and barking sea lions. Peregrine falcons and thousands of seabirds give birth to and raise their young here, making Yaquina Head a great place for bird watching.
Honorable Mention: John Dellenback Trails Beach
Located near Coos Bay, hike or bike this heavenly Oregon coast trail through dunes of sand to the secluded John Dellenback trails beach.
The Best Oregon Beaches: Southern Oregon Coast
---
12. Sunset Bay State Park
Nestled in a picturesque area of the Oregon coast, the park boasts beaches protected by towering sea cliffs, making it the perfect spot for beachcombing, fishing, swimming, and boating. For those who want to stay a bit longer, the campground offers cozy yurts and sites for tents and RVs.
The park is a nature lover's paradise and one of the best Oregon beaches. A network of hiking trails connects Sunset Bay State Park with nearby Shore Acres and Cape Arago state parks, offering glimpses of pristine coastal forests, seasonal wildflowers, and awe-inspiring ocean vistas from atop the rugged cliffs and headlands.
13. Bandon Beach
After leaving the Oregon Dunes National Recreation Area, the southern Oregon coast's rugged coastline begins to take shape. Bullards Beach State Park should be your first stop, as the huge sea stacks alone qualify it as one of the best Oregon coast beaches.

Located two miles north of Bandon, Oregon, Bullards Beach State Park is a spacious, family-friendly park that offers excellent camping. From the beach to the Coquille River Lighthouse, there's no shortage of activities to keep visitors entertained, including horseback riding, fishing, and crabbing.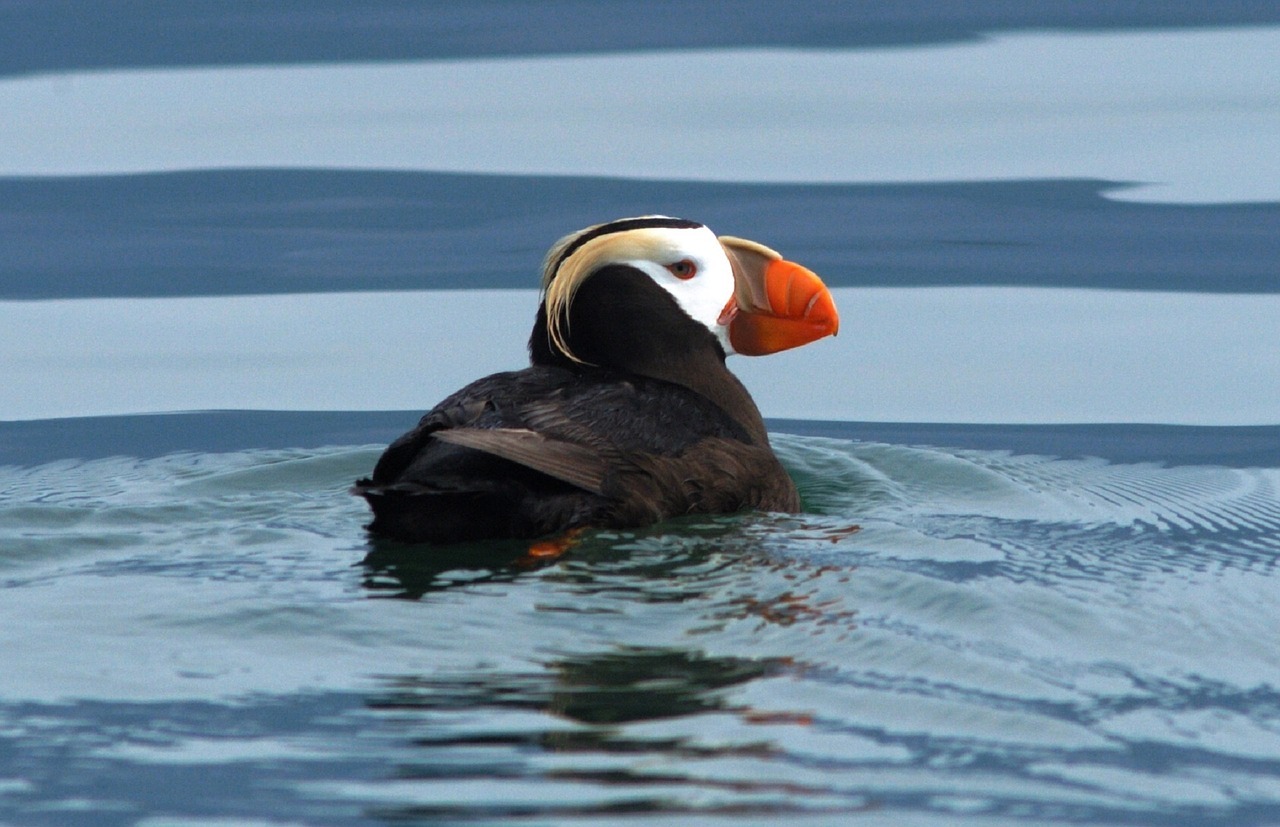 This area is part of the Oregon Islands National Wildlife Refuge, and from May to August Tufted Puffins nest at Face Rock. Myths and mystery come to life along this incredible stretch of the Oregon coast beach, including a Native American Legend about the woman who became Face Rock itself. Local artists have been known to make sand labyrinths at Bandon Beach, making it a fun place to take children.
Take the famous five-mile Beach Loop Drive, which deserves an article all by itself. Fascinating history, awesome food, and stunning views await you here on a tour that can take just a few minutes or last all day.
14. Port Orford Beach
Port Orford beach actually encompasses Agate Beach and Port Orford Bay, where you'll find some of the most spectacular views of the Pacific Ocean on the entire Oregon coast.
Wind, board, and body surfing are said to be the best here. Whether you're a pro or a beginner, the bay has got you covered with sets of head-high face waves that are perfect for surfing with wetsuits any time of the year. Kayaking and canoeing are also popular in calm weather.
The Orford Reefs are a sight to behold, and home to the second-largest Stellar sea lion rookery in the world. The kelp beds here are among the largest on the Pacific Coast, creating an underwater world that's full of life and wonder. Twice a year, trained volunteers are on hand to teach you all about whales, and if you're lucky, this beach is known for Orca sightings.
---
RELATED: 12 Best Seafood Restaurants on the Oregon Coast
---
15. The Samuel H. Boardman State Scenic Corridor
In our opinion, the Boardman Scenic Corridor contains one of the best beaches on the Oregon coast, hands down. You may have seen photographs of Secret Beach and been inspired with awe at the majestic sight, although it's just as lovely in person. The entry to Secret Beach is unmarked, and the trail to get there is a bit steep, but the reward at the end of the short hike is well worth the time and effort.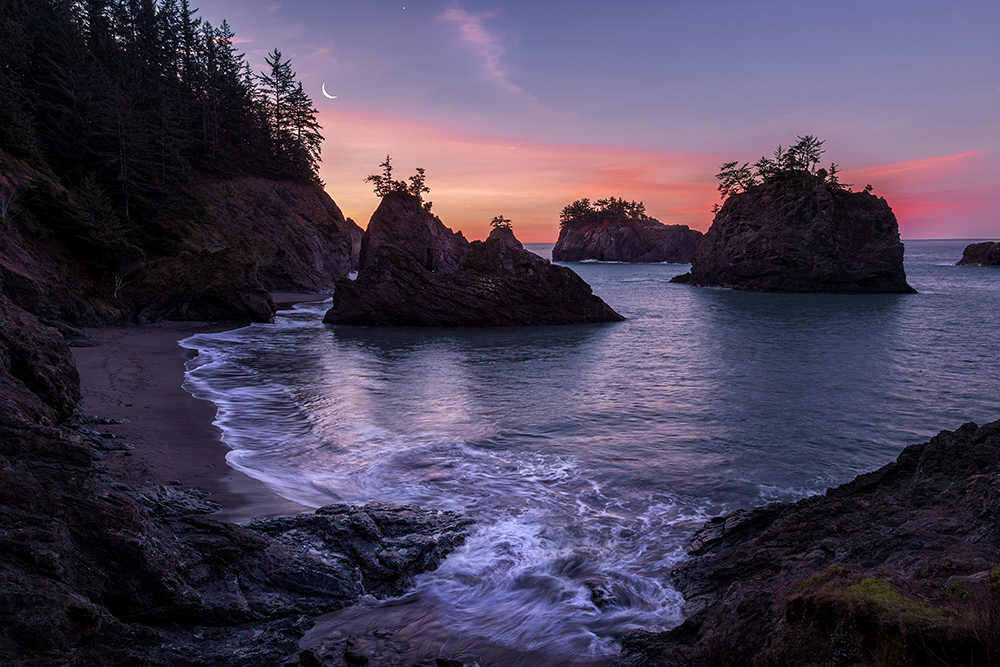 After visiting Secret Beach, make a stop at Thunder Rock Cove and the iconic Natural Bridges viewpoints before making your way to Lone Ranch Beach.
Situated just 4.5 miles north of Brookings, Lone Ranch Beach is a visual treat for visitors. Striking sea stacks dot the ocean and appear to change color throughout the day, creating an ever-evolving coastal canvas. This part of the Oregon coast boasts an impressive number of these rocky, ocean monuments, providing a dramatic contrast to the flat sea.
16. Harris Beach State Park
Harris Beach State Park, at the south end of the Boardman Scenic Corridor, is known for beautiful beaches interspersed with rocky outcroppings, tide pools, and dozens of sea stacks. A 3-mile-long intertidal marine garden is the perfect place to look for colorful starfish and sea anemones with your kids, while the sandy beach is a great spot to fly kites and build sand castles. You'll also have abundant opportunities to view wildlife. Go whale watching in the spring and winter, or keep a lookout for seals, sea lions, and rare sea birds such as the tufted puffin, which nests on Goat Island a.k.a Bird Island, Oregon's largest offshore island.
Many enjoy going to Harris Beach in the winter to view violent and dramatic storms with crashing waves, while others enjoy spending time there in the spring when all the fragrant wildflowers are in bloom. Beachcombing at low tide is a popular activity along the Harris Beach shores, and many enjoy the interpretive walks available.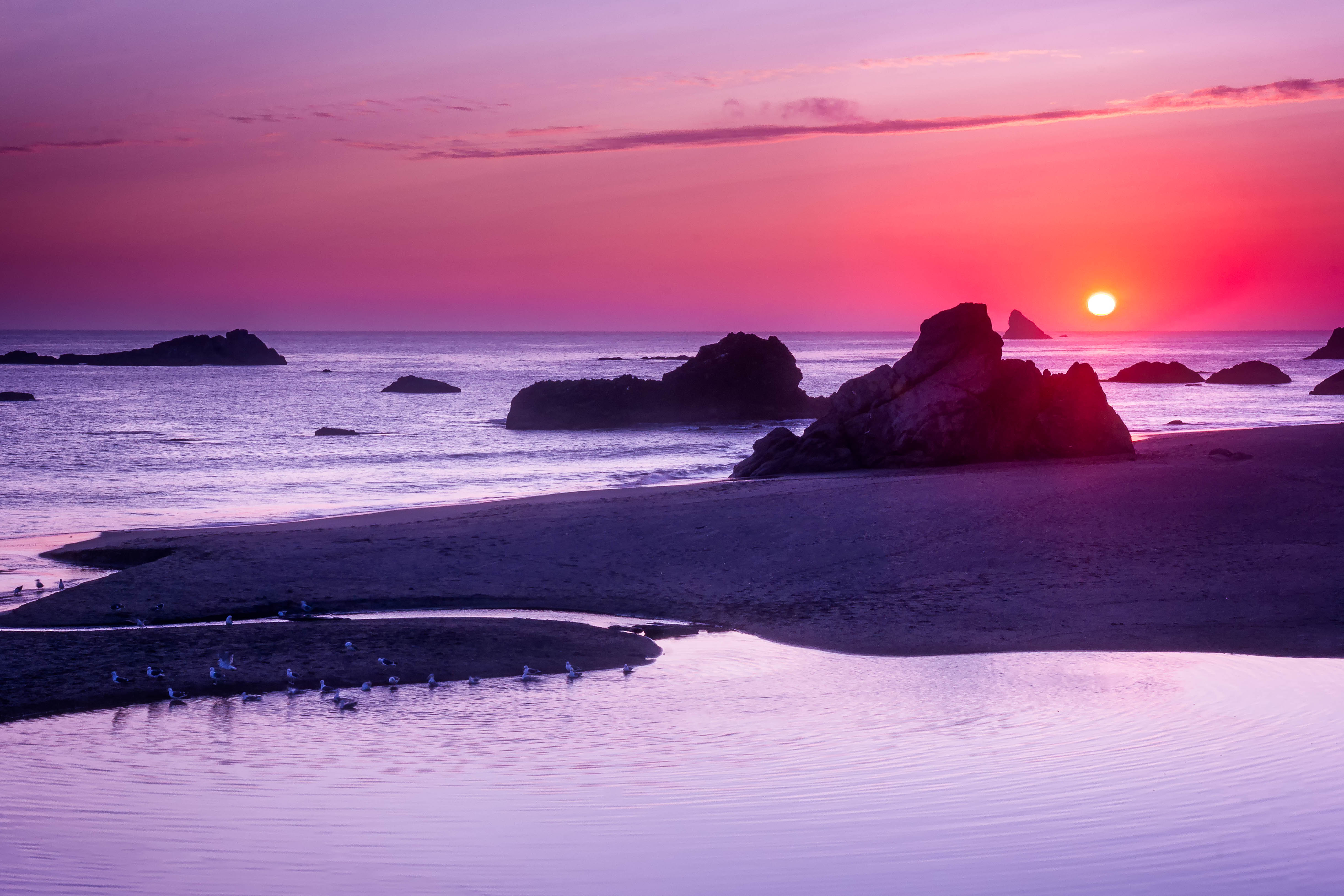 Have you been to any of these amazing Oregon coast beaches? Which one is your favorite? While there are many popular beaches in Oregon to explore, these are some of the most unique along our coastline. Head over here to read more on the Oregon Coast.
Tags: Pacific City, Best Beaches in Oregon, Beaches on the Oregon Coast, Best Beaches, Pacific City, The Oregon Coast