Last updated on January 4th, 2022 at 07:16 am
There are some truly amazing beaches in Oregon.  Do you know where to go to see wild tufted puffins?  How about the best Oregon beaches to look for starfish, or where to find the wreck of the Peter Iredale?  If you're looking for a place to view spectacular waves crashing during a winter storm, or want to find the perfect beach to explore with your family, go sandboarding, or fly a kite, these 10 beaches are some of the most special beaches anywhere.
Unforgettable Northern Oregon Beaches
Fort Stevens State Park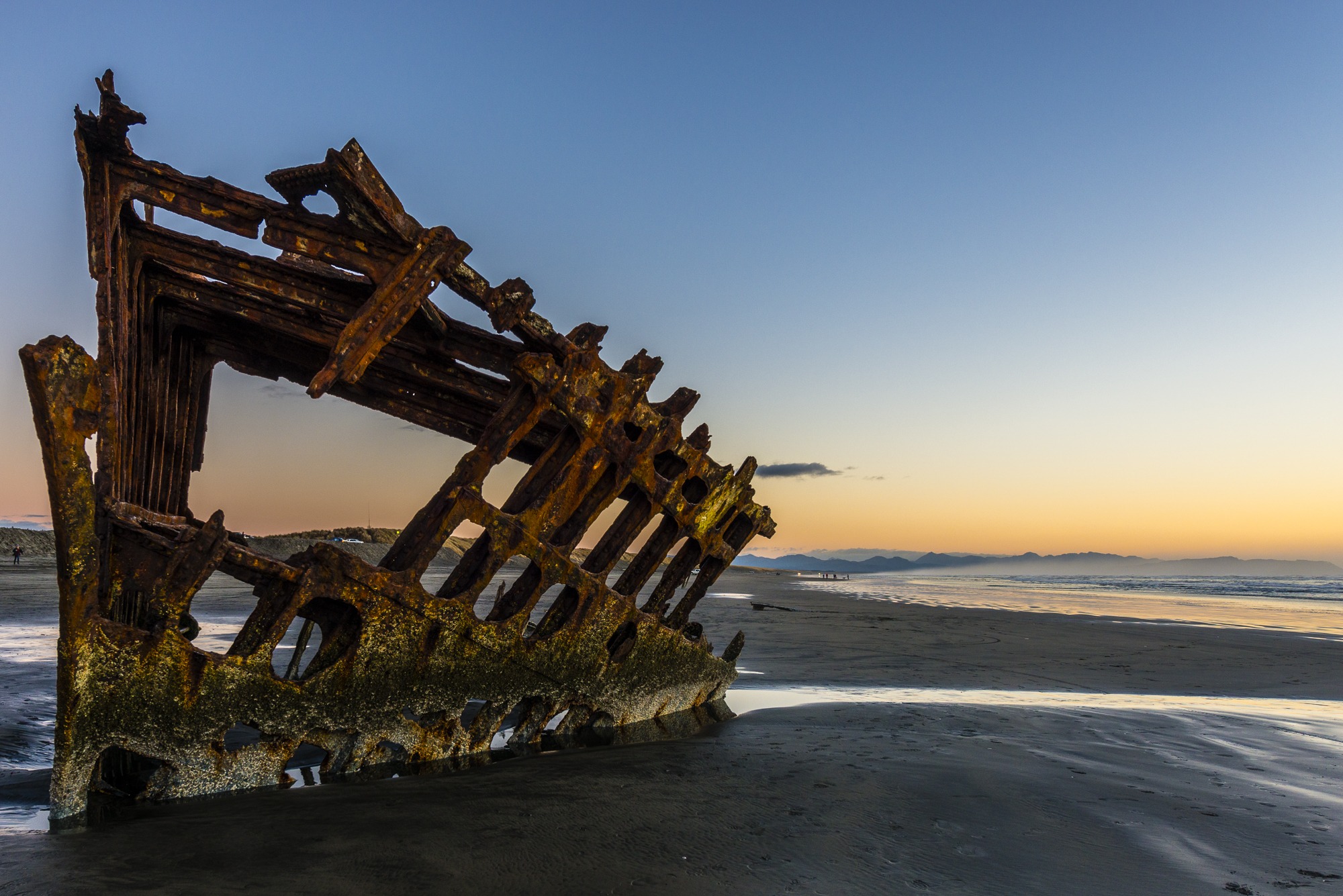 Fort Stevens is a popular summer getaway for families in the Portland Metro area because of the large variety of things to do.  Camping, beachcombing, and viewing the historic shipwreck of the Peter Iredale are just the tip of the iceberg.  Families will enjoy exploring the five Oregon beaches at Fort Stevens, swimming and fishing in the freshwater lakes in the park, playing in the sand and flying kites.  Those interested in history will love taking tours of the historic Fort Stevens military base.  There are also nine miles of paved bicycle trails and six miles of hiking trails that will lead you through forests, wetlands, sand dunes, and along the shore.  Wildlife viewing at Fort Stevens is also popular.
Get updated open/closure information here.
Hug Point State Recreation Site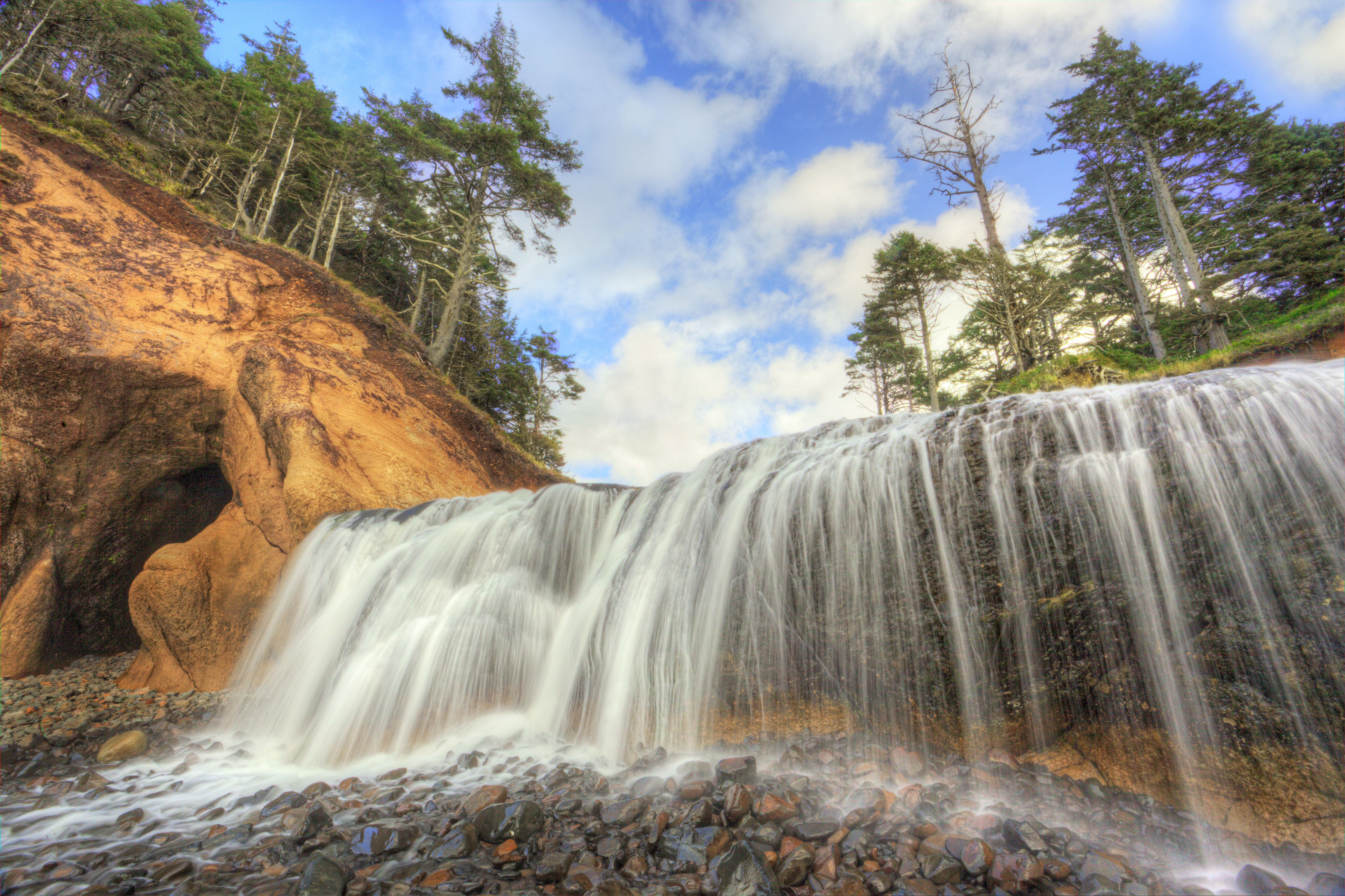 Hug Point has easy beach access and features a seasonal waterfall and several caves to explore.  This is a popular destination for Portlanders since it's only 90 minutes from the city.  Take care when visiting the scenic Hug Point.  It's possible for the tide to come in if you aren't paying attention and strand you.  Many people have had to be rescued because they weren't aware of when the tide was supposed to be high.  This is one of our favorite Oregon beaches.
Get updated open/closure information here.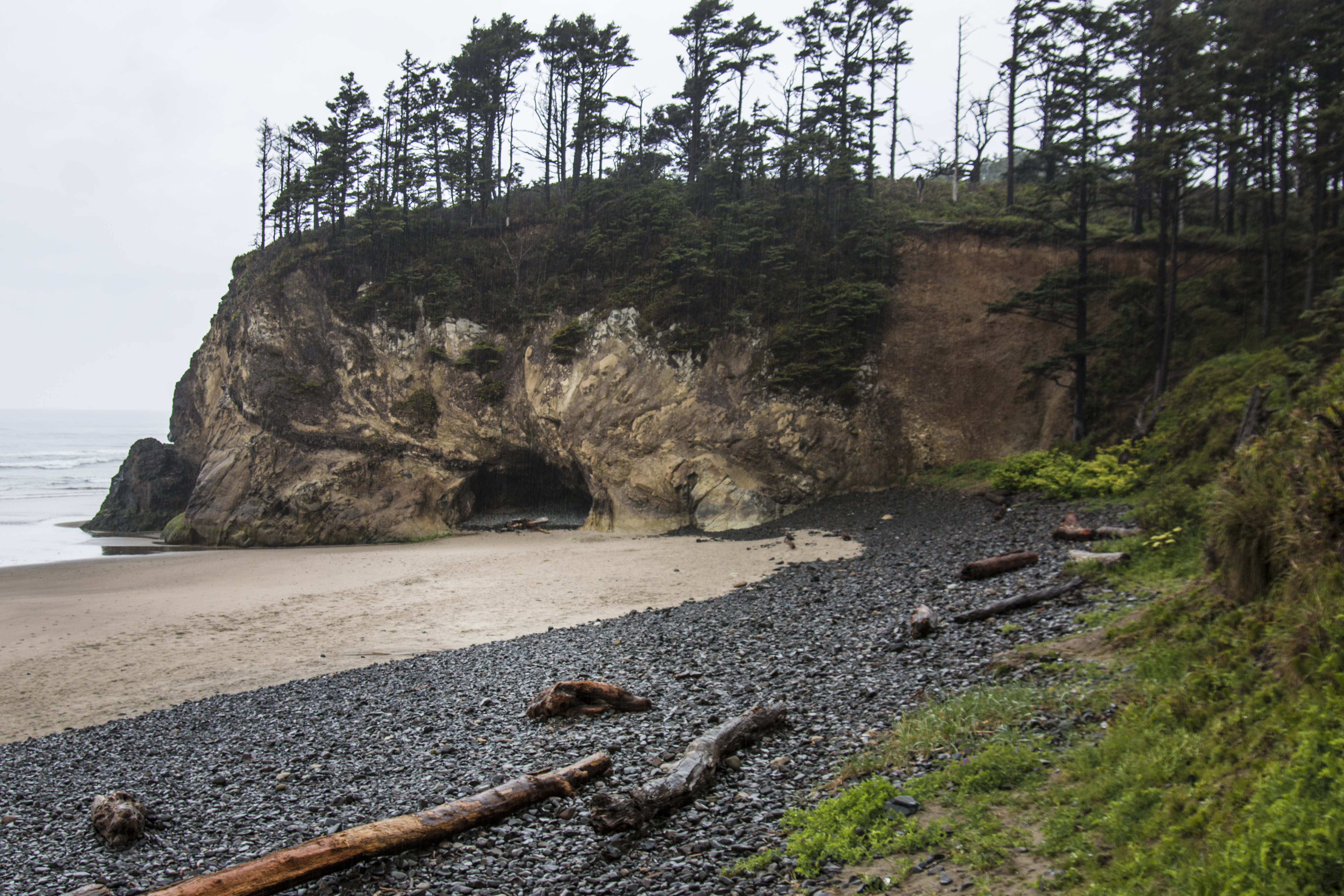 ---
RELATED: 13 Best Oregon Coast Hikes (6 With Waterfalls!)
---
Oswald West State Park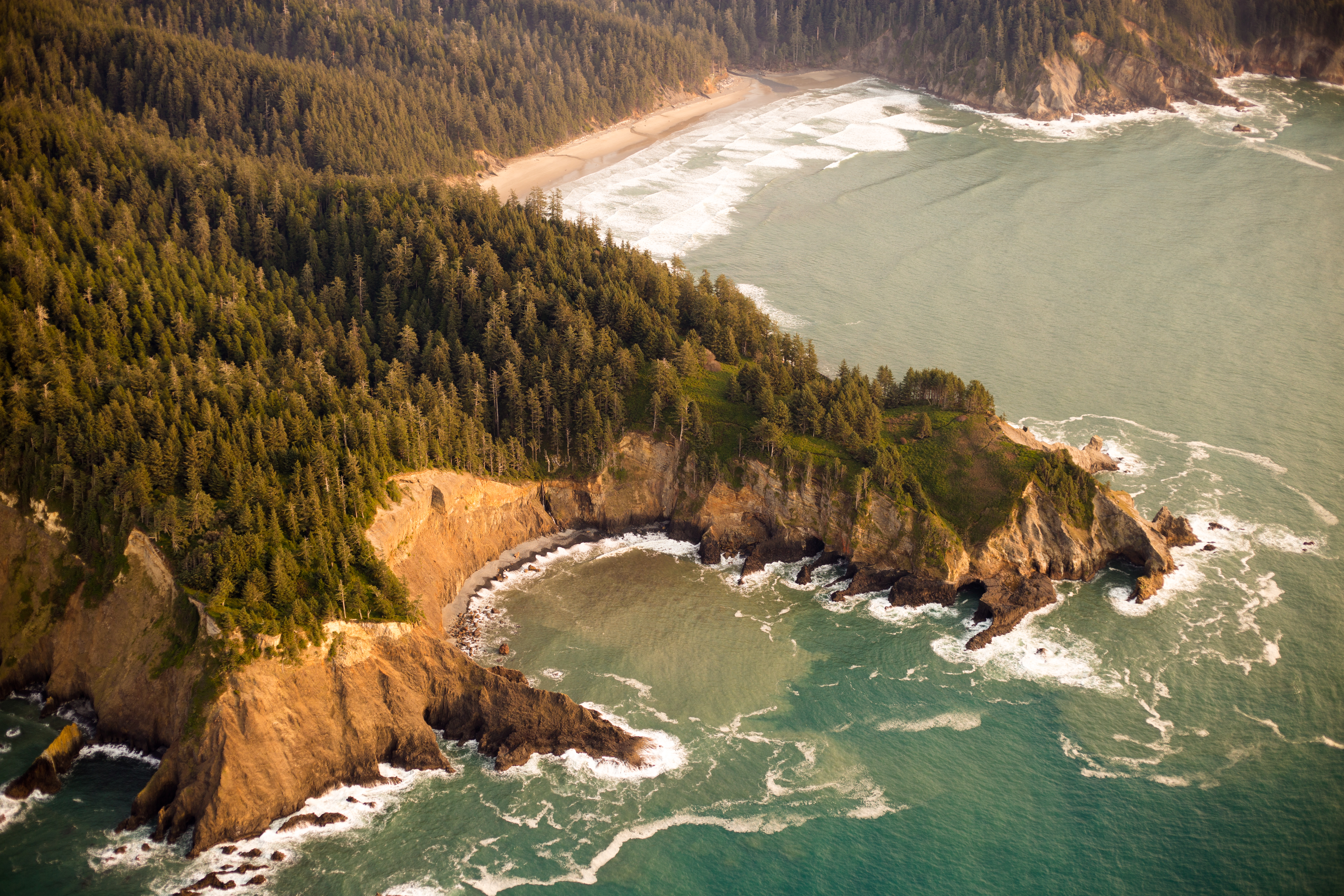 Take a leisurely half mile walk through the forest down to Short Sand Beach when you visit the scenic Oswald West State Park.  From the main parking lot you'll follow a trail along Short Sand Creek under Highway 101, until you reach the beach.  Surfing and wildlife viewing are popular at this secluded sandy piece of heaven.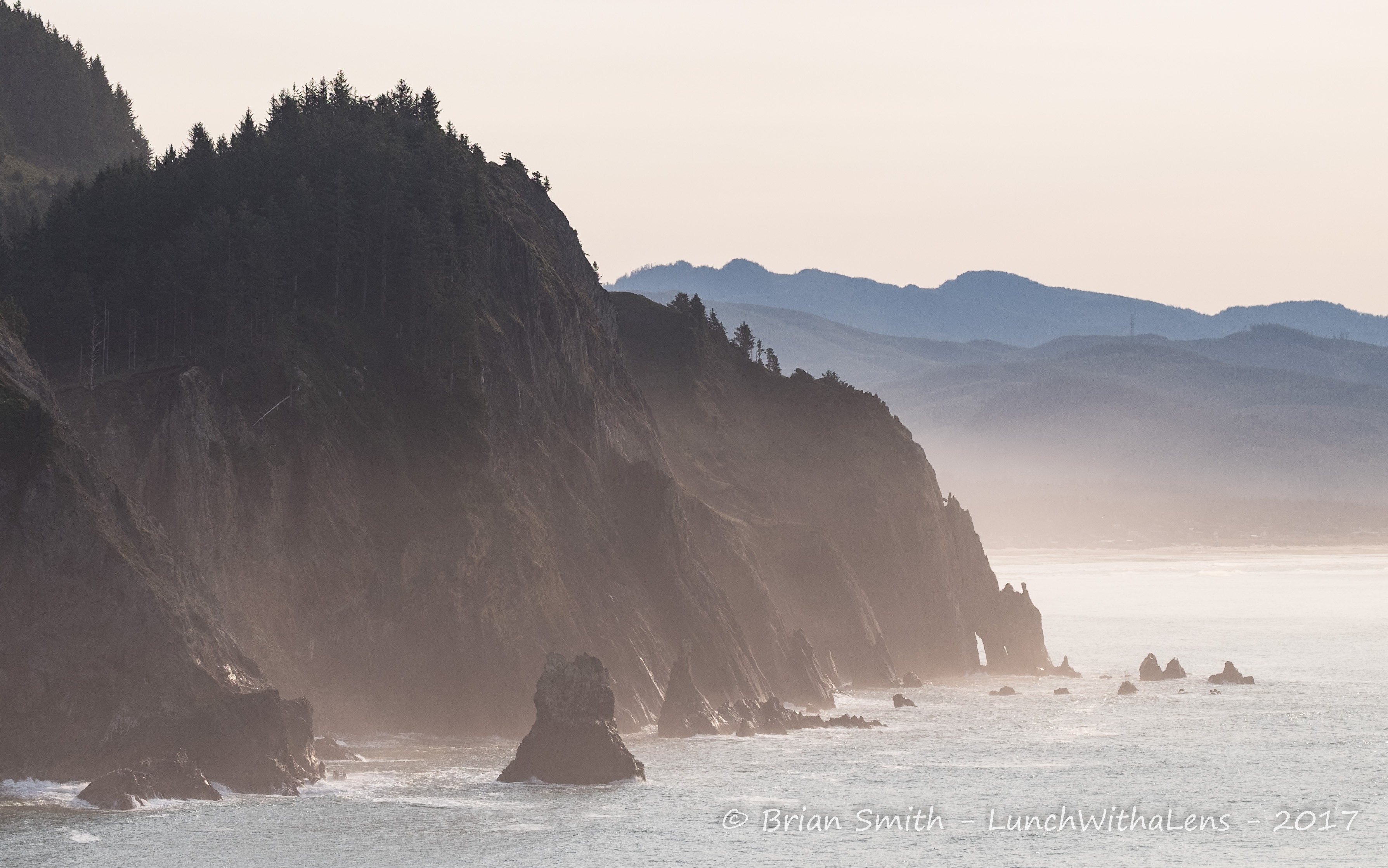 Don't forget to visit Blumenthal Falls, take in the natural beauty of Cape Falcon and Neakahnie Mountain, and hike the five trails that wind their way through the park's forests and up it's mountainsides.  While there's no camping at Oswald West State Park, there is lodging nearby in Arch Cape, and in Bayside Gardens.  There is also camping 3 miles away at Nehalem Bay State Park.
Get updated information on open/closures here.
Cape Kiwanda State Natural Area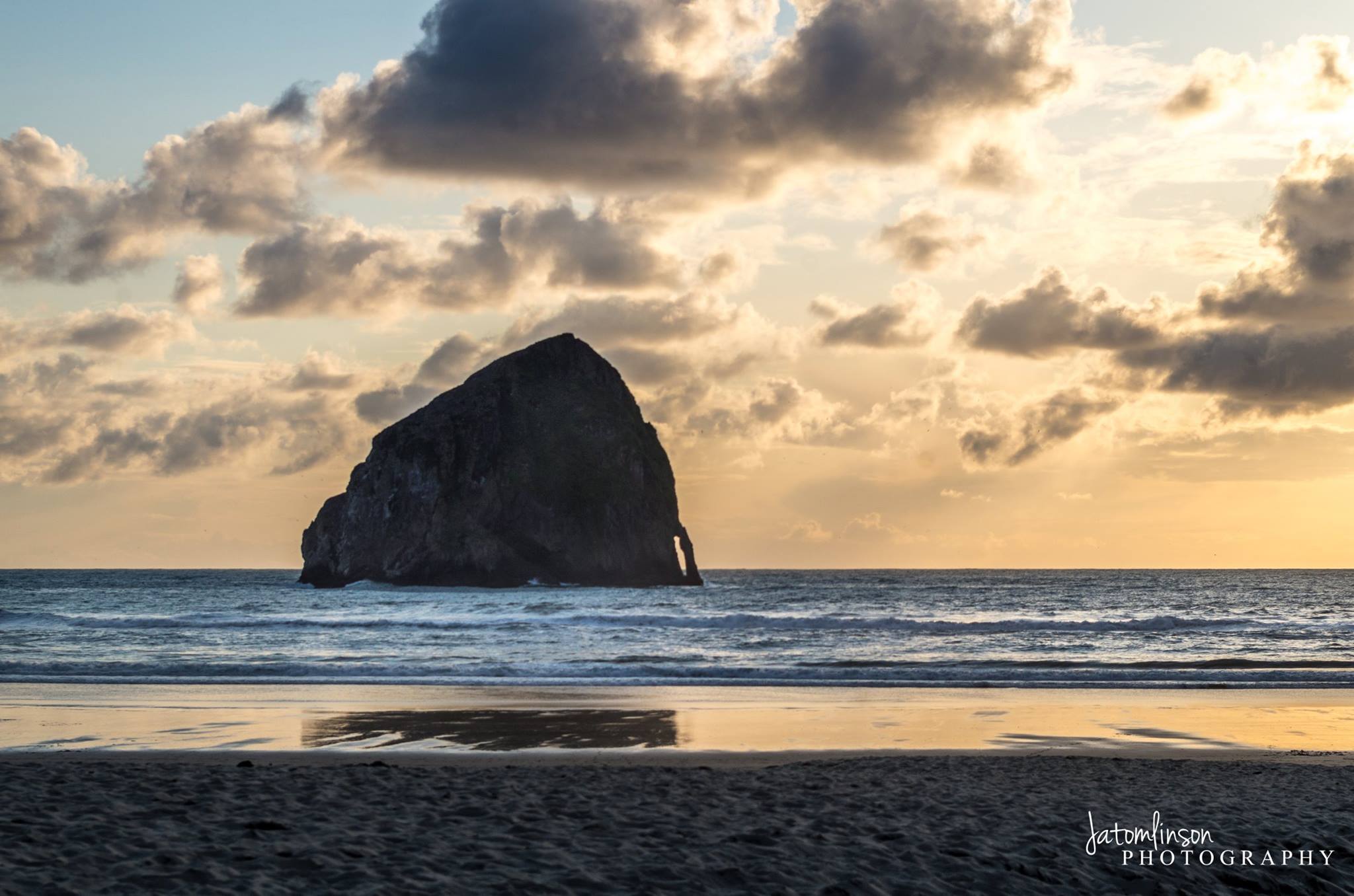 Pristine beaches, fishing, surfing, sandboarding, hang gliding, kite flying, bonfires on the beach.  Cape Kiwanda and it's miles of beaches are the perfect place to spend a relaxing day, or to get an adrenaline rush.  This is another favorite Oregon beach spot.  Visit at sunset for a relaxing walk down the peaceful shoreline.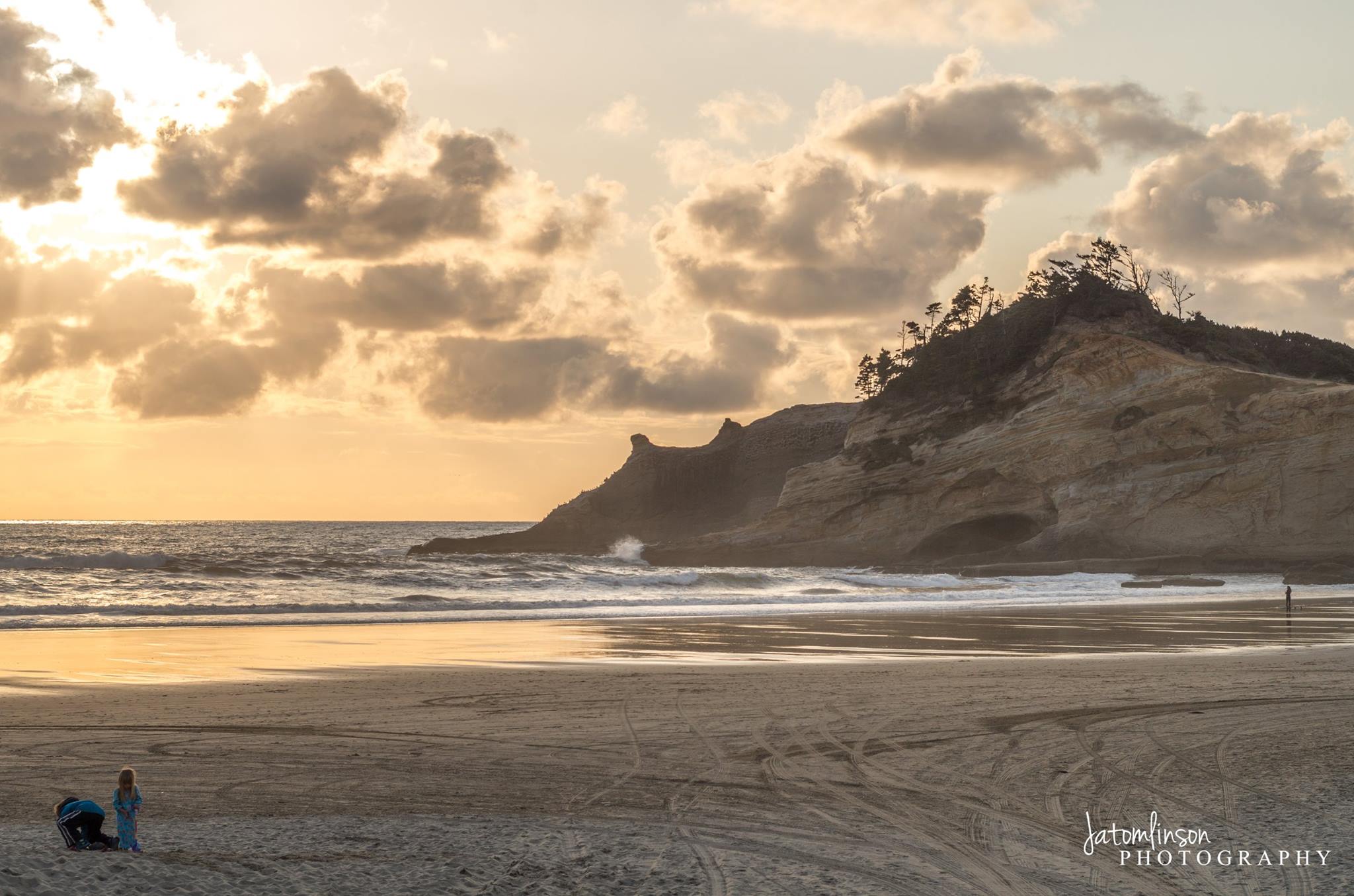 When you visit the beaches at Cape Kiwanda you're setting yourself up for unforgettable memories with your loved ones.  Get updated information on open/closures here.
---
READ MORE: Your Guide to Cape Kiwanda
---
Spectacular Central Oregon Beaches
Yaquina Head Outstanding Natural Area

Get updated open/closure information here.
This truly outstanding natural area features tide pools to explore at Cobble Beach and Quarry Cove, as well as whale watching, an interpretive center, and several easy scenic trails to follow.  When you go tide pooling be on the lookout for giant green anemones, star fish, hermit crabs, and purple sea urchins.  Gray whales can be seen year round, though spring is an excellent time to see the migration in March and April.  You'll also likely spot seals and barking sea lions.  Peregrine falcons and thousands of seabirds give birth to and raise their young here.
Tours of the lighthouse are also available on a first come first serve basis, though you can reserve your tour spot in advance online.
The cost to park is $7, but the fee is well worth it.
If you want to get out and hike, the Lighthouse Trail is an easy .3 mile loop.  The Communications Hill Trail is an easy .2 mile hike and the Salal Hill Trailoffers scenic views along it's easy .7 mile route.
---
RELATED: Road Trip To All 11 Oregon Lighthouses
---
Jessie M. Honeyman State Park

If you're looking for really sandy beaches in Oregon, Honeyman is one of those places many Oregonians have a special place for in their heart.  This coastal state park features beaches, sand dunes, two lakes and campgrounds.  There's even a Girl Scout camp on one side of Lake Cleawox.  People enjoy walking on the beach, but they also enjoy sandboarding down the dunes that surround Lake Cleawox, as well as swimming, kayaking, and canoeing in the clean lake.  There are also tiny lizards that swim in Lake Cleawox that children enjoy watching and trying to catch.  Many families make a yearly pilgrimage to Honeyman.  Florence Oregon is just a short drive away, and people enjoy visiting the Heceta Head Lighthouse and Sea Lion Caves.  The Oregon Dunes National Recreation area is also nearby.
Unique Southern Oregon Beaches
Face Rock Scenic Viewpoint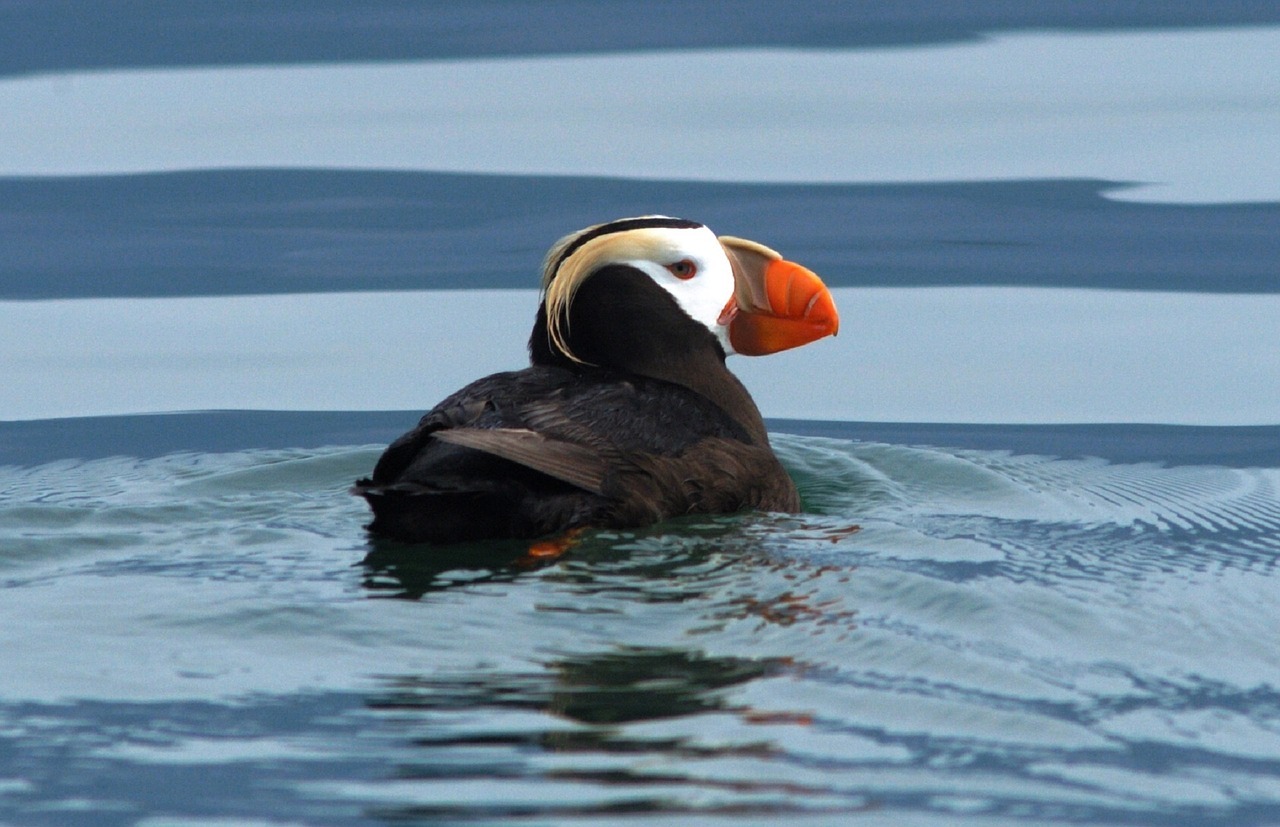 Tufted Puffins in Oregon?  You might not think you'd see this interesting bird along the Oregon coast, but Face Rock is part of the Oregon Islands National Wildlife Refuge, and from May to August these seabirds nest at Face Rock.

This Oregon beach also features dozens of interesting sea stacks, including the famous Face Rock.  Native American Legend says a woman went to the beach with a basket of animals and a dog.  She told the dog to watch the animals while she took a swim.  While she was swimming a sea monster tried to drag her down.  The dog took the basket of animals into the water and tried to save her, but the monster threw the dog and animals away, creating the various sea stacks you see near Face Rock.  The woman drowned looking skyward to avoid looking into the eyes of the sea monster, and turned into Face Rock, which looks like a person looking to the sky.
Local artists have been known to make sand labyrinths at this beach, making it a fun place to take children.
Find information about current open/closure information for this beach in Oregon here.
Cape Blanco State Park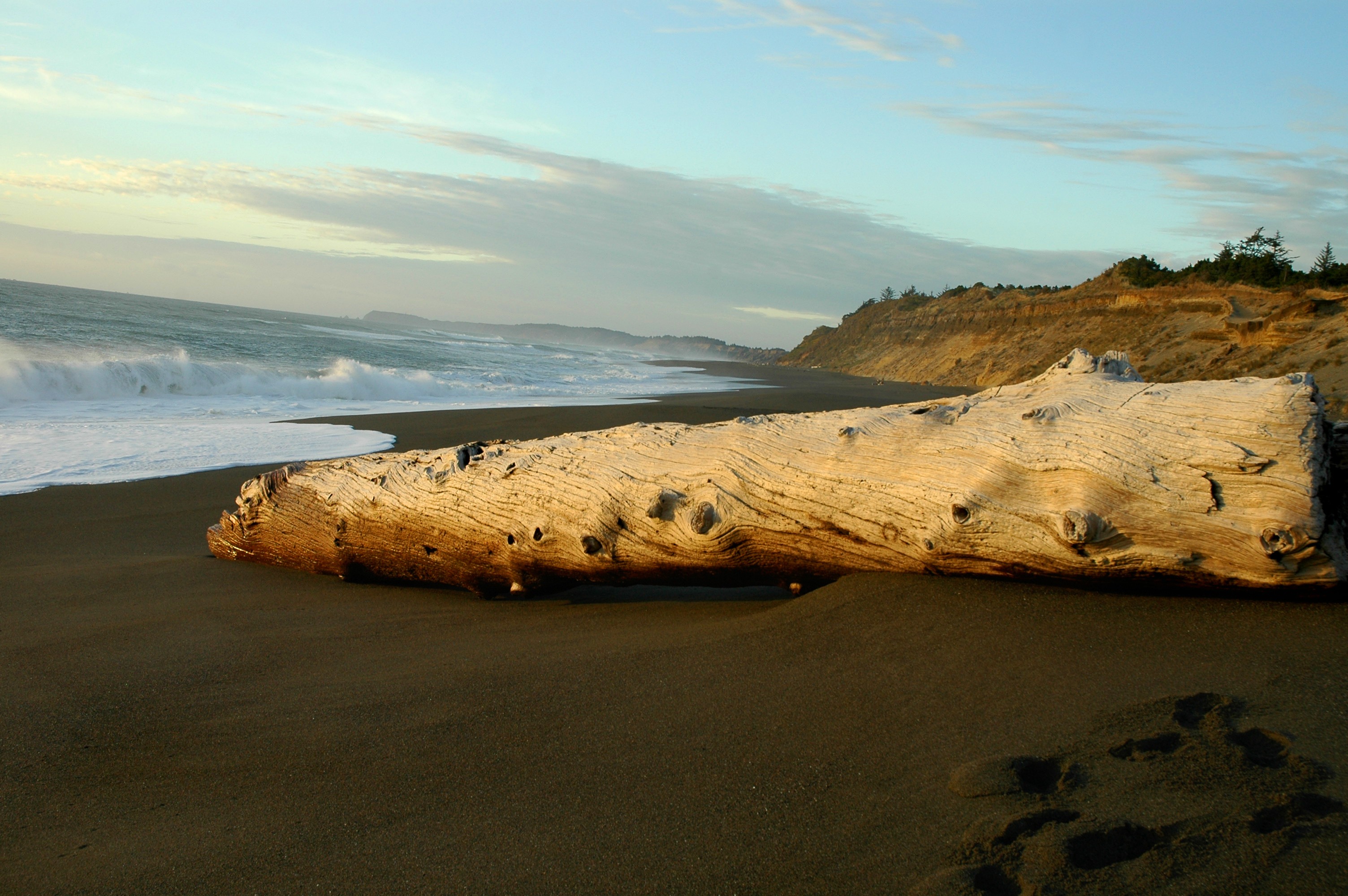 Take a tour of the historic lighthouse and Hughes House at Cape Blanco State Park.  Tours are only $2 per adult and free for children 15 and under, and are available from April to October.  Cape Blanco features over 8 miles of trails with spectacular ocean views and woodland settings.  There are also seven miles of horse trails and a horse camp, so if you have dreams of riding your horse along the beach at sunset, this is the place you want to be.
You can reserve cabins, group camps, and horse camps at Cape Blanco.  There are also regular campsites that are first come first serve.
Indian Sands
When you get to the parking lot at Indian Sands, there's a trailhead.  Instead of taking the trail head go to the southern end of the parking lot and find the wide footpath going uphill and through the forest.  The trail can be a little steep, but once you reach the bottom of the slop follow the trail west and it will come out of the forest and continue on to the dunes.  Unlike most dunes along the Oregon Coast which are created with sand from the sea bed, these dunes are sand from the eroding sandstone cliff.  This is a truly unique and special place.
---
RELATED: 12 Best Seafood Restaurants on the Oregon Coast
---
Harris Beach State Park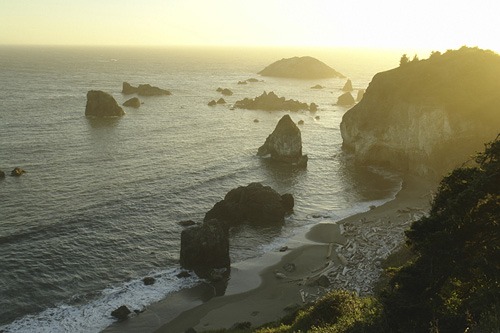 Harris Beach State Park is known for beautiful beaches interspersed with rocky outcroppings and dozens of sea stacks.  A 3 mile long intertidal marine garden is the perfect place to look for colorful starfish and sea anemones with your kids, while the beach provides the perfect place to fly kites and build sand castles.  You'll also have abundant opportunities to view wildlife.  Go whale watching in the spring and winter, or keep a lookout for seals, sea lions, and rare sea birds such as the tufted puffin, which nests on Goat Island, Oregon's largest off shore island.
Many enjoy going to Harris Beach in the winter to view violent and dramatic storms with crashing waves, while others enjoy spending time there in the spring when all the fragrant wildflowers are in bloom.  Beachcombing is a popular activity along the Harris Beach shores, and many enjoy the interpretive walks available.
Get updated open/closure information for this Oregon beach here.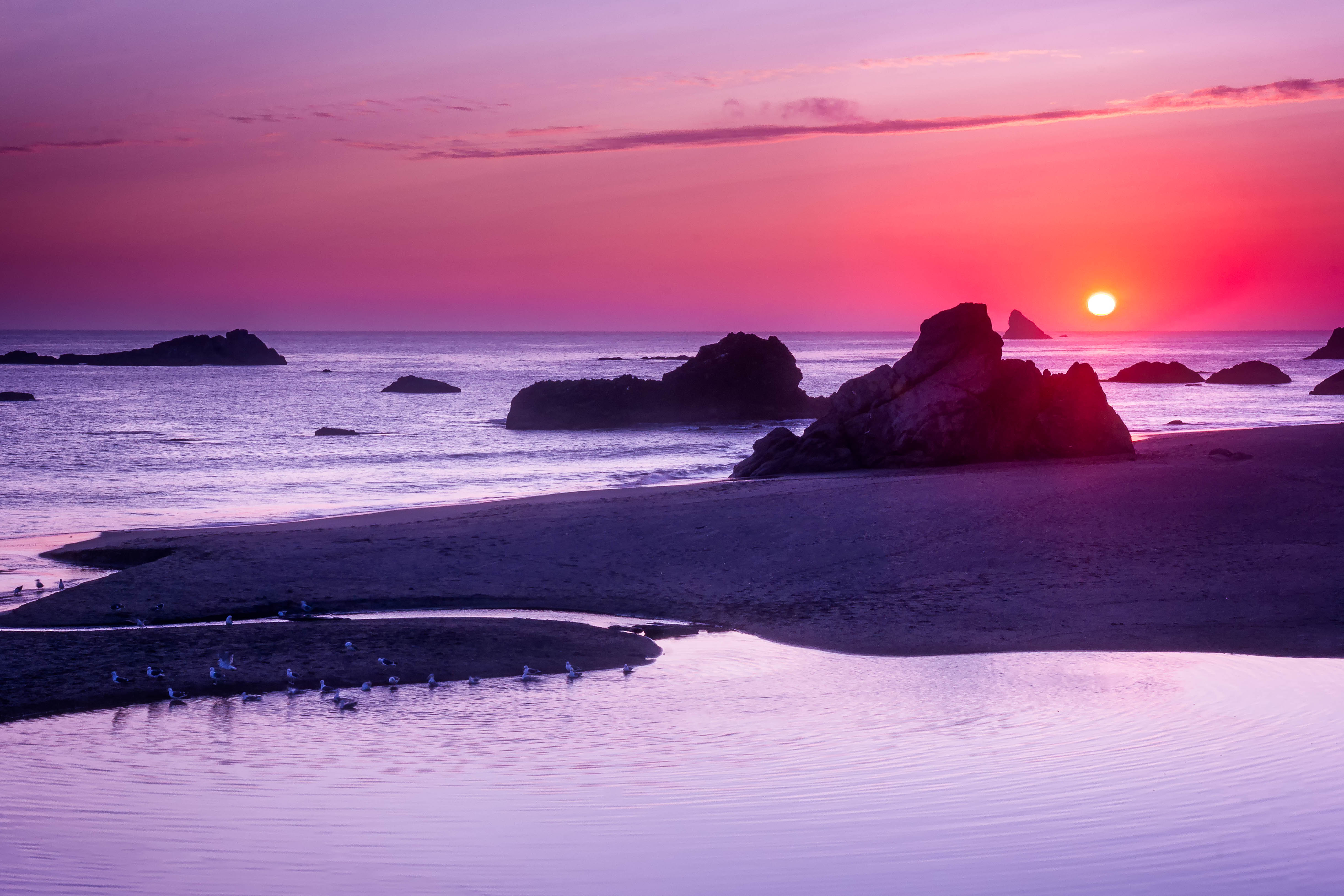 Please Note: Always check that the beach in Oregon you want to visit is open before planning your trip.  Holidays, natural disasters, weather, and public health crises' can cause closures to public lands and other destinations.
Have you been to any of these amazing Oregon beaches?  Which one is your favorite?  While there are many popular beaches in Oregon to explore, these are some of the most unique along our coastline.  Head over here to read more on the Oregon Coast.