Beautiful and treacherous, scenic, and well worth the trip, Cape Kiwanda on the Oregon coast is a stunning place to add to your bucket list. From fishing to sandboarding, whale watching to hang gliding, the Cape Kiwanda State Natural Area has something for everyone.
---
Located on the Pacific Ocean, the Oregon coast is home to some of the most breathtaking scenery in the United States. Spanning over 363 miles, the coastline offers stunning views of rocky cliffs, pristine beaches, and towering sea stacks. Among the many gems that dot the coastline, Cape Kiwanda stands out as a must-visit destination for any traveler.
While Cape Kiwanda's natural beauty is undeniable, visitors should also be aware of its treacherous nature. The rough surf and strong currents of the Pacific Ocean can make swimming dangerous, and visitors should exercise caution when exploring the rocky coastline. However, with proper preparation and attention to safety, the scenic views and unique recreational activities make Cape Kiwanda well worth the trip.
As a state natural area, Cape Kiwanda offers visitors a range of activities that are both enjoyable and educational. Fishing enthusiasts can cast their lines from the beach while sandboarding enthusiasts can ride down the massive dunes. For those looking for a more serene experience, whale-watching tours offer a chance to witness the majestic creatures of the sea. Additionally, hang gliding from the top of the towering dunes provides an unforgettable perspective of the Oregon coast.
Cape Kiwanda in Pacific City boasts an almost 300-foot-high sand dune perfect for sandboarding and hang gliding. It also has a pristine scenic beach for playing in the water, bonfires, and fishing. You can also watch the Pacific City dory boat fleet come ashore at high speeds right onto the beach in the evenings.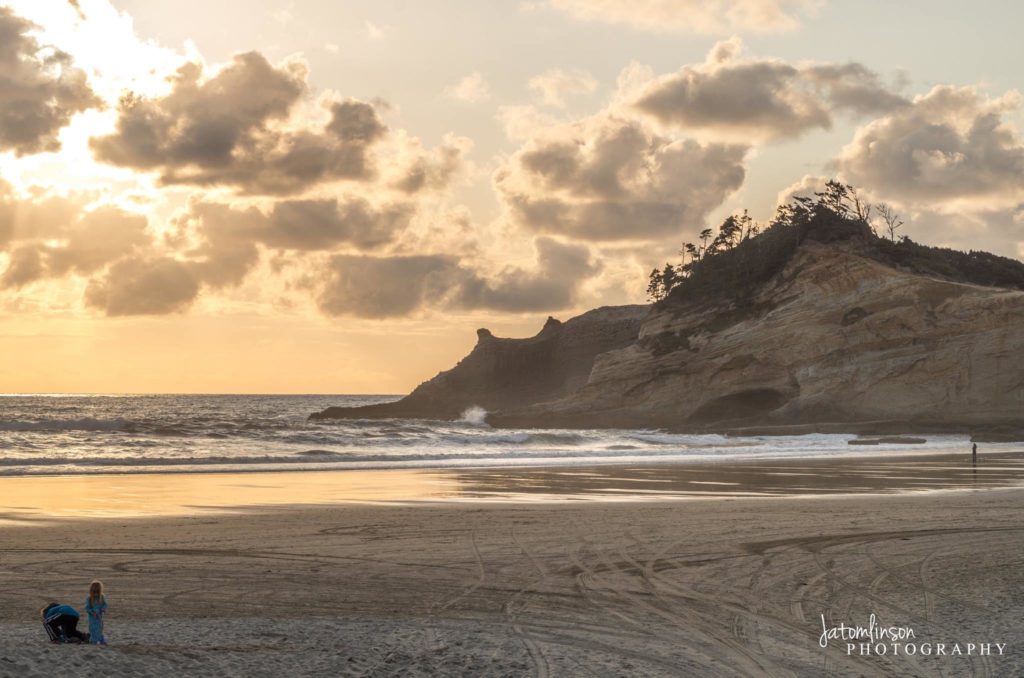 The cape also has a variety of layered cliffs, rock stacks and sea caves. If you enjoy wildlife, you'll be able to go whale watching and explore sea life in small tidal pools, as well as watch the birds. Kite flying is also popular with families at the Cape.
Things To Do At Cape Kiwanda
Climb Up the Giant Sandstone Towers
One of the best attractions that Cape Kiwanda has to offer is its spectacular sandstone towers. These ancient formations, which were formed by wind and waves thousands of years ago, are some of the most awe-inspiring sights in all of Oregon. If you're feeling brave enough, take a climb up the towers for an unforgettable view from their peak!
Climbing the sandstone towers at Cape Kiwanda is a truly remarkable experience. Be sure to bring along plenty of water and sun protection for your journey, however; many parts of the climb involve scaling very steep and sandy paths that are exposed to direct sunlight. And don't forget to take lots of pictures—once you reach the top, the views are truly breathtaking!
You can even stay for sunset for an extra beautiful sight. Just make sure you keep an eye out for the tide coming in; if the waves reach the towers too soon it could make it difficult to descend safely.
Ride the Dory Rides to Fogarty Beach
Take an exciting ride in a traditional boat at Cape Kiwanda's Dory Rides. Experience the thrill of riding down the sandstone tower-lined beach all the way to Fogarty Beach. Make sure to keep an eye out for whales, seals, and other ocean wildlife as you cruise along!
Dory Rides is a great way to explore Cape Kiwanda and experience the beauty of the ocean from a unique and thrilling perspective. The traditional boats offer an intimate experience with the waves, with plenty of opportunities to take in stunning views of the nearby Tillamook Head lighthouse.
Plus, you can spot some fascinating marine wildlife including gray whales, harbor seals, seabirds and more. All trips are guided by experienced boat captains who will provide insight into the local flora and fauna as you enjoy your marine adventure on a traditional dory!
Bike or Hike Through Bob Straub State Park
Bike or hike through Bob Straub State Park and take in the breathtaking views of Cape Kiwanda. Explore the gentle hills of this large dune system and observe the beauty of the Pacific Ocean as it crashes against the shore. Stop by some of the local shops, restaurants, and cafes to get your fill of fresh seafood and local craft beer.
Bob Straub State Park has stunning views of the Oregon Coast. From the top of Cape Kiwanda, you can take in breathtaking vistas of the ocean and see surrounding landmarks such as Haystack Rock and Nestucca Bay. With plenty of trails for biking and hiking, this park offers something for everyone. Whether you're looking to explore nature or just need a break from city life, Bob Straub State Park is the perfect place to experience Oregon's natural beauty.
Behold the Remains of a Shipwreck at Smugglers Cove
If you're looking for a true coastal adventure, look no further than Smugglers Cove. Located on the western shores of Cape Kiwanda, this small beach offers breathtaking vistas and the chance to explore the remains of a shipwreck. As you wander along Smugglers Cove, take in the beauty of the sun-kissed sand and crashing waves that make up the rugged shoreline. Don't forget to keep an eye out for pieces of driftwood washed ashore!
Go for a Sunrise Sea Paddle in Haystack Rock's Lagoon
Go for a Sunrise Sea Paddle in Haystack Rock's Lagoon
Hiking At Cape Kiwanda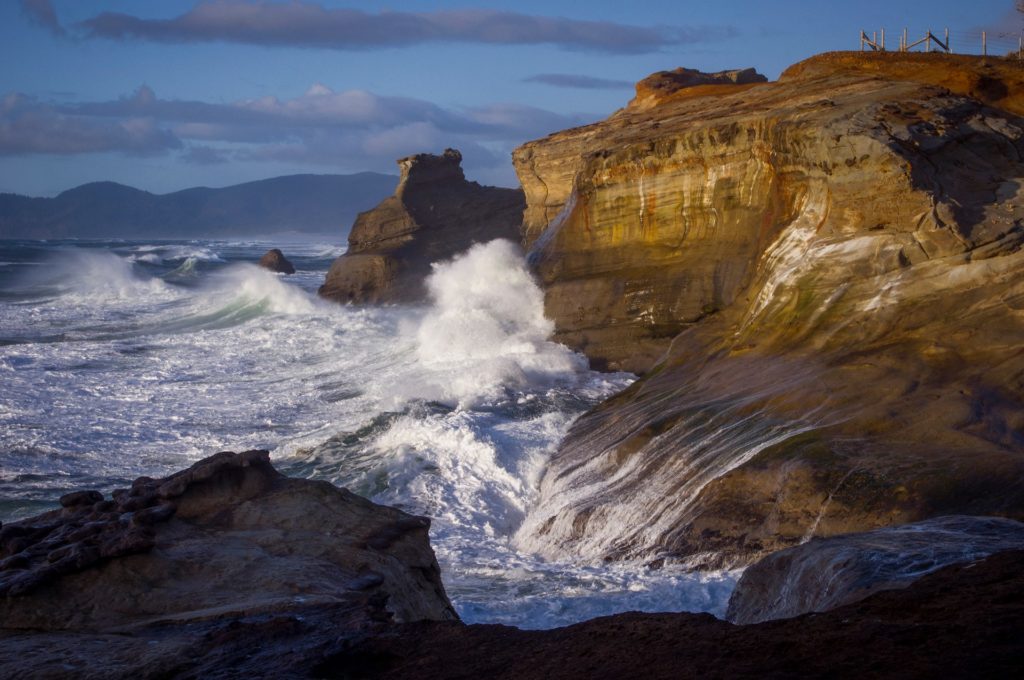 There is a 2.2-mile Lollipop hiking loop starting at the Cape Kiwanda trailhead, which is open year-round. Be aware that the trail gains 230 feet in elevation and can be crowded, so come prepared. The trail is family-friendly and dogs are allowed on a leash.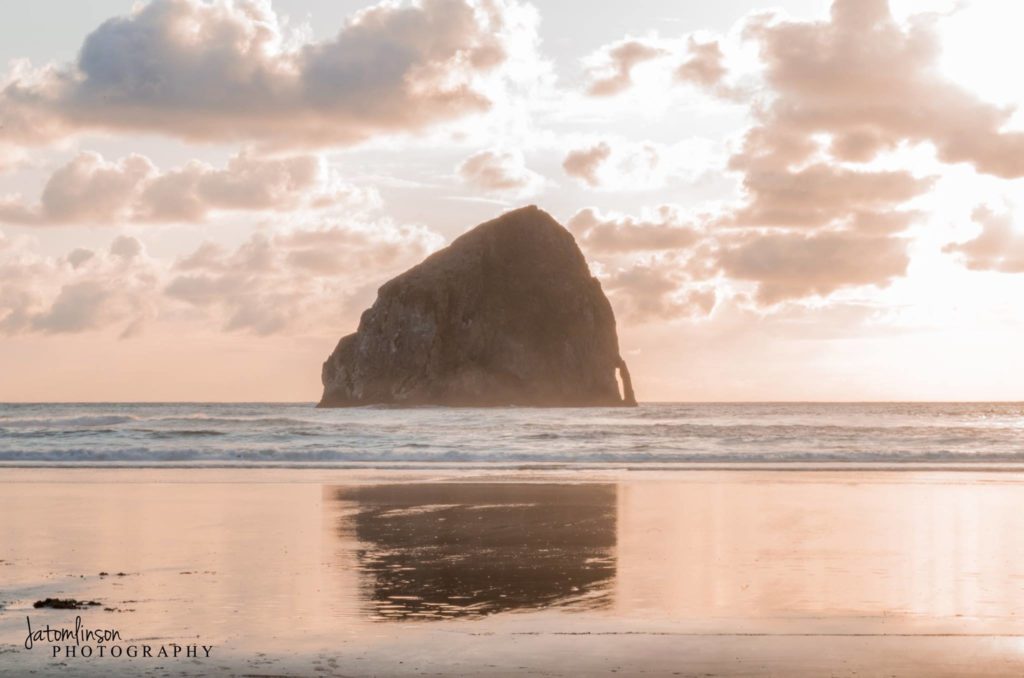 If you're looking for an easier, flatter walk, this stretch of beach at the cape is one of the best places on the coast to take a walk at sunset.
---
RELATED: 8 Oregon Coast Hikes You Must Hike Before You Die
---
Best Time to Visit Cape Kiwanda
No matter what the season, Cape Kiwanda is a great place to visit any time of the year. Keep in mind the Oregon Coast is much colder outside the warmer seasons, so if you prefer to visit when there's more sunshine we suggest visiting May through September. July through August generally will have less rainfall.
If you are trying to avoid crowds, in late fall and early spring this area is less crowded.
Safety At Cape Kiwanda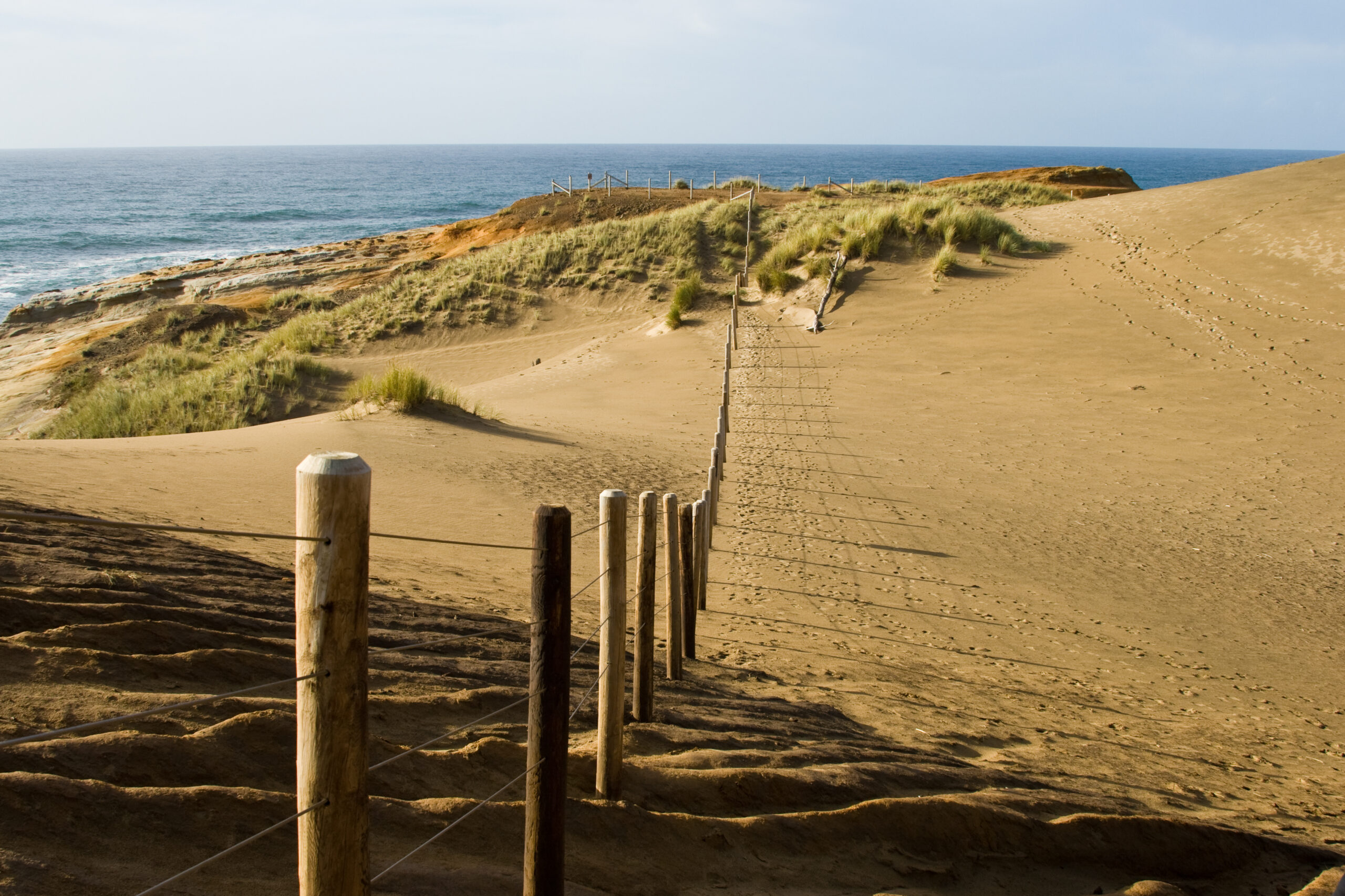 Safety is important. No photo is worth your life. Be aware that the sandstone cliffs can crumble without warning, casting visitors into the sea. Many areas have been fenced off for your safety, and you should not go beyond fenced areas.
Seven people have died at Cape Kiwanda since 2009, so it's extremely important to follow rules and regulations. Also, keep an eye on the tide and be sure to know when the high and low tides are so you don't get caught unaware.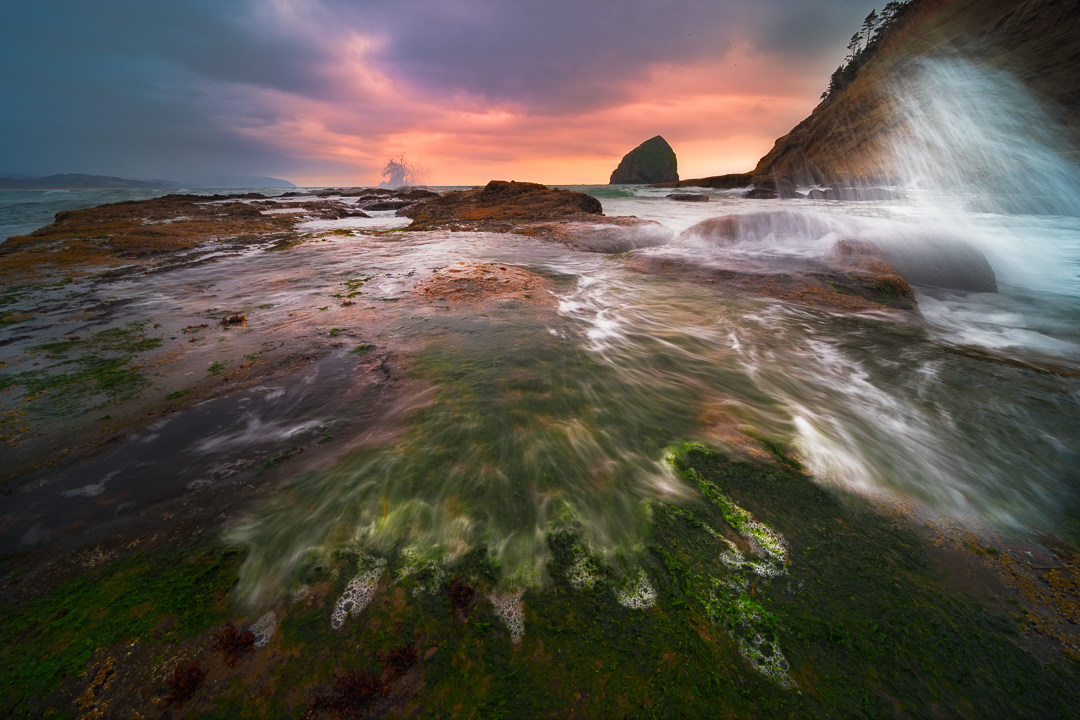 When are you going to make a trip out to the cape? Tag the friends you want to take exploring Cape Kiwanda and be sure to share the photos of your trip with us on the That Oregon Life Facebook page.
We hope you enjoyed this article and it helped inspire you for a place to explore in Oregon. Hit the link here to read more about places to visit on the Oregon Coast.
FAQ's
What is Cape Kiwanda known for?
Cape Kiwanda is known for its stunning natural beauty and outdoor recreational opportunities such as hiking, surfing, and sandboarding. It is also known for its distinctive sandstone formations, including the iconic "Haystack Rock."
Where is Cape Kiwanda located?
Cape Kiwanda is located on the Oregon coast, in Pacific City, Oregon, United States.
How do I get to Cape Kiwanda?
To get to Cape Kiwanda, you can take Highway 101 to Pacific City, and then follow signs to Cape Kiwanda State Natural Area.
Can you drive on Cape Kiwanda?
Driving on Cape Kiwanda itself is not allowed, as it is a protected area with sensitive habitats and fragile sandstone formations. However, there is a parking area and a nearby beach that can be accessed by car.
Can you drive on Cape Kiwanda beach?
Driving on Cape Kiwanda beach is also prohibited to protect the dunes and wildlife. However, there is a designated area at Pacific City beach where you can drive onto the sand.
Where are the Cape Kiwanda tide pools?
The Cape Kiwanda tide pools can be found at the base of the sandstone cliffs on the south side of the cape. They are accessible during low tide, and visitors are advised to be careful when exploring them.
What town is Cape Kiwanda?
Pacific City is the closest town to Cape Kiwanda, and it is located about two hours west of Portland.
Can you drive on the beach at Cape Kiwanda?
Driving on the beach at Cape Kiwanda is not allowed, but there is a designated area at Pacific City beach where you can drive onto the sand.