Prepare for a dose of the strange. Lincoln City's Fall Kite Festival will be making its way to D River State Recreation Site October 1-2. It's the kind of eccentric event that only Oregonians can muster, filled with parades of flying squid, strange shapes, and colorful displays.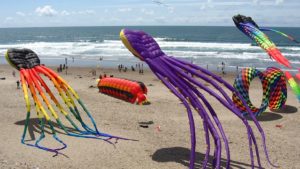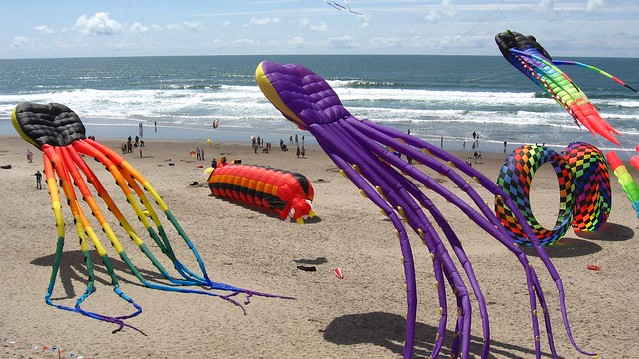 With 7 miles of beach and high winds, Lincoln City is the perfect place for kiteflying. It has become a hub for the sport, where kitemakers and enthusiasts gather every year, outdoing themselves with odd creations. There are kites that fight, kites that dance, and even kites with tentacles and fins that seem to swim.
Many kitemakers focus on choreography and movement, timing their flight to music tracks and rehearsing synchronized maneuvers. Others build kites that spin, creating colorful, psychedelic patterns that catch the eye.
Artists come in droves, showcasing giant beasts, built to inspire and attract attention. The goal is to show the public what kites are capable of and to keep pushing those boundaries further.
With the right materials, a strong enough wind, and a sound aerodynamic design, anything can float.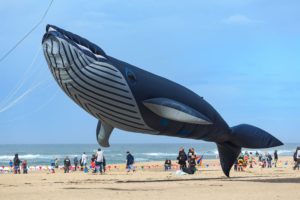 Some of the kites at the festival seem to defy the laws of gravity, like this giant life-sized whale, which can be purchased online. It looks more like a balloon, but there's no helium involved. The design simply floats, though we're not quite sure how.
Every year, Lincoln City holds a race that they call the Running of the Bols. A bol is a giant parachute kite that spins and catches the wind, creating a heavy drag. Runners strap themselves to the kite string and struggle to get to the finish line as the kite pulls them back. Sometimes it's easy, and sometimes they really have to push. It's fun to watch and just as fun to compete.
Most people seem to find their place in the sand, making use of umbrellas and beach chairs. There will be shows run by featured fliers, who sign autographs for the kids. There will also be a children's kitemaking workshop; after which, they'll be able to show off their creations in a mid-afternoon parade.
'
Perhaps the most interesting event at the Fall Kite Festival is the Kite Flier Memorial. People will gather from all across the city carrying white kites with the names of their dead loved ones written on them. When the kites ascend, it looks like a field of ghosts hovering over the beach. It's beautiful to see and also chilling.
Many of the participants are remembering the quiet moments they spent with their loved ones, string in hand. They see kiteflying as a calming, collective experience, something sacred that they shared with the people they cared about the most.
The festival seems to be centered around that spirit of togetherness. People come to show off, connect, and share. Parents can tell their children about a hobby they loved when they were kids. Couples can have a day on the beach. It's a novel way to spend time with one another and enjoy an afternoon in the sun.