Last updated on January 5th, 2022 at 02:02 pm
Oregon's Painted Hills is one of those awe-inspiring things you have to see in person.  Photos simply aren't enough to convey how impressive this prehistoric landscape is.  Many Oregonians have never been to the Painted Hills or don't realize something this amazing lies in the Eastern part of our state.  A drive out to see the Painted Hills, Oregon is well worth it, and something that families will enjoy.
When To Visit Oregon's Painted Hills
If your aim is to take beautiful photos of the painted hills, we suggest visiting in the spring or fall when the colorful clay is wet.  Moisture helps bring out the colors and makes them deeper and more vivid.  Wildflowers are also blooming in the spring and trail up the cracks in the hills.  The spring and fall also bring out less visitors and have milder weather for hiking.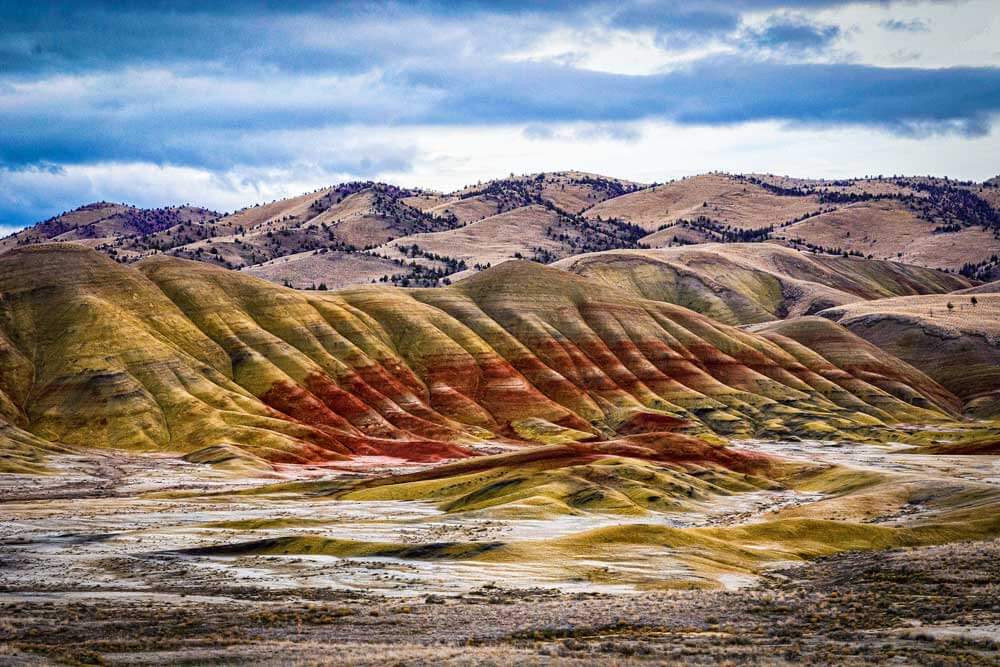 The summer is also an amazing time to visit if you love warm weather and camping.  While there is no camping at the Painted Hills, there are a variety of different campgrounds in the area.  See our map at the bottom of the article for campground locations.
Keep in mind that lighting also affects the colors of the hills.  Try viewing the hills in the early morning light, at mid-day, and during sunset.  Thunderstorms or cloudy days can also provide dramatic lighting that will change your view of the hills.
The Oregon Painted Hills are also open in winter.  Check here to make sure the park will be open on the days/times and time of year you want to visit.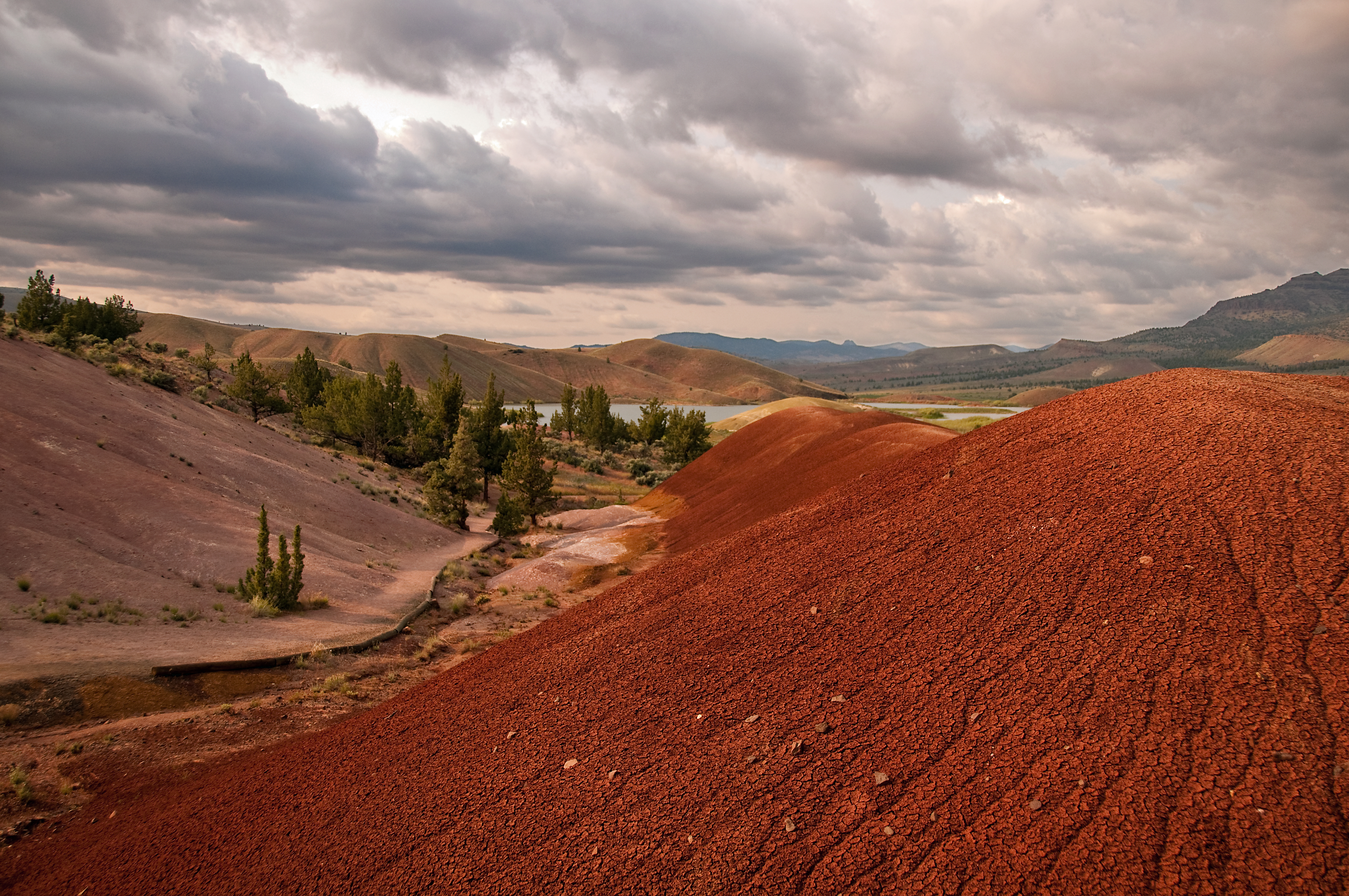 The Painted Hills Offer A Look Into Oregon's History
According to Dr. Ralph W. Chaney, "No region in the world shows a more complete sequence of Tertiary land populations, both plant and animal than the John Day Basin."
The layers of colorful clay showcase climate change in Oregon's history, and fossils hidden within have helped paint a picture for scientists about plant and animal life in the area. Formed over 35 million years ago, the magnificent unique colors that streak the clay rich hills and mounds will mesmerize you. Over the course of many years, layers of ash that contains different minerals were said to compact and solidify into the various bands of colors visitors can see today. The Painted Hills is just one of three units in the John Day Fossil Beds National Monument.  Scientists have determined that Oregon was once a wet semitropical area that had tropical trees including palm and avocado.  Research across the John Day Fossil beds area has turned up fossils of horses, camels, giraffes, deer, large cats, elephants, giant sloth, tapirs, and a wide variety of other animals.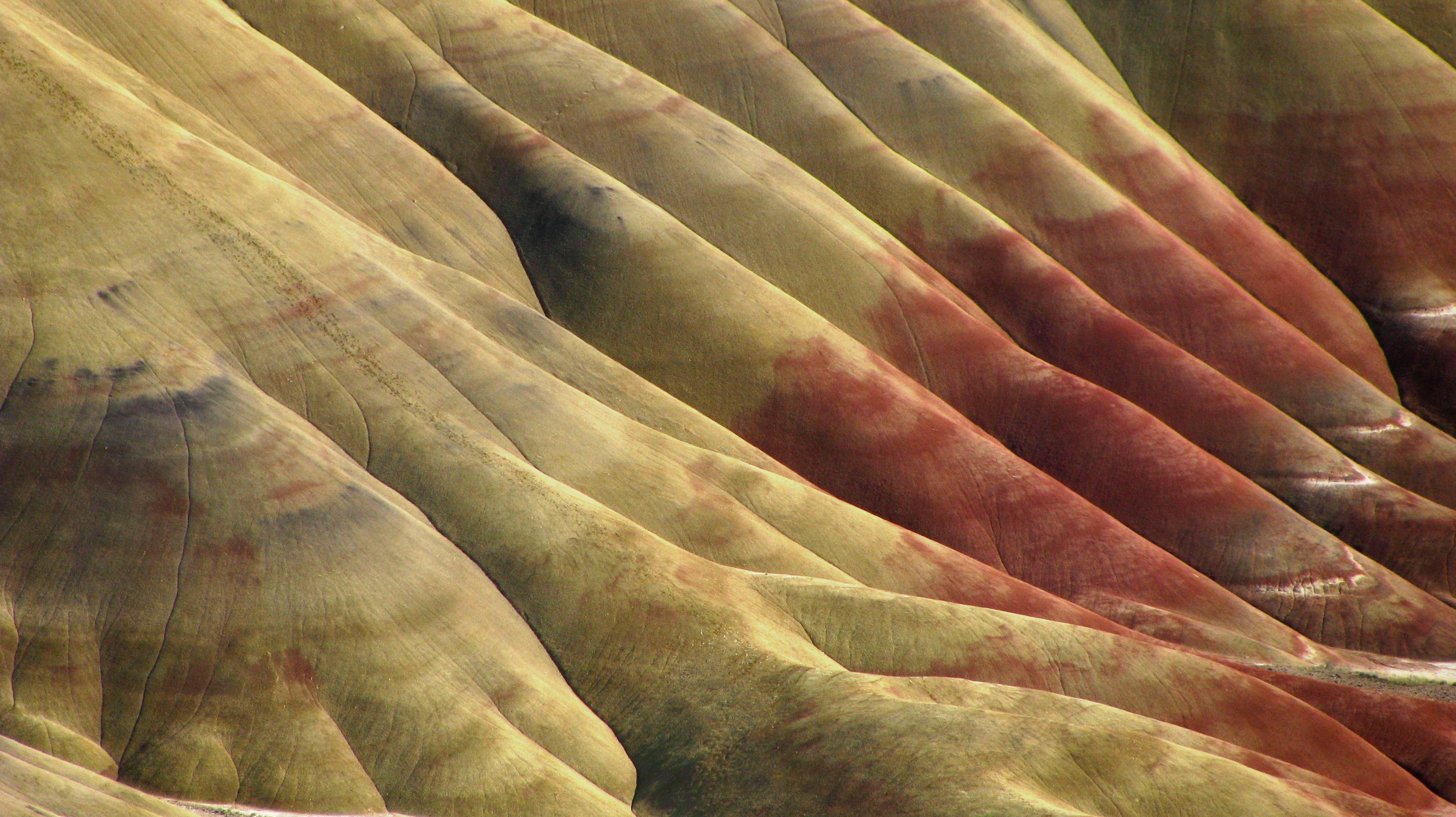 If you're going to take a trip to the Painted Hills we recommend you make it a two day trip so you can also have time to see the Sheep Rock Unit and see the Palisades at the Clarno Unit.  Before you go, research which campsites are open and keep in mind that not all nearby lodging is open during the off-season.
What To Know Before Visiting The Painted Hills in Oregon
In order to get to the Painted Hills you'll be traveling to a beautiful, yet remote and rural area of the state.  Cell service is not always available, potable water is only available for part of the year, and many of the gas stations have not switched to pumps which offer self-serve after hours.  It's important to plan ahead.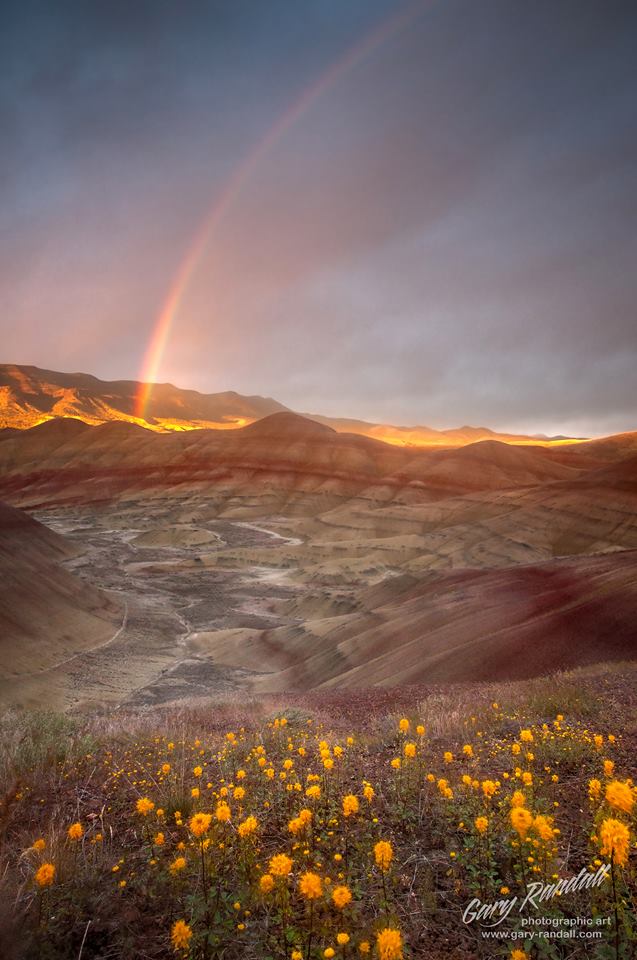 Bring extra water and snacks.
Make sure to get gas before nearby gas stations close for the evening.
Tell family and friends where you're going and when you'll be back as you may be out of a cell service area during your visit.
If you'll be spending the night, research accommodations in advance.
Also know that the roads leading to all three units of the Fossil Beds are winding and can add travel time to your trip.  Travel time is often longer on these roads than GPS units indicate, so take this into consideration.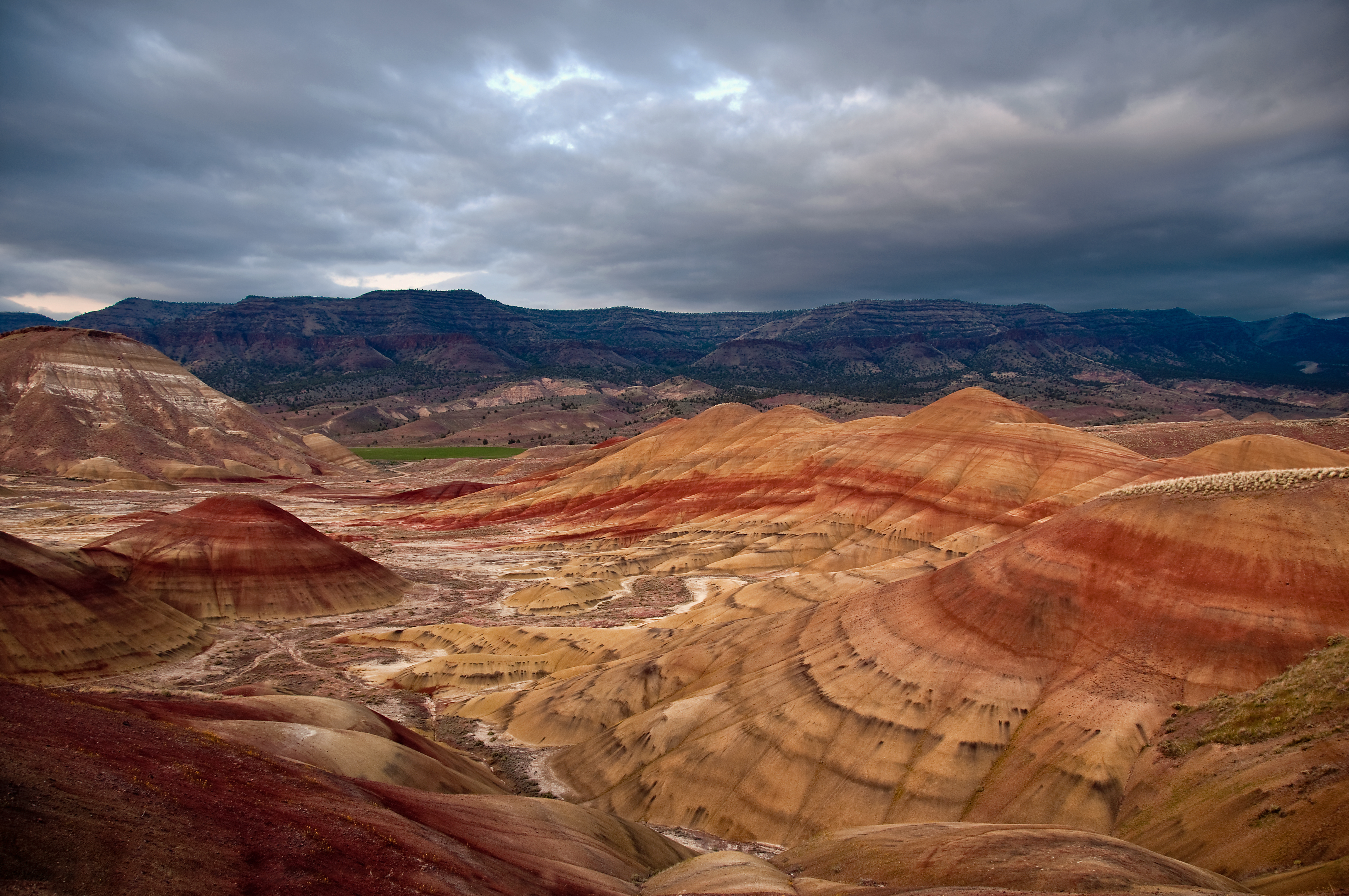 What To Do And See At The Painted Hills
It's easy to arrive at the Painted Hills, get out of the car, look for a few moments and say, "ok, we've seen it, time to go home," but if that's all you do you'll be missing out.
There are five trails that will lead you to stunning views of the Painted Hills or get you up close and personal with them.  It's illegal to walk on the hills themselves as the clay is fragile and easily damaged, so please stay on the trail.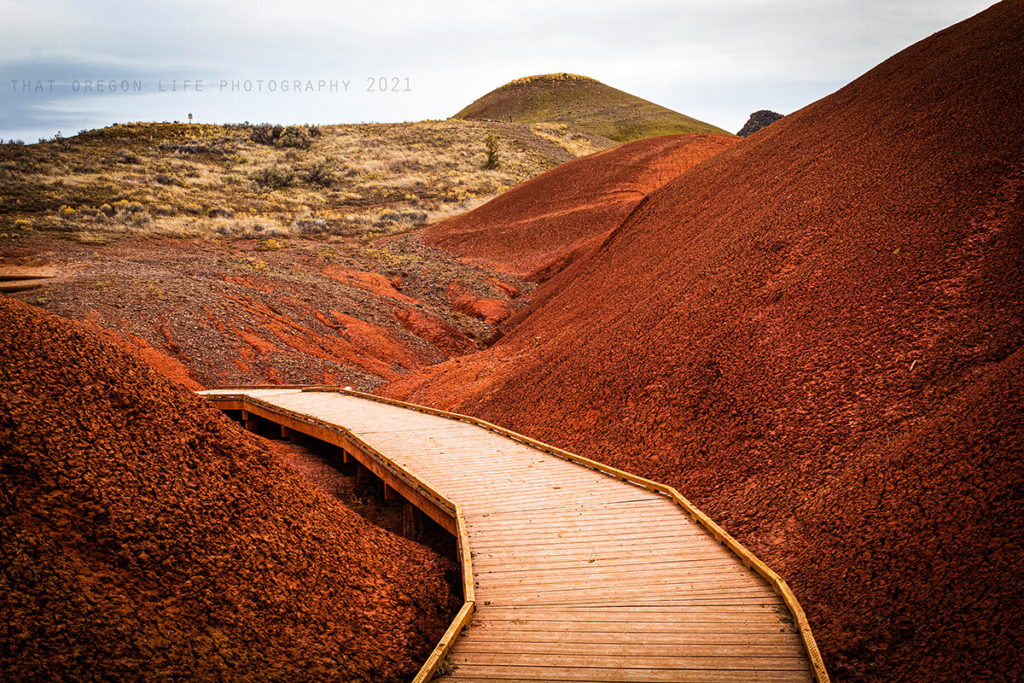 Try the Carrol Rim Trail.  This is a 1.6 mile trail that will take you up 400 feet in elevation and lead you to a stunning panorama view of the Painted Hills.
The Painted Hills Overlook Trail is a level .5 mile trail that follows an old road and offers up a different view of the Painted Hills.
The Painted Cove Trail is an easy .25 mile trail featuring a level boardwalk.  This trail gets you up close to the vibrant red colored clay.
The Leaf Hill Trail takes you to a heavily excavated site that has long been studied by paleontologists.  The .25 mile trail features interpretive signs explaining the history of the site.
Lastly is the Red Scar Knoll Trail, a mostly level .25 mile trail that will lead you on a tour of bright red and yellow clays.  Be aware that the trail signs for this trail read, 'Red Hill' instead of Red Scar Knoll.
Where Are The Painted Hills in Oregon
Just 9 miles north of Mitchell, Oregon, in Wheeler County is where you will find this destination. We've highlighted a few local camping options below.  There is lodging in a few of the small nearby towns, but you should do research before planning on staying at any of the campgrounds or hotels to be sure they are open and offer what you're looking for.
Have you visited Oregon's Painted Hills?  Let us know what you thought of this stunning natural landscape.  Tag a friend who would be interested in taking this summer road trip with you!
Hit the link here to read more about the John Day Fossil Beds.