Last updated on November 20th, 2021 at 08:31 am
From lush rainforest to Oregon's high desert, to our highest mountain peaks, our state has a lot to show off. And Oregon State Parks as you can imagine are some of our finest places to visit. Perhaps you want to get off the beaten path and away from the crowd during your outdoor adventures.  These are 12 beautiful state parks you might not have known were there and will want to add to your bucket list.  Many of the parks on this list are small and tucked away, but all have an abundance of beauty.
Oregon State Parks With An Abundance Of Beauty
The headwaters of the Wood river bubble up from underground in this park.  This is pristine clear glacier melt and you can see all the way through to the bottom of the river.  It's too cold for swimming, though baptisms occasionally take place here. These serene waters are the perfect place to kayak.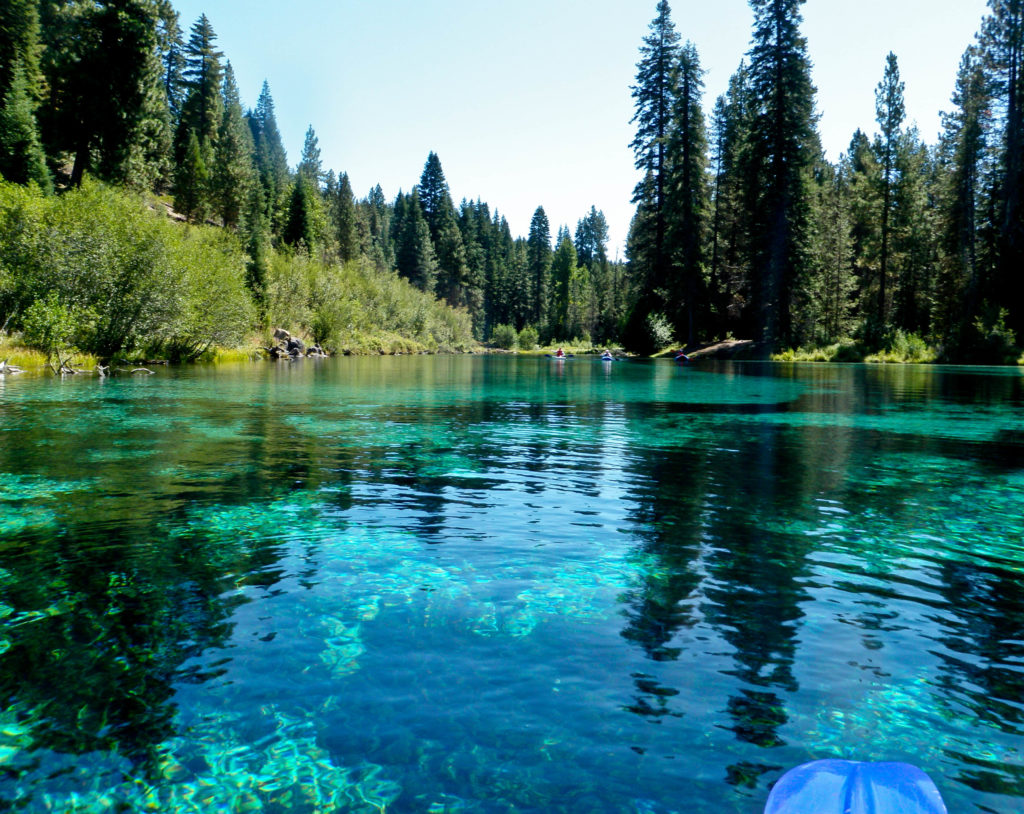 It's thought that the water that feeds the Wood River may come from Crater Lake, which isn't far North.  The Wood River winds its way south and into Agency Lake and eventually into Klamath Lake.  Fort Klamath is also nearby and worth checking out.
Fees: Parking and camping cost $7.
Camping: 10 primitive sites without water.  Vault toilets are available.
Take Note: Bring your sunscreen and bug spray!  Mosquitos are bad near shore.
This historic site is where Oregon's first provisional government was formed in 1843.  Champoeg boasts acres of lush forests, fields, and wetlands as well as a visitor center, pioneer mother's log cabin museum and a look into the Willamette Valley's past.  A town used to stand where the park sits on the banks of the Willamette River until the river rose over 55 feet on December 2, 1861 and flooded the town with over 7 feet of water.  You'll love walking and biking on the paved trail that is mostly shaded.  The park is only 10 minutes south of Newberg and it's lovely wineries and eateries.
Fees: Day use parking is $5.  Click here for camping fees.
Camping: Eight full hookup sites, 67 electric sites with water, six walk-in tent sites, six yurts, 6 cabins, and three group tent camping areas.  This park has flush toilets and hot showers as well as an RV dump station.
3. L.L. Stub Stewart State Park

This new state park is only 34 miles west of Portland, which makes it the ideal weekend getaway for those that don't want to travel far but still want to get out of the city.  There are over 1,800 acres of rolling hills, forests, streams, and wildflowers, not to mention 25 miles of trails.  There are multi-use trails for hiking and horse back riding as well as 6 miles of cross country and free-ride mountain bike trails.  An 18 hole disc golf course is also a fun way to spend an afternoon at this state park.
Fees: Day use parking is $5.  See here for camping fees.
Camping: 3 Campgrounds, one hike in camp, and a cabin village.  Many full hookup sites, and walk-in tent sites.  Flush toilets and hot showers are available.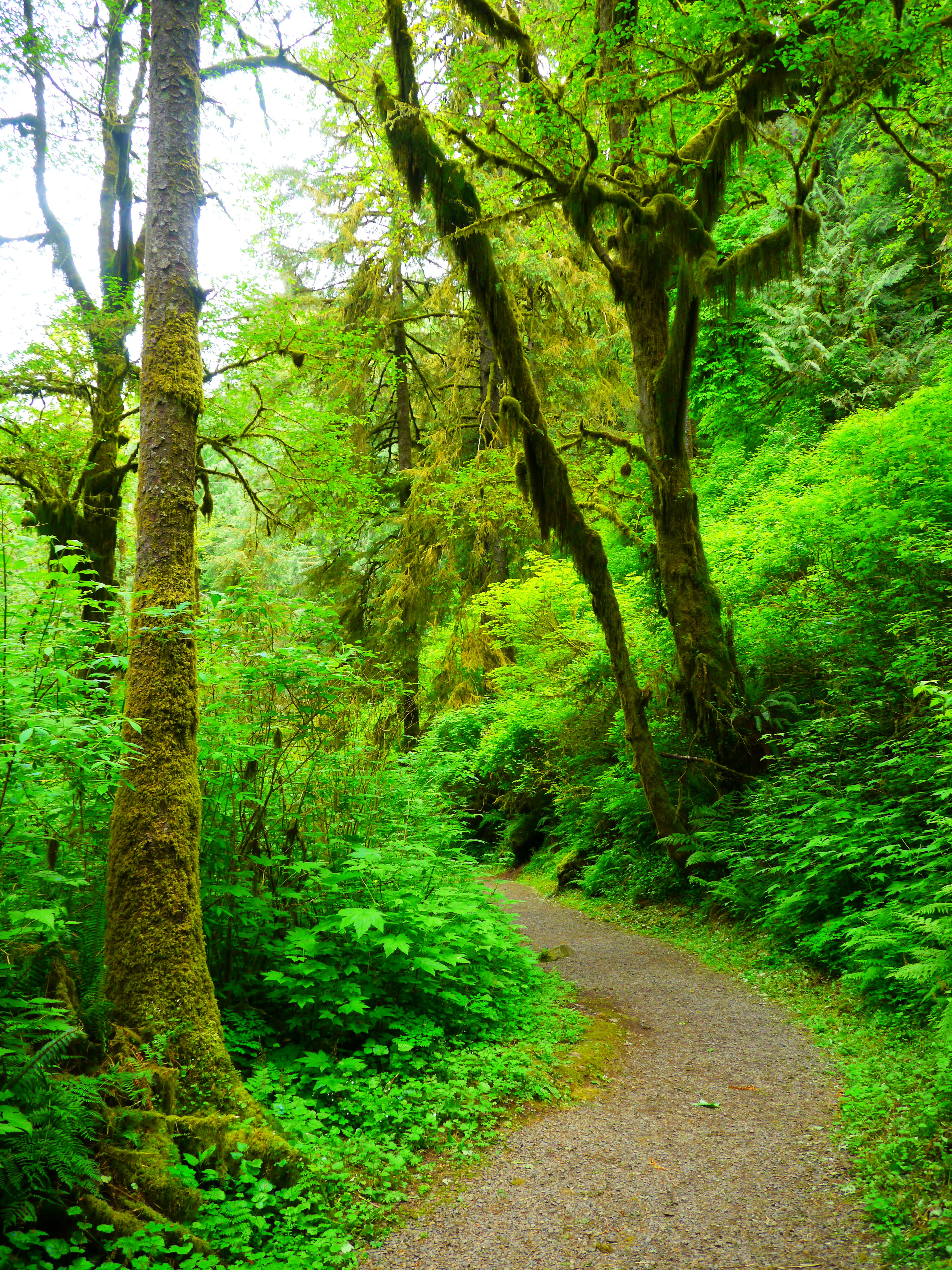 Take a walk through ancient western red cedar and sitka spruce.  Munson Creek is an important salmon spawning ground, and you'll enjoy hiking along the creek and to Munson Creek Falls, which is 319 feet high, making it the tallest waterfall in the Oregon Coast range.  Come in the summer for a lush green hike and come in the fall for colorful foliage and to try to catch a glimpse of spawning salmon.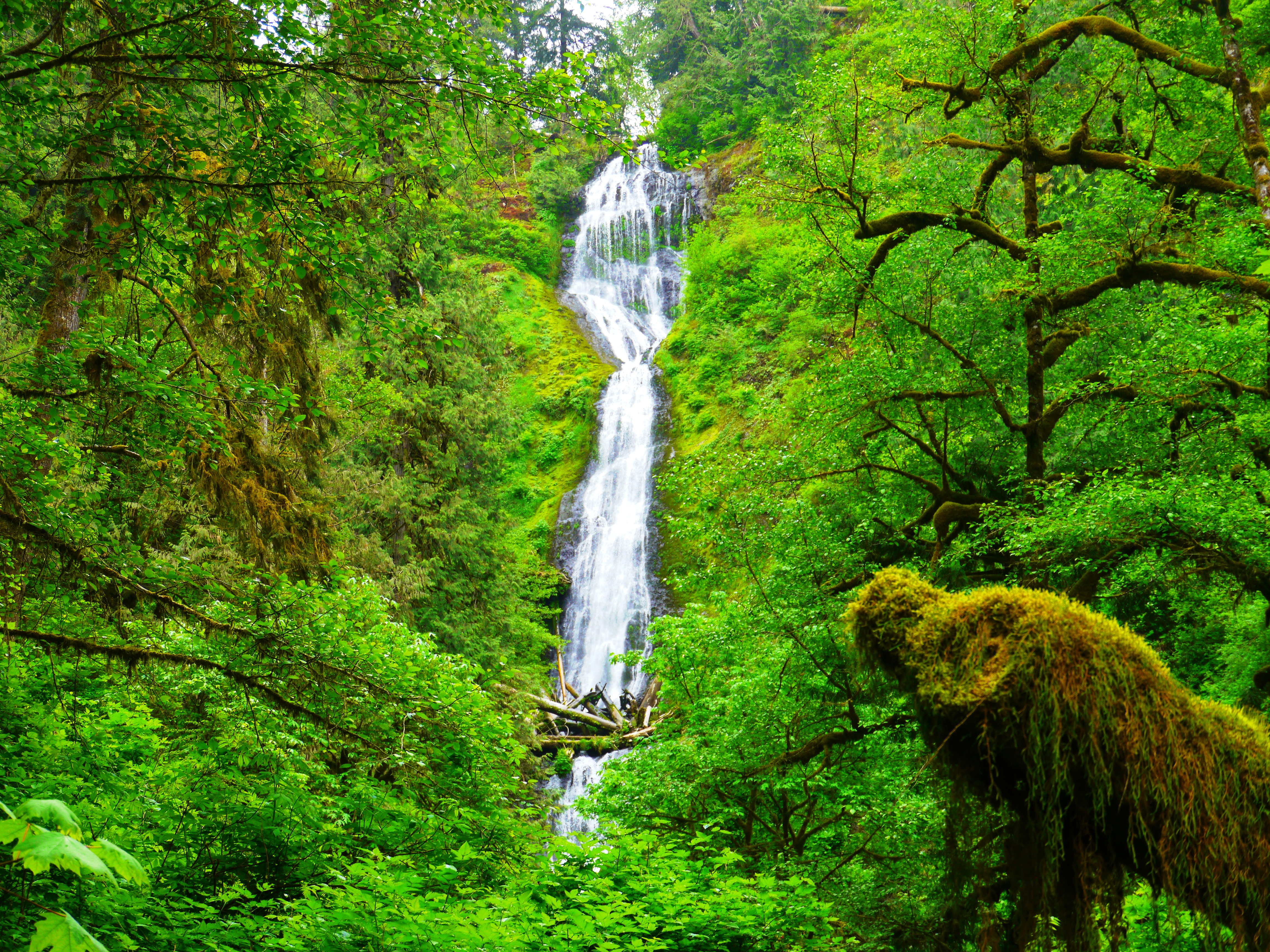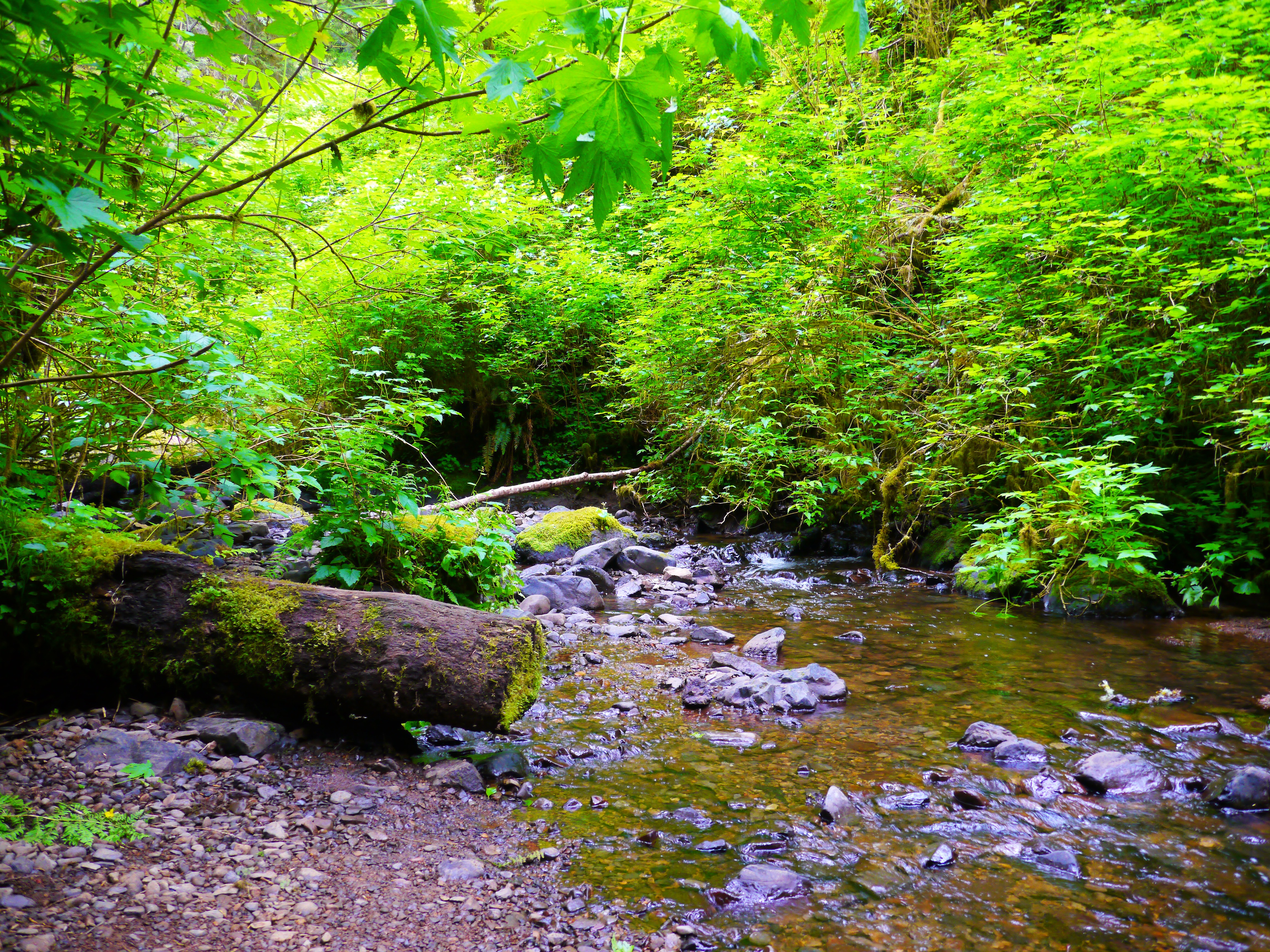 This tranquil park is large and the perfect place to get away from city life for the day or for a weekend.  There are two hiking trails, one of which leads to the beautiful Soda Creek Falls.  The second trail takes you through the forest and along the South Santiam River.  Within the park you can see ruts from the historic Santiam Wagon Road, which was used by the military in the 1800's.
Only 45 minutes from Portland, and sitting on the Clackamas River, this park boasts a number of recreational options.  Explore the river with rafts, canoes, or kayaks.  Try your hand at fishing, or take a hike and enjoy the scenery.  You might want to bring your horse along for a ride, or play disc golf on the 27 hole course.
Fees: Day use parking is $5.  See here for camping rates.
Camping: 44 electrical sites with water, 9 tent sites with water nearby, hot showers and flush toilets.
This park used to be a private summer estate for the Talbot family until it was donated to Oregon in 1929.  This is the perfect place for a picnic, and it's seclusion means it's rarely crowded.  There's a short trail under the Historic Columbia River Highway bridge which leads to Latourelle Falls, which is 250 feet tall.
Fees: See here for fees.
Camping: There is no camping available.
Please Note: The small town of Latourell borders the north side of the park.  Park visitors need to be cautious about staying off of private property and respecting local homeowners property and privacy.
8) Bridal Veil Falls State Park

Sitting in beautiful timber stands, this park is a great place to have a family picnic.  If you'd like to take a walk, there's an interpretive trail which takes visitors around the precipice of gorge cliffs.  The famous edifice known as the Pillars of Hercules (a 120 foot basalt tower) can be seen from the interpretive trail.  The Pillars of Hercules were once used as a training site for mountain climbing.  A lower hiking trail takes visitors to Bridal Veil Falls, which is 120 feet tall and beautiful.
Fees: See here for fees.
Camping: There is no camping available.
Take Note: Stay on the path.  There is poison oak in this area, including on some parts of the lower trail to the falls.  The trail to the falls is narrow and can be steep in places, so use caution.
9) Starvation Creek State Park

This tiny park is a can't miss.  Trails spread out from the day use park to National Forest Service land and connect with the Starvation Ridge and Mt. Defiance trails.  You can walk on the Historic Columbia River Highway State Trail to Viento State Park and a campground.  You won't want to miss Starvation Creek Falls, which is beautiful as it cascades down over the rocks.
Fort Rock is unlike many of Oregon's other state parks and shows off some of the geology of Oregon's high desert.  Once a gigantic ice age lake bed and home to early Native American's, a volcanic eruption brought the earth up out of the lake and formed what is now known as Fort Rock.  The waters of the ancient lake eroded one side of the rock away leaving what we see today.  This is a historical site where many remnants of early Native American life have been found, including what has been dubbed, 'The world's oldest shoes'.
Fees: See here for fees.
Camping: There is no camping available.
Take Note: This park is in the high desert.  Weather can change quickly from a bright sunny day to a thunderstorm without much notice.  Prepare for bad weather even if you don't think you need to.  Also be sure to bring extra water for every person in your group, and make sure everyone is wearing sturdy hiking boots or tennis shoes.  Flip flops and sandals should not be worn here.  There is no shade, so bring sunscreen or an umbrella, or both.  Don't forget to bring food and make sure you have enough gas to get to Fort Rock and to get to your next destination.  It's 40 miles to La Pine, which is your best bet for close food and gas, or 69 miles to Bend.
Wallowa lake sits at the base of the Wallowa mountains (often called the Alps of Oregon).  Three sides of the lake are surrounded by 9,000 foot snow capped peaks, which is a sight to behold.  Fishing and boating are popular at this site, and so is hiking and horseback riding on the many wilderness trails.  Nearby there's mini-golf, go-karts, glass bottom kayaks, and a tramway that will take you to the top of Mount Howard, where you can hike and take in the stunning vistas.
Camping: 121 full hookup sites (36 pull-through), 88 tent sites with water nearby, and two yurts (both ADA).
Succor Creek is in a deep rocky canyon and is a great place to go wildlife watching or rock collecting.  Take note that only limited souvenir collecting by rock hounds is permitted in the park.  If you're looking for a remote camping adventure and a place to experience the desert, this is the state park for you.
Fees: See here for camping fees.  Primitive sites may be free.
Camping: 4 primitive camp sites on the west side of the creek and 14 primitive campsites on the east side of the creek.  Vault toilets.  No water is available.
Take Note: Clean water is not available at this site.  It's an hour drive through the desert and mountains to Homedale Idaho, which is your best bet for gas, food, and water, or an hour and ten minutes to Nyssa Oregon.  Be sure to take everything that you need with you, including food, water, clothing and camping gear for inclement and cold weather, sunscreen, bug spray, and enough gas to get you to the park and to your next destination.  There is no cell service at this park.  There is no park staff on site.
Have you been to any of these Oregon state parks?  Which one is your favorite from the list?  Tag the friends and family you want to get off the beaten path with and let them know which State parks you want to go to!