Kayaking and canoeing are among many favorite things to do when adventuring in Oregon, and a new startup company has taken kayaking to the next level. Journey with us to Wallowa Lake in eastern Oregon, where Jo Paddle launched their lighted, transparent glass bottom kayaks in recent years.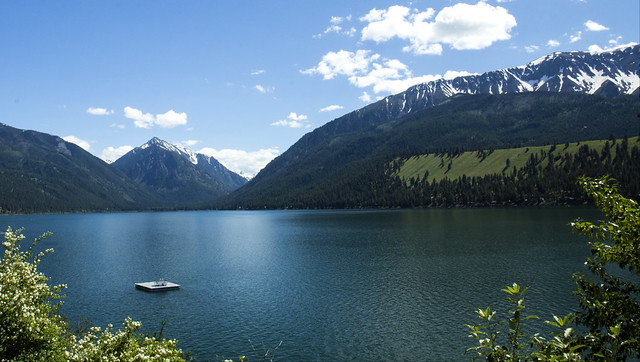 They offer guided tours for daytime rentals, or at night if you prefer. If you've ever wondered what it looks like on the bottom of one of Oregon's most gorgeous lakes, now is your chance to find out.
"I noticed that they had these on Lake Tahoe," said owner Robert Nichols when talking with Wallowa County Chieftain. "I thought they would be ideal for people who wanted to explore Wallowa Lake."
Made of transparent lexan, the boats seat two people and are 22 feet long and are said to hold up to 425 pounds. Each boat is equipped with a large dry-bag to hold your belongings, such as your phone or whatever else you want to bring.
During the day, you will have the opportunity to see a crystal clear view of the bottom in water up to around 15 feet deep. Daytime paddlers will have the opportunity to see occasional kokanee or sucker-fish, and a plethora of glacially-transported rocks of all shapes, sizes, and composition.
And if you're feeling really adventurous, they also offer nighttime tours. These extra unique kayaks are outfitted with LED running lights along the gunwales, and lights on the bottom of the craft that illuminate the lake's bottom.
If kayaks aren't your thing, Jo Paddle also offers canoes, and stand-up paddleboards with a transparent portion to view the lake beneath you. With 8.2 miles of shoreline, there's no shortage of areas to explore. Who knows, with over 500 lights the word is you may even discover some hidden treasure at Wallowa Lake!
Jo Paddles operates out of the Wallowa County Park and the north end of Wallowa Lake. Rentals include PFDs, a dry bag, and other essentials. And the longer you rent your kayak, the cheaper the hourly rate. Depending on how long you want to go out, they offer two, four, or six-hour trips.
Jo Paddles does not have a rental facility at the lake but will deliver kayaks to their clients by prior arrangement. If you are headed from Portland, you are looking at anywhere from around 6 to 8 hours to get to Wallowa Lake. If you want to reserve daytime rentals or nighttime tours, make sure and head over to their website at jopaddle.com. For more information, give them a ring at 541-886-0086.