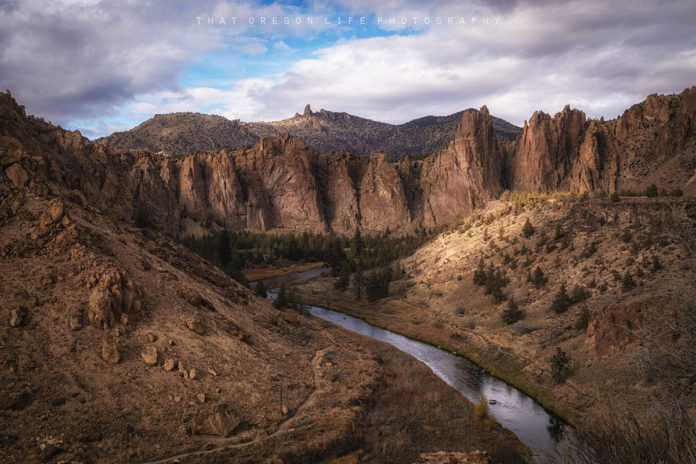 If you've never been, Smith Rock State Park is a little slice of high desert heaven near Redmond Oregon, and around 26 miles northeast of Bend. It's popular with rock climbers, hikers, photographers, and nature lovers. This is the perfect place to take the family on a day trip, or to have an intense Oregon adventure you won't soon forget. The massive rocks alone are awe-inspiring, and with 650 acres this park makes for a great day to explore and hike no matter what your skill level.
History of Smith Rock State Park
According to the official record, the park was obtained between 1960 and 1975 by purchase and gifts of land from the city of Redmond and Harry, and Diane Kem. The common belief is that Smith Rock was named in honor of John Smith, who was a Linn County lawman or Pvt. Volk Smith soldier. Smith had fallen to his death in the park when battling with the Northern Paiute in 1863.
The Northern Paiute are related to the Mono of California. Like many other California and Southwest Indians, the Northern Paiute have been known derogatorily as "Diggers" because some of the wild foods they collected required digging. The Northern Paiute occupied east-central California, western Nevada, and eastern Oregon. To this day, the debate continues.
Getting There
Smith Rock State Park is nine miles north of Redmond and is an incredible destination for anyone who enjoys deep canyons, towering rocks, scenic rivers, or the high desert.
From Bend, follow US Highway 97 north 22 miles at the sign to Smith Rock State Park.

Turn east and follow signs 3.2 miles to the main-day use area for Smith Rock State Park.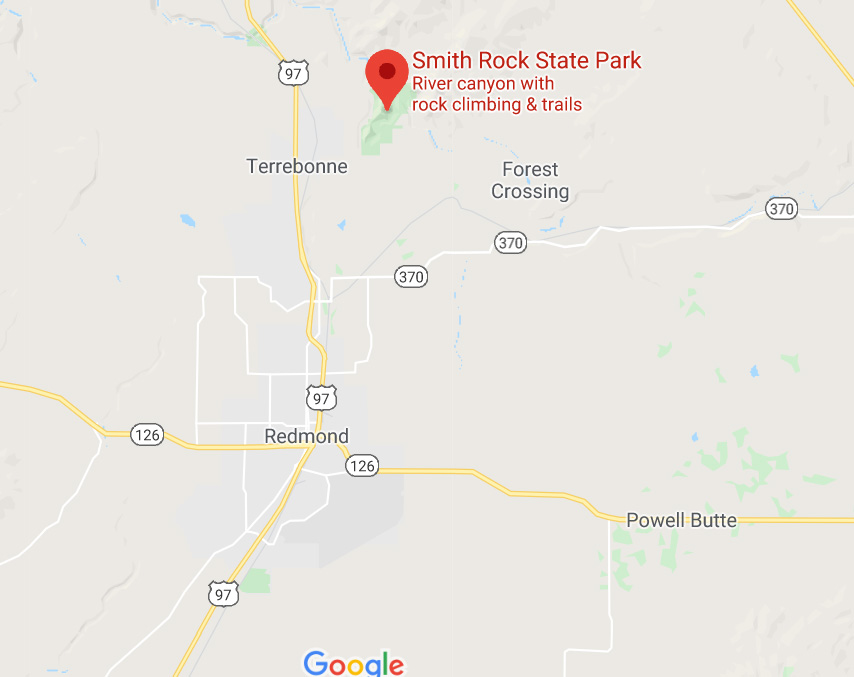 When to Visit Smith Rock State Park
Spring (April to June): Springtime brings mild temperatures, blooming wildflowers, and lush foliage. Climbing conditions are generally ideal during this season, making it a popular time for outdoor enthusiasts to visit the park. Be prepared for occasional rain showers and fluctuating temperatures.

Fall (September to October): Fall offers pleasant weather and stunning autumn colors, as the foliage changes from green to vibrant shades of yellow, orange, and red. Climbing conditions are typically excellent during this time, making it another popular season for visitors. Keep in mind that temperatures can begin to drop significantly as winter approaches.

Summer: Summer can be quite hot at Smith Rock State Park, especially during peak daytime hours. To beat the heat, plan your activities for the early mornings and late afternoons when temperatures are cooler. Be sure to stay hydrated and take breaks in the shade when needed. Despite the heat, summer is a popular time for visitors, so expect more crowds.

Winter: Winter months see fewer crowds, offering a more peaceful and serene experience at the park. Occasional snow-dusted landscapes provide a unique and picturesque backdrop for hiking and photography. However, colder temperatures and potential icy trail conditions can make some activities more challenging. Be prepared with appropriate clothing and gear for the season.
Note: Always check the park's website for up-to-date information on weather, trail conditions, and any seasonal restrictions or closures before planning your visit. This will help ensure a safe and enjoyable experience at Smith Rock State Park.
Wildlife at Smith Rock
When visiting the park it's not uncommon to see golden eagles, prairie falcons, deer, river otters, and beaver. Because of wildlife and plant life, pets are required to stay on leash, and park users must stay on trails.
Check out the video below which showcases some of the park's beauty on a virtual hike:
There are miles of hiking and biking trails within the park to keep explorers satisfied, as well as thousands of climbs for climbers with more than a thousand bolted routes.
RELATED: 5 Classic Hiking Trails Near Bend To Add To Your Bucket List
The park is one of the United States' premier climbing destinations, and people trek here each year for the incredible climbing and scenery.
Here is another great video below showing off what it's like to climb some of the easier climbing routes within the park:
Best Smith Rock State Park Hiking Trails
Discover some of the best hiking trails Smith Rock State Park has to offer. From easy strolls to more challenging routes, there's a trail for everyone. Here are our top 5 picks:
1. Misery Ridge Trail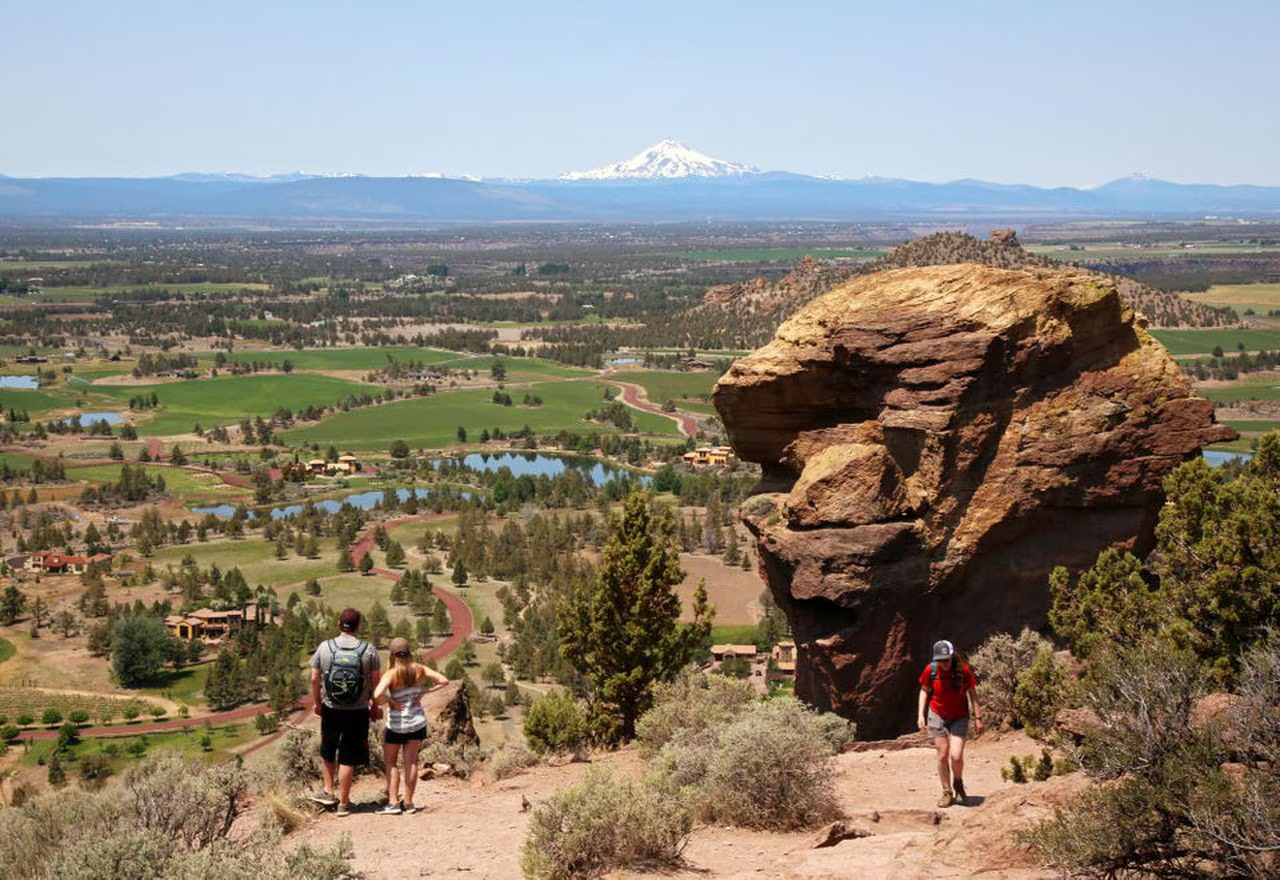 Distance: 2.0 miles

Elevation: 1100 feet

Difficulty: Moderate – Challenging
Misery Ridge Trail offers a heart-pumping ascent with rewarding panoramic views at the summit. Although the climb can be intense, the breathtaking scenery makes it well worth the effort. Take in the sights of the park's rock formations and observe climbers scaling the cliffs up close. For a shorter hike, simply turn back at the viewpoint or continue towards Monkey Face for a more extended adventure.
2. River Trail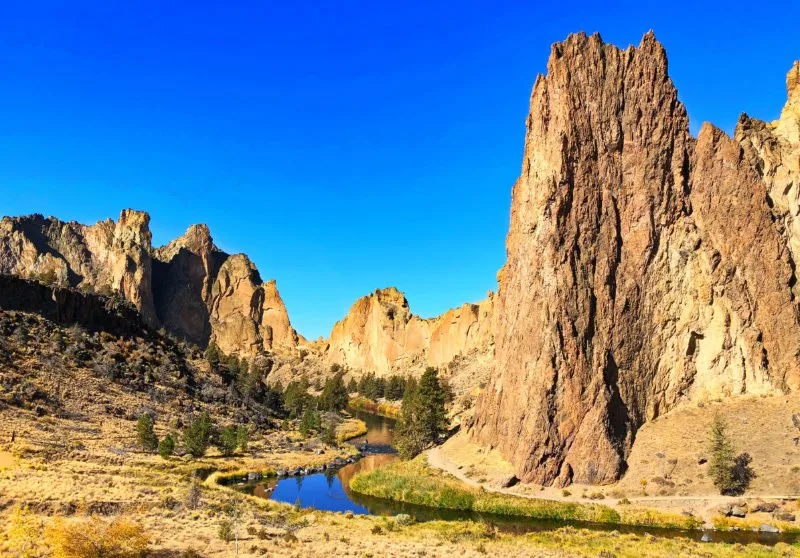 Distance: 4.2 miles

Elevation: 150 feet

Difficulty: Easy
The River Trail is a gentle, meandering path that follows the picturesque Crooked River. Suitable for all ages and fitness levels, this trail is popular among families and nature lovers alike. Turn back at any point or combine it with the Misery Ridge Trail for a 3-mile loop, offering a varied and scenic hiking experience.
3. Summit Trail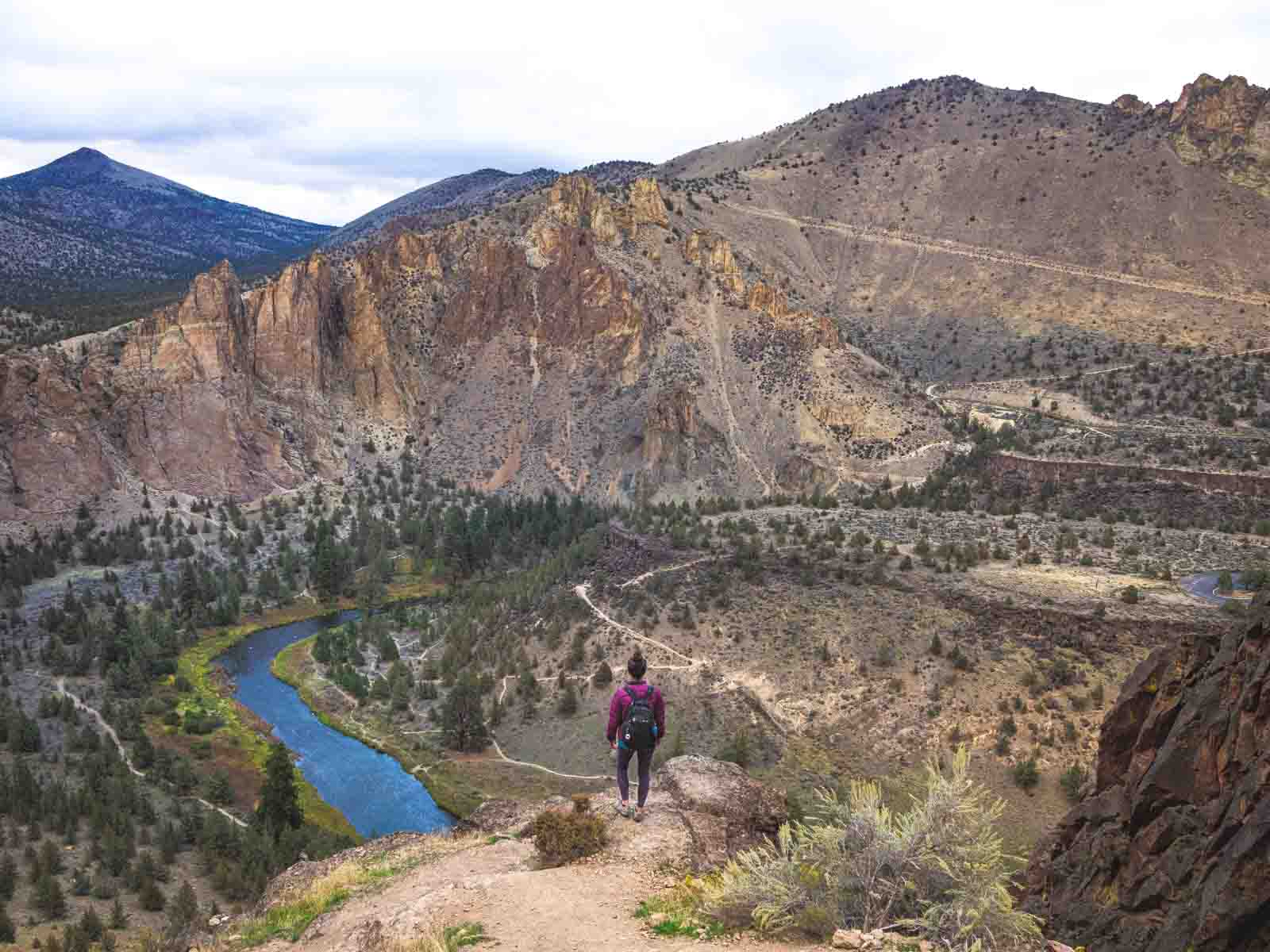 Distance: 7.3 miles

Elevation: 1600 feet

Difficulty: Moderate
Summit Trail is a longer and more challenging route that takes hikers through a variety of landscapes, including forests, grasslands, and rocky terrain. This loop trail offers stunning views of the park's geological features and provides an immersive experience of the high desert environment.
4. Canyon Trail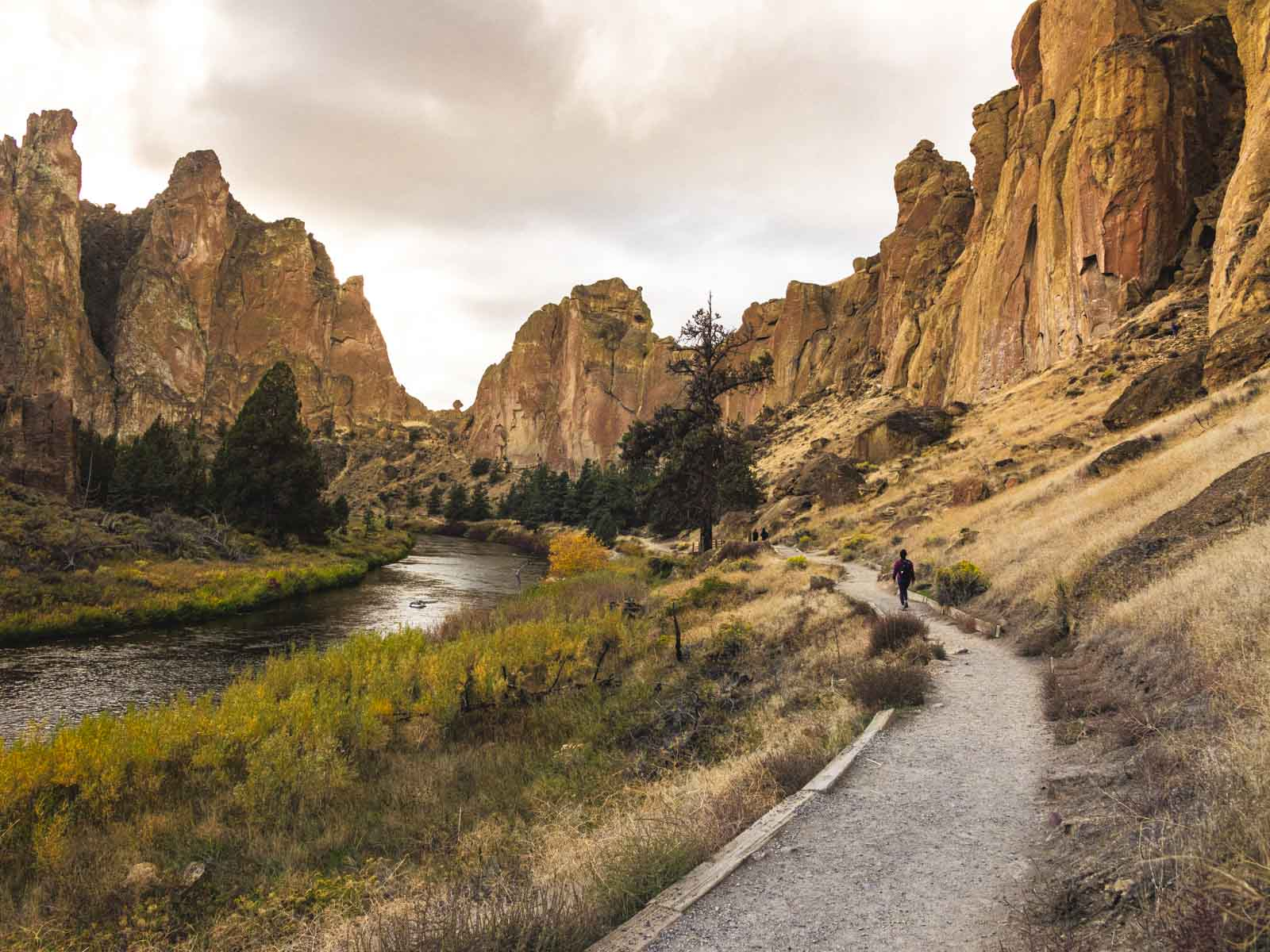 Distance: 2.7 miles

Elevation: 200 feet

Difficulty: Easy
Canyon Trail is a leisurely out-and-back hike that provides a more shaded and cooler experience, perfect for hot days. This trail features a beautiful overlook, allowing hikers to take in the awe-inspiring vistas of the park. For a shorter hike, turn back after enjoying the viewpoint or explore other connecting trails for a more extended adventure.
5. Wolf Tree Trail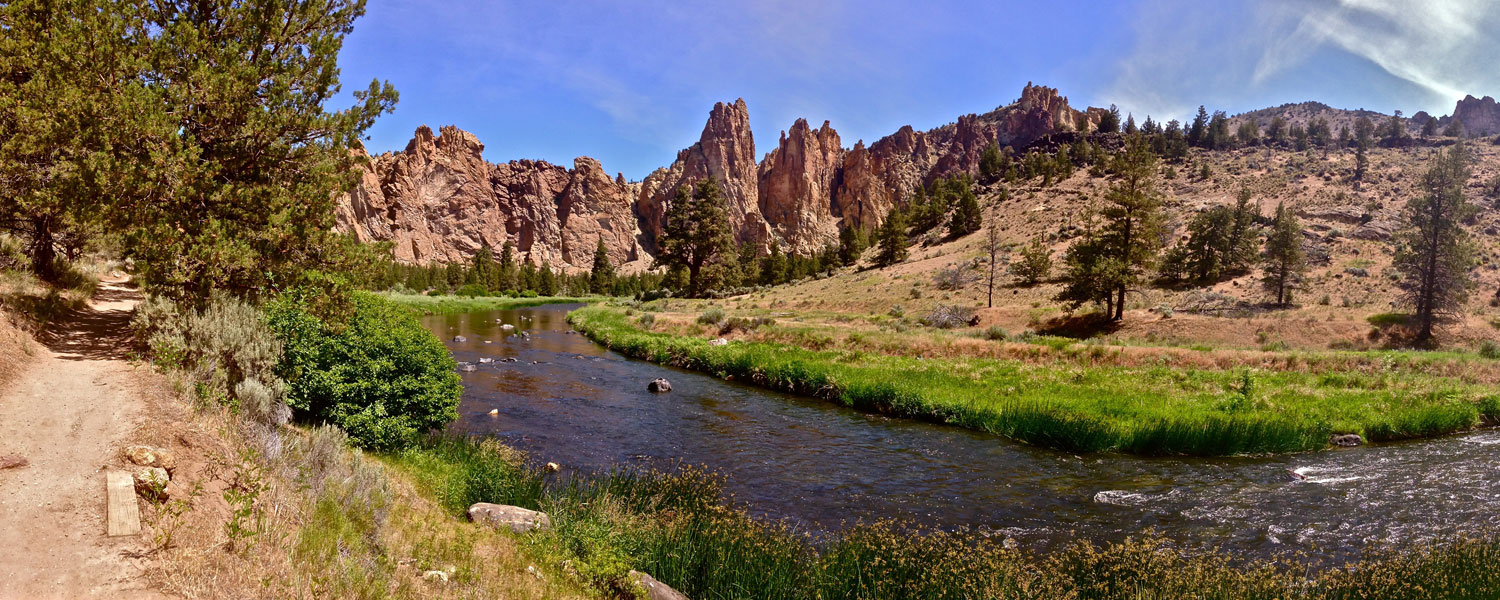 Distance: 3.5 miles

Elevation: 500 feet

Difficulty: Moderate
The Wolf Tree Trail is a moderately challenging hike that takes you through the park's unique juniper forests. This loop trail offers a diverse and engaging experience, with opportunities to spot wildlife and enjoy spectacular views of the surrounding rock formations. Keep an eye out for the park's namesake "Wolf Tree," a large, gnarled juniper tree that stands as a testament to the resilience of the high desert ecosystem.
Climbing at Smith Rock State Park
Discover the thrill of rock climbing at Smith Rock State Park, a premier destination for climbers from around the world. With thousands of routes suitable for all levels, this park has earned its reputation as the birthplace of sport climbing in the United States.
1. Monkey Face
Tackle the iconic Monkey Face, a 350-foot spire with a unique shape that has become synonymous with Smith Rock. The challenging Just Do It 5.14c route is known worldwide, but there are also routes for various skill levels. Experience the thrill of climbing this towering pillar and crawling into the monkey's mouth at the summit.
2. Monument Area
Explore the Monument Area, where jagged spires and towering rock formations offer nearly 100 climbs, mostly sport climbing routes. Although less crowded than other parts of the park, this area is open seasonally, so plan accordingly. Climb notable landmarks such as Little Three Fingered Jack, Liberty Bell, Juniper Spire, London Tower, Big Ben, and Cajun Cliff for an unforgettable climbing adventure.
3. Red Wall Area
Venture to the Red Wall Area, where the striking dark red color of the 300-foot rock wall contrasts with the park's volcanic tuff. Its close proximity to the Misery Ridge Trail and a variety of multi-pitch routes make it a popular destination for climbers. Challenge yourself with daring 5.11 and 5.12 climbs at Red Ryder Buttress and Easy's Playhouse or take on the three-pitch Super Slab route for an exhilarating experience.
Can You Hike Solo?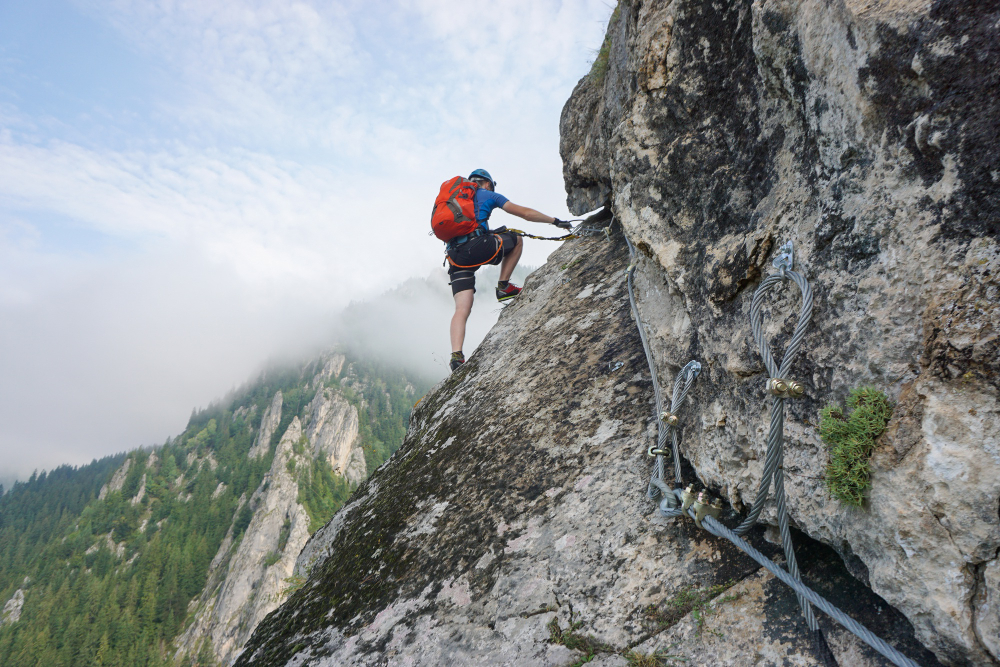 Hiking solo at Smith Rock State Park is not only possible but can also be a rewarding and fulfilling experience. The park offers a variety of trails with varying levels of difficulty, making it suitable for solo hikers of all skill levels. When hiking alone, it's important to take extra precautions to ensure your safety.
Be sure to choose trails that match your experience and physical fitness, inform someone of your planned route and estimated return time, carry a map and a fully charged mobile device, and bring sufficient water, food, and appropriate gear for changing weather conditions.
Additionally, always stay on marked trails and follow the park's regulations. By taking these precautions and being aware of your surroundings, you can confidently enjoy the beauty and serenity that Smith Rock State Park has to offer on a solo hike.
Camping at Smith Rock State Park
If you're looking to camp here, you can get a camping permit at the fee station which is located at the entrance to the Bivouac camping area. The fee will set you back $8.00 per person per night. Due to the dry high desert climate of the park, campfires are not allowed at the campground. Sleeping in a vehicle is not prohibited here, however, there is a campground nearby that allows RVs and sleeping in your vehicle known as USFS Skull Hollow Campground. This campground is located northeast of Smith Rock State Park on Lone Pine Road.
Bivouac offers showers for overnight guets only, walk-in tent sites, and open fires are not allowed. The campground is on a first-come, first-serve basis. Redmond is only a few minutes away and is a great place to get a bite to eat, or stock up on supplies for your trip to the park
Where to Stay
Your best bet is to get a hotel in Redmond, which is around a 13 minute drive to the park. Feel free to check out one of our favorite hotelsbooking.com is a great resource too.
Other Things to Do at Smith Rock State Park
While hiking and rock climbing are the main attractions at Smith Rock State Park, there are other exhilarating activities to experience amidst the canyons and rocky pinnacles:
Mountain Biking: Tackle challenging trails with rocky terrain, steep climbs, and sharp drop-offs. The Summit Loop, a 7+ mile ride, takes you along ridges, past the flowing river, and near iconic rock formations.

Kayaking on the Crooked River: Test your skills on the class III-IV rapids when water levels permit. Experience a thrilling paddle through a scenic landscape surrounded by jagged cliffs, rocky spires, and screes. Be prepared for competition, as water releases can be rare and draw fellow paddlers.

Birdwatching: Observe the diverse bird species that call Smith Rock home, such as golden eagles, prairie falcons, and various songbirds. Keep an eye out for nesting sites on the rock faces and marvel at the graceful acrobatics of these magnificent creatures.

Photography: Capture the stunning vistas, intriguing rock formations, and vibrant sunsets that make Smith Rock a dream destination for photographers. Bring your camera and experiment with different perspectives, lighting, and compositions to create unforgettable images.

Picnicking: Pack a meal and relax at one of the designated picnic areas in the park. Enjoy the breathtaking views as you dine amidst the natural beauty of Smith Rock.

Wildlife Watching: Discover the park's diverse wildlife, such as mule deer, river otters, and lizards. Keep a respectful distance and appreciate the opportunity to observe these fascinating creatures in their natural habitat.

Stargazing: Smith Rock's remote location makes it an excellent spot for stargazing on clear nights. Lie back, gaze at the stars, and immerse yourself in the vastness of the cosmos above.
Smith Rock State Park Information
This gorgeous park is open year-round, however it is best to visit during the spring and fall. Open from dusk till dawn 7 days a week, you can visit between 7 a.m. and 7 p.m. If you are looking to dodge the extreme heat wave of peak season, visiting sometime between mid-September until mid-November is best. The park is also quiote a bit busier throughout the summer. Around October you are looking at an average comfortable temperature around 62 degrees. There's a $5 day use fee to park or an $8 per person fee for hikers and bikers. You can buy 12 and 24-month day-use permits as well.
You can check the open status of the park here, or learn more about Smith Rock State park here
Note: Climbing, biking, and hiking are at-your-own-risk activities.
Have you been to Smith Rock State Park in central Oregon? What's your favorite hiking trail or climbing route in the park? We hope you enjoyed this article. If you are headed this way, you may also be interested in exploring the McKenzie River Trail.
FAQs
What are the best times to visit Smith Rock State Park for hiking and climbing?
The ideal times to visit Smith Rock State Park are during the spring and fall months when temperatures are moderate, making outdoor activities more comfortable. Summer can be extremely hot, and winters can be snowy and cold, which may limit access to some trails and climbs.
Is there an entrance fee for Smith Rock State Park?
Yes, there is a day-use fee of $5 per vehicle, which is required to park within the state park. Alternatively, you can purchase an Oregon State Parks Annual Pass for $30, which grants unlimited access to all state parks for one year.
Are there camping facilities available at Smith Rock State Park?
Yes, Smith Rock State Park offers a walk-in bivouac area for tent camping on a first-come, first-served basis. The campground features restrooms, potable water, picnic tables, and a cooking area. Please note that there are no RV hookups or facilities for car camping.
Are pets allowed at Smith Rock State Park?
Pets are allowed in the park but must be on a leash no longer than six feet at all times. Please be considerate of other visitors and clean up after your pet. Keep in mind that some trails and climbing areas may not be suitable for pets due to the challenging terrain.