When most people think of Oregon, they think of nine months of rain each year, the stunning Oregon coast, and the gorgeous Cascade Mountains. What many don't realize is that two thirds of our state is covered by gorgeous high desert vistas. Redmond, Oregon is located in Oregon's high desert on the East side of the Cascade range, and is one of our favorite small towns in America to visit. We've rounded up the top attractions, outdoor activities and best things to do in Redmond to help you plan your trip.
Redmond is a city located in Deschutes County, Oregon, USA. It became a city on July 6, 1910, and is situated on the eastern side of Oregon's Cascade Range, in the High Desert region of Central Oregon. Visitors to Redmond can take advantage of a variety of recreational opportunities. Redmond is a fully serviced city and is one of the fastest-growing industrial and residential communities in Oregon. As of 2019, Redmond had a population of 32,421, and the population continues to increase at a rate of approximately 6.7% each year.
The city covers an area of 15.5 square miles and is located on a plateau with an elevation of 3,077 feet. Redmond is located 15 miles north of Bend, which is the county seat of Deschutes County, and is 144 miles from Portland, 129 miles from Salem (the capital of Oregon), and 126 miles from Eugene.
Plan Your Visit To The City Of Redmond, Oregon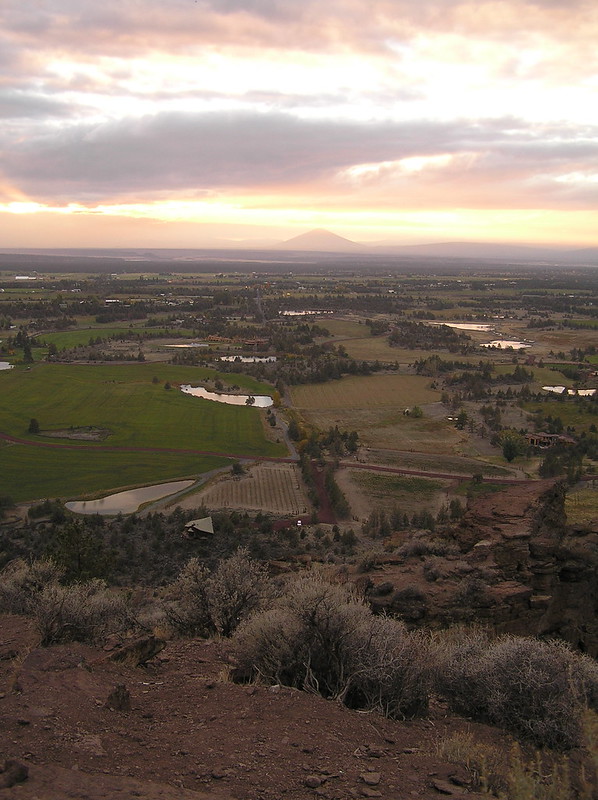 Looking for things to do when visiting Redmond? We've got you covered. From the Deschutes River, to hiking and spelunking, the best spot to grab a bite to eat and more, here's our list of top things to do in the city of Redmond.
Getting To Redmond, Oregon In Deschutes County
Located in central Oregon, Redmond is three hours Southeast of Portland. From Portland you'll travel East on I-84 to Highway 26. Travel South on Highway 26 to highway 97. Travel South on Highway 97 right into Redmond.
You can also travel to Redmond, Oregon via the Redmond Airport. The Redmond Airport has a 132,000 square foot terminal and several full service car rental agencies so you can get around and explore once you fly in.
When Is The Best Time to Visit Redmond, Oregon?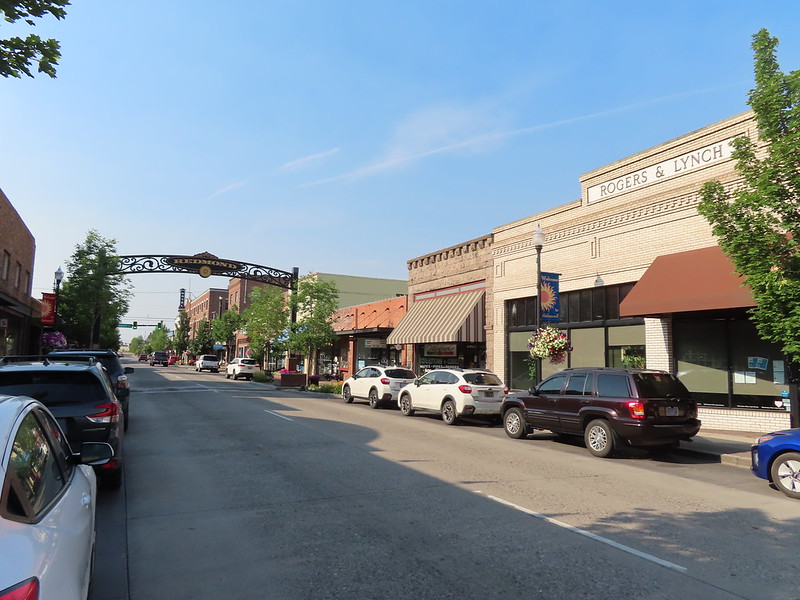 When visiting central Oregon you'll find the best weather in the summer months of June through August. Summer is a great time to get out and do some mountain biking, and visit the nearby natural areas and state parks, though you'll find that June through August is also the busiest time of year. Fall months like September and October are also a great time to visit when it's less busy and the weather has cooled off a little.
You can also visit in winter months like December, though the weather is usually chilly with average high temperatures in the mid 40 degree Fahrenheit range, and lows in the low 20's. The winter sees around 15 days of snow a year, and around 20 days of rain.
Visit Smith Rock State Park Near Redmond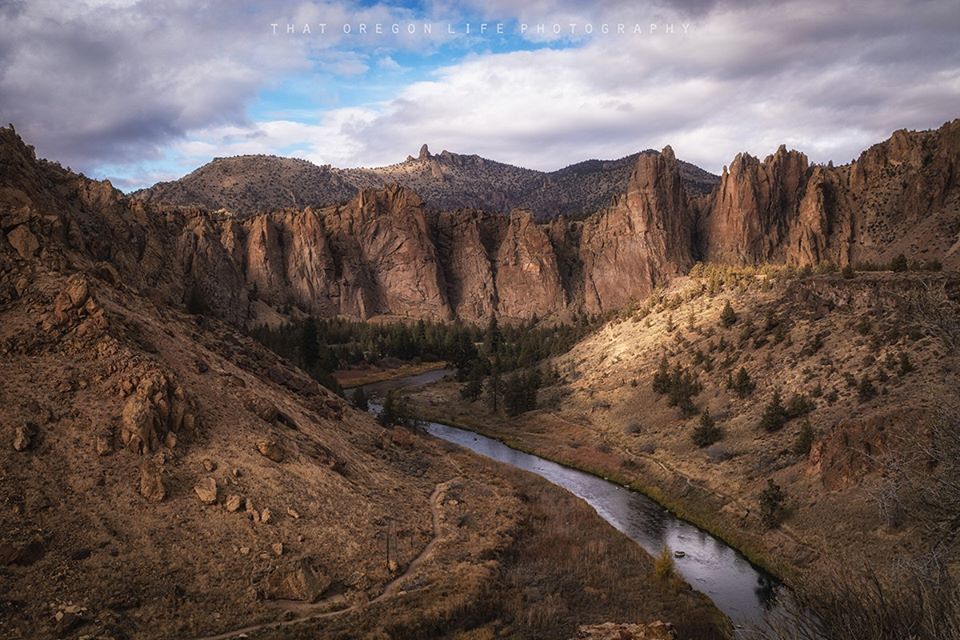 Smith Rock State Park boasts miles of trails, stunning views of towering canyon walls, and world class rock climbing. This is one of central Oregon's most interesting state parks, and really is a must visit when traveling in the Redmond, Oregon area.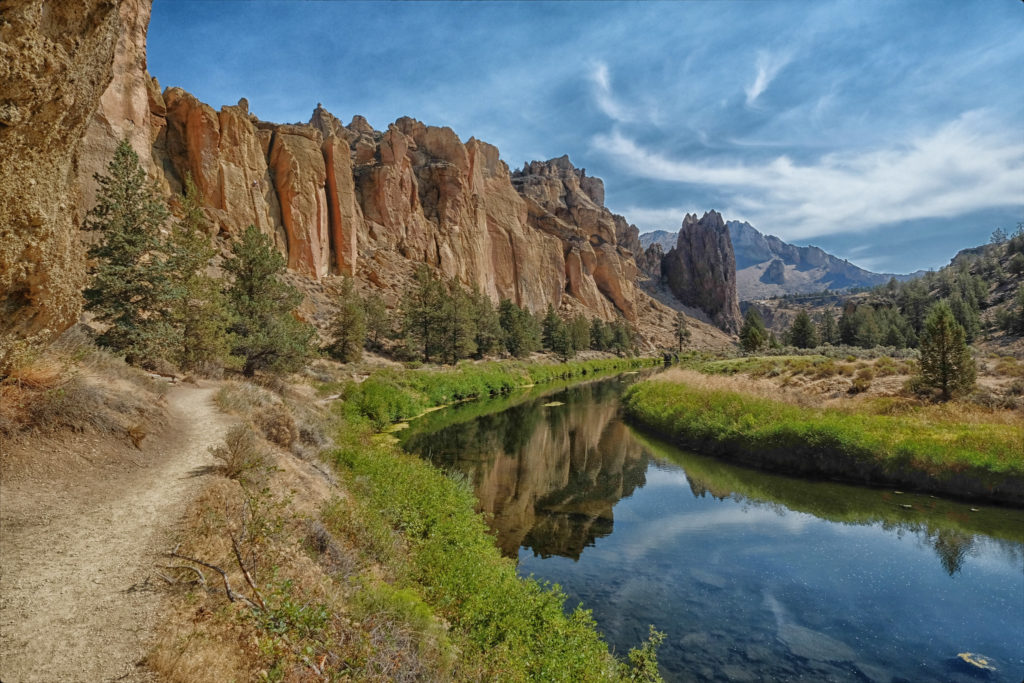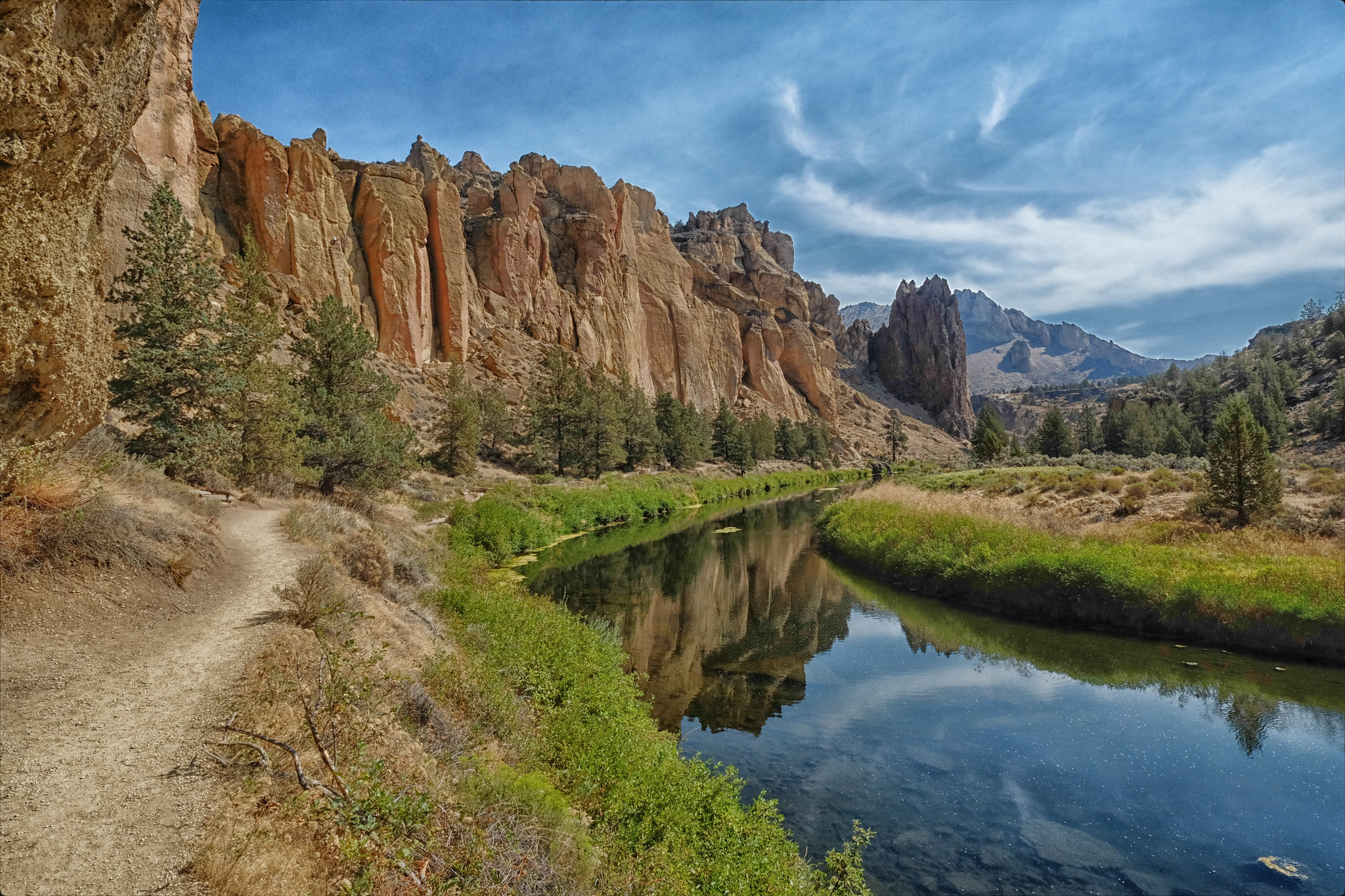 With 650 acres to explore, Smith Rock State Park was named after John Smith, a lawman from Linn County.
Getting To Smith Rock State Park Near Redmond, Oregon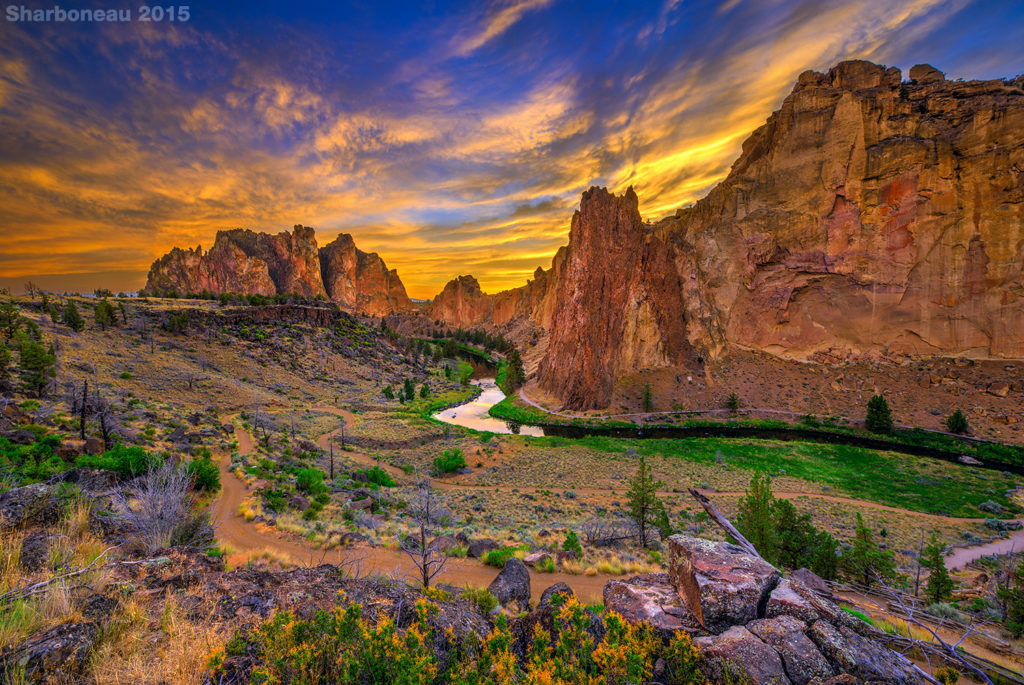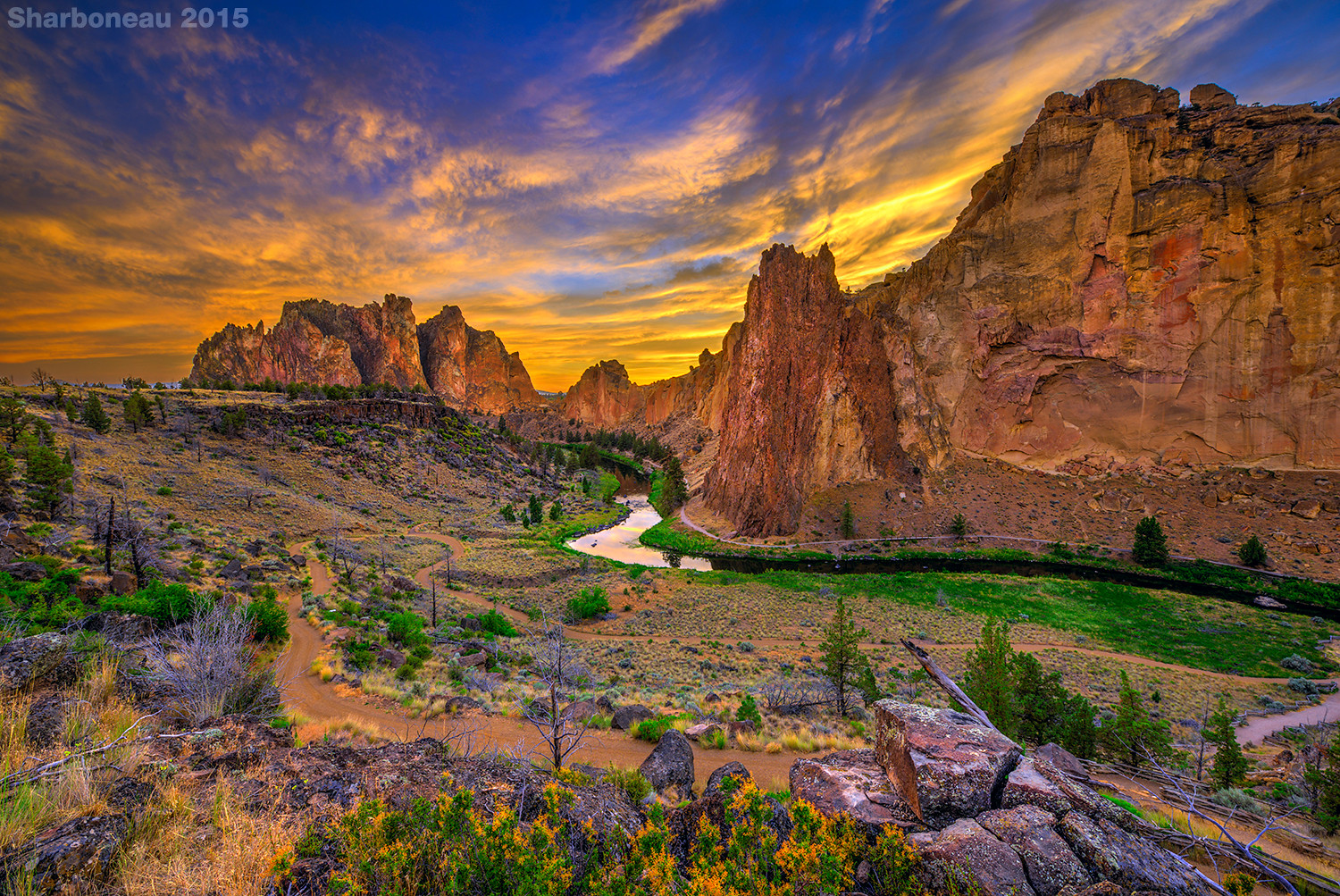 It's easy to get to Smith Rock State Park from Redmond as it's only 9 miles (about 14 minutes) north.
From Redmond, travel north on Highway 97, then turn right on Smith Rock Wy. Turn left on Lambert Road. Finally, turn left on NE Crooked River Dr and follow the road to the park entrance.
Check out our full guide to Smith Rock State Park, where we cover the history of the park, as well as all the best hiking trails!
READ MORE: Smith Rock State Park: Guide to Hiking, Climbing & More
Explore The Redmond Caves Recreation Area In The City Of Redmond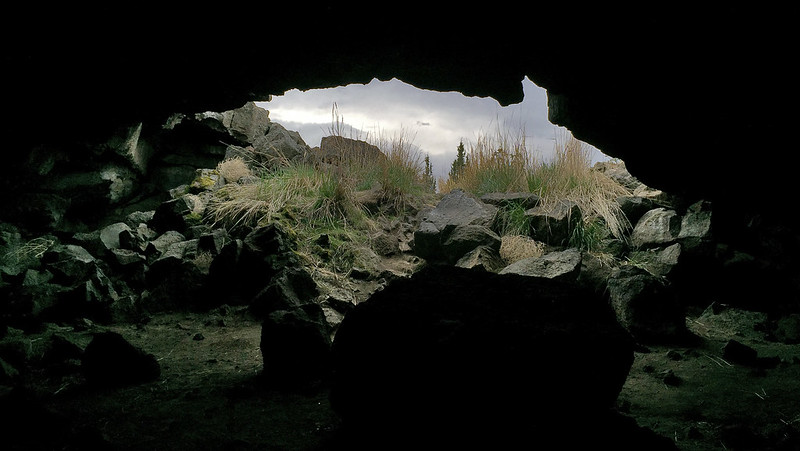 Looking for fun things to do in Redmond? How about a little adventure? The Redmond Caves Recreation Area features six lava tubes (caves) and is managed by the Bureau of Land Management. It's easy to miss the Redmond Caves Recreation Area when passing through if you don't already know the caves are there.
These caves in central Oregon are short, fun and easy for visitors to explore, and are an amazing experience if you've never been caving before. When you descend into the caves, it's like entering another world with it's own unique ecosystem. Sounds from above ground disappear once you're inside the caves, and you enter a dark world where molten lava once flowed freely and then became hard rock as it cooled.
The Redmond Caves in central Oregon have an estimated age of 80,000 years.
Visit Cline Falls State Scenic Viewpoint In Redmond
This little park on the banks of the Deschutes River is a great spot for a family picnic or to take a stroll.
Cline Falls State Scenic Viewpoint has a small but pretty waterfall on the Deschutes River, picnic tables, and flush restrooms. There's also fishing access at Cline Falls State Scenic Viewpoint.
Central Oregon: Visit Petersen Rock Garden And Museum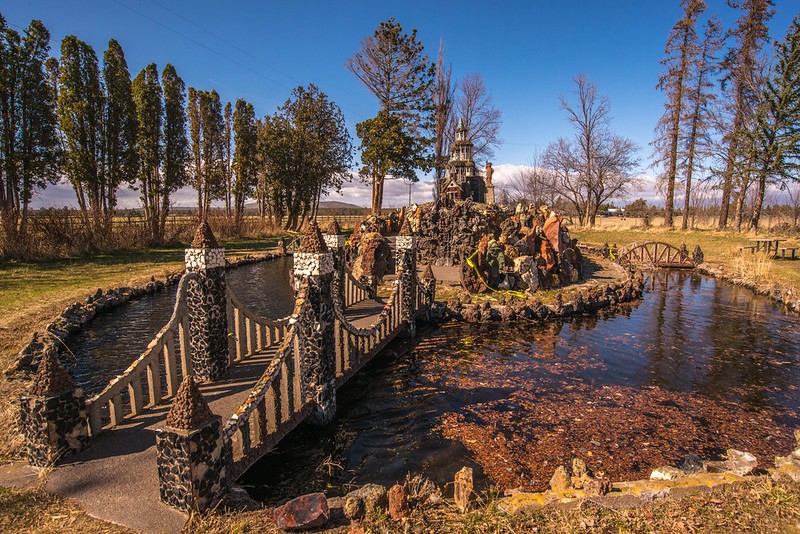 This little rock garden is an interesting place to stop when you're near Redmond, Oregon. The Petersen Rock Garden has rock sculptures, rock bridges, famous buildings recreated with rocks, and rock castles surrounded by moats. It's an interesting place to take a stroll and stretch your legs with family.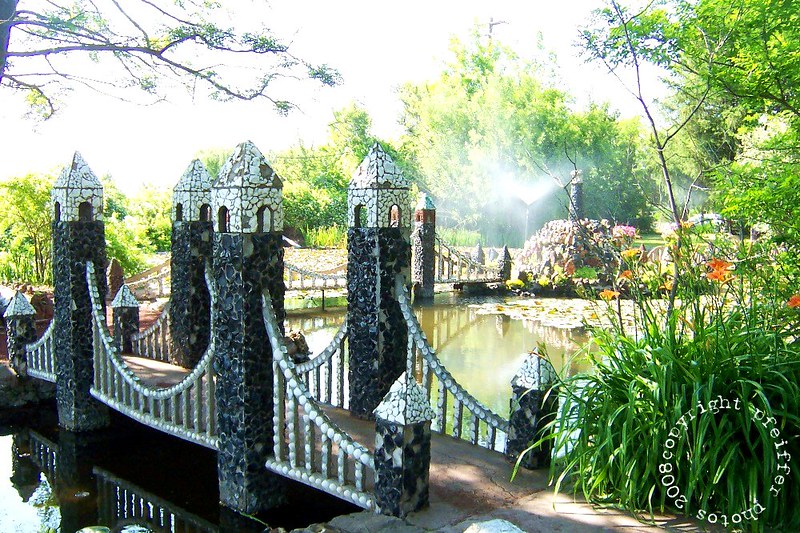 While you can't actually take any of the rocks from the rock garden, there are lots of unique treasures you can pick up at the gift shop of the Petersen Rock Garden!
Visit Lake Billy Chinook Near Redmond, Oregon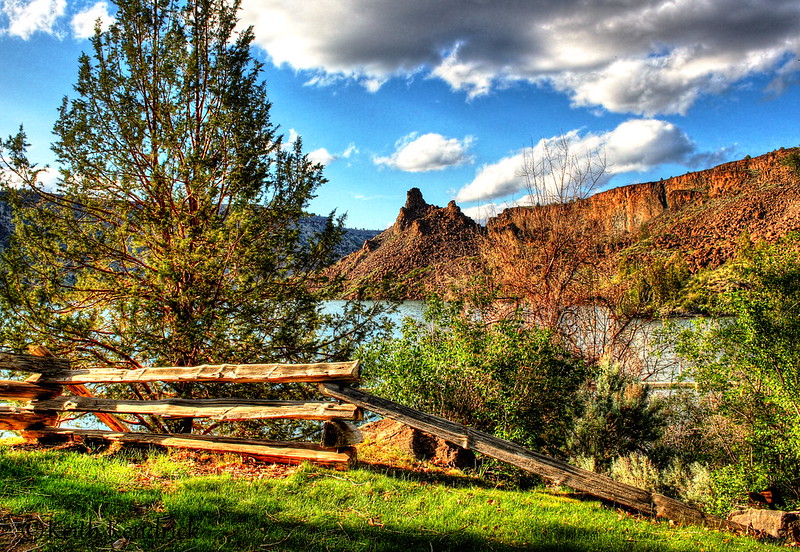 Want to get out on the water to do some swimming? How about taking advantage of warm summer weather for water sports like water skiing and kayaking? Lake Billy Chinook is just 36 minutes north of Redmond and can be accessed at The Cove Palisades State Park.
Camping At The Cove Palisades State Park Near Redmond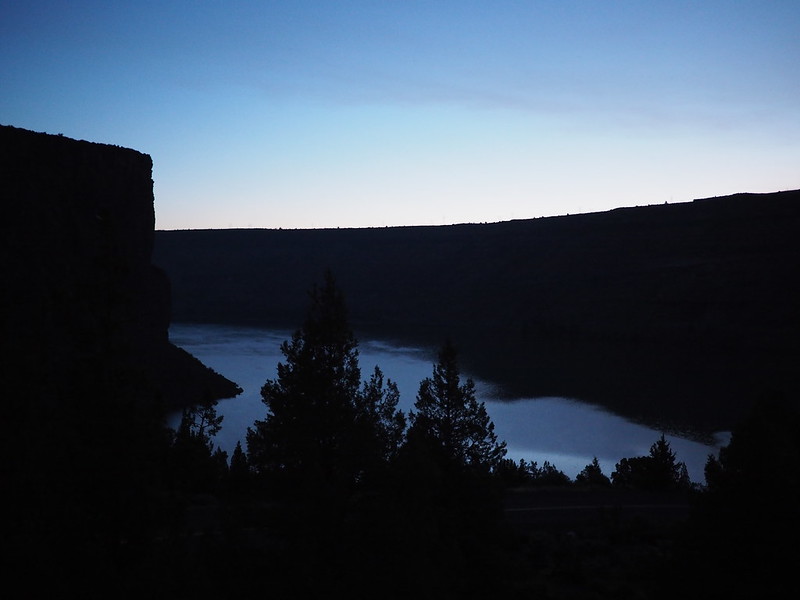 Looking to do some camping near Redmond? There are two campgrounds at the Cove Palisades State Park to take advantage of during warm weather months. The first is the Deschutes River Campground which is down the road from two boating and swimming areas. The second, the Crooked River Campground is high above the canyon and lake.
There are also deluxe cabins near the marina that you can reserve at the Cove Palisades Resort.
Camping spots at this state park get booked quickly, so you should book your stay up to six months in advance.
Hiking Cove Palisades State Park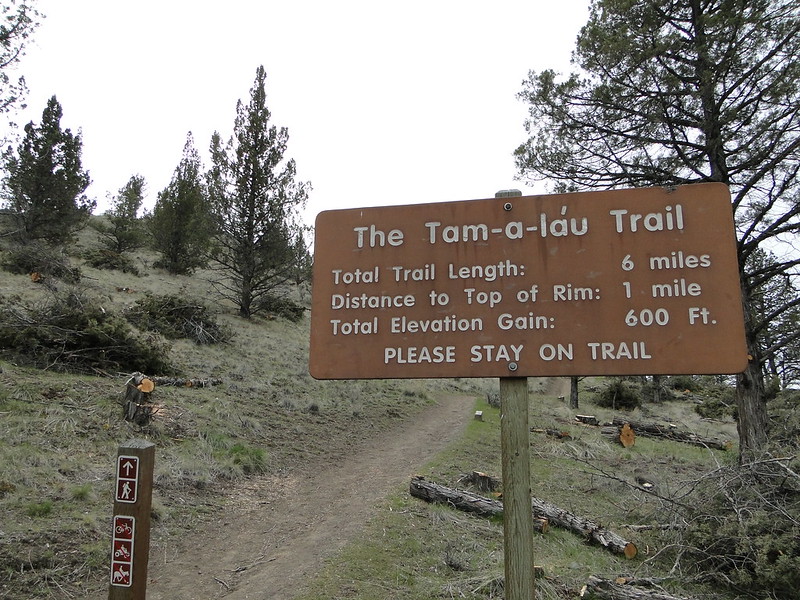 There are a couple of great trails you'll want to check out while at the state park. The first is the Tam-a-láu trail. This hiking trail is a six mile round trip with a 600 foot elevation gain.
The other hiking trail is the Crooked River Rim Trail. This is the trail you want to take for spectacular views of the reservoir and the Cascade Mountains. The trail is 2 miles and begins at the Crooked River campground.
If you're looking for a flat hiking trail that's short and easy to take with kids, try the Wetland Nature Trail Loop. This trail is a quarter of a mile and will take you through a wetland restoration project.
Visit Downtown Redmond In Central Oregon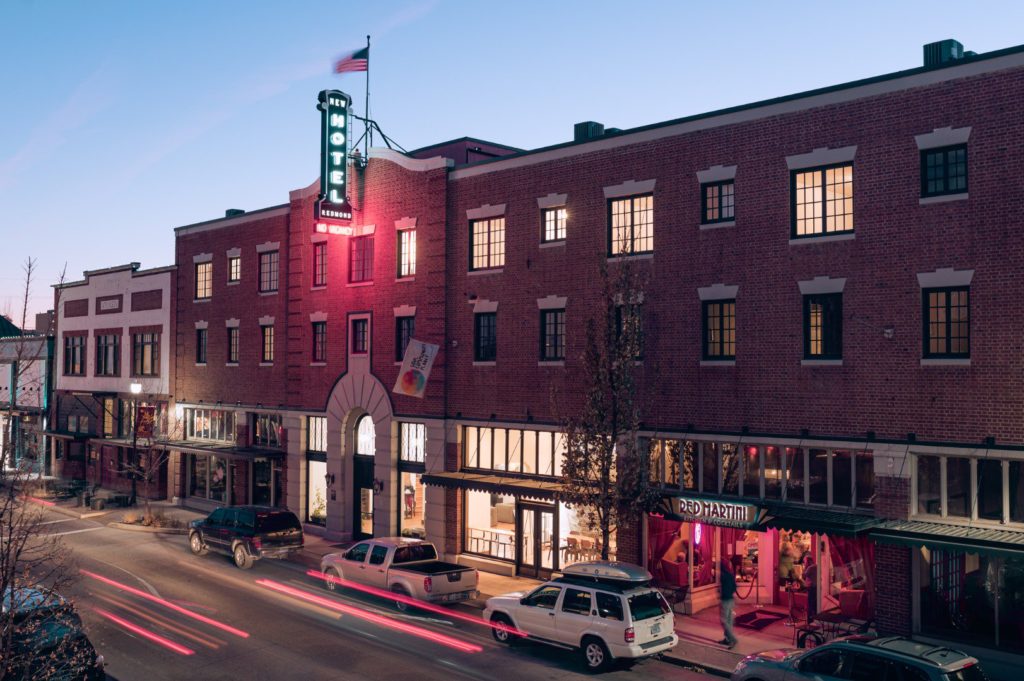 Downtown Redmond is a hub of activity for visitors and locals alike. Visitors to downtown Redmond love walking to the great restaurants, cute boutiques and shops, sustainable hotels and other fun things the city of Redmond has to discover!
Redmond Beer Trail
If you like craft beer, consider taking the Redmond Beer Trail, which will take you to multiple awesome breweries and tap houses in downtown Redmond.
Odem Theater Pub
Looking for dinner and a show? No problem when you visit the Odem Theater Pub. This unique spot is a full service restaurant and public house that also shows movies! This is the perfect spot for date night or to spend a fun evening out with friends.
Take A Hot Air Balloon Ride
Big Sky Balloon Co offers fun rides over central Oregon for 2-6 people.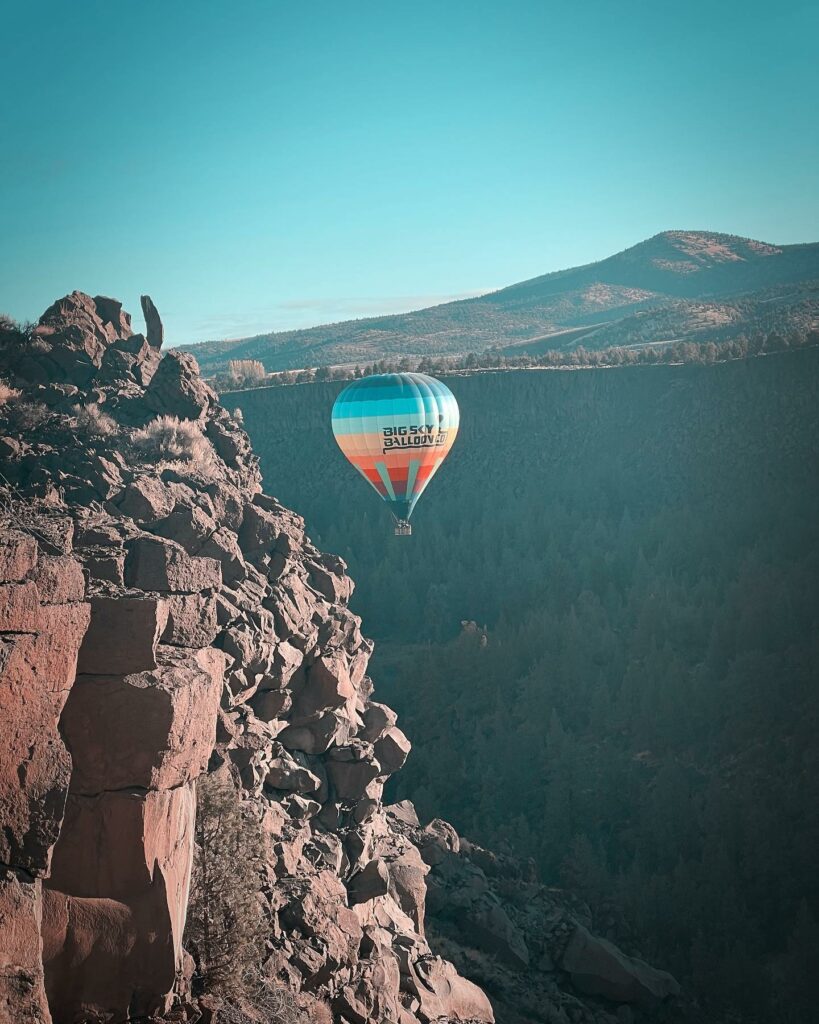 If you're adventurous at heart, or want to get an overhead view of Redmond and stunning central Oregon vistas, check out Big Sky.
Bike Redmond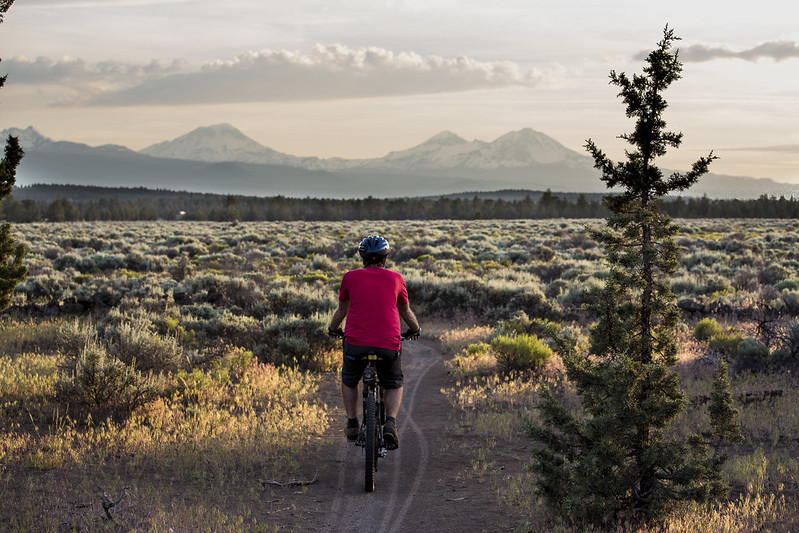 Redmond has a number of biking trails for you to check out. The Dry Canyon Trail is an 8 mile paved path in the heart of the city that you'll enjoy if you want an easy ride.
Smith Rock State Park has several mountain bike trails, including the Summit Loop Trail which is 7.7 miles long.
Another option is the Cline Butte Trail system. Get more info on Redmond bike trails here.
Golf Courses In Redmond
Juniper Golf Course In Redmond
Juniper Golf Course is one of three golf courses in Redmond. Named the ninth best course in the state of Oregon by GolfWeek Magazine, this publicly owned course is pretty and has great views of the Cascade Mountains. Book your tee time and check out The View Tap And Grill on site here.
Eagle Crest Golf Resort Redmond, Oregon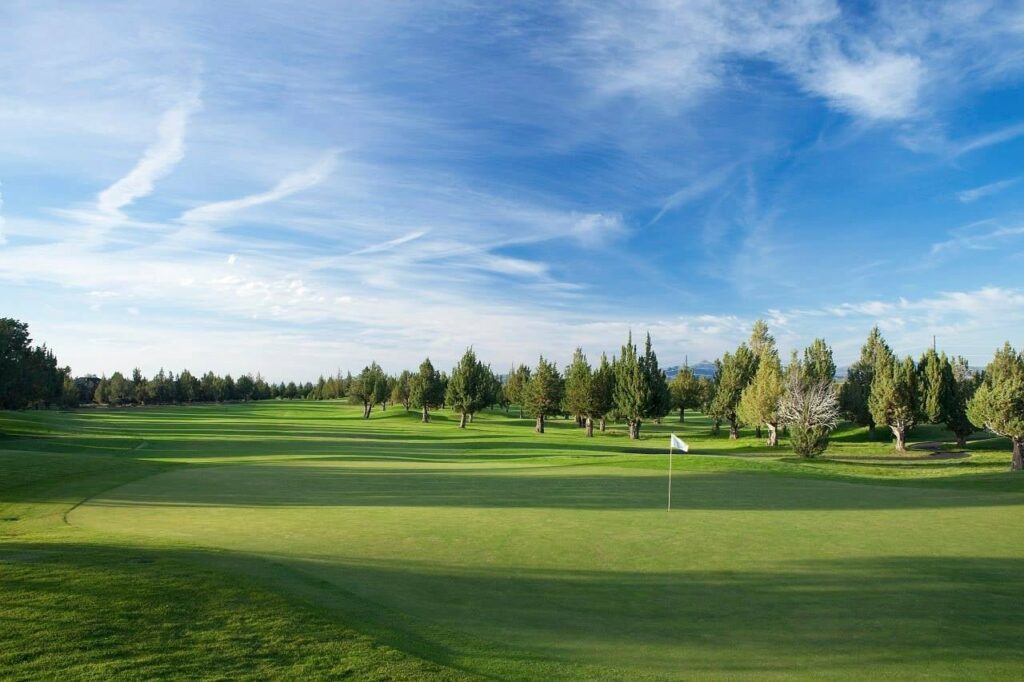 Eagle Crest Resort offers up two championship golf courses and has a long golf season due to good weather in the area. This resort has well maintained courses and is a great getaway for golf groups. There's also a fun 18 hole putting course that kids love!
Eagle Crest Resort offers up multiple dining options, including the Aerie Cafe, the Greenside Cafe, Silverleave Cafe, and also Brassie's Bar.
The Greens At Redmond, Oregon
The Greens was designed by architect Robert Muir Graves and features 18 challenging holes with canals, fountains, bunkers and man made lakes. With views of the Cascades and picturesque rock formations, this is an awesome spot to spend a weekend golfing and enjoying time with friends.
Where to Eat: Best Redmond Restaurants
Looking for good food and craft beer? We've got you covered with the top places to eat around town.
Mo's Egg House Redmond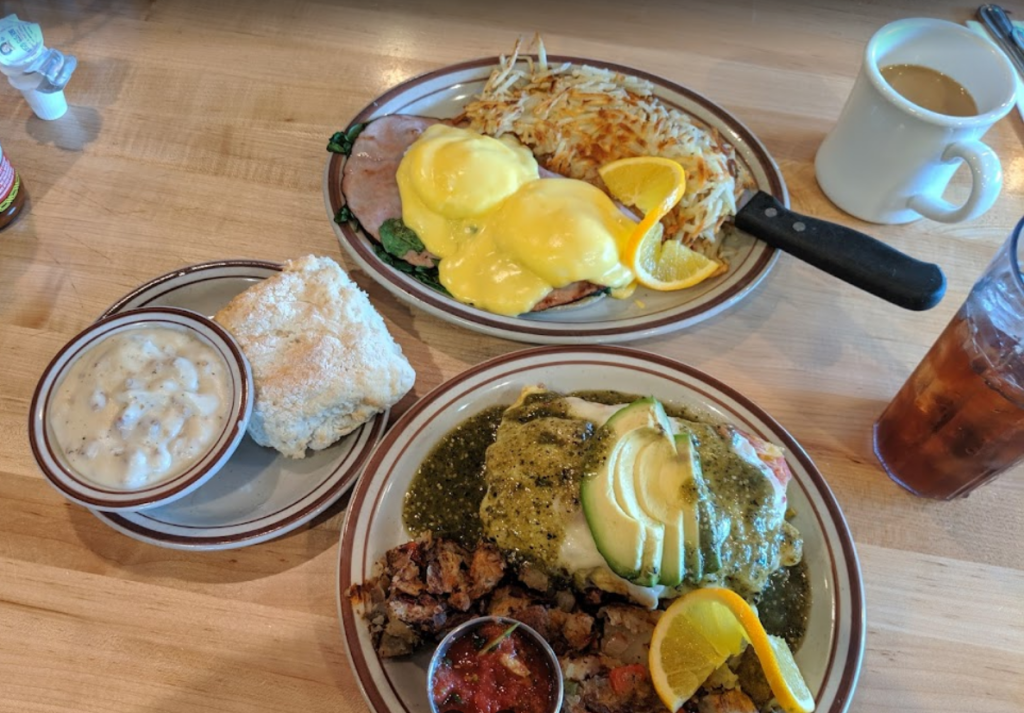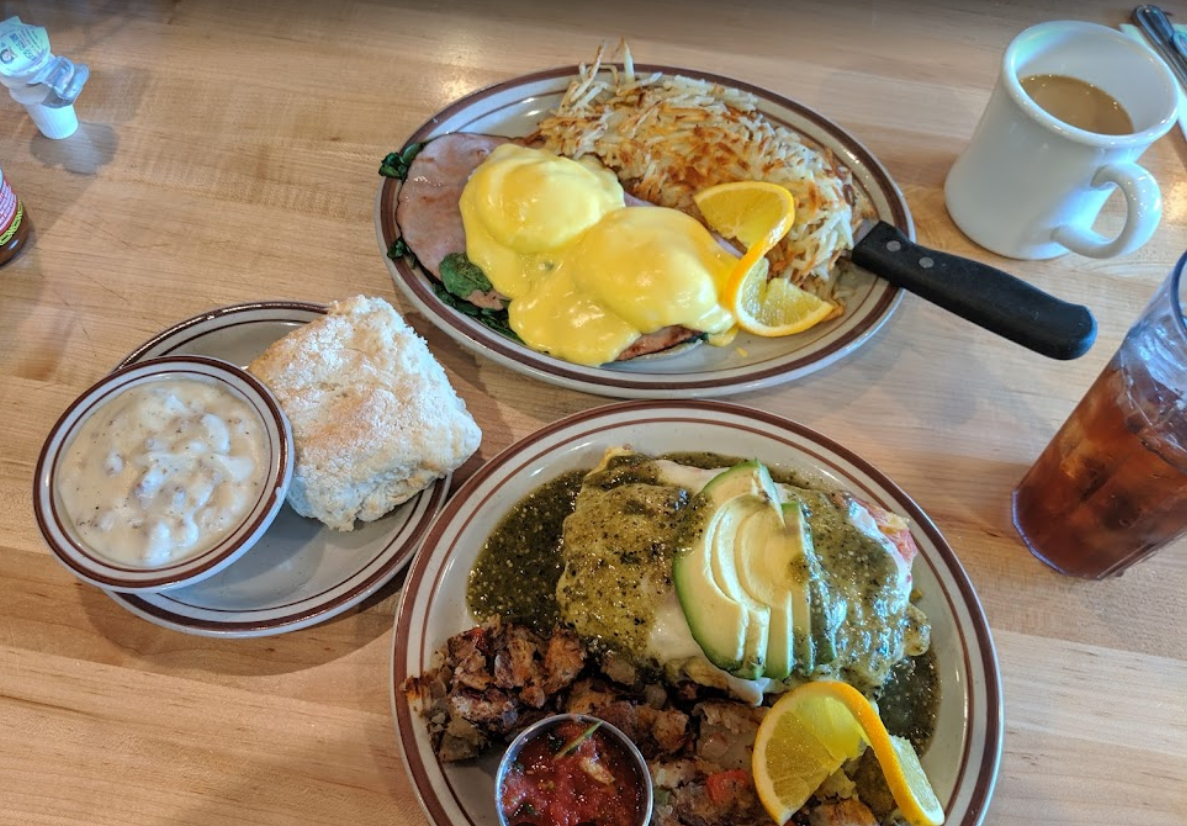 Redmond has a lot of great places to eat, but one of our favorites is Mo's Egg House. This country themed restaurant serves up local favorites like Gino's Crab Cake Benedict, Vinnie's Chicken Enchilada Omelet, and delicious Texas style chicken fried steak!
Diego's Spirited Kitchen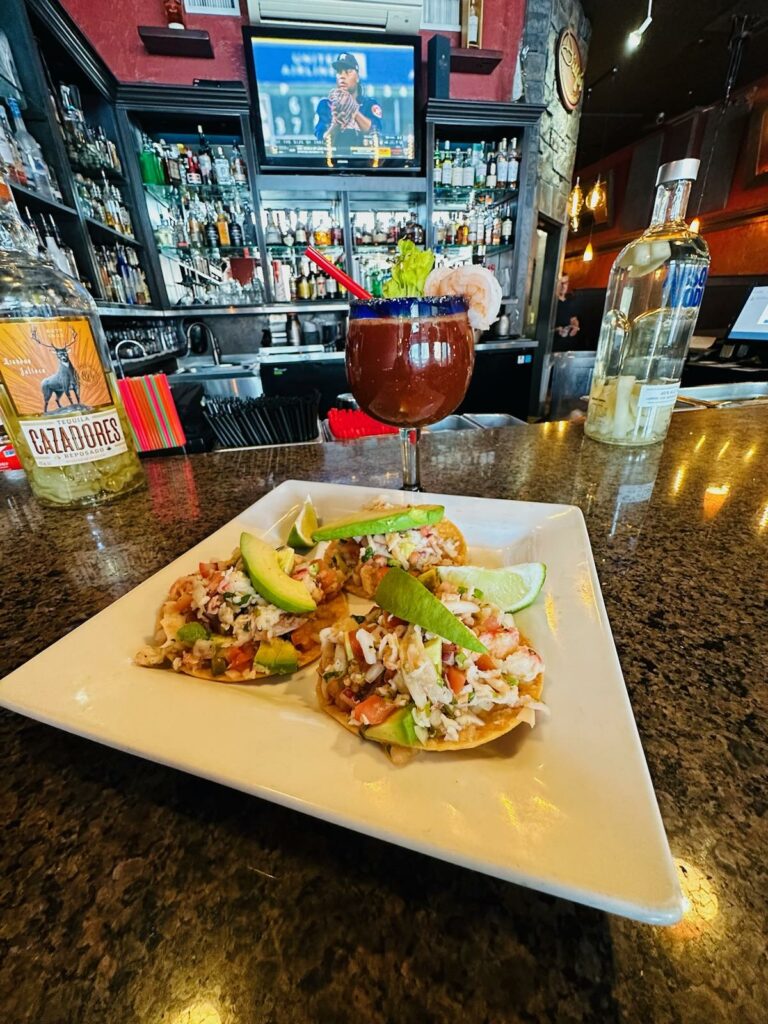 At Diego's you come for the food, but stay for the spirit! Located in downtown Redmond, Diego's opened in 2009 and has become a local favorite.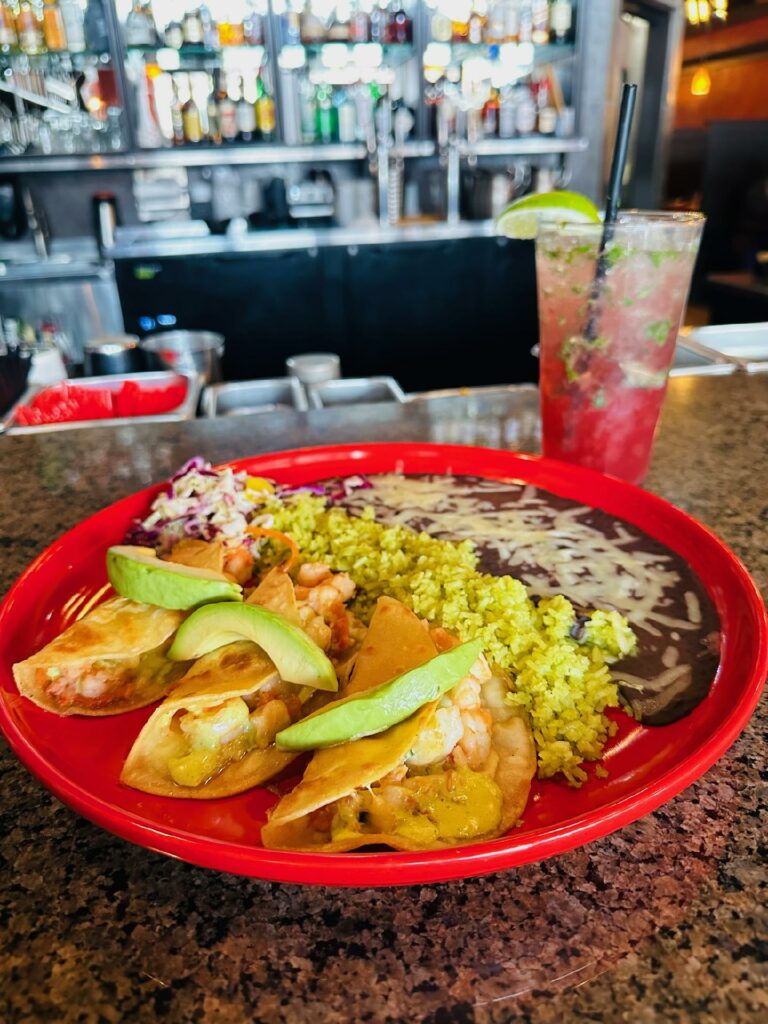 Diego's has a full bar with lively spirits, mouth watering Mexican and American food, and other internationally inspired dishes like Creole cuisine and more.
Madaline's Grill And Steakhouse In Redmond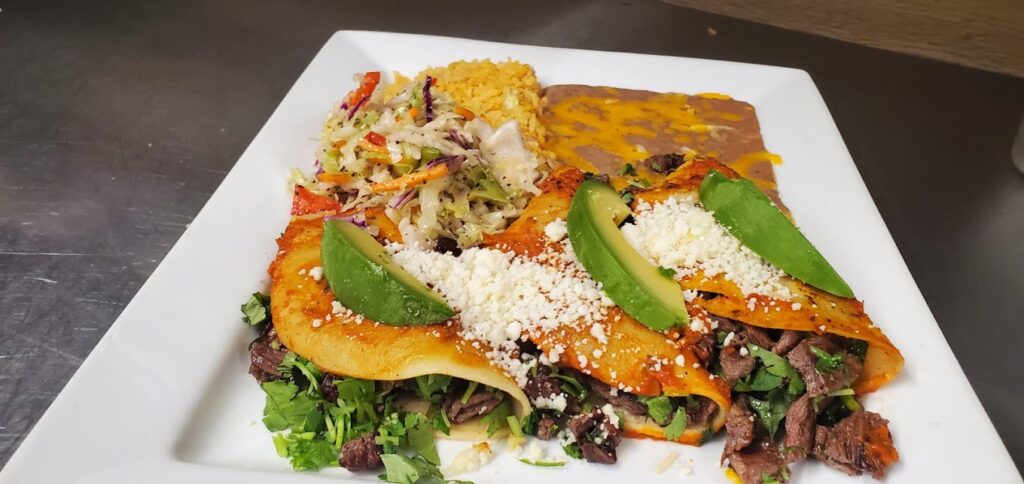 Madaline's has some absolutely delicious food, but when you stop by you really need to check out their desserts. From chocolate brownie cheesecake (yes, you're going to want a second piece), to blueberry cobbler cheesecake and deep fried ice cream, these are some of the best desserts in Redmond.
Other tasty options on the menu range from tamale's, Pork Hominy Pozole Soup, a variety of fajitas (try the steak, chicken or seafood fajitas!), salads, and the Steak Torero.
Wild Ride Brewing Redmond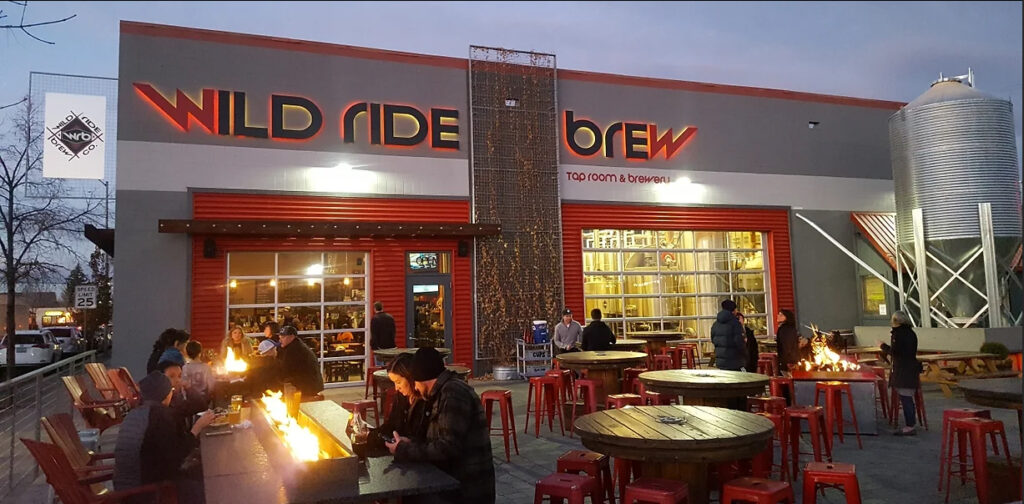 Found in the heart of downtown Redmond, Wild Ride is a family-friendly tap room with a hip chill vibe, and food carts located on site.
Some of the brews you'll find at Wild Ride include the 3 Sisters American Red Ale, Juicy Gorilla Snax IPA, Cole's Light Lager, Nut Crusher Peanut Butter Porter, and Tarty To The Party Blackberry Peach Sour Ale. There are so many more great year round and seasonal brews to choose from when you stop in.
Where to Stay: Best Redmond Hotels Deschutes County
SCP Redmond In Deschutes County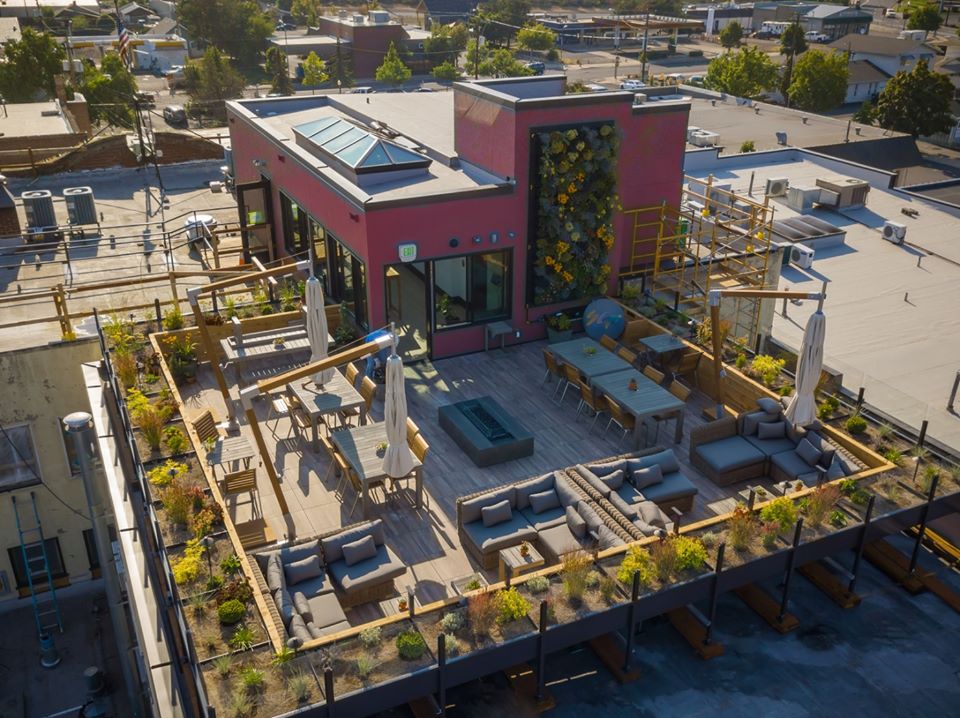 SCP Redmond is one of our favorite hotels in all of Oregon. It's more than a hotel, it's an eco-friendly oasis in Oregon's high desert, featuring a rooftop restaurant with gorgeous views, 49 stunning rooms, and a focus on holistic hospitality.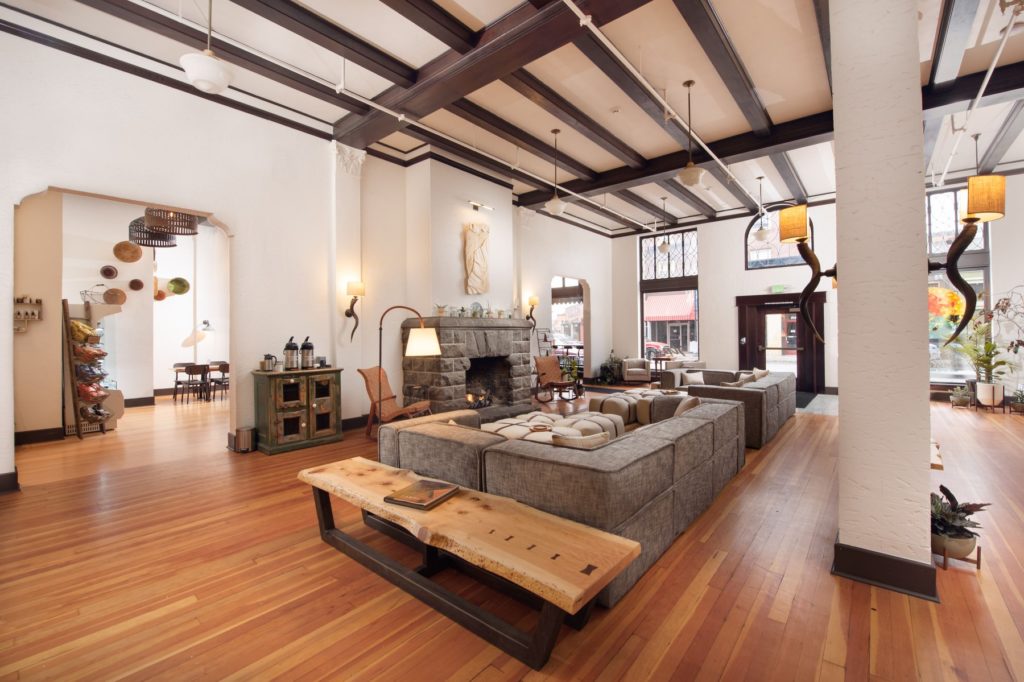 SCP stands for Soul, Community, Planet, which are the core values of the hotel. From placing emphasis on locally sourced goods, to partnering with programs like One Tree Planted, this is one hotel you can feel good about staying in.
Eagle Crest Resort In Redmond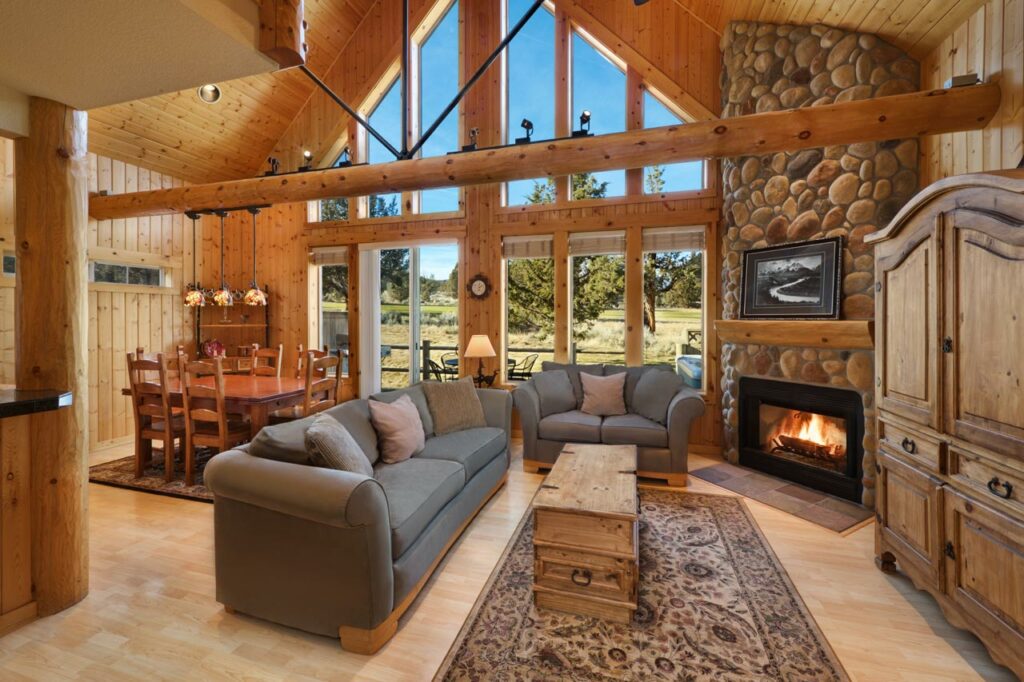 With multiple dining options, golf courses, a spa, three sports centers, vacation rentals and the lodge, it's easy to see why many people decide to stay at Eagle Crest Resort when they come to visit Redmond.
Located on Cline Falls Road in Deschutes County, the resort is just a few minutes away from Cline Falls State Scenic Viewpoint and the Deschutes River, and just nine minutes West of central Redmond.
Looking for other things to do in central Oregon? We think you'll also be interested in our guide to Crater Lake Camping, as well as our guide of Unique Things To Do In Bend, and our guide to beautiful Sisters Oregon.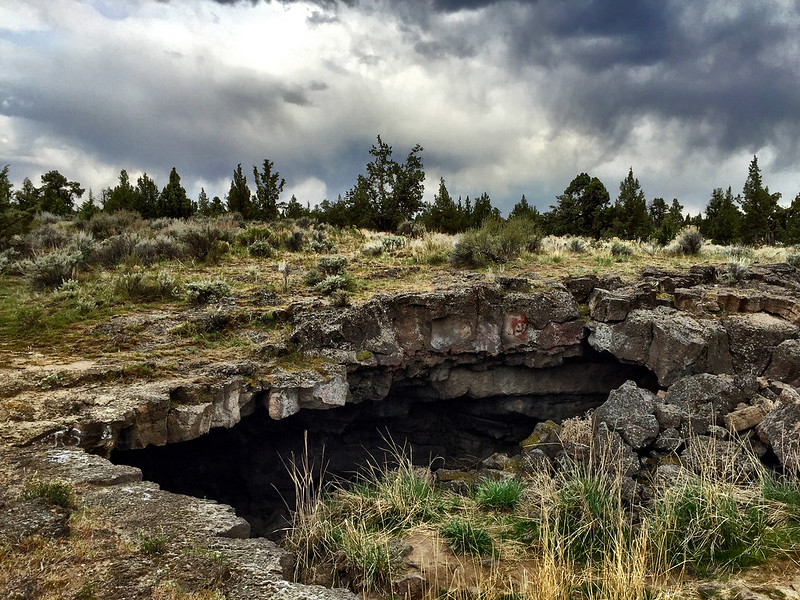 What's your favorite place to visit in the city of Redmond, Oregon? Have you ever visited the Peterson Rock Garden before? How about the Deschutes River? Let us know in a comment and tag the friends and family you want to go on an Eastern Oregon adventure to the city of Redmond with!