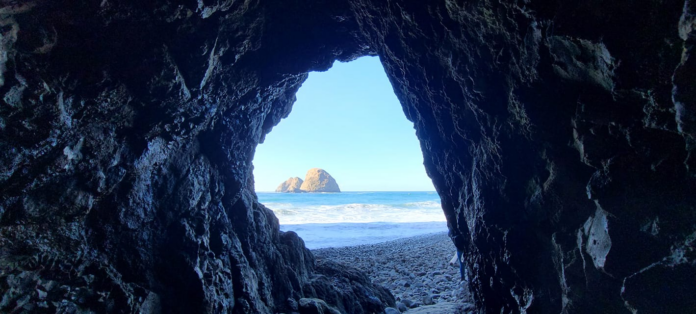 There's something fundamentally intriguing about a "secret" beach, and although Tunnel Beach is now well known, it still feels like you're entering into a sort of hidden lair.
Located in Oceanside, Oregon, just south of Cape Meares and west of Tillamook, Tunnel Beach is so named because it's accessed through a man-made tunnel carved into the towering Maxwell Point. Not gonna lie, when you go through the tunnel and walk out on the beach it kinda makes you feel like a Goonie.
RELATED: The Goonies Road Trip: Visit These 11 Filming Locations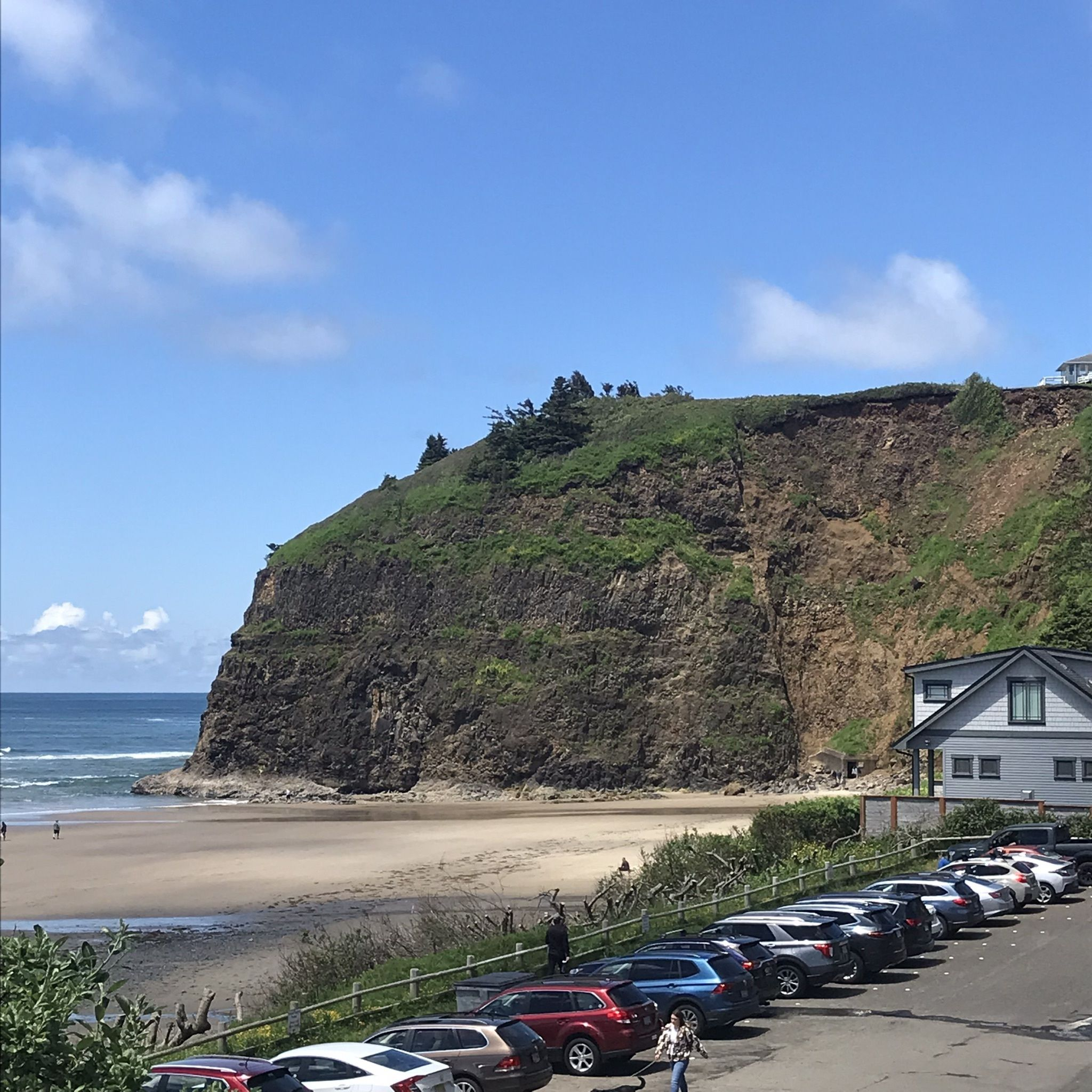 Getting there
Oceanside is about an hour and a half drive from Portland, making Tunnel Beach an easy day trip. You'll head straight to Oceanside Beach State Park where there's a large parking area with clean restrooms. The parking lot doesn't often fill up, but if it does you'll have to scout out street parking.
The entrance to the man made tunnel is at the north end of Oceanside Beach which is hard to miss, but there's a sign next to it reading: "CAUTION: FALLING ROCKS." Most of the time the tunnel is safe enough, but if there's been heavy storms, do indeed proceed with caution!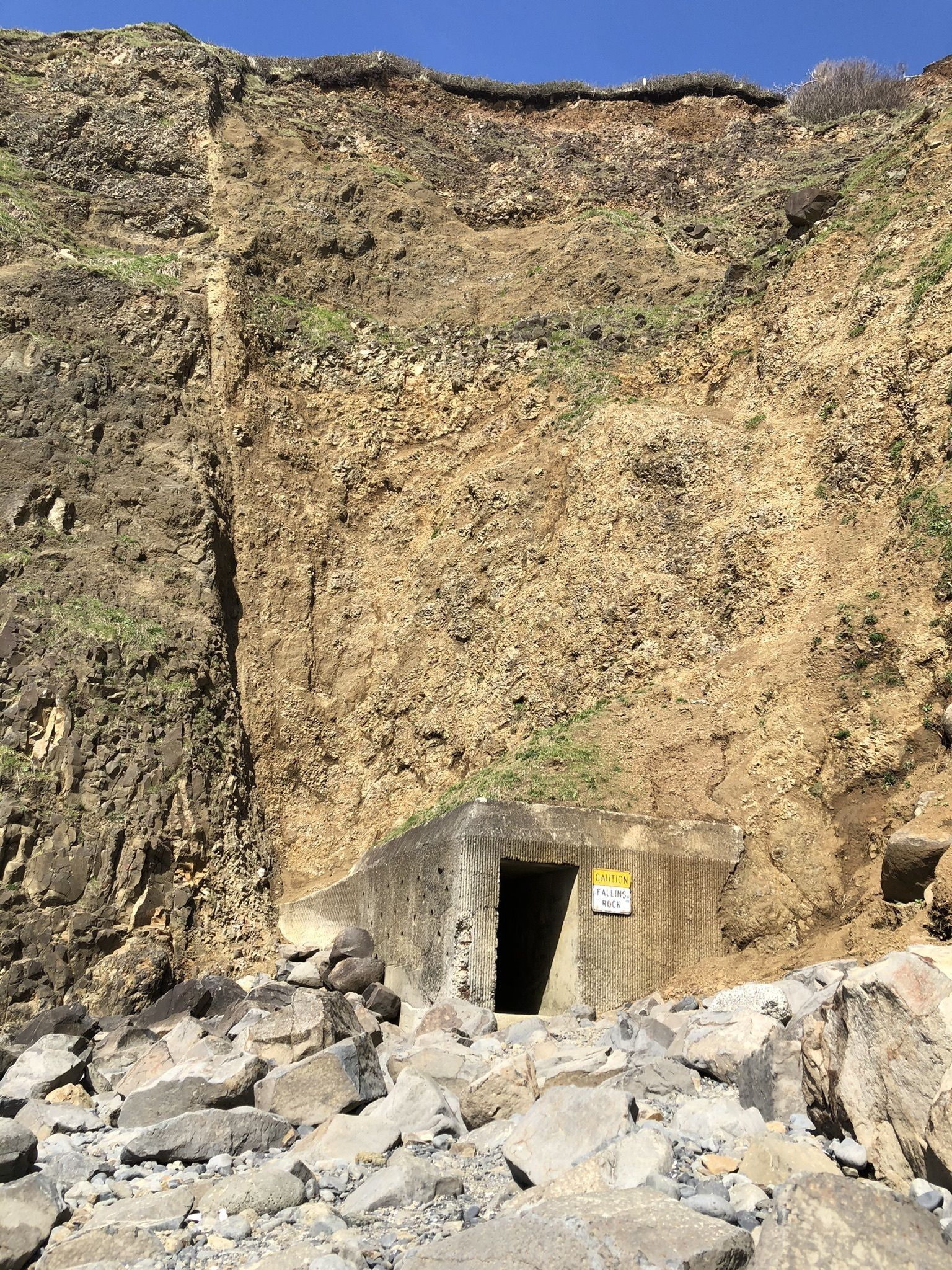 History
The 90 foot passageway to Tunnel Beach was built nearly 100 years ago in 1926 by the Rosenberg family (who founded the beach town of Oceanside) to give guests at their resort more access to coastline. Prior to this, you could only safely access the main beach (Oceanside Beach) since the cliffs of Maxwell Point effectively cut off all approaches to the northern beaches.
The first half of the tunnel is made of concrete which soon gives way to the natural basalt rock that makes up Maxwell Point, the headland that sits 161 feet above your head. Over the years, the tunnel has seen its share of calamity. In 1979, a landslide blocked the tunnel for 20 years until major storms in 1999 flushed it out again.
Because you can only access Tunnel Beach from this point you'll sometimes hear it referred to as "Isolation Beach."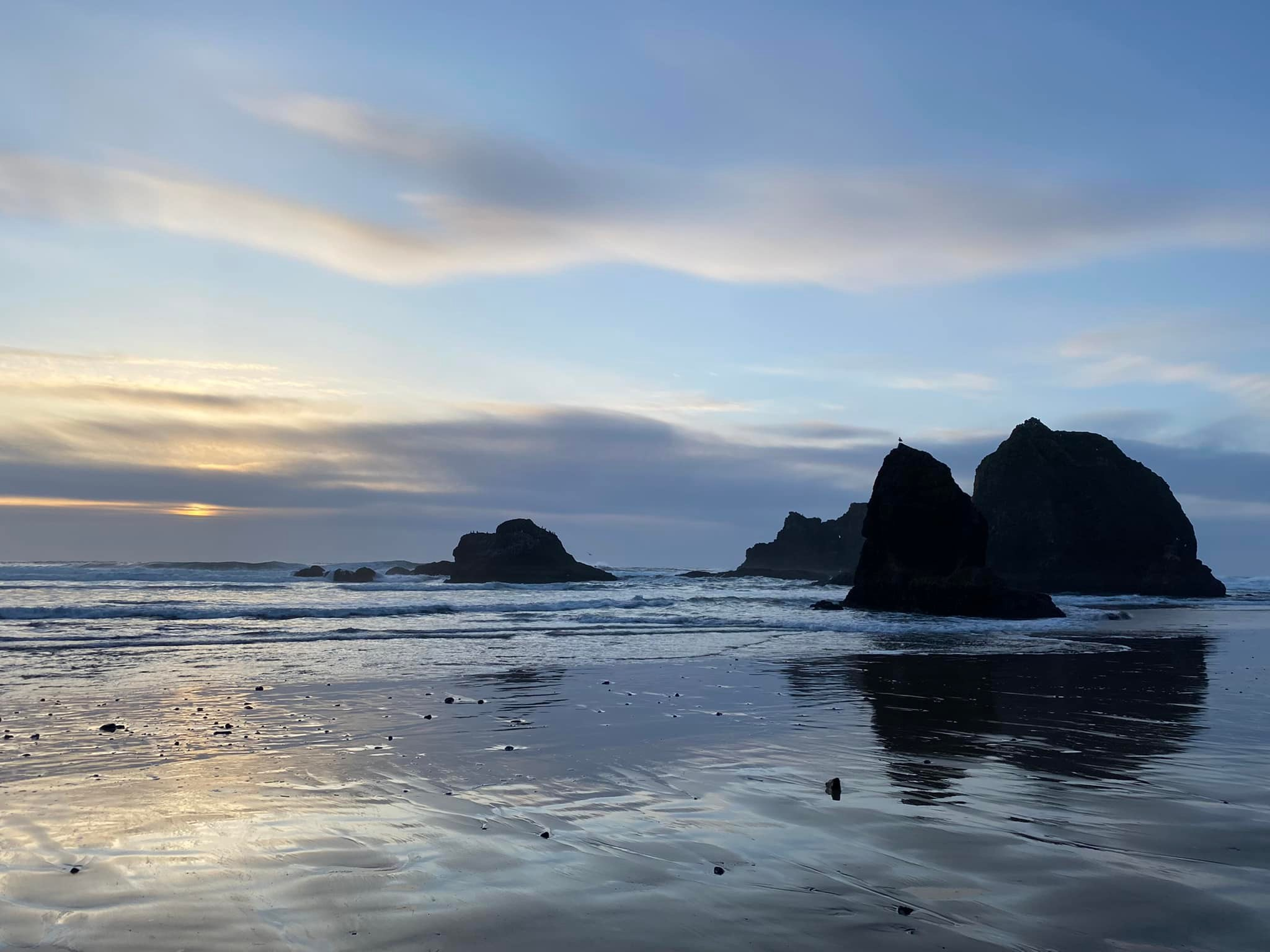 What To Do at Tunnel Beach
Hunt for Agates
Agate hunting is a tried and true past time for Oregonians since the Pacific Coast is one of the best places in the country to find these semiprecious stones.
Although you can find agates all year round, you'll have the best luck at low tide in the winter months and early spring. This is due to the heavy storms that churn up the sand and rock beds. You're also likely to find some cool sea glass when beach combing.
Spot Local Wildlife
When standing on Tunnel Beach looking across the ocean, you see Three Arch Rocks National Wildlife Refuge. This protected land is home to Oregon's largest breeding colonoregony of tufted puffins and common murre. On any given day you'll also see plenty of Steller sea lion and their pups. You can see these animals with the naked eye, but for the best viewing, bring a pair of binoculars.
Explore Tide Pools
Both Tunnel Beach and Short Beach to the north are great places to explore tide pools at low tide. Here you'll find sea stars, anemones, mussels, and barnacles. Remember to always be cautious anytime you're near the ocean and be on the lookout for sneaker waves.
RELATED: The Best Tide Pools on The Oregon Coast & Where to Find Them
Snap a Photo for your Insta
OK, so I'm generally not a fan of hitting up places just for the photo op, but Tunnel Beach is so unique and cool that you really shouldn't leave without taking at least a couple photos.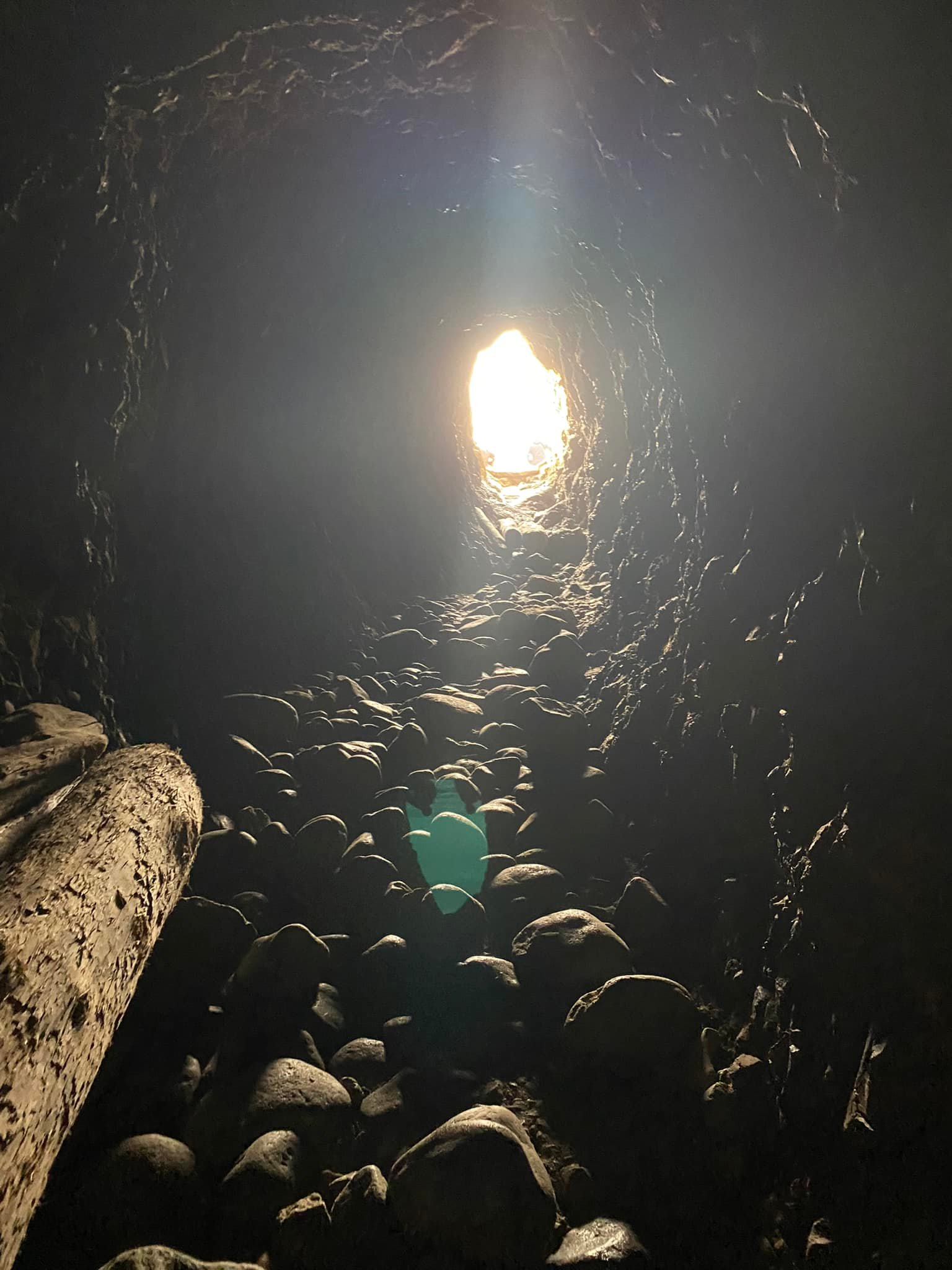 Nearby Attractions
The Oregon Coast has no shortage of things to do, and with a few miles of Tunnel Beach, you'll find tons of great activities for visitors to round out their day at the shore.
RELATED: The Ultimate Guide to the Top 13 Oregon Coast Hikes
Lost Boy Beach
Lost Boy Beach sits just north of Tunnel Beach and is also a tunnel-access beach. This is an excellent spot to explore tide pools filled with sea anemones and sea stars.
Note that the passageway that connects Tunnel Beach to Lost Boy Beach is much closer to the shoreline which makes it even more important to only access it at very low tide—like very low. You can also get to Lost Boy Beach from the north (Short Beach) by walking around the headlands, but this too can and should only be done at low tide.
Short Beach
At only a half-mile long, Short Beach is indeed short and sits directly to the north above Lost Boy Beach. You can access it from Cape Meares Loop where you'll find a short trail leading to a set of wooden stairs that takes you down to the rocky, rarely-crowded beach. Parking is limited at the trailhead with room for maybe a dozen cars.
There's a nice little waterfall (Larson Creek Falls), plenty of drift wood, and gorgeous views of the ocean and surrounding cliffs.
RELATED: The 16 Best Oregon Beaches to Dip Your Toes in The Sand
Clamming at Netarts Bay
Take a 10 minute drive down the Netarts Oceanside Highway for some of the best clamming (plus fishing and crabbing) on the Oregon Coast. At Netarts Bay you'll find several beaches where you can dig up softshell, littleneck, cockle, gaper, and butter clams, with options for both boat and walk-in access.
Make note that you'll need to obtain a shellfish license first, but it's only $10 for Oregon residents.
Know Before You Go
Wear decent shoes to get across the slippery rocks in the tunnel. Depending on the tides, there's also often standing water in the tunnel that can go up to your ankles. And, although there are nice areas with sand, much of the coast here is rocky so you may want to keep shoes on the whole time.

Pay attention to the tides! You can always access the tide tables on your smartphone, but many local businesses in Oceanside, Netarts and Tillamook give away free tide table charts.

Bring a flashlight (or at least use a smartphone flashlight) because it's dark in the tunnel—like seriously dark. Plus, with your light you can see some of the amazing artwork and graffiti on the walls inside.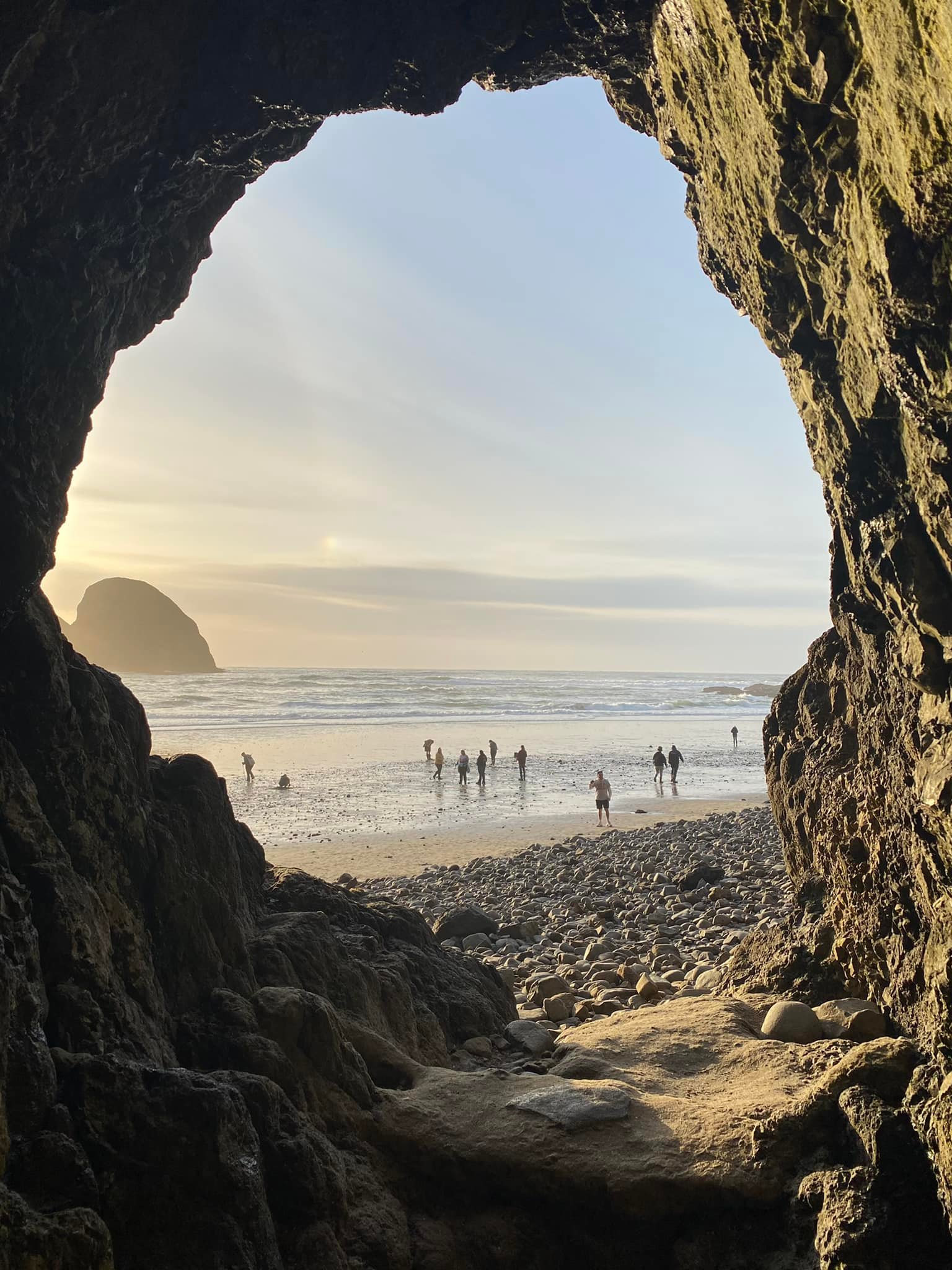 In conclusion, a visit to the picturesque Tunnel Beach in Oregon promises an unforgettable experience filled with awe-inspiring views, natural beauty, and the chance to explore hidden coves and tide pools. As you plan your adventure, be sure to consult our Oregon Coast Tide Tables to ensure optimal timing for your visit. By doing so, you'll be well-prepared to fully appreciate the wonders of Tunnel Beach and make lasting memories along the majestic Oregon coastline.