Central Oregon is a hiker's paradise with dozens of waterfalls to explore and hundreds of trails. If you're ready for adventure in Central Oregon this year, here are some of the best Bend hikes. With so many hikes in our beautiful state, we hope this guide can help you better understand some of the best to explore.
Is a permit required to hike in Bend, Oregon?
Yes, certain trailheads in Bend require permits for hiking. The natural areas in and around Bend have experienced a 300% increase in recreational use over the past five years, which has led to damaging impacts on the environment. To mitigate these effects, permits are required at specific trailheads as of May 2021.
Permits are all handled through Recreation.gov, so it's a system familiar to most of us who've used it to book campsites.
The Mt. Jefferson, Mt. Washington, and Three Sisters Wilderness areas are some of the most popular destinations for outdoor enthusiasts. To prevent overuse in certain areas, the Forest Service has implemented a permit system in select locations.
While day use permits are required at only 19 out of 79 trailheads, it's important to note that these areas are most at risk of overuse, with some having seen the need for rangers to clean up over a thousand pounds of human waste. The Forest Service page provides a complete list of affected trails, with Green Lakes and Tam MacArthur being among the most popular.
For those planning to camp overnight in any of these wilderness areas, a Central Cascades Wilderness Permit is required. Links to maps for these permits are available on the Forest Service website. You can read more about the permits in place here.
Based on the type of permit you're seeking, here are the links:
Best Hikes Near Bend, Oregon
---
Central Oregon is a true natural wonder, boasting unparalleled beauty and tranquility that offers a perfect getaway from the hustle and bustle of city life. With its spectacular vistas and serene environment, this region is a haven for nature enthusiasts and adventurers seeking a peaceful respite in the great outdoors.
From hiking and biking to fishing and camping, there are endless opportunities to explore and connect with nature in Central Oregon. So, if you're looking to escape the crowds and immerse yourself in the wonders of nature, this region is the ultimate destination for you.
1. Chush Falls Trail
This is one of those trails you must take if you're in the area. This easy 5-mile round-trip hike will lead you through an eerie burnt forest and end in a cascading picturesque waterfall.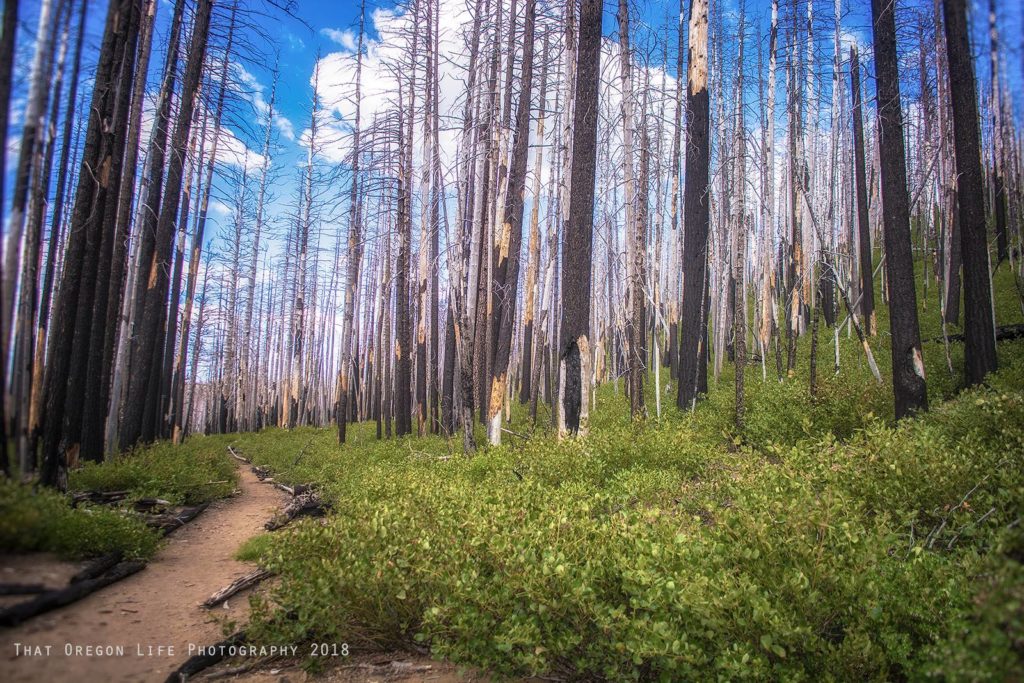 This trail will also treat you to sweeping views of the Three Sisters and Broken Top. The trail is accessible year round, though you should plan on using snowshoes in the winter. Dogs are allowed on the trail but must be kept on a leash. June to October is a prime time to take this trail as birding is good during summer months. You can find detailed directions to the trailhead here.
Region: Deschutes County, Oregon
Length: 2.5 miles
Difficulty: Moderate
Season to Visit: June and October
Contact: USDA
---
READ MORE: This Easy Hike to Beautiful Chush Falls is the Perfect Bend Day Trip
---
2. Green Lakes Trail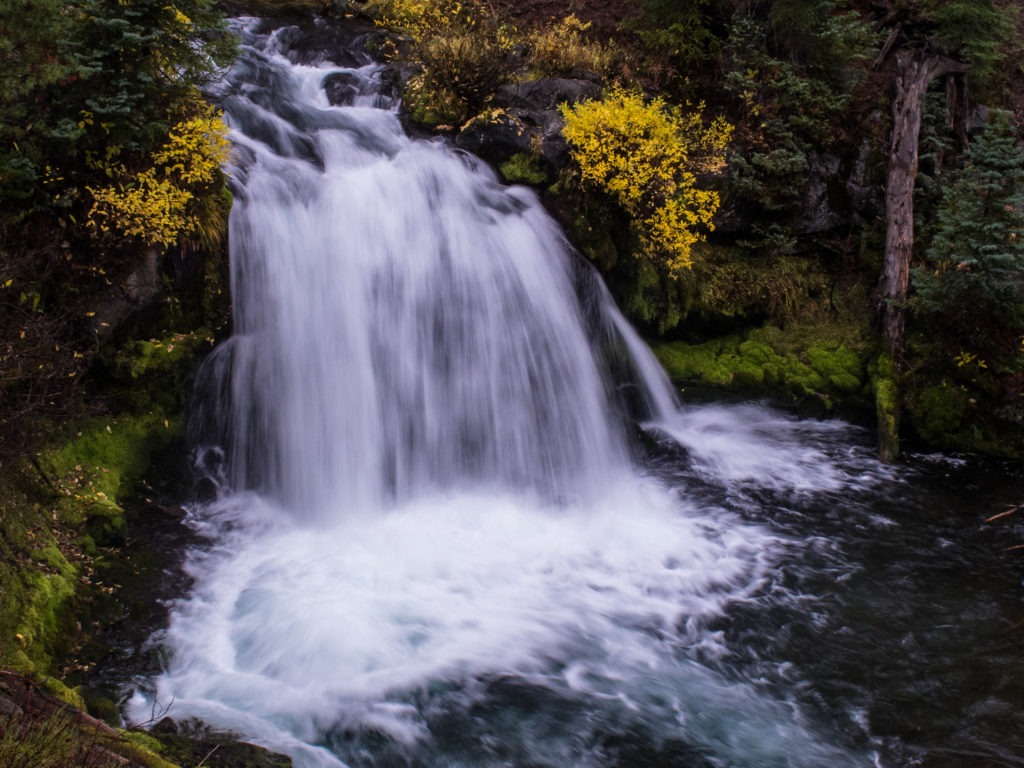 The beautiful Green Lakes Trail is a local favorite. This is a moderate hike along a 4.5 to 6 mile trail. Along this trail you'll have the opportunity to see lava flows, waterfalls, and an abundance of wildflowers. The trail gradually climbs alongside Fall Creek in the Three Sisters Wilderness and goes right between the base of Broken top and South Sister.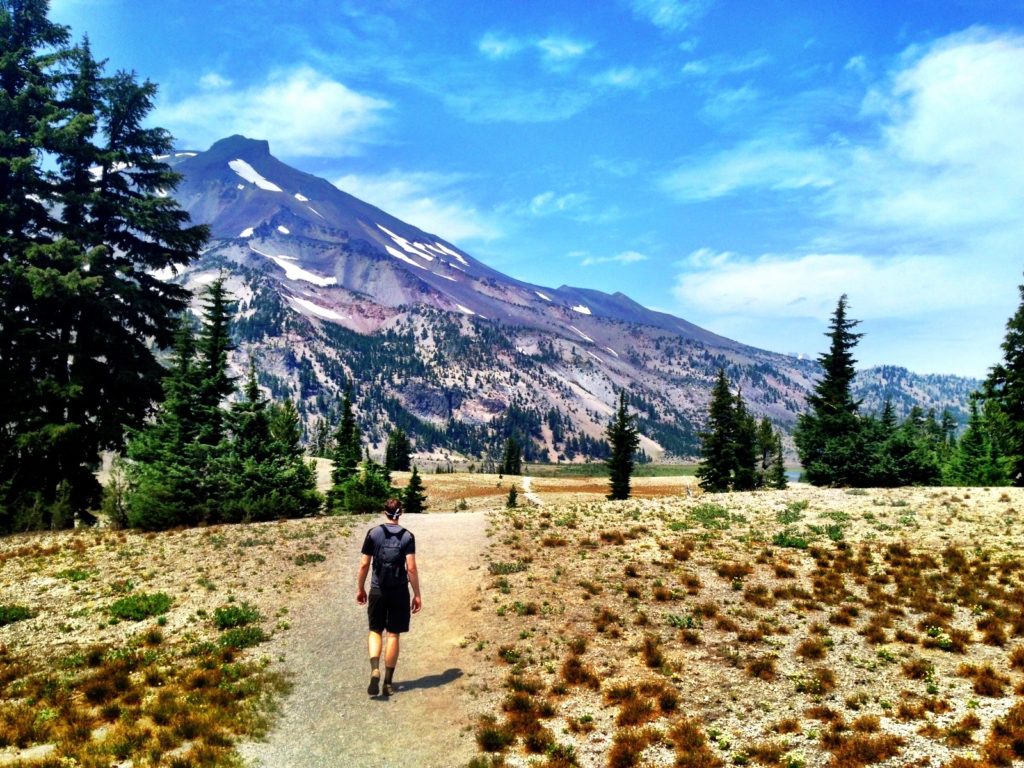 Fall Creek Falls is approximately 1 mile up the trail. You'll come to the first lake after almost 4.5 miles, but you can continue your hike for another 3 miles to the other lakes. The parking lot serves several trailheads and can get crowded, however there is overflow parking across the highway. Get there early as the parking lot can fill by 7 am and the trail can get crowded in summer months.
Region: Three Sisters Wilderness
Length: 2.8 miles
Difficulty: Moderate
Season to Visit: July to September
Contact: USDA
3. Sisters Mirror Trail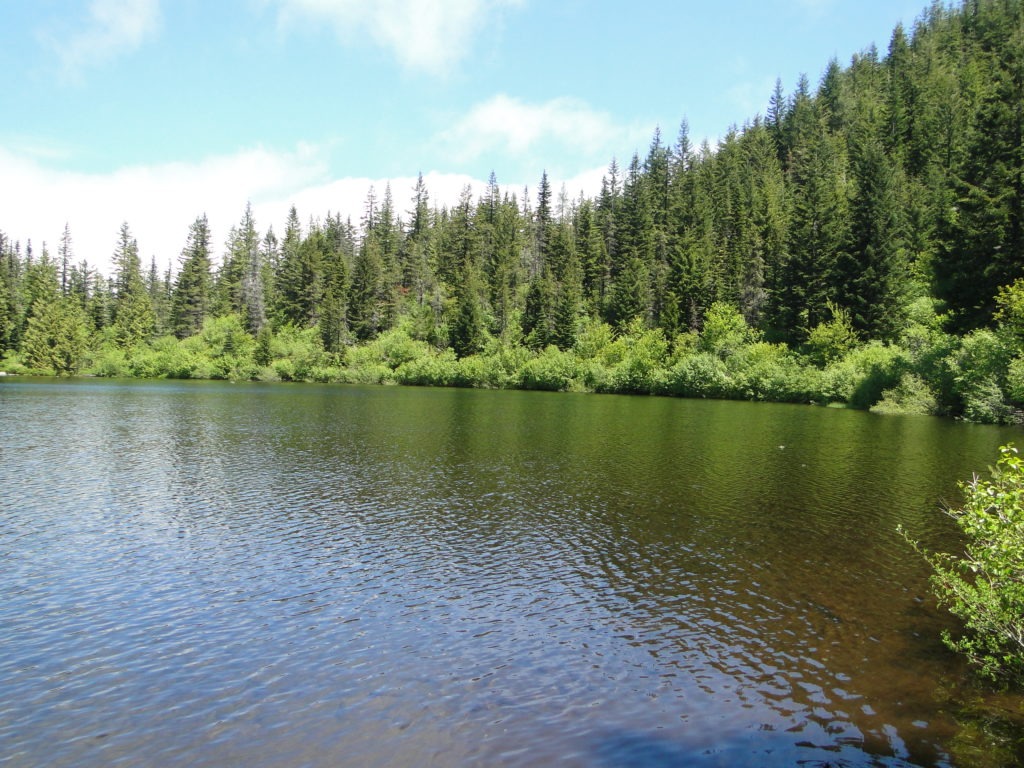 This trail is open from July to October and makes for a perfect summer hike. This hike has no mountain views, but it will lead you to dozens of small mountain lakes that are good for taking a dip. You'll also be led through a pumice field and forests of mountain hemlock and past meadows full of wildflowers. Dogs are allowed on the trail with a leash. This trail also offers easy access to the Pacific Crest Trail. This is a great hike to get away from crowds on other popular nearby trails.
Region: Three Sisters Wilderness
Length: 7.5 mile
Difficulty: Moderate/ Challenging
Season to Visit: June and October
Contact: USDA
---
RELATED: 23 Must See Waterfall Hikes Oregon You Can't Miss
---
4. Tumalo Mountain Trail
If you want sweeping views of Broken Top and Mount Bachelor, this is the trail for you. The Tumalo Mountain trail is a popular 4 mile round trip hike to the peak of Tumalo Mountain. It's open year round, and is a popular hike in winter with snow shoes. Dogs are allowed on this trail on a leash.
The trail switchbacks up through hemlock and pine forest and through meadows of stunning lupine. Be prepared to see a lot of people on this trail.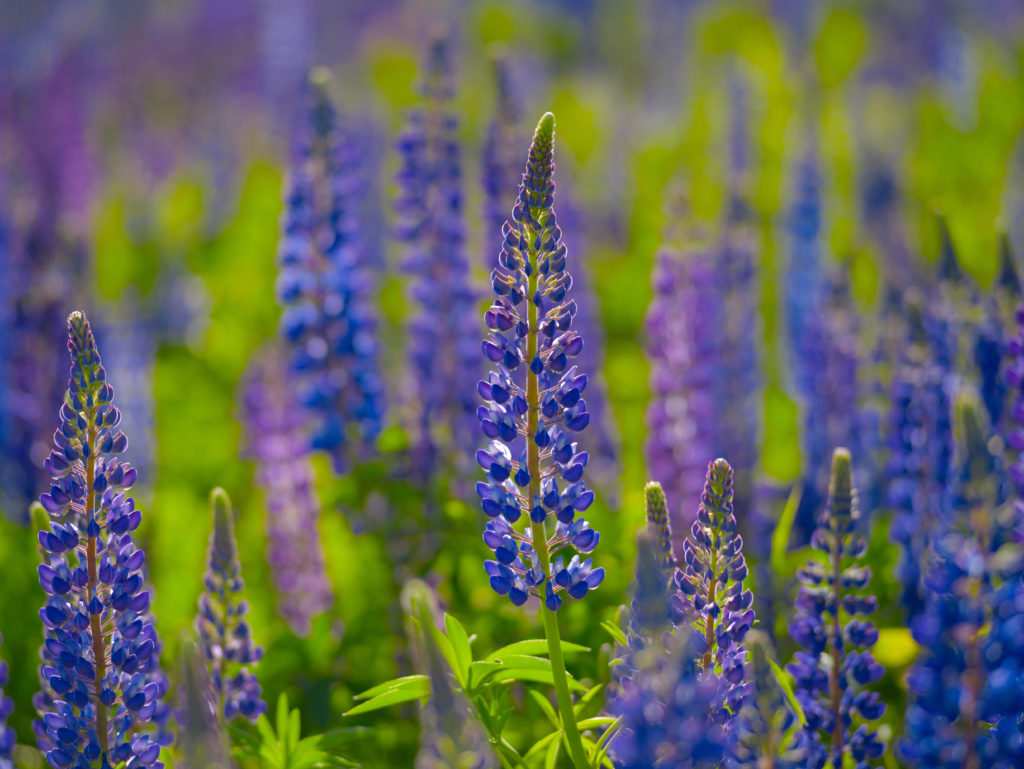 Region: Deschutes County, Oregon
Length: 4.0-mile out-and-back
Difficulty: Moderate
Season to Visit: June and September
Contact: USDA
5. Shevlin Park
Located within a distance of three miles from Bend and accessible within half an hour from Sunriver, Shevlin Park is a beloved destination for a range of activities, including hiking, jogging, observing wildlife, fishing, picnicking, and mountain biking. During winter, visitors also relish the opportunity to indulge in cross country skiing and snowshoeing.
Tumalo Creek goes through the park with several footbridges crossing it. A scene from the Disney movie Homeward Bound was filmed on one of the bridges over Tumalo Creek. Today the bridge is no longer here due to coming to the end of its lifespan, but still pretty cool.
The hike is around 4.7 miles and takes you along the deschutes river trail, through lush forests, and over foot bridges. If you'd like to visit this 981-acre park in Bend, head to 18920 Northwest Shevlin Park Road in Bend Oregon.
Region: Bend, Oregon
Size: 981 acres, 50 acres developed
Difficulty: Easy
Season to Visit: June and September
Contact: Bend Parks and Rec
---
READ MORE: Shevlin Park Is The Perfect Spot In Bend To Relax And Soak Up Nature
---
6. Paulina Lake Trail
The 7.5 mile loop around Paulina Lake will lead you to natural hot springs, past obsidian flows, and give you views of Paulina Peak. Most of the trail is right next to the water, so you'll be treated to views of the lake and the peak for most of your hike.
Don't forget to check out these other Bend adventures while you're in Central Oregon:
Region: Deschutes County, Oregon
Length: 7.5 Mile
Difficulty: Easy
Season to Visit: All year round
Contact: USDA
7. Lava River Cave
Deep in the heart of Central Oregon's forest lies the Arnold Ice Cave System, home to a hidden world of volcanic wonder. The system includes the one-mile-long Arnold Ice Cave, as well as nearby Hidden Forest Cave and Charcoal Cave (although Charcoal Cave is currently closed to the public). The Arnold Ice Cave, formed by a basalt lava flow over 80,000 years ago, is surrounded by towering Juniper Trees and Ponderosa Pines, offering an unforgettable spelunking experience.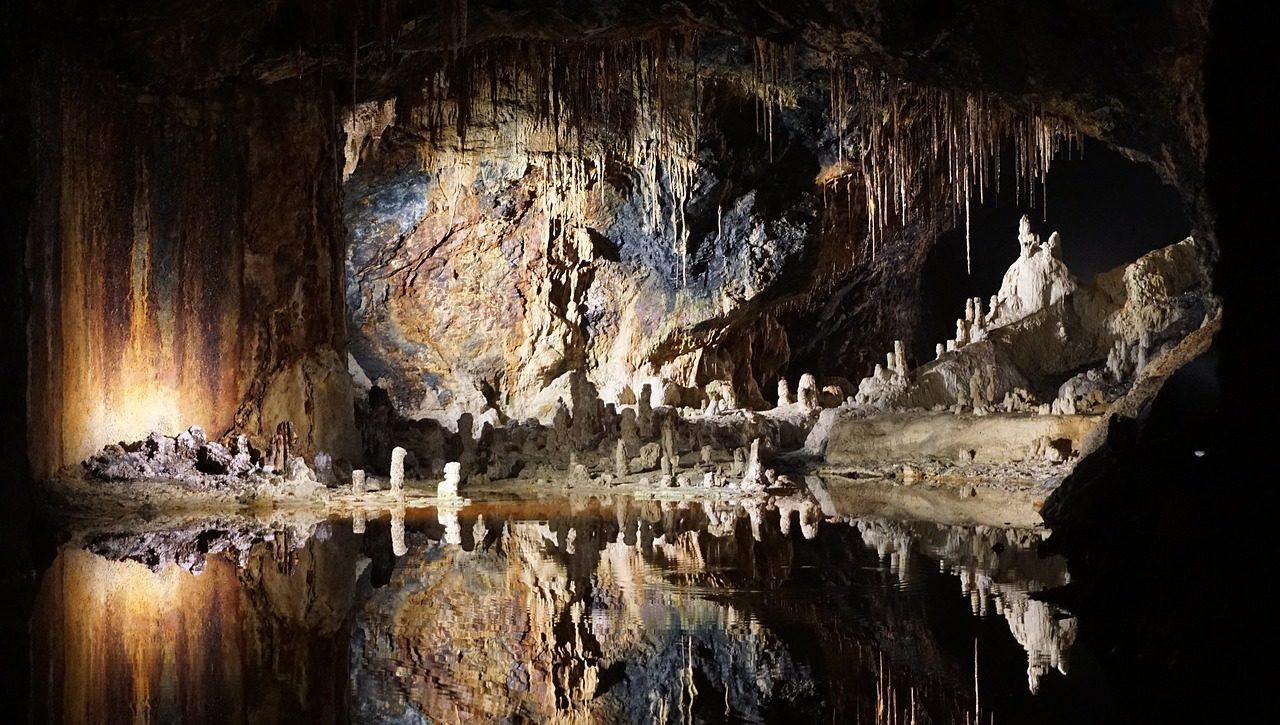 While the caves can be visited with a short hike, visitors should come prepared with warm gear as temperatures can range from 35-50°F, even in the midst of summer. Explore the wonders of the Arnold Ice Cave System, a world frozen in time, and discover the secrets hidden beneath the earth's surface.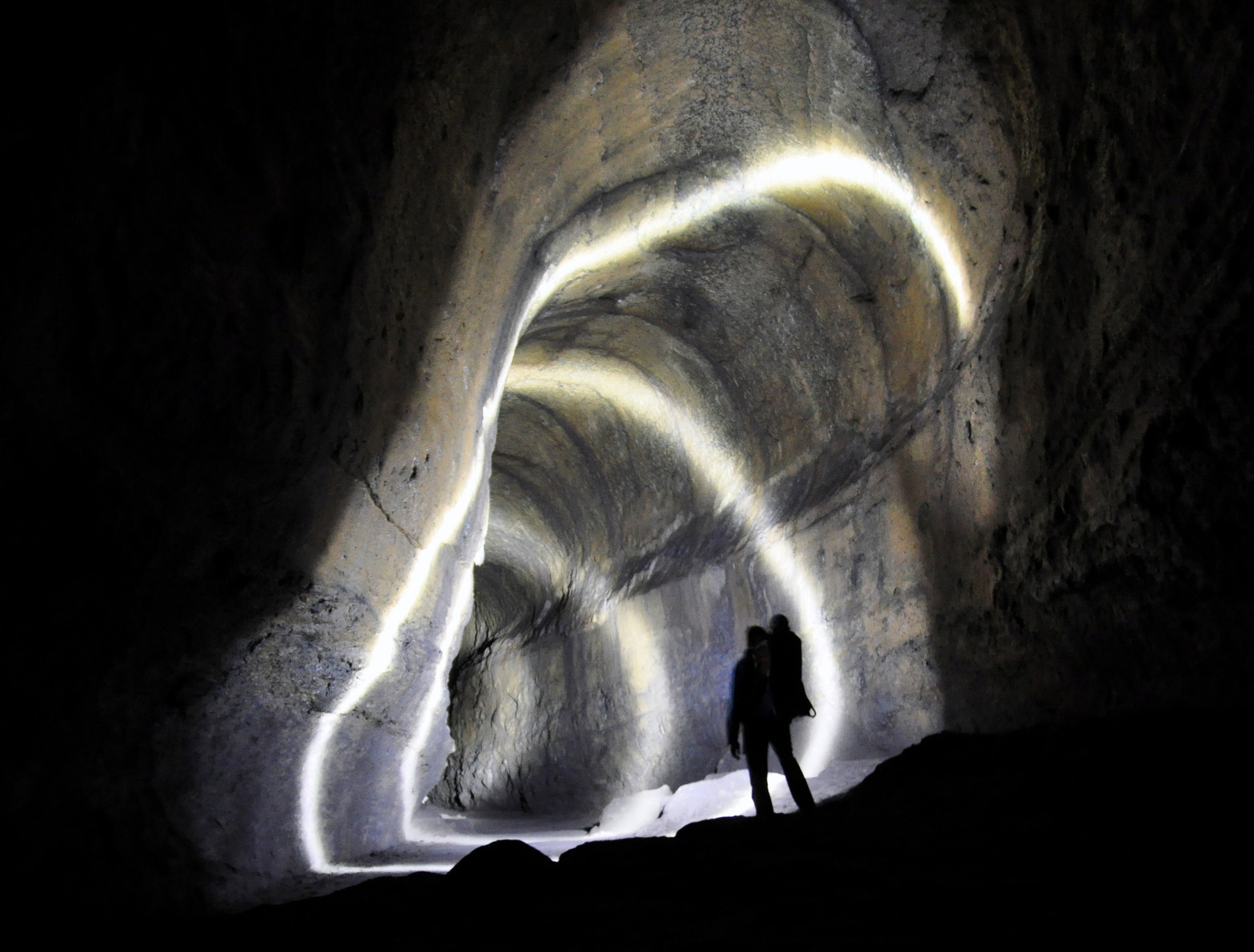 Region: Central / Deschutes National Forest
Length: 1.9 miles roundtrip
Difficulty: Easy
Season to Visit: June-September
Contact: USDA
---
RELATED: Guide To Caves In Oregon
---
8. Blue Basin Overlook Trail
There isn't any other place in Oregon like the Blue Basin, and I can't imagine there's any place quite like it in the world. Tucked away in the John Day Fossil Beds National Monument, Blue Basin is a wondrous location with sandstone walls that are different shades of vibrant blue, from cerulean to aquamarine.
Some 44 million years ago, the land that is now central Oregon was a lush subtropical paradise, wiped out by a volcanic eruption near Burns about 7 million years ago. Plants and animals were trapped under a load of hot ash, eventually preserving them in fossil-form. The Blue Basin is full of them, and you will see many interpretive signs and specimens along your hike. Be sure to stop at the Thomas Condon Paleontology Center on your way — it's well worth the trip.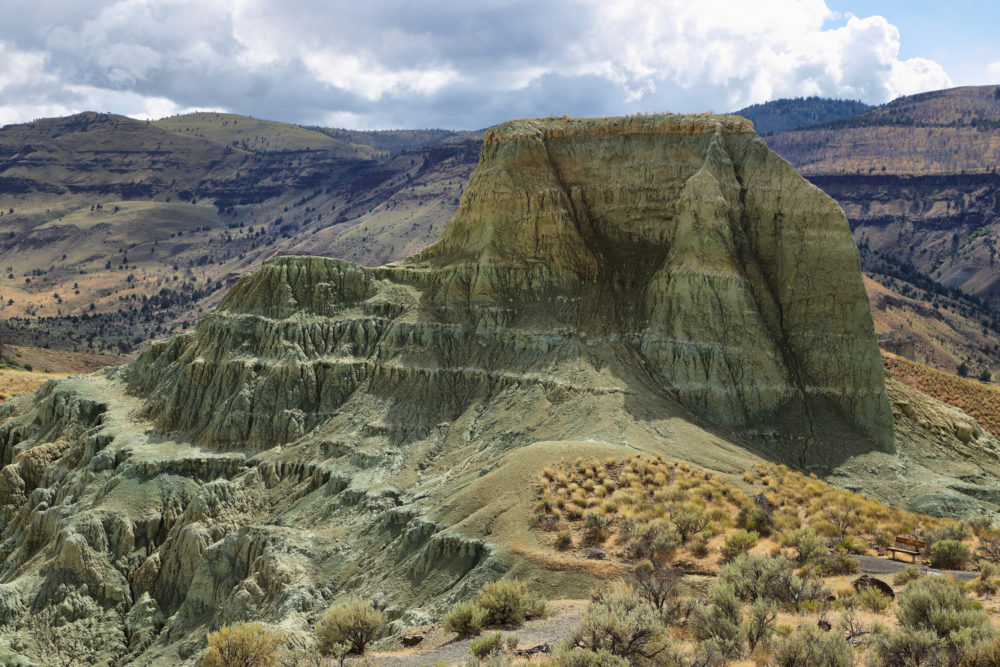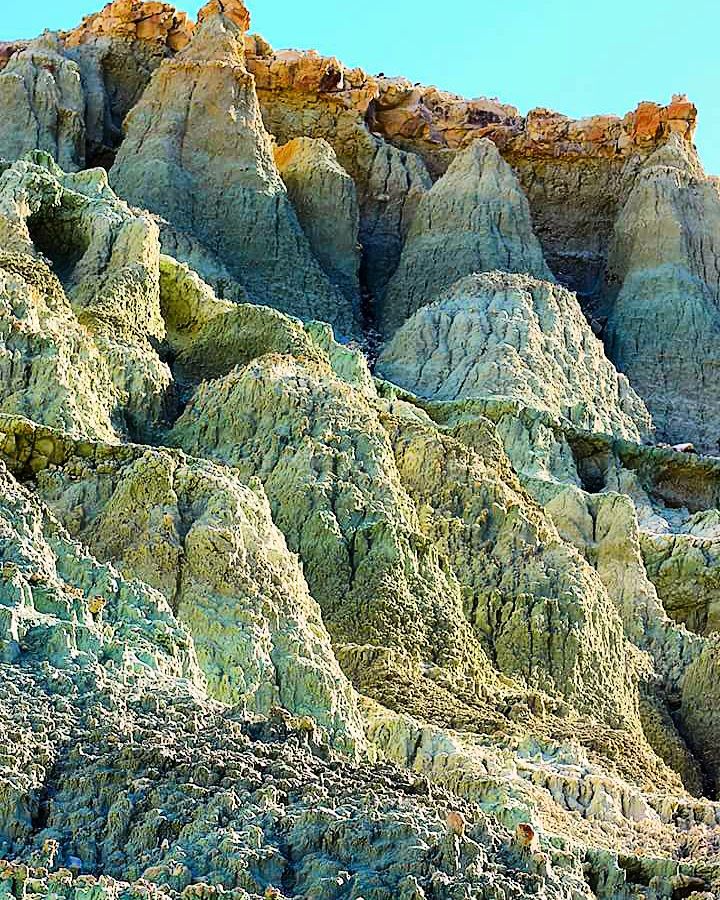 Region: Central / John Day Fossil Beds National Monument
Length: 4.0 mile loop, 898′ elevation gain
Difficulty: Moderate
Season to Visit: Spring and Fall
Contact: National Park Service
9. Tamolitch Falls / Blue Pool Trailhead
This is easily one of the most beautiful hikes I've ever experienced, and a That Oregon Life favorite. One of the first things you'll notice is the color of the water. The topaz blue color is almost iridescent – like a blue Otter Pop (and almost as cold). The water is so clear that some might assume it to be only about 5 ft deep – yet closer inspection will reveal that in many spots it's over 30 ft deep. So pure in fact that you'd swear the water wasn't moving – yet at the end of this glass-like pond – a huge volume of water rushes out as the McKenzie River is reborn.
While there is rarely a falls here anymore due to the damming of the McKenzie, the native-American name Tamolitch Falls still persists. The hike to get there is serene; climbing atop mossy lava fields, through emerald green forest, and along the beautiful river.
Tamolitch has two access points – the main one is at Trail bridge Reservoir – about midway on the McKenzie River Trail. From this trailhead, it's a 2-mile hike to Blue Pool.
The upper access point is at Carmen Reservoir. From here it is a 3-mile hike down. This is the harder trailhead to find, and we recommend you access the lower trailhead.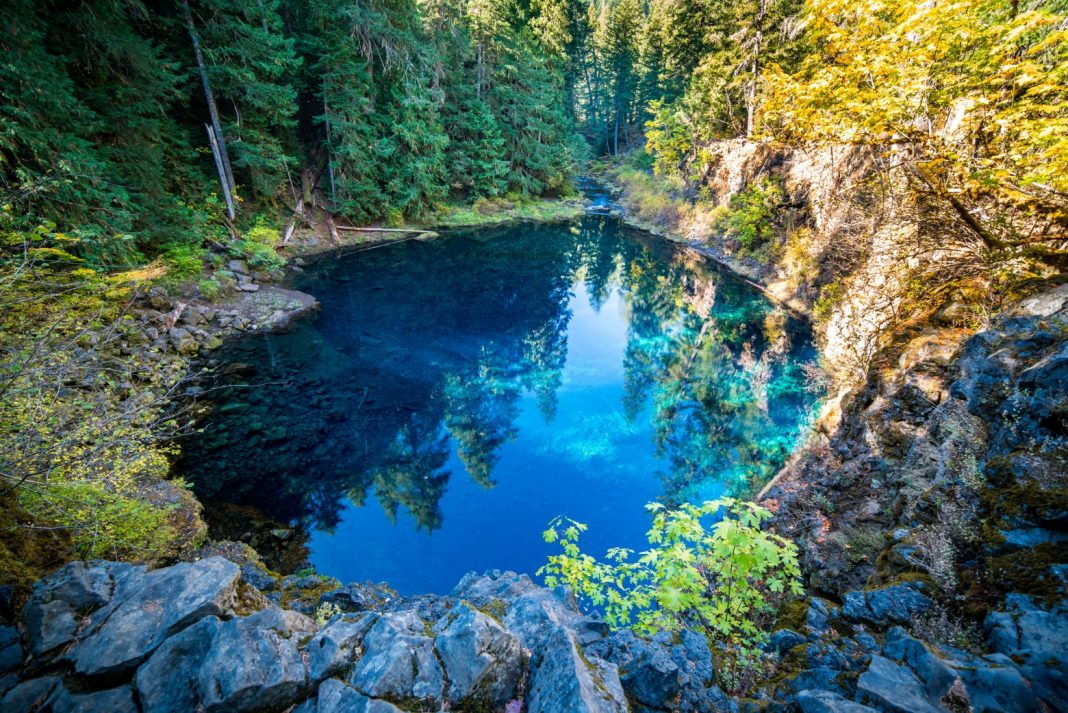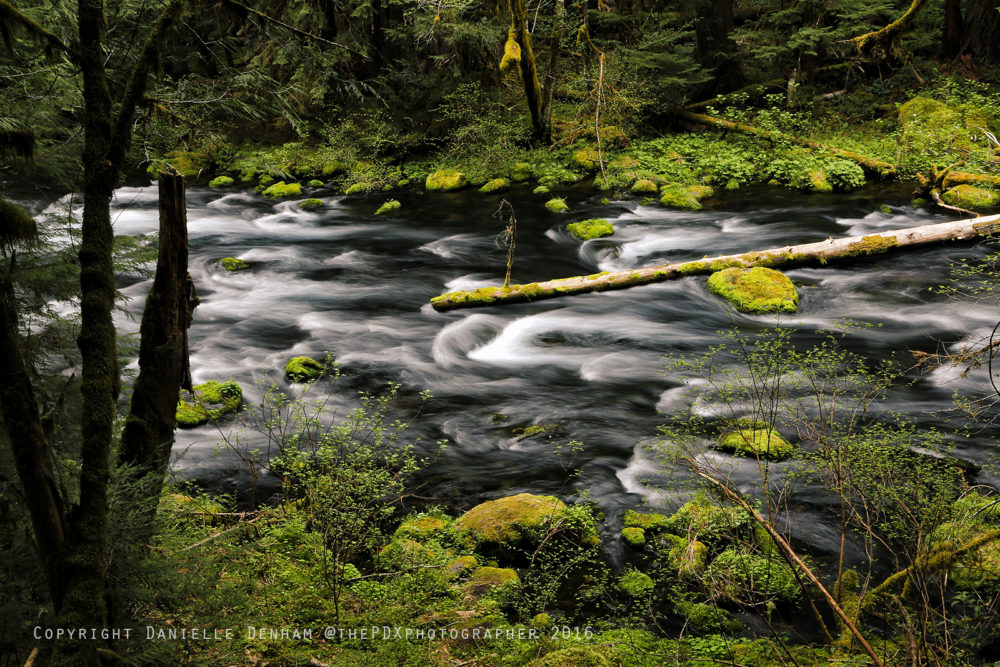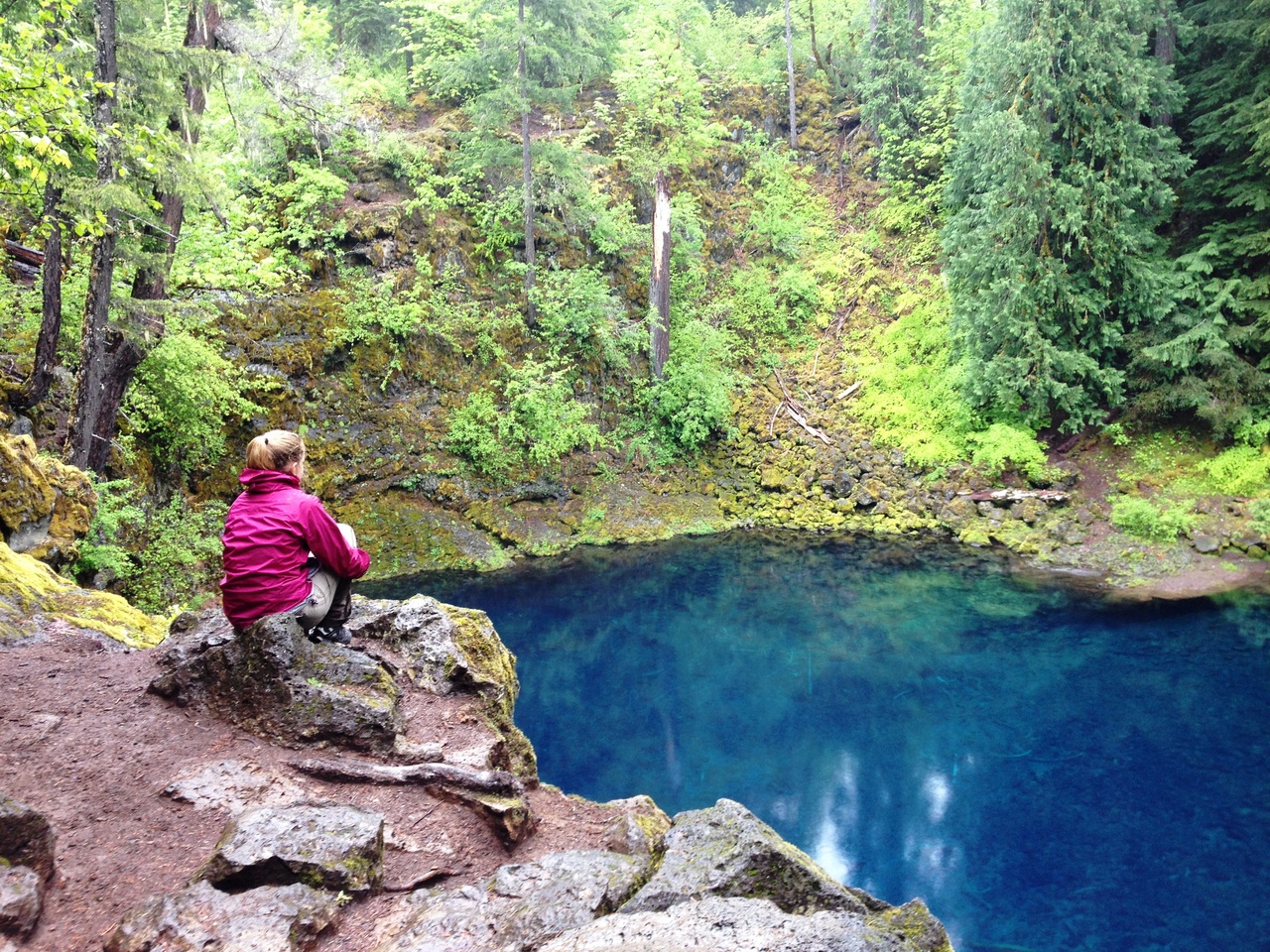 Region: Central Cascades / Willamette National Forest
Length: 4.2 miles roundtrip
Difficulty: Moderate
Season to Visit: Spring-Fall
Contact: USDA
---
RELATED: McKenzie River Trail: Hiking, Biking, Camping & More
---
10. Brown Mountain Trail #1005
This section of the Brown Mountain Trail is a delightful hike, mountain bike, or horseback ride along the southern flanks of Brown Mountain. Passing through shaded old-growth forest and lava-fields, the trail offers opportunities for Morel mushroom hunting in the late spring. Wildflowers such as orchids and trilliums blanket the forest floor in early summer. You can find good seasonal huckleberry picking here, as well as brilliant fall colors.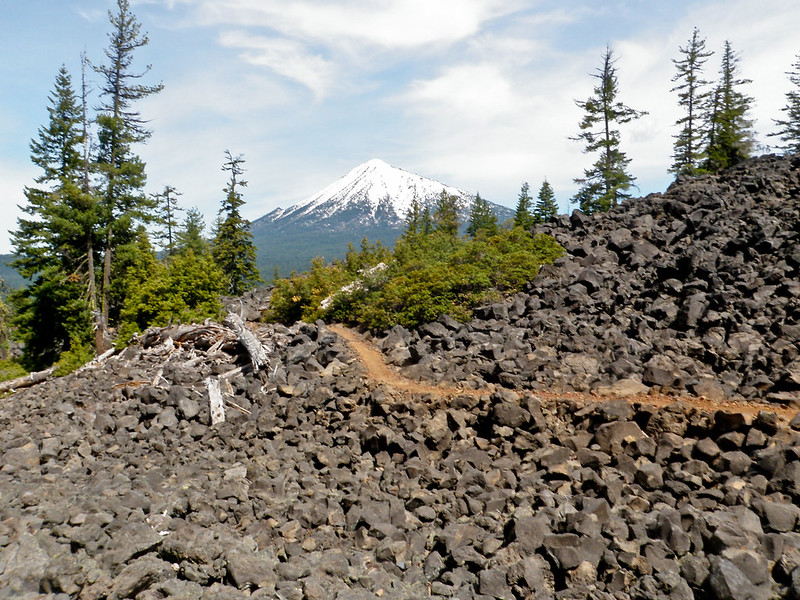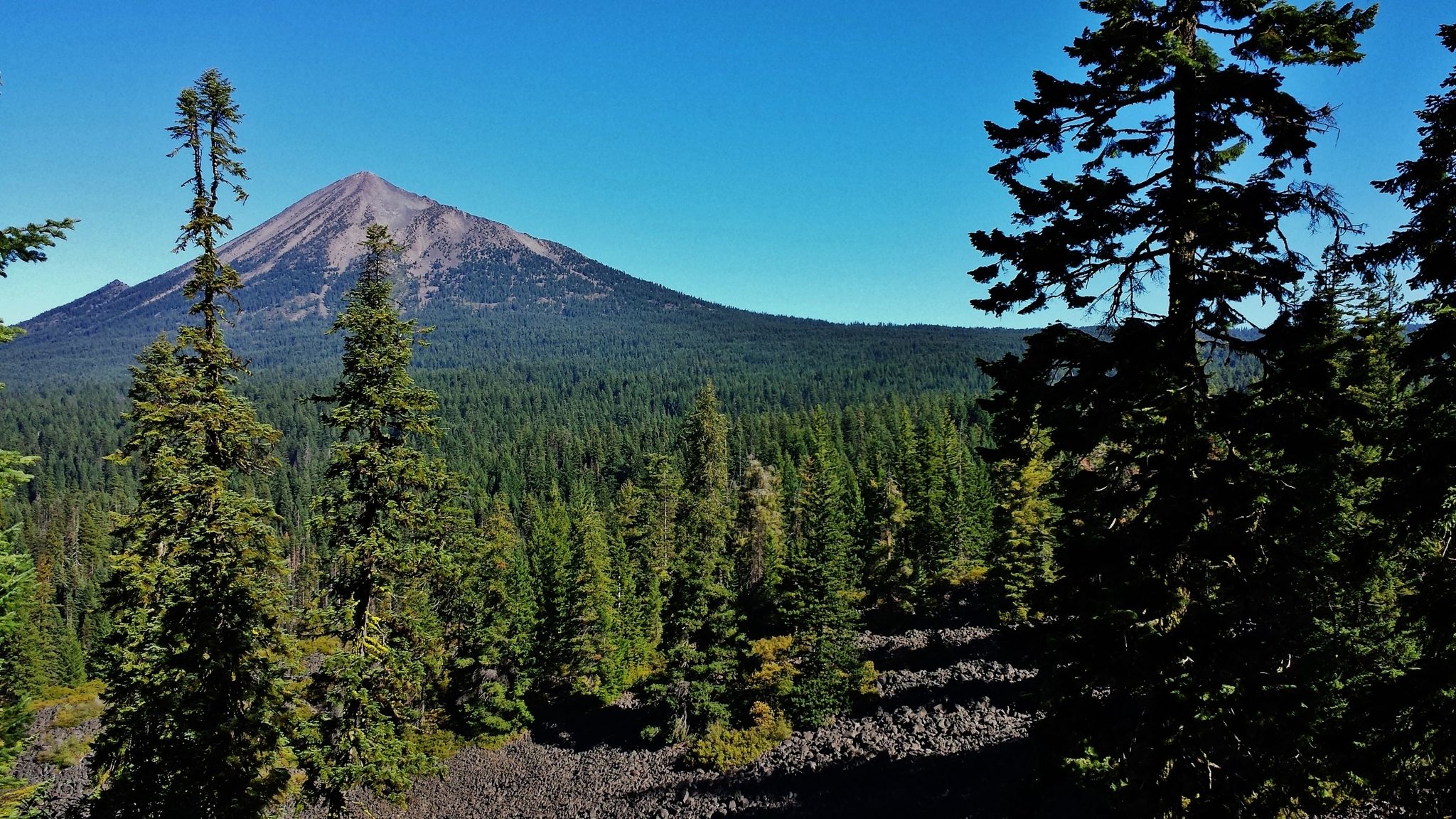 Region: South / Fremont-Winema and Rogue River-Siskiyou National Forests
Length: 6.8 miles
Difficulty: Easy-Moderate
Season to Visit: May-October
Contact: USDA
11. Sparks Lake
Sparks Lake is popular in Bend, Oregon, because of its stunning surroundings. It is surrounded by three tall peaks - South Sister, Broken Top, and Mount Bachelor. The view is fantastic and never gets boring, no matter how often you go.
Due to high traffic during weekends, the parking lot at the lake fills up before 8 am most days. If you're looking for some peace and quiet, it's recommended to arrive early.
We recommend watching the sunrise from the Ray Atkeson Memorial Trail in Bend to avoid crowds. This hike requires minimal effort but offers spectacular views, especially early in the morning when the vibrant sky colors come to life.
You can hike to the viewpoint less than a mile from the parking lot, although the entire trail is a 2.5-mile loop that goes around the lake.
The distance from Bend to Sparks Lake is 25 miles toward the west. The trailhead can be found at the boat launch parking area.
Trail Details:
Region: Bend, Oregon
Difficulty Level: Easy
Distance: 2.5-mile loop
Elevation gain: 108 ft
12. Misery Ridge Trail (Smith Rock State Park)
The Misery Ridge Trail at Smith Rock State Park in Bend, Oregon is a challenging hike that rewards hikers with stunning views of the Cascade Range.
The first mile of the trail is difficult, but the unique geology of the park, particularly the iconic rock outcrop known as Smith Rock, is worth exploring. For those who prefer an easier hike, the River Trail offers spectacular views without the elevation gain.
We suggest hiking the Misery Ridge Trail at sunrise to avoid crowds and enjoy the beauty of a hot air balloon ride over the valley floor. The trail is rated as moderate to difficult and covers 5.5 miles round trip with an elevation gain of 1,800 feet.
Trail Details:
Difficulty Level: Moderate/Difficult
Distance: 2.2-miles round trip
Elevation Gain: 1,800 ft
---
READ MORE: Smith Rock State Park: Guide to Hiking, Climbing & More
---
13. West Metolious River Trail
The West Metolius River trail in Bend, Oregon, is a popular and scenic hike suitable for all skill levels. It offers beautiful views of the Metolius River and is breathtaking in autumn when the trees are ablaze with fall colors.
The trail takes hikers back to a simpler time, allowing them to escape the stress of modern infrastructure. The Metolius Springs, the river's source, is the trail's most remarkable feature, though its source remains unknown.
The river is famous for fly fishing and is also popular among kayakers. Dogs on a leash are allowed on the trail, and a bathroom is available at the hatchery. The trail is rated as easy and covers 7.3 miles out and back with an elevation gain of 270 feet.

Trail Details:
Difficulty Level: Easy
Distance: 7.3-miles out and back
Elevation Gain: 270 ft
14. Proxy Falls
Proxy Falls rightfully claims a spot among the top hikes near Bend in the United States and undoubtedly deserves a place on our list of the best Oregon trails. Though I've already trekked this stunning location multiple times, I eagerly anticipate returning this summer for more. Situated roughly 60 miles east of Eugene, this trail holds a special place in my heart as one of the most beloved among Oregon's hiking trails.

Trail Details:
Difficulty Level: Easy
Distance: 1.6 miles round trip
Elevation Gain: 140 ft
---
READ MORE: Proxy Falls: The Ultimate Oregon Waterfall Experience
---
15. Salt Creek Falls
If you're in search of an adventure that promises to leave you awestruck, look no further than Salt Creek Falls - the second highest single drop waterfall in Oregon. Nestled in the picturesque Willamette National Forest near Eugene, this magnificent three-tiered cascade promises to be a sight that will remain etched in your memory forever.
At an elevation of over 2800 feet, Salt Creek Falls towers over the forest canopy at a height of 286 feet, and is undoubtedly one of the most impressive natural wonders that Oregon has to offer. Whether you're an avid hiker or simply a nature enthusiast, exploring Salt Creek Falls is an experience that you won't want to miss.
The trail to the falls is well-maintained and relatively easy to navigate, offering hikers a leisurely stroll through the lush forest. Along the way, you'll be treated to spectacular views of the surrounding landscape, and the refreshing mist of the falls will provide a welcome respite from the summer heat.
---
READ MORE: Hiking to Salt Creek Falls and Diamond Creek Falls in Oregon
---
16. White River Falls
White River Falls is a fascinating natural wonder, defying expectations by its presence in an arid landscape that seems unlikely to host such an impressive waterfall.
With a majestic drop of 90 feet into a crystal-clear pool of icy water, White River Falls is undoubtedly one of the most awe-inspiring waterfalls in Oregon. Visitors can enjoy this spectacular sight in two ways - from a platform located in the parking lot, or by taking a short but steep half-mile hike to the falls.
For those feeling adventurous, a side trail leads to the base of the waterfall, providing a unique opportunity to dip your feet into the cool, refreshing water. However, it's important to note that this Oregon gem can get crowded during the hot summer months, as visitors flock to the falls for a refreshing escape from the oppressive heat.
Despite its popularity, White River Falls remains a breathtaking and enchanting destination, offering visitors a rare glimpse of nature's unparalleled beauty. So, whether you choose to admire the falls from the platform or take the challenging hike to the base, make sure to add White River Falls to your list of must-see attractions in Oregon.
17. South Sister Trail
As Oregon's third tallest peak, summiting South Sister is no easy feat. The elevation gain is significant, but the reward is well worth the effort. The views from the summit are simply breathtaking, offering panoramic vistas that are sure to leave you in awe.
It's worth noting that this hike is not for the faint of heart. With a difficulty level of "difficult," it's recommended only for experienced hikers who are up for a challenge. However, for those with the right level of enthusiasm and perseverance, the South Sister Trail is a must-do adventure.
Unlike some of Oregon's other challenging hikes, you don't need mountaineering skills to reach the summit of South Sister. That being said, it's important to come prepared with proper gear and plenty of water.
Overall, the South Sister Trail is an unforgettable hiking experience that promises to push you to your limits and reward you with unparalleled views of Oregon's stunning landscape. So, if you're up for the challenge, add this hike to your list and embark on an adventure that you'll never forget!
Trail Details:
Difficulty Level: Difficult
Distance: 12.2 miles round trip
Elevation Gain: 4,900 feet
18. Sahalie & Koosah Falls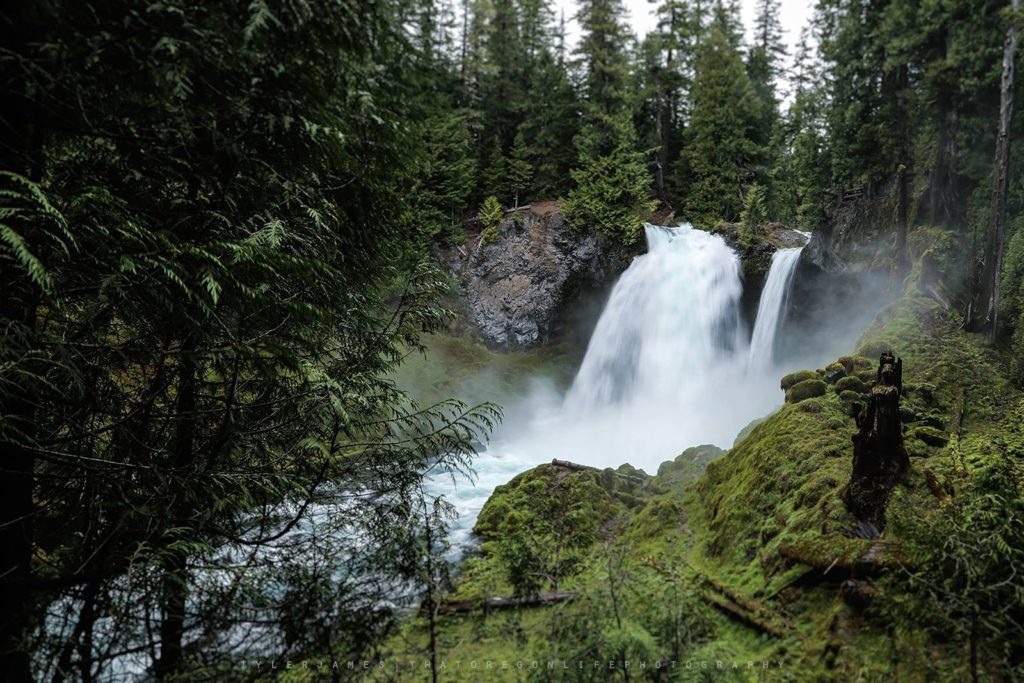 Sahalie and Koosah Falls is a family-friendly Oregon waterfall hike suitable for all skill levels. Although both waterfalls are visible from parking lot viewing platforms, the best way to experience them is by hiking closer.
A 2.6-mile loop trail provides easy access to both Koosah and Sahalie Falls, offering breathtaking views of moss-laden trees and the scenic McKenzie River. Sahalie Falls is larger, dropping 100 feet over a lava dam, while Koosah Falls, at 70 feet, is the crowd favorite.
Hikers can explore both waterfalls and decide which one they prefer.
---
RELATED: Camping Near Bend, Oregon
---
Tips For Hiking Bend Oregon
---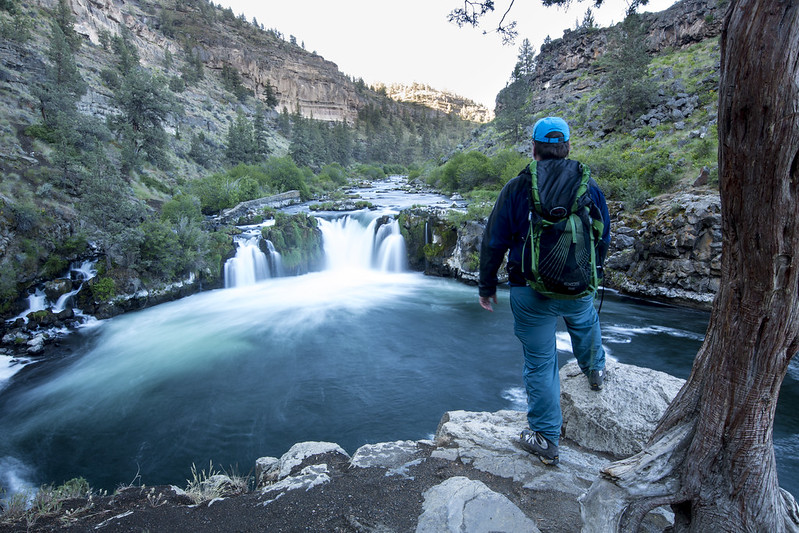 Check online to be sure the trail you want to hike is open before you travel out there. Also check to see what passes, if any, are required to park at the trailhead.

Let people know where you're going and when you'll be back.

Take a hiking GPS so you don't get lost.

Take a friend. Hiking is always better with a friend.

Carry extra water and a nutritious snack such as gorp (trail mix), or protein bars.

Wear good, comfortable hiking boots or sneakers. Take an extra pair of socks too (trust me, someone always gets their feet wet, and it's no fun hiking in wet socks).

Bring a light jacket or raincoat and check the weather ahead of time. Better to be prepared than cold and wet from the elements.

Be good to nature by following the 7 principles of Leave No Trace. Stay on the trail when possible so you don't tramp down vegetation. Leave nature alone. This means not picking up pretty rocks, wildlife or vegetation to take home with you. Pack it in, pack it out: whatever you bring in with you, make sure it comes out with you, even if it's just an apple core or other food waste, bring it out and throw it in the trash instead of leaving it for other hikers to find. This also includes human waste. Some trails don't have bathroom facilities. Try to pack your waste out with you in a zipped plastic bag, but if you can't, live by the rule: 200 feet, 6 inches deep. Bury human waste 200 feet away from water and at least 6 inches deep. This means you'll have to bring a trowel to dig with. Don't count on digging a 6 inch deep hole with a rock or stick, it just won't work. Cover it up when you're done. Try to leave whatever trail you're on as good as when you found it.
Have you hiked any of these trails? Which one of these is most likely to make it onto your bucket list? Share this and tag a friend you'd like to hike these trails with. If you have pictures of your adventures hiking these trails, share them with us!