Are you looking for an Oregon adventure that will take your breath away? Then discover the beauty and grandeur of Salt Creek Falls – Oregon's second highest single drop waterfall. Located in the Willamette National Forest near Eugene, this majestic three-tiered plunge is a sight that won't be soon forgotten.
With a drop of 286 feet (87m) surrounded by dramatic cliffs, lush evergreens, and old growth trees, it's sure to give outdoor enthusiasts an unforgettable experience. From hiking trails to viewing platforms, Salt Creek Falls offers something for everyone looking for an exciting sense of exploration and discovery.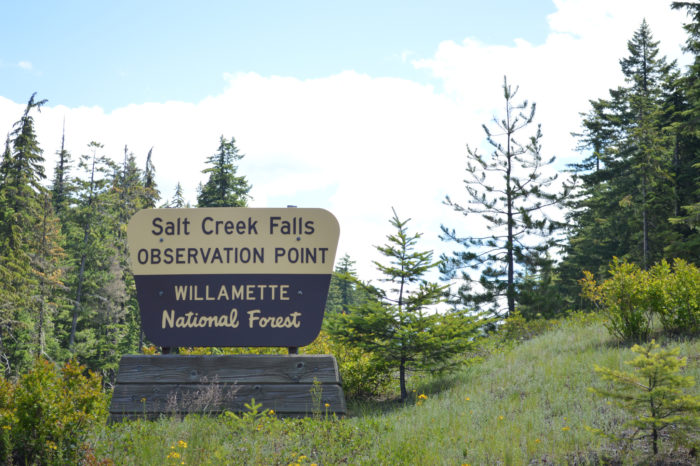 Exploring the Majesty of Salt Creek Falls
The Salt Creek Falls area boasts a large, paved parking lot that makes it easy for visitors to access the falls and surrounding trails.
For those who require wheelchair accessibility, the area also features restrooms with flush toilets that are designed to be accessible.
In addition to the falls themselves, there is a picnic area where visitors can take a break and enjoy a meal or snack while taking in the stunning scenery.
The Salt Creek Falls area is located within the Willamette National Forest, specifically the Middle Fork Ranger District.
To enter the area, visitors must either pay a day use fee of $5 per vehicle or possess a valid Recreation Pass. Permits can be purchased at the Adventure Center in Springfield.
During the winter months, facilities in the Salt Creek Falls area are closed.
However, the area is adjacent to the Salt Creek Sno-Park, which offers winter recreation opportunities for visitors.
When you arrive at the trailhead for the Salt Creek Falls trail, you'll have the opportunity to explore the natural beauty of the surrounding wilderness. The trail is around 3 miles round trip and is relatively easy, making it accessible for hikers of all levels.
As you walk along the trail, you'll be treated to stunning views of the forested landscape and the rushing water of Diamond Creek Falls.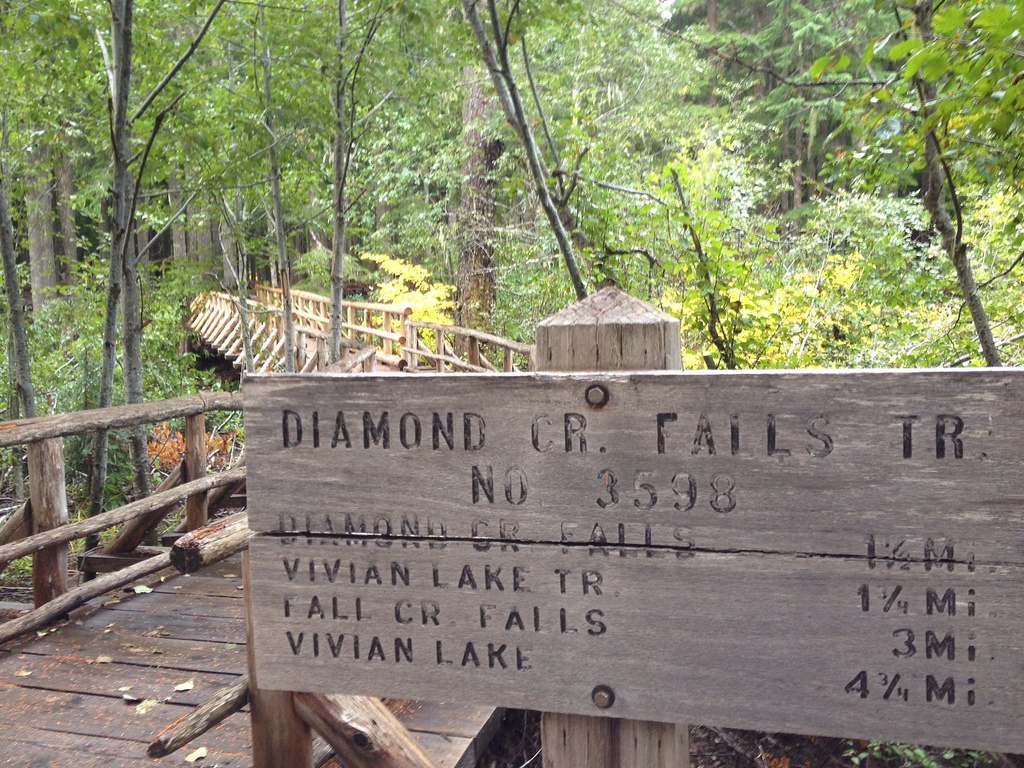 Diamond Creek Falls
If you have more time and energy to spare, you can continue hiking beyond Diamond Creek Falls and explore more of the Salt Creek Falls trail. The trail offers a variety of difficulty levels and terrain, so you can choose a route that suits your preferences and abilities.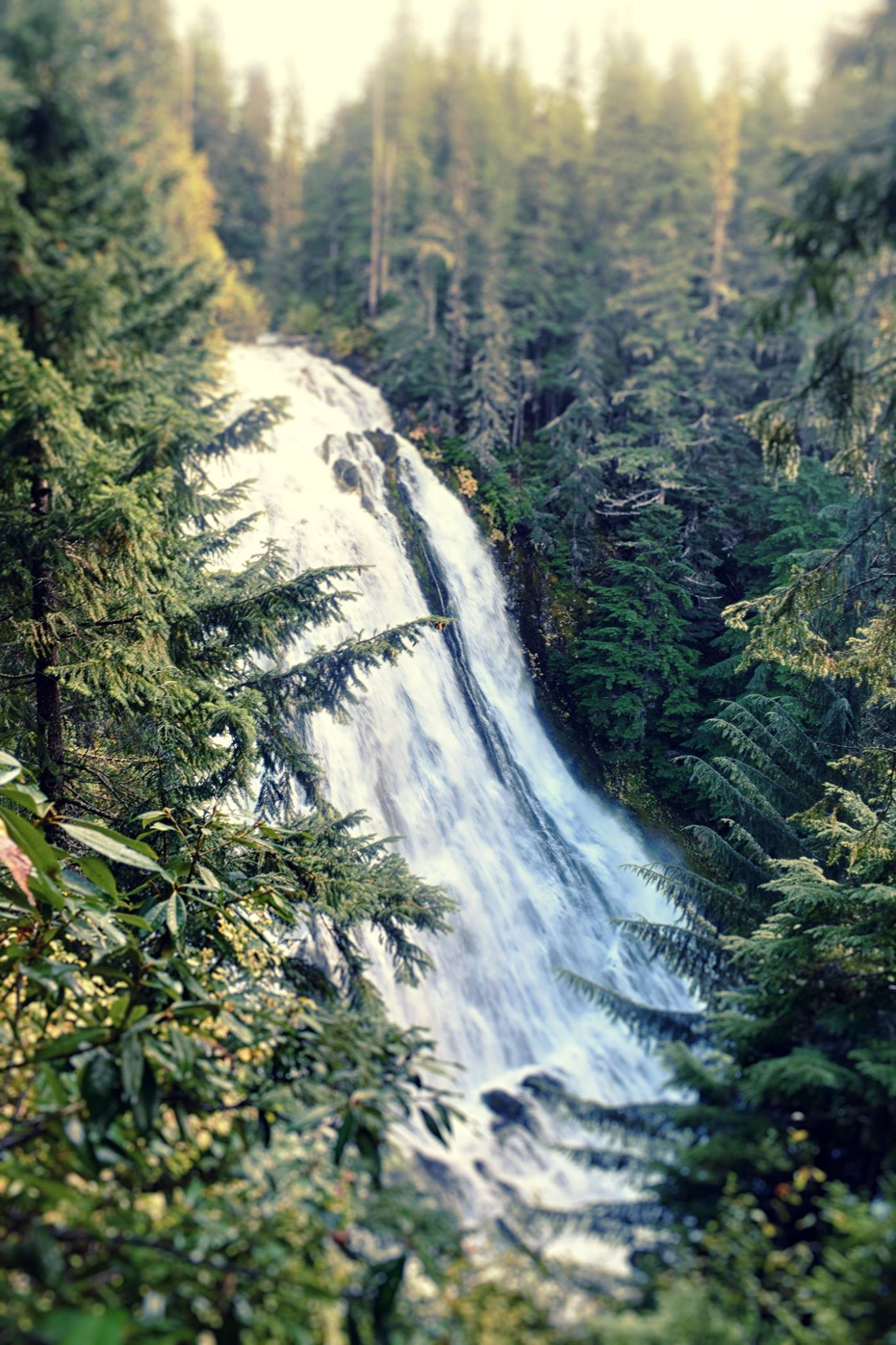 Now, if you're hiking during the winter months, you're in for a treat. Just stand at the viewing platform and watch as the waterfall dramatically descends down the rocky cliffs. It's like something out of a nature documentary! But if you're hitting the trail in the summer, there's a whole other adventure waiting for you.
There's a sweet little side trail that meanders down the hillside and crosses a bridge, eventually leading you to the base of the falls. It's a bit steep, but trust us, it's worth it! And once you make it down there, you'll be rewarded with a beautiful lunch spot that's perfect for recharging your batteries halfway through your hike.
Now, here's the catch. If you decide to take this side trail, you'll have to climb back up the way you came to get back to the main trail. But hey, that's just more exercise, right? And the stunning views of Salt Creek Falls from below are totally worth it. So pack some snacks, lace up those hiking boots, and get ready for an adventure you won't soon forget!
Make sure to bring plenty of water and snacks, as well as appropriate hiking gear, such as sturdy shoes and a hiking pole if needed. You'll also want to make sure you have a map or a GPS device to navigate the trail safely.
Overall, the Salt Creek Falls trail is a great option for anyone looking for a scenic hike in the great outdoors. So grab your gear, hit the trailhead, and get ready to immerse yourself in the natural beauty of this stunning area.
---
RELATED: 23 Must See Waterfall Hikes Oregon You Can't Miss
---
Fall Creek and Too Much Bear Lake
Are you ready for a hike through a mystical woodland? Listen up: once you make it to the Diamond Creek Falls lookout platform, you'll want to take the 1.4-mile hike alongside Fall Creek. Trust me, it's worth it. Keep going until you come across the Salt Creek Falls canyon. Your eyes won't believe the view.
But wait, there's more! Continue on the trail until you reach Too Much Bear Lake. Legend has it that one guy couldn't even fish there because the bear sightings were out of control. Despite the name, the lake is a serene beauty that reflects the surrounding trees like a mirror. Pack your camera and get ready for an adventure!
Keep trekking along that path and you'll soon stumble upon a familiar bridge – the same one you crossed when you began your adventure. And if you find yourself crossing it again, you'll end up back at Salt Creek Falls. But hold up, don't turn back just yet! If you had a blast scaling your way down to Diamond Creek Falls, then you're in for another treat at Salt Creek Falls. The mesmerizing basalt lava ledge and rugged columns will take your breath away. Just be sure to visit in the summer and only attempt to reach the base in good weather. The boulders can get a bit icy and that's not a slip you want to take!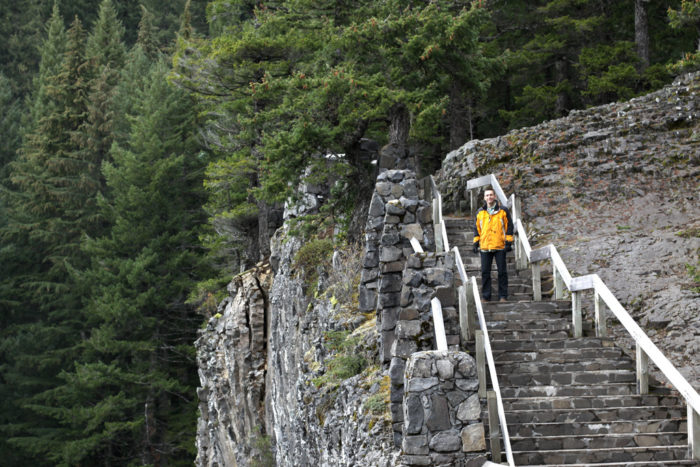 ---
RELATED: 13+ Jaw-Dropping Waterfalls Near Eugene, Oregon
---
How to get to Salt Creek Falls
Located just off of Highway 58, west of Willamette Pass, lies the Salt Creek Falls day use area. To get there, you'll need to drive either 21 miles east of Oakridge or 5 miles west of Willamette Pass. Fortunately, the parking lot is easy to find as it's well-signed from the main road. If you're driving eastbound, keep an eye out for the falls through the trees before reaching the turnoff.
Once you've parked your car, head towards the first viewpoints. These are handicap accessible, meaning everyone can take in the stunning views of the waterfall. If you're feeling adventurous, you can follow the trail down to the base of the falls. While the trail is relatively easy, there are quite a few stairs, so make sure to wear sturdy shoes and take breaks if needed.
FAQs
Q: What's the best time of year to visit Salt Creek Falls?
A: It's best to avoid the trail from the end of June to August, as this is the busiest time of year and mosquitoes can be out in force. Visiting during May, early June, September, or October is much more favorable. Even in the fall, the water levels are still pretty great. The photos in the post were taken in August.
Q: Can I hike the trail during the winter?
A: Yes, you can hike the trail during the winter, but you'll need some snowshoeing experience. This is a good trail for people with only a little experience, as it's not too long and waymarked well, but it's recommended that you practice snowshoeing with someone who knows what they're doing first. In the winter, don't try to hike to any of the bases of waterfalls or take any other detours.
Q: Is the trail dog-friendly?
A: Yes, the trail is dog-friendly, but your furry friend must be kept on a leash for the entire route.
Nearby Attractions