Oregon is a treasure trove of natural wonders, with a bounty of stunning waterfalls that are waiting to be discovered. While Multnomah Falls might be the most renowned among them, there are many other awe-inspiring falls that are equally captivating.
We've compiled a list of some of the most breathtaking Oregon waterfall hikes that you might not have heard of, but definitely shouldn't miss.
Sign up for monthly emails full of local travel inspiration and fun trip ideas. In each newsletter we'll share upcoming events, new things to do, hot dining spots and great travel ideas.
To make things easier, we've grouped each waterfall by its location in Oregon. However, it's important that we all play our part in preserving these natural beauties for generations to come.
The Best Oregon Waterfall Hikes
---
Oregonians struck it rich when it comes to waterfalls in Oregon. No matter what part of the state you live in or are visiting, you're bound to have waterfalls nearby that you can visit.
Waterfalls are one of those things that just draw people out into nature and away from the stress of work and city life.
Oregon Waterfall Hikes In The Valley
There are more than enough Oregon waterfalls to choose from in the Valley. When Oregonians refer to the valley, we are referring to the cultural and political heart of our state, which is home to approximately 70 percent of its population.
The Willamette Valey includes the six largest cities in the state: Portland, Eugene, Salem, Gresham, Hillsboro and Beaverton. Below we have also included hikes which are closest to the Portland area.
1. Trail Of Ten Falls At Silver Falls State Park
It's impossible to pick just one fall from Silver Falls State Park as the best one. They're all gorgeous and worth taking the day to explore. While they're pretty at any time of year, they're especially gorgeous towards the end of summer and start of fall when the leaves begin to change to vivid oranges and yellows.

Silver Falls State Park can get crowded, as this is one of the more popular places to hike and camp in the state, so try going on a weekday and avoiding holidays to avoid the crowds.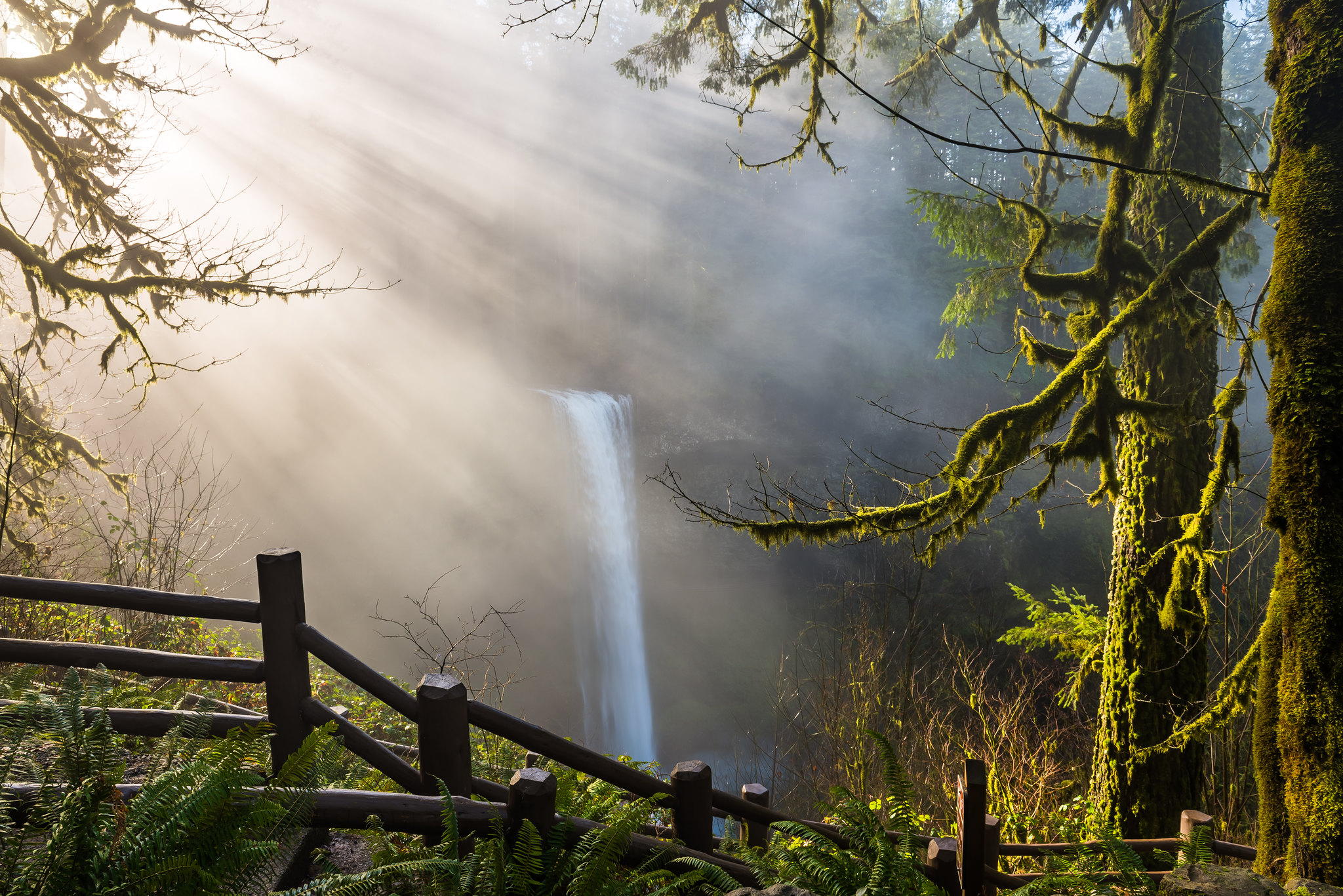 Fog at South Falls at Silver Falls State Park. Photo by Shinglesware via Flickr
The 7.2 mile loop trail will take you to ten stunning waterfalls, several of which you can walk behind. Get more information about Silver Falls State Park and the Trail Of Ten Falls
2. Trestle Creek Falls
Just 25 miles Southeast of Cottage Grove is a little gem tucked away in an old-growth forest just waiting for you to find. This pretty trail meanders through an old growth forest and down into a mossy rock grotto to a 60-foot fan waterfall.
Surrounded by luscious forest with stunning views of bleeding heart, Douglas far, cedar, and maidenhair fern, the Trestle Creek Trail makes for a wonderful place to relax and soak in some nature. The narrow trail meanders through Trestle Creek canyon and culminates at the base of a 60-foot waterfall, tucked in a lush, moss-covered rock grotto.
Trestle Creek Trail is also frequently tacked on to Brice Creek Trail. At the end of the trail, another short .25 mile trail will lead you to Trestle Creek Falls while a longer 2.6-mile loop will take you to upper Trestle Creek Falls.
3. Abiqua Falls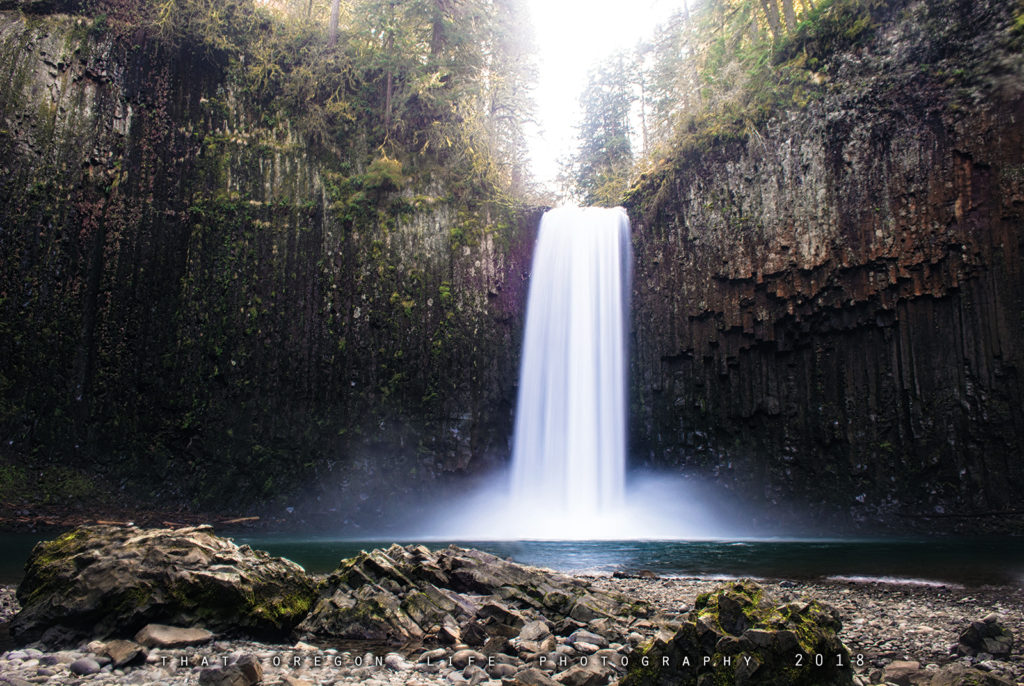 Abiqua Falls is part of the same geological formation as the waterfalls at Silver Falls State Park, and in fact is not far from there as the crow flies (although significantly longer in distance when going by road).
The 92-foot waterfall is encircled by an extraordinary basalt column amphitheater, which makes it even more breathtaking.
It is completely unsigned, and the trail is a bit rough, but the trek in is definitely worth it. The hike down to the falls is a bit steep, and not recommended for anyone who isn't prepared for a somewhat vigorous hike. We'd also recommend having 4 wheel drive when visiting.
How do you get here?
To get to Abiqua Falls, start at the parking area and walk back along the road. Ignore the first rough trail and instead, after 100 feet, look for a second trail on your right that drops down through the trees.
Follow it for a short distance until it curves left, and then continue dropping steeply down the hill for 0.2 miles until you reach the creek.
Once at the creek, turn left and follow a rough trail for another 0.2 miles upstream. You'll need to navigate over rocks and logs, but during low water, it's easier to walk on the exposed river rock for much of the way. If water levels are high, you may need to climb a steep slope to get around some logs.
Finally, you'll reach the huge basalt bowl where Abiqua Falls cascades into a large splash pool. From there, you can admire the falls from a large rocky area jutting out into the pool or walk around the edge of the bowl over the mossy rocks to the left.
---
READ MORE: Abiqua Falls in Oregon is Out of This World
---
4. Marion Falls
To get to Marion Falls you'll take a 5 mile out and back trail near Idanha Oregon. The trail is for those of moderate hiking skill and the best time to go is between April and September.
5. Upper Downing Creek Falls
Difficulty: Easy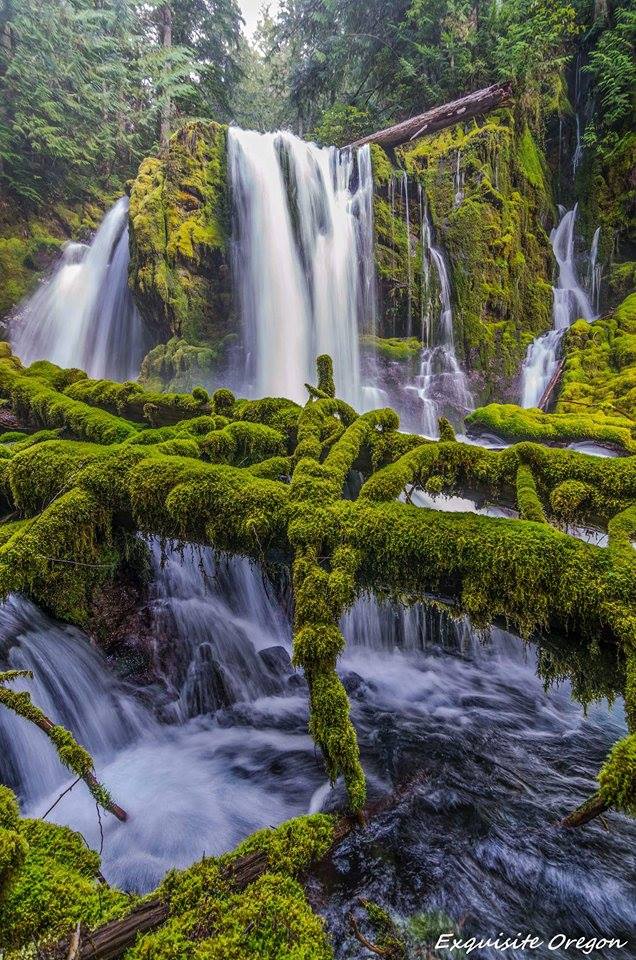 This amazing waterfall near Detroit is just 0.6 miles round trip, and mostly flat. While it's said to be mostly safe for children, you should be cautious of slippery rocks when hiking around the waterfall.
This hike is an absolute must, especially if you are looking to get some amazing photos. If you're looking for a long hike, this definitely isn't the one.
How do you get here?
From Salem: Head east on HWY 22
0.4 miles from milepost 69 turn left onto an unmarked dirt road ****
0.3 miles down this road park at a wide spot on the right near the sign for Road 2200/162
Hike down 2200/162 for 0.3 miles until you reach an area where two logs sit parallel to each other on the right (you will see a faint trail between the two 4 inch diameter logs) (the road degrades as you get nearer the goal)
Head towards the sound of the creek on the trail
Follow the trail upstream to find Upper Downing Creek Falls – flow is apparently year-round
Take Note : This road is very difficult to see on the left due to foliage at the entrance. It is nearly impossible to notice coming from the other direction. There is no protected left turn on this busy highway, so exercise caution.
6. Upper Butte Creek Falls
Take the easy Butte Creek Falls loop hike near Scotts Mills Oregon to this beautiful 20-foot waterfall. There's a large cave behind this fall that is accessible at certain times of the year. Visitors will also enjoy lower Butte Creek Falls while here.
This waterfall has a similar geologic form as the waterfalls at Silver Falls State Park, as there is a large, deep cave behind the falls. Most of the time you can walk behind the waterfall and admire the unique perspective.
Upper Butte Creek Falls is along the easy Butte Creek Falls Loop Hike and there is a taller waterfall downstream, Butte Creek Falls.
Hit the link to read a more detailed article about Butte Creek Falls.
Getting there:
From Scotts Mills, follow Crooked Finger Road for 11 1/2 miles (2 miles past the pavement) and turn left onto Road 400, signed for Butte Creek Falls. Drive another 2 miles to the trailhead. 1/4 mile trail leads to falls base (stay right at the first fork then left at the second).
On our hike to Butte Creek Falls, Weyerhaeuser blocked the original route. Crooked Finger Road is still accessible, but it requires a 2-mile hike down a gravel road that is closed to vehicles.
The new route starts in Scotts Mills and takes about the same time despite more twists and turns.
New route to Butte Creek Falls (courtesy of ODF):
Drive to Scotts Mills, Oregon
In downtown Scotts Mills, near the post office, turn left (east) onto Maple Grove Road
From Maple Grove Road, turn south onto Sawtell Road until you reach the end of the pavement which will then turn briefly to Family Camp Road and then to the Butte Creek Mainline
From the Butte Creek Mainline, turn right onto the Butte Creek 500 and then right onto the Crooked Finger 400 Road which will lead you down to the Butte Creek Campground and Butte Creek Falls.
Coordinates: N44 55.257, W122 30.671
7. Majestic Falls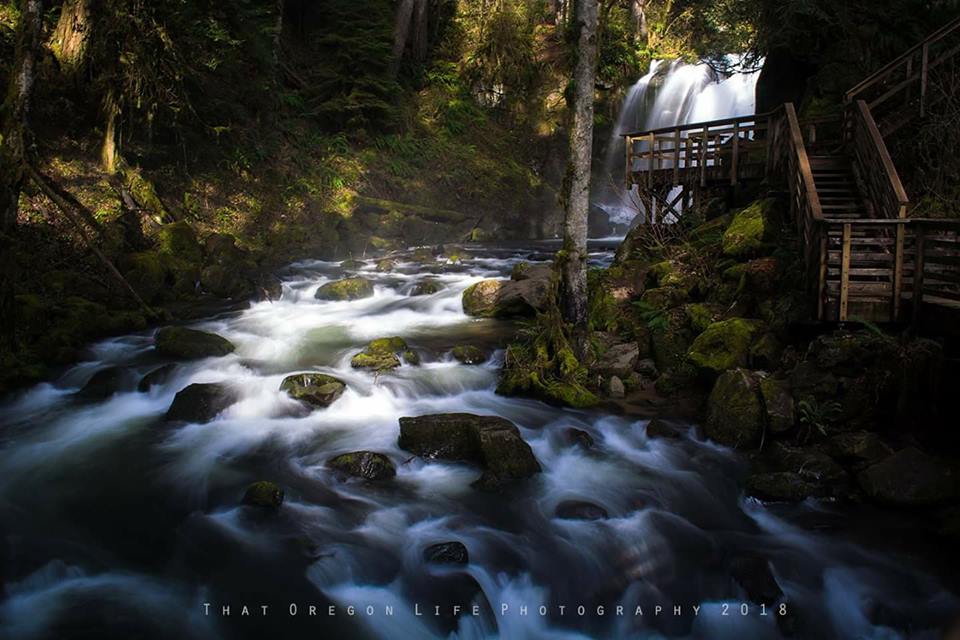 McDowell Creek Falls Park has several waterfalls, and Majestic Falls is the largest one. Its 39 feet drop into a pool at the head of a small canyon make it the most beautiful waterfall in the park. The observation deck and the staircase are great additions to the trail.
The best time to visit the trail is during late autumn when the Big Leaf Maple trees throughout the canyon are glowing with fall colors. The waterfall is not very large, but it's definitely worth the visit. During summer, the creek is calm, while in winter and spring, it flows more heavily.
Being close to Eugene, Majestic Falls is a peaceful and rejuvenating hiking spot, and it holds a special place in my heart.
How do you get here?
McDowell Creek Park is east of Lebanon
Four waterfalls are linked to a common trail split by a paved road. Total hiking distance < 1 mile.
Lower McDowell Creek Falls
Royal Terrace Falls
Crystal Pool Falls
Majestic Falls
Directions:
From I-5 exit onto Hwy 20 and head east towards Lebanon (pronounced le-buh-nun)
Four miles east of Lebanon turn left onto Fairview road and bear right at the T-junction (road to McDowell Creek Park)
Appr. 0.9 miles bear left to stay on McDowell Creek road
Another 7.6 miles turn right into the parking area for McDowell Creek Park
Keep In Mind :
Some paths have staircases – tread carefully.
Vault toilet available at the parking area.
Take Note: Each waterfall has an individual parking area. For Majestic Falls it may be easier to drive up to the third parking space.
Caution: a short section of the road may need to be driven in low gear.
READ MORE: McDowell Creek Falls Loop
Southern Oregon Waterfall Hikes
Southern Oregon is not only known for historic gold rush towns, there are plenty of waterfalls to explore here as well. One of our most popular articles was this Southern Oregon Waterfall Road Trip that covers even more beautiful waterfalls to explore.
8. Lemolo Falls
You can access Lemolo Falls via a 3.2 mile out and back trail that's good for all skill levels. The best time to visit Lemolo Falls is from June until September.
9. National Creek Falls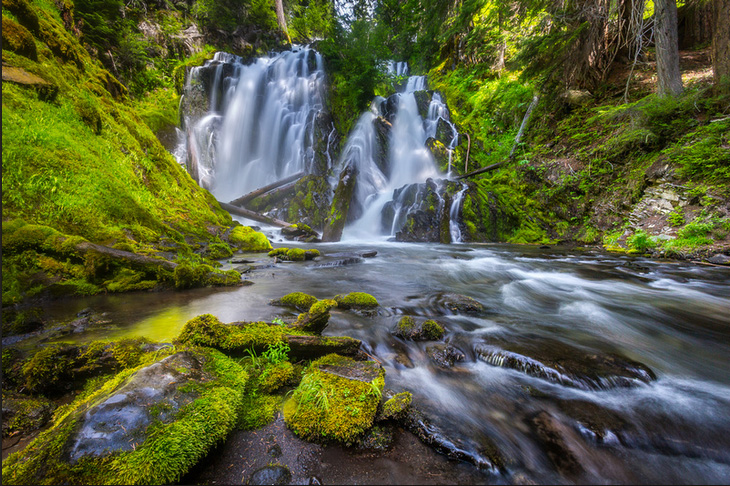 This Southern Oregon waterfall is on a moderately difficult .7 mile out and back trail near Prospect Oregon. Children are able to navigate this trail, though some areas can be steep.
It's advisable that you do not try to cross the creek on the logs as they are mossy and wet, and therefore dangerous to try to walk on. The best time to visit is May to October.
National Creek Falls is about 30 minutes from Crater Lake National Park and is one of many nearby waterfalls. This .7 mile trail is moderately difficult, though children should be able to navigate it with help.
Some areas can be steep, and as with all hiking trails, you should wear sturdy hiking boots or sneakers with good grip and support.
Pro Tip: Visitors should not try to cross the logs going across the creek as they are mossy, slippery and wet.
---
RELATED: This Southern Oregon Waterfall Road Trip is the Perfect Getaway
---
Oregon Waterfall Hikes Near Portland
Not far from Portland, around 30 miles east to be specific, you will find the Columbia River Gorge. Spanning for 80 miles long and up to 4,000 feet deep, this impressive river canyon meanders past cliffs, spires, and ridges that set against nearby peaks of the PNW's Cascade Mountain Range.
There is no shortage of beauty in the Gorge, a place where you will find endless Oregon waterfall hikes to choose from.
10. Upper McCord Creek Falls
Difficulty: Easy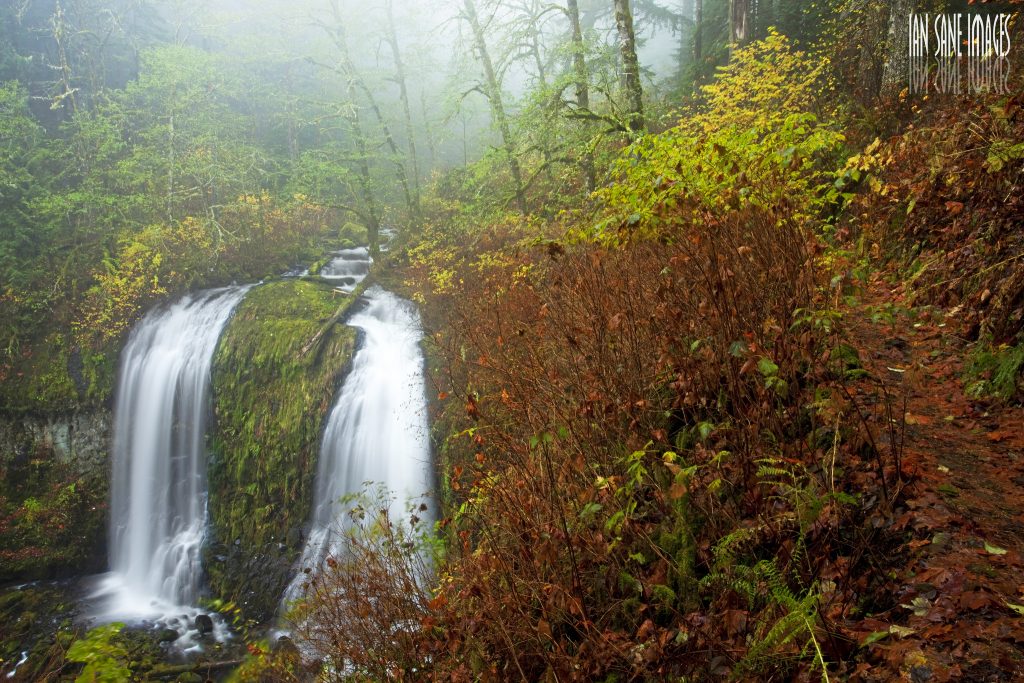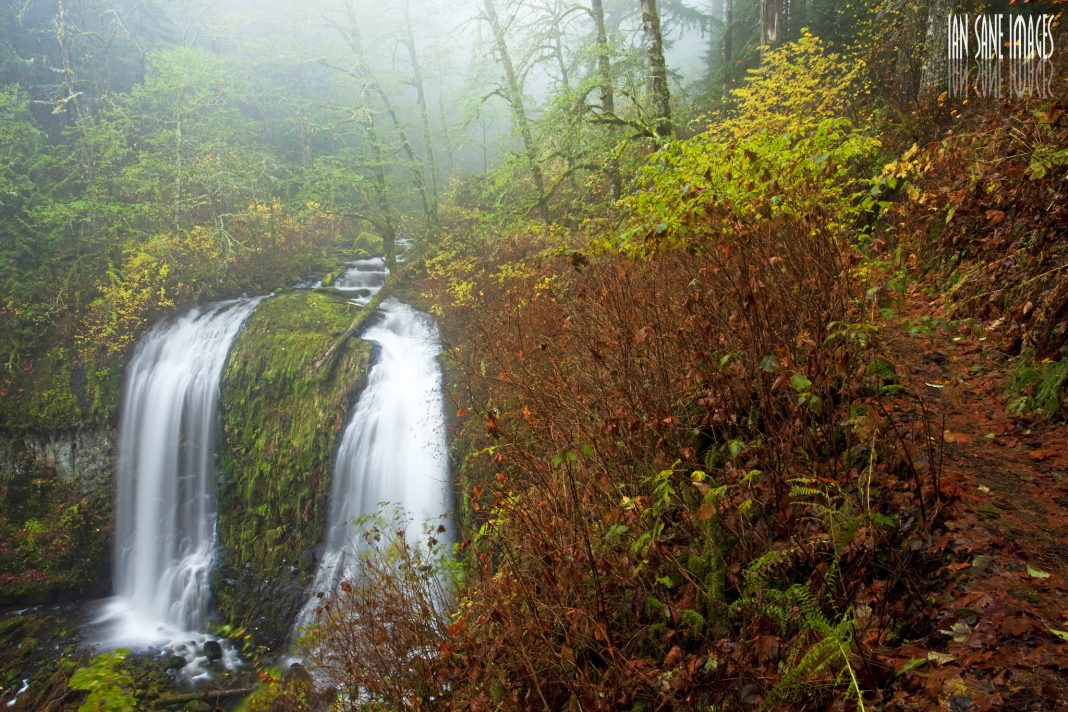 Upper McCord Creek Falls is a beautiful 2.2 mile out and back trail located near Cascade Locks, Oregon that features a waterfall and is rated as moderate. The trail is primarily used for hiking and is accessible year-round. Due to a landslide, the trail to the bottom of Elowah Falls is closed, however the upper trail to McCord Creek falls is open.
Getting there:
John B Yeon Trailhead: Traveling east on I-84, take Exit #35/Ainsworth. Turn left at the stop sign, then immediately turn right onto the Frontage Rd. Drive east on Frontage Rd for 2.1 miles and turn right into the trailhead parking lot. The lot will be just before the road re-enters the highway.
Traveling west on I-84, take Exit #37/Warrendale. Head west on Warrendale Road for about 1/4 mile to a stop sign. Turn left, go under the freeway and turn left again onto Frontage Rd. Drive 1/4 mile east to the trailhead parking lot just before the road re-enters the highway.
11. Latourell Falls
Difficulty: Easy | Length 3 miles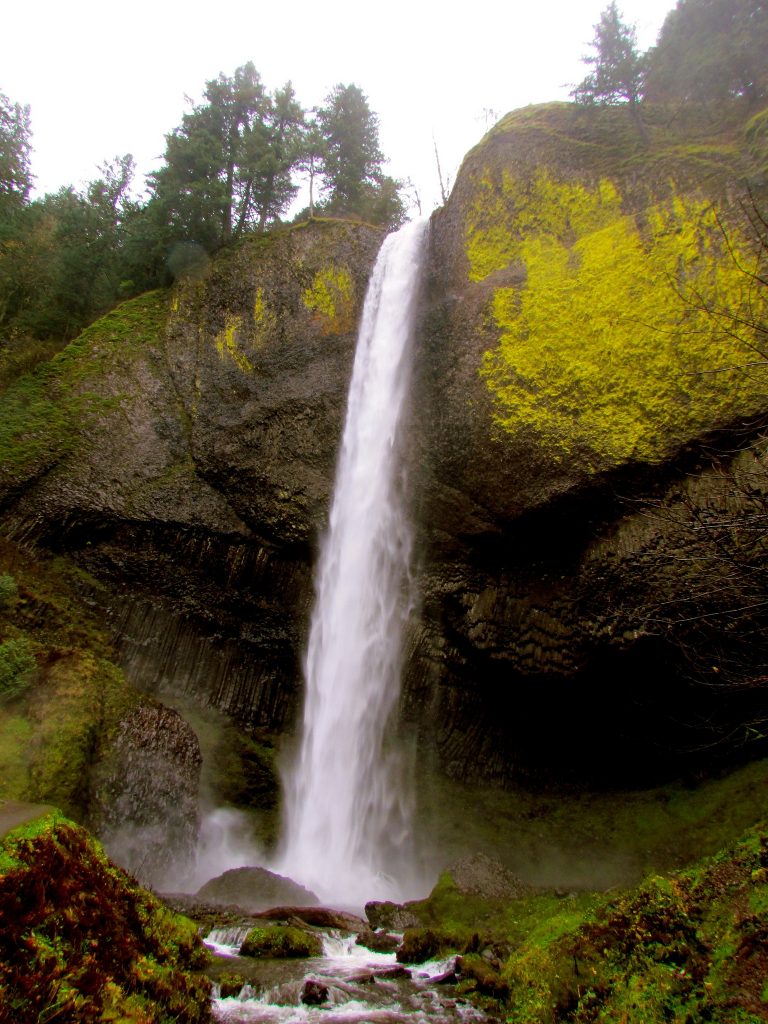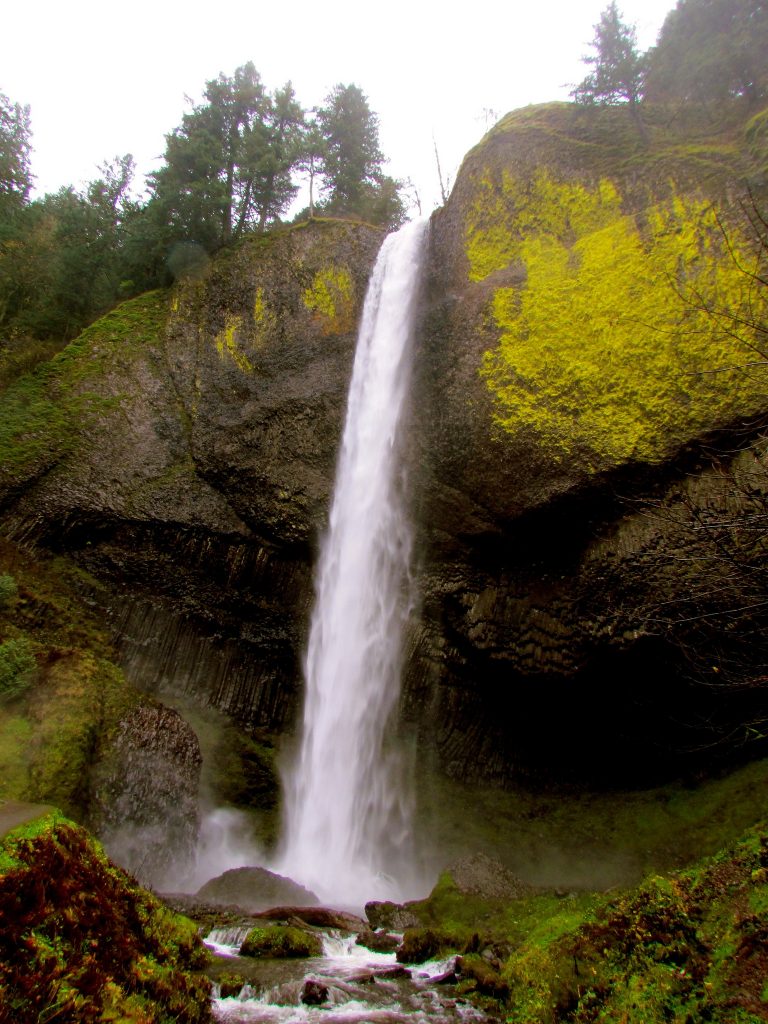 Latourell Falls is an iconic cascade of water, located in Guy W. Talbot State Park along the majestic Columbia River Gorge in Oregon.
From certain views on Historic Highway 30 you can catch a glimpse at this natural wonder as it tumbles straight down off a basalt cliff – differentiating itself from other cascades such as Multnomah, that tumble through their fall!
But to truly experience its power and beauty up close, visitors should embark upon its 2.1-mile loop trail for magnificent views not seen anywhere else – just be sure to bring proper shoes because mud has been known to collect here after rainfall!
Getting there:
Latourell Falls Trailhead: Traveling east on I-84, take Exit #28/Bridal Veil. Turn right on the Historic Columbia River Highway and travel west for approximately 3 miles to the parking lot on your right/south.
Traveling west on I-84, take Exit #35/Ainsworth. Drive 11 miles west on the Historic Columbia River Highway to the parking lot on the left/south side of the road.
Guy Talbot State Park/Trailhead: Traveling east on the Historic Columbia River Highway, just before the Latourell Falls trailhead, turn left/north onto Latourell Rd. Guy Talbot State Park will be on your right.
Traveling west on the Historic Columbia River Highway, after passing by the trailhead on your left/south, turn right/north onto Latourell Rd. Guy Talbot State Park will be on your right.
12. Metlako Falls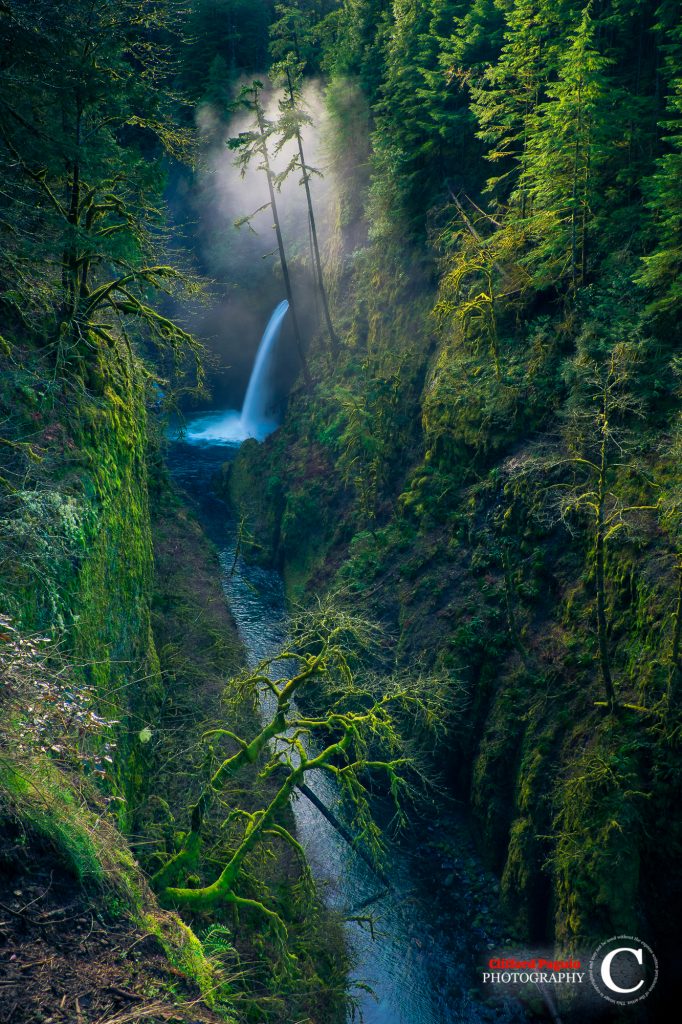 The incredible Metlako Falls is the first major falls along the Eagle Creek Trail, welcoming visitors into the area.
Unfortunately, this trail is now closed, and the forest service has no timeline for rebuilding this short spur trail. For your safety, please do not approach the cliff edge or try and recreate the trial.
13. Punch Bowl Falls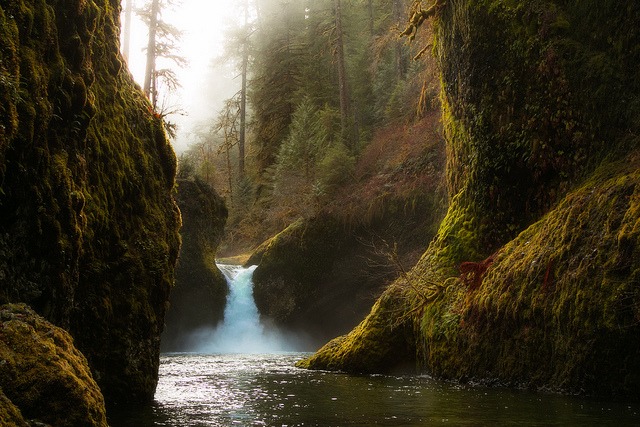 Punch Bowl Falls is a stunning waterfall on Eagle Creek in the Columbia River Gorge National Scenic Area. Recently, a massive basalt wall collapsed, causing a debris pile of boulders as large as trucks to reroute Eagle Creek and change its path for centuries to come.
As you embark on your journey to the falls, be sure to take in the stunning old-growth forests and cliff edges along the way. Keep your pets and children close, as there are some mild falling hazards in certain areas. Don't miss out on the breathtaking views of the canyon below from the ledges!
Punch Bowl Falls is 35 feet tall and 10 feet wide, with Eagle Creek cutting through a narrow channel and shooting powerfully into a large bowl, hence the name.
How do you get here?
From Portland, take Interstate 84 to Eagle Creek Rd exit 41, turn right, and keep right along the creek for 1/2 mile to the roads end. Because the Eagle Creek exit is only accessible from the west, travelers from Hood River have to take the Bonneville Dam exit 40 and double back on the freeway for a mile.
14. Multnomah Falls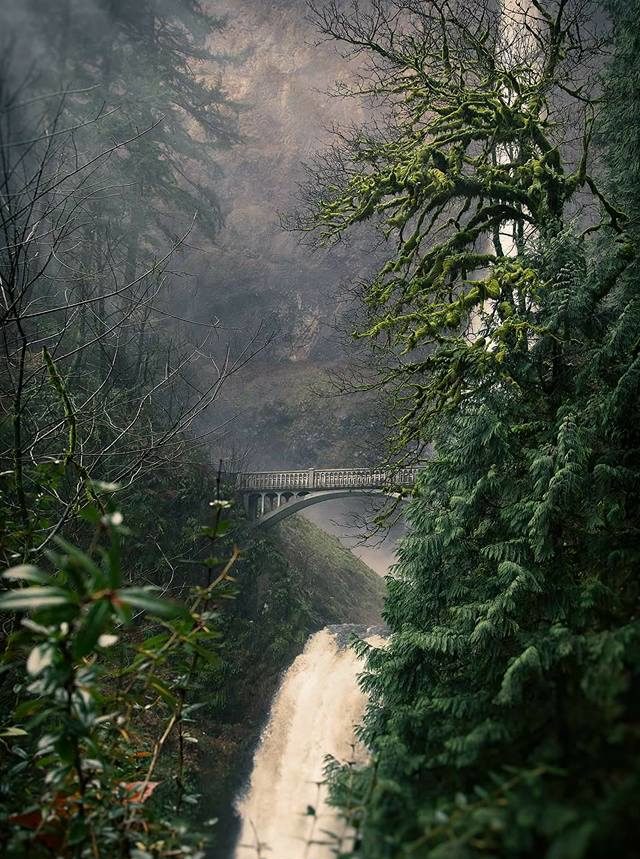 Multnomah Falls is a waterfall on the Oregon side of the Columbia River Gorge, located east of Troutdale, between Corbett and Dodson, just off the Historic Columbia River Highway.
Multnomah Falls is definitely the most famous and well known in Oregon, and also the tallest as it drops in two major steps, split into an upper fall of 542 feet and a lower falls of 69 feet, with a gradual 9-foot drop in elevation between the two. Multnomah's total height is at an impressive 620 feet.
Multnomah Falls is listed as the 137th tallest waterfall in the United States by the World Waterfall Database.
---
READ MORE: Guide to Multnomah Falls
---
15. Umbrella Falls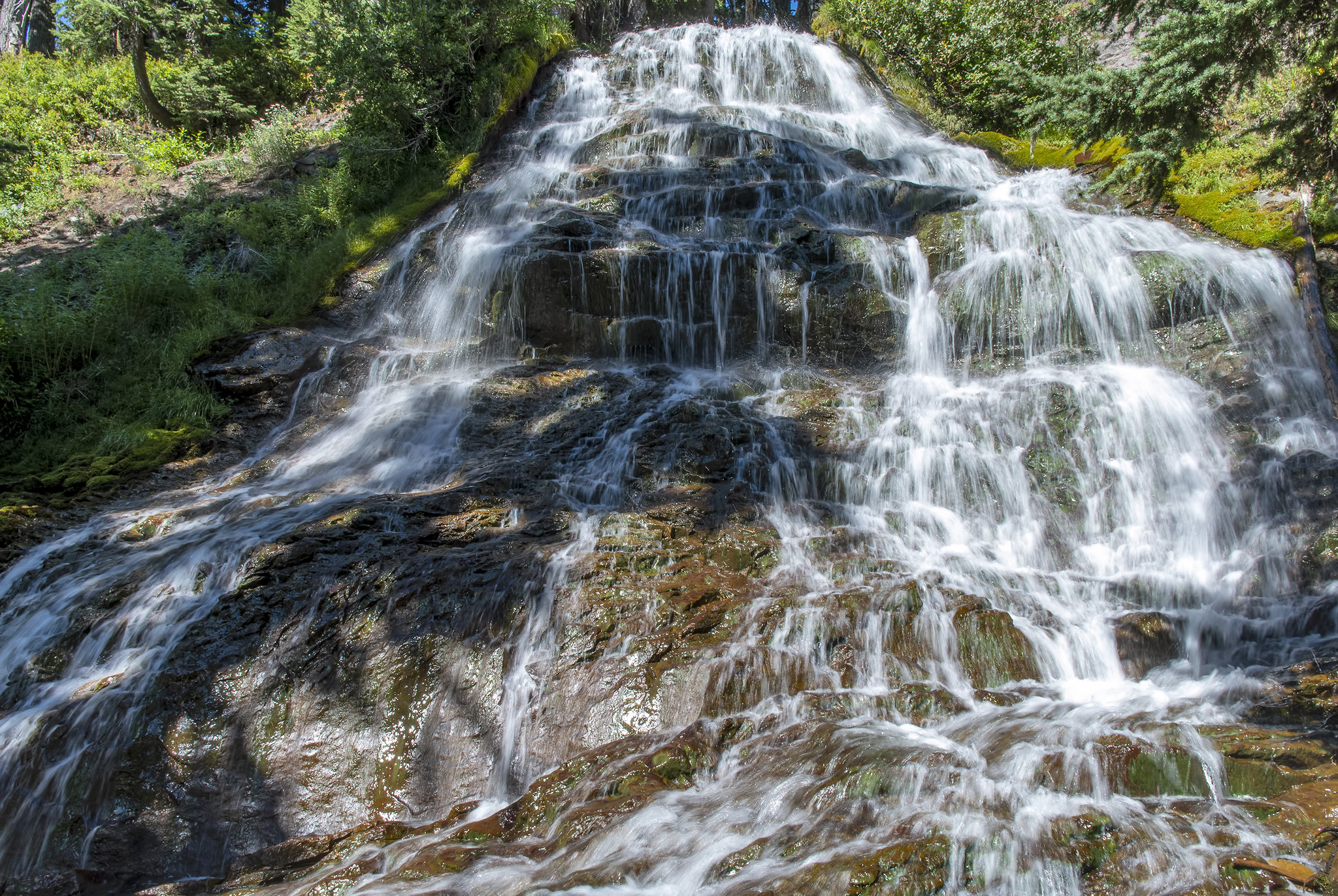 Umbrella Falls. Photo by Al Case via Flickr
Umbrella Falls is located on a moderate 3.9 mile loop trail located near Parkdale, Oregon. The best time to hike this trail is between June and September. Instead of a sheer drop, this fall features a cascade down steep rocks. Be aware there is a $5 parking fee.
16. Beaver Falls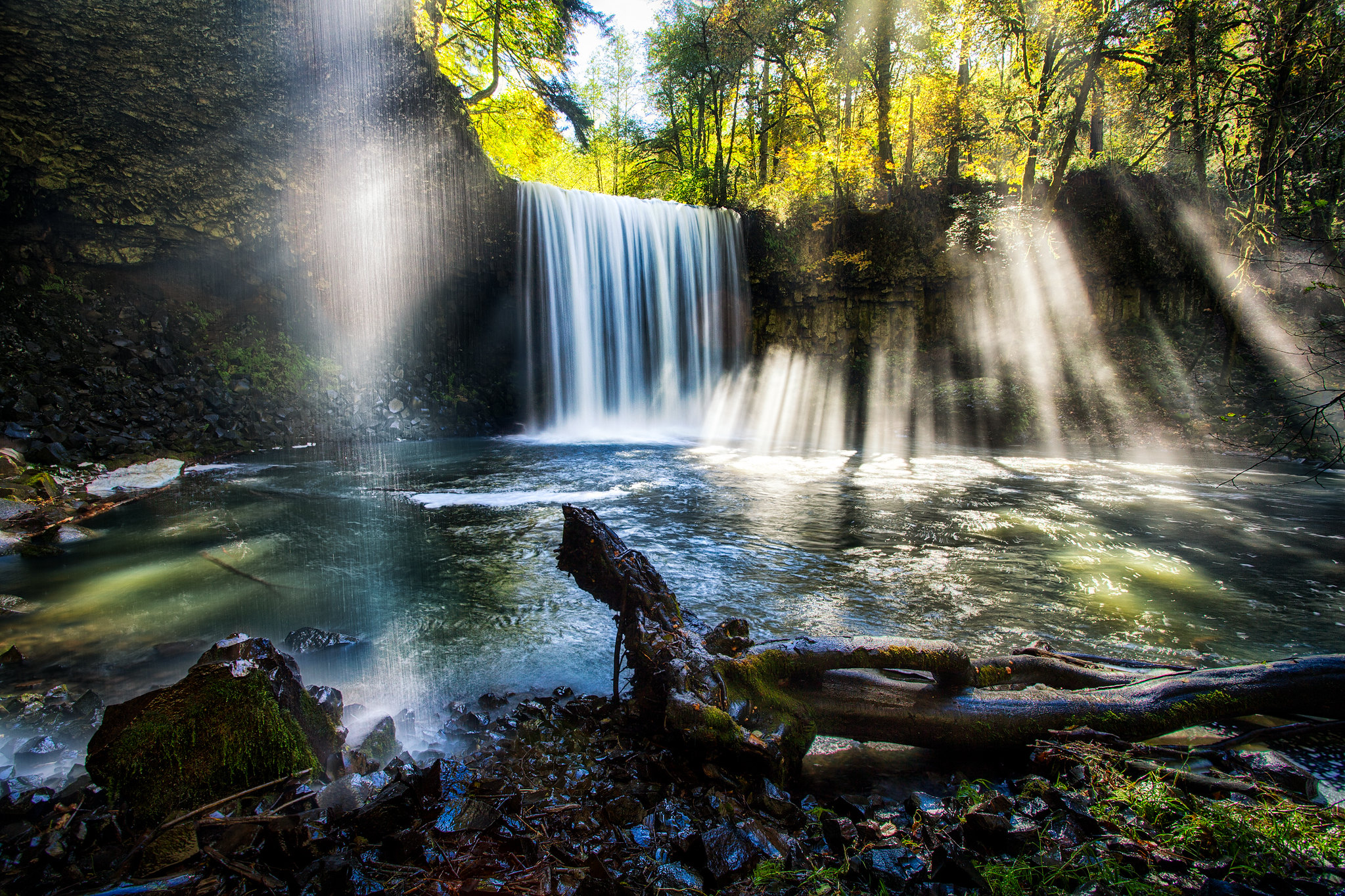 This stunning fall is reached via a moderate .6 mile out and back trail near Clatskanie Oregon. The best time to visit is between April and November.
17. Wachlella Falls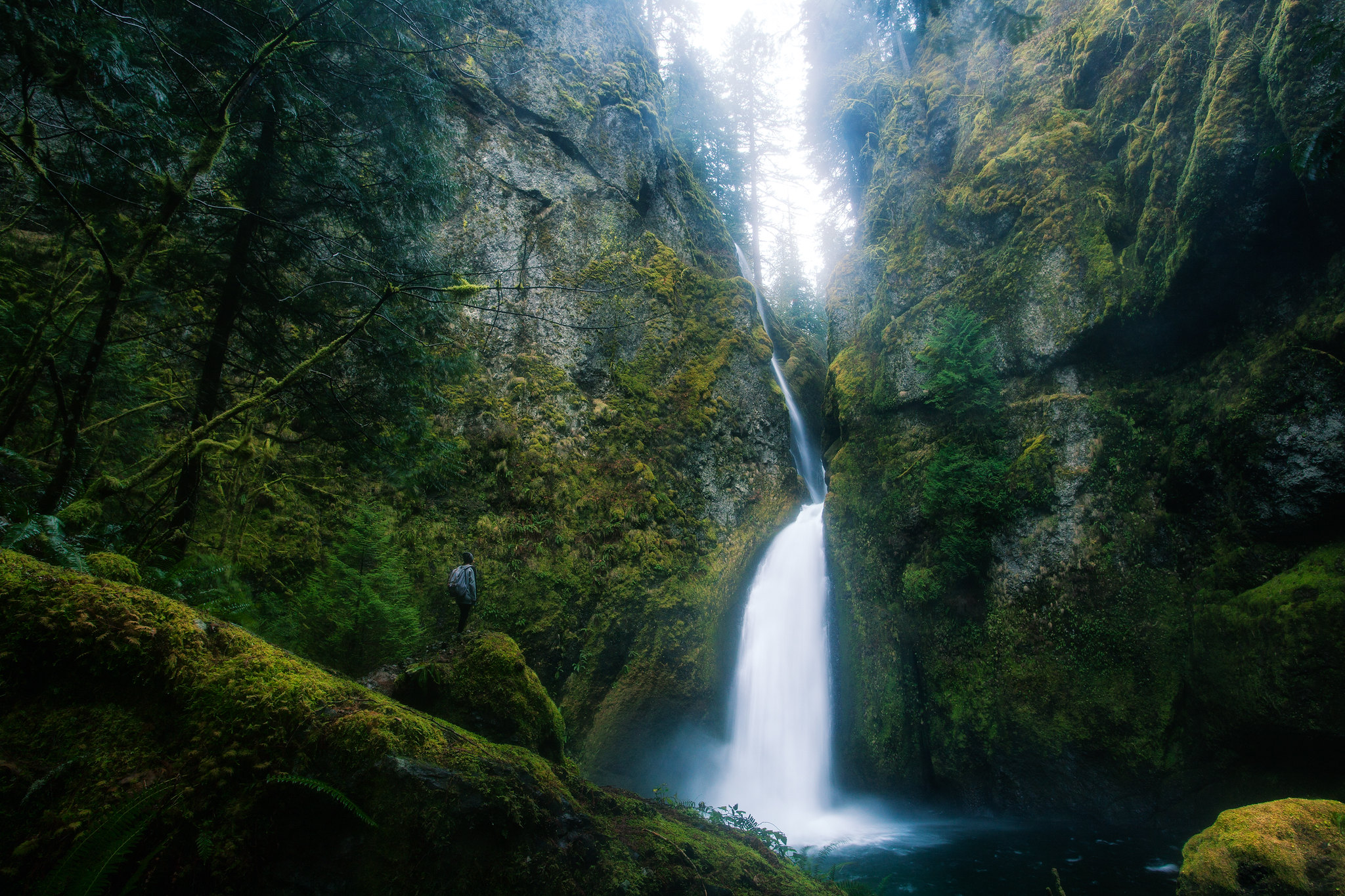 Wahclella Falls is a stunning little fall in the Columbia River Gorge that is accessed via an easy 2.4 mile out and back hike through a slot canyon. A $5 fee is required.
The trail begins at a gated road by Tanner Creek, passes a small intake dam, and goes through a narrow canyon. Visitors will be amazed at the house-size boulders the trail passes, and the gorgeous falls at the end of the trail. Learn more about the trail and check the current trail status here.
Central & Eastern Oregon Waterfall Hikes
18. Sahalie Falls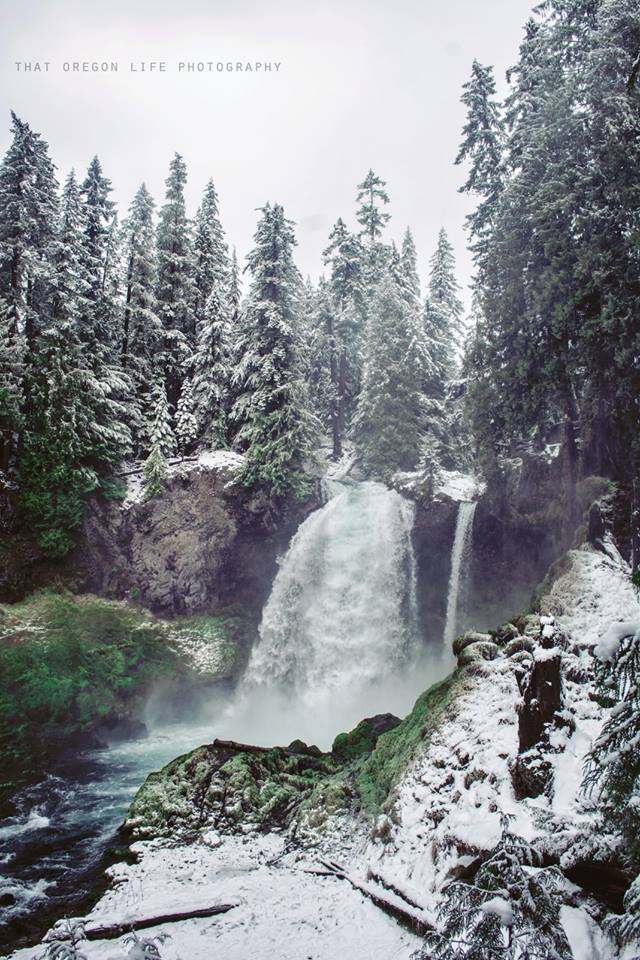 Sahalie Falls is the first and tallest of three major waterfalls along the McKenzie River. I have personally been here more times than I can count, and stop in any chance I can get.
Sahalie is by far the most famous of the large waterfalls along the McKenzie, and was even featured in the Disney movie "Homeward Bound".
There has been some conflict and trouble over the years establishing a firm height for the drop. Many have suggested the falls drop around 140 feet.
How do you get here?
Located south of Santiam Pass along Highway 126. From the junction of Highways 20 and 126 (approximately 70 miles east of I-5 in Albany via Highway 20, or 85 miles east of I-5 in Salem via Highway 22), follow Highway 126 south for about 4 ½ miles to the signed parking area for Sahalie Falls. The falls are seen in less than 100 feet from the parking lot.
19. Chush Falls Near Sisters Oregon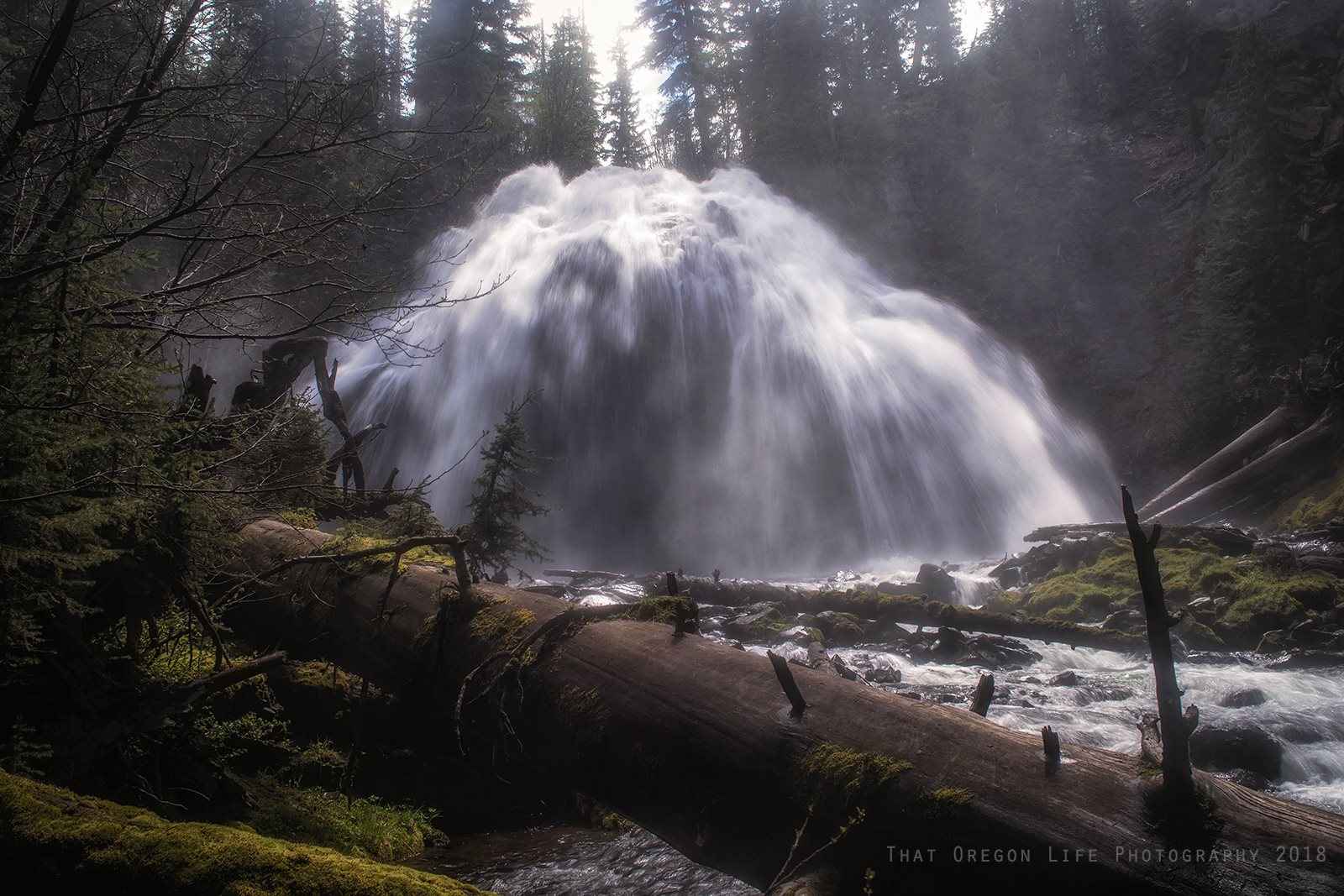 This 5-mile round trip trail is best taken from June to October. To avoid people try going early in the morning before 9 am.
The trail will lead you through an eerie burnt forest and ends at a grand waterfall. It's easy to see why Chush Falls is a local favorite, and is a perfect day trip if you're spending time in Bend or Sisters.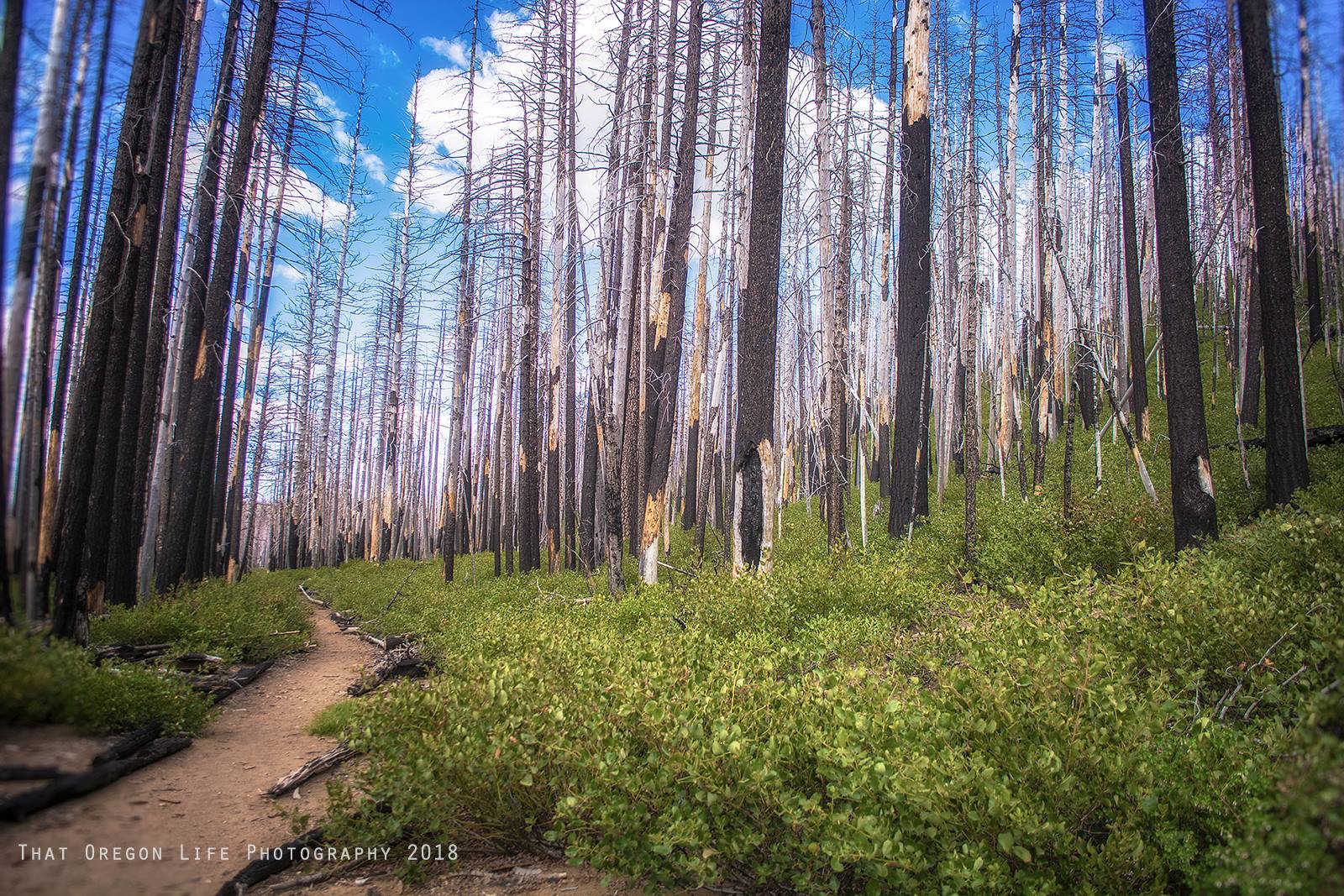 ---
READ MORE: This Easy Hike to Beautiful Chush Falls is the Perfect Bend Day Trip
---
Oregon Waterfall Hikes on the Coast
The Oregon Coast range is one of the most beautiful areas you can visit in the state and does not lack waterfalls to hike.
20. Sweet Creek Falls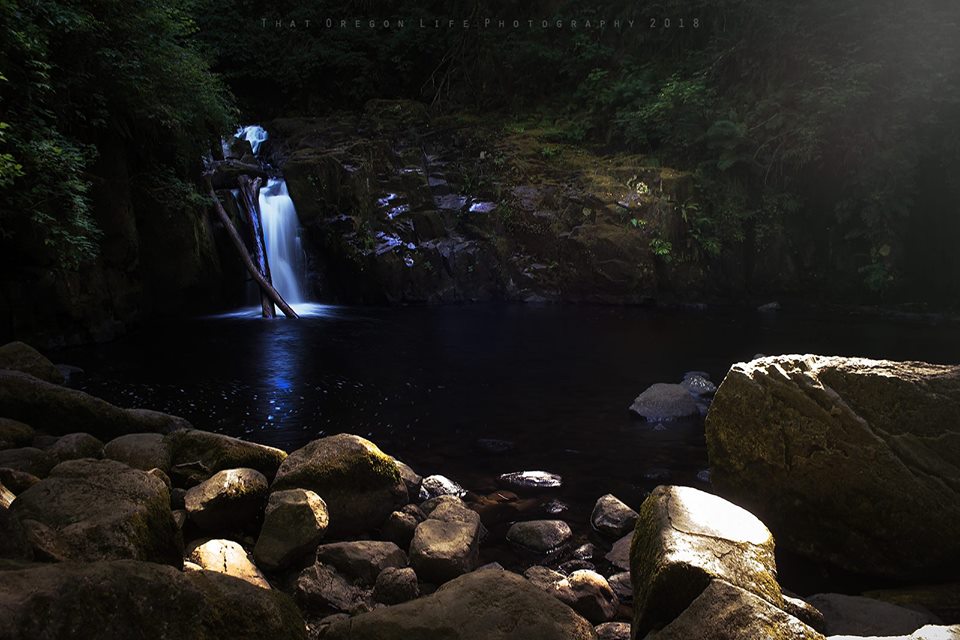 Take a trip to Sweet Creek Falls and be amazed by the cascading waterfalls tucked away in Oregon's scenic Siuslaw National Forest.
Enjoy an easy nature hike with dirt paths, catwalks,and creek beds while soaking up the beauty of fall foliage!
Bring your family along for this perfect walk that hardly has any elevation gain at all – 350 feet max – so even your little ones can explore.
The largest waterfall is one not to miss; prepare yourself for amazing views from every angle before you head back full of natural bliss without spending money on park fees
How do you get here?
Getting there from Eugene: Take Highway 126 toward Florence, Oregon. Sweet Creek Road #5036 is located on the East side of the Mapleton bridge. Turn left onto Sweet Creek Road and travel for 10.2miles, Homestead Trailhead is on the right.
Trail Options: The Homestead Trailhead to Sweet Creek Falls is 1.1 miles. The Sweet Creek Falls Trailhead to Sweet Creek Falls is 0.4 mile. Sweet Creek Falls to the Wagon Road Trailhead is 0.8 mile. Wagon Road Trailhead to Beaver Creek Falls is 0.6 mile.
READ MORE: Sweet Creek Falls is One Of Oregon's Most Stunning Coast Hikes
---
21. Young's River Falls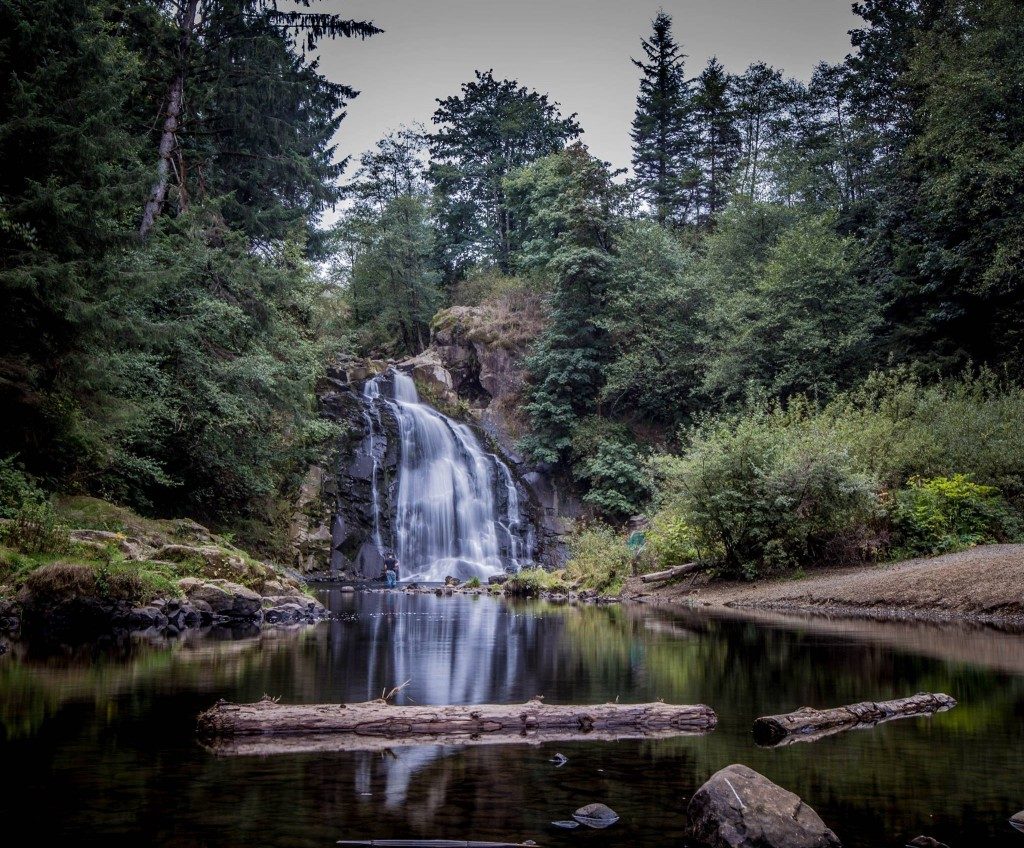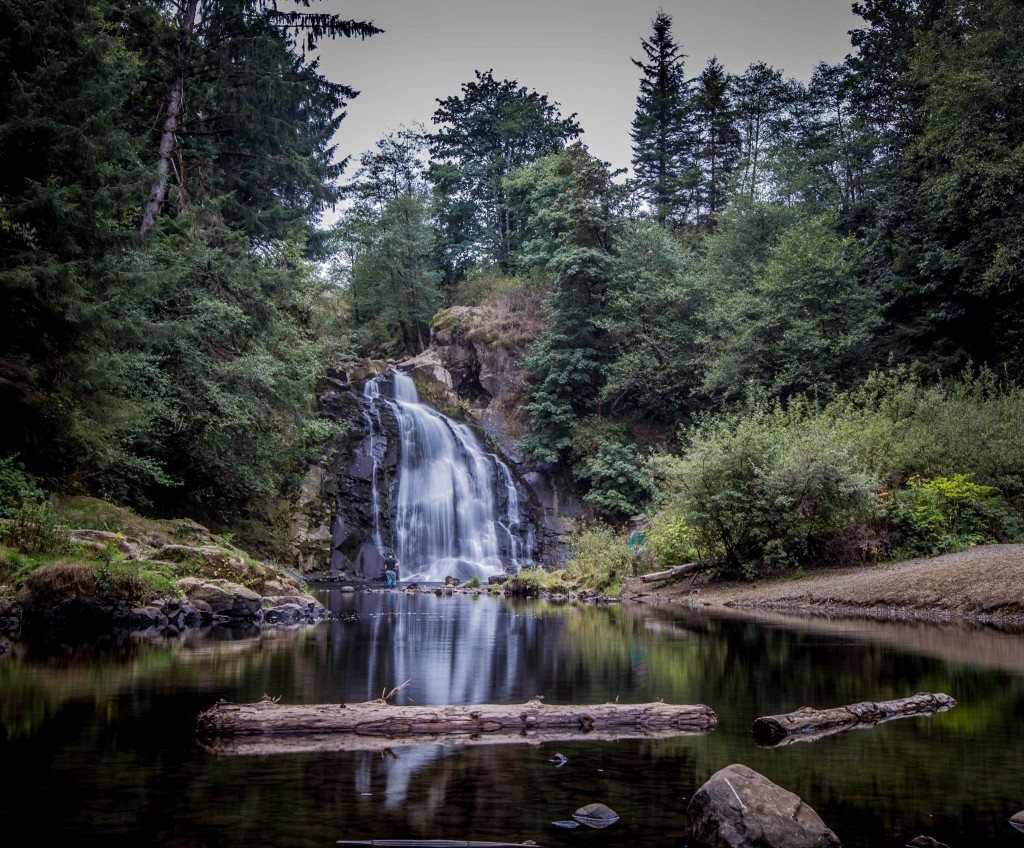 Young's River Falls is a scenic 65-ft waterfall on the Young's River in northwestern Oregon. The falls are located in central Clatsop County, about 10 miles south of Astoria. Youngs River Falls have been featured in several movies, including Free Willy 2 and Teenage Mutant Ninja Turtles 3.
---
RELATED: Fun Things to Do in Astoria, Oregon
---
Getting there:
Near Astoria turn right onto HWY 101 Business Loop.
After 1.3 miles bear right to remain on the business loop.
After another 1.6 miles the business loop curves right. Turn on your left turn signal to head straight (watch for opposing traffic around curve).
A short distance from that intersection turn left onto Young's River Road.
After milepost 7 look for a brown sign saying "Young's Falls" and turn right.
Parking area is a short distance from the intersection and the waterfall is close by.
22. Watson Falls
At just a half-mile away, Watson Falls is known as one of the most accessible waterfalls in Oregon and it definitely makes for a great day outing.
Located right next to Crater Lake National Park, the gorgeous Umpqua National Forest is home to this spectacular 300 foot tall waterfall that will awe you with its force and beauty.
At the base of the falls, there is a viewing platform where you can take in the stunning view. You may want to bring a raincoat or poncho to protect yourself from the spray of the waterfall.
23. University Falls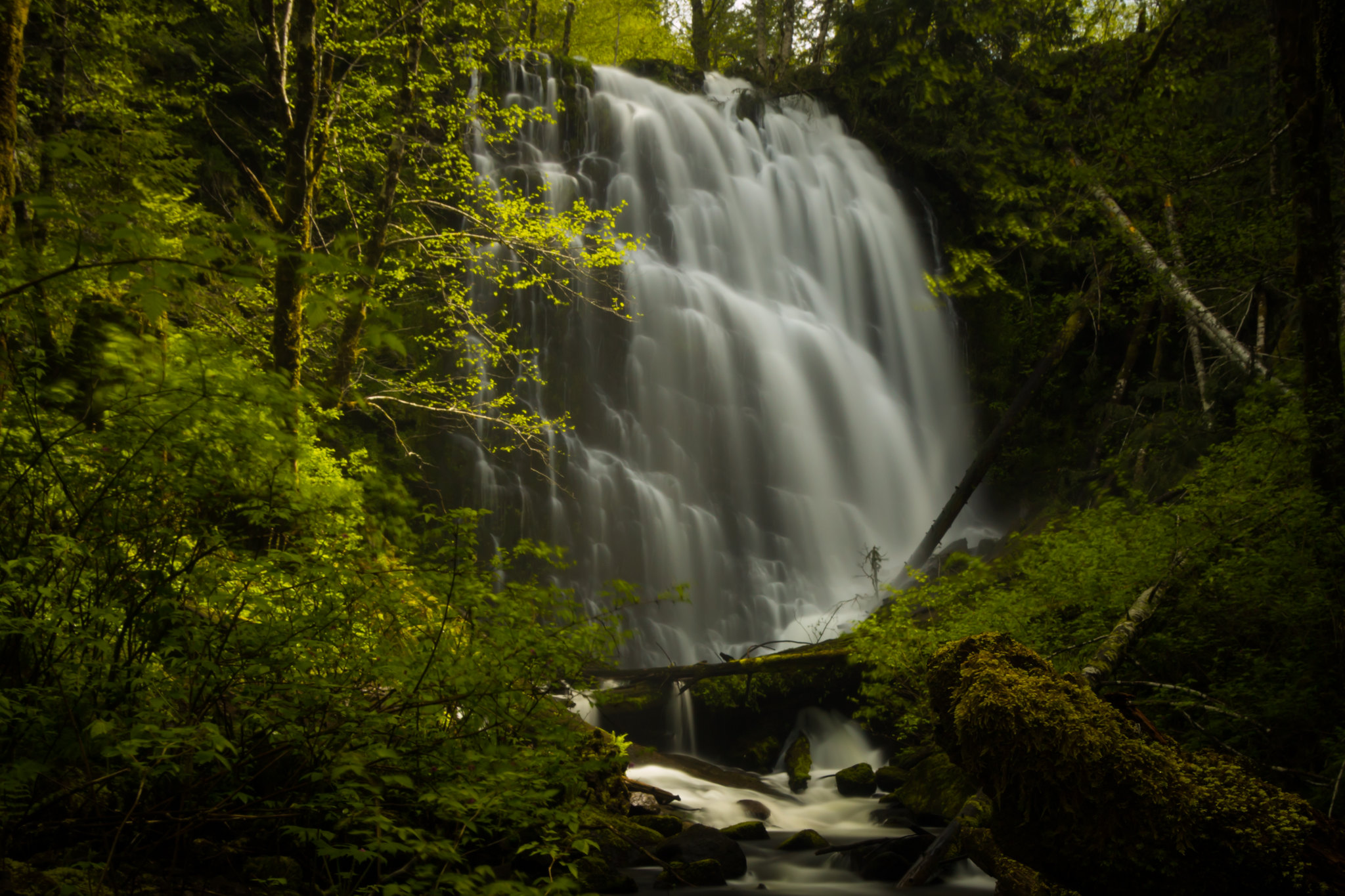 University Falls. Photo by Luke Detwiler via Flickr CC2
University Falls is not only beautiful, it's also the perfect hike for families or those looking for an easier hike to get out into nature. The trail is an easy .6 mile out and back trail which ends in this gorgeous waterfall in the Tillamook State Forest.
More Waterfalls to Explore in Oregon
As you continue your journey through Oregon, you simply cannot miss out on the chance to see some of the state's most stunning waterfalls. While we've already shared some of the best falls with you, there are still more that deserve your attention.
How Many Waterfalls Are There in Oregon
At the time of writing this, there are more than 238 waterfalls across the state of Oregon. According to the Northwest Waterfalls Survey, there are more than 1000 Oregon waterfalls. You essentially can't drive more than a half-hour without passing another one.
With 50 waterfalls in the Columbia River Gorge alone, we not only covered some of the best in the Gorge but we have categorized some of the best Oregon waterfalls by region.
Tips For Visiting Oregon Waterfalls
When out exploring the glorious waterfalls of Oregon, please follow the 7 principles of Leave No Trace so these areas can remain wild and beautiful for generations to come. Also be sure not to hike beyond your skill level, take all the food, water, and gas you need, and go with a friend! Don't forget to research where you're going first and plan for the weather.
Go early on a weekday when it will be less crowded.
Let someone know where you'll be and when you plan to return.
Take a friend to enjoy the falls with.
Please follow the 7 principles of Leave No Trace so these areas can remain wild and beautiful for future generations.
Bring your camera and pack a lunch and plenty of water.
Prepare for inclement weather.
Research the trails you plan to take and be sure the trail is open before you travel to your destination.
Note: Hiking and exploring the outdoors are At-Your-Own-Risk-Activities.
Some of the waterfalls, trails, and wilderness areas mentioned in this article require a parking fee, day-use pass, recreation pass, or wilderness permits. Research each trail before deciding to visit. Hiking and exploring nature are at-your-own-risk activities.