If you are looking for an Oregon waterfall hike that you can take the whole family on, one of the most famous waterfalls in all of Oregon is known as Toketee Falls and it's calling your name this weekend. Aptly named, Toketee is the Chinook word for "graceful"
Toketee Falls in Southern Oregon
---
This kid-friendly comes in at just under a mile, and you'll find the back trail located near Glide, which is near Roseburg in Southern Oregon. The trail is primarily used for hiking, nature trips, and birding and is accessible year-round and is part of the Umpqua National Forest.
At the end of the short hike you'll find the observation platform, which offers stunning views of the gorgeous waterfall: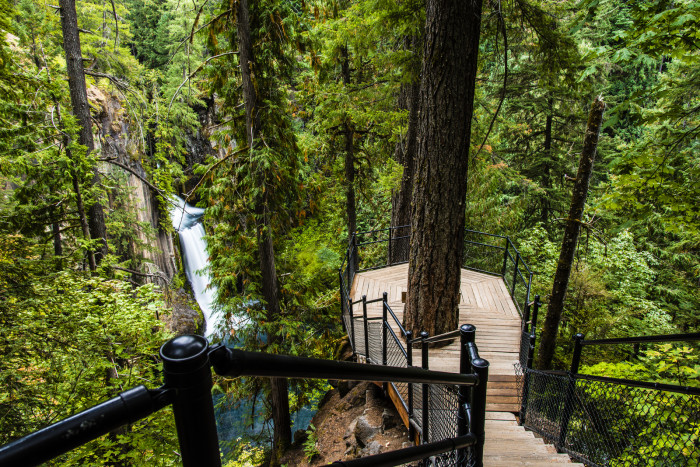 The North Umpqua River has carved a sinuous gorge out of the lava flow, resulting in a waterfall of 113 feet in height – a 28-foot upper tier that plunges into a pool flanked by a deep alcove, followed by two stepped falls and an 85-foot plunge into a large pool.
At the trailhead, the wooden 12-foot diameter Toketee Pipeline is passed, which diverts much of the volume of the North Umpqua River to a powerhouse downstream. This artificial taming of the river allows the waterfall to flow in an extremely consistent manor all year long.
You will also come across other beautiful falls along your hike.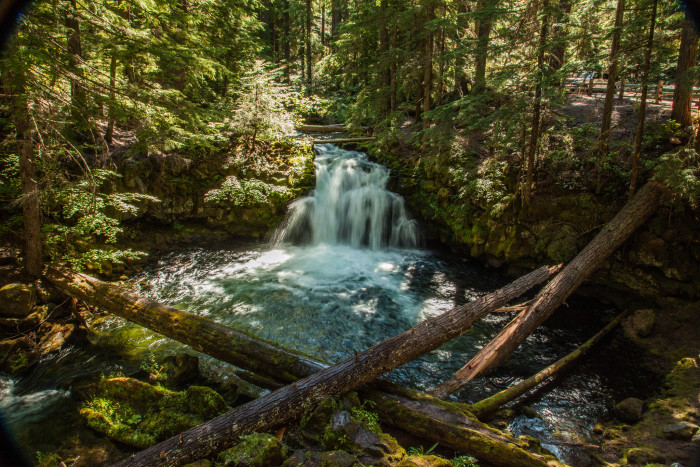 ---
RELATED: 23 Must See Waterfall Hikes Oregon You Can't Miss
---
Things To Do Near Toketee Falls
Hiking and Nature Trips
The Umpqua National Forest has many hiking trails leading to other beautiful waterfalls like Watson Falls and Clearwater Falls. The North Umpqua Trail is a popular option that offers a multi-day hike through the forest to other creek-fed waterfalls with stunning views of the river and surrounding landscape.
Fishing
The North Umpqua River is a popular spot for fishing, with steelhead and salmon runs from May through November. There are several fishing access points along the river, and fishing licenses can be purchased from local vendors.
Hot Springs
The Umpqua Hot Springs is located about 30 minutes from Toketee Falls and are a popular destination for visitors looking to relax in natural hot springs. The hot springs are located in a beautiful setting and offer stunning views of the surrounding forest.
Scenic Drives
The Rogue-Umpqua Scenic Byway is a 172-mile drive that takes visitors through some of the most beautiful areas of Southern Oregon. The drive passes through forests, rivers, and several waterfalls, including Toketee Falls.
Wildlife Viewing
The Umpqua National Forest has various wildlife, including black bears, cougars, elk, and bald eagles. Visitors can watch for these animals as they hike or explore the area.
Camping
Several campgrounds are located in the Umpqua National Forest, offering visitors a chance to experience the beauty of the forest for multiple days. Campsites are available on a first-come, first-served basis, and some campgrounds offer amenities like running water and electricity.
Rafting and Kayaking
The North Umpqua clearwater river offers exciting opportunities for rafting and kayaking. Visitors can take guided trips down the river, rent their equipment, and explore independently. The river offers a mix of rapids and calm stretches, making it an excellent option for all skill levels.
Wine Tasting
The Umpqua Valley is known for its wine, with several wineries in the area. Visitors can participate in wine tastings, learn about the local wine industry, and enjoy the beautiful scenery of the Toketee Falls trail and the surrounding vineyards.

How To Get To Toketee Falls
From Roseburg, take Oregon Highway 138 east to a junction with the paved Toketee-Rigdon Road between mileposts 58 and 59. Turn north and proceed 0.2 miles to a fork, bear left, cross a bridge, immediately onto the forest road and turn left onto the spur road to the Toketee Falls trailhead.
We highly recommend this hike at That Oregon Life, and you will find the trail is well-maintained and should be accessible for just about anyone.
Frequently Asked Questions (FAQs)
Is the hike to Toketee Falls difficult?
No, the hike to Toketee Falls is relatively easy and suitable for all ages and skill levels. The trail is just under a mile long and is well-maintained, with a gradual incline and a few sets of stairs.
When is the best time to visit Toketee Falls?
The waterfall is accessible year-round, but the best time to visit is in the spring when it is at its fullest. Summer is also a popular time to visit, but the falls may have less water. Fall can be a beautiful time to visit as the leaves change color, and winter can be a peaceful time to enjoy the winter scenery.
Is there an entrance fee for Toketee Falls?
There is no entrance fee for visiting Toketee Falls but a parking fee of $5 per vehicle.
Can I swim in the pools at the base of the falls?
Swimming in the pools at the base of the falls is not recommended as the water can be cold, and the currents can be intense. There have also been incidents of visitors being injured or killed by falling rocks, so staying on designated paths and observation areas is essential.
Are there any amenities near Toketee Falls?
Restrooms and picnic tables are located near the parking lot and area, but no other amenities are nearby. Visitors should bring their food and water and be prepared for outdoor activities.
Are pets allowed on the trail to Toketee Falls?
Yes, pets are allowed on the trail to Toketee Falls, but they must always be kept on a leash. Pet owners are also responsible for cleaning up after their pets on the falls trail.
Is the trail to Toketee Falls accessible for people with disabilities?
The trail to Toketee Falls is not fully accessible for people with disabilities, as several stairs are along the way. However, there is an accessible viewing platform near the falls that can be reached via a short path from the trailhead parking area.
Looking for more awe-inspiring places to explore? Check out our 37 jaw dropping Oregon trailheads.