Last updated on January 3rd, 2022 at 03:49 am
If you are looking for a hike that you can take the whole family on, one of the most famous waterfalls in all of Oregon is known as Toketee Falls and it's calling your name this weekend. Aptly named, Toketee is the Chinook word for "graceful"
Toketee Falls In Southern Oregon
---
This kid-friendly comes in at just under a mile, and you'll find the back trail located near Glide, which is near Roseburg in Southern Oregon. The trail is primarily used for hiking, nature trips, and birding and is accessible year-round and is part of the Umpqua National Forest.
At the end of the short hike you'll find the observation platform, which offers stunning views of the gorgeous waterfall: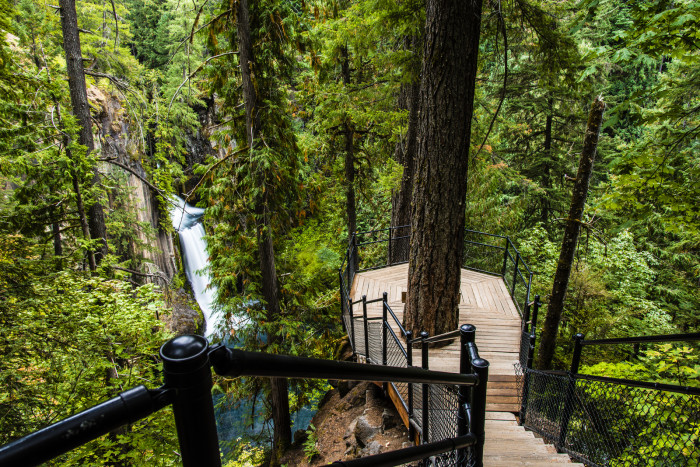 The North Umpqua River has carved a sinuous gorge out of the lava flow, resulting in a waterfall of 113 feet in height – a 28-foot upper tier that plunges into a pool flanked by a deep alcove, followed by an 85-foot plunge into a large pool.
At the trailhead, the wooden 12-foot diameter Toketee Pipeline is passed, which diverts much of the volume of the North Umpqua River to a powerhouse downstream. This artificial taming of the river allows the waterfall to flow in an extremely consistent manor all year long.
You will also come across other beautiful falls along your hike.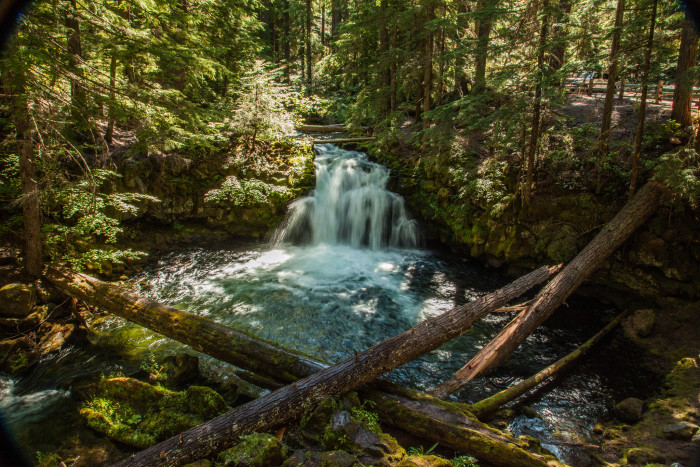 Things To Do Near Toketee Falls
How To Get To Toketee Falls
From Roseburg, take Oregon Highway 138 east to a junction with the paved Toketee-Rigdon Road between mileposts 58 and 59. Turn north and proceed 0.2 mile to a fork, bear left, cross a bridge, then immediately turn left onto the spur road to the Toketee Falls trailhead.
We highly recommend this hike at That Oregon Life, and you will find the trail is well maintained and should be accessible for just about anyone.
Another of our absolute favorite Oregon waterfalls is the beautiful Munson Creek Falls over on the coast. Check it out here.