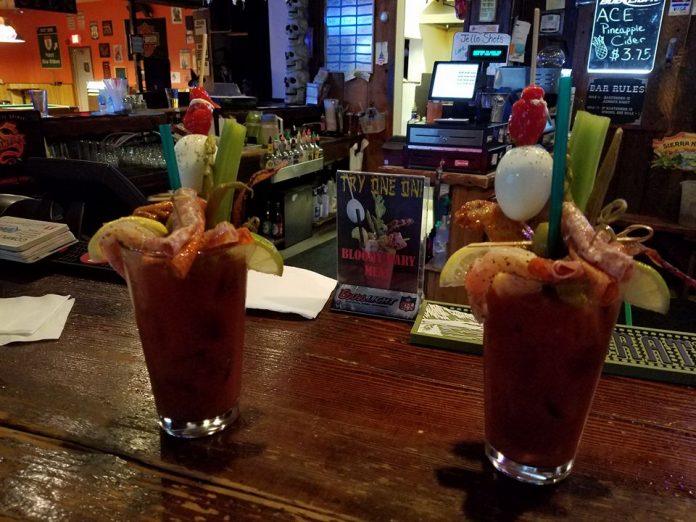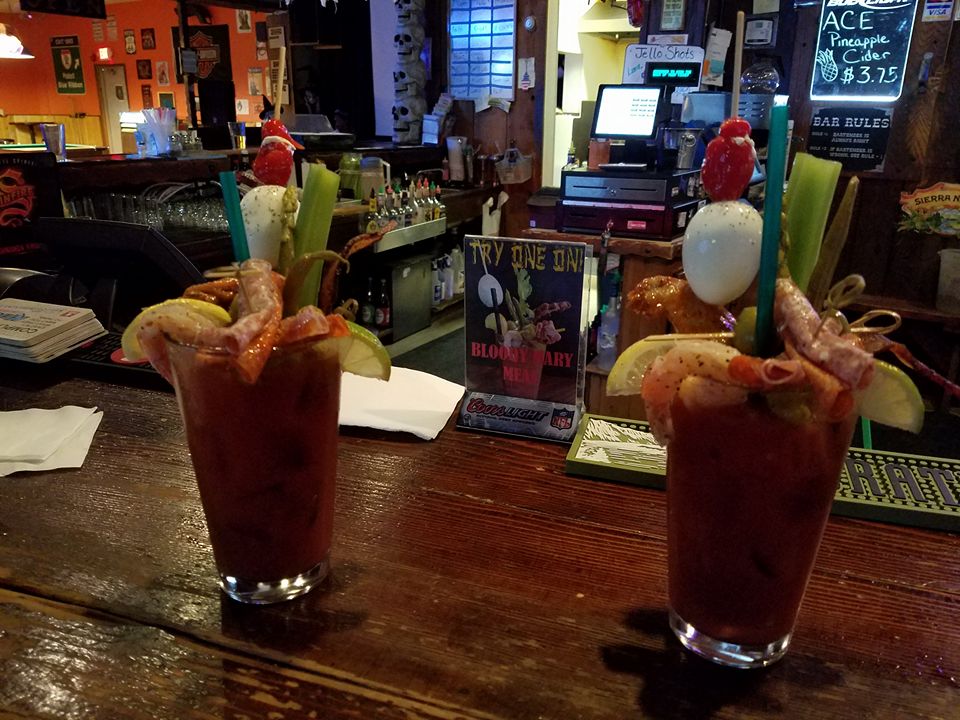 The morning Bloody Mary is almost a ritual sacrament. From low-key bars to fancy brunch pilgrimages, here in pilgrimages, here in Oregon we understand just how crucial the Bloody Mary cocktail is. So pay supplication to the tomato Gods with some of the best in Oregon.
According to most sources, the Bloody Mary made its first appearance at Harry's New York Bar in Paris, a legendary hangout during the 1920s and '30s frequented by famous regulars including Ernest Hemingway and F. Scott Fitzgerald. Fernand Petiot claimed to have invented the Bloody Mary in 1921, well before any of the later claims, according to his grand-daughter. With the influx of vodka that arrived on the scene from Russians fleeing the Revolution and canned juices and other ingredients brought by American expats fleeing Prohibition, a new world of cocktails was discovered.
Sign up for monthly emails full of local travel inspiration and fun trip ideas. In each newsletter we'll share upcoming events, new things to do, hot dining spots and great travel ideas.
We asked our Facebook followers at That Oregon Life recently to suggest the best places to get a Bloody Mary, and below are the answers as well as some of our favorite locations all around Oregon. Since this article was originally written in 2017, a couple of these places have closed, so we have replaced them.
If you have other suggestions or want to give votes for the ones listed here, comment below!
1. Cafe Sintra (7 N Ponderosa Rd., Sunriver)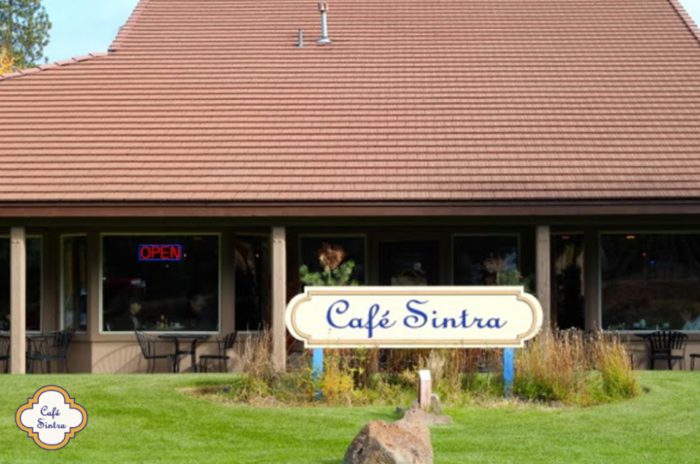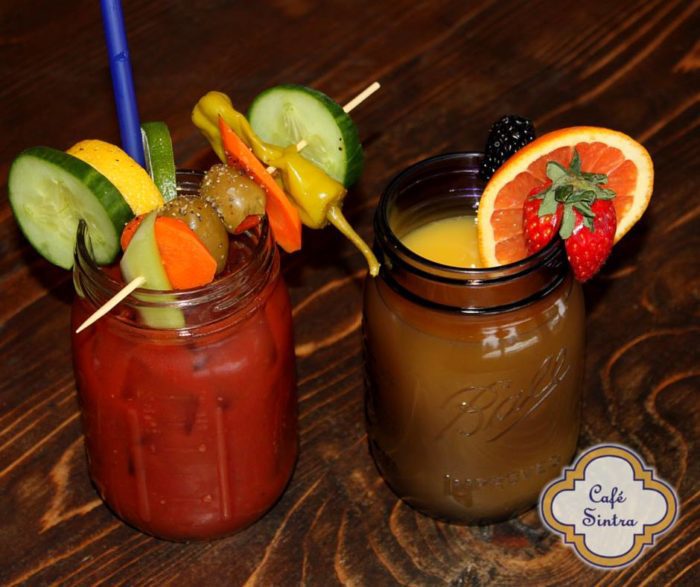 While you are relaxing in Sunriver, make sure and drop by this cozy little Portuguese cafe. Their food is tasty and fresh, and their Bloody Marys are on point. The house-brined veggies take their Bloody Mary to the next level.
7 N Ponderosa Road, Sunriver, OR 97707 |  541-593-1222
2. Henry's Tavern (Portland)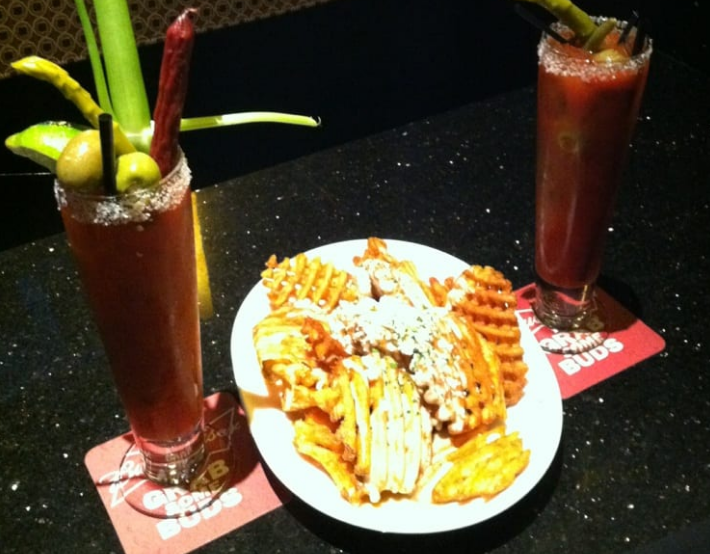 One of our favorite places in Portland to get amazing food in a very relaxing atmosphere. Henry's is definitely known for their amazing Bloody Mary.
10 NW 12th Ave. Portland, OR 97209 | 503.227.5320
3. Smithfields Restaurant (Ashland)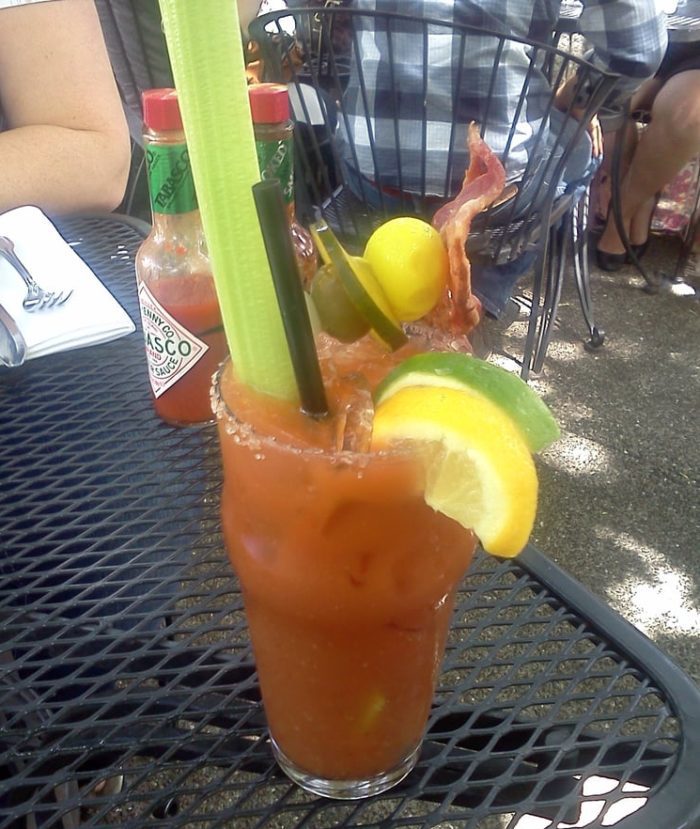 Smithfields Restaurant and Bar is a well known favorite with locals in Ashland. This steakhouse join specializes in sustainable nose to tail dining (utilizing the whole animal) and in house charcuterie. Their meats are local, the atmosphere is awesome and their Bloody Mary is delicious.
36 S 2nd St
Ashland, Oregon | 541-488-9948
4.

Gryff's Pub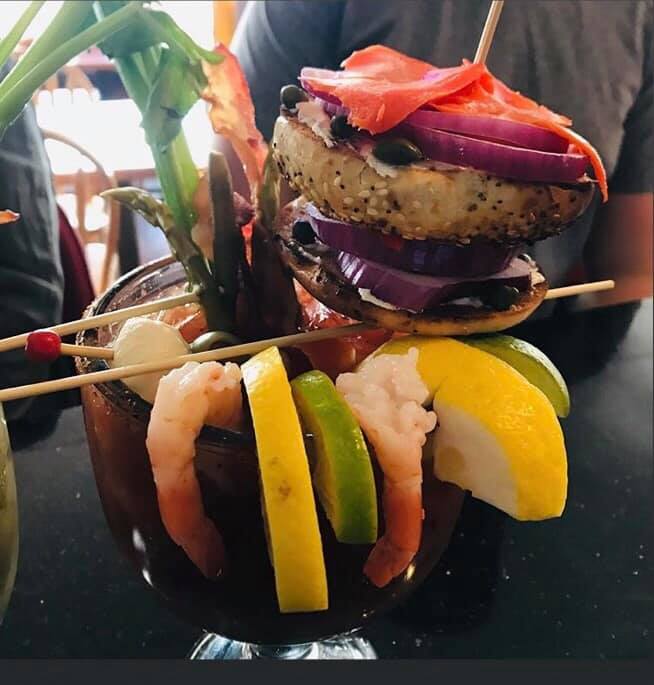 Impressive Bloody Mary's and great food too, Gryffs is a popular spot for locals in Springfield.
720 S A St
Springfield, OR 97477
(541) 650-6677
5. Morrtons Pizza (Medford)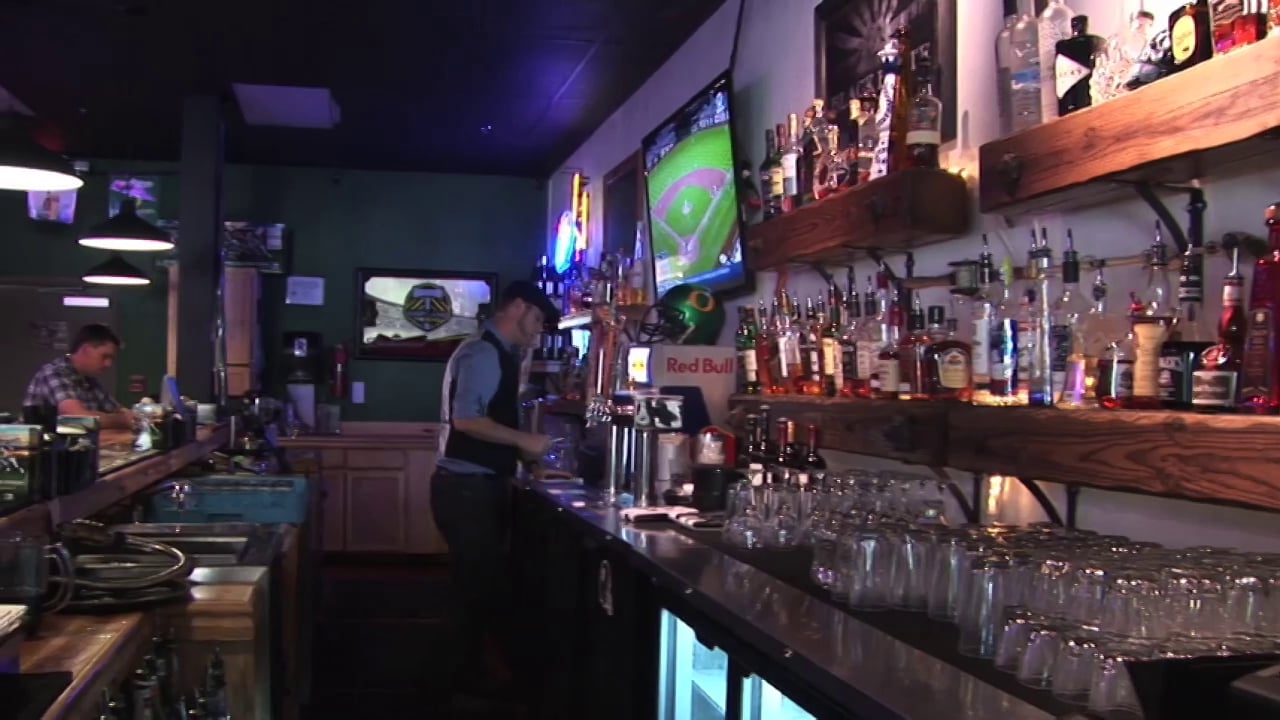 Pizza, wings & sandwiches served in a simple eatery with a sports bar area & flat-screen TVs. And of course, they serve a mean Bloody Mary too.

980 N. Phoenix Rd STE #105 | Medford, OR
6. Gilgamesh (Salem)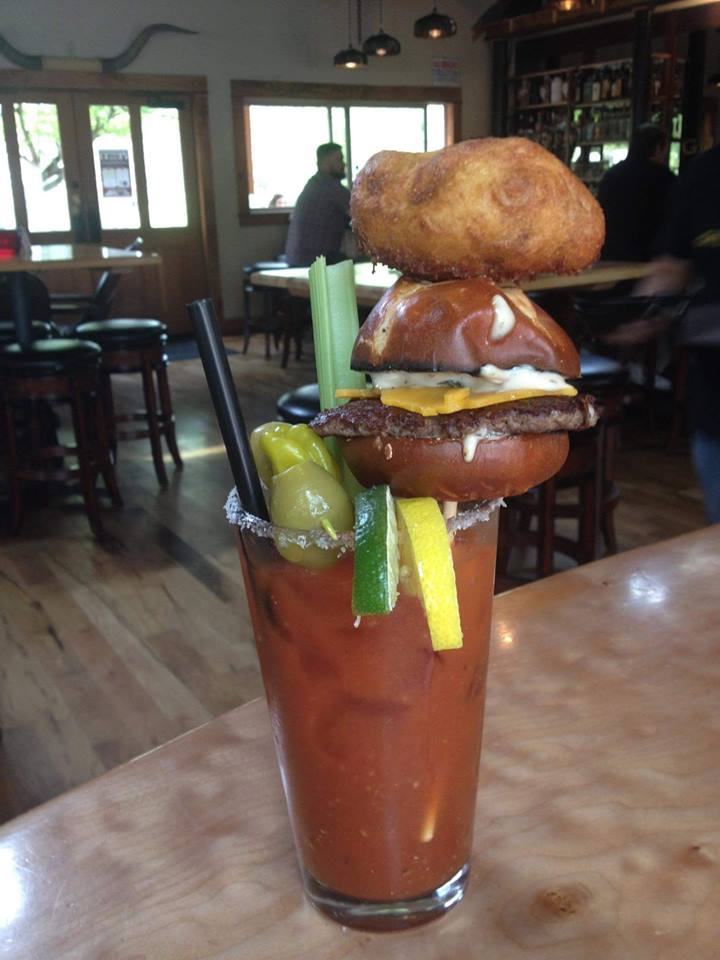 An outpost for house-brewed beer & pub food served in a rustic-modern space with a riverfront patio. You may want to skip the appetizer, as their Bloody Mary comes fully loaded.
2065 Madrona Ave SE, Salem, OR 97302
7. Ghost Hole Public House (Garibaldi)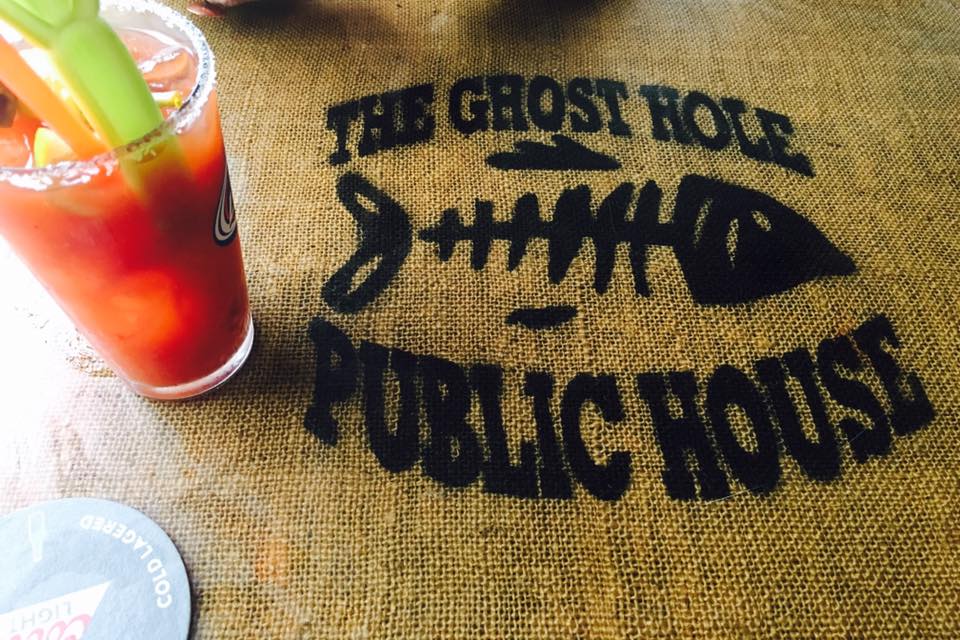 There aren't a lot of choices to choose from in the small town of Garibaldi, but the Ghost Hole Public House makes up for it. Their Bloody Mary is loaded with vegetables and has amazing flavor.
409 Garibaldi Ave
Garibaldi, OR 97118
Phone: (503) 322-2723
8. Cottonwood Cafe (Sisters)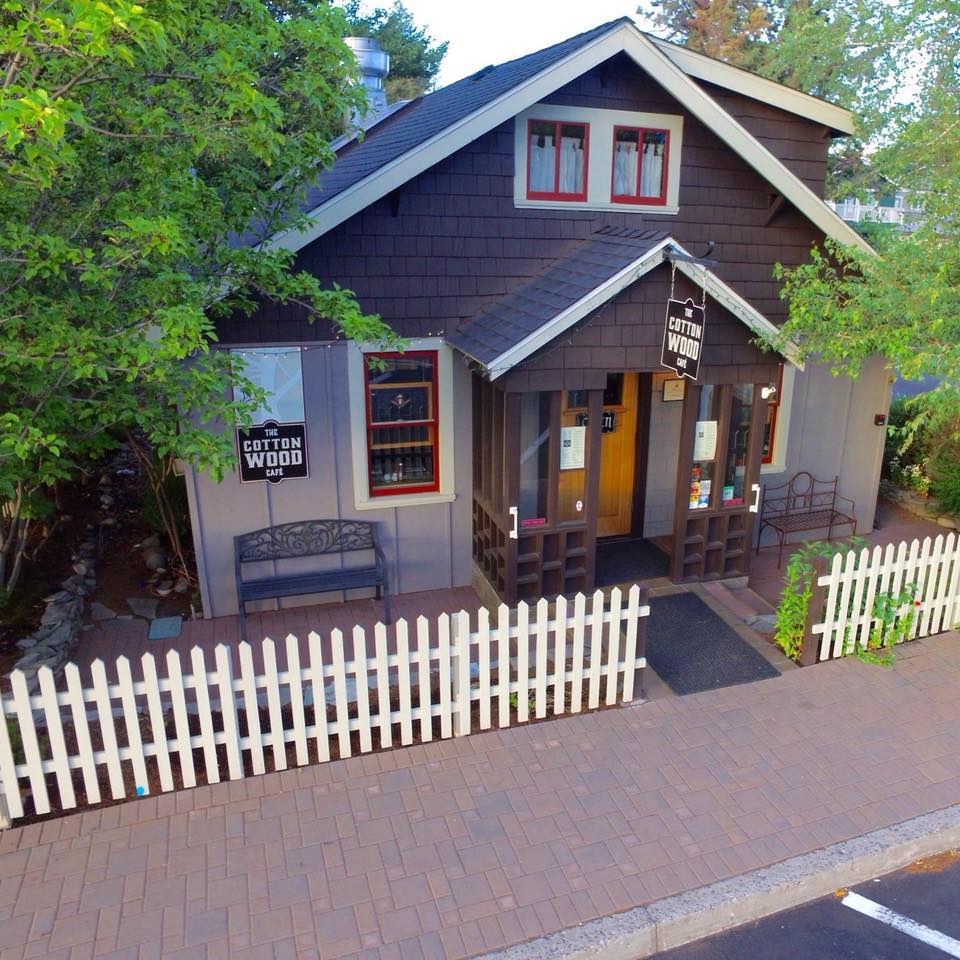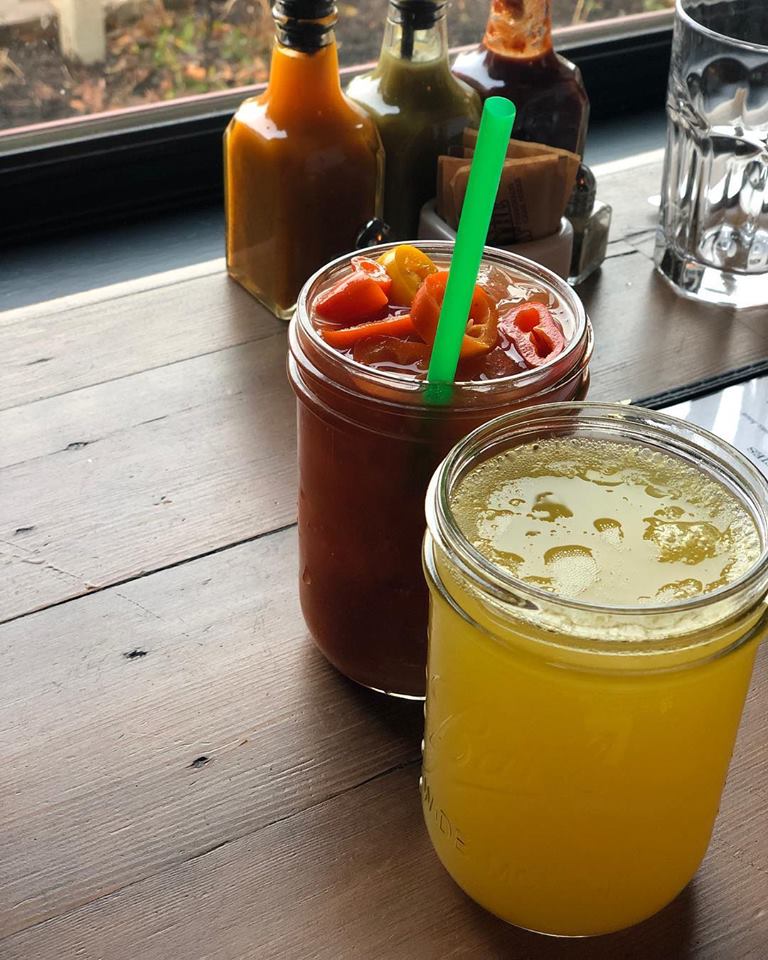 The Cottonwood Cafe was acquired in early 2018 by the Bend in Spoon restaurant group who, under the direction of founder, owner, and Sisters, Oregon resident, Chef David Touvell, opened CHOW, Local Slice, and Good Karma Bakery in Bend, Oregon. They offer delicious breakfast and lunch options that accommodate our locavore, carnivore, vegetarian, vegan, and gluten-free friends and neighbors. The Cottonwood Cafe is also known for its delicious Bloody Mary!
403 E Hood Ave, Sisters, Oregon 97759 | 541-549-2699
9. The Point (Sweet Home)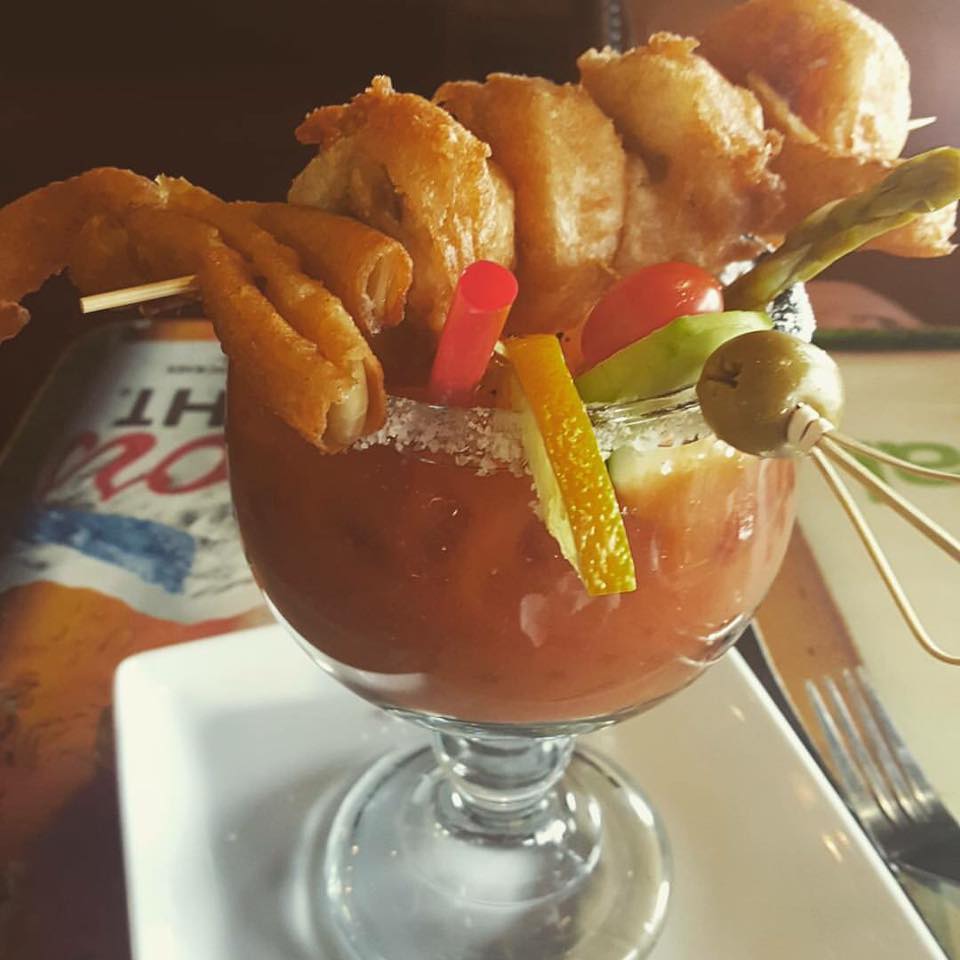 The Point only the freshest ingredients, sourced from Oregon when possible. Their seafood is never frozen, steaks are hand-cut, and their juicy burgers are ground by hand right here in the kitchen. Their Bloody Mary, of course, is a must-have when stopping here.

6305 Main St, Sweet Home, OR 97386
10. CHOW (Bend)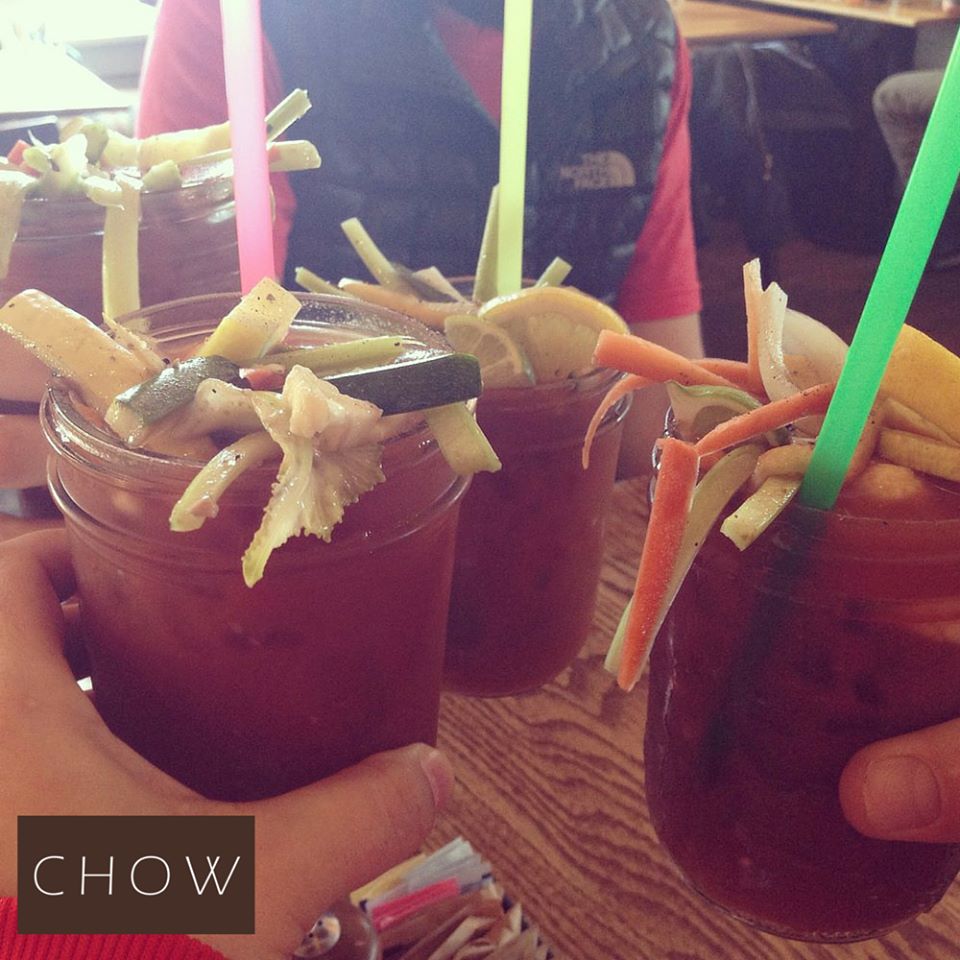 A little restaurant that promotes local farms, products, and the philosophy of sustainability. CHOW doesn't hold back when it comes to their famous Bloody Mary.

1100 NW Newport Ave, Bend, OR 97701
11. The Big Kahuna (Seaside)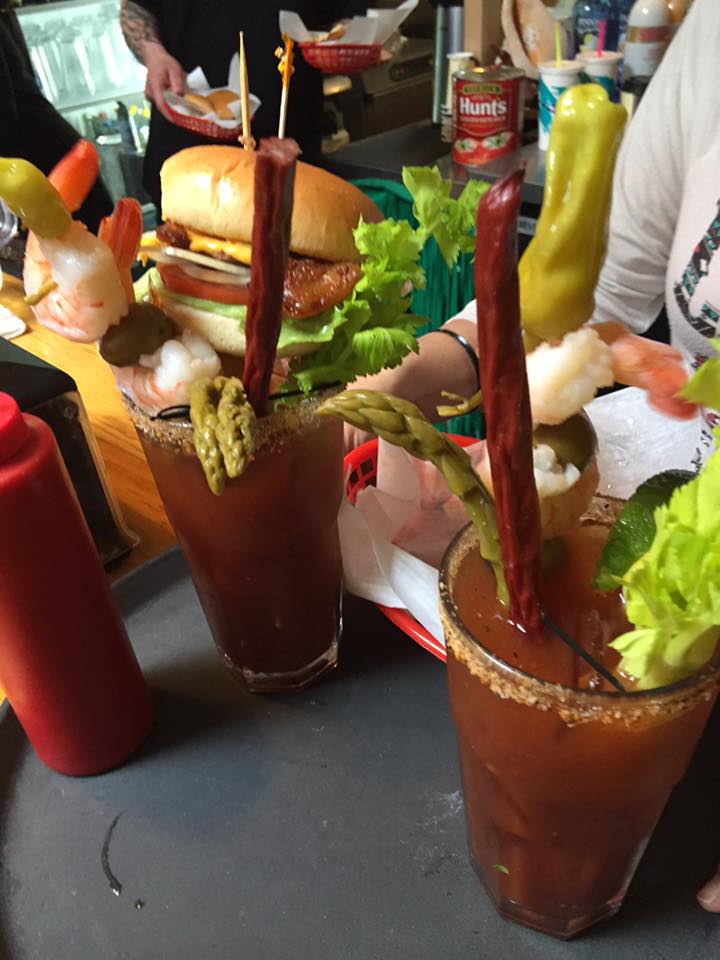 We had a ton of feedback on The Big Kahuna Pub. They are known for their amazing food and of course their amazing Bloody Mary.

111 Broadway St, Seaside, OR 97138
12. The Vintage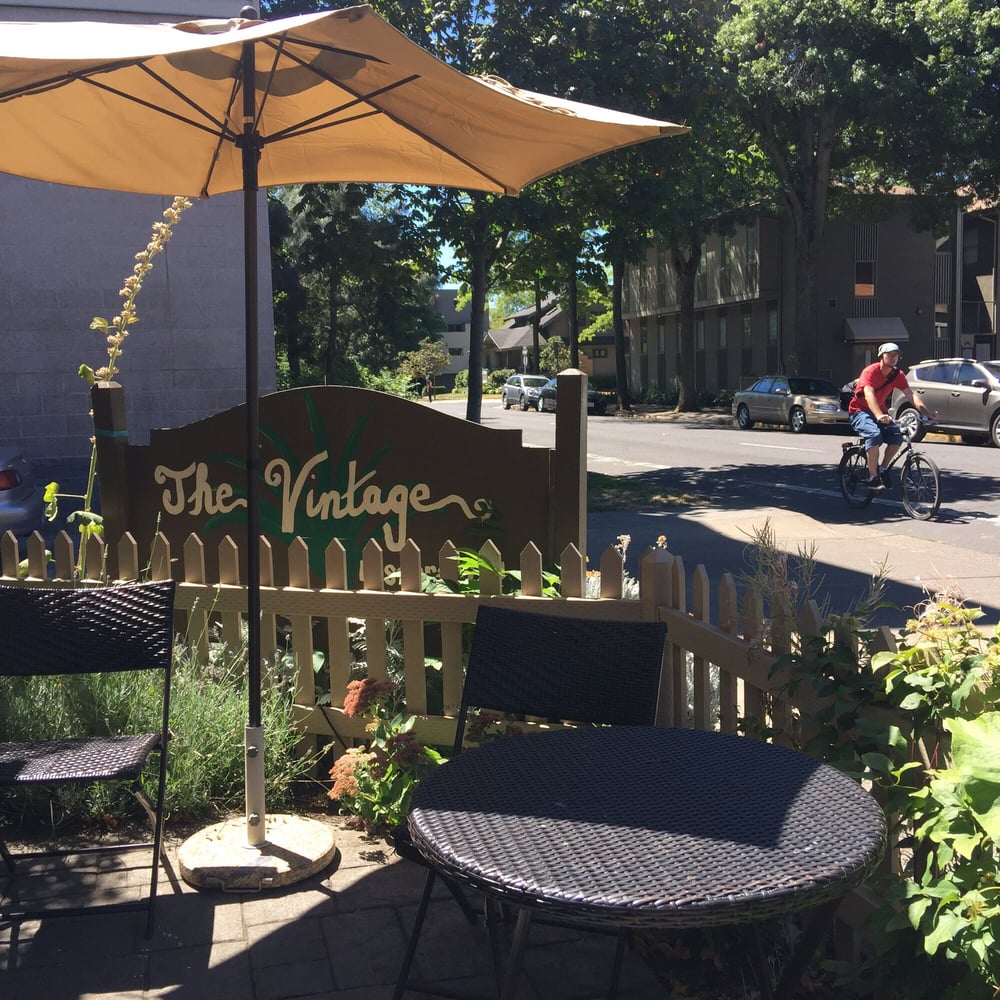 Another follower, Stacie also tells us to "Get the 'The Vintage Bloody Mary' it has jalapeno vodka in it and it's amazing."
837 Lincoln St, Eugene, OR 97401
13. The 411 Eatery and Lounge (Mcminnville)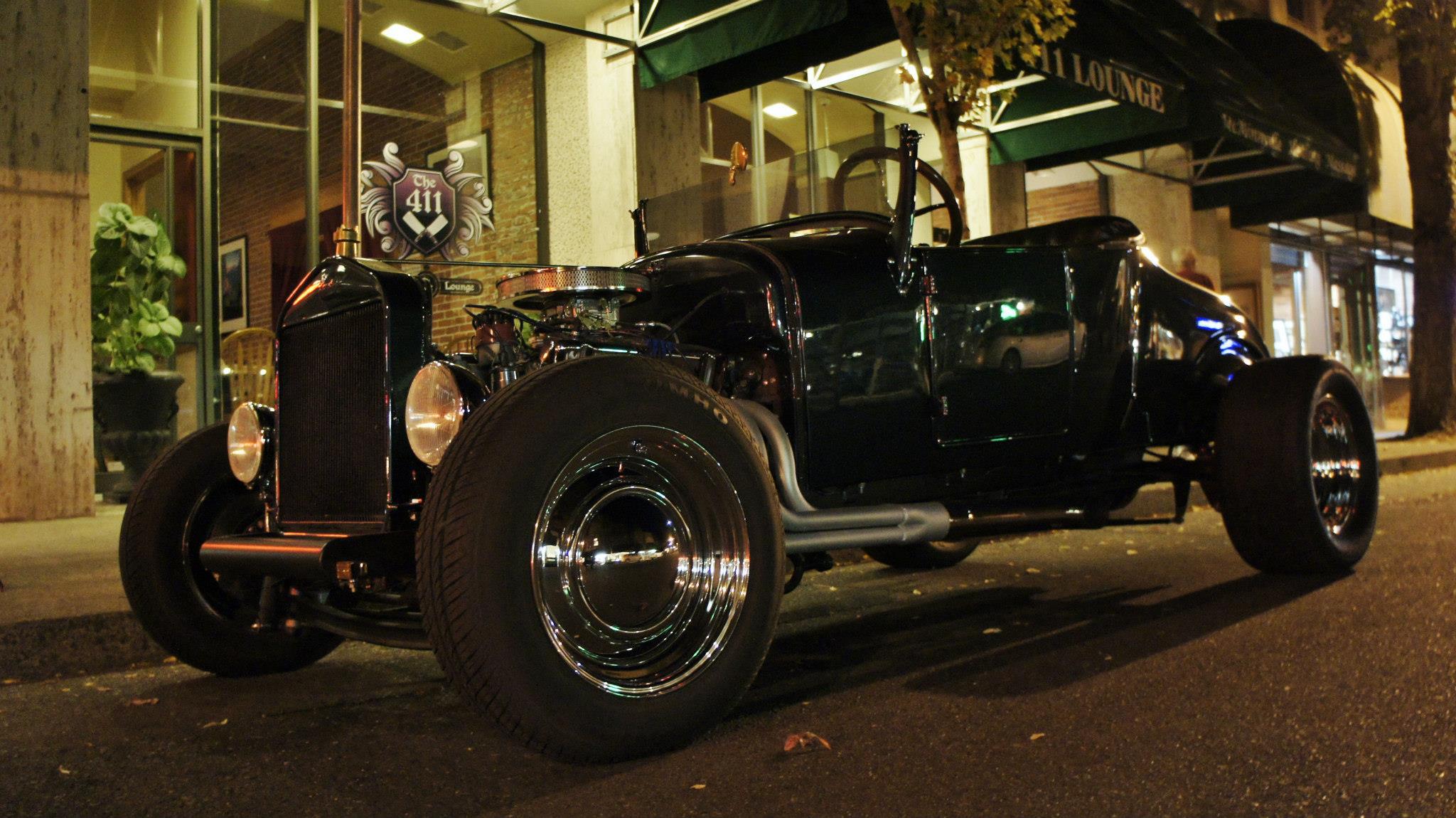 Enjoy fresh, prepared to order dishes from our menu's eclectic offerings. The casual setting lends a non-stuffy feel in which to relax while you dine.
411 NE 3rd St, McMinnville, OR 97218
14. Oakland Tavern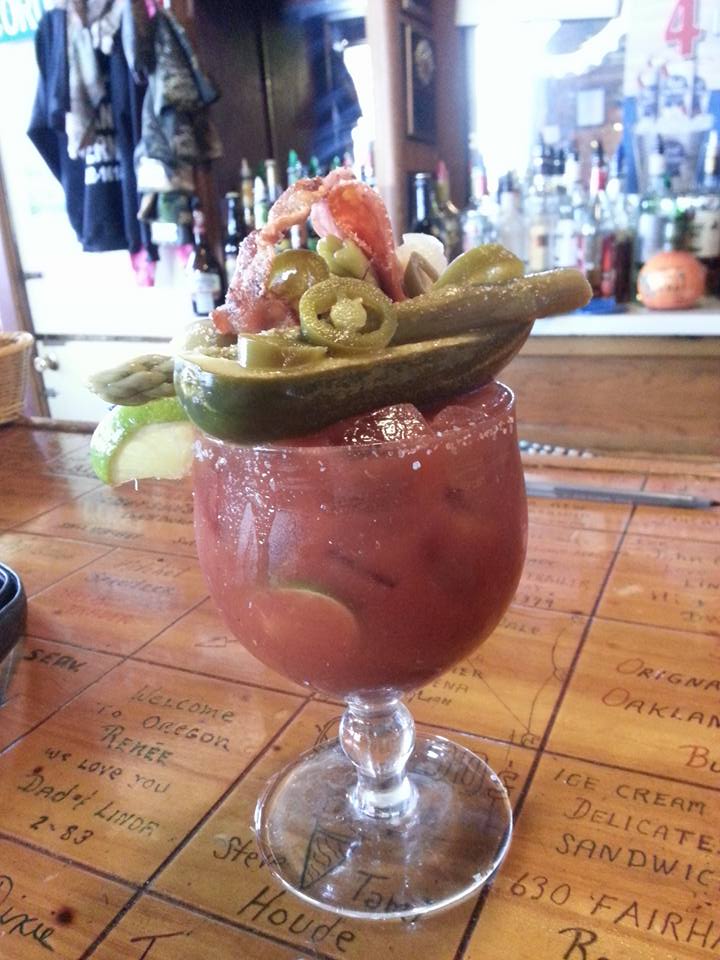 104 Locust St, Oakland, OR 97462
15. Waterin' Hole Tavern Inc (Fort Rock)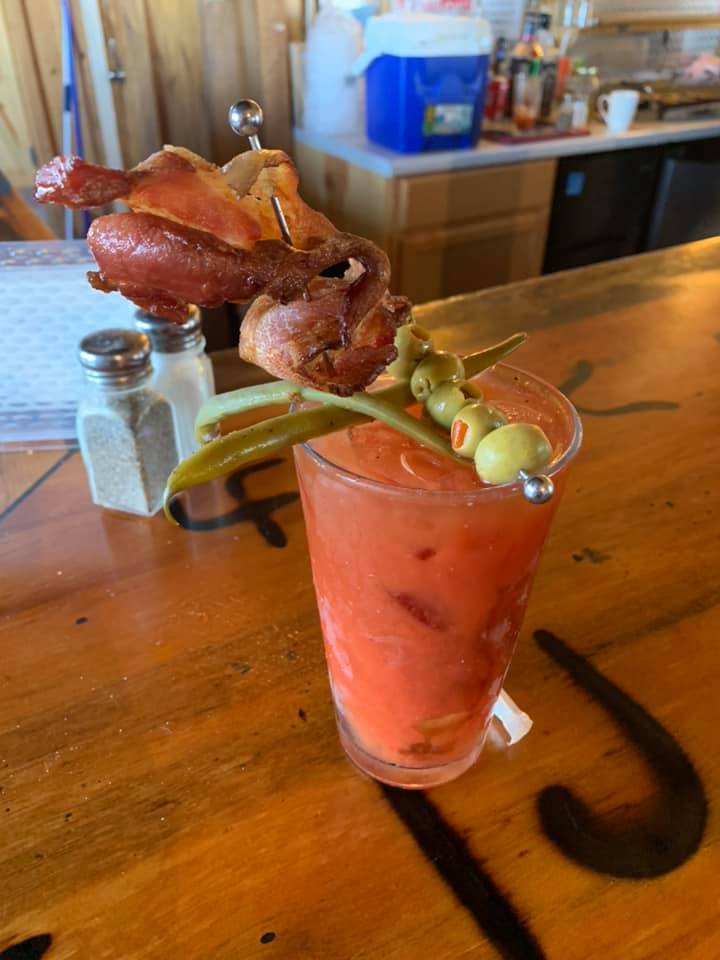 Great people, great food, and of course their Bloody Mary is on point. A must stop when visiting Fort Rock!
61983 Pitcher Rd , Fort Rock, OR 97735, Fort Rock, OR
16. Schoolhaus brewhouse (Jacksonville)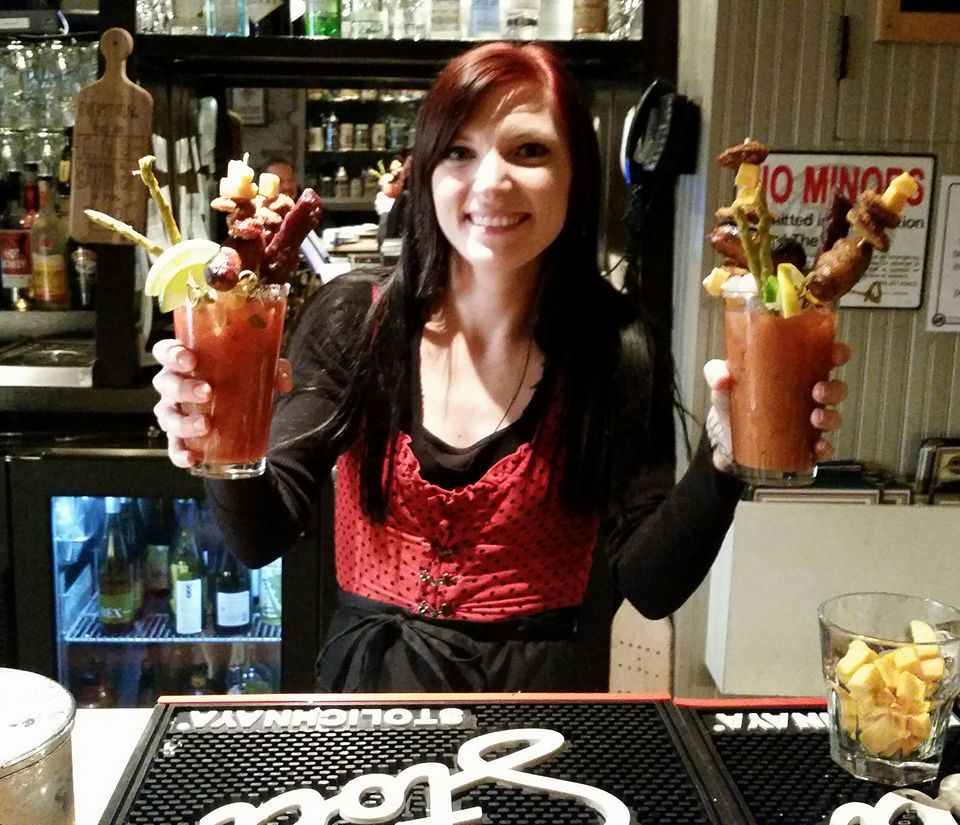 This traditional, festive German bar & restaurant is in a quaint former schoolhouse and features outdoor seating. This place was highly recommended by our followers.
525 Bigham Knoll Dr, Jacksonville, OR 97530
17. Cornucopia (Eugene)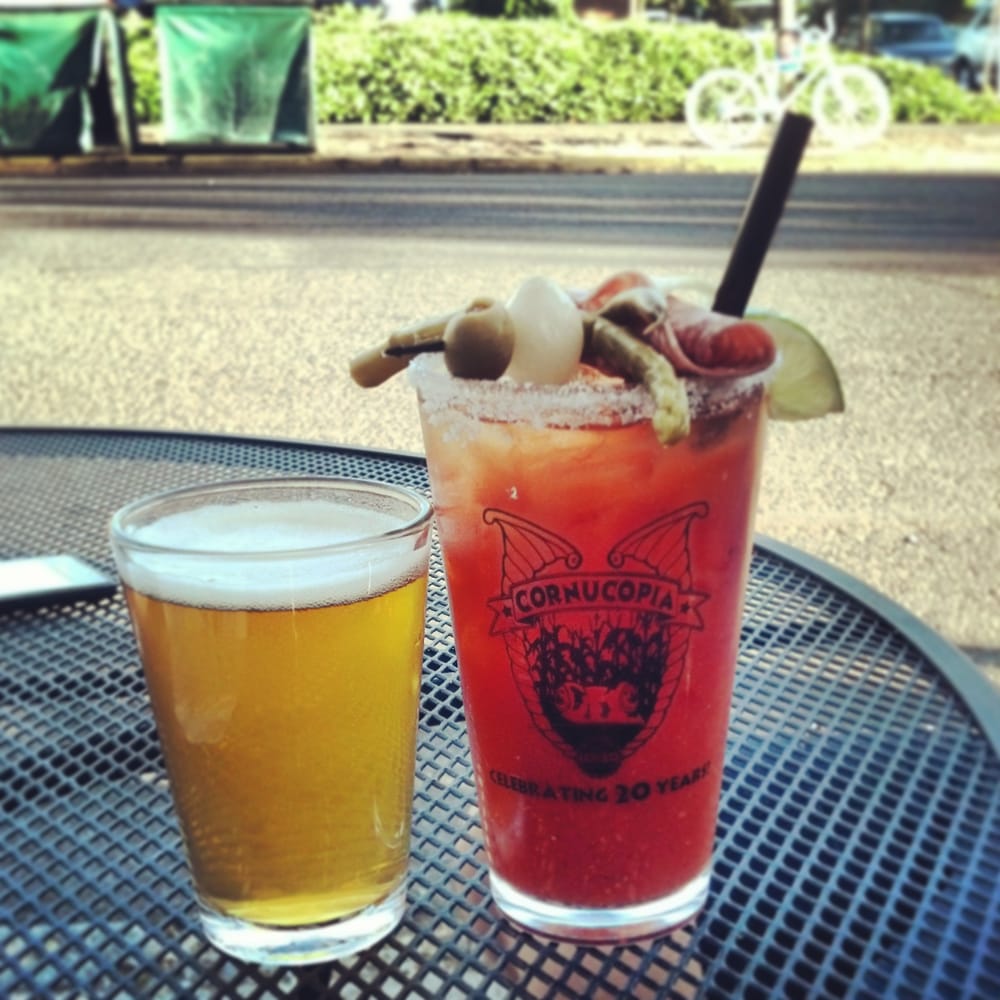 A local favorite, you can never go wrong at Cornucopia. Not only do they serve amazing food, but of course their Bloody Marys are to die for.
207 E 5th Ave, Eugene, OR 97401
(541) 485-2676
18. Fat Irish Kitchen & Pub (Harbor, OR)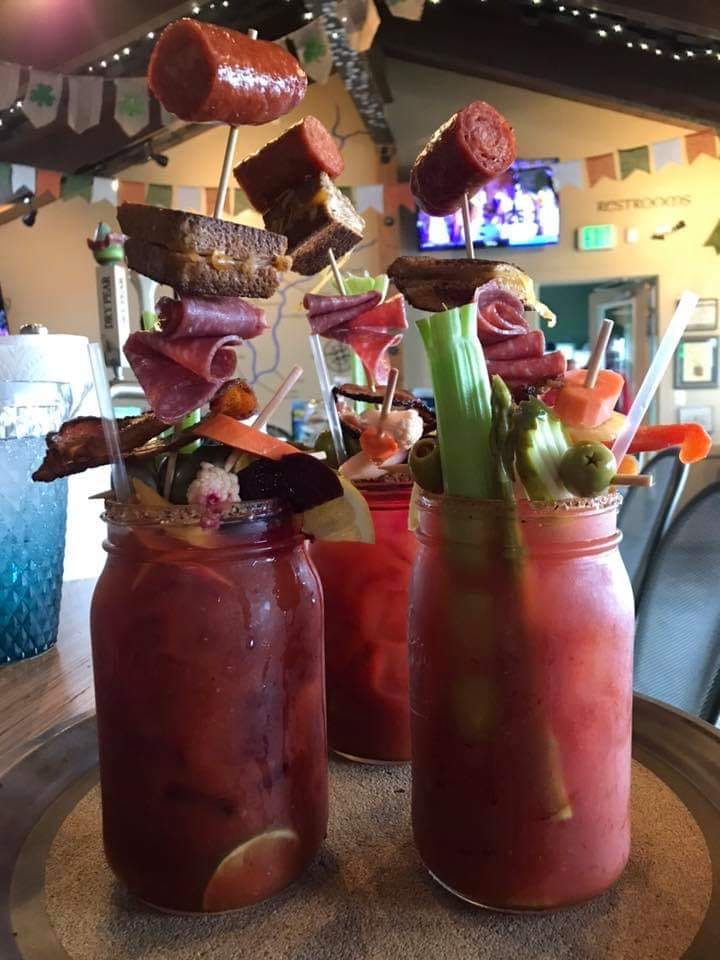 This family owned pub in Brookings specializes in great food and awesome drinks.
16403 Lower Harbor Rd, Harbor, OR 97415
(541) 254-3292
19. Gracie's Sea Hag (Depoe Bay)
Located in the heart of the City of Depoe Bayon, the front of Gracie's Sea Hag overlooks one of Oregon coast's most spectacular views of the Pacific Ocean. Beautiful views, a spouting horn, and the "World's Smallest Natural Harbor" featured in the Oscar-winning Movie One Flew Over The Cuckoos Nest, also Jack Nicholson's first Oscar-winning role for Best Actor, make Depoe Bay a gem of the Oregon Coast.
Hwy 101, Depoe Bay, OR 97341
(541) 765-2734
20. SweetWaters On The River (Eugene)
If you're in Eugene, Sweetwaters is a must-do. They have an amazing view of the patio right on the Willamette River with a great atmosphere and excellent service. Their Bloody Mary is to die for!
1000 Valley River Way, Eugene, OR 
541-341-3462