Last updated on March 27th, 2023 at 01:11 pm
Located in the beautiful Umpqua National Forest in Southern Oregon, Umpqua Hot Springs is a hidden gem that offers visitors an unforgettable experience of relaxation and natural beauty. The Cascade Mountain Range is a lovely backdrop, while the crystal clear waters and tranquil atmosphere make it the perfect destination for a peaceful and rejuvenating weekend getaway.
Natural Hot Springs and Breathtaking Scenery.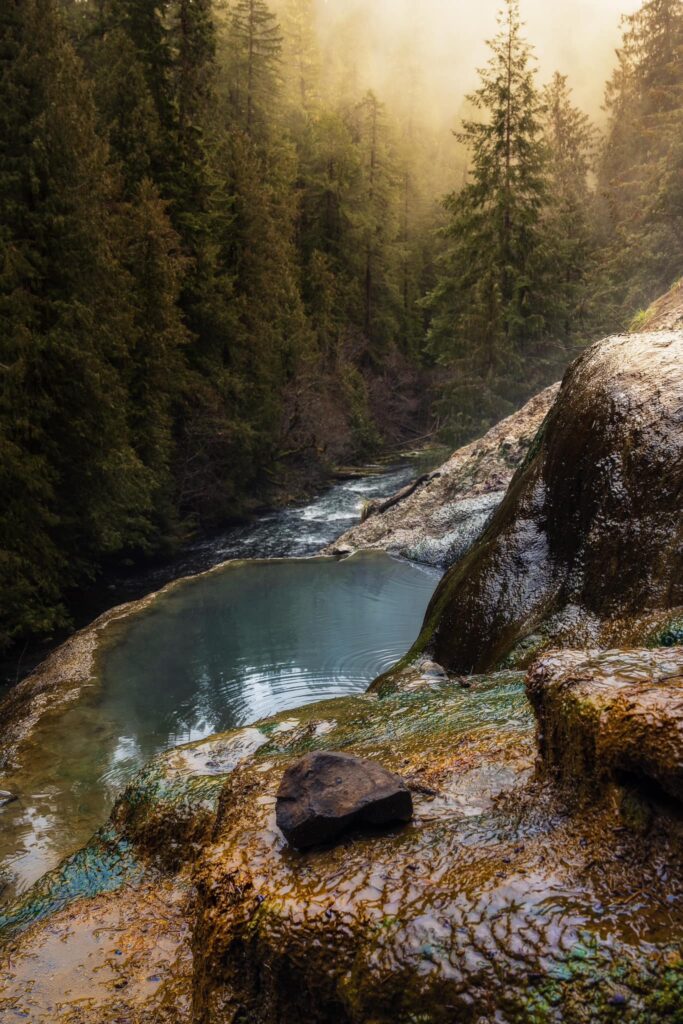 Umpqua Hot Springs (also known as Toketee Hot Springs) is one of the best hot springs in the Pacific Northwest, and for good reason. The crystal clear waters surrounded by lush green forests create a tranquil atmosphere that will leave you feeling rejuvenated and relaxed. As you soak in the warm water, take in the breathtaking scenery of the surrounding mountains and wildlife.
Are you ready to go?
It's no wonder these geothermal pools have become such a popular spot for nature lovers and those seeking a peaceful retreat from the hustle and bustle of everyday life.
The Umpqua Hot Springs are located in the Umpqua National Forest of Oregon, about 200 miles south of Portland. The natural setting is one of the main draws, as visitors feel like they're deep in the woods, although this is by no means a 'secret hot spring'. Folks on social media have been posting about it and sharing their gorgeous photos for years, making this one of the better-known hot springs in Oregon.
Appropriately, "Umpqua" is a local Native word for "dancing water."
Know Before You Go When Visiting Umpqua Hot Springs in Oregon
Having a high-clearance vehicle isn't necessary, but for passenger vehicles, it's recommended to go slow and avoid a flat tire. You'll also want to obtain a Northwest Forest Pass (HERE) as this is required. Once you get to the day-use parking lot, there is only a pit toilet available for use. We also recommend checking Google Maps before you go.
The soaking pools are accessed by a narrow footbridge and a 0.2-mile steep trail. The short hike will take about 15 minutes in total.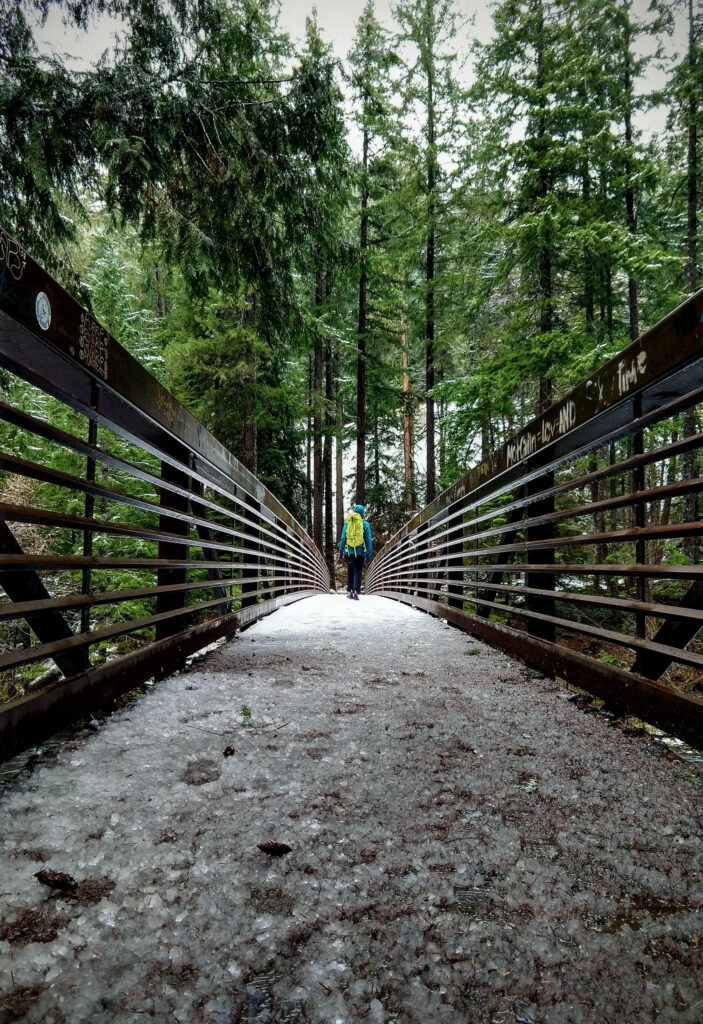 This natural hot spring is nestled into a rock formation above the North Umpqua River, and there are several pools at different levels, so you can find just the right temperature.
It's important to note when you visit Umpqua Hot Springs that the area is clothing optional, so do expect nudity and don't be surprised to find someone in their birthday suit.
The North Umpqua River can be seen on a clear day from the terraced pools of Umpqua Hot Springs. Rain and sun are shielded from soakers by a rustic wooden shelter. Typically, this is the most "communal" pool since it is larger than the lower, more private pools that only hold 3-4 people.
As the cliff descends, all the pools get progressively cooler; the upper pool is the hottest. There is a "cool lukewarm" feeling to the lowest pool, as it's been commonly described. Due to the wide range of temperatures, there is no doubt that you will be able to find a pool that suits you.
It's worth noting that the short hike to reach the hot springs is steep and rocky, but it's definitely worth it for the ultimate reward of soaking in these therapeutic waters while taking in views of the forest-covered mountains.
Recommended items to bring (to any hot spring for that matter) are hiking shoes, towels, drinking water, snacks, trash bags, dry clothes, a waterproof bag, and toilet paper.
If you want to escape reality for a few hours and connect with nature, head to Umpqua Hot Springs in Oregon!
Multiple Hiking Trails for Adventurous Souls.
If you're an adventurous soul, Umpqua Hot Springs has plenty of hiking trails to explore. For a challenging hike, try the 7-mile climb up to Twin Lakes. Not only does it offer breathtaking views of the mountains and valleys along the way, but hikers can also take a refreshing dip in one of the natural waterfalls on this trail.
This trail takes you through dense forest areas with scenic viewpoints that offer stunning vistas of the surrounding mountains and valleys. You can even make a stop at one of the many natural waterfalls along the way to take a swim and cool off before continuing your trek.
It's worth noting that Twin Lakes is an ideal spot for camping if you want to make an overnight adventure out of your trip.
If you're looking for something a little easier, the 2-mile Umpqua River Trail is perfect for beginners. This trail takes you through lush forests and alongside the river, with several viewpoints offering stunning views of the rapids.
For those who want to take their time and enjoy the scenery, this trail is a great option. Wildlife enthusiasts may also be delighted to know that you might spot some native species along your journey.
No matter what level of hiker you are, there's something for everyone at these beautiful hot springs in Oregon.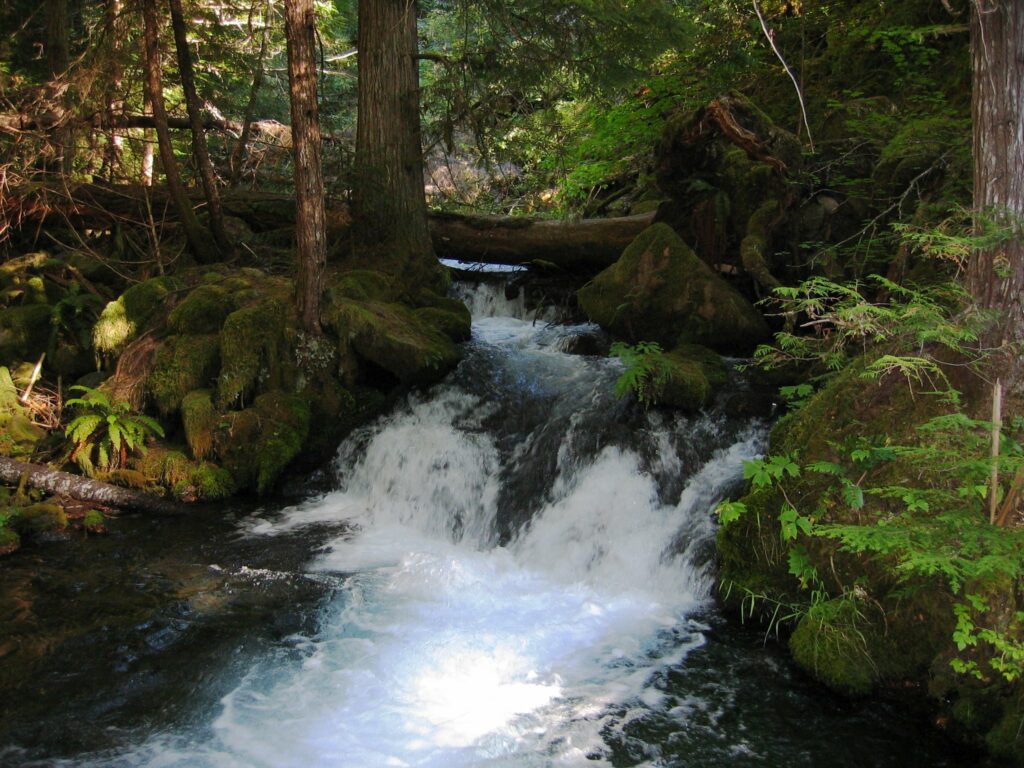 An Incredible Spot for Stargazing and Soaking in Natural Beauty.
Umpqua Hot Springs is not only a great spot for hiking and swimming, but it's also an ideal location for stargazing in the Pacific Northwest.
The absence of city lights provides a unique opportunity to soak in the beauty of the night sky while relaxing in the hot springs. Imagine soaking in crystal-clear waters under a blanket of stars amidst tranquil surroundings.
It's an experience that cannot be replicated anywhere else. Stargazing at Umpqua Hot Springs is the perfect way to end your day after an adventurous hike or swim, making it an ideal weekend getaway destination for nature lovers seeking relaxation and rejuvenation.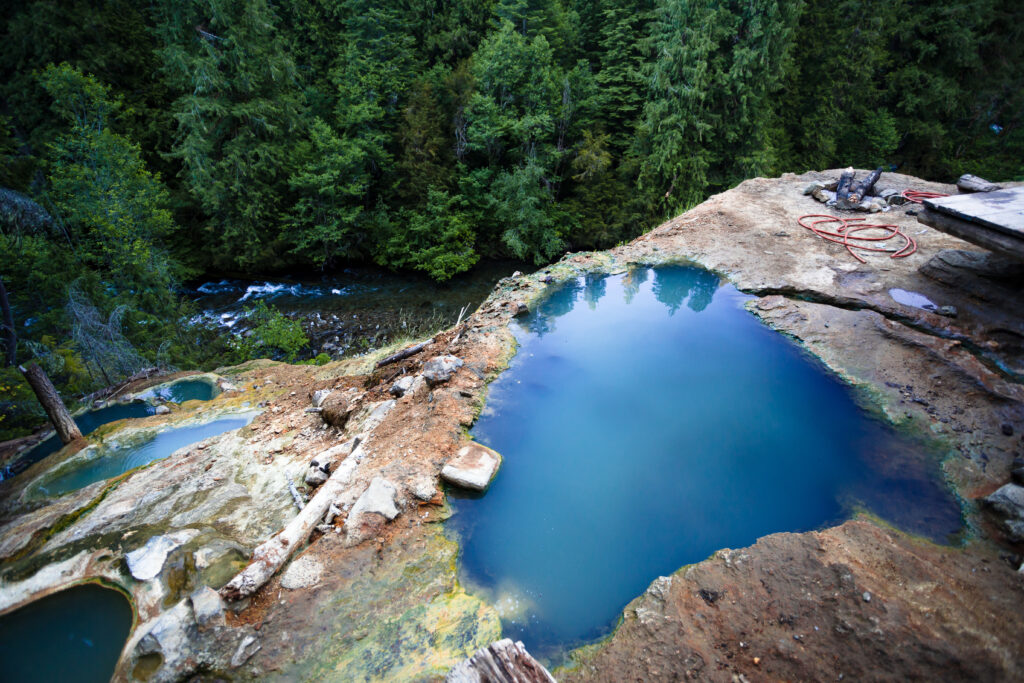 The Perfect Place for Photo Opportunities.
Umpqua Hot Springs provides excellent opportunities for visitors to capture stunning photos of the surrounding natural beauty. The hot springs are located in a picturesque setting, surrounded by trees, rocks, and the river. The colors of the surrounding trees and foliage change with the seasons, providing different photo opportunities throughout the year.
In addition to the hot springs, the Umpqua National Forest offers a wide range of photography opportunities. Visitors can capture stunning shots of the nearby Diamond Lake, the waterfalls at Toketee Falls, or the dramatic peaks of the Cascade Mountain Range. The area is also home to a diverse range of wildlife, providing opportunities for wildlife photography.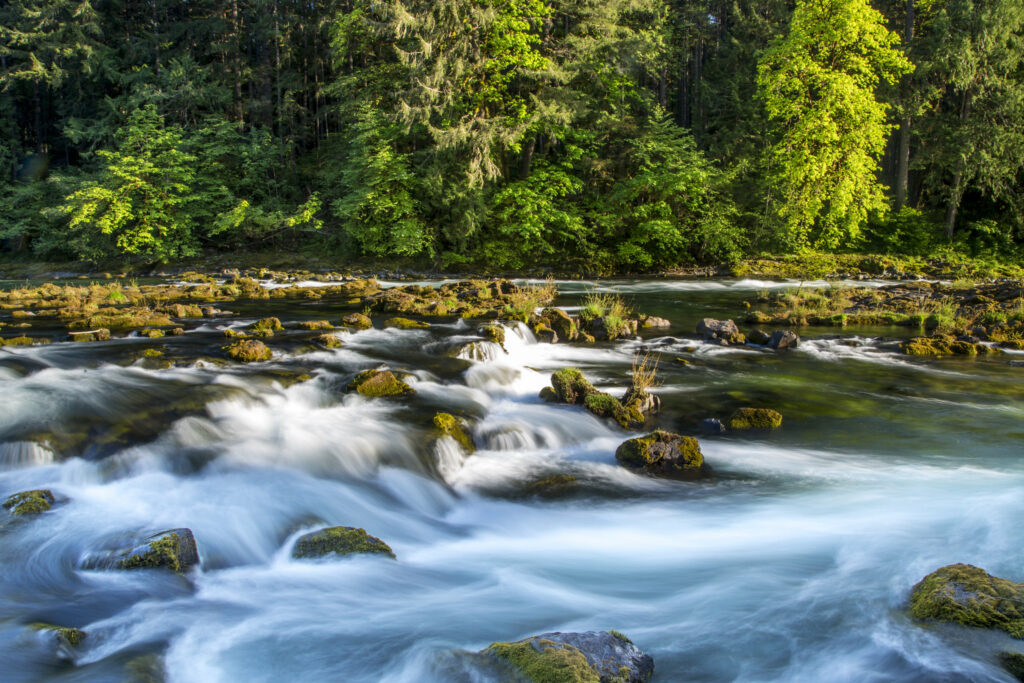 You may spot deer and elk along your journey, and cougars have been known to roam the forest in this area, so be on the lookout.
The peak season for wildflowers is from mid-June through the end of July. Southern Oregon is home to many plant species found nowhere else in the world. The geology and climate make this area one of the most botanically rich in the United States, so you may be able to see Trillium, Kalmiopsis, Deer Orchid, Columbia Tiger Lily, and Red Columbine.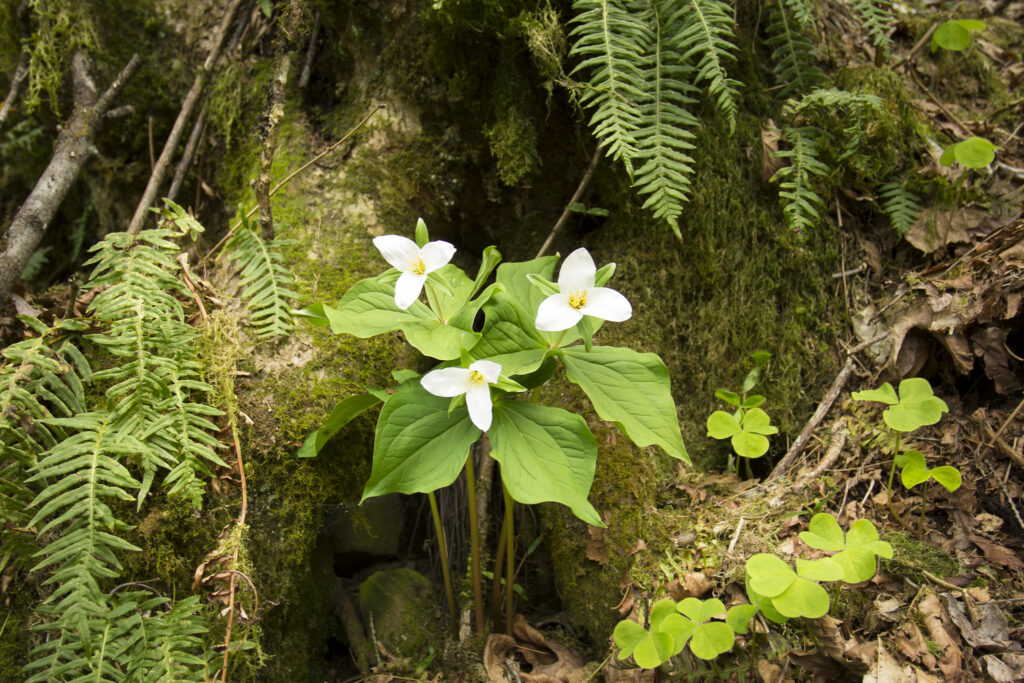 Close Proximity to Other Attractions, Such as Crater Lake National Park.
Umpqua Hot Springs offers an unexpected location that's just a short distance away from other popular attractions in Oregon. Crater Lake, for example, is just under two hours away from the hot springs. Oregon road trip, anyone?
Visitors to Umpqua Hot Springs can plan a day trip or overnight excursion to explore stunning natural wonders such as Wizard Island and the caldera of Mount Mazama. This makes Umpqua Hot Springs an ideal destination for travelers who want to experience more than one amazing attraction during their trip.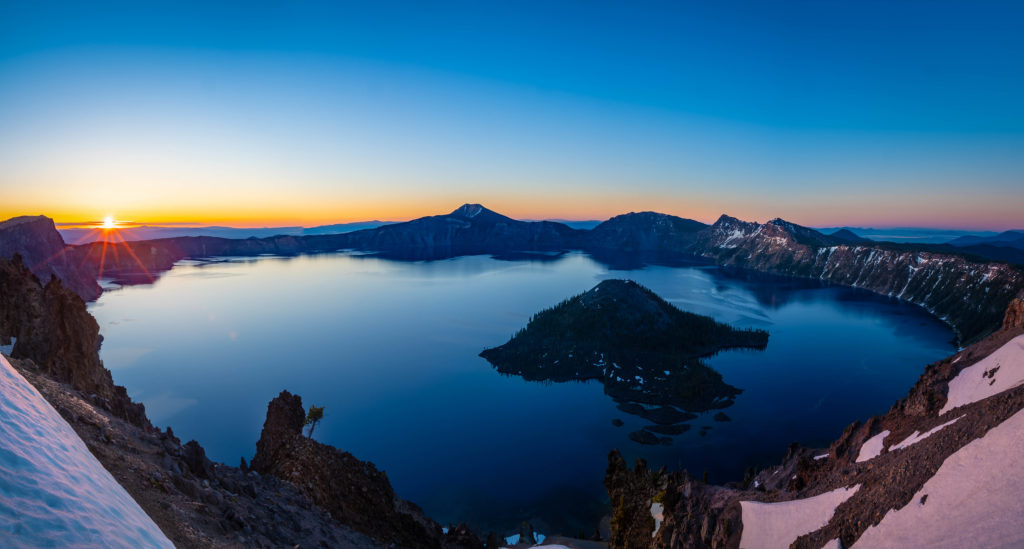 Umpqua Hot Springs is also close to other stunning locations that are worth exploring. Diamond Lake, a popular spot for fishing, camping, and boating, is just over an hour away.
For those who love hiking, the North Umpqua Trail system is located nearby and offers breathtaking views of the surrounding mountains and forests. And if you're interested in seeing some impressive waterfalls, Toketee Falls, Lemolo Falls, and Watson Falls are both less than an hour's drive from the hot springs.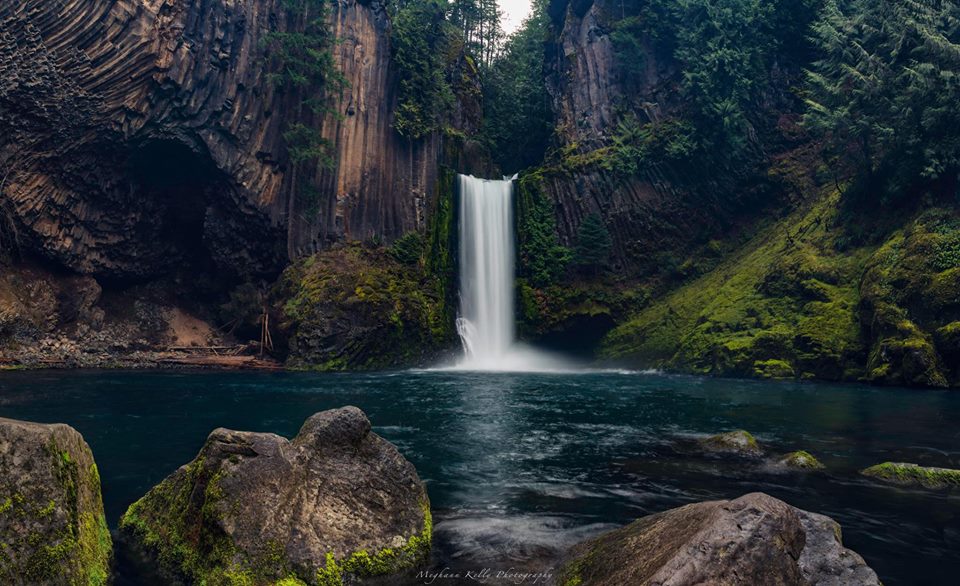 With so much natural beauty in such close proximity, Umpqua Hot Springs is perfect for a road trip, or adventure seekers looking to explore multiple nearby attractions without traveling too far between them.
What is the Best Time of Year for Visiting Umpqua Hot Springs in Oregon?
The best time to visit Umpqua Hot Springs depends on personal preferences and what you want to experience. Umpqua Hot Springs is open year-round, and each season offers a unique experience. Here's a breakdown of what to expect during each season:
Spring:
Spring is an excellent time for visiting Umpqua Hot Springs if you're looking to avoid crowds. The weather is mild, and the surrounding forest is lush and green. The hot springs can be a bit cooler during this time, but it's still an excellent time to soak in the warm water and enjoy the scenery.
Summer:
Summer is the busiest season at Umpqua Hot Springs, with crowds peaking in July and August. The weather is warm and sunny, making it an ideal time for hiking and exploring the surrounding area. However, be prepared for long lines and crowds at the hot springs.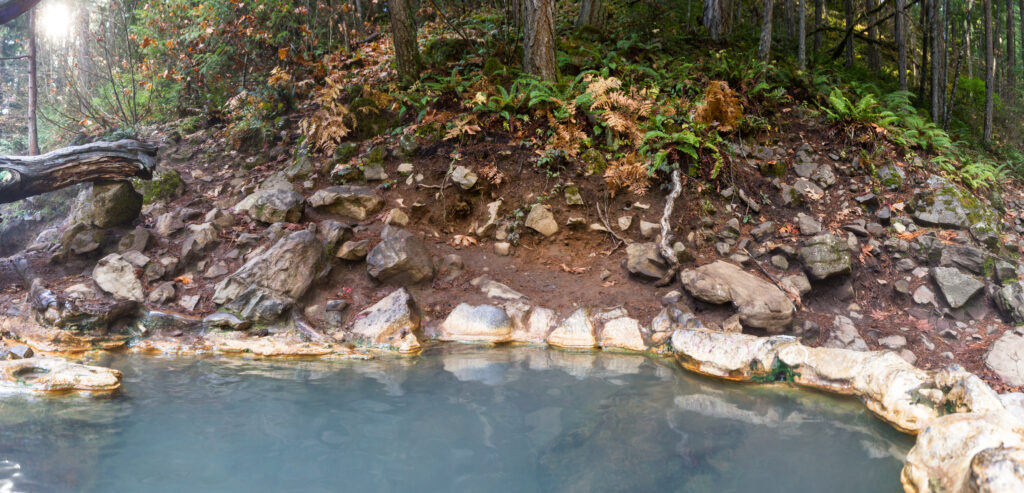 Fall:
Fall is a beautiful time for visiting Umpqua Hot Springs, with the leaves changing color and the crowds thinning out. The weather is mild, and the hot springs are a bit warmer, making it an ideal time to soak in the warm water and enjoy the stunning fall foliage.
Winter:
Winter is a magical time to visit hot springs in Oregon, with snow covering the surrounding mountains and trees. The hot springs are at their warmest during this time, making it an excellent time to soak in the hot water and relax. However, be prepared for snow and icy conditions on the trail, and make sure to wear appropriate footwear and clothing.
In Conclusion:
Overall, the best time to go to Umpqua Hot Springs depends on your personal preferences and what you want to experience. Whether you're looking to avoid crowds or soak in the hot water during the winter months, Umpqua Hot Springs is a destination that can be enjoyed year-round.
How Long Does it Take to Hike to Umpqua Hot Springs?
The hike to Umpqua Hot Springs is relatively short, at just under 0.5 miles (0.8 km) each way. However, the trail can be steep and rocky in places, so it can take anywhere from 10 to 30 minutes each way, depending on your fitness level and hiking experience. The best practice is to remember to bring hiking sandals or hiking boots.
It's important to wear appropriate footwear and bring plenty of water, as the trail can be challenging in places. Overall, the hike to Umpqua Hot Springs is considered moderate in difficulty, and most visitors should be able to complete it without difficulty.
How Many Pools Does Umpqua Hot Springs Have?
Umpqua Hot Springs consists of a series of natural pools fed by a hot spring. Officially there are three different pools, however, there are about four smaller lower pools as well. The pools have varying temperatures ranging from warm to hot.
The temperatures of the pools can fluctuate depending on the time of year and the flow of the hot spring, but the hottest pool can reach temperatures of up to 110 degrees Fahrenheit (43 degrees Celsius). Visitors report being able to spend about an hour in the hotter pools before having to move to a cooler one.
Additionally, there is a small waterfall that flows into the hot springs, adding to the peaceful and natural ambiance of the location. The pools are surrounded by rocks and trees, creating a serene and natural atmosphere that makes for a perfect place to relax and unwind.
Do You Have to Pay to Visit Umpqua Hot Springs?
The Umpqua Hot Springs have a day-use fee of $5.00. Visitors are encouraged to make a donation to the Umpqua National Forest or to a conservation organization that supports the protection of natural hot springs and public lands.
Additionally, visitors should always practice responsible recreation by packing out all garbage and leaving the area as they found it. Be considerate of other visitors; bring a trash bag, and pick up your own toilet paper and beer cans. Please "Leave no Trace".
Is Camping Overnight Allowed at Umpqua Hot Springs?
Camping enthusiasts often find pleasure in the seclusion and back-to-basics encounter of camping outside established campgrounds and without other campers around.
Referred to as "dispersed camping," this type of camping is permitted anywhere in the National Forest that is not designated as a campground, except within 100 feet of a lake, trail, or stream, or in areas posted as closed.
Toketee Lake Campground
With that being said, the closest campground to Umpqua Hot Springs is Toketee Lake Campground. If you happen to be on an Oregon road trip, this campground is a wonderful option for an overnight stop or a more long-term visit.
A significant number of individuals take pleasure in indulging in some of the state's finest German brown trout fishing here. At present, the water levels at Toketee Lake have receded by 2-3 feet from the boat ramp, making small non-powered boats the ideal option.
The Toketee group site is conveniently situated near one of the trailheads leading to the renowned North Umpqua Trail, which is a popular choice for hiking, biking, and horseback riding enthusiasts.
This campground offers a picturesque spot for families to relax and slow down. Lined with willow and mixed with maples and alders, this section of the North Umpqua River is very tranquil. The nearby footbridge offers great views of the river and lake.
Sites are, for the most part, level with room for both tent and RV campers. There are 32 sites available by reservation only. Reservations must be made two days in advance on Recreation.gov. More information can be found locally at the Toketee Ranger Station.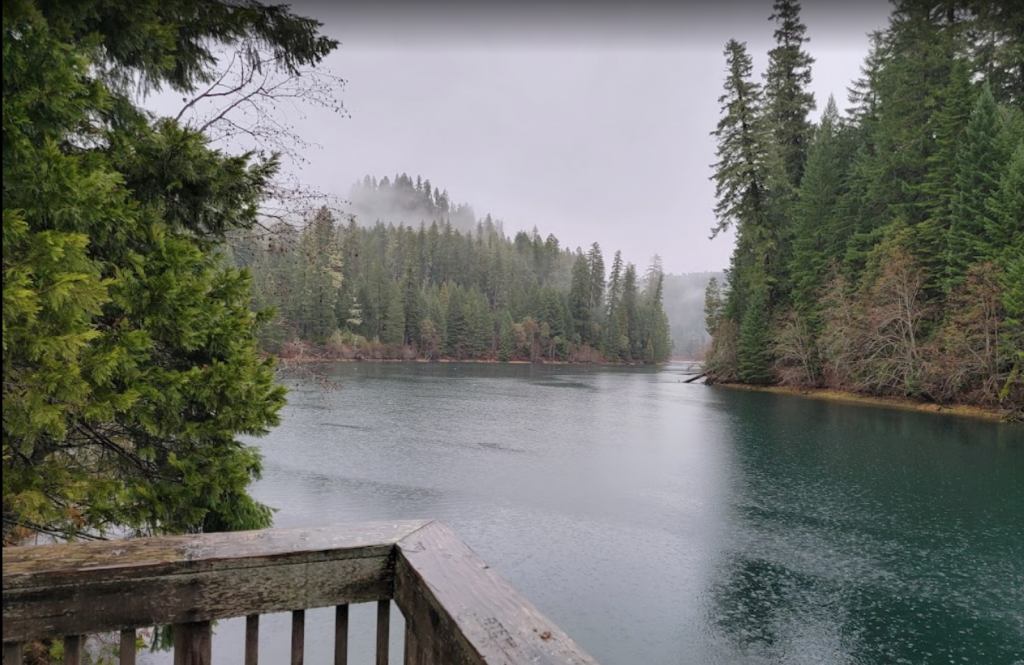 During your stay, be sure to check out the glorious Toketee Falls. It's an Oregon state waterfall not to be missed.
How to get to Umpqua Hot Springs Trailhead
Google Maps will give you great directions, but if you're old school:
Directions from Eugene, Oregon:
Take I-5 south towards Roseburg.
Take exit 124 for OR-138E towards Sutherlin/Elkton.
Follow OR-138E for approximately 58 miles.
Follow F. Road 34 for approximately 0.3 miles to the parking lot.
Turn left onto Forest Road 34 (signed for Umpqua Hot Springs)
Directions from Bend, Oregon:
Directions from Portland, Oregon:
Umpqua Hot Springs distance from Portland: Four Hours
Best Practices
Please note that these directions are subject to change, and it's always a good idea to check current road conditions and closures before traveling. Additionally, visitors to the Umpqua National Forest should be prepared for variable weather and terrain conditions and should take all necessary precautions and bring appropriate gear for their journey.
Make sure that you have your day pass before hitting the parking area, and visit a gas station before heading up. We'd like to reiterate here that dry clothes, towels, hiking boots, and some sort of waterproof bag are highly recommended when visiting the hot spring. Always be respectful of other visitors.
More PNW Hot Springs in Oregon: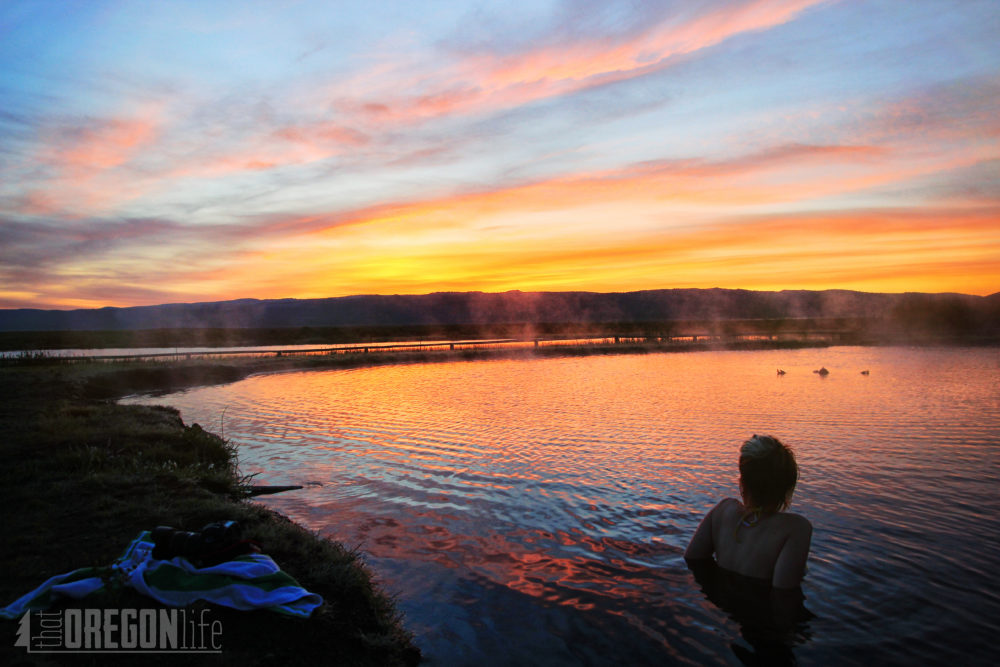 Do you love hot springs? Have you personally visited Umpqua Hot Springs? What's your favorite hot spring in Oregon? What other hot springs have you been to in the Pacific Northwest or on the West Coast? Let us know!