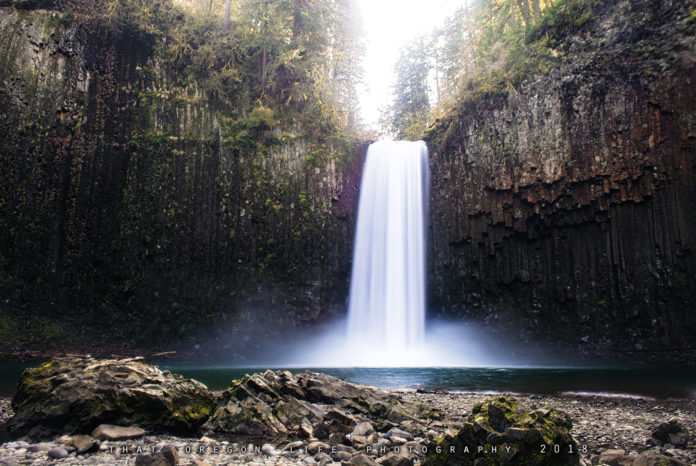 When you first learn about and begin researching Abiqua Falls, you'll find countless photos of nature addicts hiking into this serene and somewhat hidden spot in the Santiam State Forest. It's actually part of the same geological formation as the waterfalls found at the hugely-popular Silver Falls State Park, and though Abiqua Falls is equally as stunning, it's significantly trickier to get to.
The rocky trail to reach Abiqua Falls is a bit rough, but the short hike in is well worth the reward at the end. Once you find Abiqua Falls, you'll be dazzled by the 92-foot waterfall, perfectly framed by a huge basalt cliff walls forming an amphitheater around it.
Preparation is key for this hike since the short trail to the falls is notoriously hard to get to due to the rocky road, lack of adequate trail markers, steep climb, and fallen trees.
Abiqua Falls Hiking Guide
---
We have to say upfront that whenever you attempt the Abiqua Falls hike, be very careful as people have actually fallen here in the past. The trail and the falls itself are technically located on private land, but the owners have graciously allowed hikers and adventure seekers here for a number of years. Because of this, make sure you stay on the designated trail and respect all signage.
RELATED: 23 Must See Waterfall Hikes Oregon You Can't Miss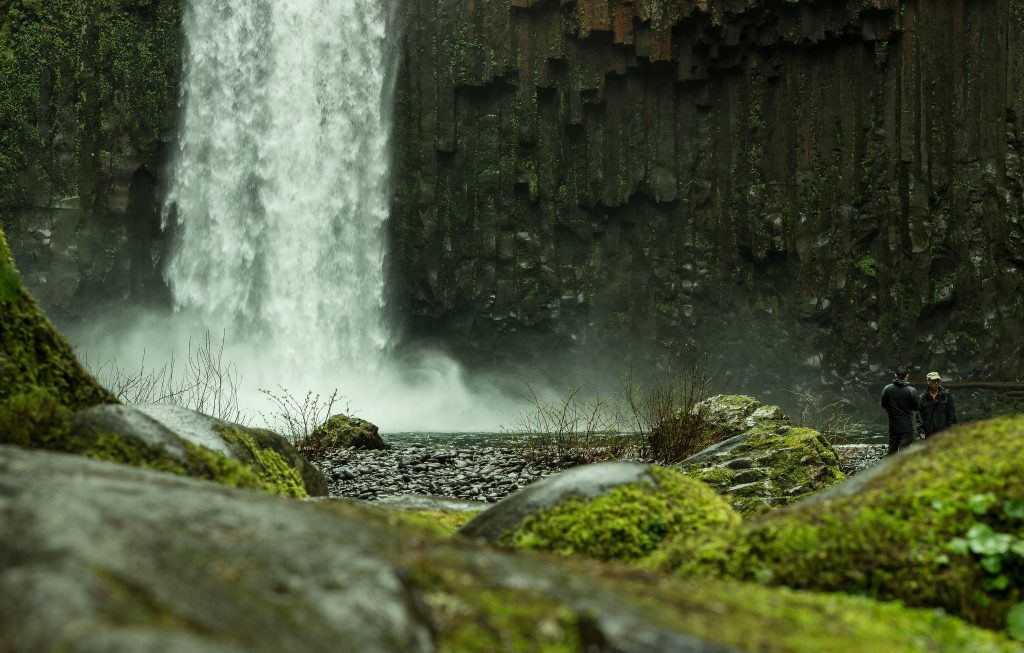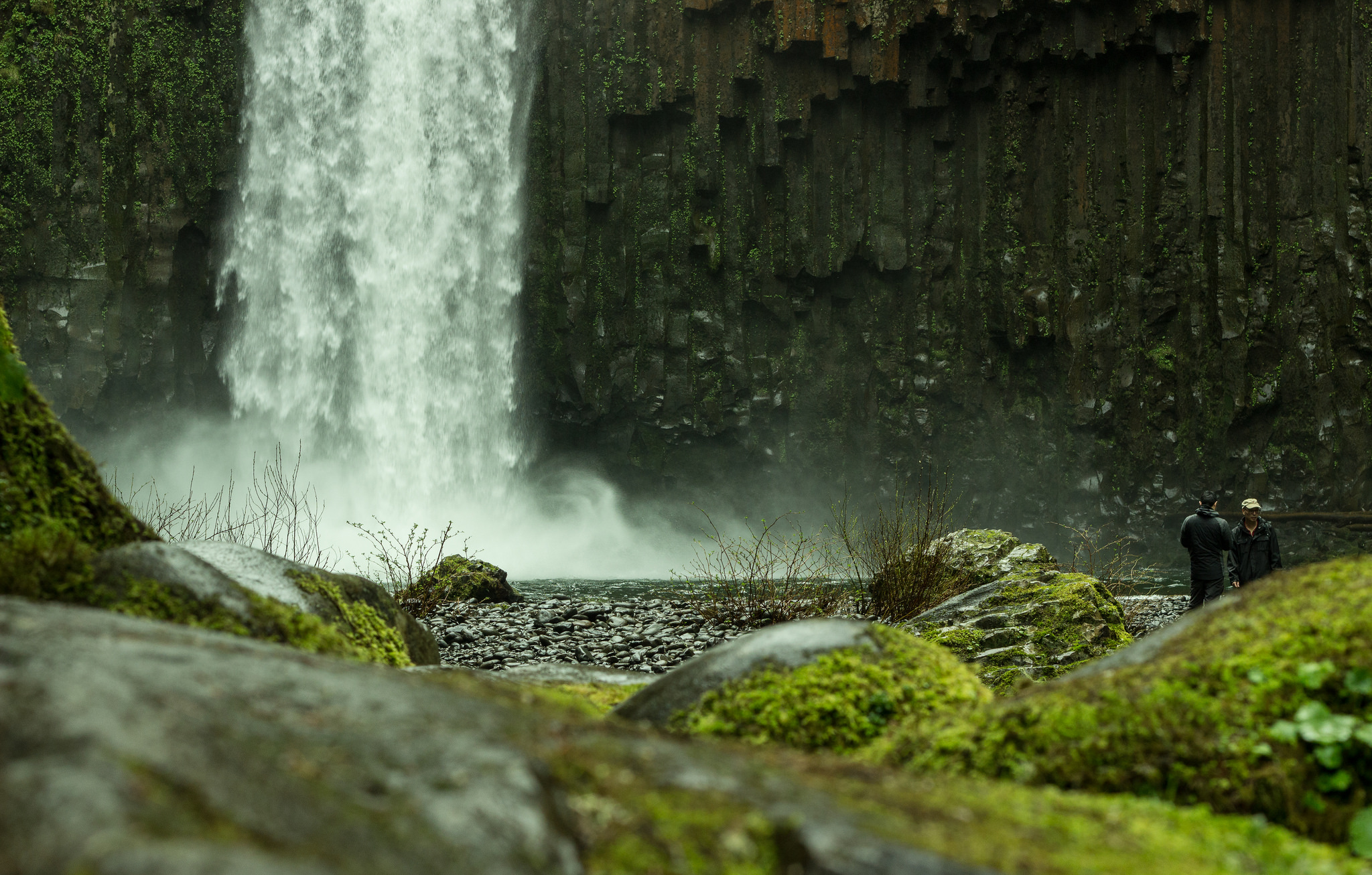 The Abiqua Falls Trail is only about a mile long (technically .7 miles), and you can find the trailhead near the town of Scotts Mills. The dirt road to get there is used for both hiking and off-road driving and is most easily accessed from roughly March until October, though those truly intrepid souls may wish to hike to Abiqua Falls in the winter months to see the falls enveloped in an icy cloak.
About Abiqua Falls
Abiqua falls flows out of Abiqua Creek whose waters flow from the Pudding River, which itself is a tributary of the Molalla River. It's also one of the most gorgeous waterfalls in Oregon and though the trail is rather short, getting to the trail head will require some off-roading.
With that said, we don't recommend relying on your GPS or Google Maps since finding the turn off is a little tricky and navigational aids like this have been known to be wrong. I've actually had some friends who tried getting here and were not able to find it! It may help to download an offline map before heading out.
As we stated earlier, Abiqua Falls is only a few miles away from Silver Falls State Park as the crow flies and offers viewers a breathtaking waterfall on par with any of the ten falls that Silver Falls is known for. Plus, it's exceptionally less crowded meaning you'll get to bask in the solitude of the falls with only a few fellow hikers (or if you're lucky all by yourself!)
The falls crash into a beautiful blue pool that's incredibly refreshing for a swim on a hot day, but be prepared because the water will be cold!
Directions to Abiqua Falls Trailhead and Parking Area
From Silverton, you'll take Highway 213 north, then take a right on Scotts Mills Road. Take this all the way into town and keep an eye out for Crooked Finger Road where you'll turn south and drive for about ten miles past Camp Dakota until the road turns to gravel. After 1.4 miles on the gravel road, you'll see a road to your right that's marked CF300, but the sign can be very hard to see so you may want to watch your odometer.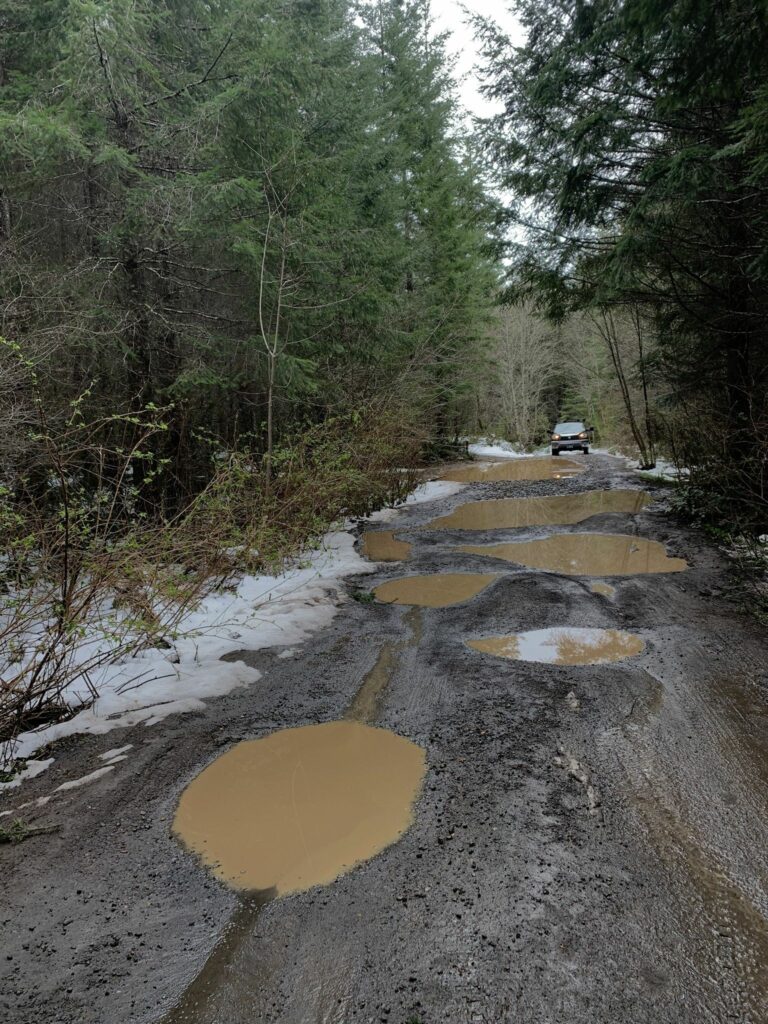 Keep heading down this road for about 2.5 miles, always keeping straight and downhill until you reach a locked gate where you can park. You'll then walk back up the road about 50 feet where you'll see the unmarked Abiqua Falls trail.
As you travel past Scotts Mills, make sure you're paying attention as none of the forest roads of Crooked Finger Road are well marked. Abiqua Falls is actually located in an ATV recreational area so you may pass lots of off-roaders.
Know Before You Go
Much of the route is an unpaved gravel road or forest service roads that during some seasons (especially winter) may require an SUV or at least a high clearance, four wheel drive vehicle— especially if there's been wet weather. During the summer, the roads should be manageable in a car with decent clearance.
There is also an upper parking lot next to a former gravel pit where drivers can easily park at who don't want to risk the serious potholes and ruts in the road further down. It will add 1.5 miles to your hike as well as 800ft of elevation gain, but it's a great place to park if you're at all unsure of your car or your driving skills.
If you can make it all the way to the Abiqua Falls trailhead, you can park next to the white gate or find a nook along the dirt road and there are a few pull offs for this. You'll see a big sign here put up by the Mount Angel Abbey Foundation, reminding visitors that this is in fact private property, but visitors are allowed.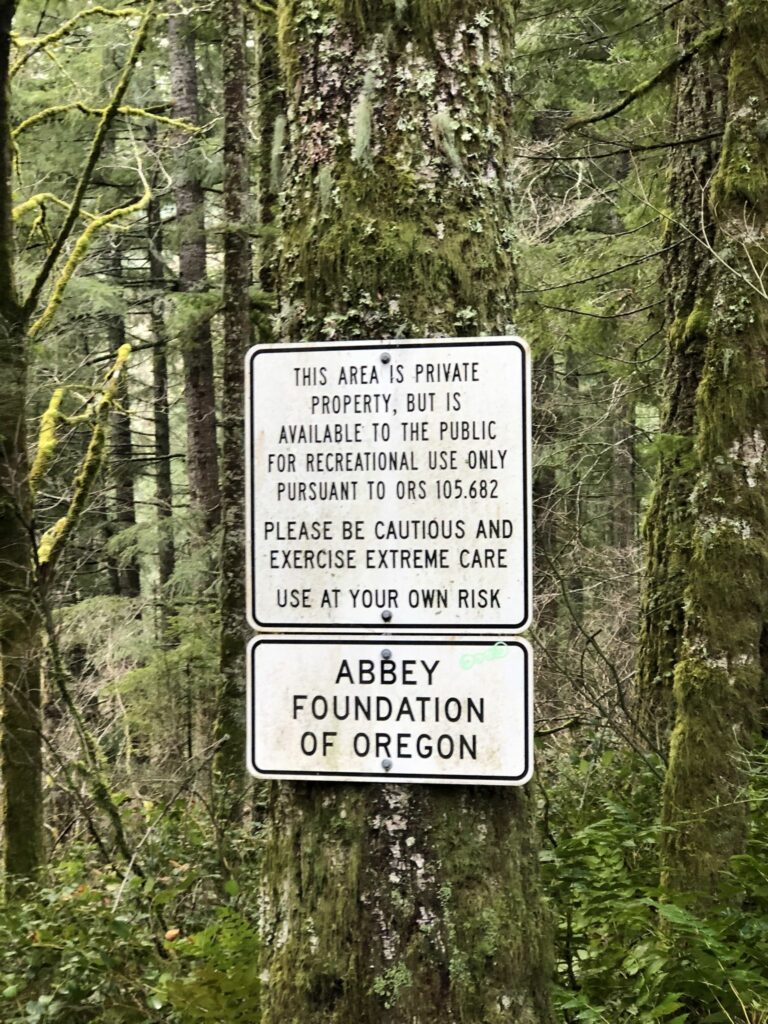 The Trail
Do not be fooled by the short length of the trail because it packs a punch! There are a few spots that are so steep people have secured ropes tied to trees to help you down without falling - use these! You'll also need to climb over fallen logs and scramble across wet rocks, so only attempt this if you're confident in your abilities. The trail also splits a couple times and you want to be sure you stay left as this is by far the easier trail of the two.
Because the trail is so steep, the hike to Abiqua Falls will require sure footing and the hike back up will likely get your heart pumping. That said, don't be too scared! If you have an adventurous spirit and don't mind slipping a few times you should be fine.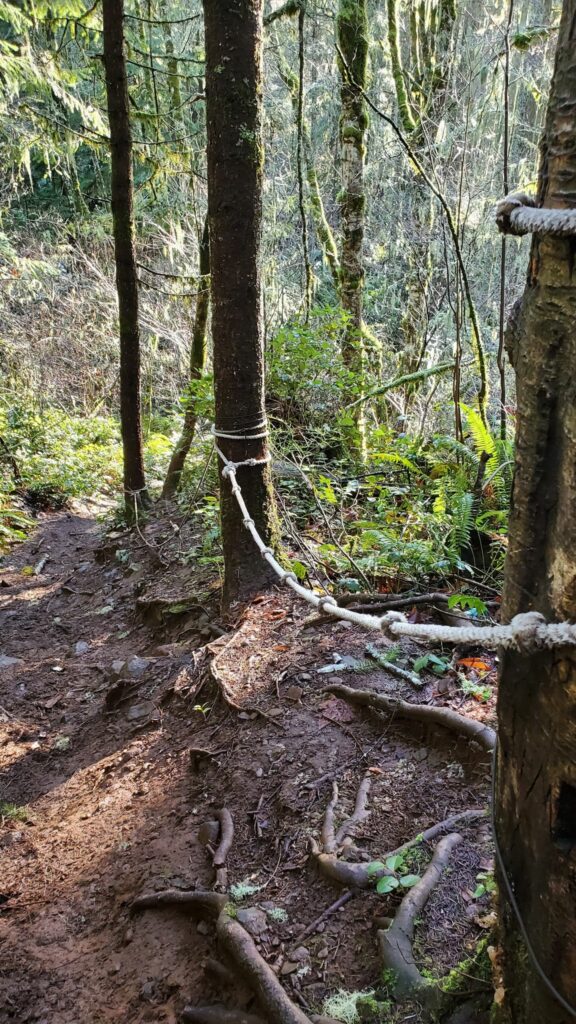 Tips for First-Timers at Abiqua Falls
- Wear good boots or hiking shoes since a lot of the trail follows Abiqua Creek and it can get mighty slippery and you'll need to scramble over several fallen logs.
- Be prepared for moisture. As we all know, Oregon is often wet but do you know what's even more wet—waterfalls. Even on a nice sunny day there will be wet, mossy rocks that you will slip on. You may also want to bring something to sit on for snacking or simply gazing at the beautiful waterfall.
- Don't count on your smartphone for help. I've yet to meet a single person who had cell service out here so download any maps of the Abiqua Falls hike you need ahead of time.
- The warning about need 4WD or a high clearance vehicle shouldn't be taken lightly. Crooked Finger and the other roads to the Abiqua Falls trailhead are seriously rough and you don't want break and axle out here! Use the parking are that's further away the trailhead if you're nervous.
- Stay on the trail. Pick up all your trash. Unique waterfalls like this need to be cherished and the private owners could easily rescind the rights to public access. Don't ruin it for everyone else!
- Although some hikers like to bring their dogs along, do so with caution because this can be a legitimately treacherous and steep trail and may not be a great hike for your furry friends. The same goes for hiking with small children—probably best to leave them at home unless you're confident they can navigate a difficult trail like this.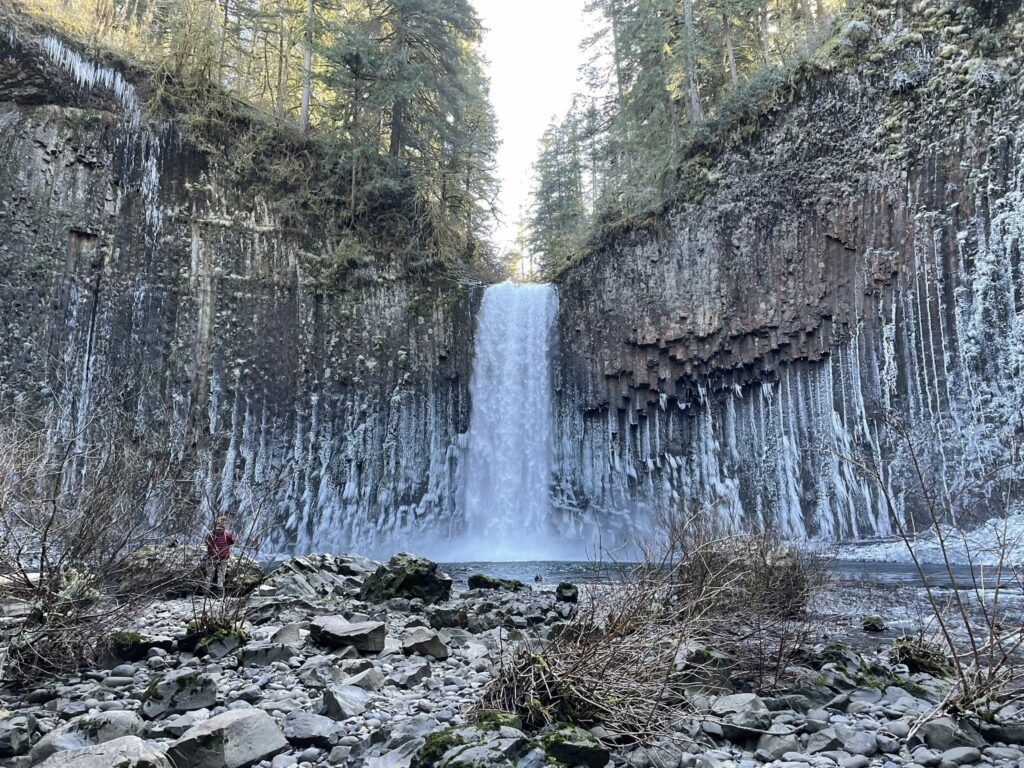 Other Adventures in the Area near Abiqua Falls
The Oregon Garden
Located in Silverton, the 80-acre botanical gardens will take your breath away. You can take your time walking throughout the well-maintained paths, or take a guided tour on a tram around the grounds. Although the garden is beautiful year-round, the best time for catching all the flowers in bloom is June and July.
Silver Falls State Park
Silver Falls is just incredible and if you've never been, well what are you even doing with your life? South Falls is the probably the best known waterfall here, but all the waterfalls along the Trail of Ten Falls are stunning and worth checking out.
Mt Angel Oktoberfest
Mt Angel is a cute town to visit anytime of the year, but for a week in September it's time to bust out your lederhosen and dirndls, grab a stein of Bavarian beer, and have fun!