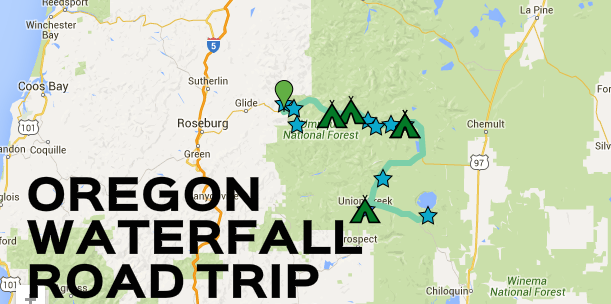 Are you looking for the best waterfalls in Oregon now that the weather's warming up? While Southern Oregon waterfalls aren't talked about as much, we wanted to share with you some of the most gorgeous waterfalls in Southern Oregon. This road trip features waterfalls, hiking, untamed forests, and serene campgrounds, this is the adventure you've been looking for.

Southern Oregon Waterfalls
Be sure to click the icons on the map above to get more information on each of these waterfalls in southern Oregon. The links include campgrounds, including directions, campground prices, etc.
Sign up for monthly emails full of local travel inspiration and fun trip ideas. In each newsletter we'll share upcoming events, new things to do, hot dining spots and great travel ideas.
Stop #1: Vidae Falls at Crater lake
Start your adventure at Crater Lake National Park with Vidae Falls. A lot of people visit Crater Lake every year, but few realize that there's a waterfall you can get to with an easy, kid friendly hike. While you're there, why not take a drive around the rim? You can camp at Crater Lake, but it's expensive, and there are other campgrounds outside the park that are worth the visit.
Stop #2: Rogue River Gorge/Union Creek Campground
I highly suggest camping at Union Creek. This is one of the best campgrounds I've ever stayed at, and we make it a point to go back every year. You can also stay in a cabin at the resort across the highway. Union Creek runs into the Rogue River at the campgrounds, and an easy hiking trail (or a 2 minute drive) will take you to the Rogue River Gorge waterfall. It should be noted that it's worth it to hike up and down Union Creek near the campgrounds, as there are numerous small waterfalls along this serene creek. While the water is clean, I would not recommend swimming since it is icy year round. They stock Union Creek with trout all summer long.
Stop #3: National Creek Falls
Your next stop is National Creek falls. A 1/2 mile trail will take you from the parking area down to the falls. The trail can get steep in places, but it is doable with children. We took our daughter when she was 5 and she made it with help. I do not suggest crossing the river on the log that is downed across it, as it is slippery from the mist. This is a great place to take a picnic.
Stop #4: Clearwater Falls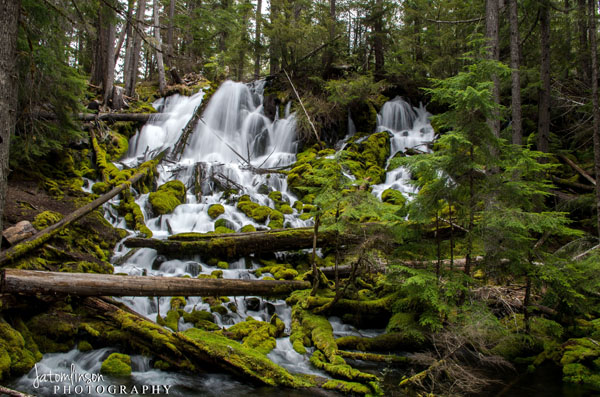 I love Clearwater Falls. It's one of the most scenic, serene places I have been to in Oregon. This is one of those waterfalls you expect to see a hobbit living next to from Lord of the Rings. The falls are right off of the parking lot, which makes it an ideal place to visit with small children. There are bathrooms there. There are also two campgrounds at Clearwater Falls. One is off of the driveway leading to the parking lot, and one is above the falls. The campground above the falls is not marked and there are no signs from the road. There is a forest service road from the highway just before you get to the driveway leading to the falls. If you take this road it will lead you to a small campground right at the top of the falls.
Stop #5: Whitehorse Falls
Just a hop, skip, and jump down the road from Clearwater Falls is White Horse Falls. White Horse Falls is also just off of a parking area. This waterfall is small, but still beautiful and worth the visit.
Stop #6: Watson Falls
Watson Falls is the 3rd tallest waterfall in Oregon, and can be accessed by a gentle 1/3 mile hike from the parking area.
Stop #7: Toketee Falls
Toketee Falls is simply stunning. The 1/3 mile trail that leads to the falls is doable with children. There is a campground nearby at Toketee Lake, but you should check online first to see that it is open before planning to stay there. The campground at Toketee Lake is a meadow-like campground.
READ MORE: Hike To Toketee Falls, One Of Oregon's Most Famous Waterfalls
Stop #8: Camping On The Umpqua River
There are several small campgrounds along the Umpqua river, and each of them is equally as pretty as the next. Boulder Flat and Horseshoe Bend campgrounds are both worth staying at on your way to the next waterfall. Be careful if you decide to get into the Umpqua River as it is fast-moving. It is not recommended that children swim in the Umpqua. Fishing on the Umpqua is always excellent.
Stop #9: Falls Creek Falls
Falls Creek Falls can be accessed by an easy 3/4 mile trail that passes several cascades and a rock outcropping known as Jobs Garden.
Stop #10: Susan Creek Falls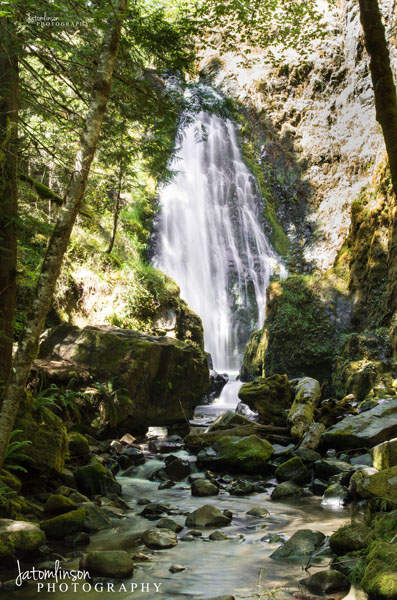 Susan Creek Falls is near the end of our road trip. It's a very easy, (mostly handicap accessible) .8 mile trail that is definitely doable with children. When you get to Susan Creek Falls, don't be afraid to get into the water with the littles, or soak your feet. This is a popular trail with families.
Bonus Stop: Grotto Falls
If you're feeling extra adventurous on this road trip, head South to Grotto Falls. This 80 foot falls can range from a small trickle in drought weather to a curtain-type waterfall after good snowmelt. There are caves behind the falls. You can get to these falls via an easy 1/3 mile switchback trail.
Tips For This Road Trip:
1. Be sure to get gas when you can. There is expensive gas at the Crater Lake Campground, and also in Prospect (not too far away from Union Creek). Cheaper gas is located in Klamath Falls (south of Crater Lake), in the Medford Area (East of our road trip area), and in Roseburg (not far from Susan Creek Falls).
2. Bring bug spray. I recommend getting one of the organic sprays, but use what works best for your family. Some of these waterfalls are known for high mosquito activity.
3. Make sure to charge your camera before you leave, and bring extra batteries.
4. Wear sensible shoes when hiking like hiking boots or sneakers, but bring your sandals with you so you can soak your feet in the cool water.
5. I recommend staying at Union Creek and using that as your basecamp for waterfalls like Rogue River Gorge, Vidae Falls (Crater Lake), and National Creek Falls. Then visit Clearwater Falls, and Whitehorse falls on the way to the next campground. Use a campground on the Umpqua River as your basecamp for waterfalls like Watson Falls, Toketee Falls, Susan Creek Falls, Grotto Falls, and Falls Creek Falls.
6. If you're taking kids on this road trip, be sure to think about the littles and their needs before you leave. A great article to read before taking kids along can be found here: 5 Tips For Traveling With Kids.