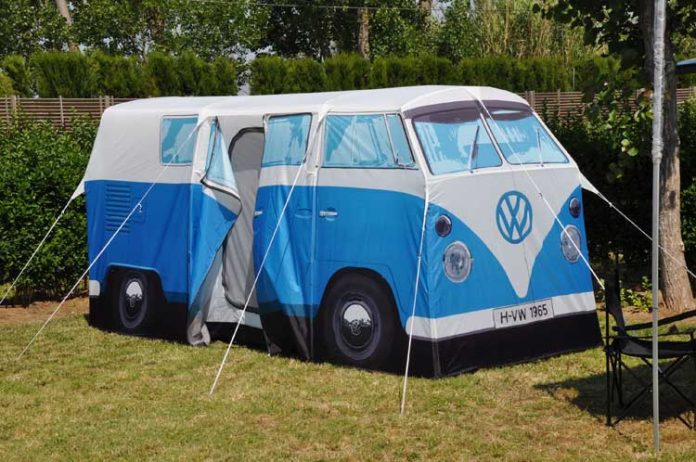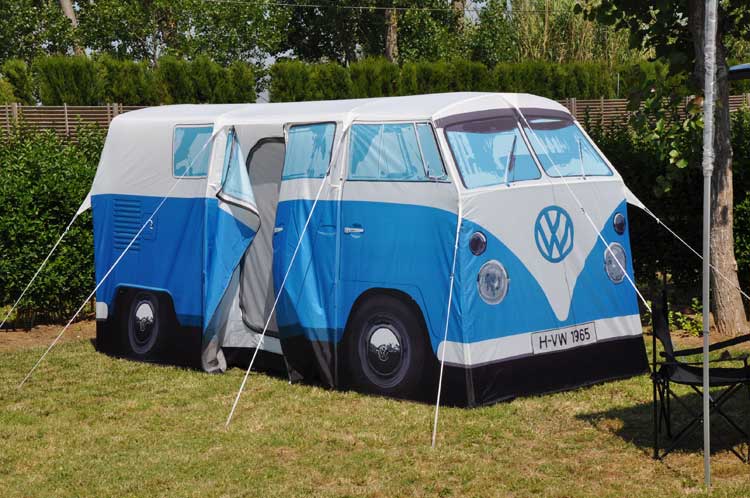 Going on a primitive camping adventure and roughing it with only basic survival gear is fine, but you also might want other awesome things to bring camping to make the trip more enjoyable.
You'd be amazed at the outdoor gear they create to afford convenience in the wilderness these days. Hot showers, electricity, and a comfy bed are just a few camping essentials on the market today. With camping season here once again, I thought I'd throw a list together with some pretty awesome products I have found available. Most of the products here you can find on Amazon, and I have included the links in the descriptions.
Be warned though, if you're not already planning on making a camping trip, after seeing this list you'll most likely be leaving in the near future!
1. Stainless Steel Wood Burning Camping Stove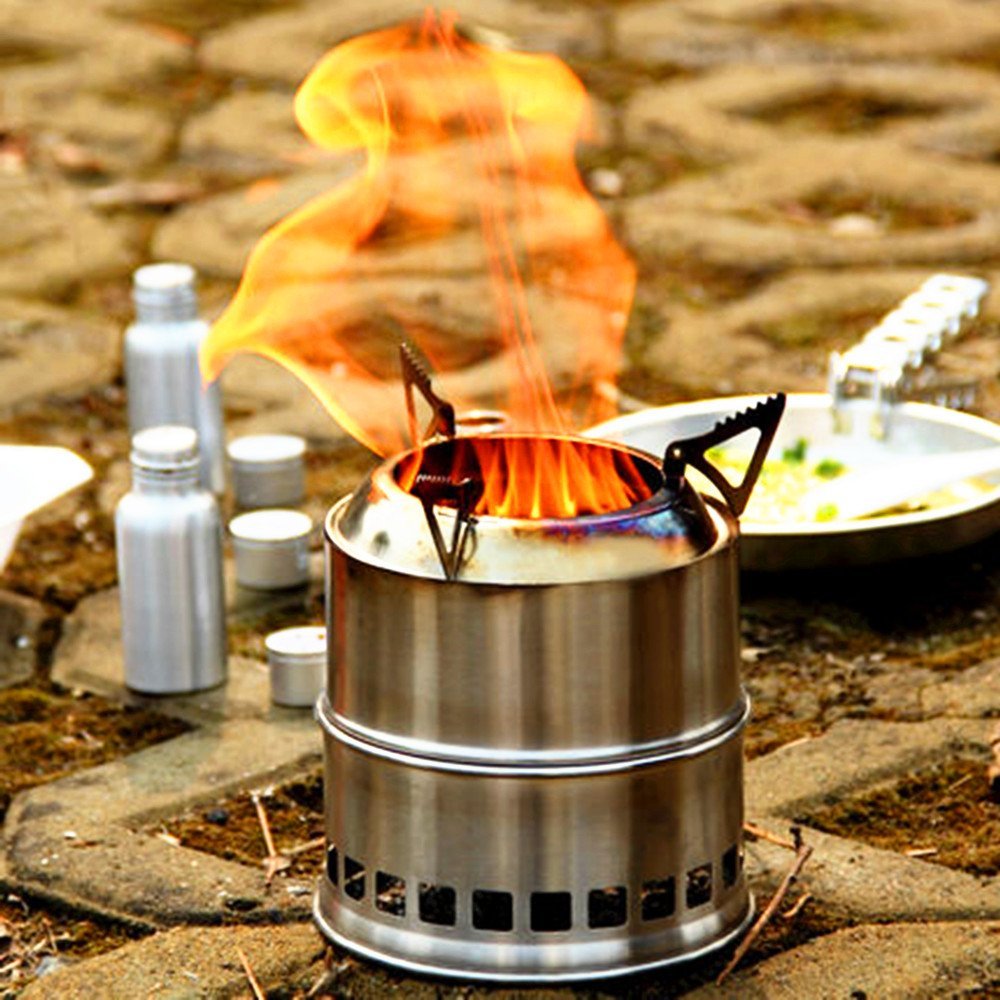 EIALA Potable Stainless Steel Wood Burning Camping Stove. Made of hardened stainless steel,the stove is meant for rugged backpacking and camping. No fuel canisters, no chemical emissions, no batteries, less carbon footprint. Super convenient for camping, hiking, picnic, all serious backpackers, survivalists and other outdoor activities.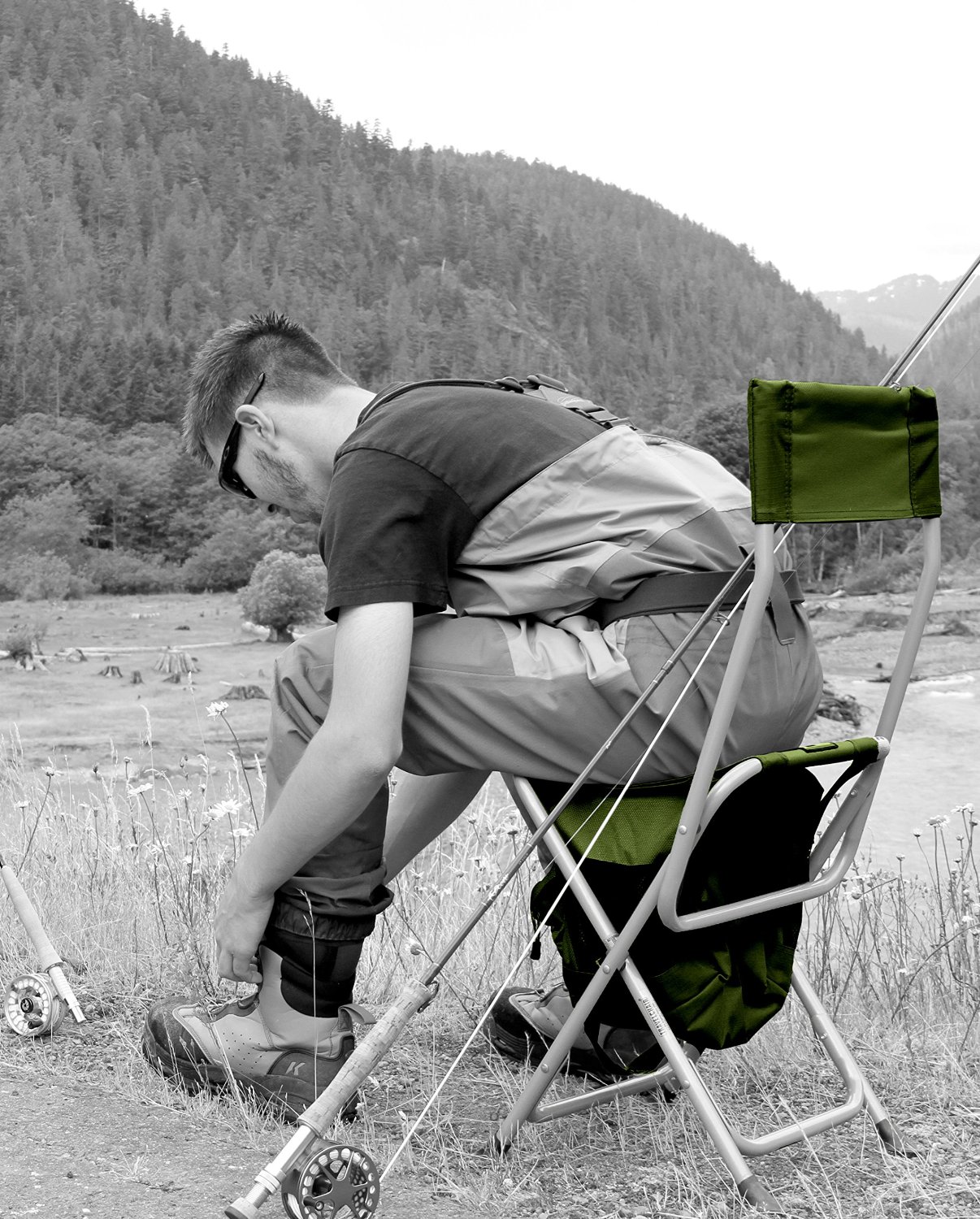 TravelChair Anywhere. Combine the convenience of a insulated cooler with a folding chair and you have a portable folding chair cooler. This affordable and versatile chair is a great gift item for everyone!
Product Dimensions in Inches: Open - 18x16x33; Closed - 3x16x24; Seat - 13x10x17.5

Weight Capacity - 250 lbs

Carry strap

Six-pack compatible with extra pouches

Abrasion and fade resistant nail head/rip stop poly fabric with powder-coated steel frame

Packs flat for easy storage and transport

Built-in cooler holds up to a six-pack with ice or cold packs
Weighs 6lbs

Weight Capacity is 250lbs

Made of 450D ripstop polyester, nailhead 420D polyester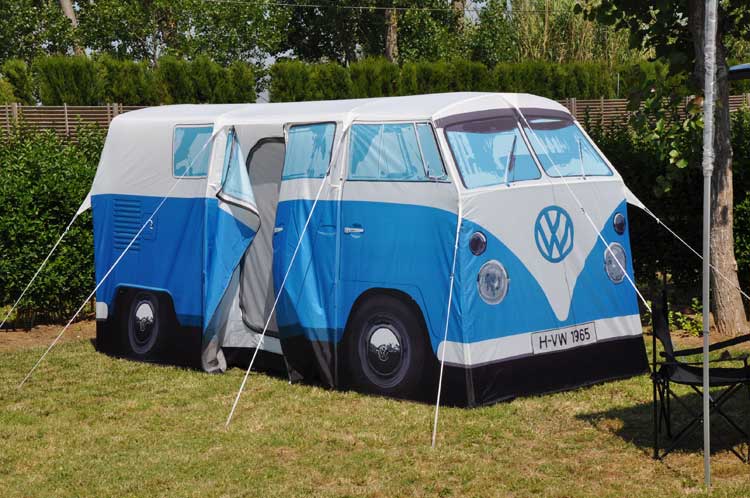 Seriously, have you ever seen a tent this cool? The Volkswagen Bus Tent is a camping tent that is an exact scale replica of an old 1967 Volkswagen hippy van. Now you won't have to leave your hippy van on the street when you go camping anymore, just strap it to your back, hike to your camping spot, and your van will once again have a mattress in the back, and filled with smoke in no time. Inside the Volkswagen bus camping tent you can fit up to 4 people and you can stand straight up, assuming you are under 6 feet 1 inches tall, since the tent measures 13 feet long, 6.1 feet tall, and 5 feet wide. The Volkswagen camping tent is available in blue, is waterproof on the top and sides, and has 2 separate rooms inside for all of your hippy activities.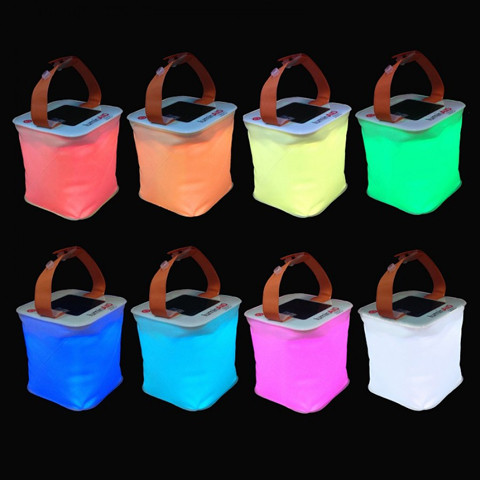 Add some color to your campsite with the LuminAID PackLite Spectra Lantern. This solar-powered, sustainable, and ultra-portable lantern packs flat into a lightweight and compact size for easy storage in your backpack or home emergency kit, and it has eight different color modes to add a fun atmosphere to your campsite or patio. In addition to eight color modes, it also has a white light mode and a multi-color fade mode that cycles through all the colors. Seven hours of sunlight provides twelve hours of festive lighting, and the adjustable handle makes it easy to hang in your tent or backyard or to carry around on nighttime adventures.
5. Teepee Tent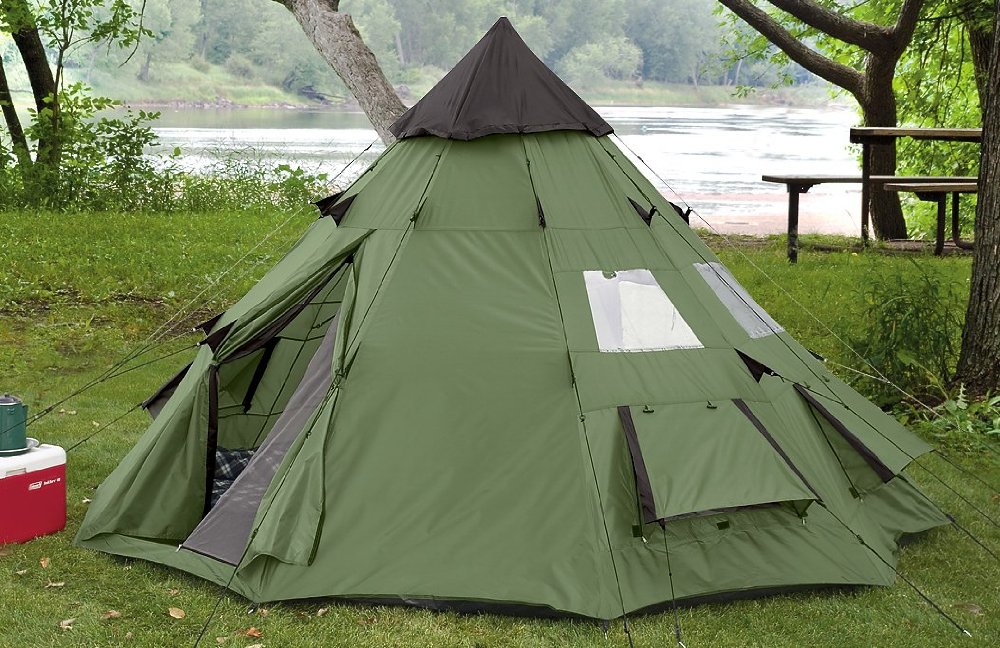 Guide Gear Teepee Tents are the "peak" of camping comfort! You SAVE BIG BUCKS! Ageless design meets contemporary convenience. Teepee-style Tents from Guide Gear may look old fashioned, but don't be fooled! A host of modern features make these shelters much more than bare-bones slumber shacks! Constructed of heavy-duty, lightweight, waterproofed polyester to brilliantly weather wind and precipitation. Timeless peak-style construction affords loads and loads of interior room. Covered mesh windows allow air to circulate, keeping your camp fresh. Bring the Guide Gear Teepee Tent on your next outdoor adventure, and you'll sleep soundly knowing you saved BIG money! Peak Performance: Waterproof 190-denier polyester shell is lightweight and rugged; Weatherproofed windows; Sewn-in polyethylene floor; Center steel pole support adds durability; Factory-sealed seams for superior hold and seal; 1,000 mm polyurethane coating for excellent weather resistance; Includes stakes and black / silver pull-through guy ropes (prevents tripping in the dark!); Rain-protected ventilation in peak and multiple ground air vents for breathable comfort; Comfortable, lots of space. 6'6" center height. Sleeps 6 people. Weighs 14 lbs., 13 ozs. Imported. Order Yours Today! Guide Gear 10x10' Teepee Tent
6. Matador Pocket Blanket, Picnic / Beach Blanket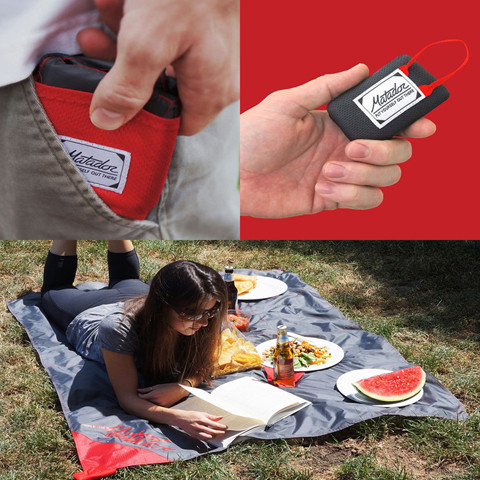 Sitpack. Coming on like a 21st century shooting stick, this former Kickstarter hit is the world's most compact portable seat (it folds down to fit in your pocket) and can support up to 130kg (286 lbs.).
7. LED Camping Lantern Flashlights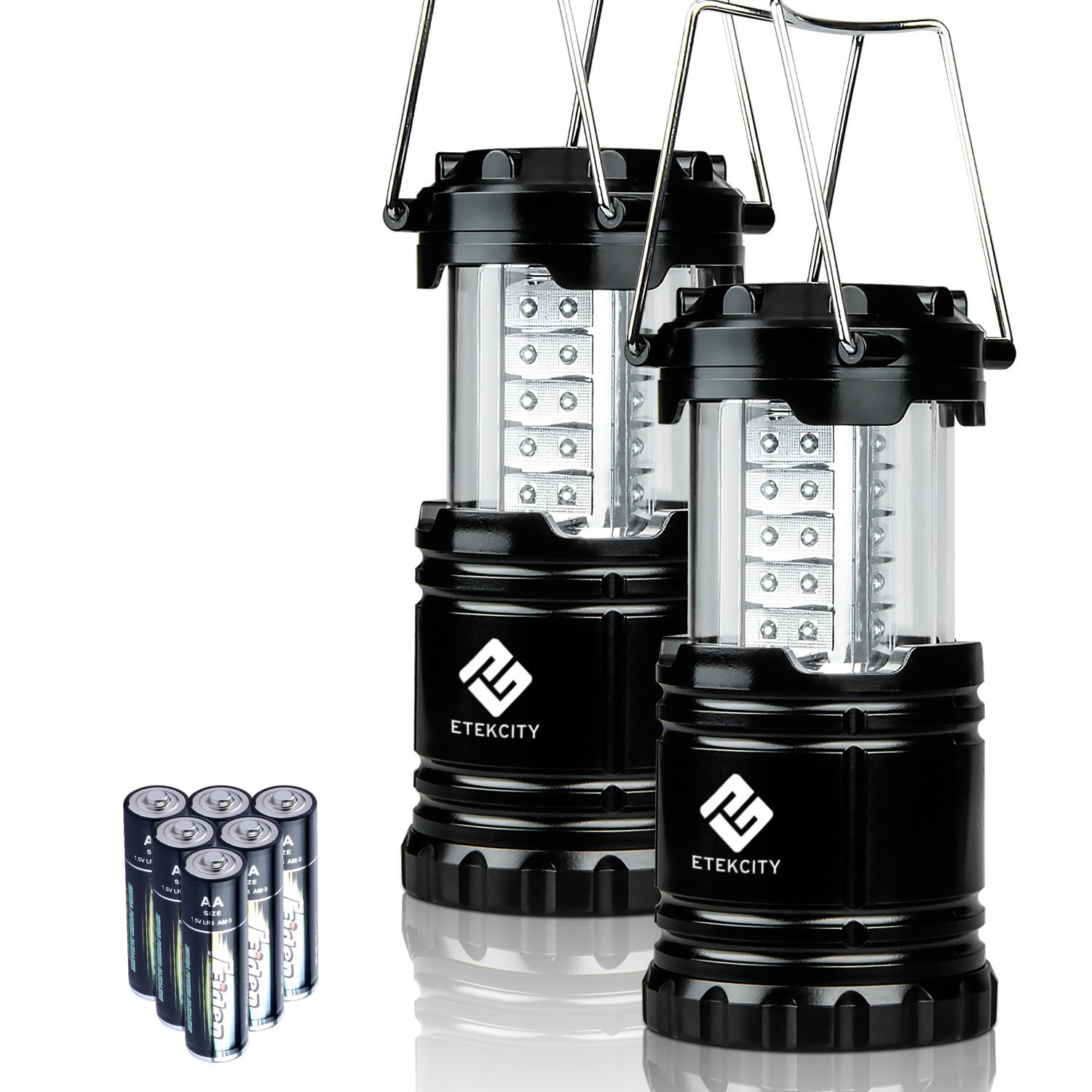 LED Camping Lantern Flashlights. This lantern has been the hottest deal for awhile now on Amazon, and with good reason. Not only are they a quality product, but they are an amazing deal for under $20. Camping lanterns are absolutely a must-have for things to bring camping.
ULTRA BRIGHT: Includes 30 individual low powered LED bulbs, designed for a longer lifespan. Carry 360° of luminous light while saving energy.

DEPENDABLE BUILD: Constructed with military grade; promising long-time durability, no matter where you go.

DESIGNED FOR CONVENIENCE: The extremely lightweight build allows you to take your lantern on the go with ease. When not in use collapse the lantern to a smaller size; store it effortlessly, taking little space.

LOW CONSUMPTION: Light up to 12 hours of regular, continuous use with enough battery capacity (AA battery included)

FOLDAWAY HANDLES: Suspend the lantern or carry with ease. Ideal for outdoor trips or emergency events. 10 YEARS WARRANTY included by Etekcity
8. Exxel Star Wars Discovery Kit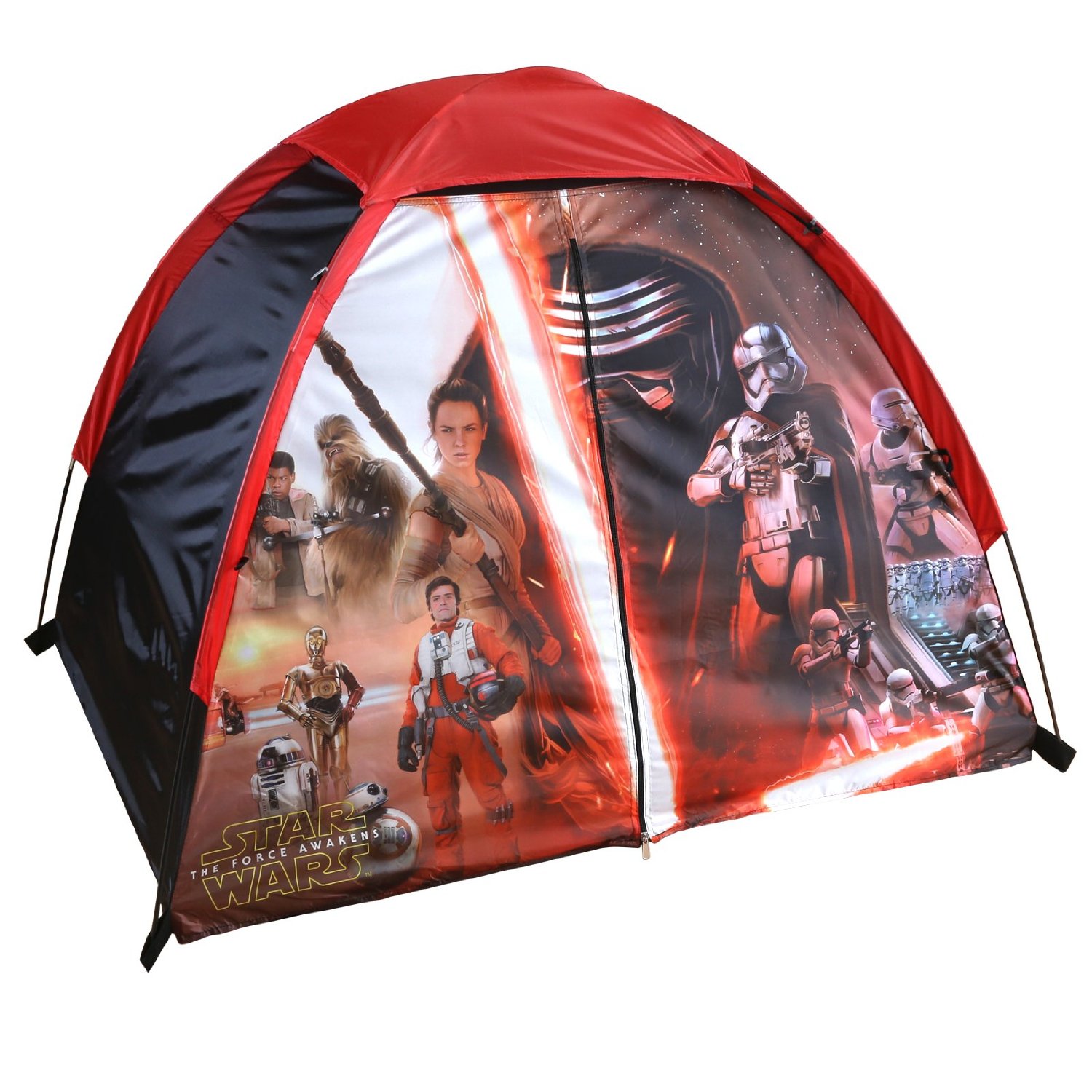 Exxel Star Wars Discovery Kit. The most awesome Star Wars tent(and sleeping bag!) for your little Star Wars fan is right here.
Star Wars Discovery kit features tent and sleeping bag for your next slumber party or adventure

Easy to set up tent for your next playtime adventure

Sleeping bag with polyester liner and outer provides comfort for your indoor or outdoor adventure

Age Range: 4 & Up, Tent Dimensions: 48" L x 36" W x 36" H Sleeping Bag Dimensions: 56" L x 28" W x 3" H
9. goTenna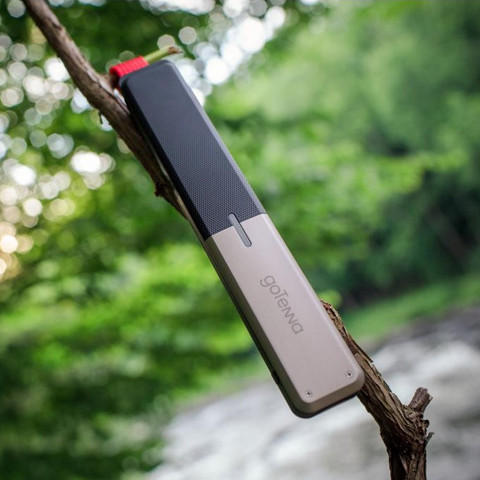 goTenna. No service? No problem. This device is a battery-operated 2-watt radio and antenna that connects to Android or iOS devices via Bluetooth LE. When activated by extending the device's antenna, the goTenna establishes a radio connection with any other goTenna devices within broadcast distance (up to 6 miles) enabling the user to text up to 160 characters.
10. Flashlight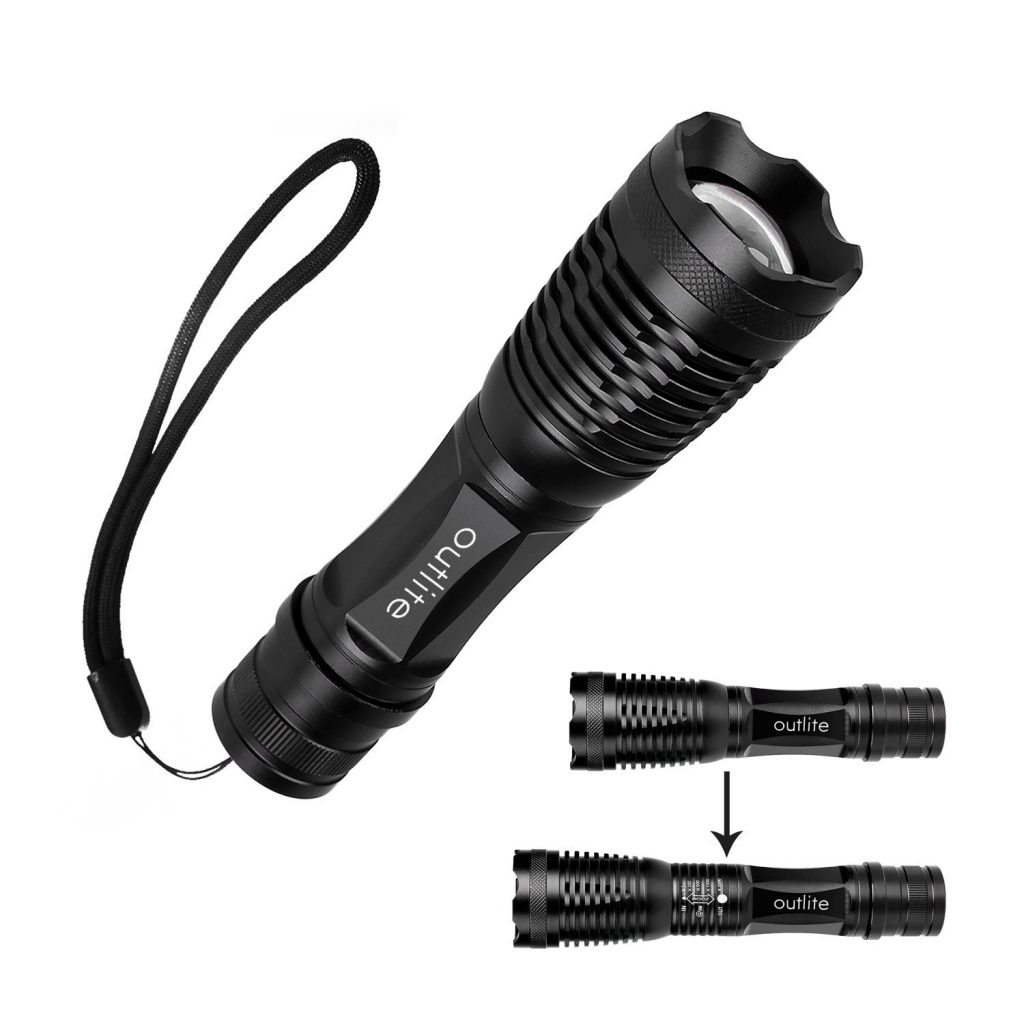 Outlite E6 Tactical. Here's a great little flashlight for only $10!
1)100% Brand New CREE XM-L T6 LED Adjustable Focus Torch
2) Made of high quality 6061T aluminum alloy, this flashlight is sturdy and durable enough for long time daily using
3) Lamp base: CREE, high power LED. With a lifespan of up to 100,000 hours or more, no need to consider replacing the cap for the whole life.
4)Water resistant, but don't put it into water long time
5) Crenellated strike bezel for enhanced self-defense
6) 5 Mode: High / Medium/ Low / Strobe/ SOS
7) Bulb: CREE XM-L T6 LED Super Bright, blinding Effect
8) Power by: 1x 18650 3.6v/3.7v or 3X AAA battery (Battery not included)
9) Color: Black.
Learn more: Outlite E6 Tactical flashlight at Amazon.com
11. smartphone-charging speaker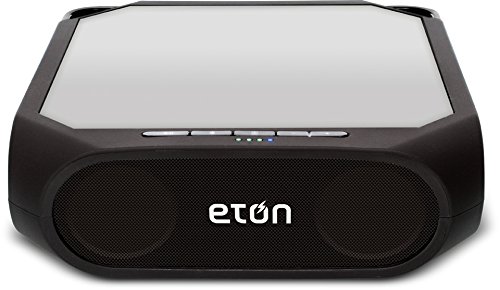 Eton. Enjoy your stereo on the trail, in the garden or at the beach, with these solar powered, water resistant and tough speakers.
Wirelessly connect to any Bluetooth enabled device

Charges your smartphone via USB so the tunes never stop

Solar Panel powers the rukus indefinitely when you're in the sun

Comes with micro-USB cable to charge internal lithium ion battery

Battery lasts 8 hours after you're out of the sun or indefinitely if you keep the Rugged rukus in the sun
12. Companion Fixed Blade Outdoor Knife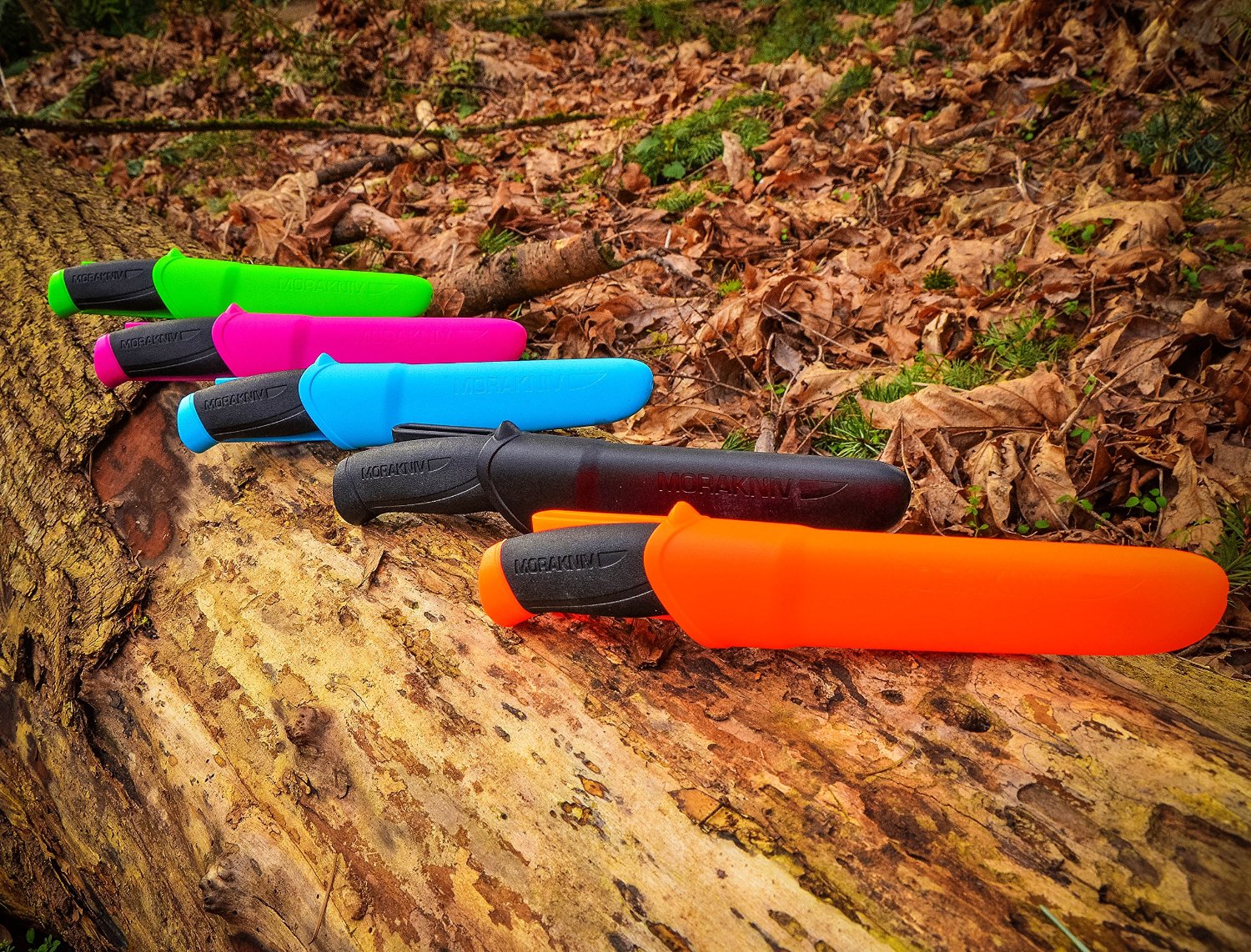 Morakniv. Here's a really great knife which is not only affordable, but has great reviews.
Versatile fixed blade outdoor knife of hardened Sandvik 12C27 stainless steel

Patterned, high-friction grip makes the knife comfortable to hold and easy to handle

Blade length: 4.1 inches (104 mm); Blade thickness: 0.1 inch (2.5 mm); Overall length: 8.6 inches (218 mm); Weight w/ sheath: 4.1 oz. (116 g)

Color-matching plastic sheath with belt clip

Limited lifetime manufacturer's warranty. 

Exped Mega Mat 10. Gone are the days of restless nights during your camping trip - MegaMat 10 Sleeping Pad keeps your comfortable when you sleep, with adjustable firmness. Simple to set up with a quick-filling, self-inflating foam.
Fatures of the Exped Mega Mat 10 3-D construction with vertical sidewalls for wall-to-wall comfort Air cored foam insulation provides self-inflating convenience Exped Mini Pump included for lung-free topping up Velvety soft tricot top surface for next-to-skin comfort Sold with coupler strap for connecting two MegaMats.
Upper and lower face fabrics: 100% Polyester/ Airbarrier 100% TPU film; fill: 100% PU open cell foam

Imported

77.5x30"

The ultimate in comfort

Flat Valve Technology features low profile valves for inflation and deflation are protected and durable

3-D construction with vertical sidewalls for super comfort

Measures 78 inches long by 30 inches wide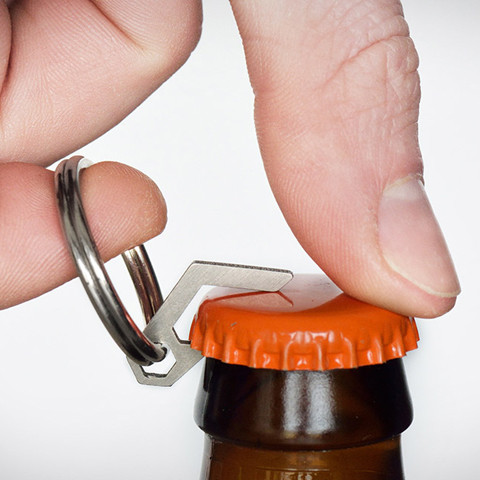 Pico Bottle Opener. Cut from .100" Titanium, this miniature marvel comes attached to a split-ring to give you the leverage you need to pop the top on your favourite craft beer.
15. Sawyer Products Mini Water Filtration System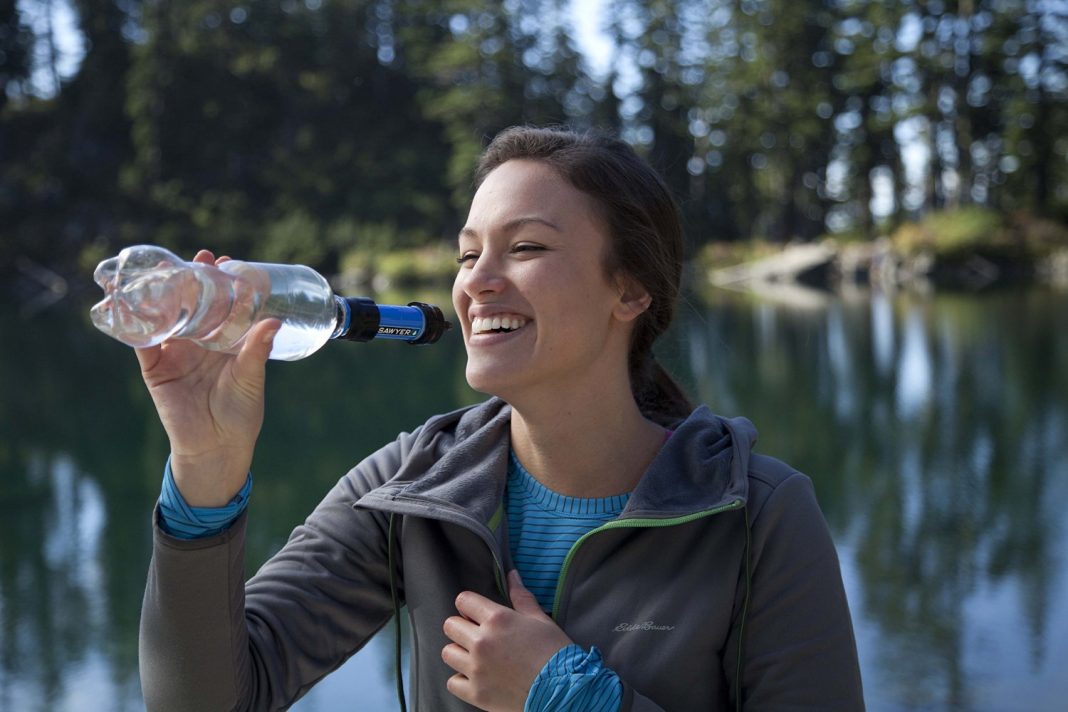 Sawyer Products Mini Water Filtration System. This little water filter will fit in your pocket and you'll always be prepared no matter what your adventure.
Ideal for outdoor recreation, hiking, camping, scouting, domestic and international travel and emergency preparedness

High performance filter fits in the palm of your hand; weighs just 2 ounces; 0.1 Micron absolute hollow fiber membrane inline filter

Attaches to included drinking pouch, standard disposable water bottles, hydration packs, or use the straw to drink directly from your water source

Removes 99.99999% of all bacteria, such as salmonella, cholera, and E.coli; removes 99.9999% of all protozoa, such as giardia and cryptosporidium

Filter rated up to 100,000 gallons; includes 16-ounce reusabel squeeze pouch, 7-inch drinking straw, and cleaning plunger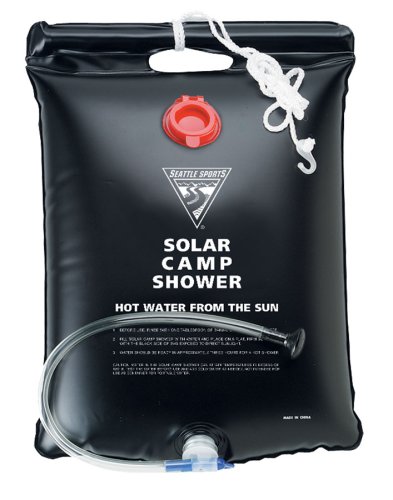 Solar Camp Shower. No need for cold showers when camping! Made from PVC-free materials, this holds five gallons, allowing you to fill with water and hang in the sun, to enjoy warm showers.
Camp shower made for showering at the campsite or washing off dirty hands and feet

Made of durable PVC

Separate fill cap; on/off valve; hanging/carrying handle

Capacity: 5 gallons

20 by 16 inches (H x W); weighs 14 ounces 
17. Reflective Rope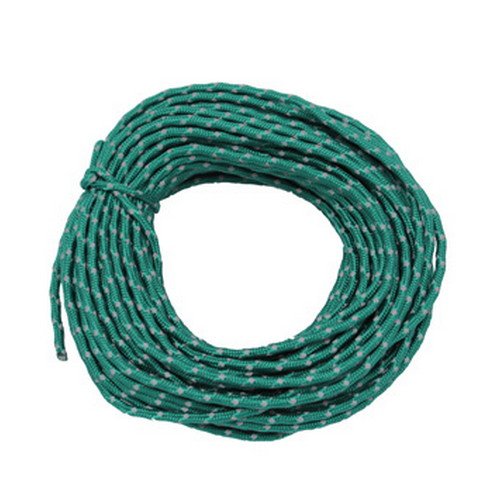 Reflective rope pack. Avoid tripping over your tent ropes at night by having them be easier to see.
Don't be that guy that ruins someones hard work of putting up their tent by tripping over their ropes. Get this reflective rope pack to make sure everyone can see your tent ropes. Also an excellent way to spot your camp from afar.
18. Waterproof Case for iPhone 
Wildtek Repel Case. This case is an absolute must have for anyone with an iPhone 6! Fully waterproof and more, check out everything else it has:
Superior, Rugged Protection - The Wildtek Repel Case is ready for any adventure, providing you with full waterproof, snowproof, dustproof, shockproof, and anti-scratch protection for your iPhone 6. IP68 Certified Waterproof to and fully submersible to 2 meters.

Full Functionality and Easy Access - Use every feature of your iPhone 6 as you normally would...Touch ID, touchscreen, headphone jack, charge port, speakers, volume, mute, sensors and cameras...they all work perfectly in the case, are extremely secure and easily accessible.

Crystal Clear Clarity - Ultra-clear Optical Glass protects the camera lens and flash, allowing you to take incredible, high definition photos...even in extreme environmental conditions. Built-in screen protector protects from scratches and dings without compromising sensitivity or clarity.

Enhanced Audio - Other waterproof cases muffle sound and ruin audio and call quality. Wildtek's ClearSound technology allows for an unparalleled experience of clear, unmuffled sound.

Lifetime Warranty - The Wildtek Repel Case is backed by a Lifetime Warranty 
19. Sea to Summit Kitchen Sink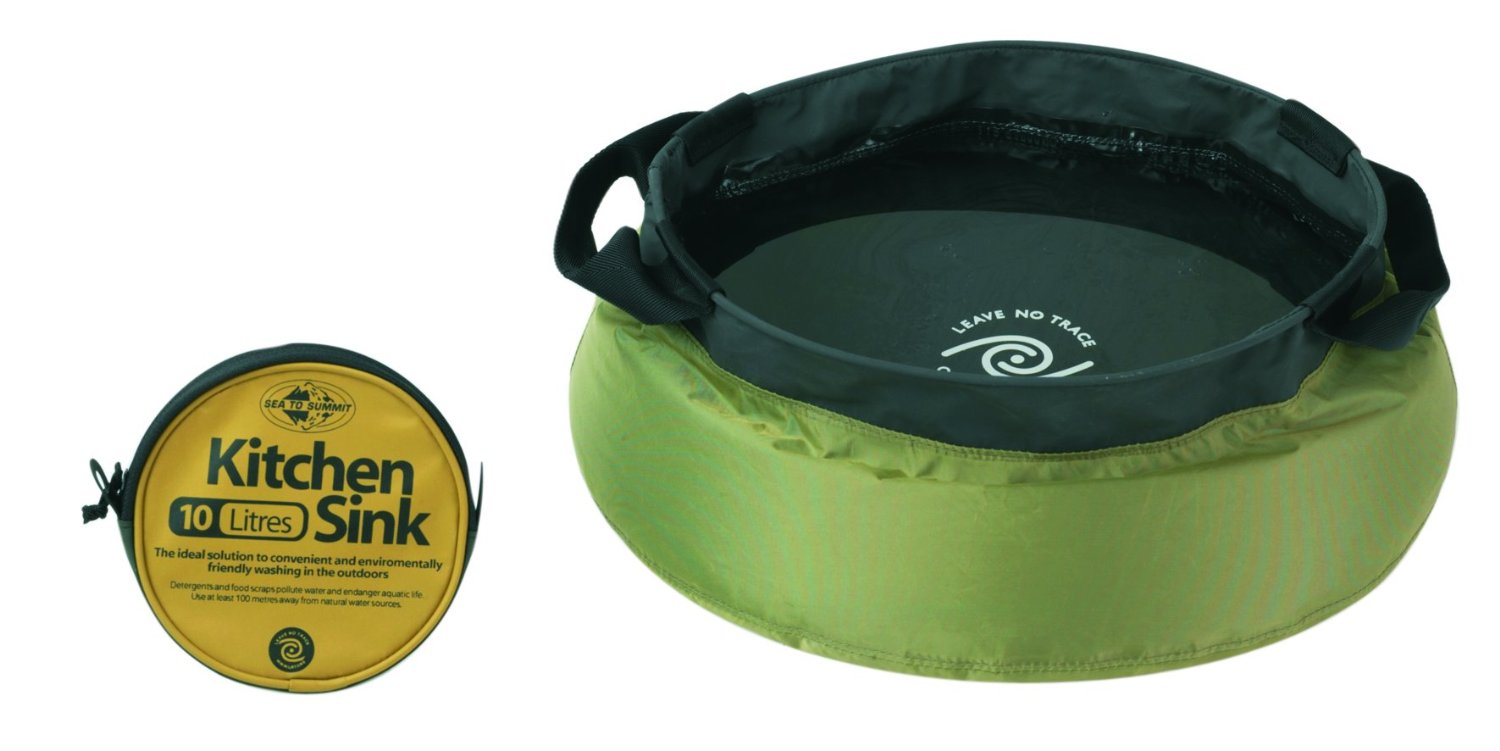 Sea to Summit Kitchen Sink. Convenient and portable solution to having a sink during your outdoor and camping trips. This unique design won't collapse or tip while in use, and easily stores into a compact case.
Unique design with stainless steel stiffening ring that prevents the sink from collapsing when full

Base is broader than top so it won't tip over in use

Fully taped seams. Fine to use with hot water and detergent

Wide webbing carry handles. Comes with its own handy storage pouch

5 Liter / 1.3 Gallon: 3.0 oz; 10 Liter / 2.6 Gallon: 4.4 oz; 20 Liter / 5.2 Gallon: 6.4 oz 
20. Flash Personal Cooking System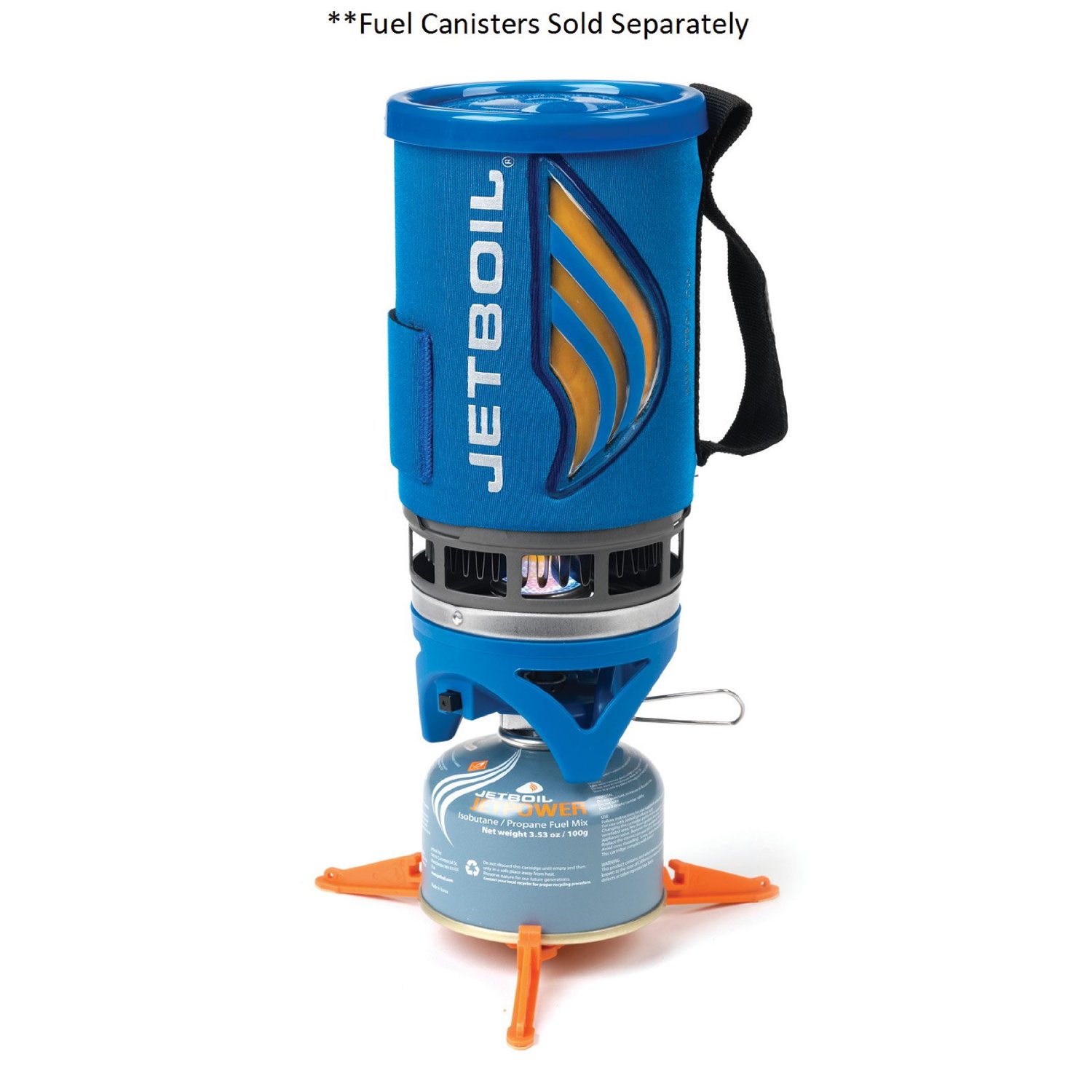 Flash is an all-in-1 design, combining burner and cooking vessel in a single, compact unit.
Flash color-change heat indicator

Stainless steel burner 

Tripod base 
The system lights with the click of a button and within 2 minutes provides 2 cups of boiling water for cocoa, coffee, instant soup or a gourmet freeze-dried meal. The newly designed burner secures the igniter, protecting it from bumps along the road. 
21. Water Trampoline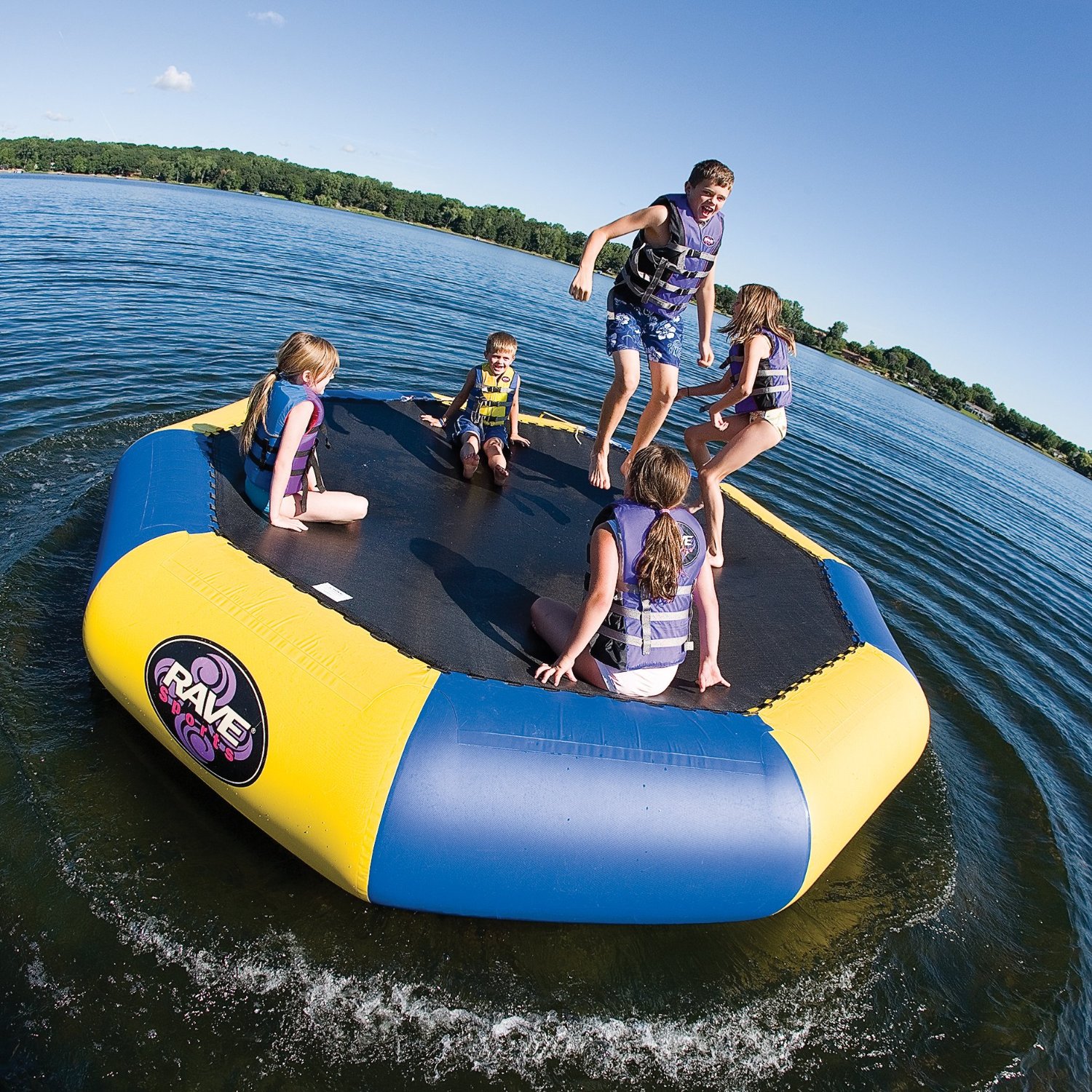 RAVE Sports Bongo Water Bouncer. For fun on the run, play the Bongo. Put a lightweight bounce platform into the trunk or boat and go wherever adventure leads you. The bongo inflates quickly, anchors effortlessly and allows you to keeps the kids active or the adults lounging anywhere there is water. Each Bongo model comes with either a stainless steel ladder (Bongo 15) or aluminum ladder (Bongo 10 & 13) designed with steps deep into the water, easy to grip stainless steel or aluminum bars, hand holds molded into each step and boarding assist handles a the top enabling anyone to board effortlessly. Relax away your summer knowing that RAVE provides a lifetime warranty guarding you against manufacturer's defects.
Water bouncer with trampoline-like surface for bouncing or lounging

1,000-denier polyester, UV-treated construction with heat-welded seams

Boarding ladder with steps that extend into water and boarding assist handles

Inflates in 5 to 20 minutes depending on pump; easy to transport

Comes in 10-, 13-, and 15-foot sizes; lifetime warranty against defects 
22. Portable Grill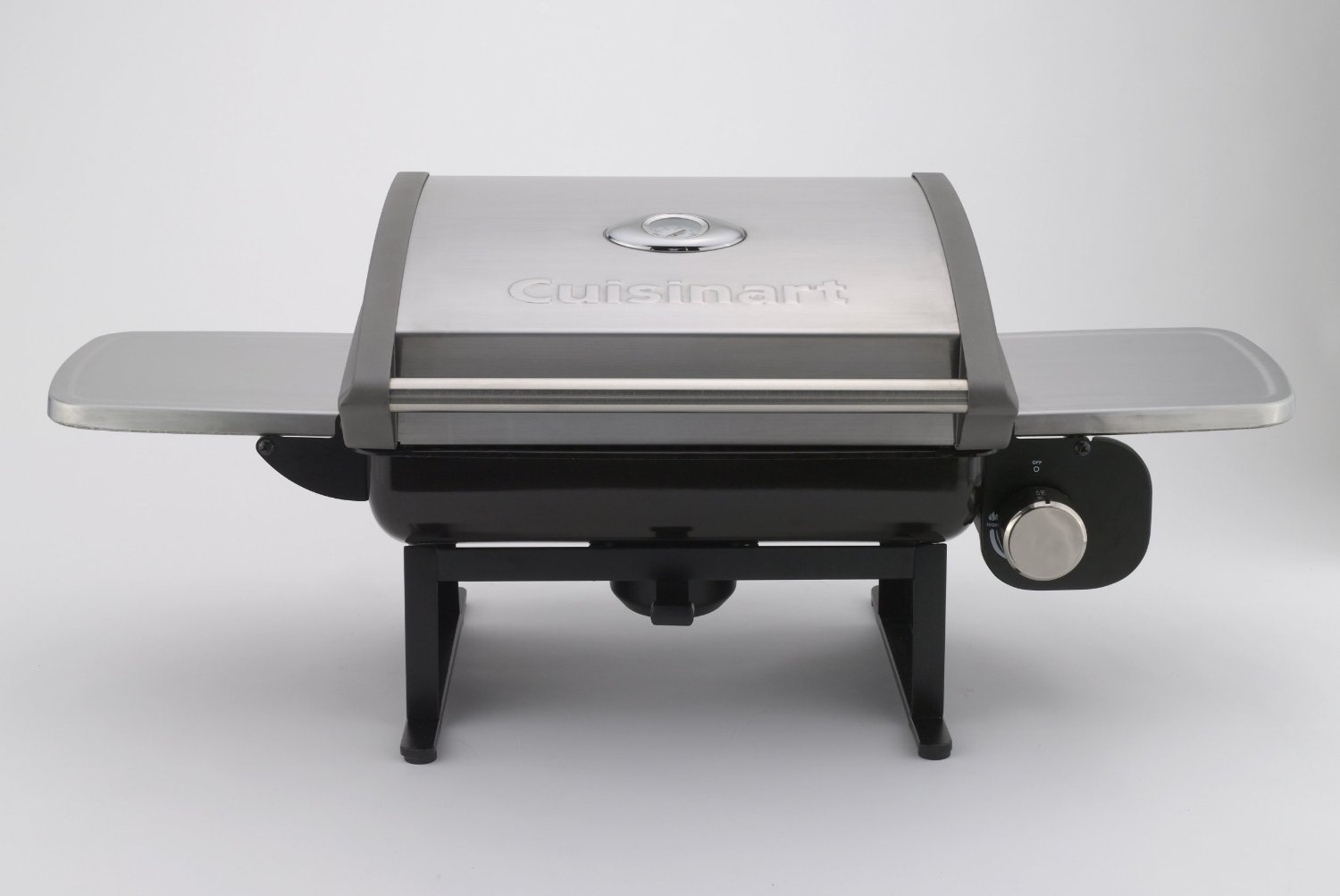 Cuisinart All Foods Gas Grill. A Versatile cooking system that expertly grills fine foods. Solid grilling performance provided from a 12,000 BTU stainless steel loop burner, a heat distributing panel, and a porcelain enamel coated cast iron cooking grate. The grill is compact in size, making it ideal for smaller yards and patios, and with folding stainless steel shelves and carry handles, is convenient to carry to the game or beach. The All Foods Gas Grill features Cuisinart's unique Versatile Modular Grill Surface system, which is a series of interchangeable specialized grill surfaces suited to frequently grilled foods, such as veggies, breads & pizzas, and delicate foods. The panels mate securely to the cooking surface, yet remove quickly and easily for cleaning and storage. The grill comes with the Veggie Panel, and others are available. Other features include a precision temperature gauge, the Cuisinart TwiStart Ignition system, and a removable drip tray.
High Sierra Wave 70 2L Reservoir & Bladder Camping/Hiking Hydration Bag Pack. You never want to run out of water. It's as simple as that.
100% Polyester

1 exterior pocket

Holds 2 liters 
This is one nifty water carrier. It's basic, but that also means it's about as light as it's going to get. And, it will keep that water cool for a long time in the sun. Now that's handy.
What Reviewers Say:
As an occasional raver and a more frequent hiker/runner, this hydration pack is perfect for quality and value!
It is a great buy! The water flows well and it stays cool for a good 2-3 hours in the hot sun.
I sing in a band, and I've found this to be waaaaaaaaay more convenient than reaching for a bottle of water on stage.
I especially love that it doesn't get knocked over by our drummer, haha.
It's got a nice, slim profile, and while it's not the *most* comfortable hydration pack I've ever worn, the low-profile keeps it from bouncing around too much on stage when I jump around.
24. Scrubba Portable Laundry System Wash Bag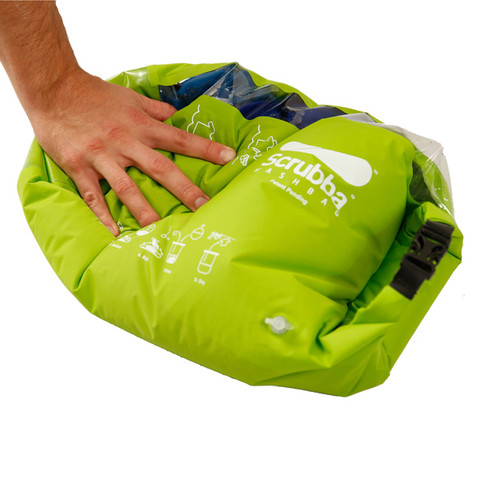 Scrubba Portable Washing Machine. Clean your clothes anywhere, and in no time at all. Lightweight, compact and backpackingly easy to use, this marvel of personal hygiene will wash your clothes in no time – and you can use it virtually anywhere!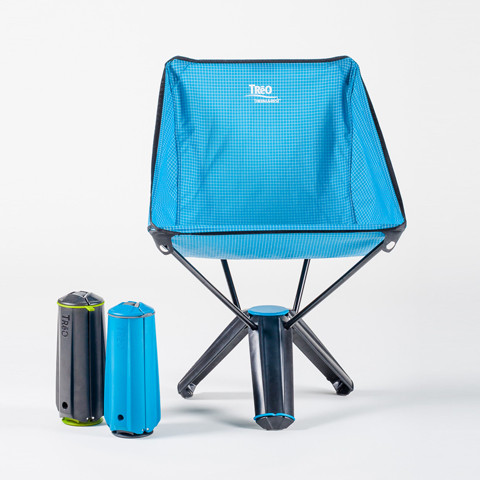 Treo Camping Chair. Big chair comfort in an exceptionally small package, the Treo packs entirely into its own tripod base and can support up to 250 lbs.