As a kid, I loved digging in the dirt on my grandfather's property way out in rural Oregon. I would always find great pieces of history, like an old vintage 7-Up bottle.
These incredible old structures are frozen in time, and no matter what the history may be, there's always a story to tell inside those walls. Sometimes even if we don't know anything about who lived there, or what happened there, it's almost more fun to let it remain a mystery. Some of these buildings we don't know much about, other than the fact that they are somewhere in Oregon. A lot of these photos I come across on great photo sites such as Flickr, or browsing the web stumbling across another awesome photographer in Oregon.
We'd like to thank Abandoned Oregon via Facebook, and all of the photographers who get out there and take these great photos for helping with this article today!
1. Abandon school in Grass Valley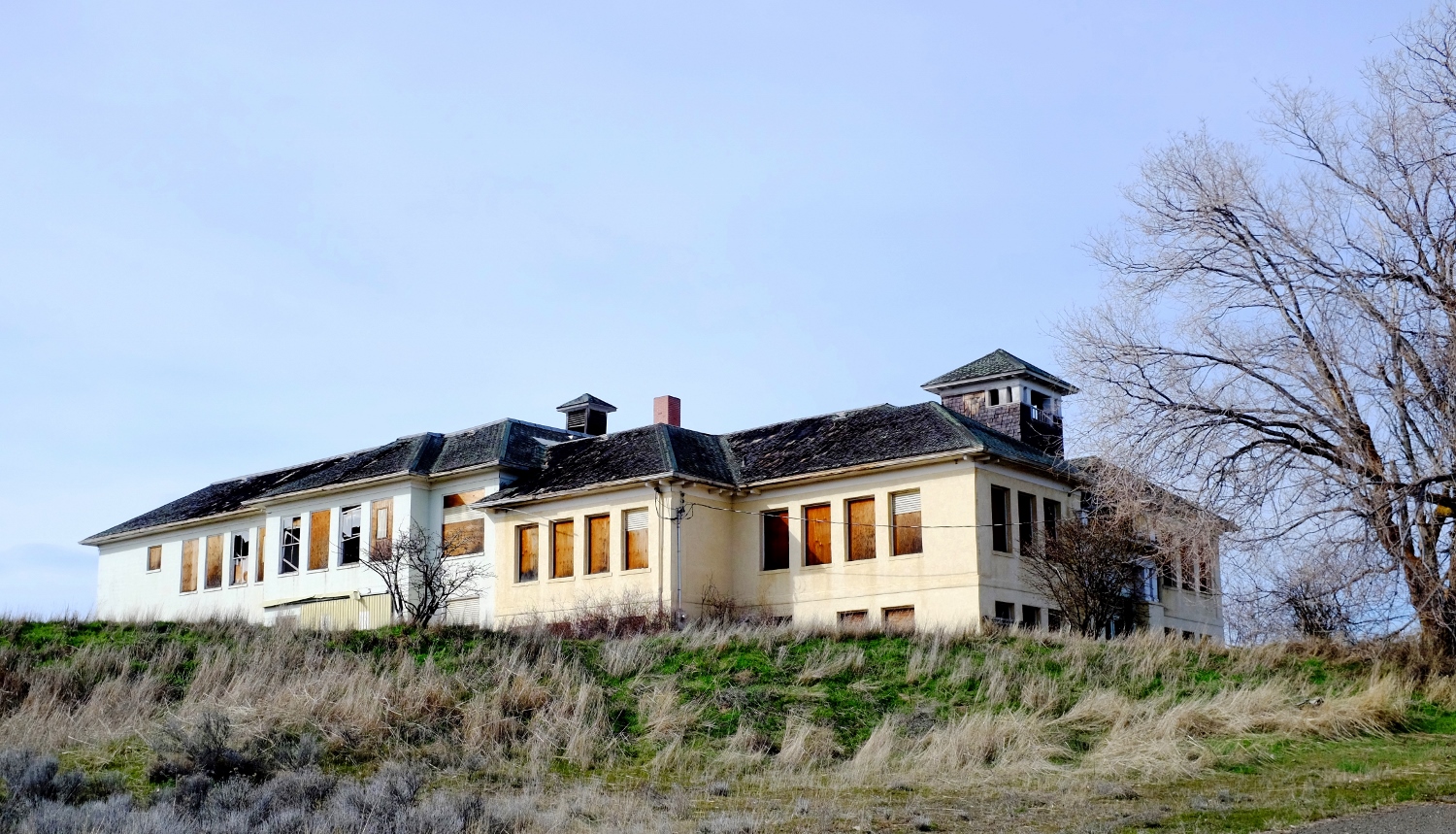 Here is a gorgeous school in Grass Valley. Unfortunately I don't know any of the history on this place, anyone else with some knowledge care to share?
Sign up for monthly emails full of local travel inspiration and fun trip ideas. In each newsletter we'll share upcoming events, new things to do, hot dining spots and great travel ideas.
2. Beautiful old farmhouse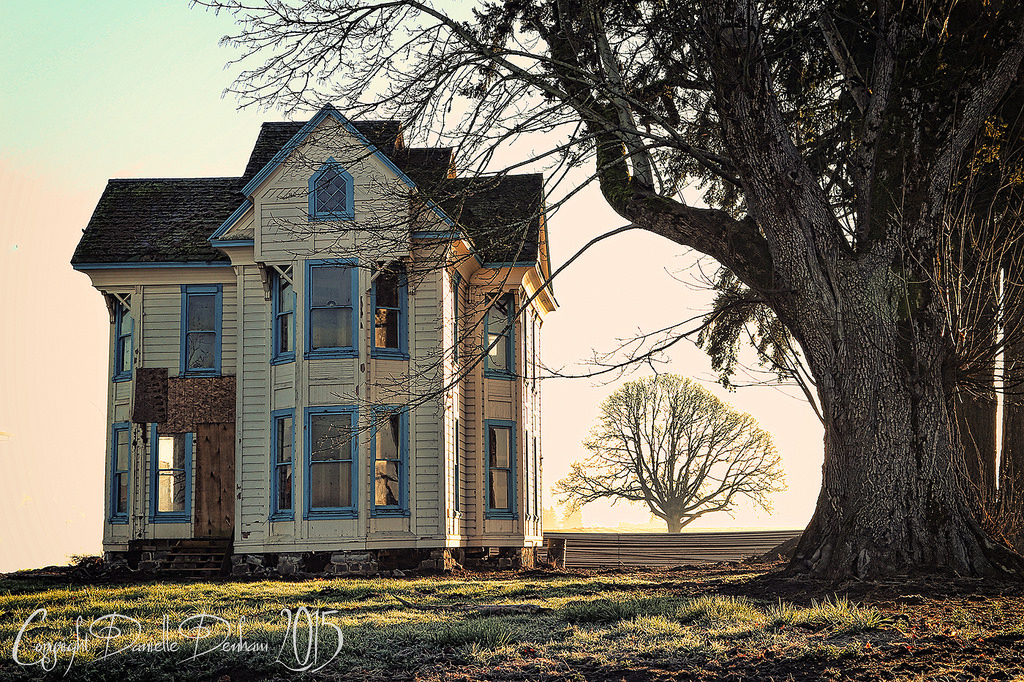 Easily one of the most beautiful and enchanting abandoned homes I've ever seen in Oregon. This farmhouse sat somewhere between Gervais and Aumsville, Oregon and has since been moved to another location. I love the blue trim on this one! Danielle never disappoints with her incredible photos all over Oregon.
3. The Carson Homestead

Fascinating homestead in Beech Creek, Oregon. The Carson family lived here in the late 1800s, Danielle even found old paperwork here with their name on it! You can read more about them here at findagrave.com.
4. Creepy abandoned home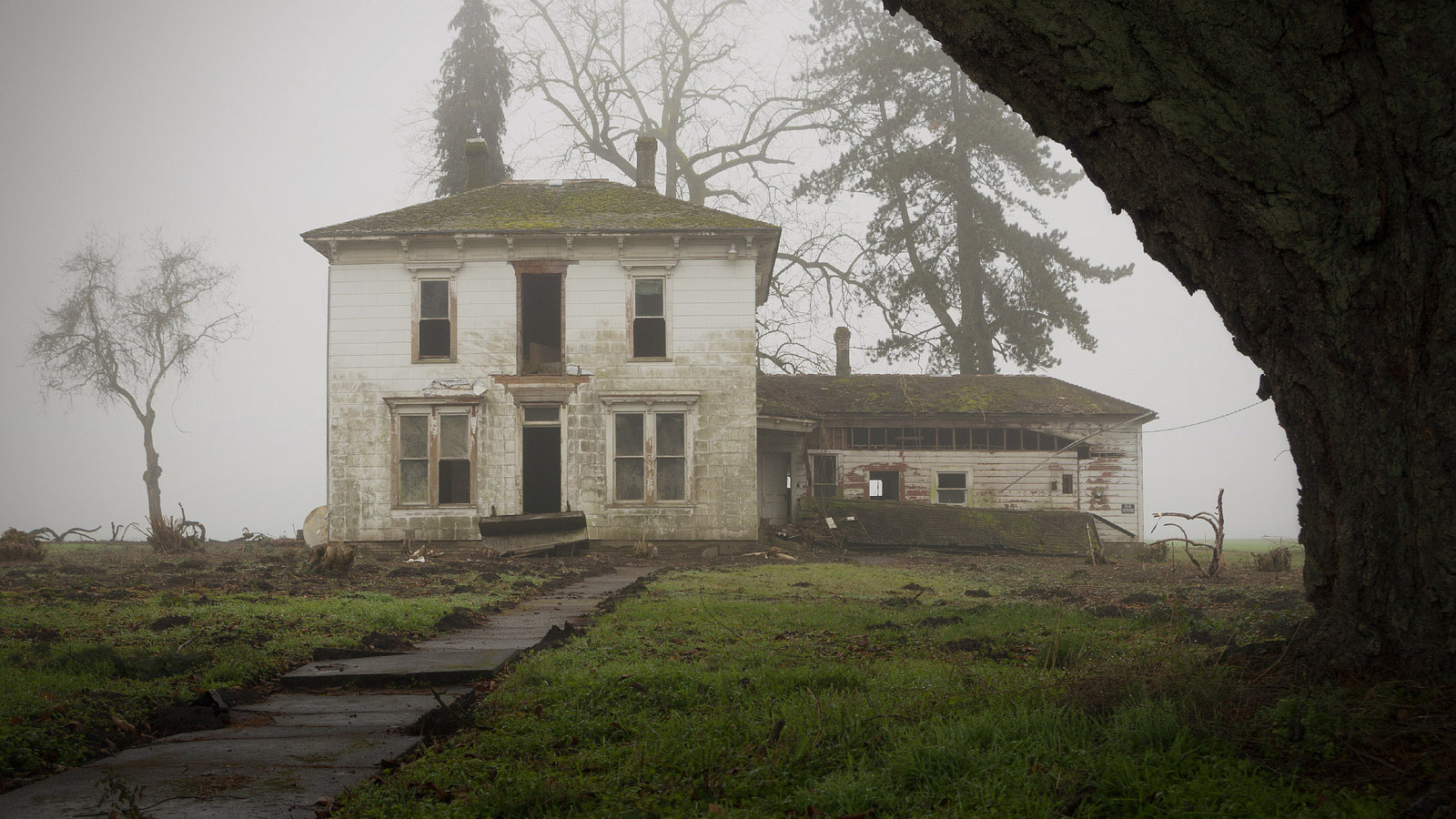 An amazing photo, evoking the chill and cold of the day at this abandoned home. The photographer did not disclose where this old mysterious home resides, but we do know its somewhere in Oregon.
5. An abandoned cement plant in Lime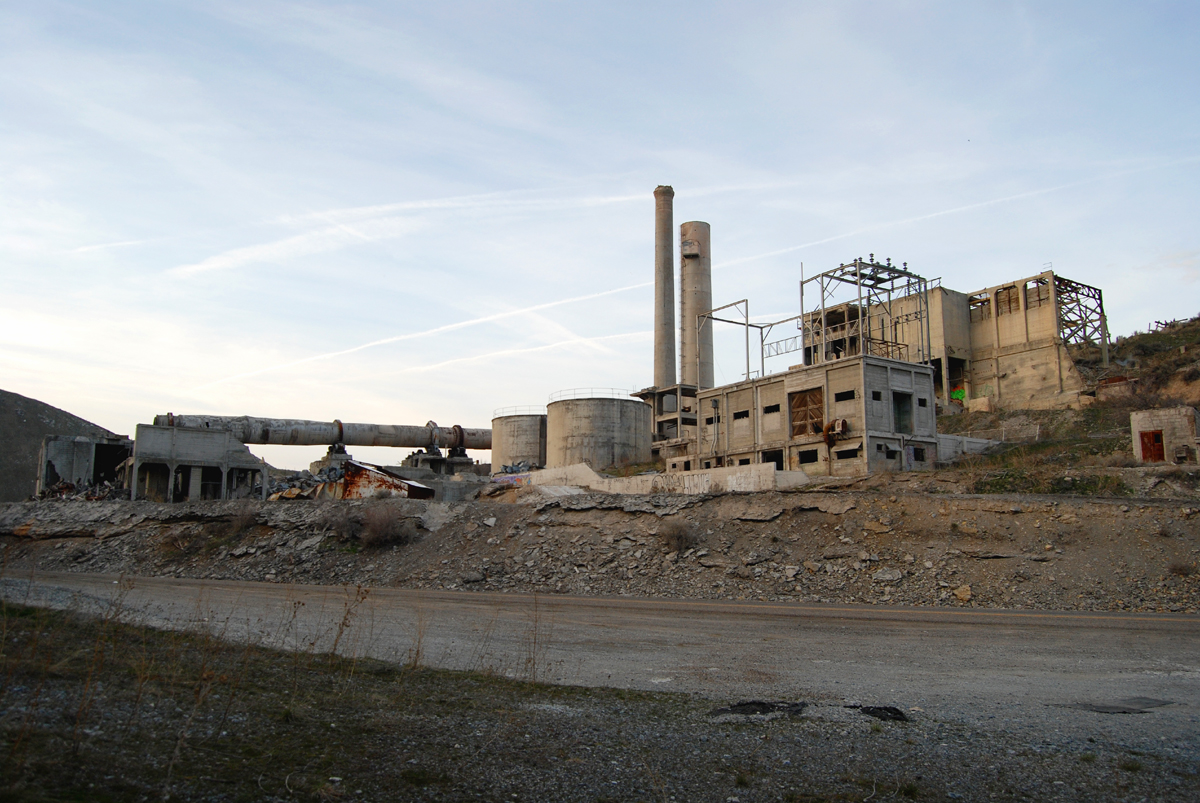 First a town, later a factory: Eponymous Lime was incorporated in 1899 ((Lewis A. McArthur,Oregon Geographic Names, Sixth ed. (Portland, Ore: Oregon Historical Society Press, 1992), 508. )), amidst natural limestone deposits along the Burnt River in eastern Oregon. The rugged yellow hills that hem its steep valley hide it from the Snake River, just a mile or two to the east. You could probably, if feeling hale, stomp to the top of the slopes behind the abandoned ghost-plant and stare down at Idaho, yonder.
The plant itself was built by Sun Portland Cement Co. in the 1920s to provide concrete for the construction of the Owyhee Dam ((McArthur, 508.)). Read more here about this plant.
6. Home near Deschutes River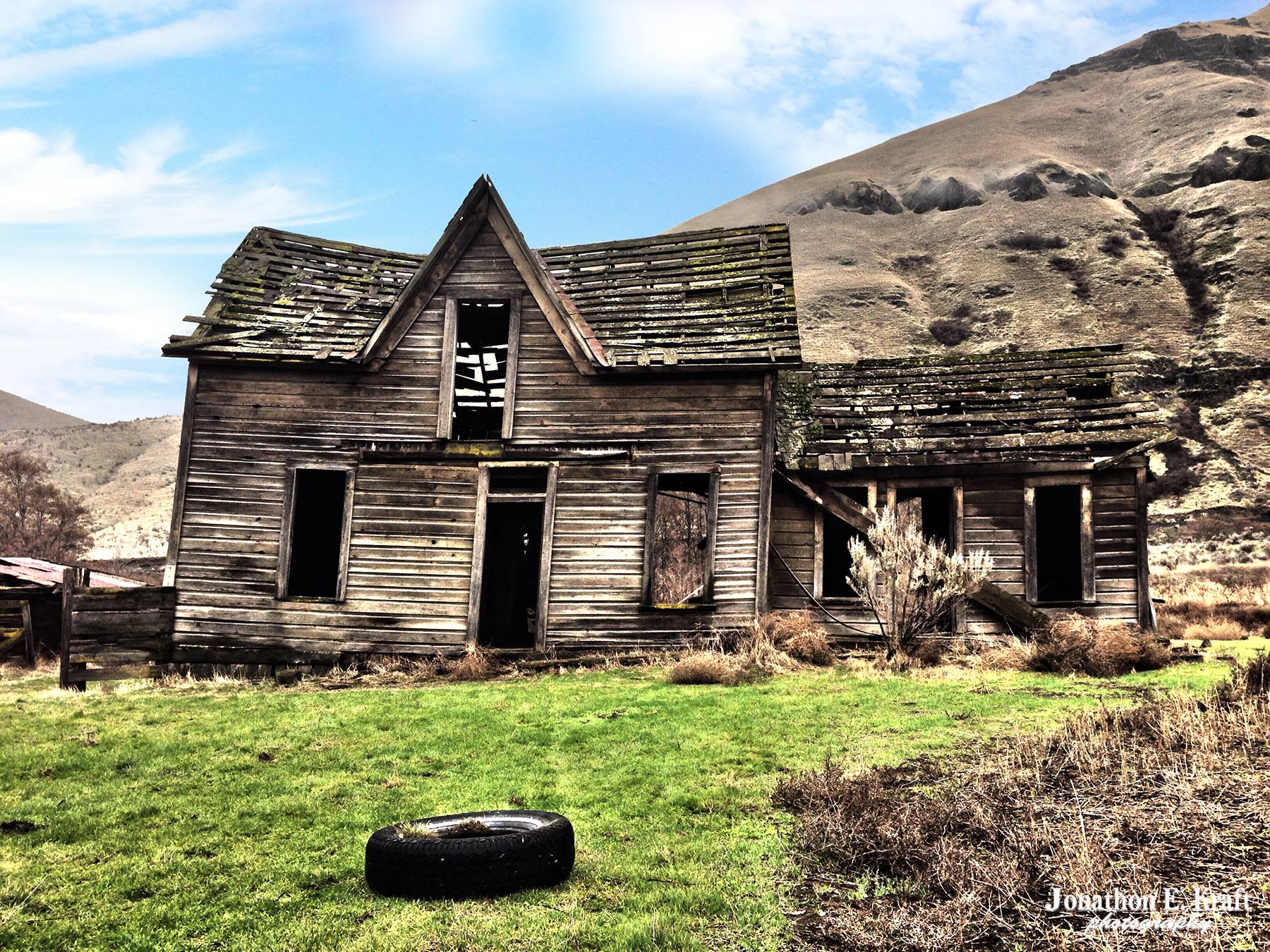 It'd be interesting to know more about this old house. Jon captured an incredible photo here!
7. Aurora shot in eastern Oregon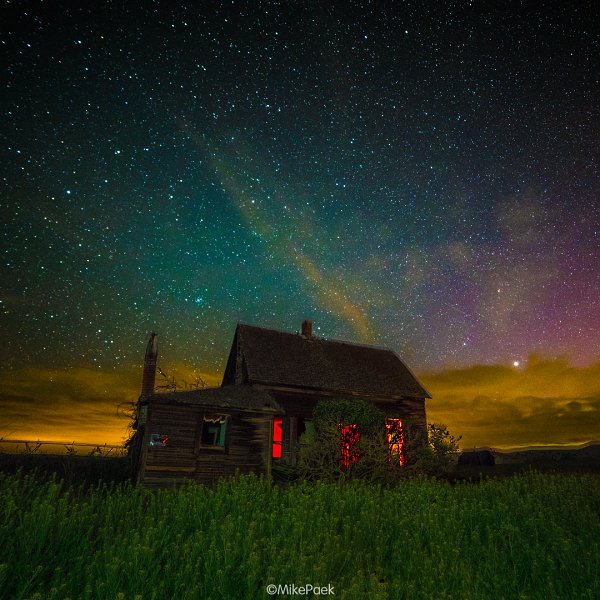 The aurora he caught here is absolutely stunning! He put a red light in the old home for special effects.
8. Old log cabin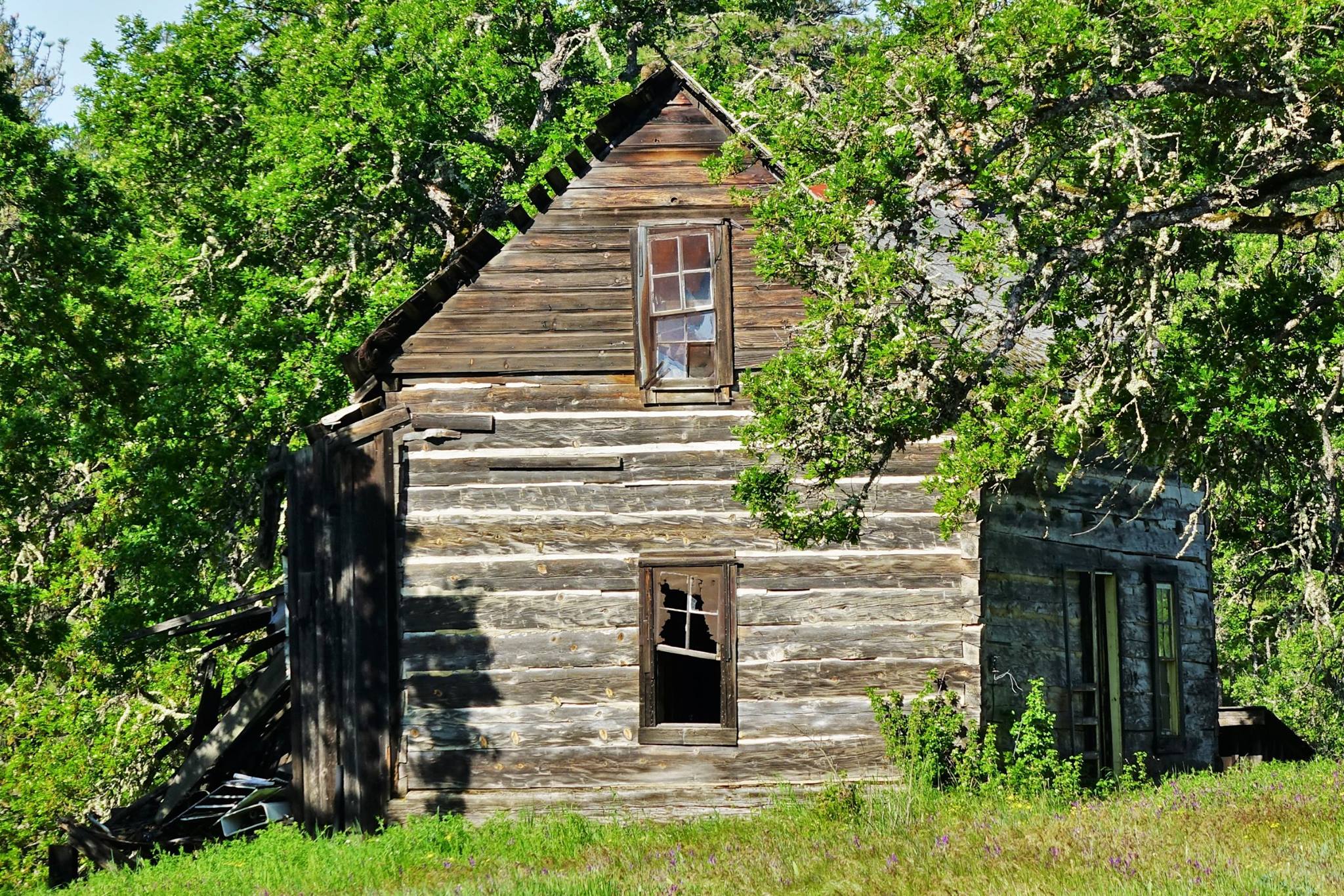 Here is an abandoned log cabin located 2.7 miles east of Mosier Oregon, along the old Gorge Highway which Leon captured Apr. 30, 2016. One of many great photos from Mr. Burkholder!
9. Old Methodist church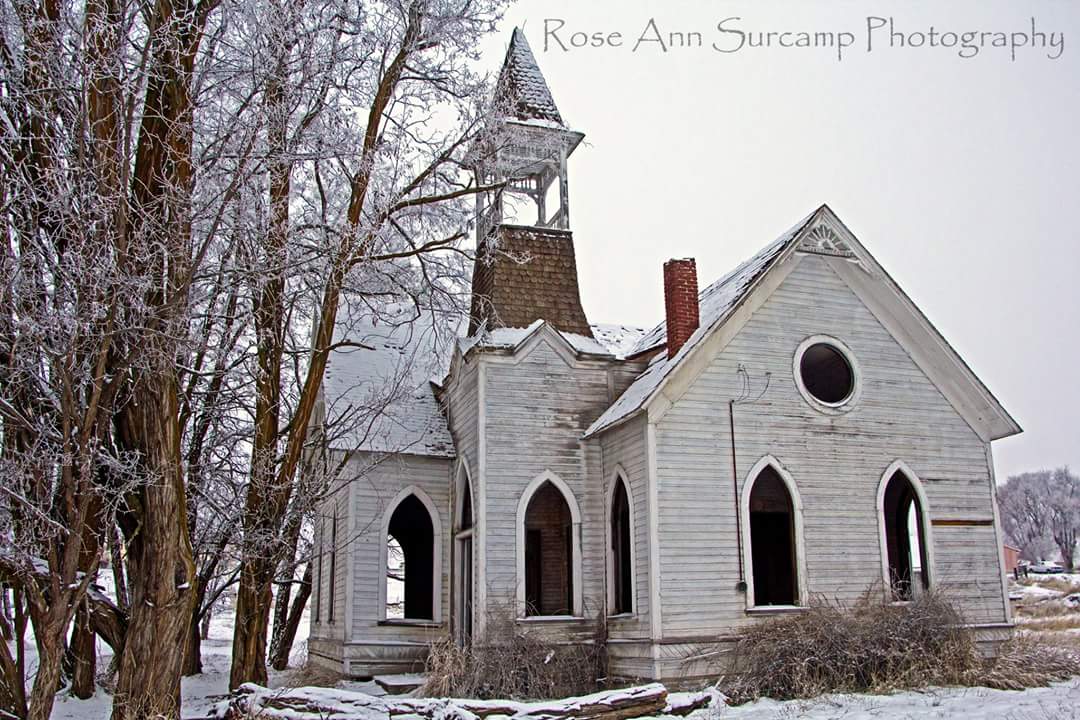 This fascinating old church sits in Grass Valley, Oregon. Incredible shot, I especially love the snow in this photo.
10. Old home in Kahneeta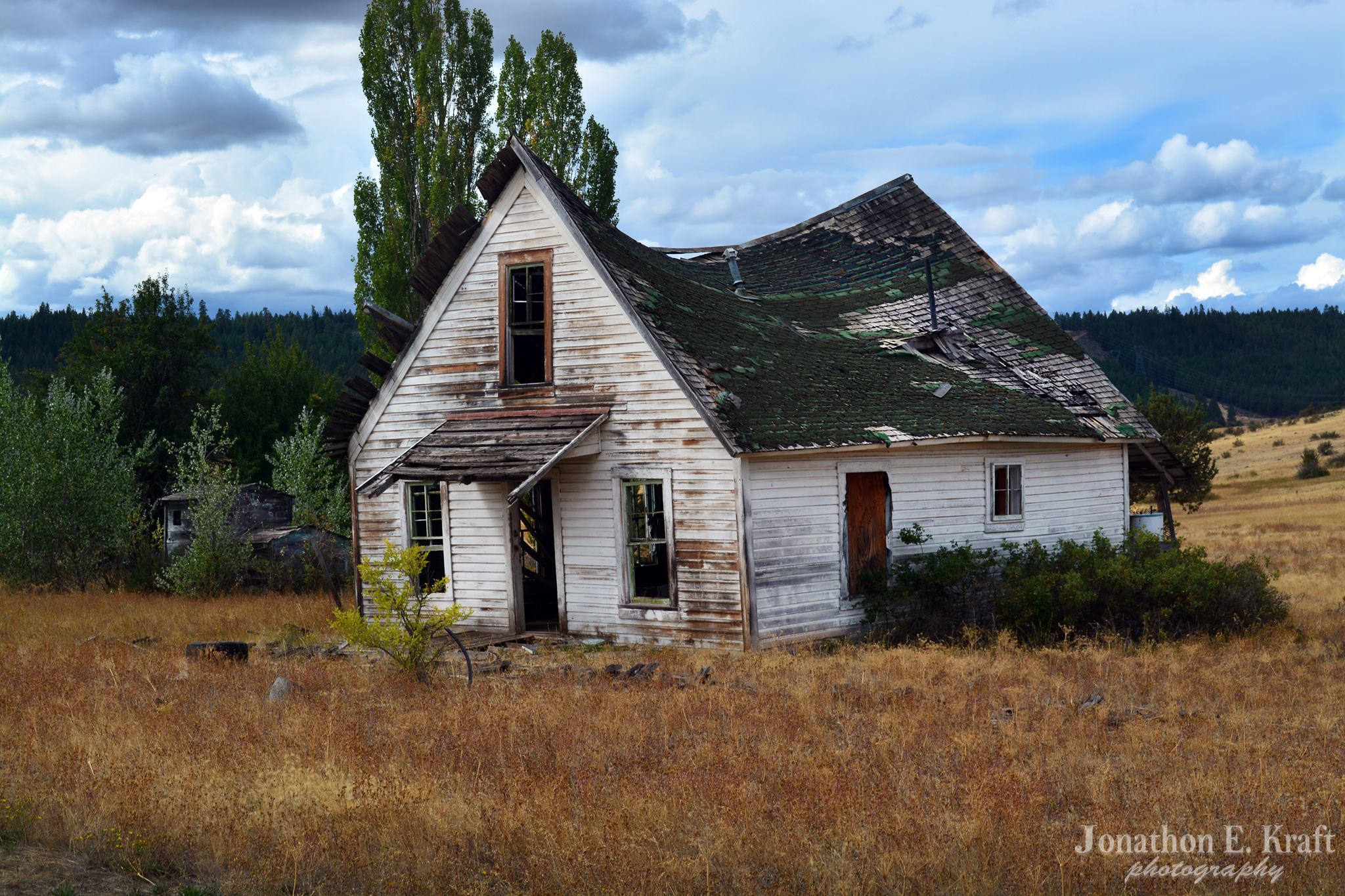 Another old home from Jon.
11. The last dawn in Sherman County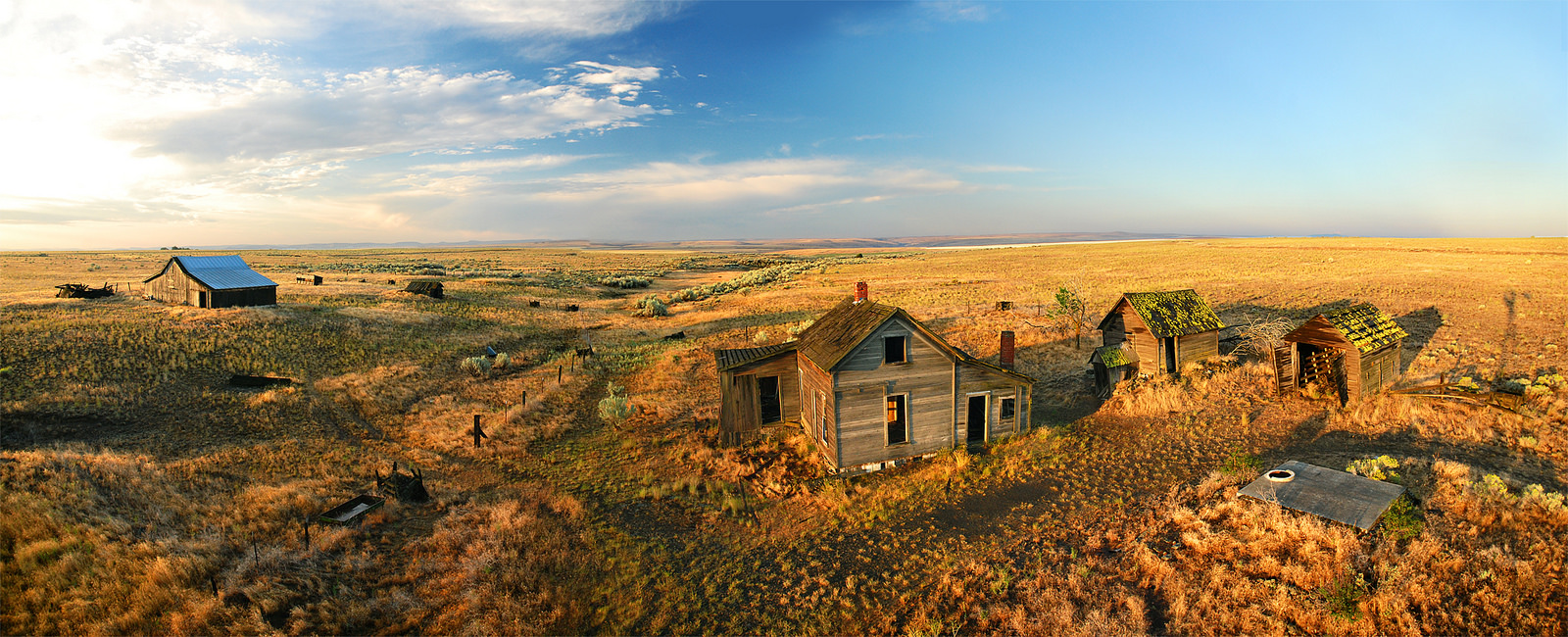 Photographed in recent years after a hard summer thunderstorm. Look at that dark dry wood and neon green mosses soak up the night's rain and morning's sunshine.
This famous farmstead has since been leveled— only the windmill from which this image was photographed remains.
1892 Land Office Records attribute the homestead claim to John Donohue.
12. Orange Crush in Kent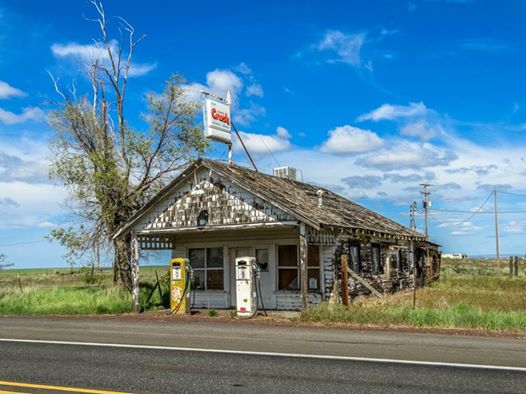 I've seen this old gas station photographed quite a bit! One of the coolest I've seen, Mike Edwards took this great photo, and he has easily become one of my favorite photographers!
13. Lost in the Ochocos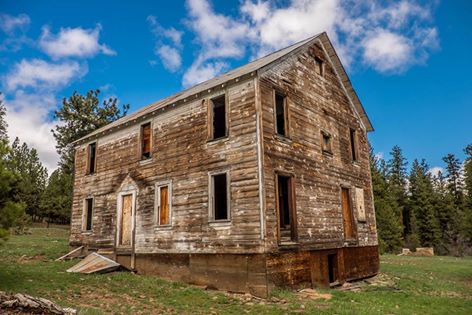 Lost in the Ochocos. Four Horsemen Hotel. The Four Horseman Hotel housed the miners for the Blue Ridge mine and other nearby cinnabar mines from 1930-1958. It now sits abandoned on the Blue Ridge site.
14. Cold memories from Dufur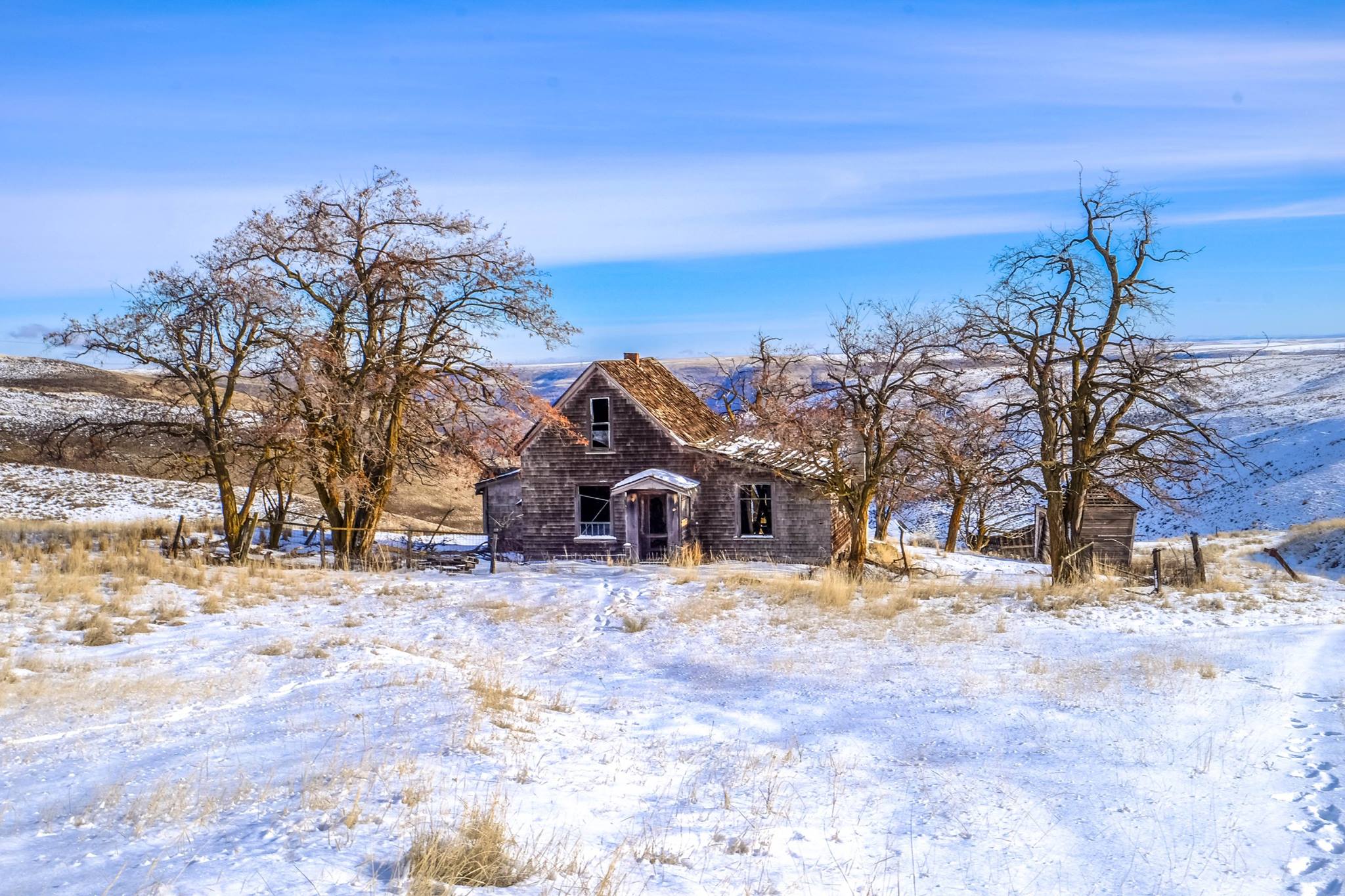 I absolutely love the snow in this photo. Another great shot from Mike, this looks like a painting!
15. Sometimes the ol' piano plays itself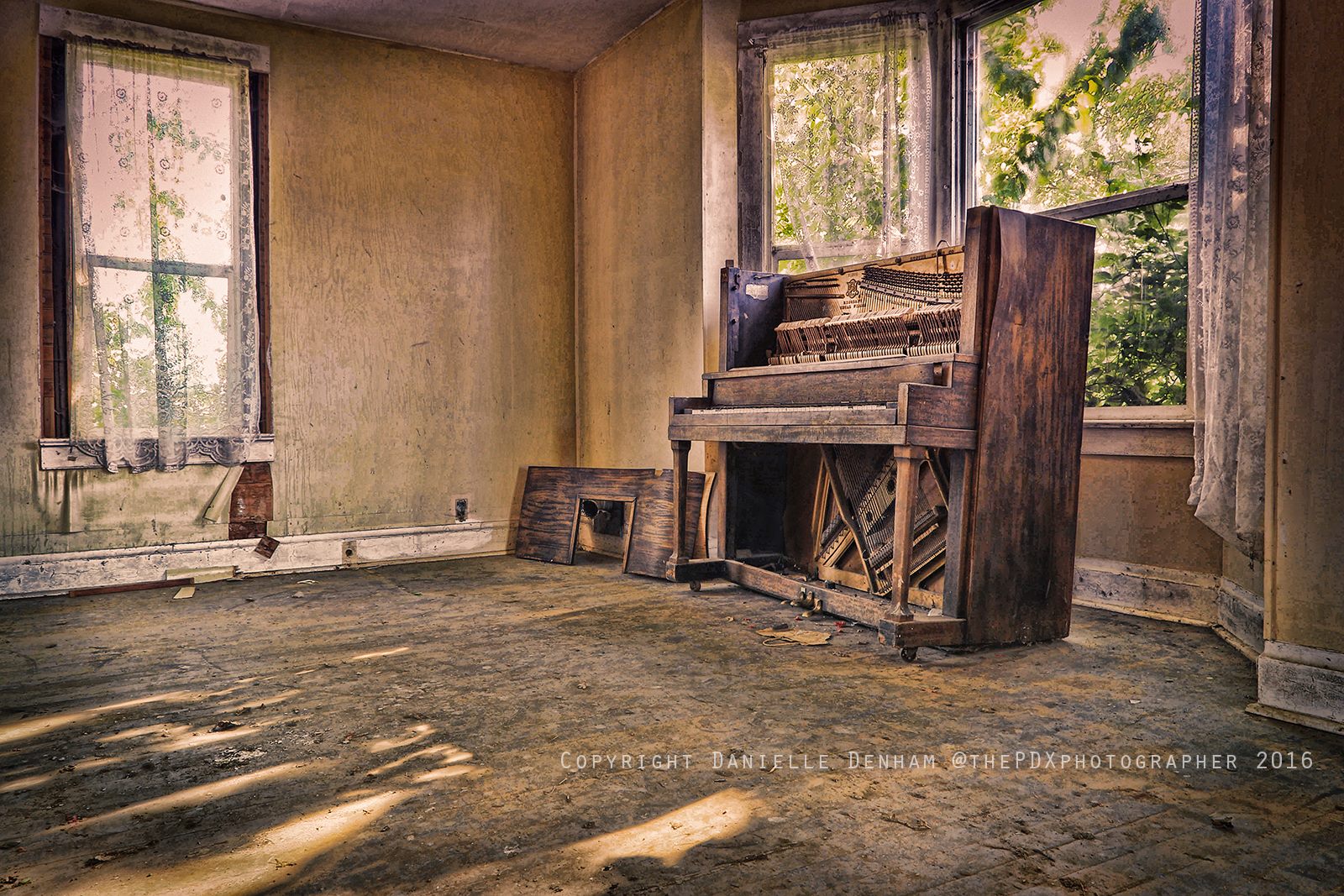 Here's one I was able to see for myself. Part of this old home had been burnt down, and was quite fascinating. Just south of Corvallis with Danielle we came across this abandoned home, and found this incredible old piano.
16. Abandoned yet not forgotten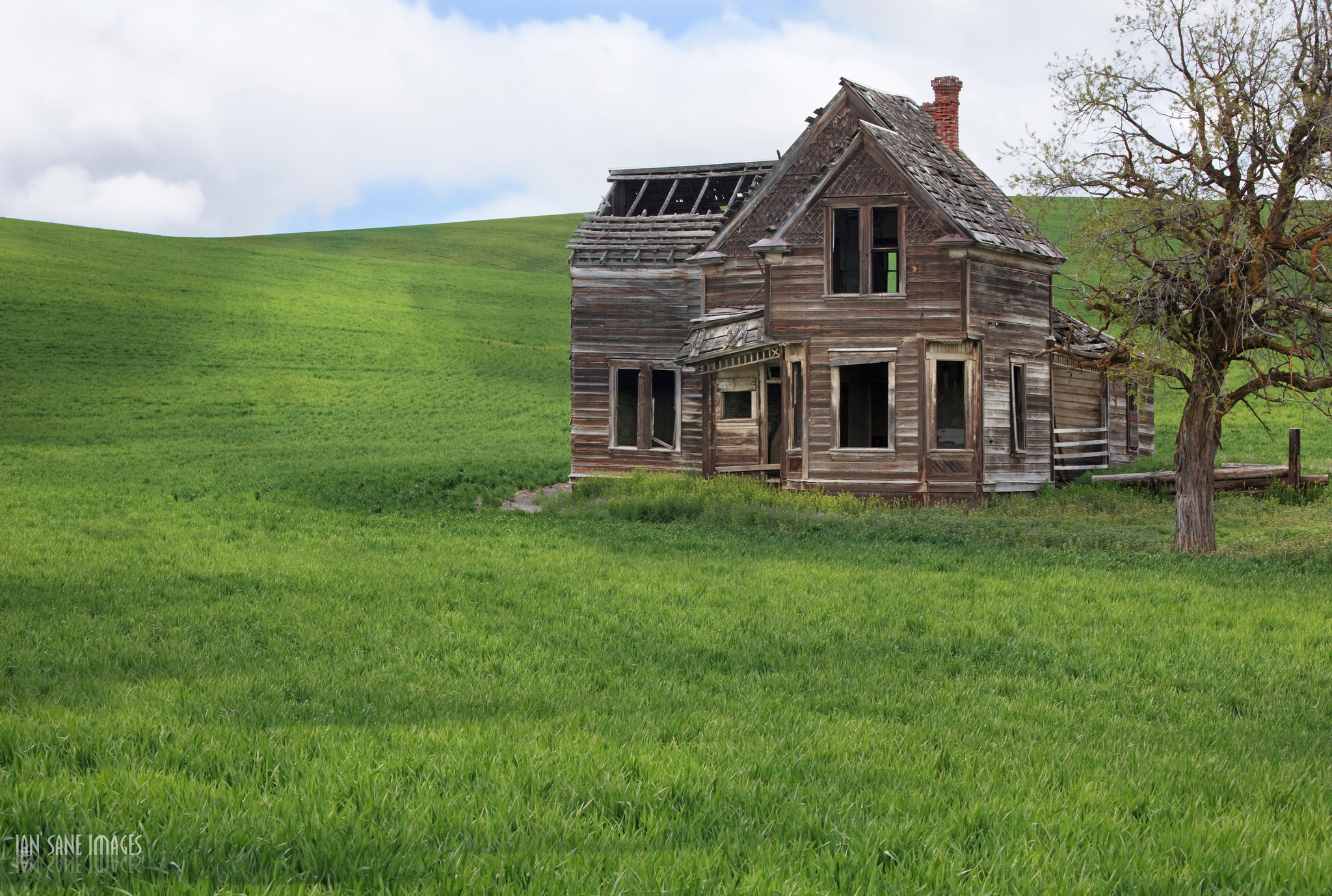 Located out in the middle of nowhere in eastern Oregon between The Dalles and Dufur this old Victorian home is as charming as ever, enticing photographers from all over the Pacific Northwest. The area is picturesque and quiet.
17. Old yellow on Eight Mile Road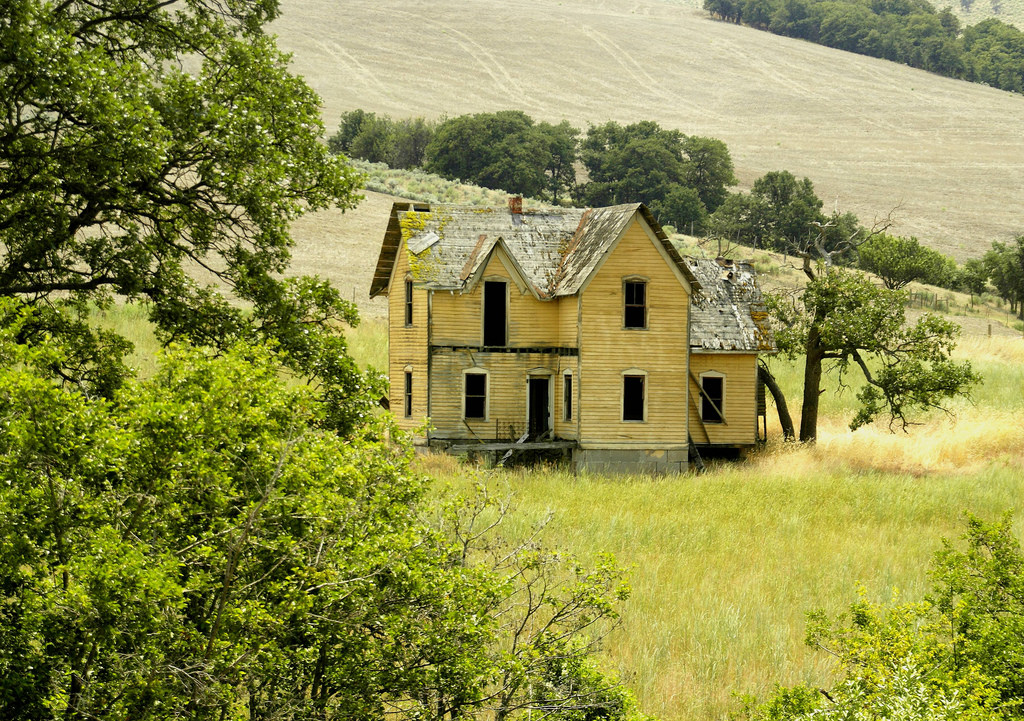 This home 'Old Yellow' sits on Eight Mile Road, near The Dalles, in central Oregon.
18.Big green in Astoria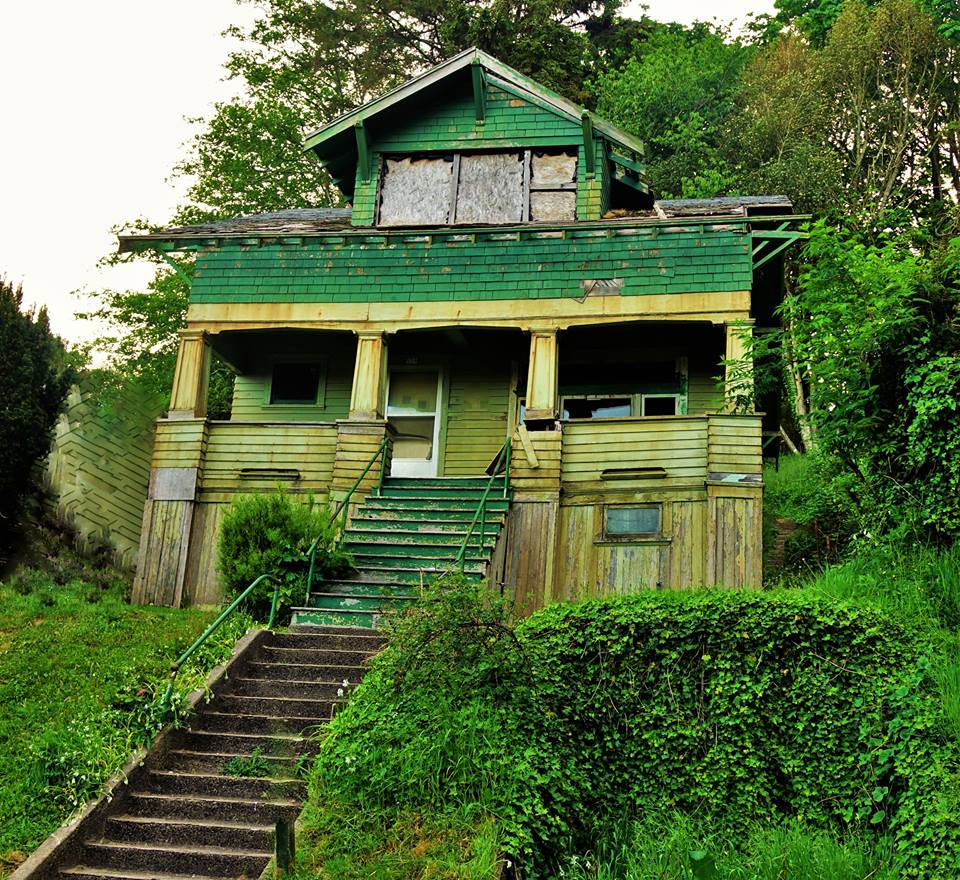 Doesn't have quite the same charm as The Goonies house in Astoria does it? There's something really eerie about this home to me!
19. Old rail station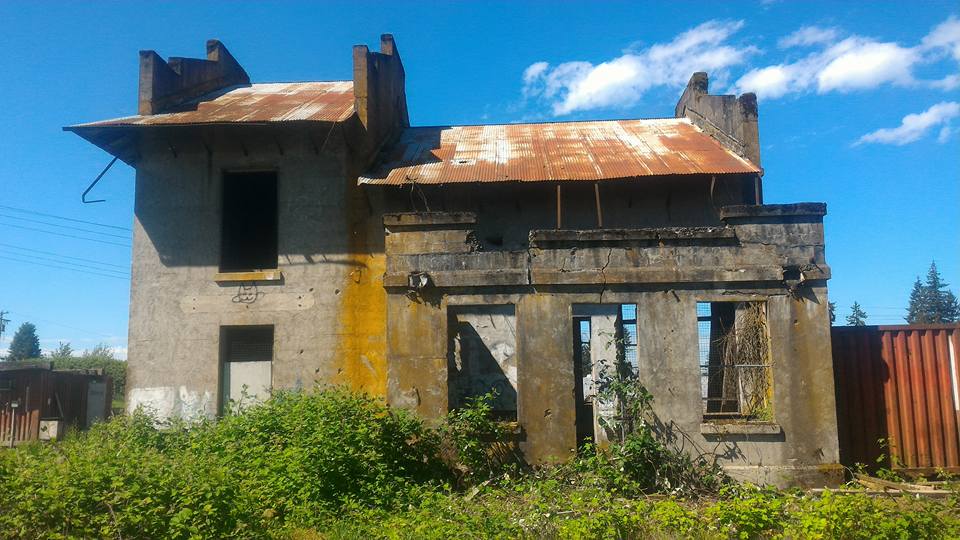 This an old rail station is located between Sherwood, Wilsonville, and Tualatin on Tonquin Loop.
20. Pirtle Transfer Station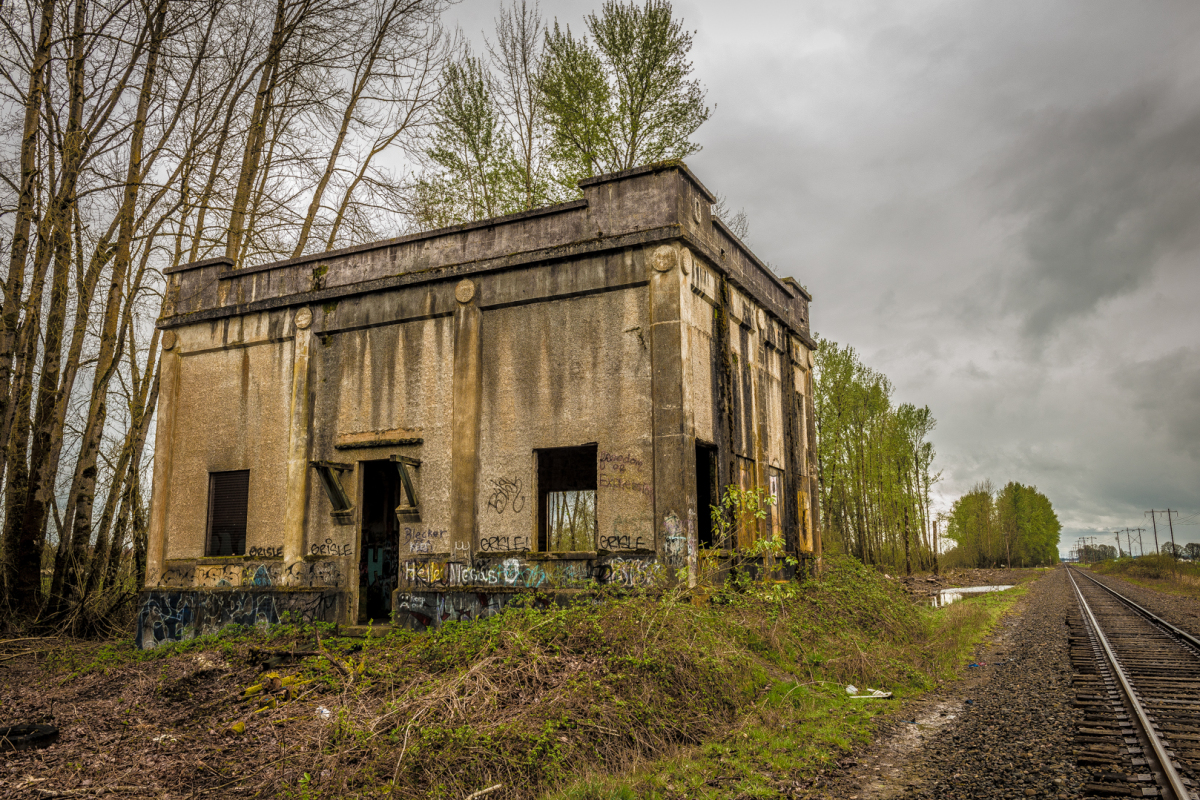 Here's a photo from Melissa, captured at the old Pirtle Transfer Station. This station is just south of Albany. Though not a super large building, you can tell it was once a beautiful hub along the Oregon Electric Railroad. Head over to her website (here) which you can see more.
21. Airlie House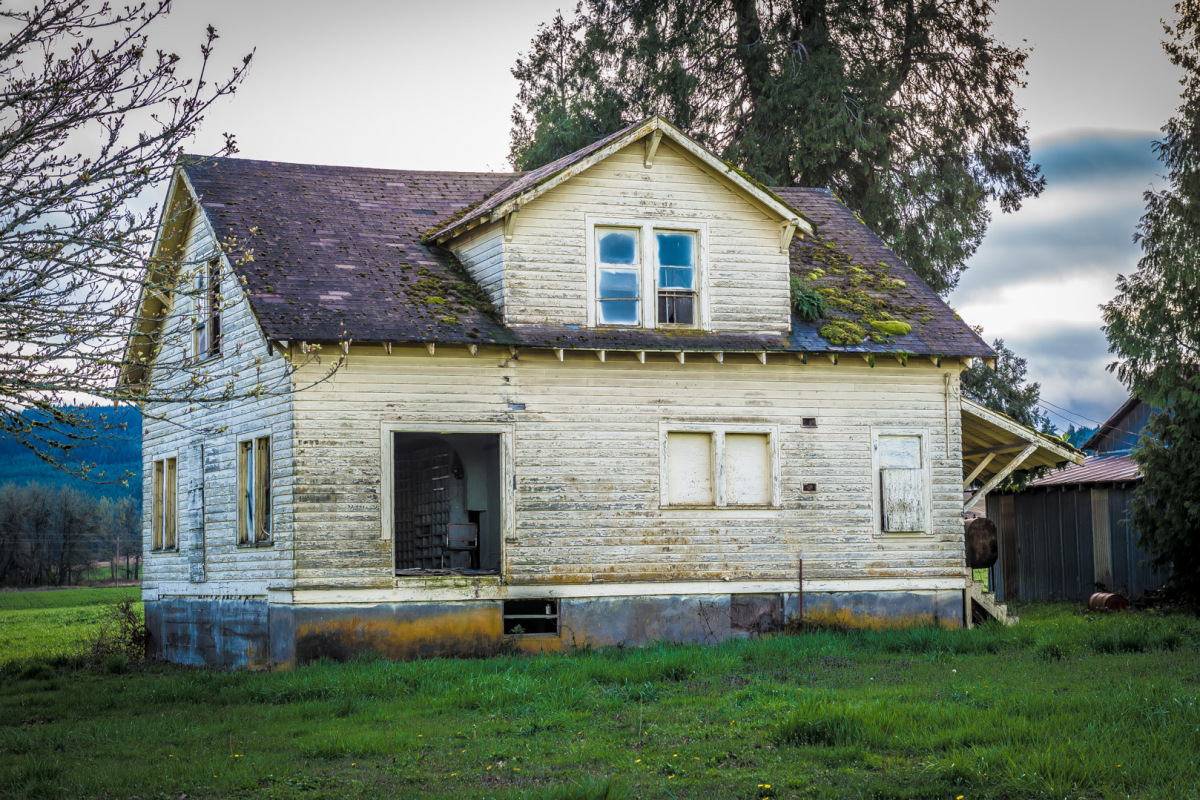 Another great shot from Melissa of a charming old farm house on Arlie Road.
22. Chainsaw massacre in The Dalles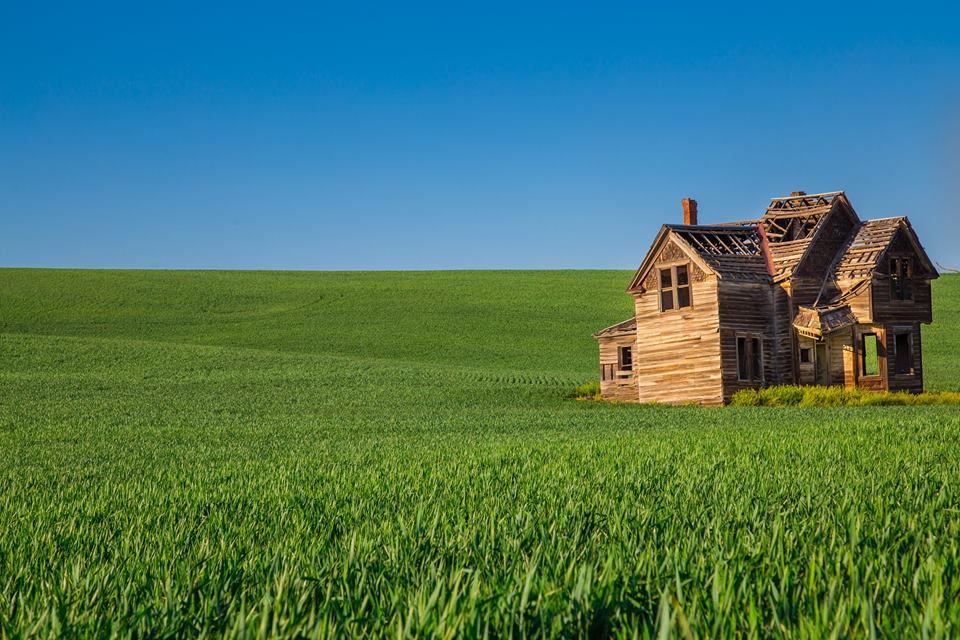 Windows Xp Wallpaper Meets Texas Chainsaw Massacre. 10 minutes out of The Dalles, Oregon captured May 11, 2016.
23. Hard times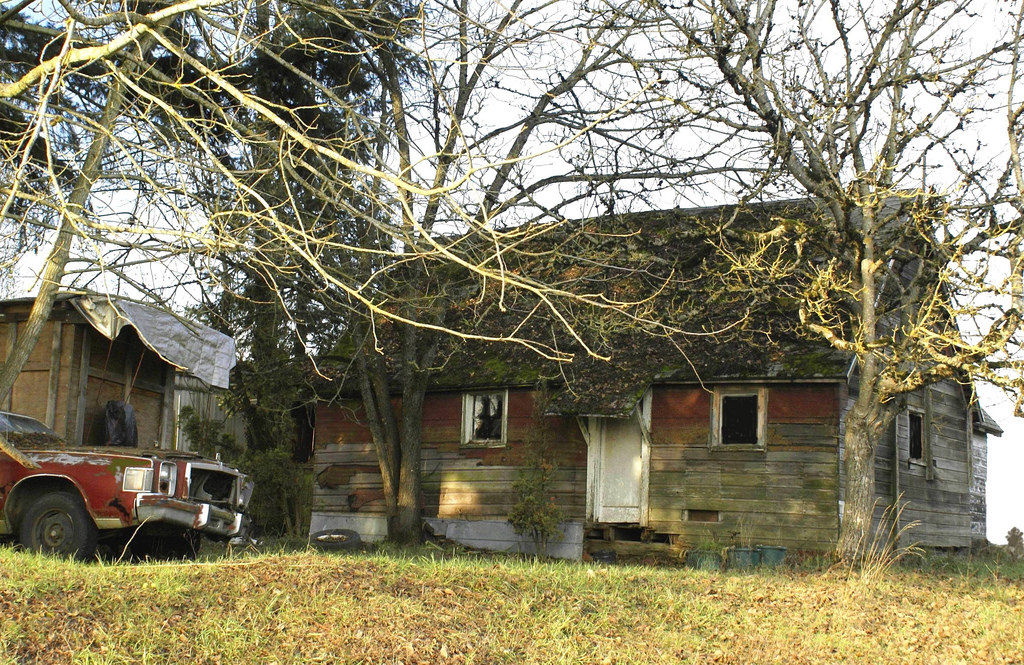 Gary mentioned in this photo both the home and the old Chrysler are abandoned. The car has a cracked windshield and the body is in bad shape. Maybe the people were down on their luck and just left everything behind? Somewhere in rural Yamhill, Oregon.
24. Old farmhouse in Fisher Mill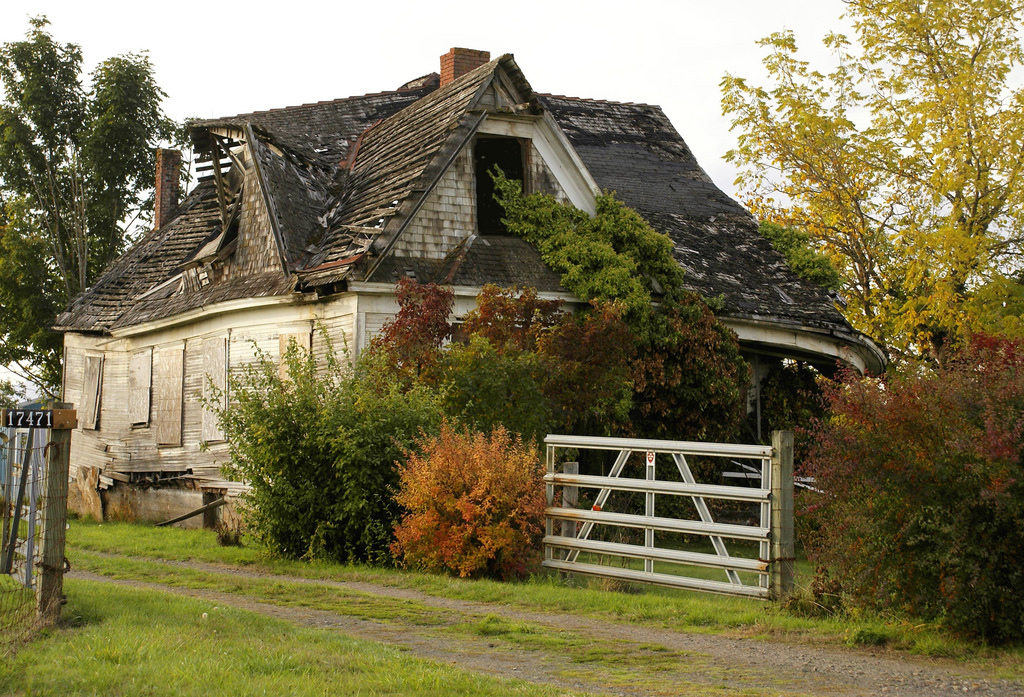 The roof is caving in, but this abandoned house was once a beauty. The gate is for a new farmhouse down the drive. .... On a rural road near Fisher Mill, in Oregon.
25. Ol' mossy cabin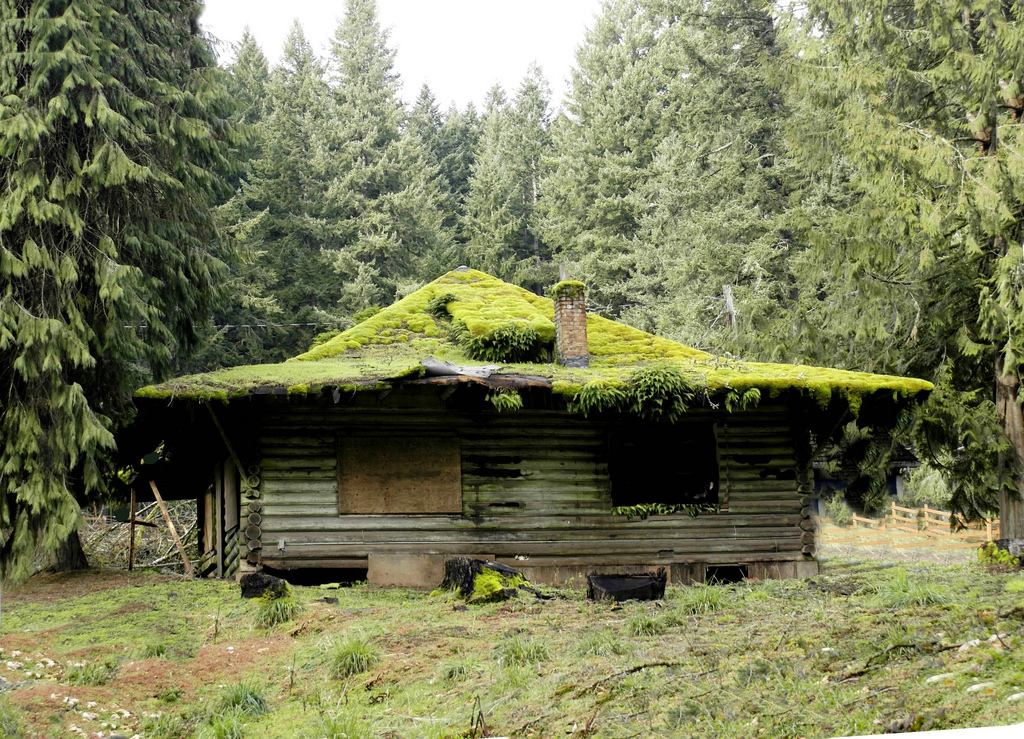 This old mossy roofed cabin has been abandoned for who knows how long. Captured near ZigZag in NW Oregon.
26. Abandoned on the tracks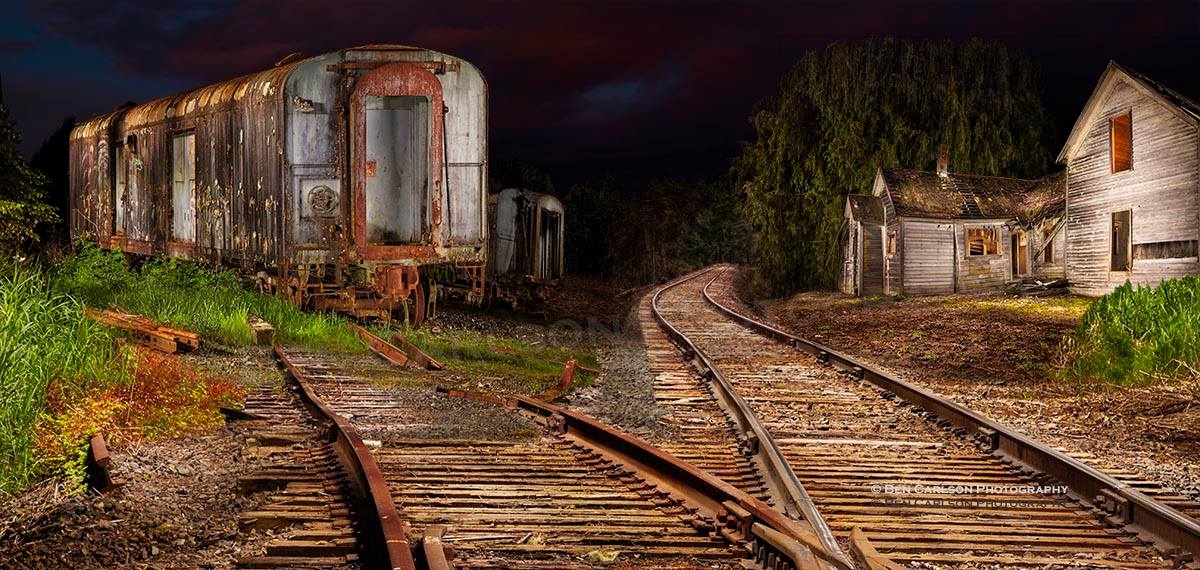 Ben took this incredible photo recently! Can you say jaw-dropping? He writes:
The abandoned railcars sit on the abandoned side track across from the abandoned house. I've used a unique light-painting technique to illuminate and capture the subjects with multiple eight-second images that are assembled in a post-production process.
Have you visited any of these places we have listed? Do you have any photos you'd like to share with us? Feel free to drop us a line at [email protected] or join our group on Facebook (click here for link).
---