Last updated on January 10th, 2022 at 09:58 pm
Tumalo Falls is a great hike in the summer, but most people don't realize that it's a breathtaking hike in the winter!  Put on your snow gear and head out to Tumalo Falls this winter, and you may find a frozen waterfall!
Tumalo Falls Hiking Guide
---

Photo by Dan Merino via Flickr CC2.The Tumalo Falls via Tumalo Creek Trail is a moderate 6.5 mile out and back type trail not far from Bend.  The trail is accessible year-round and dogs are welcome.  If you visit during especially cold weather, the waterfall may be mostly frozen when you arrive.
The trail is heavily trafficked in summer and still used frequently in winter, so at times the snow on the trail is packed from heavy use.  At other times the trail will be covered with fresh snow and you'll need snowshoes to make it to the falls.  You may also find it helpful to take traction devices for your shoes in case you encounter heavily packed snow and ice on the trail from other hikers.  Hikers should be prepared for both possibilities.
Trail info:
Distance: 6.5 Miles
Elevation Gain: 583 feet
Route Type: Out and Back
Parking: There's a $5 parking fee.  Parking may be difficult to find if there are a lot of people hiking the trail the day you choose to go out.
More Info: Check out the trail on AllTrails here.
Be Safe Hiking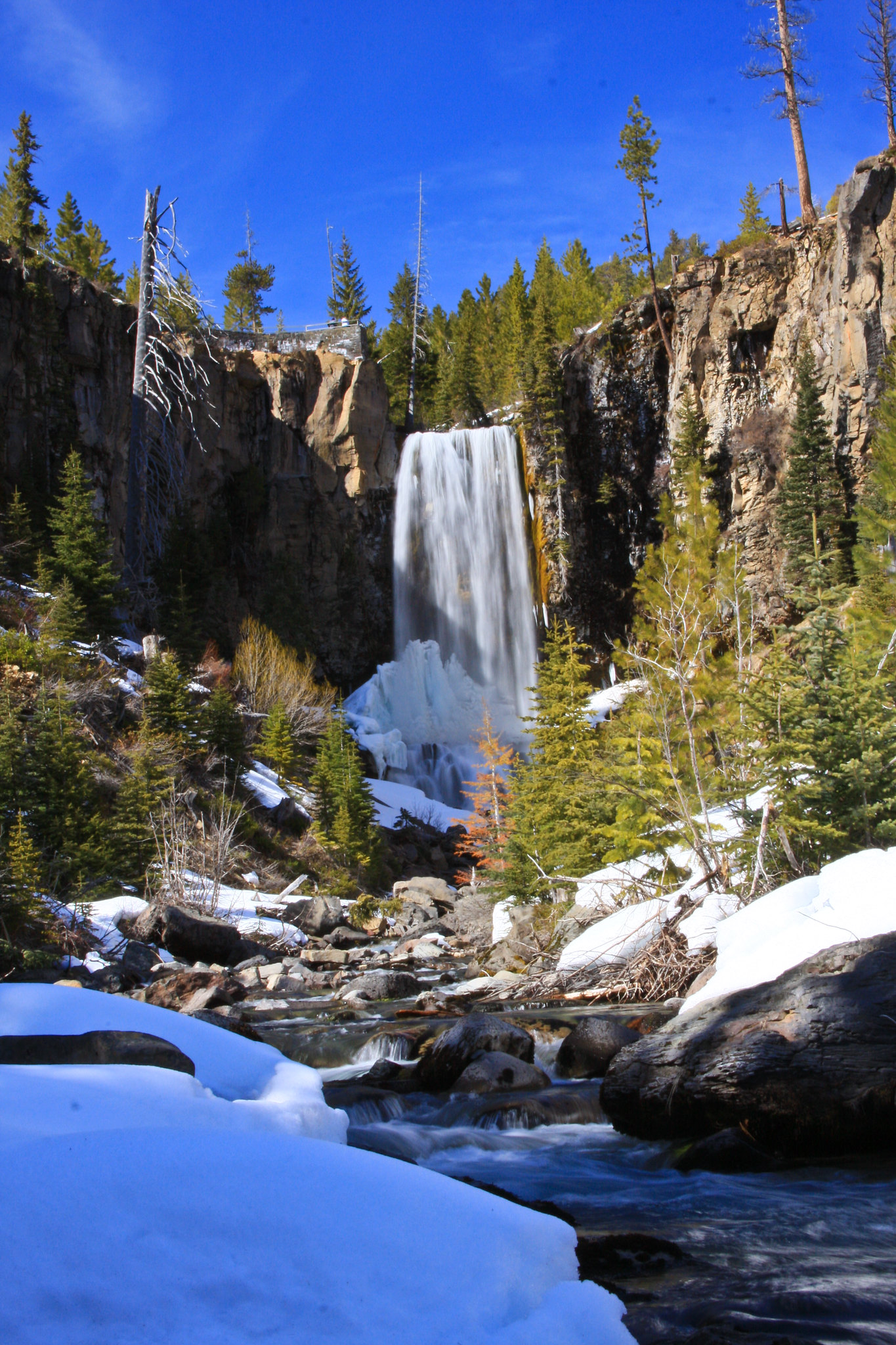 When hiking it's important to do it right and stay safe, especially in the winter.  Here are a few tips to help you get the most out of your winter hike to Tumalo Falls.
Tell someone where you're going and when you plan to return.  Don't start out on the trail too late in the day.
Take an experienced friend.
Check online first to be sure the trail you want to hike is open.
Check the weather report before you leave and prepare for inclement weather.  If a storm is rolling in, reschedule your hike for another time.
Dress in warm layers (you can shed layers if you get hot).  Bring waterproof layers as well in case of rain or snowfall.  Bring extra socks and boots to keep in your car in case your feet get wet, that way you'll have something dry to wear on the way home.
Bring the right gear for your winter hike.  Bring shoe traction devices in case you encounter packed snow and ice.  Bring snowshoes in case you encounter deep snow on the trail.
Bring enough food and water for the trail.
Be prepared to turn around.  If the snow gets too deep or the ice gets too bad, be prepared to turn around without making it to the end of the trail.  Making it to the waterfall is optional, making it home is mandatory.
Have you hiked to Tumalo Falls in the winter?  What was your favorite part?  Tag the friends you want to go with.