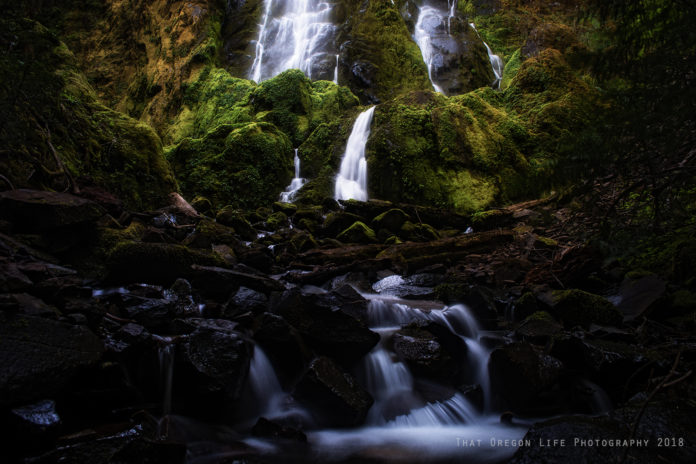 While there aren't necessarily any waterfalls that are actually in Eugene, Oregon, there are plenty to choose from in the surrounding area. Just when you think you've explored all the waterfalls near Eugene, the local Comcast guy tips you off to a beautiful place in your area you've never heard of.
How had I grown up in Lane County, and not already gone and photographed this place? Specifically, Spirit Falls and two other prime waterfalls nearby. Just a hop and a skip away from Cottage Grove, Oregon, I grabbed my camera and ventured out to these gorgeous spots. Over the course of a couple of years, these waterfalls became some of my most favorite places to go and relax. Some of these prime spots listed are less known, while others get more traffic.
Waterfalls Near Eugene
---
Click on the map above for all waterfalls near Eugene, Oregon mentioned in this article.
Eugene is a city on the Willamette River in Oregon, with a population of around 176,000. While not as big as Portland, there is still plenty of things to do - especially if you're an outdoor lover like myself. Home of the University of Oregon (Go Ducks!), this fairly laid-back town features endless surrounding areas to explore in nature. Camping, fishing, and hiking are some favorite past times of locals here.
Sign up for monthly emails full of local travel inspiration and fun trip ideas. In each newsletter we'll share upcoming events, new things to do, hot dining spots and great travel ideas.
1. Spirit Falls
About an hour and 15 minutes from Eugene
The first is Spirit Falls, which you will find barreling 60 feet into a secluded pool at the end of a short trail, 0.4 miles to be exact. The drive here is especially beautiful, no matter what the season. At the time of writing this, I drove here during the summer which made for a very relaxing day.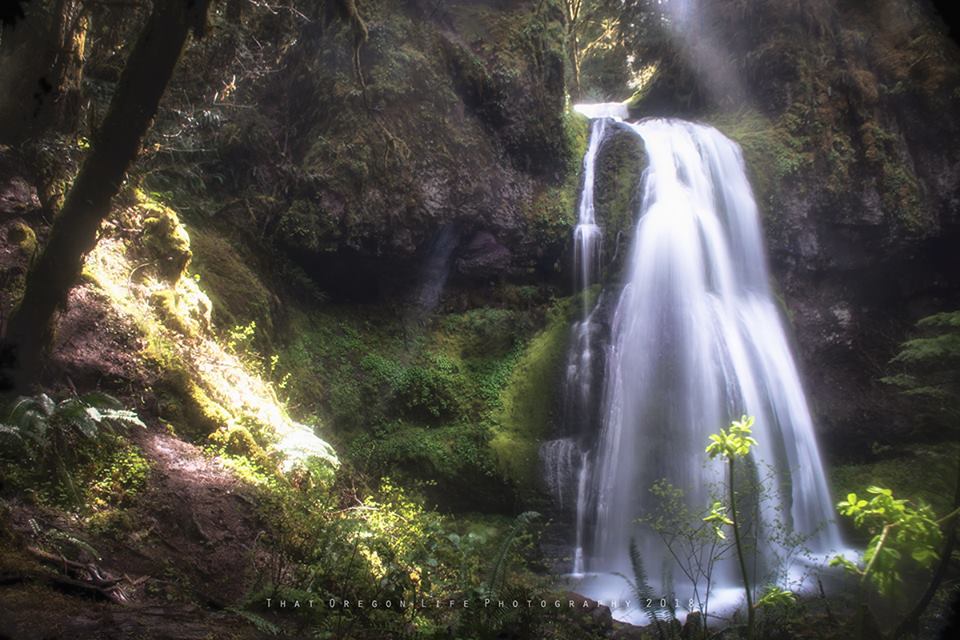 Not only will you be rewarded with three waterfalls, but you have a rare chance of getting a glimpse at a Black Swift in the old-growth forest, said to be one of the most enigmatic species in the northwest.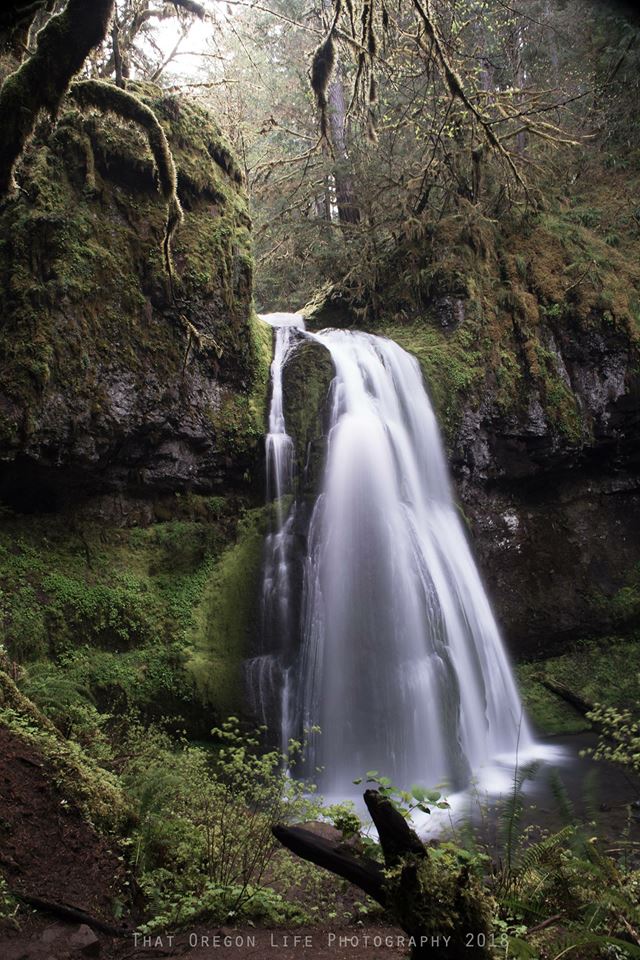 Although it's rarely been spotted, you do have a chance of seeing one. The Black Swift is one of the more poorly known North American birds. Seen by most people in flight high overhead, its comings and goings are only poorly documented. The best time to see one is before sundown in June or July.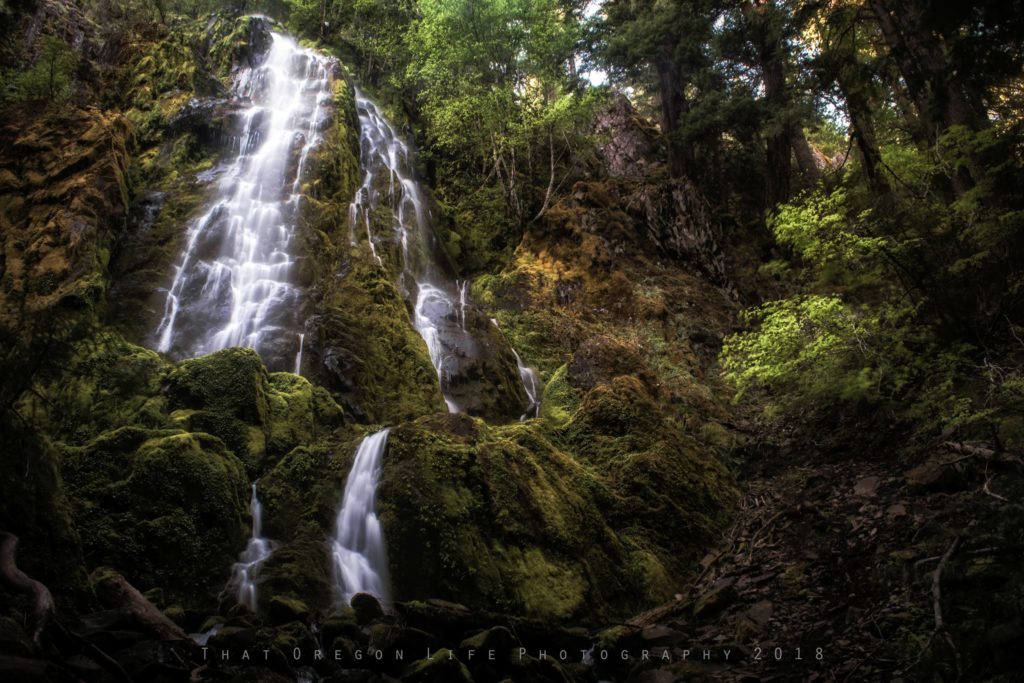 2. Moon Falls & Pinard Falls
About an hour and 15 minutes from Eugene
The three waterfalls will consist of three separate out-and-back hikes. From the start of the Spirit Falls trailhead, you're looking about .6 miles round trip to Spirit Falls. You'll want to jump back in your vehicle and drive about 3.2 miles to Moon Falls.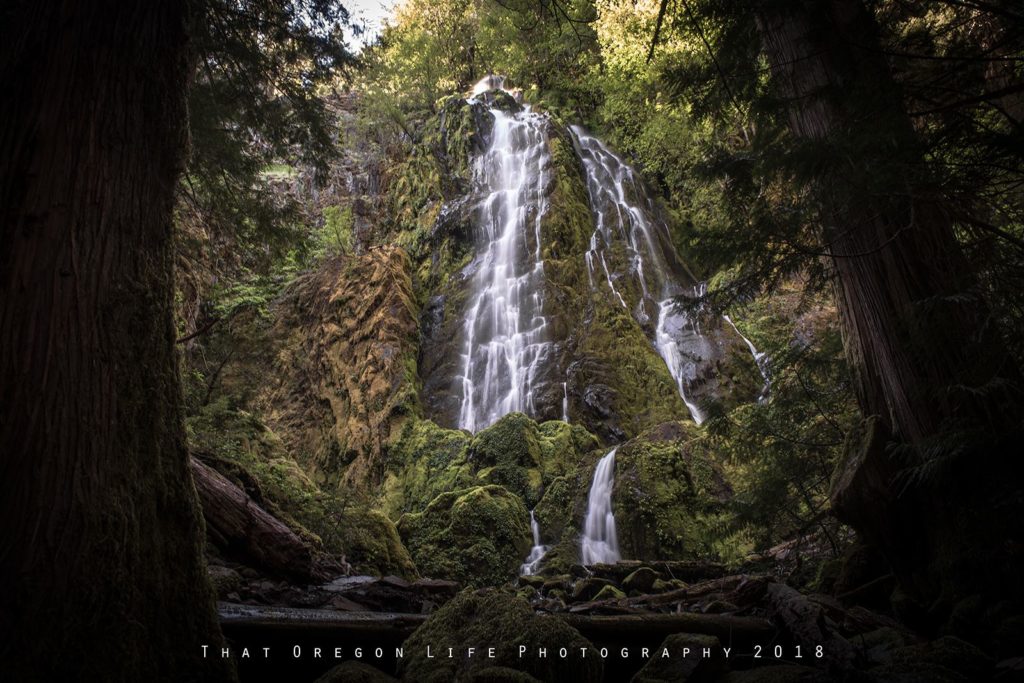 The third beautiful waterfall is absolutely breathtaking and known as Pinard Falls. You will want to head back to road 1790 and turn left to find the Pinard Falls trailhead 3 miles further on. Pinard falls is a 1.2 miles round trip.
The East Fork of Layng Creek is squeezed through a notch in the bedrock and shot into a deep gorge forming these beautiful falls. The trail here was officially completed in the spring of 2007. While it may still be a bit rough in some places, Pinard Falls is well worth the hike in.
Once arriving at the Pinard Falls TrailHead, follow the trail (old spur road) off to the left for a little over a third of the hike. You'll see a trail to your left, marked by a backward sign, which will take you the rest of the way to Pinard Falls.
Driving Directions
From Portland, you are looking at a little over 3 hours to get here.
From I-5 take exit 174.
Head east on Row River Rd about 4 miles.
Continue straight on Shoreview Drive (Row River Rd splits off to the left and rejoins Shoreview on the East side of Dorena Lake.)
18.5 miles from I-5 turn left onto Forest Service Rd 17 (Layng Creek Rd).
Continue on NF 17 for 8.7 Miles.
Turn right onto Rd 1790 where you see a rest area on the left and a sign with distances to Spirit, Moon & Pinard Falls on the right.
---
RELATED: 11 Hikes in Oregon Perfect for Rainy Days
---
3. Proxy Falls Trailhead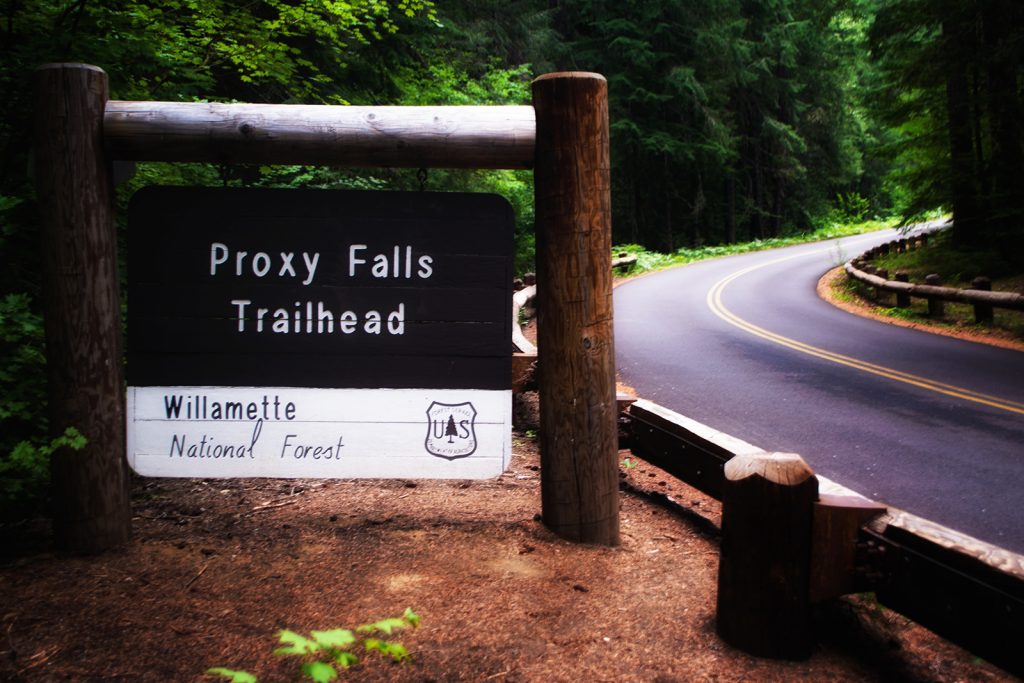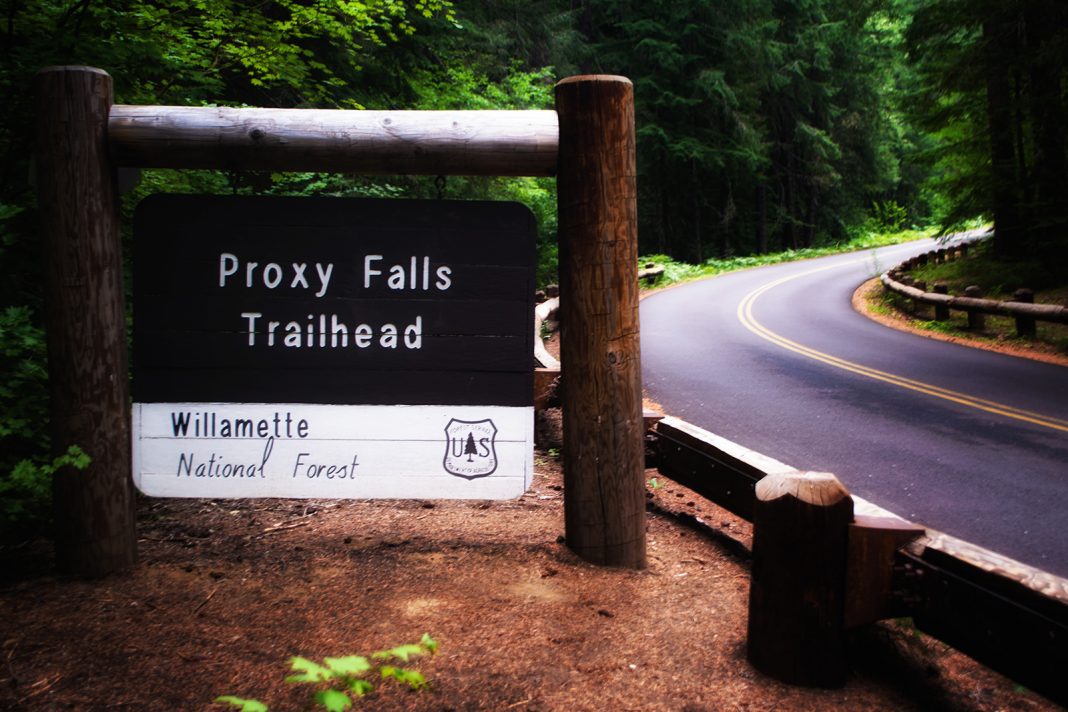 Around 58 miles from Eugene
Known as the Proxy Falls Trailhead, this one is definitely unique. The 225-foot falls is said to be one of the most frequently photographed waterfalls in Oregon. In fact, Proxy Falls is one of America's Top 10 Most Picturesque Waterfalls. Proxy Creek is fed by springs on the shoulder of North Sister, breaking over a wall of columnar basalt liberally marinated in mosses. You will find two stunning viewpoints which give two different perspectives of the falls.
---
READ MORE: Proxy Falls is One of Oregon's Most Gorgeous Hikes
---
4. Salt Creek Falls
Around 65 miles from Eugene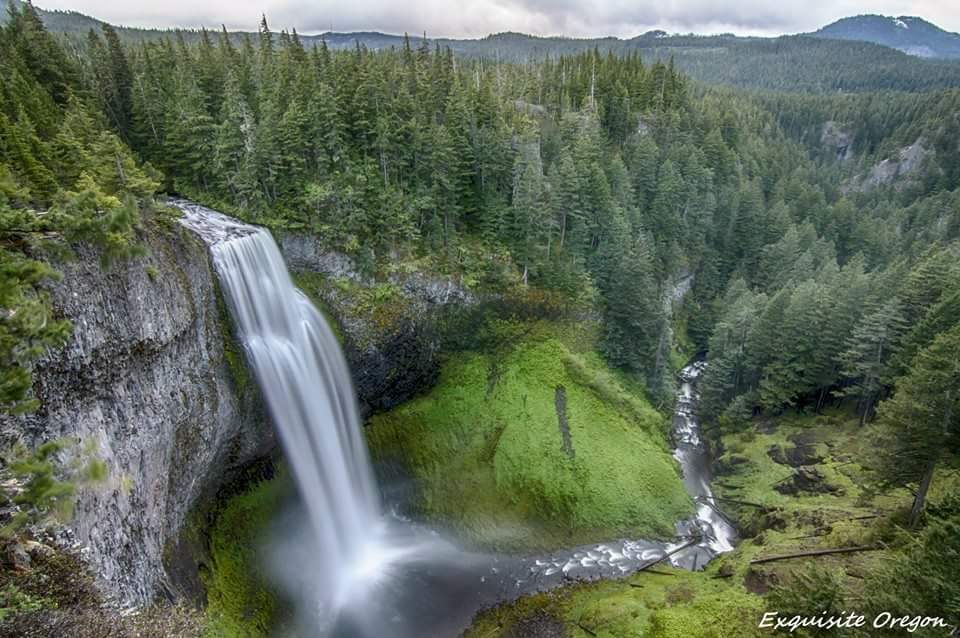 As you can see by this amazing photo from our friend Jeff Bryant, this waterfall is one of the most beautiful places in Oregon. Not only is Salt Creek Falls incredibly gorgeous, but it's the easiest hike ever and is also Oregon's second-highest single-drop waterfall at 286 feet. When arriving here, you can follow a short trail that takes you to this magnificent waterfall in just minutes.
---
READ MORE: Salt Creek Falls is Oregon's Second Highest Gorgeous Waterfall
---
5. Silver Falls State Park
About an hour and 25 minutes from Eugene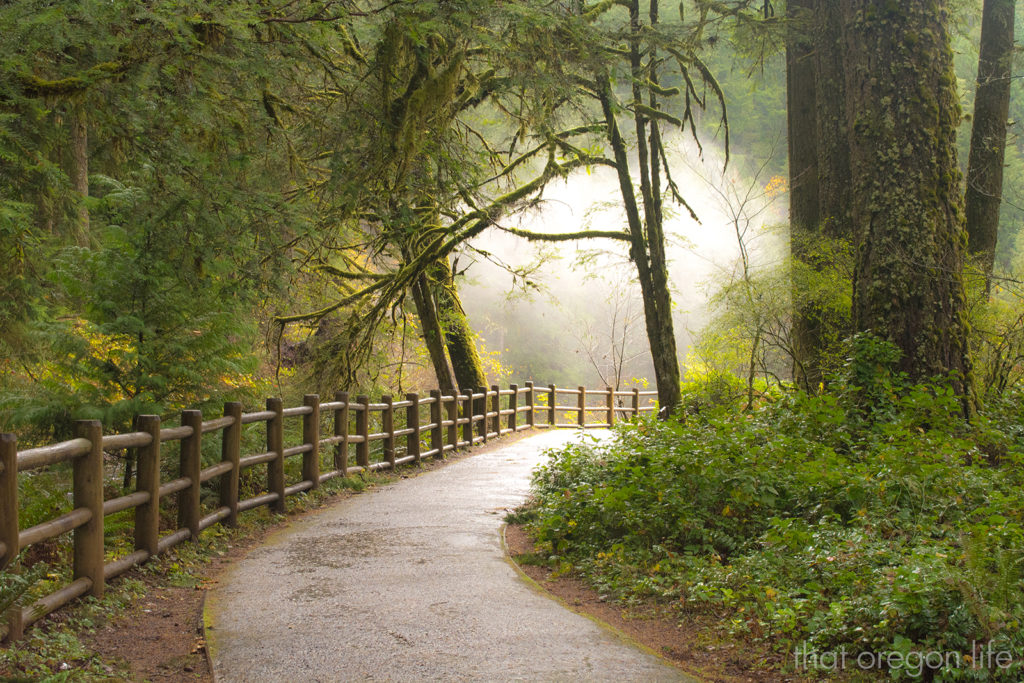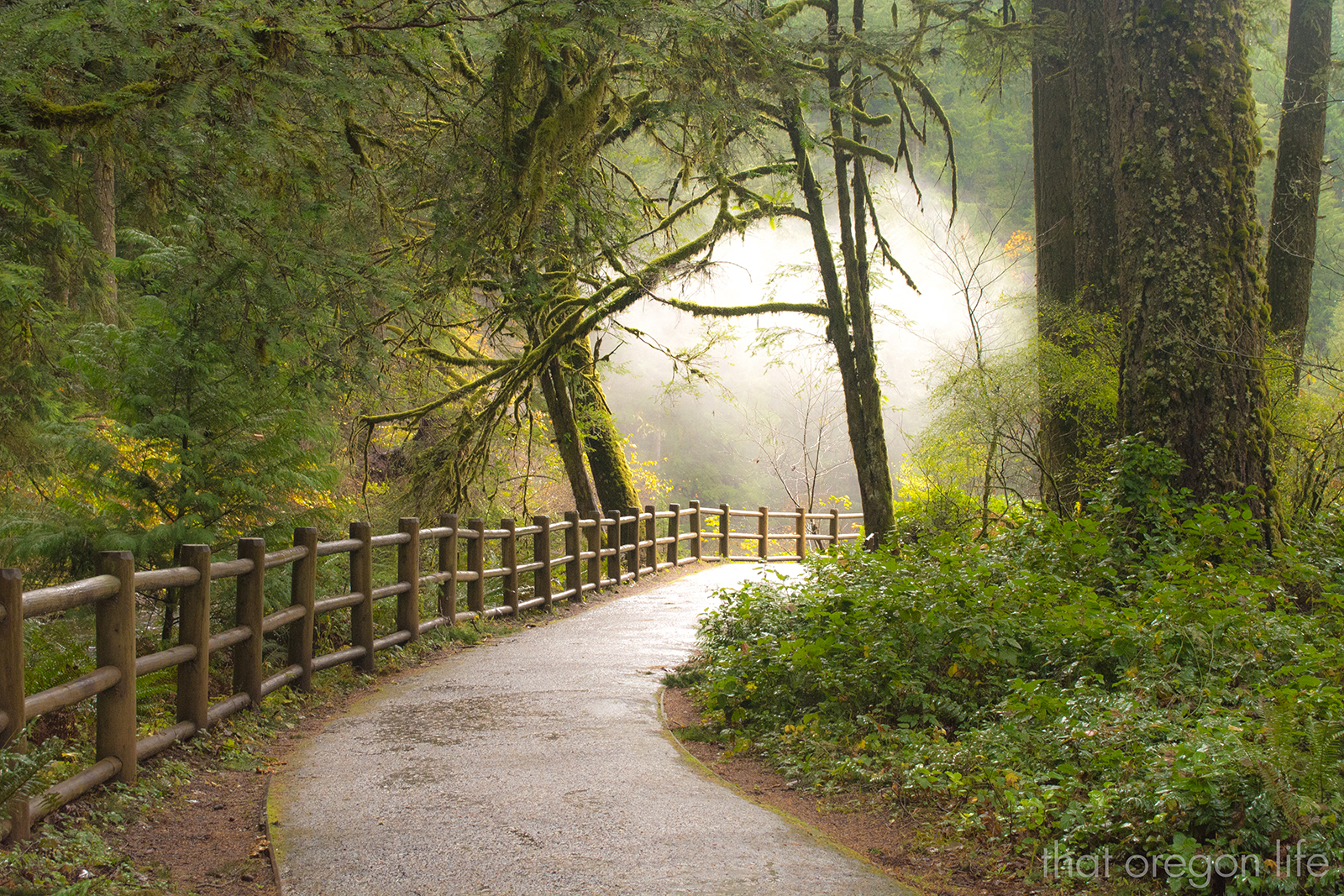 Commonly referred to as the "crown jewel" of the Oregon State Parks system, one visit, and you will understand why the name is well deserved. Silver Falls State park is best described as magical, and offers incredible viewpoints. Part of the Trail of Ten Falls, and considered a moderate hike at around 7.2 miles, you can spend a whole day here exploring. Arriving at the park, you won't have to walk far to check out the famous South Falls, where you can actually walk behind a curtain of waterfall. While there are no pets allowed on the Canyon Trail, your furry little friends are allowed as they are leashed on all other trails.
Silver Falls State Park offers more than 35 miles of backcountry trails for hiking, horseback riding, and mountain biking. Horseshoe pits, BBQ stands, picnic shelters, tables, a playground, a lead area for dogs, and large lawns can be found at the South Falls day-use area.
With cabins, 43 tent sites, and 48 electrical sites there is a little something for everyone if you are interested in camping. You will want to book 6 months in advance at the website here.
---
READ MORE: Silver Falls State Park In Oregon Is Absolutely Stunning
---
6. Sweet Creek Falls
About 46 miles from Eugene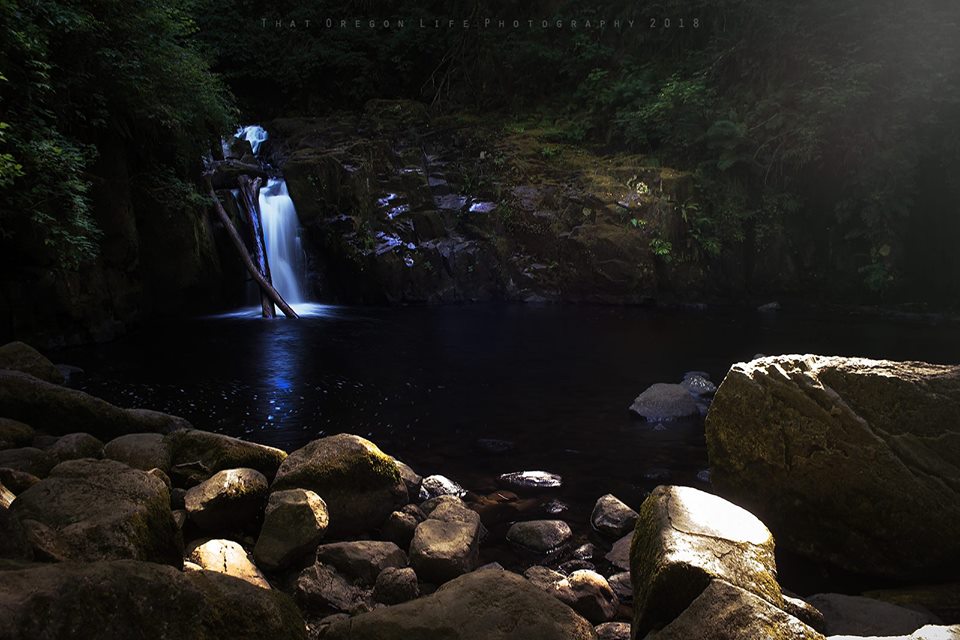 Sweet Creek Falls has a special place in my heart, as I have fond memories of taking my little boy here when he was much younger.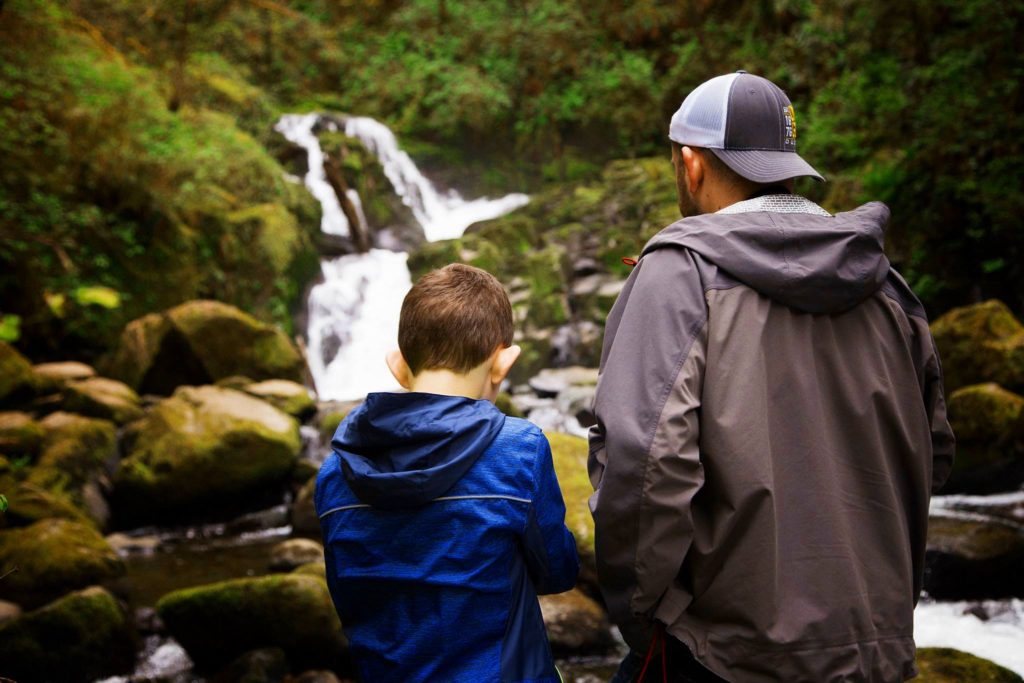 This gorgeous trail outside of Mapleton Oregon features eleven waterfalls on a flat 2.2-mile hike. While I remember it being especially beautiful during fall, Sweet Creek Falls is beautiful during all seasons. The trail features eleven serene waterfalls, with the final plummeting 70 feet in four tiers below.
---
READ MORE: Sweet Creek Falls is One Of Oregon's Most Stunning Hikes
---
7. Sahalie and Koosah Falls
About an hour and 15 minutes from Eugene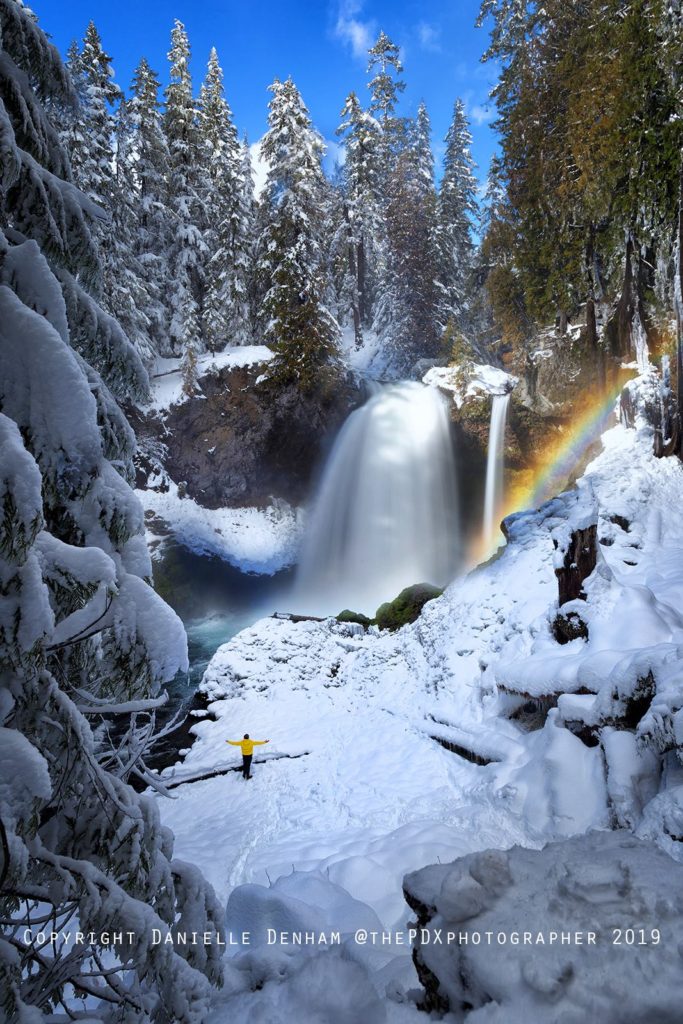 Whenever I head toward central Oregon, I make it a point to stop at Sahalie and Koosah Falls as the viewpoint of Sahalie is literally right off the Mckenzie Highway. If you have more time, both waterfalls are a part of the Mckenzie River Trail which spans for 26 miles.
Sahalie Falls, easily the most famous falls along the Mckenzie is also the first and tallest of three major waterfalls along the McKenzie River. Sahalie was even featured in the "Homeward Bound" Disney movie some years ago. This easy family-friendly hike is about 2.6 miles, with the loop trail connecting Koosah and Sahalie Falls. The observation deck is wheelchair accessible, and there's also a restroom in the parking lot.
Directions: Northeast of McKenzie Bridge off Hwy 126. For Koosah Falls Day Use Area turn at Ice Cap Campground / Koosah Falls sign. For access to Sahalie Falls Day Use Area go north another .5 mile (.804667 km) and turn into the parking lot signed for Sahalie.
8. McDowell Creek Falls Loop
About an hour and 5 minutes from Eugene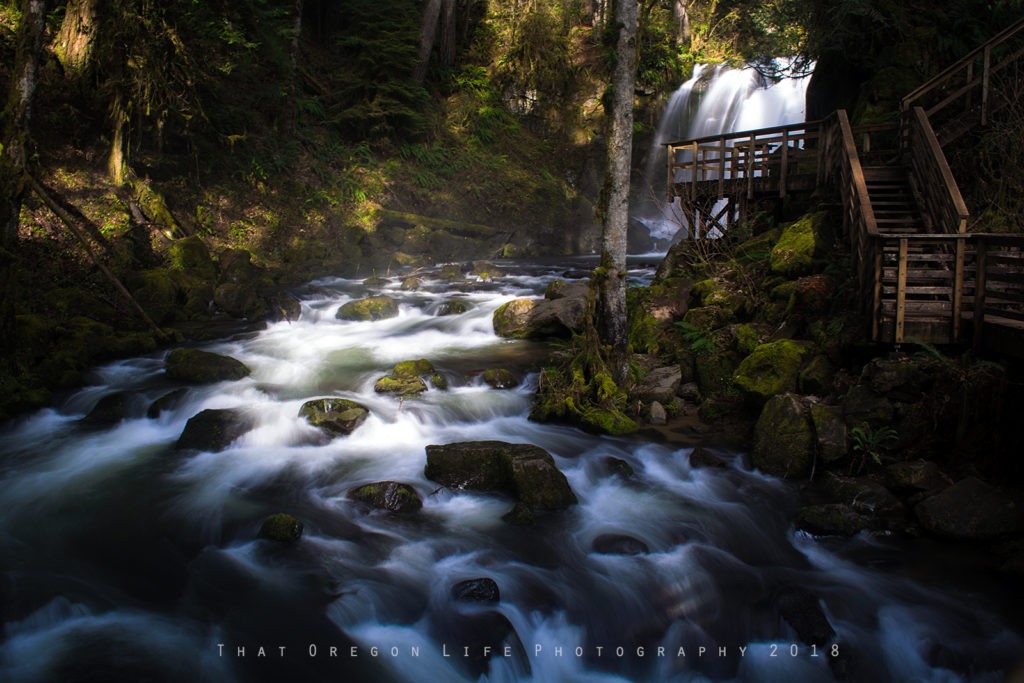 I have explored this moderate hike a handful of times, and every time I visit I am reminded of just how lucky we are to live in such a gorgeous state. Mcdowell Creek Falls Loop features three waterfalls, all of which you will love. The hike itself is just under 2 miles for the full loop, starting at Lower McDowell Falls and working your way up about 0.2 miles to Royal Terrace Falls. After seeing Lower McDowell Falls and Royal Terrace Falls, you will cross a gravel road that will take you to the 40-foot Majestic Falls.
---
READ MORE: McDowell Creek Falls Loop
---
9. Alsea and Green Peak Falls Loop Trail
About an hour and 10 minutes or so from Eugene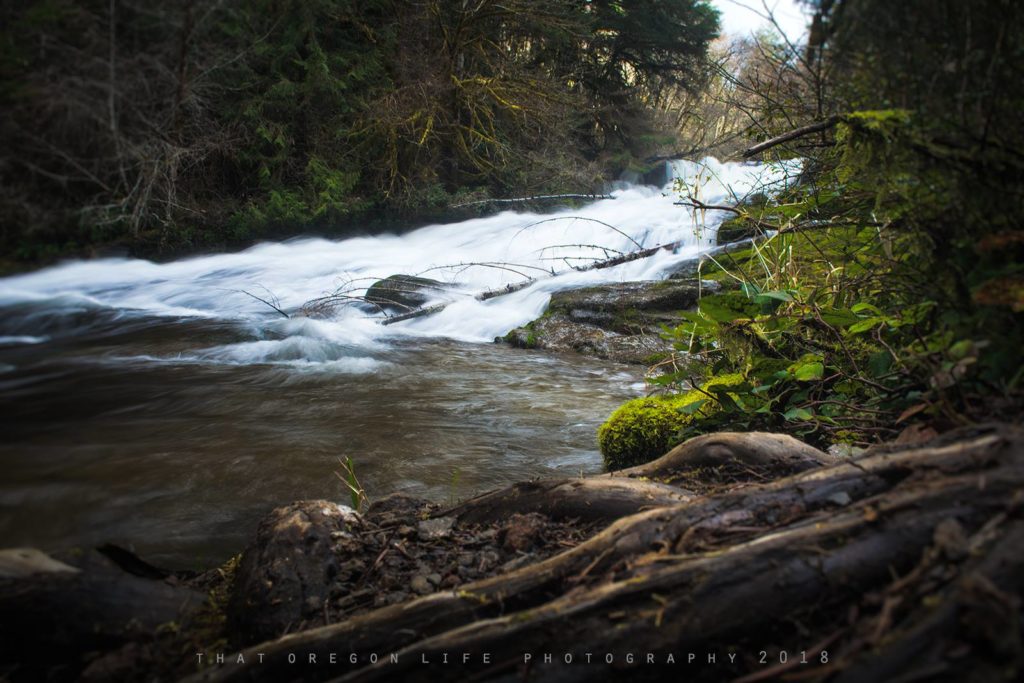 I won't pretend Alsea Falls are the most stunning waterfalls in Oregon, but the hike is still worth checking out of you are in the Eugene area. And even still, this makes for a great swimming hole during the summer. The hike itself is fairly easy at around two and a half miles. During the summer, this area also makes for a prime swimming hole. During the seasonal salmon run, you may even see some silvery fish swim upstream and leap up the falls.
How to get here from Eugene: You will want to take Hwy. 99 N through Junction City. At the last light in Junction City, turn left and continue on Hwy. 99 W for 8.6 miles. Just north of Monroe turn left onto Alpine Cutoff Rd. and continue for about 8.9 miles. This road then turns into BLM South Fork Rd. and after another mile turns right into a picnic area entrance, and park at the far end of the loop. (Total of 36.7 miles)
10. Abiqua Falls
About an hour and 50 minutes from Eugene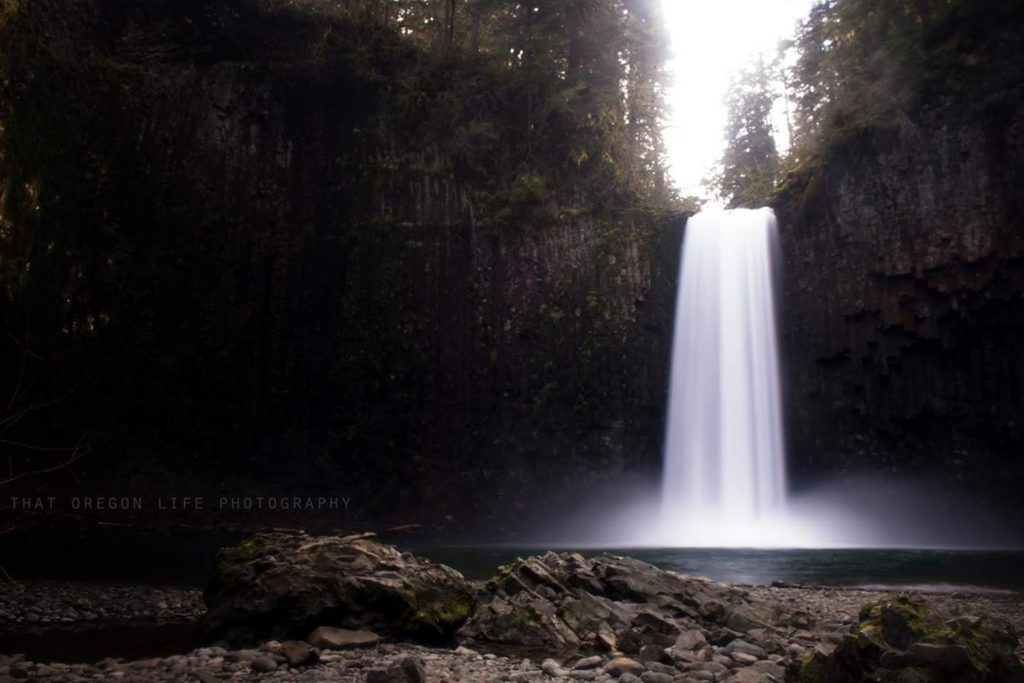 It's known as the Abiqua Falls, and you will find countless photos of nature addicts hiking into this serene spot in Oregon. It's actually part of the same geological formation as the waterfalls found at Silver Falls State Park. You will be dazzled by the 92-foot waterfall which is perfectly framed by a huge basalt amphitheater This unsigned place has a bit of a rough trail, but the hike in is well worth the reward.
---
READ MORE: Abiqua Falls in Oregon is Out of This World
---
11. Butte Creek Falls
Around 2 hours from Eugene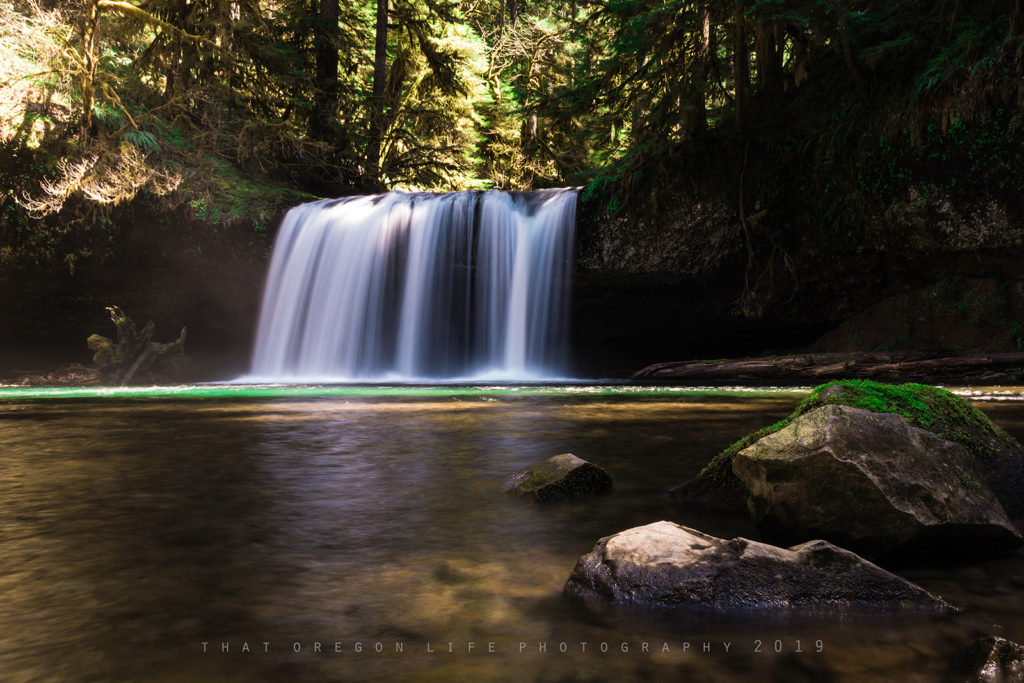 This lesser-known waterfall near Eugene at Butte Creek Falls is actually not too far from Abiqua Falls. An easier trail with a waterfall at the top and another at the bottom both offer gorgeous views. This hike is great for all seasons and was especially nice when we hiked in during the spring. Butte Creek Falls is also said to be exceptionally beautiful during autumn in Oregon.
This trail is well maintained and offers restrooms near the trailhead.
Directions to Butte Creek Falls (courtesy of ODF):
– Drive to Scotts Mills, Oregon
– In downtown Scotts Mills, near the post office, turn left (east) onto Maple Grove Road
– From Maple Grove Road, turn south onto Sawtell Road until you reach the end of the pavement which will then turn briefly to Family Camp Road and then to the Butte Creek Mainline
– From the Butte Creek Mainline, turn right onto the Butte Creek 500 and then right onto the Crooked Finger 400 Road which will lead you down to the Butte Creek Campground and Butte Creek Falls.
Coordinates: N44 55.257, W122 30.671
---
READ MORE: Hike to Butte Creek Falls in Oregon
---
12. Brice Creek & Trestle Creek Falls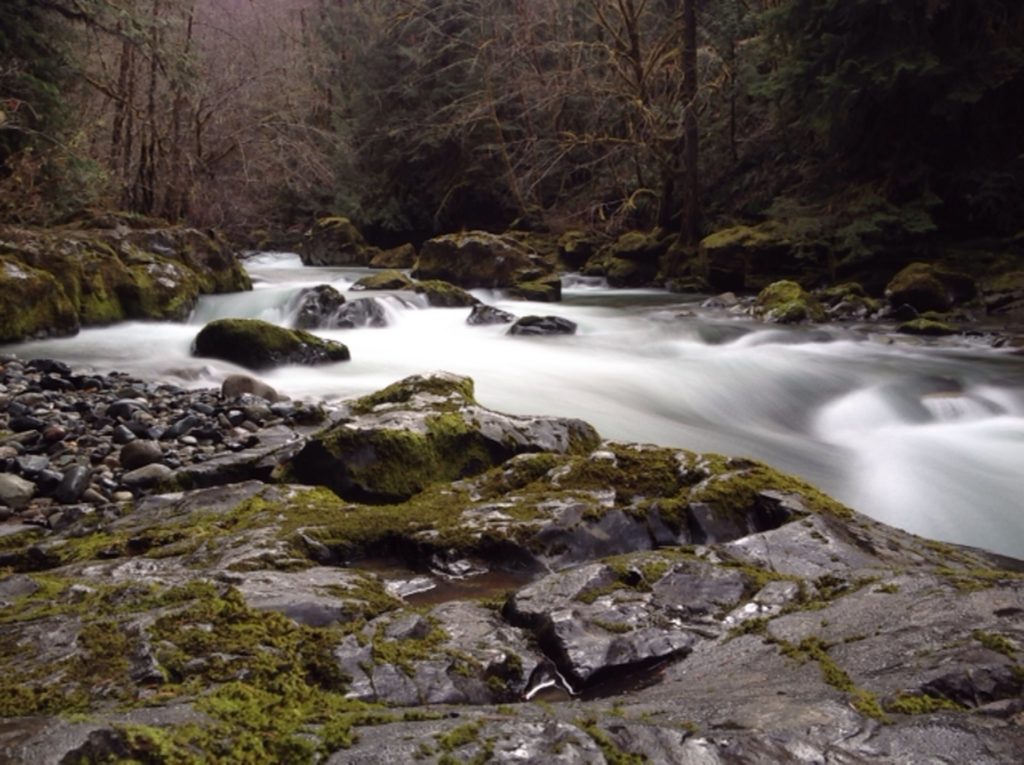 About an hour from Eugene
Brice Creek Trail is a moderate 8.1 mile out and back trail near Dorena, Oregon. The trail has many access points for those wishing to take a shorter hike. At the end of the trail another short .25 mile trail will lead you to Trestle Creek Falls while a longer 2.6 mile loop will take you to upper Trestle Creek Falls.
---
READ MORE: Explore Brice Creek Trail to Trestle Creek Falls
---
13. Kentucky Falls
The trail to Kentucky falls is about 4.4 miles hiking out and back, with a steep climb on the return. This hike on the Oregon Coast near Mapleton is a bit more challenging and is recommended for more experienced hikers. Kentucky Falls is not far from Sweet Creek Trail, which we mentioned earlier.
Kentucky Falls features an upper and a lower viewpoint, which you will see incredible twin falls dropping 100 feet from the lower falls observation deck. The twin is known as North Fork Falls.
Read more about this hike: Website
RELATED: 8 Oregon Coast Hikes You Must Hike Before You Die
We hope this article helped inspire your next Oregon adventure. Please consider signing up for our free email newsletter to get the latest on events, adventures, places to eat, and everything else in Oregon! Hit the link here to sign up now.