Oregon hit the lottery when it comes to beautiful waterfalls to explore. No matter where you visit in Oregon, you are sure to find one nearby. There are many waterfalls near Portland to choose from, with around 90 major cascades flowing in the Columbia River Gorge.
Portland has been through a lot in recent years. The Eagle Creek Fire that ripped through the Columbia River Gorge in 2017 was easily one of the most horrific tragedies we have ever lived through in Oregon. The fire was a result of a teenager who lit a firecracker, resulting in over 500,00 acres burning quicker than anyone could have ever imagined.
The historic Oneonta Tunnel, built in 1914 for cars traveling along the Historic Columbia River Highway was destroyed by the fire. Countless trails were also destroyed - some of which will take years to recover. Many of the trails in this area are sadly still closed to the public, with no real idea on if they will be available again to hike.
While Multnomah Falls is the most known waterfall (and the tallest!) in Oregon, there are so many mower countless waterfalls to explore in the Portland area. Here are some waterfalls that are open today, which are available to hike.
Waterfalls Near Portland
---
Portland is Oregon's largest city. Within the urban sprawl, you'll find bridges and bike paths, microbreweries, and an eco-friendly way of life that appeals to both young and old. Built upon the confluence of the Columbia and Willamette Rivers, the city has acquired many nicknames over the years, from Stumptown and Bridgetown to Rip-City.
Sign up for monthly emails full of local travel inspiration and fun trip ideas. In each newsletter we'll share upcoming events, new things to do, hot dining spots and great travel ideas.
Known for its quirky charm and Pacific Northwest vibes, Portland, Oregon may just be the perfect city for any lifestyle. Within day-trip driving distance, you have every imaginable Northwest biome: ocean, forest, wine-country, farmland, mountains, and high desert. It's no wonder that hiking tops Portlander's list of favorite activities. In my opinion, the best hikes are ones with a payoff at the end. A gorgeous waterfall to cool your body, refresh your mind, and recharge by.
1. Multnomah Falls
About 40 minutes from Portland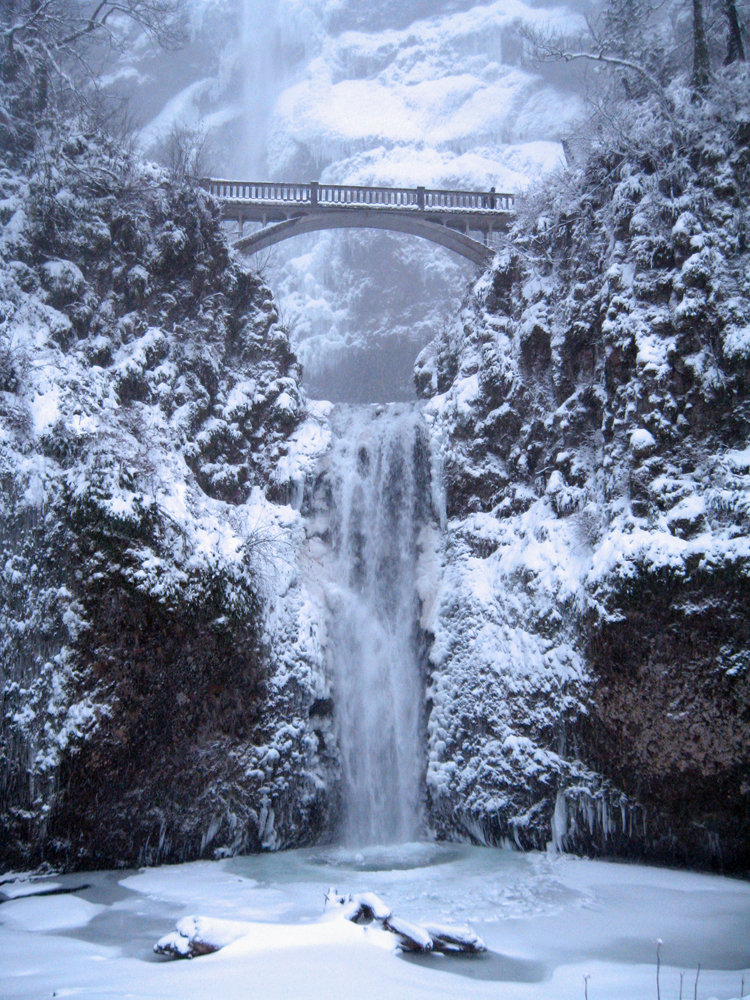 Multnomah Falls is the tallest waterfall in the state of Oregon. It is credited by a sign at the site of the falls, and by the United States Forest Service, as the second tallest year-round waterfall in the United States. However, there is some skepticism surrounding this distinction, as Multnomah Falls is listed as the 137th tallest waterfall in the United States by the World Waterfall Database (this site does not distinguish between seasonal and year-round waterfalls).
Well-known by tourists and locals alike, Multnomah Falls is one of Oregon's most picturesque places attracting over 2 million visitors per year. For this reason, it is highly recommended to arrive early and plan ahead for parking or take the Sasquatch Shuttle when it reopens in May 2022.
READ MORE: Multnomah Falls: An Unofficial Travel Guide
2. Weisendanger Falls (a.k.a. Double Falls and Twanklaskie Falls)
About 45 minutes from Portland
Wiesendanger Falls is the first of the two major upper waterfalls near Portland along Multnomah Creek in the Columbia River Gorge. The falls drop over a flat 55-foot ledge into a broad gorge overlooked by the switchbacking trail. Just downstream from the falls lies Dutchman's Tunnel, a precarious overhang of basalt creating a natural shelter for passers-by. A plaque placed on the wall of the gorge approaching the falls commemorates its namesake.
The falls can be found on the Multnomah Falls Overlook Spur Trail #441A. If you're already at Multnomah Falls and looking for a longer adventure, seeking out Weisendanger can be a welcome side quest.
3. Silver Falls State Park
About an hour and 15 minutes from Portland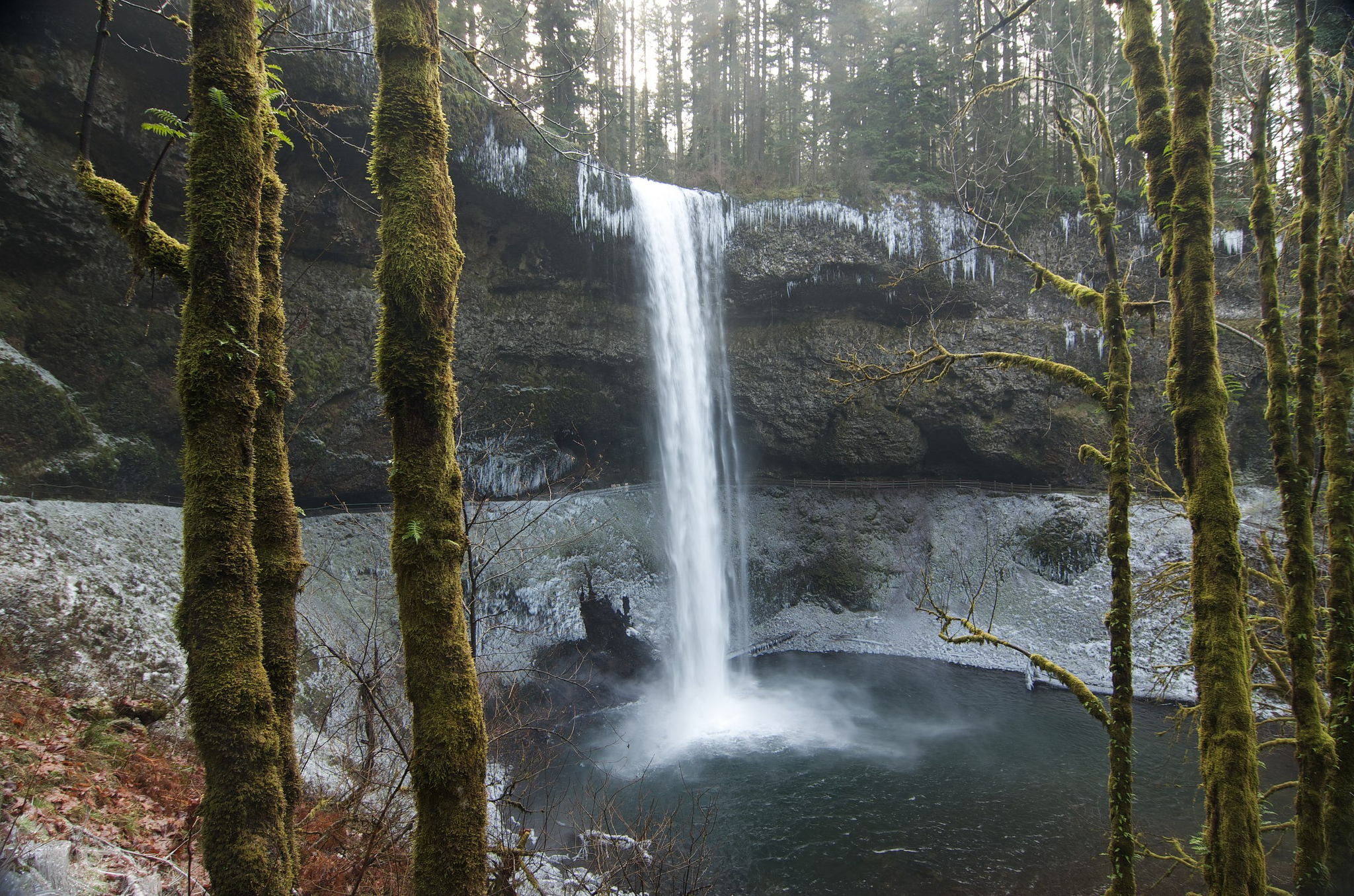 Silver Falls City was formed in 1888 and was primarily a logging community with a few homesteaders, and the area was extensively deforested. The small lumber town of Silver Falls City sat atop the South Falls, and as the land was cleared, a local entrepreneur sold admission to the Falls area, with attractions such as pushing cars over the falls and even hosting a stunt with a daredevil riding over in a canoe.
Today the area is the largest State Park in Oregon, encompassing over 9000 acres and 24 miles of walking, biking, and horse trails. There are no less than 17 waterfalls to experience here, each with its own unique beauty.
4. Horsetail and Ponytail Falls
About 45 minutes from Portland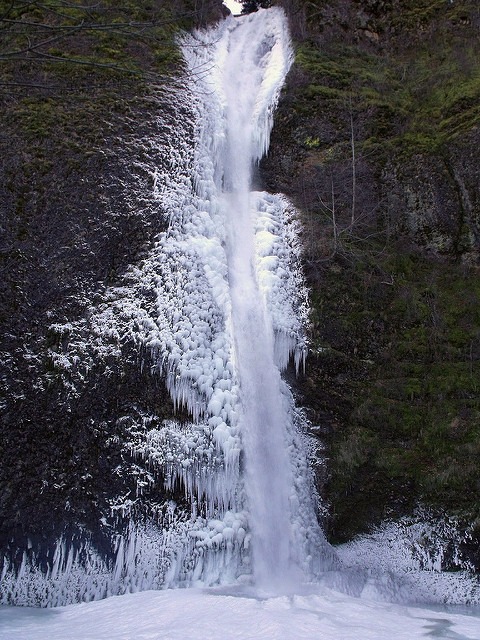 Horsetail Falls is a waterfall along the Columbia River Gorge in Oregon. The waterfall is easily accessed, in contrast to its near neighbor Oneonta Falls, as it is right next to the Historic Columbia River Highway. The shape of the falls and the rounded rockface over which it flows cause it to resemble a horse's tail, hence the name.
Taking the nearby 0.8-mile out-and-back trail will take you to Ponytail Falls, a lovely fall that hikers can walk behind on their loop back to Horsetail.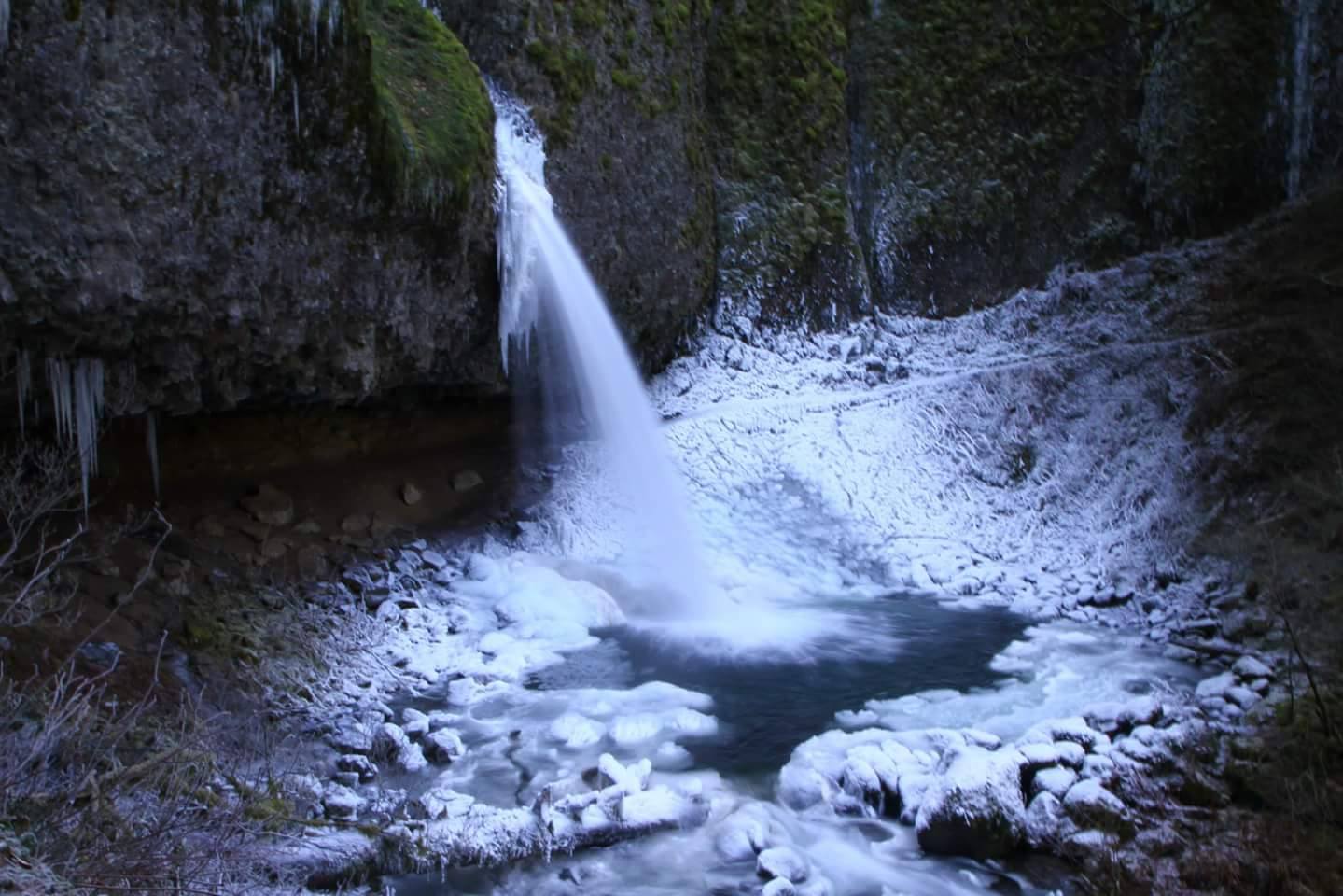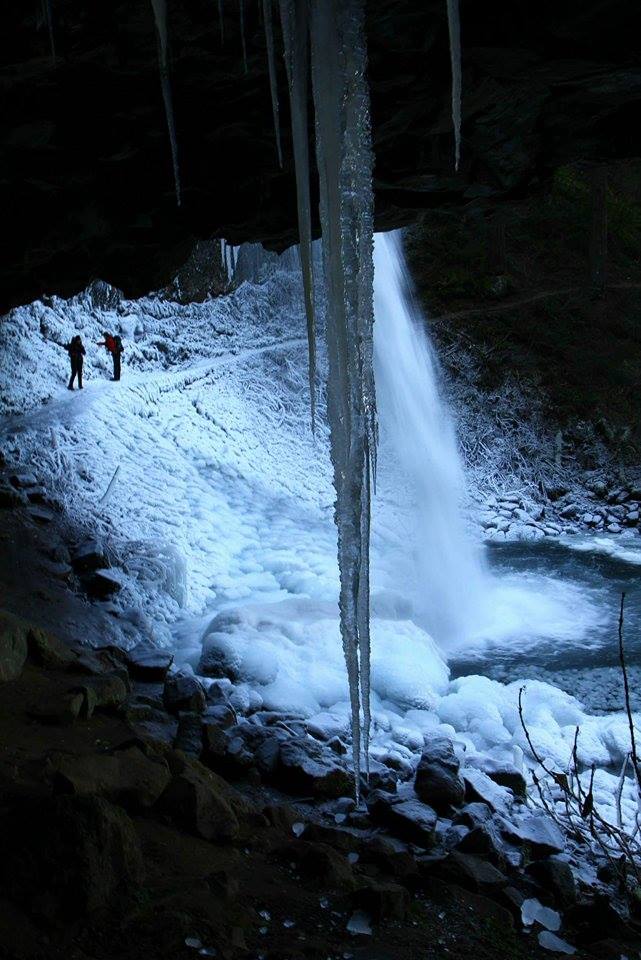 5. Abiqua Falls
About an hour and 15 minutes from Portland
92-ft. Abiqua Falls is one of the most beautiful waterfalls in Oregon. While located on private land the falls are currently accessible to visitors but getting to the trailhead does require some off-roading. Finding the turn-off is tricky so it's not wise to simply rely on your phone's GPS for directions. In the winter months, a 4x4 is an absolute necessity.
From Whitney Whitehouse at theoutbound.com: Walking out of the parking area back up the road in the direction you came from, you'll pass one dirt trail right at the ending of the parking area. Look about a little further down the road (~100 feet) and find the second trail – this is the one you want. After hiking down a steep part of the trail, you'll hit the creek. Head upstream along the creek to get to the falls. As you get close to the falls, you'll have to climb over logs and boulders."
The photo opportunities alone are worth the effort.
---
Read more: Abiqua Falls Trailhead
---
6. Tamanawas Falls
Just under 2 hours from Portland
Tamanawas Falls forms a broad curtain where Cold Spring Creek thunders over a 150' lava cliff near Parkdale at the eastern base of Mount Hood. This hike along scenic Cold Spring Creek has been a traditional trek for families for many years; ideal in the summertime as well as photogenic in the winter. Don't forget your Recreation Pass.
The trailhead to reach this 100ft tall, 40ft wide fall is a heavily-trafficked out-and-back 3.4-mile trek, or you can take a 4.2-mile loop near Elk Meadows.
7. Umbrella Falls
About an hour and 40 minutes from Portland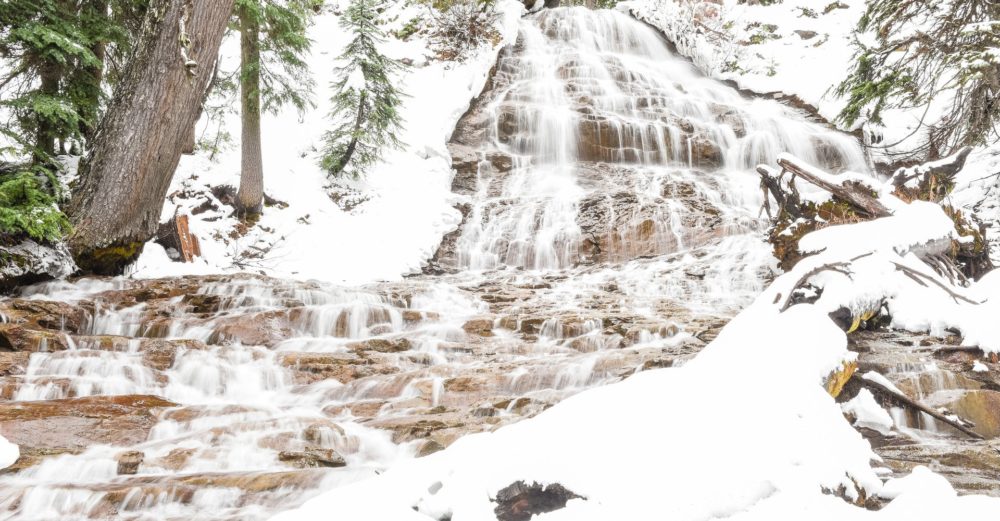 RELATED: 23 Must See Waterfall Hikes Oregon You Can't Miss
Umbrella Falls is a great waterfall near Portland to visit on a trip to Mt. Hood, after a day of snowboarding, or before heading up for drinks at Timberline Lodge. You can even snowshoe in on this short hike across fresh powder and rustic wooden bridges. Park on the far side of the Mt. Hood Meadows lot and switch back up a .25-mile forest path to the falls.
8. Ramona Falls
About an hour and 24 minutes from Portland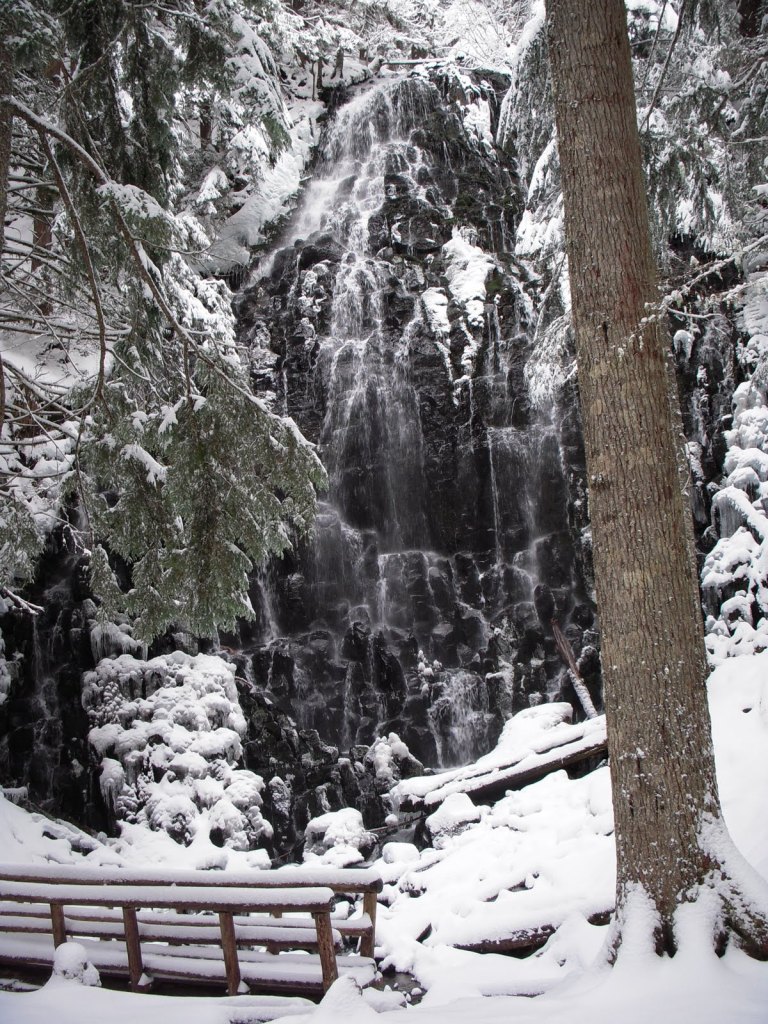 Here's another waterfall near Portland that's perfect for snowshoeing in to. Ramona Falls is a 120-ft. high wall of cascading water located in the forest along the Pacific Crest Trail at an elevation of 3,560 feet. The upper Sandy River and Mt. Hood National Forest land provide a stunning backdrop during the warmer months and a challenging hike in the winter.
If you park near the Sandy River Bridge, expect about a 13-mile trek by snowshoe and be prepared for any kind of weather at this elevation.
View this post on Instagram
9. Panther Creek Falls
About an hour and 26 minutes from Portland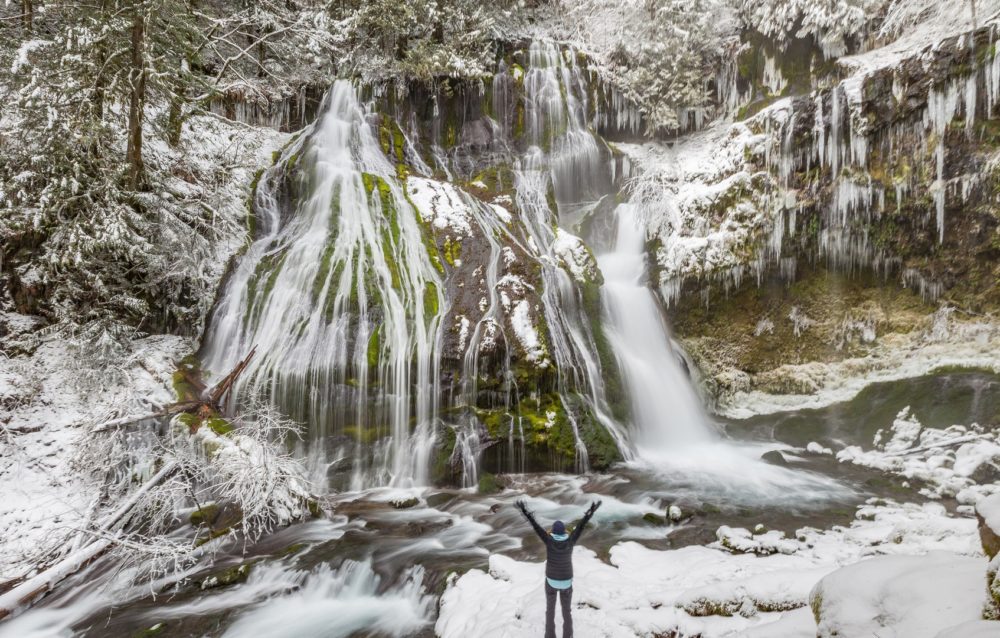 For this waterfall, we head over to the Washington State side of the Columbia River Gorge. Even though the concentration of falls isn't as high on this side of the river, Washington's gorge waterfalls are no less stunning.
The 130-foot waterfall on Panther Creek in the Wind River Valley in Skamania County can be a bit tricky to find, even in the summer. Navigating to the parking area is easy, but the small wooden sign pointing to the falls is a bit less distinct.
Shane Kucera gives an excellent account of his snowshoeing adventure to Panther Creek Falls at outdoorproject.com here. This includes driving directions and advice for winter driving (4-wheel drive is recommended in the snow).
10. Fairy Falls
About 40 minutes from Portland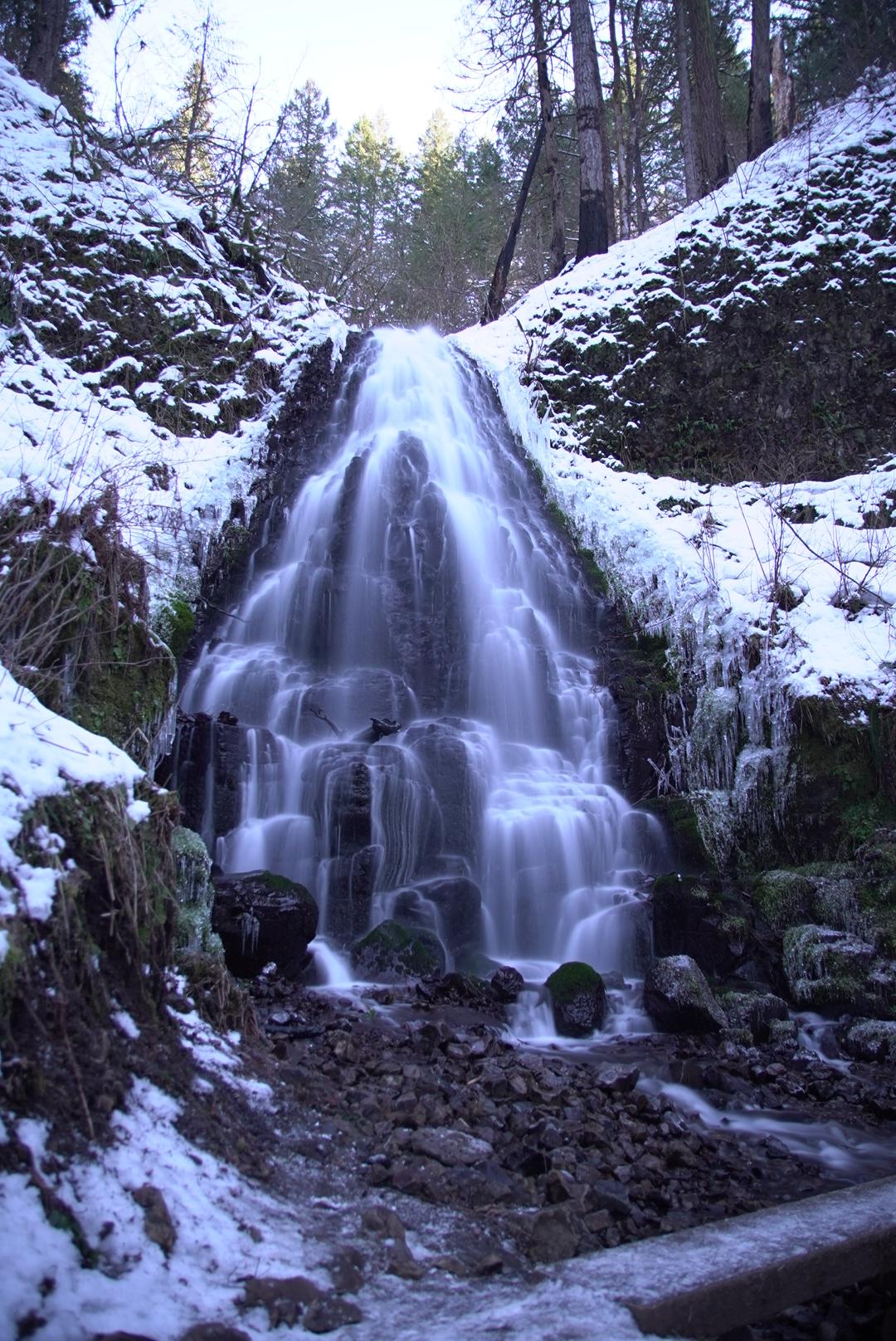 Back on the Oregon side of the Columbia River Gorge is Fairy Falls, and it comes with a bonus. If you're feeling so inclined you can take this 6.1-mile loop hike and hit a few of the other waterfalls we've already mentioned. The Wahkeena Falls Loop Trail will take you on an adventure past Multnomah, Wahkeena, Fairy, Weisendanger, Ecola, and Dutchman Falls.
---
Places to Stay Near the Columbia River Gorge
If you are visiting the area and looking for a place to stay near the Gorge when hiking, here are a few places you can stay to keep in mind:
Best Western Plus Hood River Inn: You will love the very popular waterfront pool and hot tubs at this Best Western. The hotel also features a gym, great restaurant, lounge, and beach with plenty of water activities. Many of the rooms have balconies with views of the Hood River bridge and river, and there's a large variety of room types to accommodate all group sizes. More information: Website
Ainsworth State Park: This campground is located right in Ainsworth State Park, and is pretty close to the western Gorge area. Campers have access to six walk-in tent sites and around 40 full-hookup spots that can be reserved.
Columbia Gorge Hotel: This hotel on the west end of Hood River features stunning views of the Gorge, and is a great place to watch the sunset. The hotel features plenty of outdoor spaces, gardens and overlooks, a restaurant and spa, and guestrooms with an old-world charm. More information: Website
What are your favorite waterfalls near Portland, Oregon? Are there any here you can't wait to explore? Don't forget to check out our 37 Awe-Inspiring Oregon Trails to Hike.