Are you dreaming of a white Christmas? The latest forecast for snow in Oregon suggests it may be in store for the holidays in the Willamette Valley and especially in Lane County. According to the latest report, we may even see anywhere from 2 to 4 inches of snow starting this Sunday, the day after Christmas. 
Snow in Oregon Forecast
At the time of writing this, it appears snow is more likely in Eugene this coming weekend than further north in the Salem and Portland area, according to National Weather Service meteorologist John Bumgardner, as reported by Statesman Journal. Bumgardner noted the coming snow is likely to be a 'wintery mess."
"The temperature is going to be fluctuating a lot," he tells Statesman Journal. "We may transition from snow Sunday morning to some rain or all rain Sunday afternoon, and then back to snow that night."
Heavier Snow More Likely in Eugene
Bumgardner went on to say there is a 95% chance of the Eugene area seeing at least an inch of snow, with a 67% chance to accumulate 4 or more inches in Eugene by Monday. As reported, the snow level is expected to drop from 1,000 feet to 600 feet after midnight Sunday. The Portland area has about a 75% chance of at least an inch of snow by 4 a.m. Monday morning, and even less in the Salem area with a 65% chance of snow.
Colder temperatures and snow likely this weekend into next week. Confidence low in forecast details, especially snowfall. Got travel plans? Be ready for wintry weather, and always check for the latest forecasts. #orwx #wawx pic.twitter.com/TdMOFW4CDB

— NWS Portland (@NWSPortland) December 22, 2021
KATU reports the Cascade Mountains could see up to a foot of snow in the next 24 hours, which has prompted a Winter Storm Warning through Thursday afternoon. The snow level is expected to drop by Friday.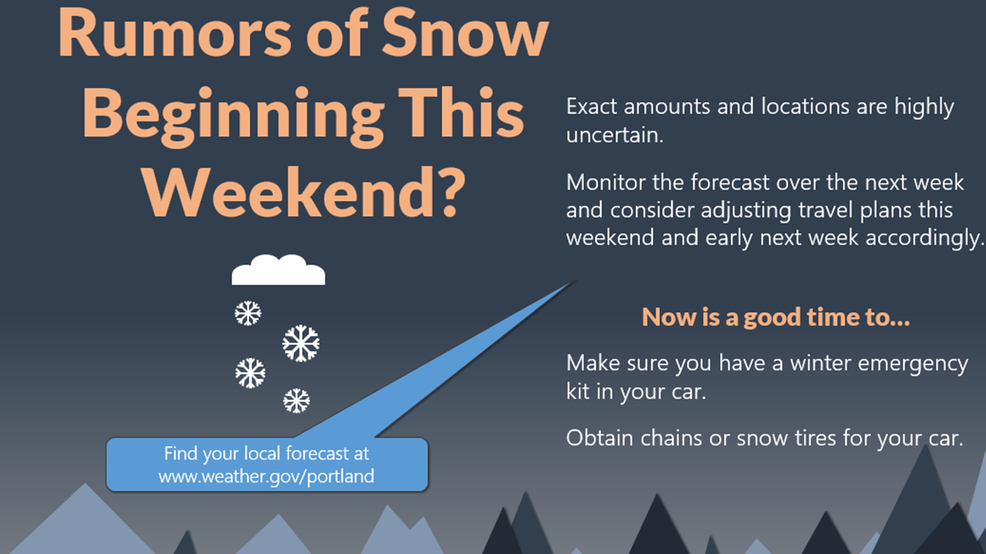 If you are traveling over the Cascades and Coast Range, you should definitely prepare for winter driving conditions. Remember chains or traction tires, and having food, water, a flashlight, warm clothing, and a blanket in your vehicle are always recommended in case of an emergency.
"While it's too early to tell if this will come to fruition this is a very high probability for one week out in the National Blend of Models so please continue to monitor the forecast this upcoming week and consider altering travel plans accordingly. Widespread winter travel conditions are very much a real possibility across much of the Pacific Northwest this upcoming holiday weekend and/or early next week," forecasters said.
Greatest Snowfall in Eugene in One Season
The most snow Eugene has had on record was 47.1 inches – The greatest cumulative snowfall for Eugene, Oregon. The one-day record snowfall for Eugene, Oregon was recorded on Jan. 25, 1969, at 14 inches. This occurred during the year that ended December 31st, 1969.