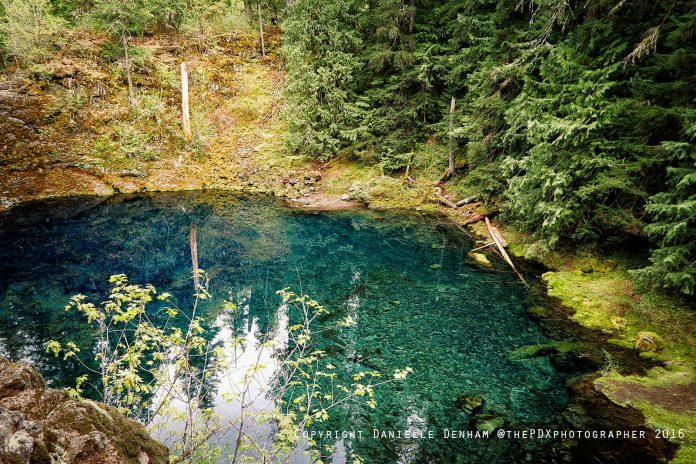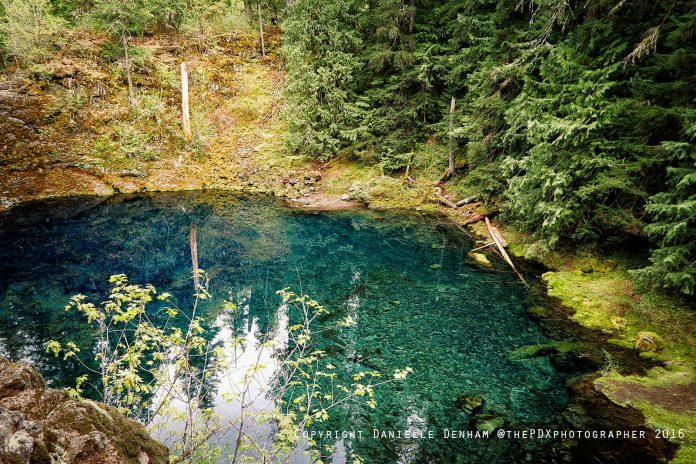 Tamolitch Blue Pool is truly a natural wonder along the Mckenzie River Trail (Photo By Danielle Denham / That Oregon Life)
Over the years of doing That Oregon Life, I am commonly asked which, if any are my favorite hiking trails in our great state. Growing up in Thurston, a neighborhood in the eastern part of Springfield, Oregon, I spent quite a bit of time, especially in the summer exploring everywhere there is to see up Highway 126, also known as the McKenzie Highway. So to no surprise, while it may be hard to pick my number one favorite place to hike in Oregon (how could you just pick one, right?), the McKenzie River Trail is easily one of my favorite places to get away from society and offers a little something for everyone, no matter what your skill level.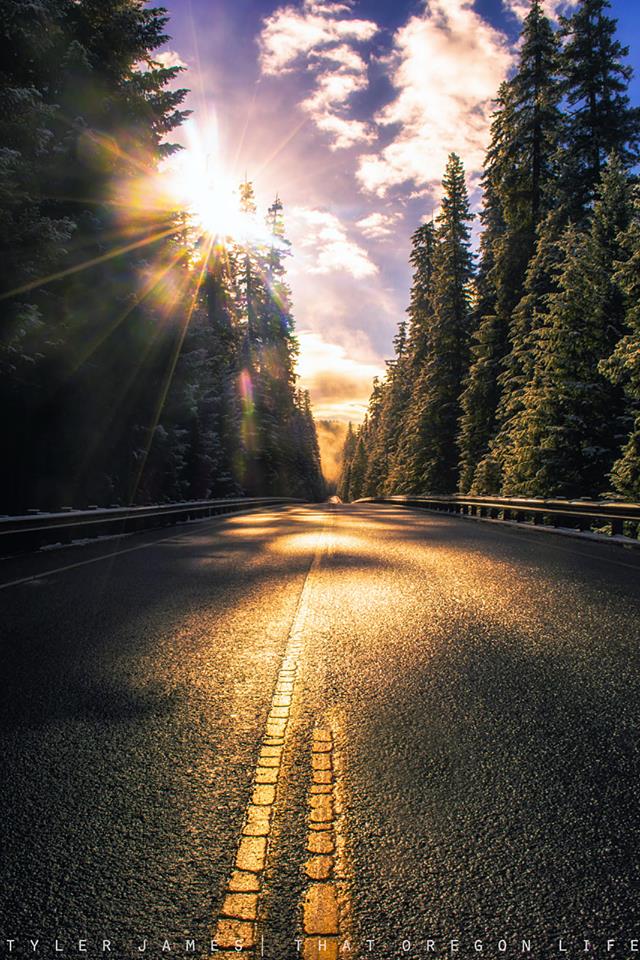 An Unofficial Guide To The McKenzie River Trail
---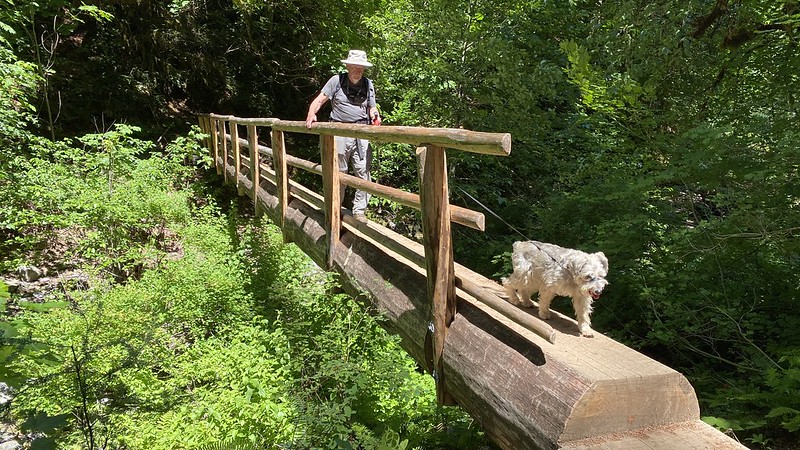 The highway leads to central and eventually eastern Oregon, with the entry point to the highway just on the edge of Springfield where I grew up. Before being annexed by Springfield, Thurston was formerly an unincorporated community with its own post office. The earliest land claims in the Thurston area by white settlers were in 1851, according to Wikipedia.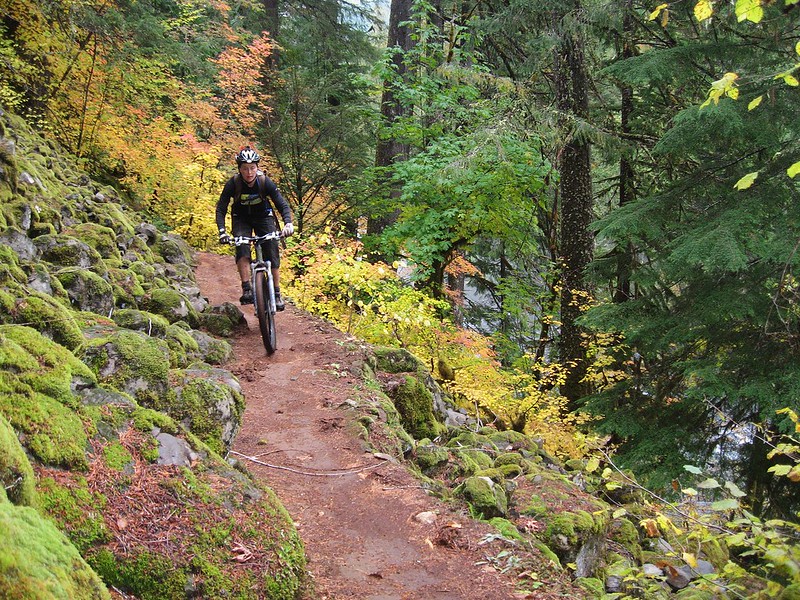 Home to eight wilderness areas, including the Three Sisters Wilderness and Mt. Jefferson Wilderness, the Willamette National Forest spans over 1.6 million acres. It's in this old-growth forest where you will find this cherished spot to hike and explore.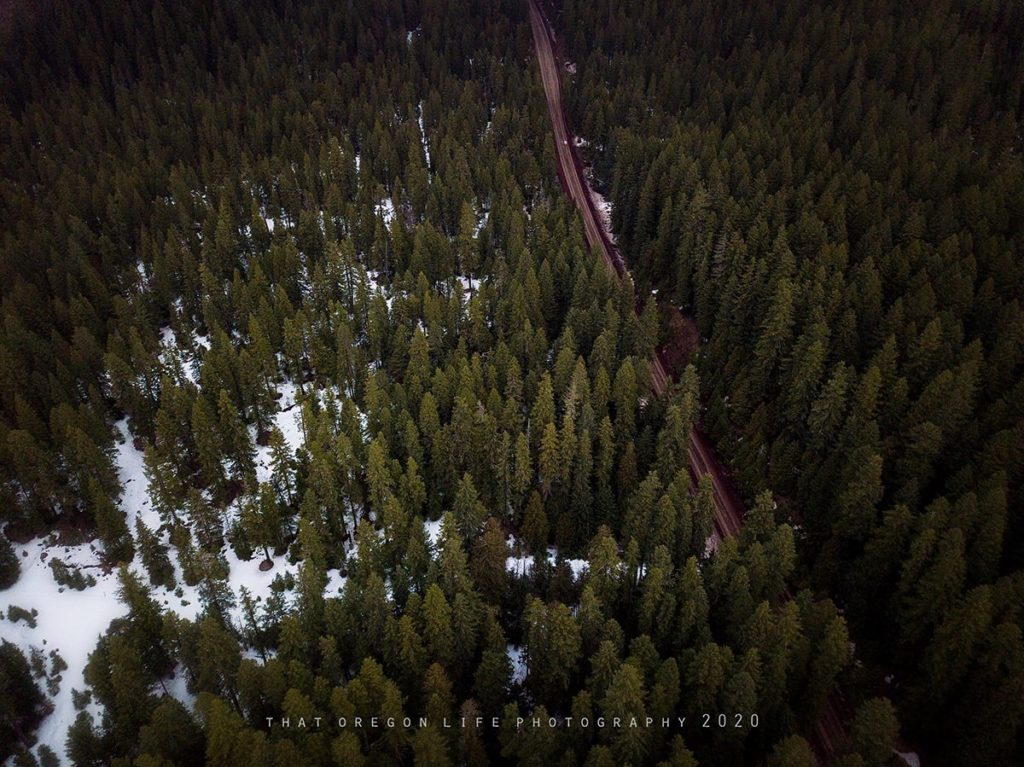 An aerial drone shot I captured of Highway 126, as I stood near Sahalie Falls.
From the start near Clear Lake, about 30 miles west of Sisters, Oregon, along the McKenzie River Highway, to where the trail finishes 26 miles south near McKenzie River Ranger Station at McKenzie Bridge, 53 miles east of Eugene, those looking to ride and hike can soak in some of the most incredible views and scenery in the state. If you are coming from Bend, you are looking at around 75 miles to the trail. This makes for around a good hour and a half drive.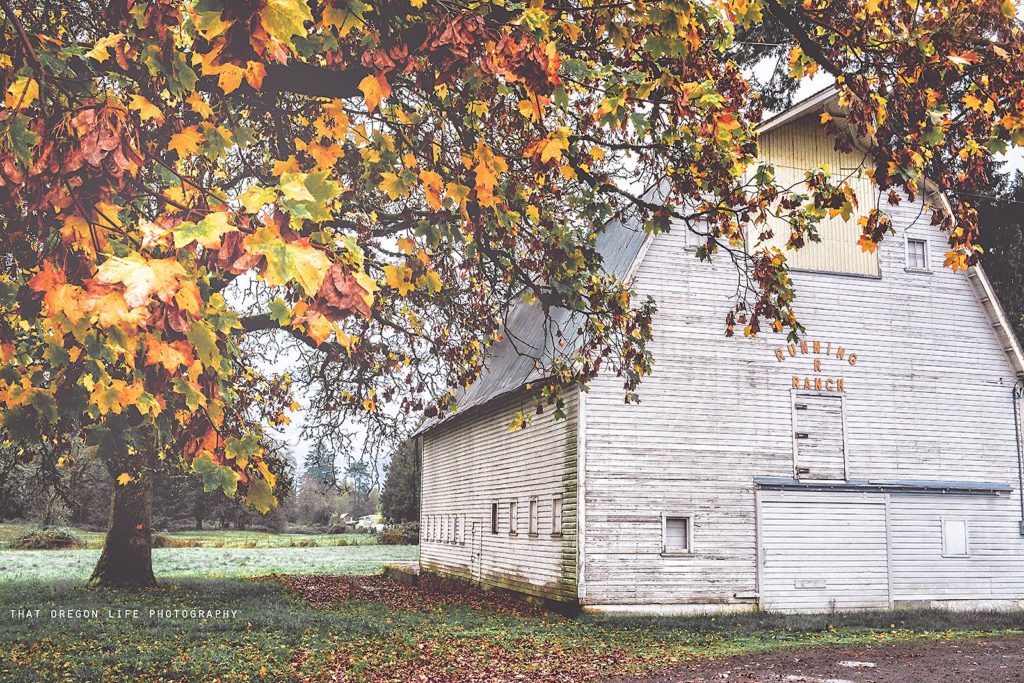 "Ye olde stomping grounds" Here's an autumn shot capturing a barn off High Banks (Thurston)
The Best Incredibly Beautiful Hikes On McKenzie River Trail
---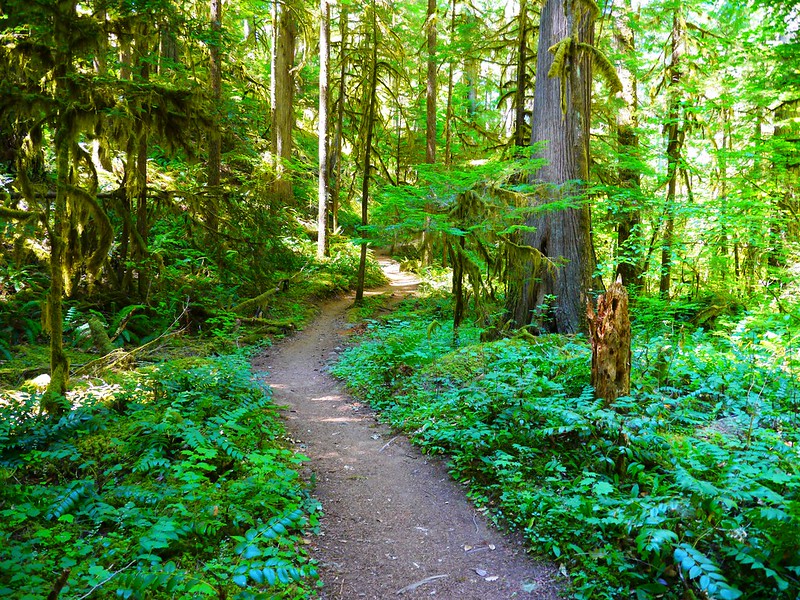 Venture with us as we go head deep into old-growth forests where magical waterfalls seemingly from fairy-tails exist, gorgeous riverside scenery, and crystal clear lakes that make for some of the most amazing places to explore in Oregon. Come see why this trail draws in hikers and mountain bikers from all over the world. 
Named the #1 Trail in America by Bike Magazine, the Mckenzie River Trail earns the title. Once you have spent some time exploring here, it's not hard to see why Bike Magazine and her readers gave the McKenzie River Trail its prized #1 spot for best trails in America.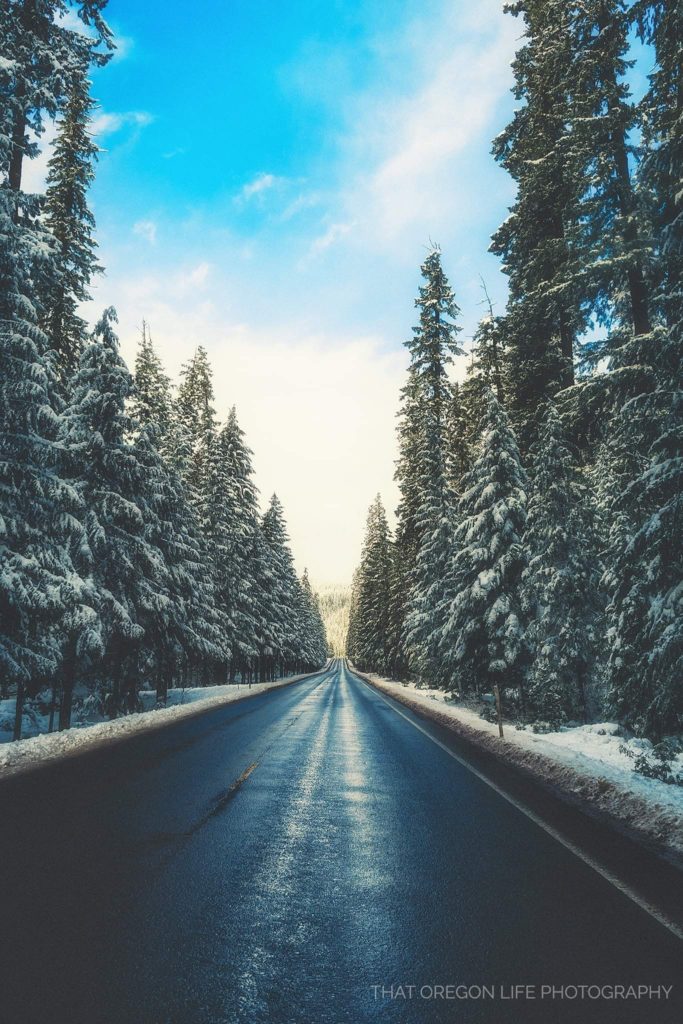 A gorgeous winter day on the Mckenzie Highway
While the trail following the river is 26 miles, the upper section is where you will find the most popular areas to explore. Blue Pool, Koosah Falls, and Sahalie Falls can all be found here. Being the trail is so extended, this may work in your favor as it is less populated.
The Route for The McKenzie River Trail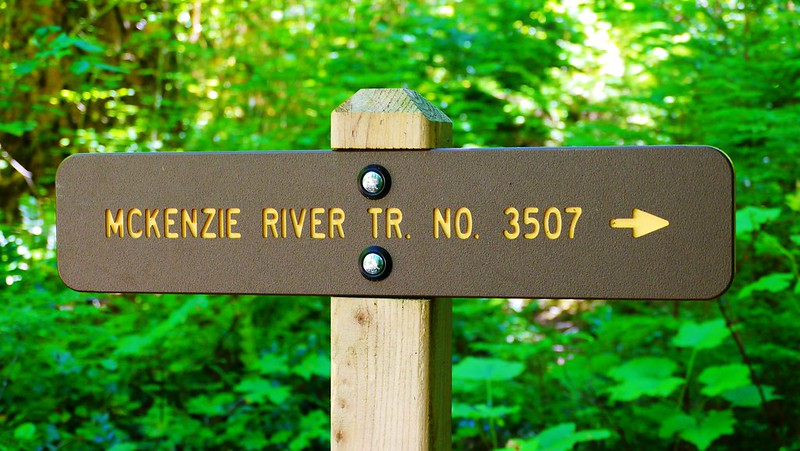 McKenzie River Trail No. 3507 / Photo by Rick Obst (Flickr)
Starting at the Upper Trailhead on an old lava flow originating from Mt. Washington and crossing a bridge over the McKenzie River.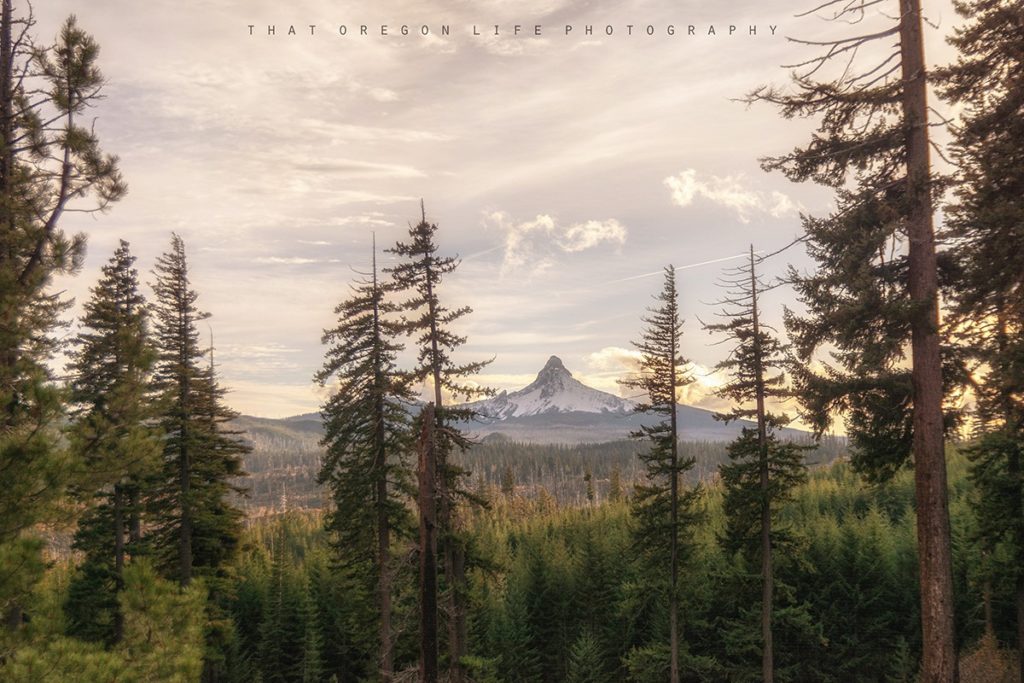 On the way home from Bend we pulled off the side of the Mckenzie Highway and captured this beautiful shot of Mount Washington.
You will follow the trail alongside the river's edge, down through the forest, eventually arriving at a great view of Clear Lake and the Great Spring, a primary source for the river.
Before you go (latest update)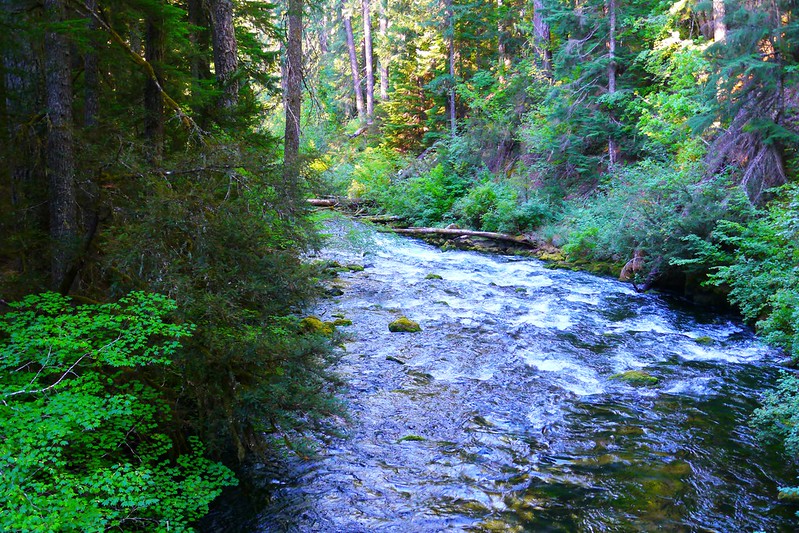 As of November 15, 2021, the McKenzie River Trail (#3507) was said to be temporarily closed from Tamolitch Falls Trailhead to Deer Creek Road due to Knoll Fire closure area. The rest of the trail remains open. See more info here: Knoll Fire closure order and map.
When you get past the southern end of Clear Lake, the path will have you venturing the turbulent river until you cross over Highway 126. The trail will cross the river on a footbridge, to its western side. When you have arrived at the western side of the McKenzie River, you will wind down past excellent viewpoints of Sahalie and Koosah Falls.
The river will mysteriously disappear at the Carmen Reservoir as it goes underground. At this point, you will follow a dry creekbed for a while. The old-growth forest here is stunning, and you will be approaching the now dry Tamolitch waterfall ledge. Peering over the ledge is the magical crystal clear pool of water, seemingly as still as glass. This is Blue Pool, and while its become a favorite for jumping into on a hot summer day it is also extremely cold.
From the pool, you can then follow the river until you reach the Trail Bridge Reservoir. At this point, the trail gets a bit easier, while crossing several streams and roads beside the forest. You will eventually come to an end just past the McKenzie River Ranger station at the Lower McKenzie River Trailhead.
Prime Spots Along The McKenzie River Trail
Clear Lake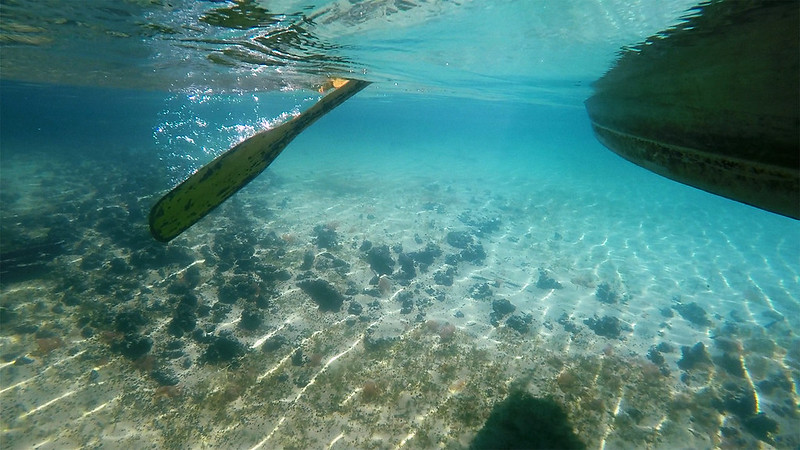 Whether you want to catch a fish or jump in a kayak, you could not pick a better place upriver. Clear Lake definitely earns its name, as you can actually see a petrified forest underneath.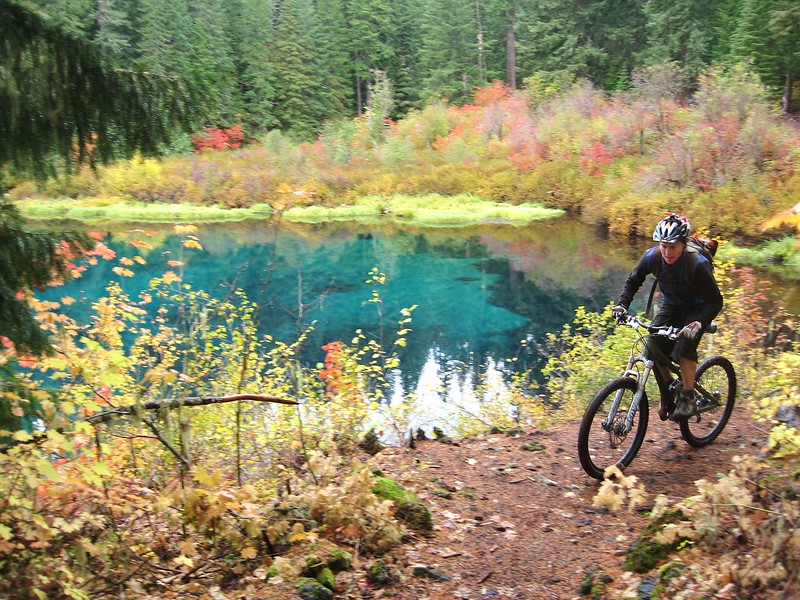 Cycling along the Mckenzie River Trail near Clear Lake (Photo by Dave H / Flickr)
Around 3,000 years ago a lava flow created a dam across the McKenzie River above Sahalie Falls and created this pristine spot known as Clear Lake.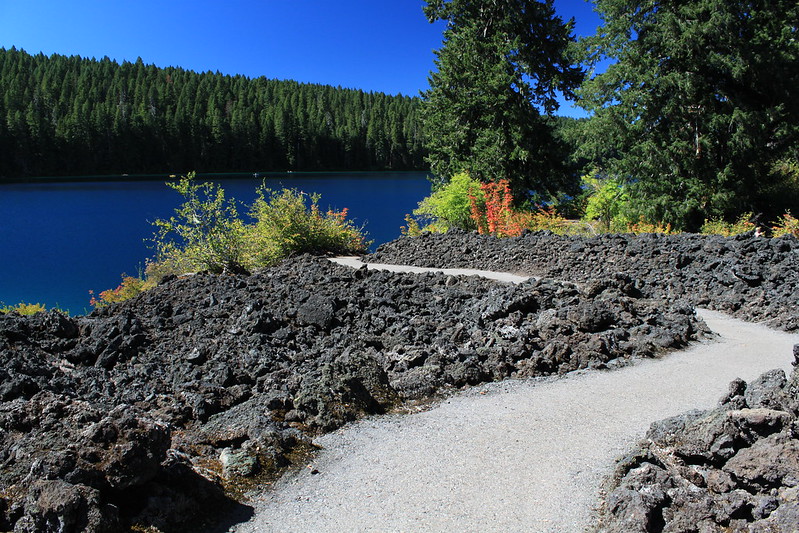 Clear Lake has another special place in my heart as it was the first place I ever caught a fish at around 8 years old.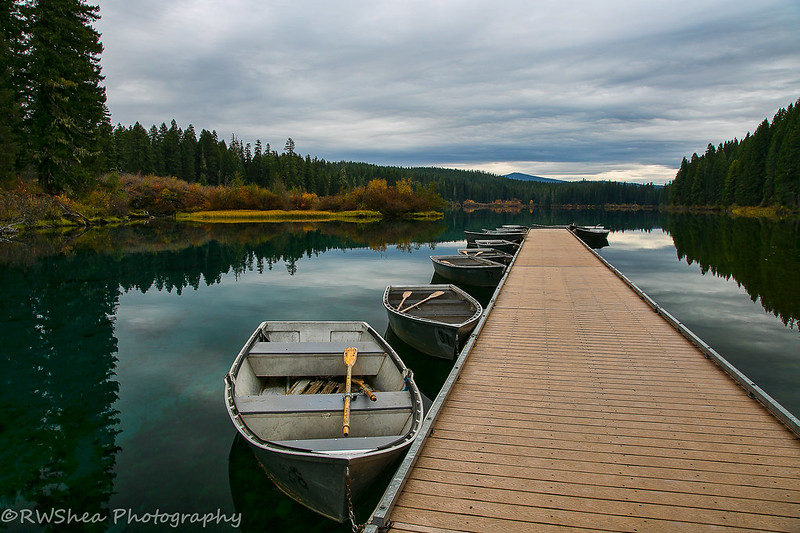 Because the water in the lake is filtered through lava rock and is fed mostly by a spring, the water is crystal clear and striking blue color.
How to get to Clear Lake
From Eugene/Springfield take State Highway 126 east to McKenzie Bridge
Continue east and north on State 126 about 23 miles
Turn east at the sign to Coldwater Cove Campground (between mileposts 4 and 5)
Follow the road to the boat ramp at the end of the campground
---
READ MORE: Clear Lake In Oregon So Clear You Can See A Petrified Forest at the Bottom
---
Tamolitch Blue Pool (Also Known As Tamolitch Falls)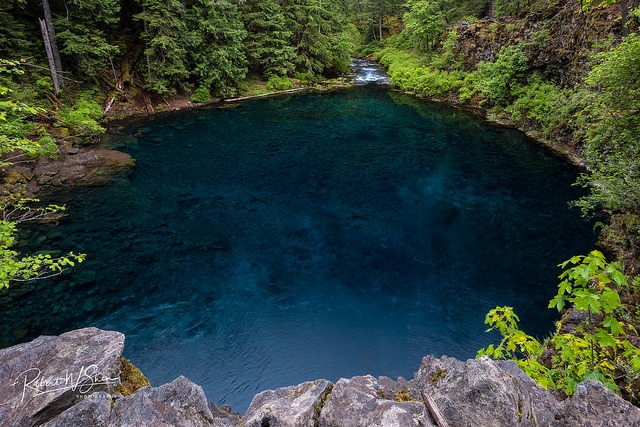 Over the last few years, Blue Pool, also known as Tamolitch blue pool not too far from Trail Bridge reservoir, has become increasingly popular with not only Oregonians but people who visit far and wide. Tamolitch blue pool, which means 'tub' or 'bucket' in Chinook, is a blue pool of pristine water that is so beautiful a photo cannot even capture its magnificence.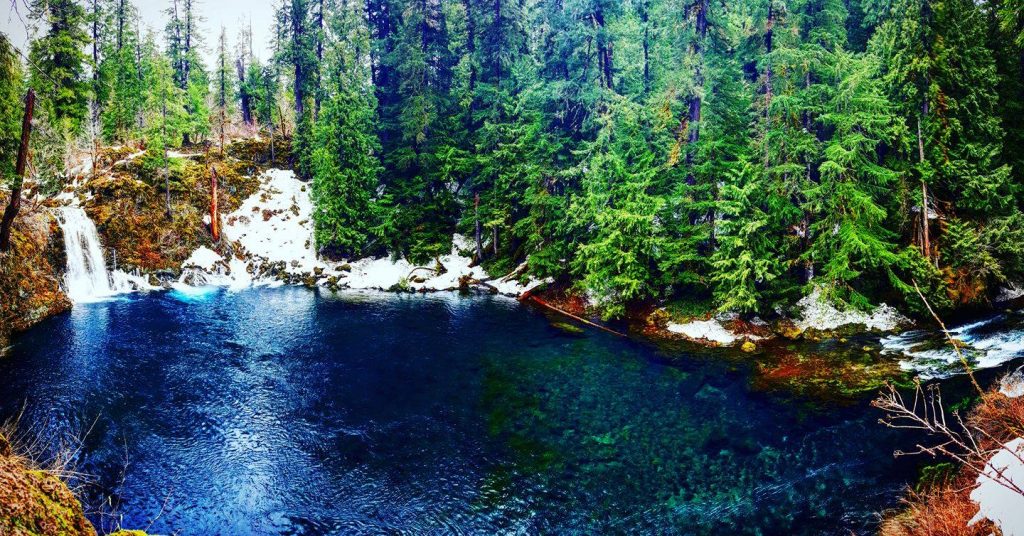 Image courtesy of Alli Carter / Facebook
Blue Pool Trailhead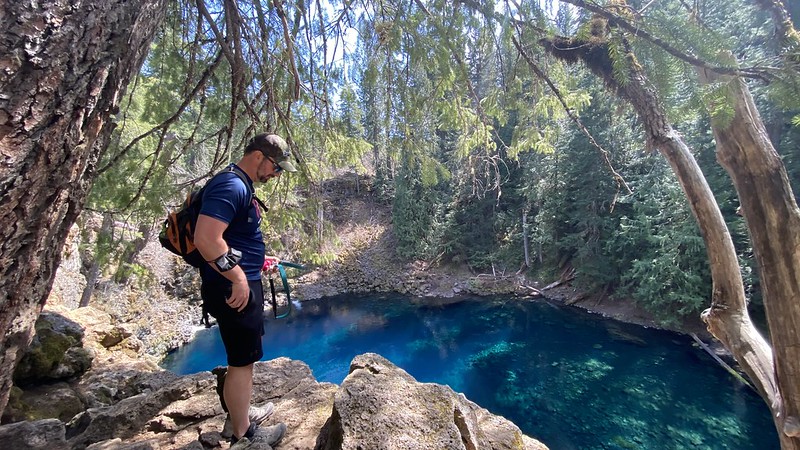 To get to the blue pool, you'll head to the McKenzie River Trailhead at Tamolitch near highway 126 and Trailbridge Reservoir.
From there you'll head north on the McKenzie River Trail not too far north of Trail Bridge Reservoir. The portion of the trail you'll hike to get to the blue pool is 3.6 miles out and back, heavily used, and is considered moderately challenging. There's a 285 foot elevation gain on the portion of the trail you'll be hiking.
For a longer hike to blue pool, consider starting from Olallie campground and hiking north on the McKenzie River trail past Trail Bridge Reservoir and Trail Bridge Campground, and then continue north to the blue pool.
---
RELATED: The Blue Pool Is One Amazing Place In Oregon
---
Sahalie and Koosah Falls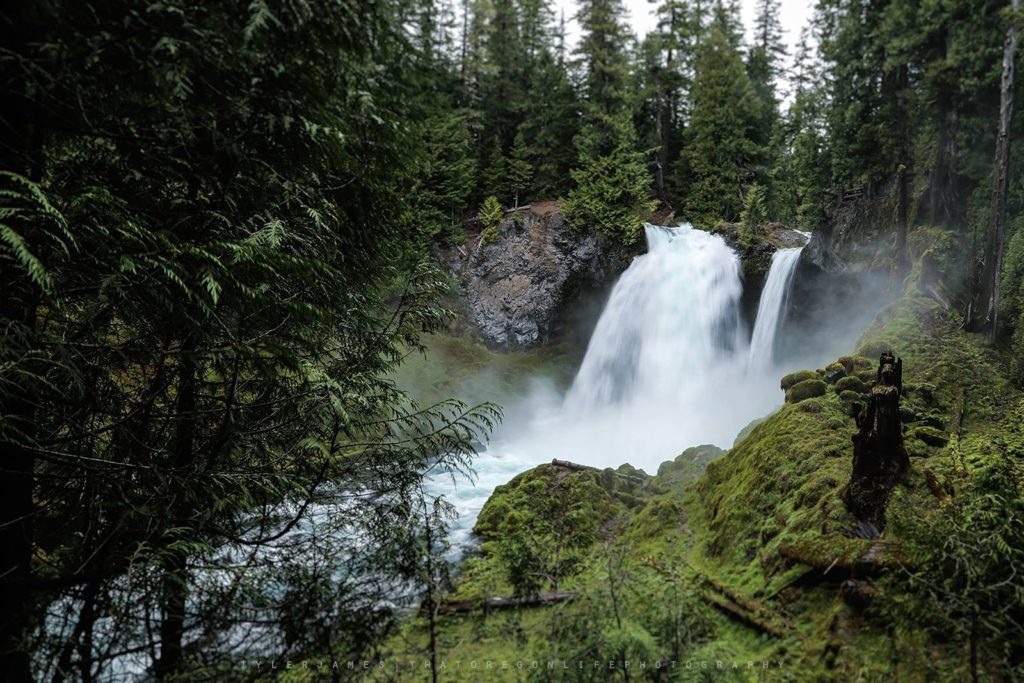 Sahalie Falls by That Oregon Life
Not only are these two waterfalls, Sahalie and Koosah Falls, easy to access as they are literally right off the Mckenzie Highway, but they are also a fairly quick and easy hike with just a 400-foot elevation gain. Located in the Cascade Mountains, viewpoints for the spectacular waterfalls only make for a fairly easy 2.2 miles round trip. Fun fact: Sahalie is a bit famous and can be spotted in Disney's movie Homeward Bound.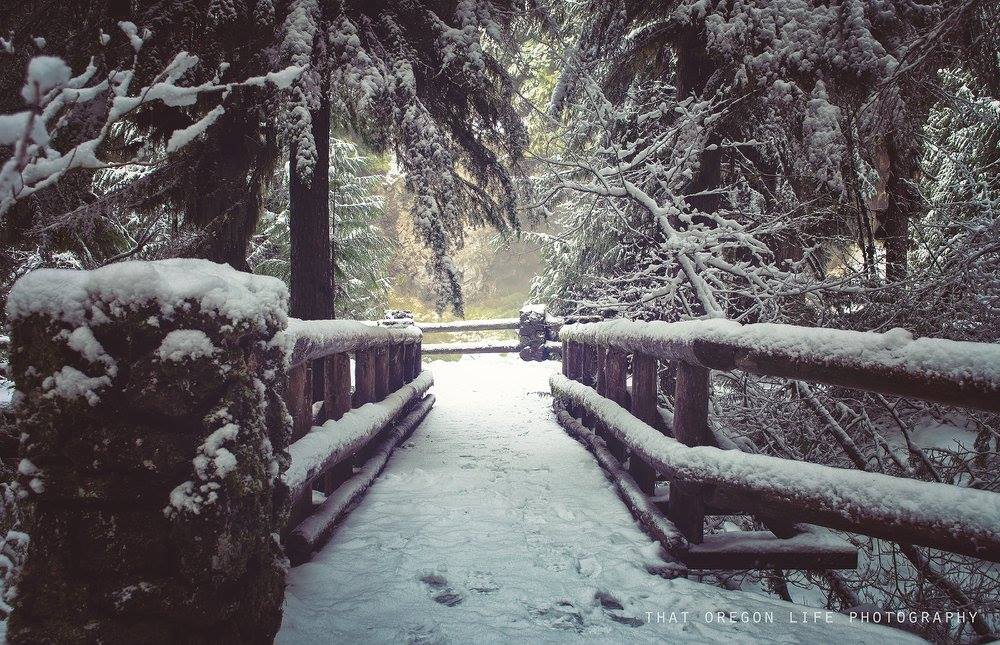 Sahalie in fact is a mere few minutes from the parking lot. Spectacular year-round, I always make it a point to stop here on any trip venturing into central Oregon.
Depending on the season, parking may be limited as this of course is a popular stop for travelers. If you really want your mind blown, check out this video of some extreme kayaking at Koosah Falls.
Both waterfalls are said to have been created due to the lava that poured down the Mckenzie River Valley roughly 3000 years ago.
Hot Springs Nearby
There are plenty of options when it comes to soaking in some natural hot springs near the Mckenzie River Trail. Just a few miles away you will find Belknap Hot Springs, one of our favorite places to soak while in the area. I especially recommend going during the winter season, as there's something extra special about soaking in the hot springs when it's cold outside. As shown in this map, you're only looking at around 4 miles from the trail to check out Belknap.
Belknap is open year-round and features two amazing mineral hot spring pools, along with acres of lovely gardens. Below is a link to Belknap, and there are of course many more hot springs to soak in. You can check this article out here for more hot springs to soak.
---
READ MORE: Belknap Hot Springs & Resort In Oregon Makes For The Perfect Getaway
---
Where to Eat
Crescent Moon Café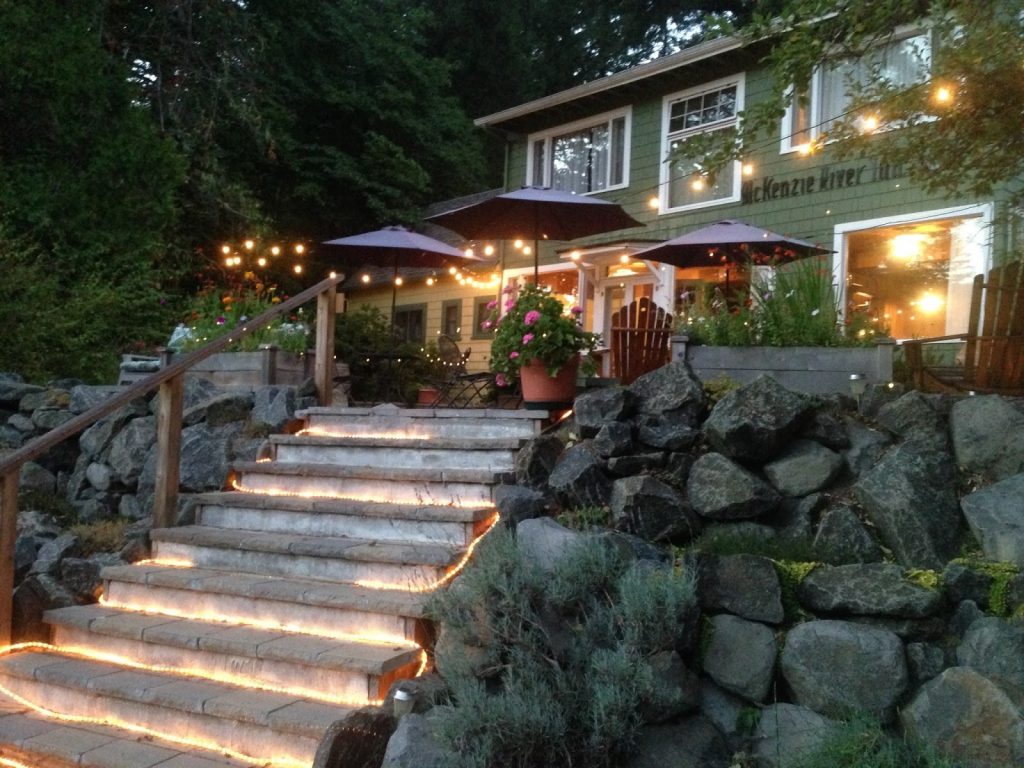 http://mckenzieriverinn.blogspot.com/
Downriver near Nimrod is a new restaurant with fine food, wine and beer called the Crescent Moon Café. The owners also have rooms available but the food at the café is so great and "Bert" the owner is all about service. You won't find another place to eat like this right on the banks of the river.
Vida Cafe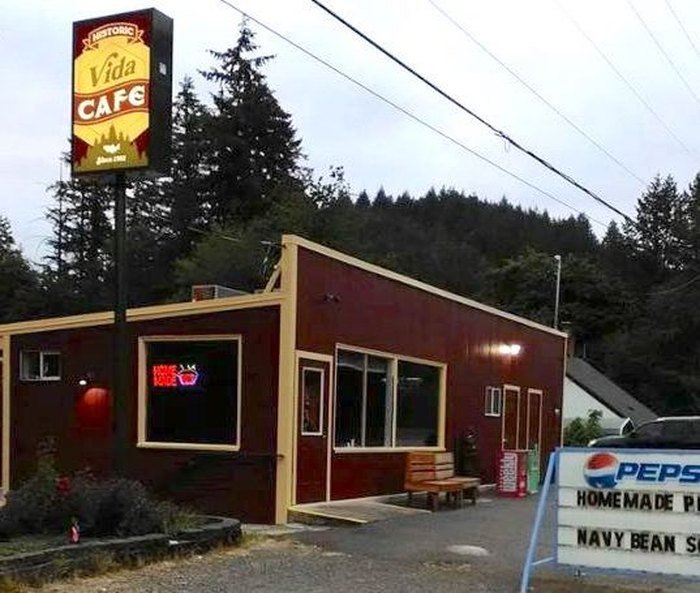 There's a couple of spots in my ol' stomping grounds that I love to stop for breakfast, on the Mckenzie River in Oregon. One of those places is nestled on the banks of the river, in the small town of Vida. This little spot is appropriately known as the Vida Cafe.
Read more about the Vida Cafe here.
Stores Nearby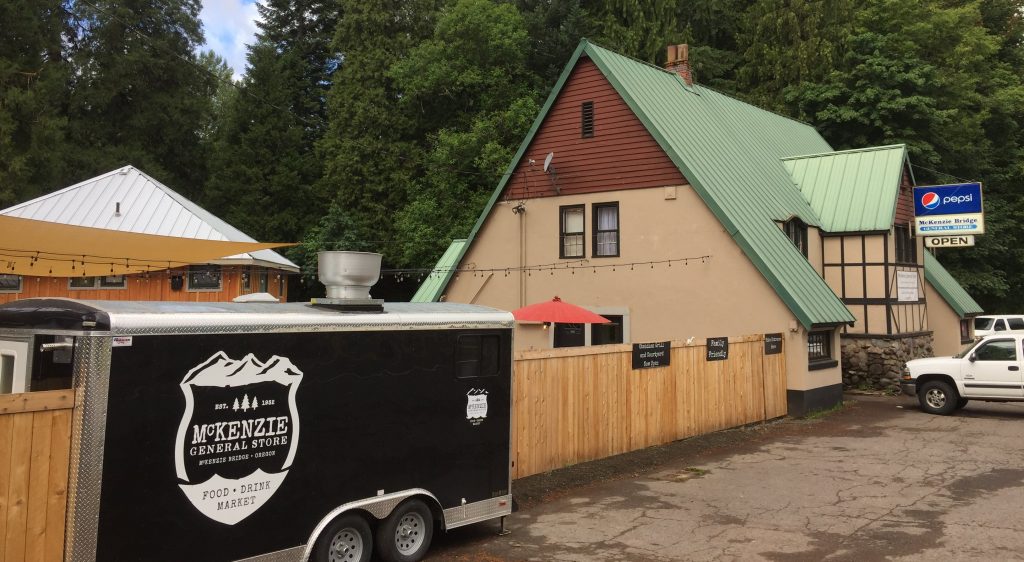 If you want fresh food, a place to hang out with friends, and good beer you won't believe what the owners of the McKenzie General Store have done to spruce the place up. Oh, and they aren't done yet. The next plan is to transform a huge barn that will soon be either a brew pub or a store.
Lodging Near The McKenzie River Trail
If you're not feeling camping under the stars, maybe a cabin would be better suited for your adventure. There is plenty of cabins and homes to choose from not far from the trail.
McKenzie Station Pub/Inn at the Bridge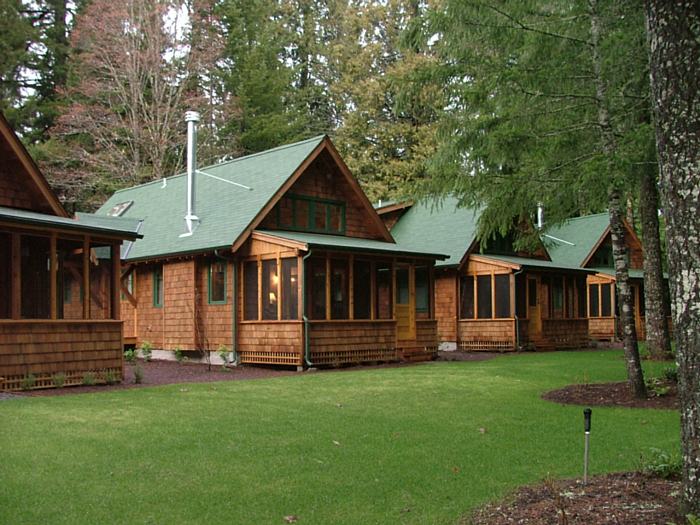 Inn at the Bridge is one of the nicest spots on the McKenzie River to stay. When you see cabins in the video you will see what we're saying.
This is a really cool spot. You rent the whole house complete with kitchen, fireplace and a screened in porch that faces the river.
Renee's Log House is a nice choice, especially for large groups as there's room for up to nine people. This rustic cabin is nestled in the woods right on the river, near the near McKenzie Bridge.
Conveniently located between the towns of McKenzie Bridge and Rainbow, the peaceful River Haven is as close to the McKenzie River as you can get. This cozy two-bedroom cabin is set on the water and surrounded by beauty.
Stay close to the small town of McKenzie Bridge at the peaceful Romantic Cabin Getaway. This 2-bedroom property features a waterfront patio with majestic views of the river and surrounding luscious forest.
Mountain Biking The McKenzie River Trail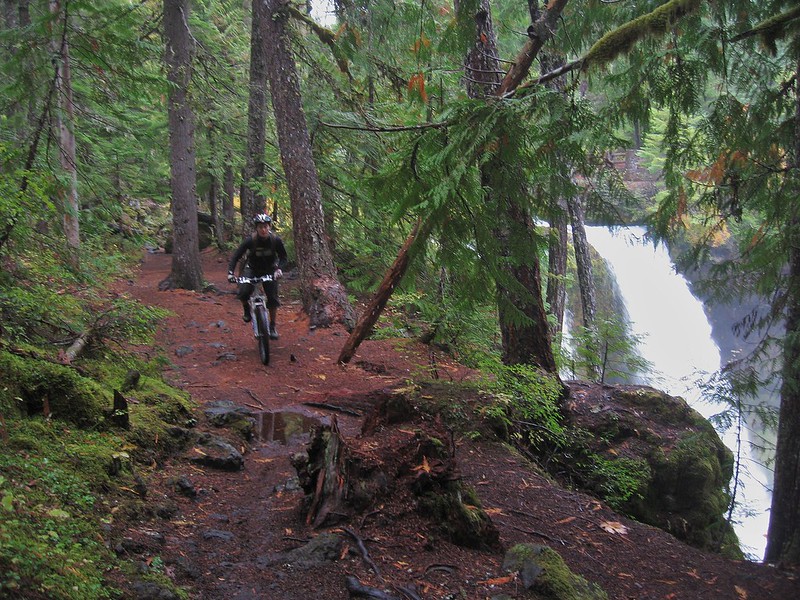 If you are an adrenaline junky, you couldn't pick a better place to hit the trail and go mountain biking. As mentioned, this MTB trail earned the number one mountain bike trail in the country for an epic ride.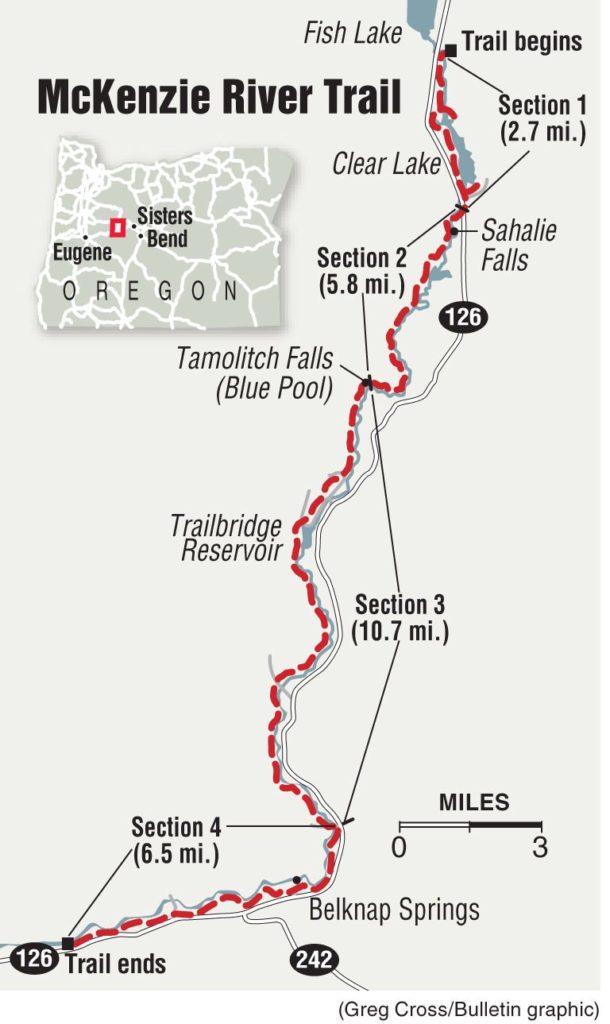 Map courtesy of Bend Bulletin
When cycling, the bike trail is not all that difficult, although many sections near the beginning are considered a bit more challenging.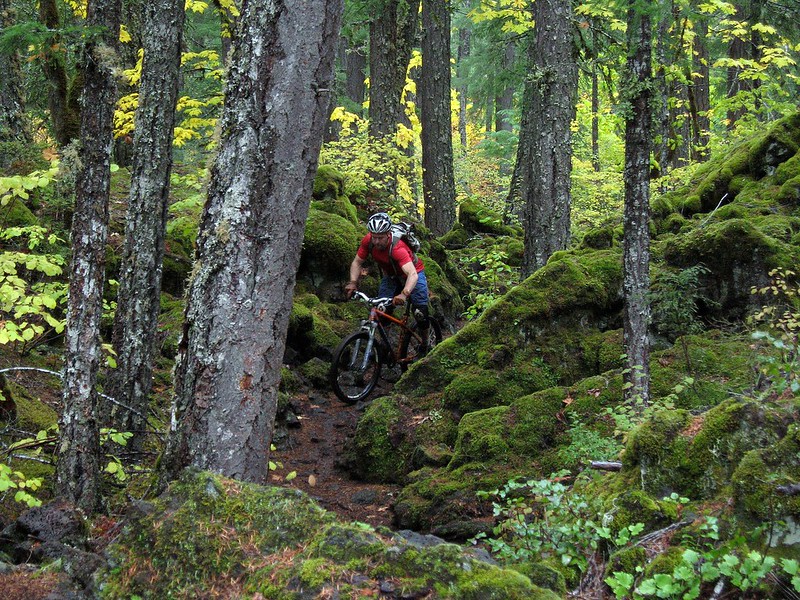 The prime time for bicycling on the trail is early summer to late spring. The 26½-mile McKenzie River National Recreation Trail can certainly be completed in one day by a dedicated individual looking to bike the whole thing in one trip.
Get more information on biking the Mckenzie River Trail.
Camping on The McKenzie River Trail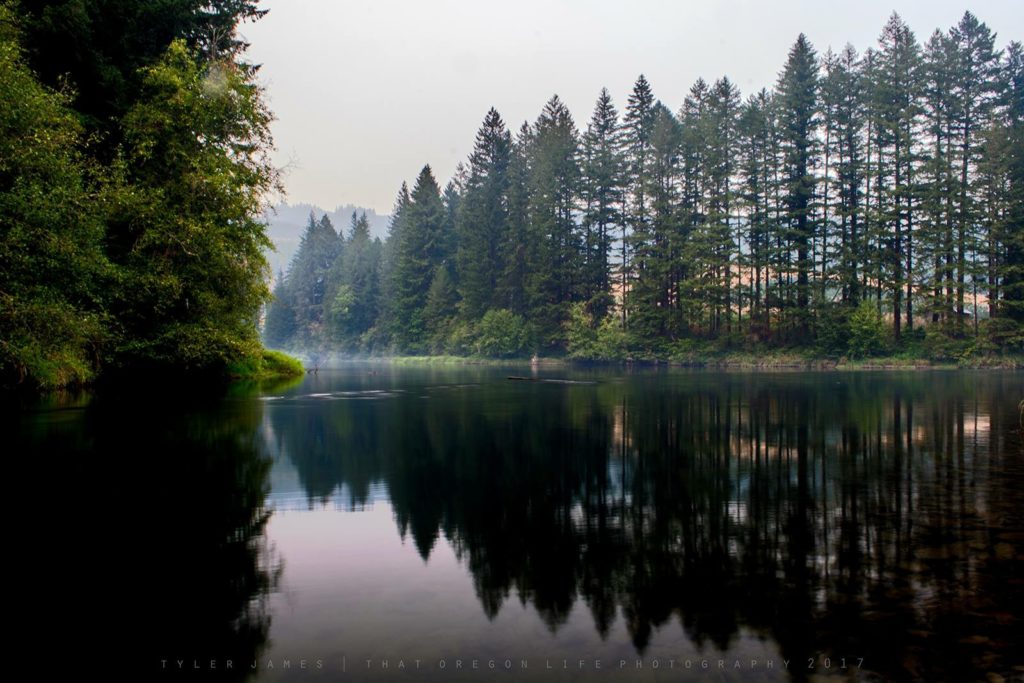 Secret fishing hole up the Mckenzie River. A photo I captured on the heals of some bad wildfires not far from here, summer of 2017
There is no shortage of places to camp along the trail if you are looking to stay overnight.
Paradise Campground
If waking up to the beautiful McKenzie River sounds ideal to you, you will definitely want to pitch a tent here. This campground, nestled in a lush old-growth forest is very popular for hikers along the trail. Underneath the Douglas fir and western red cedar, Paradise Campground sits on the Mckenzie River banks at 1,600 feet, while other campsites are deeper in the woods.
Ice Cap Campground
Just 17 miles northeast of Mckenzie Bridge this campground includes vault toilets, fire rings, picnic tables, piped drinking water, and nice camping spots.
McKenzie Bridge Campground
Also sitting on the bank of the McKenzie River and shaded by the tall Douglas firs and cedar trees, this small campground is near the Blue River Reservoir and the small town of McKenzie Bridge. After biking or hiking all day you will love this quiet spot with 19 campsites for RVs, trailers, and tents. This campground includes vault toilets and drinking water available on site. Most sites here can accommodate up to 8 people, with one site holding 12.
Coldwater Cove Campground
With 34 campsites to choose from alongside gorgeous Clear Lake, the views of the lake make this a prime spot. Surrounded by Douglas fir trees, maple, and alder with picnic tables and campfire rings, you can't go wrong with this spot, which may even give you a glimpse of Mount Washington and Three Sisters Mountains on a clear day. Reserve a campsite online at www.recreation.gov or phone 1.877.444.6777.
Olallie On McKenzie Highway
Just south of Tamolitch, this campground host about 165 sites and offers great views of the river and creek. The sites include plenty of privacy with vault toilets, drinking water, and picnic tables.
Trail Bridge Campground
Trail Bridge Campground is just north of Trail Bridge reservoir and just south of Blue Pool. This campground is both popular and busy, and costs $16 a night.
Other Attractions And Trail Heads Near Mckenzie River Trail
Proxy Falls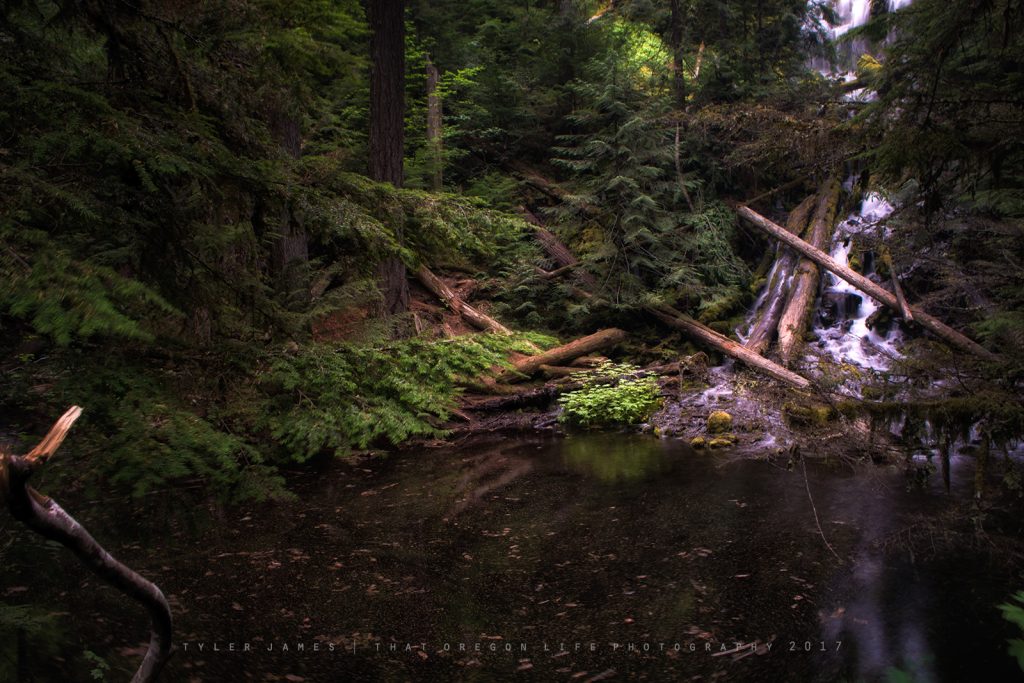 Known as the Proxy Falls Trailhead, this beautiful trail leads to a 225-foot waterfall and is said to be one of the most frequently photographed waterfalls in Oregon.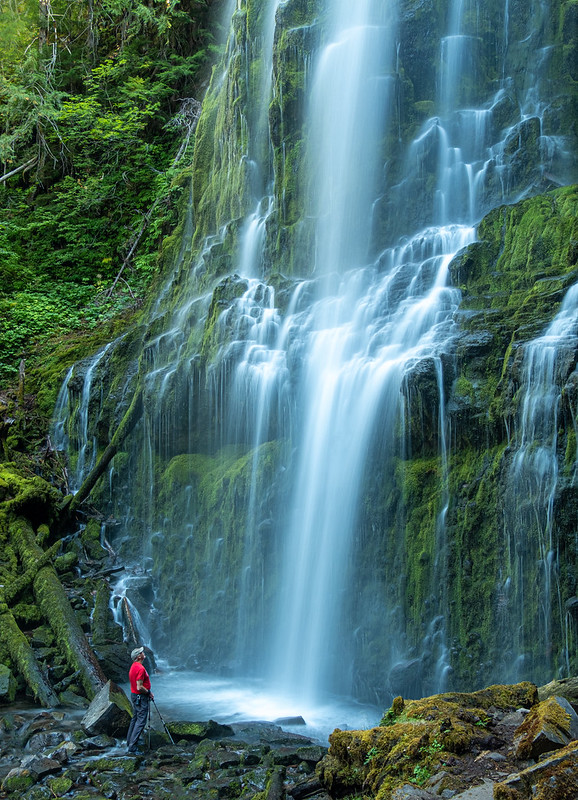 Proxy Creek is fed by springs on the shoulder of North Sister, breaking over a wall of columnar basalt liberally marinated in mosses.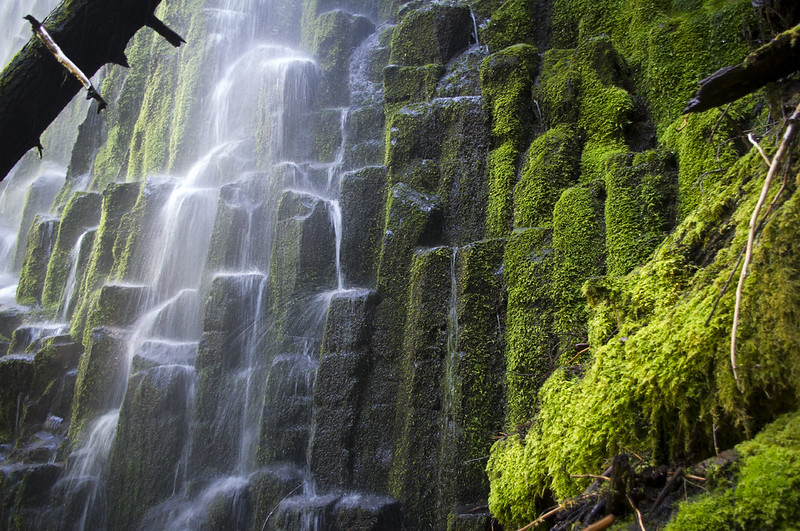 You will find two stunning viewpoints which give two different perspectives of the falls. You can read more here about Proxy Falls.
Blue River Reservoir
Another beautiful place nearby is of course the Blue River Reservoir, with two main campgrounds – Lookout Campground and Mona Campground. You will also find two boat launches here, perfect for the summer at Lookout and Saddle Dam. When full, the reservoir is around 6.4 miles long and has a surface area of 1,m420 acres. During the winter, the reservoir is mostly used as storage for floodwaters in winter.
Keep in mind as noted by USDA, early fall through mid-March, the water levels on Blue River Reservoir are frequently drawn down to the point where boat launches are no longer available. Reservoir and river level information is available from the US Army Corps of Engineers here.
Dee Wright Observatory Trip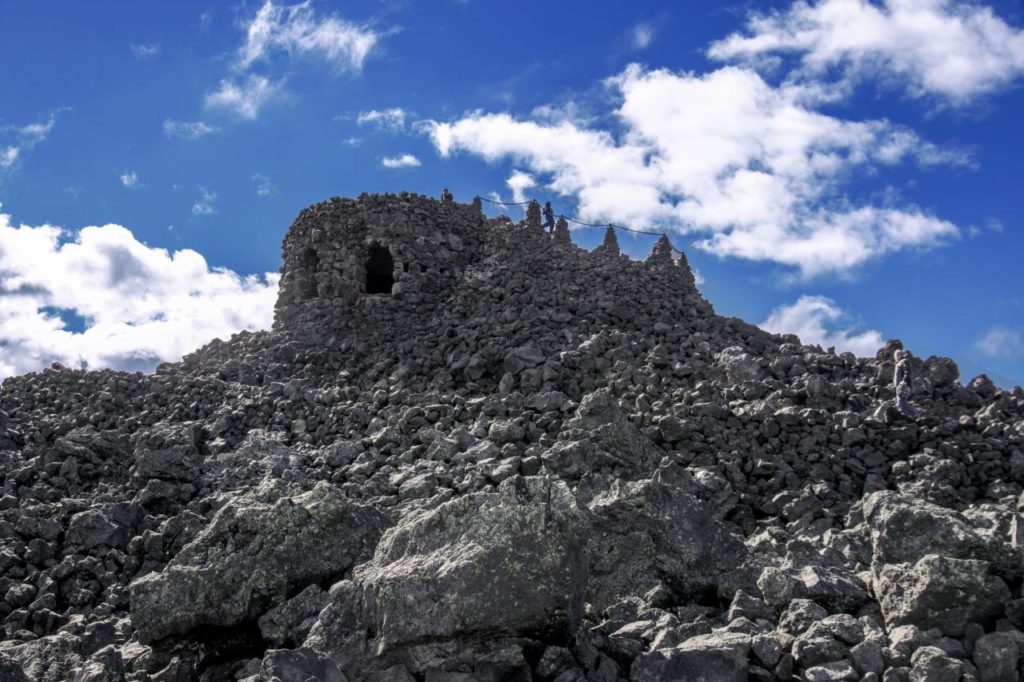 jooinn
Not terribly far from the McKenzie River Trail is the scenic Dee Wright Observatory above lava fields. A truly unique spot, it'll be well worth your visit if you can make the time. The panoramic views over the lava fields alone here are incredible. Thousands view this awesome place yearly, which is located between Sisters and Belknap Springs, on the Cascade Range at 5,187 feet. Hit the link here to read more.
Know Current Conditions Before You Go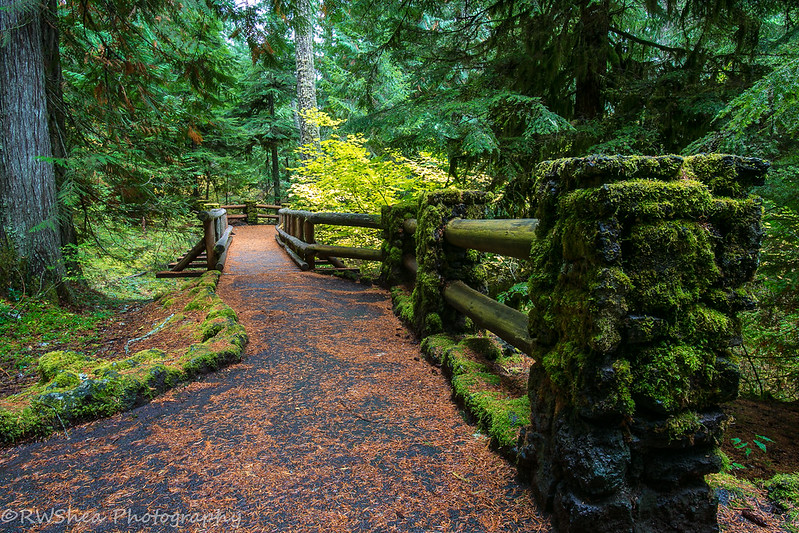 Before you go exploring the Willamette National Forest, or specifically the Mckenzie River Trail, do you know what roads and campgrounds are open? How about fire restrictions? It's also good to know what the road conditions are in the area before traveling. We personally love Trip Check for this. Here are a few links from the USDA to help you be well prepared before heading out on your next Oregon road trip.
We hope this article helped inspire you to check out this awesome trail. Make sure and see what other awesome and scenic places we have covered in Central Oregon here.