Timberline Lodge on Mount Hood is one of Oregon's most iconic places, and most visited historic landmarks. Some believe it's haunted due to it's role in a well known cult classic movie, but few know the interesting history of this beloved lodge.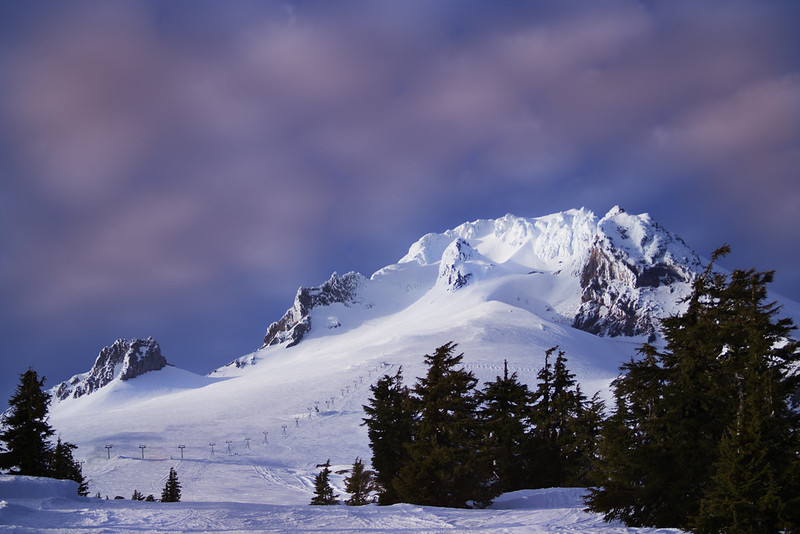 Nestled within the stunning Mt Hood National Forest, Timberline Lodge is a fantastic, famous hotel and mountain retreat that has been a favorite destination of adventure enthusiasts and nature lovers for generations. This beautiful great house lodge, designated as a National Historic Landmark, boasts of a rich history, breathtaking forest decor, and a wide range of amenities and activities that make it an ideal place to stay for any occasion.
Dining At Timberline Lodge
One of the highlights of Timberline Lodge is its Cascade Dining Room, which offers a delectable breakfast buffet, lunch, and dinner service featuring locally sourced and seasonally inspired dishes. Guests can enjoy stunning views of the Cascade Mountains while indulging in an exceptional dining experience that is hard to forget. The dining room is also the perfect setting for special events, such as weddings, receptions, and banquets.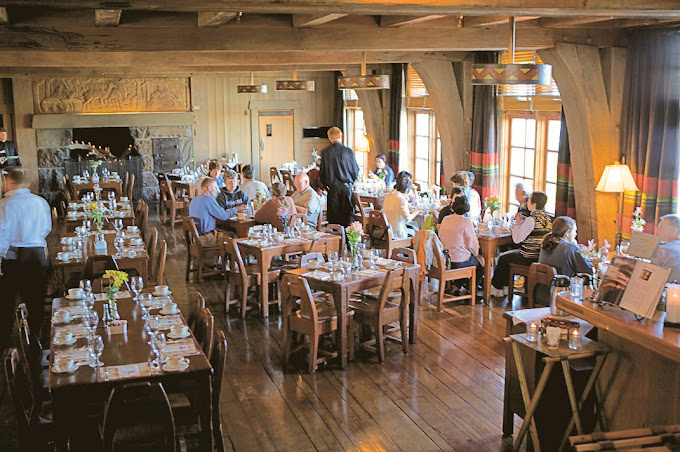 For breakfast, the restaurant offers a delectable buffet that features a variety of fresh pastries, fruits, yogurt, and made-to-order omelets, among other options. For lunch, guests can indulge in an array of salads, sandwiches, and entrees, including the famous Timberline Burger, made with local grass-fed beef.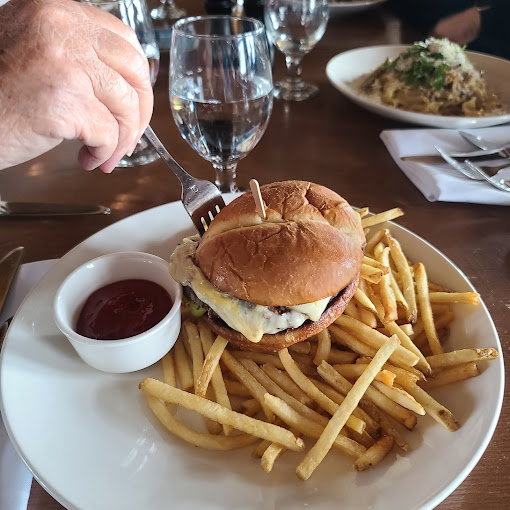 For dinner, the restaurant offers a more formal dining experience, with an à la carte menu that features dishes like pan-seared salmon, grilled filet mignon, and vegetarian options like roasted butternut squash risotto. Guests can also choose from an extensive wine list, which includes a variety of local and international wines that pair perfectly with the menu offerings.
The Cascade Dining Room also offers private dining for special events, such as weddings, receptions, and banquets. The restaurant's elegant and intimate atmosphere, combined with its stunning mountain views and exceptional cuisine, make it a popular choice for those seeking a truly unforgettable dining experience.
For those looking to unwind after a day on the mountain or trail, Timberline Lodge's Ram's Head Bar and Blue Ox Bar offer a range of beverages and snacks in a cozy, intimate setting. Guests can enjoy a glass of wine or a cold beer by the fire while soaking in the lodge's rich history and ambiance.
Timberline Resort Shuttle
To make guests' stays more convenient, Timberline Resort Shuttle operates a shuttle service to and from Government Camp, which provides easy access to Portland International Airport and other attractions in the area. The shuttle service is free for guests and offers a hassle-free way to explore the surrounding mountain towns.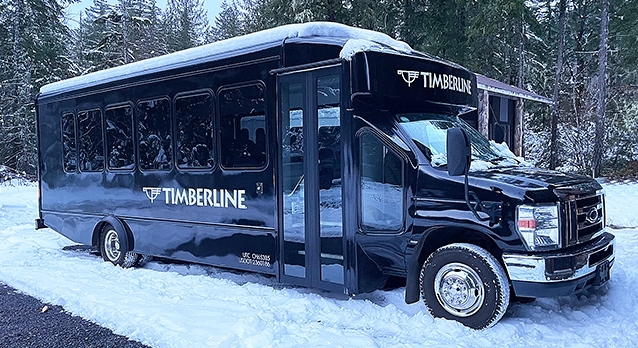 Timberline Lodge offers a range of accommodations to suit every guest's needs, from wonderful cozy historic rooms to suites with a hot tub. Each room is unique and features rustic decor that reflects the forest's beauty and history. For those seeking additional amenities, Timberline's Wy'east Day Lodge is the perfect place to unwind after a day of outdoor activities.
Winter Activities at Timberline Lodge
Speaking of activities, Timberline Lodge offers something for everyone, from skiing and snowboarding to mountain biking and hiking. The lodge's location at the base of Mount Hood provides the longest ski season in North America, and the ski school offers lessons for all ages and skill levels. In the summer, the surrounding forest becomes a haven for mountain bikers, hikers, and nature enthusiasts, who can explore the area's natural beauty on miles of trails.

Timberline Lodge offers a variety of passes for guests, including the Summit Pass, which provides unlimited access to the lifts during the winter season, and the Fusion Season Pass, which includes access to Timberline and Fusion season. The average nightly price for a stay at Timberline Lodge varies depending on the season and room type, but is generally competitive with other top mountain resorts.
Managed by the USDA Forest Service, Timberline Lodge is a testament to the beauty and history of the Mt Hood National Forest. Whether you're seeking a quiet mountain retreat or an adventure-filled getaway, Timberline Lodge is the perfect destination for a truly unforgettable experience.
The Construction Of Timberline Lodge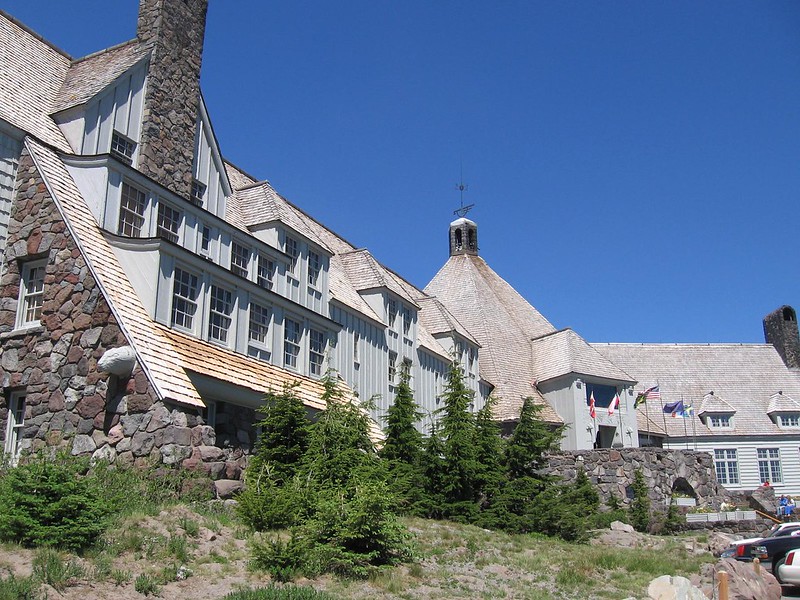 Built in 1937 in the latter half of the Great Depression, Timberline Lodge sits proudly at 6,000 feet in elevation on the South slope of Mount Hood.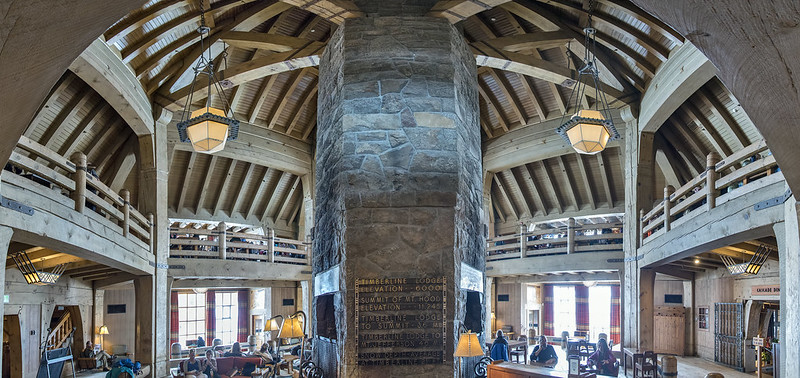 This gorgeous 55,000 square foot ski lodge gets nearly two million visitors a year, and was constructed as part of a national program to put people back to work.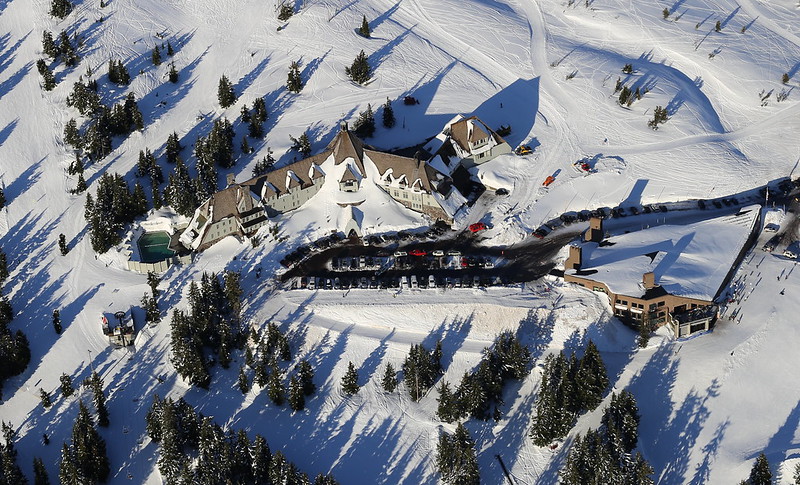 The WPA (Works Progress Administration) was part of President Roosevelt's "New Deal" during the Great Depression, a series of programs meant to get the economy back on track and get people back to work so they could feed their families.
The Design Of Timberline Lodge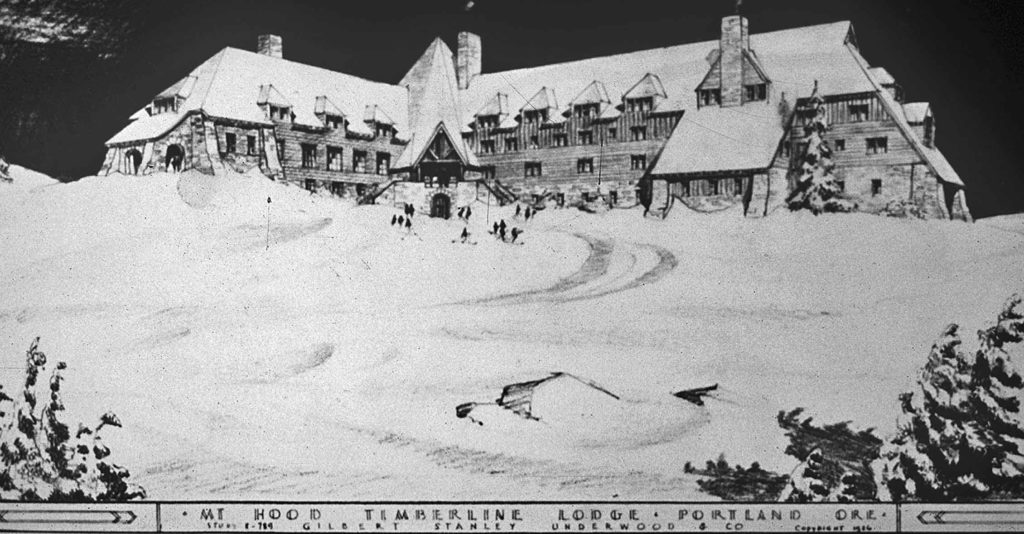 Gilbert Underwood came up with the initial design for Timberline Lodge. Underwood had designed the Bryce Canyon National Park Lodge, as well as the lodges in Zion National Park and the Ahwahnee Lodge in Yosemite. After the initial design was completed, William Turner and Linn Forrest, two Forest Service architects, changed the design of the headhouse to a hexagon from an octagon to open up the wings of the lodge. After that the design was complete, construction began.
The People Who Built Timberline Lodge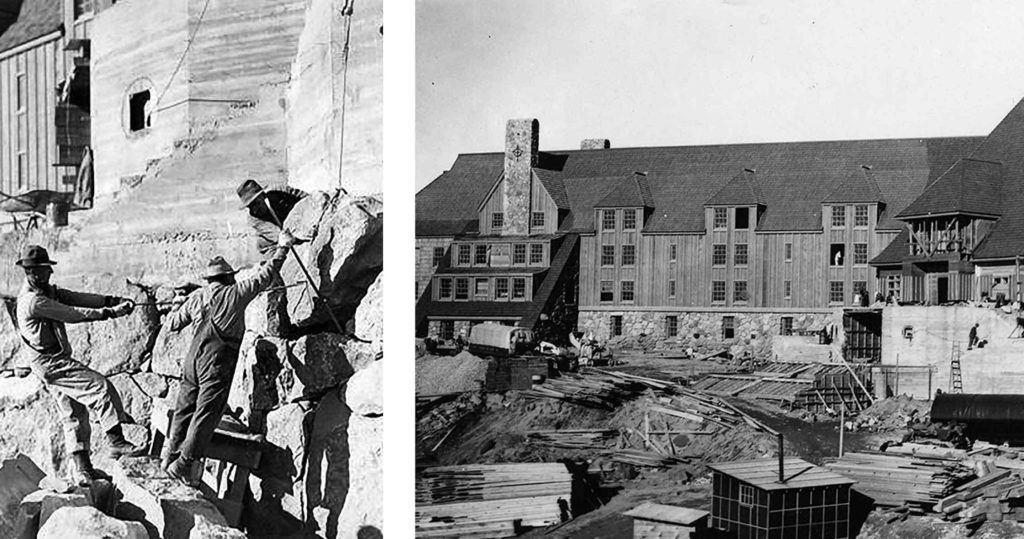 Between 100 and 470 workers were on site every day to construct Timberline Lodge. The WPA trained and employed as many workers as possible. The construction of Timberline Lodge also served to pair skilled craftsman and artists with less skilled workers to teach them construction trades and arts.
Workers were paid 90 cents an hour for building, 75 cents an hour if they were a common laborer, and 55 cents an hour if they were an unskilled laborer.

Up to 500 workers at a time lived in an area known today as Summit Meadows in canvas tents. It cost people a dollar a day for room and board. Most workers sent the rest of their earnings home to family who were struggling during the Great Depression.
In 1977 Timberline Lodge was declared a National Historic Landmark. Unlike many National Historic Landmarks which were turned into museums or other attractions, Timberline is still in use today as a ski lodge, which was the original purpose of the building.
What Does Timberline Lodge Have To Do With The Movie The Shining?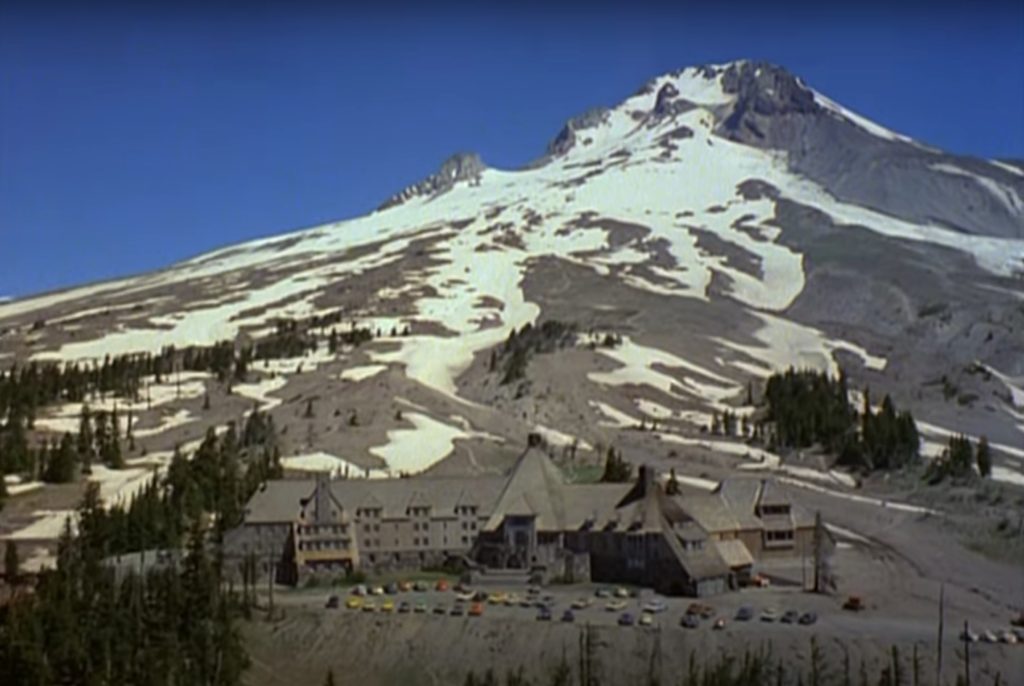 The movie The Shining is based off of a hotel in Colorado named The Stanley Hotel, but several exterior shots and a mockup of the south face of Timberline Lodge were used for filming.
Does Timberline Lodge have room 237?
Room 237 is featured in the film, but there is no room with that number at Timberline Lodge. Kubrick was asked not to depict Room 217 in The Shining so as not to scare future lodge guests. The film substituted a nonexistent room for Room 237. As a result, Room 217 is requested more often than any other room at Timberline.
A hedge maze is also featured in the film with the mockup of Timberline in the background, but there is no hedge maze at Timberline Lodge.
Read more about the interesting history of Timberline Lodge here.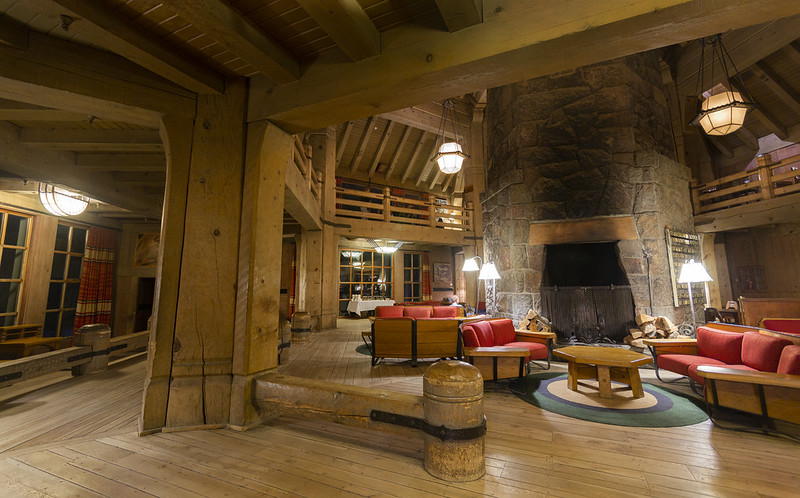 Can you visit Timberline Lodge without staying there?
Absolutely! We have visited the lodge more than once without staying the night. Visitors to Timberline Lodge are welcome from 7am to 11pm daily.
Don't forget to check out our Travel Guide to Mount Hood.
Have you been to Timberline Lodge on Mount Hood? Tag the friends and family you want to go on a Mount Hood adventure with!