The Eugene Police Department has announced that family and friends are offering a $45,000 reward for information that leads to a conviction in the 1969 murder of Janet Shanahan. There have been very few leads on the cold case so far, and investigators are hoping that this reward might lure someone who can shed new light on the case.
A 53-Year-Old Mystery: The Murder of Janet Shanahan
This is a story that many Eugenians are familiar with: a young woman, barely 22, found strangled in the trunk of her own car. It hits home in a community that has faced waves of well-publicized murders and kidnappings over the years. People disappear in Eugene, often in the most eccentric of ways.
Many of those disappearances have ended up in the history books. Famous serial killers like Ted Bundy, Jerry Brudos, and John Charles Bolsinger, used the city as their stalking grounds. It's no wonder that residents tend to lock their doors at night.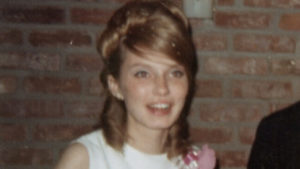 Janet Shanahan's story isn't special because of who killed her or how the act was done; it's special because of who she was.
It's been almost half a century, and some still remember the gregarious, University of Oregon sophomore, who was studying to teach junior high. Her story has become a legend amongst locals, a subject of speculation, anger, and grief. Everyone has their theory about what happened, who did it, and what their motive was. But it's not just morbid curiosity that fuels the flames in this case, it's love for the victim herself.
Rick Gilliam, a volunteer cold case investigator, who has been trying to solve the murder since the 90s, held a press conference with his fellow investigator, Drew Tracey, on Wednesday, June 8. There Rick spoke about the consistent calls he's received from Janet's many friends, asking for updates over the years. He emphasized how often it occurred compared to the other files he had worked on.
The dedication stood out. Janet Shanahan was truly loved. Her name won't just appear in newspapers or on a gravestone. She will be remembered in the hearts of others–something many people strive for in life and never truly achieve–and she is still being mourned to this day. There must be a reason. Maybe it's in her pictures, her smile, and her bubbly demeanor–the way she seemed to shine. One can only imagine what she was like in person. She must have been amazing.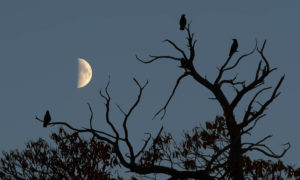 The Night of the Murder
Most of what we know about the night of April 21, 1969, comes from witness accounts. Some have proven to be reliable, and others have not. But there are barebones facts that have been agreed upon, and they tell a narrative that will never be lost to time.
Janet Shanahan lived with her husband, Chris Shanahan, in a small apartment near the University of Oregon campus. She was attending class that evening and didn't arrive home until somewhere around 8 p.m.
She was there for an hour and a half, presumably getting ready for her brother's birthday party at her parent's house on Rutledge Street. It's easy to imagine her sitting at a vanity in her room, applying lipstick and teasing her hair after changing into her now-famous orange suit with gold brocade. Her husband was at the apartment, but there have been no reports about their interaction. He was supposedly sick, so she attended the party alone.
There's very little public information about what happened at her parent's house. Every family has its problems, but theirs' are a complete mystery, which may or may not be relevant to the case.
We do know a little about the family, at least from information that has come out in the most recent press conference. According to investigators, an anonymous female family member contacted them to help provide funds for the reward, and it's not likely that the killer would pay money to have themselves thrown in prison for the rest of their lives. Investigators also reported that there were family members who had died without the closure they desperately needed after Janet's death. So there was love in that home, and at least some of the family members can be ruled out as suspects.
At 11 p.m., Janet left the birthday party with her sister, Jane Vanderloed, to get food and buy a hotrod magazine for Chris on the corner of Roosevelt Boulevard and Highway 99. She dropped Jane back off at her parents' half an hour later at 11:30 p.m. That was the last time her loved ones saw her before her disappearance.
As with all highly publicized murder cases, police received a flurry of reports from citizens who thought they might have seen something. Investigators followed up on every lead they could, but it didn't amount to much. They did receive a call from a lady who worked at Lynwood Cafe on Highway 99. She claimed to have seen Janet there with another young woman later that evening. She also said that a young man joined them shortly after. There was another witness in the cafe who confirmed the report, but investigators weren't able to follow up. They later lost track of the second witness, making it impossible to follow the lead any further.
What happened next is the mystery behind everything. Did the young man from the cafe travel in the car with Janet? Was he the killer, and if so, did he act alone? Whoever it was must've had access to the vehicle. Perhaps someone grabbed the wheel and threw it into a ditch.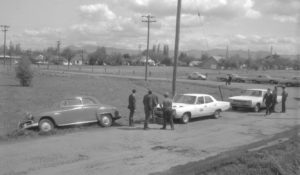 The Aftermath
The events following Janet Shanahan's death have long been the subject of rumors and blame. It's difficult to confirm what happened, mostly because it concerns Chris Shanahan's actions while he was alone in the apartment. Nobody else was around to verify the things he told investigators.
Chris claimed that when he woke up the next morning, Janet was gone. He realized that she hadn't come home that night, and when she didn't go in to work that afternoon, he decided to report her missing. He must've checked with her place of employment, which indicates some level of concern about her welfare–or at least a well-executed plan of action to make himself seem concerned. Either way, that was his version of events.
On April 23, the day after Janet was reported missing, Chris called Jane Vanderloed, asking if she could drive him around to look for her sister's car. They retraced Janet's steps and within ten minutes they were able to find the car stuck in a ditch on Cross Street, across from a lumber mill.
The 1951 green Plymouth coup stood out in the industrial area, abandoned near an empty field. The mill workers had already been aware of its presence since the day after the disappearance. One reportedly watched as Chris Shanahan walk around to the back, open the trunk, and scream, "Oh, no! Oh, no!"
It's not specified how Chris was able to open the trunk since the car keys were missing. But we know what he found when opened it: his wife, Janet Shanahan, laid peacefully to rest as if she had fallen asleep.
There were no signs of a struggle, no lacerations or tears in her clothing. She was still wearing the same orange suit with gold brocade, and her hair seemed to have been undisturbed. The only things missing her were her shoes, which had been placed on the floor in the car.
The Investigation
Janet Shanahan might have left this world without a struggle, but the fight to find her killer has lasted a lifetime. There were four generations of investigators dedicated to finding out how she died.
As with most famous murder cases, public reports began with the basic facts–her name, her whereabouts, and the cause of death.
Not everyone was certain about the details, especially with regard to the victim's body. It took some time for authorities to announce the full post-mortem report. Once they did, the printing presses started rolling. The public started to talk, and theories sprang up. Everyone seemed to know who did it except the police. But law enforcement did have their suspicions, and they weren't shy about reporting them to the public.
Links to Serial Killers
In May of 1969, Lane County District Attorney John Leahy announced that he believed the murder of Janet Shanahan could be linked to the killing of Lina Salee and Karen Sprinker, both victims of famous serial killer Jerry Brudos. No further evidence was found, but the theory was compelling. Another connection was made to Ted Bundy, who was living in Seattle, Washington, in 1969. He was known to travel to the University of Oregon in search of coeds, near the apartment where Janet lived.
Ultimately both theories were ruled out by the police. Both Bundy and Brudos were necrophiliacs, who violated the corpses of their victims. Janet's body was almost untouched, which led investigators to believe that the murder was committed by someone close to her.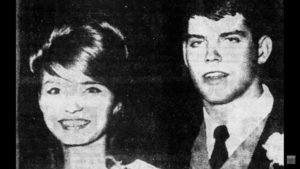 Chris Shanahan
When someone in a marriage is murdered, and no obvious suspect is found, it's common knowledge that authorities will often turn their attention toward their spouse. It's not always fair, but marriage is rarely pretty. Emotions run high, and things can easily go sour.
There is no way of knowing what happened between Chris and Janet Shanahan, but there have been reports that their relationship was chaotic. Many people believe that they fought when she came home from class the night that she was murdered, and that his illness that evening was just an excuse to avoid the party. Maybe he was the man that showed up at the cafe, and he killed her on their way back to their apartment. This is just a guess, but it would fit given the information that we have available.
After finding his wife dead in the trunk of her car, he called the police from a payphone, dropped off Jane, then drove straight to an attorney's office. This isn't a definitive sign of guilt. He might have thought that it was necessary considering their marital ties and the reports of fighting that had occurred between them, but it does sound strange.
What's worse is that Chris Shanahan only reached out for information once, shortly after the investigation began. He didn't seem to want to know what happened to his ex-wife, and he wasn't planning on sticking around. Instead, he packed up and moved to the east coast. After investigators tried to reach out to him at his home in Connecticut in 1997, he became belligerent, asked to be left alone, and threatened to get "very upset".
Janet's mother, Jean Thomas, has spoken out against the suspicion surrounding Chris Shanahan, saying that she never believed he was capable of hurting her daughter. But he's still considered a suspect, and he's currently dodging attempts to make contact with the investigation.
That does not mean that Chris is guilty. There are many scenarios that could've occurred, and as members of the public, we don't have access to all of the information in the case. If there was enough evidence to convict him, he would've been convicted by now. Speculation is fine, but it is dangerous to draw conclusions. We can never forget the importance of due process and how essential it is to maintaining a fair justice system. Nobody knows what happened. He could just be scared, and he has good reason to be. He could easily be convicted, even if he is innocent. That should be avoided at all costs.
One Last Effort
Janet Shanahan's family and friends are getting older. This might be their last chance at finding out what happened, and the wounds are still very fresh. Everyone who loved her deserves closure and justice. That's why they banded together and gathered the funds necessary to provide the reward. If you think that you might have information that could lead to a conviction in this case, contact the Eugene Police Cold Case Squad at 541-682-5588 or leave a message at [email protected].