According to NOAA, flooding caused by excessive rainfall is possible from 1am Sunday 12/19 through Monday 12/20.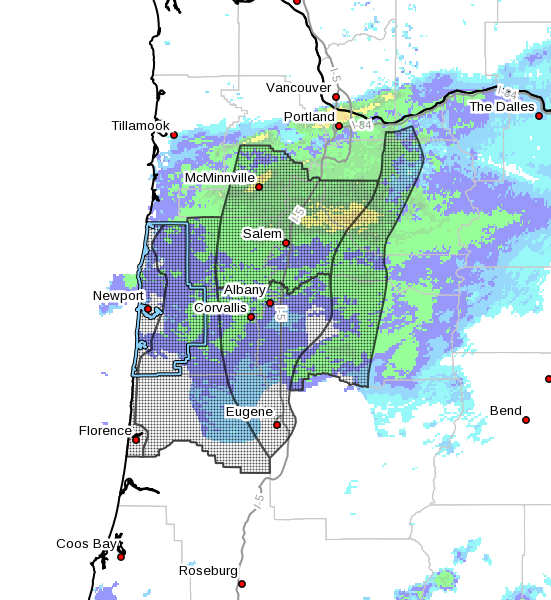 Areas affected could include the Central Oregon Coast, Central Coast Range of Western Oregon, Central Willamette Valley, South Willamette Valley, and the Northern Oregon Cascade
Foothills.
Excessive runoff may result in flooding of rivers, creeks, streams, and other low-lying and flood-prone locations.
NOAA: "An area of moderate to heavy rain will persist from the
coastal Lane/Lincoln County area and extend northeastward
towards Olallie Butte and Mt Hood for much of Sunday. This
will lead to rising creeks and rivers, particularly on the
southern periphery of this line where snow levels will be
higher. It remains unclear if there will be enough rain to
produce minor flooding, but the latest model guidance
suggests there is an approximately 25-50% chance that enough
rain will fall to result in the Siuslaw River at Mapleton,
the Luckiamute River at Suver and the Marys River at
Philomath to reach minor flood stage. The Siletz River at
Siletz, the Alsea River at Tidewater and the Pudding River at
Aurora are additional rivers to watch during this event. In
addition, debris flows and landslides could once again pose
an issue in the Riverside, Beachie Creek and Lionshead burn
areas as a combination of snowmelt and rain
destabilize hillsides. In addition, minor flooding may occur
in urban and rural areas, particularly during heavier bouts
of rain."
Be aware and continue to monitor weather forecasts as the weekend progresses.