Last updated on January 10th, 2022 at 10:16 am
Once considered one of Oregon's great mysteries, Thor's Well is a bowl-shaped hole carved into the basalt shoreline of Cape Perpetua. Also known as the Drainpipe of the Pacific, the seemingly bottomless well perpetually fills and drains throughout the day. During high tide, water shoots out the top like a geyser, reaching heights of up to 40 feet. This stunning geological formation attracts thousands of visitors each year and is one of Oregon's most popular attractions. Read on to learn more about Thor's Well and how to make the most of your visit to this natural wonder.
What is Thor's Well? 
Once thought to be a giant sinkhole, researchers now believe that Thor's Well began as a large sea cave. The cave slowly formed over thousands of years as waves crashed into the volcanic rock that made up Cape Perpetua's shoreline. It eventually collapsed, leaving a bowl-shaped hole just meters from shore. Although it looks like a bottomless pit, the hole is only 20 feet deep. 
How does Thor's Well work?
Although Thor's Well appears to drain into some unknown underworld, its function is quite simple. The collapsed cave has openings at the bottom and top, which allow the ocean to move through it. Water steadily flows in at low tide and slowly fills the well. At high tide, the water surges through the bottom hole, causing it to shoot up like a geyser. The constant filling and draining create the mesmerizing illusion that the well is draining the Pacific.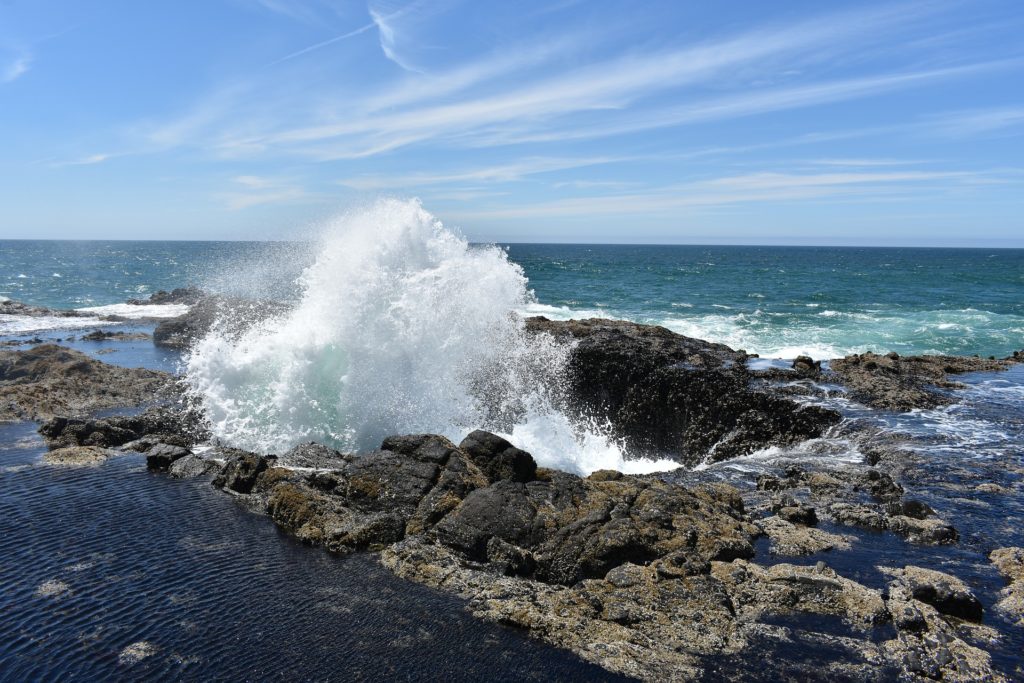 Is Thor's Well Dangerous?
Although Thor's Well looks extremely dangerous, experts say it's no more dangerous than standing on the shoreline. A  few onlookers have fallen in throughout the years, but all have walked away with just a few scrapes and bruises. The real danger, however, lies in sneaker waves. These enormous waves are not visible from shore and can surge more than 150 feet past the foam line. Sneaker waves are the most significant danger on the Pacific Coast because they can sweep unsuspecting victims off to sea. These sneaker waves can easily knock down onlookers standing around Thor's Rim. Because of this, onlookers should avoid getting too close to the edge of the rim.  
Where does Thor's Well get its name? 
Thor's Well is named after Thor, the Norse God of Thunder. Local legend suggests that Thor struck the coast, creating the giant hole we see today. Thor's Well is also once known as The Drainpipe of the Pacific. The bowl earned this name because it seems to drain ocean water underground endlessly.
Where is Thor's Well located?
Thor's Well is located in the Cape Perpetua Scenic Area, just a few miles south of Yachats. The natural wonder can be found right off Highway 101, making it a perfect stop for those taking a road trip up the Oregon Coast. Visitors can park here at Thor's Well TrailHead. The well is visible from the parking lot, but visitors can also walk down a short path to the shore to get a closer look.
How far is the hike to Thor's Well?
The hike from the parking lot to Thor's Well is only 4 minutes. Visitors looking for a longer hike can take the half-mile loop on the Captain Cook Trail. The trail includes magnificent views of Cape Perpetua and other natural wonders. Although the walk down to Thor's Well is considered safe, visitors should still heed caution. The basalt shoreline is full of sharp and slippery volcanic rock. If possible, visitors should don shoes with grip. The shoreline is also home to tide pools and other crevices, so visitors should always know where they are stepping. 
The best time to visit Thor's Well 
Thor's Well is fascinating at any time of day, but the best time to see it is an hour before high tide. This way, visitors can watch the well slowly fill up until high tide. Then, waves surge through the bowl at high tide and explode out the top, creating its iconic geyser-like image. You can view a tide schedule for Cape Perpetua here. The well can be accessed throughout the year, although the winter months can get very cold. Cape Perpetua's average winter temperature is around 45°F. 
The best time to photograph Thor's Well 
Thor's Well is a rare geological formation, making it a bucket list destination for many photographers. The Pacific Ocean and the breathtaking views of the rocky Oregon Coast serve as the perfect backdrop for the well. Not surprisingly, sunset and sunrise provide fantastic lighting. However, those looking to take photos of explosive waves shooting out of Thor's Well should aim to visit at high tide.
What else is there to do around Thor's Well?
Thor's Well is centrally located in Cook's Chasm, near Cape Perpetua, and is only a few miles south of the city of Yachats. The surrounding area is full of natural and human-made wonders to explore that visitors can spend days discovering. The following are the best activities near Thor's Well.
Tour the many tide pools around Thor's Well
The tide pools surrounding Thor's Well are teeming with sea creatures, including starfish, acorn barnacles (or talking barnacles), and anemones. The perfect time to explore the tide pools around Thor's Well is low tide.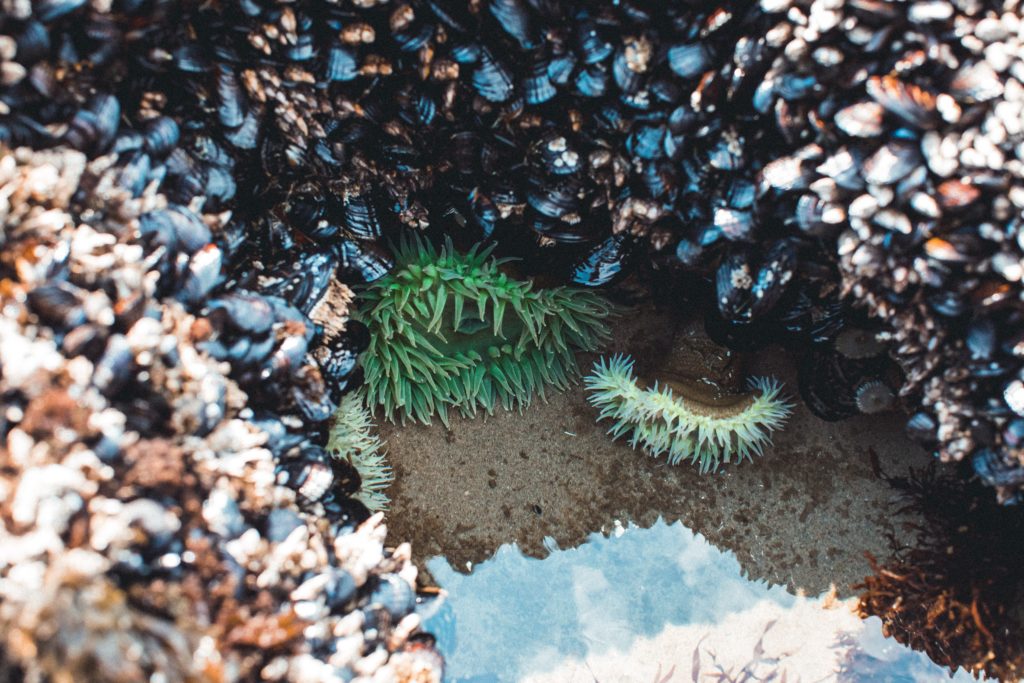 Check out Spouting Horn and Devil's Churn
Cook's Chasm is an inlet on Cape Perpetua. It offers trails with spectacular views and is home to both Thor's Well and Spouting Horn. The latter is an ocean geyser on the Captain Cook Trail. At high tide, Spouting Horn spews out a spectacular jet of water. 
Devil's Churn is located in the Siuslaw National Forest, just one mile north of Thor's Well. The narrow inlet traps water, creating violent, churning water and crashing waves. During high tide, water can spray several hundred feet into the air. It's definitely worth the extra stop for those already in the area. Devil's Churn can be accessed using the Restless Waters Trail. 
Take in breathtaking views at Cape Perpetua Overlook
Cape Perpetua Overlook is the highest point accessible by car in Oregon. At 800 meters above sea level, it provides a spectacular view of the headlands below. Because it's only a 6-minute drive from Thor's Well Trailhead, it's a must-see extra stop for those visiting Thor's Well.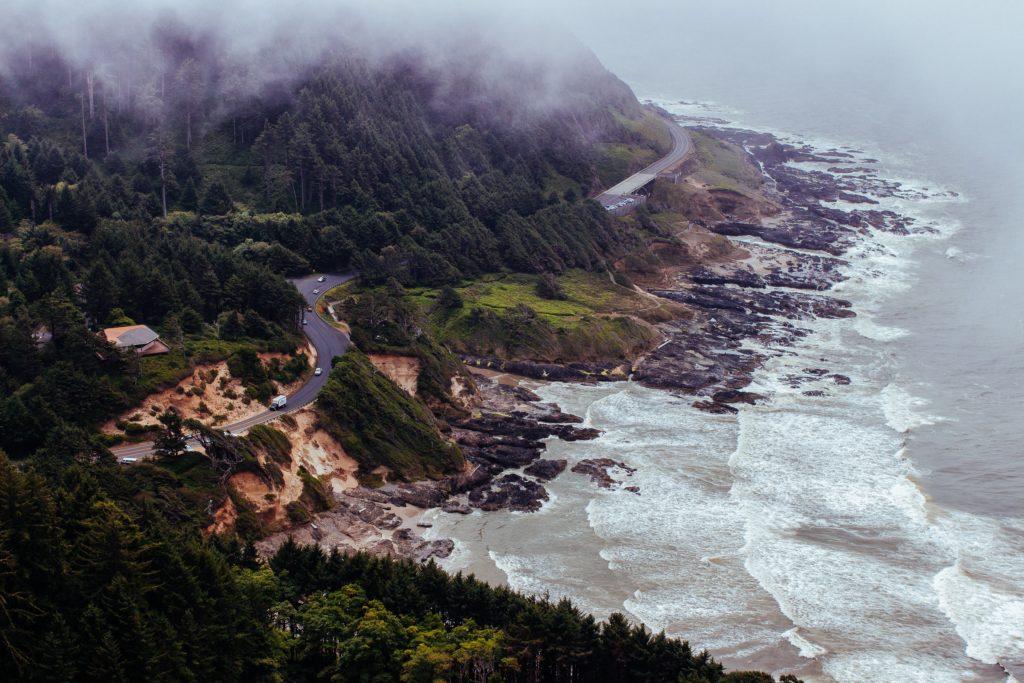 Explore Yachats and everything it has to offer
Yachats is a quaint seaside town steeped in Native American history. It's located just a few miles north of Thor's Well and is a must-see destination on the Oregon Coast. Visitors can check out Yachats' famous Heceta Head Lighthouse or dine on fresh seafood at one of their highly-rated restaurants. Learn more about things to do and see in Yachats here.