Update 4/29/19: We discovered yesterday on our hike to Butte Creek Falls, the original route to get here is now blocked off by Weyerhaeuser. You can still take Crooked Finger Road, although you are looking at an additional hike just over 2 miles down a gravel road that is now blocked off to vehicles. 
The new route begins in Scotts Mills, and though it includes more twists and turns, this route is said to take about the same amount of time. We have posted the directions below!
Spring is the perfect time to lace up the boots and get out there. The snow is melting, and with more daylight, you will have more time to explore. This charming short hike will take you to two serene waterfalls in the foothills of the Cascade Mountains, not too far from Scotts Mills, Oregon.
Not far from Abiqua Falls, lies an easy trail with a waterfall at the top and another promised at the bottom with a spectacular view. It's known as the Butte Creek Falls Loop Hike and is perfect in spring, but no matter what time of year you go you will surely be pleased. This hike is particularly beautiful during autumn.
Upper Butte Creek Falls
Upper Butte Creek Falls is a beautiful 20-foot waterfall, and most of the time you can walk behind the waterfall and admire the unique perspective. This waterfall has a similar geologic form as the waterfalls at Silver Falls State Park, as there is a large, deep cave behind the falls.
Sign up for monthly emails full of local travel inspiration and fun trip ideas. In each newsletter we'll share upcoming events, new things to do, hot dining spots and great travel ideas.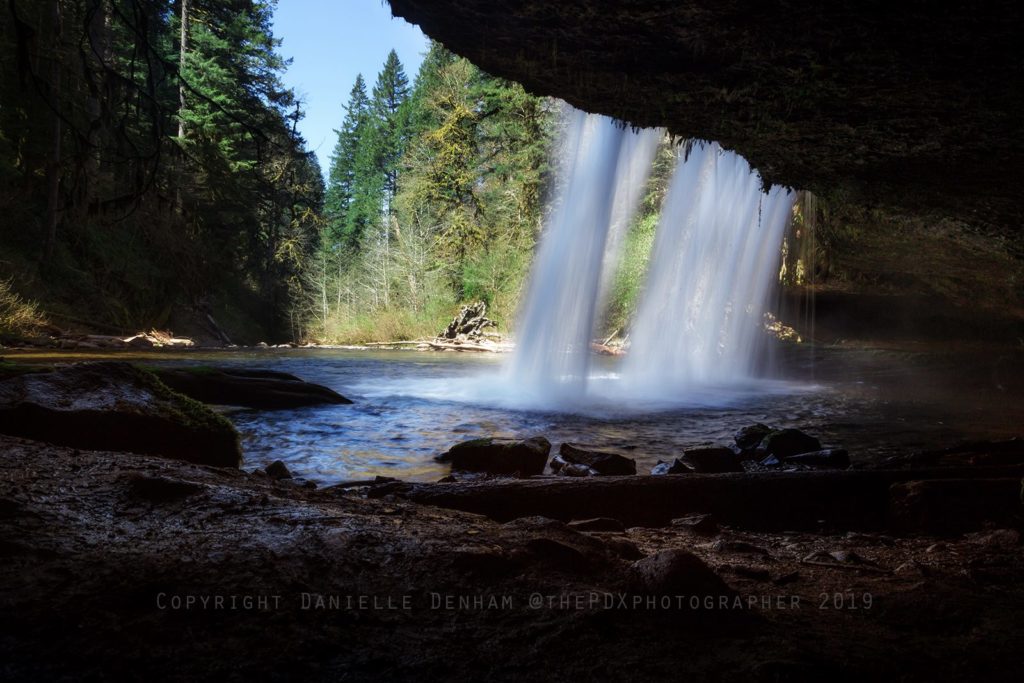 The taller waterfall, downstream, Butte Creek Falls, is not far and absolutely breathtaking.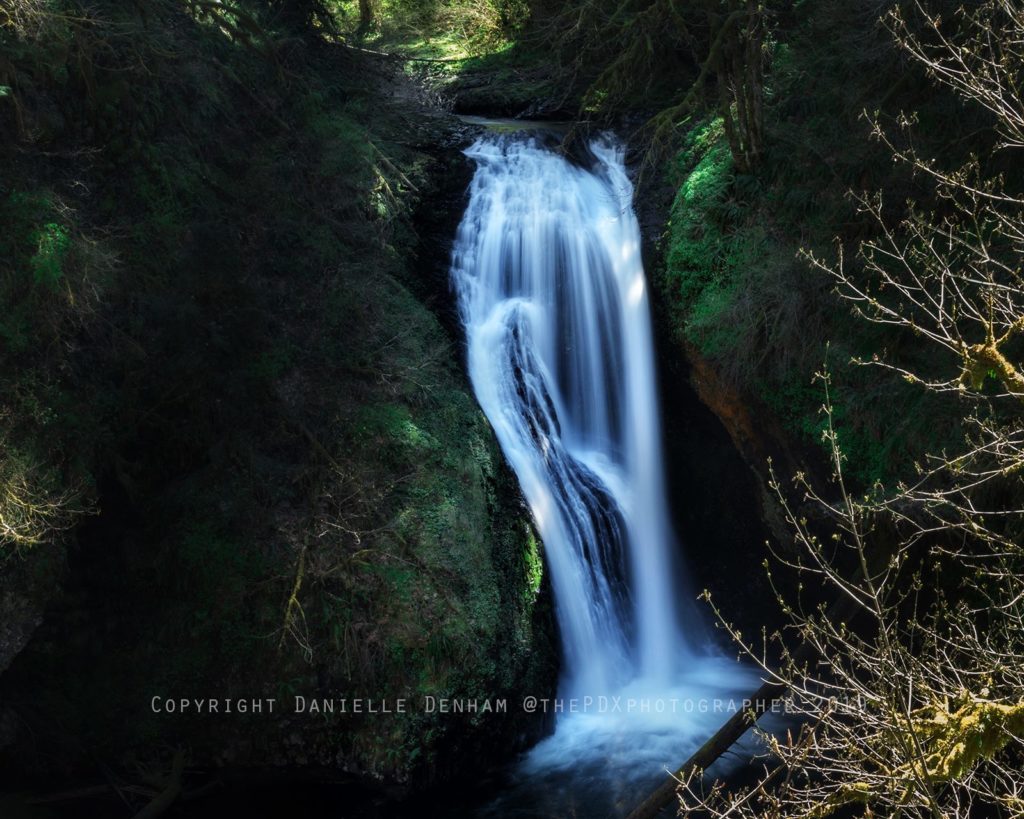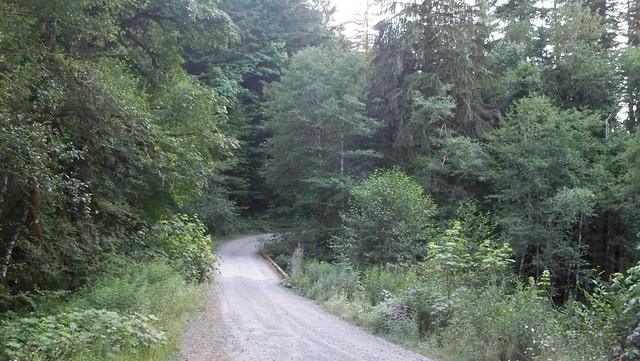 There are restrooms near the trailhead, where you will take the right-hand trail to get started. This trail is well maintained and drops fairly steeply for about 100 yards or so, but the trail levels out.
If you happen to visit Butte Creek Falls go during fall, the autumn leaves are quite of the autumn leaves if you go just shortly before winter kidnaps the full-bodied full trees.
Location and more info
Latitude: 44.91984
Longitude: -122.50940
Hike Type: Loop
Distance: 1.1 miles
Elevation gain: 320 feet
Difficulty: Easy
Seasons: Year round
Family Friendly: Yes
Backpackable: No
Crowded: Yes
If you are coming from Portland, you will take I-5 S to Arndt RD NE and you're looking at around an hour and 20 minutes.
Don't forget your camera! I definitely recommend Butte Creek Falls for a short, fun, effortless hike for countless opportunities to take some pretty sweet shots. You will encounter beautiful rainforest and a log footbridge that ends on top of a precipitous rock bluff overlooking the falls.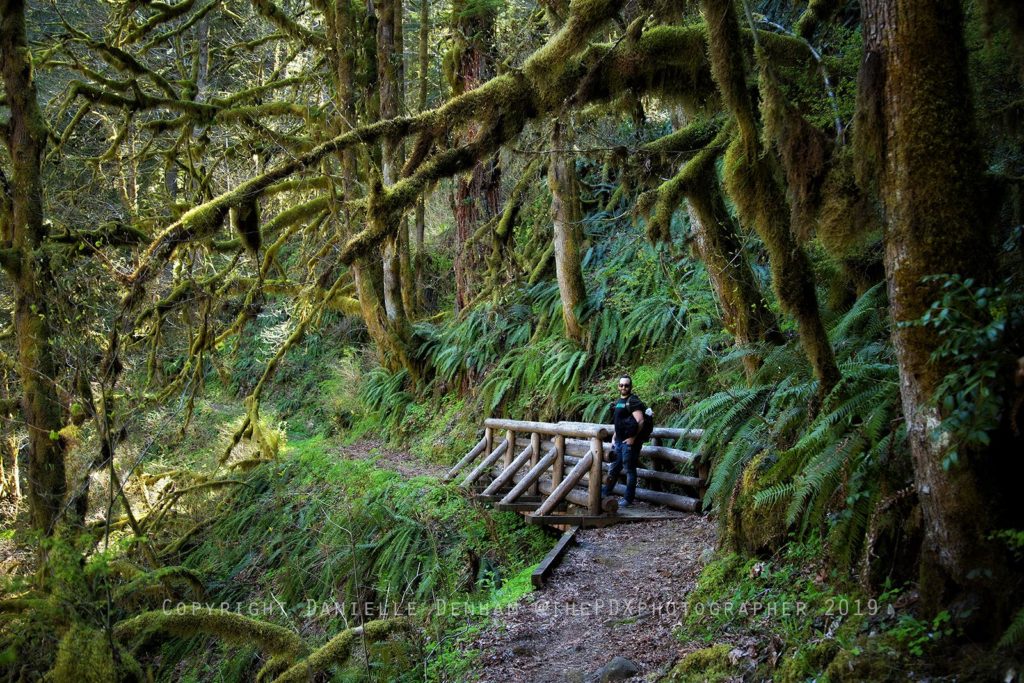 At just over a mile round trip, this makes for a very easy hike with spectacular views. If you are bringing the kiddos, make sure and keep a good eye on them as there are dropoffs that could be fatal.
New route to Butte Creek Falls (courtesy of ODF):
- Drive to Scotts Mills, Oregon
- In downtown Scotts Mills, near the post office, turn left (east) onto Maple Grove Road
- From Maple Grove Road, turn south onto Sawtell Road until you reach the end of the pavement which will then turn briefly to Family Camp Road and then to the Butte Creek Mainline
- From the Butte Creek Mainline, turn right onto the Butte Creek 500 and then right onto the Crooked Finger 400 Road which will lead you down to the Butte Creek Campground and Butte Creek Falls.
Coordinates: N44 55.257, W122 30.671
Guidebooks that cover this hike
Wild in the Willamette edited by Lorraine Anderson with Abby Phillips Metzger
Afoot & Afield: Portland/Vancouver by Douglas Lorain