Nestled within the mystical McKenzie River Valley, dry Tamolitch Falls, also known as Oregon's Blue Pool, is a dazzling sight to behold. With its vibrant turquoise waters, the pool is a treasure hidden within the Willamette National Forest, waiting to be discovered. Surrounded by a lush old-growth forest, with ancient trees reaching for the sky and moss-covered rocks adding to the scenery, the Tamolitch Blue Pool Hike is a must for any adventurer's Oregon bucket list. This particular spot is one of the most sought-after hikes on the McKenzie River Trail.
Exploring Blue Pool Oregon
Geological Marvels – Lava Flows, Lava Rocks, and Lava Tubes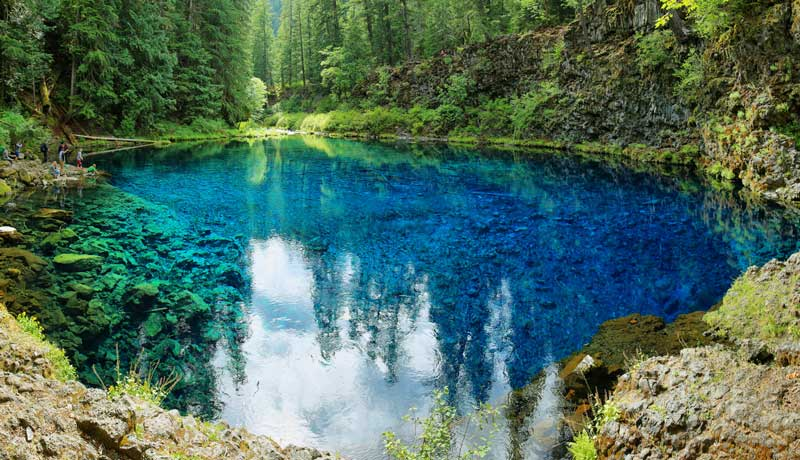 As you journey along the river on your Tamolitch Blue Pool hike, you'll encounter remnants of an ancient lava flow, a testament to the volcanic history of the region. This area of Central Oregon is known for its geological marvels, and the lava rocks and tubes have been transformed into an outdoor playground, attracting both casual explorers and seasoned adventurers.
Sign up for monthly emails full of local travel inspiration and fun trip ideas. In each newsletter we'll share upcoming events, new things to do, hot dining spots and great travel ideas.
Strolling through the lava fields, you'll notice the otherworldly beauty that makes this region unique. The dark, porous rocks create a stark contrast against the lush vegetation, while the lava tubes invite you to imagine a time when molten lava flowed freely beneath the surface.
Hiking the McKenzie River Trail
The McKenzie River Trail is a scenic hiking and mountain biking trail . The trail spans approximately 26 miles and is known for its stunning views of the Cascade Mountains, lush forests, and crystal-clear waterfalls.
The trail follows the McKenzie, one of the most significant tributaries of the Willamette River. The McKenzie River is renowned for its purity and clarity, making it a popular destination for fishing, rafting, and kayaking.
The McKenzie River Trail is well-maintained and offers a variety of difficulty levels, making it accessible to hikers and bikers of all levels. It's a popular trail that attracts thousands of visitors every year, especially during the summer months.
RELATED: McKenzie River Trail: Hiking, Biking, Camping & More
The Thrill of Mountain Biking in the Willamette National Forest
For those seeking an adrenaline rush, the river offers spectacular trails for mountain bikers. The McKenzie River Ranger District has dedicated miles of trails that cater to bikers of all skill levels. The Trail Bridge Reservoir and the surrounding area provide excellent mountain biking opportunities, with trails that wind through old-growth forests and traverse challenging lava flows.
Discovering Koosah Falls, Sahalie Falls, and Proxy Falls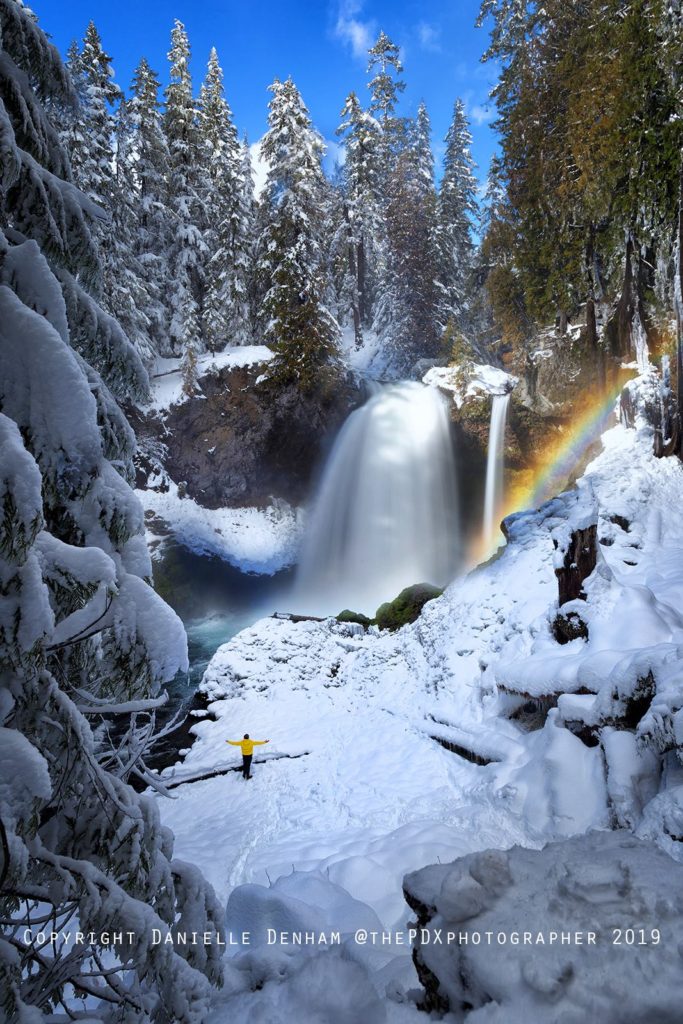 While the Tamolitch Pool is undoubtedly the star attraction, the McKenzie is also home to several other stunning waterfalls that are well worth a visit. As you hike the steep trail leading to Tamolitch Falls Blue Pool from the north, you'll be rewarded with spectacular views of Sahalie Falls and Koosah Falls. These cascading waterfalls provide a serene soundtrack for your journey and serve as stunning backdrops for photographs.
For those seeking even more natural beauty, the nearby Proxy Falls is a fantastic side trip. This enchanting waterfall tumbles over a mossy cliff, creating an idyllic scene that captures the essence of the Pacific Northwest.
RELATED: Proxy Falls, The Ultimate Oregon Waterfall Experience
Hiking to the Heart of the Blue Pool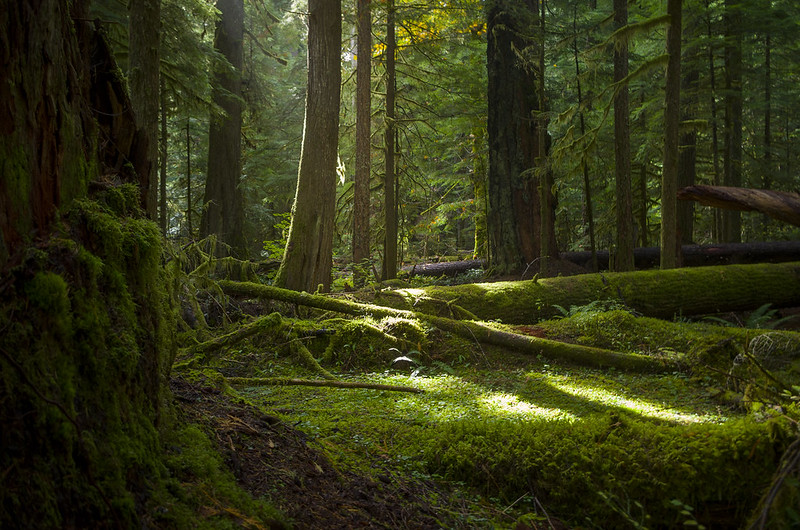 Embarking on the hike to Tamolitch Blue Pool, you'll be enchanted by the beauty of Oregon's forests. The trail, approximately four miles round trip, leads you through a mesmerizing old-growth forest. As you traverse moss-covered rocks and navigate tree roots, the sound of the seasonal Tamolitch Falls will guide you toward the water's edge.
One can either approach on the longer, more strenuous hike from the north, or a shorter, more gentle path in from the south.
The Southern Route
With a modest elevation gain, this relatively short hike from Trailbridge Reservoir is accessible to most individuals, though it's essential to wear good hiking shoes and consider bringing hiking poles for added stability. The path can be slippery, especially after rainfall, so it's important to exercise caution and always be prepared for changing trail conditions. Don't be tempted to wear flip-flops, even on a hot day.
The Northern Route
Beginning at Clear Lake, this 12.4-mile out-and-back trail along the McKenzie River terminates at Trail Bridge, passing by Sahalie, Koosah, and Tamolich Blue Pool along the route. This trail is extremely popular with backpackers, campers, and mountain bikers alike.
RELATED: Extensive Travel Guide to Clear Lake, Oregon
The Allure of the Famous Blue Pool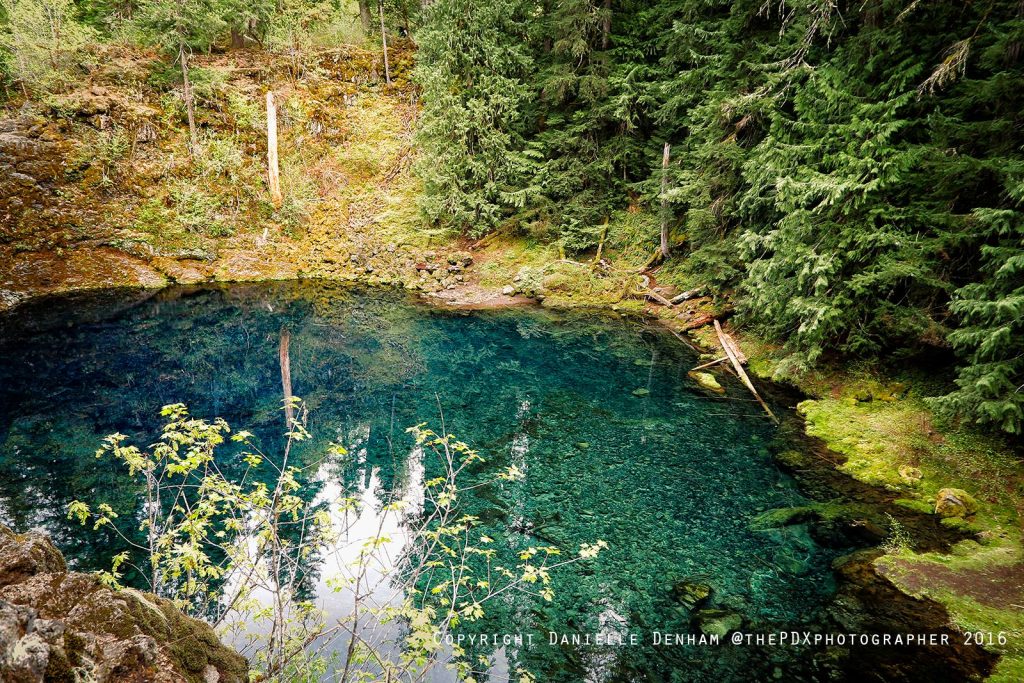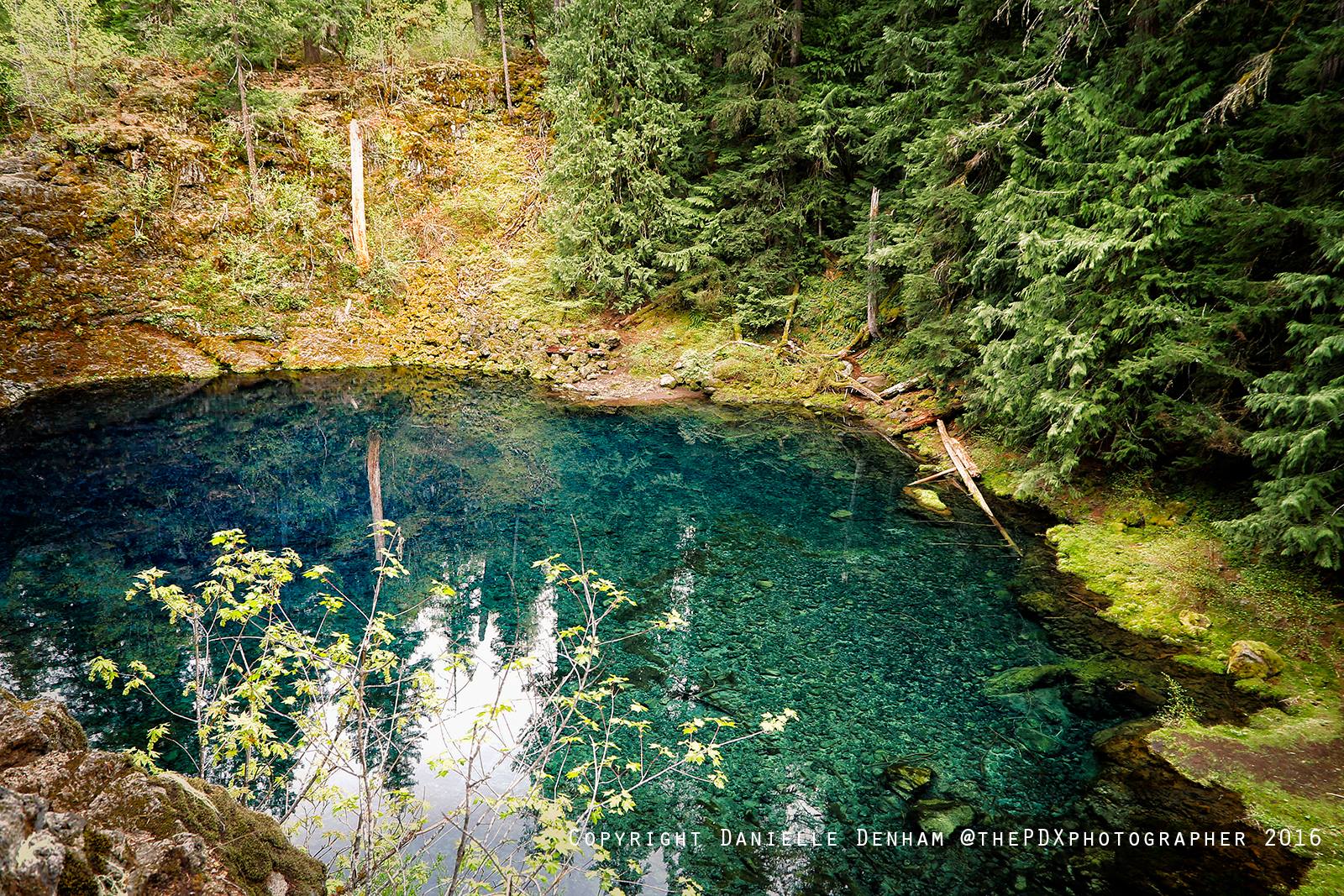 As you approach the Carmen Reservoir and Carmen Smith Reservoir, you'll be captivated by the brilliant blue hues of the water. The origin of Tamolitch Falls Blue Pool is the McKenzie River, which resurfaces from its subterranean course through a lava tube at the Carmen Smith Reservoir, ultimately leading to the formation of this pool.
The pool's clarity is unmatched, with the western red cedar and other vegetation casting their reflections onto the serene surface.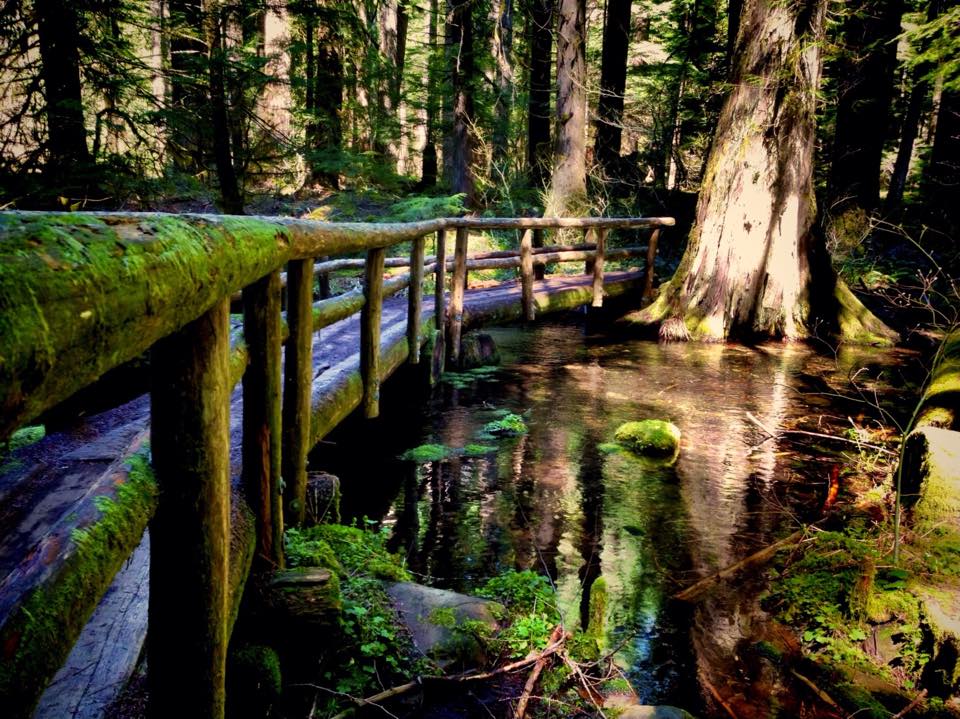 The falls are popularly referred to as a "dry fall" since they lack a consistent water flow. However, during particularly heavy rainy seasons, the river overflows the lava bed, cascading into the Tamolitch Pool.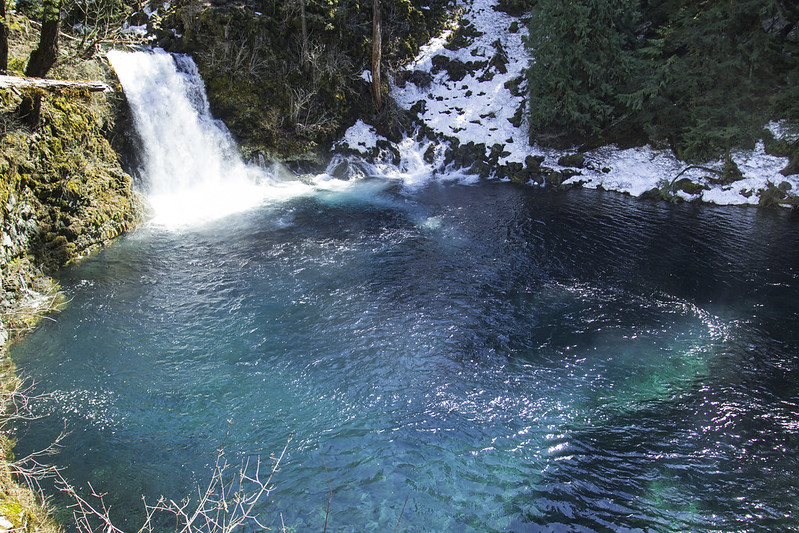 The turquoise-blue waters of the pool are a testament to the natural filtration process that occurs as water seeps through the porous lava flow This mesmerizing sight has attracted countless visitors, making the Tamolitch Blue Pool one of Oregon's most iconic destinations.
Take a moment to appreciate the delicate balance of nature at this stunning location. However, be mindful of the extremely cold water and steep embankment, which can pose dangers to those who attempt cliff diving or swimming. The pool's allure has led some visitors to take risks, but it's essential to remember the importance of personal safety when exploring natural wonders.
Exploring the Hot Springs of the McKenzie River Valley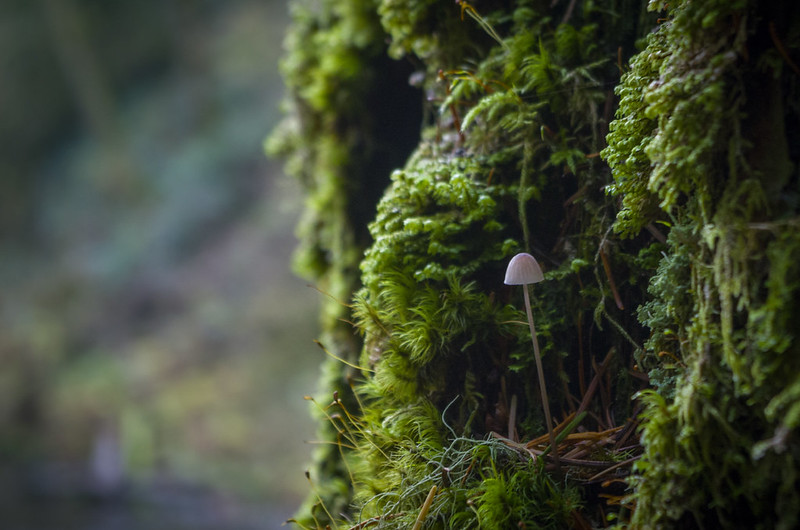 In addition to the Tamolitch Blue Pool, the McKenzie is home to several hot springs that offer visitors a chance to relax and rejuvenate in geothermal waters. The natural hot springs in the area, such as Terwilliger Hot Springs and Belknap Hot Springs, provide a soothing respite after a long day of hiking or biking.
These springs, rich in minerals and heated by the Earth's core, are a testament to the region's volcanic past. Visitors can soak in the healing waters and take in the beauty of the surrounding forest, creating a truly immersive PNW experience.
RELATED: Oregon Hot Springs: Nature's Soothing Remedies for Mind, Body, and Soul
Practical Tips for Your Blue Pool Adventure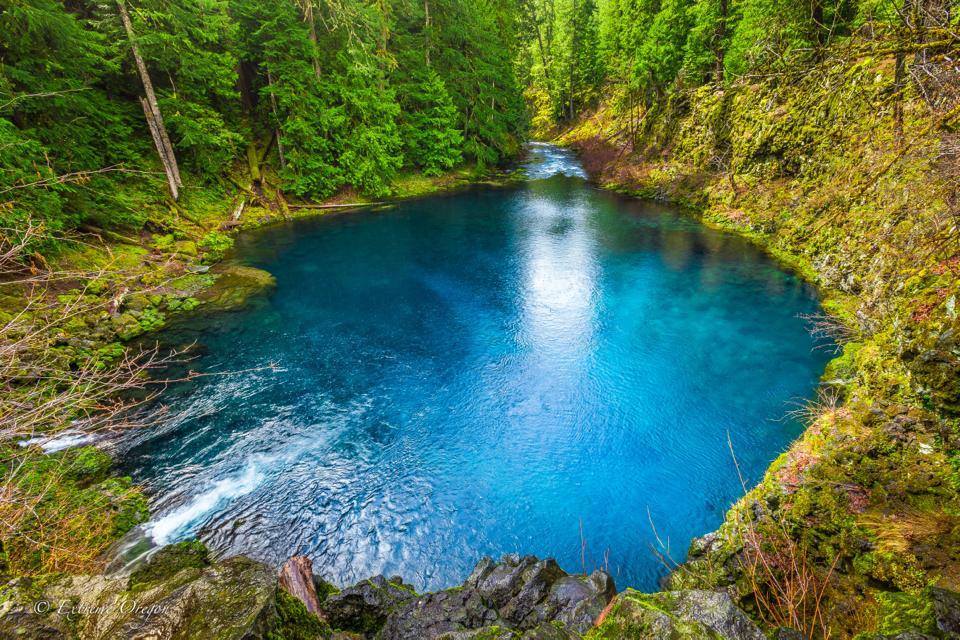 As you plan your visit to the Tamolitch Blue Pool Hike, here are some helpful suggestions to make the most of your adventure:
Wear proper shoes, such as decent hiking shoes or hiking boots, to navigate the uneven terrain and lava rock.

Arrive early to secure a spot in the parking area near the Trailbridge Campground sign.

Be prepared for limited cell service and use Google Maps or other navigational tools to find your way.

Bring bug spray to ward off pesky insects on hot days.

Avoid wearing flip-flops or sandals, as they offer little support on the trail.

Consider camping nearby at locations like McKenzie Bridge or the Trail Bridge Reservoir to fully immerse yourself in nature.

Pack plenty of water and snacks to stay energized during your hike.

Respect the environment at Tamolitch Blue Pool by practicing Leave No Trace principles, including packing out all trash and staying on designated trails.
Camping and Lodging Options in the McKenzie River Valley
For visitors seeking to extend their stay in the McKenzie River Valley, there are numerous camping and lodging options available. Camping is a popular choice for those who want to fully immerse themselves in the natural beauty of the area. Campgrounds such as Trailbridge Campground, Paradise Campground, and McKenzie Bridge Campground offer a range of amenities and scenic settings.
For those who prefer a more comfortable stay, nearby lodges, cabins, and bed and breakfasts provide cozy accommodations. McKenzie Bridge, in particular, offers a selection of charming lodging options that cater to various tastes and budgets.
RELATED: Camping Near Bend, Oregon: Our Top Picks
Staying Safe at Blue Pool
Oregon's Tamolitch Falls, famously known as Blue Pool, is a popular summer attraction for hikers, tourists, and thrill-seekers. But its beautiful blue waters only hide the fact that it is one part of nature that should only be seen and never touched.
The water temperature at Blue Pool sits around 38°F – so cold that not even microorganisms can survive below the surface.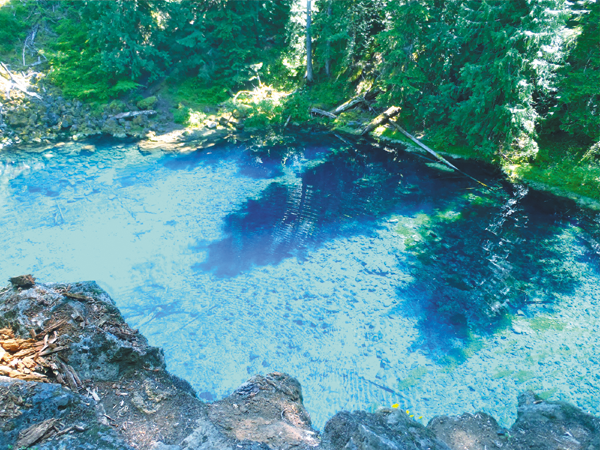 In temperatures below 40°F, submersion will result immediately in a cold shock response, which begins with an automatic and uncontrollable gasp reflex. You will inhale water, and you will likely drown. Even if your head is above water, you will begin to hyperventilate, which can lead to fainting (and thus sinking), and, in extreme cases, sudden cardiac arrest.
Deeper Than It Looks …
Most onlookers who don't already know will look into Blue Pool's waters and believe it to be around five feet or ten feet, maybe fifteen feet at the deepest. Blue Pool is, in fact, thirty feet deep.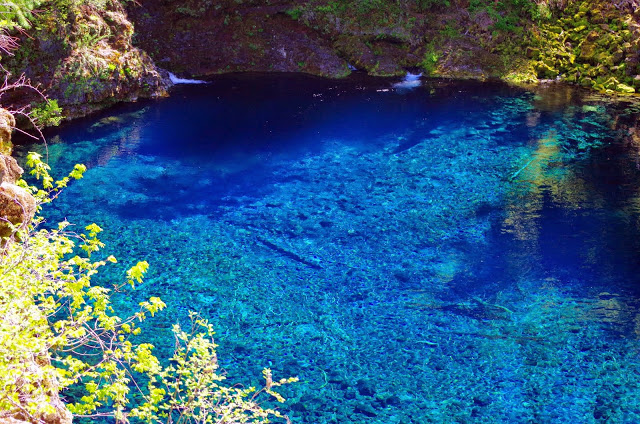 And while it might be obvious to say, this is not a swimming pool. There's no gradual slope back to safety. You can't rely on being able to propel yourself from the floor back to the surface. And if you're sunk deep, that makes it even harder for someone to rescue you – because they will also be 30 feet deep in water cold enough to kill you.
… While Also Deceptively Shallow
The now infamous tragedy of the University of Oregon tennis star who perished after making the 60-foot cliff jump into Blue Pool is sometimes told in two different ways. Some attribute his death to the cold water, but the truth is that his face collided with a rock just below the surface and he lost consciousness instantly. He then sank to the bottom of the frigid pool and drowned.
blue pool oregon
Blue Pool is a gorgeous and unique part of Oregon's landscape, and it is truly breathtaking to see it in-person. This is not to dissuade hikers, tourists, or campers from visiting this beautiful place. We at That Oregon Life just want people to be as safe and as educated as possible, and to always leave nature the way you found it.
How To Get to Blue Pool, Oregon
Your journey begins at McKenzie Bridge, where you'll take Highway 126 east for 13 miles until you reach Trailbridge Reservoir. From there, turn left onto Forest Road 732 and cross the McKenzie River before continuing straight at the junction and heading northeast up Forest Road 655. After a scenic drive, turn at the Trailbridge Campground sign, cross a bridge, and make a quick right onto a gravel road. You'll arrive at the parking area for McKenzie River Trailhead – Tamolitch, where your breathtaking Blue Pool hike awaits.
If you're looking to extend your stay in the great outdoors, there are 14 US Forest Service Campgrounds dotted along the Mckenzie River, offering the perfect base for exploration.
Here, you can immerse yourself in an ancient forest filled with towering Douglas fir trees that have stood the test of time for more than 500 years. With a hiking trail right on your doorstep, adventure awaits at every turn.
Parking
Due to the trailhead's heavy use, especially during the spring/summer months, your best bet is to arrive as early as possible or late in the day. Check out the link here for more awe-inspiring Oregon trailheads to hike.