Tucked away in the high desert of central Oregon near Bend and Sunriver are hundreds of lava tubes formed in Oregon's violent volcanic past. Adventure seekers will be thrilled to go spelunking and explore these caves during good weather, some of which are as long as 1,800 feet! There are so many great caves in Oregon and we wanted to share all of them with you, from underground cave wine tours, to the best known and the most underrated caves.
The Best Caves in Oregon to Explore
---
Redmond Caves
This is a cluster of 5 caves dating 6,000 years with a long history of use by Native Americans. Being right in the city limits of Redmond and open year-round, they are the most accessible of all our favorite Oregon caves.
Twisting underground trails connect caves 1 and 3. Cave 4 also has a less serpentine trail. Like our other favorites, caves remember that they are dark, without any light source, are cool (often damp) with uneven footing. In the case of Redmond Caves, you might also be sharing with a rattler. The caves are jointly managed by the City of Redmond and BLM. There are no fees to enter and are self-guided.
Skylight Cave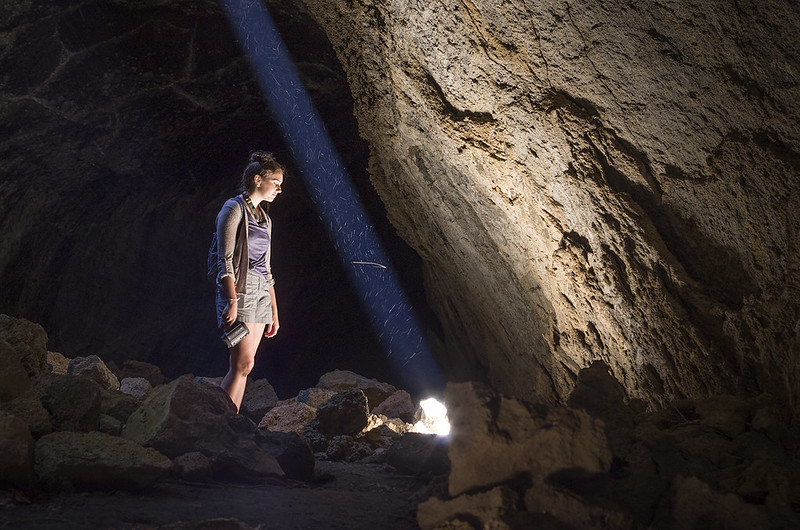 Skylight Cave is 12 miles northwest of Sisters and is very reminiscent of Indiana Jones and The Goonies. The cave is a lava tube that was created when molten lava flowing from a fissure cooled on the outside while molten lava continued to flow in the center leaving a hollow tube.
To better visualize this, imagine a river freezing over hard on the surface, then the water flow is cut off. The water left in the channel continues flowing downstream to the advancing front, leaving a sheet of ice with nothing under it. The cave is entered by going down a ladder in an opening where the roof has collapsed.
Descend down the ladder and head left to the main large cavern with the three skylight openings, or head right to see how far into the lava tube you can go. If you decide to head right, the ceiling height quickly diminishes as you go further into the lava tube. There are points where crawling on your belly in the cold, damp dirt is the only way to advance to the next section. Bringing a helmet or some kind of head protection isn't a bad idea, as it is easy to forget about the low ceiling height. And that cave ceiling is jagged and unforgiving.
Cave temperatures remain a cool 40 degrees in the summer, so bring layers. Also, keep in mind that the cave is damp and the surfaces are abrasive. Bring 2 light sources, a primary and a backup, always a good idea for any spelunking. Skylight Cave is closed from September 30 through May 1 to protect hibernating bats.
There are some openings in the roof where light filters through allowing you to see the walls and floor of the cave quite well. If you throw a bit of dust and dirt in the air, the pillars of light become more visible as shown in the picture above. This cave is both haunting and beautiful when the dust in the air is lit up by the light coming in from above. For this I recommend coming in the morning around 9AM and on a sunny day when it's been dry.
Directions
Follow these because GPS will get you lost! Skylight Cave can be reached from Hwy 20/126 by turning onto forest road 2061 (across from the camp Sherman turnoff) and following it about 5.5 miles to forest road 1028. turn left on forest road 1028 and follow it about 1 mile to forest road 260. turn left on forest road 260 and follow it about 1 mile where you'll find the entrance to the cave on the right side of the road. Watch for a very small road marker on the left indicating Road 266; the cave is near this road.
Just a heads up. The road is narrow, and the bushes on both sides of the dirt road could scratch your paint. Nothing you can't buff out but still. Something to note if you drive a wider vehicle.
Hidden Forest Cave
There's an easy .8 mile out and back trail that will take you to Hidden Forest Cave, as well as Arnold Ice Cave. The trail features wildflowers if you go at the right time of year, and takes you through the beautiful high desert of Oregon. This cave is accessible to enter, but bouldering and rock climbing at this cave is not allowed. It should be noted that Arnold Ice Cave is no longer accessible, though the Hidden Forest Cave is.
Boyd Cave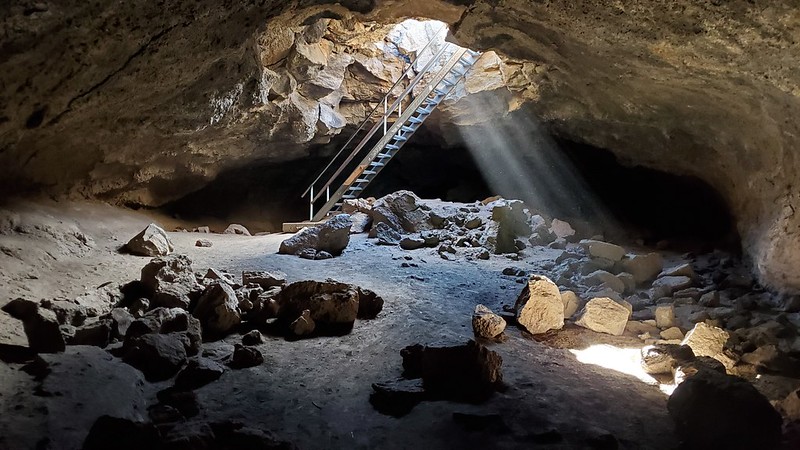 Boyd Cave is 1,880 feet long and can be accessed from Forest Road 18. There's no fee to park but there's also no restrooms and no running water, so take what you need and use the bathroom prior to going.
Underground Wine Cave Tour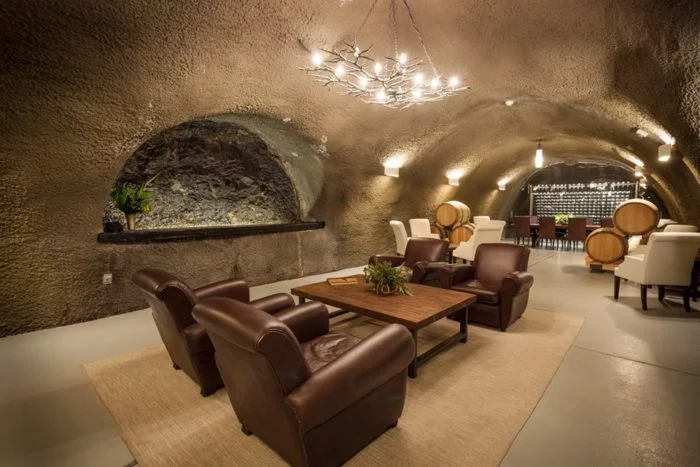 These natural caves are carved out of volcanic rock and make the perfect place to store wine with a low humidity level and temperatures between 55 and 59 degrees. Check out this post about the wine tour that will lead you down into these caves 42 feet below the surface.
Sea Lion Caves On The Oregon Coast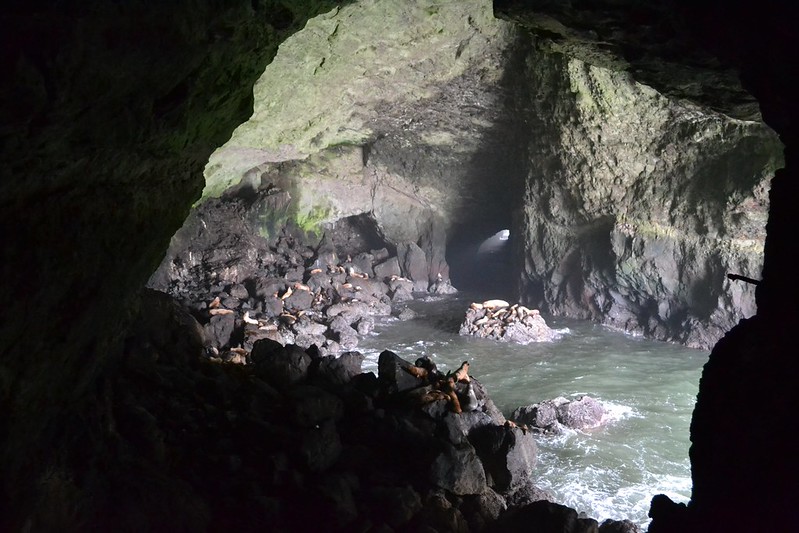 The Sea Lion Caves are always an awesome experience if you're visiting the Oregon coast. These sea caves are open to the public 363 days of the year. Tickets can be purchased for between $16 and $10 depending on the age of the visitor. At the entrance to the caves, there's a little gift shop where you can pick up a memento of your visit. This is one of our favorites to visit, especially with children, who will love to see dozens of sea lions resting in the caves.
Devil's Punchbowl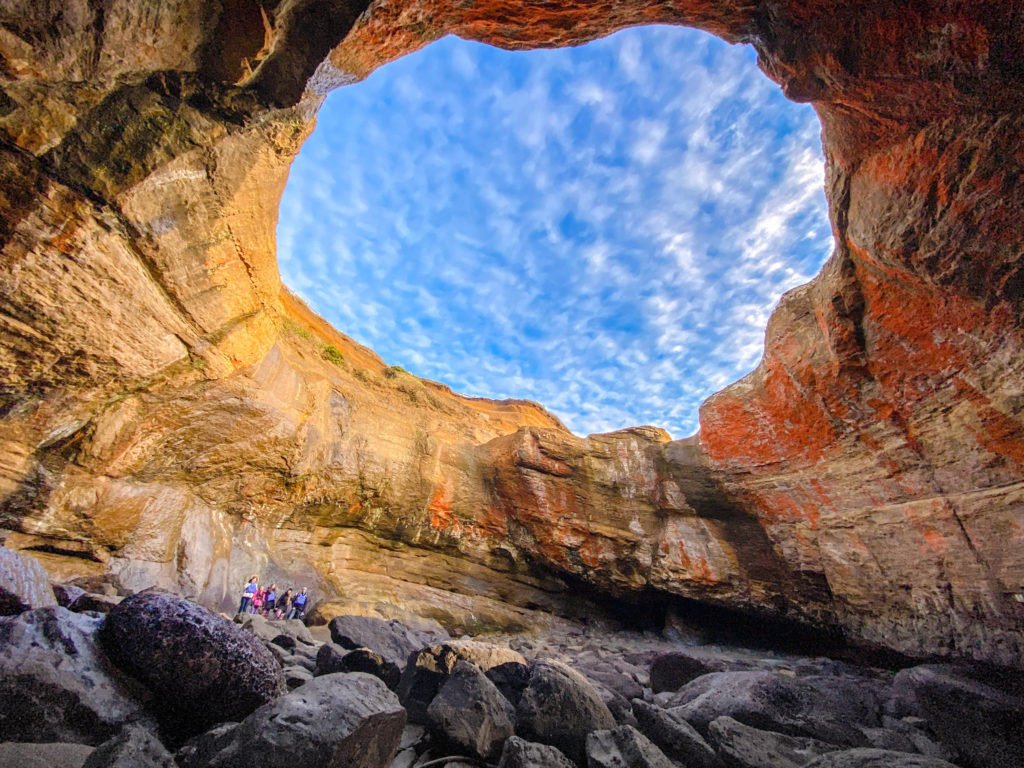 Devil's Punchbowl was once a sea cave, but the violent waves kept carving away at it until the roof collapsed. Many people venture into this Oregon coast formation at low tide. Read about how to visit Devil's Punchbowl State Natural Area here.
Skeleton Cave
Skeleton Cave is locked and can only be accessed by going with a tour group. The trail to this cave starts from the Hidden Cave/Arnold Ice Cave trail.
Check Out The Underground River That Flows Through This Oregon Cave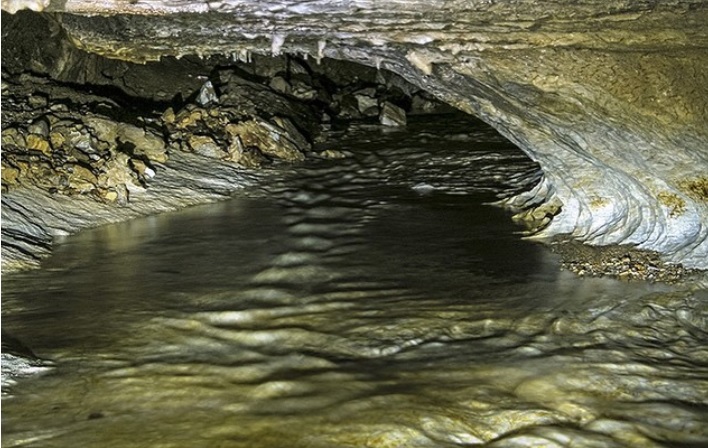 The Oregon Caves National Monument is one of Oregon's most interesting adventures. The underground River Styx flows through the Oregon caves and once it comes out it turns into Cave Creek. Learn more about visiting the caves at the Oregon Caves National Monument and check out the video about their discovery.
The Gold Mines On Henline Creek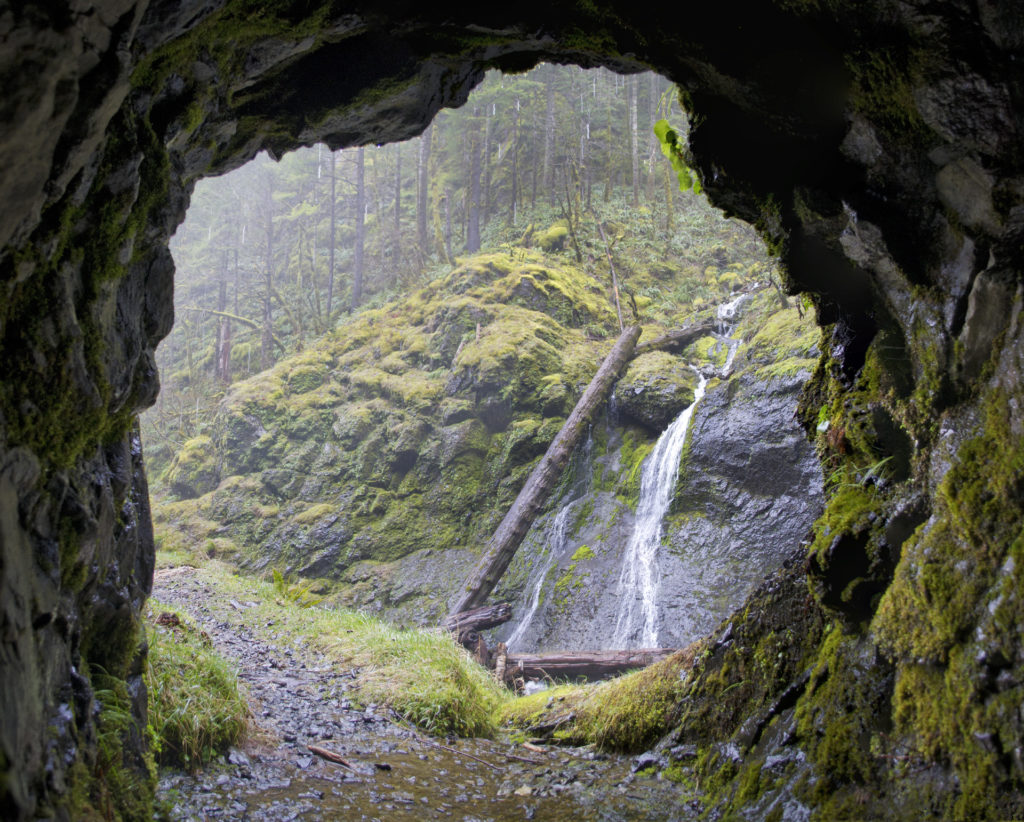 While this area is currently closed due to natural disaster, it's worth mentioning. You can check out a video of the hike to the mines here. Hopefully the trails leading into the area will re-open to the public in the future.
Preparing For Exploring Caves in Oregon
Some of these caves are only accessible during part of the year. Click here to view updated information on what time of year to visit several of the caves listed in our article and what activities are allowed at these caves. Follow these tips for a successful trip into the caves:
Go caving/spelunking at your own risk.
Take all the water and food you need (take extra water). Many caves have no restrooms or running water. Don't forget to fill up on gas before you head out into the wilderness to go caving.
Take at least two flashlights per person and bring extra batteries. Make sure to take flashlights that are nice and bright.
Wear good shoes that you don't mind ripping up in the rocks. Hiking boots or good tennis shoes are a must!
The caves can be colder than above ground, so take a sweatshirt with you.
Wear a helmet. Even a bike helmet will save your head. Take our word on this one, it's non fun to rip the skin on the top of your head open and come out of the cave with blood streaming down your face.
Don't be "that guy".  Don't vandalize the caves with paint. Don't scratch your name into the cave walls, and don't break pieces of the cave off. In general, just leave everything as you found it. Follow the seven principles of Leave No Trace so future generations can visit the caves and enjoy them.

Avoid the possible spread of WNS (White-Nose Syndrom) by humans by cleaning shoes and gear before and after entering caves.

Learn how to decontaminate your gear.

Leave bats alone. Don't disturb bats.
---
WHERE TO STAY When Caving In Central Oregon: Here are 5 Cozy Cabins in Sunriver you can rent right now.
---
Have you ever been caving in Oregon before? Which was your favorite cave? Let us know in a comment, share your photos with us, and tag the friends and family you want to go on a caving adventure with!