Violent, mesmerizing, and beautiful, the waves of the Pacific Ocean have slowly carved out what is known as the Devils Punchbowl in Oregon. Devils Punchbowl was once a sea cave, but eventually, the roof of the cave collapsed, creating the open punch bowl formation you can visit today near Newport, Oregon.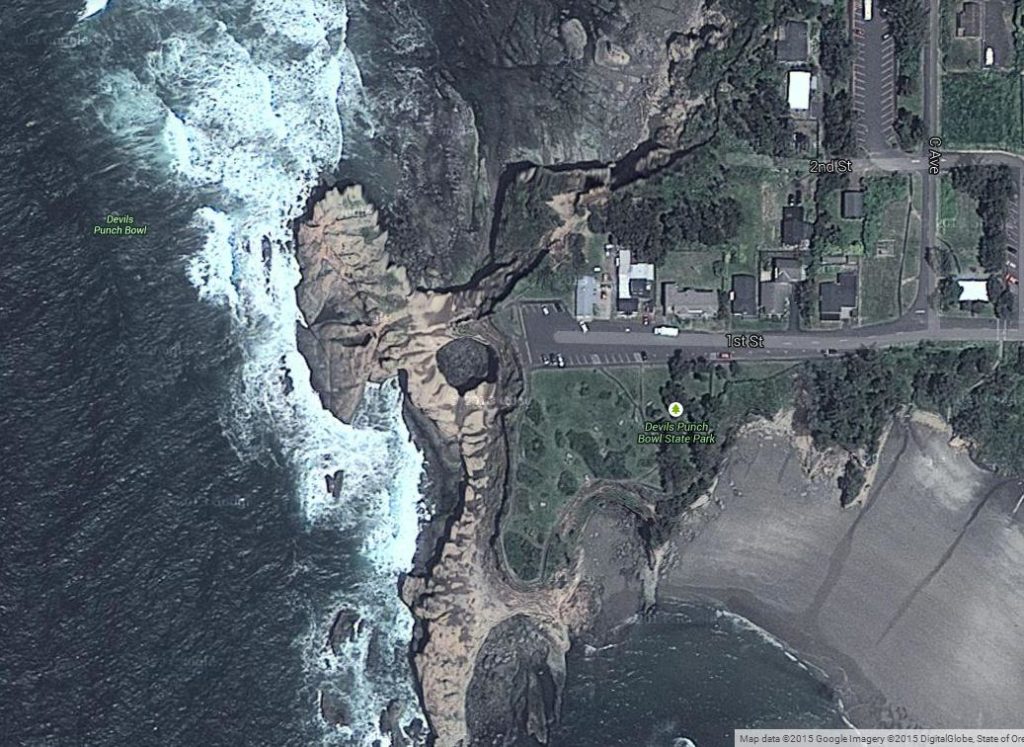 Everything You Need To Know About Devil's Punchbowl Oregon
From trails, to tips on what to do when you visit, we've got you covered with everything you need to know about visiting Devil's Punchbowl in Oregon.
Sign up for monthly emails full of local travel inspiration and fun trip ideas. In each newsletter we'll share upcoming events, new things to do, hot dining spots and great travel ideas.
Where Is Devil's Punchbowl Oregon?  In Otter Rock Bluff
Just north of Newport is the small seaside town of Depoe Bay, and not far from there is Otter Rock. Just off U.S. 101 near Otter Rock is the popular attraction, known as the Devils Punchbowl.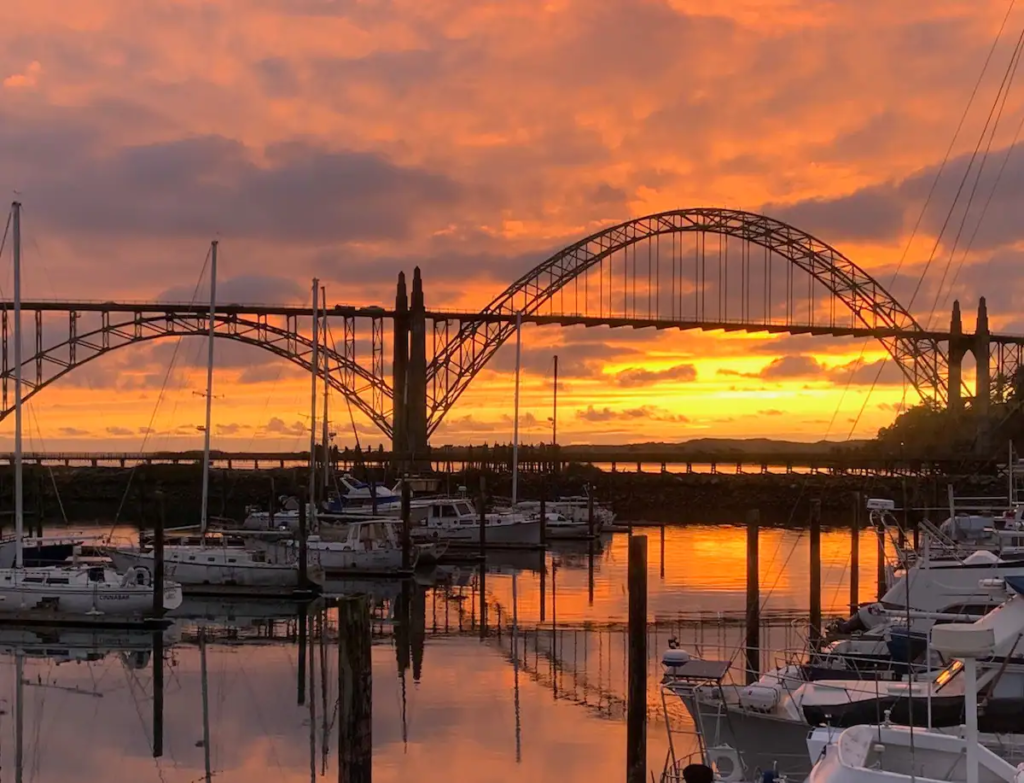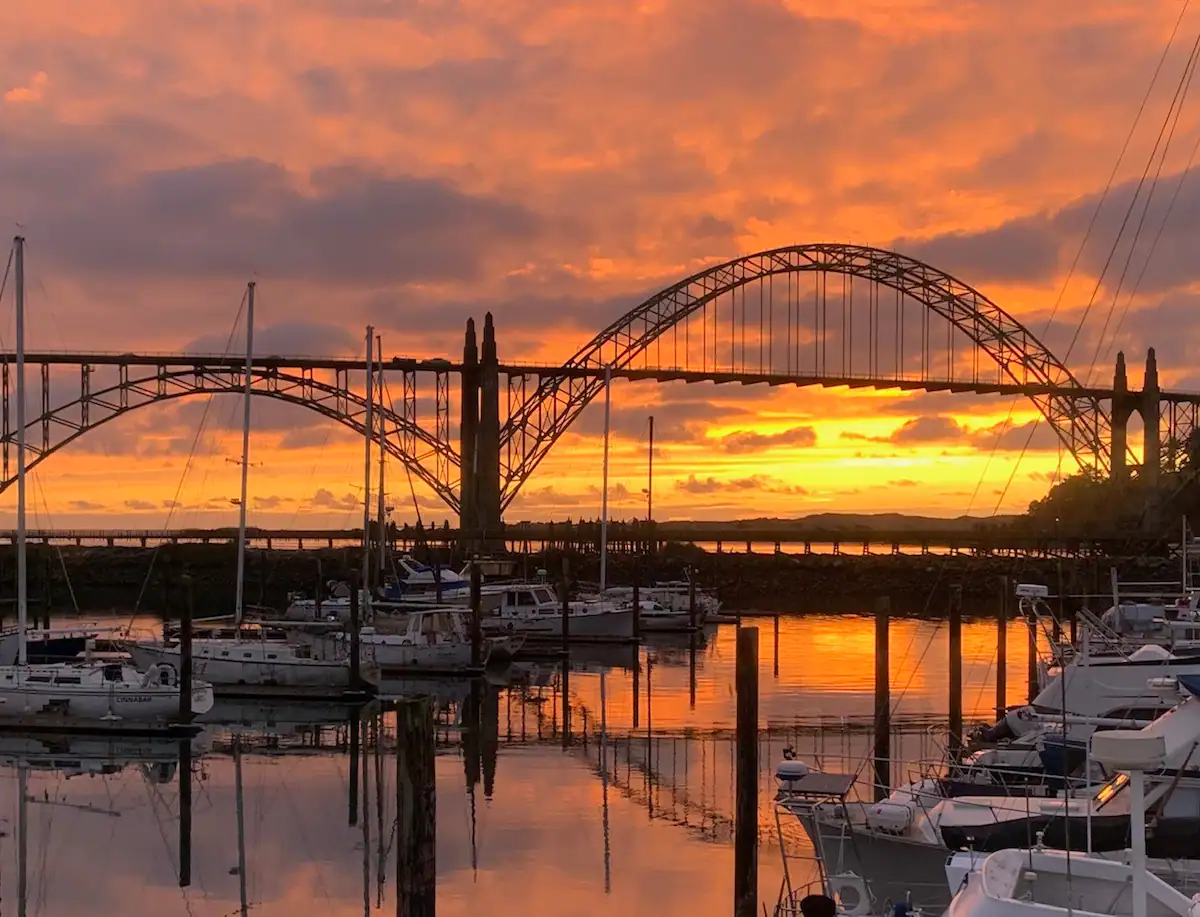 Satan's Cauldron
This attraction draws in the curious from all over the world and sits within the Devils Punchbowl State Natural Area. Back in the 70s, a geology guide referred to this magnificent place as "Satan's Cauldron."
Tides At Devils Punchbowl In Oregon
Visitors to Devils Punchbowl will find their experiences differ depending on the tide level. At low tide the punch bowl is empty and visitors can enter it from the beach. At high tide the punchbowl is full, and visitors can watch from above as the waves churn violently within the rock formation.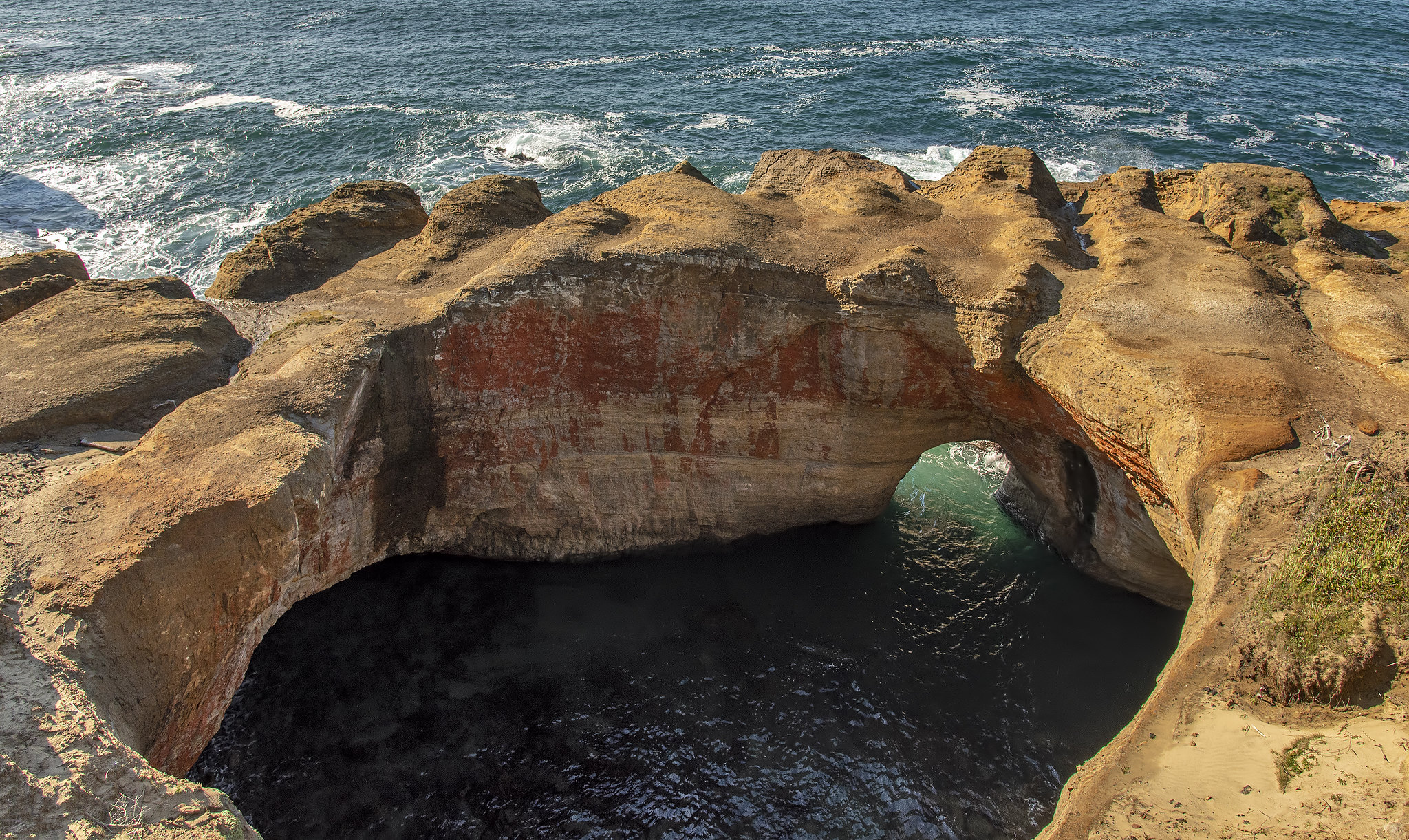 Trail to Devils Punchbowl
This short hike is fairly short, and won't take much time to reach the bowl itself at around 0.8 miles out and back. The upper trail takes you from the parking lot to the viewpoint. Watching the waves crash from here is especially impressive when the waves are much larger.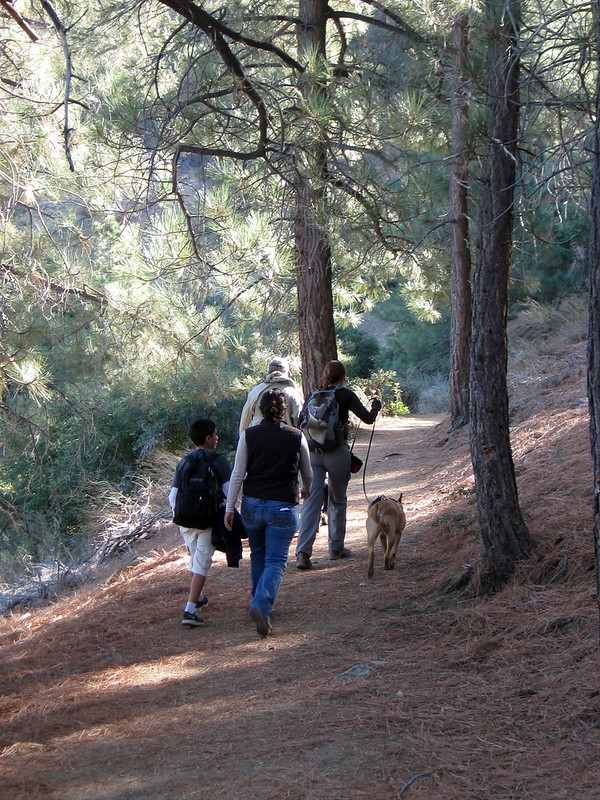 Just south of the parking area, you can explore a gorgeous, long stretch of beach which is especially nice during the summer – and easy to get to. This beach is prime to explore while walking or even having a picnic. Hit the link here for a great source to check the tide and surf.
Going Inside the Devils Punchbowl
While the impressive waves of the sea fill the rocky bowl like a witch's brew, the bowl would be an absolute nightmare to be caught in when the tide comes up.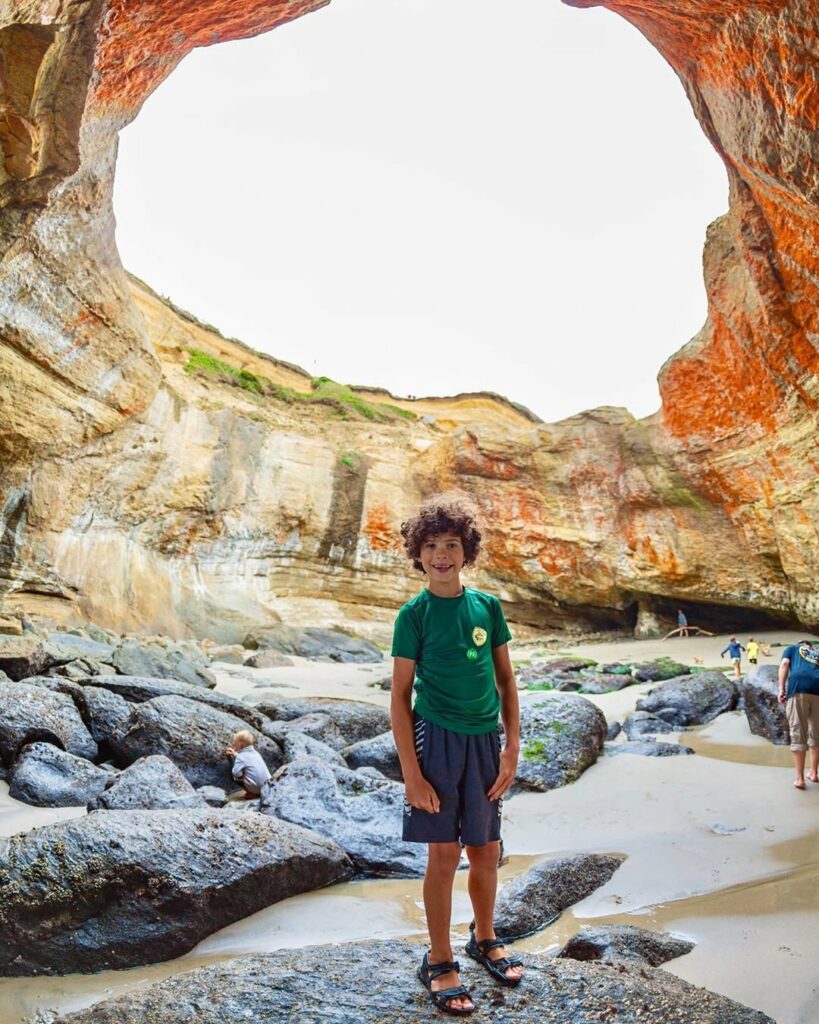 I can't imagine anyone would be able to survive being trapped in here as the ocean fills the bowl. I think it goes without saying, this place can be very dangerous.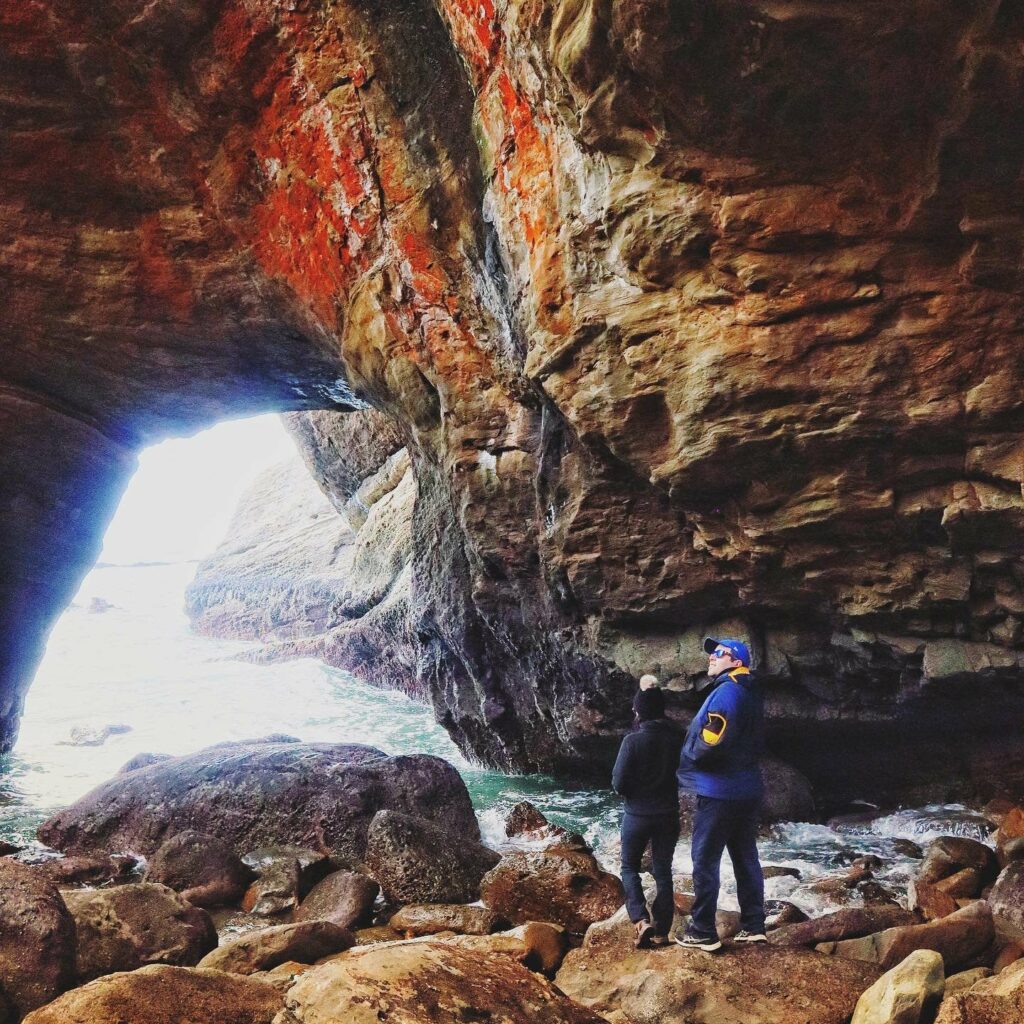 And while exploring, you may even come across some beautiful sea creatures.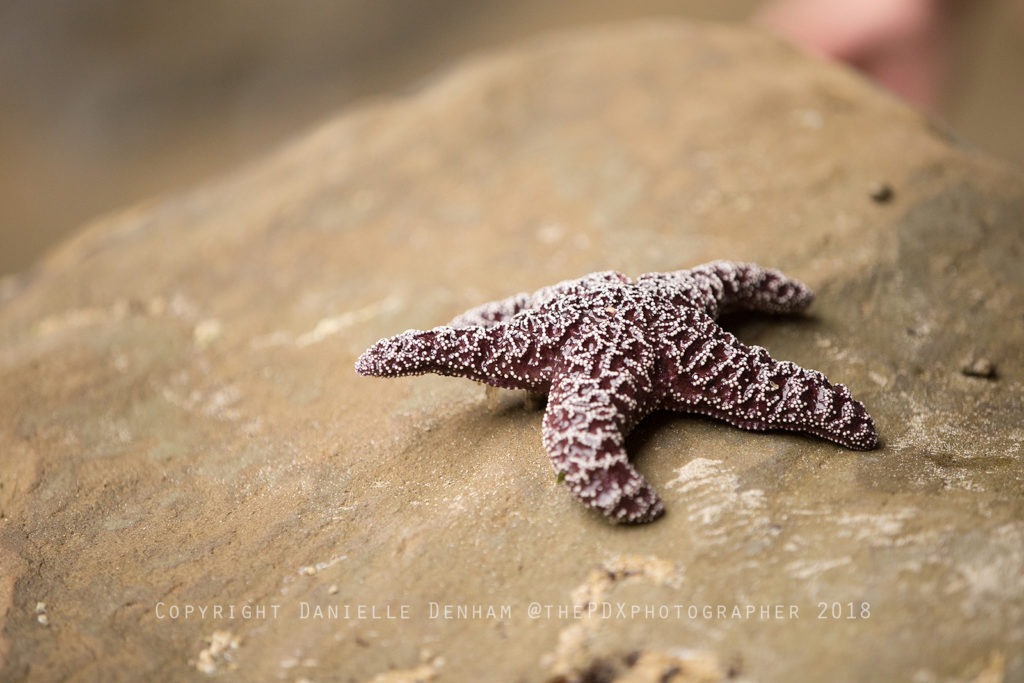 And not just the starfish, here's another little friend we encountered inside. And as a friendly reminder, we ask that you leave the creatures be in their natural habitat.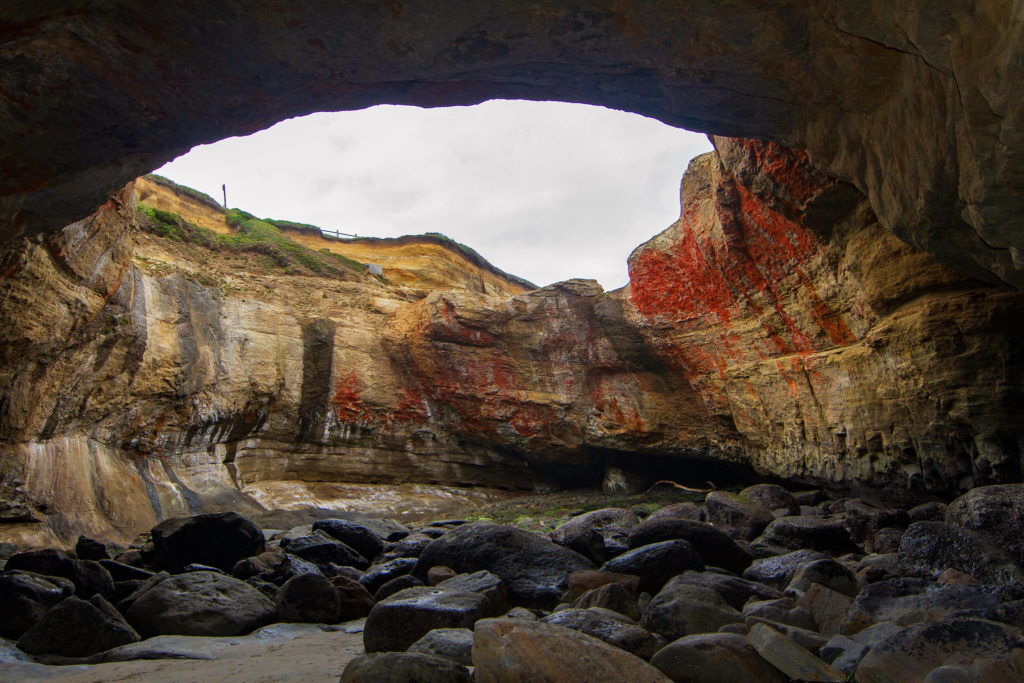 And not just the starfish, here's another little friend we encountered inside. And as a friendly reminder, we ask that you leave the creatures be in their natural habitat.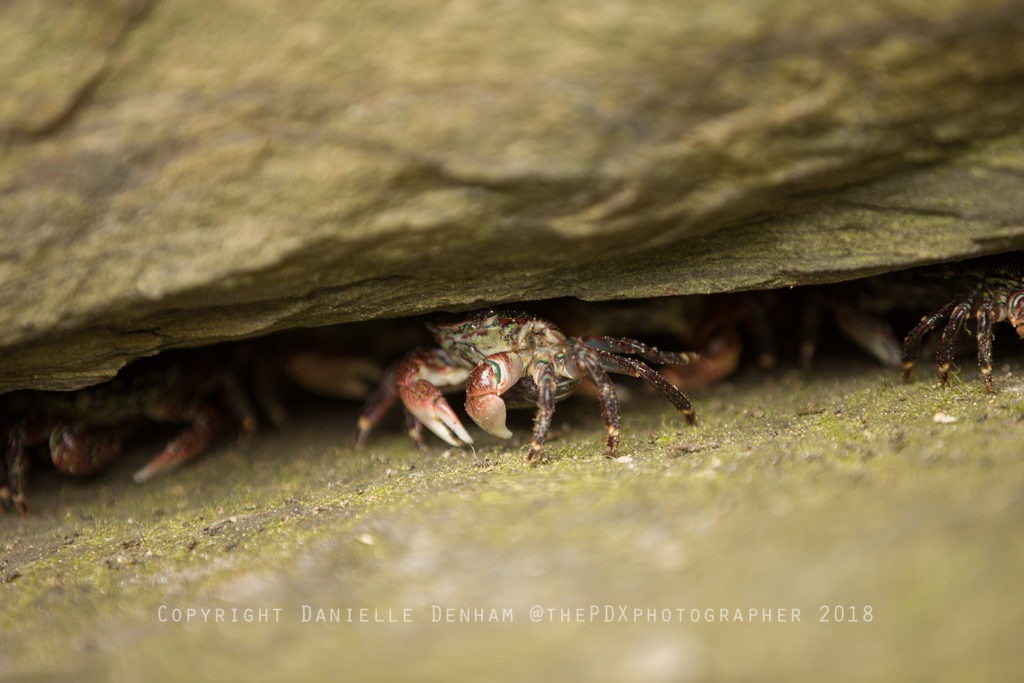 How Was the Devils Punch Bowl Formed?
The Devils Punchbowl, Oregon, which could be as old as 18 million years, was formed when two sea caves eroded into one large cave. Formed from sandstone and siltstone, eventually, the ceiling collapsed as waves ate away at the sandstone and the Devils Punchbowl was created.
History Of The Punchbowl
F. W. and C. P. Leadbetter gave the first tract to the state between 1929 and 1971. Later tracts were purchased from other private owners. The Otter Rock bluff was accessed through a long wooden slide known as "chute the chutes" in the early 1900s.
Civilian Consveration Corps
Day use improvements were developed for the park in the 1930s by the Civilian Conservation Corps, including picnic tables, restrooms, fountains, water supplies, fire pits, and steps to the beach. For parking and restrooms, the park was expanded into the Otter Rock community in the 1970s.
Please note: Exploring sea caves, beaches and tide pools is an at-your-own-risk activity. It is recommended that you do not enter the water and that you be aware of the tide level and waves at all times. Do not climb or vandalize the rock formation.
How to Get to the Oregon Coast Devils Punchbowl
Reaching this attraction off Highway 101 is easy. You'll take the turn off Highway 101 onto Otter Crest Loop, and there will be a sign for the punch bowl. Following the road a bit further will take you to a large parking lot, which includes a public bathroom.
It is a quick and easy stop along the Oregon coast if you are driving through Gold Beach or looking for things to do in Newport, Oregon. Seeing the cave after a long drive is well worth the trip. It is located on the headlands between Newport and Depoe Bay, a small seaside town.
Parking
Devils Punchbowl in Oregon has three parking areas, and parking outside of those spots along neighborhood streets and on private property is not allowed. Parking spots are scarce in this area, so if you visit during a busy period, you may have to wait.
Other Things to Do Near Devils Punchbowl, Oregon
There's a lot to do nearby when you're done visiting the punchbowl.  From awesome seafood to nearby lighthouses, the area around the punchbowl is worth checking out.
Grab Some Chowder When You Are Done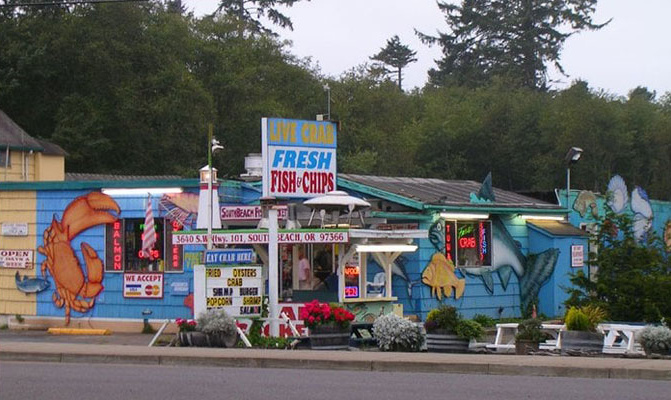 southbeachfishmarket.com
There's no shortage of great seafood on the Oregon Coast, and it would be a crime if we didn't mention the South Beach Fish Market in Newport. This old school seafood shack offers ocean-sourced far, from live & steam crabs, mouthwatering halibut fish and chips, and of course some of the best chowder we have ever had. Hit the link here to read more!
Nearby Attractions
Cape Perpetua: Once considered one of Oregon's great mysteries, Thor's Well is a bowl-shaped hole carved into the basalt shoreline of Cape Perpetua.
Oregon Lighthouses: Of the 11 Oregon lighthouses on the coast, seven of them are open to the public and most are still active.
God's Thumb Hike: Nestled just north of Otter Rock and Devils Punchbowl is Lincoln City, home to one of the prettiest hikes on the Oregon Coast.
Check out more awesome caves to explore in Oregon here.
Devil's Punchbowl Documentary
Check out this awesome short documentary about the punchbowl by Oregon filmmaker Matt Cook Oregon:
Tips For Visiting Devil's Punchbowl
The punchbowl can be dangerous, so here are some tips for visiting:
Don't climb on the rocks.
Check the tide charts online to see when high and low tide are coming in if you plan on going into the punchbowl itself. Always be aware of the tides so you don't get stuck or get hurt.
Follow all posted signs at the park.
Don't bother wildlife such as starfish or birds. View from a distance and do not attempt to take wildlife home with you.
Please Note: Hiking, exploring, or going inside the Devil's Punchbowl are all at-your-own-risk activities.
Other Things You May Want To Do On The Oregon Coast
We think you may also like to read our guide to Newport, Oregon,as well as our guide to Lincoln City, and about this awesome spot in Gleneden Beach!
Have you been to see Devil's Punchbowl yet? Let us know in a comment and tag the friends and family you want to go with!