Forest bathing, paddling, hiking, mountain biking, horse riding, stargazing, and snowboarding are just a few of the reasons people travel to central Oregon. Areas like Bend and Sunriver have a lot to offer those seeking to get away from the daily stresses of work and city life.  People looking to relax and take in the beauty of Oregon's high desert have been escaping to Sunriver since the late sixties, and it remains a popular base camp for adventure today.  Here are five stunning Sunriver cabins you can rent right now to get you started on your own central Oregon adventure.
1. Lone Eagle Landing #8
Seen in the image above, Lone Eagle Landing #8 tops our list of cozy cabins in Sunriver Oregon.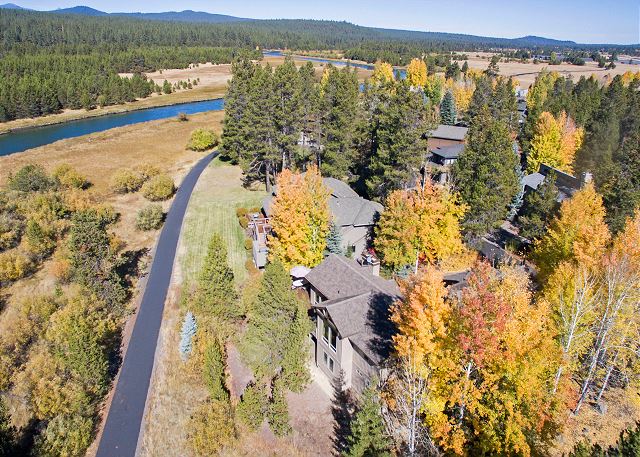 This home is surrounded by trees and features easy access to a path perfect for walking or riding bikes.  It's also close to the river and the Sunriver stables.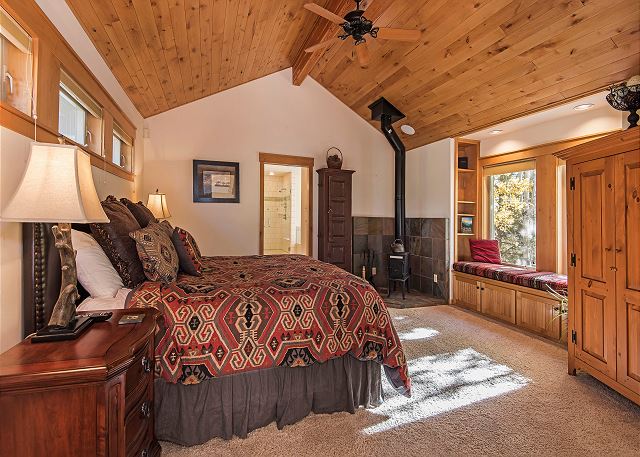 With five beautiful bedrooms (one king, three queens and two twin beds), and four bathrooms, this home is perfect for large family gatherings or just to relax with that special someone you'd like to get away with.  This home has an incredible wrap around upper deck which is a great place to watch for deer, hawks, elk, and eagles.  There's also a private hot tub and barbecue.
Get more info about Lone Eagle Landing #8 and book your stay here.
2. Goldfinch #11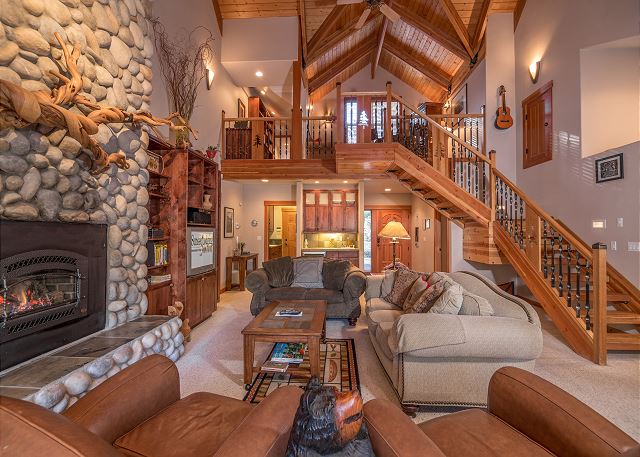 Look at the incredible living area and stunning fire place of Goldfinch #11.  Your family and friends will love staying here.  This 2,800 square foot home is built to entertain and has six TVs and DVD players, an Xbox, and a private hot tub for your enjoyment.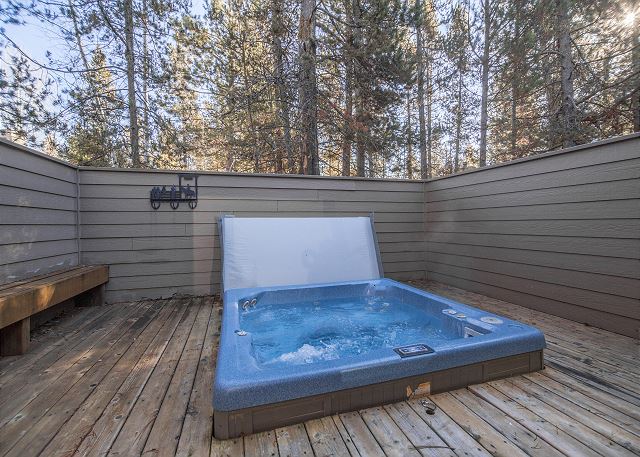 This home has more than enough room and sleeps 12 with two king beds, two queen beds, and two twin beds with trundles.  Look how adorable these rooms are: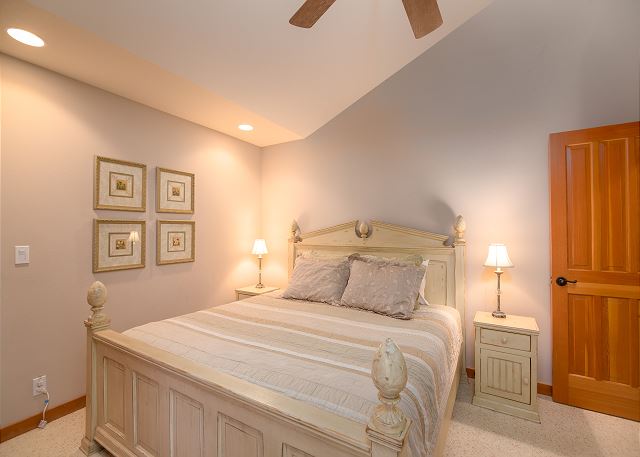 There are three bikes ready for you to use, and the home comes with 10 SHARC passes so you can enjoy time at the amazing pool with your guests.  While you're here, don't forget to check out the nearby Sunriver Nature Center & Observatory.
Learn what else Goldfinch #11 has to offer and book your stay here.
3. Bittern #5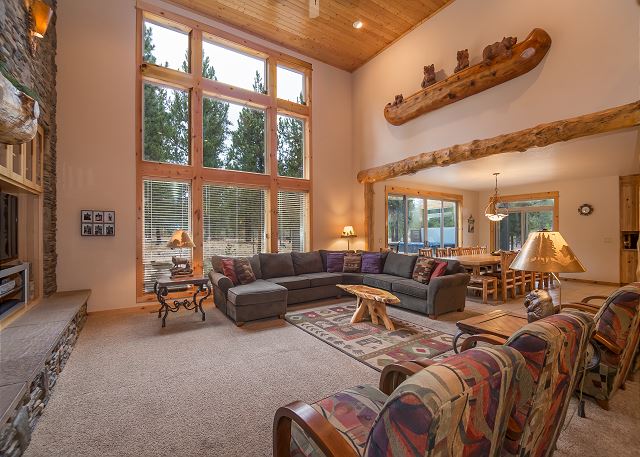 All the stops have been pulled out for your stay at Bittern #5 in Sunriver Oregon.  This lavish lodge-style home has 8 bedrooms and bathrooms (5 king beds, 1 queen bed and 4 bunk beds).  This cabin is 5,300 square feet of luxury and is the perfect place to get away for the weekend with friends and family.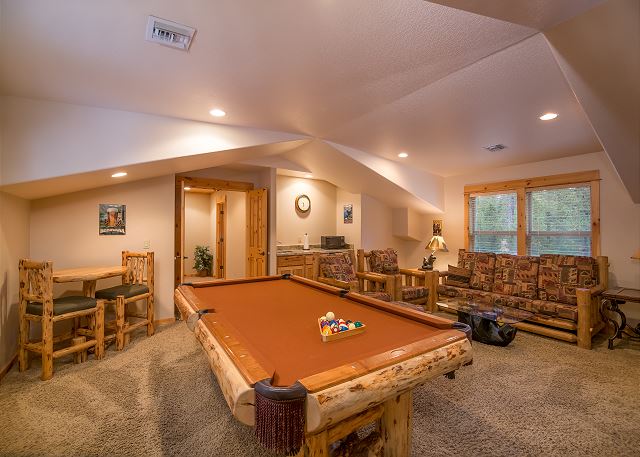 I'm in love with all the log style furniture and the amazing gourmet kitchen which is perfect for preparing big home-style family meals.  During down time between your Sunriver adventures you can enjoy the pool table, the ping pong table, and card and board games, not to mention the incredible hot tub!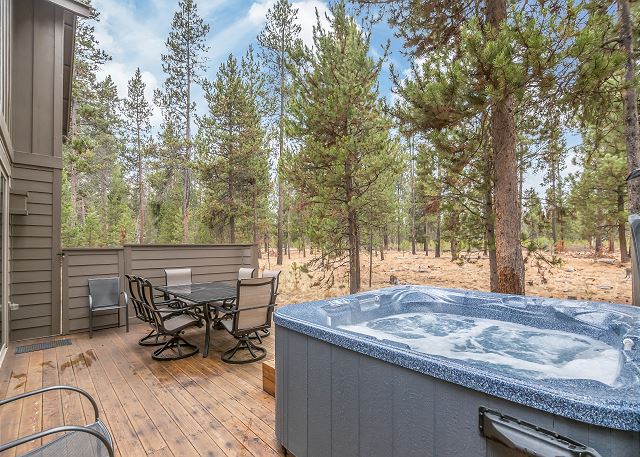 If you'd like to get out and explore all Sunriver has to offer, there are ten bikes for you to borrow.  There are also 16 Unlimited SHARC passes so all of your guests can enjoy the SHARC water park.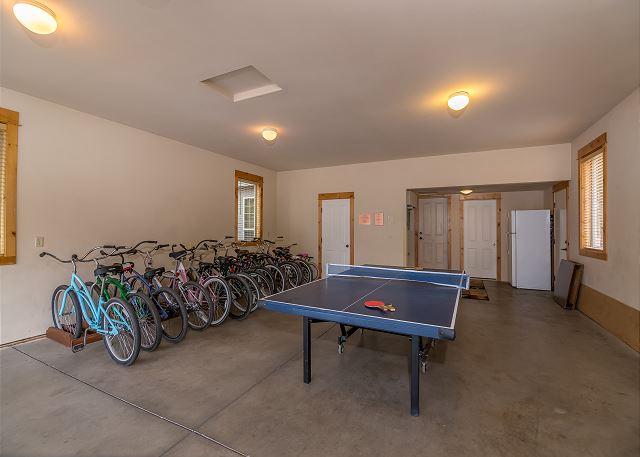 Learn more about the stunning Bittern #5 here and book your stay.
4. Nine Iron #9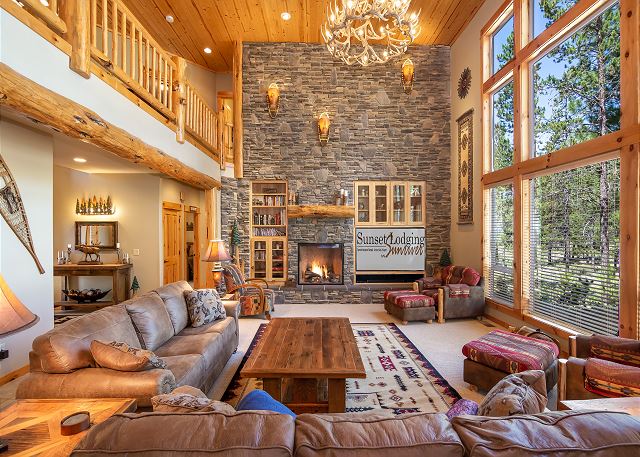 This beautiful lodge-style home is 4,100 square feet and features 7 bedrooms and bathrooms (4 king beds, 1 queen, 1 full bed, 7 twin beds) and a nine person hot tub!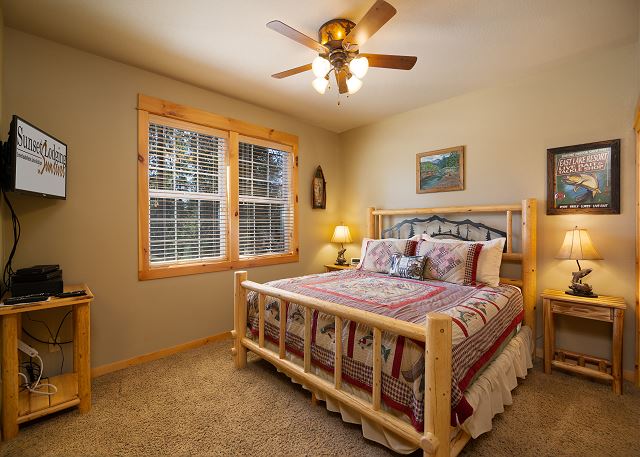 From a beautiful living room to a stunning kitchen, Nine Iron Nine will please you and your guests on your central Oregon vacation.  Even the bathrooms in this home are beautiful and luxurious.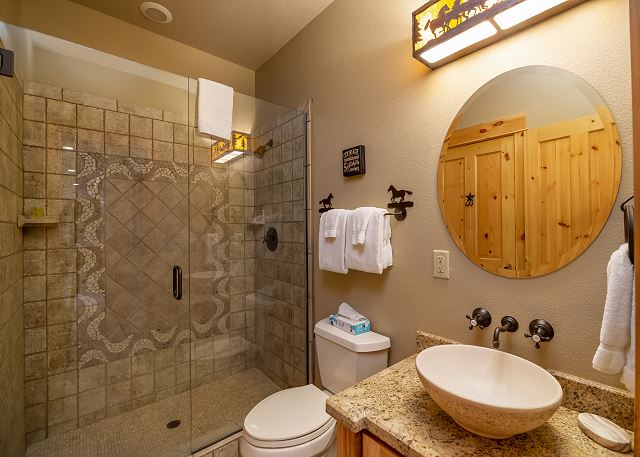 The bonus room features a pool table and 65 inch flat screen TV, and if you and your guests would like to go swimming, there are 16 unlimited SHARC passes ready and waiting for you.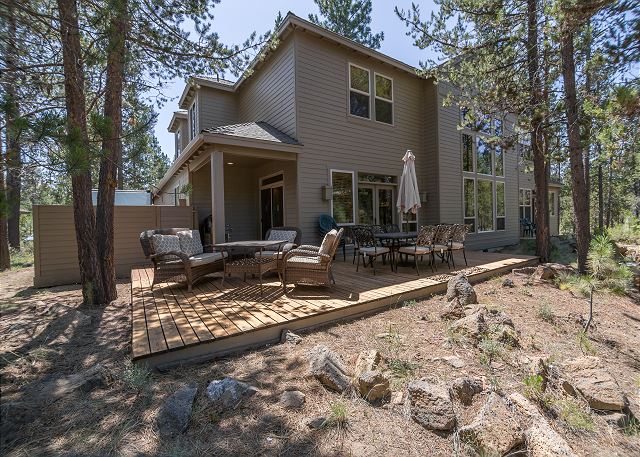 If you like to entertain, Nine Iron 9 has the indoor and outdoor spaces to do so.  Look at the beautiful deck above surrounded by trees.
Get more information about Nine Iron #9 and book your stay here.
5. Mink Lane #6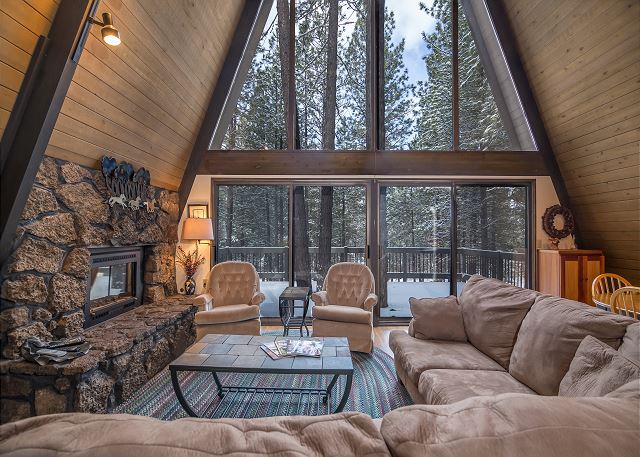 This list wouldn't be complete without Mink Lane #6.  This adorable A-frame cabin is the cutest place to stay in Sunriver.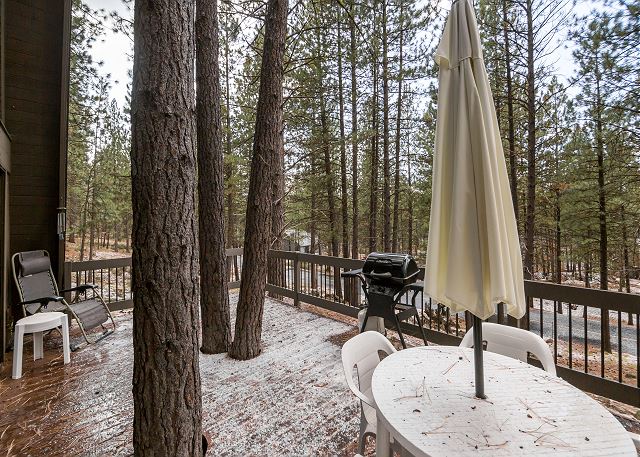 I love how the trees come right up through the deck of this cabin.  While the home has 3 bedrooms (1 King bed, 2 queen beds and two other beds), this is the ultimate cozy retreat for you and your special someone to escape to.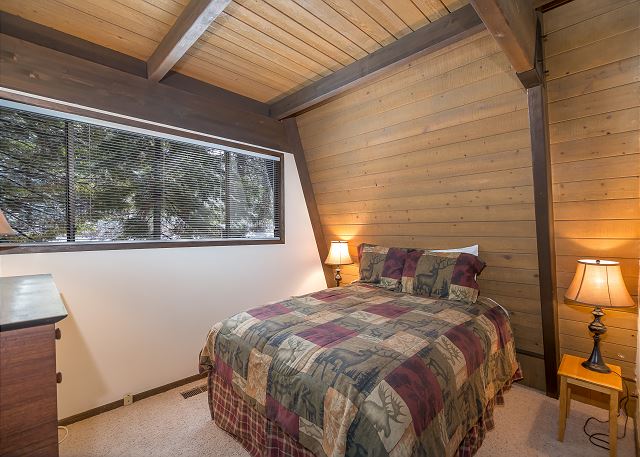 The private enclosed hot tub is the perfect place to relax after a day of exploring the Cascade mountains and the beautiful lakes and rivers in the area.  Or you can light a fire in the gas fireplace and wind down for the day with a cup of hot cocoa or tea.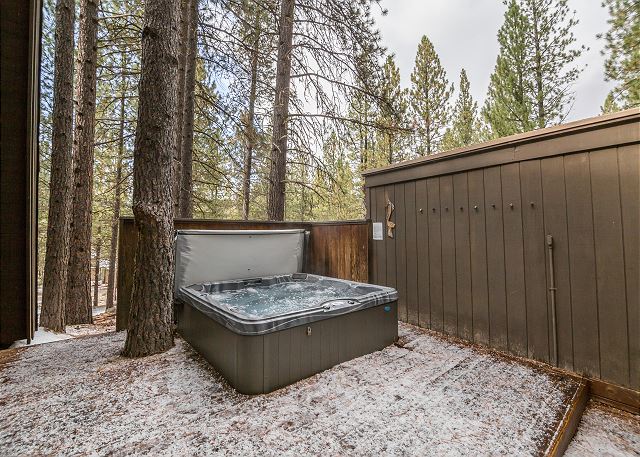 Get more details on Mink Lane #6 and book your stay here.
If you want to know what there is to do in the area near Sunriver Oregon, check out the map below:
Which one of these do you want to stay in?  Let us know in a comment and tag the friends and family you want to escape to Sunriver with.