Western Oregon isn't known for its clear skies. Most days, the mist and rain obscure the horizon, blocking picturesque views of mountaintops, forested hills, and meadows. Often at night, our only glimpse of the celestial bodies is a dim moon shining through the clouds. When we do get a peek of what's beyond, it's distorted by thick waves of humidity and light pollution, making it almost impossible to get a good look.
Prineville Reservoir State Park, on the eastern side of the Cascades, is one of the few places in the state where we can escape the clouds and get a glimpse of the heavens in their full glory. That's one of the reasons why it was chosen to become Oregon's first Dark Sky Park.
Prineville Reservoir State Park
Prineville Reservoir State Park is located in Central Oregon, an hour's drive east of Bend. The high desert climate might as well be an alien world compared to the forests and meadows most of us are used to. The air is noticeably drier, tinged with hints of juniper and pine. Bare rock and yellow grass hills, dotted with sage and willow shrubs, make up most of the landscape.
The reservoir itself is surrounded by dramatic cliffs and thin grasslands. There are no thickets or ferns, just the same grass and shrubs, with dark patches of stoic evergreen throughout.
Dryer air means greater variance in temperature. The summers do get hot, but snow is a regular occurrence during the wintertime, creating the perfect playground for skiing, snowboarding, snowshoeing, and sledding.
RELATED: Unique Things to Do in Bend, Oregon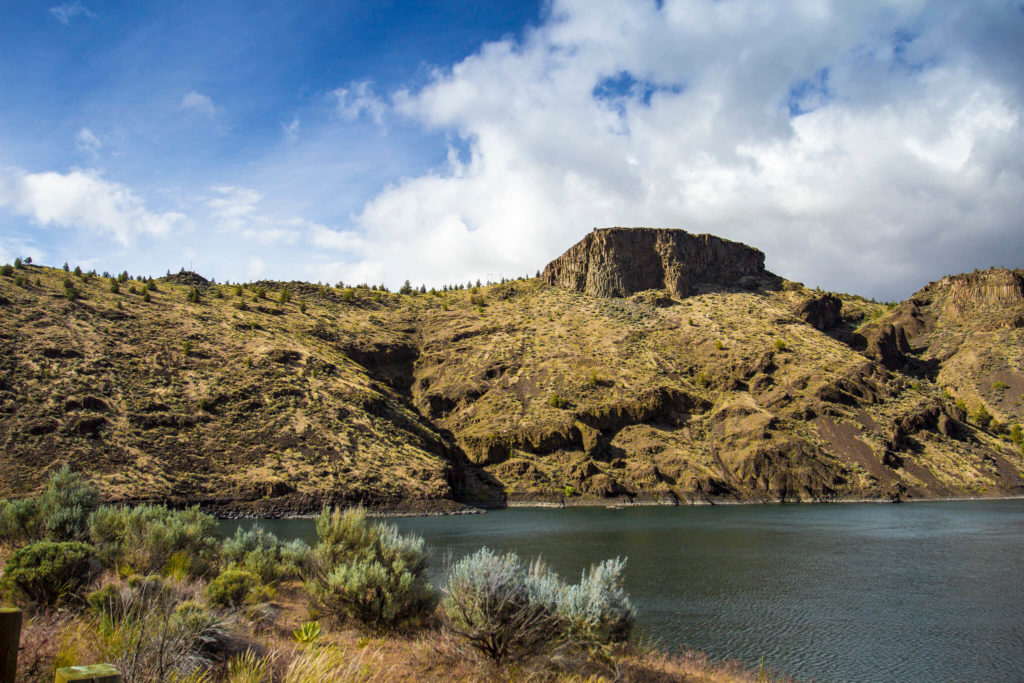 Hiking
Daytime in the high desert is dramatic, filled with contrasting shades--darkness and light, shadows etched into the hills and cliffsides. The beauty isn't found in the foliage; it's in the lay of the land, the shape of it, the way it slopes and droops, juts out, and forms into tiny peaks. Naturally, you're going to want to explore.
While there aren't a lot of hiking options surrounding the Prineville Reservoir State Park, there are still some amazing sites to be seen.
RELATED: 37 Awe-Inspiring Oregon Trailheads to Hike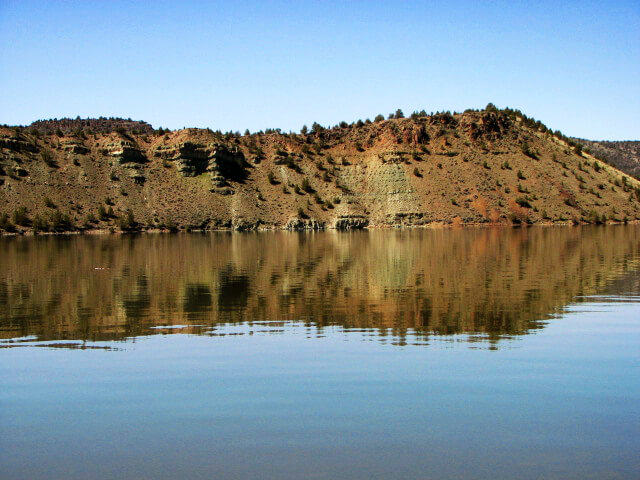 Jasper Point Trail
Jasper Point trail is the most popular path. It's a 1.7-mile hike that connects the two campgrounds--the main one at Prineville and the smaller site at Jasper Point. If you're starting at the main campground, the trailhead is at the end of Loop B, near the cabins.
The hike is easy, though at times it is a little steep, and it is better during clear days when the ground has had time to dry. The mud can be a serious problem, especially considering the lack of foliage.
---
RELATED: 13 Top Oregon State Parks You Didn't Know Existed
---
The trail passes through gullies and draws, with slopes leading upwards on either side. There's a vantage point where you can look down at the water, and if you're lucky enough to come during the spring or early summertime, you'll walk through a field of yellow primroses. Eventually, you'll be diverted over a red bluff and through a field of stunted sage, then under a pair of powerlines towards the end of the trailhead.
The Jasper Point trail is typically abandoned. But you can't always expect to have the same experience at the reservoir. If you'd like to find a quiet getaway, take the dirt road that follows the northeastern shoreline for 6 miles until you reach Combs Flat Road. There you'll find willow shrublands, meadows, and a mudflat shoreline. It's the perfect spot to sit in the car and relax or let the kids run around for a bit.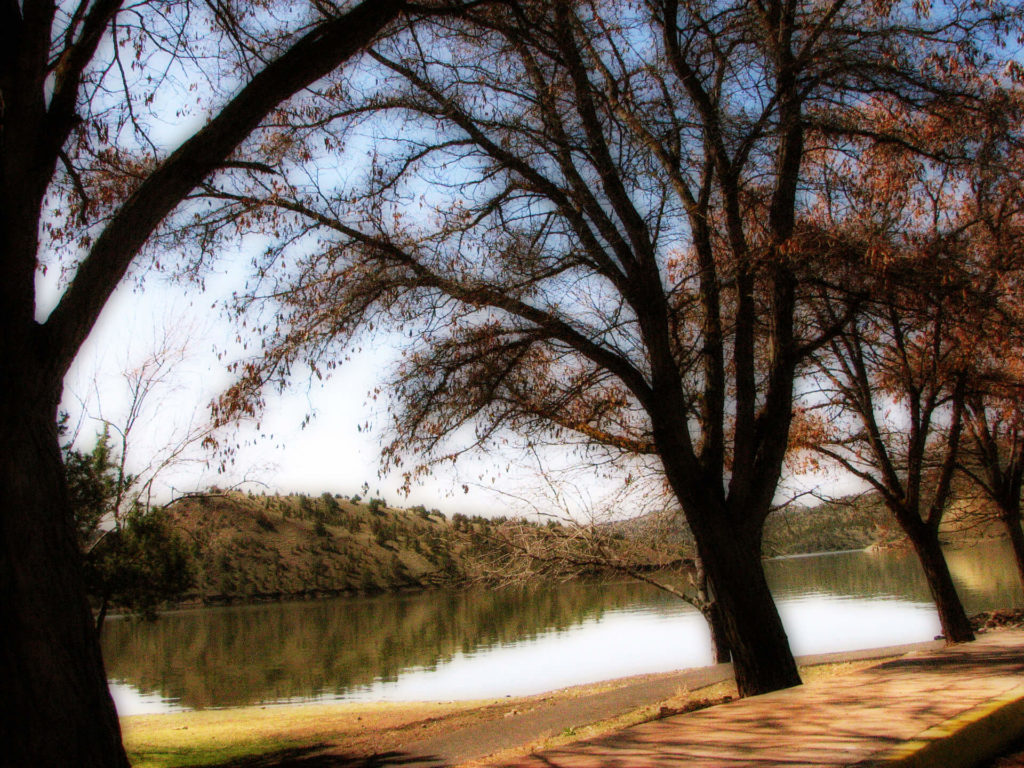 The Reservoir
The Crooked River was dammed in 1961, flooding the 18-mile canyon now known as the Prineville Reservoir. What was once dry land became a popular aquatic area, known for fishing and boating. Jetskis would churn up waves, while large boats sailed across the water. Even a few swimmers, clad in head-to-toe wetsuits, would brave the chill. But long-term drought and irrigation have reduced water levels to their lowest in 20 years, leaving the reservoir at barely 21 percent of its capacity.
The reservoir now looks like a giant took a straw and sucked out all of the moisture, leaving behind fields of dried mud and impossibly steep shorelines. Small streams of water do flow, and they are accessible, but it's obvious that the reservoir is almost gone. The problem has become so severe that all of the boat ramps have closed, and local governments have been forced to put a cap on water usage.
Fishing
Fishing is still possible year-round, but the population has dwindled. Hatchery trucks can't get down to the water because of the dried-up boat ramps, and with water levels still dropping, the fish have been forced downstream. If you'd like to try your luck, there is a fair amount of bass and trout, among other species. They're particularly active during the wintertime.
For more information about fishing at Prineville Reservoir, check the Oregon Department of Fish and Wildlife fishing report.
RELATED: Sport Fishing License, Tag and Permit Fees in Oregon
Boating
While you might not be able to bring your yacht out to play, boats that you can carry are still perfectly feasible at the reservoir. In fact, kayaking tours are one of the park's main events. You'll paddle in time with local guides, who will teach you about the park's history, geology, and wildlife. The tour typically lasts 3 hours, and there's no need to bring your own gear. Kayaks, paddles, and life jackets are provided.
At the time of writing this, tours are $25 for a single and $40 dollars for a tandem kayak. Check with Oregon State Parks to make a reservation.
Camping
The dwindling water levels have done nothing to change the shape of the hills, or the beauty inherent in the high desert. The cliffs still stand tall, and when twilight has passed the heavens still open, producing a radiant display that can only be found at Prineville State Park. Camping there is a sublime experience.
While many of the boat-in campsites are inaccessible, the park still boasts an impressive number of spots, many with a view of the water, and they offer all the basic amenities. If primitive camping isn't your thing, there are five deluxe cabins waiting to be reserved and a sixth at Jasper Point.
Unfortunately, reservations at the main, year-round campground do have to be made six months in advance, so make sure to have everything ready ahead of time. Also, know that while Jasper Point sites are available only on a seasonal basis, they are first-come-first-serve, making them a great alternative for visitors who decide to stay the night on a whim. For more information on camping or to make a reservation, head over to Oregon State Parks.
If you'd prefer something a bit more luxurious, book a stay at this beautiful cabin nearby. You could also try the Prineville Reservoir Resort. They have RV space rentals, a convenience store, a cafe, and a 7-room motel. It's nice to have a piece of civilization close by, especially if you need to stop in for a quick meal.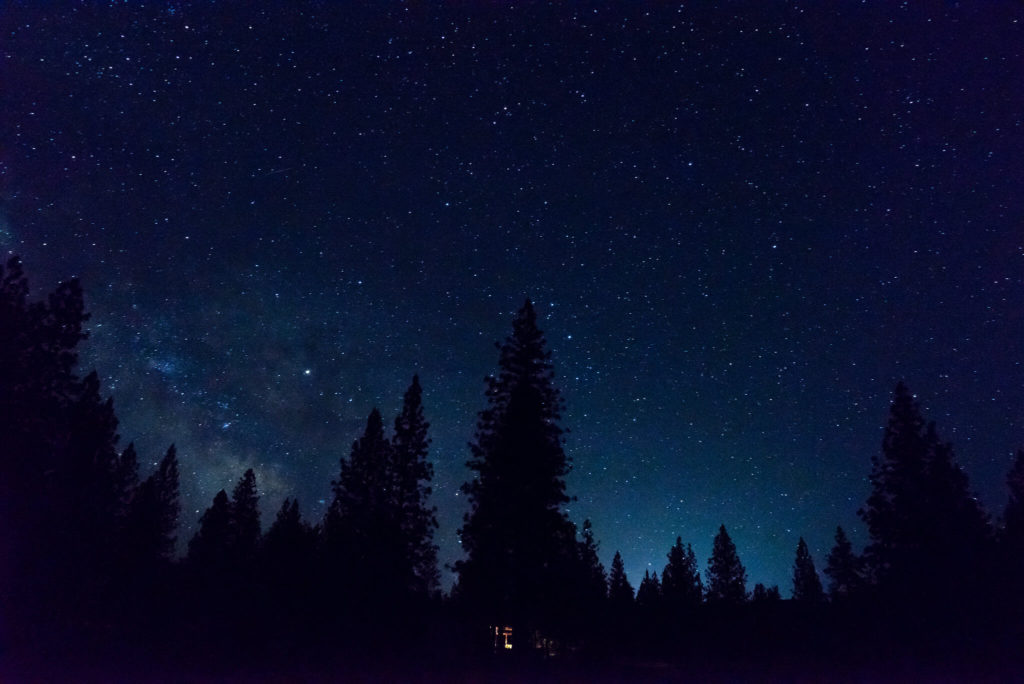 Stargazing
When the sun starts to set at Prineville Reservoir, grab a chair and take a moment to watch. The sky takes on bands of rosy orange, fading up into azure blue and indigo. Soon the colors will fade, the indigo will take over, and the first stars of the night will begin to peek through. More and more will make their appearance, almost as if they were eager for you to see them. Eventually, there will be so many that they form a wispy backdrop, a tiny, crowded wave of the great mass that is our galaxy.
You can use a star map to pick out constellations, grab a telescope and explore firsthand, or simply finish your last cup of tea for the night. But no matter what you do, you will be left in awe.
Learning More
Stargazers often find themselves wanting more after spending a night staring at the high desert sky. They'll get excited, buy telescopes and download charts. For many, it becomes a lifetime obsession. If that's you, check the Prineville State Park's calendar of events. They often hold stargazing sessions for beginners and plan a trip to one of the local observatories.
Becoming a Dark Sky Park
Even with its spectacular night vistas, Prineville Reservoir State Park had to earn their status with the International Dark-Sky Association (IDSA).
The process of establishing a Dark Sky Park usually begins with a group of locals who have grown concerned about the harmful effects of light pollution on the environment. They'll rehabilitate outdoor fixtures and put in place strict policies while conducting community outreach.
It can take 1-3 years before a decision is determined, and applications are rarely accepted, but that's not what matters. What matters is that the process helps people understand the harm that this type of pollution can cause.
Light pollution affects all forms of life. Migrating birds will lose their way and die. Nocturnal animals will stay in their homes and starve to death, afraid to go out during what they believe to be daytime. Trees will develop deformities. Even humans suffer from light pollution. It dampens our ability to produce necessary bio-chemicals, leading to greater instances of chronic disease.
The park's efforts to educate the public were the crowning jewel that allowed them to earn their status with the IDSA. They deserve just as much recognition as the skyline itself, if not for the lives of the wildlife that they saved, then for the hearts they won over.