Last updated on December 26th, 2021 at 09:55 pm
With still plenty of great weather left for summer, I felt it'd be a good time to share a hidden gem in Oregon. If you're looking for a new adventure and a place to cool off, you'll definitely want to add the Broken Top Hike the bucket list. Some of you may know this place, and some of you may have never been here yet!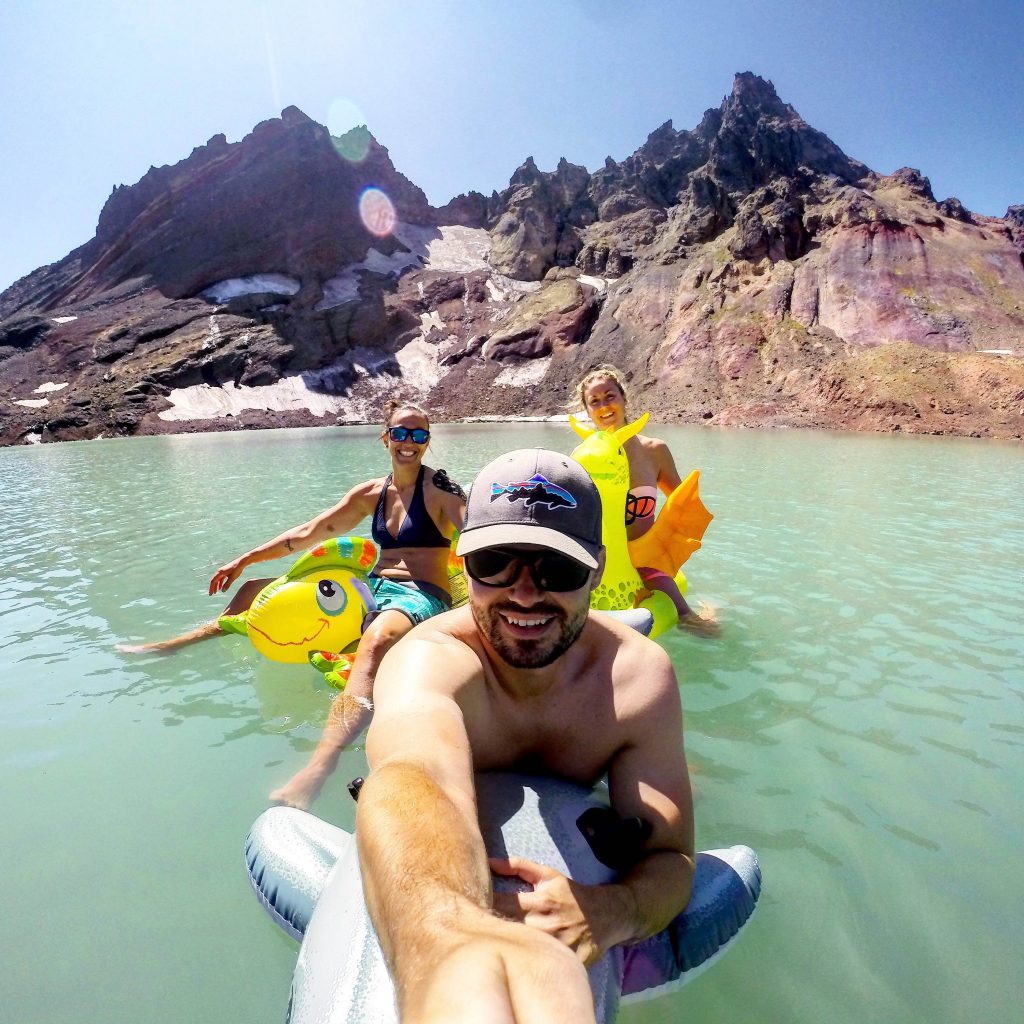 This beautiful body of water shown in the photo is known as… Well, actually it doesn't have a name. It's a beautiful hidden crater lake on Broken Top, commonly referred to as No Name Lake, which is near Bend.
Where is the Broken Top Hike
If you decide to set out for Broken Top, you have your choice between and easy drive and an easy hike.  If you're driving a fragile car, it's best to park at the easy trailhead for Todd Lake. A few hundred yards from here you will find Todd Lake, although the No Name Lake in Broken Top's crater is around another 7 miles uphill.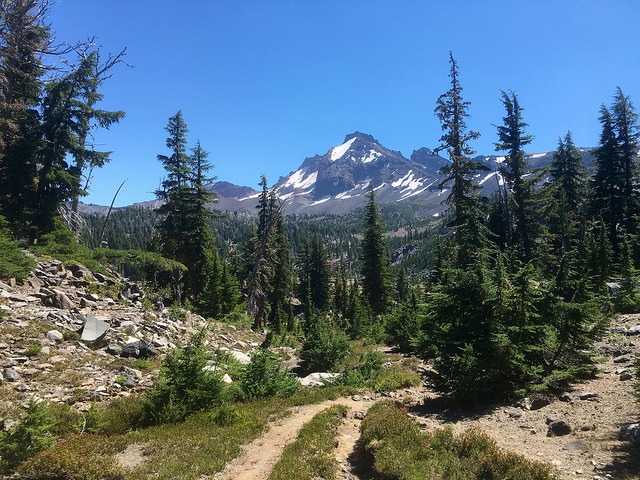 To find this starting point, drive the Cascade Lakes Highway west of Bend 23.7 miles. Beyond the Mt. Bachelor Ski Area 1.8 miles, turn right at a sign for Todd Lake on gravel Road 370 for half a mile to a parking lot. Dogs must be on leash in this area from July 15 to September 15.
From here you will walk less than a quarter of a mile up to Todd Lake, take a ride on the Todd Trail for 2.5 miles, keep going straight on the Soda Creek Trail 0.9 mile, take a right on the Broken Top Trail 1.8 miles, and then turn left on the trail that leads you another 1.8 miles up to the hidden crater lake.
While this route may be long, it's never steep and you will enjoy the view of beautiful meadows, creeks, and viewpoints making the hike worthwhile.
If you are driving something more rugged and prefer the easy hiking route to Broken Top, your other option is driving much closer to Broken Top's carter on Road 370.
The road is not maintained regularly, and hiking guru William Sullivan even called it the worst road in Oregon. Lots of folks even wanted Road 370 closed back in 1984, when Congress expanded the wilderness.
If you have a high-clearance vehicle, continue from the Todd Lake parking area past a green metal gate. The gate is open only in summer and early fall.
After two and a half painful miles, you want to ignore Road 378 on the left. In less than a mile, take a left on Road 380 at a "Broken Top Trailhead" sign and you will follow this equally miserable spur 1.3 miles to its end. If you have a GPS device, the location here is N44°03.351′ W121°40.527′.
From this upper trailhead, you will find the path setting out across pumice fields with wind-bent trees. You will then reach a large unmarked fork after 0.4 miles, at the start of a meadow with views ahead to Broken Top's cliffs. You will see a trail to Green Lakes veering left, which you will not take. For the hike to Broken Top, you will want to take the larger, unofficial trail that forks uphill to the right.
You will cross a creek on this path, where you will have to hop on rocks. In about a half mile or so, you will discover 2 little waterfalls forth through bare rock to the right. After the waterfalls you will find some trees – these are whitebark pines.
After another mile of climbing, you will come to a snowfield beside a sandy moraine hill. Head for a jagged notch in the hill with the lake's outlet creek. The milky green lake has a jaw-dropping view of a glacier clinging to Broken Top's crags.
It's definitely worth following the path a little over half a mile. Skirt to the right along the lakeshore and climb to a pass known as Broken Saddle. You'll continue up a ridge the right, where you'll discover a high point with an incredible panoramic view of all Three Sisters and most of Central Oregon.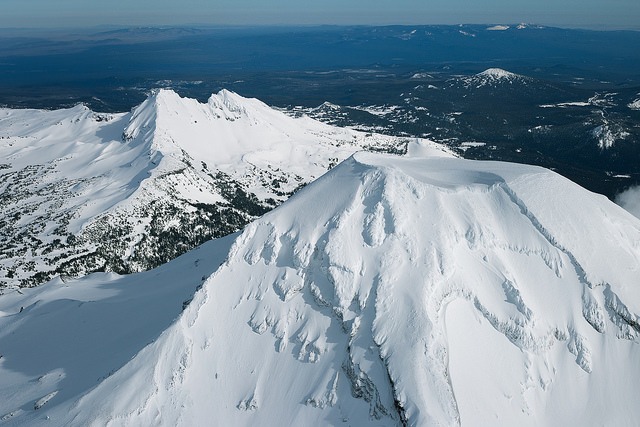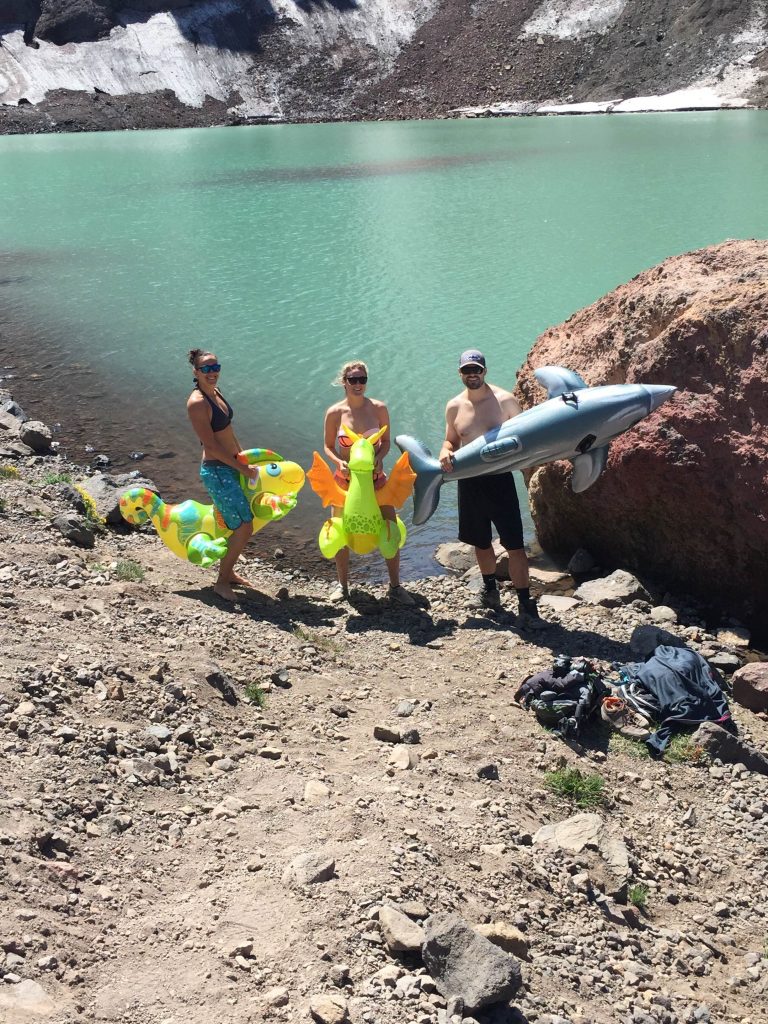 Have you done the Broken Top Hike, or do you plan on hiking Broken Top in the near future? Let us know in the comments below! Follow That Oregon Life on Instagram at @thatoregonlife – Tag us #ThatOregonLife to be featured!
Follow Seth Marchant (@slmfast) on Instagram as well for more photos!
Special thanks to this article at Statesman Journal for in-depth directions.
h/t oregonhikers.org (click here for more beautiful photos!)