Ecola State Park is a stunning natural retreat on Oregon's northern coast. This awe-inspiring park offers spectacular views of the Pacific Ocean, rugged shorelines, and lush forest trails. Whether you're looking for adventure or a chance to relax on the Oregon coast, Ecola State Park has something for everyone.
Guide to Exploring Ecola State Park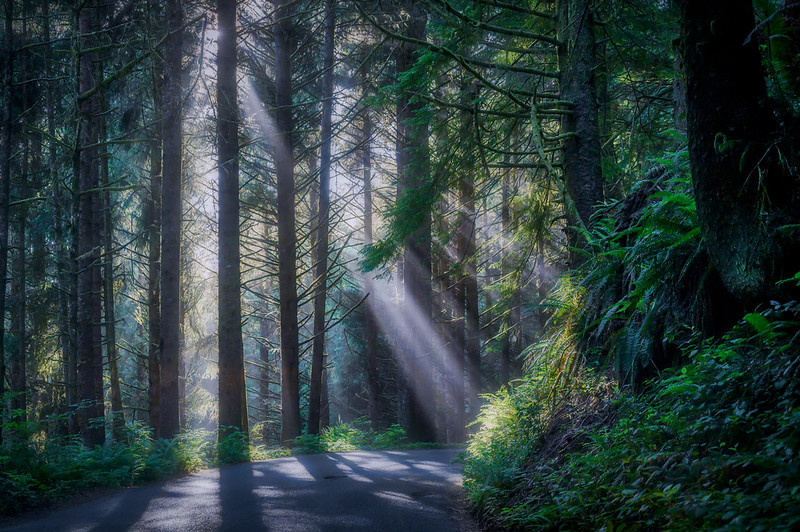 Ecola State Park lies just north of the city of Cannon Beach, Oregon, and is a great spot to explore if you're visiting Seaside and Cannon Beach.
Visitors can explore miles of coastal hiking trails, as well as stroll along the stunning shoreline.
From fisherman to beachcombers, there's plenty to discover in this hidden Oregon coast gem on the Pacific Ocean.
Ecola State Park Map
When To Visit Ecola State Park
If you're looking for sunny skies and mild weather, summer is the best time to visit gorgeous Ecola State Park.
Sign up for monthly emails full of local travel inspiration and fun trip ideas. In each newsletter we'll share upcoming events, new things to do, hot dining spots and great travel ideas.
Hiking Trails At Ecola State Park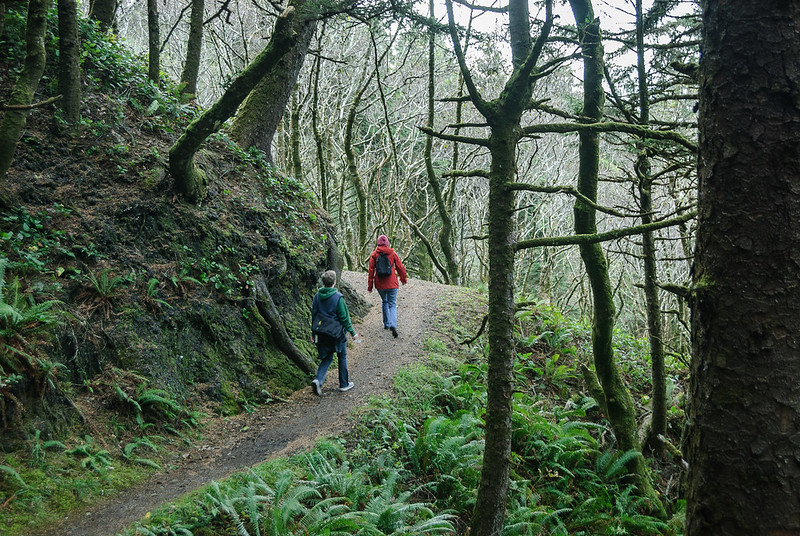 There's some truly incredible scenery for nature lovers to explore at Ecola State Park, and one of the best way to do that is by hiking the numerous gorgeous trails.
Clatsop Loop Trail
If you're looking for a beautiful trail, the Clatsop Loop Trail takes you from the Indian Beach Parking Lot to the Tillamook Rock Lighthouse viewpoint, and then back to the parking lot.
The Clatsop Loop Trail is 2.8 miles in length and has a 784 foot elevation gain.
This trail is considered moderately challenging and takes a little more than an hour and a half to complete.
It should be noted that after rain, the Clatsop Loop Trail can be muddy. The entire area is also subject to landslides, so be sure to check that the trail is open before you leave for your hike. Get more information here.
Oregon Coast Trail
The Oregon Coast Trail is a 362 mile trail that stretches along the Oregon Coast. Known as the OCT, this trail wanders through old growth forests, along majestic headlands, and through 28 coastal towns and cities.
The portion of the OCT that goes through Ecola State Park is known as Section 1, which you can find a map of here.
Those hiking the OCT Trail may be looking for a place to camp, and are in luck because the only camp within Ecola State Park is on the trail and is known as Hiker's Camp.
Hiker's Camp has three rustic Adirondack style shelters that sleep four. This small camp has a vault toilet nearby, but hikers should note that there is no water available here.
Lewis And Clark National Historic Trail
A portion of the Lewis And Clark Historic Trail or the Lewis And Clark Discovery Trail goes right through Ecola State Park along the Oregon Coast Trail.
This trail is 14.1 miles, has a 3,297 foot elevation gain, and is an out and back type trail considered difficult. Get more information about the trail here.
Tillamook Head Trail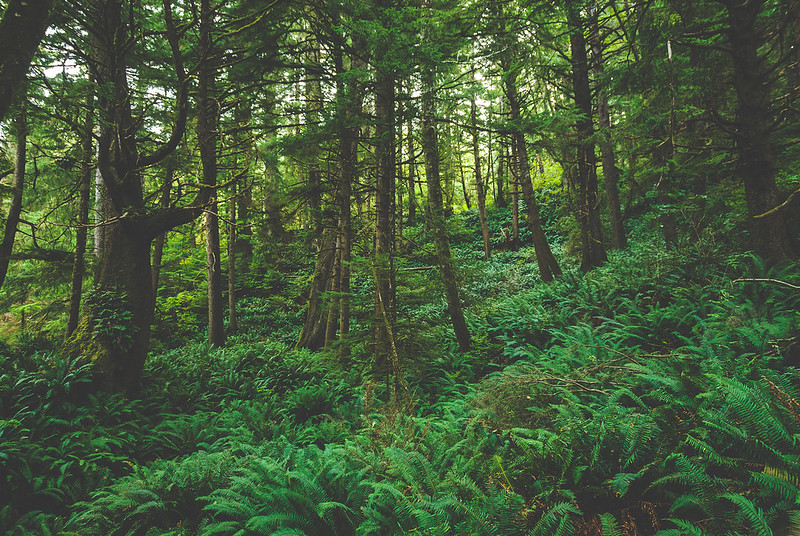 This trail is also part of the OCT. Hikers will start either at the Indian Beach trailhead or the Tillamook Head Trailhead (info here).
This 6.3 mile stretch of trail has a 1,350 foot elevation gain and is rated as moderately difficult.
The trail winds through an old growth forest with Sitka Spruce and Hemlock, and has occasional ocean views and views of the Tillamook Rock Lighthouse.
You'll also find an old World War II historic radar station covered in moss. Read more about this trail here.
Ecola State Park Camping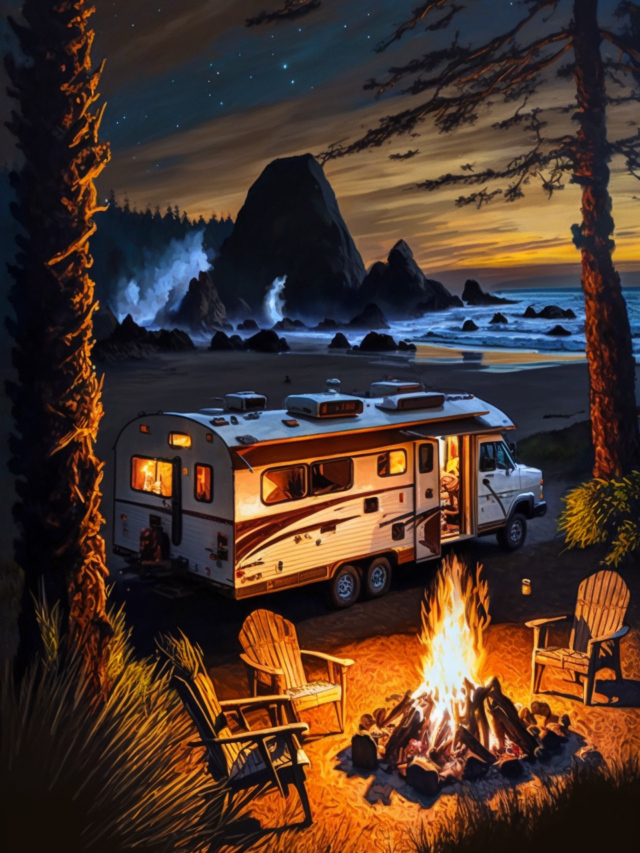 There's no overnight parking or camping within Ecola State Park.
While Hiker's Camp offers rustic camping for those hiking the Oregon Coast Trail, those looking to camp will have to check out the many nearby camping options along this stretch of the Oregon Coast.
For tent camping we suggest Wrights For Camping in Cannon Beach.
For RV camping we suggest Sea Ranch RV Park in Cannon Beach, or the Cannon Beach RV Resort. Get more information about the Cannon Beach RV Resort here.
Take In Views Of The Historic Tillamook Rock Lighthouse
Also known as Terrible Tilly, the Tillamook Rock Lighthouse is no longer functional, but is still available for people to see 1.2 miles off short from Tillamook Head.
First lit in 1881, it was once considered to be the most expensive lighthouse built on the Oregon coast.
The lighthouse was eventually decommissioned in 1957 and is now owned by a private party.
Beaches At Ecola State Park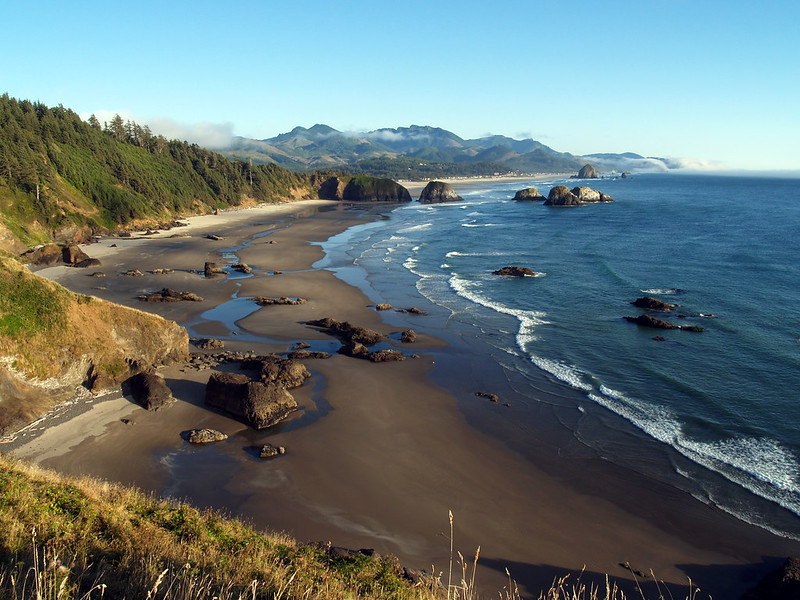 A trip to the beach is always fun, whether you're looking to relax, build sand castles on sandy beaches, explore tide pools, or just get out into nature. Ecola State Park has several beaches for you to explore on the ocean shore.
Indian Beach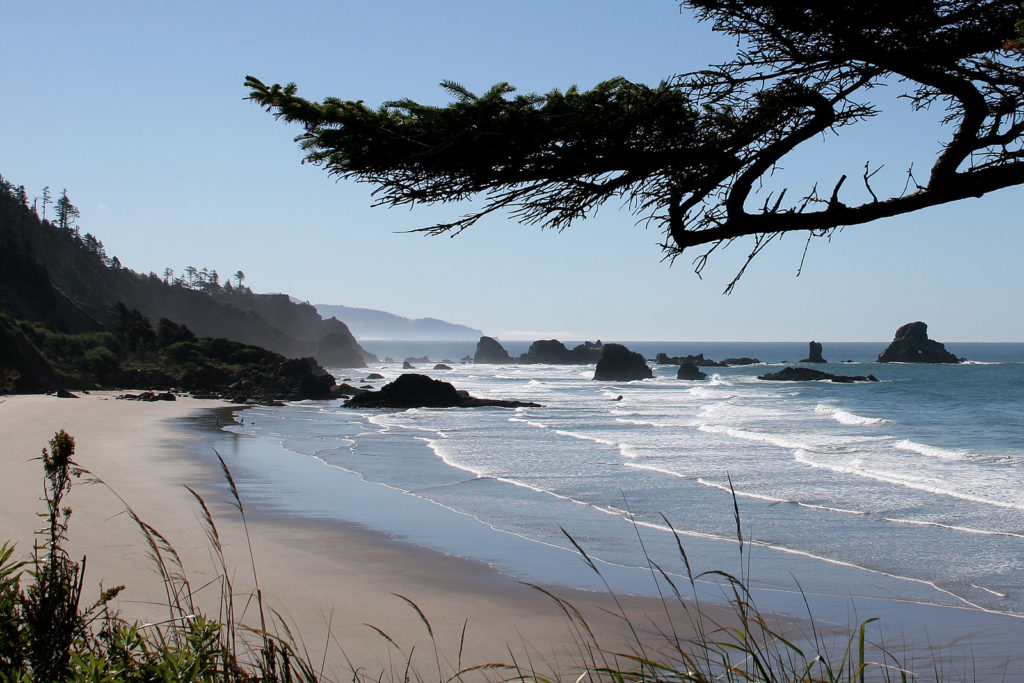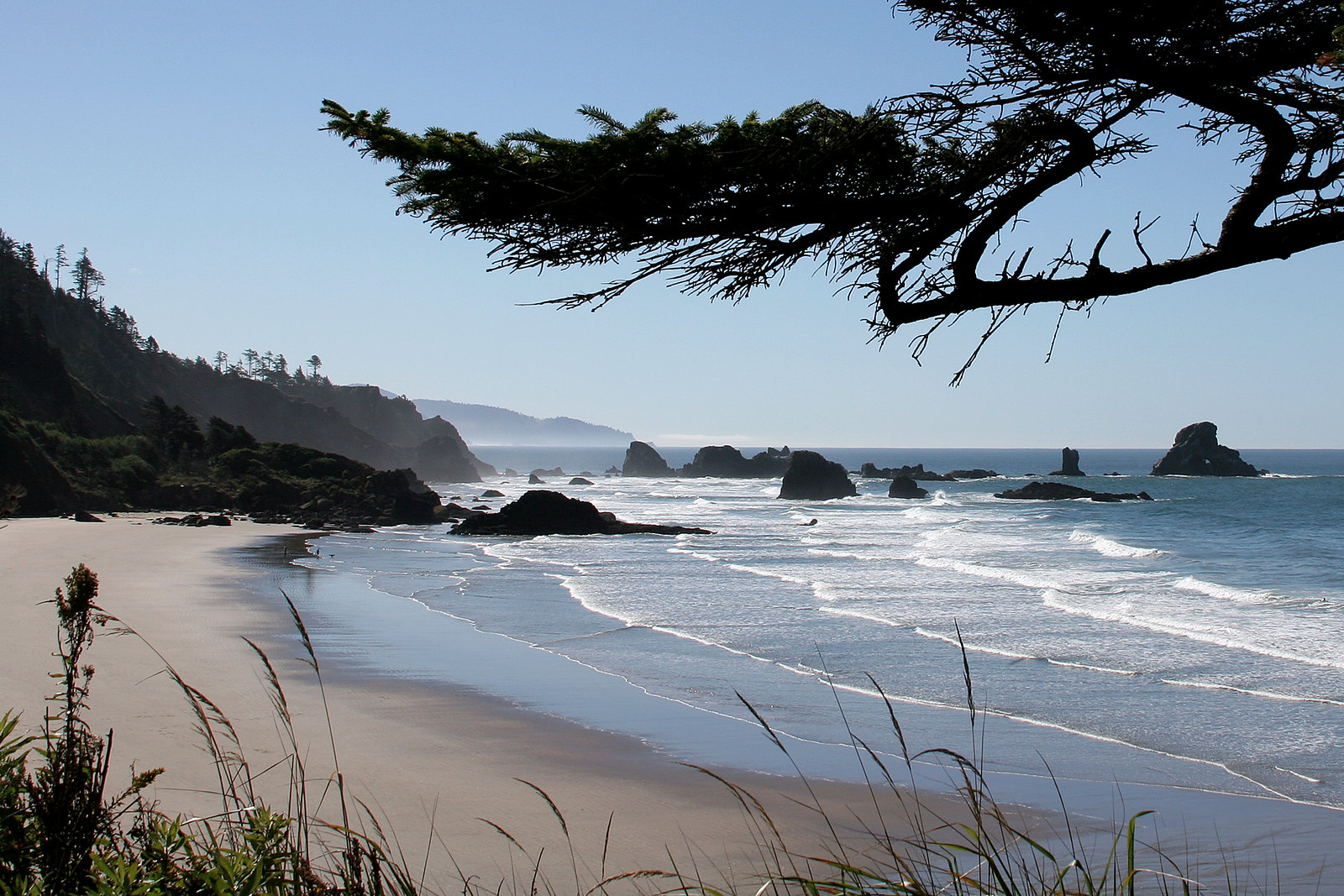 If you're looking to get away from the crowds, check out Indian Beach, a secluded sandy beach along the ocean shore.
Indian Beach is a great spot to explore tide pools, take scenic photos, watch for migrating gray whales, or just relax with friends and family.
Indian Beach is accessed via the Indian Beach Trail. This 3.8 mile trail starts at the Indian Beach Parking Area, wanders through a pretty forest, and takes you down to the beach. Be aware that after rain the trail is muddy and can be treacherous.
The Indian Beach Trail is open year round, but you'll probably want to hike it in good summer weather. It should be noted that the Indian Beach Trail is well trafficked in the summer.
Crescent Beach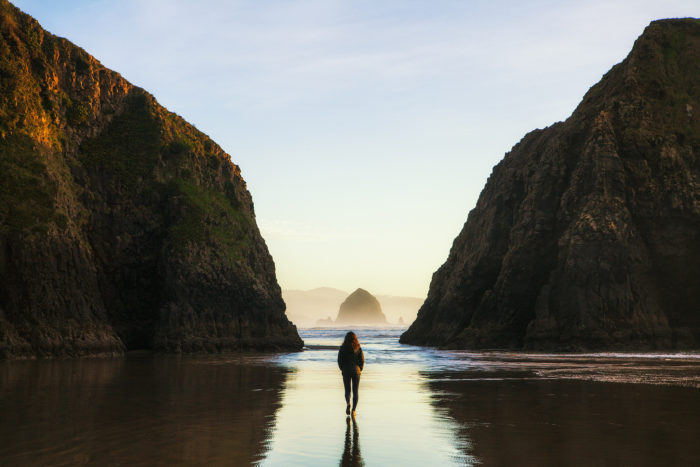 Crescent Beach is another secluded beach inside Ecola State Park. Beach goers will have to hike the 1.25 miles from the Ecola State Park picnic area down the Crescent Beach Trail to reach the shores of this pretty little beach.
Wildlife At Ecola State Park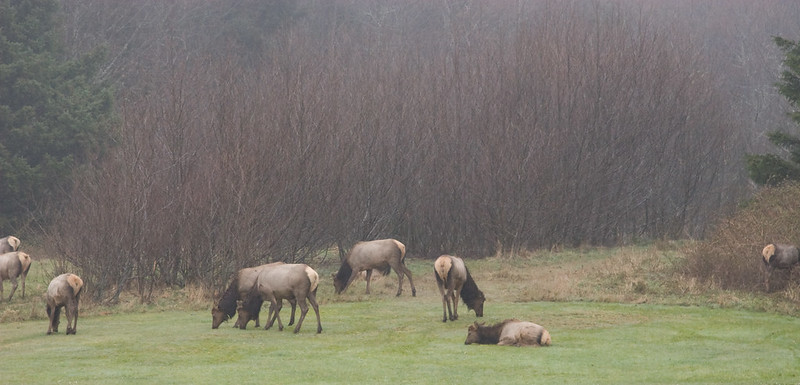 Wildlife observation is a favorite activity of many who visit Ecola State Park. Bird watchers love looking out for bald eagles soaring above them, while others enjoy looking out for Roosevelt elk, or looking for sea lions at the Sea Lion Rock Arch (info here). Visitors hoping to see birds or sea lions should bring binoculars.
Just off shore from Ecola State Park is the Oregon Islands National Wildlife Refuge. This refuge is home to an abundance of wildlife, birds, and marine mammals.
Area History: Lewis And Clark Expedition
In 1806 Captain William Clark stood atop Tillamook Head and proclaimed that the view he was taking in was, "the grandest and most pleasing prospect" that he had ever laid eyes on.
The area surrounding Ecola State Park (especially just north in Seaside, Oregon) is steeped in history of the famous Lewis And Clark expedition.
From the Lewis And Clark Salt Works, to monuments and museums set up to remember the expedition, visitors to the area can learn a lot about Captain William Clark and Meriwether Lewis.
Exploring Nearby Cannon Beach, Oregon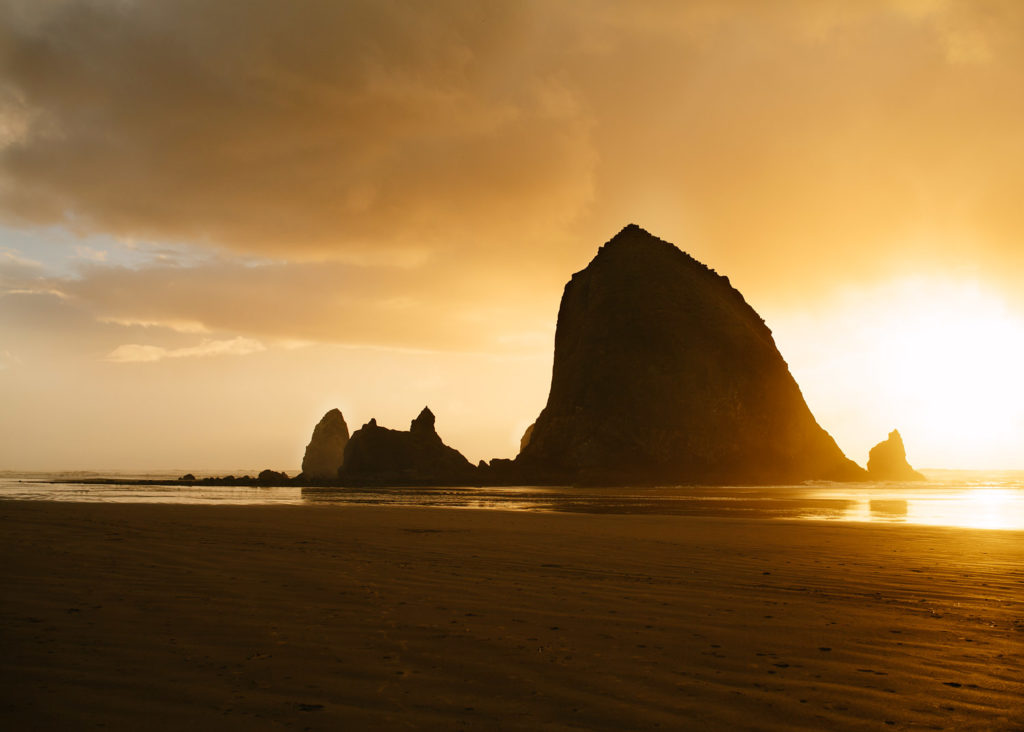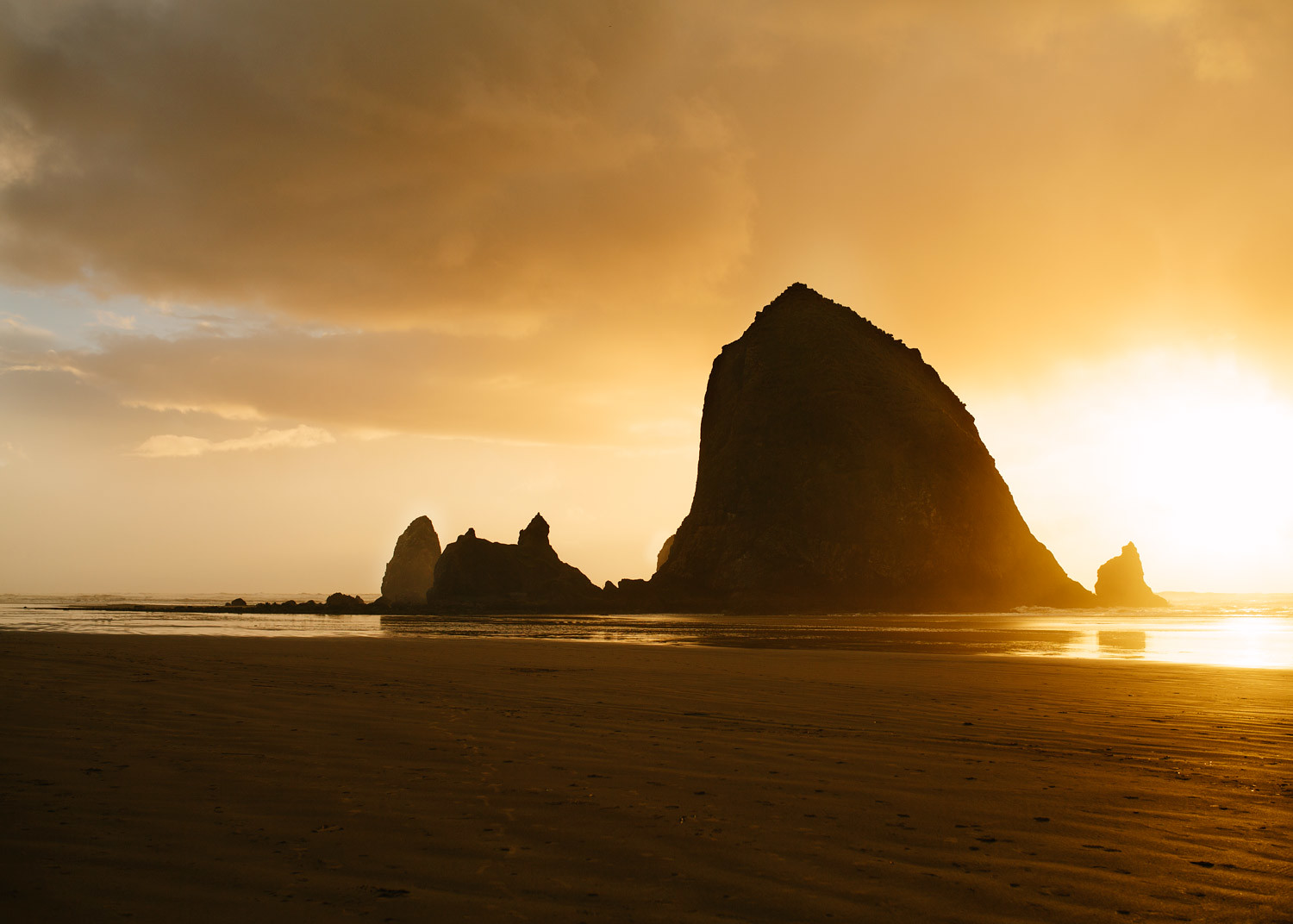 Named after a cannon that was found after an 1840's shipwreck, Cannon Beach is an awesome spot to visit. If you want to find a bite to eat or a great place to stay near Ecola State Park, then Cannon Beach is the place to do it.
We recently wrote about three top ranking US resorts in Cannon Beach, as well as all the great things there are to do in Cannon Beach here.
Surfing, building sand castles, flying kites, and hiking are all popular activities in Cannon Beach. Cannon Beach is bursting will small town charm and is a must visit when in the area.
Exploring Other State Parks Near Ecola State Park
There are so many great Oregon State Parks to explore along the Oregon coast. We think Oswald West and Nehalem Bay are also worth exploring if you're in the area of Ecola State Park.
Oswald West State Park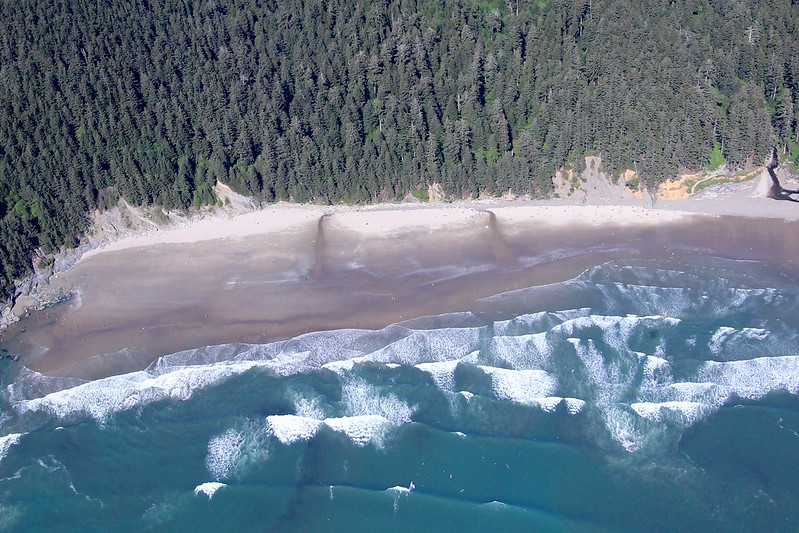 Oswald West sits on four miles of coastline, and features sandy beaches, miles of hiking trails, and pretty forests. The park is 2,482 acres, and has two prominent headlands. Oswald West is located 18 minutes south of Ecola State Park. Get more info about Oswald West State Park here.
Nehalem Bay State Park
At Nehalem Bay State Park, people enjoy windsurfing, kayaking, riding horses, and picnicking. The sandy beaches at this state park are a great spot for a walk at sunset, or for beach combing. You can find Nehalem Bay State Park 34 minutes south of Ecola State Park.
Ecola State Park Information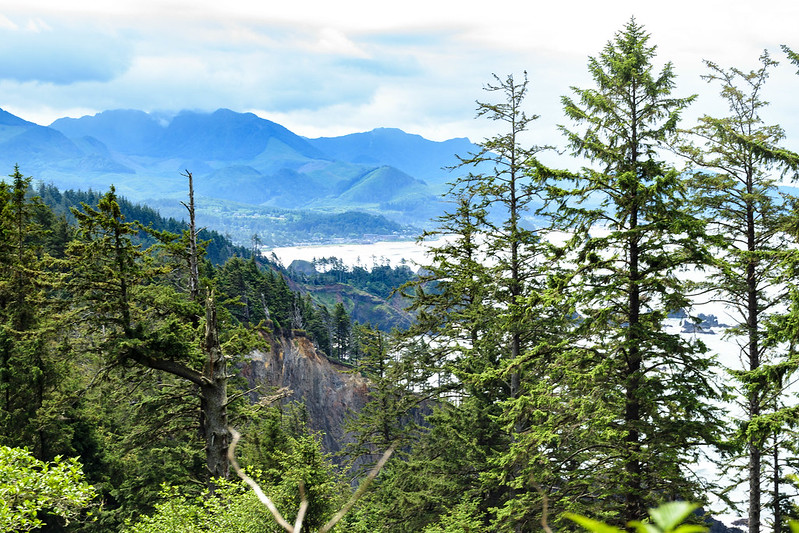 Ecola State Park is open year round. There is a day use parking permit required, or you can buy a year round permit if you plan on visiting often.
Get more information at the official Ecola State Park website, or call the park for more information at: 800-551-6949 or 503-812-0650.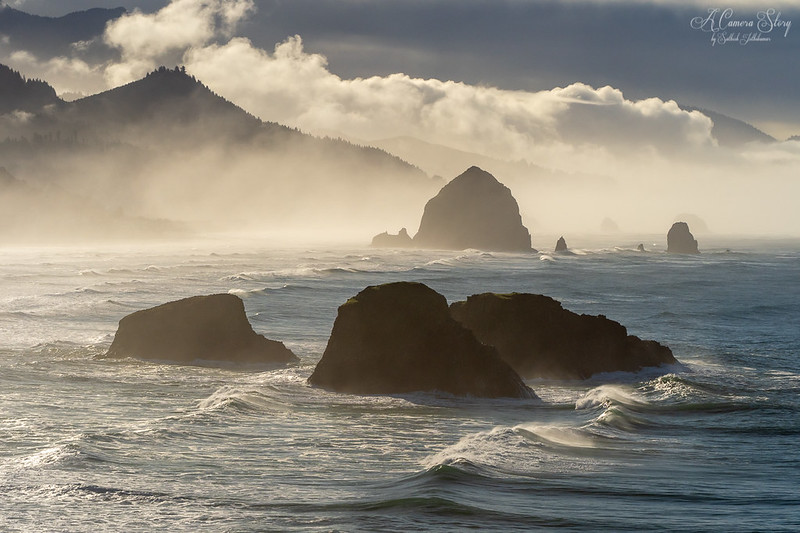 You may also be interested in reading about Seaside in our travel guide here, or Cannon Beach in our travel guide here.
Have you ever been to Ecola State Park before? What's your favorite trail to hike while there? Do you prefer Crescent or Indian beach? Let us know and tag the friends and family you want to go with.